Hi there!
Thank you for joining me.
Hope you are all doing well.
Apologies for not sending the newsletter last Friday. I was primarily writing the whole day but when it came to putting the letter together, all my creative juices had been squeezed out. My planning went wrong. And then the weekend went away in hiking, finding an attic room in Himachal and shifting from village life to the room (missing the village already), cooking, and reading. Sincere apologies, again.
I wish this letter peeks into your space, your house, your life along with some Monday morning sunshine. Onwards we go.
Now let us get into the thoughts of the past week.
Here is,
Some of my writing,
quotes I love,
pieces and books to read,
things to watch,
tips for travelers and updates on my journey,
      and COVID campaign updates.
Article from the week.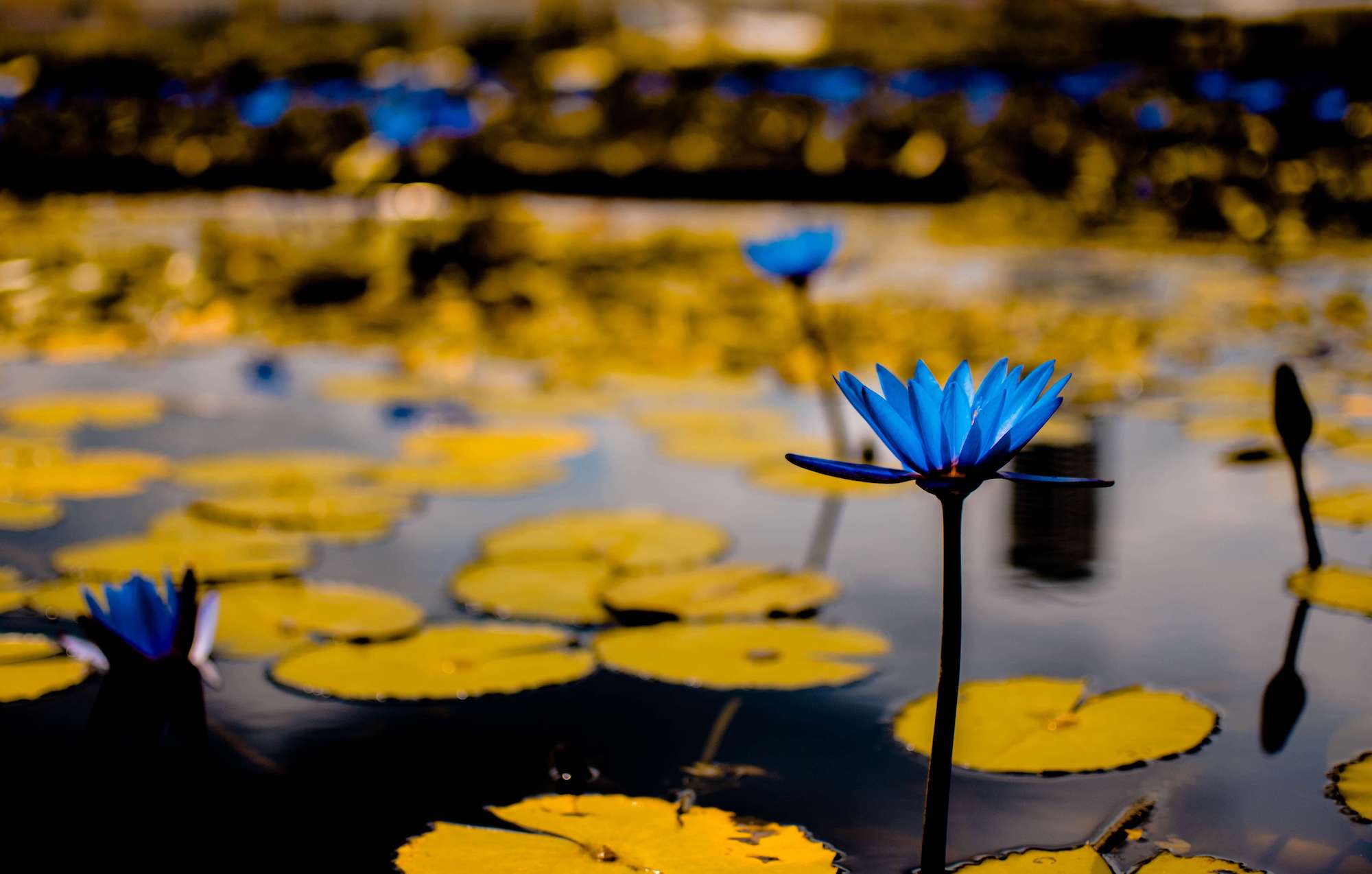 After thinking about it for months, finally, I have been able to put out my understanding of personal development in the form of a conversational guide. The essay includes what is personal growth, how the East and the West emphasize self-development differently,  how culture affects our self-identity, my own journey with self-focus, creating a self-growth path, and finding out what's important to us – how to prepare our sticky notes to life, as I like to call it. The article also lists the various growth sub-themes I have written upon with the related articles within each sub-category.
Enjoy. Let me know what you think of the guide. Pocket it to read later.
"The sea rises, the light fails… The moment we cease to hold each other, the moment we break faith with one another, the sea engulfs us and the light goes out." James Baldwin
"Our social personality is created by what others think. Even this very simple act we call "seeing a person we know" is in part an intellectual act. We fill the physical appearance of the being we're seeing with all of our notions about him, and in the more complete picture we form of him, these notions predominate. They succeed at inflating his cheeks so perfectly, at adhering to the line of his nose so faithfully, at coalescing with his voice, in all its nuances, so seamlessly (as though his voice were but a transparent envelope), that each time we see this face, hear this voice, it's these notions we're encountering."Proust, Marcel. Swann's Way: In Search of Lost Time.
"It is okay to use wood as long as trees are allowed to live in a way that is appropriate to their species. And that means that they should be allowed to fulfill their social needs, to grow in a true forest environment on undisturbed ground, and to pass their knowledge on to the next generation. And at least some of them should be allowed to grow old with dignity and finally die a natural death."Wohlleben, Peter. The Hidden Life of Trees.
When we look at life as temporary, and each day as a day that will come to an end sooner than we think, all issues seem to get wings of their own, and they fly by. (Yours Truly)
What I've Been Reading.
The Hidden Life of Trees by Peter Wohlleben – "Walkers who visit one of the ancient deciduous forest preserves in the forest I manage always report that their heart feels lighter and they feel right at home. If they walk instead through coniferous forests, which in Central Europe are mostly planted and are, therefore, more fragile, artificial places, they don't experience such feelings. Possibly it's because in ancient beech forests, fewer 'alarm calls' go out, and therefore, most messages exchanged between trees are contented ones, and these messages reach our brains as well, via our noses. I am convinced that we intuitively register the forest's health. Why don't you give it a try?"
The Hidden Life of Trees is a beautiful meditation on, you guessed it, trees. Forests work in their sublime way, and I suggest each one of us should read this book to understand how plants feel, communicate, and care for each other. The book focuses more on the forests of Europe and America, but the general ideas and facts about jungles and trees give a good introduction to the green world. Enjoy.
Hummingbirds and the Ecstatic Moment: "The other truth is that when the writing goes well, this is how it feels: the endless opening up of a miraculous window and a feeling of both the rightness of that and the danger of that. It is also part of how I try in all things to retain the curiosity and the passionate engagement and mystery of being a child, which is the state of not being an adult, and something more."
An essay that was (to me) less about hummingbirds and more about how a childhood memory, an incident, a happening can suffuse our entire life with a light (or a shadow) without anyone ever coming to know about it. I also adore and promote (as you may all know) the mystery of staying curious and playful and clumsy like a child, so that we never stop wondering at the wonder we live in.
This BBC piece is an insightful read on how even the slightest of cultural variations can wire our system, thinking, and behavior in profound ways.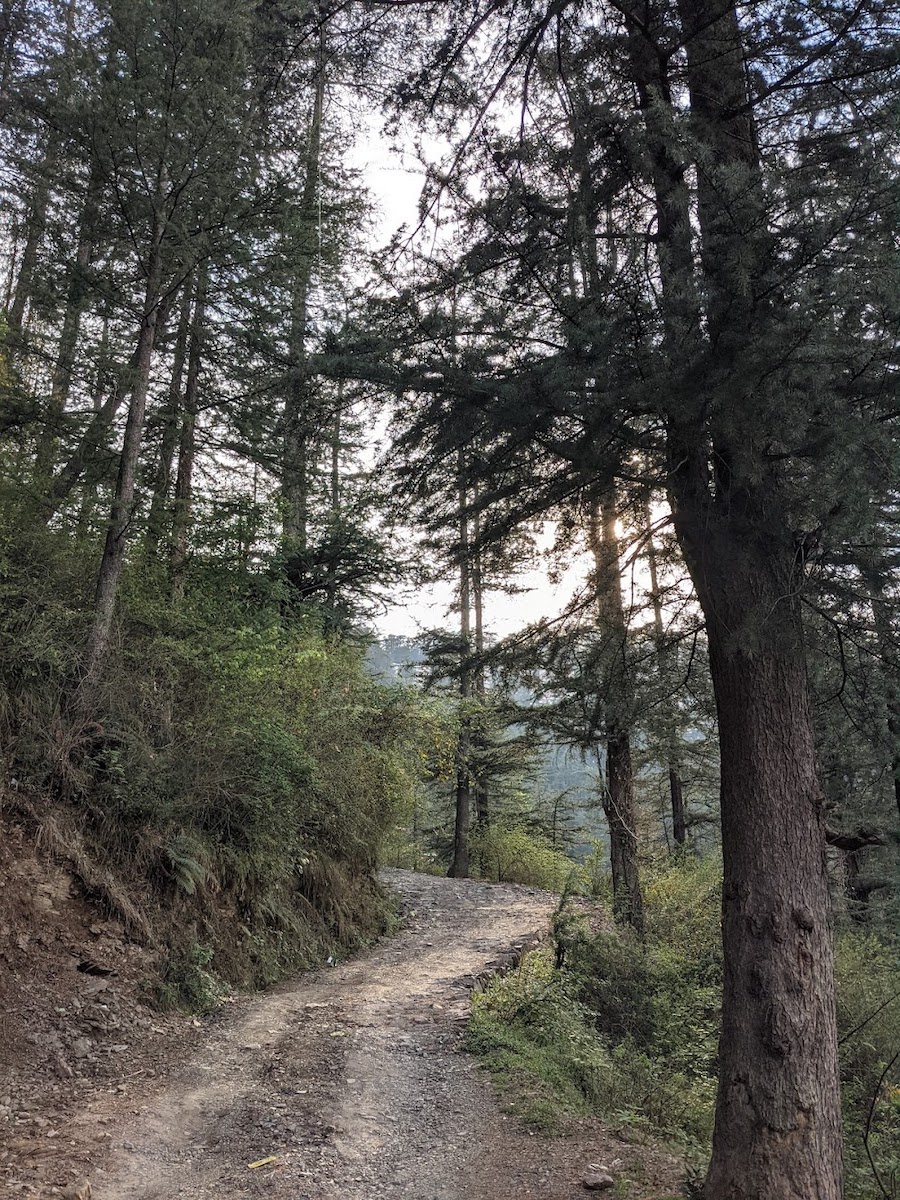 What I've Been Watching/Listening
I've been sharing political news from trustworthy sources because everything we do, see, and go through has a lot to do with the government in charge. I carefully select what I see/listen to, and I hope my watchlist will add value to you, too.
Bloom: This simple video shows how a tiny act of kindness can transform life.
Fears: I stumbled upon this video while watching the above one. Here we see how fears slowly start gripping us as we go along in life. But not all fears are baseless. Some fears are genuine precautions we should be taking daily.
I went hiking to the bottom of a Himachal valley (behind our house) this Saturday. A water stream flows there unhindered. After staying in the area for three weeks, this was the only time we made it to the bottom. We had been hiking on tiny mud trails moving from mountain to mountain but never really walked down to the depths completely. Mountain lions wander the valley. Some villagers told us to go as the wild cats don't trouble humans and leave as soon as they see one. We had been afraid to go down, but I also wanted to see the stream.
Through a dwindling downwards path that alternated between jungles and unmended fields, we made it to the ravine in about an hour. Watching out for wildlife, we were placing our steps carefully. Then two human kids appeared behind. They came running and zipped past us. I saw how playful they were. How fearlessly they sprinted. I got a new spring in my feet, too. We thought those local kids weren't even thinking of the lions. I told my partner, see, this trail isn't bad at all. My husband joked, "we have our bones – which crack easier and take longer to be fixed than children's bones – to worry about.
Below in the gorge, thorny bushes and spiky plants rule. My husband and I were bruised and pierced more than we have ever been. After wandering in the valley for a bit, we walked backward to climb back up. The children had already left. We walked further than we had to and soon realized our mistakes. In the process, we lost our way. Now we were walking back and forth amongst this spiny jungle that bit us relentlessly. Our shoes got wet while crossing the stream multiple times. I had heard the rustling in the forest before. So we knew wildlife surrounded us.
Some villagers appeared on the opposite side of the hill and motioned us to leave the valley and go up as soon as we could. We conversed with them by hand motions. While tracing our way back, we spotted the rocks we had sat on as soon as we had gotten down. Now we saw the steep path upwards. We jumped on it and quickly clambered up.
The time when we felt lost wasn't more than ten minutes, but our heartbeat had started raising. Our fears were legitimate. It was 4:30 pm and getting lost in a thick jungle with wild lions roaming around is not a good situation. We reminded ourselves to always pin the place where we need to return.
Looking back I can say our fears weren't baseless. It was a smart thing to first get acquainted with the area and trails for as long as it takes. After three weeks we at least knew if we didn't find that path, we could climb up the mountain through other tracks. We also knew that the animals prefer to run away from humans and not come close. We had a sense of direction. But we should have just gone down and then climb back up quickly.
So fears aren't always baseless. One shouldn't look at them just as dark shadows holding us behind. They may guide us better than anything else sometimes.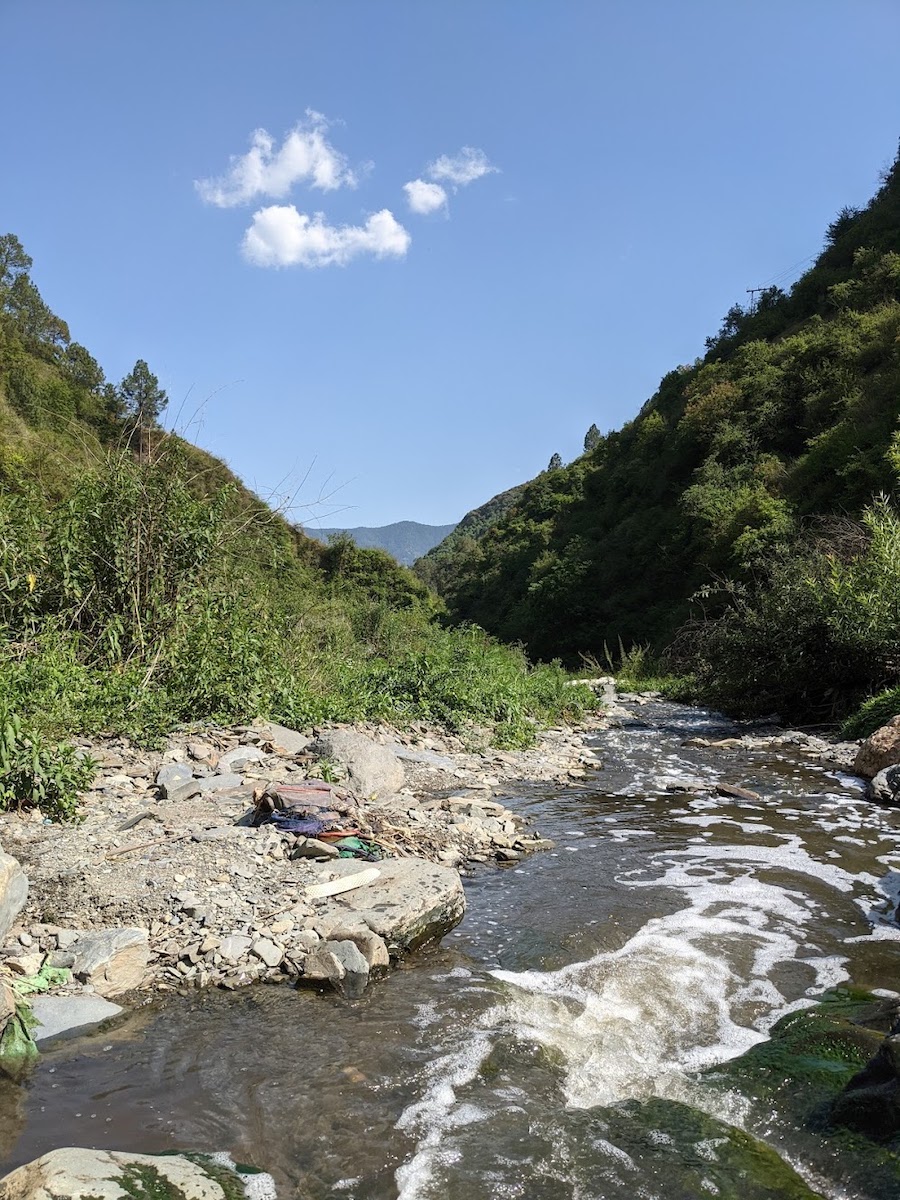 And for all my Wanderlusters!
If you had read this post which I titled: The Pandemic, Onset of Our Indefinite Nomadic Journey, Crossing Barricaded State Borders, Collective Helplessness, and Fundraiser Campaigns – you would know my journey so far. I have been in Himachal Pradesh, home of the Himalayas, for close to a month now. As I was always suggesting throughout the pandemic, we can only go anywhere in our car, to isolated hills where we stay secluded, walk in the mountains, make our meals, and keep others and ourselves safe.
My suggestion continues. India is still not doing so well. The second wave has been retreating from the North, but now it is heading towards the South. No one is sure as to how long it will last. I hope not for long. It is better to stay put, or as I said, drive in your car, with the necessary proofs and requirements of the government, stay isolated, and don't venture into crowded places.
Don't take any chance, at all, for nothing.
We drove from Karnataka to Himachal so far and carried COVID-negative reports, e-passes, and booking confirmations. Here locally, we stayed at one place for three weeks, in our own tiny one BHK. We walked around and didn't interact much with anyone. Except for one neighborhood family who cooked chapatis for us that we took from our window. It opened directly into their field.
Himachal is in a lockdown so only essential movement is allowed between 10-1. After three weeks, this weekend we moved to another location in Himachal, at a slightly higher altitude than the previous village. As we didn't cross districts we didn't need any documents or proofs or as such. Finding a place to stay wasn't easy in this area. Now we are in an attic room with a sit-out and a small terrace where I am writing this letter.
Life is slow and steady. I'm not sure for how long this will go on. But I'm not planning to leave Himachal for at least a few months.
What about you? How have you been? Where are you put up?
And for people who are outside in Covid-free countries, I have to say that when one travels, one sees not only outside, but also finds a reflection of who they are in the people and the landscapes. Mostly we shouldn't run away but explore these images and fill them with colors we like.
Find sunshine and stay safe.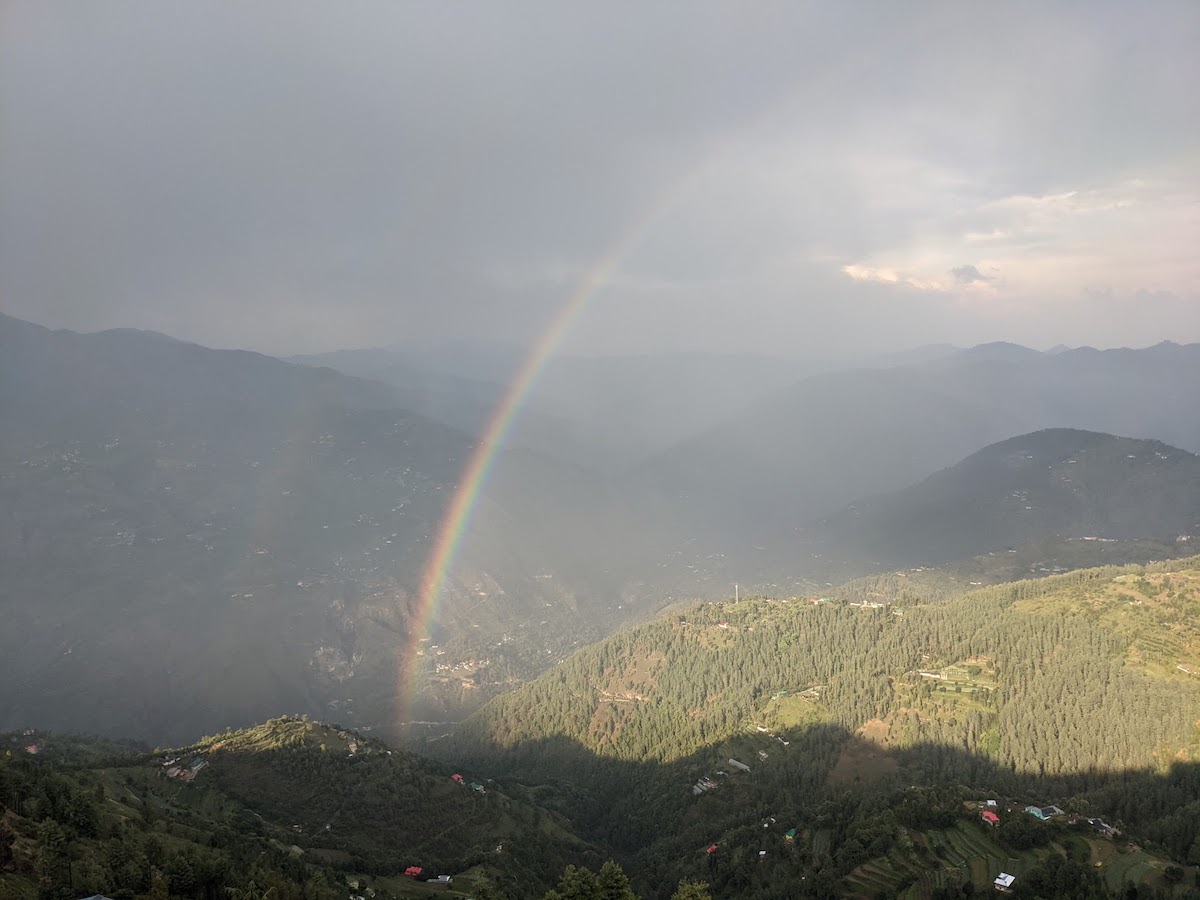 .
Update on the Covid fundraiser Umaria Campaign: As most of you know, I had been running a fundraiser campaign with a group of friends (and IIT alumni) to raise money for a district Umaria (Bandhavgarh National Park). The area was severely affected by COVID-19 and the health system was in a serious shortage of oxygen.
I have good news for all of you. First, thank you so much for having been a part of this campaign.
We are content and thankful when we tell you we have decided to close this initiative. We ordered 25 concentrators from the money raised so far. These oxygen concentrators are on their way to Umaria. The state government also supplied us with 25 oxygen concentrators which we have already deployed in our hospitals and health centers.
The situation in Umaria has improved. We are registering lesser daily cases now. Our plan is to deploy the expected concentrators as soon as we receive them. When we get the delivery and install the machines you will hear from us again with pictures and all.
A heartfelt thanks to you again. Your help has been really appreciated by not only us coordinators but by the people of Umaria, too. Please take care of yourself in these tough times and stay safe.
"Somewhere someone may be alive because you helped."
That's all for now. Thank you for reading. Hope you continue to take care of yourself.
Please, forward this letter to a friend or a colleague or a family member whom you think would like to read it or benefit from these thoughts in any way.
I'm also actively sharing my articles, colorful quotes, and other thoughts/articles I read on my Twitter and Facebook page. Do follow along if you don't already.
Let me know what you think about this newsletter. Did anything make you happy or calm or upset? Press reply.
Have a great week ahead.
Yours,
Priyanka
Want to read more?
On My Canvas's homepage is a good place to get an idea about the blog and what it stands for. Feel free to pour through my science-backed personal growth pieces, ideas on emotional intelligence, writing on culture, and writing tips. You can find my travel stories and travel guides here. Enjoy.
*****
Donate to keep me going!
For five years, I've read and wrote day and night to keep On My Canvas - my sustenance and life's focal point - going. Everything here and my weekly newsletter "Looking Inwards" is free. No ads. No sponsorships. If you've had some good moments reading my posts or felt hopeful on a lonely day, please consider making a one-time or a consistent donation. I'll really appreciate it (You can cancel anytime).
*****
Want similar inspiration and ideas in your inbox? Subscribe to my free weekly newsletter "Looking Inwards"!