Why I Quit My Job, Shelved My IIT Computer Science Degree, and Started Writing
A software engineer by education, I was once a coder and an investment banker, but now I write full-time.
In this essay I talk about my six-year-long journey of thinking of a career change, why and how I quit my job, and finally went through a career change at 30.
If you are looking for a career change in 30s, I would recommend you read this piece for I have given an honest account of my own journey from coding to writing.
Let's read.
*
I hadn't thought about doing something I loved until I was 22 and on my first software engineering job in Bengaluru, the Silicon Valley of India.
I remember the taxi ride from the Bengaluru airport to the apartment my would-be roommate and old friend had rented in a residential complex. As the taxi cruised through the traffic, I looked out of the rain-soaked windows and wondered if the city would backdrop my life the way I had dreamed about it — like a deep blue sky sprawling vast for the young iris to spread her wings.
I was thrilled about my first job. I had imagined myself scuttling away on high heels in a crisp black trouser and a maroon shirt from one meeting to another in glass-faceted skyscrapers. I would always be solving important engineering problems putting a dent in the world.
As a Computer Science graduate from the Indian Institute of Technology Delhi (IIT), I couldn't expect anything less — we are told we are the cream of the growing world-superpower India1. At the time I joined IIT, the institute selected 4000 applicants out of 348k — a 1.1 percent selection rate.
My excitement for work was coupled with the oncoming financial independence, cosmopolitan lifestyle, and social freedom. I hail from a small Indian town, and though I had been studying away from my parents in Kota, Delhi, and Mumbai for the past seven years, I depended on them financially. (In India, youngsters don't pick up part-time work to pay their way through college). But now, like the rest of the fresh Indian graduates, I could live independently for the first time.
But I was too young for a happy ever after. Within a year, I got bored with my job.
Instead of solving life-changing problems, I was tightening the loose bolts of a bigger product, even after the first few months of the learning phase.
Meetings were always prolonged. In global conference calls, someone senior demonstrated my work. Concomitantly, the crisp business suits felt like an overkill. High heels hurt my feet.
The best part of the job wasn't the small front-end features I had to develop or the bugs I had to fix or the deployment process I had to master — it was hanging out with my new friends from various engineering colleges of India.
But apart from creating fresh friendships, which I still hold onto dearly, nothing else resonated with my imagination. The corporate world felt hollow — glamorous from the outside but a vacuum on the inside.
It could be something about the company I worked for, but my colleagues and other employees preferred laidback workdays with their excitement at its peak when they headed home. My friends were getting comfortable with a stable day job from which they went to do something fun in the evening.
From conversations with friends and colleagues in the tech industry, I soon understood that majority of the big technical and software companies are only maintaining their best selling products. And people who build these saleable software are the masters of their domain. The newcomers only get leftovers unless they join startups.
So either you are outstanding: and crack a highly-competitive job at the beginning itself (think Deutsche Bank, Google, etc), like some of my college batchmates did. Or, you become outstanding: work through the years to build skills to get to the good work. (Cal Newport calls these skills as career capital in his book So Good They Can't Ignore You.)
If I learned, I could shift to better firms such as Google, Facebook, Linkedin which provide innovative work. But even though I was conscientious, I never pushed myself. I had worked hard until then, so I couldn't suddenly become lazy. What held me back? My boredom could be largely attributed to my disinterest in Computer Science(CS).
At this point you would ask why did I study CS then.
I am from a small city in North India that occasionally parades the primetime news for communal riots or crime. To understand my crime city, let's turn the wheel of time to the 1900s.
I hope you are not thinking of a tiny Salzburg or Lyon.
Imagine a strict patriarchal system.
Parents didn't allow their children, especially girls, to go out and play with friends, and Voldemort wasn't the reason. Men ogled women on the streets freely, and I was grabbed a few times even in crowded places as soon as I hit puberty. There were a few good schools, and I was in one of them. Students were told to study because education was the only Santa Claus.
Oh, we had no universities or companies where we could work later. Until the 2016 riots in my city, I bet they didn't even know we exist in some chaotic corner of Uttar Pradesh.
The shining stars were the students like me who did well at school. My classmates who didn't score well but performed at athletics or arts weren't considered the brightest; their future was as questionable as the US is under Trump.
Cricket won't feed you. Study mathematics.
If you don't get good marks, your life is ruined.
Such instructions didn't leave us alone even in dreams.
Men managed their family businesses, and women became homemakers.
As a girl, my choices were limited and ideas restrained. By the time I grew up to figure out what I would do my brother had graduated from the IIT.
I was always amongst the top five students of the class. Like my brother, I gulped down mathematics and science. I was good at arts, debated, wrote, and played badminton but didn't practice a lot and was never encouraged to pursue any of these enough for them to become my career. It would have been outrageous to have Art Teacher or Columnist as contenders for a profession for two reasons: 1. I was good at science 2. I didn't have that kind of exposure.
Art restricted herself to a one-hour class period once in an entire week. Boys might play cricket all the time but most of them get beaten up at home for overindulging. And you can't blame the parents for not many professions in India get paid well. Even the popular Indian writer Ruskin Bond still only dreams about having a large private garden. Sports is sustainable only for a handful of guys in blue jerseys. We don't have many wedding planners or career counselors or psychiatrists2 or salsa dancers because well, our society mostly doesn't accept these as careers because either it can't pay for them or doesn't want to.
Engineering seemed like the best option to create a good life. Let's also not underestimate my love for Mr. Algebra and Miss Atom.
At the age of 15, I left to prepare for the IIT entrance test in another town 800 km away from home. I forgot about Mark Twain, stopped playing badminton, and put my fat nose in science books. Three years and two attempts later, the result day knocked at our door for the second time.
I spent the night before the result on the terrace of my parent's house. But I couldn't catch hold of sleep until dawn.
My life was going to change. (And it wasn't because of my personal growth planning.)
At about 9 am, my sister called the IIT Joint Entrance Examination(JEE) result center.
78? My sister screamed on the phone.
Are you sure? Her roll number is 7886542.
Thank you.
Three years of hard work paid off, and I joined IIT.
More than a choice, Computer Science(CS) was a gift for my merit in the exam; I wasn't the only one unfamiliar with computers in the batch of 70 CS freshmen. Like me, many other batchmates had decided to become engineers for their love of pure sciences, as there were no good pure science degrees back then.
Even though most of them hailed from Delhi and other big cities, engineering, architecture, medical, all scholarly fields, were their only options as well. But unlike me, some had played around with computers in their school and were genuinely excited about the branch. [I can't believe that in India we still choose our major right when we join the college and not after trying a few courses for a year.]
Like the rest of the 1.5 million Indian engineers who are released in the job market every year, I also first became an engineer and then thought about what I want to do.
No wonder I was being thrown away by technical work into the abysmal depths of boredom just in the first year of my professional career.
When I told my father I didn't enjoy my job, he said — why do you have to enjoy it? Work is work. Don't think about it emotionally. My family tried to convince me that jobs were supposed to be tedious, but we do them, earn, and get back home to be with our families.
Some of my IITian friends played Uncle Scrooge and dived in the money that accompanied their high-profile jobs. The academically ambitious ones went to do MS and PhDs. I couldn't relate to either as neither was I diving in gold nor did I want to study more CS.
But the idea of doing something that I enjoyed had sprouted in my head. I wanted to do something meaningful. I read about successful entrepreneurs, artists, some employees, writers, etc who were doing what they loved.
I decided I wouldn't give in to the ubiquitous notion that work sucks and started thinking of a career change.
But what could I do? I had already invested 10 years of my life in engineering (and computer science).
I loved cooking since I was little and was pretty good at it, too. Now after years, I had my own kitchen in the shared apartment. Cooking books had been filling my shelves. I was inviting friends and prepared huge spreads.
An idea struck me. Popular chefs around the world cook for a living. Google search showed that cooking was a career for the most passionate in the world. Who could be more passionate than me who made 20 sweetmeats for four friends?
I joined as a trainee in an Italian restaurant to flirt with the idea of changing my career to cook professionally. Fixing bugs during the day, and frying squid at night suited me well. But I couldn't get my hopes high for even the head chef of the restaurant with 25 years of experience was earning 25,000 INR ($330) per month. The owner barged in the kitchen to scream at the chefs even if they had done everything right, and the chefs told me that most restaurateurs were equally obnoxious.
While my friends and close colleagues patted my back for trying something unusual, my parents questioned how could I degrade to the (low) levels of chefs and waiters and why couldn't I just cook at home.
I wasn't sure if I could handle the humiliation regularly. I had to pay the bills, too.
When the thick boss threw a thousand rupee in my face upon my repeated salary requests, I finished my shift for the day and ate my last dinner with the other chefs.
Now don't feel sorry for me as I had gotten the experience I was looking for.
My software job felt even more boring as the work hadn't got any better and my best friends had started leaving the office to join new firms.
Alienated, I decided not to just change my job but my field too — I would try finance as technology had not interested me. Maybe more money could keep me in the game.
To be part of the finance startup in Delhi, I folded my soft-spoken South Indian directors and was dealt a hand of egotistic NRI MDs who wanted everything done at the click of a finger.
Had the job given me pleasure or meaning, I would have taken the taut hours, weekend-work, money-minded environment with a pinch of salt — but as it turned out I didn't like financial analysis or investments either. Crunching numbers to make the rich richer wasn't my cup of tea.
Finance eluded me even more than technology. But at least I had tried fitting in the corporate circle again. I had pretended to put my degree to use even though I could never apply anything I had learned in IIT to the world of debt. Nevertheless, my parents couldn't complain.
Before I could complete four years on the corporate battlefield, I quit my job, again. Now I was sure that I didn't like a conventional job, at least in technology and finance. I knew I would find the futility of the consulting and the marketing world if I dared to step in.
My friends were now scattered around the world studying, working at consulting, trading, and software companies, and a few were experimenting with entrepreneurship.
I also had some ideas.
During my stay in Delhi, the kitschy cookbooks had been replaced by Julia Child's French recipes. Instead of slowing down at the end of the day, I would ask the rickshaw driver to pedal faster towards my home so I could bake that baguette I had been dreaming about while stuffing debt ratios in excel sheets.
I didn't like the idea of being a chef in India but why couldn't I open a restaurant to feed my love for food and cooking? There you go. I planned to start a food joint in partnership with a close family member and went to live with them.
My parents said that running a roadside food joint is not a respectable business, and they wouldn't let it happen on their watch.
Meanwhile, I launched a food blog, checked out potential restaurant sites, explored menus, looked at wood-fired ovens, baked bread, connected with chefs and restaurant owners online and offline, and talked to IITians who had ventured into the food business. But, in the end, I didn't open a restaurant.
Later I realized I hadn't backed out because of my family, or the broken partnership, or the advice from the food industry that food business is excruciating — but I wasn't ready to settle down for a few years with the family to run a restaurant with the rest of my family erupting against me. I first wanted to see the world a little more and then later open a small food joint sometime.
I was 26 now, still in need of a career change, but clueless about what I wanted to do.
The ground underneath my feet shook. I didn't like the work I had the qualification for and every new career seemed challenging and risky. I was getting tired of rebelling against the entire family.
I returned to Bangalore to join an investment bank that had given me an offer after I had gone to Delhi.
Why couldn't I instead take a job as a receptionist or teach tuitions while I made my way towards my dream job?
I was overqualified for a lot of things and part-time work was rare or heavily underpaid. Imagine playing a receptionist from Monday to Friday for peanuts when I could rather make money at a bank which I could use for following my passion later. In India, you don't wait tables while figuring out what you want to do as we don't have a minimum wage rule, and though it is hard to imagine, that turns around everything.
I got an apartment in Bangalore and joined the office. My family said they loved me.
Work went on. A relationship strangled me. Parents haggled me to get married. Happiness eluded me for long.
But this time I was clear that the bank job was a temporary solution to earn money and to release some pressure from my parents while I looked for an exit.
I made two plans: Plan 1) Joining a one-year Creative Writing program, Plan 2) Traveling to Chile as part of a volunteer program to teach English to native Spanish speakers and writing in the free time.
Now hold on. Did I just wake up one fine day and decided to write?
The food blog could have rekindled the writing fire, but I loved to write since I was a little girl. I spent my pocket money on books rather than on toys. I rejoiced in English and Hindi language classes. I read all the books — both course and extra — from cover to cover the day I got them. While the entire class read debates written by their parents, I prepared my own arguments. I maintained a journal, wrote rhyming poems, and adored writers. I even submitted a story for a competition once.
But as I started preparing for IIT, I left the fictional world behind. Though I barely passed in the core computer courses in IIT, I enjoyed the literature electives and did well in them. I had started a blog in college, too.
During the investment banking job, I had signed up for a writing workshop and devoted my evenings and weekends to reading and writing.
While I had fun writing, it felt like a fantasy to become a writer.
How could I leave 10 years of Computer Science and all the corporate experience to pick up writing — a career in which I would need years to establish myself?
Changing careers at 30 (a year to go) seemed like the hardest thing I had to do. Life wasn't a video game in which I could tap and choose any profession. But I had stopped rooting for things of consequence long ago. I wanted to do something I enjoyed while helping others to make their lives a little better. Words had always felt powerful. I had seen them change lives. I knew I had something valuable to say and that was reason enough.
I would earn with freelance writing and make money with blogging. Short stories fetch money, too. But that's how far I let my imagination go.
Plan one failed. Plan two worked out. I booked a one-way ticket to Chile.
When I told my parents I had left my job to write, my parents thought I was crazy. But let's keep them aside for a moment.
After striving for six years to change my career, I was, finally, starting over. And this time I decided not to think about what-if-it-didn't-work-out too much.
I went to South America, taught English on a Chilean island for five months, and wrote. Though I had the idea of extending my stay to continue traveling and writing there, I couldn't settle in Chile — teaching and any other work options were limited and poorly compensated. My family wanted me to return. After a life-time experience of traveling for nine months in South America, I came back to India.
Now I was 30 years old. But I didn't care. I held onto only one dream — Writing about the world and its people.
I launched my blog On My Canvas in 2017. The journey henceforth has been an eye-opener as I discover independent writers and bloggers every day. I enjoy most days at work and money comes in when I put my energy into earning. I am still learning and have a long way to go. (And on the way, I share what I have learned. If you are a budding travel writer, check out my tips on how to write about travel. For all beginner writers, I've penned down 27 tips I've collected from my own writing journey.)
On my seven-year-long journey of discovering my passion, I realized that finding what you love isn't easy. Only a few people ever find out what they love to do. Pursuing your passion is even tougher.
My parents still hint towards a job, sometimes by literally pointing me out to men and women walking to their offices with backpacks, because to them only a job can guarantee money, success, prestige, and hence, happiness.
I don't blame them. As they grew up in post-independence India, they have felt the struggle to make a living way too closely. They always worried about me, and, also, cared a bit too much about society.
My writing journey would have been easier if I had started earlier. Instead of abstract mathematics, grammar rules would have helped me more. A writing pad instead of a Java Editor was the right tool for me.
But all that doesn't matter for I am here now.
Even though I generally get an idea to write in a moment of inspiration, I edit the draft for days sometimes. Grammar can baffle me at any time of the day. My characters refuse to feel real. I gather writing tips from around the world.
Writing this collection of career conundrum articles (all linked at the end) was challenging. While researching, I came across many career-counseling pieces I hadn't read while I was looking for a career change. Though some advised following the heart, many people condemned the idea of pursuing a passion.
I read all the advice on changing careers at 30, valid reasons to quit job, and preparing for the worst. And I feel happy I didn't read these articles before otherwise I would have been more confused. We all have our peculiarities and nothing works for everybody.
When I saw myself preparing this collection day in and day out while ignoring the pain that some of the memories brought along, I realized, once again, how much I enjoy the process of picking up an idea, writing the first draft, researching about it, editing some more, letting it simmer, and then going through infinite rounds of editing to get the desired result. And I am not even counting in the joy of receiving readers' emails, comments, and messages that say something I wrote helped them.
I have made the right choice even though my style of changing career paths may have been a little naive. My way might not be the way for all, but it worked for me.
I still love food. I would open up my place one day and serve meals full of love and texture. I would take a culinary course. Learn to bake that baguette well. And there is nothing wrong with having multiple interests. But all in due time.
For now, I am writing, and though it is hard as hell, I would do it all over again.
Follow Up Reads
Do Something You Enjoy: Success could be all about fun
Work Is Not Supposed to Suck: Why it is not okay to be bored with work
How to Find Your Passion – Playing Devil's Advocate
When you can't find passion, follow curiosity, and build a career you love.
Don't Give Up Even If You Bleed
Here Are 30 Lessons I Learned In My Twenties
Please Note: I am not a professional career counselor, and I am only sharing my first-hand experience of a career change at 30 to follow my passion. What worked for me might not work for you. I have written in detail about my choices to be transparent about the challenges of changing professional paths and its benefits for the people who wish to start over or want to do something they love. Hope this helps.
Are you thinking of a career change in 30s? Wondering if you should quit your job or not? I would love to hear from you in the comments.
Footnotes:
1-IIT's alumni go around the world to engineer, innovate, discover the most amazing ideas and products that we know of. Sundar Pichai, N. R. Narayana Murthy, Raghuram Rajan, Manohar Parrikar, Arunabh Kumar are only some of the names that have established themselves in varied fields around the world. While many IIT alumni are at top positions in LinkedIn, Facebook, Google, some have founded India's prime companies such as Zomato, Ola Cabs, SnapDeal, Flipkart.
2. On 9 February, Anupriya Patel, Minister of State for Health and Family Welfare, told the Lok Sabha that India had only 3,827 registered psychiatrists. It needed at least 13,500. Patel also told Parliament that India required 20,250 clinical psychologists, but had only 898. Read more here.
Like this post? Please pin it so that others can find it on Pinterest. Thank you.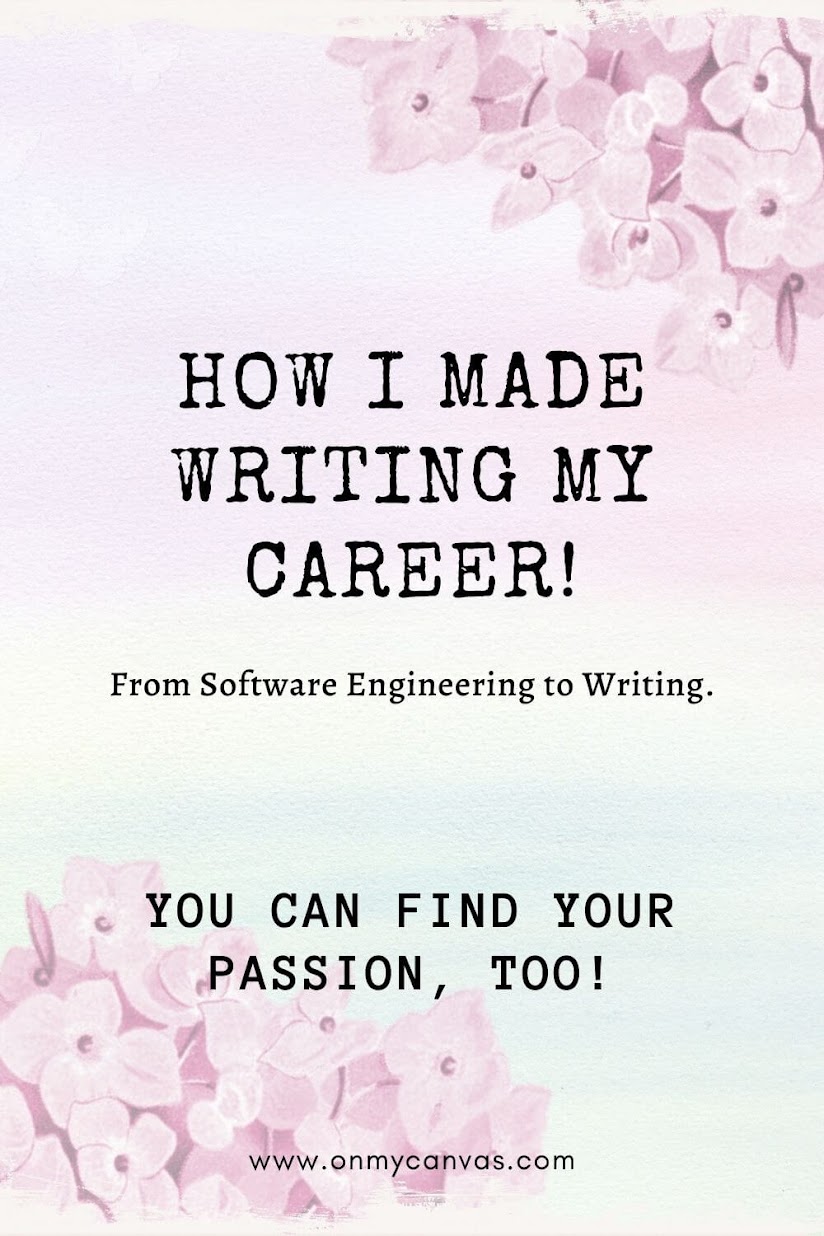 *****
Donate to keep me going!
For five years, I've read and wrote day and night to keep On My Canvas - my sustenance and life's focal point - going. Everything here and my weekly newsletter "Looking Inwards" is free. No ads. No sponsorships. If you've had some good moments reading my posts or felt hopeful on a lonely day, please consider making a one-time or a consistent donation. I'll really appreciate it (You can cancel anytime).
*****
Want similar inspiration and ideas in your inbox? Subscribe to my free weekly newsletter "Looking Inwards"!