When I say a new writer, I mean someone who didn't dare to make writing her life. Or to even think about earning money from her writings. Or to be able to imagine that her story or a poem might get published. Or to be able to say out loud that she is a writer.
But.
She has made writing her life, recently. She earns money from writing. Her day revolves around writing. Her poem got published. Sometimes she stammers that she is a writer.
She still gasps for breath as she wakes up every morning bearing a writer's responsibility. She becomes too hard on herself while maneuvering her newly-found writer's freedom.
While knowing that she has just started, she gets impatient.
She has prepared a long list of what she wants to read. Of what she wants to write.
She goes through these lists over and over again — sometimes even when she is writing an article or reading a book.
Then a new writing idea strikes her, and she adds that to the list of the upcoming articles. A new book comes across her eyes, and she adds that to her reading list.
She has scribbled what she liked to write about and cares for on sticky and have pinned them on her desk.
She wants to write about plants and trees and birds. Like Ruskin Bond does.
She wants to write about travel.
She wants to create philosophy.
She wants to pen down fiction and memoirs and poems.
She wants to share her personal development plans and life lessons.
This chaos is all fine.
But she wants to write all of it in one day.
How would she?
One Year Later: Honest account of an year of writing and blogging.
She acknowledges her urgent temperament, but she doesn't know how to calm herself.
She desires to see her article shared a thousand times. Though at her core she knows that a few likes shall be enough. At least three people enjoyed it.
 It might take her months and years to be able to write the way she wants to. She knows that by thinking more and doing less, she is slowing down herself.
This morning she started writing about birds and nature and then she opened Gmail and then clicked on a newsletter that she had received and then read the enclosed Medium article and then she opened a tab just to jot down one nascent idea and a few lines about it and then she read someone else's article and then she got more ideas and then went on opening more tabs and jotting down more ideas. Then as she realized how she had wandered away from birds, she finally decided to breathe and write about her struggles. The birds and the trees are waiting.
She says she started writing late. She says she has a lot to say.
I tell her that she needs to relax.
That she needs to focus on this one moment. On right now. And if she does, she would be one moment closer to become who she wants to be. She would be one moment closer to be better at what she wants to do.
She gets intimidated by the best at the craft of writing. She wonders if she would ever be able to inspire this awe in others like the great writers can gush out of her.
I tell her that she just has to write and read. Read and write.
And she has already come a long way. But she doesn't know.
This life is her journey. She should write about her experiences, in her style. And then she would become her version of Ruskin Bond.
And that is what matters. That is how it should be.
Else wouldn't we all write The Room on the Roof? Wouldn't all our curries have the same flavor? Wouldn't we all create Facebook?
She needs to remember that the process is the result. If she maneuvers the process, instead of obsessing that the result isn't getting any closer, she would never have to think about the consequences again.
I tell her that each day lived and worked well is the result. That is all there is.
I hope she listens. I hope she focuses on what matters. 
Two Years Later: Honest account of two years of blogging – tips for novice bloggers
When I saw umpteen varieties of potatoes in a Peruvian farmer's market, I bought a few of each and made chips. Maybe that's what I do the best. Pick up a little bit of all flavors to create my own.
What is the biggest challenge you have been facing as a new writer? Or are you a neophyte in any other craft?
If you liked my honest guide about writing as a new writer, please pin it and share with the world.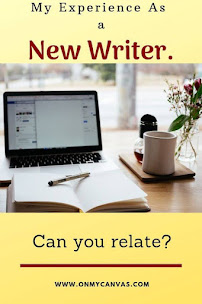 Disclaimer: This article includes Amazon affiliate links. If you choose to click through and make a purchase, I will earn a little bit at no extra cost to you. It is entirely up to you if you decide to buy. Thank you.
*****
Donate to keep me going!
For five years, I've read and wrote day and night to keep On My Canvas - my sustenance and life's focal point - going. Everything here and my weekly newsletter "Looking Inwards" is free. No ads. No sponsorships. If you've had some good moments reading my posts or felt hopeful on a lonely day, please consider making a one-time or a consistent donation. I'll really appreciate it (You can cancel anytime).
*****
Want similar inspiration and ideas in your inbox? Subscribe to my free weekly newsletter "Looking Inwards"!