What does this guide to traveling South America contain?
South America is a continent like none other. I traveled there for nine months, and it was nothing like I had imagined.
Even though I generally keep going on and on about why one should travel to South America, in this guide, I will mostly help you plan your South America trip.
But if you are looking to get inspired to travel South America (SA), I have written down some of my best experiences in SA (one of them is learning Spanish in South America). Give the linked travelogues a read to inspire yourself to plan your trip quickly.
As this South America travel guide progresses, you would know why I give so much credit to this continent.
Now let us start.
Is South America Latin America?
To date, I had been making the mistake of calling South America Latin America. Now, when I have finally read about the difference between Latin America and South America on blogs and Quora, I would like to clarify the difference here.
South America refers to the part of the continent that lies south to Central America. South America constitutes the countries including and below Venezuela-Colombia.
But Latin America is used for all countries in America that speak a language derived from Latin. Countries speaking Spanish, French, Portuguese — So Mexico, Cuba, Colombia all lie within Latin America.
While Latin America is a cultural term, South America is a geographical term.
To answer the question – South America is NOT Latin America.
What are the countries in South America?
The 14 countries and foreign-held islands of Argentina, Bolivia, Brazil, Chile, Colombia, Ecuador, Falkland Islands (United Kingdom), French Guinea (France), Guyana, Paraguay, Peru, Suriname, Uruguay, and Venezuela together constitute South America.
Is South America safe to travel?
South America is notorious for crime, and the situation can be mostly attributed to the poor financial and political conditions in some parts of the continent. The entire continent is not unsafe and need not be avoided. Having said that, let me tell you that bad incidents happen everywhere, and we should be careful and avoid dangerous places.
Out of the 14 countries, I visited Bolivia, Chile, and Peru during my nine-month solo travel in South America. In that entire time, I have only one bad incident when delinquents snatched my mobile while I was traveling in a bus in Santiago.
Except for Santiago, a city full of robbers and petty thieves, and Valparaiso, I felt safe in all the destinations in all three countries. No one ever harassed me or tried to loot me. (Do consider this pickup from the Santiago airport to your hotel if you are traveling to the city for the first time.)
Now amongst the rest of the South American travel destinations, Brazil and Venezuela are unstable and unsafe, mostly because these two have been in a political turmoil.
Fellow travelers who had been to Brazil mentioned scary incidents such as getting robbed at gunpoint on a beach in Brazil. Even people who traveled recently don't vouch for Brazil. Venezuela is in a political crisis and unsafe for travel.
Some of the safest countries in South America are Chile, Ecuador, Uruguay, and Argentina.
People had told me that the safest country in South America is Chile, and I felt so, too. Safety is coupled with financial security, and Chile is economically stronger than a lot of other countries. The south of Chile was so safe that we never even thought much before taking a walk or going to a nearby shop(mostly in the Chiloé island), alone, at night.
Except for the recent protests in Chile, the country is mostly peaceful. My Chilean friends told me that they want a peaceful protest but a lot of nuisance creators in Chile disrupt the rallies and make them chaotic. Some acquaintances who were traveling in Chile recently told me that they were safe and had no issues due to the protest.
I am going to write a separate article on travel safety in Chile, but until then, if you plan a Chile trip (use my extensive Chile travel guide), please look at the current news and ask your embassy for more advice.
Many forums also talk about the dangers of backpacking in Peru and Bolivia, but when I was there, I didn't see or hear about any major crime against travelers. My friend's camera was stolen from her in Lima on the new year's eve, but well, anything can happen in the crowd of the New year's eve. But petty crimes and mugging can happen in the big cities of Peru and Bolivia, and one should be careful.
Colombia is also notorious for kidnappings or other crime but these incidents are not scattered throughout the country. You should avoid the places that have reportings of any such incidents.
Quito, the capital of Ecuador, has incidents of mugging. There are known cases when thieves tried to steal from passengers on the buses in Ecuador. Always keep your belongings with you and not on the shelves above the seat.
Some scams you should be aware of if you visit South America:
Taxis and ATM scams — Bolivian cities are known to be prone to ATM threats. It means that a taxi driver will drive you to an atm and threaten you to withdraw cash and give him. I took taxis in La Paz, Santa Cruz, and other cities, but I met only the nicest taxi drivers who took the extra step to drop me in the right place.
Even Ecuador has some reports of fake taxis that rob travelers.
How to avoid it? Never bring your debit or credit card except when you want to withdraw cash. Once you have taken out money, go back to your hotel and keep the card and extra cash. Only carry what you need. Try to take Ubers in big cities or ask your hotel to call you a cab.
Dirty Clothes scam — Another scam prevalent in almost all of South America is that someone would come over and tell you that your clothes are dirty or you have paint over them. While you look, someone will disappear with your bags.
How to avoid it? Keep your belongings on you all the time.
Luggage robbery on buses — Some travelers also complained about their luggage being stolen on the bus, which is a common occurrence in Asian countries, too.
How to avoid getting robbed? Make sure you keep your important items on you, and while sleeping keep them under your head or close to you rather than putting them on shelves above the seat. Your bigger bag can go in the luggage compartment.
Avoid roaming around in Santiago alone in dark or even during the day in empty streets. If you are taking the Santiago metro, hold onto your purse.
Carry your backpack in the front. In big cities like Quito, Medellin, Santiago, Lima, pickpocketers do try to take advantage of travelers, and you should always keep an eye on your surroundings.
South America isn't any different from many other countries and continents in terms of safety. Please don't let anyone tell you that South America is a bad place and that it's entirely unsafe.
Use your judgment, ask your hotel for their safety advice, read about the local scams, and follow the common safety norms you follow in any new country while traveling around South America, too.
Travel Essentials: You can also think about getting this safety whistle and a fanny pack to carry your money and other important items while traveling.
Follow Up Read: When I got mugged in Santiago
What about the natural calamities and political situations of South America?
Natural calamities of South America include volcano eruptions(I even climbed the active volcano Villarrica in Chile), earthquakes, tsunamis, amongst many others. Chile is in a high-earthquake zone, and due to the earthquakes, the country is also prone to tsunamis and volcano eruptions. Many other countries suffer from similar natural tragedies.
While I was traveling through South America, Chile was hit by a strong earthquake amongst many other little ones. To tell you the long story in short, the ocean routes were blocked, and the transport stopped where it was. If it wasn't for the earthquake, I would have been on a boat in the ocean watching penguins hopping around (only one of the many amazing things to do in Chile).
South America has many emergency-evacuation processes, and roadsigns in the continent confirm that.
While I cannot confirm that nothing will happen while you are in South America, my advice would be to stay alert, travel with insurance, follow the local advice, and you should be fine.
Political calamities of South America, however, are much serious. They sometimes involve a presidential candidate jumping over the fence to participate in an election to people marching out on the streets protesting the government-levied charges and you might even hear of a president changing the constitution to contest in an election because he cannot let go.
I can go on and on about Morales and Maduro but let us say protests are common in South America. People protest about salaries, human rights, a long-forgotten war with a neighbor country, presidential rule, corruption, et cetera.
While I am not asking you to ignore the political situations of these countries, I can assure you that the few processions I saw were peaceful.
But it doesn't take much time for things to get complicated, and when they do, you should leave.
Before traveling to South America, or any country, you should check the news and ask your embassy about the safety of your travel destination.
What is the best time to travel to South America?
South America is in the Southern hemisphere, unlike the US, Europe, and India. This implies that the climatic conditions of South America are the opposite of these other countries.
South America enjoys all four seasons.
Here are the timings of the typical seasons of South America,
Summer — October, November, December, January
Autumn — February, March, April
Winter — May, June, July, August
Spring — September, October
The countries receive heavy rainfall from January to March. The south of Chile receives rainfall throughout the year, but especially heavy downpours in August, September, and October.
As South America is a giant continent and has varied geographical conditions, the best time to go to South America isn't the same throughout the continent. While San Pedro and the Atacama desert might be scorching, Patagonia would be having its high season, and the high Andes wouldn't warm up for no one — that is the story of South America.
If you are backpacking to South America for a longer period, I suggest that you plan your travel route from the colder parts of the continent to the warmer areas if you start at the end of summer. But if you arrive in South America in peak winter, first visit the hotter areas before you think about heading down South.
Here are some of the appropriate travel times for the best destinations in South America:
Atacama desert — I explored the gorgeous Atacama desert in February beginning. The day was scorching, and the nights were cold in the Atacama in that month. A better time to visit the desert would be either March and April or October and November.
Patagonia — Summers is the best time to visit this nomadic land.
Bolivian and Peruvian Mountains and high altitude places — The high-altitude places of Bolivia, Ecuador, Peru, and other countries are never hot. When I was traveling in Bolivia and Peru in March and April, even on sunny days the weather could get rainy anytime with gusts of strong winds making it colder than expected. Not to mention the altitude of the place that never let the mountains warm up. But the weather was still nice at that time, and I wouldn't have wanted to be there in winter.
Spending the summer in the mountains would be ideal.
Overall, the months of October to March/April are the best to explore South America.
Read Next: If you are in Chile in September, don't miss the week-long, crazy celebrations of the Fiestas Patrias or the Chilean independence day.
What should be your South America travel budget?
South America isn't that expensive as it might look.
The cost of traveling South America would depend on your travel style, but you can estimate your monthly South America travel budget to be 1000 USD, almost 30 dollars a day.
Chile, Brazil, and Argentina are the most expensive countries in South America. The rest of the South American countries are cheaper than these three (I cannot say about the travel costs of the Falkland Islands (United Kingdom), French Guinea (France), and Guyana.)
I don't know how much I spent on my South America backpacking trip exactly, but here are the breakdowns of some of the major costs.
Chile:
Bed: 10,000 to 20,000 Chilean Pesos – $10-20 (I took a mix of private rooms and dorms.)
Food(3 meals): 10,000 Chilean pesos – $10 (Eating at local stalls, small food joints)
Total: $20-30 for food and accommodation. Plus you will add for activities such as the tours in the Atacama, hiking volcanoes, traveling by bus or flights, et cetera.
Total backpacking budget: $40-60 [Destinations such as Pucon, San Pedro, Easter Island, Patagonia would be costlier than the rest.
Bolivia:
Bed: 30 to 80 Bolivianos – $5-15 (for a treehouse or an average bed in a dorm)
Food(3 meals): $3 and above (the regular Bolivian meals start from 4-5 Bolivianos or <1 USD)
Total: $10 for decent food and bed.
Total backpacking budget: $20-40 [Adding up for activities such as the Uyuni salt flats tour, the Amazon, or biking the death road and traveling by buses or flights.]
Peru:
Bed: 35 Peruvian soles – $10 (You can even get a good private room at this price.)
Food(3 meals): $2 and above (You can get a set menu — a fixed course and a soup in $1-2. Those meals are delicious, and I was never dissatisfied. A regular meal in a restaurant will cost a little higher but should be under USD 10.)
Total: $15 for bed and food.
Total backpacking budget: $30-50 [Including the long bus journeys, and taking into account many activities such as visiting the Manu National Park in the Amazon rainforest or hiking the Colca Canyon that are done with tour companies.]
Brazil: $50 per day – While I do not have a cost breakdown for Brazil, the travel friends that I asked and the forums that I read, all say that $50 is a good budget for a day. You can't go lower but can easily go higher so watch out what you spend.
Argentina: $35 per day. The food and accommodation are cheap in Argentina but the tours and transport is comparatively more expensive.
Colombia: $30-50 per day. Colombia isn't that expensive and you can easily keep in your budgets here.
Ecuador: $20-40 per day. Not counting the Galapagos island.
Overall, a daily budget of $30-40 can be estimated for South America after averaging out the daily budgets of all its countries. This cost will increase if you visit more expensive countries or stay in them longer (such as Brazil), visit Easter or Galapagos island, take private rooms, eat at restaurants, and take expensive hiking tours.
Do you need a visa for traveling around South America?
You cannot get one visa to South America like you get one Schengen visa to Europe.
Every South American country has its entry-exit requirements.
If you are an Indian, you need visas to some countries while the rest allows a visa on arrival or free entry if you have a valid US, UK, Australian, or Schengen visa. My visa guide for Indians lists all the South America visa requirements country-wise.
If you have a Canada, British, US, or Australian passport, you would have free access to most of the countries of South America. You should check the individual country's page or your embassy's website.
You can also take visas while traveling in South America as I did. While I was in Chile, I got a visa to Peru. When I was in Peru, I got a visa to Bolivia, and in Bolivia, I got a visa for Chile.
I get a lot of emails and questions regarding South-American visas. You can read those discussions on my individual visa pages(linked above).
Do we need travel insurance for South America?
Yes. You need a travel insurance to travel anywhere else your travel cost would increase exponentially if you fall sick or some unforeseen thing happens.
Best travel insurance for South America for Western travelers is World Nomads that all my friends from around the world can't speak enough about.
For Indians, I find the prices of WorldNomads a bit high(currency conversion). You can get travel insurance to South America on InsurancePundit, a website that lets you compare the various insurances and then purchase. I have used Insurance Pundit a few times now, and I am happy with the experience.
What are the best countries to visit in South America?
I was in Chile, Peru, and Bolivia and loved the three countries. I also wanted to go to Colombia but couldn't visit due to visa issues.
Now as I said, Venezuela is under a political crisis. So excluding that, I think all the countries in South America are great to visit.
Argentina is known for its hip culture, cosmopolitan towns, delicious wine, adventure travel such as hiking in Patagonia, amongst other things. Buenos Aires is considered to be one of the most popular cities in South America due to its fun culture and open-minded Argentinian people.
Brazil, Colombia, Ecuador, Paraguay, Uruguay, Suriname are great places to visit. Many of my travel friends were there and they loved these countries for each of its own reasons.
I haven't heard much about Falkland Islands (United Kingdom), French Guinea (France), and Guyana because not many people go there. If you go, would you please come back and tell me how did you like them?
What are the top things to do in South America?
Even though I have written about my best moments in South America in detail in the linked travelogue, let me give you a glimpse of what you can expect on your South America travel.
You can hike glaciers, icy volcanoes, deep canyons, high Andes, and national parks.
Go for safaris and boat rides in the Amazon, the oldest tropical rainforest of the world.
Explore centuries-old Inca ruins.
Live with indigenous families on remote islands in giant lakes such as Lago Titicaca.
Dance like crazy in carnivals that liven up the streets of many South American countries throughout the year.
Visit penguin colonies and see them play around in the Pacific while on a regular day on a ferry or from a remote island.
Go to Galapagos island to explore some of the unique animal life that stands testament to Darwin's evolution theory.
Indulge in delicious food that is unique to the continent. Think cheese-stuffed empanadas and juicy ceviches.
Wander in vast deserts searching for salt flats and dense starry nights.
Shower under some of the highest waterfalls in the world.
Go on wildlife safaris to spot panthers by the riverside in one of the most panther-dense zones of the world alongside NatGeo and Discovery team.
Photograph red lakes that are home to thousands of pink flamingoes.
Ride some of the most deadly roads on bikes.
Watch football and go crazy with the locals.
Enjoy vibrant city life that promotes an open culture and welcome all.
Write poetry about Peru.
Oh, let us not forget Chile and Argentina are one of the best wine producers.
And, the people of South America are the most fun people I have ever met. They eat and drink and dance and merry like old times.
So while planning your perfect South America backpacking route, keep an open mind for even I cannot list all the experiences you can have there.
In the next sections, I will tell about the possible South America itineraries in detail.
What are some of the best South America backpacking routes?
To understand the possible South America travel routes, let us have a look at the connected countries of South America:
(Starting from the top) Venezuela — Colombia — Ecuador — Peru — Bolivia — Chile — Argentina — Uruguay — Paraguay — Brazil — French Guinea — Suriname — Guyana (going Anti-clockwise)
The best backpacking routes in South America would be the ones in which you travel from one country to another while never having to jump countries for that is how you save the most money. If you love overlanding, like me, you would also want to travel from one country to its bordering nation by land.
But if you don't want to travel with the restriction of seeing the bordering nations one after another, you can always take a flight out. For this South America itinerary, let us assume you are traveling bordering countries.
Let us look at my South America itinerary first.
Chile – Santiago >> Castro, Chiloé (Taught English for four months) >> In between the volunteer program traveled to many parts of Chile such as Puerto Varas, Puerto Montt, Valdivia, Osorno, Valparaíso, Viña del Mar, Cauquenes, Hornophiren, Santiago, many other islands near Chiloé >> Pucon >> Atacama >> Arica >> (Crossed the border into Peru) >>
Peru – Arequipa >> Colca Canyon >> Arequipa >> Puno >> Islands of Puno >> Cusco >> Manu National Park, Amazon, Peru >> Cusco >> Machu Picchu >> Cusco >> Ruins around Cusco >> (Crossed the border into Bolivia)
Bolivia – Copacabana >> Isla Del Sol >> Copacabana >> Lago Titicaca and Isla del Sol >> La Paz >> Santa Cruz >> Samaipata >> Santa Cruz >> Sucre >> Uyuni >> Salar de Uyuni Tour Santa Cruz >> (Tried crossing the border into Chile but couldn't as my visa had expired so went back to Bolivia to get Chile visa) Uyuni >> La Paz >> Uyuni >> Arica >> Santiago >> Castro >> Santiago (Flight out to India).
I did this above itinerary in about nine months; I was slow as for the first four months I was in Chile on the island of Chiloé to teach English as part of the program English Open Doors. I spent about 6-7 months in Chile and divided the rest of the months in Bolivia and Peru equally, so about a month in each country.
A month was enough to travel at a slow pace in both Peru and Bolivia, and I could still see a lot.
Feel free to pick my above itinerary as these are some of the best South America destinations.
Depending on the time you have, you can take any South American itinerary going through any of the connected circuits from this bigger loop:
(Starting from the top) Colombia — Ecuador — Peru — Bolivia — Chile — Argentina — Uruguay — Paraguay — Brazil — French Guinea — Suriname — Guyana (going Anti-clockwise)
Let us look at some possible South America travel route.
2 weeks in South America — In two weeks in South America, you can only travel to one country. Pick up any of the above-mentioned countries.
3 weeks in South America — For 3 weeks you can visit a maximum of two countries. So either a combination of Colombia and Ecuador or Peru and Bolivia or Bolivia and Chile and so on.
Four weeks in South America — you can visit two to three border countries. But even managing three countries within a month would be a bit rushed.
Remember that distances between two destinations in South America are large.
A possible and comfortable South America itinerary 1 month — Three countries such as Argentina, Uruguay, and Paraguay are doable for the last two countries are small.
If you want to spend 2 months in South America — You can travel to three to four countries. Let us say you decide to visit Ecuador — Peru — Bolivia — Chile in the two months, you can spend ten days in Ecuador, twenty days in Peru, ten days in Bolivia, and the rest of the twenty days in Chile.
But even after spending about three weeks each in Peru and Chile, you won't be able to see all the best places there. So another option for your 2 months South America itinerary could be that you visit only Peru and Chile for a month each. In a month in each of these fantastic countries, you can see a lot at a not-so-quick pace.
Seeing one place properly is better than flipping through multiple places.
3 months in South America — I think now you get the idea.
The number of countries you can see in the time you have in South America depends on the pace of travel and what you want to see and do.
Though I cannot make much comment on how much time you should spend in each country, I can tell you the ideal time you might need in each South American nation as per my opinion.
The ideal time to explore each of the above countries:
Venezuela — A no-go right now.
Colombia — A month would be ideal. People who go to Colombia never want to leave but a month is a good time to see the major places at a medium pace.
Ecuador — Twenty days would be a good amount of time to spend in Ecuador.
Peru — A month seems ideal in Peru. Peru is large and has so much to do and see. But you can do some of the top things in 20 days. Again, if you want to avoid the top things and just want to go and wander in the Andes, then an infinite amount of time won't be enough, but even ten days would do.
Bolivia — The ideal time to understand Bolivia and see some of the most amazing things there would be about 20 days. Some people never want to visit Bolivia or they see the Uyuni Salt flats and get out. I loved Bolivia and spent about a month there. If you are planning on only seeing the salt flats then a few days is enough.
Chile — A month would be ideal for Chile. Chile is a long country with a lot of places to see and amazing things to do. But if you are short of time, start with two weeks.
Argentina — Twenty days would be ideal for this big country. You can easily spend a month or two there.
Uruguay and Paraguay — Ten days would be an ideal time to spend in each of these countries. Few travelers go to these two but that doesn't mean Uruguay and Paraguay don't have good places.
Brazil — Twenty days would be a good time to start with Brazil. Brazil is a huge country and also not all of it is secure to travel.
French Guinea/Suriname/Guyana/Falkland Islands — Though I can't tell you the exact time, I think 1-2 weeks would be ideal, to begin with.
Having said all of the above, starting from 14 days to spending anything up to a year or longer is a good time for South America.
What about the working people who do not have more than two weeks to spend at a stretch in South America? Please don't lose hope after reading my extremely self-centered South America travel itinerary.
Go for two weeks. But don't plan to hop to more than one country then. Visit a new country on your next South America vacation. And so on.
What are the best places in South America as per each country?
Though I have not visited all the countries, I would let you in on some of my favorite places to see in Peru, Bolivia, and Chile —
Chile — the Atacama desert, Patagonia, Vina del Mar, Valparaiso, Chiloé island, Hornophiren, Chaiten, Pucon.I also had a great time spending Diwali in Cauquenes with a Chilean family.
Bolivia — Uyuni salt flats, The Amazon, Samaipata, Torotoro National Park, Copacabana, Lake Titicaca and its islands.
Peru — Puno, Colca Canyon, Cusco, Machu Picchu, Andes mountains around Cusco, The Amazon, Lake Titicaca and its remote islands.
I will add more to this list when I visit the other countries later.
Follow Up Reads
Best Things to do in Peru
Fun Things to do in Chile
Bolivia Travel Guide

Do we visit the Amazon rainforest on our South America travel route?
Of course. You can read about my visit to the Amazon rainforest in Peru to see how exploring the Amazon is like a once in a lifetime opportunity for anyone.
I went to the Manu national park from Cusco, but you can also visit the Iquitos part of the forest which is further inside and takes longer to reach. Of course, the longer the journey is the bigger the adventure is.
You can also visit the Amazon from Brazil, Bolivia, or Colombia. Guyana, Suriname, French Guyana, and Ecuador also have the Amazon jungle, but the area under the forest is pretty small there.
Tours to the Amazon range from a four-day to even month-long adventures. Choose one that suits your budget and preferences. Here is a popular tour of 2-3-4 days in the Anaconda lodge of Brazil that I have my mind on for the next time.
Which are the best places in South America for digital nomads?
Lima, Cusco, Arequipa, Puno, Santiago, Castro (Chile), Medellin, and Buenos Aires are some of the best cities to live in South America for digital nomads.
Internet, housing, culture, food, activities to do, a thriving digital nomad community are some of the things that I have considered while choosing these cities out of entire South America.
Amongst all the big cities, I have listed Castro, the little town on the island of Chiloé, as a great option for a digital nomad for I know it is a gorgeous place with a strong sense of community. If you have been wanting to get away from big city life, slow down for some time in Castro and work in a stilt house with the view of an azure ocean and sheep grazing on the neon grassland nearby. Castro is quite affordable, too.
Arequipa and Puno are also not that big cities but you can still do and see a lot there. They are tier-two cities with a lot of nature and a strong cultural background.
All the other cities I have mentioned are popular amongst digital nomads and for all the good reasons.
Do we need to know Spanish for traveling South America?
Even though a lot of travelers plan to learn Spanish in South America, they never say more than a hola and they still manage.
I learned Spanish while living and teaching in Chile and further polished my Spanish skills while traveling in South America.
Spanish is handy almost everywhere in South America not because most of the people do not speak English there (like even tourist guides and hotel managers and working people in Santiago) but because speaking a few words of Spanish would make you local's favorite in no time. Even a broken phrase of Spanish would go a long way when it comes to hitchhiking or boarding a bus or ordering a Cerveza.
This is probably one of my best South America travel tips— take the effort of learning Spanish in South America. Even though you can manage without learning Spanish, your travel experience would change entirely even if you can speak a little bit of Spanish.
Spanish is a fun language and has many words similar to English. So if you put in some time daily to learn Spanish and try speaking it with the locals, you would manage your way pretty soon.
But remember that all the countries speak a little bit different from each other. If you learn Spanish in Argentina, you will be surprised by the accent of Chileans or Colombians. But the locals will understand. I learned Spanish in Chile, one of the worst countries to learn for the strange slangs and the accent of Chileans, as they told me, and I could understand any Spanish after that.
Follow Up Read: I have written two guides (apart from my Spanish learning experience as I linked above) that will help you learn a language on your own— the tested tips that helped me master Spanish in a few weeks and a list of basic Spanish phrases in South America that will help you travel there.
What are the best places to learn Spanish while traveling through South America?
The best way to learn Spanish is while traveling and speaking to the locals. You can also stay in one place and learn from native Spanish teachers.
Sucre — Sucre has many Spanish schools and also individual tutors who teach Spanish to foreigners in private or group classes.
Cities like Cusco, Buenos Aires are perfect for learning Spanish as you can easily spend a lot of time exploring these cities while getting a grasp on the language.
What should be an ideal backpacking South America packing list?
Your ideal packing list for South America should have these below items.
Clothes
Short for women and shorts for men – For everyday travel in South America.
A good pair of jeans – Even though I am not a big fan of wearing jeans and love many other more comfortable bottoms, sturdy jeans can keep you pretty warm in the high mountains and the surrounding countries. I wore mine frequently.
Swimwear for women and swimwear for men – Most of the beaches would be too cold to get in, even in the summers, but you can definitely jump in some warm beaches.
Yoga pants for women and for men – suitable for long buses, which you will take many in South America, and flight travel, too.
The above-mentioned clothes are some of the most essential clothing items that helped me feel comfortable in South America. This is not an exhaustive list. Some other clothes would include undergarments, t-shirts and shirts, trousers or any other kind of bottoms, and anything else that you feel comfortable in.
Sturdy items to beat the cold and icy winds of some part of South America
Travel Essentials
A fanny pack to carry your passports and money. (I bought one from the San Pedro de Atacama market and loved its local feel. But until you find a locally made one, you should carry one fanny pack especially when you are in Santiago. Read my story about getting mugged in Santiago to know why)
Also, bring a strong backpack as you would travel in weird weather and on rough routes – I have been using a North Face backpack for about four years now and have no complaints.
A travel towel – Carry a light travel towel like this one for it will save you a lot of space.
A first-aid kit – Always carry one while traveling. Carry essential medicines as in most of South America you only buy medication with a doctor's prescription.
Strong sunscreen – Andean mountains can be pretty sunny, and you would burn in a minute.
Mosquito repellant – Much needed for the Amazon and other national parks.
Lifestraw water bottle – Comes with an inbuilt filter, and you can fill it anywhere. A filter water bottle is essential for you cannot drink tap water everywhere in South America.
Memory foam travel pillow for a good sleep while traveling.
A good camera – Nikon D3400 is a very good choice for the price. I use Nikon for all my photography now (the pictures in the article though have been clicked with my phone for I have been using Nikon only for the past nine months). This camera comes with two lenses, and the one with the higher resolution if perfect for bird photography if you are interested.
Altitude sickness pills – remember a lot of Andean places are above sea level and sometimes as high as 4000 to 5000 meters.
Toiletries
Follow Up Activity: You should carry a printout of my list of important Spanish travel phrases that will save you in South America (printable link in the guide).
What is the currency of South America? How do we carry money on our South America Trip?
The currency of South America is different in each country.
You should carry your credit and debit cards, and maybe some cash (USD or Euros or other strong Western currency) at the beginning of your trip. Though all ATMs on airports dispense cash in the local currency, sometimes having a bit of money on you can be helpful.
You would have to exchange the dollars into the local currency, and the best place to exchange money would be the local exchange shops in any (big) city center and not the banks (banks' exchange rate is the worst).
I carried a travel card with about $1000 top-up and another $5oo in cash. This money ran me quite sometime before I had to start using my debit card. The cash helped for I didn't have to pay any transaction charge on that money but the travel card still charged me a conversion rate that was similar to the bank charges.
Banco Estado had the least international card withdrawal fee in Chile. Do try government banks in all South American countries for they would be the cheapest for international withdrawal.
As I mentioned in my travel planning guide, make sure you inform your banks that you are going on an international trip before you leave. My bank blocked my debit card when they detected a transaction in Chile. I had to make an international call to inform them that I was trying to use the card.
You can also request your bank to give you a debit or credit card that has low charges per transaction.
Indian banks do a bad job at international travel, and I don't even know a single bank that gives any leverage to a frequent traveler. If you are a fellow Indian traveler, please let me know if a particular bank has been sweet (less vicious?) to you because you travel. I would appreciate that.
Also never carry your entire cash and card with you while moving around cities. Keep them back in the hostel as ATM threats are known in some parts of the continent.
Or hide everything away in a slim fanny pack.
Can we travel South America as a vegetarian or vegan?
South American food is mostly non-vegetarian.
Traditional food in South America is barbecues (asados), grilled meat and steaks (beef, pork, chicken), fried fish, rice, bread, cheese, seafood, fried empanadas (stuffed pastries) of various types, et cetera.
Meals are made up of two-three courses and start with a serving of soup.
If you are a vegetarian or a vegan, you will have a hard time finding a course that is entirely vegetarian. When I was traveling South America alone, I didn't eat beef. So while I would get the main course that was beef-free, I had to be careful with the soup as most restaurants and homes made soups with minced beef. Even if I had asked for a no-beef meal, the restaurant would serve me the beefy soup, and only upon asking again, the server understood that I couldn't have the soup.
You will have to be careful while eating even if you were clear with your server about your dietary requirements.
Argentina, Chile, Bolivia, Colombia are countries that eat a lot of steak and meat, mostly beef. Peru had a variety of options, a lot of which were even vegetarian.
Only the cities or towns that receive a lot of tourists would have some vegetarian or vegan cafes. In small towns or villages or on islands, you might have a hard time finding vegetarian food.
You can always order fried rice with no meat in it and that is what a lot of tourists did. You can also buy your groceries and cook in the guesthouse's kitchen.
My best food in South America was Casuellas (Chilean soup), sea algae cooked in various styles on Chilean islands, Peruvian preparations of many kinds, empanadas, and fried trucha (trout) fish. Oh, after a while I also started loving the Chilean bread when grilled with cheese and tomatoes and other things.
Do try the traditional South American food but be cautious and ask a few times until you are convinced about the ingredients.
My Spanish travel phrases guide has many phrases that will help you understand the ingredients and help you order as a vegetarian.
Good luck.
What are the recommended vaccinations for South America travel?
I would suggest you talk to a doctor or look at your embassy's website to find out what travel vaccinations for South America would be the best for you.
Medical advice is always best taken from the medical experts.

Can we work on our South America backpacking trip?
You cannot work in South America on your tourist visa. But a lot of travelers sell their art, beads, jewelry, et cetera unofficially.
Can we volunteer in South America for free?
You can do volunteer work in South America, and some of the programs are free and even offer lodging and food. I do not know about all the programs, but I was part of the English Open Doors program in Chile and loved it.
I have written about the program in detail on my teaching English in Chile guide. To give you a short summary, I will say that all native or near-native English speakers can apply for this program. The program is four-months-long, and you have to pay nothing.
You buy your flights, your visa fee to Chile is waived, you get food and free accommodation with a Chilean family, and some allowance.
Read the other .
Suggested Read: My experience with the English Open Doors program
Can we teach English while backpacking through South America?
As I have written above, you can be a volunteer and teach as part of the program, but that is only in Chile.
You can also teach online and offline in Santiago, Cusco, Lima, and other big cities but remember that you would have to compromise a bit on the salary. As per my month-long research in Santiago when I tried to find an online or offline English teaching job, I concurred that the jobs there don't pay so well. Also, most of the jobs were about traveling to different parts of Santiago to teach the students in their own settings. In other cities, the traveling might have worked, but I didn't find Santiago safe and didn't want to commute daily to its unknown and obscure parts.
There are jobs wherein you go to a center and teach English online but they didn't pay that well. If you want to take up any job meanwhile you look for something better, these English teaching jobs are okay to start with. But I am not sure how good they are in the long term.
What would be the best way to find such jobs? Print out a list of the English teaching centers and go to them personally with your resume. Have a conversation with the receptionist or someone who hires the staff and leave your cv. Most of the centers get back in a while over the phone or you might have to go again to remind them.
I also tried looking for teaching work in schools but I couldn't teach in schools without a teacher's degree. Fair enough. You can work as a contractor or freelancer and conduct workshops in schools, but as this is South America do not expect fast response and be prepared to wait it out.
Are the locals friendly to South America backpackers?
I have written a lot about how South Americans are the nicest people in all my Chile, Bolivia, and Peru country guides. I have even written poems on some of the kind souls I met in South America, and I have given an ode to some of them in separate articles.
South American people love to help others. They smile and laugh often and don't make a fuss about most of the things. They are particular about what they like though. Also, they notice how you act and the things you care about and would be quick to tease you on your traits.
I met both kinds of people in South America — some who were friendly and helpful while others who were jealous or detested me for all the attention I got from others.
If there were people who translated every Spanish word for me, then a few people would never care if I could understand a word of what they or the group was saying and didn't help me at all.
Others made fun of some Indian things they had seen on television — the dowry system in India, caste system, Indian population, rat temples et cetera.
The understanding of India is skewed outside as most of the people only know India as per what has been shown to them in the news. Even a lot of travelers who come to India, visit popular places and never get an idea of how India truly is.
I guess I met a lot of such people who behaved as if India was all about filth and child labor, and I had caused all the problems. Consciously or unconsciously, they even said hurtful things. Even one or two of my friends didn't know how to strike a conversation with me on these matters and instead made condescending and judgmental statements.
All I could do in such situations was put across the right information and tell them how India has evolved. After a while, I stopped explaining and let people believe what they wanted to believe or told them off when I was hurt.
If you are from Europe or the US or Australia, you would be called Gringo. A term that originated long ago and has many theories behind it (some of which can be associated with locals shouting out to the foreign police or army as "Green Go.") But apart from the occasional, good-hearted reference as a Gringo, you wouldn't find any racial discrimination.
You would meet all kinds of people in South America, like you do everywhere, but remember that the majority of the people are super nice there. South Americans are open-minded and believe in having fun in life irrespective of what situations fall upon them. Read the story of my Chilean host mother to see how South Americans can brave their problems.
Have a great time and discover more about the people with your experiences rather than a third-person's opinion(like mine).
Follow Up Read: Chile cultural guide is a good starting point to understand the culture of Chile in more detail.
What is the drinking culture in South America?
The drinking culture in South America is fun and inclusive. From small countryside pubs to large bars in metropolitans to overloaded cellars in homes, you can find them all.
South Americans love to drink and party. Their families get together and celebrate even the slightest of the occasion with a drink. And they love to invite travelers for they believe in more the merrier.
The people of South America aren't a big fan of hard liquor and love their beer and wine. Or if I may say, cerveza y vino tinto o blanco. You can have a beer in most parts of South America. Wine is preferable in Chile and Argentina, two of the best wine producers in the world.
Pisco Sour is another must-try drink over which Peru and Chile both have an ongoing copyright fight. If you want to start a debate with a Chilean or a Peruvian just tell them how they got the Pisco sour from their neighbor and I am sure you would see some firecrackers exploding into the sky.
Have fun there. But do remember that there are a lot of drunkards and alcoholics, too, so stay safe. If you are on a South America solo travel trip, make sure you watch your drink when you are drinking outside amongst strangers. Mixing up the drinks of travelers to render them unconscious is an old trick that you don't want to fall for.

What are the kinds of hotels in South America?
You can stay in hostels, hotels, guesthouses, villas, cottages, tents, camper vans, apartments, resorts, treehouses, and there are still other options that I can't recall. I mostly use Booking to book all my accommodations. Give it a try here.
Does Airbnb work in South America?
Yes.
I used Airbnb once in Santiago but Airbnb works even in small cities in South America (popular ones).
But due to the multiple scams that run on Airbnb, I prefer Booking.com over Airbnb.

Can we couch surf in South America?
Yes. I didn't couch surf in South America but I did stay with a lot of friends who offered me there place when I visited their city.
Couch surfing is becoming common in South America, and it could be a good way to get to know locals and reduce your travel costs.

How to travel South America? Can we do overlanding(cross land borders) in South America?
I crossed the land borders in South America three times.
From Chile to Peru — You make your way to Arica and from there to Tacna in Peru. You can get shared taxis from Tacna that will take you to Arequipa, the closest tourist-favorite town from Tacna.
From Peru to Bolivia — I crossed the border into Bolivia via the Puno — Copacabana route. Make sure the driver doesn't leave you at the border and takes you to the town of Copacabana.
From Bolivia to Chile — After a few failed attempts (the details of which you will soon find in a tragedy travel essay that is still finding its space on the internet), I crossed the border from Uyuni into Arica.
I have heard sad but hilarious stories of travelers being befooled by the bus companies who promised them a ticket to the destination but instead left them at the border from where my friends had to trudge their way to civilization without the local money and even water sometimes.
The trick to a comfortable (let's not get crazy here) safe is to find a bus company that is reliable. Online reviews and travel forums discussing the best travel buses across borders might help.
Apart from a random drop in the middle of nowhere, crossing borders in South America is not much different from anywhere else.
Also, always make sure to get to the border in time so that you can cross it even if there are lunch breaks or the queues get too long.
Essential visa guides, only for Indians
Is it safe to do hitchhiking while traveling South America alone or if we are two people?
I didn't hitchhike for the first few months as my Spanish was limited. Later I hitchhiked in Chile in a truck once but I was with a Chilean friend. Hitchhiking is not that unknown to South Americans and you can take your chance with it in safe parts of the continent.
I would suggest that you wait for a couple of weeks to get your first hitchhike for after a few weeks you would understand and communicate at least basic Spanish.
If you are not in a safe part of South America, don't hitchhike.
Do we need to book all the hotels and tours before backpacking to South America?
You do not need to pre-book it all in spite of what a lot of travel websites or South America backpackers suggest. Even in the prime travel season of February, March, and April, I could get rooms in the hostels and hotels at the last minute, except in Cusco.
Hostels in Cusco got fully booked when I tried getting them on the last day. Book at least a day or two in advance if you are in a popular guesthouse in a popular city. That is all.
I got the tickets to Machu Picchu and to a one-way train to Machu Picchu just a few days before I wanted to visit. I got all Atacama tours, Colca Canyon hike, Uyuni tour, et cetera impromptu.
But the Inca and Salkantay hike to Machu Picchu would be better booked at least a couple of weeks in advance. You should also check the status of these hikes as they get closed down pretty frequently due to landslides and other natural causes.

What all should we do for planning a trip to South America?
This travel guide to South America must have answered a lot of your questions on South America trip planning.
Apart from setting your finances right, packing the important bank cards and other things you would need in the continent, making an itinerary or winging it, getting your tickets and visas right, planning your accommodation, and getting your vaccinations, you should also check for the current situation of the country you plan to land in.
If you want to participate in a volunteer program or want to do a Workaway, then plan it ahead.
Do look for the prevalent scams in an area or a city but don't get overwhelmed. A lot of information on the internet about South America seems to have been written on gunpoint.

What books can we read to prepare ourselves to explore South America?
I have not read all these below books but I am on them.
The House of the Spirits a Novel — A unique perspective on 20th-century Chilean culture and politics, written by Isabell Allende.
Wild Coast: Travels on South America's Untamed Edge — An account of an expedition into Guyana, Suriname, and French Guiana by John Gimlette.
The Motorcycle Diaries: Notes on a Latin American Journey by Che Guevara — This book is the travel notes of Che Guevara when he went on a life-changing motorbike journey from Argentina across the continent. It is a good book to understand the pre-revolution South American culture and politics.
Marching Powder: A True Story of Friendship, Cocaine, and South America's Strangest Jail by Thomas McFadden and Rusty Young — Set in the San Pedro jail of Bolivia, Rusty Young, a backpacker, and Thomas McFadden, a drug lord, weave the story of South America's drug culture together.
Turn Right at Machu Picchu: Rediscovering the Lost City One Step at a Time by Mark Adams — For travelers who want to go a bit deeper into the history of the Incas and their fort, Machu Picchu.
At the Tomb of the Inflatable Pig: Travels Through Paraguay by John Gimlette — For travel tales of Paraguay.
The Essential Neruda: Selected Poems by Pablo Neruda, Mark Eisner (Editor), John Felstiner (Translator) — And this might be my most favorite book out of these all. Pablo Neruda is the most acclaimed poet from Chile, and if you read his few lines, you would know why. This is a collection of his poems in Spanish that are well translated in English by the credited translator.
Pablo Escobar, El Patrón del Mal (Something to see and not read) — Though people suggest Narcos as the best show ever made on Pablo Escobar, I loved Pablo Escobar, El Patrón del Mal show on Netflix and watched it in Spanish. It's a good show to understand Colombian history and also to learn and practice Spanish. Here is a recent article about Pablo Escobar that shows how he is remembered now.
Must I say that you have to keep reading my South America travel blogs and tell me what would you like to read more?
Are there any South America backpacker forums we can join?
I am preparing a South America FAQ page that is a collection of various queries I have received on South America travel in the past few years. I would soon publish that FAQ page hoping that it would serve as an online forum for all kinds of South America travel questions. Coming soon.
Meanwhile, you can drop comments on my South America articles to ask any questions you might have.
Would you go back to South America?
Anytime.
I am planning to visit South America, again, for a long time period. I would start with Colombia and then make my way to other parts of the continent.
I am not sure when, but that is a small logistics to figure out.
Find All South America Articles Below.
South America Travel Stories and Travel Tips
Chile Travel Guides
Peru Travel Tales and Guides
Bolivia Travel Guides
Would you love to visit South America after reading my detailed travel guide? Tell me in the comments.
Liked my guide? Please pin it and share with your friends!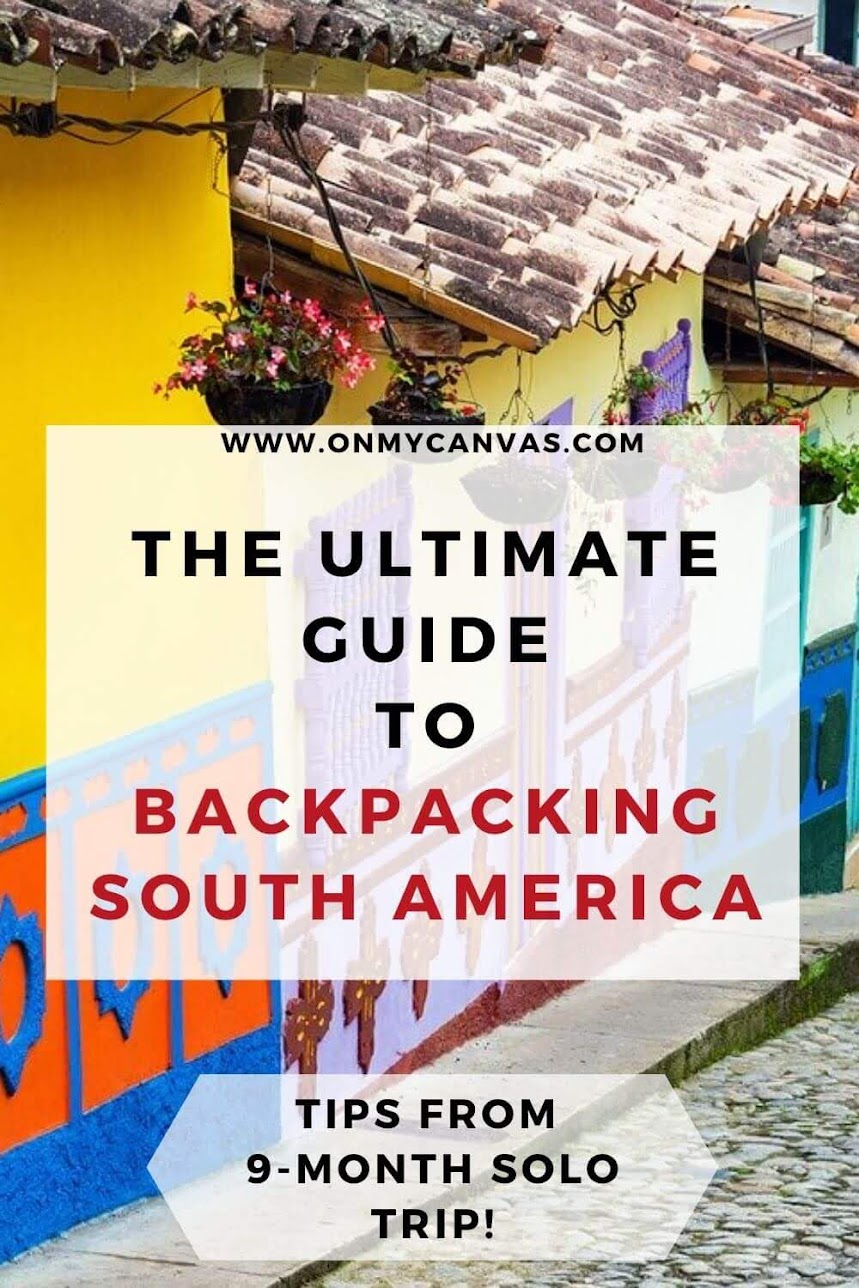 *****
Want similar inspiration and ideas in your inbox? Subscribe to my free weekly newsletter "Looking Inwards"!