Covid-Related Travel Update July 2023 – Peru is now open to international travelers. And as per Supreme Decree 130-2022-PCM in Peru's official gazette El Peruano, Covid entry requirements and all other regulations and restrictions were lifted from November 2022. You can also look at the official website of the Peru government for more information. My guide to Peru visa for Indian citizens would be helpful.
Table of Content for Best Things To Do in Cusco Peru
What I Loved About Cusco city, Peru
Located high in the Andes, Cusco is one of the most culturally significant cities to see while backpacking in Peru. Once the capital of the Inca empire, Cusco is surrounded by the Inca ruins (including one of the wonders of the world, Machu Picchu).
During the twenty days I traveled in Cusco, I was never bored. Sometimes I hiked in the uninhabited Andes valleys near Cusco city. On other days I soaked in the sun at the main plaza and drank chicha morada (a purple corn drink). While some evenings I admired the rainbows behind the baroque cathedrals only to end up drinking at a fun bar, on mornings I could be found elbowing the locals in collectivos (shared taxis) on the way to the sacred Incan ruins. Once I bantered with fun Dutch and Argentinian travelers in a minibus that drove us to a town near Machu Picchu. And two days later I packed my backpack to visit el Parque Nacional del Manu in the Amazon rainforest (or the Manu National Park in English) – one of my best things to do in Peru.
Any traveler can find a myriad of things to do in Cuzco and make the city their own.
Many travelers also dislike Cusco because they find it too touristy. But I enjoyed the fusion of the past and present thriving in Cusco at every turn. From Spanish boulevards, to cozy coffee shops and chocolate cafes, to centuries-old cathedrals standing tall at the plaza, to ancient palaces and temples, to colorful carnival rendezvous in its cobbled streets, to local artisanal markets selling alpaca souvenirs and exquisite stone and abalone shell jewelry, and to hip restaurants and fun bars — Cusco has it all.
But having listed the many things to see in Cusco, let me tell you I winged my trip to Cusco. I had traveled to Cusco from Puno (on the banks of Lake Titicaca). And I hadn't planned where I will go, what hikes I would do, or if I would even visit Machu Picchu, the royal Inca citadel that a million people visited in 2017.
I assume that after reading my detailed South America travel guide, you are expecting a full-fledged Cusco travel guide. Though I am penning down a long post, I am leaving a lot of things to you. After reading this guide, you will be able to decide what to do in Cusco city by yourself.
Cuzco is unique. In contrast to cities such as Uyuni which are dull, scruffy, and appear as blocks of concrete put together, Cusco city is thoughtfully planned. Civilizations as old as the Incas have had a hand in putting it together. On one side, you would see families in their traditional attires at the plaza, Peruvian ladies selling cherimoya on the stone pavements, and local markets still looking as chaotic as they must have at the beginning of the times. But in a split second, you would be surrounded by tour guides insisting to show you Machu Picchu in the best possible way, girls offering Peruvian massages, or women asking you to pet their llamas more embellished than brides in exchange for money.
The city offers a lot and we can choose what we like. This Cusco guide is more about giving you the idea of what to see in Cusco and I won't go into precise details about the cafe you should drink coffee at or what hike you should do on which day.
The 5000-year-old city of Cusco, at a height of 3,500 meters, will surely make you breathless.
15 Amazing Things To Do in Cusco, Peru
1. Walk around the main square or Plaza del Arma of Cusco
I hope you haven't gotten bored of the Plaza del Armas or the central square of South American cities. In Cusco, too, the plaza is the center of activities. You won't miss any carnivals or walking tours if you go to the plaza once a day.
In Cusco, not one, but two churches sit at the main plaza. Standing side by side are the Cusco cathedral (Cathedral Basilica of the Assumption of the Virgin) and the Church of the Company of the Jesus (the Iglesia de la Compañía de Jesús).
Cusco cathedral was once Kiswarkancha temple which was built by the popular Incan ruler Viracocha. But when the Spanish invaded, they destroyed the temple, like many others, and in its place built a baroque church which is now the Cusco Cathedral. The company of Jesus church, which also stands on a destroyed Incan temple, is covered in gold leaves and detailed wooden carvings. The colonial stone arcades surrounding the plaza are now stuffed with tour companies, restaurants, souvenir shops, and cafes.
At the plaza, drink chicha morada (there is a cart), buy the precious stones (from an old man who sells juices and snacks on a pushable cart and underneath holds a stone treasure), or soak in the rich golden sun.
Plaza del Arma of Cusco and the cathedrals
2. Walk to the ruins of the

Coricancha

Temple
If you like historical architecture, you should walk to the ruins of the Coricancha temple. In the Incan times, it was a significant temple devoted to the Sun god. The ruins are only 600 meters away from the plaza.
Coricancha temple was once covered in gold and gold statues had filled its courtyard. But all was looted by the Spanish conquistadores. The robust temple stone walls — which are impressive for no one knows how the Incas fitted the massive monoliths together without using any mortar — were taken into the church that was built on it. The convent of Santo Domingo stands on the temple premises now.
3. Eat at the San Pedro market and shop in the Centro Artesenal Cusco (Don't miss this)
If you have been traveling in South America, you must have visited the local grocery and artisanal markets. San Pedro is your go-to-market in Cusco. There you can find authentic grocery shops, get some colorful fruits and vegetables, drool at the cheeses, taste local chocolate, buy purple corn, admire the colored potatoes, or eat "aji de gallina" – a local chicken dish, ceviche, and more.
Another less touristy market is Wanchaq Market.
For souvenirs, go to the Centro Artesenal Cusco, which is a few minutes of walk down the main plaza. Even though I am not a big shopper, I was lost in the market's big complex. Its colorful alpaca sweaters, hand-woven cloth, stone and silver rings, beautiful bags and scarfs, and so many more things are unique. Your purchase would help the local community, too.
Consider this night tour that includes a late-night walk around Cusco, a Peruvian dinner, and a Pisco Sour: all with a local guide. (Pisco is a yummy grape liquor over whose copyrights both Chile and Peru fight. Don't miss it in Peru.)
You can also visit the Centro de Textiles Tradicionales del Cusco (CTTC) to understand the weaving process of Peru.
Centro Artesenal Cusco
4.

Enjoy a cultural festival in Cusco
Cusco has a festival almost every month so you are bound to run into at least one parade when you visit Cusco.
I happened to be traveling in Cusco when the "happiness" Carnival is taken out on the streets of Cusco in full colors and glory. One morning, I walked to the plaza and stumbled into the carnival. What followed was half a day of dance and music by men, women, and children of all ages dressed up in the most colorful Andean clothes. Cars decorated with fruits followed along, while community groups performed perfectly choreographed classic dances.
Maybe it was the carnival that inspired me to write this Peru poetry.
If you are in Cusco and happen to see one of these (indigenous, Catholic, or food) festivals, take out your camera, watch your belongings, and enjoy the festivities. Find the yearly Peru festivals here.
An if you don't find any festival, consider this guided tour which offers a Folkloric Andean dance and music show and a 3-course dinner at Tunupa restaurant.
5.

When in Cuzco,

take a Peruvian cooking class (one of the must-do activities in Cusco)
Unlike many other South-American cuisines, Peruvian food is rich in vegetables, spices, and nuts. Their dishes are delicious and balanced. And you do get options for both vegetarians and non-vegetarians (much more than elsewhere in SA). Read in detail about Peruvian food in my massive Peru Travel Guide.
For me, taking a cooking class is the best way to understand not only the local cuisine but also the culture. While recuperating from hikes or acclimatizing to the altitude, one can easily learn to prepare delicious and colorful aji de gallina or mango Pisco Sours. The class is mostly started with a shopping trip to the San Pedro market.
Here is a cooking workshop that seems to offer exactly what I am describing.
6.

Wander in the Sacred Valley near Cusco

and See Some of Those Incan Ruins
Before the Spanish invaded South America, the Incas ruled over a large empire on the continent. Then Spanish took over the Incas, most of whom died naturally due to smallpox. To colonize the continent, the Spanish people destroyed the Incan palaces, temples, and cities. So what remains of the Incas now are the ruins.
Capital of the Inca empire from the 13th to the 15th century, Cusco has the highest number of Incan ruins. The Incas lived in Cuzco and were directed to build and expand the city of Cuzco by the royals. The ancient ruins are full of giant stones held together without any mortar. No one has figured out how the Incas quarried them from the mountains and stuck them together on precarious slopes and summits. And this mystery makes these ruins even more special. (More about the Incas and the significance of their ruins in the Peru guide.)
The Sacred Valley, also known as the Urubamba river valley, and in Spanish as Valle Sagrado, lies about twenty kilometers away from Cusco city. Historians predict that the lower temperatures of the Sacred Valley must have encouraged the Incas to make it their retreat from the cold Cusco city.
Some of the popular ruins of the valley are Pisac, Ollantaytambo, Moray, Maras Salt Mines, and Machu Picchu. Visiting these ruins makes for some of the most historical things to do in Peru Cusco.
Ollantaytambo — This is the town where the Incas once defeated the Spanish. Ollantaytambo is also known as the royal city of emperor Pachacuti. In the image below you can see its stone terraced roofs filling the sprawling Urubamba valley.
Many tourists stay in Ollantaytambo for a few days and explore the sacred valley from there. Then they take the train to Machu Picchu.
Moray — Concentric agricultural terraces, seven levels to the middle and then seven more until the bottom.
The Incas must have been good farmers as can be seen by the Moray ruins. Each level of the agricultural terrace (as shown in the image below) represents the geographical features of different regions of the valley. Though all the levels look the same and the whole thing looks like a green bowl, the temperature falls as much as fifteen degrees from the top to the bottom.
Geologists claim the Incas tested their potato and maize seeds in this natural crop laboratory. They must have studied how the crop behaved in each region. (do not miss to see the beautiful purple corn in Peruvian markets and the four-thousand varieties of potato.)
Pisac — Pisac is known for its Sunday souvenir market. But it is more popular for the Incan fortress perched on a high hill and overlooks the town below. Perfectly carved rice terraces cut through the valley that circumscribes the town.
Maras Salt Mines — These mines are cascading salt pools that descend the hill slopes of the Andes and form a network of terraced salt roofs. I couldn't go to Maras but I recommend you do for the thing is mind-blowing.
General information about the Sacred Valley:
Except for Machu Picchu, most ruins can be accessed by a ticket "Boleto Touristico." I talk about Boleto at the end of this travel guide.
To visit the ruins, take collectives or buses from Cuzco. All the hostels and hotels can give information on where to board the collectivos.
My hostel friends and I had first taken a bus to Moray. After exploring Moray, we took another bus to Ollantaytambo. For Pisac, I went by a direct bus.
As the ruins come with a lot of history, hiring a local guide for at least some of the visits is a good idea. Here is a six-hour Moray and Maras Salt Mine tour on which you also get to drive quad bikes. Or you can go for a full-day sacred valley tour which goes through Pisac, Ollantaytambo, and Chinchero village.
Please note: Although I am a do-it-yourself traveler, I am suggesting guided tours because commuting in the Sacred Valley was hard. Mostly taxis functioned between the ruins, and they quoted whatever price they liked. Also, the local guides helped me understand the history of the places in the Cusco region. As the combined price of the taxis, buses, and guides would add up to be more than a pre-booked tour, booking the latter is not the worst idea.
7.

Go to Machu Picchu on your own or book a hike

(the most popular thing to do around Cusco)
Machu Picchu, the royal city of the Incas, is situated in the Urubamba valley close to Cusco. One can go up to Machu Picchu in as many as fourteen different ways.
Here is my do-it-yourself guide to Machu Picchu.
Machu Picchu can be accessed by the short and the classic Inca trail, an organized or do-it-yourself Salkantay trek, a completely-planned tour, or by first taking a train to Aguas Calientes and then by walking or taking a bus to Machu Picchu.
I took a bus to Hydro Electrica (a town near Machu Picchu), walked along a railway line to reach Aguas Calientes (the nearest boarding and lodging), stayed for a night, and hiked up the more than 3,500 stairs the next morning. This was one of the cheapest and most adventurous ways to see Machu Picchu.
Only five hundred people are allowed on the Inca trail per day so book it beforehand. The tickets to Machu Picchu are available until a few days before, and you can buy them in Cusco.
Now some guided help: If you are going by yourself, you can book a two-hour guided tour to Machu Picchu from here. But if you want a comfortable tour that takes you from Cusco via a train, and the bus, guide, and tickets are included: consider this one. Or if you are visiting on your own but don't want to walk the 4000 stairs from Aguas Calientes to the top of Machu Picchu, both ways, get bus tickets here.
Those interested in the longer hikes to Machu Picchu can look at the 4-day Lares trek, the 5-day Salkantay hike, and the classic 4-day Inca trail (all hikes are all-inclusive).
You can purchase the Machu Picchu entrance tickets from Cusco. But if you want to be sure, get the tickets to Machu Picchu here and both Machu Picchu and Huyana Picchu here.
8. Can't go to Iquitos? Visit the Manu National Park in the Amazon jungle

(My favorite thing to do from Cusco)
Tour companies thrust the visit-the-Amazonas pamphlets in travelers' faces all along the Cusco squares. While most people think Iquitos is the only way into the deep Amazonas, Cusco is also a gateway to the Manu National park, part of the Amazon forest.
Manu National park is fairly deep inside the jungle. One has to drive a whole day to arrive at the city of Puerto Maldonado, the base of the park. Consider this option of exploring the Amazonas if you cannot go to Iquitos (maybe you don't have the time or don't want to fly so far).
I had booked a guided tour to the national park from Cusco. On the Manu tour, I spotted many poisonous snakes, colorful frogs, exquisite owls, eagles, and birds, and watched a rainbow of macaws eating clay early morning.
I went to the Amazon in February when the rain beats down on Peru. We didn't see the big cats and other animals, but we stumbled into the footsteps of a mother and baby leopard near our huts. Close, eh?
To book the Amazon tour walk to the many travel shops near the Cusco main plaza and check the prices. I also asked many questions about the guides, the animals we might spot, and how deep we would go. Only pay if you are sure the guides were well-trained and professional.
Must Read: Parque Nacional Del Manu, Amazon Peru – My detailed guide and travel story for a trip to the Manu forest
9. V

isit the secret Templo de La Luna or the Moon temple near Cusco

(Another one of my favorite thing to do in Cuzco)
A travel friend told me about this secluded temple near Cuzco. I took up his advice and went to the temple with my hostel girlfriend.
We plonked into a bus one morning. When we got down from the bus, we had to ask for directions to the Templo de La Luna. We walked a little and found some carvings on a hilltop.
The surrounding scenery amazed me. Miles and miles of Andean trails to be explored, a few thatched huts on the hillsides with women working on the terraced fields, dogs running freely, water streams flowing gently, and an open blue sky to rest under. We frolicked in the pastures for hours, crossed the streams barefoot, had a picnic, talked to the locals, and ran around like little girls.
This is one of the best day trips from Cusco (but sshh). Here is a little guide to arriving at the temple (you can walk to it from the Cusco main plaza).
10.

Chill at the intriguing cafes, coffee shops, and restaurants in the colonial arcades
Peru makes great coffee and chocolate. Cute coffee shops, chocolate boutiques, and restaurants surround the main Cusco square (Three Monkeys Coffee Company and Cappuccino Cafe both are good). Some are on the second and third floor of the plaza arcade while the rest are in the streets running parallel and perpendicular to it.
Find yourself some good coffee, chocolate, and local Peruvian food (Cusco has some great Indian restaurants, too).
11. Take a free Cusco city tour from Plaza de Armas
I discovered these free city tours in Arequipa. Walk to the central square, wait for a Peruvian tour guide while snacking up on local treats, and when the guide turns up, follow her obediently. She will show you the best places to visit in Cusco. I generally take a free tour during my first two days in a city. Thus I understand the place and decide what I would like to do in it.
Cusco's free city tour lasts for about three hours. Ask about it at your hostel or the tourist information center. Or go here. The tour guide expects a tip at the end, so the tour is not completely free.
Or you can pre-book this six-hour city tour with a local guide to be sure.
12. Enjoy the Cuzco nightlife
In Cusco city the modern blends with the traditional. The young Cusco people work for hotels, restaurants, or tours during the day and drink and party at night.
One night in Cusco I went to a pub. My girlfriends and I danced for many hours. The music was nice and the pub was decent. The cool ones are all around the main plaza. Some safe and fun ones to go to are Mama Africa, Inka Team and Mythology, The Temple, Mushrooms, and Norton's Rat Taverns.
Do you know some of these Cusco pubs give free salsa classes at night?
Or if you don't want to dance, go have a beer at Paddy's Irish Pub.
13. Explore the ruins of Sacsayhuaman and mirador Cristo Blanco
More ruins! Let me keep this short.
Sacsayhuaman and mirador Cristo Blanco are about eight kilometers from Cusco. Take a taxi or get on the bus to Pisac and get off at Tambomachay. From there you can walk to Sacsayhuaman.
Of course I didn't take a taxi. I had just taken my visa for Bolivia at the Bolivian embassy in Cusco and was eating lunch in a restaurant. There I met a kind Peruvian grandma who guided me to Sacsayhuaman and instructed the bus driver to drop me at the right place.
I spent a few hours in Sacsayhuaman, hired a lady guide, and sat under the large Christ statue Cristo Blanco (8 meters tall and gifted by the World War 2 refugees from Palestine) perched on a hill next to Sacsayhuaman. In the evening I walked back to Cusco enjoying the magnificent views of the city from above.
The entry to these ruins is covered by Boleto Touristico. You can make a day of it by hiking both ways.
An Insider Travel Tip to Cusco: Walk up to a nearby hill or a popular mirador (viewpoint) to see the city of Cusco from the top. Or you will also get to see the entire Cusco city from Cristo Blanco or while walking back from Sacsayhuaman. You won't regret the walk for the views keep getting better.
14. Do some unusual treks in the Andes, not necessarily ending at Machu Picchu
Peru is a land of mountains, and Cusco is a great place to start a hike. (Don't miss the Colca Canyon trek in Peru. Starts from Arequipa.)
To name a few – Choquequirao Trek, Vilcabamba Trek, Ausangate trek, Rainbow mountain hike, or an alternative to the Rainbow mountain. You can also visit Laguna Humantay, a crystal clear lake outside Cusco at an elevation of 4,200 meters above sea level.
You might want to consider this guided tour (heavily reviewed) which includes transport to the Rainbow mountain, the guided hike, breakfast, lunch, and the return. And this tour to Laguna Humantay also sounds awesome if one doesn't want to bother about getting to the lake. Breakfast, lunch, and transport are included (along with an optional swim in the Humantay glacier).
15. Some More Ideas on What To Do in Cusco Peru
Go to the Cuzco museums. Some of the good ones are:
Museo Quechua or the Quechua Museum

—

for Quechua culture

Inka Museum —

a huge collection of Incan artifacts in a colonial home of a Spanish admiral

Museo de Arte Precolombino

—

more than four hundred priceless artifacts from Peru's history
Centro de Textiles Tradicionales del Cuzco or

Center of the Traditional Textiles of Cusco

— to understand the clothing industry of Cusco and shop
Museo de la Coca

—

explains the history and significance of Coca in Peru

ChocoMuseo

—

get to know more about chocolates in Peru

Cusco has awesome art museums and two art galleries, too.
Cusco Planetarium is another place to stop by to see the stars. Remember Cuzco is high up in the Andes. Nestled in the Andean hills, Incas used to predict entire calendars tracing the movements of stars and planets. As the planetarium is a cultural interpretation center for Incan astronomy, visiting it is a great activity in Cusco (and so does the Atacama desert in Chile).
Go to the Almudena cemetery. I was fascinated to see how the Cusco people put the dead to rest by putting their pictures in the cemetery along with Inca cola, biscuits, cigarettes, flowers, and other things.
If you are adventurous, you can also bungee jump, and do river rafting, or zip lining near Cusco.
You ask for it, Cusco has it.
What is the best time to travel Cusco Peru?
As Peru receives heavy rainfall from December to March, the best time to visit Cusco is from May to September. But in these winter months, Cusco gets cold and windy. It is at an altitude of 3,500 meters. Carry woolen clothes (or buy in Peru) and thick jackets.
I went to Cusco in March and loved the Peruvian monsoon. But it was challenging to hike in the wet mountains and I couldn't spot many animals in the Amazon.
An Insider Travel Tip to Cusco: The Inca festival of Sun or the Inti festival, a week of music and dance through Cusco streets, is in June. Do check out the celebration if you are in Cusco.
How much time do you need for the trip to Cusco?
Some travelers visit Cusco for a few months, many travel to Cusco for a few weeks, a few come to Cusco for a couple of days only to escape to the Sacred Valley, and then some settle down in Cusco.
The time you spent in Cusco depends on how much time you have and what you like to do.
I was traveling in Cusco for two weeks and could have easily stayed for one more. There are so many unique things to do in Cusco.
What is the best way of traveling to Cusco Peru?
If you travel from Lima to Cusco, you can take a 90-minutes flight. Various airlines run the Lima-Cusco route and have tickets as cheap as fifty USD. Do check the flights on Skyscanner and find the best deal. There are no international flights to Cusco.
Or you can also do a twenty-three-hour bus ride from Lima. The winding bus journey might get a bit messy. Many people get dizzy or nauseated while approaching the altitude of 3,500 meters at which Cusco sits.
You can also board a bus to Huacachina or the Colca Canyon/Arequipa in between and go to Cusco later. Thus the journey would be divided into parts and will give time to acclimatize. Night buses to Cusco also run from Arequipa and Puno.
The buses stop at the Terminal Terrestre bus station, three kilometers or a twelve-minute taxi ride away from the Plaza del Armas. Buses are amazing in Peru. PeruHop is the more traveler-friendly one and also more expensive. I mostly used Cruz del Sur and was pretty comfortable in it. Find buses on RedBus.
I took a bus from Puno to Cusco and enjoyed the journey.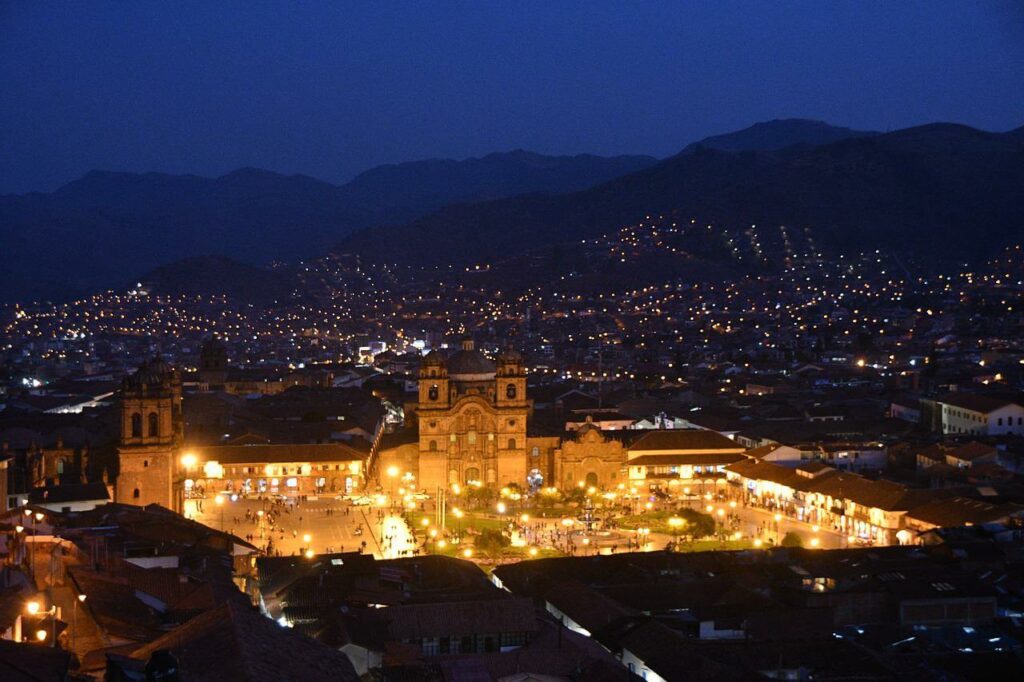 What is the best way of traveling around Cusco city?
Uber, local taxis, collectivos (shared taxis), and buses all carry hundreds of passengers every day around Cusco. Collectivos are for longer journeys unless you want to explain in Spanish where you want to go and when to get down frequently.
Taxis are generally known to be safe in Cusco, and I didn't hear anything notorious about Cusco taxis. That said, don't take a taxi alone late at night. Call an Uber. Most of the time your hotel or hostel can also hook you up with a trusted taxi driver.
Must Read: South-American Spanish guide – All important phrases and words you would ever need in South America. My 24 foolproof methods to learning a language by yourself will help you master Spanish. These are the same tips that helped me learn Spanish in Chile within a couple of months.
Where to stay in Cusco?
Cusco has affordable and expensive home stays, hostels, hotels, resorts, and Airbnb. I stayed at many hostels in Cuzco because every time I came back from the Sacred Valley, Machu Picchu, or the Amazons, I couldn't get a room in the same hostel. Cuzco gets busy so book two-three nights in advance. Or else you would be shuttling between hostels at night with a rucksack on your back trying to find a bed to sleep in (not that I mind).
I loved the DragonFly hostel which was about a five-minutes walk from the main plaza. The hostel provided breakfast, internet, hot showers, a bar, and a fun common area to hang out. The dorm rooms were comfortable. Travelers can also volunteer at the hostel if they are in Cusco for at least a couple of months. Ask at the reception.
You can have a look at the Dragonfly hostel here.
Here are some other great hostels, hotels, and home stays in Cusco. Choose a place near the plaza (a good idea for all South-American cities).
Where to eat in Cusco?
I have already written a lot about cafes, restaurants, and the local markets of Cusco. Now let me tell you a few general things about food in Cusco.
You will never fall short of food in Cusco. Many local eating joints offer a set menu, which includes soup, a main course of chicken or some other meat, and a drink, for 3-8 soles. The main course includes fried fish or chicken, fried bananas (known as banana fritas), quinoa soup, and rice or bread. Vegetarian dishes are also not that hard to find. The accompanying drink would be chicha morada: a tangy juice of purple corn, pineapple or other fruits, lime, cinnamon, and cloves.
For specific Peruvian dishes, please refer to my massive guide to Peru. Ceviche Seafood Kitchen and Pachapapa (cocina cusqueña y más) are both great restaurants to eat in.
Enjoy Peruvian food. But don't forget to get some Pisco Sour. A distilled form of grape liquor, Pisco Sour is prepared with lime juice and is the traditional drink of Peru. Cusco is a great place to get yourself some Pisco.
How to deal with the high altitude in Cusco?
If you take a bus from Lima to Cusco, altitude will change a whopping 3000 meters. You might feel dizzy on the bus or be tired. Altitude sickness can affect anyone regardless of their age or fitness level. So take it slow. Drink a lot of water, eat light, avoid alcohol, and sleep well. Walk to nearby places slowly and keep the first two-three days free. Drink coca tea and chew coca leaves like all the travelers and locals will suggest you. The leaf has been used at high altitudes since the Incan times and is known for its medicinal values and for giving energy.
You will be more exhausted while hiking so keep enough protein and chocolate bars on any hiking trip. And if you feel sick, rest. Don't worry about seeing it all. There is always more time 🙂
Do you need to buy the Boleto Touristico Cusco?
Boleto Turistico is a combined ticket to many historical sites in and around Cusco. It can't be bought online. The full ticket costs one-thirty soles, and the price for students is seventy soles. The full ticket allows entry to three historical circuits and is valid for ten days. Or any one or two of the three partial tickets can be bought if one is not interested in all the circuits. The partial tickets cost seventy soles each and are valid for one or two days only.
Get the Boleto Touristico from the tourist information center at Avenida El Sol 103 or any of the sites included in the ticket. (Maras Salt Mines and Machu Picchu are not included in the Boleto Turistico.)
What to Pack for Your Cusco Trip?
A hat for the sun – Too much direct sun at those heights isn't good while hiking.
Strong sunscreen – Andean mountains can be pretty sunny, and you would burn in a minute

Lifestraw water bottle

– This reusable filtered water bottle comes with an inbuilt filter, and you can fill it anywhere. A filter water bottle is essential for you cannot drink tap water everywhere in Peru.

Good hiking shoes for women

and

good hiking shoes for men

– A must-have.
A

travel towel

– Carry a light travel towel like this one for it will save you a lot of space.
A day hiking backpack – As there are plenty of places to walk around Cusco, you would need a sturdy backpack to take for the day with you. I used to stuff this day pack with basic medicines, rain jacket, water bottle, bananas, wallet, power bank, and other essentials.
Altitude sickness pills
Regular use clothes such as shirts and t-shirts
These are the most important things you would need on your Cusco trip.
Follow-Up Reads:
Did you enjoy my Cusco Travel Guide? Let me know in the comments.
Like the guide? Please pin it and share it with the world!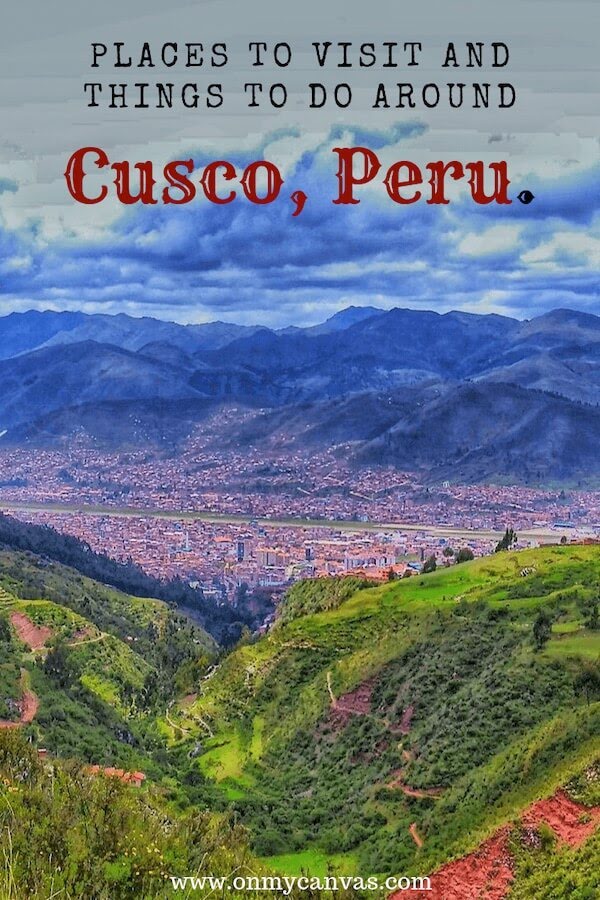 Disclaimer: This post contains affiliate links; if you choose to click through and make a booking or purchase a product, I will earn a little bit at no extra cost to you. Thank you.
*****
Donate to keep me going!
For five years, I've read and wrote day and night to keep On My Canvas - my sustenance and life's focal point - going. Everything here and my weekly newsletter "Looking Inwards" is free. No ads. No sponsorships. If you've had some good moments reading my posts or felt hopeful on a lonely day, please consider making a one-time or a consistent donation. I'll really appreciate it (You can cancel anytime).
*****
Want similar inspiration and ideas in your inbox? Subscribe to my free weekly newsletter "Looking Inwards"!