Covid-Related Travel Update July 2023 – Peru is now open to international travelers. And as per Supreme Decree 130-2022-PCM in Peru's official gazette El Peruano, Covid entry requirements and all other regulations and restrictions were lifted from November 2022. You can also look at the official website of the Peru government for more information.
Table of Content (TOC)
Peru is an easy country to enter. People from the US, most countries in the Americas, and Western Europe do not need tourist visas for Peru. But it is a different case for the Indian citizens.
Peru Visa for Indians
The process of the visa to Peru was worth the effort to see the gorgeous country (here's my extensive travel guide to Peru). But the process simplified soon after I visited Peru.
Since March 2017, Indian nationals holding a minimum six-month valid visa or who are permanent residents of either the US, Canada, United Kingdom of Great Britain and Northern Ireland, Australia, or any Schengen member country can enter Peru for one-eighty-days (180) per year without a Peru visa (for tourism and business visits).
The maximum period of stay will be up to one hundred and eighty (180) calendar days, either as a continuous visit or several consecutive visits, during the term of one year.
You can check out the declaration of the Peru visa exemption by the Embassy of Peru in India.
But those of you who do not hold any such visas or permanent residentships, please read on to understand the process of Peru visa for Indian citizens.
I visited the Peru consulate in Santiago. The office gave me a list of documents and told me the visa would be issued in two days. Please note I had a six-month temporary residency in Chile and a Chilean identity card (Carnet or RUT). I have also listed the process of application of a Peru visa from India and the Peru visa requirements.
Suggested Read for Indian travelers: My comprehensive guide to visas for Indians, information on almost 60 countries, and I am constantly adding more.
Travel Visa to

Peru for Indian Citizens — Applying from Chile
Here is the list of the documents I had to submit to the Peru consulate in Santiago (Given I held a temporary residentship of Chile),
Passport and a photocopy of the passport

A photocopy of the Chilean identity card
Certificate of Antecedentes (a criminal or police record, proof I hadn't engaged in illegal activities during my stay in Chile)
One passport-size photo
Last three-month bank statements
Hotel bookings during the stay in Peru
Return flight tickets
Completed application form
I had everything else except the return ticket. I spoke to an Indian friend who had recently traveled to Peru, and she told me she had to get many documents notarized (from the list mentioned above) to submit the Peru tourist visa application. But she did not show flight tickets as her Chilean friend had explained to the consulate they were traveling to Peru by car. The process of visa for Peru depends on the specific consulate and the concerned officials.
As none of the airlines allowed me to hold tickets, I went to the Peruvian consulate with the rest of the documents. The documents were straightforward. You can get the Certificate of Background from the Civil Registry in any Chilean city. I submitted my Indian Citibank account statements (in English), and the account balance was in Indian Rupees. My Chile Identity Card (carnet) was valid only for a few more days.
I paid 36 USD for the visa fee. I also explained to the lady at the consulate I was planning to travel by bus. She grabbed my documents and went to speak with her boss.
The inquisitive visa lady wanted to visit India and wondered if arrange marriage still prevailed in India and if my parents had chosen a groom back home. She even asked me if I had a boyfriend. See, visa interviews and appointments aren't all boring.
While talking to me, she not only forgot that other people were waiting for her, but she also forgot to tell me her bosses didn't care for return tickets.
Two days later, I collected my passport which was stamped with a 183-days, one-year valid, and multiple entry visa for Peru.
Must Read: Chile Visa and Bolivia Visa for Indians from India and South America
Visa for Peru

— A

pplying from India
As per the Peru embassy in India's website, the below documents are required.
1. Passport with a minimum validity of six months after the expected date of arrival to Peru.
2. Photocopy of the front and back sides of the passport.
3. Two (DGC 005) forms duly typed or handwritten, in block letters and using black ink.
4. Three recent colored, passport-size photographs (4.3 X 3.5 cm) with white background. The face size should cover between 70% – 80% of the photograph.
5. A cover letter duly signed by the applicant.
6. If employed, the applicant must present a no-objection certificate furnished by the employer, indicating the date they joined the organization, as well as the purpose and the time of their stay in Peru.
7. Round-trip ticket reservation to Peru – I always use flight itineraries (not confirmed reservations) or blocked tickets or tickets on hold while applying for a visa. For if there is any problem with the visa, you will lose the money with confirmed tickets.
8. Day-by-day detailed itinerary while in Peru – The embassy needs this to get a rough idea of your travel plans. Have a look at my best things to do in Peru guide and make a Peru itinerary for yourself.
9. Hotel reservation(s) in Peru – Book on Booking. If you don't like the reservations or change your dates, you can always cancel and rebook.
10. Proof of financial solvency, e.g. bank statements, fixed deposits. These are required even if the trip is sponsored.
11. Personal Income Tax Return (ITR) of Form 16 (1 year), if applicable.
12. In case of sponsored trips:
The sponsor in Peru or India should present a guarantee letter attesting that he or she will be responsible to bear some or all costs of boarding and lodging of the applicant, or repatriation if needed.
Valid identification document of the sponsor, e.g. Peruvian DNI, Aadhar card, Passport, or any other valid national identification document.
Proof of financial solvency of the sponsor, e.g. bank statements, fixed deposit.
As per the embassy, the time of Peru tourist and business visa processing for Indian nationals normally ranges from 4-5 working days. The visa fee is Rs 2250, in cash. Also, notice that the Peru embassy has written – Peru does not require travelers to hold a valid yellow fever certificate.
But if you go to the Iquitos part of the Peruvian Amazon, I would advise you to get a yellow fever vaccination done. Be safe, always. (Related Read: Manu Park Tour, The Amazon Jungle, Peru)
As per readers and other friends who have shared their experiences with me and also as per the Peru embassy, you can apply for a visa to Peru with an agent. The processing time is about 3-4 working days or more if the embassy is busy.
An Important Note Regarding Visas
I traveled in Peru for a little more than a month. I had 183 days and a one-year-valid multiple-entry Peru visa stamped on my passport. But the immigration officer at the Arica-Tacna (Chile-Peru) border crossing stamped my passport allowing me a one-time stay of thirty days, only. To get to stay a few days over a month, I went to the immigration office in Cusco.
The officer listened to my pre-rehearsed story that elaborated I was in love with Peru and a month to explore it was too short. He stamped my passport with more days and suggested I request the border officer next time to allow me to stay the entire duration granted by my visa.
I would have told the young immigration in charge at the Tacna border that I intended to stay for the whole period, but I was still new to long-term travel. Also, the officer at the border crossing had been bewildered to see an Indian passport; he twisted and turned my passport in his hand and was only relieved when my Chilean taxi-driver-cum-immigration-expert told him I held a visa to travel to Peru (Visas will continue to trouble me in South America. You can read about the time I shuttled between the Chilean and Bolivian border controls in this narrative).
All the bags were scanned, and I was found guilty of possessing pears and plums, the life-saving rehydrating souvenirs from the desert city of Arica. As Peru is a major cultivator and exporter of colorful fruits and vegetables, I was allowed to cross only after the border officials bereft me of the fruits.
But I should have told the officer I intended to stay for the entire duration of my visa and should have requested him to stamp my passport accordingly and not as per any time he felt comfortable with.
About Peru
Peru was historically and culturally rich. I still have to visit a lot of countries, but I am sure Peru would remain one of my favorites for a long time.
As I climbed the imposing summits of the mystical Machu Pichu, strolled along the cobbled streets of the bustling-yet-quaint town of Cusco, immersed myself in the serenity and the lushness of the Manu National Park in the Amazon, and watched a star-studded night from the roof of a rustic house on the remote islands of the highest navigable lake in the world i.e. Lake Titicaca, I couldn't help but gaze at the Peruvian natural wonders and the man-made, nature-adhering solutions in awe.
The air of Peru was filled with romance, and the politeness of the people and the rich aroma of the flavorful Peruvian food indulged me completely.
Also a helpful read for your South America trip: My list of Basic Spanish Phrases along with Hindi and English phonetics. (You can also print the guide and bring it along on your Peru trip.)
Guys, as long as you have time and health under your arm, travel. If for nothing else, travel to see this world, that is more beautiful than anything else.
Follow-Up Reads:
My exhaustive guide to traveling in Peru – I backpacked in Peru for about five weeks. This complete Peru guide is a one-stop travel guide on all the information on Peru and answers all your Peru travel questions.
My complete travel article on Chile – I taught English in Chile for five months and traveled through the country, solo, for about 6 months. This Chile guide has all the information that I can provide on traveling in Chile and understanding the country from a foreigner's and an Indian's perspective.
My comprehensive guide to traveling in Bolivia – I traveled in Bolivia for about a month, solo. In this Bolivia guide, I have written down exhaustive travel information on Bolivia. Places to see, things to do, and Bolivia's economy and politics, you will find it all.
Let me know if you have any questions. A lot more South America articles are on my blog. You can find them by navigating to this South America page.
If my Peru Visa guide helped you please pin it so that others can find it. Thank you.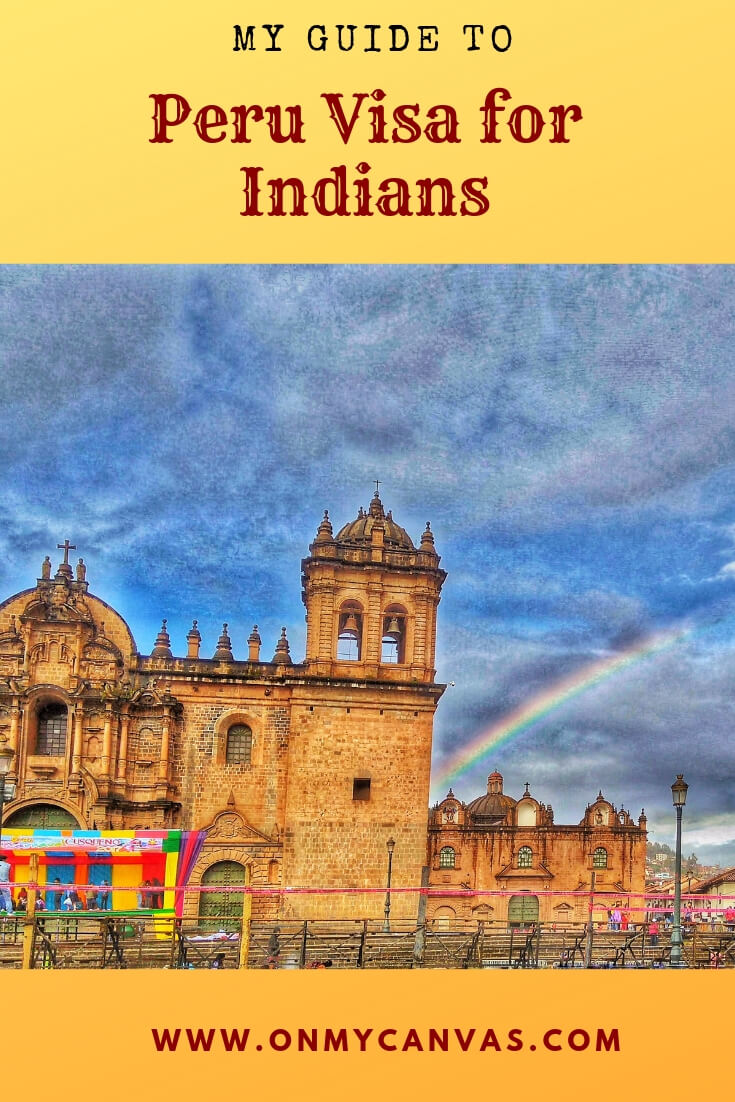 Are you planning to go to Peru? Let me know if you have more questions about getting a Peru Visa for Indians.

Peru visa requirements for Indian citizens As you can see, many people are posting their experiences, asking questions, and helping out each other. Let's keep this information exchange going to have the most recent information and experiences on Visa for Peru.

*****

Donate to keep me going!

For five years, I've read and wrote day and night to keep On My Canvas - my sustenance and life's focal point - going. Everything here and my weekly newsletter "Looking Inwards" is free. No ads. No sponsorships. If you've had some good moments reading my posts or felt hopeful on a lonely day, please consider making a one-time or a consistent donation. I'll really appreciate it (You can cancel anytime).

*****

Want similar inspiration and ideas in your inbox? Subscribe to my free weekly newsletter "Looking Inwards"!