Covid-Related Travel Update July 2023 – Peru is now open to international travelers. And as per Supreme Decree 130-2022-PCM in Peru's official gazette El Peruano, Covid entry requirements and all other regulations and restrictions were lifted from November 2022. You can also look at the official website of the Peru government for more information. My guide to Peru visa for Indians would be helpful.
What can I say about backpacking Peru that hasn't been said before?
Rugged Andes peaks, turquoise glaciers, deep canyons, thick Amazon rainforests, an arid coastline, giant vultures soaring high, thousands of ethnicities and beliefs, roasted guinea pigs as delicacies, myriad colors in a single piece of cloth, Catholics and indigenous together in a household, bright fruits and vegetables, vast reserves of silver and gold, a lake as giant as an ocean, penis temples, centuries-old ruins, simple people trying to make ends meet — these are the things Peru reminds me of.
During the entire five weeks I was traveling in Peru, I was trying to comprehend the stupendous landscape rolling in front of me.
Now let us get started with this Peru travel guide. If you don't want the general travel information about Peru, head to my best things to do in Peru guide.
What does this Guide to Backpacking Peru Contain?
Table of Content [TOC]
If your plane flies above the Peruvian Andes, make sure to look down. The mountains below will blow your mind. Incas, rulers who overthrew all the previous kingdoms in Peru, are only remembered by their ruins now. One of their most significant remains is the royal city of Machu Picchu they built on top of the Andes. No wonder it is one of the seven wonders of the world. Travelers trek through the highlands, lush tropical rainforest, and other Inca ruins to reach this citadel sometimes in four days and at times in seven.
The Amazon jungle that covers sixty percent of the country houses unique plants, animals, and mammals that most biologists have never even heard of. If you go to these Amazon jungles or as the locals call them el selva, the guides will tell you how one day they saw an uncontacted tribe member near the Madre de Dios river. We tried to give them bananas, but he ran back into the thickets, they would chirp. Or a video of a jaguar would be presented if the guides like you.
I went to the Manu National Park in the Amazon. Visiting the Manu forest was one of the best things to do in Cusco.
Even though I had been travelling in South America for six months, I hadn't thought of visiting Peru. I happened to backpack Peru because the visa process was easy and the country was close to Chile.
Combined Read: My one-stop travel guide to Chile and comprehensive travel guide to Bolivia.
Why is Peru called Peru?
Perú might have got its name from the words Pelú and Berú. When the Spanish arrived in Peru in the 15 century, they asked the local fishermen about the place. The fisherman told the Spaniards the country was called Pelú, the local Quechua word for a river. Quechua was the language of the Incas, and they were standing on the banks of a river. The fisherman's name was Berú.
Thus the Spanish started calling the land Perú. But this is just one of the stories.
Where is Peru?
Peru is a large country situated at the westernmost edge of South America. Bordered by Ecuador, Colombia, Brazil, Bolivia, and Chile, Peru is flanked by the Pacific along its entire western length.
What is the Landscape and Geography of Peru?
Covering almost half a million square miles, Peru is a little smaller than its neighbors Ecuador and Colombia combined and larger than Spain and France together.
The landscape of Peru, though unconquerable most of the time, is a treat to the eyes. A dry coast, thick rainforest, and imposing mountains cover most of Peru. Along the West coast runs the 1,555 miles long desert which forms only 11 percent of Peru but houses more than 50 percent of its people. The big cities of Peru such as Lima, Trujillo, and Tacna are situated along the coast.
The Andes, the second-highest mountain range in the world, runs throughout the length of Peru and can be divided into three parts: Northern, Central, and Southern. The Andes, also known as Sierra, seem to be cutting through the country to shield the Amazon from the coast.
The Northern Andes are narrower and lower. Some of the Andes peaks can be seen from the beaches.
The Central Andes has high snow-capped peaks including Mount Huascaran. It is the highest peak in Peru reaching up to 6,768 meters. The Cordillera Blanca or the While Cordillera lies to the west of this central range housing many white glaciers giving the range its name. The peaks of white cordillera that go as tall as 5000 m (more than 70 in number) are popular for hiking in Peru and are accessible from Huaraz. It is the closest town to the Cordillera and a popular base for hikers. The main source of the Amazon River is located close to the Cordillera, too.
The Southern Andes is broad. Its western edge (near the coast) is flanked by a cluster of volcanoes, one of which is the Misti volcano. Misti can be seen from Arequipa, the white city. The eastern edge of the Southern Sierra, also known as the Cordillera Oriental, is high with peaks as tall as 5,800 meters. Urubamba valley (in which Machu Pichu and Cusco reside) is part of Cordillera Oriental and borders the Amazon basin.
The Central and Southern Andes are dry, rugged, steep, and, thus, inhabited.
On the east of the Andes lies the Amazon rainforest which covers 60 percent of the country but houses only 5 percent of the population. Many undiscovered tribes live deep within the selva, the local name of the Amazon.
Lago Titicaca, the world's highest navigable lake shared between Bolivia and Peru, lies to the south of the country. Titicaca is formed by an altiplano that lies between the southern ranges and slopes southwards into Titicaca. From the Southern tip of the country begins the Atacama desert which then sprawls into Bolivia and Chile. Titicaca lake is at a height of 4000 meters.
Huacachina dunes, the mighty old Machu Picchu, salt fields, the Colca Canyon (twice as deep as the grand canyon), Inca ruins, the tall and untamed Andes, rainbow-colored summits, farmers dressed in colorful traditional clothes working in lush paddy fields — you can find everything in Peru.
I have described the geography in detail to understand the country's zigzag landscape before we try to navigate it.
Another important thing. Given the altiplano geography of Peru, most places you visit in Peru, such as Cusco, Puno, Arequipa, Colca Canyon, and Lake Titicaca, are at high altitudes: as high as 4000 meters and even higher. I talk about preparing for the altitude of Peru in the linked section.
History of Peru
Peru is a very old country. Inhabitants are said to have lived in Peru as early as 15,000 years ago. The civilizations that thrived around 500 years ago were the Chavín, the Moche, and the Nasca. But most people only know about the Incas who ruled the country until 600 years ago.
Rising in the 1200s, the Incas overthrew the earlier civilizations and became a giant empire by the 1400s. But they were defeated by the Spanish invaders in 1531. The Spanish persecuted the indigenous communities of Peru and colonized it for about 300 years. In 1821, Peru overthrew the Spaniards and became independent.
What is the Political Condition and Economy of Peru?
After its independence from Spain, Peru had territorial fights with many neighbors including but not limited to Ecuador and Chile. Once the disputes with neighbors were settled, military regimes overthrew the constitutional government and ruled Peru until 1980. During the military regime, the economy of Peru hit rock bottom.
The poor economic condition and unemployment can be blamed on the agricultural reforms brought in during the military rule. Or we can say that natural inflation, corruption, and natural disasters were the culprits. Whatever it was, Peru's situation deteriorated continuously.
Peru has abundant silver, gold, copper, zinc, lead, iron, oil, and natural gas reserves. The country isn't short of fresh fish supply and also boasts a thriving textile industry. But 54 percent of the population of Peru lives in poverty. Agriculture and tourism support the economy but aren't able to haul its full weight.
The worsened social and economic conditions provided the perfect fermentation ground for the terrorist groups Sendero Luminoso (The Shining Path) in rural areas and the Tupac Amaru Revolutionary Movement (MRTA) in Lima. The drug cartels thriving in the Andes (Bolivia is one of the largest producers of coca: the ingredient for cocaine) supported these terrorist groups.
Peru saw a series of presidents who failed to do the country any good, led to many hilarious stories, and served the prison for abusing human rights and corruption. Now Pedro Castillo sits on the President's seat.
What Type of Government Does Peru Have?
Peru is a democratic republic, with a president, a congress, and a supreme court. Peruvians are required to vote by law. Unlike Bolivia where Morales will soon run for President for the 4rth time, Peruvian Presidents can only be elected twice in a row and serve a five-year term. Though as I update this in July 2023, Luis Arce is the president of Bolivia.
What is the Population of Peru?
Peru has 33.9 million people. Most of the Peruvians live on the dry coast. Lima, the capital, houses more than half of Peru's population.
How are the Peruvian People?
Hundreds of ethnic groups live in Peru. Though Lima is home to some of the most sophisticated Peruvians, you can find potato and corn farmers in the Colca canyon who live without electricity. While on Lake Titicaca, islanders would be busy laying fresh seaweed under their makeshift islands, further up shamans would be busy healing the travelers in the thickets of the Amazon selva.
As Peru has witnessed a plethora of rulers and civilizations over thousands of years, Peruvians are now a mix of indigenous, Spanish, Europeans, Asians, and Africans. They follow a potpourri of Catholics and indigenous beliefs.
Many travelers and multiple bloggers say Peruvians aren't forthcoming. But I would say Peruvians are warm and friendly people. And the ones I met were shy in the beginning only to open up to me as soon as I spoke.
Whether it was Peruvian grandma I met in the restaurant of Cusco or the little girl who played "hide and seek" with me on the Taquile island or the man on the Cusco square who let me play with his daughter, I felt at home with all of them. They bantered and teased freely.
But I could speak Spanish. If you are backpacking in Peru for the first time you might not be able to converse in Spanish.
But even if you can say only a few words, I would suggest you go up to your Peruvian host and speak up or smile. Or gesture with your hands if you have to, for that is how I first communicated in South America until I learned Spanish in Chile.
Things would smoothen out soon, I promise.
You should also check out my guide to learning a foreign language. I have noted all the 24 methods that help me learn Spanish. Also, read this collection of basic Spanish travel phrases guide (along with English and Hindi phonetics) that will help you communicate.
What Language is Spoken in Peru?
Apart from Spanish, Peruvians also speak Quechua: the language of the Incas, and Aymara: the language in the highlands, Cusco, and Lake Titicaca area.
Similar to other South American countries, locals don't speak English. Even the indigenous homestay owners or tourist guides on remote islands would gesture with hands.
Thinking of referring to the guides I mentioned above?
Here are the guides for your reference: My experience of learning Spanish in South America, common Spanish phrases for travelers, and 24 tested tips to learn a new language on your own.
Is Peru Safe to Travel To?
Traveling in Peru is safe.
During my five weeks of backpacking Peru (solo apart from the times I was with other travelers), I felt safe in small towns, big cities, and even in the jungle. Peru is considered to be pretty safe for solo female travelers.
But Lima, especially the Miraflores area, is considered to be prone to petty thefts and mugging. The notorious South-American "express kidnappings" where travelers are taken to an ATM and made to withdraw cash at gunpoint or the edge of a knife are also heard in Lima and Cuzco sometimes. All the travelers who had been to Lima (I didn't go there myself and I will tell you why later) confirmed nothing happened to them. I spent two weeks in Cusco and didn't see or hear of any ATM kidnappings.
Also, counterfeit notes are popular in Peru. Be careful while getting change.
Many blogs claim that Sacsayhuaman, an Inca ruin near Cuzco, is prone to mugging. But I went alone there, too, and have nothing to complain about.
The internet is divided over travelers' safety in Peru. But from what I see most people claiming Peru to be a dangerous country have based their opinion on hearsay rather than experience. I read a 60-year-old woman's testimony who backpacked alone in South America. She said she felt secure and comfortable in Peru.
Perhaps because I traveled in smaller places such as Puno rather than in the capital Lima I felt safer. Delinquents and muggers rush around in cosmopolitan places because they believe they have more opportunities in big cities (I was robbed on a running bus in Santiago Chile).
Following common sense is the best tip one can give you to stay safe. Avoid getting out late at night. Don't wander in deserted streets. Use the ATM carefully; withdraw cash, go back to your hotel, and put the extra cash and your card in a locker. Withdraw once a week or every two weeks to reduce the chances of you being out with your card.
Be vigilant on the bus. Watch your luggage. Carry money in a security belt on your stomach. At the risk of sounding like a mother, I advise you to not accept a drink from a stranger. Or, at least, make sure it is prepared in front of you.
These are some of the general rules we follow in our hometowns, too. Suggested Read: Backpacking South America — Here I have listed all the ways to stay safe in South America.
Though Peru's notorious drug traffickers, unstable political system, heavy cocaine production, civilian protests, and mafia gangs such as the Shining Path are known to create a ruckus now and then, none of these directly impact travelers as long as they mind their business and befriend peaceful and kind locals.
Here is a long list of possible scams if you are interested. But remember the aim of this article must have been to give exhaustive information. Read at your own risk.
Also, get travel insurance. Because when things go wrong nothing sounds better than knowing you are insured.
Must Read: All the Travel Resources That Help Me Travel Safe and Comfortable Around the World (included details on insurance, too)
What is the Best Time to Backpack Peru?
I was backpacking Peru in February and March. Or should I say I scuttled around the country wrapped in my bright pink rain jacket for the clouds poured down heaven and hell? But I love the rain so I enjoyed my Peru trip and have no regrets.
The dry Peruvian winter lasts from May to September. The summer is from December to March. Though summers could be really pleasant in the highlands, Peru receives most rain during these months.
As Peru has myriads of geographies, the country is said to experience thirty-two different types of climates. If you want to hike the Inca trail (which closes down in February) or visit the Amazon, go in the dry season: April to October.
How Much Time Do You Need to Visit Peru?
Well, how much time do you have?
I traveled in Peru for five weeks, and I can't wait to go back. But I am a slow traveler.
If you are any better than I am, you should still think of going to Peru for two weeks. In two weeks, you can visit the South of Peru where the major attractions of Peru are located. Land in Lima, take a flight to Cuzco, and save a day.
The ideal time to spend would be about four weeks in Peru. A Peru itinerary for 4 weeks would give you sufficient time to hike the Andes, go to the Amazon, wander in the Inca ruins, stay on the Lago Titicaca islands, and experience the Peruvian culture by living with the locals.
But irrespective of the time you have, don't try to do everything. Peru has a lot to see, and you can easily get confused. Also, some of the activities, such as hiking the Inca trail or walking around in Puno, will leave you exhausted.
Relax and travel slowly to fully enjoy this gorgeous country.
Peru Travel Guide: What are the Best Places to Visit in Peru?
First, let us talk about the best places to see in Peru, and then we will go through some of the best things to do in Peru (think hiking, going offbeat, running behind sloths and monkeys).
1. Visit the historic town of Cuzco, Peru
Cusco was once the capital of the Incas.
Though Cuzco was crowded with tourists, the city has its charm. There are unlimited fun things to do in Cusco Peru. Two main churches: the Cusco Cathedral and the church of the company of Jesus sit on the main plaza in all glory. Tourists flock around the plaza like the hundreds of pigeons fluttering at the water fountain in the square. If you are lucky, you would be able to witness a religious festival or a carnival decorating the streets of Cusco.
Even without any festivities, Cusco is a great city to walk around, eat Peruvian delicacies, and meet travelers. Or just sit at the main plaza (there are many smaller ones, too) and soak in the sun.
Tour companies line the streets of Cusco. You can book a tour to Machu Picchu or the Inca trail. I will talk about 3–4 other trails to Machu Picchu in the cool things to do in Peru section.
Or go to the Sacred Valley. The Sacred Valley is popular for the pre-Hispanic archaeological ruins that were constructed or conquered by the Incas. Buy a boleto touristico, a ticket which gives entry to most ruins in the valley. If you have time, stay in the villages. Take a collectivo or bus from Cuzco to reach all these ruins.
This full-day Sacred Valley tour to Pisac, Ollantaytambo, and Chinchero village or this six-hour Moray and Salt mines tour both look good. You can also take a day tour to Palccoyo, an alternative to Rainbow Mountain from Cusco (and of course, there is Rainbow Mountain).
Shop alpaca souvenirs and exquisite jewelry from the Centro Artesenal Cusco. San Pedro market is your best bet to get delicious fruits and eat local meals.
Hostels and hotels get busy so book a few days in advance. I had to switch hostels 2–3 times because I hadn't extended my stay and the beds had gotten full.
I stayed at the Dragonfly hostel. The hostel is near the main plaza and provides all you need. Click here to book Dragonfly.
2. Go to Machu Picchu, one of the seven wonders of the world
Here I have written all about visiting Machu Picchu on your own. First, I took a bus to Hidroeléctrica. Then walked alongside the train track while singing and chatting with Chilean and Argentinian travel friends to arrive at Aguas Calientes (the closest inhabited place). I spent the night there and hiked to Machu Picchu early the next morning. Then took a train back to Hidroeléctrica from Machu Picchu (to experience the train journey).
If you are planning to visit Machu Picchu by yourself: Book a bus with the many tour companies crowding the plaza. Or ask at your hotel. The bus goes up to Hidroeléctrica. From Hidroeléctrica, walk or take a train to Aguas Calientes. Check into a hotel in Aguas Calientes or choose one on Booking from here (that's what I always do). Again, either climb up the 3000 stairs to Machu Picchu or get a bus to the top. Your hotel might be able to help with the bus or get this one.
Go early morning to avoid the crowd and the sun. If you want an all-arranged comfortable trip to Machu Picchu, consider this all-inclusive tour.
I chose a quick trip to Machu Picchu leaving the hikes (will do Salkantay mostly) for the second trip to Peru (hopefully soon).
Buy Entry Tickets to Machu Picchu:
Get them from the cultural center near the Plaza de Armas in Cuzco or buy them on the official site here. You can prebook the tickets to Machu Picchu and to both Machu Picchu and Huyana Picchu in the links. The tickets can also be bought from the Centro Cultural Machupicchu, a few steps from the main square of Aguas Calientes. But it is better to get them a few days before you have to go.
Despite what the internet says, tickets to Machu Picchu are available until a few days before the date. But it wouldn't be a good idea to delay getting them until the last minute. Carry your passport and Peruvian soles when you go to buy a ticket.
3. Chill in Puno, a town on the shores of Lago Titicaca
Puno is a small city on the banks of Lago Titicaca, the highest navigable lake. I have written about Puno and Lake Titicaca in the linked article.
In Puno, you can hike in the countryside, eat delicious chifa food (a fusion of Peruvian and Chinese), and gorge on fried trout. Or visit the remote islands on the lake Titicaca.
I went to Uros, Amantani, and Taquile islands. The usual tours from Puno to Titicaca first take the travelers to Uros and then to Amantani for a night's stay with an Aymara household. Uros Island is restrengthened with seaweed by its indigenous community every fifteen days. Some islanders showed us how they collect the weed and use it at the base of the island. On Amantani, eat delicious homemade vegetarian food, drink and dance with the community, and visit the Pachamama temple with the host family.
But the one-day visit to the islands wasn't enough for me. I wanted to spend more time on the lake. So my travel friend and I talked to our favorite tour guide. She sent us off to a remote island. Her cousin sister rowed us in a tiny boat to their house. We spent the next few days walking in the bright countryside, talking to the daughter and her youngest sister, eating potatoes, sitting at the shore of the pristine lake, and you know, just living. No internet.
I stayed at the Cozy hostel in Puno (which isn't open for bookings right now). Browse through other stay options in Puno here. Though a lot of places mention Uros islands in their name, I suggest you book for one night in the central area of Puno and decide there. Home stays run by indigenous families aren't listed online.
Related Read: My guide to Copacabana — visit the Lago Titicaca from Bolivia.
4. See

Arequipa, the white city of Peru
Arequipa is also known as a white city; its buildings and houses are made of sillar, a white volcanic stone. El Misti volcano stuns you from the background all the time.
Start exploring Arequipa by taking a free city tour (which runs from the plaza near the museum). Later visit the gorgeous 17th-century neoclassical Basilica Cathedral at the Plaza de Armas. Or observe the archaic living style of nuns in the centuries-old Santa Catalina monastery. Then there is the Museum Santuarios Andinos (which keeps the mummy of the sacrificed girl Juanita), the juicy fruits and colorful potatoes in the Mercado San Camilo, and the restaurant India in Calle Bolivar.
Arequipa is also the base for the tour and hikes to Colca Canyon.
I stayed at the Los Andes Bed & Breakfast and was very comfortable. Or browse through other accommodations in Arequipa and choose one with good reviews.
If you love to get a better understanding of this white city, book this four-hour tour by a local guide who will take you through both the city and the countryside.
5. Explore Lima, the capital with neoclassical architecture and sunny beaches
While visiting Peru, I didn't go to Lima but you should if you like big cities. I heard mixed opinions about Lima — while some friends hated it, some travelers spent a month in Lima.
Out of Barranco, Miraflores, and the center of Lima, I have heard and read and researched that seaside Barranco is the safest, the most peaceful, and the most artistic to stay in. Lima's beautiful buildings such as the Cathedral and the spectacular Palacio del Gobierno are located in the Plaza Mayor. Consider visiting the Monastery of San Francisco. It was built for the rich Limeños but now everyone hustles for space.
You can easily spend two-three days in Lima relaxing at the beach and eating delicious ceviche. Ceviche is fresh fish cured in lemon juice and served with red onion and crunchy corn kernels: it is one of the things you should not miss in Lima.
Want to know Lima more intimately? This Barranco and Miraflores biking tour with a local guide looks good. Don't forget your sunscreen and ask away all the questions you have. Or go to the cultural center and find a free city tour.
Find a hostel in Barranco here on Booking and only book a place that is rated well for the location, too.
What are some of the optional things to do on Your Peru Backpacking Trip?
I didn't go to these places in Peru but I heard great things about them. Read the description and see if they fit in your Peru backpacking trip.
1. Surf in Máncora
Seventeen hours further up from Lima, this surfing town offers the best waves during December and January. I have heard the beaches near Trujillo are good for surfing, too. If you are coming in from Ecuador's side or planning to go there, it might make more sense to stop at Mancora.
2. Go sandboarding and buggy-riding in Huacuacina
Huacachina is said to have the biggest dunes in South America. It lies in the desert near Ica, a town a few hours away from Lima.
3. Fly over the mysterious Nazca lines near Huacachina
Nazca lines are geoglyphs shaped as wildlife and other geometrical designs. They can be seen sketched on the Nazca desert while flying above it. Though the origin of these Nazca lines is unknown, experts say they are at least 1000 years old.
Book a tour to Nazca lines from Cusco or Ica. Consider this 35-minute Nazca lines flight with a local guide.
4. Hike in the Cordillera Blanca (the white Cordillera) near Huaraz
I have talked about the Cordillera Blanca in the Peru geography section above.
If you love to hike, visit Huaraz in the North. Use the town as a base to explore the 70 peaks and 200 lakes of the Huascarán National Park. One of the popular hikes in the region is the turquoise Laguna 69.
What are the Coolest and the Most Unique Things to do While Backpacking in Peru?
1. Hike the mighty Colca Canyon, Peru
Colca Canyon is twice as deep as the grand canyon and is home to popular condors.
If you are in Arequipa, take a tour to the canyon or take a bus to Chivay and trek it yourself. I have written everything you need to visit the Colca Canyon in this Colca Canyon hiking guide.
2. Go to the Amazon from Cusco or Iquitos
Remember those NatGeo videos and BBC documentaries showing jaguars lurking in the thick jungle, rain pouring incessantly for days soaking every inch of the foliage, and azure butterflies as big as the size of your palm flying in slow motion? Most of those videos have been shot in the Amazonas.
Peru's 60 percent land area is covered by the Amazon, which is one of the best places to see in Peru. I booked four day and three nights trip to Manu national park, one of the deepest jungles accessible from Cusco. The tour picked me up from my hostel in the morning and off we went. It almost took us a day to reach inside Manu and then a day to get out.
We stayed at different huts each night. All were comfortable, fit with hot water, and mosquito nets, and had ample food as the guides had their chef. We saw macaws, went for night walks, and spotted dozens of owls, eagles, birds, poisonous frogs, snakes, and even a jaguar and her baby's footprints near our cottage.
Or go into the Amazon from Iquitos. This town is further deep inside the jungle and can only be accessed via flight or boat. Stay for a day or two in Iquitos, talk to a guide or tour agency, and book a trip.
Many people visit Iquitos to do the ayahuasca healing. I met many people who had tried this natural plant which has unique properties that make you sweat, vomit, and hot. But there is more to it than that.
3. Stay on the remote islands of Lago Titicaca
I have written about staying on Amantani and Taquile island in the Puno section.
But Lake Titicaca has 41 islands. Go wild. Camp. Stay in a homestay. Take a boat ride to any one of these islands and pursue the family to let you stay.
Please note: I have mentioned a few remote islands in this lake Titicaca travel guide.
4. Hike to Machu Picchu
I climbed the stairs to Machu Picchu at 5 in the morning. I sweated and fretted, but the climb was a nice build-up to the top.
Now there are four or five different treks to Machu Picchu, each lasting from a few days to up to seven days. Amongst those, the jungle trek, the Lares trek, the Salkantay trek, and the Inca trail are the most popular.
Inca trail takes you via Inca ruins, high Andes peaks, and lush forests to arrive at Machu Picchu. This trail is generally pre-booked in advance as only a limited number of people are allowed on the trail on any given day. Also, the trail is closed during the February monsoon. If you want to do the Inca hike, find a tour company online. Compare a few and email or call them for prices. Or book the trail from Peru as soon as you arrive there.
Salkantay trek is said to be the most gorgeous one. It is less popular and, thus, less crowded than the Inca trail, too. Taking you via lush lowlands and other scenic routes, Salkantay needs about five days. You can do this trek yourself also. I met many people who had the camping equipment and were heading onto the Salkantay trail by themselves. The route is well-marked.
The Jungle trek includes biking and zip-lining. Do this one if you are looking for an adrenaline rush. Starting at Lares, the Lares trek gives a glimpse into the lifestyle of traditional Peruvian families. This one ends in Aguas Calientes. Book the Lares trek here.
I would suggest reading more and don't just go with what people do. The hikes are strenuous but even fifty-year-old hikers have been doing them.
Related Read: Here's a comprehensive list of the best places to visit in Peru
How Can You Travel to Peru, South America?
You can fly from anywhere in the world to Lima.
I love overlanding so I crossed into Peru via the Arica-Tacna border from Chile. If you also like crossing borders via land, go on reading.
From Bolivia, cross into Peru from the Copacabana-Puno border.
From Ecuador, cross from Aguas Verdes into Peru. If you are in the Leticia in the Amazonas in Colombia, take a fast boat to Iquitos. Remember that both these towns are accessible from the rest of their respective countries only by boat or air.
From Brazil's Rio Branco, cross into Peru's Puerto Maldonado.
If you would love to take a train, get a seat in the Ferrocarril Tacna Arica which runs from Chilean border town Arica to Peruvian border town Tacna. I crossed this border in a taxi I hired in Arica.
Don't carry any fruits while going in or out of Peru. The country is a cultivator and doesn't allow others' pears or avocados. And if you are an Indian, Peruvians will check your passport a few times and wonder about the color and design. But that's just normal.
Do You Need a Visa for Traveling to Peru?
Peru gives a free visa on arrival valid for 183 days to most countries.
But India is not one of those countries. I had to take a Peru visa beforehand. Read my Peru visa guide for Indians to know the process.
Since March 2017, Indian nationals holding a minimum six-months valid visa or permanent residents of the US, Canada, UK, Australia, or any Schengen member country can also visit Peru for one-eighty-days (180) per year without having to get a Peru visa (for tourism and business visits).
Check out the official website of Peru immigration for all the details.
What is the Best Way to Travel in Peru?
The best way to backpacking Peru is to take a bus.
Peru Buses are spacious, come with an attached toilet, a tv, music, a snack and juice, reclinable seats, and are clean. They even have a boarding system similar to flights. The bus ticketing website Redbus works well in Peru. Or check out buses in Peru on Peru Hop, a trusted Peru bus company. PeruHop is reliable but expensive.
The different categories of the seats are Semi-Cama: a recliner seat and Cama: almost a full bed. The cama bus in Peru will let you push the seat to a large extent but still not at 180 degrees (unlike in India). Cruz del Sur (which also operates in Chile) works well in Peru, too.
Trains run in Peru with limited connectivity.
Or fly with any of the popular airlines in Peru. Star Peru, LATAM, Avianca, Peruvian, LC Peru, and Via travel Peru are the known ones.
You can also hire a car and drive in Peru with your driving license. For according to Peru's Ministry of Transportation ("Decreto Supremo Number 040–2008-MTC"): "Original licenses from other countries that are valid and which have been issued in accordance with international conventions signed and ratified by Peru may be used for a maximum period of six (06) months from the date of entry into the country."
While traveling in a city in Peru, take a private taxi, get into a local bus, or take a shared taxi, called Collectivos. They connect the entire city.
TuRuta app which finds the best route using public transport will help you in Lima, Arequipa, and Cusco.
Is Peru cheap?
Backpacking in Peru doesn't cost much. The most expensive things to do in Peru would be going to the Amazon or doing the Inca trek. These multi-day guided tours come with guides, cooks, and gear.
Otherwise, the cost would be around 1500–2000 rupees/$20–30/70–80 soles per day if you stay in dorms, eat set menu meals, and travel around on your own rather than booking a tour for everything. 10 USD/30 soles/600–700 rupees can get a very good bed in a dorm. A little higher will get a whole room.
I am not a typical backpacker in any sense and don't try to save every penny. So I keep switching between a private room and a dorm as per my mood. I always eat on the street and in local restaurants because I like them more than fine dining. (I talk about finding vegetarian food in the food section later.)
For $1–3, you can get a fixed lunch or dinner menu: a soup, main course, and a drink. Those meals are delicious, and I was never dissatisfied. A regular meal in a restaurant will cost a little higher but should be up to $10.
A long bus journey in Peru will cost around $8–15 and a shorter ride within a city will be as cheap as 50 cents to 1 dollar.
As you can see, the cost of a trip to Peru isn't much. But the overall cost depends on you.
How to Carry Money While Visiting Peru?
Peruvian ATMs dispense both Peruvian soles and US dollars. Please refer to the Peru safety section to read the precautions to be taken while withdrawing cash.
Carry what you need for the day in a money belt and keep the rest in the hostel or hotel locker.
What to Pack for Peru? What to Wear on Your Peru Trip?
Peru is cold and windy for most of the year. Though Lima is the dry and sunny coast of Peru, the temperature doesn't go beyond twenty-four degrees.
I saw most Peruvians in colorful traditional dresses. But the younger generation and the working people in big cities wore jeans, t-shirts, skirts, and other western wear. You might want to avoid too-short or skimpy clothes.
Here are some essentials to bring to Peru for an adventurous yet comfortable trip.
A couple of

dresses

for women – Some long and short dresses are good for Peruvian weather.

Short for women

and

shorts for men

– For everyday Peru travel.
A

good pair of jeans

– Even though I am not a big fan of wearing jeans and love many other more comfortable bottoms, sturdy jeans will keep you warm in Peruvian Andes and the surrounding countries. I wore mine frequently.

Swimwear for women

and

swimwear for men

– Peru has some good beaches to jump into.

good hiking shoes for women

and

good hiking shoes for men

– A must-have in South America.

a rain jacket

– Always carry one in the Latin-American countries for you never know when it might rain.

warm and waterproof gloves

– essential for hiking and the outdoors.

a

woolen sweater

– Or buy gorgeous and warm alpaca jumpers in Peru. I bought one in Cusco and another one somewhere else, and those red and white alpaca sweaters are the warmest pieces of clothing I possess. (See the difference between alpaca and llama to understand these Peruvian beauties better.)
a pair of warm leggings or thermals

for women

and

for men

(I wore them under my dresses to stay warm.)
A

fanny pack

for passports and money.
Also, bring a

strong backpack

as you would travel in weird weather and on rough routes – I have been using a North Face backpack for about four years now and have no complaints. (I got a colorful Peruvian bag too but the stitching has come out from every place.)
A

travel towel

– This light travel towel saves space.

Lifestraw water bottle

– Comes with an inbuilt filter. A filter water bottle is essential IN Peru for the tap water is not drinkable.

Memory foam travel pillow

for a good sleep while traveling

A good camera – Nikon D3500 is a very good choice for the price. I use Nikon for all my photography now (the pictures in the article though have been clicked with my phone for I have been using Nikon only for the past nine months). This camera comes with two lenses, and the one with a higher resolution is perfect for bird photography.
A

first-aid kit

– Always carry one while traveling. Carry essential medicines as on the remote islands of Titicaca and in the Andes, there are no medical stores.
Strong sunscreen – Andean mountains can be pretty sunny.
Mosquito repellant – Much needed for Peruvian jungles
Altitude sickness pills – remember most of the Peruvian places are above sea level and sometimes as high as 4000 to 5000 meters.
And needless to say, carry a print of my list of important Spanish travel phrases that will save you in South America (printable link in the guide).
How to Handle the Altitude in Peru?
Most of the places to see in Peru, especially in the South, are above sea level and sometimes as high as 4000/5000/6000 meters.
When you arrive in Peru, take it slow. If you take a bus from Lima to Cusco, your altitude will change a whopping 3000 meters. You might feel dizzy on the bus or be tired. Altitude sickness can affect anyone regardless of their age or fitness level. So take it slow. Drink a lot of water, eat light, avoid alcohol, and sleep well. Walk to nearby places slowly and keep the first two-three days free.
Drink coca tea and chew coca leaves like all the travelers and locals will suggest you. The leaf has been used at high altitudes since the Incan times and is known for its medicinal values and for giving energy.
You will be more exhausted while hiking so keep enough protein and chocolate bars on any hiking trip. And if you feel sick, rest. Don't worry about seeing it all. There is always more time 🙂
Do You Need a Yellow Fever Vaccination to Backpack in Peru?
A yellow fever vaccination is needed to visit the Peruvian Amazon near Iquitos. In other places, it is not required.
People have mixed reviews about the need for a yellow-fever vaccination while entering Iquitos. Some posts I read and the people I met told me the vaccination wasn't mandatory and many survived without getting one. A few got the shots as a precaution.
I would suggest you get the vaccination before traveling to Iquitos. Also, remember you need to get the shots ten days before your Peru trip. Though Cusco and many other cities have free yellow-fever vaccination camps, you might want to get the shots in your home city. The shots come with terrible after-effects including but not limited to dizziness and fever.
I didn't get a yellow fever vaccination because I didn't go to Iquitos. I didn't have any problems while traveling in Peru or crossing into Bolivia without it.
How is Peruvian Food?
After traveling and teaching English in Chile for six months, I backpacked in Peru and suddenly my taste buds blasted.
Unlike the rest of South America or at least the parts I traveled in, Peru is very experimental with spices and regularly uses Kurkuma (turmeric), oregano, and paprika (similar to chili but milder) in every preparation. Expect the occasional garnishing of coriander and lemon, too.
Insider Tip: Do read the food-related Spanish phrases in this cultural guide.
Peruvians are mostly non-vegetarians and love chicken, guinea pig (locally known as cuy), beef, and fish. People in Peru eat a lot of rice and quinoa in their soups. Generally, a dish is served on top of a bed of rice.
Let us not forget potatoes are known as papas in Spanish. Peru has 40,000 varieties of this carbohydrate in the brilliant colors of red, purple, and even black, and Peruvians and tourists eat the varied preparations of papas heartily.
I am listing some not-to-miss foods of Peru here. But I didn't try most of them as I don't eat a lot of meat.
Here are some of the typical dishes to eat in Peru:
Ceviche — Raw fish cured in lemon juice served along with aji (a type of chili), red onions, corn kernels, and sweet potato. The best version of this dish is found in Lima and near the coast.
Aji de gallina (chicken dish) — A bright yellow dish covered with a velvety sauce of peanuts and chili. The main ingredient is chicken and condensed milk. Aji de gallina is served with potatoes and rice with a boiled egg on top sometimes.
Guinea pig, locally known as cuy
Cuy is a delicacy in Peru, and the pig is roasted over a fire. People say the cheeks of this guy are delicious. Well, if they say so.
Lomo Saltado (beef steak) — Travelers ran to the restaurant at the mention of Lomo saltado. Again I never tried it but this is soy-marinated beef served with onions, tomatoes, and aji along with rice and fries.
Chicharones — Fried chicken and lamb and beef and pork.
Chicha — Chicha is a juice made with purple corn, cinnamon, cloves, and apple. Pineapple or other fruits are sometimes added to enhance the flavor. This juice is delicious and can be bought on most streets. I used to fill a bottle with it and drink it throughout the day. Oops.
Anticuchos — Marinated and barbecued cow heart. Peruvians say it is delicious but I have never eaten a cow in my life. Well, my father had two cows at home, and though I was scared of them how could I eat someone I grew up with?
Rocoto Relleno — A pepper stuffed with minced meat.
Fried Yuca — Fried or shallow-fried sweet potato. Sometimes it is stuffed with cheese. Served in pieces or on cheese sticks.
Papas Rellenas — Fried potato stuffed with mashed potato, meat, and egg. This one is yummy. I have tried.
This Lima old town walking tour by Lonely Planet goes through the old and new parts of the city while a local explains the history and recommends local food and drinks. Sounds good.
Vegetarians might have a difficult time in Peru. All courses of a meal had at least one type of meat. But sometimes I could find vegetarian soups made with quinoa. In traditional Peruvian food, the main course is generally fish, chicken, beef, or pork. So what do you do then? I say stick to soups or go to a chifa restaurant and ask for a vegetarian stir fry. Chifa is a fusion of Chinese and Peruvian cuisine and is delicious.
Also, don't forget to ask your attendant about meat and egg in each dish separately. Most South Americans don't count egg or chicken as meat. They are not to be blamed as their eating habits are different. Let us not forget the language barrier either.
But don't let the language barrier deter you. Go to the local markets on the islands and in the cities. Look for fried trout near lake Titicaca. Dine at trendy Peruvian restaurants. Try food from the street stalls. Buy yuca sticks and empanadas wherever you see them. And bite into some purple and pink potatoes.
Peru has a rich collection of vegetables and fruits. Many hotels and hostels have a fully-functional kitchen that can be used.
Additional Information for Traveling in Peru
Visit Peru tourism's official website for specific travel information. You can also find travel information by sending a Whatsapp message to 944492314, an online service launched by iPeru.
I hope you have enjoyed this 10,000-words-long travel guide to Peru. As always, I have tried my best to tell you everything you need to know before heading to the country.
Enjoy your journey, for Peru is a nation like none other. Let me know how it goes!
Follow-Up Read: When I Was Stranded at the Bolivia-Chile Border
Did you enjoy my Peru travel guide? If you questions, leave a comment. I always reply.
Disclaimer: This post contains affiliate links or products I like; if you choose to click through and make a booking or purchase a product, I will earn a little bit at no extra cost to you. Thank you.
Like my Peru travel blog? Please pin it and share it with the world.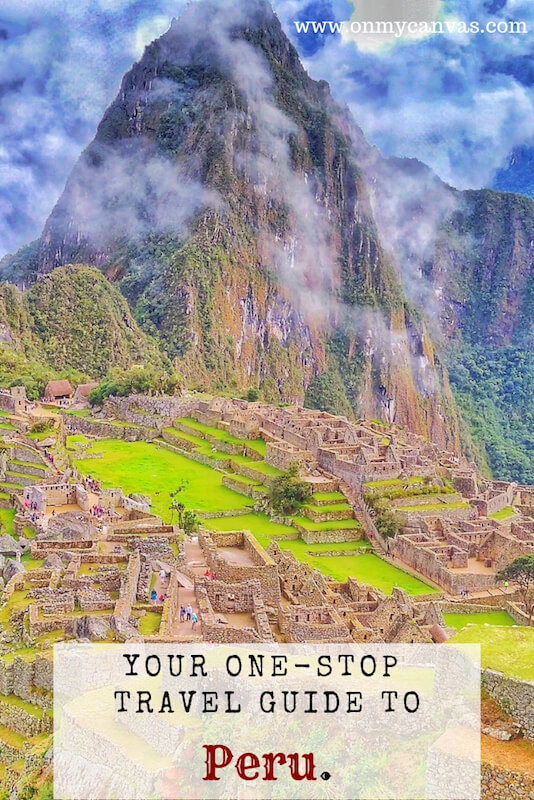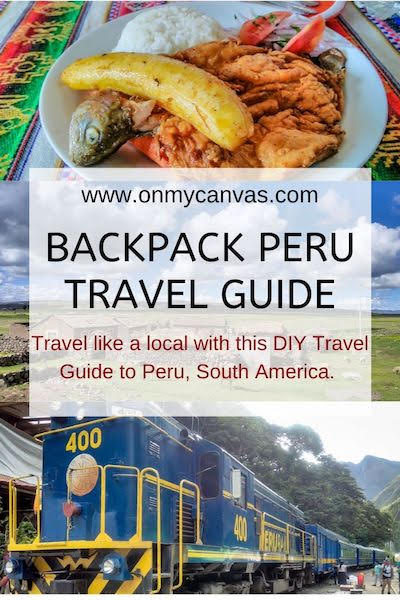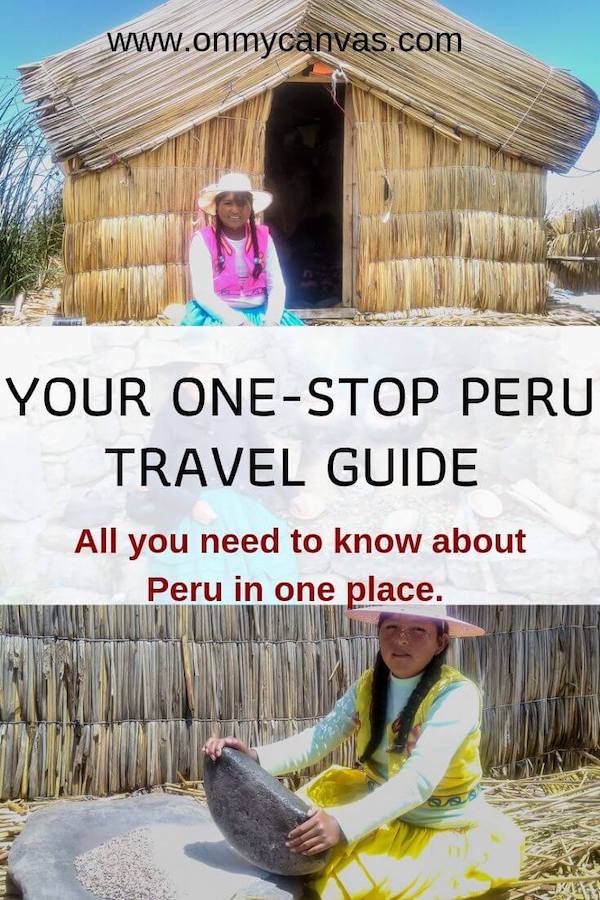 *****
Donate to keep me going!
For five years, I've read and wrote day and night to keep On My Canvas - my sustenance and life's focal point - going. Everything here and my weekly newsletter "Looking Inwards" is free. No ads. No sponsorships. If you've had some good moments reading my posts or felt hopeful on a lonely day, please consider making a one-time or a consistent donation. I'll really appreciate it (You can cancel anytime).
*****
Want similar inspiration and ideas in your inbox? Subscribe to my free weekly newsletter "Looking Inwards"!