Covid-Related Travel Update, July 2022: Chile is open to international tourists. Visit the Chilean government's official website for travel-related information and regulations. Don't forget to read the government's rules to be followed in public spaces here. My guide to Chile visa would be helpful for Indian citizens.
What does this Teach English in Chile guide contain?
I whispered into my student Javiera's ear and asked her the English name of the clothing in the picture that I had stuck to the whiteboard. The English head teacher Marcia, with whom I worked and whose class we divided into two groups which we taught in turns, didn't allow Javiera to join my class, mostly. Marcia said that Javiera was a special child, one of those 7-8 special children per class who had a full-time attendant to take care of them. She added that Javiera wouldn't understand much and won't participate in the class.
But I insisted and told Marcia that I would take care of Javiera and will not pressure her much. When she started coming to my classes, I treated her like everyone else, involved her in class discussions, and when I did my usual round of questions at the end of the class, I was gentler with Javiera. I smiled at her, asked her the English word or the phrase that I had been teaching, whispered in her ear, encouraged her to say whatever she thought was the right reply, and let her be if she didn't speak.
That day was not any different, and when I told Javiera that she could say anything, she smiled, first, and then said "skeert." I applauded her; for as someone who sat dumbfounded and silent in the head teacher's class, she was participating and trying to speak in mine. Then I told her that though the correct pronunciation was skirt, she had done a brilliant job, to begin with.
The purpose of the English Open Doors program as a part of which I taught English as a second language to the native Spanish students of a Chilean government school is to encourage students to speak and understand English. And that is what I focused on throughout my four months volunteer session in Chile.
As I have written how I chose the English Open Doors program in my comprehensive Chile travel blog, in this article, I won't go into the details of my personal choices but will focus on the logistics of the program and my experience of teaching and living in Chile. (teaching English is one of the best things to do in South America.)
What is the English Open Doors Program?
The English Open Doors program or "Programa Inglés Abre Puertas" is an initiative of the Chilean education ministry to promote English within the growing-up children of class 5th to 12th. I went to Chile as part of the National Volunteer Center, which is a collaboration of the program and the UN. The center hires volunteers from around the world.
The program promotes English in Spanish speaking students by making them interact with English speakers on a regular basis. The students practiced English with us while playing games, doing activities, and talking rather than studying with a book and taking notes. This style of teaching is called Direct model teaching.
The center allocates some selected government schools, the one in the most need, with a volunteer each, and monitor and guide the volunteer through his/her teaching journey in the school.
What is the duration of the English Open Doors program?
The minimum duration of a volunteer session is four months or one semester. You can also apply for two semesters at a go, and many of my friends taught year-long, i.e., for two semesters.
Who can apply to the English Open Doors program?
All the native or near-native English speakers can apply.
Since many people messaged and asked me if they would qualify as native speakers, let me explain these terms.
A native speaker is someone who has been speaking English since her childhood and didn't learn English as a second language when she was an adult. The near-native speaker means that your command on English is brilliant, but you can still be distinguished from a native speaker. Or that you learned English as a second language in an English speaking environment, and you are proficient in it.
For all purposes, Indians such as me who have completed their entire education in English and read and wrote and talked in English since their childhood are native English speakers. My British friends even said that I spoke better English than most of their British friends.
And if you are proficient in English though you even didn't learn it as a child, you would qualify to apply as a near-native speaker. Such as my German friend who learned English as an adult but spoke it fluently and volunteered along with me (I met her in the program).
Along with us 3 Indian girls, my session of the program had volunteers from the US, Kenya, Nigeria, Pakistan, Australia, Canada, UK, Ireland, Germany, Italy, France, Switzerland, Zimbabwe, and many more countries.
The applicant's age should be between 21-35. But some people in our service were older than 35 and could still volunteer as the program considers the application on a case to case basis.
If you have any questions on whether you can apply, please give yourself an opportunity and email the program before deciding that you aren't eligible.
Also Read: Why Starting Over is the Answer Sometimes and How to Do it?
I don't have an ESL certificate. Can I apply?
An ESL certificate allows you to teach English as a second language to speakers of other native languages.
You do not need to have an ESL certificate to teach English in Chile as part of the English Open Doors program because you would be a volunteer and not a teacher.
Your role will be to encourage English amongst the students while interacting with them in English and conducting activity-filled classes rather than teaching them with regular books and notebook strategy.
But I haven't taught English or any other subject before. Can I apply?
The program neither needs you to be a teacher nor does it expect a teaching experience.
While applying to the program, I also wondered whether I was eligible to teach, and the essay questions in the application about why I wanted to teach and why did I think I would be a good teacher further made me doubt my non-existent teaching abilities.
I took a deep breath and answered those questions honestly. I realized in the process that even though I had minimal teaching experience, I understood that as a teacher I would have to be patient and adjust my teaching style as per each student.
Later during the program, I found out that I was patient enough to deal with thirty screaming children or arrogant teenagers in a class most of whom didn't understand a word of what I said.
Be honest while answering the questions for you would spend a lot of your time with young children who get influenced easily. That being said, many volunteers in our group weren't great teachers or good role models; I would even say that some were crazy. So though you might think of the program as an opportunity to travel to Chile, think about those children who will be in your care every week and will observe everything that you do.
Also Read: 30 Life Lessons I Learned in My 20's
What is the application process?
I found the application process to English Open Doors to be quite streamlined and straightforward.
You fill an application form and answer the essay questions. You also chose a recommender who will have to fill a form and send it to the program. As the application flowchart below shows the process, you will have to send some documents, such as identity proofs and education certificates, to the center. Please refer to the website for detailed information on the documents required.
After you complete the first two steps, the program schedules a Skype interview in which they check that you can understand and speak English well and that you are sane.
My interview lasted about 45 minutes, and it can also extend up to an hour.
The program will inform your selection(or rejection) within two weeks of conducting your interview.
But the English Open Doors is a volunteer program. How well-organized would it be?
The Chilean government and the program coordinators make sure that you are well taken care of before and during the program. The application process is transparent, and the program starts and ends on pre-scheduled dates. And if the school where you teach or the family where you live messes up something and you inform the center about the problem, they will put you in a different place.
Do I have to pay to volunteer for the English Open Doors program?
No. Though a lot of volunteer programs make you pay, remember that you don't have to pay to volunteer for a social cause ever. You need to come across the right group.
Does the program pay the volunteers to teach English in Chile?
The program paid me 70,000 Chilean pesos per month, and that is the volunteer allowance their website mentions as of now as well. It is a monthly allowance, but the center might pay you the amount in a lump sum at the end of the program.
I would suggest you have some savings to enjoy your time and travel in Chile. Though not extremely expensive, Chile is one of the most expensive countries to travel in South America, and to top it off, there are tonnes of fun things to do in Chile.
Also Read: Travel guide to San Pedro de Atacama and the Atacama Desert
What all does the English Open doors program provide?
The program fulfilled its promise of providing accommodation with a Chilean family and food during our entire stay graciously.
Let me explain in a bit more detail.
Where do I stay while I teach English in Chile?
While applying to the program, you can list down your placement and accommodation priorities, such as whether you would like to be in the North, the South or in the middle of the country, whether remote or in cosmopolitan settings, if you would like vegetarian food or a non-smoking house, and other details.
Then the program does its best to cater to the volunteer's priorities. At least in my case, it did.
After doing a little Google search, I saw how beautiful the South was and chose the area as my location preference. Luckily, I was placed in Castro, the capital of Chiloé, a legendary island in the south of Chile.
When I began my volunteering journey and took a ferry ride from Puerto Montt, the closest mainland to Chiloé, and our bus stood atop a ferry which cut through the cold Pacific, penguins danced around the ferry. I realized that I had landed in one of the world's most beautiful places.
The island, as per my preferences, was not cosmopolitan but wasn't remote either, and we had internet, phone connection, and everything else that you need for a reasonable living.
The volunteer center gives you housing with a family so you learn about Chilean traditions, speak Spanish, and have someone local by your side to help you adjust to the new country. I was put up at the house of a beautiful lady Cecilia who lived alone in Castro but had boarded some five people, volunteers and Chilean professionals, in all her rooms and together we all lived like one big family and had the times of our life.
You can choose to stay with a Chilean family or on your own in which case the program would give the money (165,000 Chilean pesos) they had to give to the family to you, and you would have to do everything by yourself.
Also Read: 9 Months and 3 Countries – Golden Highlights of My adventure in South America
Where do I eat while I teach English in Chile?
Your host Chilean family would be kind enough to provide you with three meals, and the program pays the family for your food.
Though Chileans aren't generally vegetarians, so if you are one, the program would ensure to put you with a family that respects your choices. I mentioned in my introduction letter to Cecilia that I didn't eat beef; so every time she cooked beef, one of the Chilean favorites, she prepared a stuffed-zucchini dish for me. Though My host mother was surprised when she saw me ignoring the blood-soaked pig sausages, she didn't ask me to eat them.
Good luck! Also, remember that when you travel to a new place you have to adjust, and people take time to understand your choices.
My Chile-culture guide to travel easy in Chile: 13 Chilean Conventions You Should Know Before You Visit Chile
What if I fall sick during the program?
The volunteer center covers your entire stay with health insurance. Otherwise, my tooth that monstrously ached whenever it wanted would have cost me a fortune; thanks to the expensive but professional Columbian dentists in Chile.
What visa do I have to take to teach English in Chile?
The program requires you to get a temporary resident visa. They guided me throughout the visa process, sent me the essential documents, and even asked the embassy to clear my residentship on a priority basis.
The Chile visa was free for the volunteers.
If you want to get a tourist visa for your family, I have written all about it here: How to Score Chile Visa on an Indian Passport – From India and South America
Do I need to know Spanish if I travel to Chile?
You do not need to know Spanish, but as you settle into the program and start living in Chile, you will have to learn Spanish to survive in the hard-core Spanish speaking country.
The first few weeks were challenging as everyone around me spoke super fast Spanish and rarely any English which made me feel like an idiot. Read all about my heartfelt journey of learning and speaking Spanish in Chile in this essay.
While living every day amongst native Spanish speakers, such as your family and other teachers, you would start speaking conversational Spanish soon enough. So be open and ask a lot of questions.
I have aggregated 25 tips on how to teach yourself a foreign language (deduced from my Spanish learning) and speak it fluently (within a few weeks of landing in Chile.) Try these tips; they would be really helpful. The center also has an online course which you can follow along and do its weekly assignment to assess your progress in Spanish. Though the course promises a test and a certificate at the end, during our session the online course's coordinator stopped responding, and we never got that certificate.
Long answer short – You don't need to know Spanish before you go, but you have to accept that you will have to practice it when you are there.
More on teaching now.
Which grades does a volunteer teach?
The English Open door program works with the students of 5th-12th grade or the age group 10-18.
I only got to know the classes I would teach when I arrived in Castro, my placement city. Though I taught only six different groups ranging from 7th to 10th standard, some of my volunteer friends taught 8-9-10 classes of grades 5th to 10th.
Also Read: A Memoir on Chile Independence Day – Or As The Chileans Call It, Fiestas Patrias.
Would the program train me to teach English in Chile?
Yes.
The program conducts an orientation week in Santiago and trains the volunteers for a week while seeing them off with a farewell party. During that induction week, the program coordinators organized many workshops and sessions to introduce us to the culture of Chile and the teaching modules the volunteers were supposed to follow.
We played games in English and thought of fun activities that could be done as a group to make English learning fun for the children. The coordinators conducted classes in other languages such as Portuguese to make us experience how strange you feel when someone teaches you a foreign language. Volunteers even had to come up with the right response when a student couldn't answer an English question or forgot what was explained to her or when the other students laughed at a kid's ridiculous response.
On the last day of the training, we formed groups and took classes of other volunteers while following the direct teaching model.
The program would give you a teaching model to follow, so don't worry much about how you would conduct the classes. Your accommodation in Santiago would be taken care of by the program, too.
At our last weekend in Santiago, my friends and I explored Santiago, took a bus to a nearby national park, ate chorizos and cheese empanadas, drank wine, and enjoyed our time before we separated to go to our placement cities. Then I hopped onto a bus that took me to Castro, my home for the next few months.
Also Read: Peru – In the Golden Foliage of Poetry and Pictures.
What is the English level of the students whom the volunteers would teach in Chile?
The English proficiency of your students would depend on the area and also on the school.
I taught in a limited-resource school on an island, and my student's gaped at me with an open mouth when I asked them how they were. But another volunteer from the US taught in a classier and better-funded government school on the same island, and her students spoke fluent English and won inter-state debate competitions.
Some of the government schools in Chile have children with rough backgrounds and whose parents are not well-doing or are drug addicts and abusive at home. And my school was one such school which catered to these complicated students whose families or they didn't care much about learning English. Now you can look at the situation and say that is why the school needed a volunteer to encourage the students to speak English or you can say that those students would never bother about English when they have many serious problems.
I thought of teaching in that school as an opportunity to be close to those children and be kind to them while sometimes their own parents or teachers weren't. During my four months in that school, I tried to show them that learning a language could be fun and that English would open up many opportunities for them, as it did for so many of us.
But why is English so important? Apart from telling you that a common language makes traveling around the world or studying in foreign countries possible, I would say that most of the students would grow up to find it hard to understand technical university courses, as the courses are in English, and even translations aren't clear enough. Even many of the older students told us so.
How did a regular week of teaching English in Chile look like?
I began teaching my classes at 8 in the morning on a stomach of Nescafe black coffee and toast with margarine. The cold and wet Castro didn't make it easier to get up at 7 in the morning when I usually tucked my head out of the seven blankets on most days.
After cursing myself for my decisions which would make me get up so early, I used to dress up, put some tea bags in my purse, and after drinking half of my black coffee and stuffing a toast in my mouth, I would run to the street to wait for my headteacher, Marcia, who picked me up every morning.
In the beginning, I just observed the classes for a week and got to know the system, the other teachers, and my students. During this time, Marcia gave me the classes I had to work with, and we designed a schedule in which I rotated those groups throughout the week. As per the program rules, we divided each group or class into two parts and taught them one by one while exchanging the students once in the middle of the one-and-a-half-hour-long class.
In the first few classes, I introduced myself in English which I later realized would have gone above the heads of the students as they did not know even simple phrases in English. And how would they understand? Marcia told them to copy what was written on the board onto their notebooks and then learn the text and recite it to her. They repeated with ridiculous pronunciations, but if I asked them they never knew the meaning of any word.
In every class, I tried my luck by first revising the past lesson, which could have been a past tense exercise or names of all fruits in English, then introduced the new topic, practiced it with students, played games around it, and then towards the end of the class I asked each student one question and then let them go.
I could teach the same material to all classes as their English knowledge was minimal and all of them had to learn the fundamentals of English.
For the outdoor activity, which every volunteer has to do, I helped the students debate in English (my students were debating in English for the first time.)
The week was mixed of classes, English debate practice, in-classes break during which I sat in my classroom and read or interacted with other teachers who asked me about India or helped me with my Spanish, and strike days and public holidays if we were lucky.
After the lunch break which was from 1-2 pm and for which I went home as Marcia again dropped me and picked me up on her way home, I continued with my classes. As my schedule was different each day and I only had to complete some 35 hours in the school which included class hours and outdoor activities, sometimes I didn't have to go back to school in the afternoon. Then I stayed at home, ate my lunch as if I had all the time in life, showered, and wrote while looking at the ocean and sipping coffee.
This afternoon shower would then save my freezing ass from taking a shower in the morning.
Also Read: Why Do I Travel and Live a Nomadic Life
Is teaching English to South-American students hard?

How was your teaching experience in Chile?
South-American students were unlike Indian students or any other that I had seen before. Most of my students came from average-doing or low-income families, and some were even abused at home and had alcoholic or drug-addicted parents. Their home environment made them aggressive, and the children themselves started smoking, drinking, and using drugs at an early age. They also expressed their feelings in the form of tattoos and body piercings and bold lip colors or nail paints and accessories.
Chile also has a bold sexual culture. Some of the girl students got pregnant at an early age of 13, at which point they took a year-long-break to deliver the baby and then rejoined the school. Abortion is illegal in Chile, and careless Chilean students pay the highest price.
Though some of these things were common amongst all the Chilean students, after talking to them I got to know who was having a difficult life at home or whose parents didn't care if the children went to school and studied something or just bunked and stayed at home. This attitude of parents was quite unlike India where most average-doing parents these days are concerned about their child's study for they know without education life would be difficult in this competitive country.
The lifestyle of parents and other factors affected some children so much that some of them became violent or kept repeating a word or just sat quietly during the entire day or had a random burst out one fine day while they abused the teacher or shouted at her. These children were called special, and an attendant/assistant stayed in most of the classes all the time to take care of them.
The island's laid-back culture also added up to the children's disinterest in English, and the majority of them thought that learning English held no value as no one even spoke or cared about English at their homes. But the next day a student would surprise me by correctly remembering the names of all the fruits or the past tense of the general verbs, and I couldn't be more proud and hopeful.
So if one day was full of disappointment when I kept reciting a phrase hoping that children would understand it and repeat it, but even by the end of the class they won't' speak a word, the next day was bright as they would participate in all games and say skirt and trousers correctly while pointing at the dressing.
A few students in each class were always attentive and listened and kept track of my lessons.
As a foreign volunteer, I had to face some harassment as well. Some of the children made fun of how I spoke Spanish or that I didn't understand anything that they said or some boys would keep repeating banana, and now I know that I should have punished that boy. But my other volunteer friends told me that some of their children said even harsher and sexually-explicit comments, while some other volunteers said that they couldn't have had a better time.
Girls noticed how I dressed or which ring I had put on that day or if I had a new ear piercing. While some of the boys frequently expressed what they thought about my looks, wanted to marry me and said that they had good families to whom they wanted to introduce me to, others were naughty or oblivious of me, and a few were even rude.
To my surprise, I was patient with the children and accepted them as they were, even though I had never seen such inattentive students ever before. Sometimes I felt that I had made progress, and the students behaved like soft and shiny marshmallows, but at other times they were like pine cones.
Your experience would depend on the school you go to. But remember that you are volunteering, so of course there is a social cause involved. Be patient and take it in a stride.
Also Read: Understanding Basic Principles of Life – With The Little Prince of Antoine de Saint-Exupéry
How was your living experience in Chile?
Brilliant. I have talked at length about my living experience in many of my Chile articles, but I would say that your experience in Chile would be as lovely as you want it to be. Adjust, start learning Spanish, talk to people, and accept things that are new.
Another volunteer from Chicago who started living with us in Castro could have had a fantastic time if only she didn't screw up by saying hateful things to another Chilean friend and me, making a big scene, and eventually shifting to another family, who wasn't that happy with her either.
Some of the volunteers had a plethora of problems. Now without belittling these issues which started with the headteacher being crazy and obsessed or jealous and hateful in some other cases, students being abusive and extremely difficult, school being unappreciative of the volunteer, the host sister being jealous of the girl volunteer or the host son insulting the volunteer or the family restricting the volunteer too much and not allowing her to go out or drink, but weren't limited to these, I promise that you can have an amazing time in Chile.
If you accept that you would have to face challenges and deal with them. It is a volunteer program, and you wouldn't be pampered, for sure.
Also read: getting mugged in Santiago – A bad travel memory

Do you think your classes helped the students or made any impact?
Some students made use of the classes and looked forward to them. Some of my children were exceptional and participated in all the activities and answered all my questions, while others didn't care that much and just wanted to go through the class. The students' level of attention also depended on the game or the activity we did, and if the task involved me giving them a candy, which it generally did, the student paid more attention.
You don't know what wonders can candy do until you go to Chile.
I can say that a percentage of the students were positively encouraged to practice more English, and those children didn't only learn new words and phrases with me, but they would have continued to learn English.
Also Read: Focus on Process of learning not the result
What do I do when the English Open Doors program finishes?
Whatever you want.
The temporary residentship that you get is for 180 days, and the program finishes within four months, so you still have a lot of time to travel in Chile and South America in general. And if you ask me, I would say that do not come back home as long as you don't have to for SA is a continent that needs to be experienced unhindered at least once in a lifetime.
Follow Up Read: 50 Incredible Places to Visit in Chile
Would you recommend the English Open Doors program and teaching English in Chile?
Absolutely. Otherwise, why would I write this 6000-word-long detailed guide?
I spent four months teaching children and traveling to beautiful cities and coastal villages, hiking active volcanoes, buying trucha from the dock of Castro, drinking crisp Chilean wine in countryside bars, devouring delicious seafood and sea algae soups, visiting the wooden churches of Chile, and wandering around in the Atacama desert in holidays, of which there were many.
But these are all my memories.
Go and make some of your own memories, for they would be many.
I am still not convinced if the English Open Doors program is good?
Go and see for yourself. Have you got some time and some money at your hand? Go and explore.
Also Read: Why you shouldn't think too much and let life take its course
If you are heading to Bolivia and Peru, do read my complete Bolivia travel guide and Peru backpacking guide.
Follow Up Read: South America Backpacker's Guide
How do I contact the English Open Doors program?
You can write to the program at – voluntarios@mineduc.cl. Someone from the program would answer your query.
Do you have more questions about teaching English in Chile? Ask away in comments.
Like my exhaustive guide? Please pin it!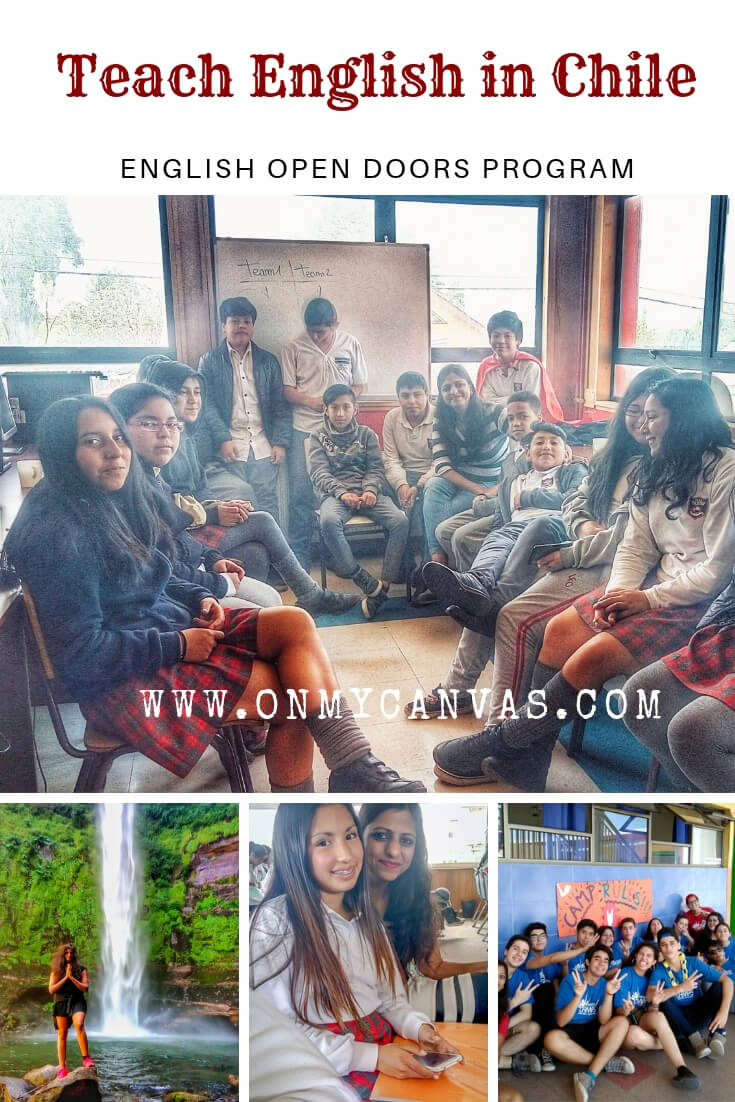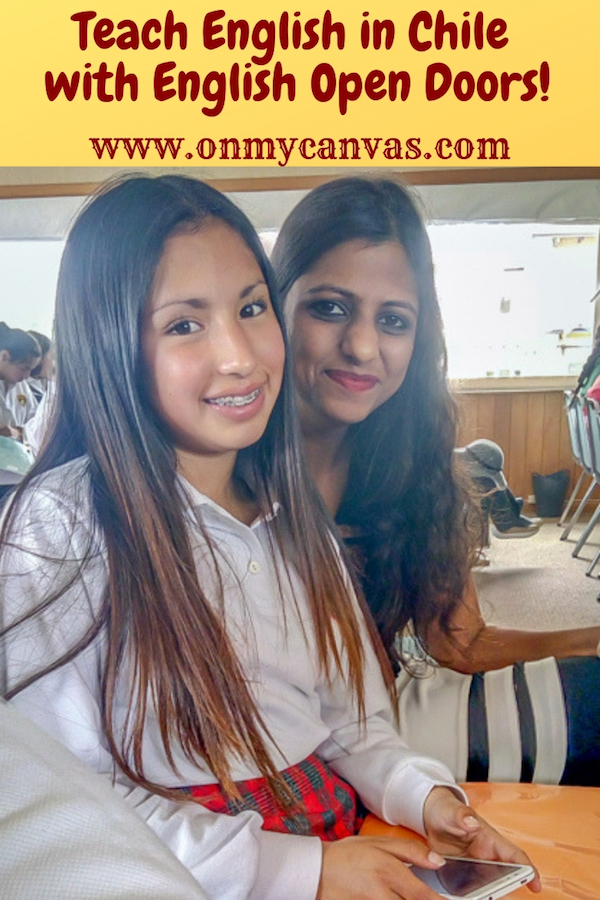 *****
Donate to keep me going!
For five years, I've read and wrote day and night to keep On My Canvas - my sustenance and life's focal point - going. Everything here and my weekly newsletter "Looking Inwards" is free. No ads. No sponsorships. If you've had some good moments reading my posts or felt hopeful on a lonely day, please consider making a one-time or a consistent donation. I'll really appreciate it (You can cancel anytime).
*****
Want similar inspiration and ideas in your inbox? Subscribe to my free weekly newsletter "Looking Inwards"!