Covid-Related Travel Update, July 2022: Chile is open to international tourists. Visit the Chilean government's official website for travel-related information and regulations. Don't forget to read the government's rules to be followed in public spaces here. My guide to traveling around South America is also a must.
Chile gives free ninety-day entry to most of the countries. But, of course, India doesn't get free access, and we have to apply for a Chile visa. I was once stuck on the Chile-Bolivia border because I didn't have any tourist visa for Chile as I had thought that India was also in the list of those fortunate countries. How wrong I was! 
Having paid more than what I should have for this mistake, I decided I would be more sincere while doing visa research and would also help other travelers by updating them with my knowledge on the world visas.
A Really Helpful Read: My experiential and well-researched guide to world visas for Indians
[Update 2019] : Since April 1 2019, Chile allows all Indians holding a valid US visa into Chile. So if you have a valid US visa, you don't have to apply for a tourist visa. 
Please read the official message of the Consulate of Chile:
***
Please note that the below message was an old notification on a page of Chile website that doesn't even work anymore.
The Consular Section of the Embassy of Chile in India states that henceforth all Indian travelers holding B1/B2 Visa or Residence Permit (Green Card) from the USA, with current validity of six months, do not require a Chilean tourist visa (either Simple Tourism or Multiple Tourism or Multiple-Business). This came into effect from the 1st April 2019.
This is the new information that Chile provides-
The Consular Section of the Embassy of Chile in India states that henceforth all Indian travelers holding a valid US Visa, with current validity of six months, do not require a Chilean tourist visa (either Simple Tourism or Multiple Tourism or Multiple-Business). This came into effect from the 1st April 2019.
NOTE
– All travelers to Chile need to have a valid passport for at least six months from the date of entrance into the country.
– Tourist travelers should have enough financial support for their stay in Chile.
– The period of stay in Chile for tourists is up to 90 days.
– Not applicable to USA Transit Visa (Visa C).
***
You can read more about the change here on the official website of the Chilean government.
Now as I read this message I understand that all the travelers having a valid US visa can travel to Chile without applying for a separate Chilean tourist visa. The only exemption seems to be where the Indian travelers have a USA transit visa. But if you are in doubt, please email the Chilean Consulate in New Delhi @nuevadelhi@consulado.gob.cl and confirm.
If you do not have a valid US visa, please keep reading for the Chile visa application process.
Recommended Read: My guide to applying for a  US tourist visa so that can you can enter many countries without taking a specific visa for that country. 
I applied for two different Chile visas: one was a temporary residentship which I applied for as I was going for a four-month-long volunteer program in Chile, and the other visa for Chile was the tourist one for which I applied from La Paz, Bolivia. 
I am penning down the process of getting the tourist Chile visa for Indians from Bolivia. Then I also write down the application process for the tourist Chile visa from India (based on my research, asking around, and filling a dummy application.)
Must Read: My 11,000 words ultimate Chile travel guide (based on my 6-month solo travel through the country).
Chile Tourist Visa – Application Process from Bolivia
My case was different than a regular tourist, as I already held an expired temporary residentship visa for Chile, my flight was due in two weeks from Santiago, and I applied for this Chile visa from Bolivia.
But if you plan to apply for a visa for Chile from Bolivia, I can assure you that the process won't be simple. The Consulate of Chile in Bolivia was pretty strict about issuing visas to Indians. The lady who seemed to be the head of the consulate office told me that I should have applied for a Chile visa from India, my home country.
When I recited my story and said that all the countries issue visas when someone applies from a third country, which is neither the traveler's home country nor the destination country, the officer said that Chile didn't care about what other countries did, and Chile doesn't give visas to Indians if they apply from outside India. She also said that the Chile consulate in La Paz could only issue visas to Bolivians.
I requested vehemently, and she said she would make an exception for me, but she would require a minimum of two weeks for the approval of my Chile visa, as Santiago Ministry of External Affairs will have to send their consent.
I sighed and submitted my passport.
I also submitted the following documents along with the visa application form, 
Original Passport

A copy of my flight ticket from Chile to India

A copy of my previous expired temporary resident visa for Chile(As a part of the program I had received temporary residentship visa)

A copy of my RUT or the residentship card
Having had a few experiences with the Indian passport and world visas, I resorted to my backup plan and emailed all the people I knew in Chile and the Indian embassy in Bolivia. Bolivia doesn't have an Indian embassy, and the email bounced, so I tried meeting the Indian consul in La Paz. But when I knocked on the door of the address which was mentioned as the Consulate on Google, the consul's wife told me that the consul didn't sit in La Paz but some other city. I called at the number she provided, and the consul said he couldn't help me much and that I should contact the Indian ambassador in Peru.
When I told my story to the Indian ambassador in Peru, he emailed the Indian embassy in Santiago, who then requested the Ministry of external affairs in Santiago to approve my visa for Chile on an urgent basis.
The approval came on the same day.
The next day, I rushed to the Chile Consulate, paid fifty dollars to the bank as the lady told me to, received my passport with a Chile visa which was valid only until the date of my flight, walked out of the building, and thanked the universe for taking me out of that one.
But I ended up spending a lot of money and time and energy in the process.
Please don't take the chances of applying for a visa from Bolivia.
Here is another post from another Indian travel blogger who applied for a Chile visa from Ecuador and found that the process was smooth and got his visa within eight days.
I guess it depends on the country you apply from.
Also Read: My guide on scoring a travel visa to Peru on an Indian Passport, from India and South America
Chilean Visa for Indians – Application Process from India
If you apply for a tourist visa for Chile from India, you have to fill the online form on the Tramites website, upload a photo and the required documents, and then you would have to wait to visit the New Delhi consulate of Chile, the only one in India, for an interview, to pay, and to collect the passport.
I didn't apply for a tourist visa for Chile from India, but I talked to many friends and read a lot of blogs to be able to summarize the information here correctly. I also filled the visa application form until the last step to understand the process.
You can also find all the information for Chile visa for Indians here on the website of Consulate of Chile in New Delhi.
Here are the steps of the application process along with the screenshots.
Step 1. of Chile visa for Indians.
Fill in your personal details and the details of the trip in the application form.
Note: Multipurpose Tourist visa means multiple entries and exits.
Step 2. of Chile visa for Indians.
Fill in the applicant's identification details.
Step 3. of Chile visa for Indians.
Add your contact details and information about your family.
Step 4. of Chile visa for Indians.
In the General Description section of the form, provide your profession, education, and other details.
This step of the form also requires you to fill the details of an acquaintance or relative in Chile. You can put your hotel's address and name in the acquaintance description. 
Here is the screenshot of how I would have filled the hotel details. Home Phone is the contact number of the hotel.
Step 5. of Chile visa for Indians.
Write about your intended activity in Chile.
The activity in Chile is the reason why you are visiting Chile. I selected the Tourims(means tourism) activity and filled in the details of the hotel again in the rest of the fields.
This screen will take you to the document upload screen.
Step 6. of Chile visa for Indians.
Attach documents relevant to the Chile visa requirements for Indian citizens.
The documents required are a photo, passport copy, return flight tickets, hotel reservations, cover letter, and bank statements. 
Now here is a catch. The website asks for an Apostille check which is a background check from the police department. When I took a temporary residentship Chile visa, I applied for one from the Indian passport office, went to the Bangalore passport center, and got the background check stamped on my passport. The whole process took a week.
But when it comes to a tourist visa for Chile, both single entry and multiple entries, though the Chile Consulate mentions that they need a background check, they don't ask for one or expect one. I read this on multiple blogs, and many of my friends who recently got a Chile visa confirmed that they didn't submit a background check.
One of my friends submitted her cover letter in place of a background check.
Also, the Consulate website mentions a visa interview but from what I have read online, they are never keen on interviewing any applicant, and if you submit your previous visas or current visas to other countries, the Consul would waiver the interview. (Another fellow traveler Manisha has written well about the Chile visa process here, and she also didn't give an interview.)
After you have applied for the visa for Chile by filling the online form, attaching a photo, and the relevant documents, the status of the application would become payable. This status change might happen the next day or might take a few days.
You can also send an email @nuevadelhi@consulado.gob.cl and hope for an answer. Here is the link to the Indian embassy in Santiago if you have been looking for their link.
After it has become payable, as the Chile consulate in India doesn't accept online payments as of now, you would have to go to the Chilean Consulate in New Delhi, pay for the visa, get your passport stamped if the visa is approved, and voila.
From what I have read online, the process might take from a few days to about eight working days or two weeks. 
I hope that the Chile visa process is clear to you now. Similar to all the visa applications, Chilean visa application also seems like a hassle, but I promise you that the stunning Chilean landscapes and the warm people are worth more than the effort.
Enjoy Chile!
Follow up reads:
My complete travel guide to Chile – I taught English in Chile for five months and traveled through the country, solo, for about 6 months. This Chile guide has all the information that I can provide on traveling in Chile and understanding the country from a foreigner's and an Indian's perspective.
My comprehensive Bolivia travel guide – I traveled in Bolivia for about a month, solo and with friends I made in Chile. In this Bolivia guide, I have written down exhaustive travel information on Bolivia. From places to see, things to do, to Bolivia's economy and politics, you will find it all here.
My ultimate Peru travel guide – I backpacked in Peru for about five weeks. This Peru guide is complete and a one-stop travel guide to find all the information on Peru and to answer all your Peru travel questions.
You should also read my ultimate travel guide to South America in which I have shared all the information and insider tips collected from my own trip.
Did the visa guide help you? Please pin it so that the rest can find. Thank you.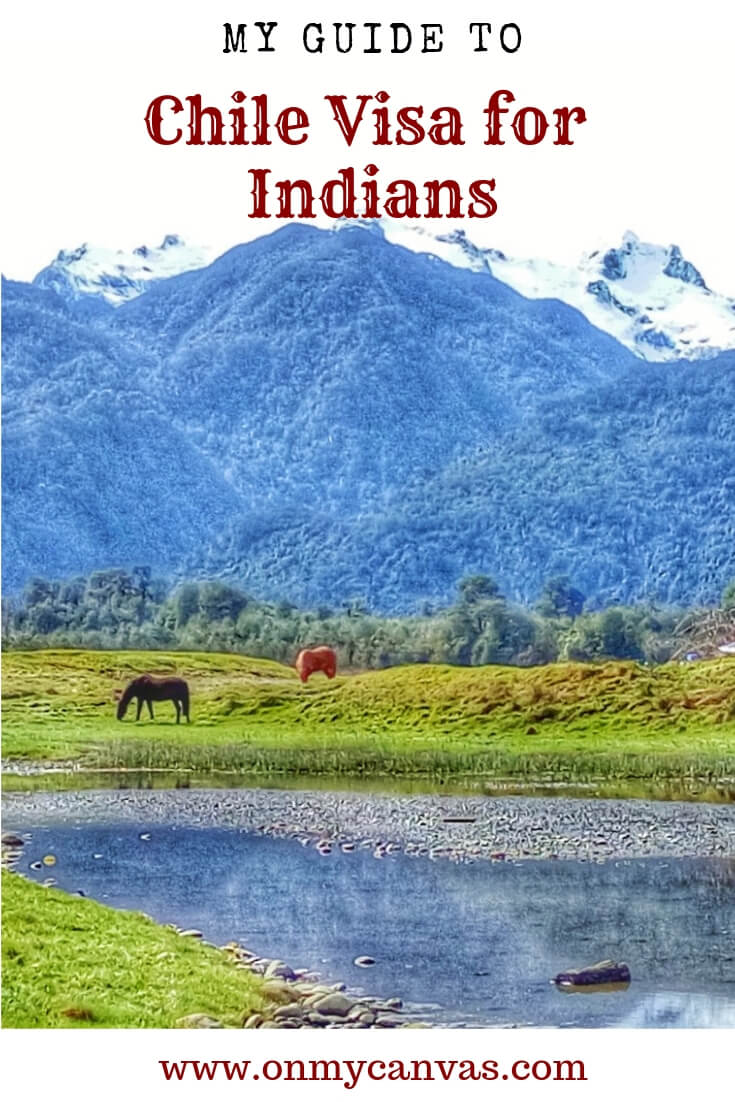 Have more questions about getting a Chile visa for Indians? Shoot them away in comments. As you can see, many people are posting their experiences, asking questions, and helping out each other. Let's keep this information exchange going so that we have the most recent information and experiences on Chile visa 🙂
*****
Donate to keep me going!
For five years, I've read and wrote day and night to keep On My Canvas - my sustenance and life's focal point - going. Everything here and my weekly newsletter "Looking Inwards" is free. No ads. No sponsorships. If you've had some good moments reading my posts or felt hopeful on a lonely day, please consider making a one-time or a consistent donation. I'll really appreciate it (You can cancel anytime).
*****
Want similar inspiration and ideas in your inbox? Subscribe to my free weekly newsletter "Looking Inwards"!