Update 2023: Malaysia opened its international borders from 1 April 2022. You can check out Malaysia's official travel website before heading there. My guide to Malaysia e-visa for Indians will be helpful in planning a trip there.
An Adventure to the Kinabatangan River in Sabah, Borneo
Once upon a time, there was a long river muddy,
Along the bank of the river lived the mama elephant Lily,
On the top of a Jamun tree lived a monkey funky with a long nosey,
A naughty crocodile waited under the tree to see the monkey fall loosey.

A talkative hornbill nested in the tree,
While her friend the orange orangutan visited her often for tea, 
The village children played on the riverbank every day, 
while their mothers shouted to them come home, otherwise the monkey will take you away.


If you hadn't guessed, this is a story inspired by real characters. I wrote it on the Kinabatangan river cruise in Sabah, Borneo, while on my month-long trip to Malaysia.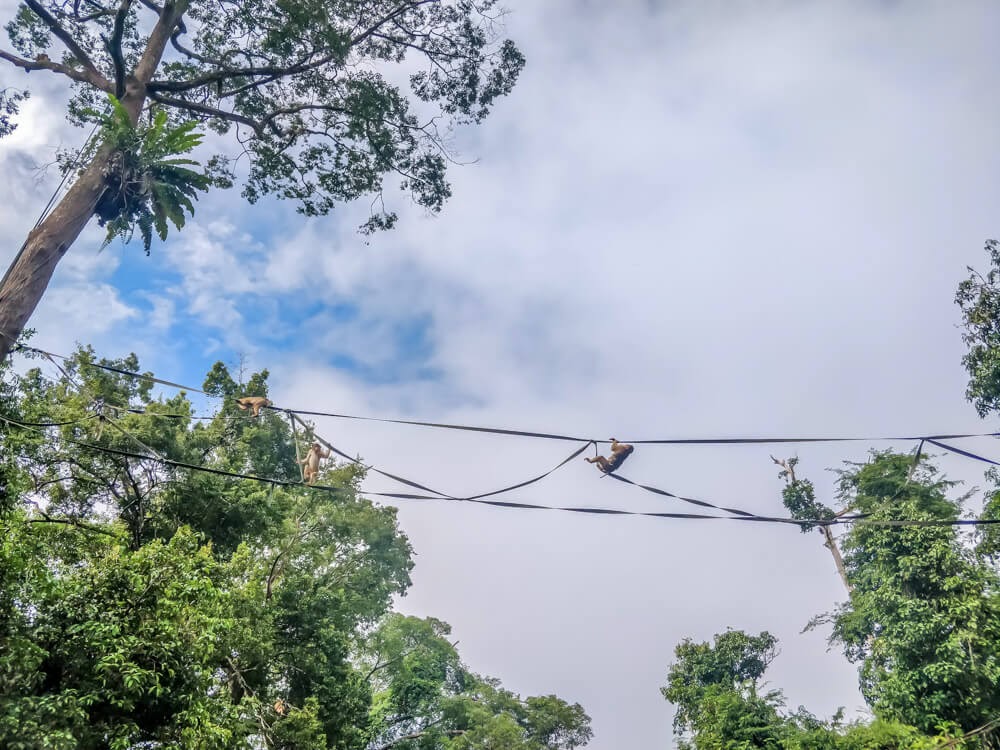 Kinabatangan is a long river in Sabah state – precisely 560 km running from Southwest Sabah to its outlet at the Sulu sea. Along the riverbank can be found the big five of Malaysian wildlife – pygmy elephant, proboscis monkey, orangutang, crocodile, and Asian hornbills (all eight kinds).
Did you know Kinabatangan River is the only place where you can find proboscis monkeys and orangutans and pygmy elephants together? The Kinabatangan river is inhabited, and many villages have thrived on its banks for centuries.
A traveler in Penang told me to go to the Kinabatangan wildlife sanctuary if I wanted to see Malaysian wildlife from a boat. In 1997, much later than the palm and cocoa plantations had spread around Kinabatangan and logging had killed most of the forest, 26,000 hectares around the river was gazetted as the Kinabatangan Wildlife Sanctuary. (If you love wildlife – travel to the Indian Sloth Bear Sanctuary Daroji, near Hampi, Karnataka, India)
I chose Sukau village, 80 km upriver from the coast, as my base for the Kinabatangan river safaris. I messaged Maria, the lady who runs a homestay in Sukau village. Maria promptly told me I could visit her as she had one empty room.
Maria accepted my booking without any prepayment. Her brother was to pick me up the next day in Sandakan and take me to Maria's Sukau homestay.
I was more than happy to leave the concrete city of Sandakan, a district in the Sabah state of Borneo.
Read Next: Guides to discovering Penang – Penang Street Art Guide and Guide to eating the best food in Penang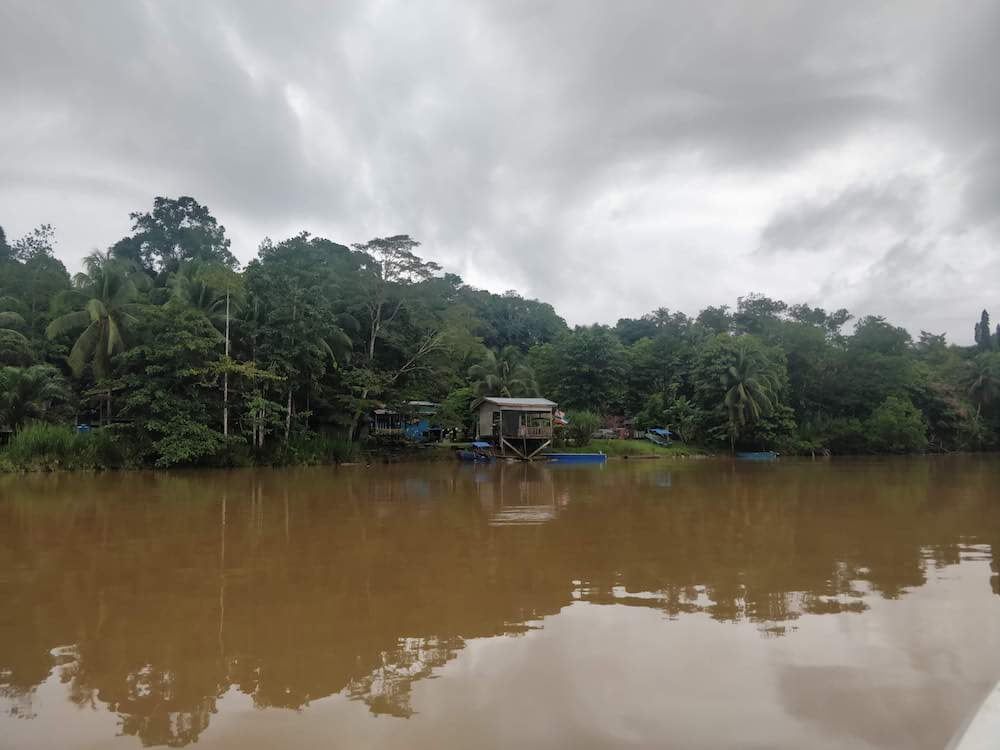 After a long ride, we arrived in Sukau. I liked Maria instantly. She had a round face and a zeal to explain everything. Her long stories about the hornbills nesting in her garden trees, the leopard she saw on a night tour, and the Islamic culture of Malaysia helped me understand the life on Kinabatangan.
On my three-day trip to her house, we both sat in her wooden porch-cum-kitchen on many nights. The kitchen shed overlooks the Kinabatangan river. And there without the internet or anything else to disturb us, we talked as if we had known each other for a long time.
When I asked Maria why didn't she put up her homestay on Booking or Airbnb, she told me the internet was unreliable in Sukau and she didn't want to drive to Sandakan every day to check emails. "Who wants that headache when I get customers without an online presence?" She explained.
Many international tourists visit Maria's homestay every year.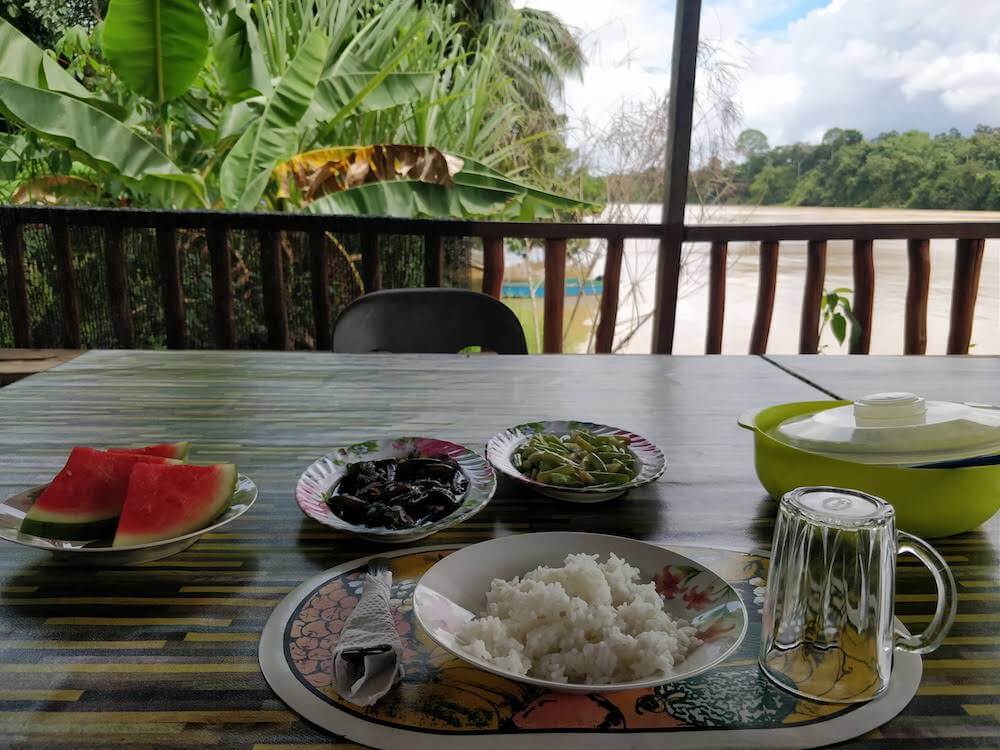 Lunch in Sukau homestay
Maria arranged two to three Kinabatangan river tours every day. We spotted a large group of elephants on our afternoon trip. Maria told us the group was of Lily, the matriarch. She leads about sixty elephants, both young and old.
At least twenty boats crowded in the river near Lily to show pigmy elephants to their tourists from up close. Meanwhile, many little elephants grazed around on the crisp trees and plants.
We didn't see the elephants bath or cross the river because the little ones were too small to get into the river. They wouldn't be able to swim such a long distance. But sometimes the elephants can be seen swimming in the shallower inland water streams.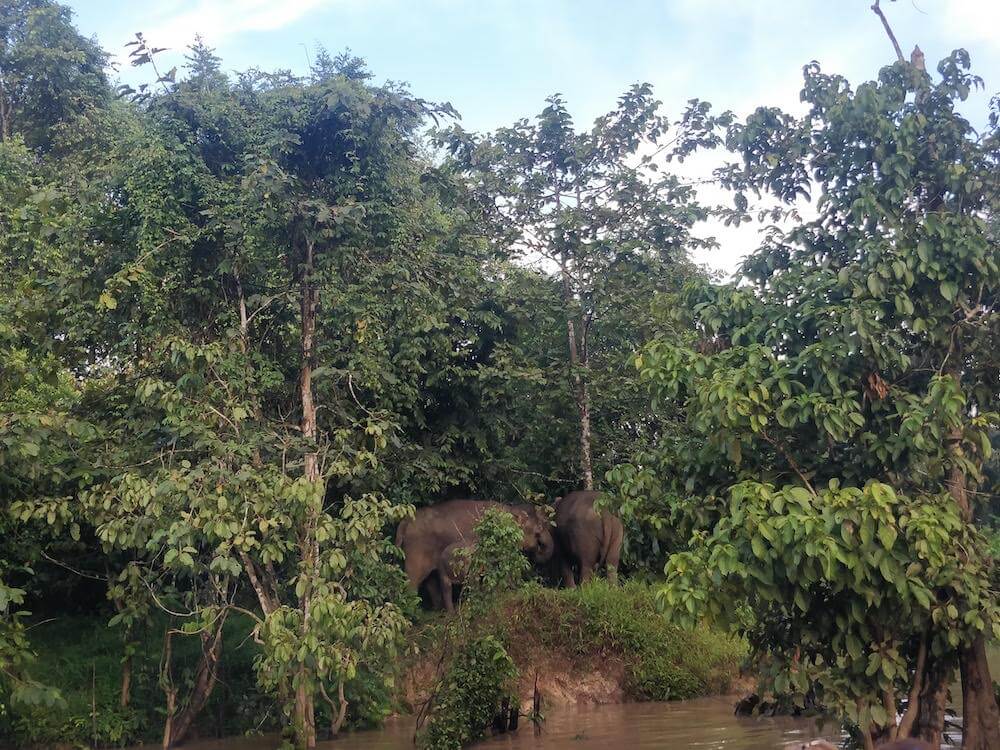 Kinabatangan has about 150 pygmy elephants. Though now the Kinabatangang riverside was dense with wildlife, deforestation to turn the forest into palm and cocoa plantations in the past had left the river banks completely inhabitable. In 1997, the Malaysian government declared twenty meters inland from either side of the river bank as a protected zone.
Proboscis monkeys jumped around on trees near the lush riverbank. The weird-looking proboscis monkeys are endemic to Borneo island and are found in abundance there. Their long noses make them a sight of laughter and frolic.
Crocodiles watched us suspiciously from their mud pools. Hornbills, eagles, kingfishers, and woodpeckers flew about. Orangutans were harder to spot but we kept looking onto the palm trees to see if they had come out to eat the young palm shoots. (Dandeli wildlife sanctuary is my favorite jungle in India to spot many of these animals.)
On one safari, we spotted a mother orangutan and her baby clutching onto her on a tree close to the river bank. When the mother saw us, she hid behind the tree foliage.
At one time there were as many as 11,000 orang hutans – the man of the forest. But Maria said the deforestation of palm trees has disrupted orangutans' lives and now their numbers aren't known.
Watch the movie a Life on Our Planet to see how deforestation on Borneo has left orangutans homeless.
I was loving the boat rides into the Kinabatangan with Maria and her family. But I wanted to see the Borneo jungle from up close. I requested Maria to take me on a hike into the forest. She said they don't usually arrange treks but later asked her brother to take me to the forest for a short walk.
We were in post-monsoon time. The rainforest was dense. Grass and bushes had covered all paths. All signs of trails had disappeared. But Maria's brother and the family boys were running downhill as if they were on clean and plain trails.
Suddenly, Maria's brother shushed his son and whispered to me that there was an orangutan about fifty meters away from us. As an excited monkey, I looked around but couldn't see anything.
The orangutan was hidden behind the thick branches and leaves high up the tree. Then the brother ran down the hill and urged me not to miss the opportunity to see an orangutan so close by.
Instead of thinking about falling, I sprinted downwards. There it was. I spotted the orange tresses of the orangutan. He was sitting at the top of a tree right above us. Just hanging in there. Just like that. Wow.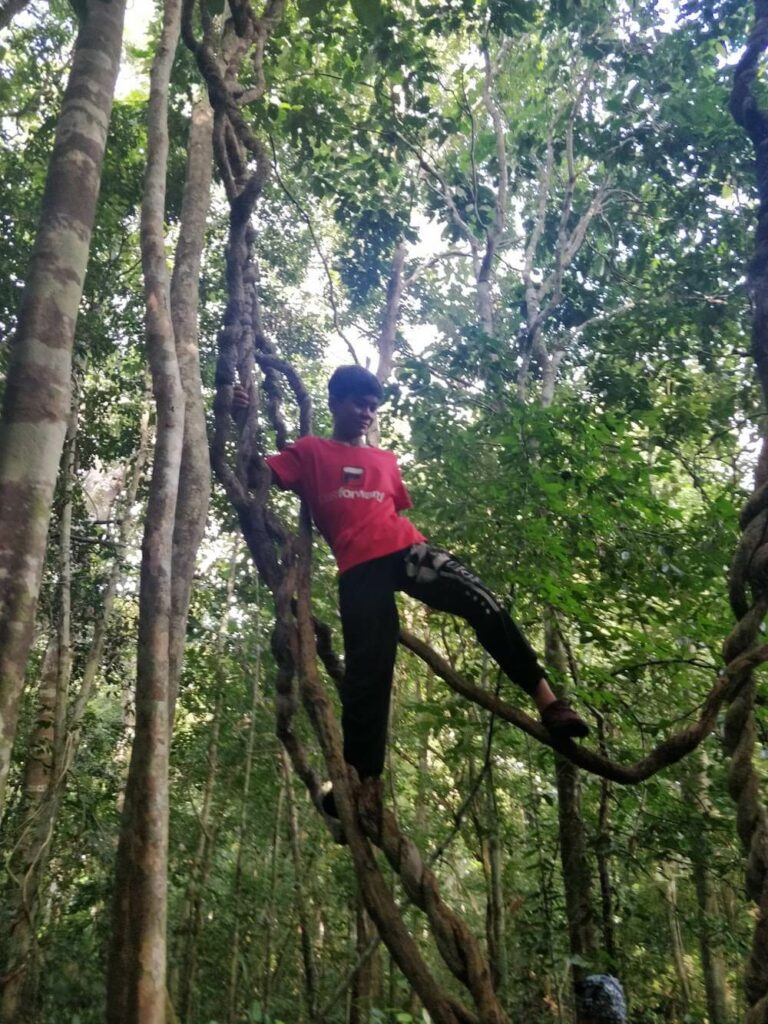 Then the orangutan started shouting at us. The scared ape imagined we were threatening his territory. He broke branches from the tree and threw them at us.
Maria's brother said the orangutan was a young male and we were trespassing in his two km territory.
I was guilty. But as I didn't plan to harm the magnificent animal, I quietly stood under the tree for a few minutes and watched him. And then we walked away from the orangutan's home leaving him in peace.
Borneo is one of the two places to see orangutans in the wild (the other is Indonesia). Orangutans are now endangered because palm trees, the main food of orangutans, are being deforested for palm oil.
I had seen all the big five on my Kinabatangan cruises. And the presence of the rich wildlife was supplemented by Maria's beautiful stories. She sat on the porch on full moon nights. I also joined her. When the silver light of the full moon carpeted her home, we talked.
You should see the moon reflect in the river Kinabatangan. The milky light of the moon shimmered on the glistening water exactly like we used to draw the moon reflections in our school drawings.
But when the days dawned, actually much before the day dawned, we would be on a boat heading into the Kinabatangan. The sun was still rising on the horizon. On some clouded days, we only saw a white ghost of the sun hidden deep behind thick clouds.
Then it would rain and we covered ourselves in raincoats while Maria or her brother turned the boat around.
The river was full of tourists from western countries. But some of Maria's stories made me feel I was in India.
Maria said she didn't get married until thirty-five for she was busy bringing guests from Sandakan. Dating isn't a trend in Malaysia, and she met her husband through a common friend.
The marriage culture and the reserved household took me back to my school times. Then I had Sikh, Hindu, Jain, and Muslim classmates as my best friends.
I used to visit my friends' houses for birthday parties and to prepare for our school dance competitions. Though all the homes had different customs and rules, our religions didn't deter us from being friends then.
Also Read: eVisa for Malaysia – For Indians
My three days at Maria's home were spent either on a river safari or eating and talking to Maria. Or I was fishing with the net. Or I laid in the hammock in the garden and watched the chickens and chicks and ducks and cats and kittens march like a parade whenever Maria brought out food.
I was also the guard watching out for monitor lizards. Those quick ones ran into the garden from the Kinabatangan jungle and would take a chick in a moment of unawareness. And when I went back to reading after sending the lizard away and calming down Maria's nephew Ochenten, I was often disturbed by the harsh songs of the pied hornbills that flew onto the mango tree in the garden to build a nest. If I went closer, the shy hornbill flew to a coconut tree and played hide and seek from behind the coconut leaf. Then there were the occasional visits by the orange and black squirrels who ran across the garden nibbling onto berries.
Should I also tell you about the red kingfishers I saw in the garden and the group of long-tail macaques that hung on the bridge over the river? Or the red leaf monkey I spotted on the backside of Maria's house?
A total circus, I tell you.
Suggested Read: If you love visiting water bodies, do consider the huge, culturally intriguing Myanmar Inle Lake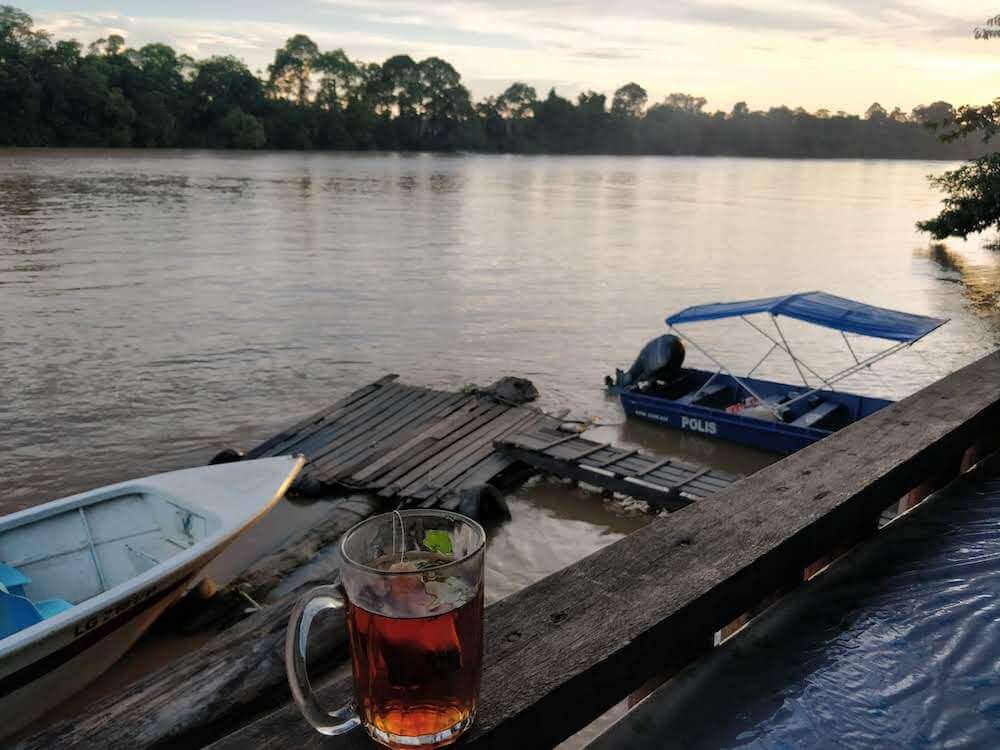 But such a circus pleasured me more than anything else in the world.
And when the sun set over the river, the amber river shined like gold. An orange and red hue spread over the sky.
I would watch the molten-red sunset with a cup of tea in my hand, clicking the scene with my eyes without bothering to take a picture with my phone. Those moments were too precious to be lost behind a camera screen.
Living next to the magnificent and wildlife-rich Kinabatangan river, you wouldn't notice how quickly the day will go by. But it wouldn't be less than a Disney tale, I promise.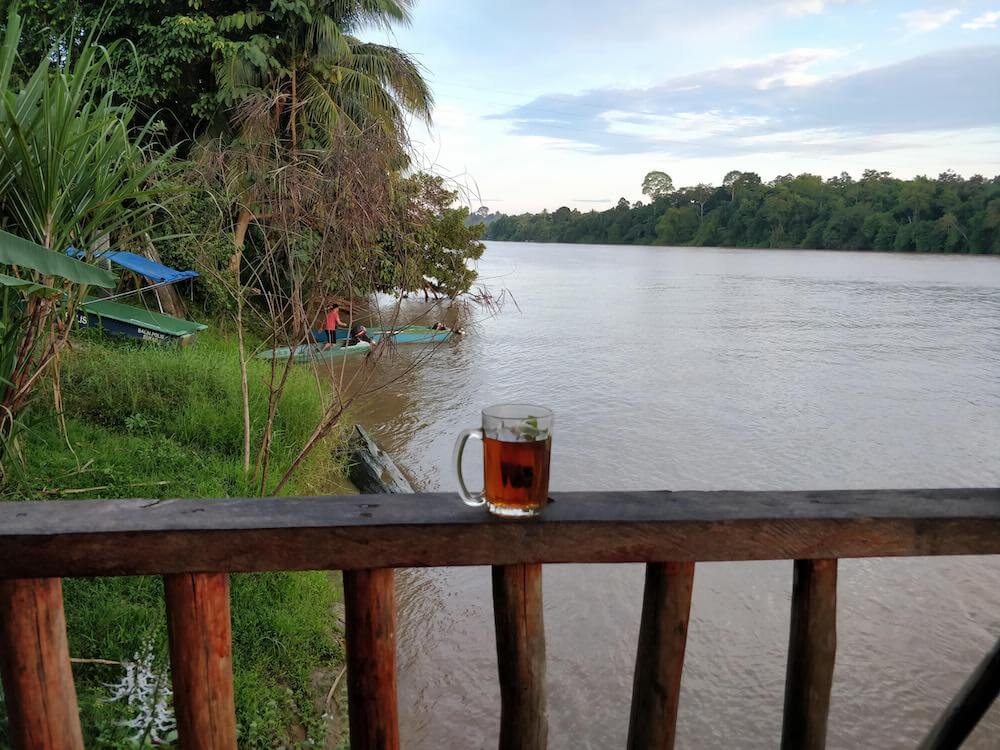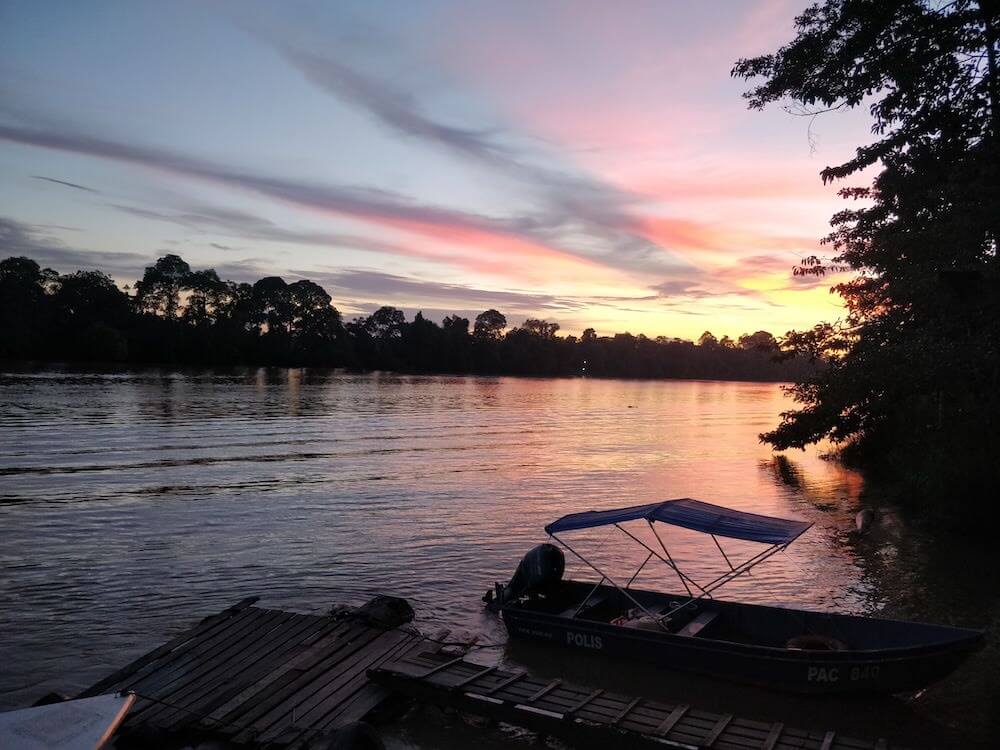 Rules for international travelers planning to visit Malaysia (and Kinabatangan Wildlife Sanctuary)
The Consulate General of Malaysia in Chennai's official website says, "From 1st August 2022, all travellers are allowed to enter Malaysia regardless of their COVID-19 vaccination status and do not require a pre-departure or on-arrival COVID-19 test. There are no quarantine orders related to COVID-19 enforced by the Malaysian Government upon arrival."
What is the best time to visit Borneo and go for a Kinabatangan River Cruise?
The best time to travel to Borneo and Sabah is from March to September.
Though some Borneo travel blogs say that Borneo stays warm and dry until October, I disagree with them. I was in Borneo in October and rain poured down almost every day.
If you are traveling to Borneo for diving, then summer is the best season with April, May, and June the best months for good visibility.
During October to January/February, Borneo, and Malaysia in general, receives heavy rainfall.
How to reach the Kinabatangan River in Sabah?
First, you have to fly to Borneo island. Get a flight from Kuala Lumpur or Penang to Sandakan in Sabah, Borneo. Stay in the city for only a day or two. Get accommodation in the center of Sandakan (near the beach). I stayed in an area away from the Sandakan center which wasn't that safe at night. Even the hotel girls warned me against stepping out after dark.
You can find a decent hotel in Sandakan on Booking here.
Like other cities of Malaysia, the Grab taxi works in Sandakan, too. Though I used the local van-like shared taxis to commute.
You can book a stay in the Sukau village of Kinabatangan beforehand. Though Sukau river homestay isn't available on Booking or any other website, WhatsApp Maria to check availability and reserve your Kinabatangan accommodation. Maria's Contact is: +60 13-870 0908.
TripAdvisor reviews about Maria and the river safaris she offers can be found here.
Here is a list of some other Sukau home stays and hostels on Booking.
As no public transport goes until Sukau, your guesthouse will pick you up from Sandakan.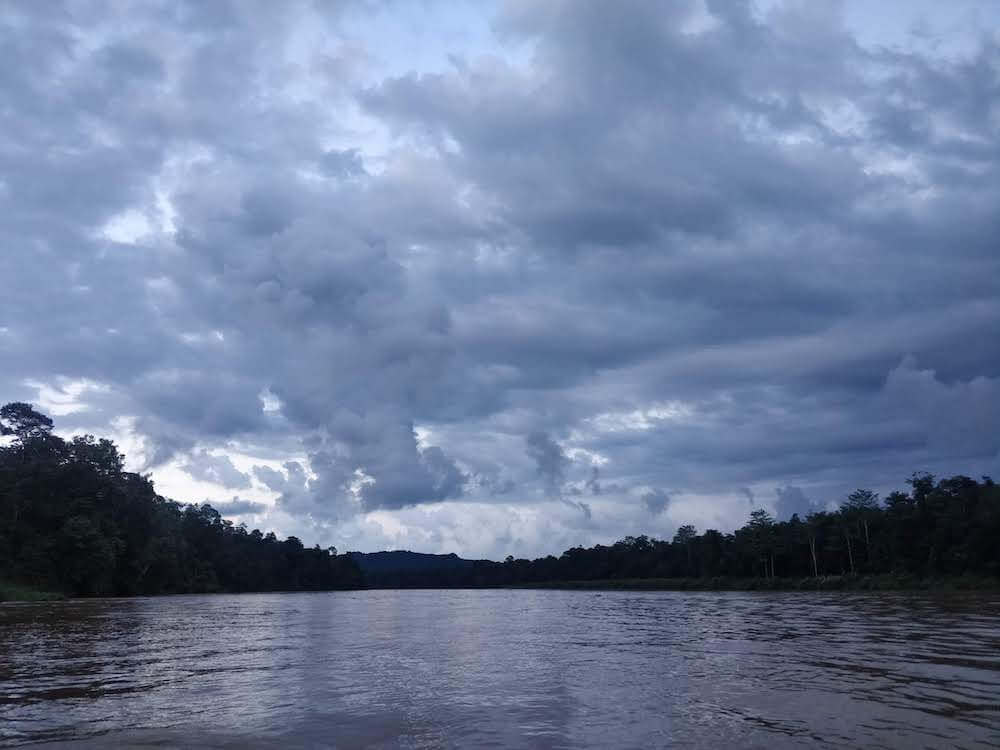 What to carry on your Kinabatangan river safari?
Bring along these below items to have a safe and comfortable Kinabatangan tour.
Good hiking shoes for women and good hiking shoes for men – Though the cruise on Kinabatangan doesn't include much hiking, you can ask your family or guesthouse to take you on marked trails around their homes. You would need good shoes if you go on those walks.
Warm jackets for men and women – you would definitely need a jacket on an early morning river cruise.
Essential toiletries
Flashlight – You would a flashlight on night safaris.
Bring a mosquito repellent.
Bring binoculars. Sometimes the orangutans are too far away to see with the naked eye.
A good camera – Nikon D3500 is a very good choice for the price. I use Nikon for all my photography now (the pictures in the article have been clicked with my phone for I have only had the Nikon for the past nine months). This camera comes with two lenses, and the one with a higher resolution is perfect for bird photography. Update 2023: Using the Nikon for more than five years now and still happy with it.
A first-aid kit – Always carry one while traveling. Carry essential medicines as you would not find any medicine shops in the area.
Some lovely books to read, but remember that the wildlife will constantly distract you.
Snacks. You will get good meals in the homestay, but if you get hungry in between there aren't many shops in the Kinabatangan area.
This list tells the most important things you need to bring to Sukau to have a comfortable experience. Of course, bring your regular clothes and other basic items, too.
Where to stay in Sukau Village?
I prefer homestays. So for me, Maria's Sukau river homestay worked out perfectly well.
Sukau homestay accommodations are basic and are mostly run by families. In most homes, alcohol isn't consumed and can't be brought in. But please confirm with your Sukau village homestay for their particular rules.
If you are looking for hotels or resort-like Kinabatangan accommodations, check out Sukau Rainforest Lodge and The Last Frontier Boutique Resort (this is in Bilit village, another base to explore Kinabatangan wildlife sanctuary).
Both have great reviews, river safaris, brilliant views of the river, and some places even offer visits to the Gomantong cave which isn't available at Sukau River Homestay (at least the last time it wasn't).
Kinabatangan Riverside Lodge is another option but I wasn't convinced by its reviews.
How many days do you need for exploring Kinabatangan river, Borneo?
I booked a two day and two nights trip with Maria. But I ended up staying in Sukau for one more day.
Most of the Sukau guesthouses arrange two to three river safaris every day. The two-hour-long safaris are around dawn, afternoon, and at night. The home stays or the lodge that you choose will also arrange night walks (depending on the weather).
Two days are enough to see the wildlife in Kinabatangan, depending on the weather and your luck. But as Kinabatangan riverside is gorgeous and peaceful, you might get tempted to stay for a bit longer. Plan accordingly.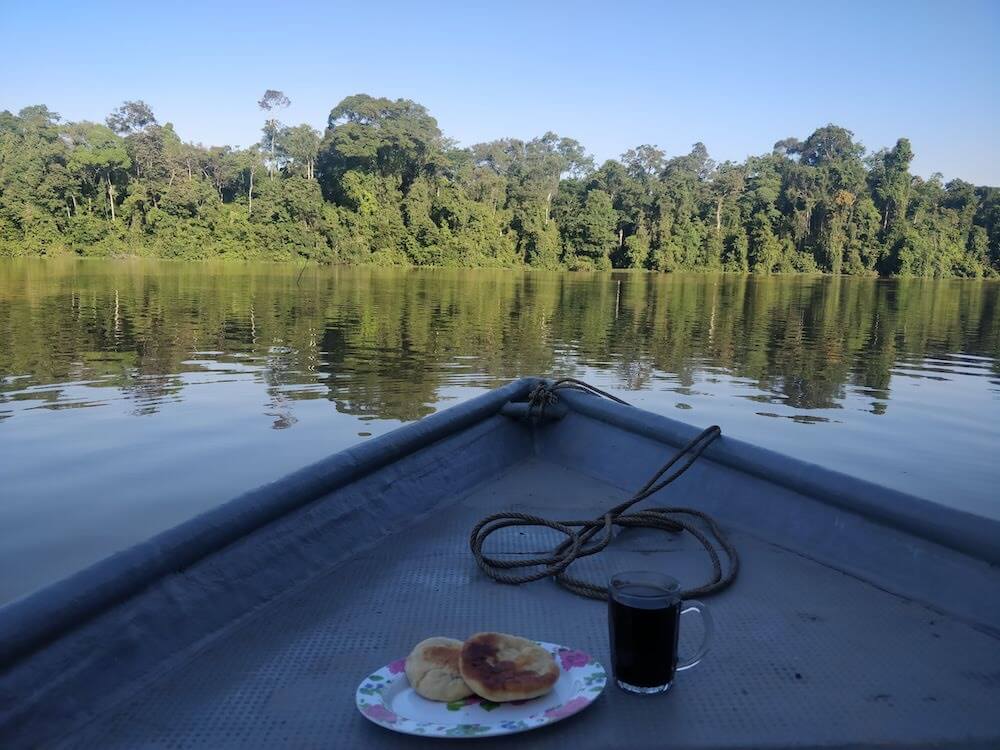 How much does the Kinabatangan river tours cost?
The two-day trip at Sukau river homestay costs 450 ringgits or 110 USD per person and includes the return transfer from Sandakan, room with a shared toilet, meals, coffee, tea, drinking water, and river safaris and jungle walk with an English speaking guide (sometimes Maria and other times her brother).
Please check the current prices with Maria as I took the trip back in 2018.
You will need to pay in cash so please withdraw in Sandakan.
You can also check out these Get Your guide Tours to the Kinabatangan river and Sepilok Rehabilitation center and Kinabatangan river cruise. Though these are slightly more expensive, both the tours pick up travelers from Sandakan, drive to the river, take them on a river cruise, visit the Sepilok Orangutan conservation park (if included in the tour), and bring them back to Sandakan.
Though I suggest staying in Sukau village for at least a night, these tours are good options for those with limited time.
Further Reads on Kinabatangan and Borneo,
Conservation, livelihoods and the role of tourism: a case study of Sukau village in the Lower Kinabatangan District, Sabah, Malaysia. – For those travelers who are interested in a deep dive in the Sukau village and the Kinabatangan river.
Would you love to go on one of these Kinabatangan tours?
Follow Up read: The only Penang travel guide (and narrative) you will ever need 🙂
Liked my guide, please pin it!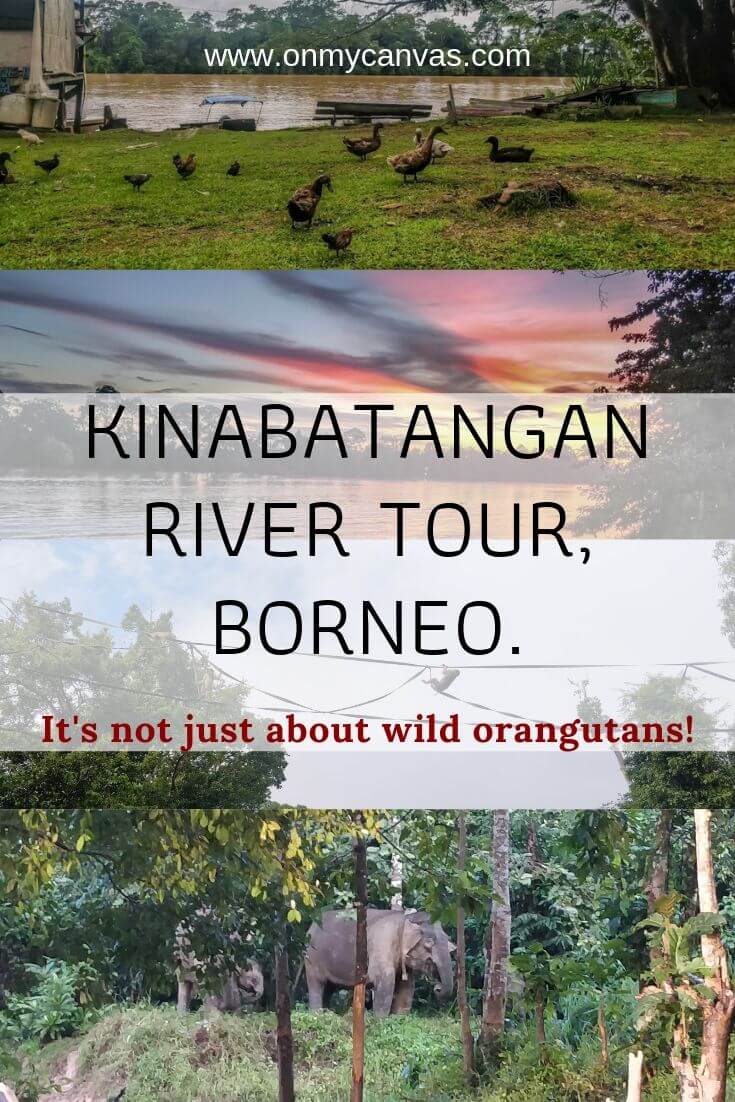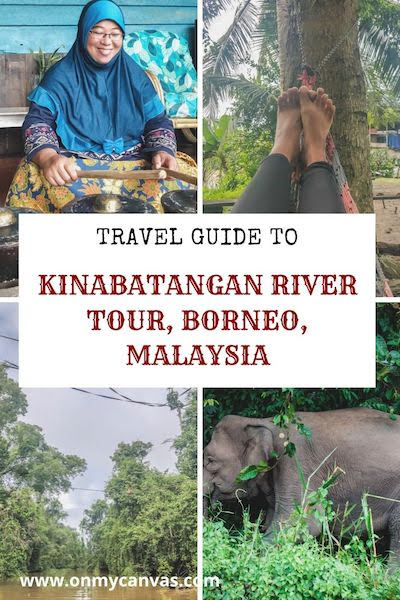 *****
Donate to keep me going!
For five years, I've read and wrote day and night to keep On My Canvas - my sustenance and life's focal point - going. Everything here and my weekly newsletter "Looking Inwards" is free. No ads. No sponsorships. If you've had some good moments reading my posts or felt hopeful on a lonely day, please consider making a one-time or a consistent donation. I'll really appreciate it (You can cancel anytime).
*****
Want similar inspiration and ideas in your inbox? Subscribe to my free weekly newsletter "Looking Inwards"!