Spiti Valley Images Showing the Real Spiti
Snow-capped peaks, inky sky, copper mountains, creamy cubicle homes, lean Spitians jostling around, and fat sheep and cows — this is Spiti Valley Himachal, one of the remotest valleys in the Indian Himalayas.
People have been clicking pictures of Spiti valley for decades. But since the advent of social media, Spiti Valley images have flocked to all Indians' and foreigners' Instagram and Facebook accounts.
Maroon-robed monks (mostly young) jumping on the swirling roads. Himalayan peaks standing tall and a river swiftly snaking in front of them. Icy summits with creamy Spitian villages in front. Selfies with Spitian women on the road. Key Monastery standing tall. Pictures in front of the dominant mountains. A few close-ups of flat-roofed Spiti homes.
We have seen all of the above Spiti images. But the more natural, unposed, and truthful Spiti valley photos don't make it to Instagram. Perhaps the silence that envelops the stunning Spiti and the isolated Spitian life is too much to handle even in pictures.
I traveled from Manali to Spiti in a shared tempo traveler and stayed in the valley for a week, alone (I've linked the travel narrative of my Spiti trip above). During that week, I hitchhiked to remote Spitian villages, stayed in home stays, cooked chapatis with young Spitian girls, spent time in monasteries, hiked up to the pea farms with families, used pit toilets, and celebrated the birthday of Dalai Lama in the key monastery.
In these 63 Spiti Valley pictures, I've tried to show a little bit of the struggle and the beauty of Spitian life. Hope you enjoy the photographs.
Let me take you for a walk in Spiti through these Spiti Images
Getting to Spiti
On the way from Manali to Spiti. The terrain becomes harsh and rocky once you cross Rohtang Pass, a popular destination from Manali.
Yaks and buffaloes clicked from a distance. This is probably one of the very few herds of cattle that we saw the entire way from Manali to Spiti.
Recommended Read: My offbeat travel blog to the best places in Manali
Once in Kaza.
One of my Instagram images of Spiti valley. Near the river in Kaza.
The last two are probably the prettiest of the Kaza images I've.
Traveling Within Spiti Valley
The formidable Spiti valley forces the people to stay indoors for at least four months of severe winter. But villagers do go out to carry water from the main sources to bring to their homes in cans. They also go to shop for supplies in Kaza village and walk back to their village since buses don't work in the winter. This Spiti Valley picture definitely gives a glimpse into the vast terrains of the valley.
Read my piece on an Old Himalayan Woman's Routine in a Shimla village (lessons on resilience and repetition) to see how hard mountain village life gets in India.
In Chicham Village, Spiti
A Spitian mud house, Chicham. Homes of Spiti are closed and compact to protect from the cold. Walls are thick to insulate from the weather outside. This is one of the simplest Spiti photos I've.
On the way to Key Monastery to celebrate Dalai Lama's birthday
Dharamshala is also a great place to see Buddhists' and monks' way of living from up close. Or perhaps learn some yoga there admiring the Dhauladhar mountains.
Returning to Chicham village
We went on a pretty daring hike on our own in the Mandi district of Himachal Pradesh. Go hike to Shikari Devi if you get a chance. Pssst: It's not for the faint-hearted.
Getting to Kibber Village
Demul Village, Spiti Valley
If you are a wildlife lover, check out some of these Himachal Pradesh photos collected over a four-month slow trip through the state.
Returning from Spiti to Manali via Kunzum Pass
If I had to choose one, I will choose the above photo as my Spiti Valley wallpaper.
Where to stay in Spiti?
Either go to Booking and find a well-rated guesthouse or read through my Spiti travelogue to find out how the homestay system works in Spiti. I've written about the best homestay in Kaza in the article too.
Follow up reads
I also suggest reading this beautiful story written by a Spitian Sonam Yangzom about the history of Spiti. She has many more stories from the Spiti valley on her account so indulge if you can.
Traveling in Parvati valley – Finding remote villages & running away from the crowd
Pangna Village of Mandi district will blow your mind away with its history
Pushkar Photography Tour – Pictures of the real Pushkar
Peru in Pictures – Everyday pictures of Peru with poetry
Did you like these images of Spiti Valley? Which is your favorite Spiti Valley photo?
Pin this photo essay on Spiti to share with the world!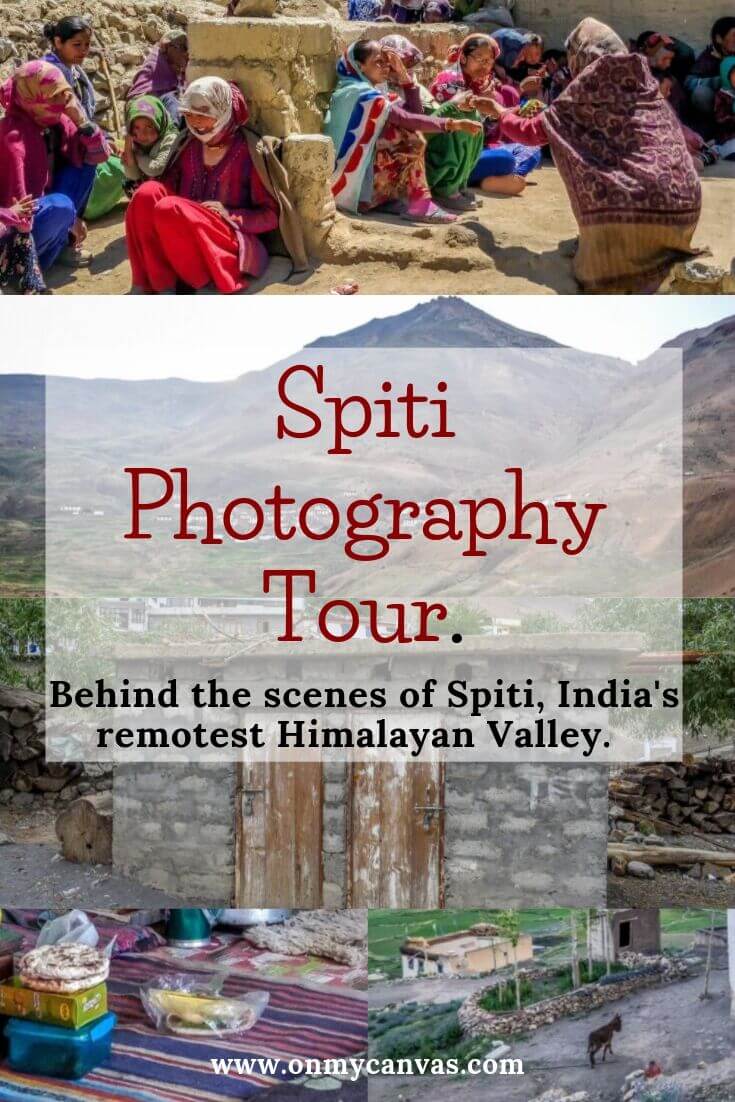 *****
Donate to keep me going!
For five years, I've read and wrote day and night to keep On My Canvas - my sustenance and life's focal point - going. Everything here and my weekly newsletter "Looking Inwards" is free. No ads. No sponsorships. If you've had some good moments reading my posts or felt hopeful on a lonely day, please consider making a one-time or a consistent donation. I'll really appreciate it (You can cancel anytime).
*****
Want similar inspiration and ideas in your inbox? Subscribe to my free weekly newsletter "Looking Inwards"!