Covid-Related Travel Update July 2022: India is now open to travelers. Find the application process for an e-visa to India on this official Indian government website.
Pushkar City and Pushkar Fair Photography Tour, Rajasthan
I went to Pushkar a few days before the Pushkar fair started.
Nearby villagers had arrived at the Pushkar fair ground with their cattle, and some were still on their way. Though the ground was still being set up, the animal trade had started.
A few hundred thousand tourists, photographers, and locals from nearby villages attend the Pushkar Mela every year (mela is fair in Hindi). But as the big influx of tourists was not to come until the camel fair started, the grounds were yet to fill up.
Even though I was only carrying a phone camera, I decided to treat my visit as a Pushkar photoshoot. While walking in the tiny streets of the Pushkar bazaar and wandering on the ghats of the Pushkar Lake, I not only clicked some Pushkar images I am happy with, but I also captured some deep-felt emotions.
Now without saying much, let me take you on this photo tour of Pushkar.
Related Read: Hampi, Karnataka in Pictures
Please Note: All the below Pushkar photos are clicked on One Plus 5 T. Photos are unedited but sometimes cropped to zoom in and with reduced quality to minimize the file size. Now I click all my pictures with Nikon D3500.

While walking around the Pushkar Mela one early afternoon.
Pushkar Fair. (Pushkar Mela in Hindi)
Before the Pushkar camel festival even starts, Rajasthanis bring their camels, horses, and other cattle to trade at the fairgrounds.
Once upon a time, the Pushkar fair was the only place to sell and buy animals. As the people of Rajasthan needed camels to run their daily life, they would all go to the fair primarily for animal trade.
But a thick-mustached camel owner told me now the Pushkar mela has lost its charm. Machines, tractors, cars, trolleys, and other modern equipment have replaced animals.
Even though the camel trade is going down, these beautiful creatures aren't very affordable. The man said the four thousand five hundred rupees he had in cash were not enough to buy another camel. Healthy camels can cost as much as fifty-thousand rupees. But everybody gave me a different price for the animals traded in the Pushkar fair.
This grand affair of ten days also sees handsome horses sold to compete in races. Of course, the fortunate or unfortunate azure-eyed racehorses cost crores of rupees.
Also See: Spiti Valley images – Behind the scenes in Spiti
At the Pushkar festival, every camel cart driver would promise to show you the best sunset ever. That he will take you to such beautiful rose gardens you would have never imagined. That he would reveal the secrets of the farthest dunes only to you.
As I have been to remote dunes in Jaisalmer, I politely declined their honest offers.
Then a young Rajasthani camel-cart owner invited me to sit in his cart. As Kushal had the most innocent face, I happily joined him. Later when men teased me, Kushal gently asked me to ignore them.
You wouldn't find many Indian women traveling solo in India. I was a curious entity for the local men. Also, Rajasthan is a very traditional state, and locals still keep their women behind the purdah.
Before you judge me for sitting on a camel, I will tell you that that camel was generously fed and well taken care of. Kushal asked me to ride the camel as the other cart members had been on the camel.
I couldn't say no to Kushal. I didn't know how to say no. When I talked to Kushal about animal safari, he said his camel was his friend. They roam around together all day long. That the camel wouldn't mind me.
I never visit a zoo, never buy leather, and don't ride animals. But in this situation, I didn't know if a camel safari was right or wrong. The camel was this sweet guy's friend, that's all I know.
In Rajasthan, people rely on camels for moving around, carrying loads, and food (milk and meat) for centuries. It is not only hard but impossible to explain to them that camels are sensitive living beings — just like us — and should be let free. Locals would shoo you away like you were some crazy eco-sensitive being.
Also, can Rajasthanis survive without employing camels to carry weight and travel distances? I am not sure.
But when I saw hundreds of animals driven around with a thread through their nose and a cart on their back, I wasn't happy.
What can we do? To bring a change, we have to give people an alternative.
Please let me know in the comments if you can think of a solution.
I saw many faces of children at the Pushkar fair.
Children ran around asking to be clicked for ten rupees or they just asked for the money audaciously. Sometimes they chased behind the camel cart to be driven around.
Handing them some mango candies, I wondered if they would even remember me the next day.
And then I saw this.
It all depends on the parents of these little ones.
After walking around the mela grounds, I went to the Pushkar market.
Pushkar Bazaar is a busy affair around the year and more so at the time of the camel fair in Pushkar. The streets bustled with international and Indian tourists and locals. Photographers raced through the streets while clicking away with their big Canons and Nikons.
Amongst all the chaos in Pushkar city, I tried capturing the real Pushkar.
Pushkar Bazaar, Rajasthan
Also Read: Growing Up and Traveling in India
The streets of Pushkar are fringed by artists. This man was kind enough to invite me to his shop to just talk without trying to sell me anything. He paints dancing figures, gods, and goddesses on old postcards – as you can see behind him. He also teaches this art and showed me a collection of his students' work.
I will always remember him for the honesty and innocence he bore, the ornaments of a true artist.
How would Rajasthan be without kachori? Little unhealthy deep-fried balls that I have loved since I was a little girl. The first time I had proper Rajasthani onion kachori was when I traveled to Jaisalmer and Jodhpur with a group of friends from college.
I didn't tell my family about the trip, but I committed other sins, too. One of them was eating a handful of onion kachoris. The ones you see in the picture are dal kachoris, which are also delicious.
In Pushkar, chat-wallahs serve kachoris with kadhi, a curry made with besan and sour curd. If you travel to Pushkar, please try these.
Pushkar Lake and Pushkar Ghats
Karthik (a Hindu month overlapping between October and November) is auspicious for Hindus as it is dedicated to the worship of both Lord Shiva and Lord Vishnu. Pushkar Mela is held in the Karthik month every year. During the fair, Hindus from distant places travel to pay their tributes in the Brahma temple in Pushkar and to bathe in the Pushkar lake.
On the full moon of the Karthik month, the fair ends.
Pushkar lake, located in the center of the city, has many ghats. Each ghat has its pujari or a priest who conducts aarti at sunset.
While crossing one of the ghats, a pandit stopped me to check if I had performed the prayer that they suggest everyone should do. When I told him I didn't, he said I was entangled in greed and money.
The pandit called himself the original priest and was one of the many there.
Each ghat has its small lake where you are asked to sit, listen to the many attendants of the main pujari who tell you religious stories, then you pray, and throw a coin in the water to fulfill your wishes. Of course, you also pay the attendant.
Hidden behind the shield of god and religion, some of these pandits were just making money. When I refused, the pandit started harassing me.
You might want to tie a red thread on your right wrist if you want to stay away from those who trade religion for peanuts.
Pushkar Photos at night.
As the Pushkar animal fair progresses, classical Rajasthani dancers perform their shows and musicians make music, villagers do puppet shows, experts walk on ropes, and many more cultural acts are performed.
During these prime days of the mela, the animal traders also start leaving the fair. But the show goes on to keep the tourists entertained. A local from Pushkar told me that camels also dance towards the end of the Pushkar Mela.
Not having the heart to see camels dance at the instruction of humans, I was happy to leave the fair early before it became a touristy affair.
And to be fair, I had had my share of fun.
Follow-Up Read: Himachal Pradesh: In 71 Photos
My Stay in Pushkar, Rajasthan.
I stayed at Saral Shambhala, the eco hut and luxury tents located in the Chawandiya Village of district Pushkar.
Please Note: This was not a sponsored trip. I was introduced to the owner of the place, a sweet lady called Nivi, by a common friend. Nivi invited me to stay at Saral Shambhala because she is kind. The opinions here are my own and, of course, honest.
I arrived in Saral Shambhala after a long-delayed train ride. Settled amidst a big farm and gooseberry fields, the eco-community environment of Saral Shambhala made me feel at home within minutes.
I had to go close to find the face hidden in the mud.
I would love to back to Saral Shambhala to stay for a month, at least. To read ancient books and write. To watch the birds. To hang out with Sitabai. To talk to the people who run the place with so much love. – But the place is shut down now.
You can browse through other accommodations in Pushkar here.
Do you think Pushkar has lost its charm? Or do you think tourism is essential for Rajasthan?
What do you think of my Pushkar photos?
Like my Pushkar Photo essay! Please pin it!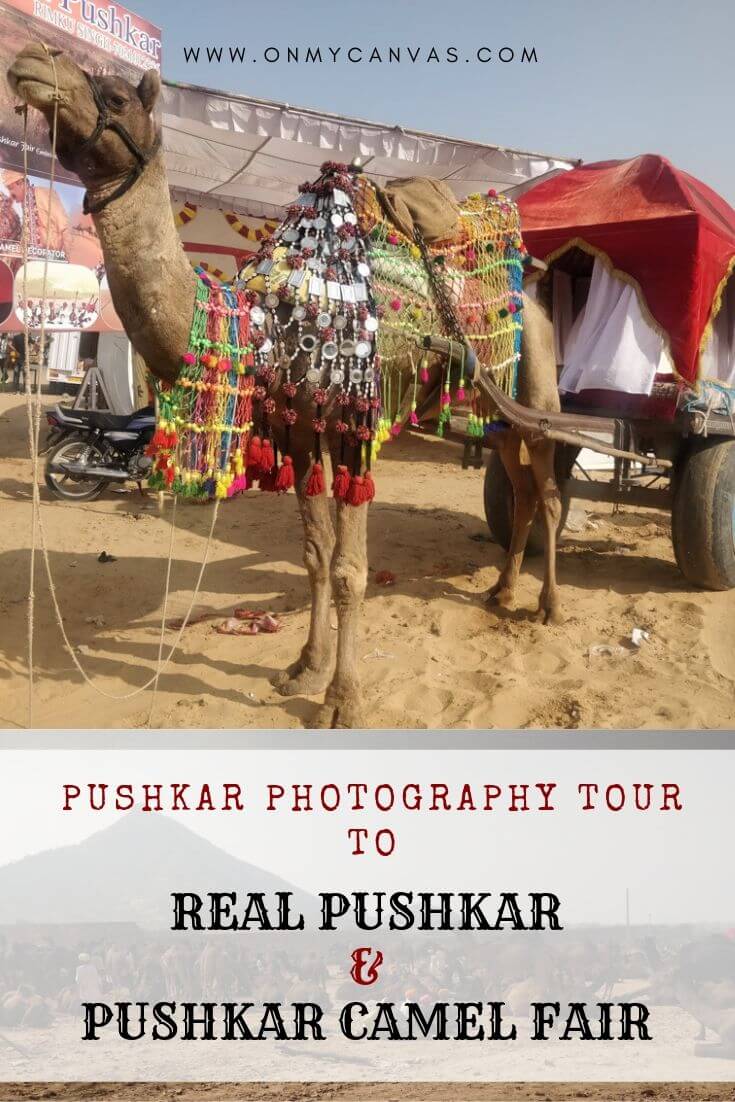 *****
Donate to keep me going!
For five years, I've read and wrote day and night to keep On My Canvas - my sustenance and life's focal point - going. Everything here and my weekly newsletter "Looking Inwards" is free. No ads. No sponsorships. If you've had some good moments reading my posts or felt hopeful on a lonely day, please consider making a one-time or a consistent donation. I'll really appreciate it (You can cancel anytime).
*****
Want similar inspiration and ideas in your inbox? Subscribe to my free weekly newsletter "Looking Inwards"!