71 Himachal Pradesh Photos Capturing The Most Heartfelt and Nature-Filled Moments of My Four-Month Road Trip in the State
I've chosen these Himachal Pradesh images from thousands of photos I clicked during my four-month travel in the state. I hope you enjoy.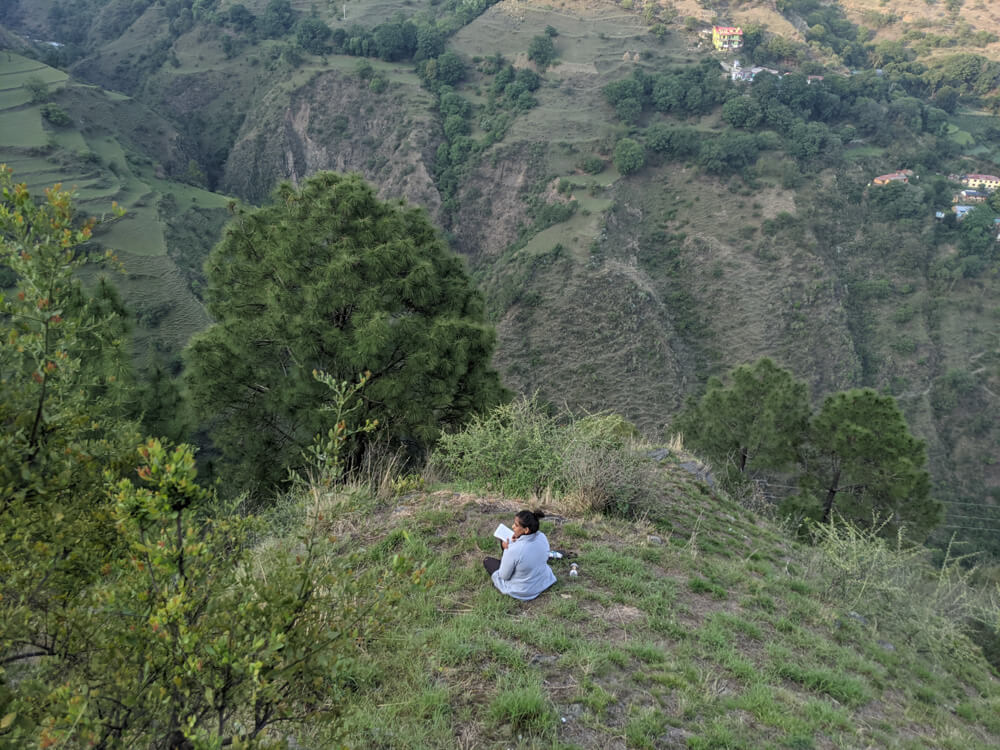 That day I wrote more than twenty pages in longhand from the forest and I can't give a better example of deep work. Getting to this stretch wasn't easy though. The downhill climb was tricky. There was no proper path. You had to make one through a jagged mountain strewn with slippery pine needles. Oh then the local leopard was lingering somewhere too.
And so begins our Himachal Pradesh journey.
As the pandemic began to ease up by the end of 2020, my partner and I resumed planning our indefinite travel. We are two remote workers who like to explore slowly. We love to work on the go. We were then in Bangalore Karnataka, but our idea had been to drive around India in our car (at least for one or two years). The pandemic had paused us.
Somehow we ended up driving from the far South Bangalore to the far North Himachal Pradesh during the second harsh wave of the pandemic in India (could have something to do with my partner's parents getting covid-19).
2800 km. That's an awful lot to drive in a country-wide lockdown where a contagious deadly disease was in the air. I have written a lot about that hard journey in this post, so please see more details there.
We entered Himachal with negative RTPCR tests and a travel e-pass. Our booking was for a week in a tiny one-BHK in the Mehli village of Shimla district. Within three-four days of arriving in Himachal, the state was put under lockdown. We ended up staying in Mehli for three weeks.
I talk about loitering around in Mehli in the linked piece. You can also read about our adventure to the leopard-infested Mehli brook down a steep hike.
My articles on Mehli describe my time spent writing, hiking, cooking, and watching the birds there. The beautiful Himachal Pradesh photos in those pieces have already picked up my favorite moments from that part of the trip.
Only sharing five pictures I love.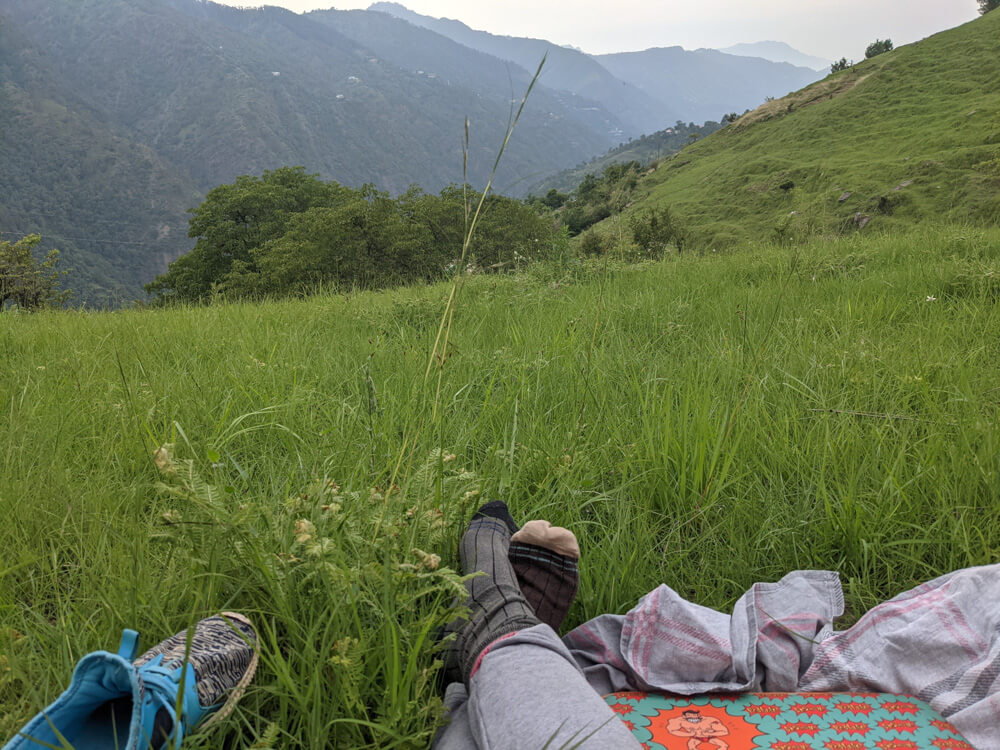 Another day on that hill further down. We went down and down and sat down in an uncultivated field. But for quite a while I was really paranoid about the leopard peeking at us from behind some bush.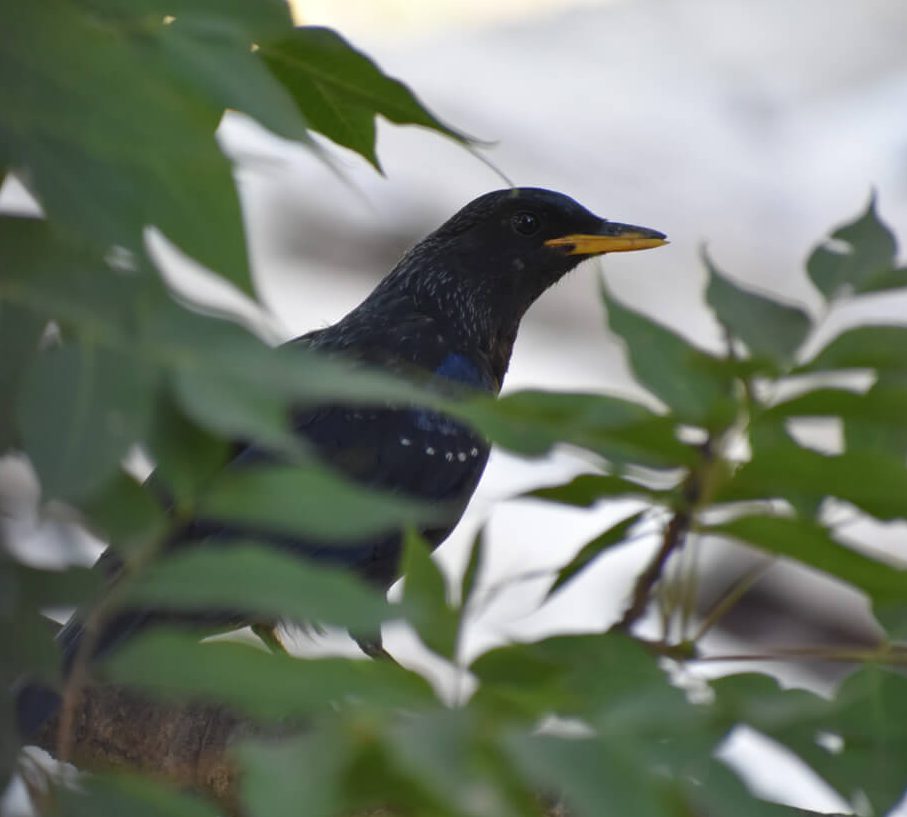 The beautiful whistling thrush. Don't trust her looks. She is noisy. (This is one of my luckiest Himachal photo. It was hard to get the focus right from so far.)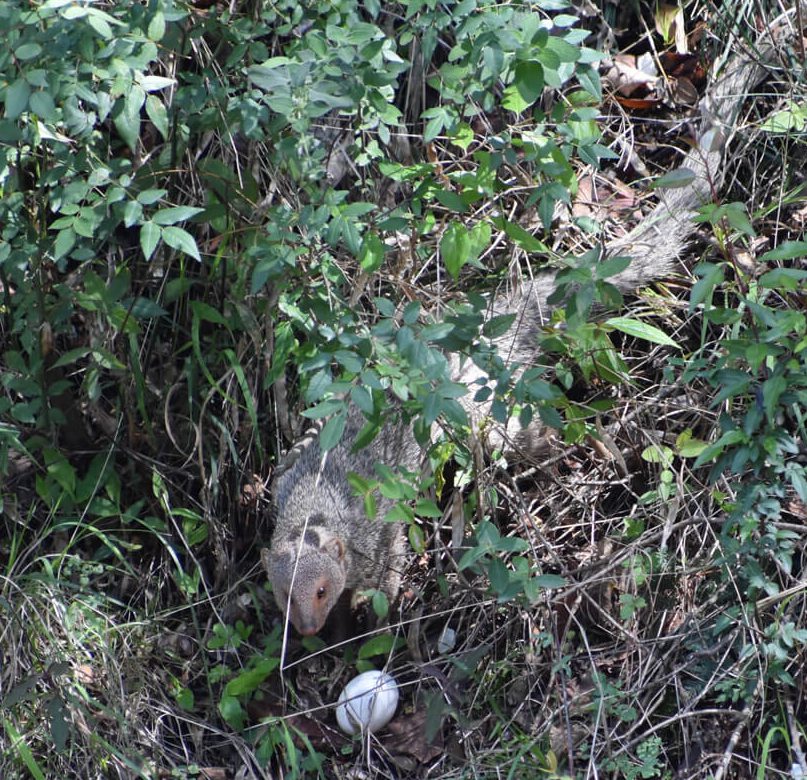 I saw this mongoose from my balcony of my Mehli home. He (she?) was rolling behind an unfortunate rolling egg.
How do I work from home when there is so much to do and see around me? I relax, I sit down with my work, but I also let myself get distracted by the wonders of nature. I make up for my distraction by sacrificing tv/Netflix time, we don't play board games for hours, and every day after dinner I either write or read. It works out.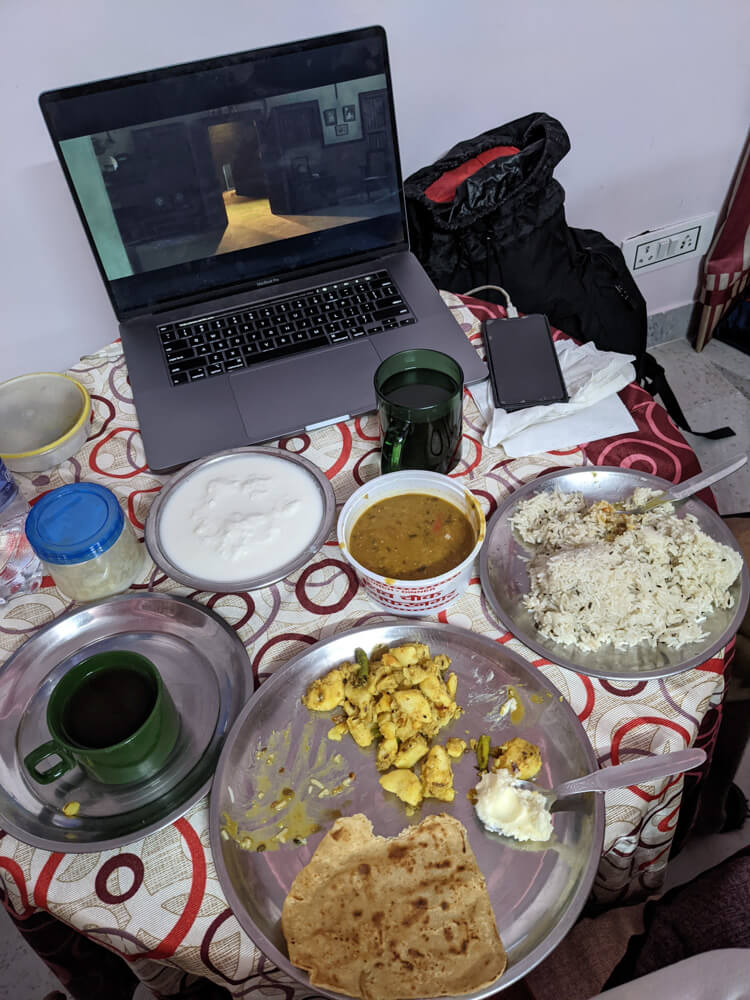 Eating our first dinner in Mehli. We had driven a lot that day and had some food that my mother had packed in the morning. We got fresh dal and rice from the next door neighbors. All the food came together so amazingly.
Even though on a journey, especially in the mountain, we all want to be outdoors. The movie we saw that day was probably our last for a couple of months. But we felt we had arrived home, finally, after being on the road for 5-6 weeks. And we were in a guesthouse we had booked for one week. ha.
Home is where you can make yourself comfortable.
The lockdown continued, and we could only go out to get essentials between 10-1 in the mornings. So we decided to drive as far as we could make in this time. From Mehli, we went to Mashobra, another Shimla village. There we stayed for two weeks.
During the four months we traveled in Himachal, we put up in many more villages of Shimla and Mashobra. We also stayed in the apple village of Fagu, other tiny towns and high-altitude temples, hills and lakes of Mandi district, and the Shikari Kullu wildlife sanctuary. Sometimes we left a place in two days and at times we put up for three weeks.
The villages of Shimla were very different from Dharamshala, Spiti, Parvati Valley, and Manali villages. Those were the only parts of Himachal I had seen before. Homes in the Bhagsu village of Dharamshala, Parvati, and old Manali were close to each other. But in Shimla, hill homes stuck to the Himalayan slopes at quite a distance from each other sometimes.
Terraced farming, fruit orchards, and animal rearing are more profound in Shimla and Mandi than in Dharamshala and Parvati. And this time I didn't even find many homestays and hotels to stay.
(My guide on Indian homestays to stay and another one on finding Indian guesthouses will help.)
More national and international tourism in Parvati Valley and Dharamshala could be the reason for a greater number of guesthouses there. Of course, many places were shut down due to the pandemic.
Also, the Mandi district is still rarely visited by outsiders. Only a lot of Himachal locals travel there to visit its numerous temples and shrines. Visitors who come to Shimla stick to the main crowded Shimla town due to lack of information about the more pristine and green remote villages around it.
So throughout my time in smaller Shimla and Mandi villages, I didn't meet many weekend or long-term Indian travelers. Foreign visitors were still not allowed in India.
Fewer travelers made our journey through these parts of Himachal more interesting and, of course, challenging. You will see in the Himachal photos how we managed around seeing the less explored destinations on our own. Travel hacks for this state need an entire article of their own but I have left tips in tidbits here and there.
The idea behind sharing these pictures of Himachal Pradesh is to show the life of the people of Himachal, their culture and strong religious beliefs, natural beauty, food, agriculture, birds, and mongooses. I want to show more of the hardships and how things are done in Himachal rather than the wide windows of expansive villas, glasshouses with chandeliers and fireplaces, and tables on the edges of mountains.
Honestly, Himachal people never enjoy these natural bounties and rather work all day long to keep it all going. Women work harder than men so maybe some people would disagree with me.
Go through these images of Himachal Pradesh to get a closer look at the state. I hope you travel there someday (if you haven't already).
Himachal Pradesh Pictures Taken From Shimla and Its Villages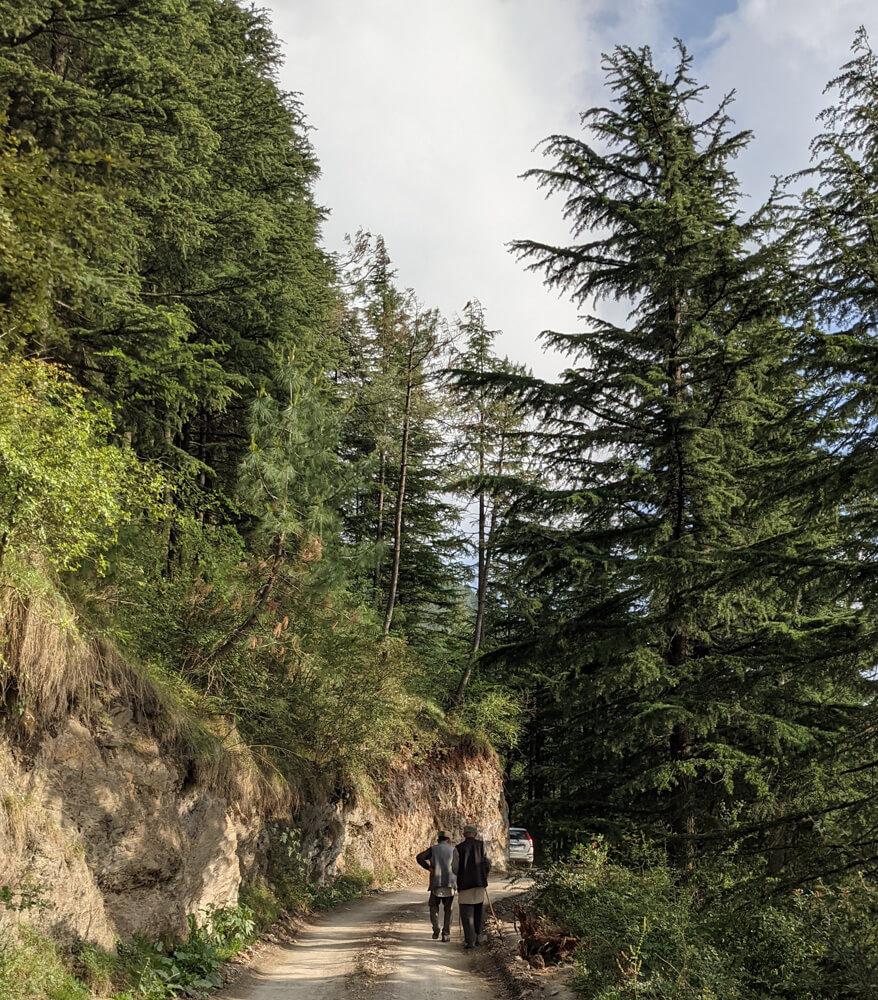 This was near the Fagu apple village. We had gone there to hike to Kanag Devi hill. We were told the views are amazing from the top of that hill. While descending I saw these two old men taking their evening walk. What a place!
But don't be fooled by the beauty. Early morning that day a shop 5 minutes from here had been found burned. The locals were wondering the lightning had did it.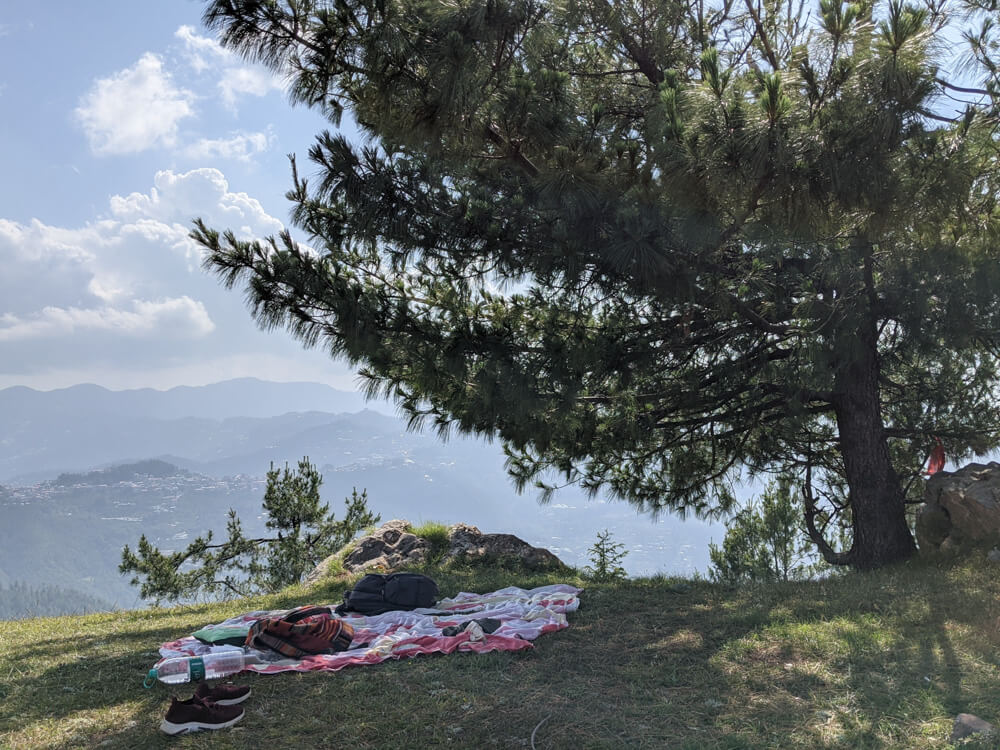 The sunny picnic at the top of Kanag Devi hill. It was a fun-filled day.
Do you ever go on picnics? I'm sure you do. If you don't, rethink them.
A day full of fruits, sandwiches or parathas, tea thermos, books, and a lot of lying around and playing games and watching the golden eagles soar in the sky. That's what I used to do in Bangalore's Cubbon Park.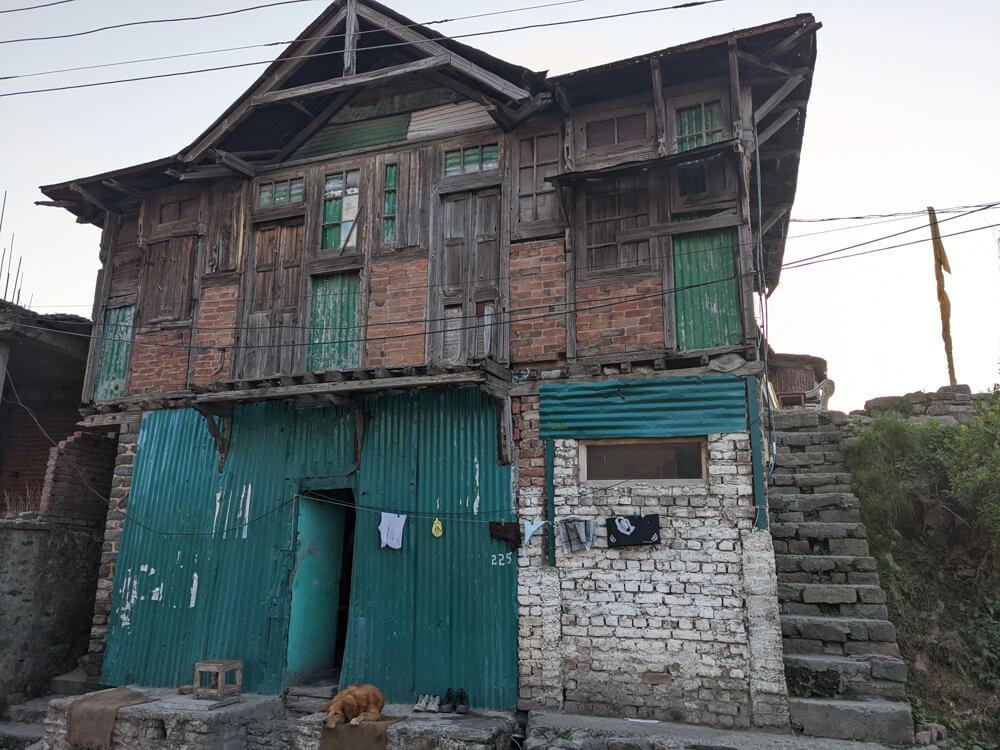 An old Himalayan house with a cute little melancholic dog outside. We never saw this dog happy or running. He just sat there always.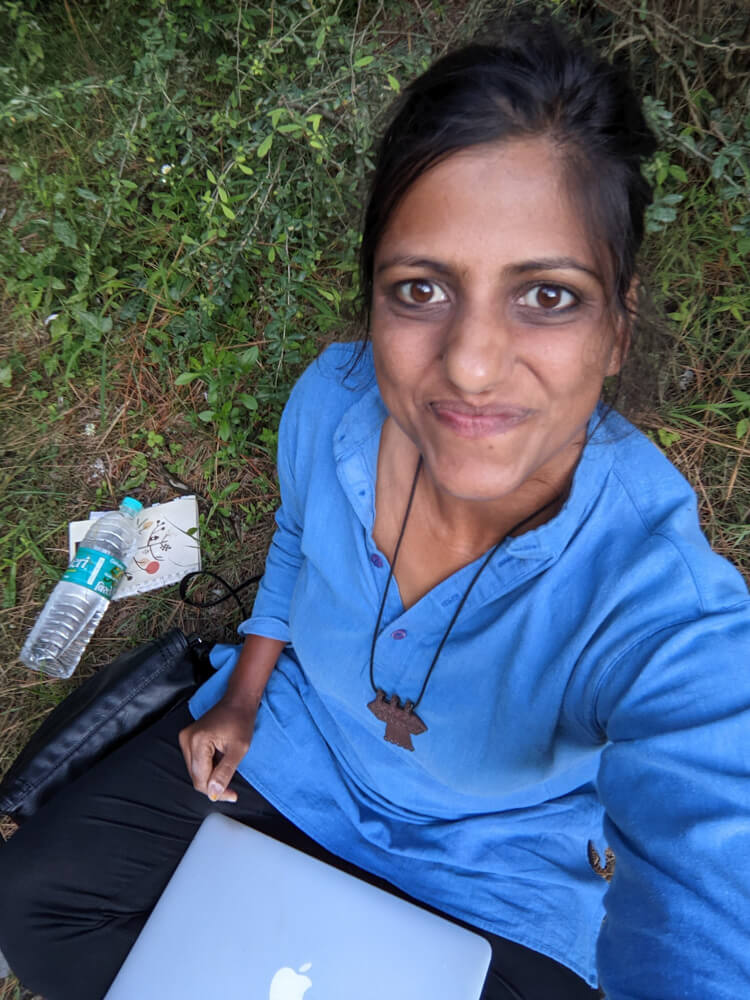 We lived in Gagal village of Mashobra for three weeks.
Though the host had promised us a quiet homestay, often there was a lot of movement around our guest house. The village was also really hot during that month of June. So we used to go into the forest to write and work. This time I was seated near a natural water source. I wrote a long draft of an article and I was so happy.
Being on the ground in the nature touching the soil with your body can be so calming. My article on the village life of India: lessons on resilience and repetition is based on the life of the mother in the Gagal village homestay.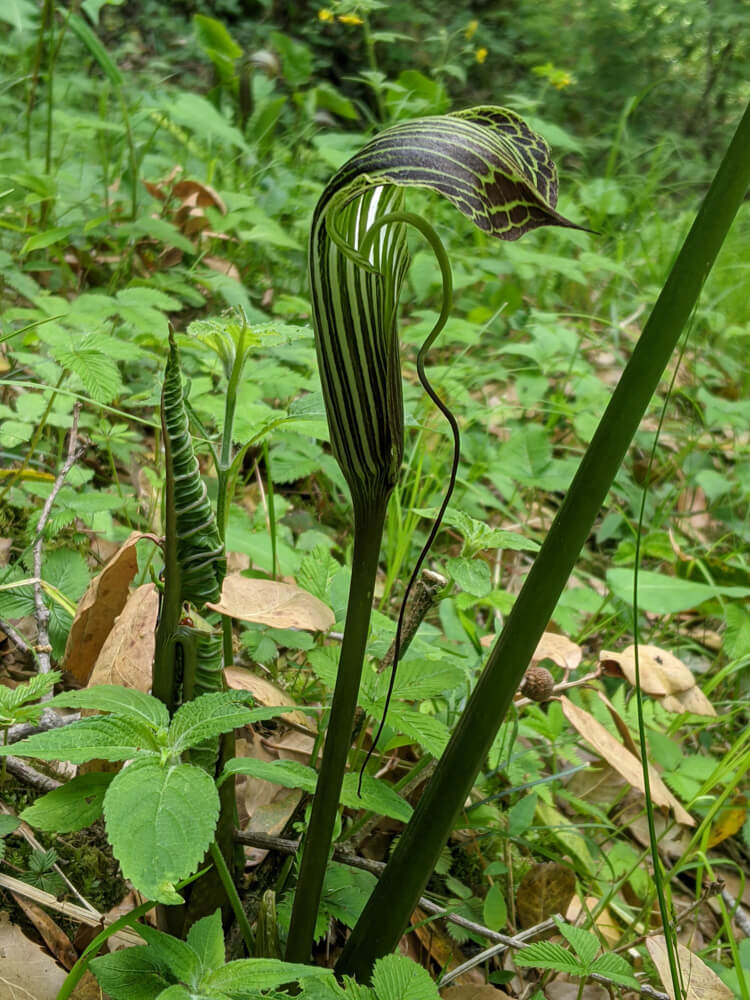 A wild Himalayan plant that grows only in undisturbed jungles. We found it in the Mashobra Presidential Retreat. The Indian President can go there every summer, but I don't think he has for a couple of years.
Another traveler had shown me this plant on my Bunbuni Pass hike in Parvati. And since then I keep finding it everywhere. Do you know its name?
On the note of undisturbed forests, here are 27 pictures of nature thriving despite climate change. I hope these photos inspire everyone to protect what is left of it.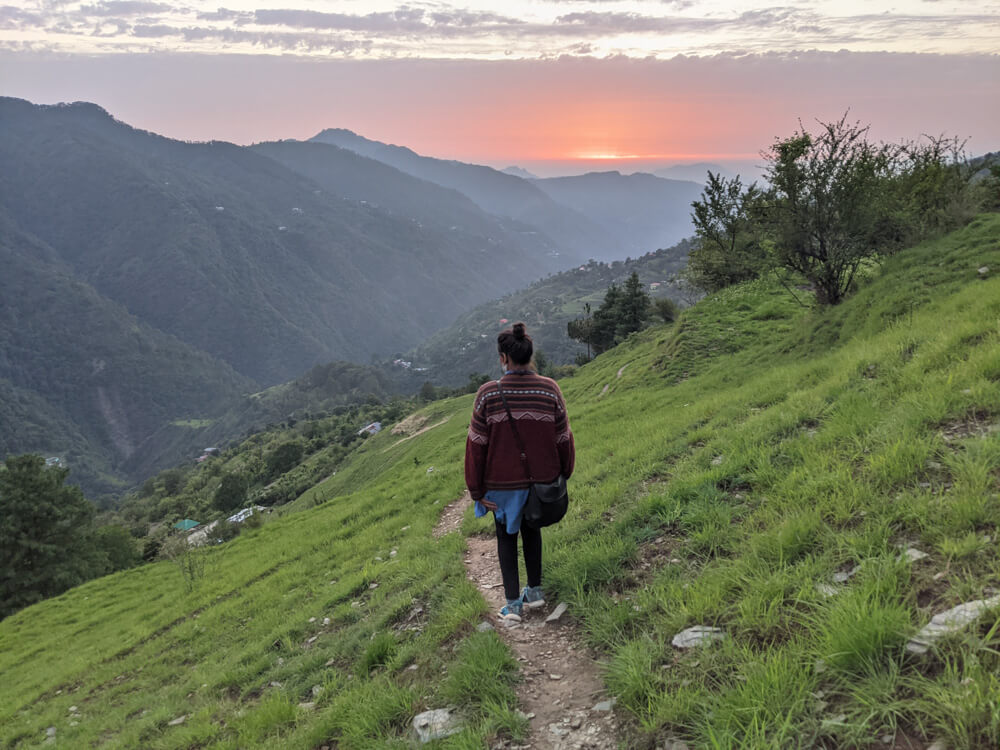 I have spoken about the Gagal village of Mashobra in one of the above photos. It was a low-altitude village of Himachal Pradesh. The whole hill sometimes belonged to the family whose house was on it.
Here you see a faintly visible blue roof below. That was our home. We used to park our car at the hilltop and do a short hike to the house rather than driving for thirty minutes. This pasture through which I'm walking belonged to someone but the area near our house was all our host's.
The sunset there was out of this world.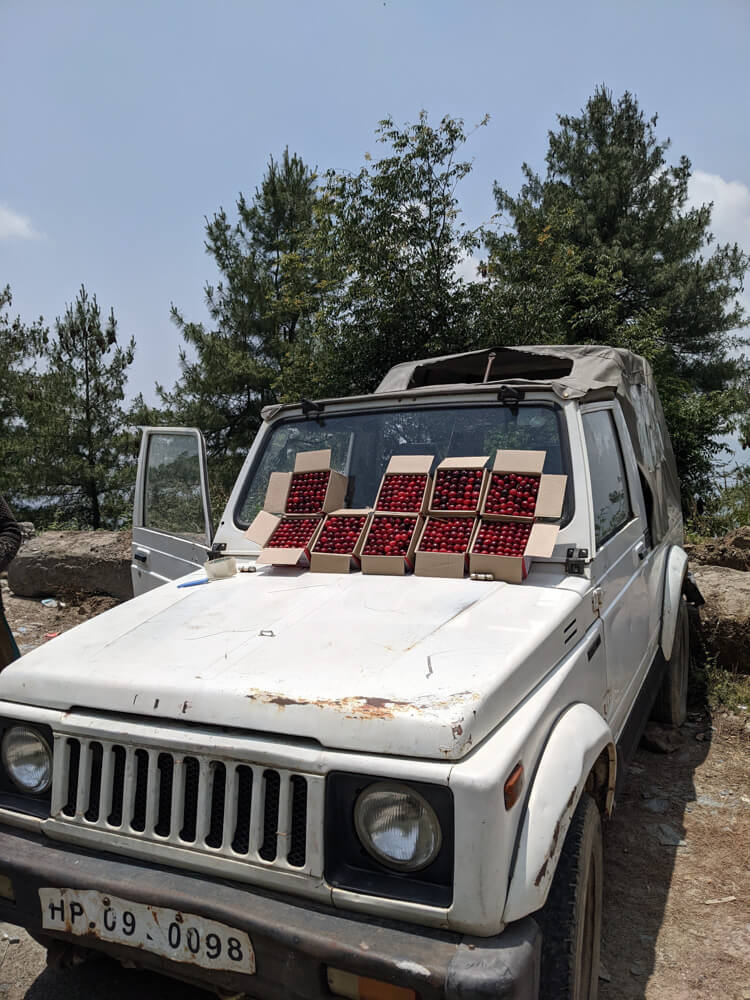 We wished for cherries one day and on our drive found this cart parked on the side. A lady was selling fresh cherries from her farm. Sweet little balls of goodness those were!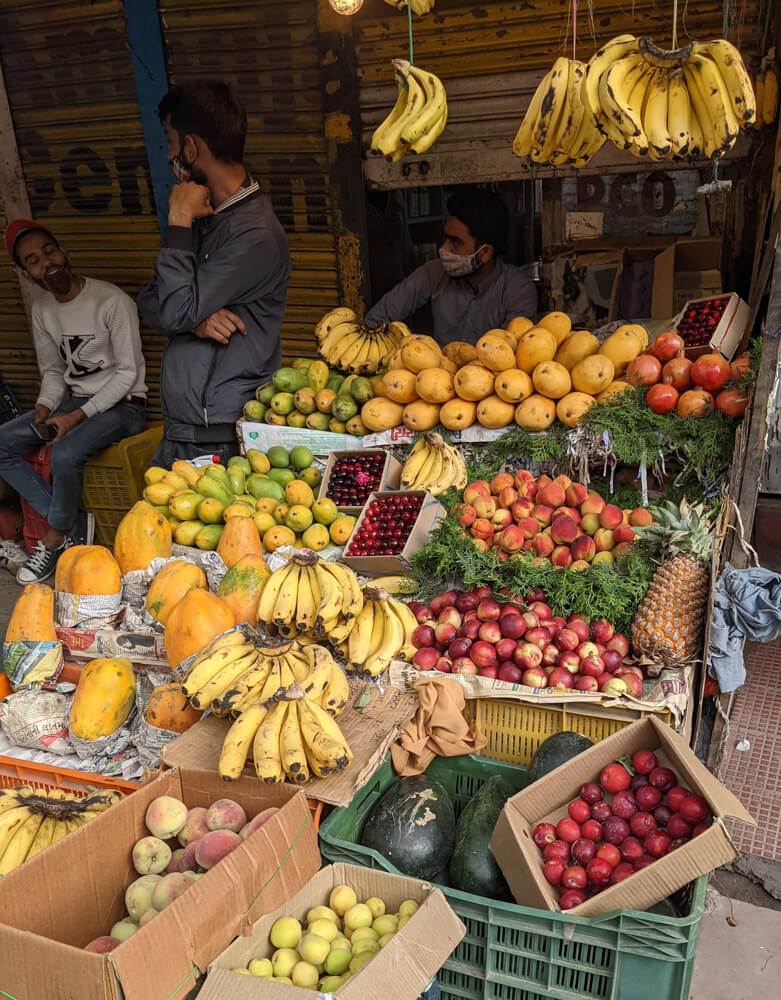 A local Himalayan fruit shop in summers.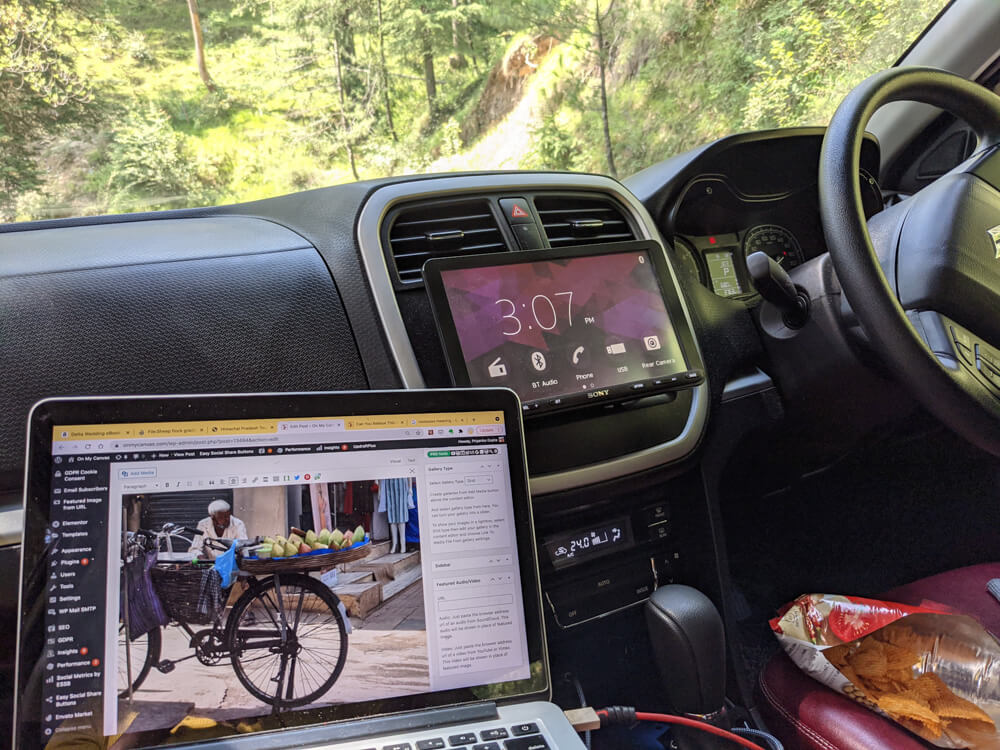 Working from our car like a true digital nomad. Jokes aside, we really worked from our car many times. When you go into the jungle, how do you charge your batteries? We would go back to the car, charge up, and return to the hills. Here's a pretty solid car charger we use.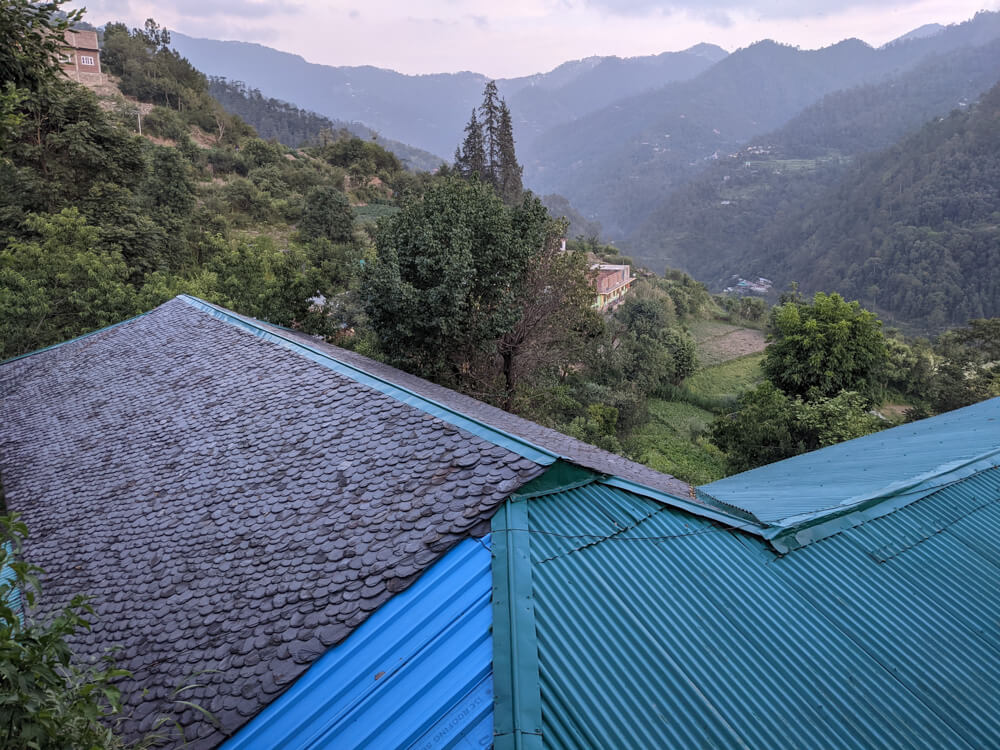 The hills around our guesthouse in Gagal, Mashobra. I took this photo just for that roof laid with symmetrical stone tiles.
Most Himachal homes have these local stones on their rooftops. A good way to protect the house from snow, rain, and heat.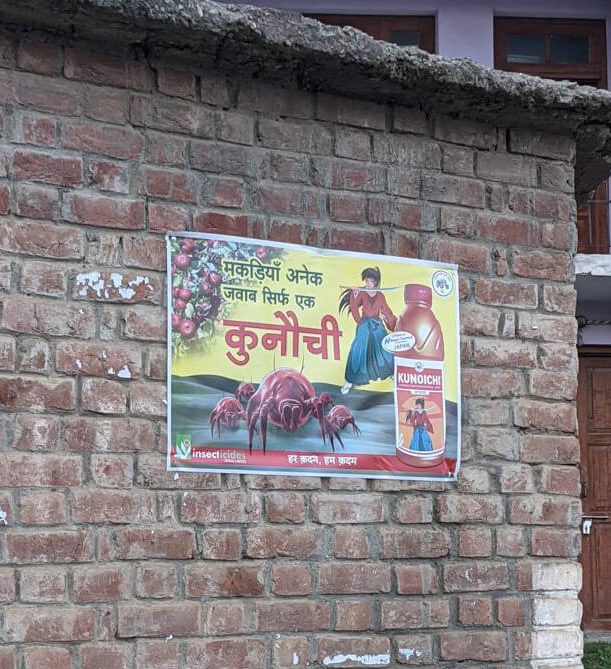 Here the farmers are being targeted by this insecticide company whose ad-campaign says, spiders many, but answer only one, Kunochhi (the product).
None of the fruits and vegetables we get from Himachal are organic. Even a tiny plant of tomato can't survive without an insecticide spray. So wash your natural food products well before you use them.
I talk about organic grocery shops in Bangalore and healthy and mindful ways of living in the linked posts.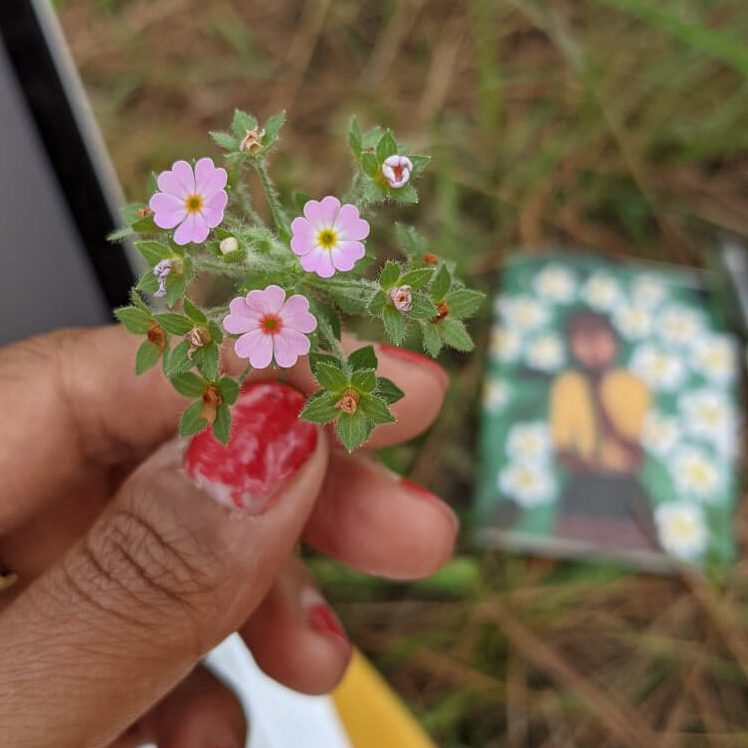 Flowers of the Himalayan Valley could be more intricate than we can imagine them.
The chaos of Shimla town. This isn't a favorite picture of Himachal Pradesh but it was good to see this once in a while to appreciate the peace we had in our small Himachal villages.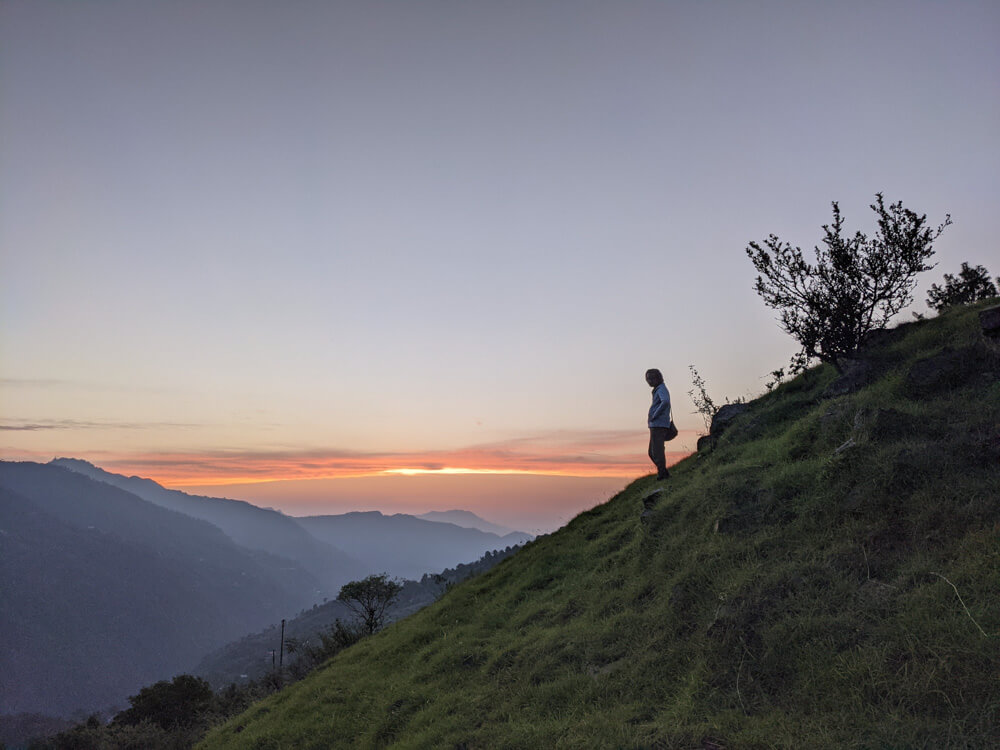 And this is the peace I'm talking about. Gagal village, Mashobra.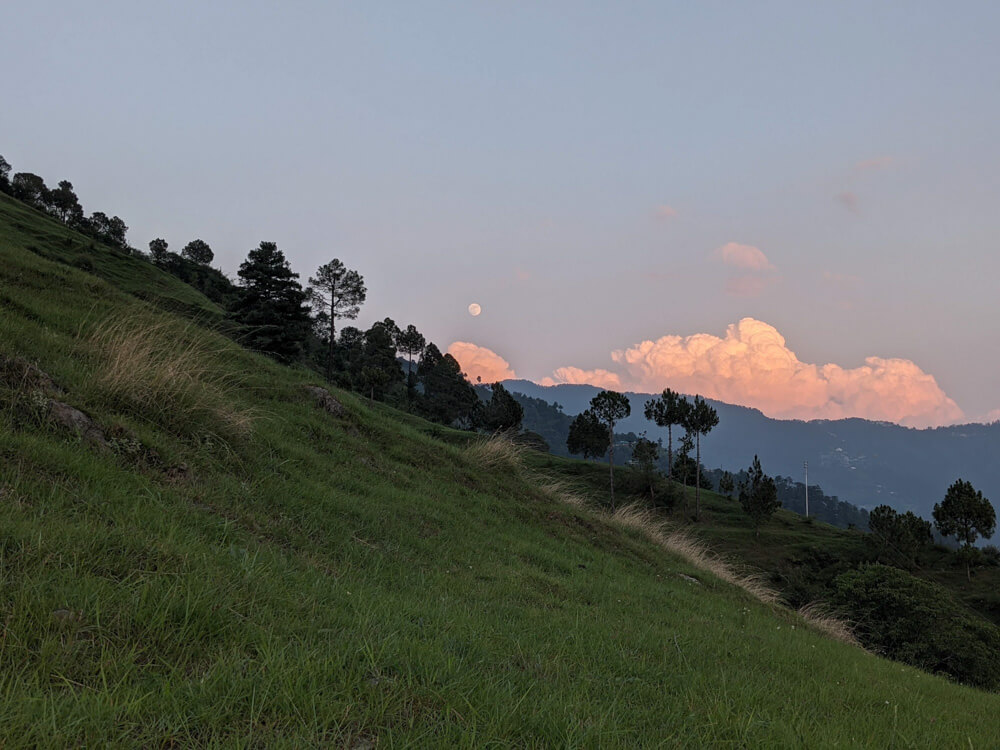 Oh, you don't see this every day. On one side we had a full moon and on the other side the sun was setting. (You may love this super blood moon photo essay. I saw the blood-red moon in Mashobra.)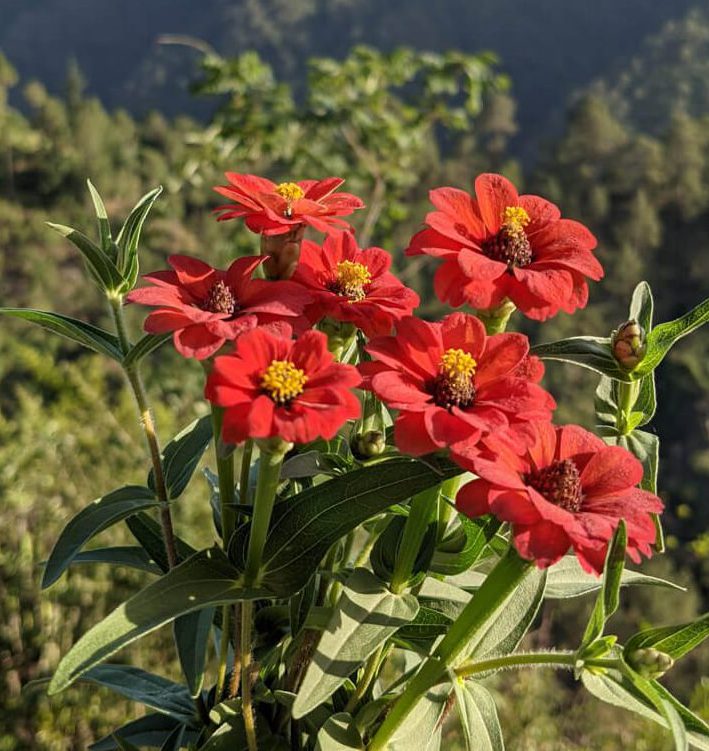 Wild flowers I planted in my host's garden before leaving. Aunty said at least they will have something to remember me by. Gagal village, Mashobra.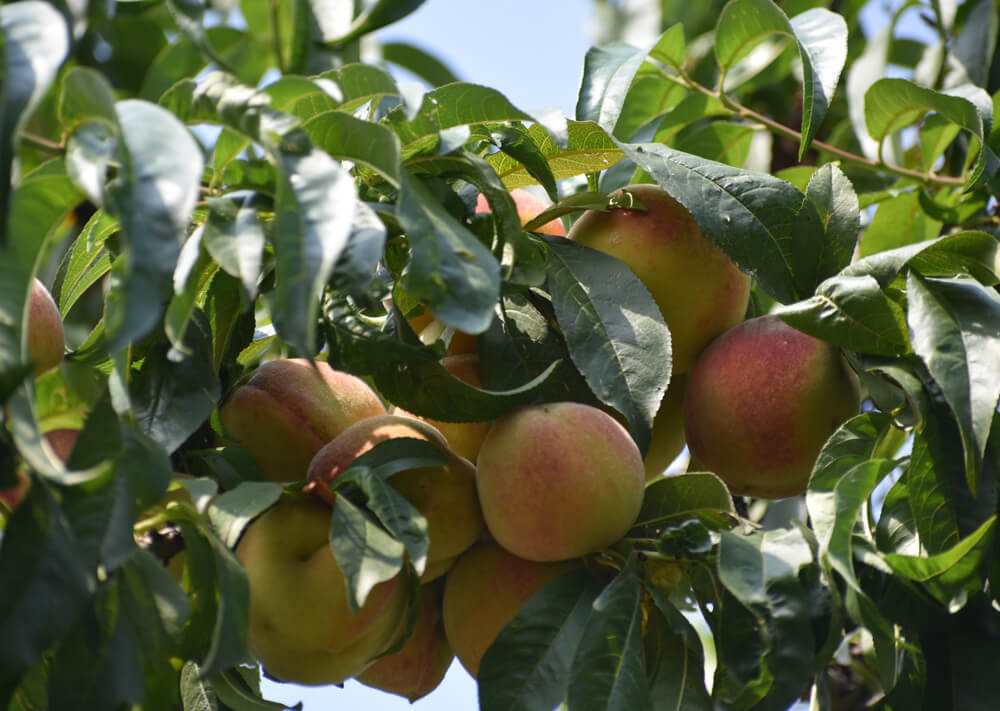 Peaches. Go in the summers if you really want to enjoy Himalayan fruits.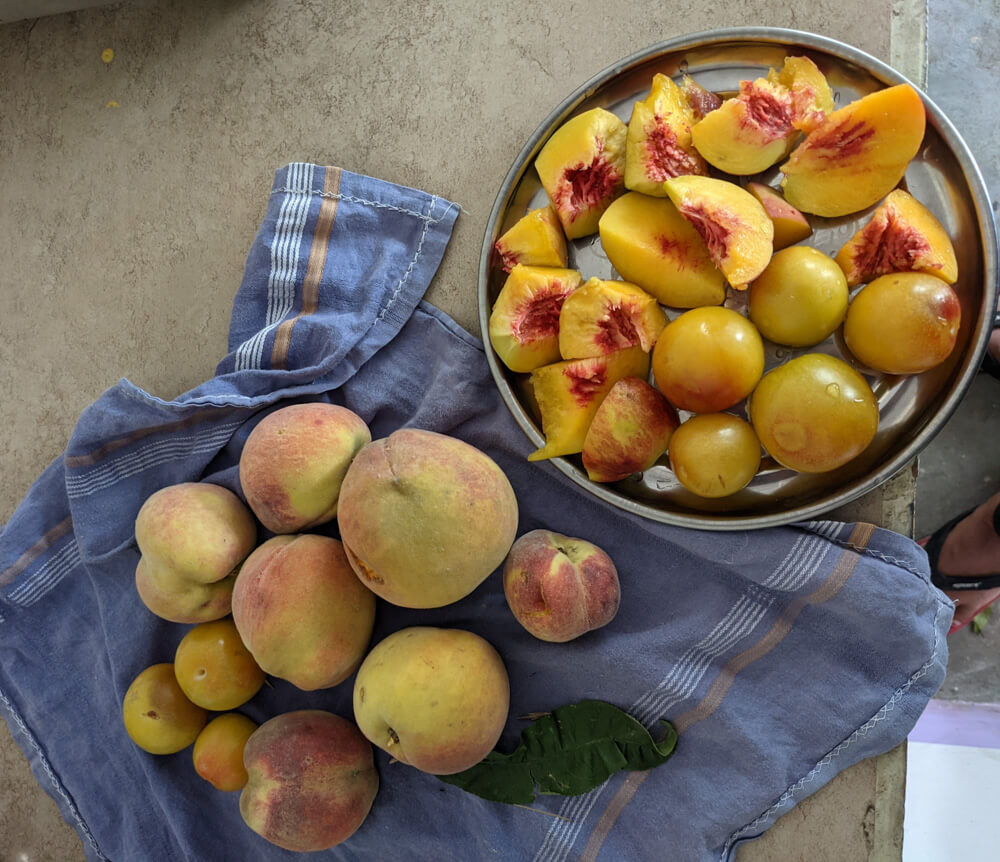 My lunch. Read more about fruit picking in Gagal post. (coming soon)
Photos of Himachal Pradesh's Karsog Valley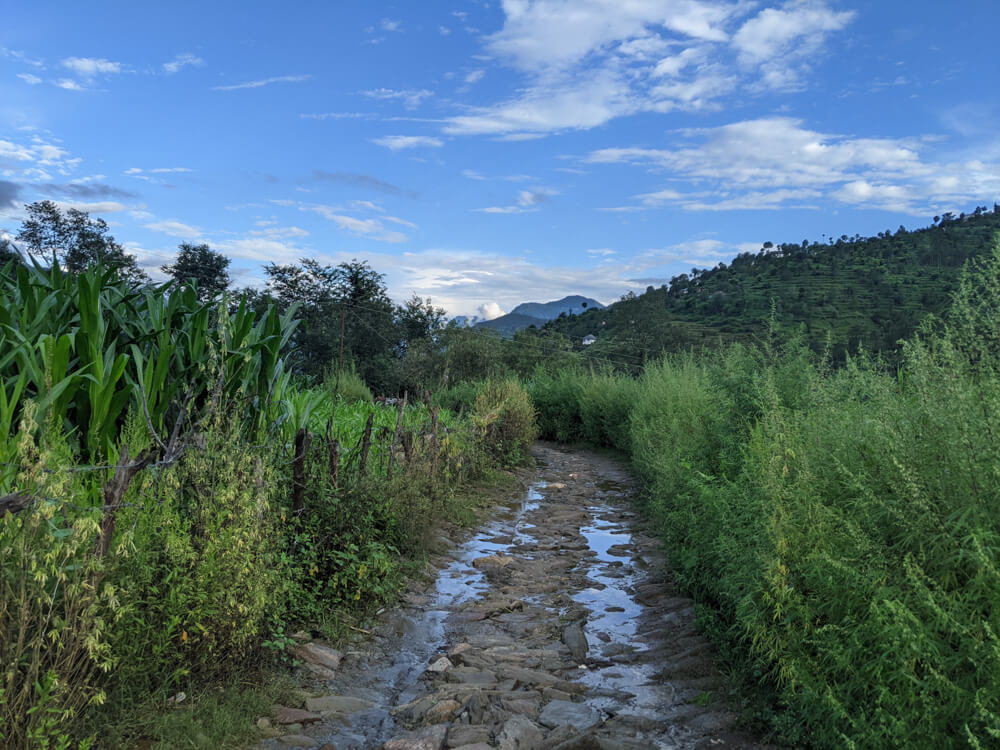 Some days are tough. Irrespective of where we are the mundane things of living get too much. This was one such day in the Nalagali village in Karsog valley. But eventually we got out of our house and walked down into the valley to this beautiful view.
The blue of the sky reflected clearly in the waterlogged streets. We were so happy. But the locals weren't having an easy time. Their backyards were sodden and houses were getting flooded with water. Most of the valley didn't have good roads. But as visitors we couldn't ask for more.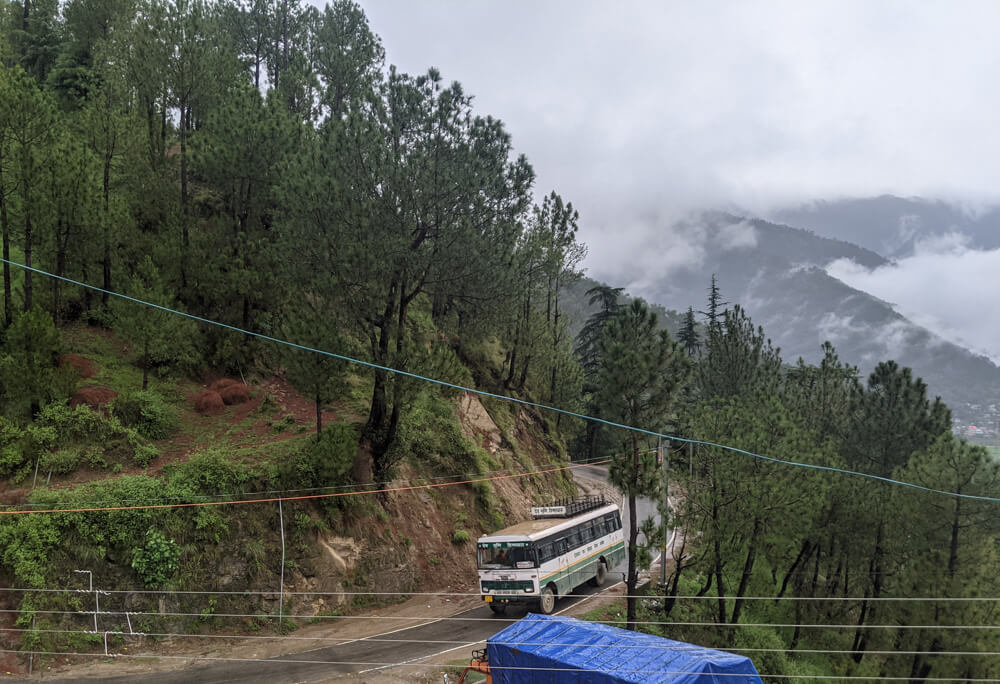 Mandi district was receiving heavy rainfall during August. But no matter what goes on, Himachal buses keep running. I was running a 20-day work marathon that time. That means I was just staying put and writing non-stop. That day I had woken up early to welcome the morning. Clouds had descended low and the air was so cool my cheeks sparkled. I took this shot from the terrace of the guesthouse we were staying in.
The family who runs the homestay had woken up even before me. And the house lady was busy feeding the cow, preparing tea, and doing her other chores that kept her on her feet as long as she was awake.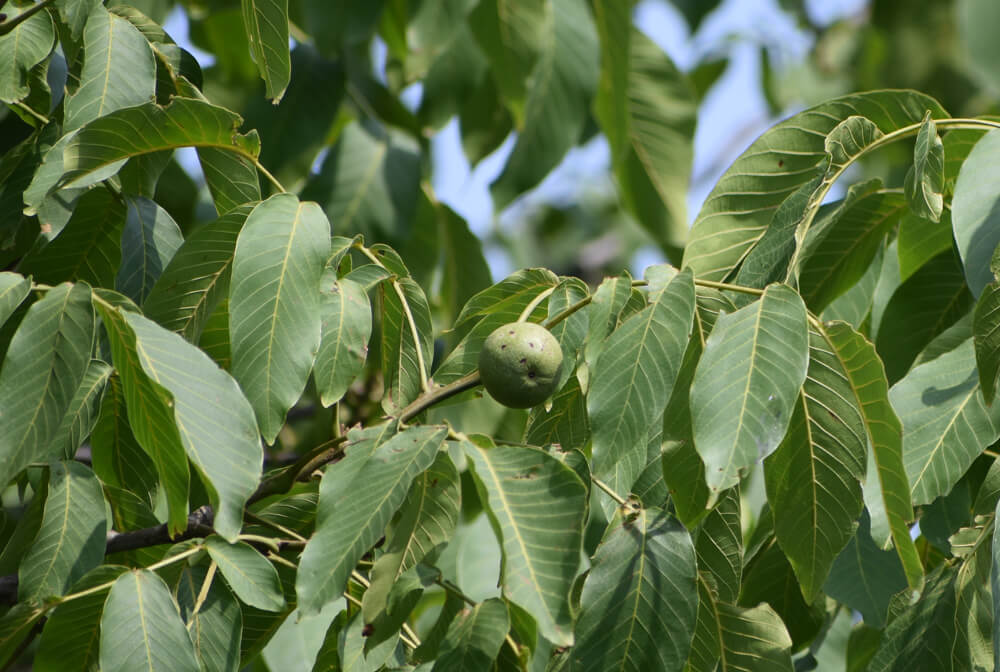 A walnut tree. Himachal's cold weather is good for all kinds of nuts. Many local families gifted us walnuts.
The brooks of Karsog valley. For people living in plains in India, a flowing river through the middle of the city or the village is nothing less than a blessing.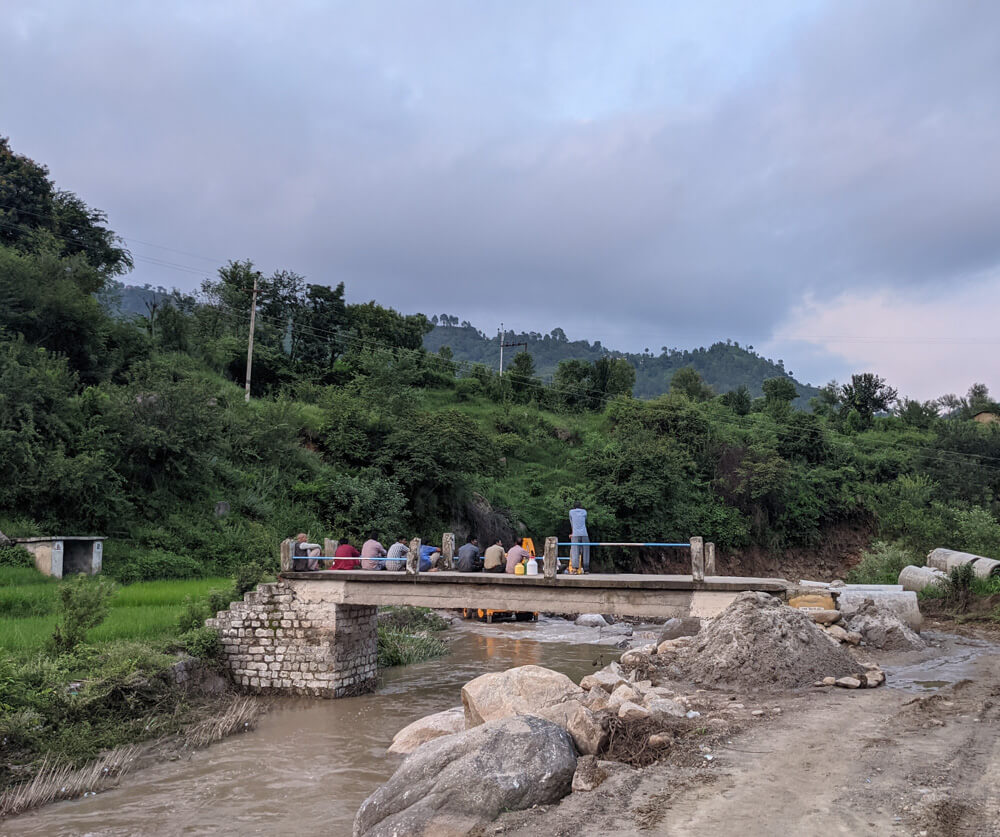 A haha moment in the Karsog valley filled with paddy farms. All men sitting on the brook chatting.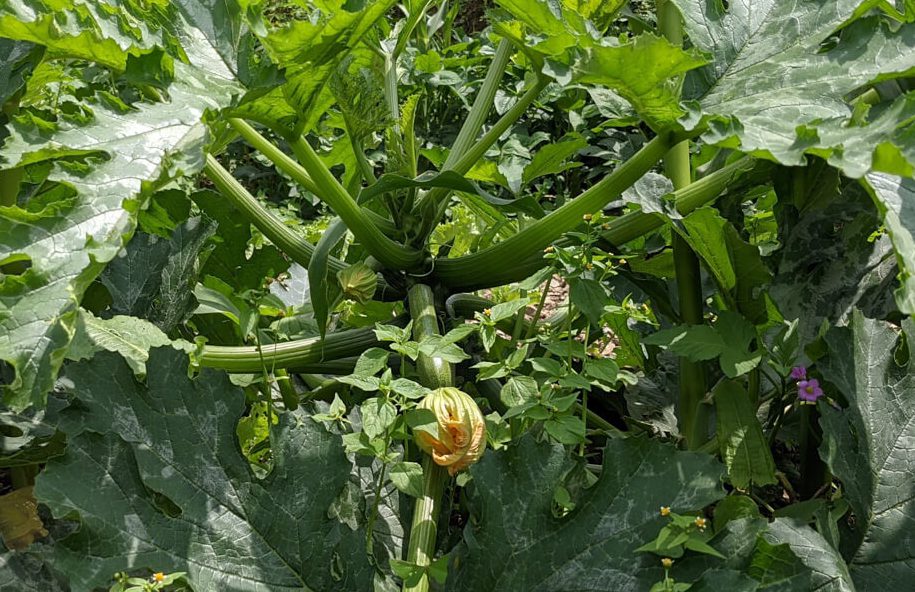 Seeing my first zucchini plant ever. Farmers of Himachal are adapting new vegetables with the help of different organizations and the government. Zucchini, which isn't an Indian vegetable originally, is now becoming a common household name.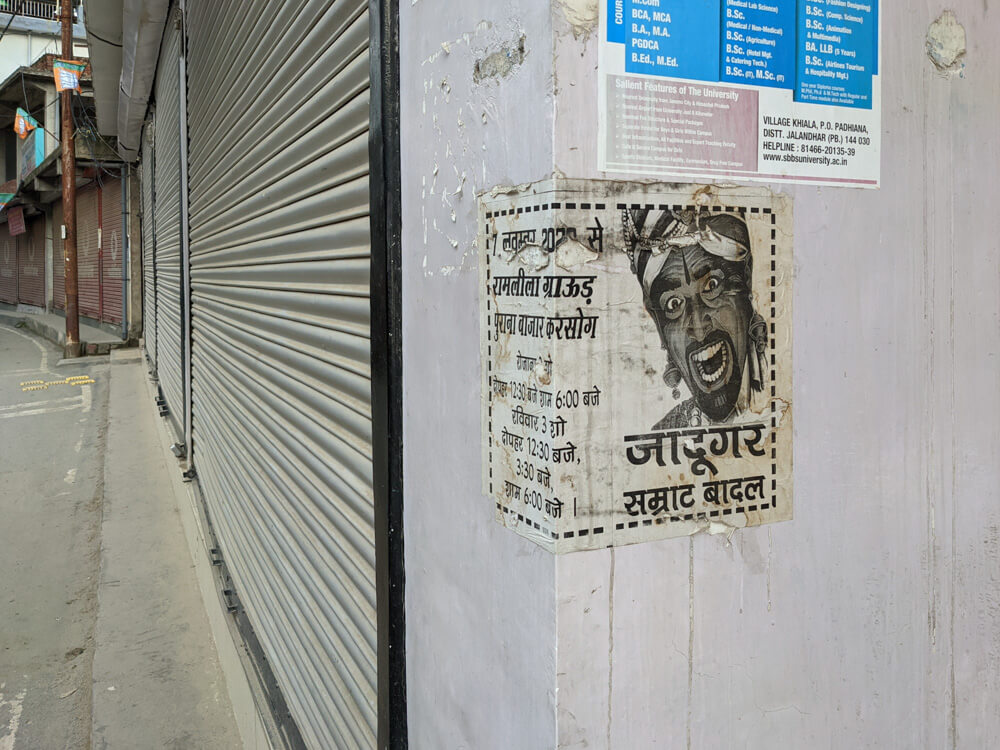 When I found this poster on the streets of Karsog, I was surprised. This is a really old live show in which the magician Samrat Badal comes on and does his tricks. I can't believe it still exists. (I was shoe-shopping in Karsog.)
The religious hills and towns of Shikari Devi, Rohanda, Kamrunag, and Chindi in Photos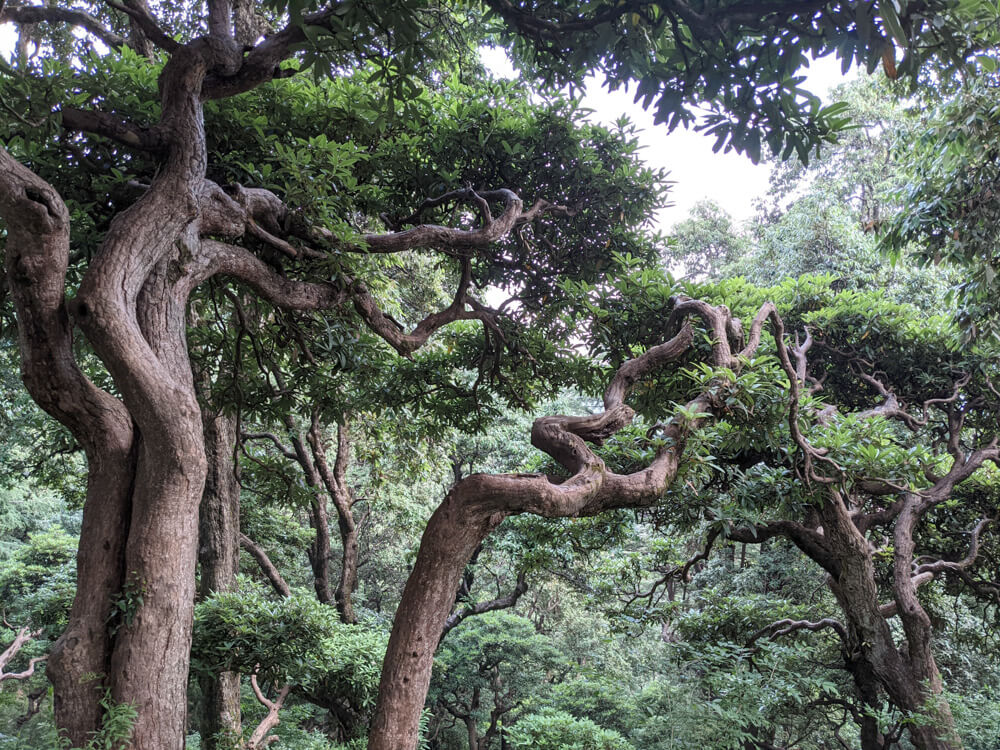 The old and ancient trees of Shikari sanctuary in Kullu district. You get lost, you get lost. We almost did. Read in the linked hiking guide.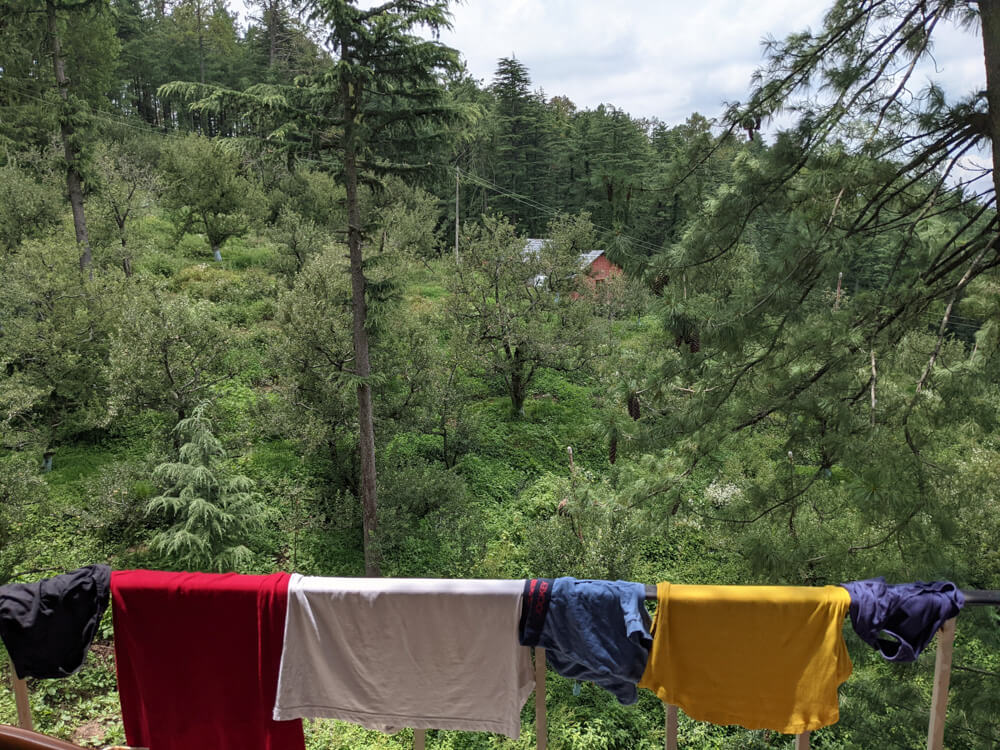 In Chindi village in Mandi district. We were in a hotel and had been traveling constantly for two weeks. Hiking to Shikari, and then here and there. So on long travels we wash our clothes with our hands and hang in the balcony. Running to the balcony every so often to save them from the rain then.
Not everything is glory on long-term travels.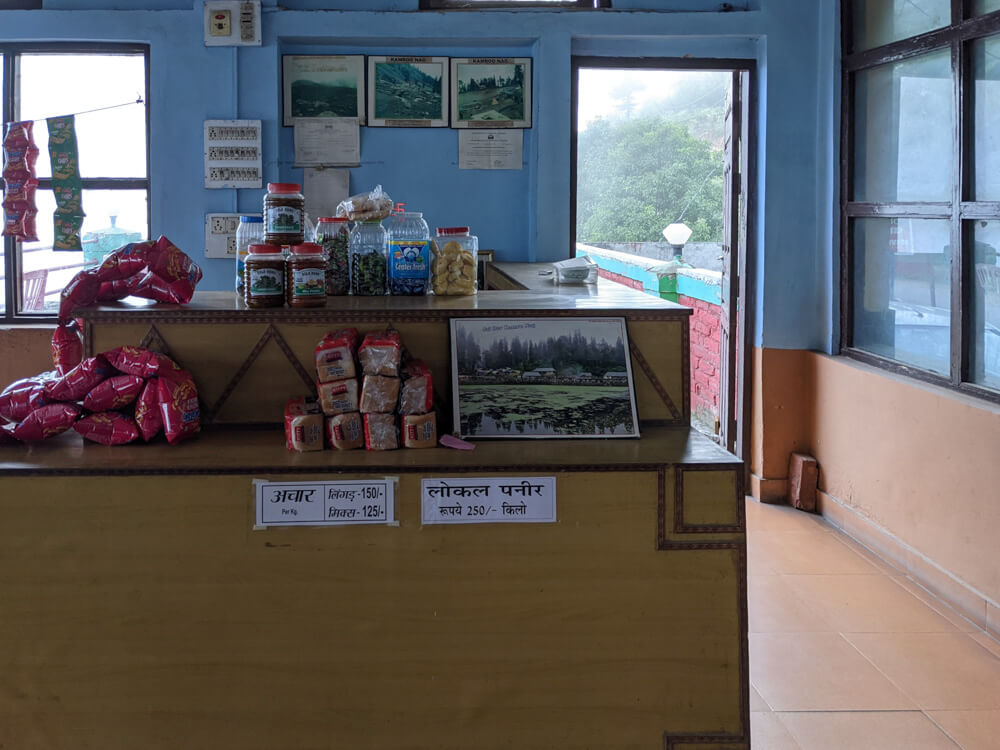 A simple home-run cafe in Rohanda village of Mandi. This is from where we started our hike to Kamrunag hill.
Not only food, lodging, you can buy local cheese and pickles here too.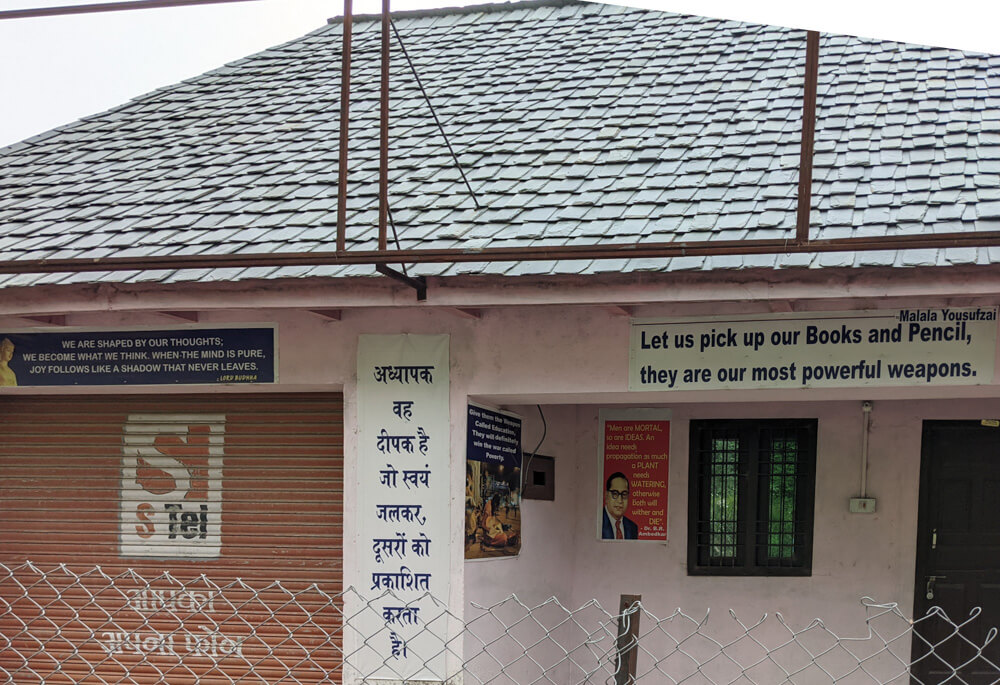 We clicked this picture near Rohanda. My partner had sprained his leg on the Shikari hike. So we were giving his knee a rest by doing simple walks around Rohanda before going for the big Kamrunag hike. So on this rest day we walked about 12 km. Oh well.
Irrespective of what the school walls say education isn't the most important thing in Himachal. Farmers have their children help them as soon as the young ones can and everything supersedes school and college. Girls get it the worst though. They not only help cook, clean, and farm but also take out the animals to graze every day.
This was one of my favorite Himachal Pradesh picture because I hope one day everyone take what's written on the walls seriously.
You can become a farmer even if you are educated, but you won't get educated once you become a farmer. You need the Maths, English, history, geography, and other lessons.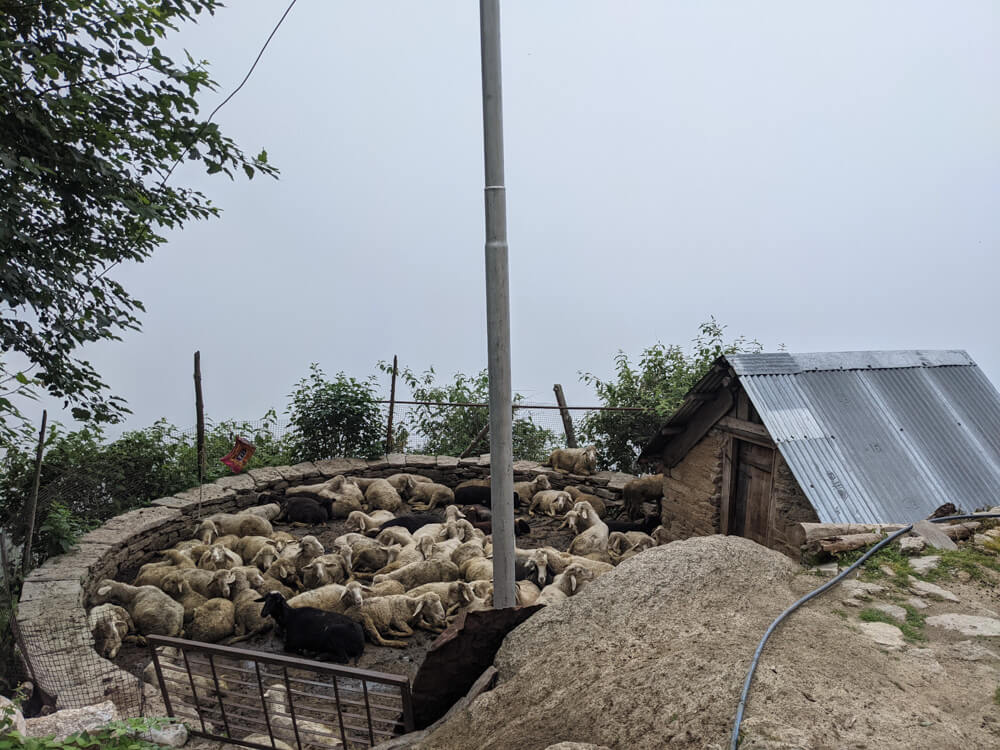 Sheep huddled together on a hill home on our way to the Kamrunag temple hill. It was cold and foggy and these were just snoozing.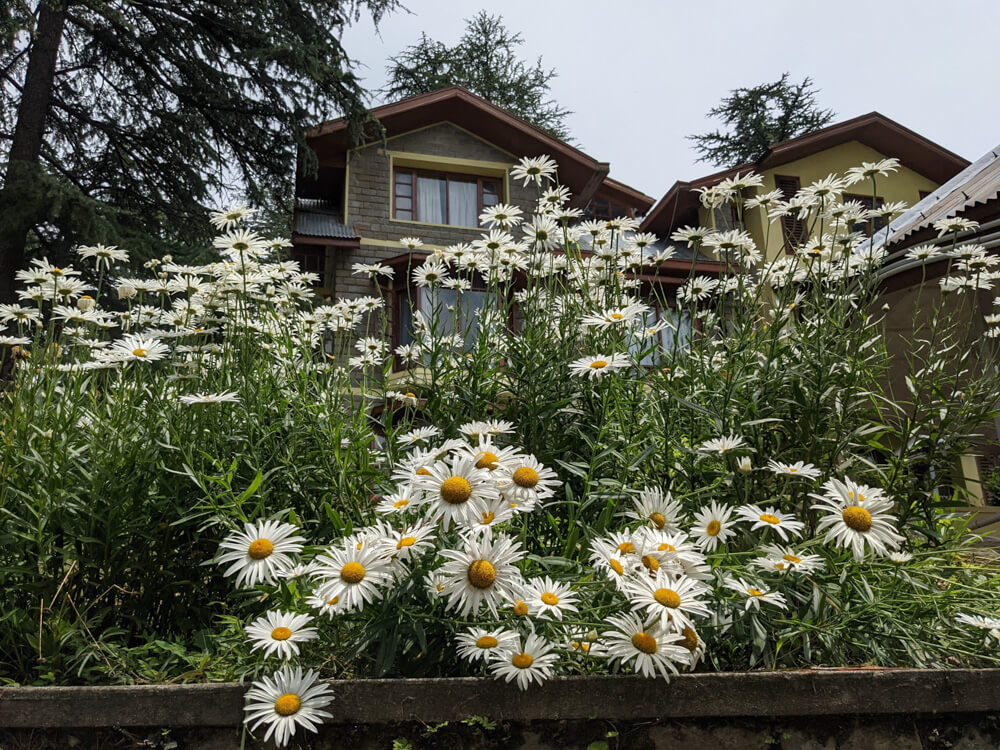 Beautiful wild flowers in front of our Chindi hotel Mamleshwar.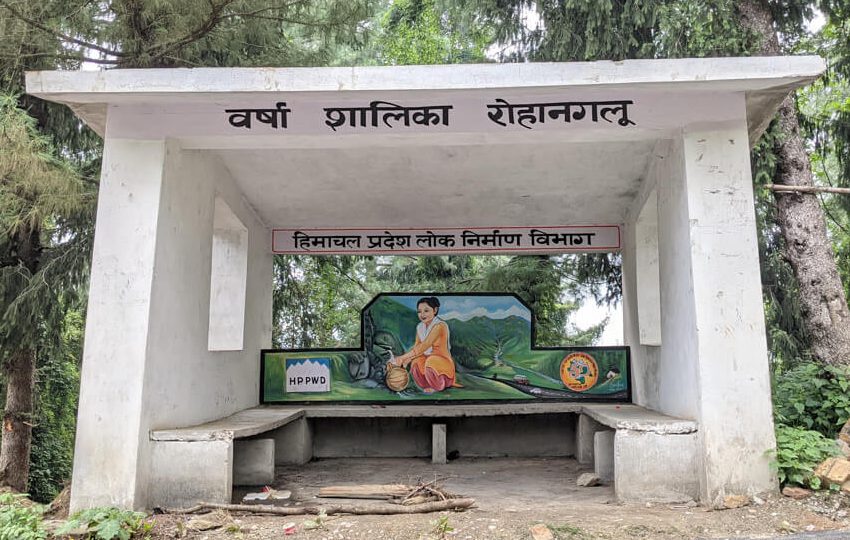 On our walk around Rohanda. This is a bus stand which also acts as a shade in the rain.
I loved the painting.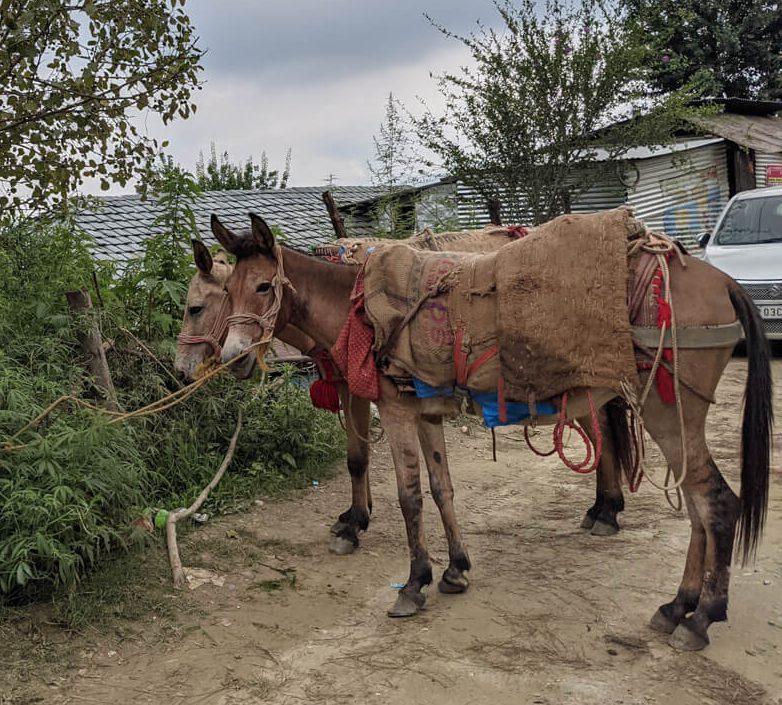 If you think there are roads everywhere in Himachal and people have it all easy you couldn't be more wrong.
Most villages send their produce to the main road on these weight carriers. Our beloved old donkeys.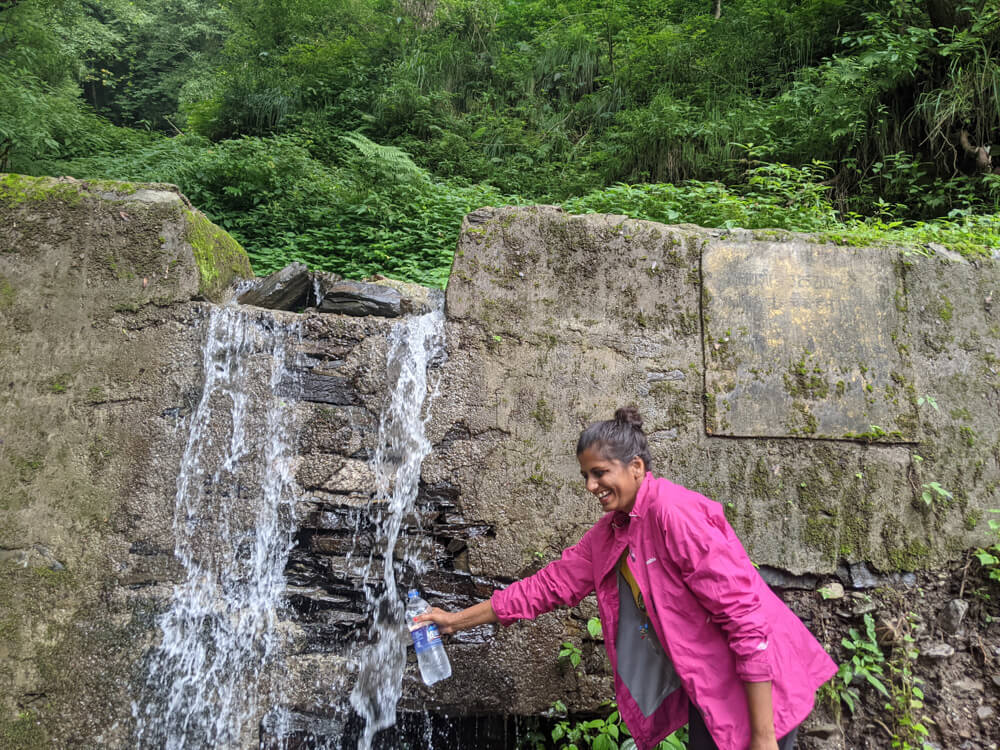 Natural water source somewhere on the road in Mandi district. Himachal is full of these water resources. We even washed our car with this water.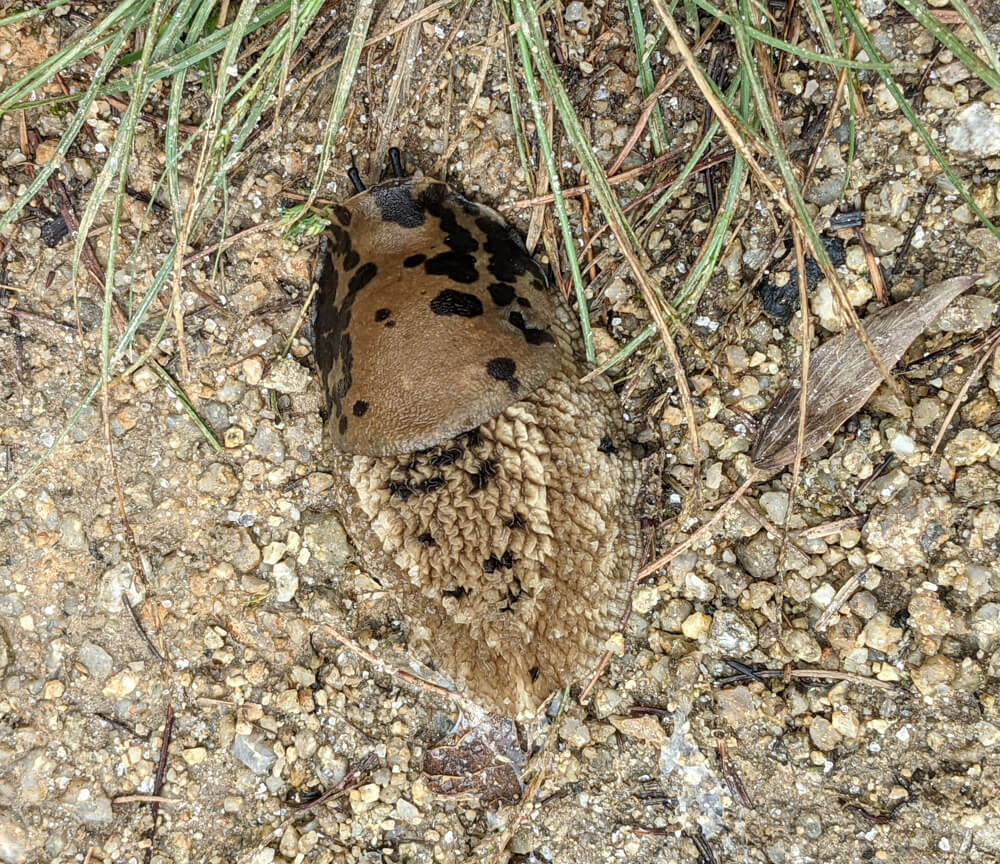 A beautiful leopard snail. If you go hiking in the Himalayas during monsoon, watch out your steps. I saw maybe twenty different kinds of snails there.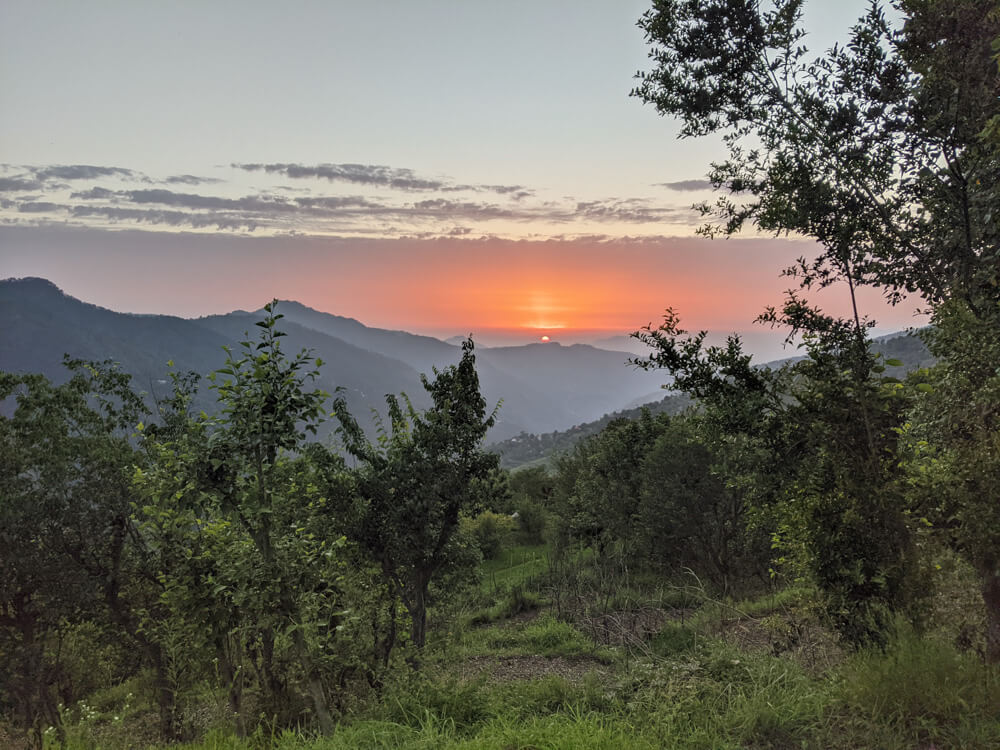 Couldn't ask for more.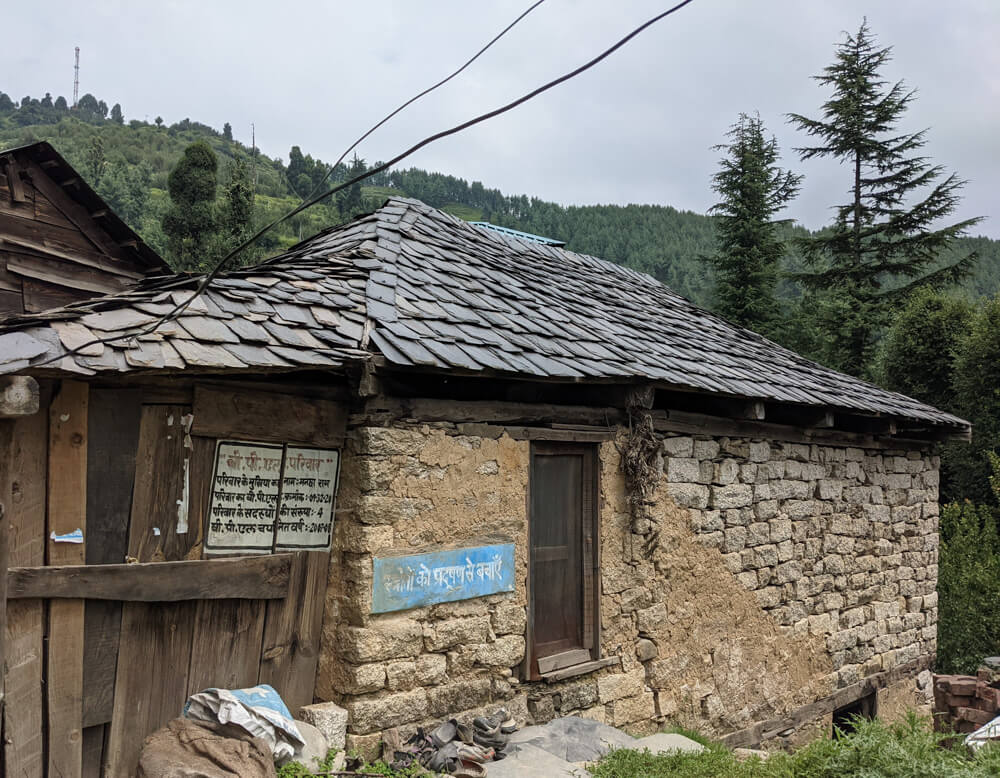 Below poverty line houses have a declaration outside them like you see on this one. The white board says it all.
A simple mud and stone house.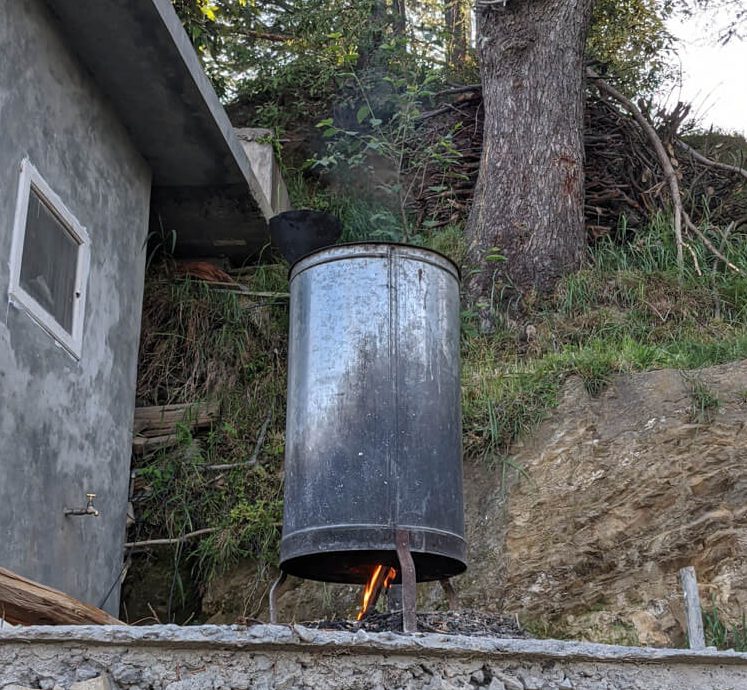 Hamam. This is how locals heat the water for their morning showers. Of course not all. But many, still.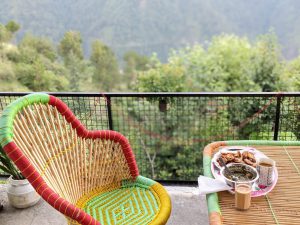 Some of the most stunning Himachal Pradesh pics from our guesthouses in the state.
Photos from our Three-Week Stay in Nalagali village, Karsog, Mandi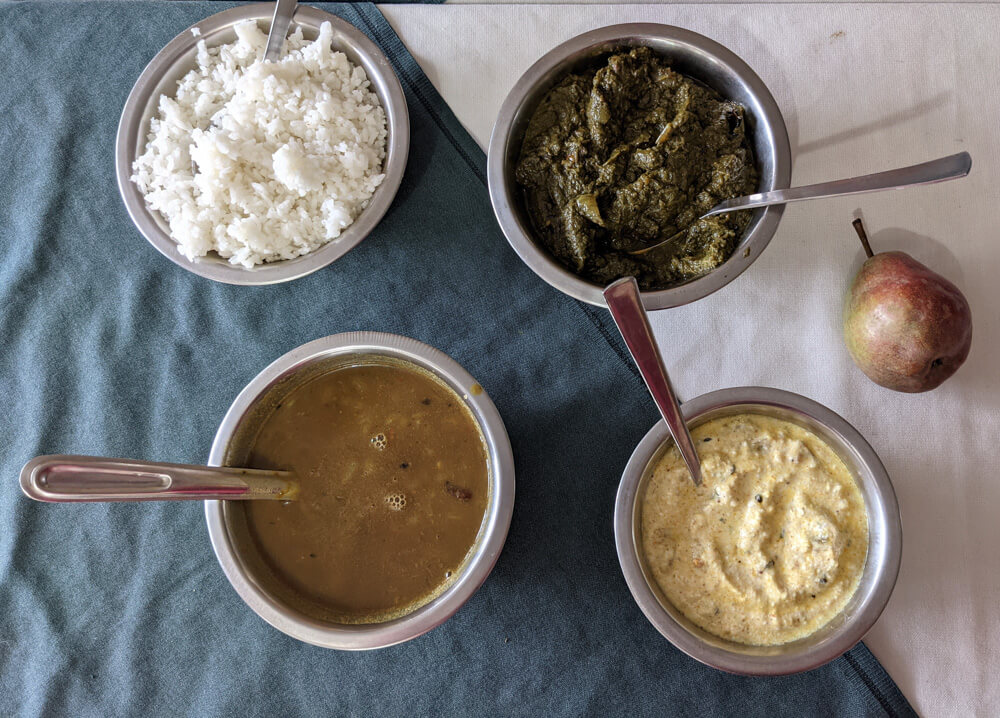 a meal to remember. Our Nalagali host cooked this for lunch. That green paste is a curry made with colocasia leaves. Yummy it was. Most Himachal people eat what grows in their fields and garden. So get ready to experiment some new vegetables.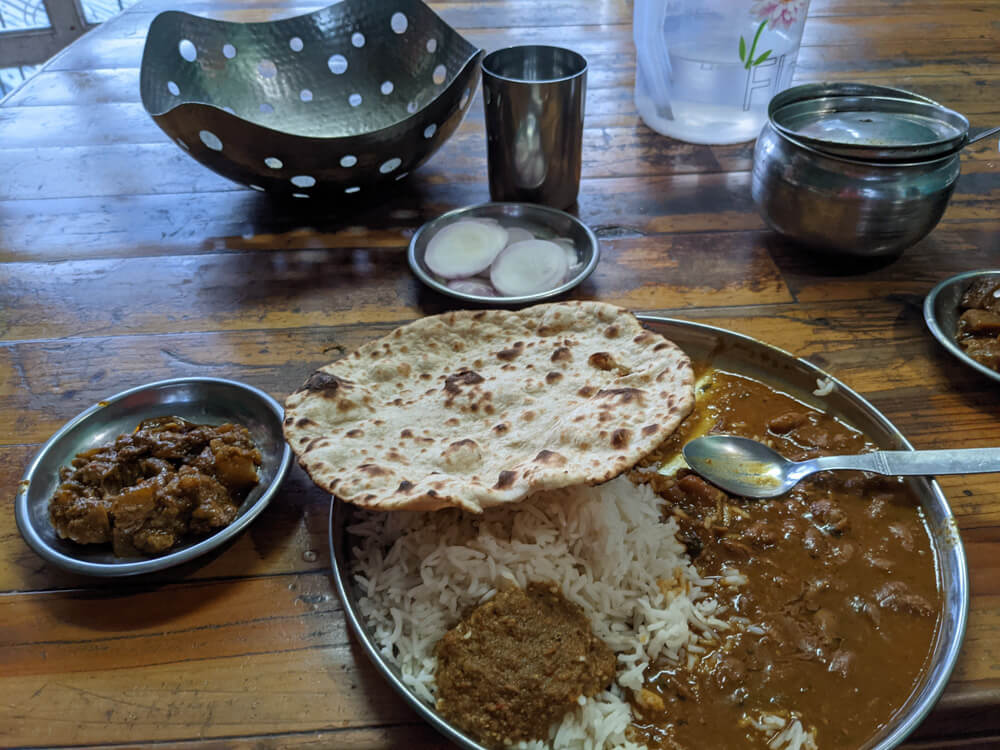 Kidney beans, rice, tandoori roti. You will never eat as much kidney beans anywhere as you will in Himachal Pradesh.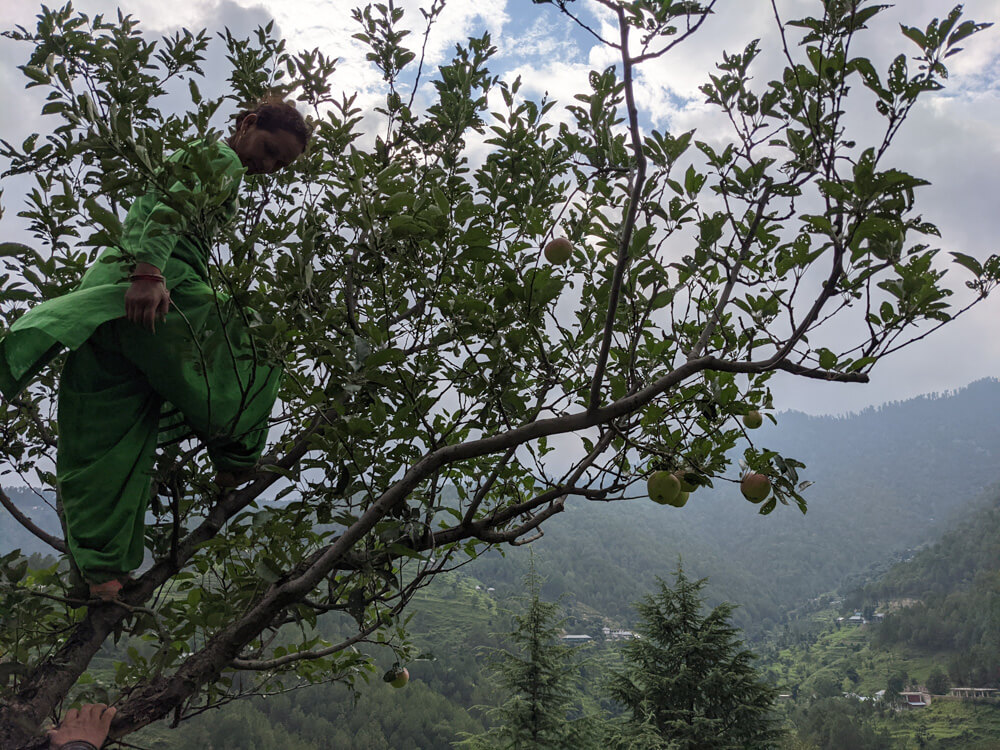 Women climb trees to pluck apples, carry them in big baskets, pack them, and then get back to the regular chores of the house. This is my homestay owner who plucked 18 25-kilos baskets worth of apples from the trees spread around her hill. She had hired one helper. Oh I was climbing up trees too.
Wait for a full article on plucking apples in Himachal. The wait is over.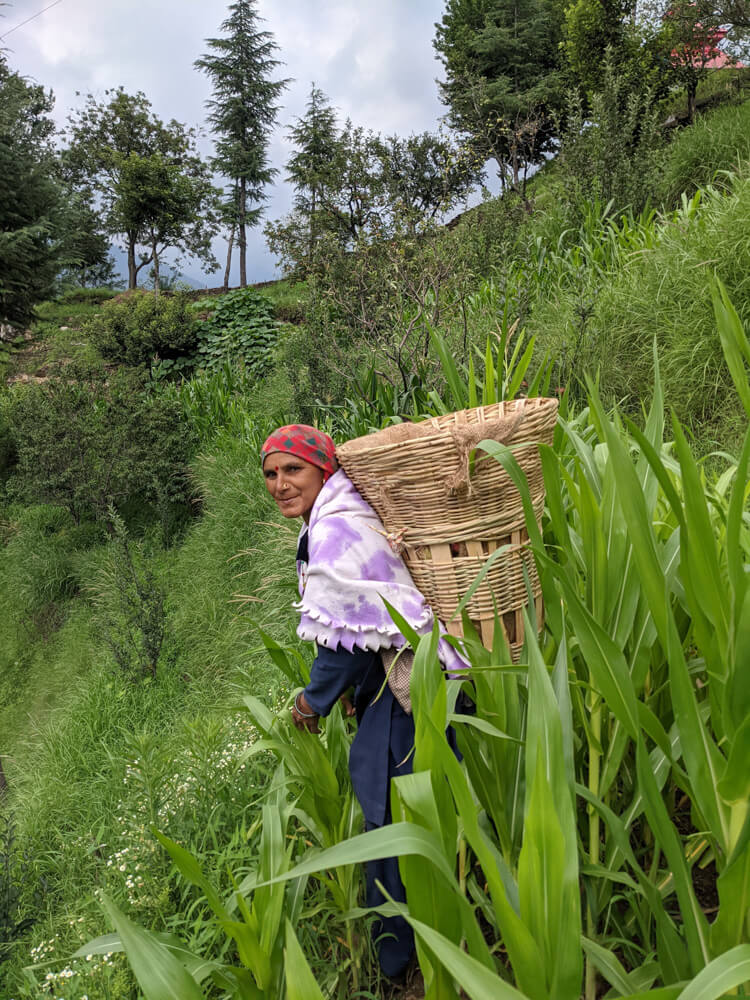 Carrying apples back to the house and talking about why do women have to do all the work. I tried telling the Himachali women they can speak up their minds too. But not many wanted to say anything to the men of the house or to the older women in the family who made the young ones do it all by themselves.
I had a fun day with these two climbing trees, plucking apples, and chatting. I carried one basket too.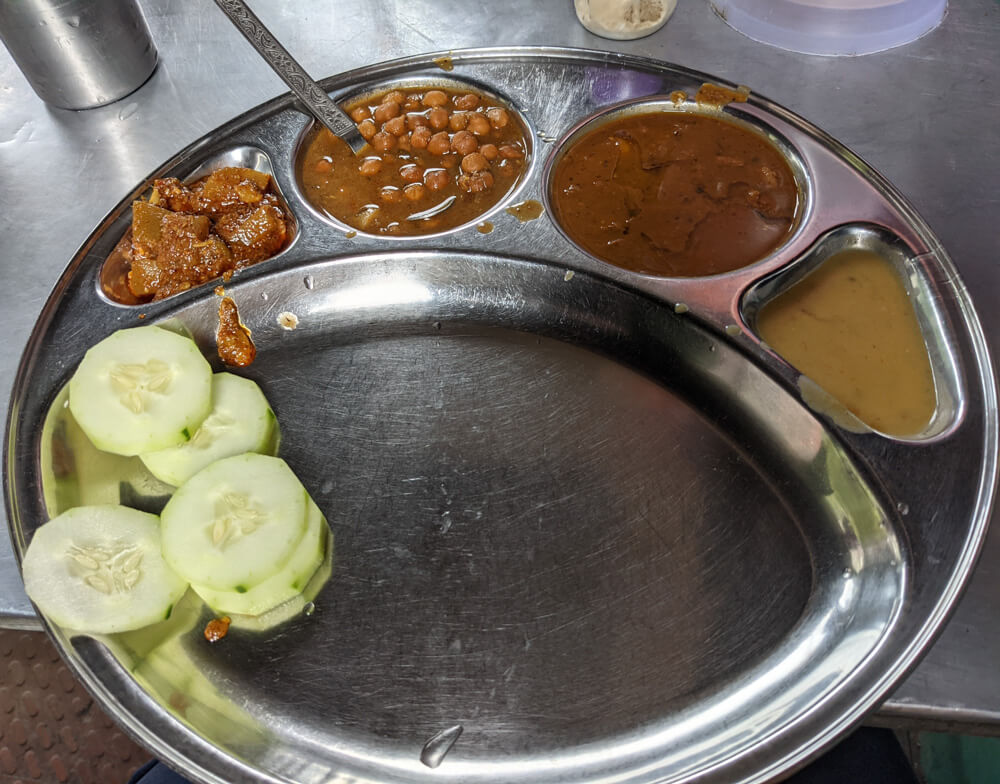 A typical Thali in Mandi. They also call it Mandyali thali. Sweet and sour pumpkin, chana, kidney beans, kadhi, salad, and along comes rice and chapati.
Religious Pictures of Himachal Pradesh from all around the state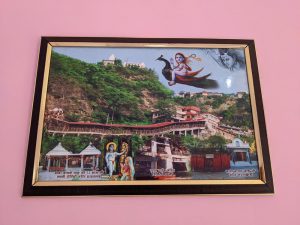 Temples, processions, paintings, idols, sacred trees, gods on stones, gods in trees, and gods around lakes.
Himachal is a religious state. Local people believe in their gods. And Himachal is one such place where even younger generation isn't moving away from religion and worshipping idols like in the rest of the world.
Their whole lives revolve around religion. They pray in the morning and evening. The gods are taken out of the shrines and people carry them in processions. Every off day means a visit to the temple. Every hill top has a temple. Every lake is considered sacred. Such is the power of beliefs in Himachal. (See these impressive Shiv and Hanuman temples in Mashobra.)
Only one Photo From Rewalsar Lake, For Now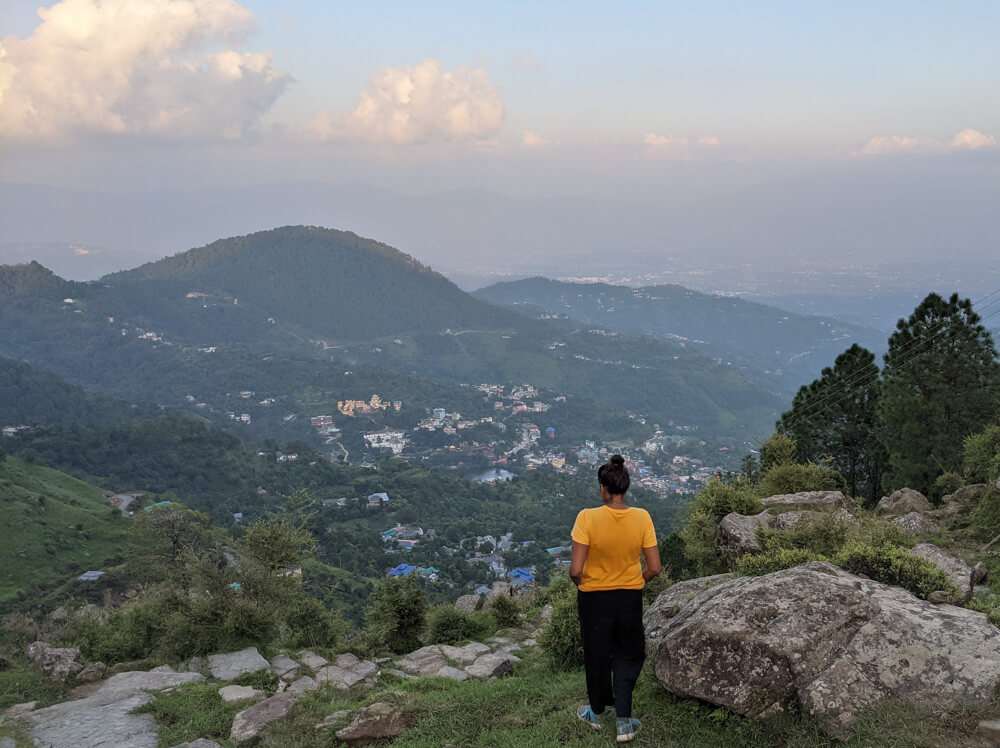 You see a lake in the distance. This one is Rewalsar lake in Mandi.
I had hiked up to the Rewalsar caves about which I'm going to write soon. The view was panoramic from the top. But what astonished me was the little stone caves spread around where I'm standing. In these tiny caves many Buddhists have made their homes and live their life-long. Quite a community!
One day I will return to spend more time there.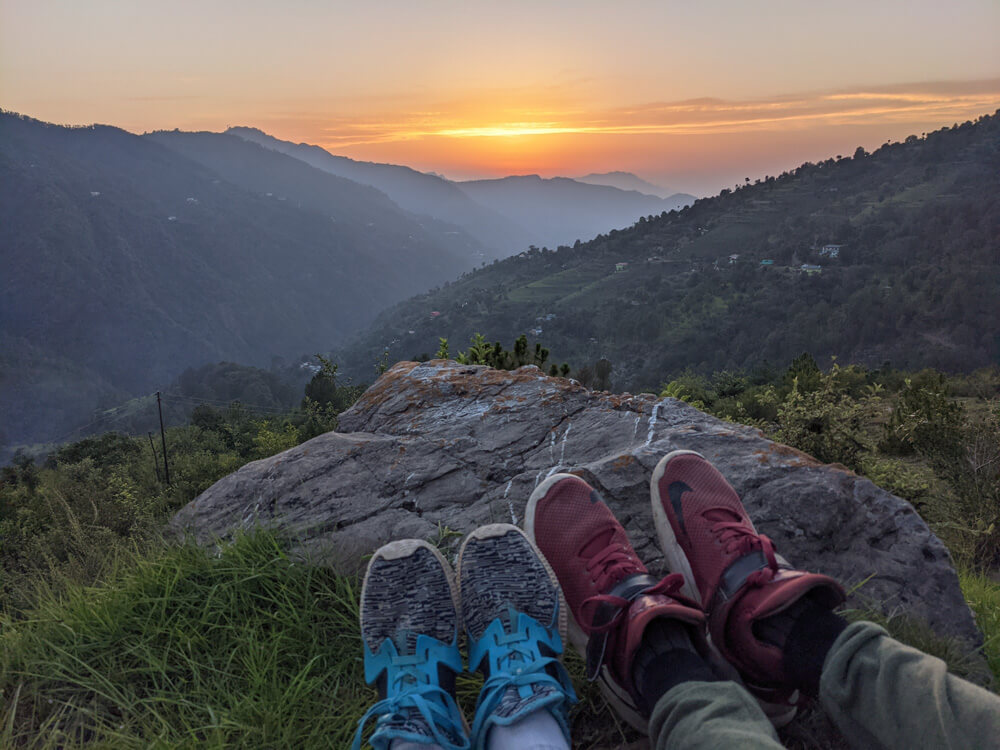 Read Next: Hampi Karnataka in Photos, The Stunning Kalga Village in Parvati and Spiti Valley in Photos
Did you like my Himachal Pradesh images? What impacted you the most? Tell me in comments.
*****
Donate to keep me going!
For five years, I've read and wrote day and night to keep On My Canvas - my sustenance and life's focal point - going. Everything here and my weekly newsletter "Looking Inwards" is free. No ads. No sponsorships. If you've had some good moments reading my posts or felt hopeful on a lonely day, please consider making a one-time or a consistent donation. I'll really appreciate it (You can cancel anytime).
*****
Want similar inspiration and ideas in your inbox? Subscribe to my free weekly newsletter "Looking Inwards"!