While no one can deny that the climate crisis is here, the nature leftover in the corners it is squeezed into is as real, extraordinary, and soul-warming as ever. Some of the animals, forests, and landscapes I saw this year while traveling within India and through Vietnam looked so ethereal, as if someone had painted those scenes. They were moving pieces of art.
Every moment of my life I wonder how we are even here. The perfection of it all fills me with unprecedented joy. All the big events we plan, prepare, and wait for — graduation, foreign trips, marriages, potlucks, get-togethers, movie nights — happen soon and finish. After all the merriment, we are left with the loneliness of our being. But if we would look around, smell the air, and sit in the grass we would see life oozing out of every grain of soil, stuck to the bark of a tree, or finding its way inside through the little gaps left in the window. Once we are with nature, we are never alone. Once we are ready to be charmed by this wellspring of magic — and it is armed with enough to dazzle us — we would not be bored or think that life is ordinary ever again (this is only one of the life lessons 2022 taught me).
There is much to see, amaze at, and protect. I want to end the year with hope by sharing these photographs from 2022 that show nature defying climate change and not only surviving but also thriving in its own home. If we still let it be, it will recover all that is lost, with just a little consideration, help, and love from us.
Hoping to inspire that love.
Please note: These photographs were taken on Nikon D3500 (with a 300 mm focal lens for birds) and Google Pixel. The pictures were all beautiful, but to cover up for the lack of my photographing skills, I have edited minimally to remove the shadows, bring in clarity, and make them the right size.
27 Beautiful Photos of the World That Asks For Nothing More But For It to Exist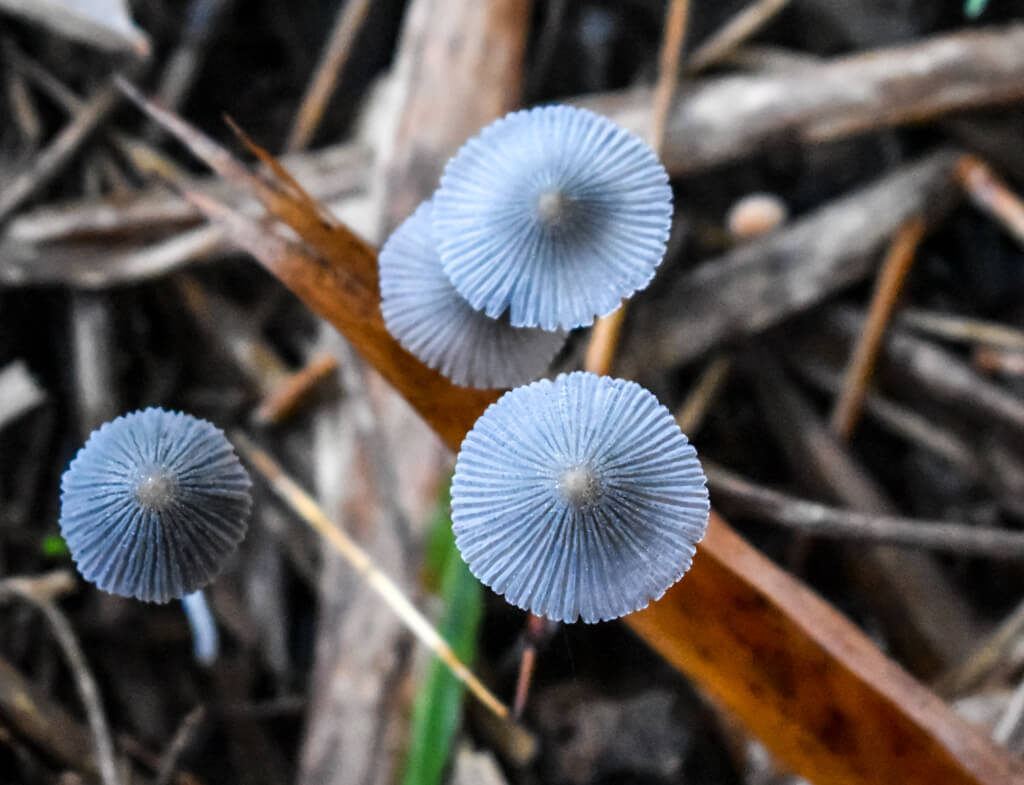 I saw these beautiful blue mushrooms growing on the forest floor in Pondicherry in the South of India. I don't know their name or species, but don't they look perfect?
---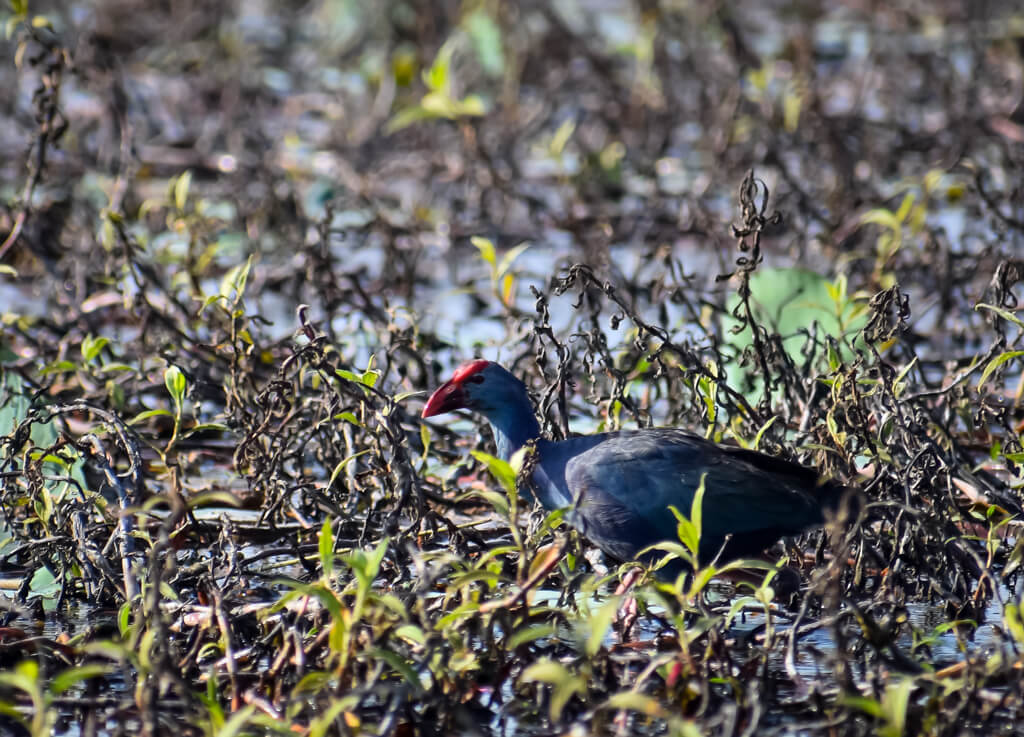 This purple moorhen was waiting to be discovered as our boat cruised through the Ousteri Lake in Pondicherry on the east coast of India. These birds are worth keeping our marshlands and swamps clean.
---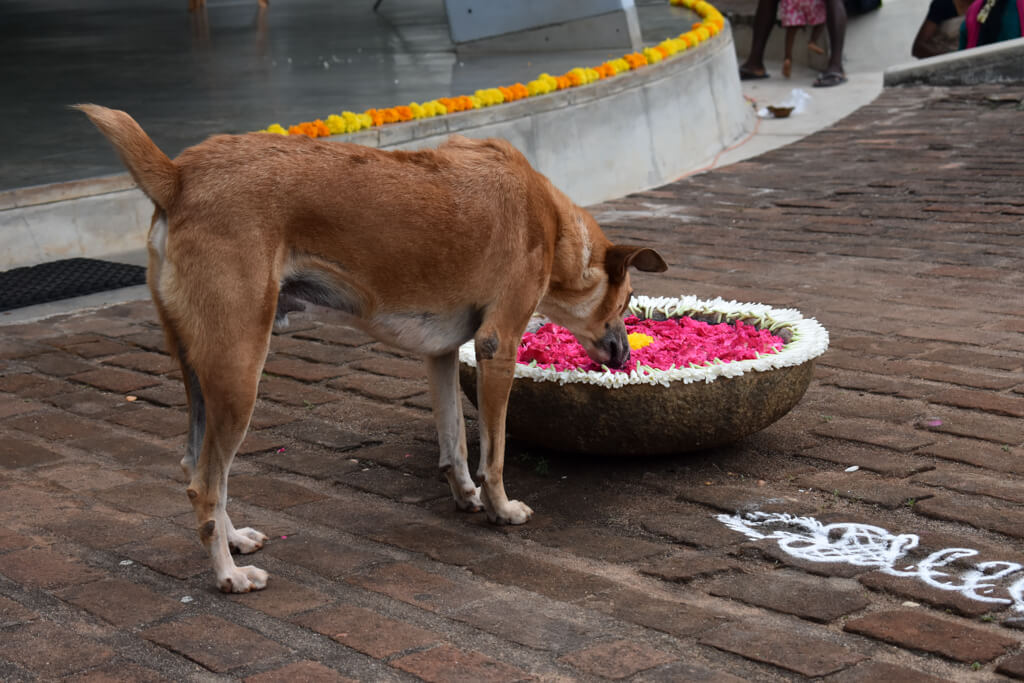 What would the thirsty do? He will drink from a decorative bowl kept at the Tamil community's New Year celebration.
---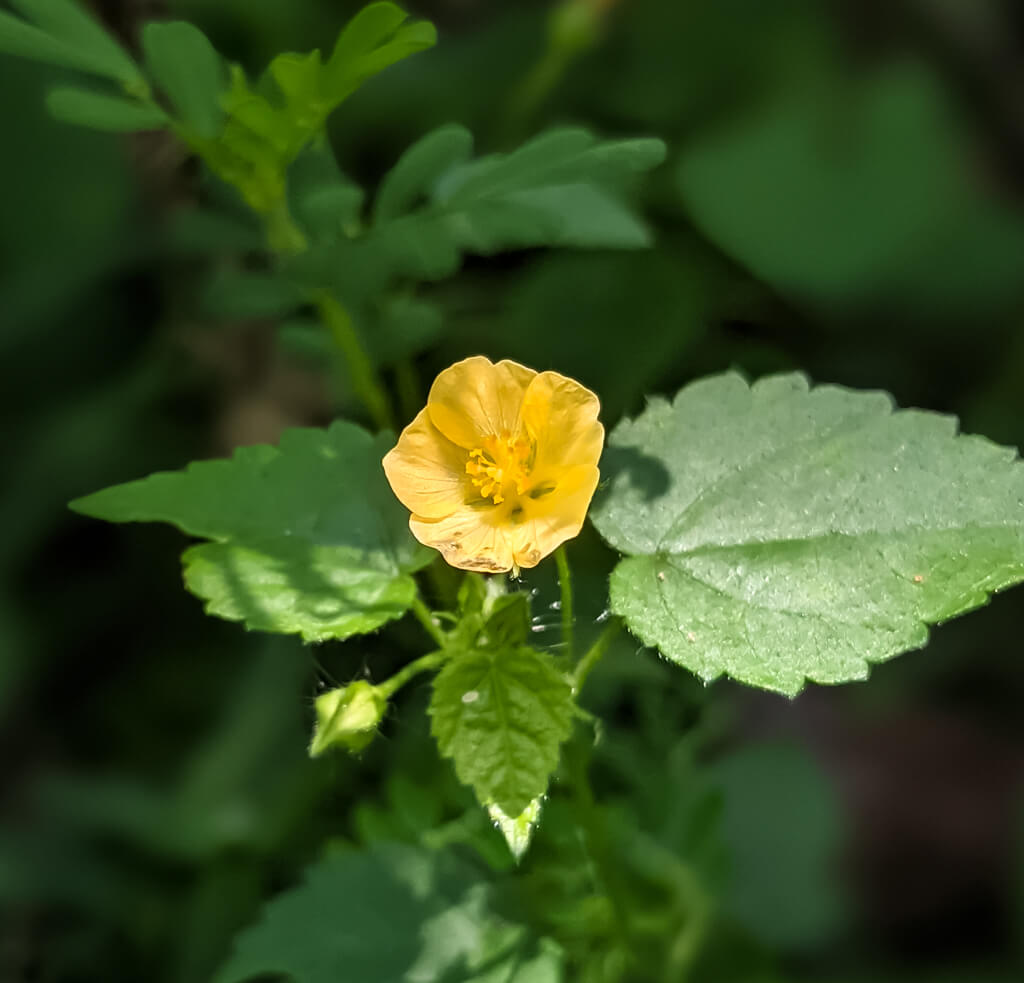 Don't be befooled, this is just grass. Crushed under our feet, munched by the cow and goat, pulled out for everything and anything, and yet sparkling on its own.
---
I couldn't find the name of this bird even though I looked through an entire South-Indian bird directory. But she should be one of the cuckoos. The symmetry and the attitude. What did you say? Climate change? I am here, ain't I?
---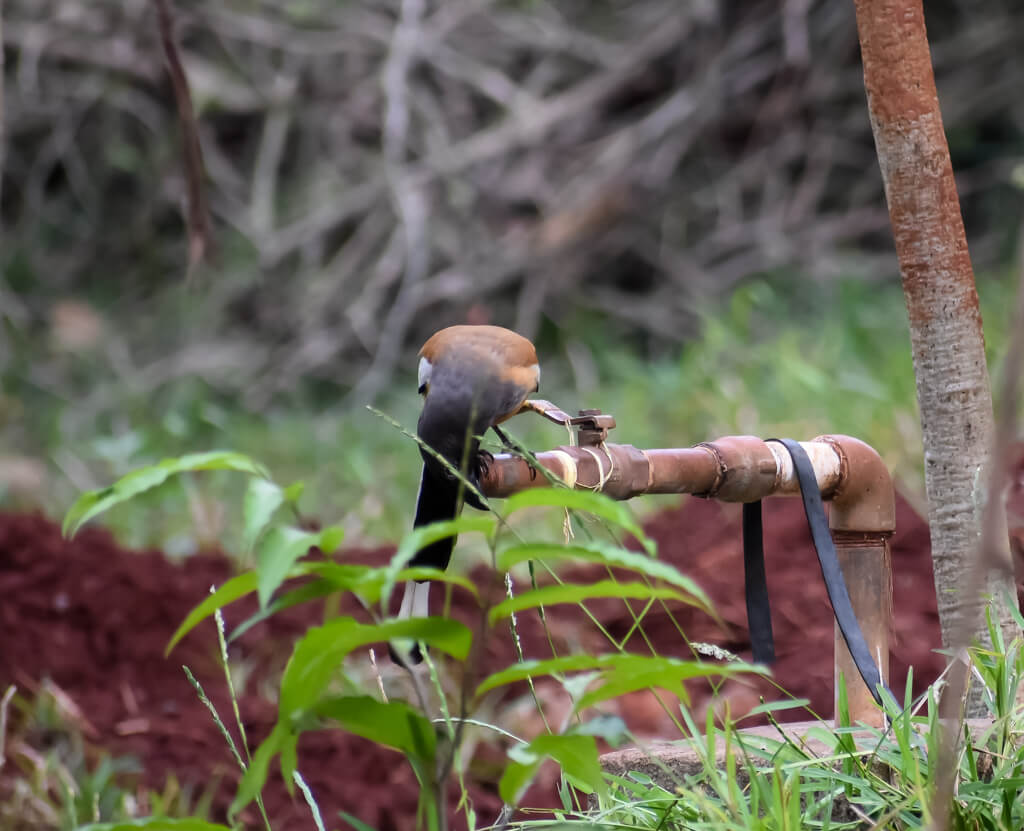 A rufous treepie caught red-handed as she searches for water from a tap in the garden. She was my constant companion in Auroville community in Pondicherry.
---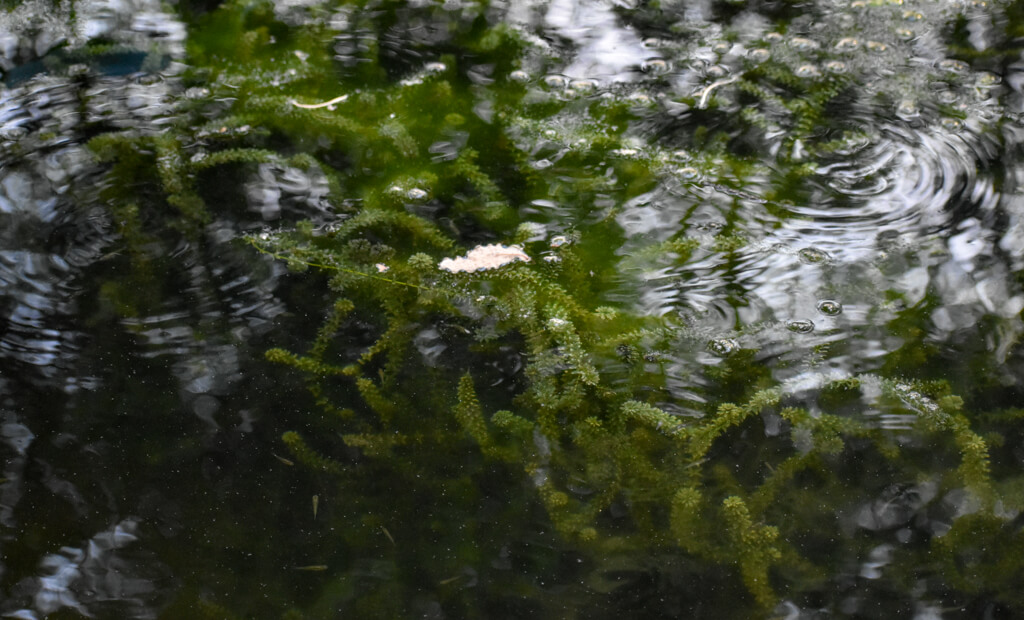 Inside the lake, life thrives. And can continue to.
---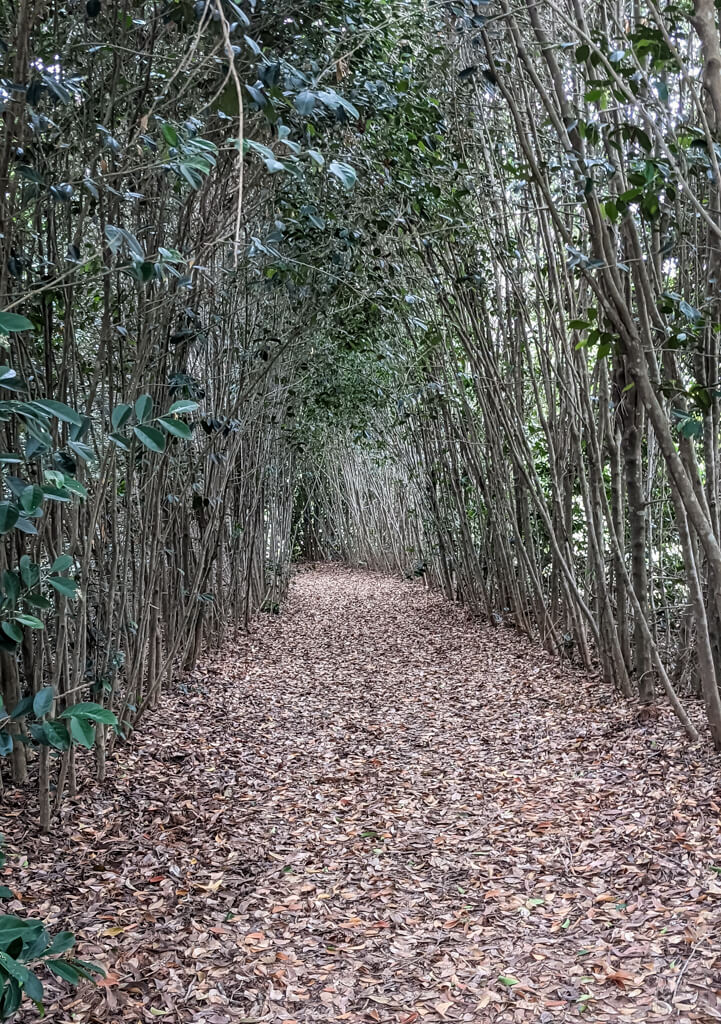 Do you know the painting by the same name?
---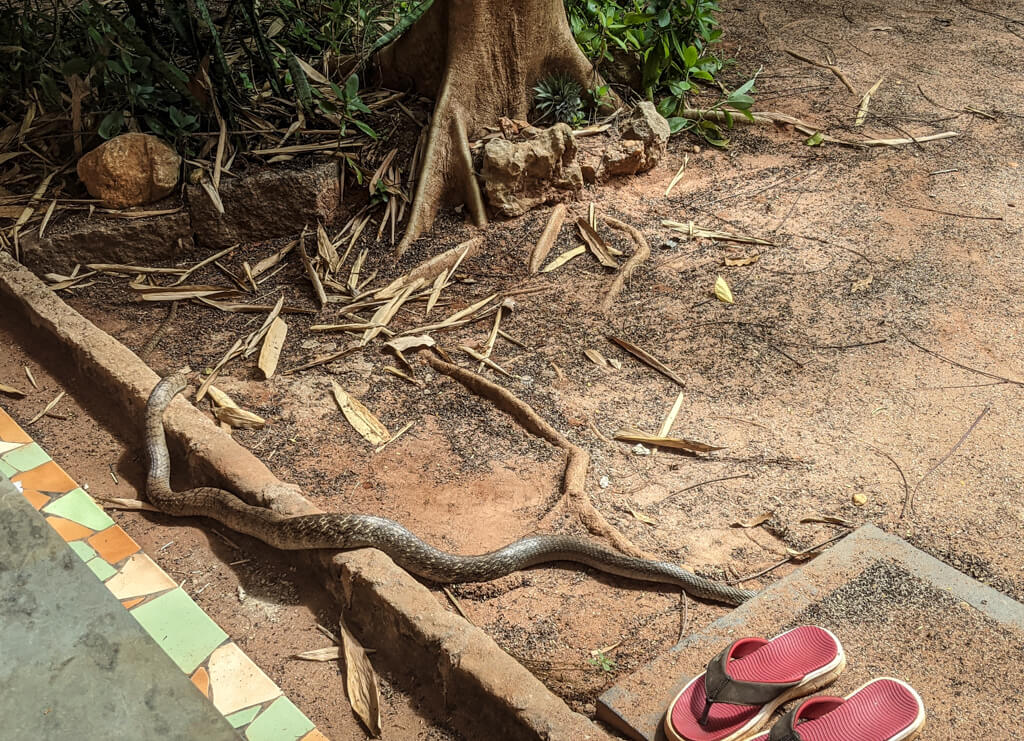 You and I can live side by side. A tree snake hunts a frog outside my cottage in the forest in Tamil Nadu. He noticed my presence (I was inside the hut and had been observing him for a few seconds), rose his head, and slid by. The frog survived, half mutilated.
---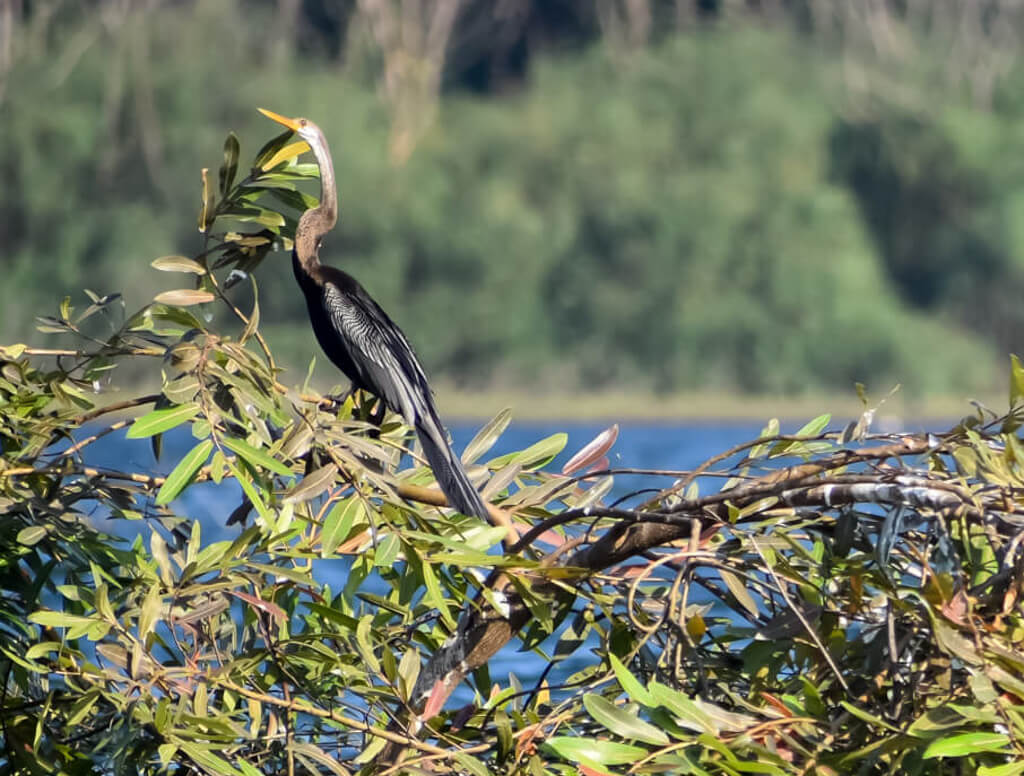 Ms. Darter needs crystal clear water to fish, and that's why it has disappeared from cities and other places where it was commonly sighted once. Now we can only see it in protected clean waters. But if the lakes, creeks, and rivers can be cleaned, she will return. Ousteri Lake in Pondicherry, February 2022.
---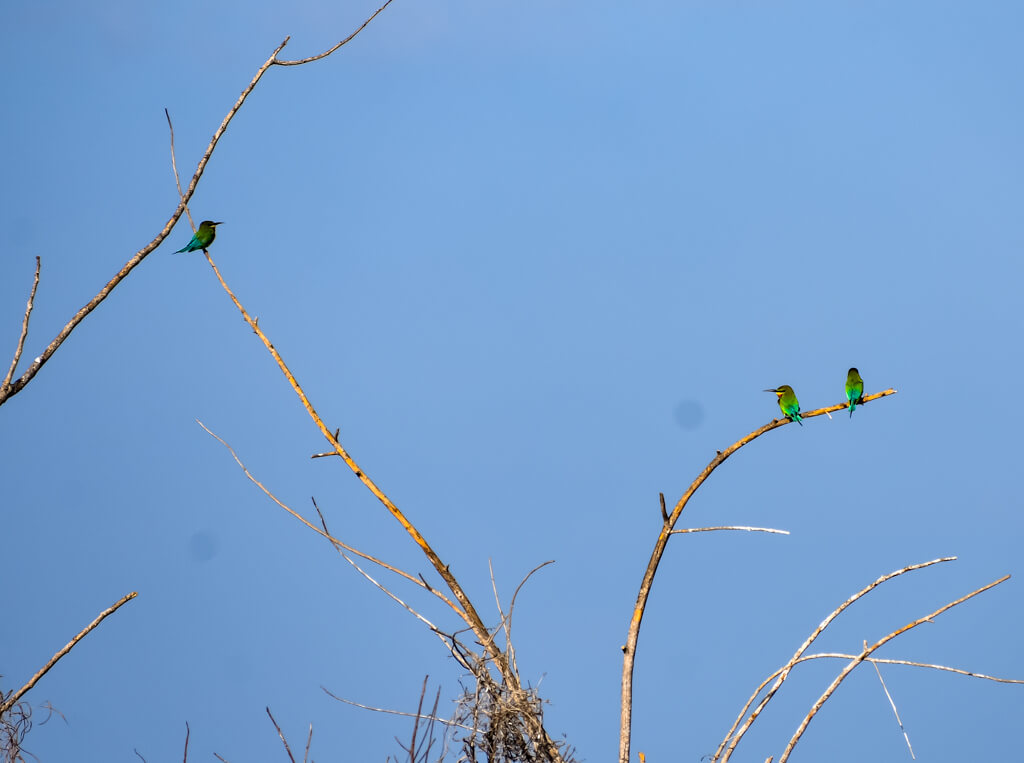 These bee eaters make for a perfect picture postcard. Branches dry, but fly high.
---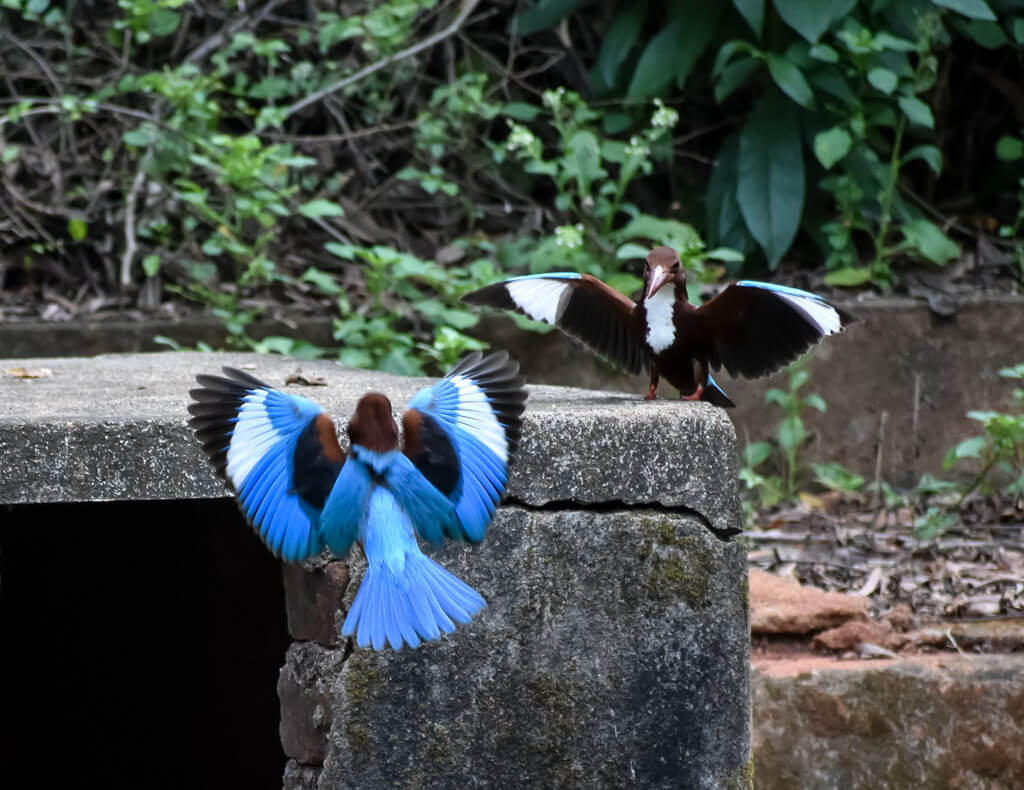 The courting dance of these kingfishers went on for weeks. Pecking at other kingfishers, running away at the slightest human presence, and feeding each other the bugs they caught in the marsh, they entertained me for a long time. One of the many couples I saw dancing all day definitely made a family. One day the mongoose were digging up the mud underneath this cement structure to find the kingfishers' eggs.
---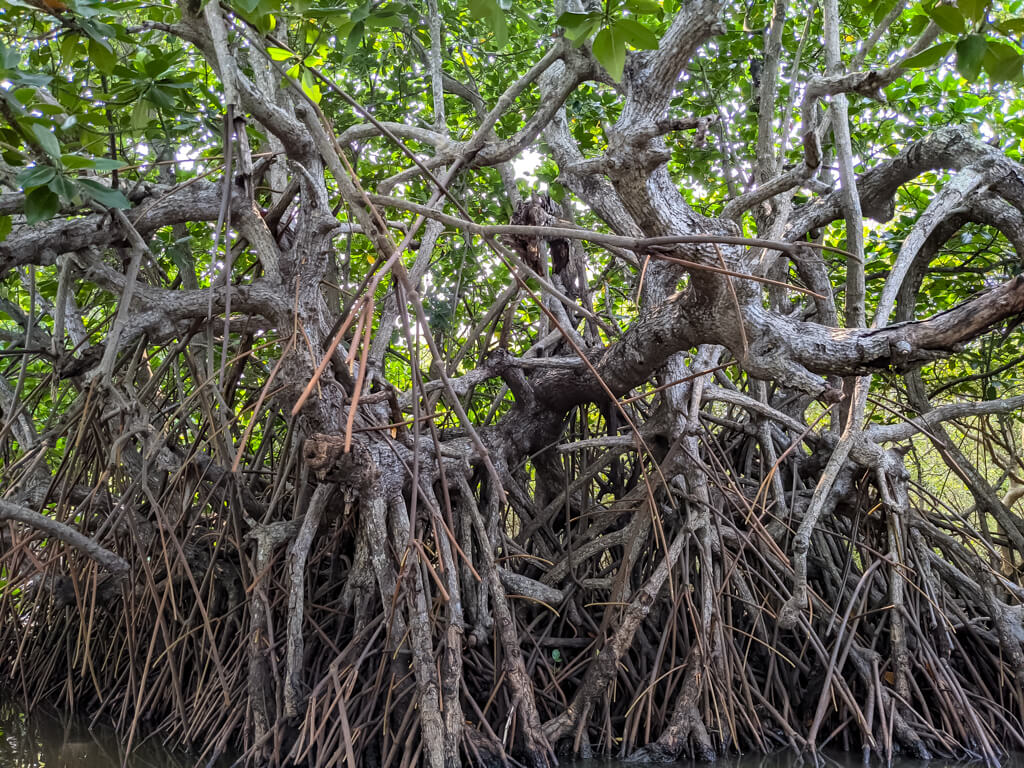 I clicked this picture on a boat ride through the Pichavaram Mangrove forest in coastal Tamil Nadu. Some mangrove trees have roots that come out of the water to breathe, and others have their roots going down. Though this is one of the world's largest mangrove forest, rich with underwater life, plants, canals, and islands, and probably it saved the coastal Tamil Nadu villages in the 2004 cyclone, not many people know about it.
---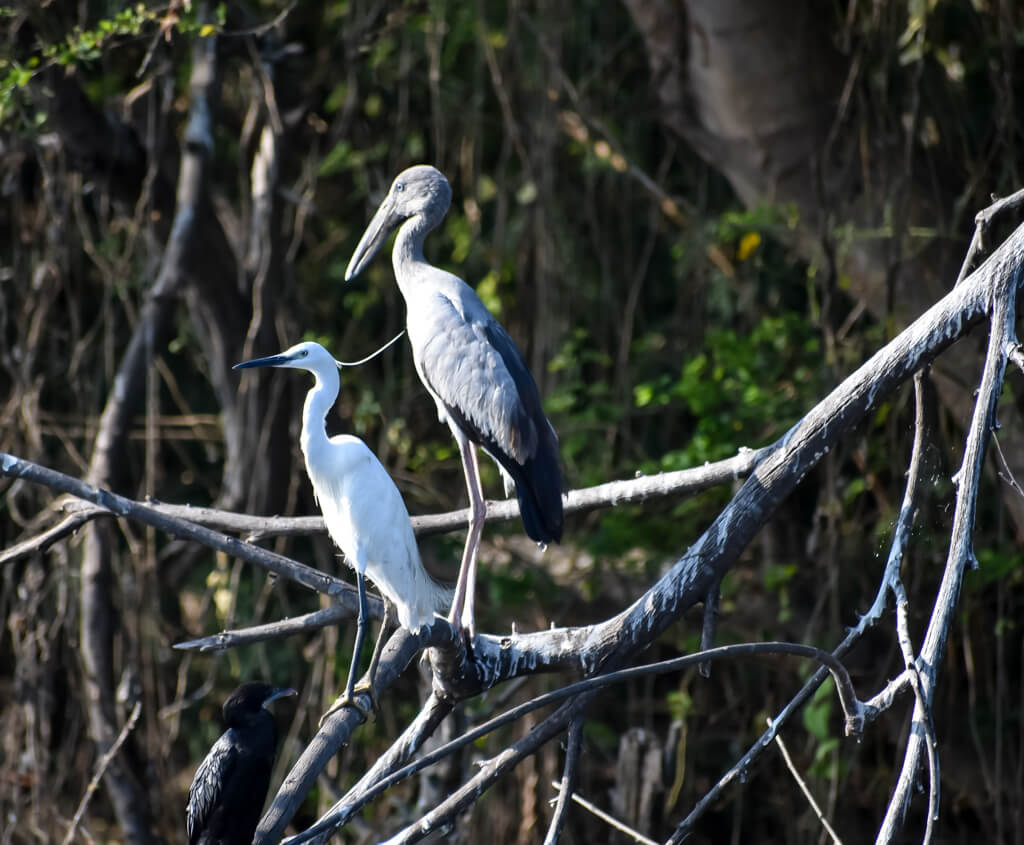 ---
---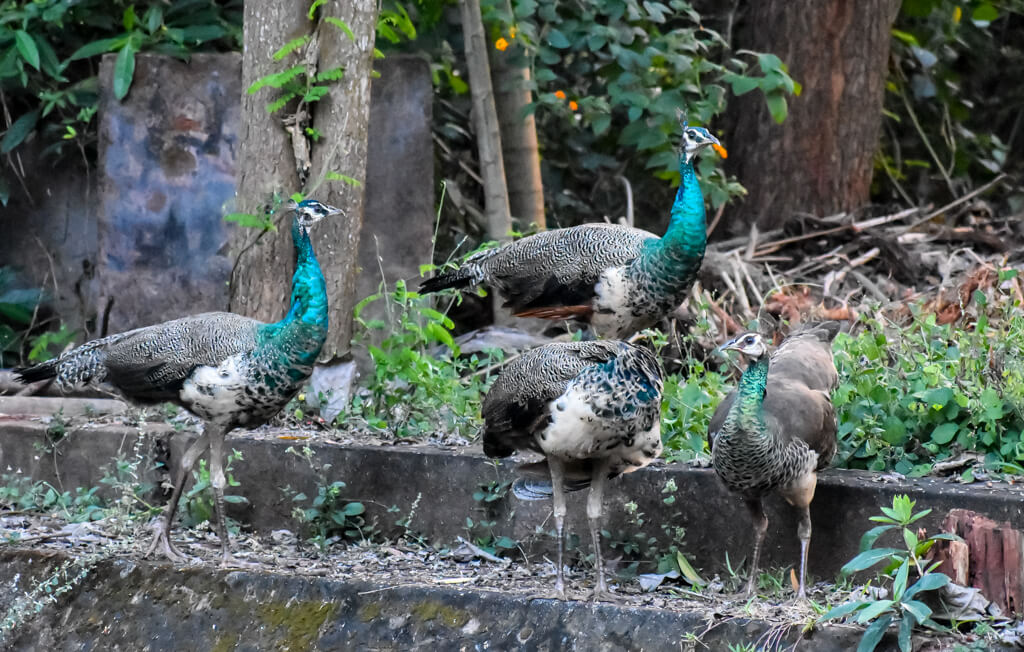 This group of young peacocks rampaged the garden every day, scavenged from the food garbage, and ate whatever they could. They seemed very low maintenance.
---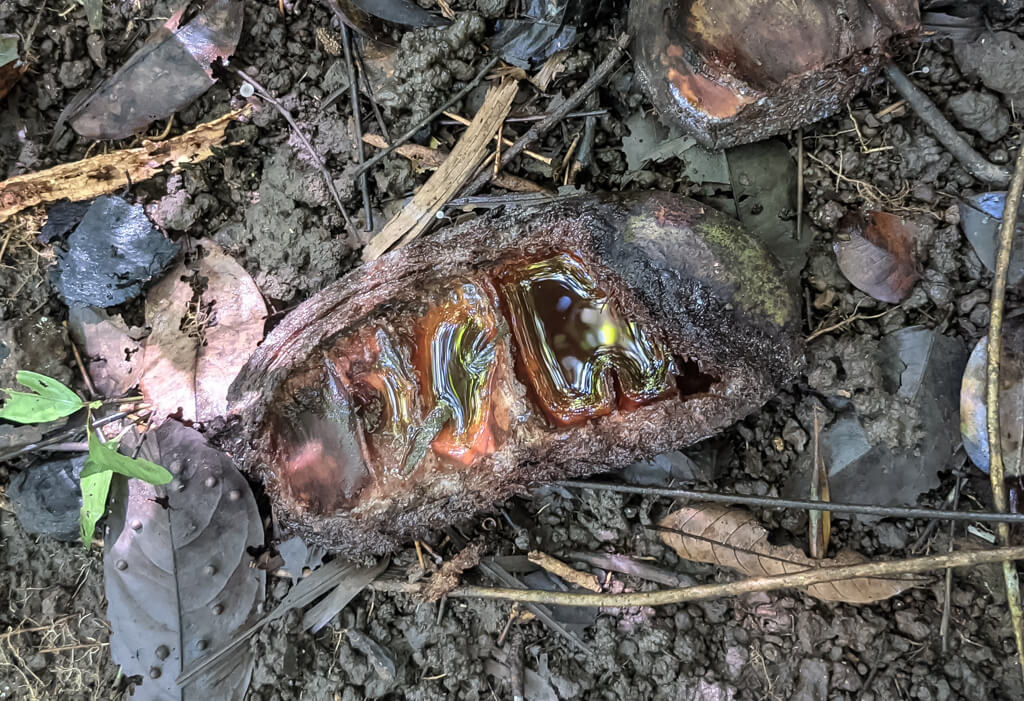 I don't remember where I took this photo of the seedpod just lying on the forest floor, but it could be anywhere. So let us let it be anywhere.
---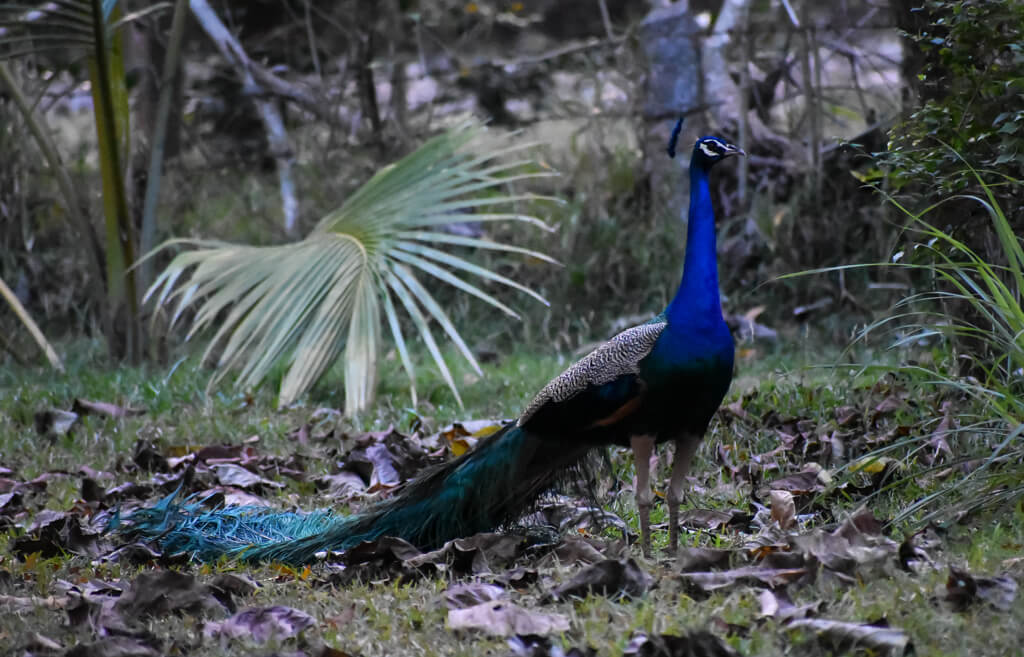 In my guest house near the forest, while I walked in the evening, he wandered around too. After much hide and seek, he let me take a picture of him. And I am thankful. Auroville, April, 2022
---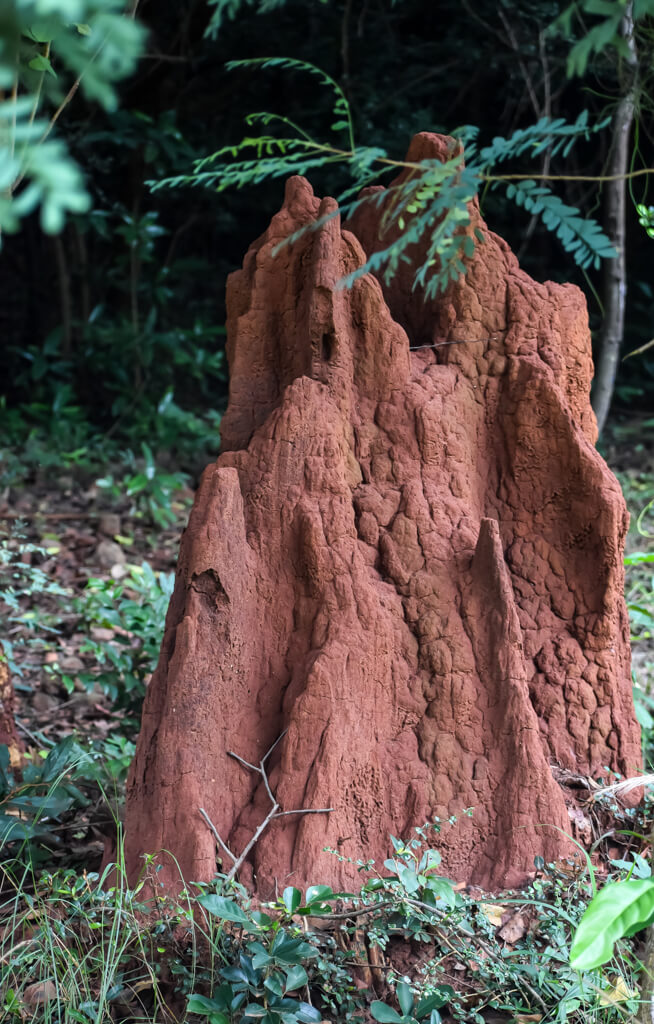 ---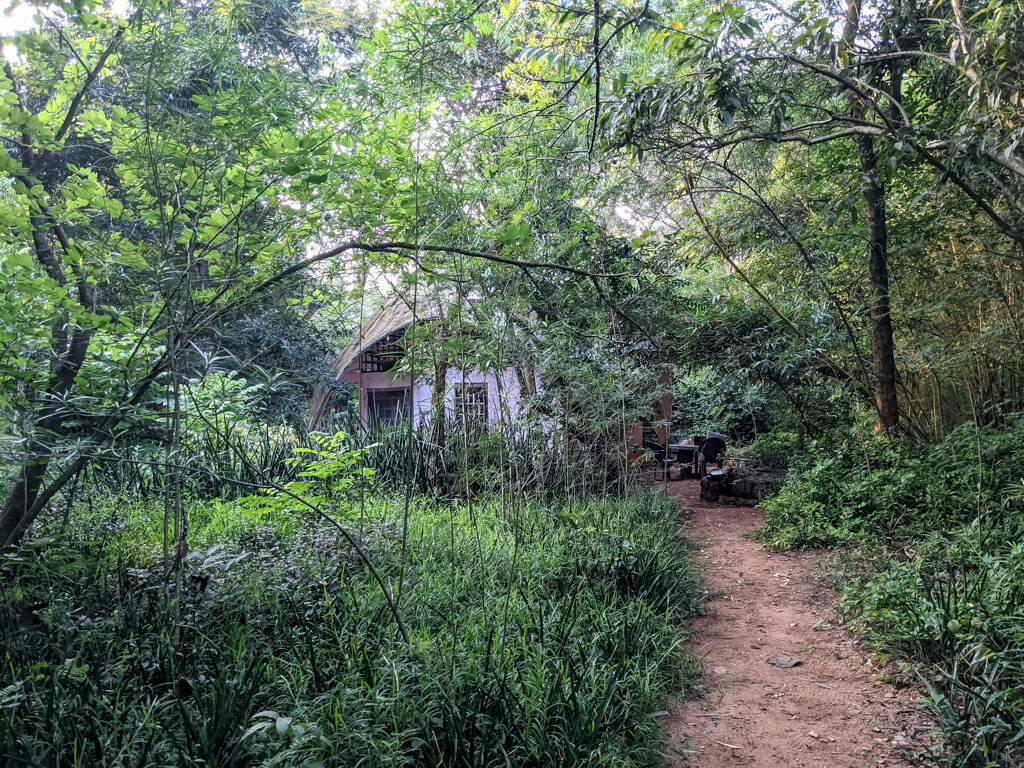 Cottages, huts, and homes can be built inside the forest, not by clearing it all up.
---
Coconut trees stand tall on the Visakhapatnam beach on the east coast of India. They sheltered my partner and me as we ate.
---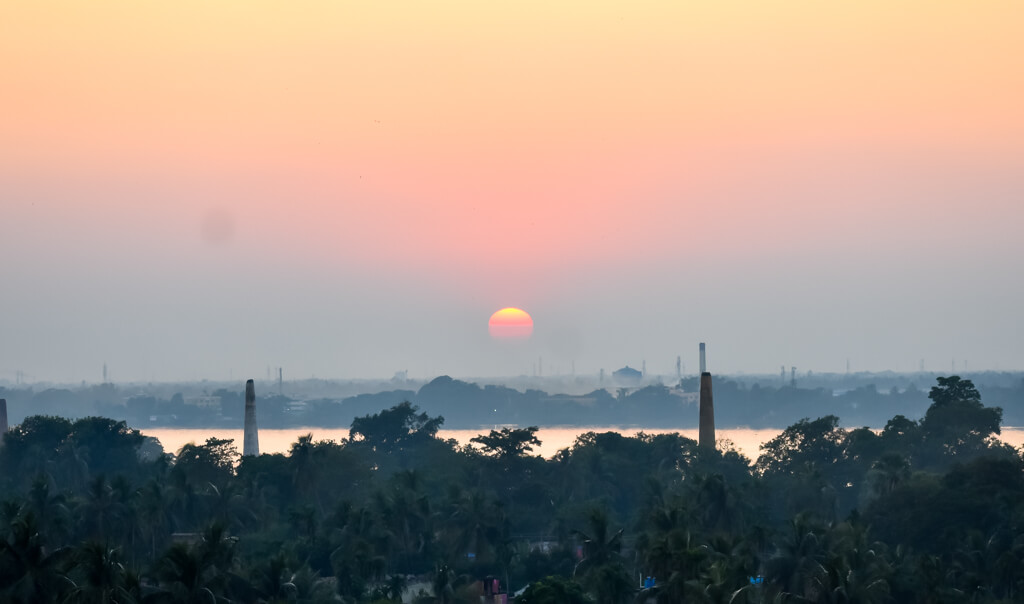 Behind the Ganga river, in between the tall brick furnaces, the sun sets over Calcutta city.
---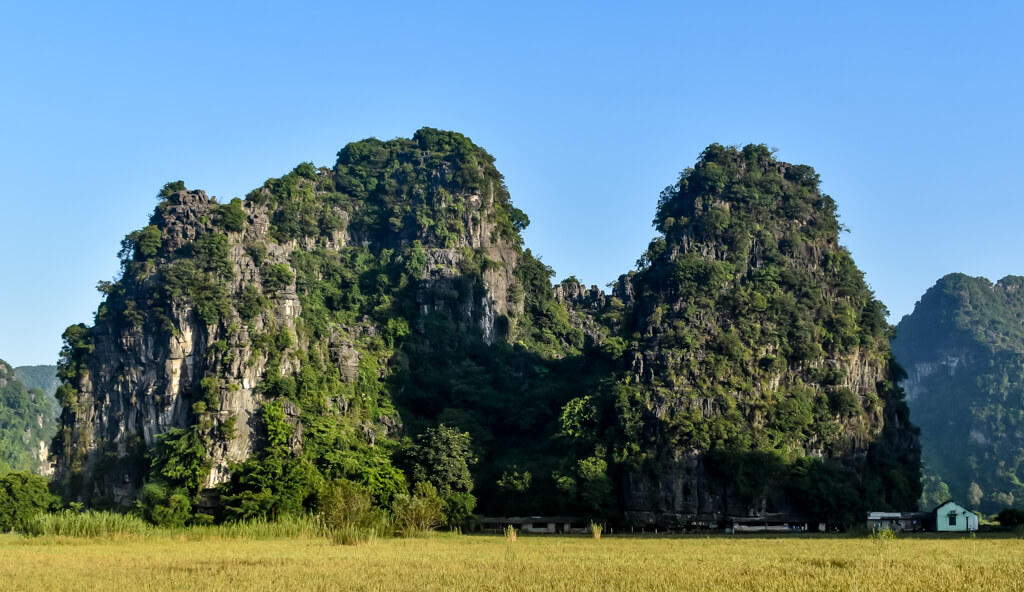 The little hut and the giant limestone mountains neighbour each other in Ninh Binh in Vietnam. These cliffs were formed about 235 million years ago. There is nothing like driving on an empty road at dawn with these sheer giants coming into view one after another.
---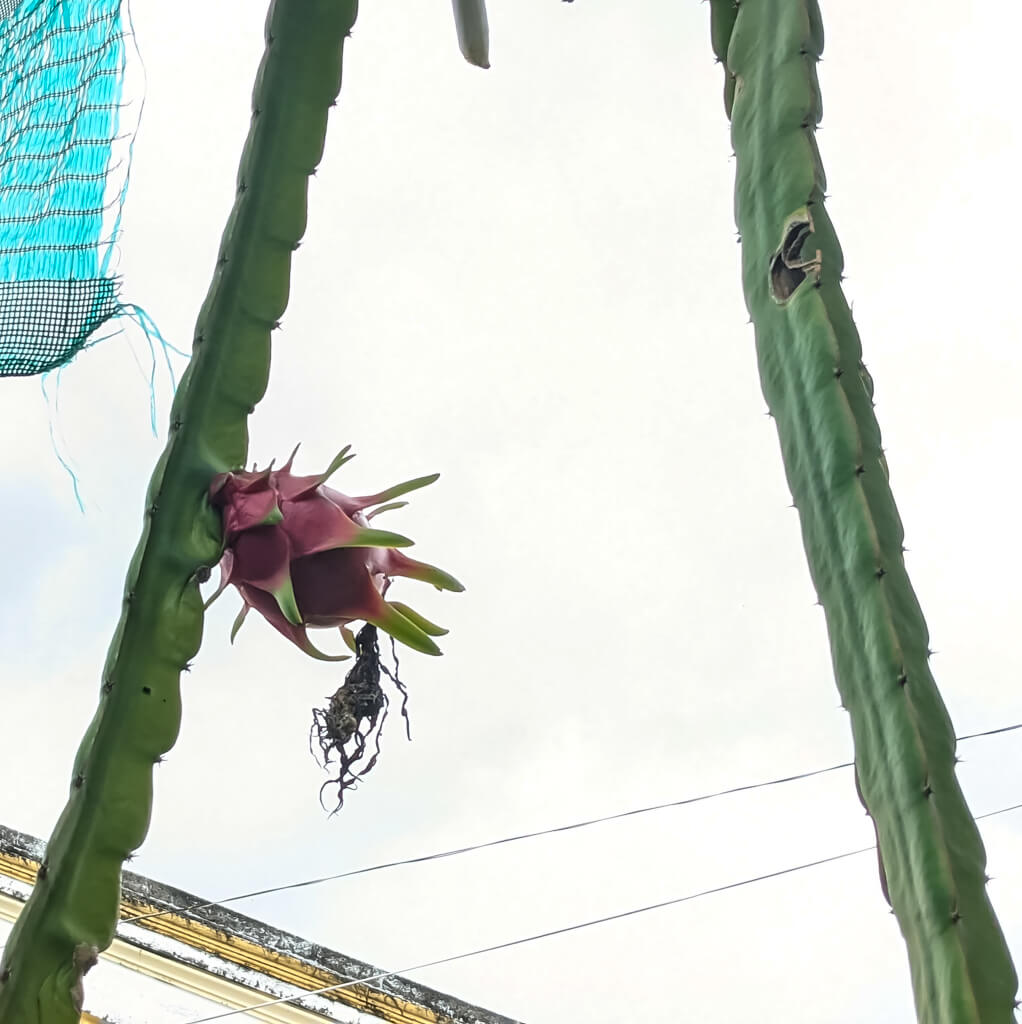 Is this a fruit or is it poetry? I took this photograph in an ancient home in Vietnam. Dragon fruit is delicious there and grows just about anywhere. September 2022
---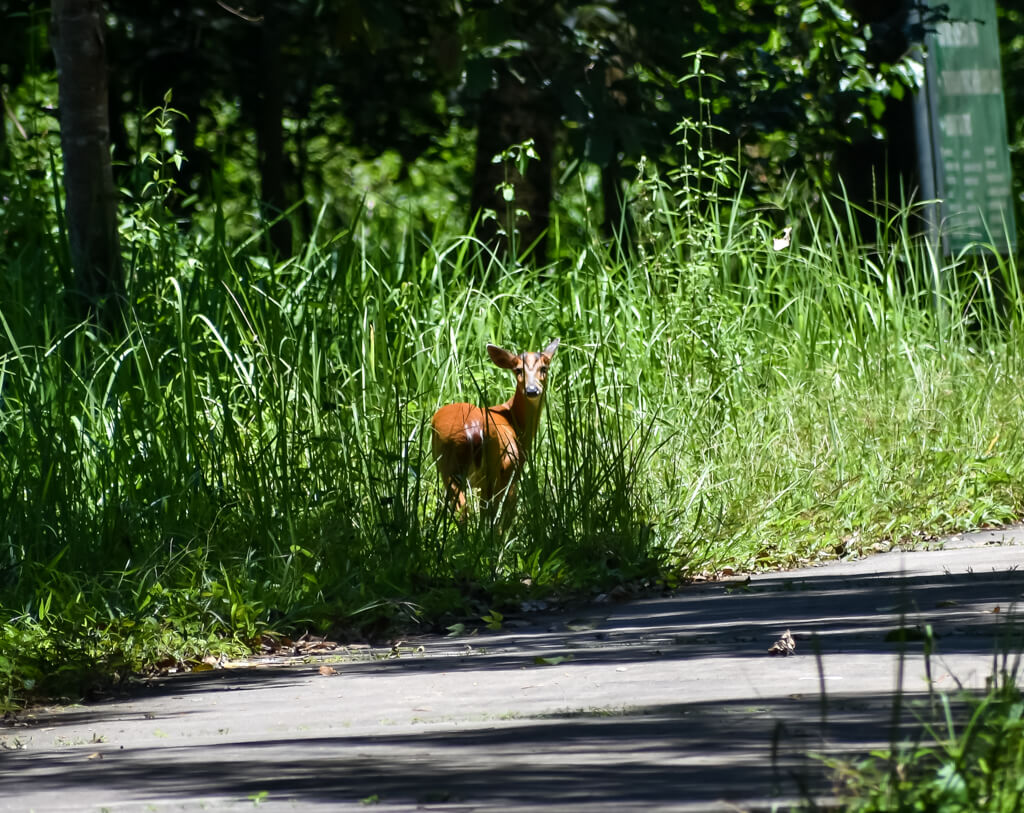 This barking deer appeared from nowhere as we walked in Cat Tien National Park in Vietnam.
---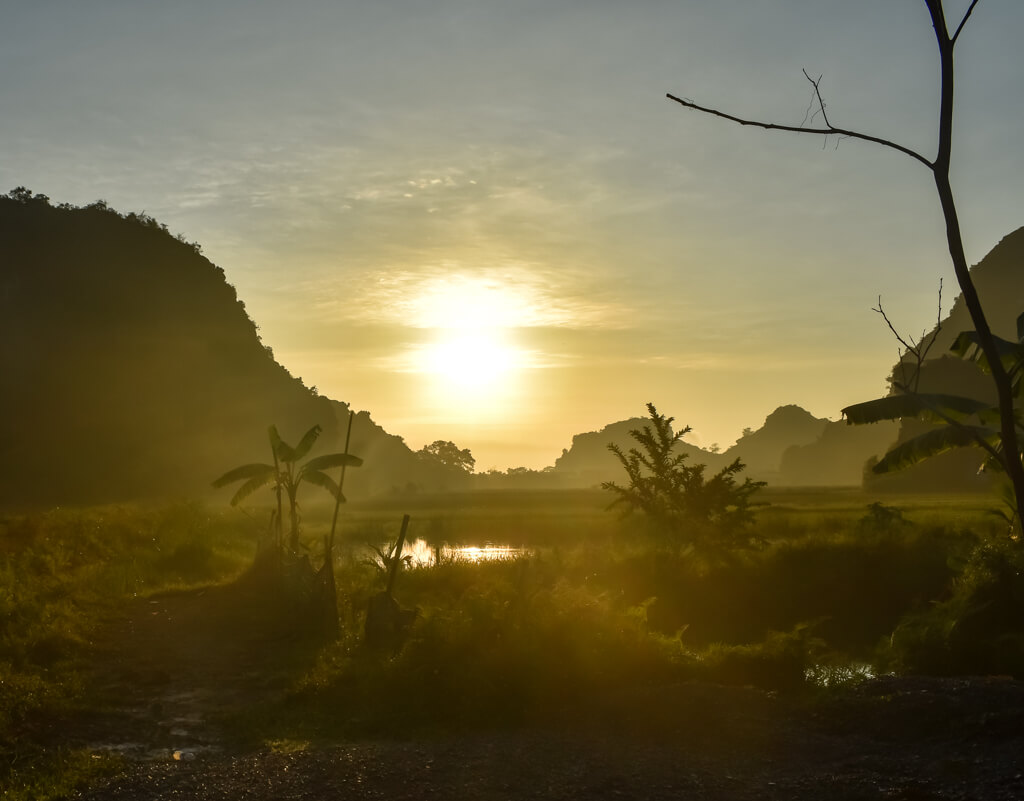 The sun rises as I take a walk amongst the limestone cliffs. Ninh Binh, Vietnam.
---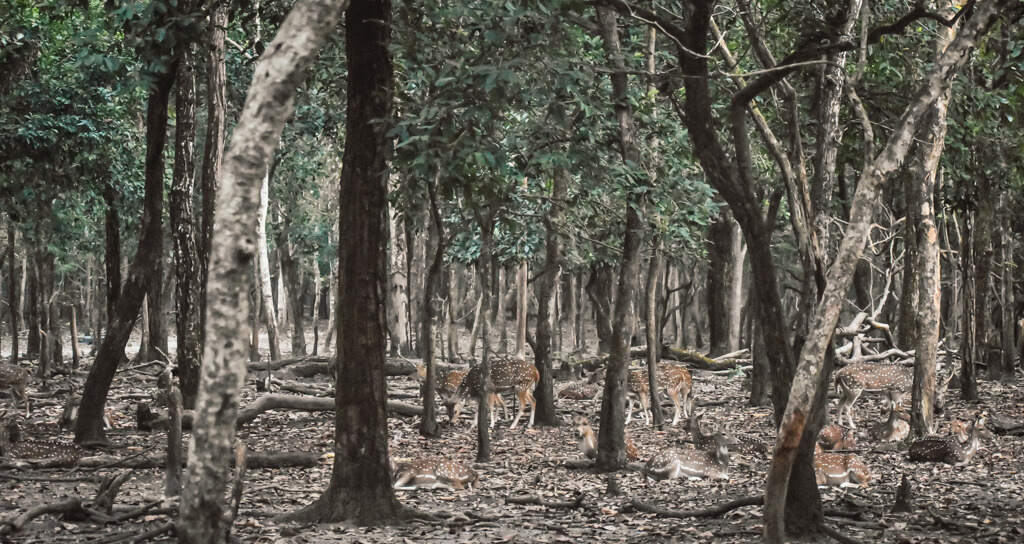 As the safari bus arrived at the spot, none of us could see anything. The sun was setting, and the woods were getting dark. And then we saw one spotted deer, then another, and another. In a forest in West Bengal.
---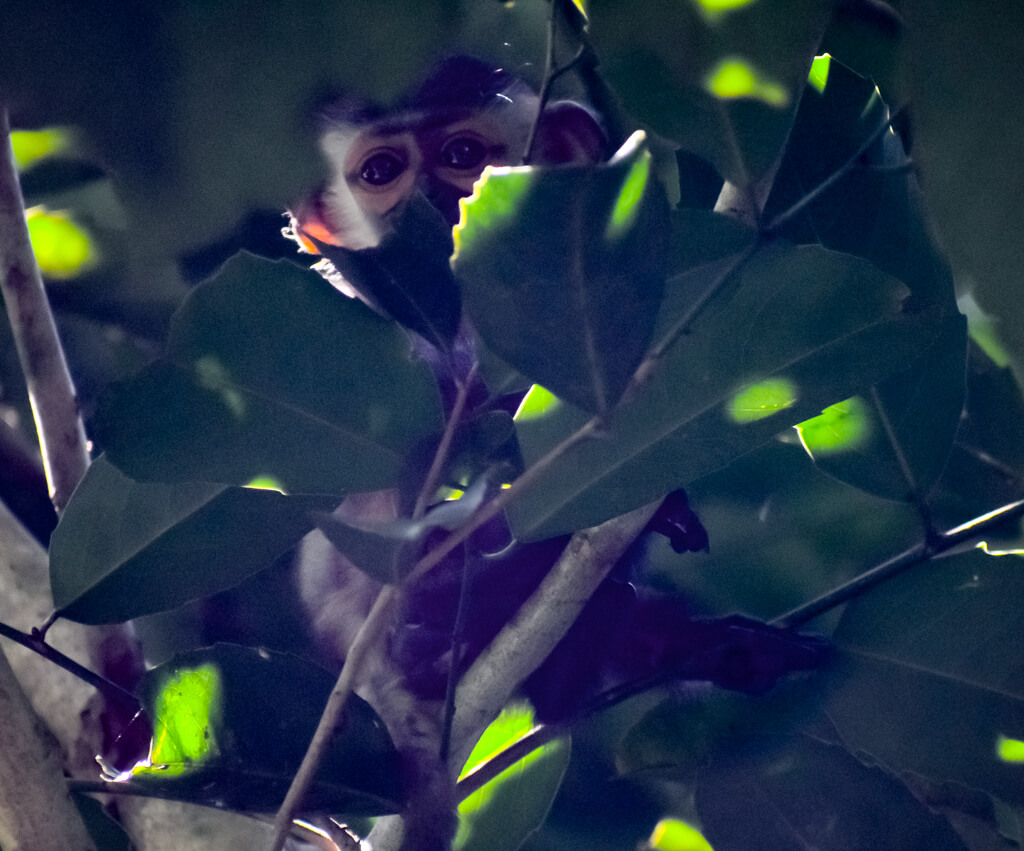 A monkey watches us in a forest in Vietnam as we walk below him and return its gaze in his home.
---
It is in the nature of nature to forgive. There is still time, and there is much we can revive.
Follow Up Reads: All of my articles have nature in them, but you can begin with these photographs of Indian parrots, 71 pictures of Himachal, the wonder of Cubbon Park in Bangalore, the Amazon in Peru, forests around the Kali river in Karnataka, and a breathtaking hike in the Himalayas.
Did you fall in love? Are you amazed to be here, too?
*****
Donate to keep me going!
For five years, I've read and wrote day and night to keep On My Canvas - my sustenance and life's focal point - going. Everything here and my weekly newsletter "Looking Inwards" is free. No ads. No sponsorships. If you've had some good moments reading my posts or felt hopeful on a lonely day, please consider making a one-time or a consistent donation. I'll really appreciate it (You can cancel anytime).
*****
Want similar inspiration and ideas in your inbox? Subscribe to my free weekly newsletter "Looking Inwards"!