Memories From Cubbon Park Bangalore – City's Wildest Escape
I cannot give a guide to Cubbon Park Bangalore. I mean why would I? One has to explore a park at her speed and manner. 
What's there to a park anyway? You may ask.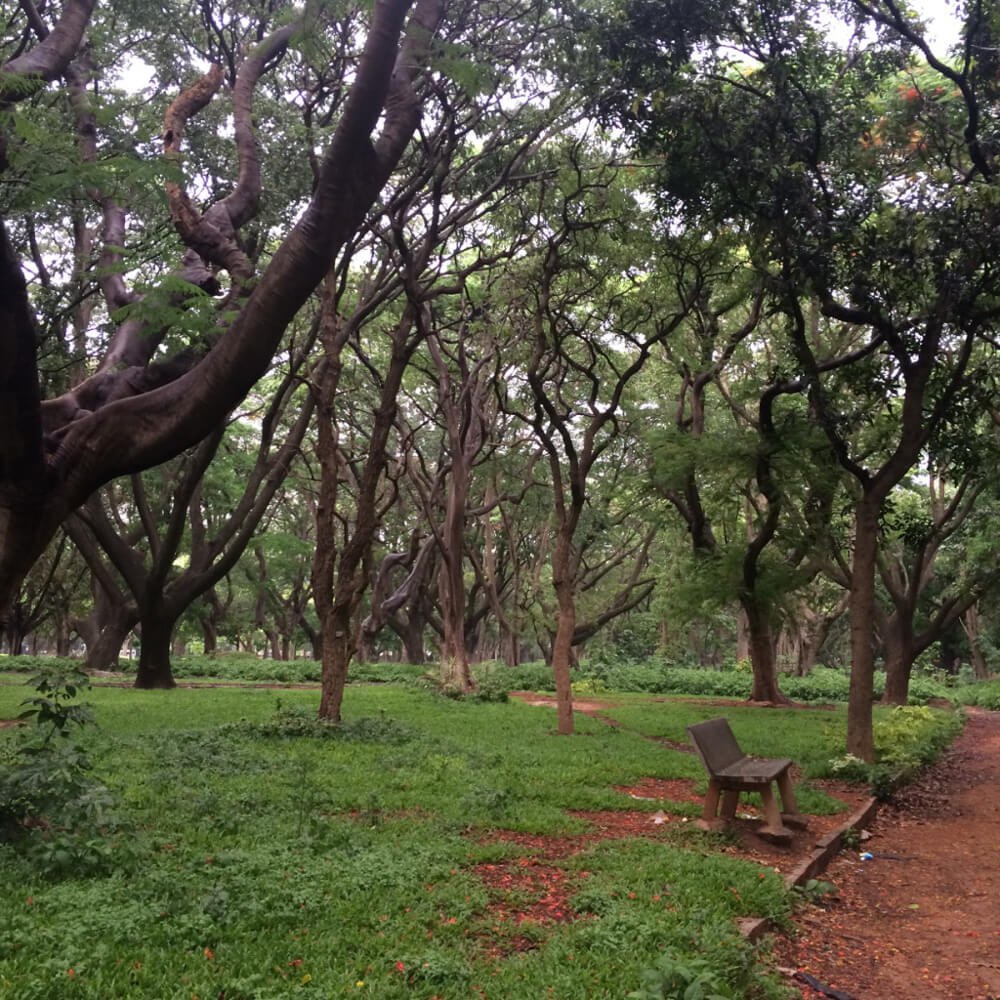 When nature-lovers go to Bangalore, their dreams to be in open, green space have to be buried. Though the city is dotted with fat old trees shadowing the roads, it doesn't have many free and clear areas now. The population has exploded in Bangalore, India's software hub. And thus many outsiders and Bangaloreans leave the city every weekend to see some of the amazing places in Karnataka.
Every Bangalore locality has a few gardens or parks maintained by the government. In these local parks, trees and plants are grown systematically in designated areas. Wild shrubbery only decorates the poorly maintained parks. The shapes and growth of trees are also kept under control. One walks or runs on the brick-tiled, mud, or cemented pathways. Only some parks allow sitting on the grass. All these municipality gardens are closed during the day. I have still not understood why. (See some unusual Bangalore pictures to get surprised.)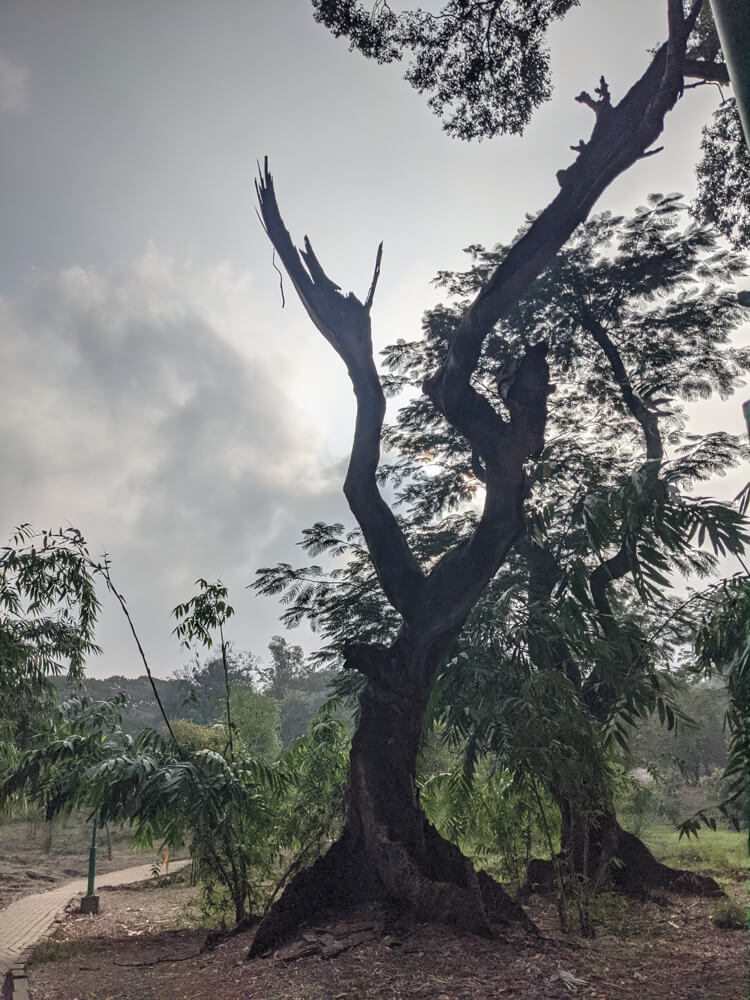 Once in a park near Richmond Road (I guess it was the Richmond Park) police didn't even allow my husband and me to sit on a bright bench at 7 pm in that crowded park. Those two adamant constables said the elders of the Richmond Society don't like young men and women sitting idle in the park. "If you have to be here, walk."
We tried asking the policemen the intention behind those ridiculous rules. We told them we are sitting to relax after a hard day and we are married. Though marriage shouldn't be the criteria to be able to sit in a park (for heavens' sake). And many other couples and solo women were seated on the benches too. Why were they not trying to save the single woman first? 
So — the two policemen — in their police attire — said drunk men or bad boys could come around and tease the woman, that was me. To avoid such instances, we need to get up and walk. 
I asked them if it was the best method to move the decent people away in the fear of trouble makers? Weren't they the police? 
Now we should consider when a woman speaks, expresses her opinion, asks a question, or just exists, most patriarchal men don't like it (including some of my learned and educated friends and ex-boyfriends).
So these two policemen inclined towards my husband and said he would understand. My partner was making similar arguments. But the police treated me as if I was talking rubbish and wanted me to be quiet. They were like madam why are you not understanding and what are you saying and the cliched comments (patriarchal) men say to make the women give up.
Eventually, we said the system shouldn't be this authoritative and claustrophobic and more importantly — illogical. We walked on.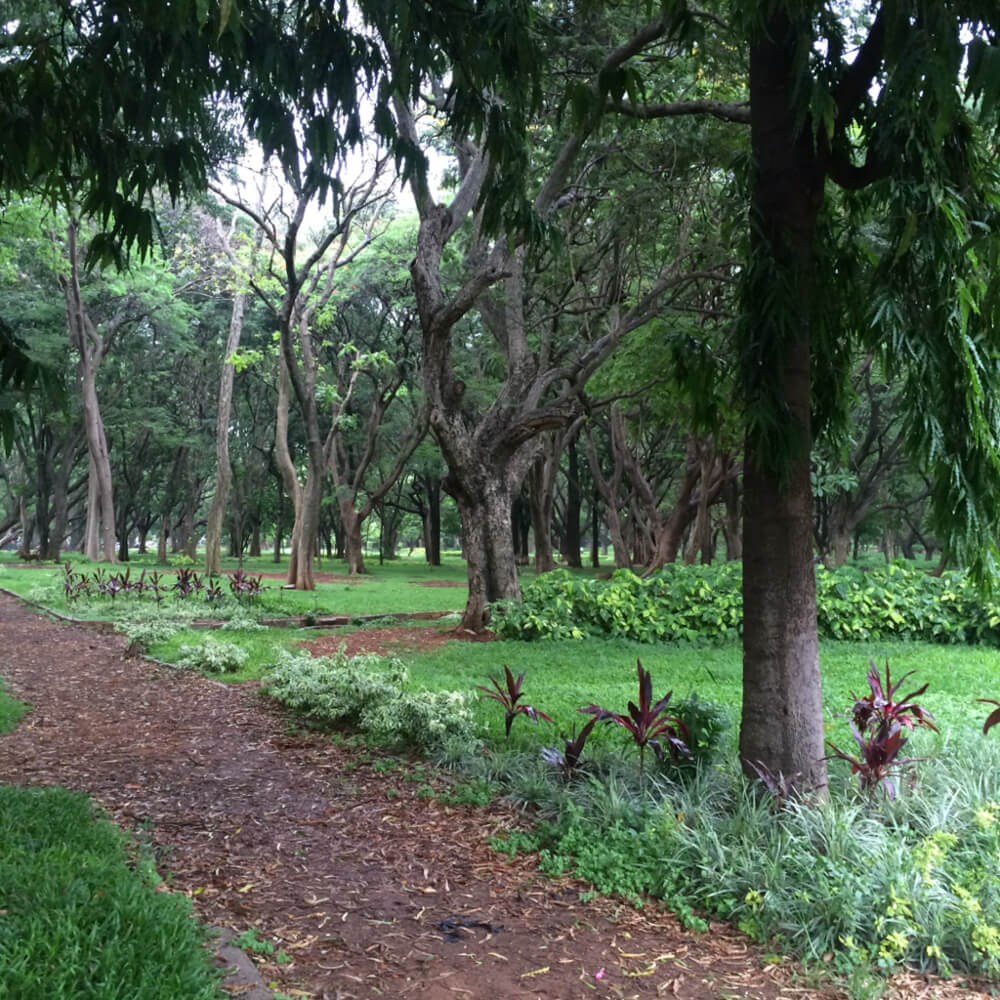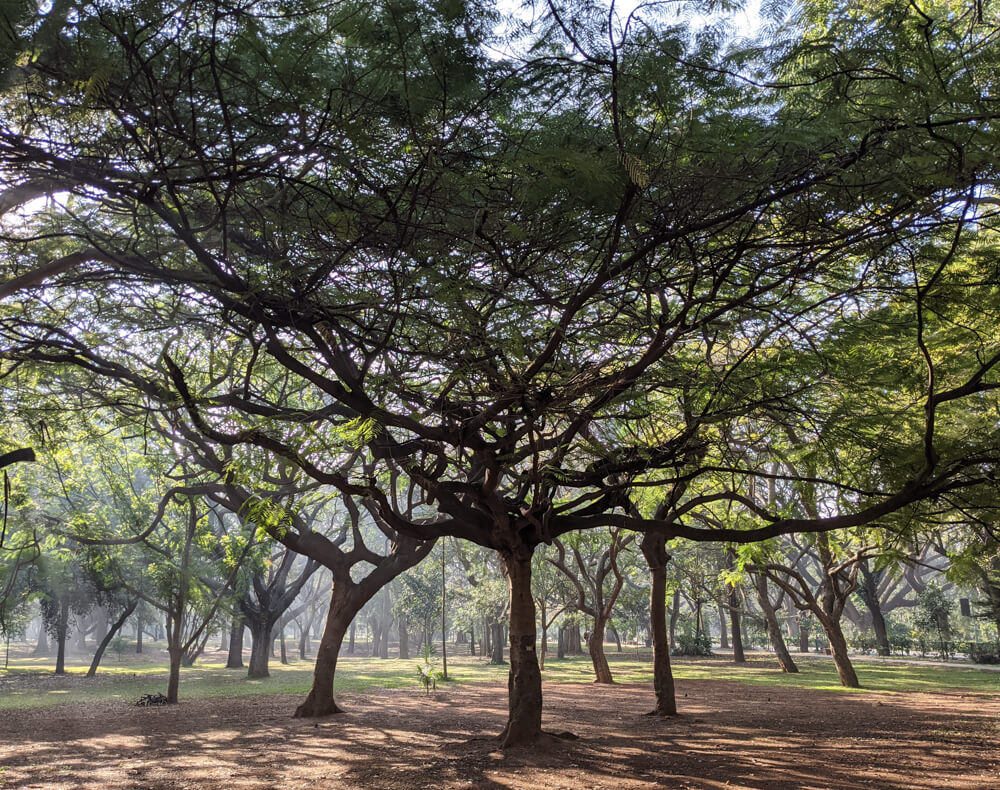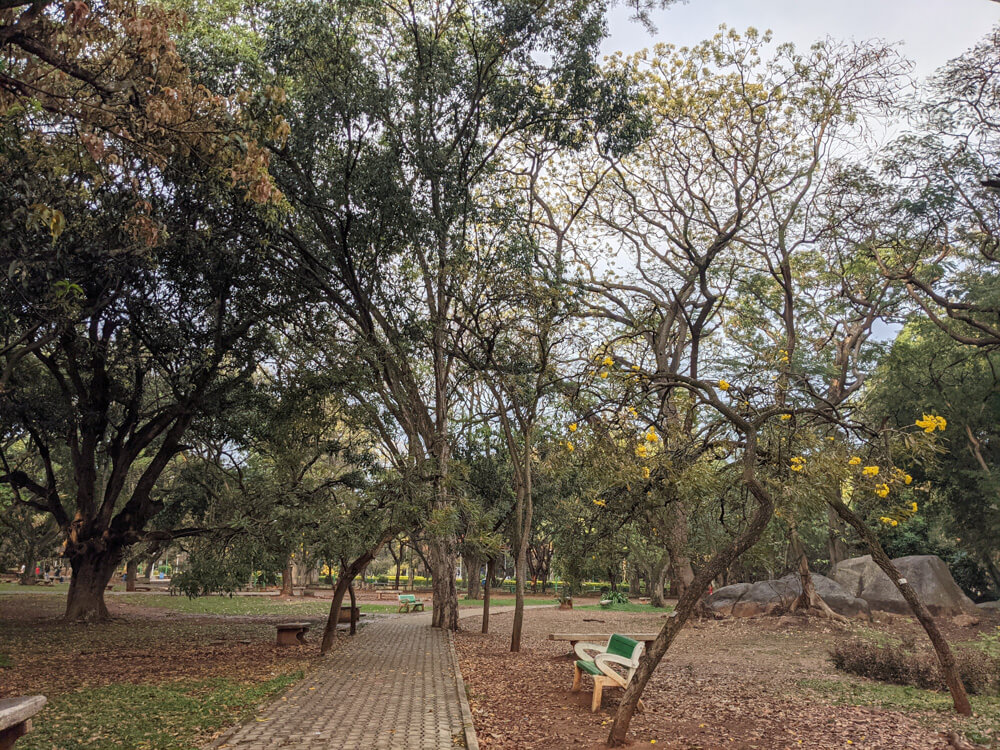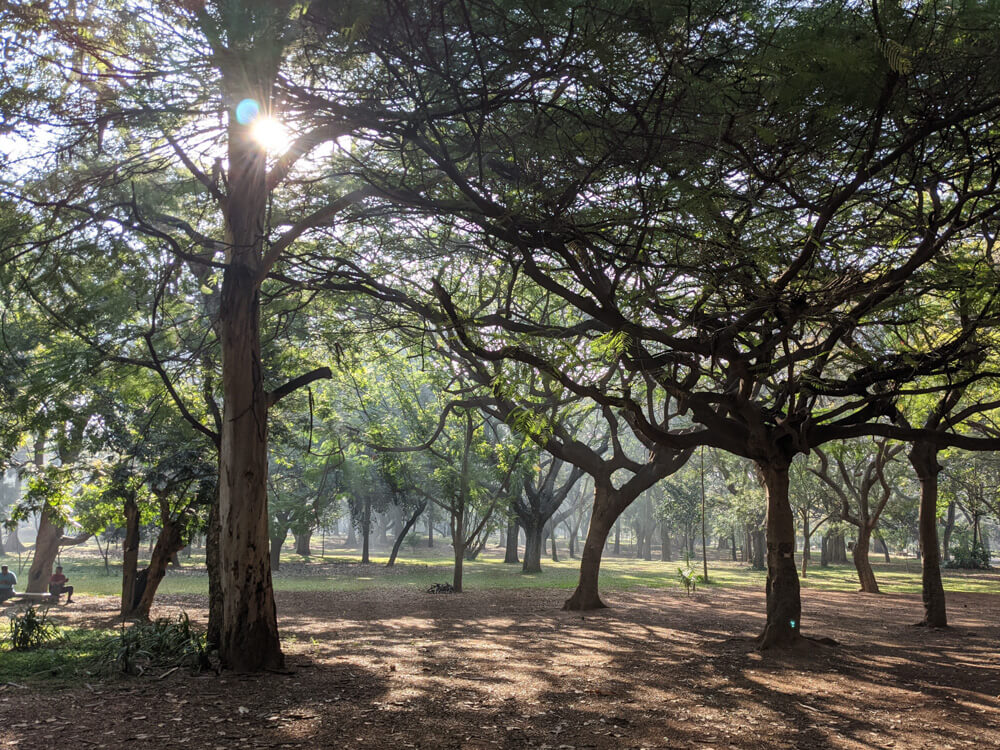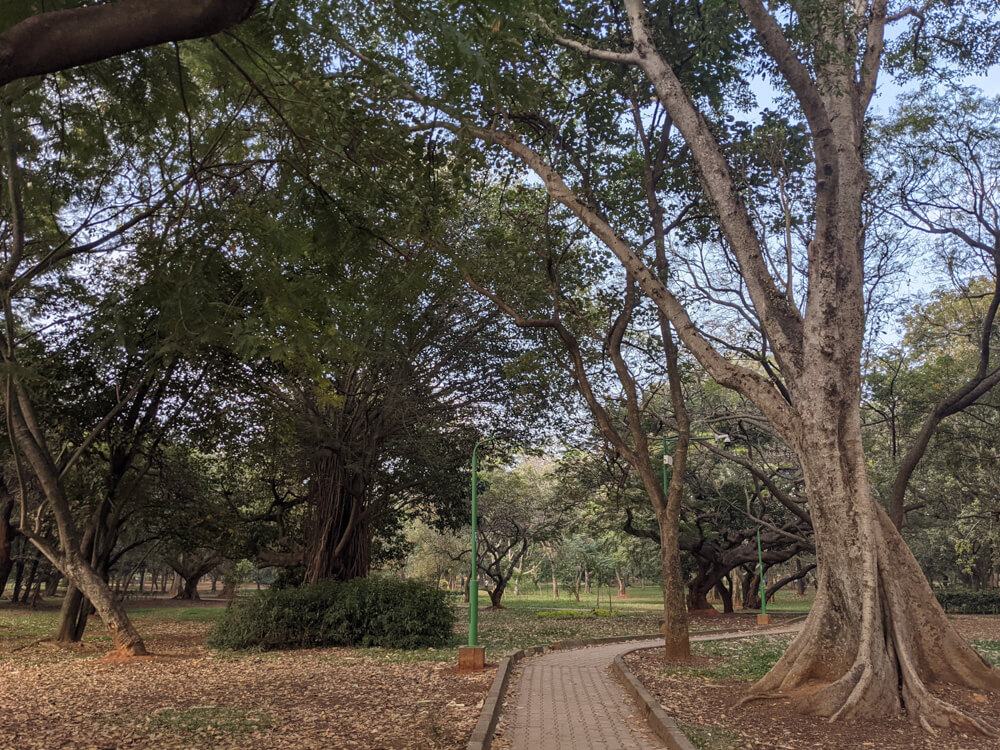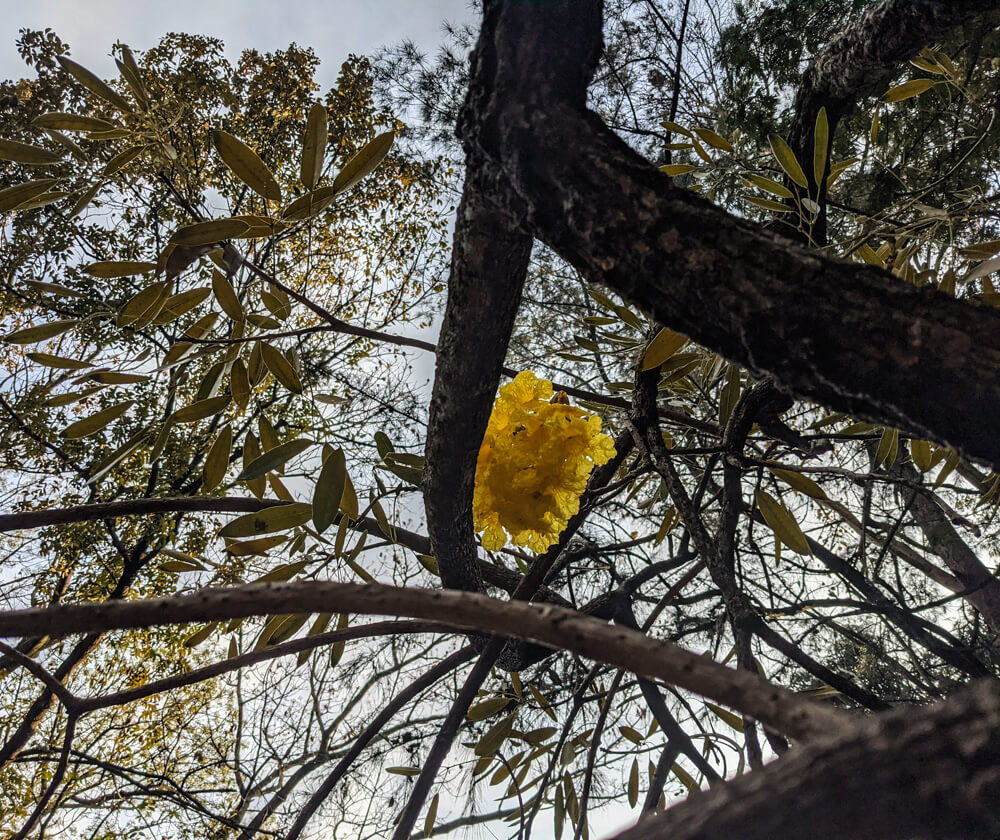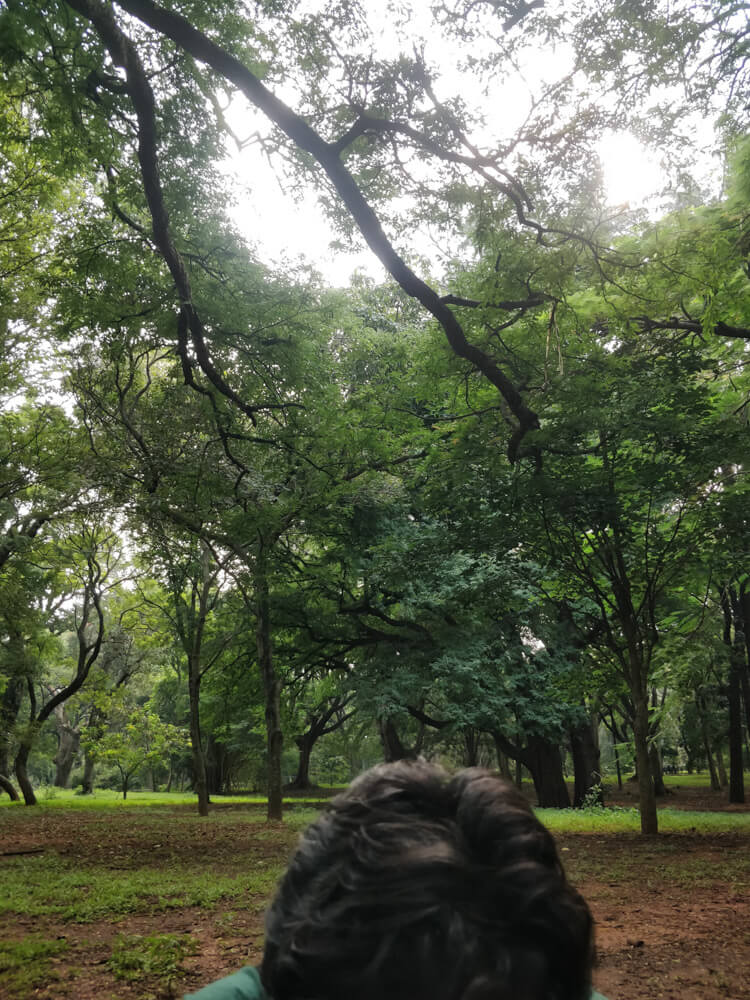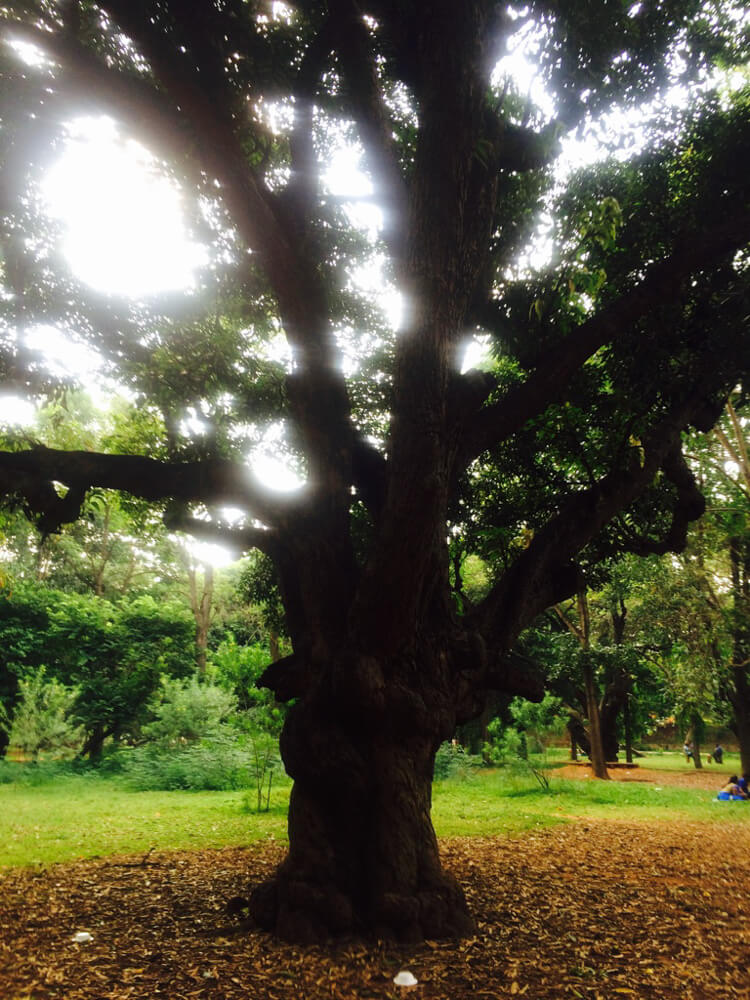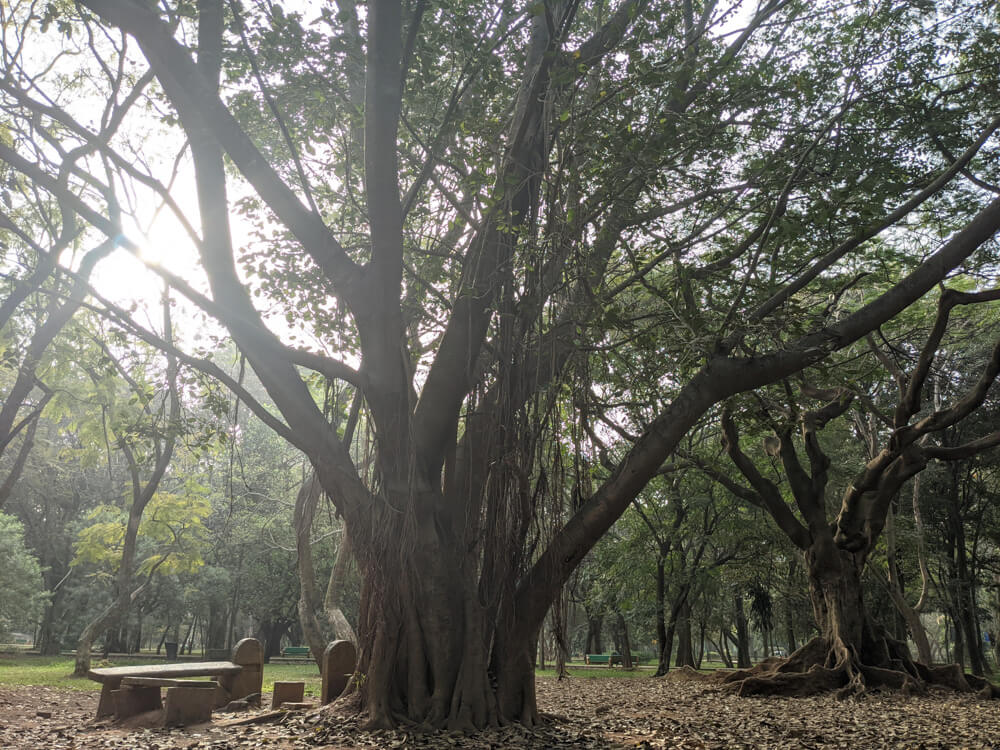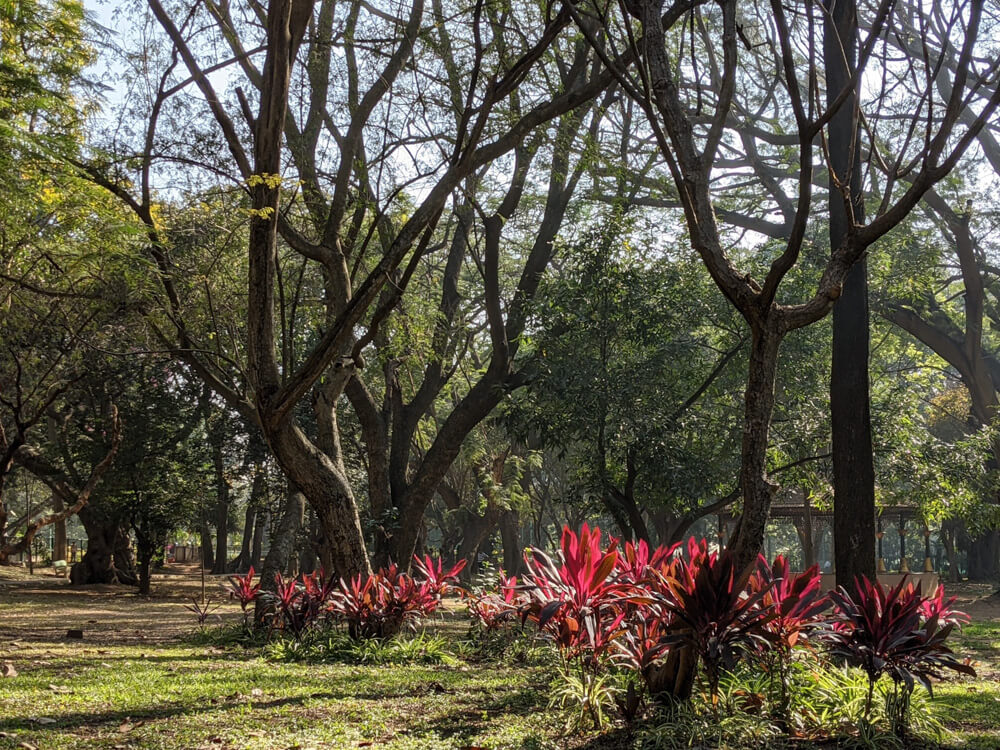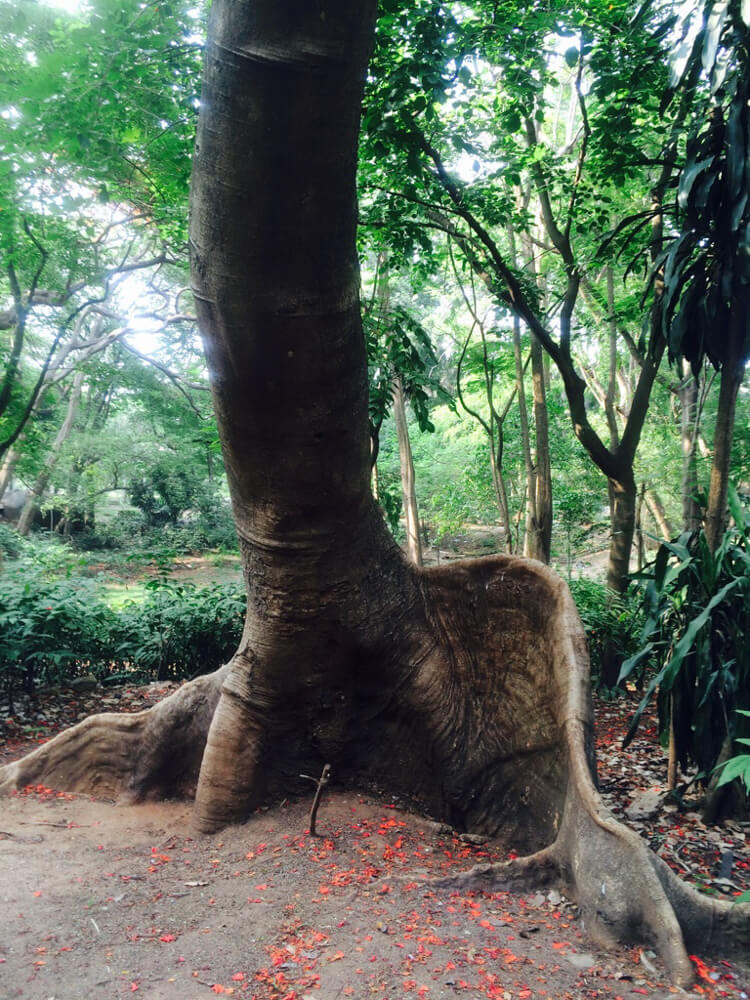 In Bengaluru Cubbon Park you are the queens and kings. No one comes and patrols the park or asks you to leave or not sit on the grass. You can be a human there. The giant Cubbon Park is open all day long. Yes, you heard it right. All-day long. 
The guard checks your bags at the entrance. If you have food, he will tell you food is not allowed inside the park. But if you reply you won't eat it, he will let you go. And then make your picnic, but do not litter, please (Food is barred inside because people throw garbage around the park even when dustbins have been put at many places). 
(Staying in Bangalore for a while? Check out my guide to some of the organic and homemade grocery stores in Bangalore.)
I had been going to Cubbon since I arrived in Bangalore in 2010. I took my parents to visit the park both times they came to Bangalore. I would take my outstation friends to Cubbon to paint, talk, and write. 
My local friends and I would picnic in the park. Many times we brought along books to read but nature kept us engaged. One time this small yellow moth came on our bedsheet (used as a mat). My friend couldn't focus on anything else after the moth came in her vicinity. How it moved, how it would get onto the stick she held in front of it, and so on. That she knows a lot about insects and lizards helped. I was drowsy on that picnic. We drank tea, talked a bit, slept, ran when the sprinkler almost wet us, moved away from the spot where the snake relaxed, and you know just regular park stuff. 
Nature brings such unprecedented joy that I have put together 27 photos from 2022 where nature thrives despite the climate crisis. Now it is upto us to protect it, love it, and let it live.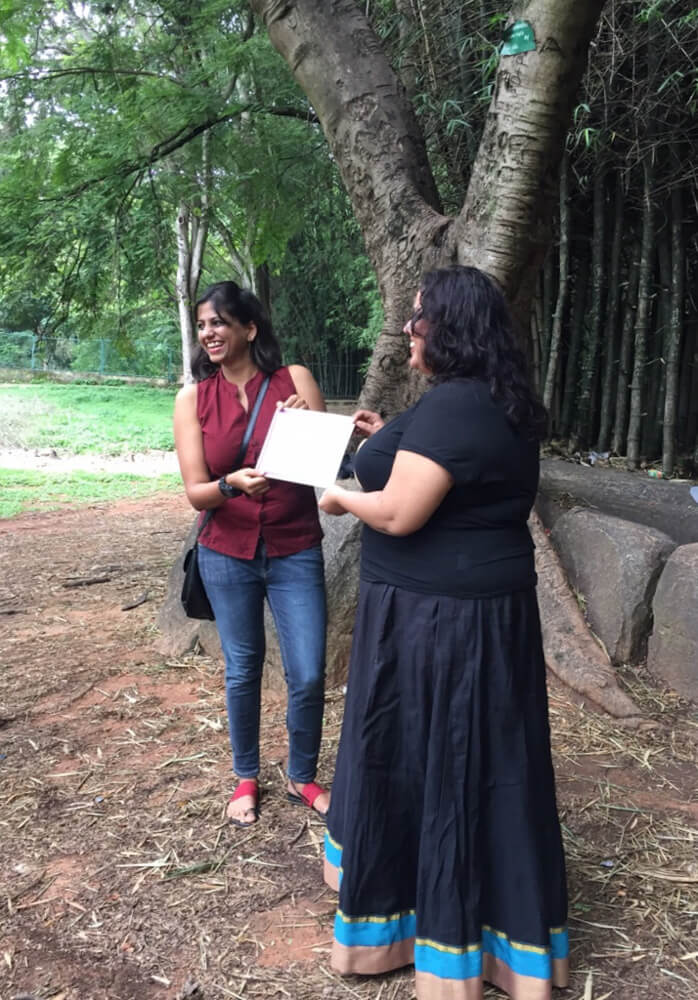 My husband and I also made a day picnic in the park with tea, sandwiches, and books. But as we were mostly in HSR and Koramangala, from where the park was a bit far, our visits to Cubbon Park were limited.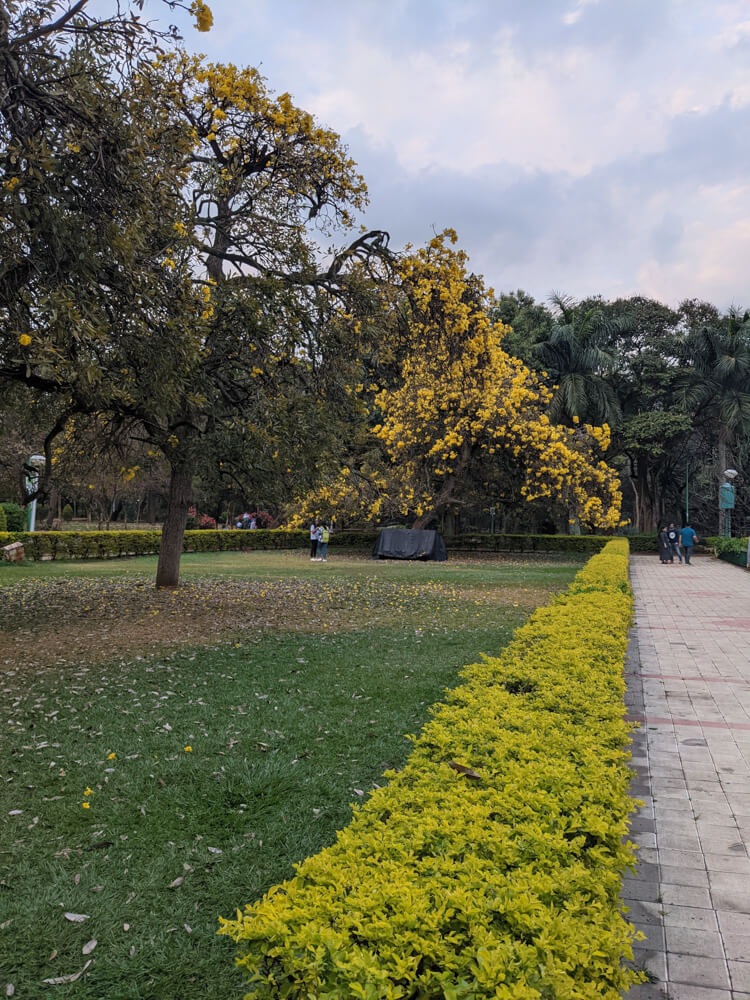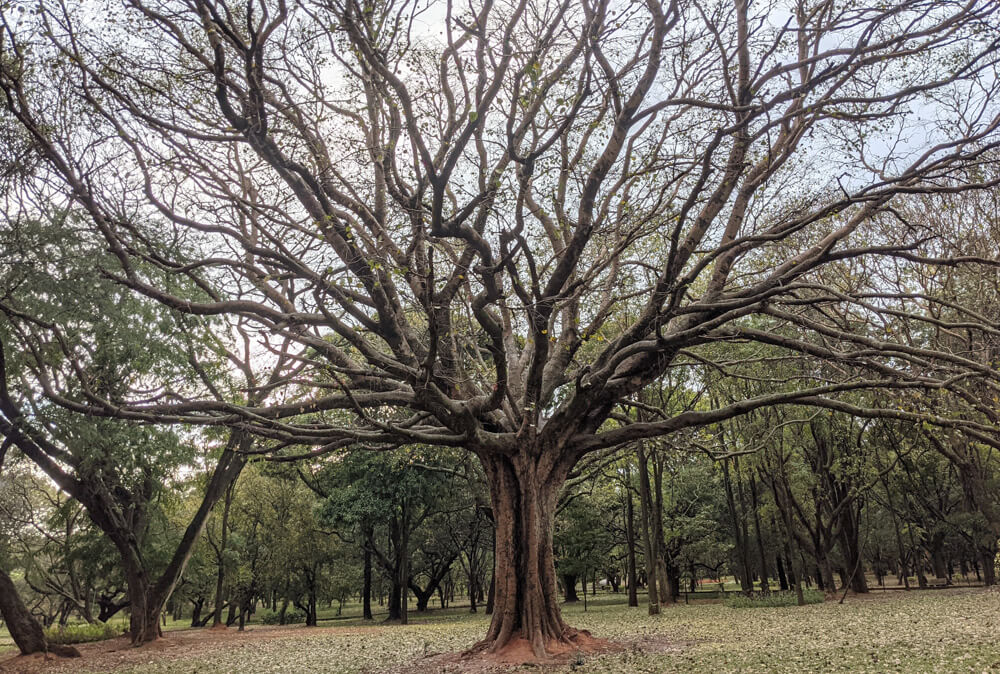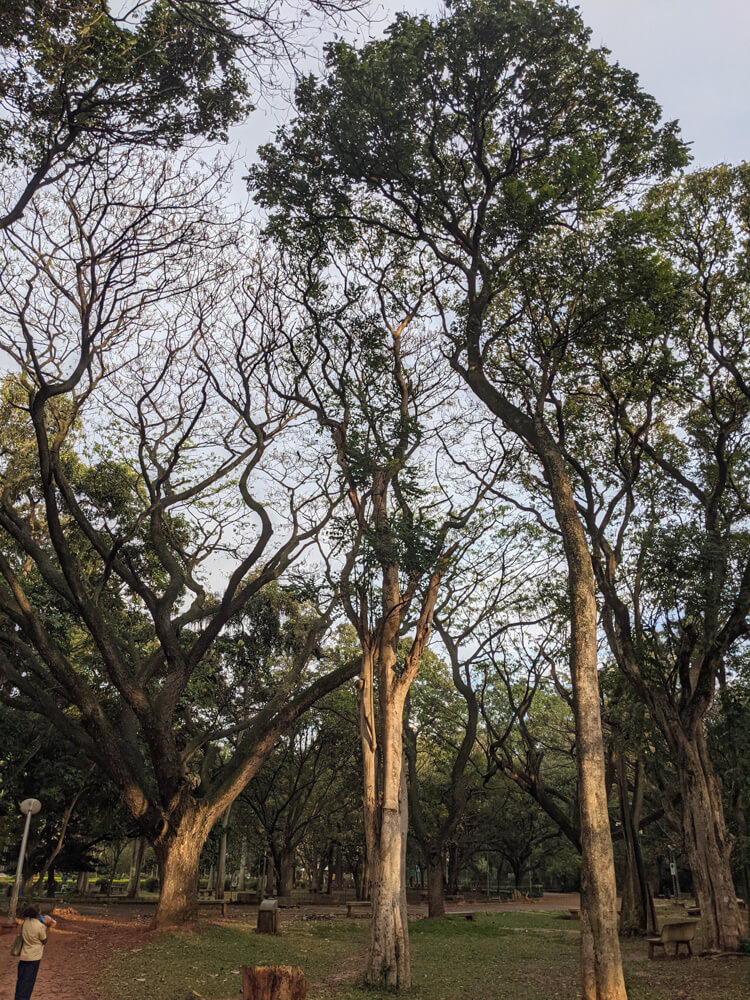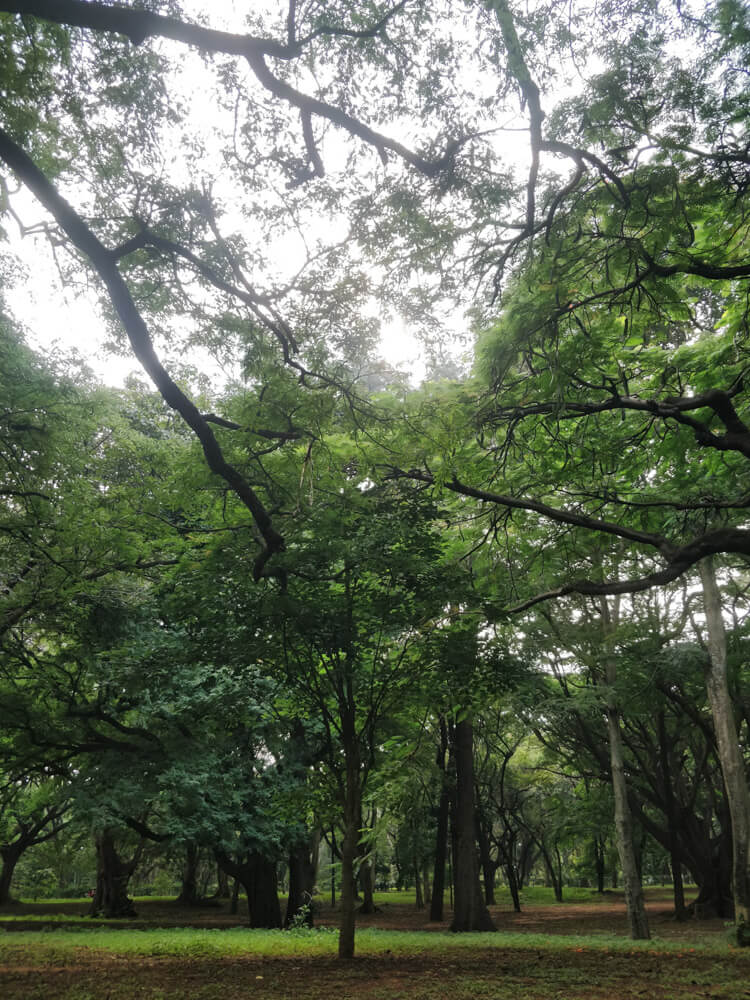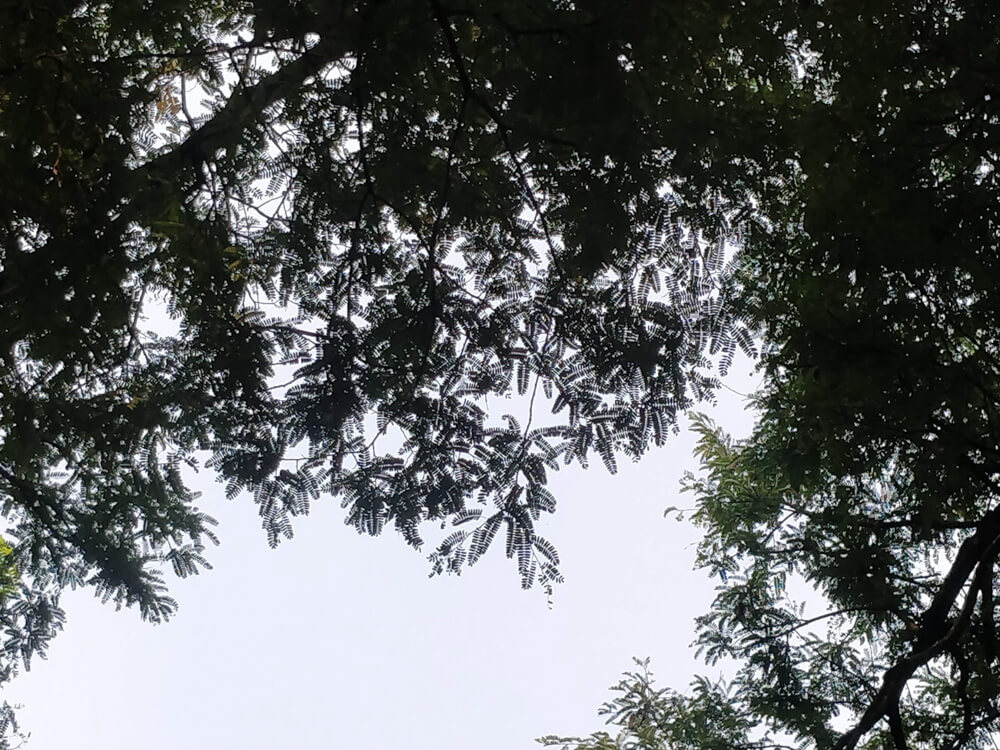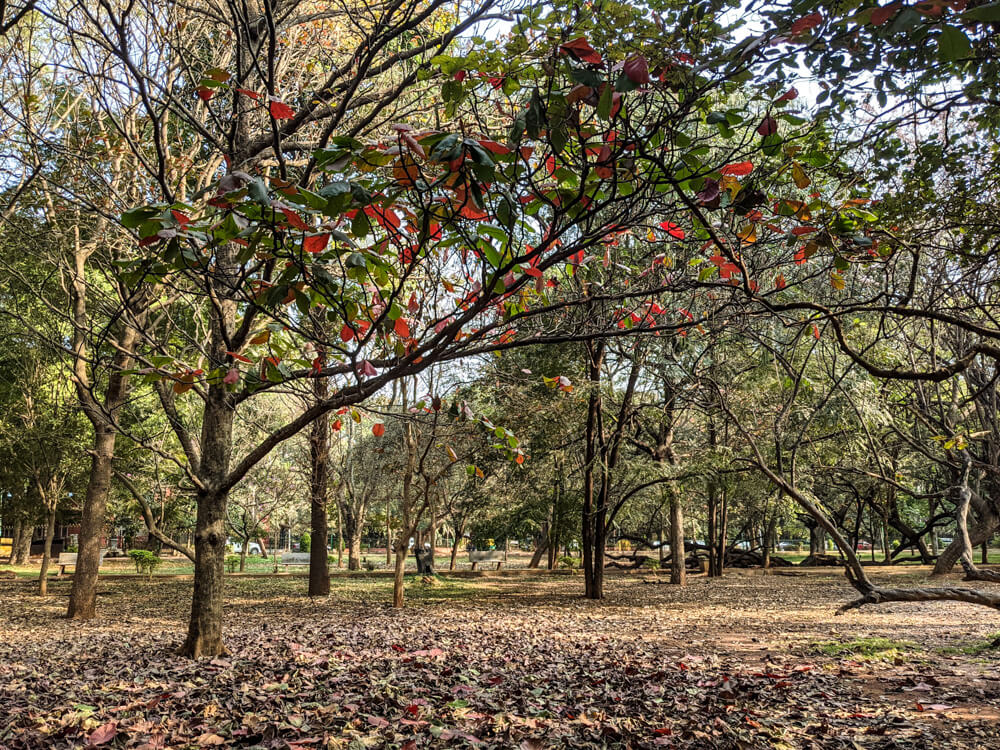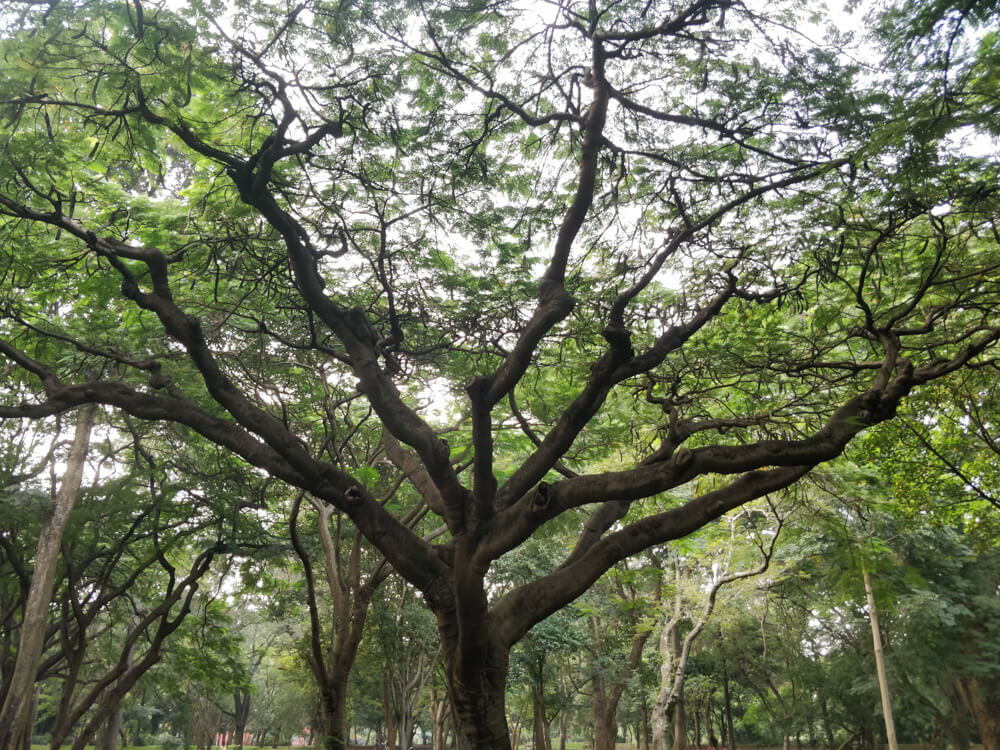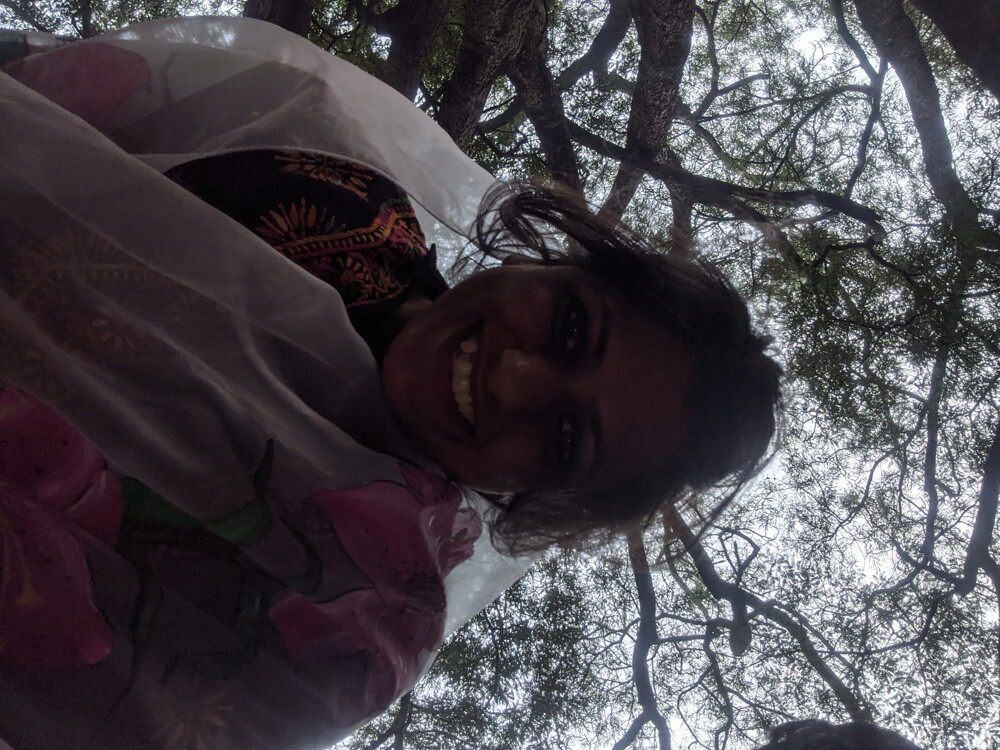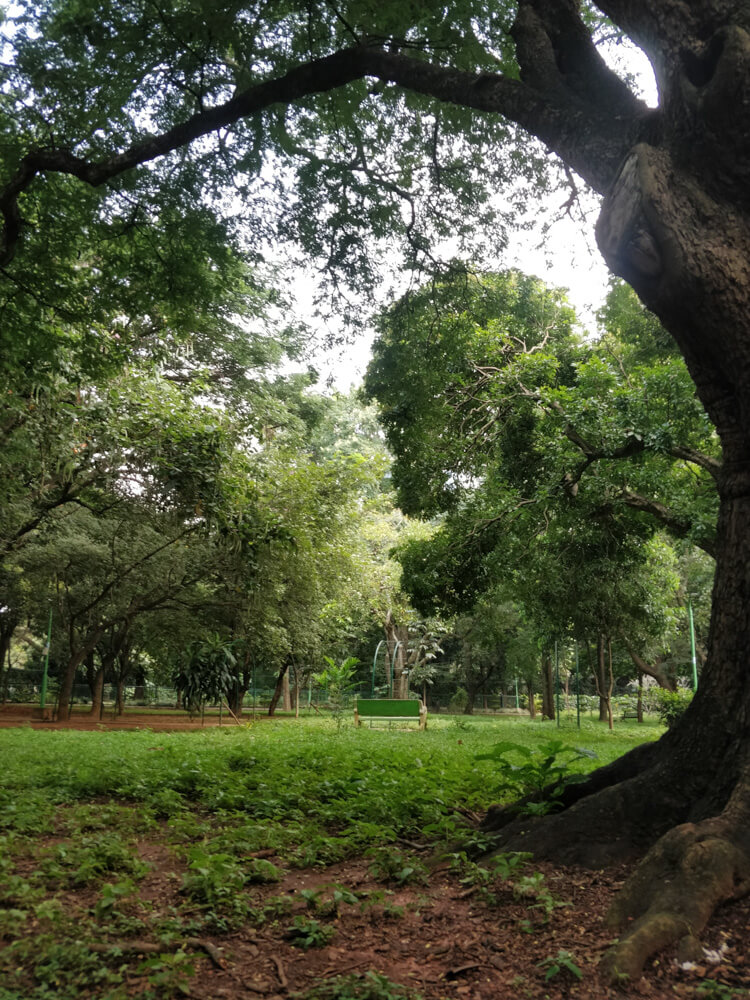 But in February 2021, we lived for three weeks in a BnB near Richmond Road for we had given up our rooftop home to start an indefinite road trip. During those weeks, I went to Cubbon Park every morning to run or walk. A few times I took the auto to the park. Cubbon park has many entrances to it. So I would go inside from one gate. Starting my run from there I would jog into whatever direction I liked. Roads run inside the park. I would cross the road to get into another green section. And then from there on to other hidden mud pathways. 
I would exercise on the bent trees, meditate on the giant rocks, and sat resting against the bark letting the coolness of the tree seep in. Laying down on the grass and watching the sky through the silhouette of leaves with a squirrel scampering on the branches above was so relaxing I never wanted to leave. 
Sometimes I would end up at the same gate, but mostly I would come out at some unknown exit. Getting autos or cabs from Cubbon's entrances was difficult. Some of the roads around the park are one-way. Autos aren't allowed at some gates. I would forget all these details too. So you can see how much fun Cubbon Park's morning visit would become for me.
Somehow I would find a way to get back to the BnB. I marked the gates on the map, but I still messed up.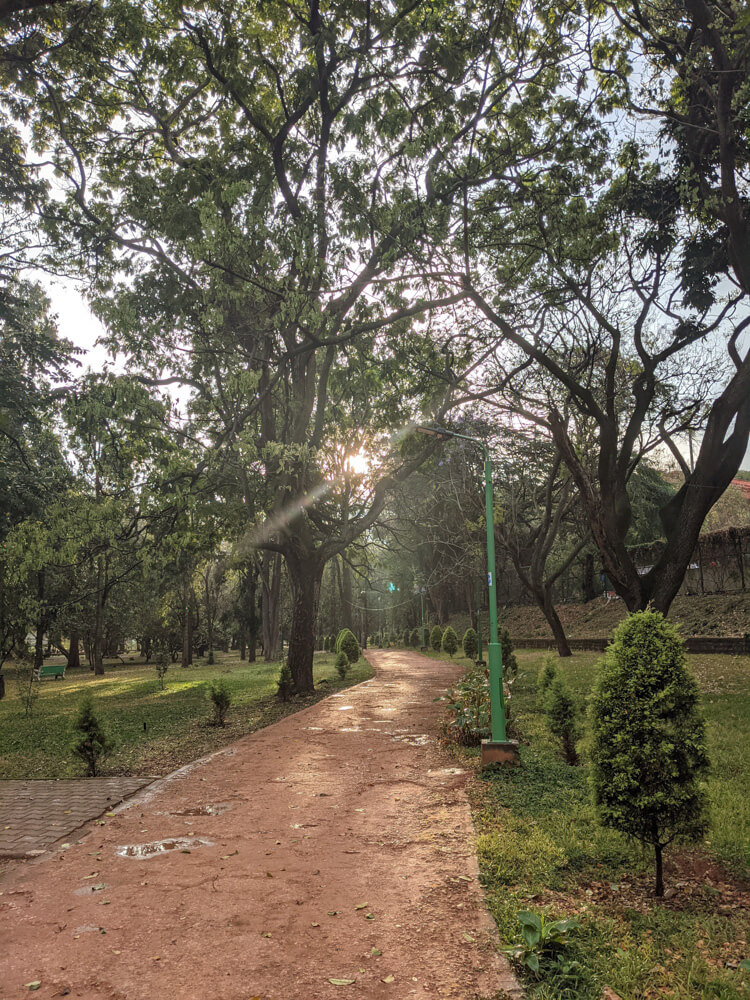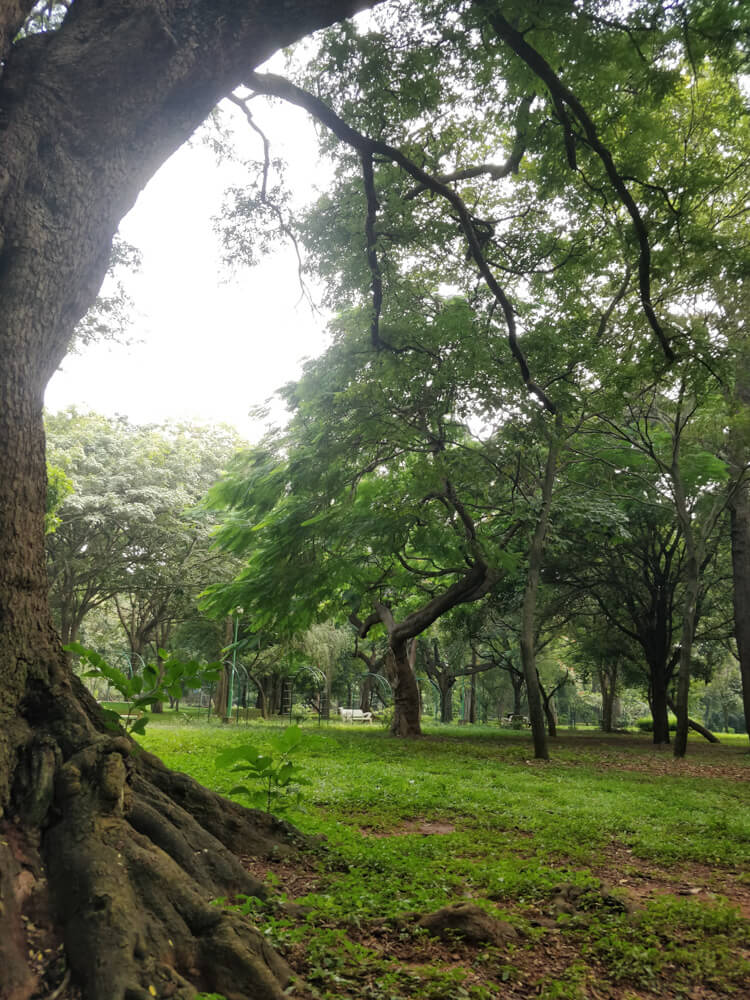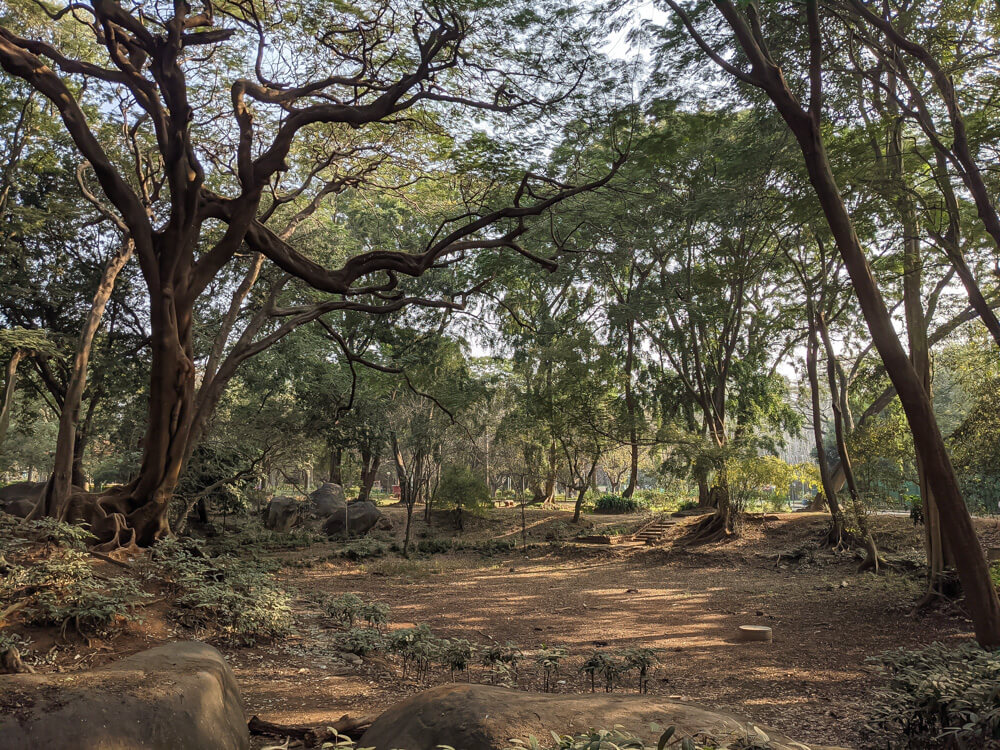 I can't give you a guide to Cubbon Park Bangalore because I got lost in this 300 acre — 1.2 square km green area — every time I went inside. I still kept going in.
After growing up in a house with a big garden and living on wild campuses like IIT Delhi where old trees fill large open lands, I find it hard to live in apartments with a tiny balcony and a few trees circumscribing it. And where do you go if you need air?
I hate systematic plantations. The wild nature attracts me. Bengaluru Cubbon Park is one such wild park. It was established in the 1800s and was initially known as Meade's Park after Sir John Meade, the acting Commissioner of Mysuru (old Karnataka) in 1870. Later the Meade Park was renamed Cubbon Park after the commissioner of the time, Sir Mark Cubbon. 
Later, in 1927, the park was again renamed Sri. Chamarajendra Park, in memory of the 19th-century ruler of the state Sri Chamarajendra Wodeyar (1868–94), during whose rule the park was inaugurated. But everyone still calls the park Cubbon Park or just Cubbon.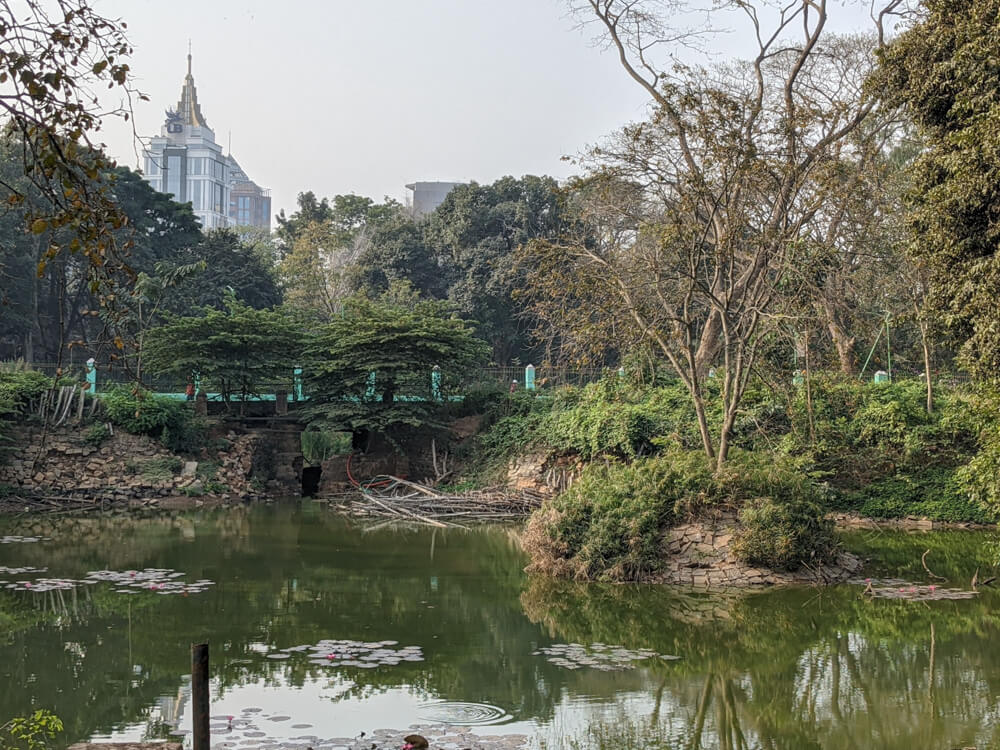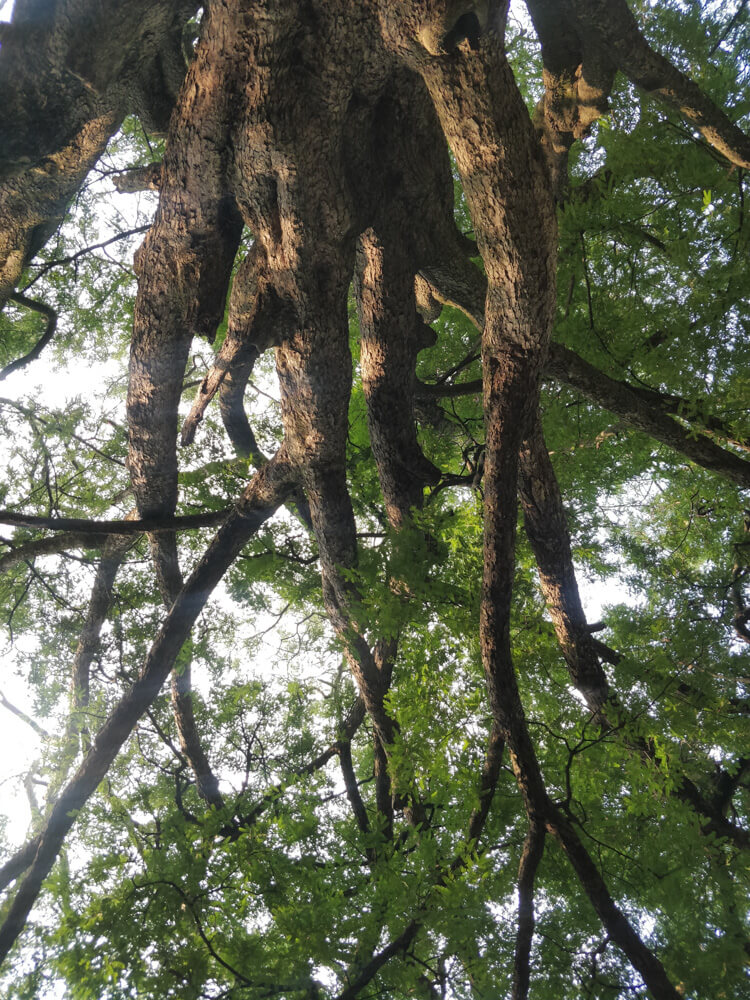 Cubbon is as wild as it gets in the middle of the city. The park has natural rock outcrops. Thickets of trees, bamboo groves, grassy expanses, and flowerbeds are all found tucked comfortably into the system. Once on a run, I found a large pond in the park as well. Pink lotuses were still budding in the pond. Indian parrots flock to Cubbon trees in abundance.
Important buildings circumscribe the park. The bright-red High Court of Karnataka located just outside the park is visible from one section. The State Central Library is located inside. This giant red monument is said to house the state's largest library. I have been inside a few times. The racks are filled with books. Book shelves reach the high ceiling. More than 3 lac books are said to be in the Central Library of Cubbon Park Bengaluru.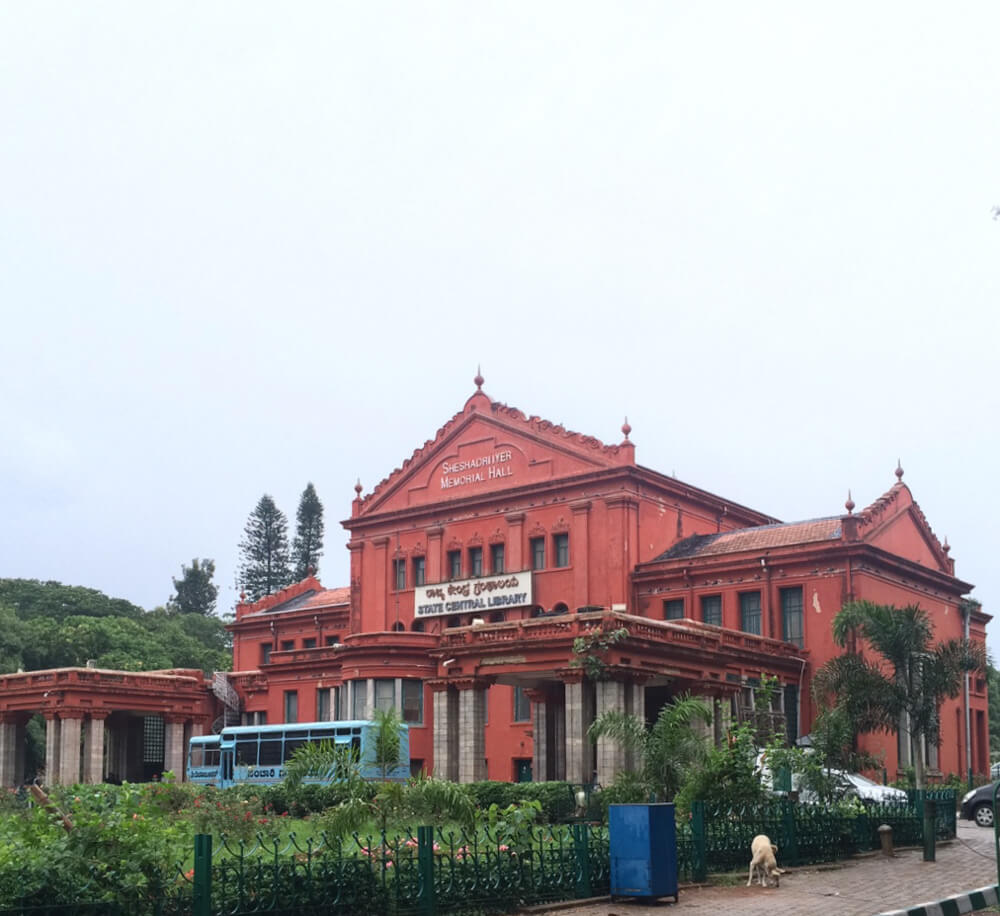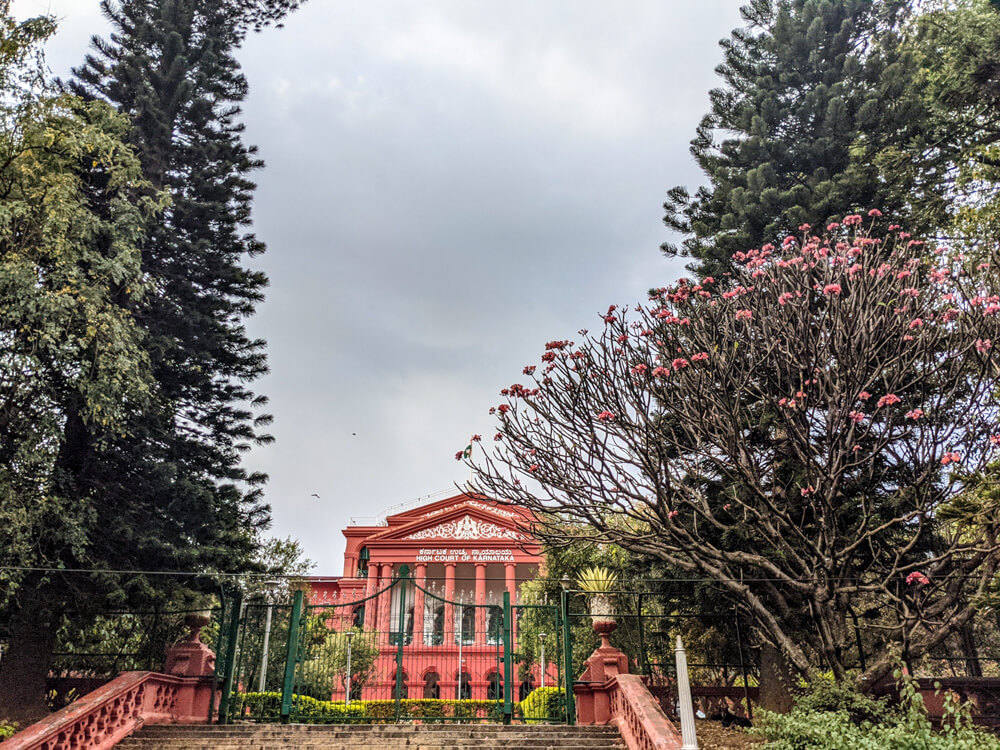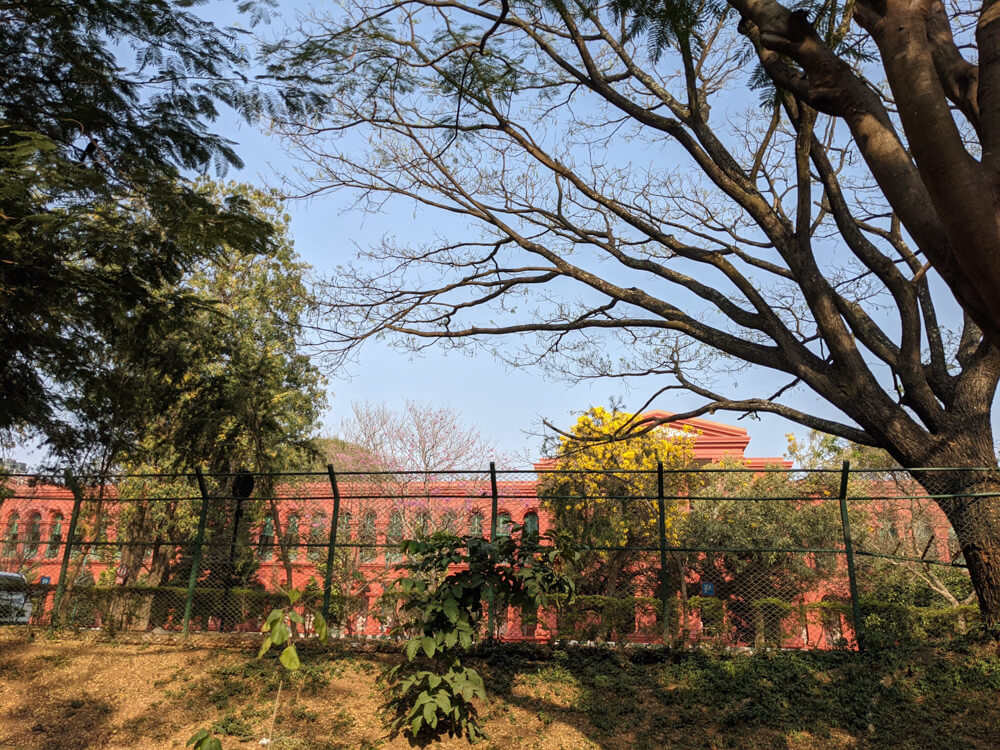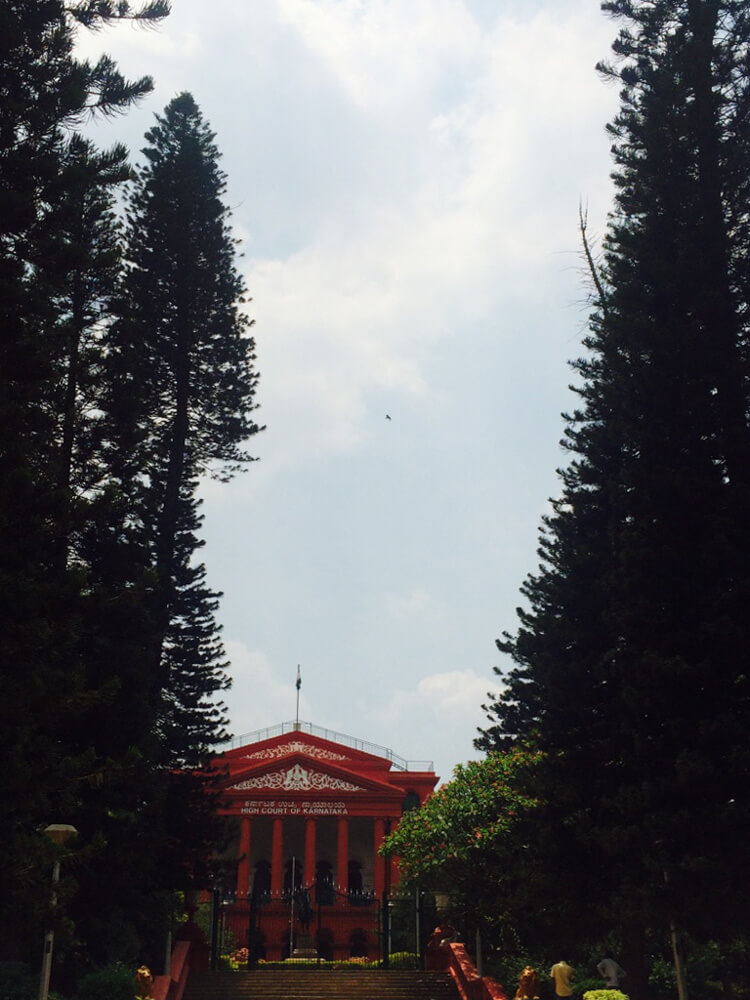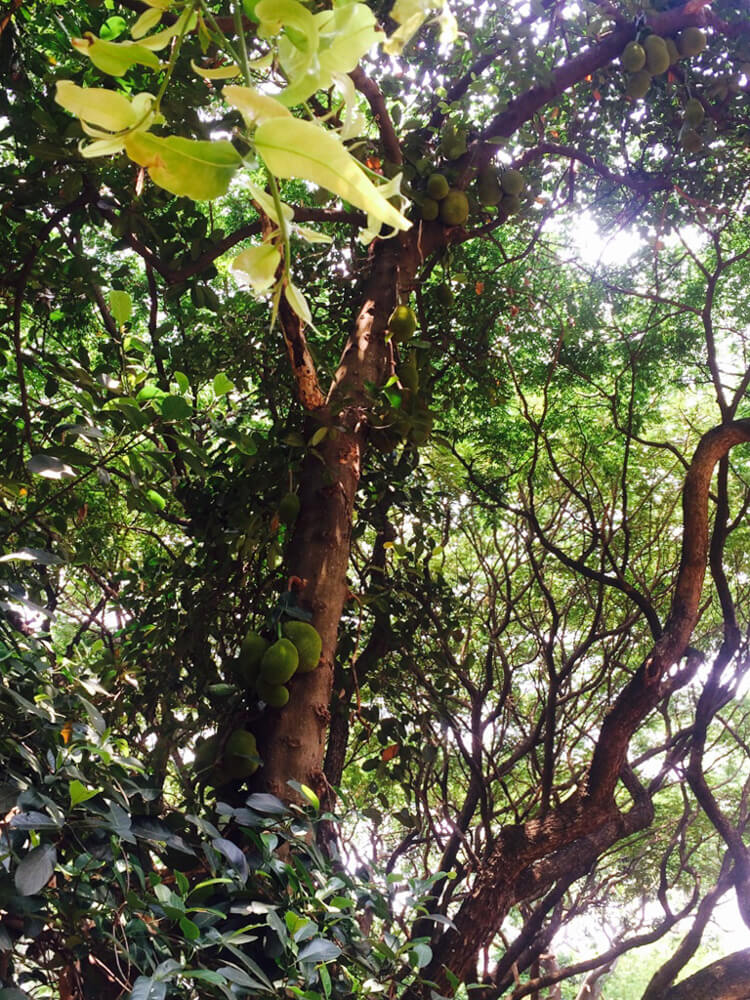 Silver oaks, Gulmohar, chestnuts, mangoes, bamboo, Ashoka, jackfruit are only some of the trees in the park. About 6000 Indigenous and exotic plants/trees of 68 genera and 96 species are said to be found in Cubbon. But I doubt the numbers for I think the park has much more than 6000 trees.
One of my favorite days in Cubbon was when my parents and I plucked and picked the fallen green mangoes from the mango trees in the park. When we went back to the house, my mother made a pickle out of those sour mangoes. 
Surely Cubbon Park is a place to make memories. Or just go there when nothing seems right and I promise you will find your way.
Beware of snakes!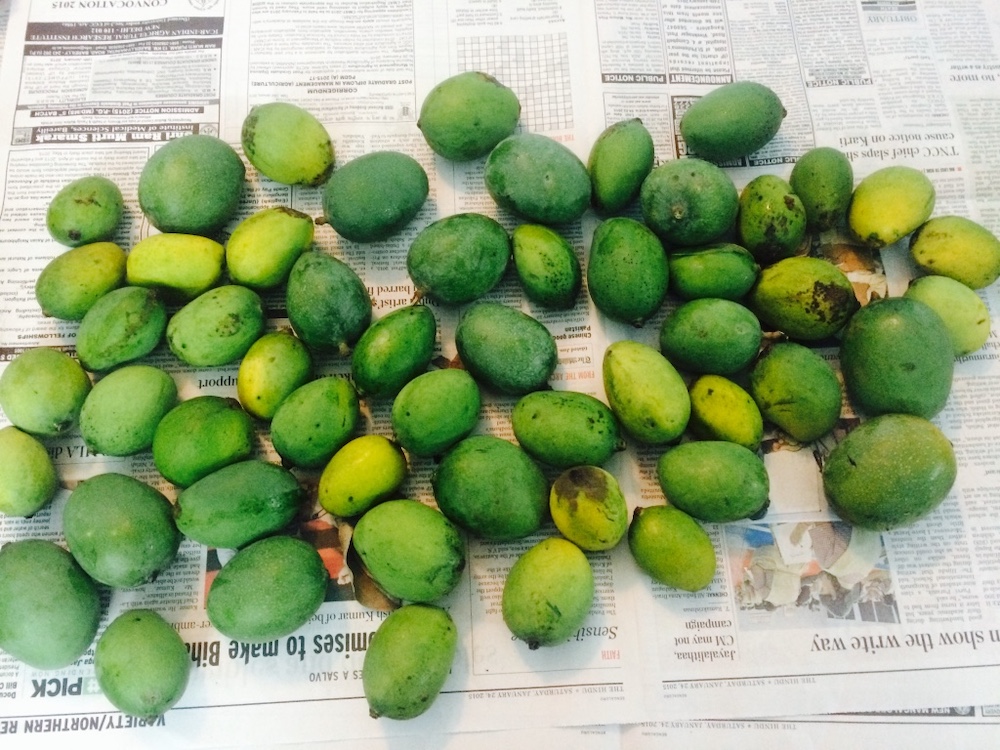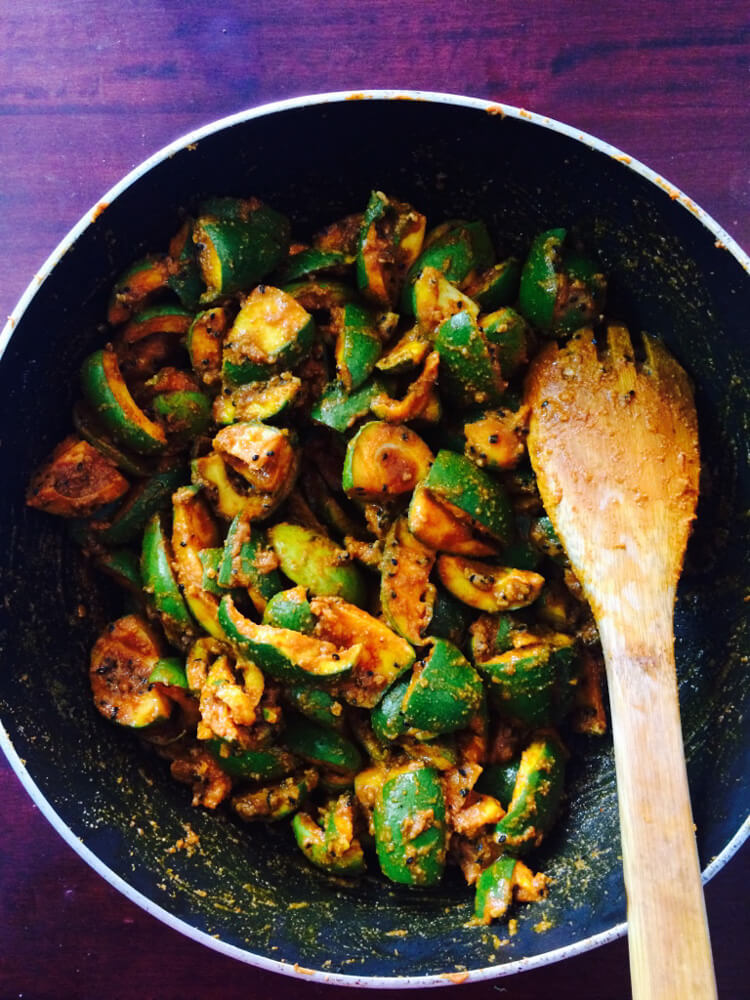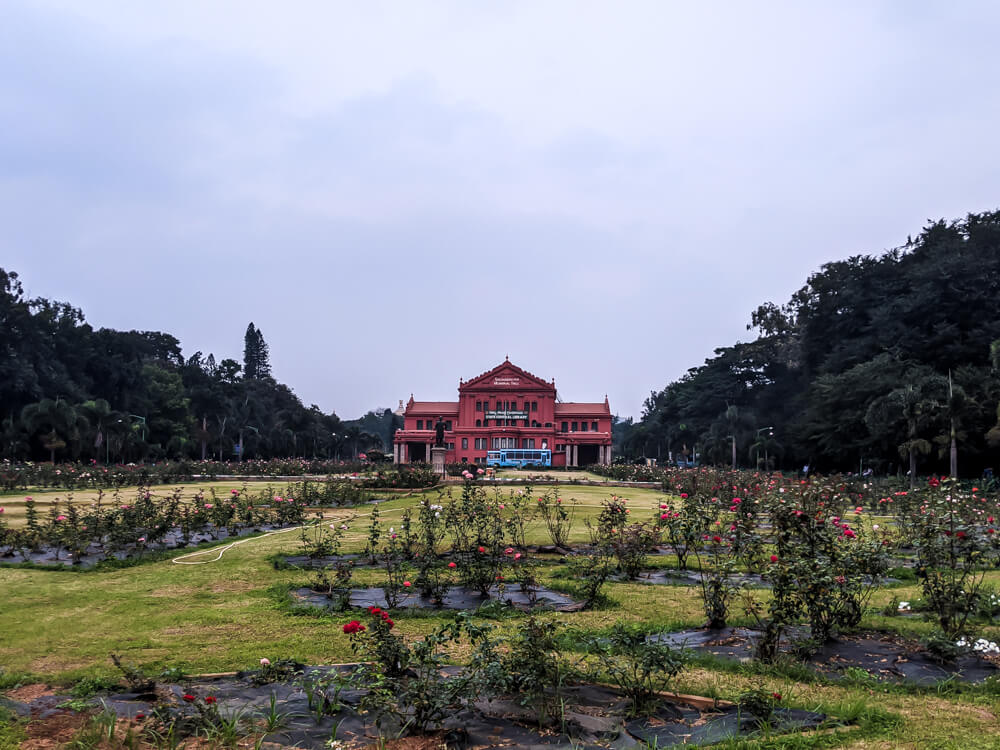 Where to Stay in Bangalore to visit the Cubbon Park?
I stayed at Casa Cottage for three weeks and recommend the place. If you are a budget traveler, the hotel could be a bit expensive. But the staff and the owner of the place are really nice. The breakfast was disappointing though as the hotel has stopped making hot breakfast during  the pandemic time. They still serve homemade eggs and bring dosa and idli from outside. So for a day or two the breakfast would seem fine, but as we stayed for three weeks we were pretty done with the same spread. (You have to read this Karnataka dosa article if you are visiting the state.)
Rooms are spacious and are cleaned almost every day. The kitchen can be used by the guests. And this old British home that now serves as the Bnb is surrounded by a green garden filled with avocado trees. Enjoy.
Look at other Bangalore hotels here or check out Casa Cottage.
Or go to my guide to browse through my most recommended places to stay in Bangalore (coming up soon). And this guide to finding hotels and guesthouses in India will help too.
Would you love to visit Bengaluru Cubbon Park? Is it the mangoes? Tell me in the comments.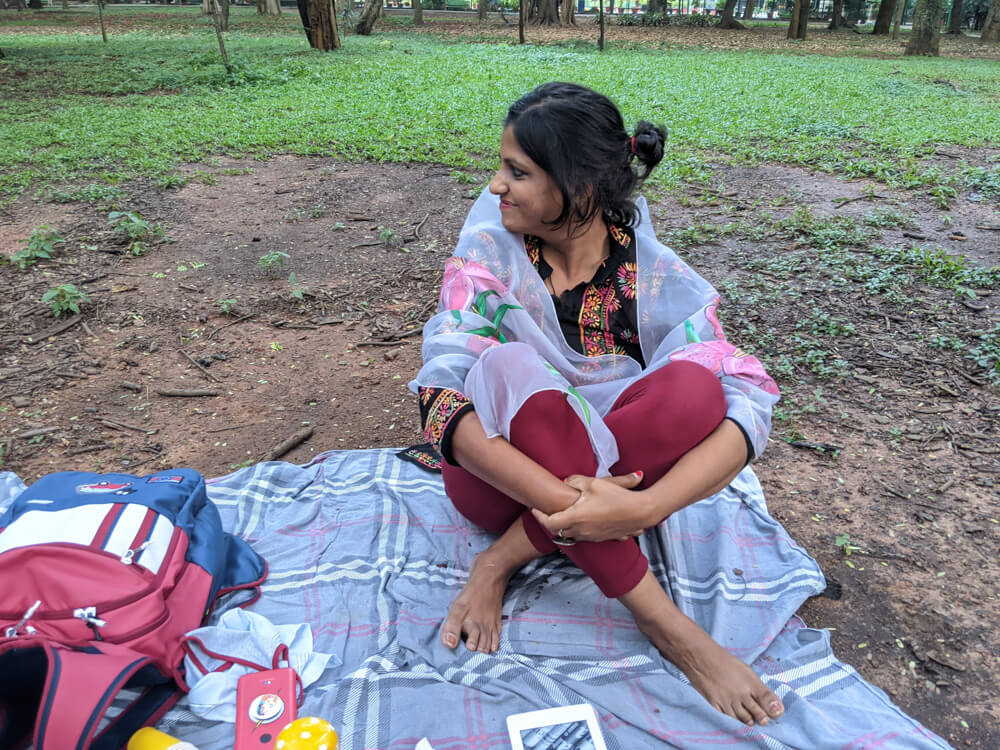 *****
Donate to keep me going!
For five years, I've read and wrote day and night to keep On My Canvas - my sustenance and life's focal point - going. Everything here and my weekly newsletter "Looking Inwards" is free. No ads. No sponsorships. If you've had some good moments reading my posts or felt hopeful on a lonely day, please consider making a one-time or a consistent donation. I'll really appreciate it (You can cancel anytime).
*****
Want similar inspiration and ideas in your inbox? Subscribe to my free weekly newsletter "Looking Inwards"!