Indian Lodging Tips: How to find good, affordable, and clean guest houses in India
Finding good guest houses in India could be as chance-based as cracking a lottery. Amongst the many variables that might work for against you finding a comfortable Indian lodging are location, pricing, facilities, cleanliness, linen and towels, water taps, mosquitoes, cockroaches, (noisy) fans, parking, host and the service staff, their culture, relationship between the guests, and the geography.
In this guide to finding good accommodations in India, I also take you through the history of travel and lodging in India. Because without knowing the evolution of travel in India we can't understand the current Indian hospitality industry.
Pro Tip: Also read my guide to finding Indian homestays. The article has in-depth information on Indian homestay culture.
What does this guide to Indian Guest houses contain – Table of Content
Dharamshalas(Traveler's Inns) and My Childhood in a Small Town of Uttar Pradesh
I had (almost) never stayed in a hotel until I was 15. The rare occasion of a cousin's wedding is the only time we put up in a hotel room(booked by the cousin's parents). But those rooms felt less like hotel rooms and more like family homes. Those rooms used to be in simple hotels or community homes. And instead of unknown travelers, our extended families spilled out of them. As a little girl I scampered from room to room to find my mother and hot samosas.
On a rare two-day summer trip with parents and siblings, I stayed in dharamshalas in Haridwar and Rishikesh(the only cities my parents visited). Dharamshalas – traveler's inn – are simple, community-run stays for religious travelers(mainly). [Wikipedia definition of dharamshala defines it to be a shelter or rest house for spiritual pilgrims.]
As Haridwar and the places we visited were pious destinations, we could always find a big dharamshala with large rooms, long corridors, and shared/private bathrooms. Most dharamshalas had fans to survive the summer.
These shalaas were constructed by and run on donations of religious and affluent businessmen. Back then, almost 25 years ago, we would pay anything from fifty rupees(< $1) to a couple of hundred rupees, at most, and sometimes nothing, for a room.
Now I can't find those dharamshalas online. I only see these Jain dharamshalas that can be booked online. But to my surprise, these dharamshalas aren't any cheaper than hotels in India.
Dharamshalas are, sadly, a thing of the past. When Indian families want to send someone away, they say, "ey, this is my home, not a dharamshala. You sleep here, eat here, for free. Off you go. Leave." And so on.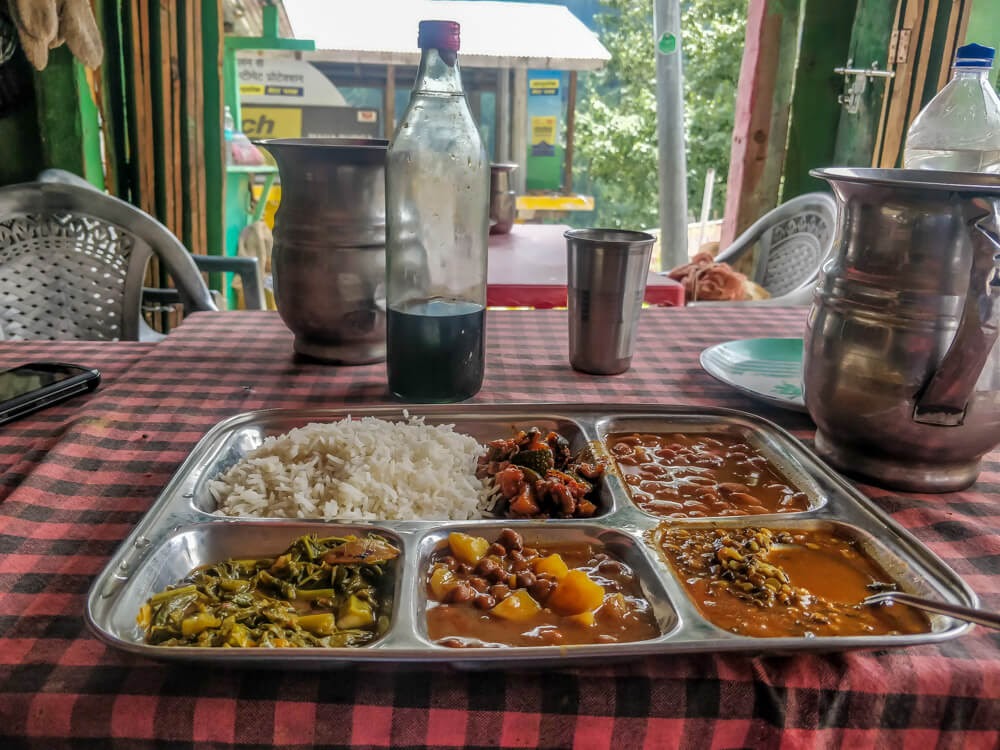 The History of Travel and Accommodation in India
Dharamshalas were, once, our go-to affordable hotel. India didn't have that many hotels back then. And hotels weren't even considered the best places, at least in our small town and middle-class family of UP. It wasn't a matter of reputation to stay in a hotel. In the then economy, a family was respected more for working hard and sending its children to school, which is what my parents did.
I'm sure hotels had a better reputation in other parts of India, especially in big cities.
The lack of hotels and the disinterest of people to stay in them can be blamed on colonialism.
During the British rule, only the aristocracy and the British officers traveled. They could stay at travelers' guesthouses, circuit homes, and five-star hotels where civilians either weren't allowed or couldn't afford to go.
There was also the common Indian man traveling to trade or find ayurvedic medicines. People would walk from village to village. They used bullock and horse carts. Travelers would stay in a dharamshala or in an acquaintance's or relative's house. There were some guesthouses, too. Musafirs(travelers) shout outs in the street to find a place for the night were also answered by the kind home dwellers.
That was when the phrase "Atithi Devo Bhava" — guest is god — started getting used more(the phrase is from the Taittiriya Upanishad). The idea was to not let the traveler alone on the streets at night without food. Wild animals roamed around and, in some places, even dacoits posed a threat.
But that was about it.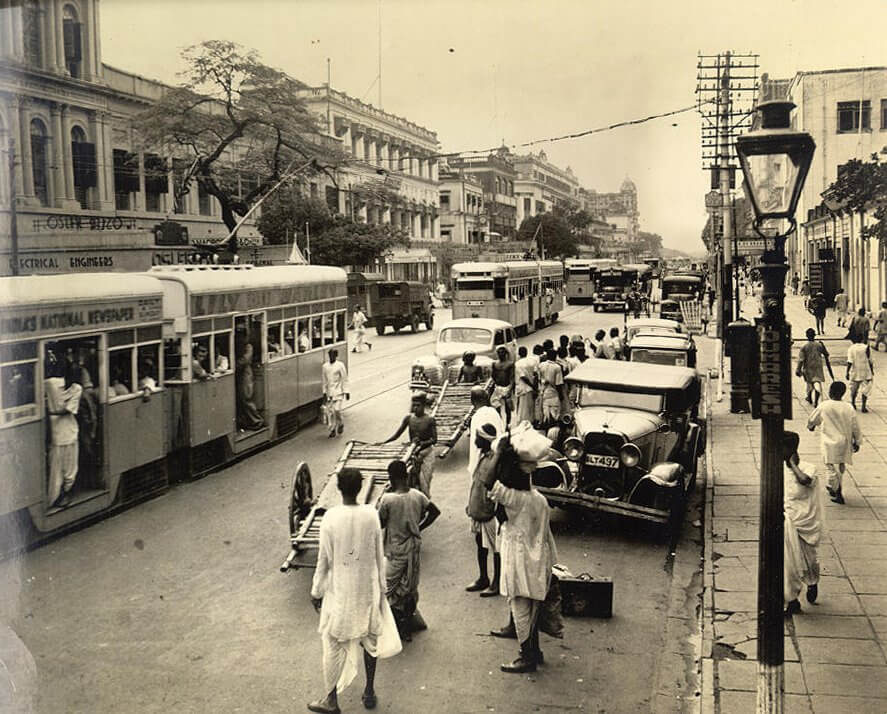 India became independent in 1947, and we got the Ministry of Tourism in 1967. Indian accommodations were still lavish and expensive. Only wealthy families could afford the money and time to travel.
Firms were given permission to franchise 3-star and 4-star hotels in India only in 1987(my birth year). And that is when the travel scenario must have started shifting in favor of the middle class.
Travel advanced from foot and bullock cart journeys. We used cars, buses, and trains to commute. Next to the grand hotels, dharamshalas, and homestays, sprang up the affordable accommodations in India. They catered to the foreign backpackers and Indians who dared to travel on a budget.
Families started taking vacations. Bohemian individuals traveled. Couples honeymooned in Mussoorie, Coorg, and Munnar. Hotels, motels, and travelers' inn sprouted in the country. We had money to pay and time to go.
Indian travel has changed dramatically in the last twenty years. Until 2000, 70 percent of the revenue of major hotels came from foreign tourists. Now we see a lot more domestic travelers(1.8 billion domestic tourist visits in 2018).
Despite the rising number of Indian travelers, the domestic traveler faces many prejudices in India daily. In the rickety tempo traveler that took us to Spiti Valley, one Canadian lady said to me Indians love big guesthouses and sparkly hotels while foreigners adore small homestays. Instead of explaining the history, I ignored her comment. I was busy stuffing myself with crunchy cheese grilled sandwiches while that woman waited on the side of the ice-laden road. She couldn't eat anything on a bumpy ride.
Our views are pretty restricted to what we see now without taking the time to peek into the past. In ancient India, travel was limited to commuting for trade, migrating for better resources, going to see a faraway relative, religious travel, and traveling to gain knowledge and learning. Performing artists also journeyed near and far. Until recently, travel only meant visiting a relative or taking a family vacation for us Indians. In the summer holidays, most of my schoolmates and I visited an aunt's place and stayed there for a few weeks. That was holiday for us.
(Most) Indians have been busy recuperating from the rule and have had no time to think about leisure. Even the last generation — my parents — were only thinking of survival. They didn't have time to relax and take month-long vacations. So whenever Indians went out — which was only for a limited number of days in a year — they would choose the most comfortable modes of travel — because that was their time to relax and indulge. The stay was of a short duration. To live and enjoy comfortably, they chose big hotels over small backpacking hostels and homestays.
"We toil all year-long. Why do we toil even now on our vacation?" They would say.
Of course, I'm not talking about everyone. We still had rich and artistic Indian families who explored travel as a way to life. They traveled for longer periods. But such families and travelers were still few in number.
As survival isn't the primary instinct anymore(at least not for everyone), Indians now indulge in traveling as a way to learn and live. Not everyone wants to travel to only unwind. Some travel to challenge themselves. In every case, today we see more domestic travelers and a swarm of budget hotels.
In the transition from extravagant properties to affordable accommodations, we lost a lot of things. Less money somehow implies less of everything in India. It implies less cleanliness, less use of Harpic in toilets, less frequency of washing and changing linen and towels, less dusting, less milk in breakfast tea, less chickpea in the chickpea curry. Sometimes, less privacy and less respect too.
If you book a 1000 rupees room in Bangalore, expect less of everything. The host would be doing you a favor by giving you a roof over your head. What? Sorry, can't hear you. Say a bit loudly. What did you say? You paid a 1000 rupees? That's not nothing? Nobody is here to listen. I'm sorry, my friend.
Most Indians don't believe in Atithi Devo Bhava these days. Now guests are perceived as who they are: living organisms who eat, sleep, burp, fart, and breathe more often than the host or the server would like.
In India cheap hotels aren't a judgment on your pocket, they are a judgment on you. After all, we are a classist society. An affordable accommodation may not only come with substandard facilities but with compromised cleaning. Other basic necessities might be missing out, too.
Of course, not all property owners reduce the basic standards and not all people would judge you. But I can't count how many times a guesthouse owner or a friend or a fellow traveler has assessed a traveler as low-quality or poor because he or she chose a budget property. Many acquaintances tell me they won't book a budget room because they aren't in a bad situation. An aunty mocked me because I live in homestays.
Most Indians always talk about getting the most comfortable, luxurious, and family stay. As travel is still mostly family-oriented in India, we book large and comfortable places to give our families the best time.
Good means costly and costly means good(for us). Maybe because the quality goes really down when we go budget in India.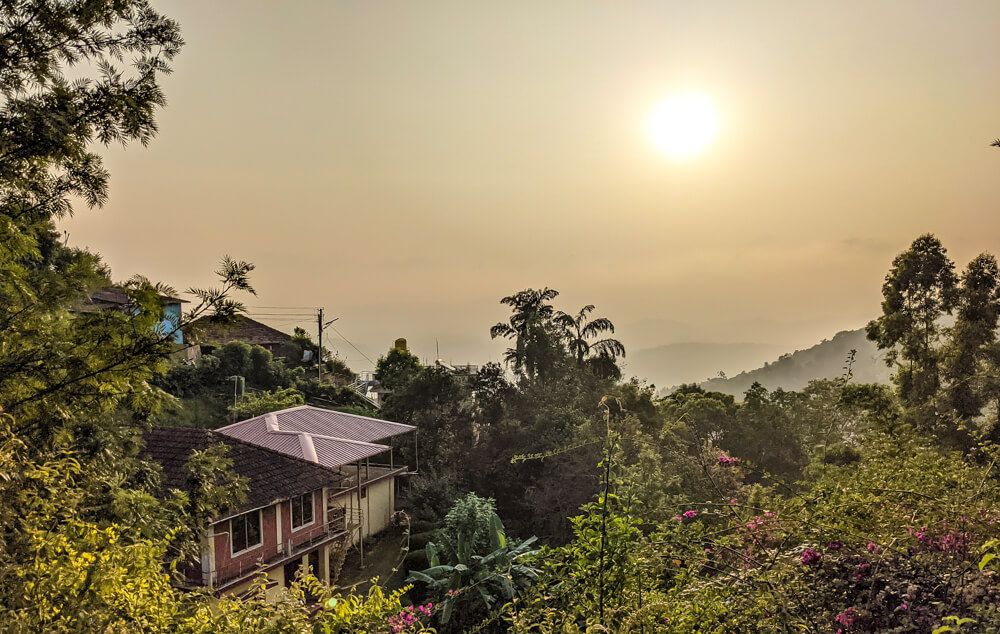 Why are the basic standards compromised in budget Indian guest houses and hotels in India?
The Indian hospitality industry is mostly uneducated and untrained. We don't have enough hospitality and hotel schools and the ones we have aren't the best institutions. Remember we only got the tourism ministry in 1967?
Most of the staff in the service industry — except in places like the Hyatt or Taj or Radisson — haven't been to college. Those workers didn't get any other job and ended up as waiters, drivers, guards, cleaning staff, and other positions in hotels. Don't forget we are a developing country. And some of these people would slowly rise to become hotel managers and receptionists, too.
While some people make use of the opportunity and train themselves on the job, a lot of them just make it through. We are all lazy, right. And to top human inadequacies, the service industry in India is paid peanuts. So they just do the job to get through.
In the mix of the hospitality staff, you will find both kind and opportunistic people.
One hotel manager in Amritsar warned me against paying 500 rupees for the room the owner offered me for half a day. He said there was no air conditioning there(I was literally sick from the heat), and the price wasn't justified. The manager failed to provide a few things on time, but he was, at least, kind.
You will get as good service as the education and experience of the serving staff.
When I asked for parking at a Treebo hotel in Bangalore recently, one member of the staff told me to park on the street. Later I saw they had dedicated parking for guests. I told him we would park in the parking. When I asked him why didn't he tell us about the shaded and secure parking, he had nothing to say.
Another fun fact — The owners and the staff of Indian guest houses don't want to offer their entire services to the guest. They perceive fellow Indians as opportunity grabbers and trouble makers and whatnot.
This idea isn't entirely wrong. I've seen children breaking hotel kettles and cups and pulling out the curtains. The adult guests shout at the staff. Families spill food over crisp white linen. And on many instances the staff told me the previous guests had stolen bathrobes and blankets and even mosquito repellant machines.
So the present notion amongst the hospitality staff is — hey, if you give two, they will ask for four. Better not to give.
The idea is not to make your guest feel comfortable and provide her with your best options, but to let her stay pass by with minimal efforts and spend on your end. Of course, I'm not talking about all guesthouses. And foreigners wouldn't face this judgment.
While some hotel and homestay owners completely depend on their property to support their families, some just run it on the side with another great business or income to support them. They do want the money but they don't always have the time to maintain the property and provide the promised amenities.
I'm presently going through a horrible Airbnb experience(or shall I say a series of them).
I'm writing this article in the staircase of a remote Bangalore house that is run as an Airbnb(linked is the place). The house can be booked instantly. When we checked in, the room didn't have the basic things required. And in the bathroom, there was no toilet paper, the light didn't work, the geyser and shower didn't work, and the toilet was dirty and yellow. The old grandparents downstairs – who run the Airbnb – told me to clean the toilet. When I called the host — who doesn't live here but manage the bookings— and told him about these things, he said he can't check the property before every booking. He refused to come and help us. He asked us to use the bucket to shower and said the geyser was designed by his grandfather and couldn't be fixed.
Hours later, the host booked a cleaner and gave him my number to coordinate without asking me(later a plumber and an electrician, too). And then the grandparents reproached us for disturbing their grandson during his work hours.
The hosts don't have the time to maintain the property. The guests have to buy toilet paper and light and spend hours getting their house fixed. (I faced this issue in Germany, too.)
You will have this disappointing experience mostly in Indian Airbnbs where hosts have other businesses, too. The hotels on Booking.com may not offer all they can but have dedicated staff to maintain the place.
We were discussing how guests are anything but not gods in India. Of course, there are exceptions and I know a lot of people would condemn my words in favor of those exceptions. And India is not unique. I have faced some of the problems I mentioned above abroad as well.
My job here is to be honest with you. So I should also tell you about the kind Rajasthani lady who offered to sleep next to me in a desert camp to save me from nightmares, the Coorgi aunty who gifted us big ripe avocados from her coffee estate, and a Goan man who was upset I didn't wake him up at night when I fell sick from a heatstroke. (Do go through my article on Coorg guest houses if you are planning a trip there.)
Let us go through various India lodging options.
What are the various kinds of India lodgings? Where to stay in India?
India is full of ashrams, guesthouses, hostels, hotels, resorts, homestays, eco-accommodations, houseboats, apartments, paying guests, and independent houses available for rent and booking.
Let us look at each of the accommodations in more detail.
Ashrams in India
Ashrams are ubiquitous in India. I haven't stayed at one, yet.
Ashram means a hermitage, a place for saints. A good ashram should offer simple living. The ashram may have a theme (dependent on the ashram guru) to be followed. You might have to pay or donate or do volunteer work to stay in a ashram. Food cooked in community kitchens would be provided. Also, you would have to clean your and common space yourself — one of the main aspects of ashram living is self-independence. Serve yourself and others. Beautiful mantra, right?
In the past, ashrams were popular even amongst Indians. In fact, a lot of children studied in gurukul schools — ashrams where children lived far from their parents to learn with other students and sages. But with time the influence of ashrams reduced amongst Indians. The fact that a lot of ashram gurus were discovered as frauds who molested children and adults alike could have something to do with the steady decline in Indians who trusted in ashrams. Please read this and this and this and this.
Ashram living wasn't a novelty or reliable thing anymore.
Now ashrams entice foreigners more than Indians. Kerala, Karnataka, Maharashtra, Uttarakhand are filled with Ashrams. Ashrams could be yoga and meditation based or Ayurveda driven. Which so ever ashram you choose remember to read reviews about it and the guru who founded it.
In place of an ashram, I would suggest you take a Vipassana meditation course of ten days. The course also has an ashram-like simple living. You meditate there all-day long for ten days. Find the courses here. When you get more accustomed to India, then find reliable ashrams.
Apartments and Independent Houses in India
Apartments are available on Airbnb and Booking. You are more likely to get apartments in tier-1 and tier-2 cities. Independent houses can be found in all kinds of destinations.
I have had horrible experiences with apartments(and other places) booked through Airbnb. I've spoken about the Airbnb experiences here on my travel resource page in detail. Booking.com has worked the best for me so far.
While reserving an apartment or an independent house, do check if the space is to be shared with another guest or a caretaker. In most Airbnb listings, the host mentions a caretaker or a common living area. Sometimes the caretaker stays inside the apartment, and the common living area is accessible on certain criteria(for example the host doesn't expect the guest to stay at home during the day).
You may have to coordinate with the caretaker or the host if you want frequent cleaning. Do negotiate the price if you are staying long-term.
Search for an apartment or a hotel in any location you like using Booking.
Hostels in India
As I said before and as you might know, Indian culture wasn't high on traveling.
In the ancient past, Indians traveled both domestically and internationally for trade. But the British rule screwed us so bad we stopped thinking about leaving our loved ones behind and worked near our homes.
Indian culture is a long way to getting used to leisure traveling. Even all of us travel writers lie to our parents about traveling. When I go to a new destination I tell my parents I have a writing project. Sometimes I do have writing work at the location, and most of the time I write about the place when I've visited it. But I don't explain all the caveats to my parents else they would worry about my safety and well-being. Indian parents are sure everyone out there wants to abduct their children.
As Indians, didn't travel that much, especially solo, we never had hostels. And the Indians who take vacations can pay well for their trips so they book expensive hotels.
Hostels started coming up when the foreign backpackers coming to India(10 million in 2019) demanded affordable accommodations.
Most of the foreigners — you guys reading this piece — travel for long-term and save up for years to travel. India is one hotspot where people prefer to stay for months on end. There is so much to see. So they ask the hosts and owners to provide cheap accommodations and bargain often.
I have heard the story of both the sides. Many foreign visitors have told me Indian stays can get really expensive. And if they go for low pricing, the quality of cleanliness et cetera deteriorates way below the price. You know the cobwebs in the salt packet and stained linen type of situation. So they either go for something a bit more expensive or try to crash at an Indian friend's place whom they met on the travel or risk a cheap place knowing the consequences.
The travel hotels have told me the firangis don't have any money madam. They are bhukkad(someone who doesn't have anything to eat). Using these exact words. I've, yes, gaped at the comments and the sudden change of the hosts' countenance.
Most Indians sprawl their art over footpaths hoping they would sell to foreigners. Every white person means money for them. But when they find out foreign backpackers don't buy so much, they withdraw in despair.
Whose fault? No ones.
Hostels opened up to provide affordable dorm beds to foreign travelers who travel on a strict budget. They were joined by the Indian with a limited pocket, a student, an average job employee, or a backpacker who quit his job to travel. (Or there is this Indian girl who talks a lot about her growing up and traveling solo experience in India.)
You can't get hostels in all Indian cities yet but now we have a lot of hostels in India. You are guaranteed to find hostels in popular tourist spots like Pushkar, Jaisalmer, Manali, Hampi, Goa, Hyderabad, Kolkata. Hostels are functional in the big cities such as Ahmedabad, Bangalore, Chennai, Delhi, et cetera too.
Not all hostels would be trustworthy. You may not want to get into a mixed dorm room in a secluded hostel in any small village or city or town.
And here is one rare observation: hostels of big cities or the hub of tourism sometimes can be more troublesome than smaller and quieter areas. My hostel stay in Kasol was disappointing as a guy who lived in another room kept coming to mine — my bed was in between two floors and formed the pathway to upstairs. He kept asking me to drink beer with him while I was already almost asleep.
Kasol is a travel hub for uninitiated travelers. I've had a nice experience in a hostel in Jaisalmer in an individual room. In a hostel dorm room in Dharamkot in Himachal Pradesh, strangers came in the middle of the night to use our bathroom. They weren't quiet and when they left, they left the door of our room ajar. Then the next morning the hostel owner told me those people were travel influencers of India, but not travelers. I rest my case(both on influencer marketing and hostels in India).
India has a long way to go in the hostel experience. The hosts need to create a resilient hostel system and the guests need to behave better.
Zostel is a chain of colorful and funky hostels that you can trust — I haven't stayed there yet but friends I trust have. Zostels are now in many cities and towns and are known to provide great experiences and comfortable accommodations.
Most hostels have dorm rooms, shared kitchens, private or shared bathrooms, common areas, and internet.
Try booking hostels at HostelWorld, Hostelbookers, or check Zostel directly.
Or find some of the best hostels in India on Booking.
Hotels in India
Hotels have survived for the longest in India. We have small, mid-range, budget, three-star, four-star, and five-star — all kinds of hotels — for decades now.
In some small cities, hotels could be shady. Even the budget or low-priced hotels in big cities and metropolitan might not feel safe or clean. Also, make sure the hotels accommodate unmarried couples(more on that in the tips below).
My best way to find hotels is on Google Maps and Booking. I put the right filters and use Booking or I zoom into Google Maps and find the place I like. Google reviews are often pretty reliable(so please leave one, especially if the place wasn't nice).
Most hotels have standard check-in and check-out times. Again, affordable hotels in big cities would be in pathetic locations, not superbly clean, and provide dismal service. But a mid-range place could be good enough in tier-2 and tier-3 cities.
My most common filters to find hotels on Booking — budget per night, free wifi, available properties, at least rated 7+, free cancellation, no prepayment, and an attached balcony.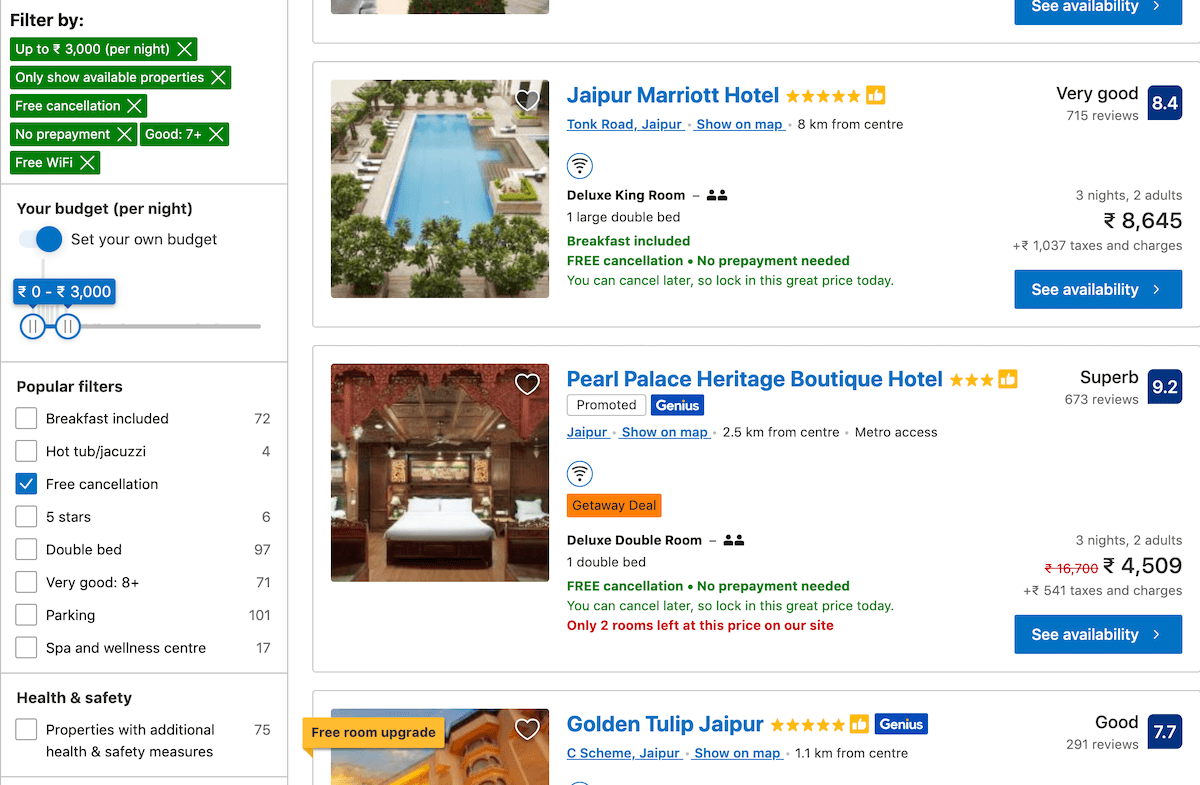 Notice the filters here in the screenshot.
Bonus tip: Filter the kind of property you prefer on the left-hand bar of the Booking.com screen.
Searching for guesthouses in India on Google Maps. Filter the price, select the guest rating, and click on search this area.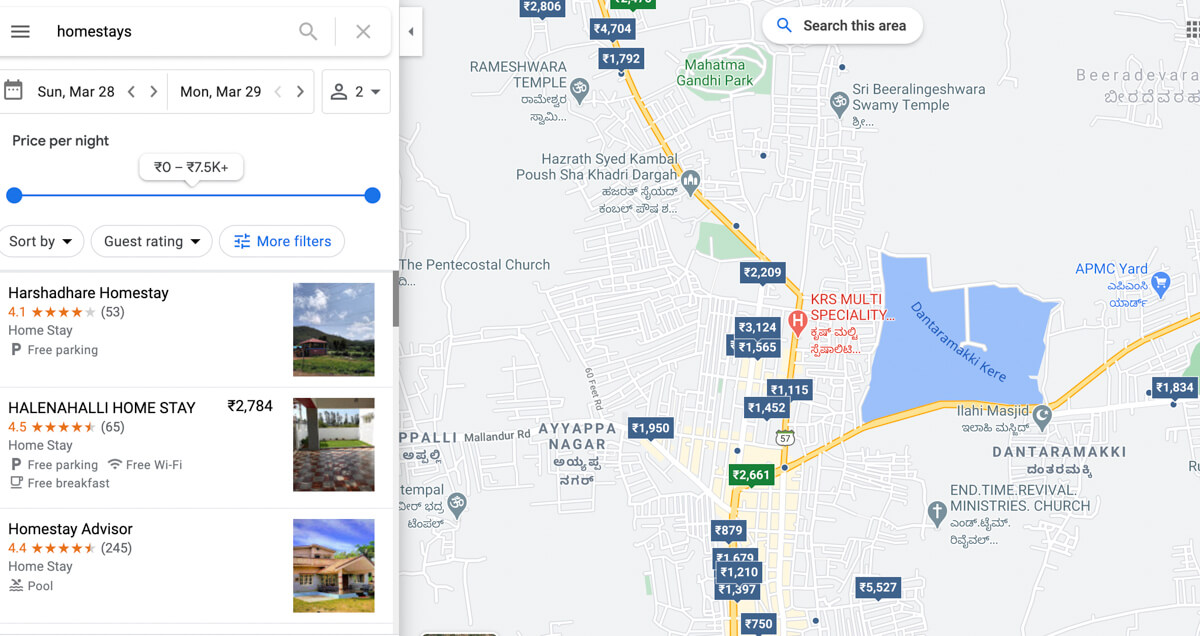 Hotels are mostly impersonal. The mood of the staff generally determines the experience not the standard rules and the tariff of the hotel (unless you are going to stay at an extremely luxurious place like a haweli or a palace). Yes we have those, too. These are bets you will have to make.
I only book hotels when I don't find a good homestay. And I also stay in hotels if I'm looking for a private and a non-interactive stay.
Click here to reserve hotels in India.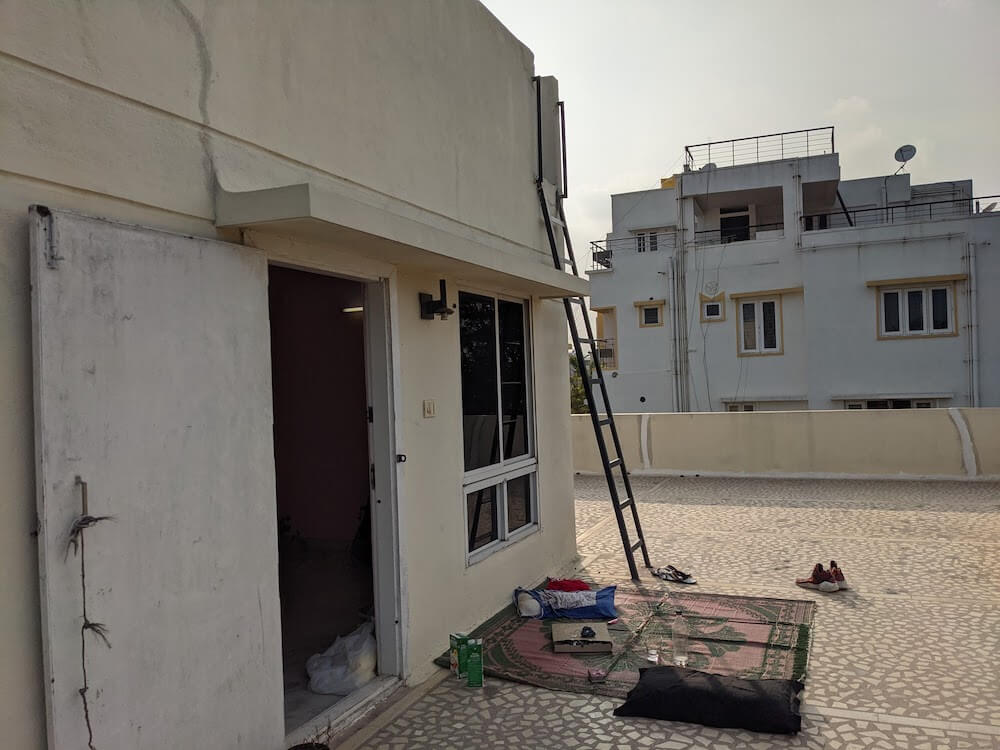 Homestays in India
Homestays are family-run accommodations. The family (mostly) provides food, has local recommendations, and gives a chance to immerse in their culture. Travelers who love to know a place from up-close should choose homestays over impersonal hotels.
I've written about homestays in India in detail in the linked guide. Do read for an extensive narrative on my experiences in Indian homestays and for practical tips on the pricing of home stays in India.
Here's a summary of the article on Indian homestays.
Homestays are now ubiquitous in India. Families operate homestays for the extra income. Some families also host guests because they like to meet new people.
I've stayed in homestays from Spiti Valley in the North to Varkala down south of India. Although I prefer homestays over everything else, I've both loved and hated homestays in India and outside. While some homestays have been superbly comfortable and nice, I've been subjected to rude behavior in many Indian homestays. Sometimes an odd uncle or babaji could turn out to be creepy, too.
In a homestay in Kalga village of Himachal, the homestay mother suggested me to lock my room while I left for a hike. When I came back after two days, she grumbled that her husband was angry because she had let me lock the room. They had lost weekend customers. I was baffled. This was neither my suggestion nor my problem. I didn't know what to say so I stayed quiet.
The personal boundaries in Indian homestays are hazy, even invisible at times. On a lot of occasions my (over)friendliness and offer to help has made the hosts feel they could say whatever they liked and could relax on the facilities or the cleaning standards they had promised.
Most homestays don't do or say confusing things to foreign travelers. Because you guys are already confused(it's a joke, guys.) And I wish the domestic travelers good luck(joking, again).
In the Airbnb-cum-homestay I talked about earlier, I was affectionate with the grandma since the beginning. They didn't know we were arriving(miss communication on their end), so we checked-in in an unprepared room.
I told the grandparents they didn't need to worry about anything and we will manage. I was even happy that they spoke Punjabi and told the grandma who then said I could practice with her. When we went out, I asked if she needed anything and bought back tomatoes at her request.
We didn't complain about anything but helped them set up the place. We informed her about the dirty toilet, the broken bathroom light, the moth in the fridge, and the hairy soap she had given us to clean utensils(the soap and scrub had been used to clean the toilet at some point).
But after that initial hour or two of camaraderie, things started to change. She asked me to clean the toilet and the fridge myself. She told me to stop talking about the light and forgot about it. For the hairy soap, she just replaced it. She groaned when we couldn't lock her main gate. She later threw our clothes out of the washing machine on a dirty slab because she wanted to cover the washing machine. It hadn't even been half an hour since the machine stopped.
And this isn't all.
My response? When I realized I can't do anything about the situation, I retracted. I stopped talking to the grandma and didn't ask for anything. I was being friendly and kind so far. But now with the newly introduced distance, she thought before speaking with me. She also created a little distance.
Do take some time before you immerse with the family. Open up slowly depending on how they respond to your questions and gestures. You don't have to put yourself completely out there without knowing what would come back in your direction. These are lessons learned from my over-friendliness(and they work in general life, too). You can also read how I have screwed up as a novice backpacker and read my backpacking tips.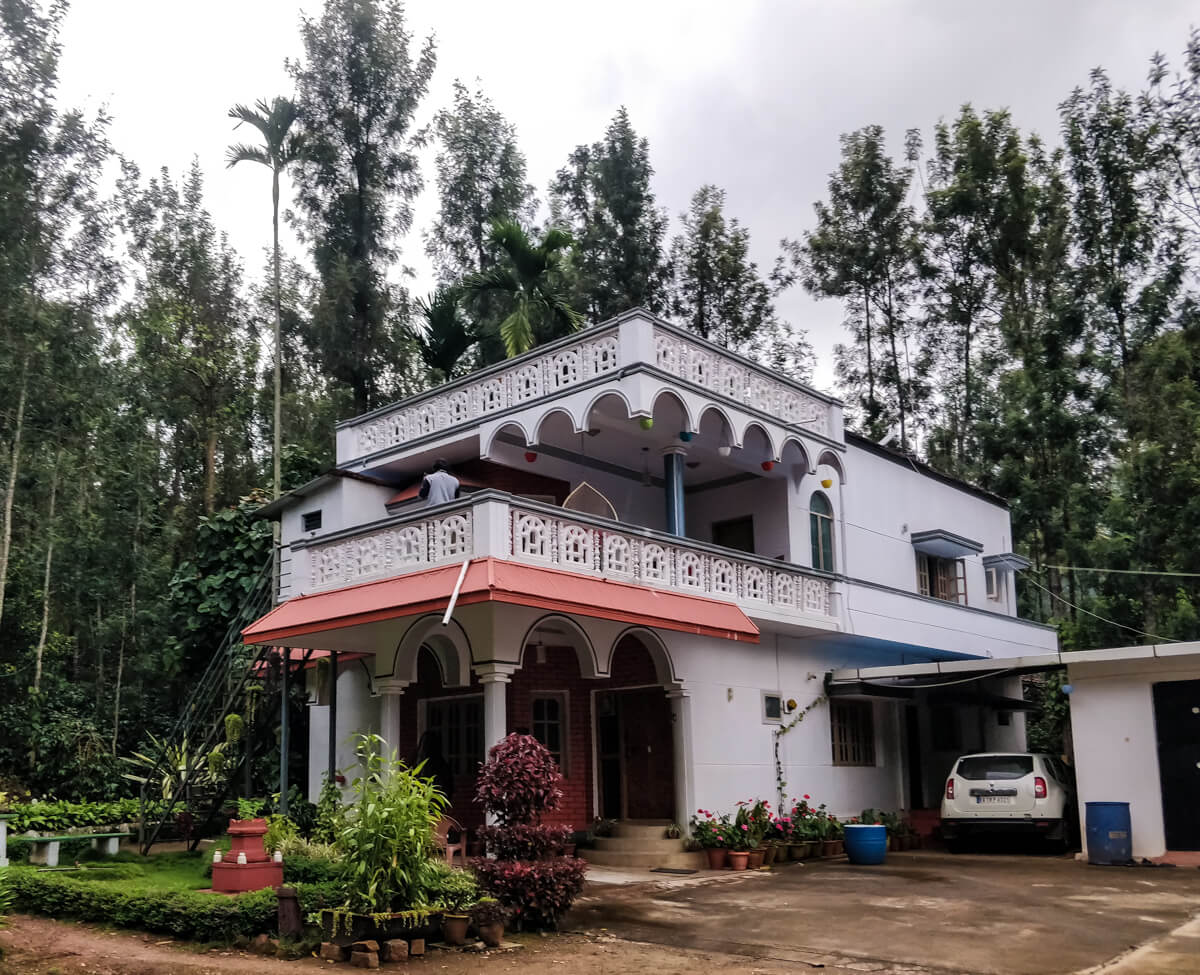 Common things I've found in Indian homestays despite the pricing are
the place might not be clean
the owner may not have changed the linen and blankets after the last guest
the shower might not work
geyser might not work
late arrival et cetera could be frowned upon
toilets might be dirty(often)
old, used, and hairy bar of soap might be offered(ugh)
personal questions would be asked
food might be made as per the spice taste of the owner(mostly the patriarch) and not the guest
rarely, but possibly, a family member might be fit into the same room as yours
different instructions from the father and the mother in the family
Of course, some families are loving and run beautiful and comfortable homestays. I'm only saying please don't imagine all homestays of India to be palaces and homeowners to be gods who would treat you like a god as well(atithi devo bhava). Give and take is common in our homestays.
Having said this, you will sometimes find yourself in the middle of love and kindness. Unasked pakora plates might come your way. People will open the gates for you. Someone might offer to carry your backpack. Pickup and drop would be arranged without you even asking. Cooking lessons might come free. Aunties would wrap you in their ancestral saris. Pickles would be offered.
Homestays are not just any accommodation, they are experiences. You would have to be open to sharing a space with another family. You would have to push your personal boundaries a bit. And you may have to eat what the family eats. But you would also get a chance to feel like a part of an Indian family, a family that would be completely different from your own.
I've figured if the hosts are nice, you would love everything and would want more.
Choose the homestay wisely. You would be surprised to find out how many homestays now run commercially as hotels and feel as much impersonal. You are just another guest and the homestay family doesn't have the time to give you the personal experience you choose the homestay for.
I stayed for a month in a homestay in Bhagsu village of Dharamshala. The green homestay had so many travelers every year the family didn't want to put any effort into individual guests. Even after a substantial tariff, every water refill from the filter costs 5-10 rupees. But the people who ran the restaurant on the property were kind and took care of us more than the homestay family.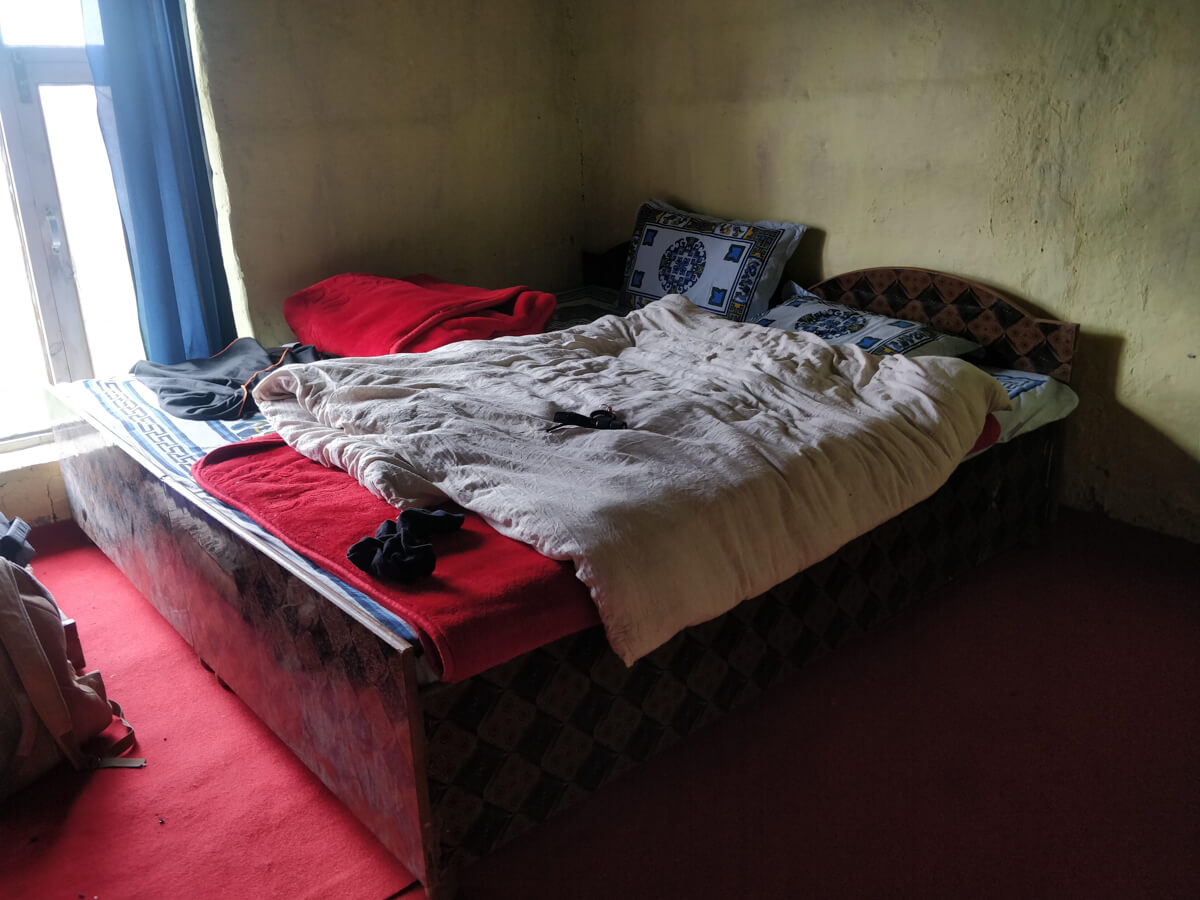 Look for Indian homestays on the attached page of booking.com. On Booking some homestays are named as homestays but some come as guest houses or bed and breakfasts. You would have to read through the descriptions.
You can also find homestays on HomestaysofIndia.com and Google maps. Find a well-rated homestay on Google Maps and call individually. Make sure to ask the specifics you care about and negotiate if you are staying for the long term.
Bonus tip: use the left bar filter to select only homestays for your destination. But make sure to check the list properly as not every shortlisted property would be a homestay. Standard categorization error.
Resorts in India
Resorts are present in abundance in India. They cater to rich travelers, outdoor events, and corporate outings. Don't expect the resorts to give you a personalized experience.
Resorts cost five-six times the usual accommodation price. Swimming pools, large rooms, breakfast, bar, outdoor bathrooms, bathtubs, service, pick-up and drop, etc are all common in resorts.
I've stayed at some of the best jungle resorts run by the Karnataka government(the Kali wildlife sanctuary and the Bhadra wildlife jungle lodges).
Even though these are expensive jungle resorts, the service wasn't the best. At Bhadra wildlife lodge, the kitchen staff wanted to finish their job quickly. The lunch timing was between 1-3 pm. But one of the staff members got brash as soon as the buffet was ready. He wanted us to eat immediately so that the staff could continue with their life.
And these lodges have such a tight deadline for the whole day you can hardly enjoy the place and sit in the sun. Why do they serve four meals a day? Because they charge you a lot. So to justify six thousand rupees per person per day, they pack your day with activities and your stomach with heavy Indian food. Who can tell them this isn't the ideal way? No one. Well, I tried but it didn't work. You can't customize any option.
Another cultural insight: A lot of Indians consider a lavish or grand spread as the signs of good hospitality. They don't think a big buffet would make them lethargic in the sunny afternoon when a wildlife safari is scheduled to leave in ten minutes. Instead, the travelers get impressed by the spread. And if we have paid enough, we even get angry if the place offers a limited palette.
A healthy salad might offend someone. Biryani is must and chapatis and curd and papad and curry and poori and bring it all. And then we want to get the maximum value out of the buffet meal. So if you are new to our food culture, embrace yourself for the impact. Burrp.
(Of course, there are travelers who want to eat as per the time of the day and the occasion and not as per how much they have paid.)
The staff of even an expensive resort might not be perfectly trained in hospitality. Take your chances though. Go here to book resorts in India.
Houseboats in India
Houseboats are a great option to stay in Kerala and Kashmir. (I haven't seen houseboats anywhere else in India). Avoid reserving houseboats from a travel agency or online. Find a houseboat through a local homestay.
I stayed on a houseboat for one night with a gang of Kerala men. My Dutch boyfriend and I were the only ones on the boat. The people on the boat flirted with me on the entire journey and made my friend and me extremely uncomfortable. It was not a guest and host play, it was a men versus one-man play. What an awkward journey! Oh, the staff tried selling so much stuff to us that by the end we found it hard to refuse. We also got the most awkward massages from the massage center the boat crew promoted to us. Those masseuses not only massaged us but washed us with soap and water like we were little children.
I wish we had gone with a nicer houseboat crew.
Spend a day or two in the destination. Get to know a local guide or homestay who could direct you to a trustworthy houseboat. That's your best bet.
Historic Homes and Palaces Turned into Boutique Stays in India
Ancient British homes, Rajputana havelis, traditional rajbaris — you will find them converted into boutique hotels throughout India. The prices would be high, but the stay would be good, culturally indulgent, and special(mostly).
If you can splurge, do try these at least once. If I had to choose, I would pick a traditional rajbari in Kolkata. You can find these unique stays in Delhi, Rajasthan, Bengal, and the South of India, too. They are everywhere.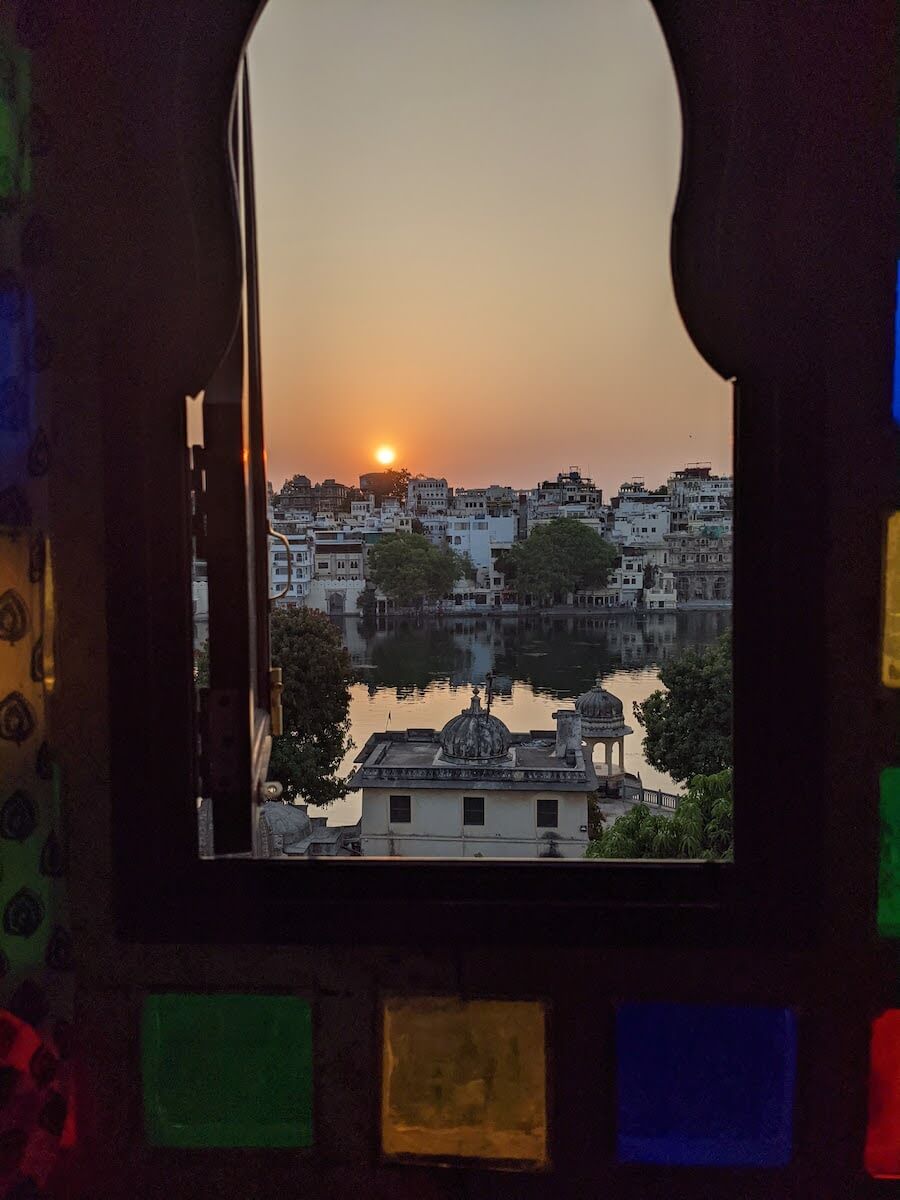 Paying Guests or PGs in India
My rendezvous at home ended when I was 15. I arrived in Kota, Rajasthan to prepare for an entrance examination to an engineering college. I was to stay there for three years as a paying guest. From almost getting molested by a rich grandfather to getting a warm glass of milk by a landlady to running the bell of my homestay only to run away, I had a plethora of experiences at paying guest houses in Kota.
Paying Guests (PGs) still exist in India. If you are traveling for a short duration, you do not need to stay as a paying guest. Mostly the rooms are shared. Private rooms cost more. Some PGs offer an in-house canteen or mess where dismal food is served three times a day. Or you can also get a nearby tiffin center to send you tiffins, aka food boxes. These places hardly have a kitchen. They do have shared television, washing machines, common spaces to sit, et cetera.
Cleaning is also mostly condemned at these stays, and the service people are hardly known to be good. Also, all sorts of people come and stay in the rooms(similar to how working people hostels work around India, and the world). Your next room could have a lover of loud rock music. Or your roommate, if you are unfortunate to have one, might use your razor to shave her. Or she could be an angel who knows how to give the best back massage.
You see luck plays a great role not just in PGs or hostels but also in other short-term accommodations.
So don't consider PGs for a short-term stay. And if I may suggest, please don't consider PGs even for a longer stay. Choose something else.
Eco-accommodations in India
Eco-friendly accommodations are coming up in India but we are far from having a minimal impact of hotels on the environment. Even some of the best places to stay in India insist on buying water bottles. Big resorts leave plastic bottles in the room freely. Everywhere you go request for drinking water result in the server carrying a water bottle and not filter water from the kitchen.
Lights are switched on in abundance. No matter how much I tried I didn't understand where the wasted or surplus food goes.
Even the so called eco stays don't fill their fridges with local-made plastic free bars but are full of Lays packets and chocolates, all wrapped in plastic.
My stay at Saral Shambhala in Pushkar was a truly eco-friendly experience. The owner had built everything from old residuals and waste materials. Khats were being used for cots, books filled the rooms, sunshine poured in through old glasses, and so on. That place doesn't run anymore but it was very close to an ideal responsible and eco-friendly space.
Government Stays in India
Guesthouses, Jungle lodges, hotels at prime locations — the government has it all. But remember the prices are never low, service depends on the staff and the tariff, and things could be a bit conventional sometimes.
I would never stay in a government hotel in Uttar Pradesh(UP) but I'm happy to take one in Karnataka. Why? Because UP is an orthodox state, and I don't want to be amongst traditional staff who might judge me for my free lifestyle.
I also love staying in adventure camps or forests that offer jungle safari. Mostly government has control on these places.
You can book the government stays on individual hotel websites and state tourism websites.
About Treebo and Oyo.
Treebo and Oyo are hotel chains in India that are now ubiquitous. They offer rooms in all price range.
I only choose an Oyo or Treebo when I have nowhere else to go. The overall branding of these chains is bright, reliable, and puts across the places as premium properties. But individually these hotels aren't great. Each hotel in these chains is being run by local people or a group of friends. Service will depend a lot on the staff.
I had a great experience in an Oyo in Koramangala, Bangalore, and I ended up staying there for more than a month. But apart from that wonderful well-equipped Oyo, I've never had a great stay at any of the Oyos or Treebos. These hotel chains also do not allow unmarried couples and mention the same in tiny letters somewhere at the end of the listing. I used to miss that condition often so please be careful while reserving your room.
Though a Treebo or Oyo hotel might promise the world, you might not get all the amenities unless you ask. Most of these hotels don't provide filter water, and you have to purchase plastic bottles. Yeah, forget the environment and responsible travel and all that. Bedsheets and towels are mostly clean. The shower might not work. Electric kettles and tea bags will be provided when you ask.
Breakfast at Oyo and Treebo is questionable, too. They may just give toast or a tea bag tea. The recent Treebo which charged us $25(INR 1900) was offering us cold pooris leftover in the container ignored by previous guests. When we asked for fresh pooris, they obliged to our request. But didn't ask if we needed anything more. Tea was served in small paper cups — yeah the same one which you get on the road for 5-10 rupees. No refills.
These chains don't run the hotels with the motto of a good service. The idea is to be low budget and even lower service.
Only go to Oyo and Treebo if you can't really get anything else in the same budget.
Guesthouses in India
Guesthouses are family-run accommodations or hotels that prefer to call themselves guesthouses.
Find guesthouses in India on Booking here.
Overall.
Rooms, apartments, or suites in metropolitans for a couple would cost at least two thousand rupees($27) per night. Breakfast could be included but don't count on it.
Recently I stayed at Casa Cottage in Bangalore, a boutique stay well known for its hospitality. For breakfast, we only got bread and idli/dosa every day. They served Maza and Slice as juice. There were no fruits in the breakfast. We could get fresh tea and unlimited coffee though. We paid 2200 per day for that room. It included internet, cleaning, toiletries, water, and a shared kitchen. There was no dedicated parking so we parked on the street (except for one night). That being said, the owner and most of the staff were extremely kind and nice.
But for 1000-2000 INR(10-30$), rural or village areas and mountains can offer much more. After Casa Cottage, I stayed at a house in a village in Madikeri. The room there was 800 rupees per night with breakfast. No internet, no cleaning. The uncle first told us the price would be 8000 for ten days. When we went to pay, he tried charging us 900 for one night. Why? Because we liked the place so it must be good and so he should charge more. He said and I quote — even in small places, people charge 1500-2000 rupee per day per person.
We stood our ground and didn't renegotiate and didn't pay more than what we had promised.
This trend of per person per day came along because Indians traveled as a group of colleagues and sometimes even in large families. So if a family of 12 insists on putting themselves in two rooms, you cannot charge them only for two rooms(and included breakfast). You have to account for the spend per person and hence the concept of charging per person.
Property owners don't change their rules even for a couple or a family of two people. Try calling a jungle stay in the hills of South somewhere and you will understand the prices better.
Now I have only given you an idea of how things work in stays in India. Every situation would be different. Please make decisions at your discretion.
Use the right platforms as per your need, add filters, and try to speak with the property. If you can't communicate with the owners, book on Booking.com. Most stays on Booking are without prepayment and remain cancellable for a long time.
Please do leave reviews of the places you stay at, especially if you faced unexpected issues. Genuine reviews help us all.
Search lodgings in India using this Booking search box.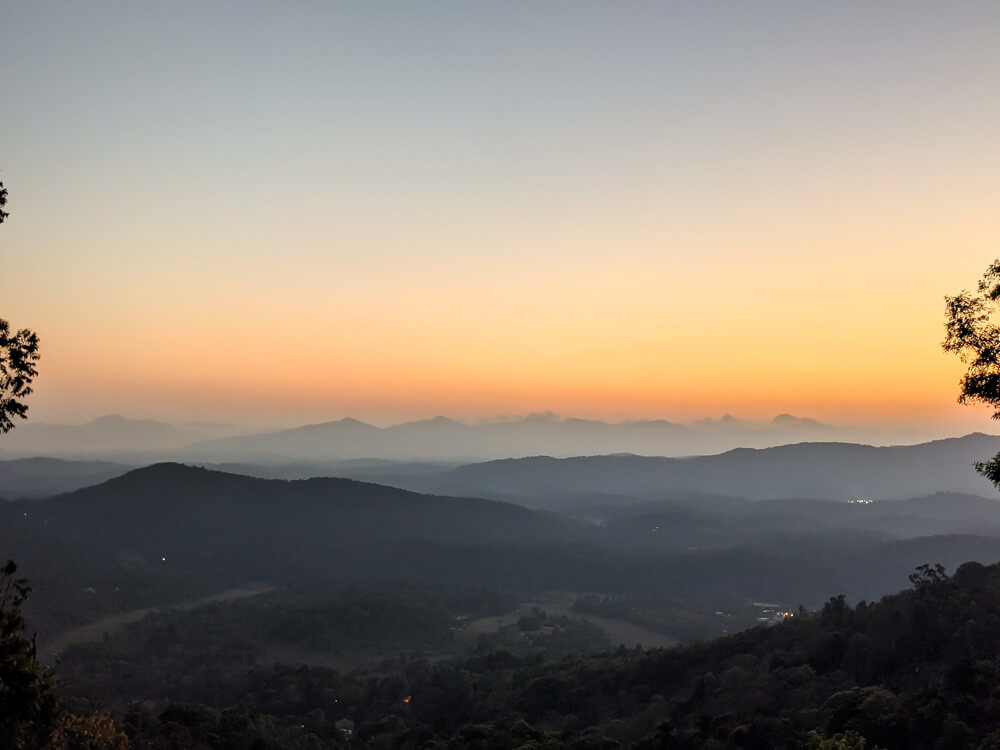 My Favorite Platforms to Book Accommodations in India and My Preferred Lodging in India
As you can tell, I don't advise to book Airbnb. I speak against the platform loudly.
This grandma house(mentioned above) is not the first time I've had a problem with an Airbnb stay. Multiple times I have faced last-minute cancellations, host not showing up or being unresponsive, dirty house, listing not as per the description, a bathroom mentioned private suddenly turned shared, and the host not maintaining the property. I have written about the problems with Airbnbs in detail in my travel resources and tips guide.
My most recommended hotel reservation platform is booking.com.
And I've never tried Agoda, MakemyTrip, or Tripadvisor in India, and I won't either. I don't think those platforms are that reliable in India. The prices quoted there are always higher than Booking.com.
I also use Google Maps extensively to find places to stay in a particular location. Google Maps is what landed me on the Eishwari Cottage in Coorg where we stayed for thirteen days for 800 rupees per night.
I prefer homestays and eco-friendly stays over everything else. I don't like resorts or hostels much. I also love staying in guest houses with views. Nature is a must. I always get a room with a balcony or large windows. Well-lit rooms in greenery and with open space to sit also keep me happy and content even if I am traveling alone. I choose places in the range of 500-2000($7-25) rupees per night. If I have to stay for long, I go for budget pricing.
To Conclude.
I didn't write any of the above reviews or critiques to encourage you to travel or discourage you from heading out of your house. I just want to say that guest is not god in India, anymore. And it is partly because of the behavior of travelers themselves. If communicated well, hosts do consider guests' requests and help as much as they can. Go with an open mind, and more importantly, an open heart.
Enjoy.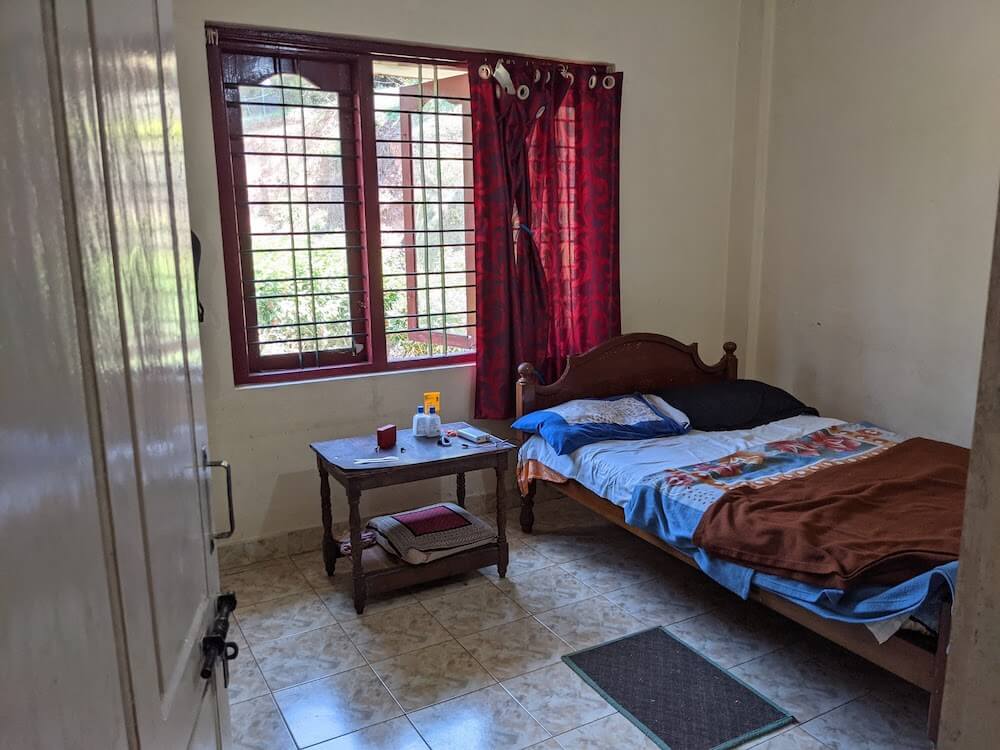 Tips for finding affordable and the best places to stay in India
1. Unmarried Couples listen carefully
I've been thrown out of hotels many times because I went with a boyfriend or worse, a foreign boyfriend.
A hotel in Mumbai whose name I can't find, sadly, threw us out at night at 11 pm. They didn't even let us sit for ten minutes in the room and knocked incessantly till we left. Our fault? We were unmarried and a mixed couple(white and brown). Then we checked in another place nearby for a much higher price.
Our other fault? We tried finding a decent and comfortable budget stay in Mumbai. The first time itself we should have just booked a nice, expensive place to get decent staff which didn't judge us because we were unmarried and didn't belong to the same country,
As a thumb rule, most places in India don't allow unmarried couples. A lot of homestays wouldn't appreciate it if you are unmarried. Many hotels also have this rule. Treebo and Oyo also only allow married couples.
Foreign couples won't be asked about their marital status though. Because people know their culture is different.
But why don't Indian accommodations allow unmarried Indian couples? Some of the guesthouse owners don't appreciate unmarried couples staying together for the night. But a lot of properties also think that the woman could be a prostitute or the guy might harm the girl or vice-versa. I know their assumptions are far fetched but guest houses want to avoid trouble. If you are a local, unmarried couple, go prepared for scrutiny.
Pssst: if you act confidently as a married couple, everyone will assume you are one. Let the girl give her credit card. Or start fighting about how you always forget things and she always blames him(sorry for generalizing for the sake of an example) and they will just assume you are married.
2. Pricing
The prices of Indian homestays and hotels are mostly exaggerated.
Most places have standard pricing of at least 1500 rupees per day – in big or small places, in towns, villages, and cities, with or without breakfast, and in hotels or homestays. Frankly, a lot of rooms don't justify that price.
At a homestay near Jog Falls in Sharavathi Valley(Karnataka), we paid about 1800 rupees or so with breakfast every day. Was the place super clean and nice? The breakfast was nice, bedcovers and blankets weren't freshly washed and were dusty, the room was full of cobwebs, the toilet was dirty, and there was no internet. But that's the price the property charged weekend travelers and thus they felt it was fair to continue charging that even for a longer stay even for a not-so-clean place. And it was an old sort of simple construction. No fancy tiling, no high flooring, etc.
While you can't negotiate on an online platform, search for the property online and see if their business has a contact number on Google. On Booking, if you make enough reservations you become a genius. Geniuses get additional discounts.
Approximate standard pricing of bed and breakfasts in India.
For a couple, for a standard room in a standard hotel in,
small city: INR 1000-1200-1500 and above ($13-20 and above)
town: INR 1500 and above ($20 and above)
big city: INR 2000 and above ( $27 and above)
village: I've paid from INR 300 to 1000, including breakfast mostly.
For solo travelers — the price remains the same. Unless you choose hostels.
Use price filter on Booking.
Pro Tip: Did you know you can search for accommodations near a landmark using Booking? Go here to see the places to stay near clouded leopard national park in Agartala. Even I'm surprised.
3. Negotiation
Call Google business numbers and talk directly to the owner or property manager. Negotiation works but not always. You should also tell your priorities. You would need a clean room and a bicycle(or whatever that is important to you). Negotiate for the long-term and see what's appropriate for a shorter stay.
And do help bloggers by using their affiliate links(the links to accommodations in this article). You don't pay extra when you use an affiliate link. But your booking gets registered under the affiliate id. The owner of the affiliate ID(in this case me) will get a percent of the booking platform's commissions. You won't have to pay anything extra. And I will be thankful 🙂
4. Linen and towels
Due to power issues, weather conditions, or just cultural differences, a lot of guesthouses in India do not wash their linen every time a guest checks out. The blankets provided are hardly ever washed and are mostly dusty.
I always carry my own bed sheet and duvet now. Even a INR 7000 ($94) room had blood-stained, old bed sheets and dusty blankets full of dog hair(the owner had stayed with his dog there). The staff hadn't washed the sheets and the blankets for a long time. (This place is called Elephant Country Homestay on Booking.)
Some branded hotels and nice homestays are super careful about cleaning. But don't be disheartened if you find a dirty room. Talk to the staff or the owner and request them to clean and change the sheets.
5. Parking
Parking the car on the streets isn't always safe in India. So inform your guest house beforehand that you will need a parking spot.
In a homestay recently in Madikeri, the parking of the house was after a steep, broken downhill. We parked our rental car on the mountain road amongst the other local vehicles. After a couple of days, we found both our back tires flat. A local brought it to our notice. We called a tire repair shop. The mechanic told us the tires weren't punctured. Someone had let the air out. Who? The villagers said a drunk pardesi — or locals not from that area — must have done it.
Someone said another homestay had done it because we weren't staying there. Someone said the trouble makers thought we were from the red-light district so they let the air out. I don't know what to say anymore. Please ask.
6. Small City versus Big City — things to notice
The way you book a place and what you expect should change as your geography changes in India. In a small city, people could be super polite and you could get really good treatment. In big cities, many times the hospitality staff treats you as worthless homeless shitheads.
What to do. Such is life. But things aren't always in these brackets. A lot of people are running good homestays and hotels in both areas. But most good places run by decent and kind people who know how the hospitality industry works charge higher prices. Our culture also judges low-rental places as low quality. So to sound authentic and premium, guesthouses charge more.
Places near highways and railway stations and bus stands aren't recommendable at all. Unless you choose a five-star hotel. Within the city, avoid dingy localities even if you are getting the place for cheap there. You don't know what you might have to face. Instead, choose a less facilitated or smaller room in a good area.
Compare guesthouses in Nainital and Mumbai and see for yourself.
7. Shared rooms or dorm beds
Dorm beds in India aren't in abundance, yet.
And not all dorm rooms would be good. I would strongly suggest taking female dormitories and male dormitories at the beginning of your trip. Book a hostel for the first day. Extend if you like.
Here's the link to Indian hostels.
8. long stay and short stay
Be friendly with the hosts. Behave kindly with the staff. Negotiate for a long-term stay.
9. Payment
Make sure you are making the payment you were quoted. Sometimes the pricing is something else and an attendant might try to charge more. Yes, it has happened to me in Ahmedabad once.
Do keep the receipt or a screenshot of the payment as proof. You may have to pay GST which might not be included in the price quoted to you.
10. Remember to take your identity card back from the hotel
You will have to give proof of identities such as a passport or driving license. The government of India needs identity proof of all guests who stayed at the property. So if you are a couple, you would have to provide ids of both. When you give your id cards to the property for photocopy, do remember to take them back. Even a soft copy works at most places.
11. The best tip of all – be nice
If you would be nice, people would be nice to you, mostly. Give what you expect in return. That's all.
Also, be culturally aware. Your travel destination might not appreciate something you do on a regular basis back home. You will have to adapt as per the place.

How can India guest houses become more eco-friendly, responsible, and community-supportive
We can't continue traveling without thinking of ways to reduce its impact on the environment.
If you think climate change is far away, look around you. Climate change and the damage done to the earth are real. Do you know we lose 18.7 million acres of forest each year? Aviation overall accounts for only 2.5% of global carbon dioxide (CO2) emissions. But it is not only air travel that disrupts the climate. The usage of plastic on trips, local-community displacement, and wildlife threats are other real damages done by travel.
We have to find ways to travel and live sustainably. Sadly, we are far from maintaining an eco-friendly travel industry in India. We can only make progress from here.
Below are some ways I recommend to hotels to reduce guests' carbon footprint and cultural impact on the local community.
please don't sell plastic bottles. Install water purifiers at your property. You can even rent purifiers in India. If you want to make money on water, which by the way you shouldn't, charge five or ten rupees per filter water bottle.

please use compostable garbage bags in the bins

please allow guests to borrow boxes if they go out to get food

if possible, please construct your property with residual, waste material

please reduce lighting where you can

please use the wastewater to water plants or send it back to the earth directly

please sell local products instead of endorsing large chains

please allow customers to make food

if you have leftover food, please send it to people who will be happy to consume it

please reject all ideas which promote the displacement of the local community just because a travel venture is planned at the location

please try to buy cleaning products — such as detergent, cleaning products, toilet papers — from vendors who support minimal plastic usage and are themselves devoted to the cause of environment

How can travelers become more responsible, respectful, and better guests
While travelers complaint about the stays in India, we are equally guilty. Let us look at some ways in which we can be more responsible and better-behaved guests.
say thanks, often

don't ask what was never promised. You may request but the host is not obliged to give you what they never said they will

please don't break or burn stuff — I don't get water kettles at most places because the hosts tell me children broke the kettles. Please keep an eye on your children. The careless behavior of some of us makes it harder for the rest of us.

please don't buy water bottles — try to get the property to give you filter water from the kitchen(they always have it). If more of us refuse water bottles, the practice of buying Kinley or Bisleri at the hotels will soon become obsolete

Or buy Lifestraw water bottles that come with a pre-installed filter

please don't steal stuff — Multiple times the hotel staff comes to check our rooms when we leave. Why? Because guests took something with them while leaving. They reported missing blankets, towels, salt shakers, pillows, and even mosquito machines. Not cool. You can take the salt, but not the salt shaker. You can take soaps or toilet paper, but not the shampoo dispenser.

please be polite to the staff. Most of our hospitality staff is rude because people have been rude to them. We all know workers aren't treated equally in most parts of India. Whether it be waitresses, drivers, servers, guards, cleaners, and others. But when people face rude behavior or have been scolded for no major fault, they become rude themselves, just to protect themselves from unwarranted blame. Sometimes people have had reasons to scold a staff member. Like when they are staring at your girlfriend or they knock at your door five times in ten minutes while you still have an hour to check out. Do a favor to everyone and tell them what they did was wrong. Maybe even scold politely. But don't be rude and harsh.

please carry your own boxes to get food

please treat places as they are. Don't expect five-star hotel service in homestays. Don't expect homestay warmth in a hotel. And so on

.

Tip the deserving staff when you can. The hospitality industry isn't paid well.

If you are facing a problem, tell the host. Communication or early feedback fix a lot of things.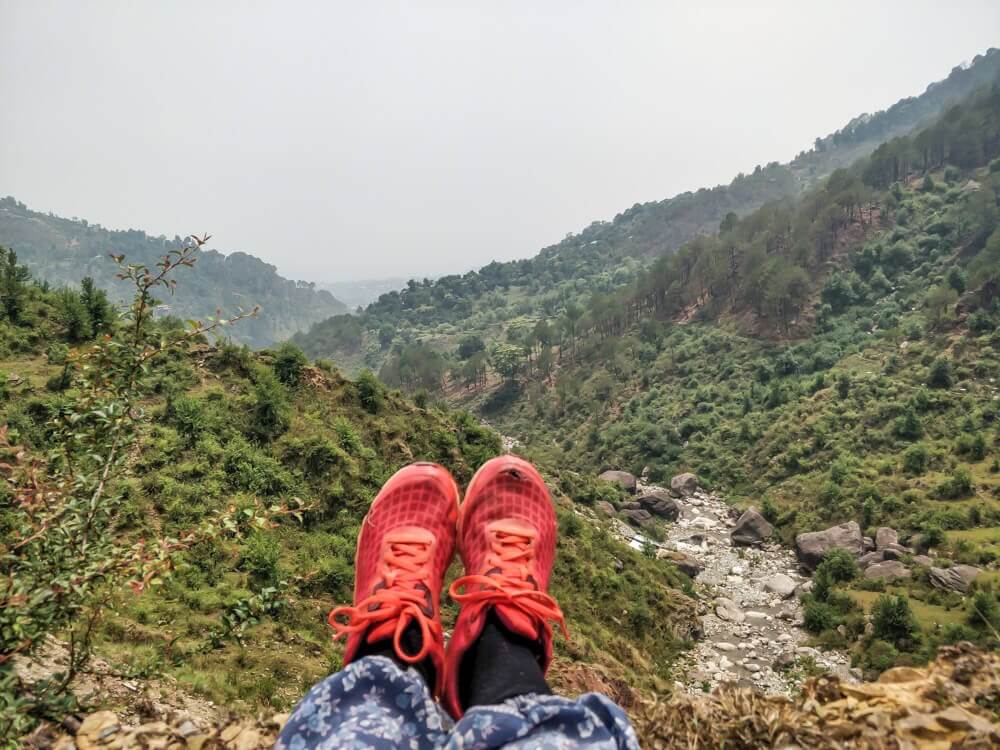 Did you like these tips to find affordable and good guest houses in India? Let me know in the comments.
*****
Donate to keep me going!
For five years, I've read and wrote day and night to keep On My Canvas - my sustenance and life's focal point - going. Everything here and my weekly newsletter "Looking Inwards" is free. No ads. No sponsorships. If you've had some good moments reading my posts or felt hopeful on a lonely day, please consider making a one-time or a consistent donation. I'll really appreciate it (You can cancel anytime).
*****
Want similar inspiration and ideas in your inbox? Subscribe to my free weekly newsletter "Looking Inwards"!