My Manali travel blog to offbeat Manali and the best places to visit in Manali.
I would take an unknown trail leading to a strange place over a popular trek any day. I leave a city from its bus stand if I see it is crowded. Staying alone in one tent amongst the hundred empty ones makes me feel like a ninja. Ditching the most popular restaurants in a city I get lost in the back lanes to find local treats.
The road less traveled is my home.
Otherwise, why would I wander alone in South America for nine months while Europe waited or stalk wild orangutan around the Kinabatangan river in Borneo when a national bird park in Kuala Lumpur was a fifteen minutes walk or become a blogger while I still get software engineering job offers from TimesJobs or hitchhike in the deserted Spiti alone when I could have just stayed on under the blossoming apple trees of Parvati Valley.
My unexpected love affair with Manali, India's summer queen, started when I arrived there for a day to travel to Spiti the next morning. Though the counter at the HRTC bus stands and the many travel agents in Manali told me that the road to Spiti wasn't open yet, I shuttled between the tour agencies that fringed the rickety lanes of Old Manali until I found one who understood that I wouldn't take no for an answer. 
But on that one day that I spent in old Manali, I walked in the colorful old market of Manali that is catered to please the ones on the Hummus trail, got enticed by small coffee and confectionary shops right in the middle of a tiny street lined with guesthouses, the green hills around Manali called me to walk along them, the various local dishes sizzling out of Manali restaurants' kitchens made me hungry, while the Manaslu and the Beas river flowed in all glory. 
Also Read: Manali to Naggar – Time traveling in Himachal Pradesh
I decided that I would return to Manali from Spiti and ignore the top places to visit near Manali lists put up by the tour agencies and spend a few days in Manali to explore the dream destination of many Indians in my style – which was mainly to avoid crowded places and find the dusted gems. 
When I went back to Manali after traveling in Spiti for a week, I took a room in a simple hotel in Old Manali. From my room's balcony, I could look at the ubiquitous snow-capped Himalayas surrounding Manali, but nothing more than that. Compromising for a hotel rather than a homestay, which is unusual for me, I stayed away from the backpackers who go to Manali to smoke, play cards, and party and live in lush homestays that want to make a living. 
Well, that is already one secret that I have told you to experience Manali differently — stay in an (almost) empty guesthouse if you prefer solitude, like me. 
What happened in those next few days is between Manali and me. But I would be generous enough to let you in on some secrets in this Manali guide; in fact, I will tell you the best things to see in Manali. 
Come on. Let's go into the green lanes of Manali and find ourselves some adventure. 
For that is what Manali is for. 
My list of best places to see in Manali
Skip New Manali and stay in Old Manali — Your Manali travel would change entirely if you do this. 
New Manali and Old Manali though only seem separated by the Manaslu river that cuts through Manali to divide it into two parts, the two places seem to have grown entirely different from each other over time.
New Manali is Manali's main town and market which is more frequently visited by families and Indian tourists and is more crowded due to a plethora of restaurants and regular bazaar. Old Manali is a laid-back place where international tourists and locals live next to each other in mud houses housing travelers, Himachal families, and cows. Though over the years even Old Manali is getting pretty crowded by backpackers, you can always find a secluded trail and a hidden homestay tucked at its end.
It's hard to understand that the two parts of Manali are so different when to get to Old Manali you just get on a bridge over Manaslu river and suddenly the entire atmosphere changes.
But the catch here is that Old Manali is more of a hippie destination — bars, handicraft shops, grilled trout on a plate, live music, silver jewelers from Rajasthan catering to international tourists, tiny coffee counters in the middle of the street, budget homestays with hammocks in the garden. You get my point.
Some might say New Manali is just for smokers and hippies. But on my six days there, I didn't even smoke one day but still preferred Old Manali to new Manali. Why? Old Manali was quieter, you couldn't find the regular Indian bazaar rush in Old Manali, and tourists in Old Manali were mostly slow travelers who stayed for long and didn't rush to a destination.
The main Manu temple road that runs through Old Manali has all the cafes, restaurants, and shops. And to get to the local wooden guesthouses with large apple and pear orchards and cowsheds just get onto any of the tiny trails that fork out of this main road.
Having said all of this, I avoided guesthouses full of backpackers for they also tend to get too noisy.
At any day, Old Manali guesthouses would be way cheaper than New Manali. 
Walk from Old Manali to New Manali via the Nature park of Manali —
 Jungle over the road, any day. 
You would have to pay 20 rupees to enter this coniferous mess of pine and deodar, but, at least, you wouldn't have to jump at every imposing honk of the motorcycle going from Old Manali to New Manali. When on the main road, an ambitious car tries to squeeze in next to you, a bull, and the rest of the crowd, even a London tube would sound less crowded, and you would thank me for my advice. 
Boy, would those 20 rupees be worth it for the day. This natural park of Manali is pretty old, and to get inside you just have to walk in the first park gate that appears on your left while you are walking to New Manali. And when you get out on the road again, don't forget to visit the Himalayan bookstore which has some great books on Himalayan birds, trekking in the Himalayas, and more.
Ditch haggling with the shopkeepers in Manali and go to Naggar — No matter how many days you have, Naggar should be on your Manali itinerary. 
Naggar is a small village near Manali. This tiny town which is at a height of about 1800 meters was once the capital of Kullu. Though Naggar is just 20 km away from Manali, the HRTC bus took about an hour and a half to reach Naggar while stopping at various small villages in between. I wouldn't blame the bus for it was doing a good job of cruising through the Himachal traffic on crazy Himalayan roads. 
I climbed up a hill in Naggar to arrive at the Gauri Shankar temple —a stone-structure stood that tall in between an empty paved courtyard. No one knows who built the temple, but this Shiva temple is said to be from the 12th century. The temple is a perfect example of finely carved stones set over each other in a precarious manner reaching up to an open shikhara. The open paved courtyard of the temple would remind you of your days spent at your grandmother's home in a village. Apologies if you have not yet tasted village life. Maybe this is your chance?
This empty courtyard scene with the backdrop of an ancient gorgeous temple repeated in the many temples of Naggar that I visited. The temples of Naggar were so exquisite that even a non-temple enthusiast like me didn't want to leave. Naggar castle was another pleasant surprise though I enjoyed the vegetarian cutlets there more than the view over the Beas. 
In this tiny mysterious Kullu town, you can walk into the forest to arrive at the Krishna temple, chill under apple and pear trees, wander in the narrow lanes to find food, and sit in the paved courtyards under a tree in one of these ancient temples and read. 
The wheel of time did turn back in Naggar, and I felt that I belonged to a royal era when temple courtyards were the modern cafe coffee days.
You can read my travel stories from Naggar, Manali to see how the place is and to plan your trip. 
Enjoy Sidu and other traditional food of Manali — Ditch the pizzas and go traditional on your tour of Manali. 
Walk to the Antique Tibetan store in Old Manali and find your best Sidu place called Fouji Tea Stall next to it. The stall is run by a Himachali lady who not only knows how to make Sidu but can give some ear-to-ear smiles. 
I had never tasted his traditional Manali dish before, and it won over me the first time I tried it. Filled with peanuts, walnuts, and couscous, Sidu is best enjoyed with a spicy green chutney. You won't find many tourists at this shop but feel free to laugh around with a few Himachali men who pull each others' legs over some chai and Sidu.
Manali famous food also includes trout. Where to eat it? Try a Kitschy restaurant near Cafe Kathmandu on Manu temple road in the Old Manali market. I think the name of the place was the Riverside view, and it was one of those places that I thought were trying too hard. But oh boy! The beer and fried trout was a good combination to end the last day of my solo trip to Manali.
Oh, say hi to the barber next to the Sidu shop for he trimmed my hair in perfect symmetry.
Insider trip which isn't that quirky — Have an upset stomach? Go to Maa Hadimba restaurant near Cafe Kathmandu for some soothing dal and rice. 
If you are thinking about what to do in Manali, you should definitely eat some Sidhu.
Walk to the villages near Manali – Best places to visit near Manali
You can go to so many villages near Old Manali that even the locals wouldn't be able to remember the names of all of them. Though places to go in Manali are many, my favorite remains the quaint little villages and lush centers of nature that these Manali villages were.
This village whose name I have forgotten but I can direct you to was one such tiny village frozen in time. Wooden homes, cows tied outside in cozy sheds, villagers gone to their apple fields during the day, muddy paths, pear and apple trees overshadowing the entire village — for a moment you would forget where you are.
And if you are lucky, a kind villager would invite you to her home or apple orchard for a cup of tea made on a wood stove. It wouldn't matter anymore that you walked in the rain then.
To get to this village, walk beyond the Manu temple, turn left, climb a stone that has been craftily carved to make a staircase, take right, walk on a muddy trail that will soon meet into apple orchards. Cross the apple orchards to arrive at the village. Walk around. Eat at one of the few tiny cafeterias attached to the guesthouses. Then you can walk back to Old Manali via the same path or get down to the road and continue going to Vashisht, another timeless village of Manali. 
The name of the village was Bari I guess, but I am not sure for Bari comes up as another village near Naggar. I don't have the name of the village but I do have the location of the place here on Google maps. 
Another Insider Tip: Climb up those stairs in the Old Manali market on the Manu temple road to see where they take you. Maybe to a walkway overlooking the Beas and new cafes and restaurants that are budding up.
Walk to the Vashisht village— Your travels in Manali and this Manali Blog aren't complete without a trip to Vashisht.
Vashisht was named after Rishi Vashisht. Legend says that sage Vashishth prayed and meditated at the place where the Vashisth temple stands now in the village. As per the stories, the Vashisht temple must have been some 4000 years old.
Not many tourists who go to Manali with the best places to visit in Manali in 2 days list handy on their phones travel to Vashisht. Though Manali seems a more important travel destination to everyone, Vashisht village is quieter, has natural hot water baths where you can dip into any time, and if you are looking for some more nature then walk uphill to find the Jogini falls tucked away in nature.
The walk is about 4 km and is doable easily by anyone with decent fitness.
To go to Vashisht, continue on that road when you head out of the village I mentioned above, or cross the Manaslu river from anywhere to walk to Vashishth. The village is about 6 km from Manali and takes an hour to reach.
Image Attribution: Shri Tulsi Peeth Seva Nyas [CC BY-SA 3.0], via Wikimedia Commons
Go to Spiti — Spiti, and Leh are one of the many places near Manali to visit. But hold, these aren't just any places.
Spiti is a remote barren valley of Himachal that still live in the 15th century. People use pit toilets for the water pipes freeze in winters. You cannot get out in December when snow is as deep as your waist. Of course, the cold doesn't stop the snow leopard to descend down to the villages where he comes to find wild or domesticated animals. People of Spiti speak Spitian and don't marry outside Spiti for they think no one would be able to adjust in the environment of the Spiti valley, the land between India and Tibet in the Tibetan language.
Go see for yourself.
To reach Spiti, you will have to drive an entire day from Manali. But wait. You can only go through this road in the months of July and maximum up to August when the road again closes down due to excessive snow on the routes. My travel guide to Spiti Valley, Himalayas, India will help you plan your Spiti trip.
About Manali Hill Station?
Manali lies in the Beas river valley in Himachal Pradesh. Manali town is located at a distance of about 270 km from Shimla, the capital of Himachal Pradesh.
What is the best time to visit Kullu and Manali, Himachal Pradesh? 
The best season to visit Manali is the summer season. If you want to see snowfall, have a Kullu Manali trip plan for winters. The best time to visit Manali for snowfall is December and January. As I have said in all my guides, Himachal weather is unpredictable, and so is the Kullu-Manali weather. You might want to keep a couple of days as a buffer in case the weather goes down.
Even in summers, it rains sometimes. Manali weather in June was quite wet. I was there for about a week, and it rained a little bit almost every day.
Still given the other months get cold, June and July could be the best month to visit Manali.
How to reach Manali, Himachal Pradesh? How to reach Kullu Manali state?
The best way to reach Manali is by road.
If you are coming from Parvati, you can either take a direct bus from Manikaran to Manali, but if you don't get this one, then take a bus to Bhuntar or Kullu. Bhuntar to Manali distance is about 50 km, and you can hop onto any local bus from Bhuntar that is going towards Manali. Manali to Kullu distance is about 40 km, and again many frequent buses run on the Kullu-Manali route. The short distance between Kullu and Manali makes the two names appear together when people talk about Manali.
Good luck balancing yourself on these tipsy-topsy buses while your squeeze in amongst the rest of the travelers and the locals in what seems like a vehicle that had been by now kept in the museums. 
Distance between Shimla and Manali is about 250 km, and you would need to travel about seven hours to complete this journey. Book a bus on Redbus here. 
You cannot take a direct train to Manali, and the nearest railway station to Manali is Joginder Nagar that is about 160 km. 
The closest airport to Manali is at Bhuntar. If you want to travel by air, fly to Bhuntar and then take a bus or taxi to Manali. 
H
ow to reach Manali from Delhi?
Delhi to Kullu Manali, India is a popular route. You can travel from Delhi to Manali in many different ways.
Delhi to Manali by road — Manali to Delhi distance by road is about 540 km. Book a bus to do this journey here or drive from Delhi to Manali by car. The travel time would be about 13-14 hours. Delhi-Manali route is connected both by Volvo buses and HRTC bus. Manali road trip sounds like a really fun way to reach Manali. 
Delhi to Manali by air — A New Delhi to Manali flight would mean that you fly to Bhuntar airport. Then take a taxi to Manali or get into a bus.
New Delhi to Manali train — You can only take a train up to Joginder Nagar for there is no train station in Manali.
For your Manali trip from Delhi you should keep at least two days or two nights entirely for the journey between Delhi and Manali.
Where to stay in Manali, India?
The best places to stay in Manali are in Old Manali.
I stayed in a place called Raj hotel there, on one of the streets that fork off from the Manu temple road. Though the hotel was good and peaceful, later I found many better hotels in Manali and homestays that I would love to suggest here. I took the Raj hotel in haste when I arrived back from Spiti as I was too tired to walk and explore much. The hotel was comfortable and peaceful so I didn't leave it and continued staying for five days. But if I go again to Manali, I would choose from these below options.
Leela Huts – If you are going as a big family, you should look at these peaceful and spacious huts in Old Manali. Villas housing about nine and four people each with ample garden space to sit and relax could be the best choice for a big group or family. Best points – Owner takes care of the place along with the staff and children activities in the garden.
The Culture Nation Hostel – A property close to the Manu temple in Manali, this hostel seems the best for budget and solo travelers and even couples for they have some double budget rooms. Best points – Cleanliness, delicious food, and a friendly dog.
Apple Country Resorts – This is a comfortable and luxurious stay for families and couples. Tucked away in Old Manali, this place offers very good views over the mountains, rooms come with hot bath, and a breakfast buffet to sum it all up. Best points- Spa facilities, friendly and helpful staff, and pets are allowed, too.
Orchards House – The Hidden tribe – Again a peaceful abode in Old Manali for budget travelers, couples, and families alike for they have all the options. Surrounded with an orchard, this looks like a great place to be if you want to be a bit secluded in Manali. Best points – vegetarian breakfast, rooms with stovetop and fridge, and a common area with board games.
InSoul cafe & Guest House – About a 6-minute walk from the Manu temple in Old Manali, InSoul Cafe seems more like a homestay for the owner is pretty involved in the activities and guest coordination. They have a restaurant on sight, and some rooms come with a mountain view but each room has a balcony. Best points – Friendly and caring owner, a paid airport shuttle service from the Kullu Manali airport, and good food.
Zostel Manali – Zostel is always a good choice to stay in India for those looking for affordable hostels. This is an adults-only accommodation and perfect for those who love to meet other travelers. Best points – Cycle rental available at the property, good food, and very friendly staff. The reviews suggest that big groups aren't allowed to stay together. My guess is that they think big groups create a lot of noise and thus the rule. I can't blame them for my experience in Himachal, especially in the villages in Parvati valley, was that a lot of people go there to play loud music and create a nuisance for others. Please be respectful while traveling and keep your music to yourself.
If you don't like any of the places from the list, you can always book for one night, go to Manali and get lost in the small streets and muddy trails around Old Manali. You are bound to find a wooden cottage with a lush garden run by a family peacefully living with their cows and other animals.
Also, as soon as you enter Old Manali many travel agents will hover over you like bees. Don't pay any attention, please, and make your way to the place you have booked. The travel agents get a commission from the hotels if they bring new clients. But these hotels might not be the best places to be in on your Manali trip. 
What should be your budget for Manali trip?
Your cost of Manali trip depends on your choices of where to stay and what to see in Manali.
Ideally, if you stay in an average hotel in Old Manali or a homestay, expect to pay 500 rupees for a night's stay for a double room with an attached bathroom and a balcony. Nothing else would be included in this price.
But if you are looking for a nicer place for a family or a big group, such as the one I have suggested above, you would have to pay a bit more. Hotels and hostels in New Manali would be even costlier but not better. Like every place in India, you can find delicious and affordable street food in Manali, too.
Most of the above things to do in Manali that I mentioned are free of cost.
Essential things to carry while traveling to Manali, Himachal Pradesh, India. 
A 

rain jacket

– It can rain a lot in Manali and the surrounding area. Keep yourself dry with a rain jacket else it is the perfect weather to fall sick once you are soaked in rain.
A refillable water bottle. My Lifestraw water bottle

filters water on the go. I recommend it to everyone. 

A good pair of jeans – Even though I am not a big fan of wearing jeans when I am in the hotter parts of India, Manali has the perfect weather to wear jeans.
Good hiking shoes for women and good hiking shoes for men – Good shoes are a must in the mountains.
Warm jackets for men and for women – No second thoughts on this. You can also buy a comfortable

Kullu shawl in Manali to wrap yourself with. I have one that I bought in Manali about five years ago, and it still keeps me warm.

Also, bring a strong backpack– I have been using a North Face backpack for about four years now and have no complaints.
A travel towel – Carry a light travel towel like this one for it will save you a lot of space.
A first-aid kit – Always carry one while traveling.
Lifestraw water bottle – Comes with an inbuilt filter, and you can fill it anywhere. Please avoid buying plastic bottles in Spiti. I bought two bottles as the hard water of Spiti didn't suit my stomach.
Memory foam travel pillow – for a good sleep while traveling from Manali to Spiti.
A good camera – I can vouch for Nikon D3400. I use Nikon for all my photography now. This camera comes with two lenses, and the one with the higher resolution if perfect for bird photography if you are interested.
Flashlight – Please carry a flashlight for the trails and paths in Manali are often dense, and there is no street light.

A strong

sunscreen – Banana Boat has never failed me. 
Around Manali city.
Dharamshala is a few hours journey from Manali. You can read my Things to do in Dharamshala and travel tips if you want to travel to Dharamshala. Staying for longer in Dharamshala? My Dharamshala Yoga experience will help you plan and identify if you want to learn yoga there.
Love hiking? My adventurous hike from Kalga village in Parvati to Bhunbhuni might be exactly what you need. A general guide to hikes in Dharamshala would help plan out the time and treks you want to do. Or just to see where all you can walk in Dharamshala.
Heading to Parvati Valley to relax for a while? Forget Kasol and head to the village of Kalga or stay for a few days in Manikaran, Sahib – a timeless village in Parvati. My complete Parvati valley travel blog is a good place to get an overview of the entire valley if you want to spend some time there.
You can go to Spiti, Keylong, Leh from Manali or to Parvati valley, too. 
If you ask the tours and travels in Manali streets, they will find you a tempo traveler to Spiti that can carry about 11 people in one go and takes a day to arrive in Kaza, Spiti.
Spiti Travel Guides. 
Also, refer to this amazing Keylong travel guide that will make you stop before Leh and explore this beautiful area.
Did you like my Manali travel guide? Do you now know that Manali to Rohtang pass isn't the only one thing to do? Still wondering how to plan a trip to Manali? Let me know in the comments.
Disclaimer: This article includes affiliate links. If you choose to click through and make a booking or a purchase, I will earn a little bit at no extra cost to you. Thank you.
Please pin the guide and share the word!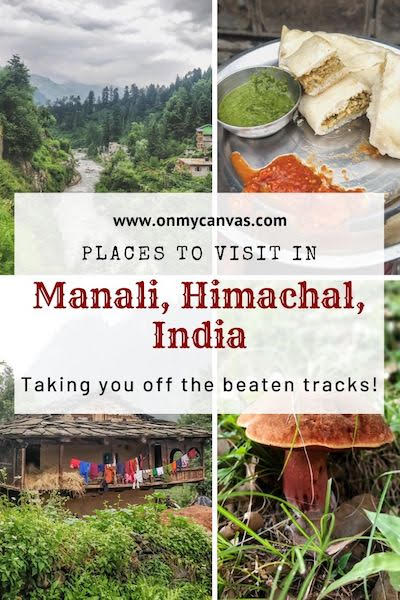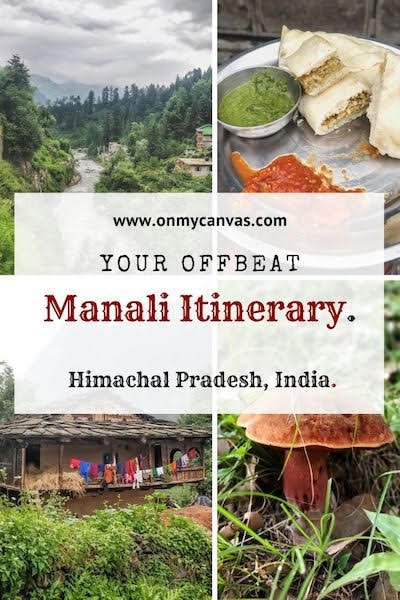 *****
Donate to keep me going!
For five years, I've read and wrote day and night to keep On My Canvas - my sustenance and life's focal point - going. Everything here and my weekly newsletter "Looking Inwards" is free. No ads. No sponsorships. If you've had some good moments reading my posts or felt hopeful on a lonely day, please consider making a one-time or a consistent donation. I'll really appreciate it (You can cancel anytime).
*****
Want similar inspiration and ideas in your inbox? Subscribe to my free weekly newsletter "Looking Inwards"!