When I went to Chile in 2016, many Chileans asked me if I knew yoga. While traveling around South America for nine months, I realized the popularity of yoga in the world.
Apprehending the vast influences of yoga and seeing the craze of the westerners towards India and yoga, I became a wanna be yoga learner.
In those immature years of my life, I wanted to be a solo female traveler who also did yoga. I wished to bend myself one-eighty-degrees on the sultry Goa beaches and the summits of the mighty Himalayas alike.
After all, the social media pictures of yoga teachers and practitioners over the internet kindle enough narcissism that you forget the real purpose of yoga (if you ever knew) and only admire the overwhelming curves on the trending photos.
Yoginis look like the epitomes of Urvashi from the Indra palace. Maybe we can compare the Yogi to Shiva who is said to be the first-yogi or the Adiyogi?
Those yoga pictures look as perfect as the postures held in the frame, but remember that pictures don't tell the entire story.
Yoga is not about a few jazzy posts on Instagram or Facebook. And I kept this in mind when I traveled to Dharamshala and practiced yoga there.
Yoga, a word derived from the Sanskrit word Yuj meaning join, means union — of the mind, body, and soul.
Yoga is not only comprised of Hatha yoga and physical exercise but it is an ancient science which has various methods to amalgamate mind, body, and consciousness. Practicing wholesome yoga leads one towards personal awareness and development.
Also Read: What is mindfulness and how to be mindful
The History of Yoga is Long
Historical proofs suggest that Yoga originated in India thousands of years ago. Yoga practice in India might even date back to the Indus Saraswati Valley civilization of 2700 B.C., much before religion had come into existence. (I will not delve into the religious connotations of yoga.)
You can find the first mention of Yoga in the Rig Veda. As Yogabasics write, Yoga in India was slowly evolved by the Brahmans and Rishis who studied and practiced the Vedas and then collected their ideas and experiences about yoga in the Hindu Upanishads.
Those saints then traveled the world and taught others who further propagated yoga.
The Hindu sage Patañjali (पतञ्जलि) is said to be the one who wrote Yoga Sutra — the first systematic presentation of yoga — in the second century. His Yoga Sutra, written in Sanskrit, has been the main inspiration for all the yoga practitioners who came after Patanjali.
Most of the present yoga practices only focus on physical asanas or getting the postures right, losing weight, and staying fit. But as per Dr. Ishwar V. Basavaraddi, the Director of Morarji Desai National Institute of Yoga, only three of the sutras amongst the many yoga sutras are dedicated to physical asanas.
Many scientific studies and spiritual texts say that we are all made out of the same universal quantum. Most of the Yoga Sutras and the various translations and interpretations of the Sutras and ancient Vedic texts suggest that Yoga help us realize this union – that the universe and we are part of each other. That we are one.
The sutras do this by connecting the human through his mind, body, and consciousness to the universe with various practices. Some people call the universe as the aatma or the soul or the spirit or god. (reference: the book How to know God, The Yoga Aphorisms of Patanjali).
By controlling the senses with your mind, practicing with the body, breathing, meditating, and adopting the right philosophy, you can become a yogi. Of course, you have to repeat this cycle of practice and reflection for a long time to master yoga. (more about yoga practices here)
More on habits: Understanding and changing habits
Though most of the millennials practice yoga for popularity, physical and mental health or for a picture-perfect body, yoga is not just a physical asana practice.
B.K.S. Iyengar — one of the most famous yoga teachers in India— put it perfectly — Yoga is the technology of aligning individual geometry with the cosmic, to achieve the highest level of perception and harmony.
Dr. Ishwar from Morarji Desai national institute also said that hatha yoga is the preparatory process so that the body can sustain higher levels of energy induced by the many other forms of yoga.
Even my yoga teacher in Dharamshala told me that I had to first train myself in Hatha yoga to handle the energy of the Vinyasa flow as I had unabashedly shown up for the Vinyasa class without attending any of his Hatha yoga classes.
Not going any deeper, I can say that from practicing yoga, listening to teachers, and reading about yoga, I have realized that the purpose of yoga is much greater than just strengthening our arm strings or losing that extra belt of fat on our waist.
Suggested read: Finding a purpose and living a meaningful life
My Yoga Journey and experience of learning Yoga in Dharamshala.
I have been on the path of yoga on and off for a few years now.
First I went to a yoga studio in Bangalore regularly for three months to realize that most of the modern yoga centers in India focus on a power version of hatha yoga. Though the power yoga introduced me to asanas and made me active, I wanted a more raw and authentic yoga.
So this time I decided to practice yoga in Dharamshala, Himachal Pradesh.
Where is Dharamshala?
Dharamshala, a beautiful district in Himachal, is nestled in the snow-capped Dhauladhar Himalayan ranges which you can see from everywhere in Dharamshala.
Suggested Read: My guide to offbeat trekking in Dharamshala
But why do so many people travel to Dharamshala to learn yoga?
Solo, couple, and group travelers from around the world visit Dharamshala to learn Yoga in India, meditate, breathe in the mountain air, and live an Indian life.
While some of the visitors I met in Dharamshala told me that they had been planning their yoga trips to India for a long time, others said that they didn't plan at all, booked a ticket, and decided to join a yoga course in India upon arrival.
But all of them were clear that they wanted to study yoga in India or do a yoga teacher training course in Dharamsala. Why wouldn't they?
If you do a quick Google search, Dharamshala comes as the top place to do yoga in India.
Mountains, in general, are connected with mind and body practices. When you can practice yoga in the Indian Himalayas, why wouldn't you go?
Open pastures, unrestricted pine and deodar forests to walk around, countless trails to waterfalls and higher peaks, cool weather, cosmopolitan culture, delicious food, the vipassana meditation center in Dharamkot — all inspire travelers and aspiring yoga learners to visit Dharamshala.
As tonnes of foreign tourists have been coming to Dharamshala and Himachal for many years, Dharamshala offers a safe and cosmopolitan setting without the hassles of the big city.
Even if I walked around alone in the evening I was never scared and nobody tried to cause me any harm.
Popularity and peace of Dharamsala can also be attributed to Dalai Lama who lives in Dharamshala with the Tibet government in Exile. Along with Dalai Lama, many Tibetans stay in Dharamshala for many years now.
People in Dharamshala are a mix of Nepalese, Tibetans, Himachali, and international tourists. You would rarely see people fighting on the road. Though you might see monks strolling around chatting within themselves or enjoying a thukpa or Tibetan tea at Mcleodganj rooftop cafes.
Apart from being a natural heaven, Dharamshala is a safe and peaceful place to live.
As Dharamshala has been a popular and secure tourist place, many yoga teachers have put up their ashrams in Dharamshala for the international and Indian yoga seekers.
Doing yoga in Himachal Pradesh was a surreal experience for me.
After waking up at around 8, I used to attend a hatha yoga class at 9. I was put up in Upper Bhagsu, Dharamsala, and, by chance, I liked a yoga center that was right next to my homestay.
The hatha yoga class there was donation-based with the minimum donation of 200 rupees.
Mohit, the young yoga teacher who owns Brahma Yoga and is popular amongst tourists for at the age of 24 he has finished his yoga degree in Rishikesh and has already been teaching for many years. He is flexible, quick, and dedicated.
I learned yoga at the Brahma yoga center for a month. I liked the class, and of course, the Himalayas helped.
While doing asanas with about 5-15 other international yoga students, I often looked outside the window to see the forest sway with the wind. Sometimes the strong winds would blow off the plastic sheets which hung over the windows and invaded in our yoga room making us all sneeze continuously. On many days, rain patted on the corrugated roof adding to the soothing music that our yoga teacher played.
I am not sure if the Brahma Yoga center was my favorite yoga class for I didn't try many yoga institutes. But I practiced yoga there for the institute was close by, the timing was perfect, and I enjoyed the class.
I was the only Indian learning yoga in that yoga center. Mohit said he could count the number of Indians he had taught while he had already taught hundreds of international yoga learners.
Though I found Mohit skilled, I felt that he was more inclined towards foreign students as they give him his bread and butter. Though Yoga and India go a long way back, not many Indians still learn yoga, and Mohit was always focusing on how to make the experience better for the foreigners.
Ignoring these minor observations, I thank Mohit for his classes were well-thought, and he even asked his yoga teacher training students to stretch or correct the postures of the rest of the yoga students.
But how much real yoga can you learn while a teacher teaches 10-15-20 people in one class where the students expect him to do a minimum number of postures?
Yoga students always doubt between choosing Rishikesh (which has the best yoga ashrams in India) and Dharamshala as their yoga city. Though there has been a long debate on the best place for yoga in India, a lot of tourists go to Dharamshala every year in the summers.
Dharamshala yoga ashrams are popular for amazing scenery, nice weather, and slow-paced yoga courses. The Dharamshala yoga culture is more about doing the 200 hours of yoga teacher training in Dharamsala or taking donation-based drop-in classes.
Related Read: Kalga village in Parvati valley – A hidden hamlet of Himachal
The locals in Dharamshala told me that yoga is a trend there for the teachers migrated to Dharamshala when they saw the opportunity to teach yoga given the huge number of tourists that visit the Himalayan district every year. They told me that if you have to find the best yoga in India you should go to Rishikesh or Mysore.
Maybe they were right for even in Dharamsala, I could feel the gap between the wholesome yoga practices which are not only limited to physical asanas but take you on an emotional, spiritual, mental, and universal journey.
The only way to bridge this gap is to take a longer yoga course with a teacher who applies ancient yoga technologies to teach yoga slowly or do an extensive yoga teacher's training to learn yoga theories and continue or read yourself while practicing the asanas.
The older yoga places in India such a Mysore, Rishikesh, and places near Dehradun are known to be better for long-term serious yoga learning or to find a guru.
I am practicing yoga by myself while planning to join reliable yoga classes in between.
I neither fully disagree nor agree with those locals but I think if you look hard enough you always find a teacher or a student. But I did feel that yoga was driven by tourism in Dharamshala and not the other way round. Still, yoga stays as one of the top things to do in Dharamshala.
After seeing the yoga culture in Dharamshala, where I also met a lot of people who are into yogic, Vedic, and astrological practices, I have a broader understanding of Yoga. I am also reading a lot about yoga to understand this ancient practice that has forever thrived in India.
So overall it has been a good trip for me given I was there for a month and I have yet to understand the complexities of the art of yoga.
The journey should start, no matter where and how.
Also Read: Process of learning matters more than the result
Read my complete travel guide to Dharamshala, Himachal for all the information that you need to travel to Dharamshala. Also, below are some popular travel questions about Dharamshala.
How to reach Dharamshala, Himachal Pradesh?
The nearest airport to Dharamshala is in Dharamshala (oops). You can fly to Dharamshala from Delhi or any other Indian city. But remember that flights to Dharamshala aren't that frequent.
You can also first fly to Pathankot or Amritsar in Punjab. Then from there, you can take a bus or taxi to Dharamshala or Mcleodganj. Pathankot to Dharamshala distance is about 85 km but the bus can take a while to reach for the bus stops to pick up the local passengers in Dharamshala.
The nearest railway station to Dharamshala is Pathankot in Punjab. Arrive in Pathankot by train and then follow the above instructions.
You can also travel to Dharamshala by bus. Delhi to Dharamshala by bus is an over-night journey and takes about 12-13 hours. These buses run frequently. Frequent buses to Dharamshala also run from Manali, Bhuntar, Shimla, and other cities in Himachal.
As there are many permutations and combinations of commute possible, choose the one that is the most convenient and suit your timings.
Another Himachal valley that is known for its beauty, and you can find your own peace there – traveling in Parvati valley, Himachal Pradesh
Where to stay in Dharamshala?
Though Dharamshala is the main district, most of the people stay in either Mcleodganj or the two popular villages of Dharamshala, Dharamkot, and Bhagsu.
The distance between Dharamshala to Mcleodganj is about 6 km. You can drive from Dharamshala to Mcleodganj which will take about half an hour or get into a shared taxi that runs frequently.
From Mcleodganj either walk to Bhagsu and Dharamkot or take an auto or taxi. The autos and taxis can only go so far for soon the hilly lanes make it impossible for a car or auto to go through. Remember these are mountain villages.
For more details on where to stay in Bhagsu and the life there, read my Bhagsu travel guide. I have given all the information about choosing a place to stay there.
Also, browse through the various places to stay in Dharamshala on Booking here.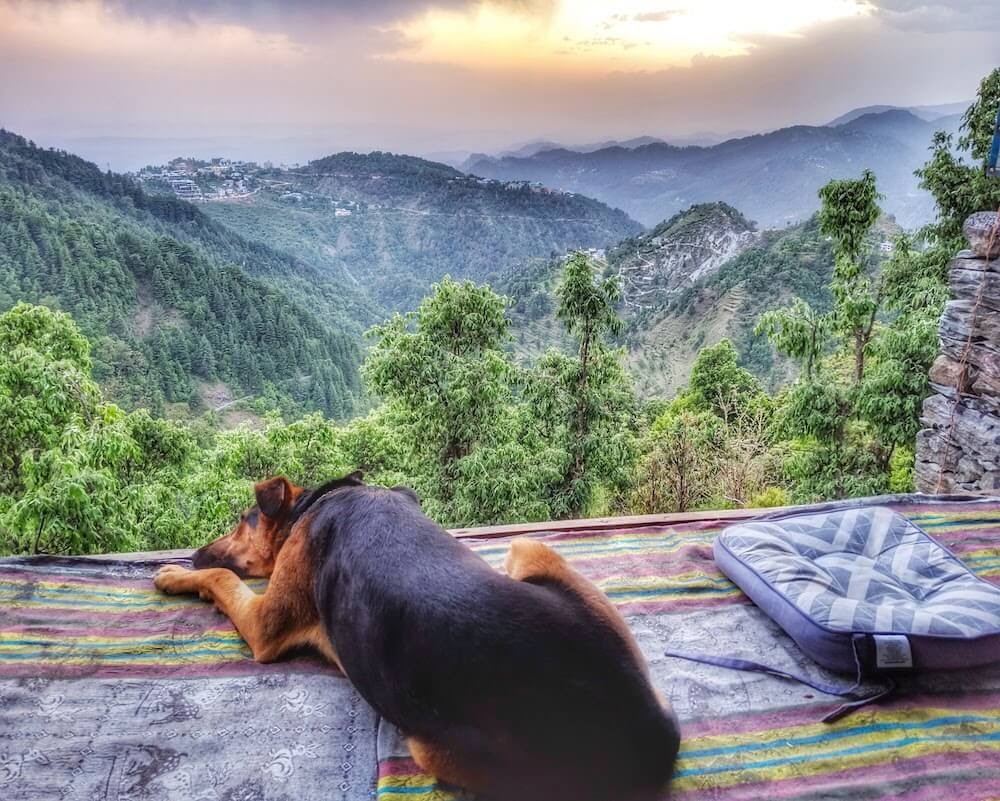 How to find a yoga center in Dharamshala?
Reachable by bus or flight, tourists flock to Dharamshala and then begins the process of finding a yoga center or the right teacher training course.
Many yoga teachers in Dharamshala mastered Yoga in Rishikesh or Mysore (which has some of the best yoga schools in India) and went back to Himachal. Then some people set up yoga centers in Dharamsala just because they liked the place and saw an opportunity to run a yoga school in India. Yoga centers such as Himalayan Iyengar Yoga center— one of the oldest yoga institutes in India — have also been in Dharamshala for a long time.
Kundalini, Iyengar, Hatha, Vinyasa are some of the forms of yoga that are taught in Dharamshala. If you are a beginner yoga learner, you should start with hatha yoga as I have already suggested above. Also, talk to your yoga guru and ask him.
In the lanes of Bhagsu, Dharamkot, Dharamshala, and Mecleodganj there are many yoga centers. Dharamshala also has many yoga retreat for beginners and residential yoga courses that are constantly put on the information board in Mcledoganj.
Yoga course in Dharamshala is mostly donation based. But do check with your yoga school. Make sure you find a yoga ashram in Dharamshala that is open during the time you visit for during the winters most of the schools shut down and the teachers migrate to Goa to teach there.
You can find all sorts of combinations and choices of yoga schools. Indian yoga for beginners is the best for you will learn the correct techniques right from the starting of your yoga journey.
Walk around to find the center of your choice. Try one or two class to see how you like the rhythm of the teacher and the way he takes his class. The trainer should pay attention to each student to correct her mistakes.
Suggested Read: Take out some time to understand the basics of life, ideas inspired by The Little Prince
Will you go to Dharamshala and try the yoga there yourself? What do you think is the best place to learn yoga in India?
Let me know how it goes.
Yoga Resources
Web resources.
History of Yoga in India and the World — Ministry of External affairs on the history of yoga in India
For definitions of Yoga — Yoga Wikipedia
Some of the books that you can read to get started with Yoga are :
How to Know God: The Yoga Aphorisms of Patanjali — Translations by Swami Prabhavananda and Christopher Isherwood.
Light on the Yoga Sutras of Patanjali.
Hatha Yoga Pradipika: I have only downloaded a sample and cannot fully comment on the text. But I saw that the table of content talks about every asana in detail and how can they help us.
Patanjali's Yoga Sutras by Swami Vivekananda — Swami Vivekananda was a pioneer in introducing yoga to the West.
Autobiography of a yogi — I am still reading this one. The story so far has been more like a collection of miracles and incidents that happened in the life of Paramhansa Yogananda.
*****
Donate to keep me going!
For five years, I've read and wrote day and night to keep On My Canvas - my sustenance and life's focal point - going. Everything here and my weekly newsletter "Looking Inwards" is free. No ads. No sponsorships. If you've had some good moments reading my posts or felt hopeful on a lonely day, please consider making a one-time or a consistent donation. I'll really appreciate it (You can cancel anytime).
*****
Want similar inspiration and ideas in your inbox? Subscribe to my free weekly newsletter "Looking Inwards"!