The Ravishing Parvati Valley
Originating from the popular Mantalai Glacier below the Pin Parvati pass in Himachal Pradesh, Parvati river flows unrestricted towards the West to merge with her sister Beas at Bhuntar. On her way Parvati curls through the Himalayas to form a gorgeous valley which is known as Parvati Valley.
Villages of Kasol, Manikaran, Shilha, Barshaini, Gargi, Kalga village, Pulga are dotted around the rich banks of the curvy Parvati. Apart from the Pin Parvati, many high treks also rise up from the Parvati basin to meet the higher Himalayan peaks and snowy villages at their summits.
But from where does the Parvati river gets her name? Legends say that long time ago Lord Shiva meditated in the mountains for about 3,000 years. Oblivious of his landscape, he continued to meditate, only to open his eyes one day to realize that he was in a gorgeous valley. He called the valley Parvati, after his wife.
You must have heard of Parvati when people mention an epic trip to Kasol or talk about smoking in Malana or about crossing into the high-altitude Spiti Valley across the dangerous Pin Parvati Pass. If not, let me give you another reference.
If you have ever seen a Bollywood movie, you would be able to recall a scene when the gorgeous heroine runs off in a neon-green valley while the adamant hero runs behind her. A river flows by, pine trees form a netted umbrella from above, clouds can be touched by extending a hand, and the grass smiles with tiny golden flowers.
Which movie am I talking about? Pick up any Bollywood movie from the 70s-80s-90s, and you would find at least one such scene; I bet you.
That valley is Parvati Valley, my friend.
If I haven't made the valley rosy enough, here are some more details on the ravishing landscape of Parvati Valley.
What does this Parvati Valley travel guide contain?
Where is Parvati Valley?
Parvati Valley is situated in the Kullu district of Himachal Pradesh. The valley runs from the Mantalai lake in the East to Bhuntar in the West where the Parvati river merges with Beas.
Kullu city lies 10 km North of Bhuntar and makes for a brilliant getaway to Parvati.
What is the best time to visit Parvati valley?
Weather in Parvati Valley is unpredictable as you are at a height and amongst the mighty Himalayas. But in general, the summer months of April, May, June, and July are pleasant to visit as Parvati Valley temperature goes up to a maximum of 25 and doesn't get too low during these sunny months. Towards June, monsoon head towards the valley making it difficult to walk decently or do big hikes on any day you like.
I was in Parvati in June, and it was raining most of the days. I think the best month to visit Parvati would be May as it wouldn't be too cold or too warm or wet.
How to reach Parvati Valley, Himachal Pradesh?
If you are traveling in Manali, you can easily travel to Kasol from there. Parvati valley-Manali is a frequent route well-connected by buses and taxis.
Manali to Parvati Valley distance (Manali to Kasol) is about 75 km, and the journey by bus would take about 2-3 hours given you might even have to change buses.
But as Manali-Kasol is a busy route, so even if you don't get a direct bus to Kasol, you can get a connecting bus via Manali-Kullu-Bhuntar-Kasol. Kullu to Kasol is about 40 km.
If you are traveling from Chandigarh to Kasol, you would take around 8-9 hours depending on the weather and the traffic that day.
If you were traveling in Dharamshala and coming to Parvati directly from there, you would arrive at Bhuntar. Ask someone for a local bus to Kasol from Bhuntar. As Bhuntar is only about 30 km away from Kasol, you would take about an hour to reach Kasol, Parvati valley.
The nearest railway station to Kasol is Joginder Nagar which is about 145 km away from Kasol. So from Joginder Nagar, you would have to take a taxi or a local bus.
How to reach Parvati Valley from Delhi? 
Delhi to Parvati Valley distance (Delhi-Kasol) is about 520 km. You can get an overnight bus from Delhi to Kasol on Redbus here.
Suggested Read: Living slow in Bhagsu, Dharamshala
How to move around Parvati Valley?
Traveling in Parvati valley is more about elbowing your way into a local bus, hanging onto your life while the bus bumps along the ancient roads of Parvati valley that accommodate cattle and traffic equitably, and then if you make out of the bus, hiking the rest of the way to the village of the day while rain might or might not drench you to the core.
Having said that, hopping from one village to another was the best part of my Parvati Valley trip. Get adventurous, this is the time.
Now some real help from my side apart from the high-level advice that you didn't even ask for.
Kasol to Manikaran — These two villages are 3-4 km away so either get on a bus or walk.
Manikaran to Barshaini — An unpredictable bus ride that can take anywhere from an hour to 2-3 hours depending on rain, bus driver's mood, a new rule from the Himachal government to not let passengers stand, and you get my point. The distance is just 14 km if you were thinking.
Hike from Barshaini to Kalga. Hike from Unchdhar to Shilha. Read the other guides for specific details.
Also — Hitchhiking is an option but don't blame me later if you run into Punjabis who insist on drinking with you on a roadside stall that had never heard of umbrellas but knew how to party in rain with pakodas and local Arak.
Where to stay in Parvati Valley, India?
Hotels in Parvati Valley are a mix of guesthouses, homestays, camps, and … go creative.
I have written about the places to stay in each village's blog (I have linked the guides below) and have also provided the links to the guesthouses in this Parvati Valley guide. But overall, finding a place in Parvati by walking around is the trend.
Parvati Valley guesthouses are never full, and you can get a room in most of the villages for about 300 rupees per night. Kasol was a bit more expensive and a dorm cost around 400-500 these. Hotels in Kasol near the Parvati river were questionable as many big groups thought of them as party hubs. You can always head to Chalal, pay about 300 for a room, and live peacefully.
Camping in Parvati valley is also a good option if you carry your tent and sleeping bags as most of the places would just rent you a space to pitch your tent.
PS: You won't find attached bathrooms in the more remote villages such as Kalga and Shilha. Also, Indian toilets are more of a trend than their English cousins.
What are the main places to visit in Parvati Valley, Himachal?
Let's talk about the many villages of Parvati Valley that will entice you to stop at every turn of Parvati. Little apple-cheeked children running around, a plum orchard in the backyard and a sage-green cauliflower field in the front, unrestricted views of Parvati and the snowy peaks from the roofs of hut-like wooden homes, and a plate full of hearty daal-rice define the Parvati valley villages.
Though the Parvati Valley travel guides list tonnes of villages that you can see, I will mention the ones that I found peaceful and worth-going.
After all, we can't see it all, can we? So let's start with the best.
Kasol, Parvati Valley –
Kasol is a popular getaway for experimental college students, white-collared smokers, and young Israelis recently free from their army services. On that note, I can say that Kasol is the most connected part of Parvati Valley.
You can read more about Kasol in my Kasol travel guide, but if you are thinking about a hammock with a hard copy of Motorcycle Diaries in your hand, then you should head out of Kasol as soon as you can. It's for a reason that Kasol is called the mini-Israel of India.
As you would have to begin your journey of Parvati with Kasol, you can book a place to stay in Kasol here on Booking.
Chalal Village, Parvati
The best part of visiting Chalal was my adventurous walk from Kasol to Chalal. Listen to me and don't take the regular Kasol-Chalal trail that curls up next to Parvati. Instead, climb up when you see the Star View Family house board(see the picture below) and find yourself on a trail through old pine and deodar forest that only locals use.
If you are looking for a laid-back village close to Kasol, Chalal might be your answer.
More details on Chalal are in my travel guide to Kasol.
Manikaran
Natural hot baths, ginger chai in crowded lanes, and a milky white gurudwara over a frothy Parvati — that is what Manikaran reminds me of.
For me, Manikaran was more than Haridwar or Rishikesh as this rickety little town is balanced on a hill next to the roaring Parvati. While the river stays cold, natural hot spring billows under the village making it a popular tourist destination.
Despite the devoted crowd that comes to Manikaran to pay their respects in the gurudwara and the famous Ram and Shiva temple, you can find your moments in Manikaran.
Read my detailed travelogue on Manikaran Sahib to know why Manikaran stands ageless.
You can find a place to stay in Manikaran on Booking.
Shilha village
I hiked for about half a day from Kasol to reach Shilla and loved the gorgeous village. If not for the scant tourists in Shilah who were unfortunately really loud, I would have stayed on until eternity in this hamlet perched precariously on a steep hill.
Most of the people who come to Parvati Valley have never heard of Shila as much haven't been written about this secluded hill-top village. Leaf through my Shila travel guide to reach Shilla, but you are left to deal with the loudspeakers in Shila on your own. I can only help you so much.
Kalga
Now is the time to think about lying down in a hammock under the blossoming apple trees with Rudyard Kipling's Kim in hand or your eyes set on the golden sun setting in the horizon.
Kalga was my favorite village in Parvati Valley, and if this opening teaser wasn't enough to convince you, read my Kalga travel story to know more.
Walk around the muddy Kalga to find a room in a trademark rickety wooden house or book one on Booking.
Suggested read: Learning yoga in Dharamshala – for a mindful Himachal trip
Tulga and Pulga, Parvati Valley
When I was traveling in Parvati, I heard everybody uttering the names Kalga, Pulga, Tulga, Chalal, Rasol casually. Irrespective of how much I tried differentiating these places from one another, all I could stutter was Tulga-Pulga whenever someone asked me the villages I wanted to visit.
So finally one day I walked from Kalgha to Tulga just before I was about to leave Parvati to go to Spiti. I am glad that I didn't let the cozy Kalga hold me back from heading out on that sunny day for the jungle behind Tulga is beautiful and free to walk around.
Though an old lady who was herding cow in that jungle got worried to see me wander alone, I didn't feel much scared until the rain started pouring down, and I lost my way in the forest. Well, in such moments I keep calm and put one foot after another.
I not only found my way but found my dream home (if there will be one ever) while walking back from Tulga's endless pine forests. A lone mud house surrounded by pine trees and vegetable fields rested on a pasture next to a stream. From behind a curtain of leaves and branches, I could see a guy sitting on the porch drinking tea and reading a book.
Whenever I would want to live at one place for a while, I am going to head to Tulga again.
Pulga is just a short walk from Tulga. But I had heard that Pulga is more crowded, and when the rain clouds went generous on me, I just stumbled back to Kalga but not before eating my heart out at the Prem Dhaba in Barshaini.
Rashol or Rasol is another village situated a high hike up from Chalal. I didn't go there for I heard it was crowded with loud Israeli backpackers and other noisy travelers. But if you have time, maybe you wouldn't mind a nice day's hike up to Rasol? The hill on which Rasol rests is steep from what I saw from Chalal and might need a few hours of huff and puff to arrive at the top.
The many other villages in Parvati are Malana, Tosh, Kutla, and more. Malana has banned tourists; I found Tosh uninspiring and overcrowded from the stories I heard from other travelers and locals; Kutla was reachable from Tosh and the monsoon didn't leave the roads very comfortable to saunter about, and I can go on.
If you want to go to Tosh, you can continue walking beyond Barshaini for another few km. Find a stay for Tosh, Parvati Valley on Booking here.
Recommended Read: You can also visit Manali from Parvati valley. Read my best things to see in Manali to explore this green village of Himachal.
Trekking in Parvati Valley
Trekking in Parvati Valley is every hiker's dream. Parvati valley treks are a mix of ambitious high passes and amateur sodden trails both of which lead you to gorgeous vistas of the Himalayas.
Most of the treks in Parvati valley are still a bit unexplored, and you have good chances that you won't find many people on them. And for the ones that are popular (read Kheerganga), I am giving you alternate routes that are still unheard of by most people.
Grahan.
Grahan is a small village tucked up above Kasol. The hike to Grahan takes about 5-6 hours or that is what I have heard. The trek starts from Kasol or Shilha. Phone networks don't work in Grahan, but like everywhere else in Parvati, you can get homestays on arrival.
I couldn't go here for it was raining a bit much when I was in Parvati. There are stories of people getting lost on this trek so find a good map and brave the situation.
Bunbuni Pass and Kheerganga, Parvati Valley
Kheerganga is one of the most popular and thus clogged up with too many tourists and camps now. To spice up the situation, I went to Khirganga via a less-traveled route through Bunbuni pass.
I have written about my hike to the hidden gem of Parvati, which is the open meadows of Bunbuni. Read about my hike from Kalga to Bunbuni and then to Khirganga to get all the details you need for the offbeat trek and for more tempting pictures.
You can also look at camping places in Kheerganga here on Booking.
We talked about this one already but to reiterate Pin Parvati connects Parvati valley to Spiti valley via a 5400 meters high treacherous pass that Indiahikes even refused to guide. Pin Parvati starts from Khirganga and goes via Mantalai, Tunda Bhuj to Spiti.
I heard stories from a baba about a section of the trek on which stones are so precariously perched on top of each other that when you walk on them, they shake, while the hungry Parvati flows below.
If you decide to do this trek, you need a guide.
Chandrakhani Pass Trek that starts from Malana to Naggar would take about 2-3 days. Even if you do this trek or not, Naggar is a cute village with ancient temples to visit. Think peaceful temple courtyards shadowed by orange trees.
Sar Pass is a multi-day trek that begins at Kalga or you can even go to Sar pass from Grahan. Kalga to Bhandak is another self-doable trek. I plan to do this one the next time I am in Parvati.
There are many more. Walk around to find your own.
Must Read: My guide on trekking in Dharamshala – Offbeat and some popular Dharamshala hikes
How is the phone connectivity in Parvati Valley?
You won't find many places with wifi beyond Kasol. Though the phone and internet connectivity in Parvati Valley was as moody as the monsoon, I still got enough signal to at least make phone calls.
I found Airtel signal in Kasol, Chalal, Kalga, Shilha, Manikaran, and Barshaini, but the speed switched between 2G, 3G, and 4G. Of course, Bunbuni and Kheerganga were beyond the reach of any phone signals.
As I work on the go, I struggled with the phone internet speed many times and couldn't even load the basic apps. Well, the internet wasn't a problem when the power went off for a week in Kalga, phones discharged, and candlelight dinners seemed like an everyday thing.
If you are a digital nomad or a permanent friend of the road, Kasol is your best option for fast internet.  What can I tell you, this is Himachal, my friends.
What to pack for Parvati Valley?
Here are some absolutely essential things that you should have on your Parvati valley trip so that you can walk around easily and stay safe and comfortable. Along with this, bring along your daily use t-shirts and other things.
Did you like this travel guide to offbeat Parvati Valley?
Tell me more about your Parvati travels!
Disclaimer: This article includes affiliate links to products I love. If you choose to click through and make a purchase, I will earn a little bit at no extra cost to you. Thank you.
Please pin the guide and share it with the world.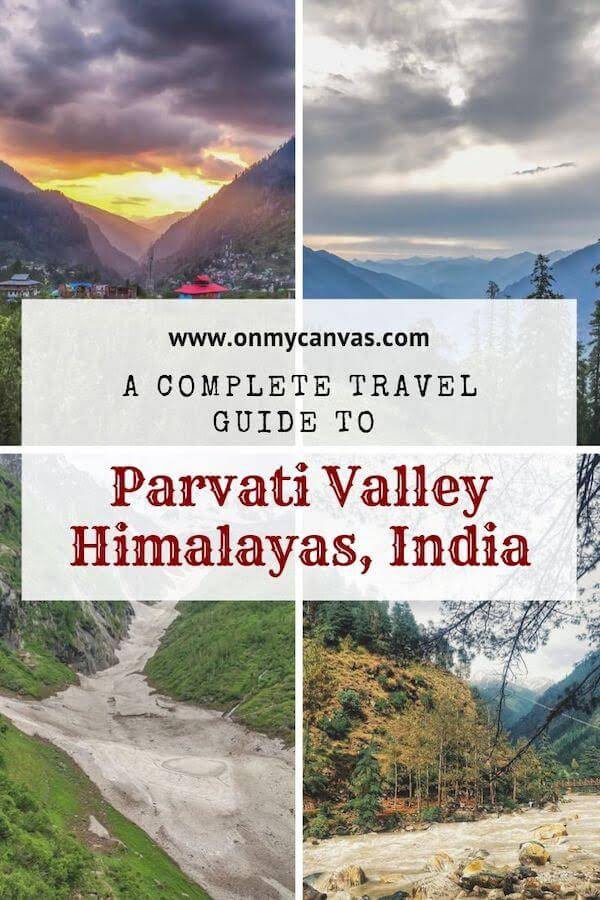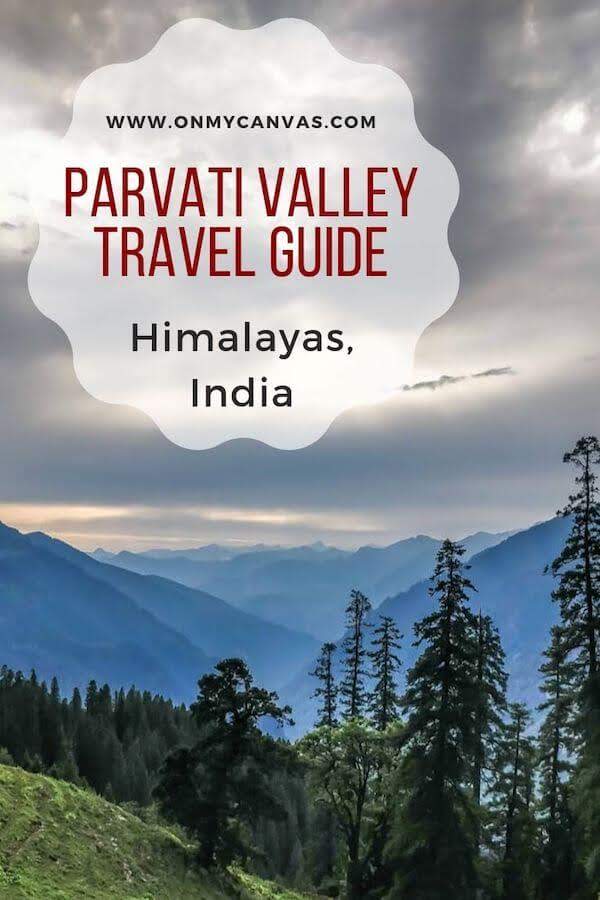 *****
Donate to keep me going!
For five years, I've read and wrote day and night to keep On My Canvas - my sustenance and life's focal point - going. Everything here and my weekly newsletter "Looking Inwards" is free. No ads. No sponsorships. If you've had some good moments reading my posts or felt hopeful on a lonely day, please consider making a one-time or a consistent donation. I'll really appreciate it (You can cancel anytime).
*****
Want similar inspiration and ideas in your inbox? Subscribe to my free weekly newsletter "Looking Inwards"!