During the six weeks I lived in the Bhagsu village of Dharamshala, trekking in Dharamshala was one of my favorite activities. 
On a sunny day when I was walking from Bhagsu village towards Mcleodganj, the idea of going to Mcleodganj seemed mundane. There are many places to visit in Dharamshala, but I wasn't interested in any. So I took a detour. Instead of continuing going straight to Mcleodganj, I took the road on my left that went downhill.
I had seen the road many times before and had wondered about its destination. But that day the road seemed to promise the solitude I was looking for. Hell, we all know I wasn't going to get much peace in Mcleodganj unless I strayed away in its back lanes.
When I had walked downhill for a while, the road disappeared after leading me to a cluster of few tiny houses. Where was I to go then?
Standing clueless in front of a bright-green house, I enquired the Himachali lady who was milking her cow in the open mud courtyard outside the home. I wanted to know if there was a path to go further. 
The sari-clad thin woman told me that if I walked on the concrete path for about fifteen minutes, I would find a stony downhill walk. She recommended me to confirm the trail with someone when I had walked a little bit. 
I wasn't worried about the stony trail for I couldn't even see the concrete path that was supposedly in front of me. I asked her again. The lady kindly replied, "The pakka raasta that you see near the tree is the one you have to take."
She was right. There was a pathway. Only that pakka raasta or concrete path was as narrow as a cow's tail. 
I smiled. Having completed many treks in Dharamshala, I had learned that no matter how lost you feel, there is always a way. You just have to find it. Even if you can't see a path until the road you are walking on is about to end, a tiny clearing would be waiting for you right where you need it. 
The lady was right. Soon, I found a rugged downhill path that I trekked down by clinging to the loose rocks. And once I reached down in the valley near the stream, I discovered village after village and path after path. Sometimes I asked the locals, and sometimes I risked it. 
In a few hours, I arrived in Dharamshala. When the villagers heard that I had walked to Dharamshala from Bhagsu, they were surprised for Bhagsu-Dharamshala walk isn't an easy one to find. 
Though some credit can be given to my curious nature that doesn't even leave one stone unturned, quite literally, I know that I could only find my way to Dharamshala city through the middle of the jungle for Dharamshala is a very walkable place. 
Villagers have connected one village to another by choosing tiny trails through the jungle. You can walk from one point to another in many different ways. Some people like the shortcut, some take the longer but less steep path, and some can reach from one end of Dharamshala to the other end through thick forests, fields, and courtyards of homes precariously perched upon steep hills. 
Irrespective of where you want to go, there is always a path. 
Though I did many known Dharamshala treks, I also embarked on such unknown adventures throughout my travel in Dharamshala. 
Even though I believe that you do not need to find the popular treks around Dharamshala for the entire valley is open for you to walk, I have listed down a collection of some of the best hikes that I did. Some of these are popular climbs, and some are unheard by most of the tourists who are looking for some adventure in Dharamshala.
Also Read: My experience of learning yoga in Dharamshala – Along with an introduction to yoga
What does this travel guide to hiking in Dharamshala contain?
My best options for trekking in Dharamshala.
Hiking between Bhagsu, Dharamkot, and Mcleodganj – Most connected villages in Dharamshala
While Bhagasu and Dharamkot are villages in Dharamshala, Mcleodganj is a small town adjacent to the Dharamshala city and falls under the Dharamshala district.
The curvy and bumpy paths connecting the three places doesn't allow many motorable vehicles to pass. You cannot take a cab to Upper Bhagsu. Walking is the only option. Similarly, you cannot drive from Dharamkot to Bhagsu. You will have to walk. 
Although there is a road connecting lower Bhagsu and Dharamkot to Mcleodganj, I always walked to Mcleodganj. There are two trails to Mcleodganj from Dharamkot — one that goes from the left of the Vipassana meditation center in Dharamkot and the ones that go from the right of the meditation center. The right one is a shortcut. 
Both the walks are beautiful but I liked the shortcut better for it was quieter. If you can't find these, ask the local auto-rickshaws near the vipassana center. 
The deodar forest that walks along with you on the road from Dharamkot to Mcleodganj has many amazing patches to sit and listen to the birds. Find them. 
You can also hike from lower Bhagsu to Mcleodganj. This walk is even better than walking from Dharamkot to Mcleodganj. On this Bhagsu-Mcleod trail, you don't feel the steepness of the hills and many shops, small momo stalls, and cafes come along your way. 
Naddi Village, Dharamshala
You can walk from Mcleodganj to Naddi village, which is a small hamlet near Mcleodganj. Go here for a cup of tea and some beautiful sunsets. Dharamshala to Naddi distance is about 9 km, and Mcleodganj to Naddi village is about 4 km. It is not a very steep walk and should take you about an hour from Mcleodganj to reach the village. 
Dharamkot or Bhagsu to Dharamshala city
This is a long but beautiful walk as I described in the introduction to this Dharamshala hiking guide.
Take the road that forks from the Bhagsu-Mcleodganj road and goes down. Keep walking. You will stumble into a village where you will have to ask for the way. A tiny concrete path would lead you to a stony downhill. Then you will be near the stream or the nallah as the locals call it.
Then you can either walk by the stream which eventually goes up to Dharamshala city or climb up the hills near the stream as I did. I preferred the path from the top of the hills for it was more beautiful and looking down at the Kangra valley got its own charm.
Once you climb up and keep walking, you will stumble into villages after villages and at each village, you would have to ask someone to confirm if you are on the right path. There would be many ways to choose from, so pick a path as per your comfort. I didn't pick the shortcuts if they were too steep. People in Himachal are very helpful so everyone would guide you in the right way.
I took about 4-5 hours to walk from Bhagsu to Dharamshala but that's because I stopped many times, sat down on the top of the secluded hill, was confused about where I was actually getting to, and well, I had all the time. You can even do this walk in about 2-3 hours. Remember that the path won't be always clear. You would cross pine forests, streams, and villages. If a path seems challenging or covered in thickets, ask the locals again if you are going the right way. You might not be able to see anybody at the moment, but someone or the other keep passing by on their way to home or their fields. 
If you want to do this walk from Dharamkot, you have to come on the Bhagsu-Mcleodganj route and then follow the above instructions. 
The trek was not that difficult, but you would have to keep walking for a couple of hours. Most of the stretches weren't steep and can be done by someone with decent fitness.
Triund Trek, Dharamshala – one of the most popular treks near Dharamshala.
Trek to Triund is one of the most popular hikes in Dharamshala. Though I don't like going to very crowded hikes, I loved the Triund trek for its gorgeous landscapes.
Triund hill is a beautiful mountain in the Dhauladhar ranges of Dharamshala. The height of Triund peak is about 2850 m, and the hill is about a 6 km uphill walk from Upper Dharamkot.
Triund height does make the trek a little challenging for people who aren't used to walking much.
You can book a tour to do this trek, but we went on our own. To do the trek, head towards upper Dharamkot from wherever you are. When you cross the Gallu Devi temple above Dharamkot, there is a checkpoint. This checkpoint is considered as the Triund trek starting point.
The officers there used to ask if you have a tent booked at the top of Triund. We hadn't booked a tent for we knew we would find something at the top. We were lucky to find a group who told the officers that we were with them; otherwise, the officers wouldn't have allowed us to go further. The officers confirmed if you have a booking to make sure that everyone has a safe place to sleep a the top of Triund. Also, carry an ID card for the officers check for at least one ID card.
Please note that since July 2019 camping in Triund has been banned again. A huge number of tourists used to climb Triund, and stayed there. But irresponsibly, many travelers left a lot of garbage on the top of the hill and also created noise pollution with their speakers. Thus the government has banned camping on the top of Triund.
Though the Triund trek route is crowded and camping is banned at the top now, trekking in Triund is a beautiful experience. But it would have been better if visitors were more responsible.
Even though officers checked for the speakers, many people hid their music speakers in their bags and blasted them on the walk. The redundant loud music disturbed everyone's experience of walking in the mountains. 
Just take a few precautions so that we call can enjoy these natural wonders else one day either we won't have any place to go or we won't be allowed.
Please bring a pair of headphones if you need music. Don't leave plastic bottles behind. Bring your garbage back. Be respectful to nature for it doesn't ask for anything but only gives. And read these hiking quotes if you want to get even more inspired to hike, though sustainably. 
The walk to Triund took us almost four hours one-way. Carry water, bananas, some snacks, and protein bars. The shops along the way sell stuff at higher prices for they have to carry the inventory to the top. You can also walk further up from Triund to the snowline, which are the snowcapped mountains of Dhauladhar and could be reached by hiking for about two hours from the top of Triund.
I would say that your trek to the Triund hill is incomplete if don't go to the Triund Snowline. But please consider your fitness and how you feel after arriving at Triund top.
You do not need a Triund trek map for the trail is well-marked, and you would be doing the trek with many people. You can also do this trek solo. 
Triund trek difficulty level — Anyone with decent fitness level can do this trek. You have to keep walking, that's all. 
Best Time to Visit Triund Dharamshala — I did the Triund Trek in June when the temperature wasn't too extreme. Weather in Triund changes abruptly. When I was at the Triund hill, the weather was clear for the night. But some friends did the trek a few days later and suffered for all night long as it rained and a storm raged the camps in Triund. 
Plan your Triund trip around summers for the best experience. 
Also Read: Walk from Kalga to Khirganga via the unknown Bhunbhuni pass – Wonders of Parvati valley
To an unnamed waterfall in Dharamkot, Dharamshala
This gorgeous waterfall that not many people know about is 3-4 hour walk from Upper Dharamkot. The trail is unknown to most and goes through beautiful landscapes.
Walk up to the Gallu Devi temple above Dharamkot, and ask for the way. You might get confused around Sunset cafe for the trail there forks in two, but the correct route – the right one- is marked by an arrow sign on a stone. This is the usual way of marking trails in Dharamshala so get used to finding these faintly marked stones (look at the picture in the Bhagsu waterfall section).
Depending on your speed, you would take about 2-3-4 hours to arrive at the waterfall.
You can swim in this waterfall. But beware of the strong currents. One of my friends visited the waterfall and while climbing down into the water, her feet got stuck in the rocks while water pushed her constantly. So be careful, please.
A small cafe near the waterfall sells tea, maggie, and other snacks. 
The trek isn't that difficult. Anyone with decent fitness can do this trek. But it is not a one or two hours walk as some people say. The walk is long and takes about 3-4 hours. Also at some steep hills, you would have to walk on loose boulders. Be careful there. You can do this trek solo, too.
And if at any point you get tired, you can always sit or lay down by the side of the trek on dry pine leaves.
To Bhagsu Nag waterfall
Bhagsu waterfall is a busy waterfall in the village of Bhagsu. As Bhagsu village is visited by many Hindu devotees who go to Bhagsu to pray in the popular Shiva temple, the waterfall also attracts many visitors.
You can walk up to this waterfall from upper Bhagsu, the walk is short from there, and the higher side of the waterfall is less crowded.
Or you can walk to the waterfall from lower Bhagsu but that one is a longer walk.
Do visit Shiva cafe which is further above the waterfall, and drink the cold coffee there while watching the Kangra valley in the distance.
This is one of the crowded waterfalls in Himachal Pradesh, and I preferred the unknown waterfall to this one. 
Kareri Lake, Kangra valley 
Kareri Lake lies a day's trek from the beautiful village of Kareri. Located at a high altitude of 2934 meters, Kareri lake is a freshwater lake that is said to have the most gorgeous sceneries. I didn't go there so I cannot write beautiful descriptions here. I almost went for this trek but then my plan got canceled, and I ended up in Amritsar instead. But I had done a lot of research about this trek. 
First, go to Kareri village. You will have to take a bus from Dharamshala at 8 am to Ghera, a village that comes before Kareri. Then walk to Kareri village. The distance between Dharamshala and Kareri is about 30 km. But from what I heard from the locals in Bhagsu they told me that the walk from Ghera to Kareri village takes about 3 hours. 
Or you can also take a taxi from Dharamshala to Kareri village directly. 
Stay in a homestay in Kareri, and ask someone to help you with the way to the lake. Many locals in Kareri village also run guided tours to the lake. You can also check about the Kareri lake hike in your Dharamshala guesthouse. 
Sometimes even talking to the taxi drivers in Mcleodganj or Dharamshala can prove fruitful for some of them are from the villages nearby or at least know some people in every other village.  
Make sure you carry your essential things and snacks before heading off towards Kareri for I am not sure how many shops you would find in that village. 
Indrahar pass trek
One other trek to do in Dharamshala is the Indrahar pass trek. This trek would take you around 4 days and 3 nights to complete. I don't think that you can do this trek on your own. Ask the tour agencies or look online.
Please note: Most of these hikes that I mentioned above can be done solo, and I went on them alone. But I cannot speak for the Indrahar pass trek. For Kareri lake, I heard that you can do this hike alone.
Also, have a look at this great guide to offbeat hiking in Himachal Pradesh that will show you how many unexplored destinations the Himachali Himalayas have been hiding in their lap.
What is the altitude of Dharamshala city? 
Dharamshala altitude is about 1450 meters. The height of Dharamshala height does make trekking in Dharamshala a bit tougher as compared to if you had hiked near a more planar place.
What is the best time to visit Dharamshala for safely doing the Dharamshala treks?
The best season to visit Dharamshala is the summer season that starts somewhere in April and goes until June/July end when the monsoon begins, and the weather in Dharamshala starts getting cold. It rains in Dharamshala even during the summer months so sometimes you might have to wait to do the planned adventure activities in Dharamshala.
Dharamshala temperature in June went up to a maximum of 35, during the afternoon on a sunny day and then it can drop to 4–5 (if there is rain) but generally stays at about 15 at night.
But Dharamshala weather can change any time. Carry a rain jacket and wear shoes when you head out.
Winters in Dharamshala are cold, and heavy snowfall bestows upon Dharamshala hill station. 
How to reach Dharamshala, Himachal Pradesh?
Dharamshala has a domestic airport. You can fly to Dharamshala from Delhi or many other Indian cities. But remember that flights to Dharamshala aren't that frequent. 
Flying to Pathankot or Amritsar in Punjab is also a good option. Then from there, you can take a bus or taxi to Dharamshala or Mcleodganj. Pathankot to Dharamshala distance is about 85 km but the journey took me about two and a half hour. You can even fly from these cities in Punjab to Dharamshala if you are getting a flight in your budget. Always compare prices on Skyscanner before booking. 
Book a Pathankot to Dharamshala bus here on Redbus.
You can easily get a Dharamshala to Mcleodganj bus or a shared taxi during the day. At night, buses or share taxis don't run between Dharamshala and Mcleodganj so you will have to take a private taxi from Dharamshala bus stand. The taxi charges are fixed in Dharamshala. Dharamshala to Mcleodganj — 400 rupees at night (350 during the day). Dharamshala to Mcleodganj distance is only about 7 km so you can even brave the journey by walking, at least once. 
Dharamshala doesn't have a railway station. The nearest railway station to Dharamshala is Pathankot in Punjab. Arrive in Pathankot by train, and then follow the above instructions.
You can also travel to Dharamshala by bus. Frequent buses to Dharamshala run from Bhuntar, Manali, Shimla, Chandigarh, and other cities in Himachal.
Download an offline Google map of Dharamshala which will help you on your Dharamshala trekking adventures. 
How to reach Dharamshala from Delhi?
Delhi to Dharamshala by Bus — Take an overnight bus from New Delhi to Dharamshala. Delhi to Dharamshala distance is about 470 km, and you would do the journey in about 13-14 hours.
Delhi to Dharamshala by Train — Get down at Pathankot railway station and then take a taxi or bus from Pathankot to Dharamshala. 
Delhi to Dharamshala by Road — The landscape is beautiful, and the roads are okay. Drive on.
Delhi to Dharamshala by Air — Fly directly to Dharamshala airport. 
Where to stay in Dharamshala?
The best way to find a place in Dharamshala is to walk around and ask for availability and prices as many homestays and hotels aren't registered on any website. 
Rooms in Mcleodganj and Dharamshala would be more expensive than the villages of Bhagsu and Dharamshala. Most of the hikes that I have mentioned above are reachable from Upper Dharamkot and Bhagsu so you might want to base yourself there rather than finding a place to stay in Dharamshala city. 
I also liked the villages more for they were quieter than Mcleodganj which has a fast-moving influx and outflow of tourists.
Dharamkot is a nice area to stay if you like to stay close to the action. Upper Dharamkot is more peaceful than lower. 
Upper Bhagsu is better to stay as it is less crowded and more peaceful than lower Bhagsu, which has a daily influx of tourists coming in to pray at the Bhagsunag temple.
But without relying on finding a place when you arrive, book a place to stay for your first days in Dharamshala (especially if you are coming at night.) Check some hotels on Booking, but remember that most of the results come up in Bhagsu, Mcleodganj, or Dharamkot. If you are arriving late at night, ask your guesthouse about how to reach the place at night.
You can choose to stay in either hostels, hotels, or homestays. Walk around and ask when you arrive. I stayed in a homestay for a month at the price of almost 15k per month (discounted from 700 rs to 550 per day). The room had an attached balcony and a toilet with 24-hours hot water.
While I paid 500, people were even living at 200 rupees per day pricing. But those rooms were not as nice as mine. I don't always choose the cheapest accommodation for I like to stay at a place where I can work, too, and preferably have a nice view to accompany me on those long hours of writing. 
Considering all the factors, the best place to stay in Dharamshala would be Upper Dharamkot or Upper Bhagsu. 
Must Read: Living and traveling slow in Bhagsu, Dharamshala
How much would a Dharamshala trekking trip cost?
You can get a decent room in the villages of Dharamkot and Bhagsu for under 500 rupees. I spent almost a 1000 rupees, sometimes less and at times more, on food and stay per day. Rooms in Mcleodganj and Dharamshala would be more expensive than the villages.
Food in Mcleodganj is cheaper than the villages for many international tourists stay in the hippie villages of Dharamkot and Bhagsu.  
Most of the Dharamshala hikes that I have mentioned above are day hikes. But on longer treks, you can get a camping space to put your own tent or hire a tent for about 500-600 rupees.
Get adventurous. 
All these hikes above are self-guided hikes so you don't have to pay for a tour guide. Buy some snacks, bananas, and go on. 
Taxis and autos mostly run on fixed prices and are available in abundance if you need them and they run on fixed prices. While hiking in Dharamshala, I used taxi maybe once or twice for the walks were always prettier.
Is Dharamshala safe for hiking solo or in a group?
Dharamsala is a very safe place for travelers, in groups or solo. No-one stopped me on any of the walks neither did anyone eve teased me or tried to take advantage because I was alone. 
Men and women that met me on all these hikes, most of which were solo, only tried to help me out by guiding me on the right path or encouraging me for my adventurous spirit. 
People in Himachal are very nice and generally stay away from giving trouble. 
That being said, safety is always first. No matter how safe a place is, we shouldn't wander alone in the jungles or hike without letting anybody know where we are. Someone back at my homestay or a friend at home always knew where I was heading to.
Carry a pepper spray in your fanny pack. Stay alert. Don't go for a walk in the jungle at night. Don't be shy, and ask locals for the way whenever you feel lost. There are no wild animals in and around Dharamshala so you don't have to be scared. Most of the walks that I have suggested here are at least used by the local people if not by travelers so animals stay away. If you are planning to do a hike in Dharamshala, ask your guesthouse or local friends about the safety and the route and the difficulty of the hike. 
Always wear shoes and carry enough water or at least a bottle that you can fill. I even drank water directly out of the streams of Dharamshala for the water comes from the top of the mountains. Bring along a small first-aid kit.
Most importantly, hiking alone is not as scary as it looks. Women have been solo trekking in the remote mountains of Kyrgyzstan. I believe everything is possible as long as you follow basic safety rules and stay aware. 
What to carry for doing treks near Dharamshala?
A 

rain jacket

. 

flip flops

 to use at the guesthouse. 

A few t-shirts, thick ones if you come in the winter and thin ones for the summer.

Your 

toiletries

 and 

sunscreen

. 

A

 

flashlight

 for walking at night. 

Bring a 

mosquito repellent

 for the walks through thick forest. 

Long socks

for hiking and staying warm
full-sleeves shirt for women and for men – Will save you from spikes in those walks through the jungle.

A good camera. I can vouch for this 

Nikon D3400

. 

A 

first-aid kit

– Carry a first-aid kit with you while hiking.
A day hiking backpack –

to take on treks

.

A refillable water bottle – My

LifeStraw bottle

 that filters water on the go has saved me much money and the universe plastic. Lifestraw bottle has a strong filter, and I recommend it to everyone.

Some 

books

 to read at the top of those misty hills.
Further Readings
If you are going to Himachal for a longer time, you can visit Parvati valley, Spiti, Leh and Ladakh, Manali and villages around Manali, Zanskar valley, and many more places.
As I stayed in Himachal for about four months, I spent considerable time in most of the above destinations. Find the relevant travel guides below,
My Parvati valley travel guide based on my experience of traveling in Parvati for about three weeks would give you every detail you need to travel in Parvati.
Kalga village – Though I went to many villages in Parvati and have a travel guide for about 4-5 of them, I am sharing my travel article on Kalga here for it was my favorite village in Parvati.
Spiti valley travelogue and practical travel tips – I went to Spiti alone at the end of my Himachal trip. Though I found Spiti to be extremely breathtaking, I felt lonely in the valley. Read my guide to know more and to plan your Spiti trip.
Manali Travel guide – Discovering offbeat Manali, India's summer capital.
Responsible Tourism – A general appeal to all those who visit Himachal for doing treks in

Dharamshala.
Noise pollution and garbage is an increasing problem in Himachal. We can make sure to not add to the problem so that these places always stay beautiful. That's is the reason we visit them in the first place.
Few things you can do today for a better tomorrow – You don't have to carry speakers with you to listen on the trek. Don't leave plastic bottles behind and carry reusable bottles or water bottles with filters. Bring your garbage back with you.
Be respectful to nature for it doesn't ask for anything but only gives. Do what it takes to keep Himachal clean. Thank you. 
Did you like my guide to trekking near Dharamshala, Himachal Pradesh?
Please pin the guide and share it with the world!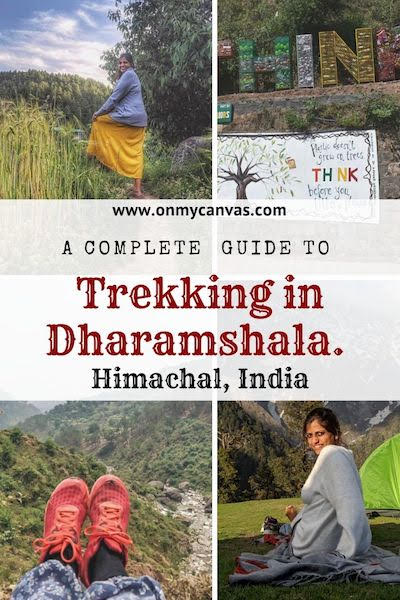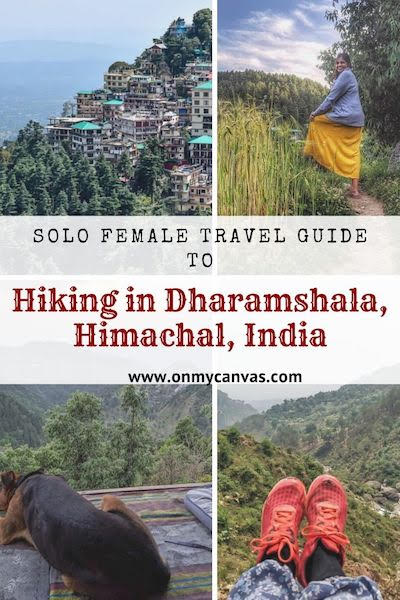 Disclaimer: This article includes affiliate links to products I love. If you choose to click through and make a purchase, I will earn a little bit at no extra cost to you. Thank you.
*****
Donate to keep me going!
For five years, I've read and wrote day and night to keep On My Canvas - my sustenance and life's focal point - going. Everything here and my weekly newsletter "Looking Inwards" is free. No ads. No sponsorships. If you've had some good moments reading my posts or felt hopeful on a lonely day, please consider making a one-time or a consistent donation. I'll really appreciate it (You can cancel anytime).
*****
Want similar inspiration and ideas in your inbox? Subscribe to my free weekly newsletter "Looking Inwards"!