From the Sun-Kissed Balcony of Kalga Village, Himachal Pradesh
Almost deaf from the loud music blasting from the speakers of travelers who visit Kasol to escape the Delhi heat, I ran out of Kasol after a night. A steep uphill walk took me to the village of Shilha, a tiny apple village pasted onto the slopes of a beautiful green hill. But I didn't know that the speaker lovers from Delhi had discovered Shilha and were smoking away in its few guesthouses. On one starry night, I also gave up and joined the groups of Indian boys around a bonfire.
Stubborn about staying away from people who couldn't appreciate the silence of Parvati valley, I strapped on my bag and walked towards Kalga in the morning.
Update 2022: As of now (mid-April), Himachal Pradesh (HP) doesn't have any specific travel restrictions. Travelers don't need to carry a negative RTPCR test but everyone is still supposed to wear a mask in public spaces. Read more regulations here on the HP government's website.
After a long walk crossing water streams running over the road unabashedly, I arrived at the staircase leading to the village of Kalgha. Under the thundering clouds, I climbed up the muddy stairs (almost stumbling down a few times).
The sun was hidden behind one of the loud clouds, and the power was gone. I entered a faintly-visible Kalga.
Suddenly the entire landscape changed. I was not in a village. I was in an apple orchard.
Umbrella-like apple trees bowed down under the weight of water and the blossoming apples. Sodden lanes in the village were perfectly slippery to make you fall on your face. Empty restaurants and cafes stood silent.
Shuttling between the crackling wooden guesthouses of Kalgha village that seemed to be from prehistoric times, I decided to stay in the first guest house at the beginning of Kalga.
For the next few days the rain clouds went crazy, and I stayed confined inside the room with a window. Oh, I might have hiked into the pine and deodar studded jungle behind Kalga only to come back running in my slippers under the bountiful rain showers. Let's say I didn't fall.
why do I travel even when I keep falling.
I also went out to eat a few times. The young boys running the guest house prepared lunch at dinner and dinner was served in the morning. If I had said something they would have smoked my complain away. So instead of requesting timely meals, I discovered new places to eat every evening.
On one rainy night, I arrived at Guru's cafe and sat outside in the drizzle. I wanted to avoid the Parvati travelers that (I assumed) must have huddled in the restaurant.
But destiny had planned it otherwise. Soon I found myself inside to avoid getting soaked. Gorging upon the dry okra and chapati while soaking in the warmth from the stove, I relaxed for the first time in Parvati. Music wasn't blasting, and nobody talked about playing any.
Following the orders of an empty stomach, I walked back to Guru cafe for breakfast. As Kalga hadn't been able to enchant me yet, I carried my small backpack contemplating if I should leave after breakfast. I was even thinking of getting out of Parvati and making my way to another valley (perhaps Spiti) or giving up on Himachal and flying to Bangalore.
While serving me another plate of okra and crispy chapati under a clear sky, the house lady said she had an empty room. Did I want to see? A starving stomach can make you do some nasty stuff, but a satiated stomach is even more blinding.
I climbed up the creaky wooden stairs of Guru's cafe to find a room which took me many centuries back. The only furniture in the room was a wooden bed in the middle of the room. Two velvety blankets were spread on the bed. No fan.
A wide window opened above blossoming apple trees. Snowy Himalayan peaks shined at a distance. Cottony bundles of clouds rolled around in the azure blue sky. Neon-green corn and pea fields rolled over to meet the mountains. Abandoned wooden homes kept a considerable distance from each other.
I didn't have much to think about.
Also Read: Living slow and practicing yoga in Dharamshala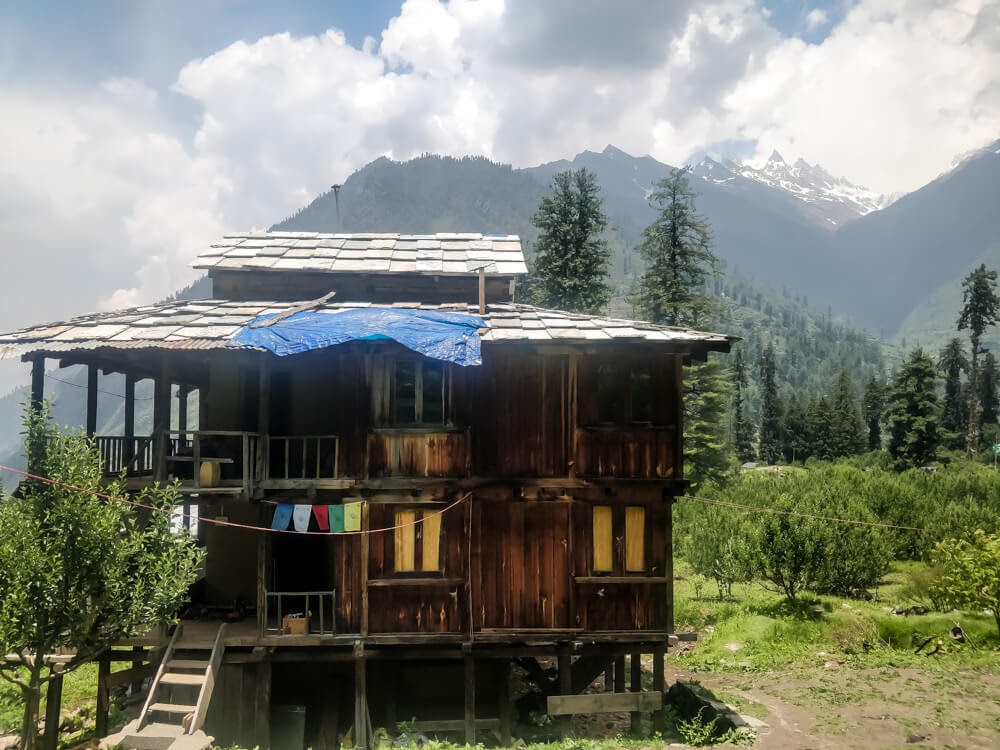 That side of Kalgha turned out to be different from the entire Parvati valley. Smokers still roamed around, but fewer in numbers. Loud music wasn't allowed in Kalga. As Guru's cafe was run by a family, food was available on time.
To top it all, clouds parted to expose a bright inky sky for at least some parts of the day.
Starting my mornings with black coffee and aloo paratha, I sat in the balcony for the first few early hours switching between reading and doing nothing. Masala chai accompanied me as I watched the sun play hide and seek from behind the clouds.
I blamed the blue whistling thrush for not letting me read. Often I found myself staring at the trees or jumping around the balcony to find the culprit that chirped around the guesthouse all day. Sometimes I wandered off into the green fields and forest behind the yellow-billed blue magpie that had been dodging me since Dharamshala. (Also read: A month in Bhagsu Nag village of Dharamshala)
Lunch meant freshly made chapati or rice with the goodness of garlic dal or aloo gobhi. If the garden had fresh spinach, I always got the steaming palak paneer. (Mindful and healthy living was on my mind.)
Afternoons were even more idyllic than the mornings. The noon sun spread a golden hue over the green carpet of Kalga making it impossible to take my eyes off the perfect Himalayan panorama. When it rained, I wrapped a blanket around me but didn't leave my balcony seat. Clouds put up a show, the Himalayan bulbul sang, rainbows danced, and the trees showered until they couldn't take anymore.
More rain meant cozying into the evening with more masala chai. And when the golden hour approached, I left my book aside, turned my chair towards the sun setting between the twin hills, and picked up my phone.
If one day the evening sky was orange, another day it was purple. From pink peach to golden mango to sindoori red, the sun setted into the horizon splashing more shades onto the sky than a naughty friend can throw at you on Holi.
While watching over from the balcony, the show of nature seemed surreal.
You might also like: Life is more than doing things of consequence, lessons inspired by The Little Prince.
Those sun-kissed evenings would give way to starry nights whose silence lulled me into a deep sleep. My earplugs lay unused next to my pillow.
Soon I would find myself running in the neon fields behind the magpie trying to trick her into letting me click a picture. She would then sit on my shoulder, and together we would fly into the horizon to meet the molten golden sun.
In the morning I looked for that picture only to realize it was all a dream.
Can you blame me for having such a weird dream while I was living a fairy tale that is Kalga village?
From apple trees to mango sunsets, Kalga has it all. I bet the picture-postcard landscape of Kalgha would trick you into staying for longer. And I sincerely hope you do.
Learn why you should let life take its course: Life lessons inspired by Rainer Maria Rilke, the poet.
What is the altitude of Kalga village?
Kalga is located at an elevation of about 2,300 meters or 8,400 ft.
How to reach Kalga Himachal?
Fly into Bhuntar, Chandigarh, Delhi, Pathankot, or Amritsar airport and then continue your journey to Parvati valley either by a bus or car.
The best way to reach Kalga is by getting to Barshaini village in Parvati and then walking to Kalga. The walk from the Barshaini dam uphill to Kalga would take about half an hour.
How to travel to Barshaini? You can take a bus from Delhi, Chandigarh, or Dharamshala to Bhuntar. From Bhuntar, you will get many local buses going to Barshaini. If you don't get a direct bus, get down at Manikaran and take another bus to Barshaini, which is what we did most of the times.
If you are coming by train, you can only travel until Pathankot in Punjab, for that is the closest train station to Parvati valley. Get a bus from Pathankot to Bhuntar or come via Amritsar.
If you are traveling to Kasol first, read my travel guide to Kasol and travel to Kalga from Kasol.
Hitchhiking is also possible around Parvati valley.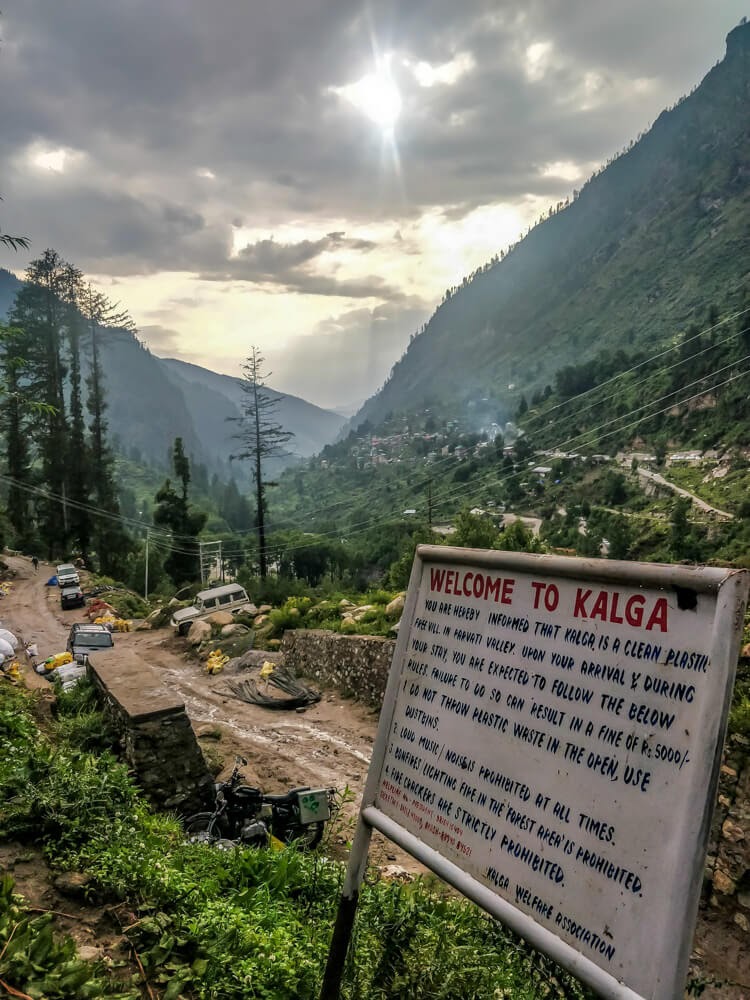 Where to stay in Kalga?
Walk around to find a homestay in Kalga. Most guesthouses are wooden homes with a shared bathroom outside the house. Only New Brahma and one other guesthouse have attached bathrooms.
You can also find places to stay in Parvati valley on Booking. Also look at my guide to Indian home stays to understand how to find a good one for yourself and what to watch out for.
Kalga food is mostly organic or locally-grown. Most homestays and guesthouses provide food. Many restaurants are also tucked away in the orchards of Kalgha. Or cook if you have a kitchen.
What is the best time to visit Kalga, Himachal Pradesh?
Kalga weather is unpredictable. The best months to visit Kalga would be from April/May to June/July. I was in Kalga at the end of June. Even though it was pouring in June, these are the summer months of Kalga. Some days would be sunny, and some would be clouded.
Plan your Parvati valley trip around summer as Parvati gets too cold as winter approaches. In September the valley will appear red as that's the apple harvest season.
Also see: A photo essay of Spiti Valley: photos that Instagram won't let you see.
What are the other places to see around Kalga?
Places to visit in Parvati valley near Kalga are villages of Tosh, Manikaran, Pulga, Tulga, Chalal, Shilha, and many more. You can easily walk between the villages.
Guesthouses can be found in most of these villages on the same day.
Here are my corresponding guides:
Shilha, Parvati valley – A gorgeous apple village tucked up on a velvety hill.
slow in Manikran with hot water springs and chai.
Some of the beautiful treks from Kalga are Kheerganga trek, Bunbuni trek, Sar Pass, and a few more. You can go from Kalga to Kheerganga on your own, and the hike takes about four-five hours as per the walker's speed. Bunbuni is an offbeat hike and requires a guide. But you can also descend to Kheerganga from Bunbuni — not many people walk this way, and the lack of human beings makes the hike pretty serene (and challenging).
Read my detailed guide for the Kheerganga trek from Kalga via Bunbuni pass to see how gorgeous this hike is.
The very popular Grahan trek to the Grahan village is not usually done from Kalga. Go to Shilha or Kasol to do that one.
Updated follow up reads for 2022:
Also, see my guide to traveling in Parvati valley on the offbeat trails.
If you have some more time in Himachal and want to visit Dharamshala, go through my guides to the hikes in Dharamshala and Dharamshala travel guide.
My travel guide to Spiti valley would help you plan your Spiti Valley trip.
Other Himachal guides and experiences,
Lessons on resilience and repetition from Himachal women
Shopping for shoes in Karsog, Mandi district: life of an itinerant writer
What happened to Tattapani hot springs, Mandi
The not-so-famous temples of Mashobra
Pangna village in Mandi also blew my mind
Braving Shikari Devi temple, Mandi: by ourselves
Living and writing in Mashobra village, Shimla
Why Fagu village isn't worth your time
Picnic at Kanag Devi hill in Shimla district, Himachal
Venturing into a leopard-infested valley, Shimla
loitering around in Mehli, Shimla
What to bring on your Parvati Valley trip?
Would you love to visit Kalga? Tell me!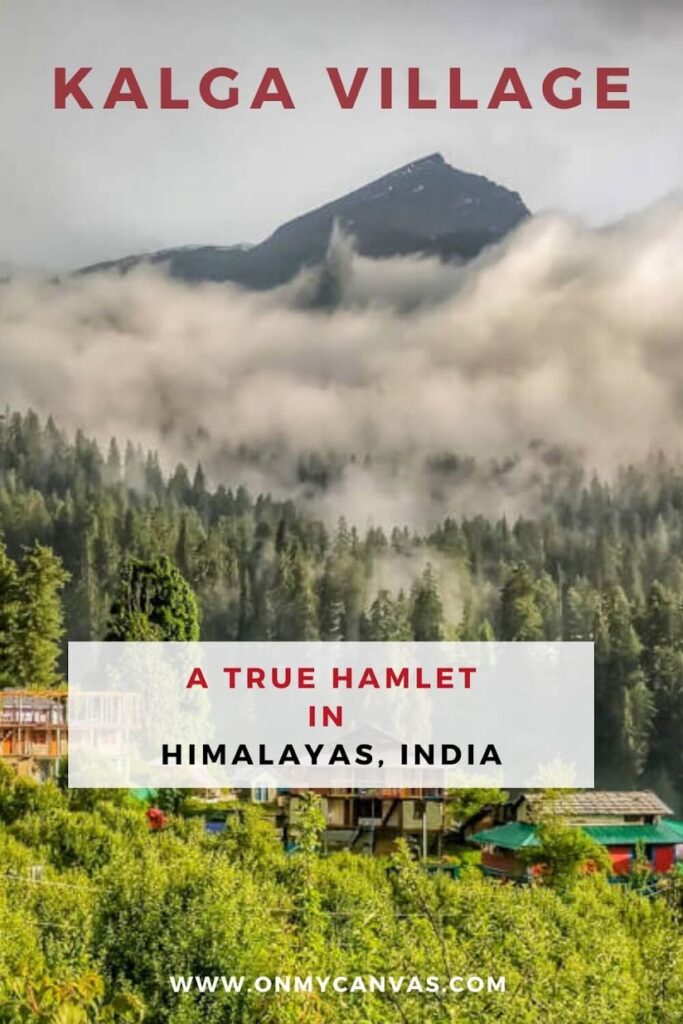 *****
Donate to keep me going!
For five years, I've read and wrote day and night to keep On My Canvas - my sustenance and life's focal point - going. Everything here and my weekly newsletter "Looking Inwards" is free. No ads. No sponsorships. If you've had some good moments reading my posts or felt hopeful on a lonely day, please consider making a one-time or a consistent donation. I'll really appreciate it (You can cancel anytime).
*****
Want similar inspiration and ideas in your inbox? Subscribe to my free weekly newsletter "Looking Inwards"!