Fagu Himachal Pradesh — A Misty Apple Village Where Homestays Are More Commercial Than Hotels
Fagu wasn't an underwhelming experience due to its location. I didn't enjoy my stay in Fagu because of the extremely commercial attitude of the homestays in Fagu Himachal Pradesh.
Like in many small villages of Himachal, a traveler has to stick to homestays in a tiny place like Fagu. And I love staying in Indian homestays (and abroad too). For most of my travel life, I have been more than happy to know a host family and understand their way of life. Sometimes staying in a homestay could imply you have to talk and smile when you want to write quietly in a little corner. But everything comes at a price, and well, families function in their peculiar way. Isn't travel all about embracing the unknown?
So far so good. But in this 2450-meter high apple village Fagu, homestays function at a breakneck speed.
Let me take you through my Fagu journey as it happened.
We had gone from the Mashobra village of Shimla to Fagu. As we were staying on the main road of Mashobra (2146-meter), we were happy to ascend into a village (again). During the fifty-minute drive, we climbed more than three hundred meters.
Escorted by our Fagu host (who met us at a diversion), we exited the main highway NH 5 (the Shimla-Tibet road). Now we were on a downwards path to Fagu. As we descended into the apple valley, slopes covered with white nets appeared.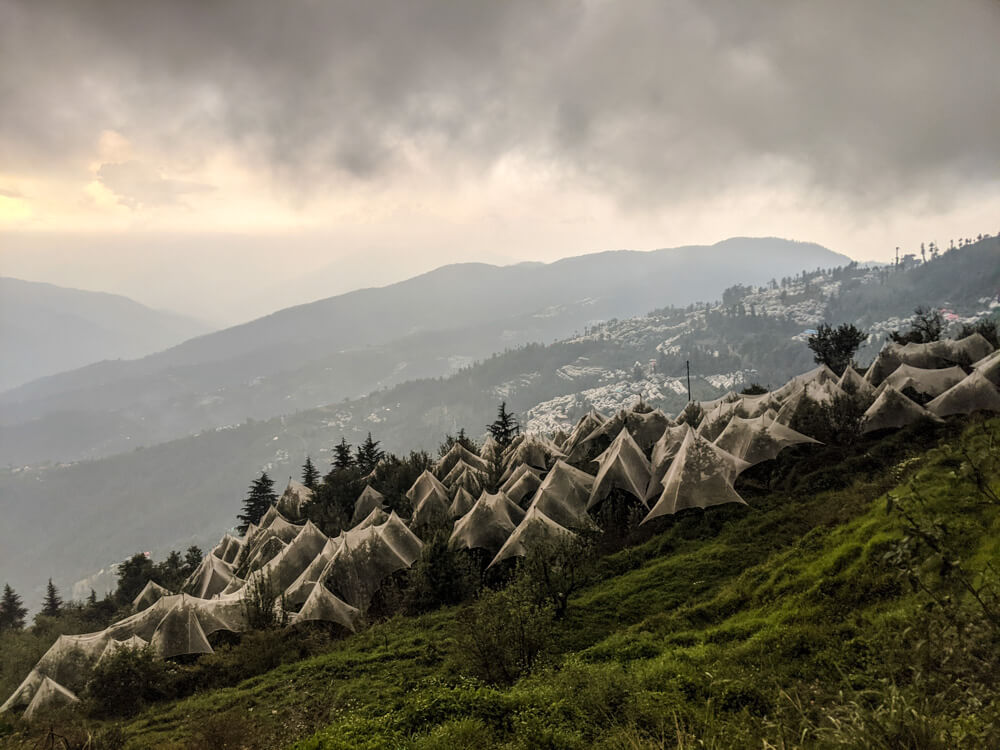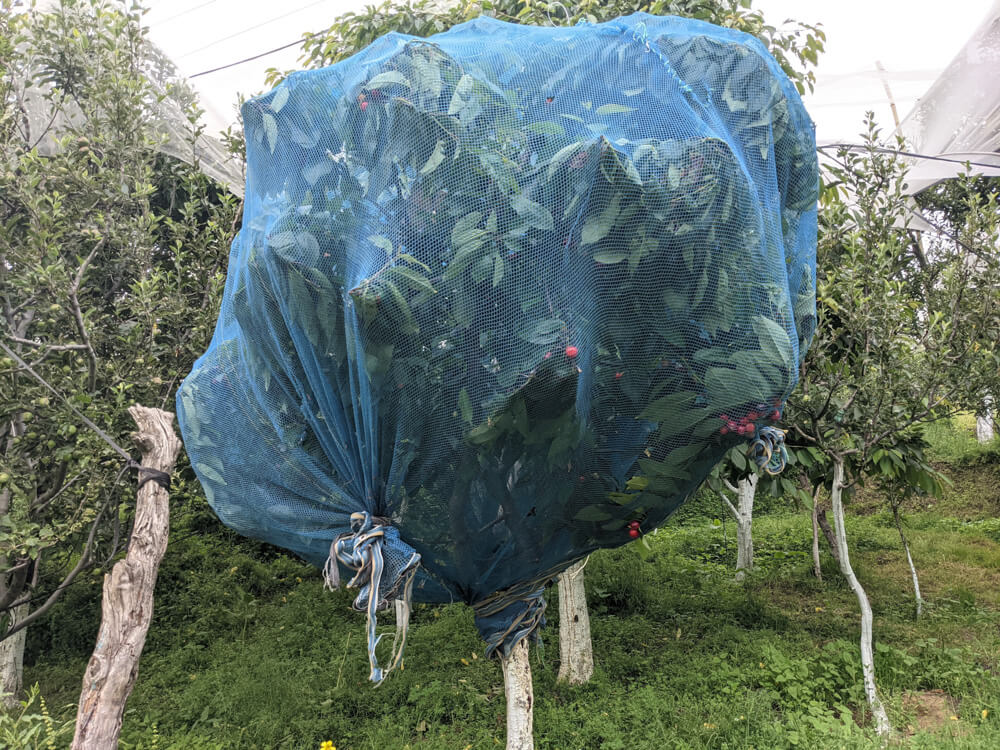 Those nets had piqued our curiosity when we had seen them cover the cherry trees near Shimla highway. I had assumed the nets were to hide the fruits from animals. Well, monkeys and bright blue magpies are notoriously known for partying on fruits here in Himachal. Soon we were told the nets protect the young and ripe fruits from hailstorms.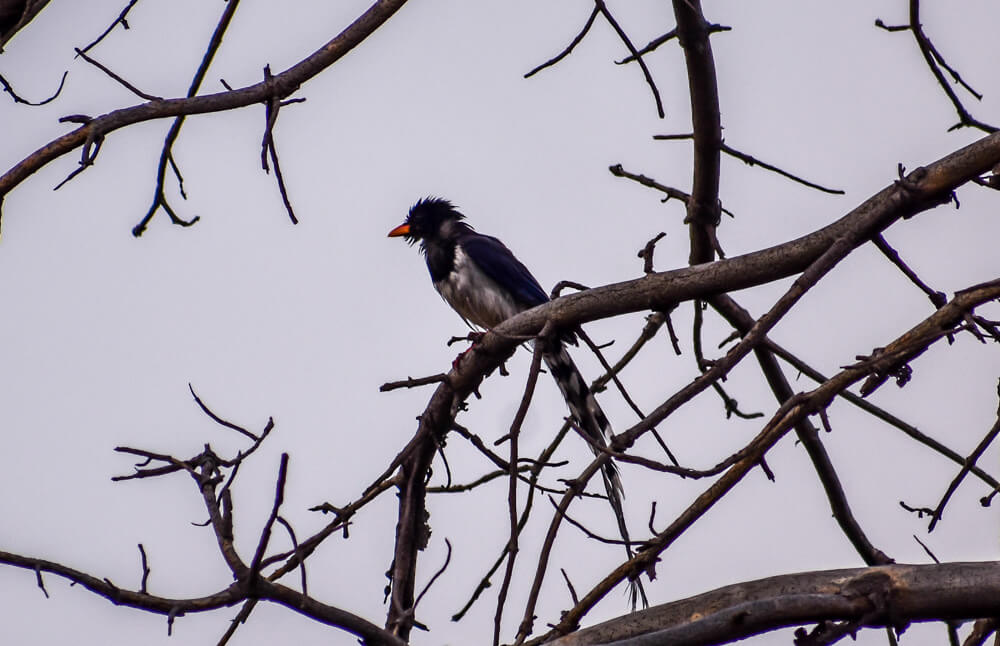 Far away on our left, we saw shadows of high Himalayan ranges. The day was cloudy.
On our left, the hill rolled down. Stone huts and netted apple orchards dotted the slope. Tall mountains ranges shone blue ahead. Fleecy clouds rested on those summits. During the day those hills looked empty, but at night the valley dazzles with stars (of home lights). Grey clouds shaded the villages from above. It was almost like someone had prepared a grey canvas for painting.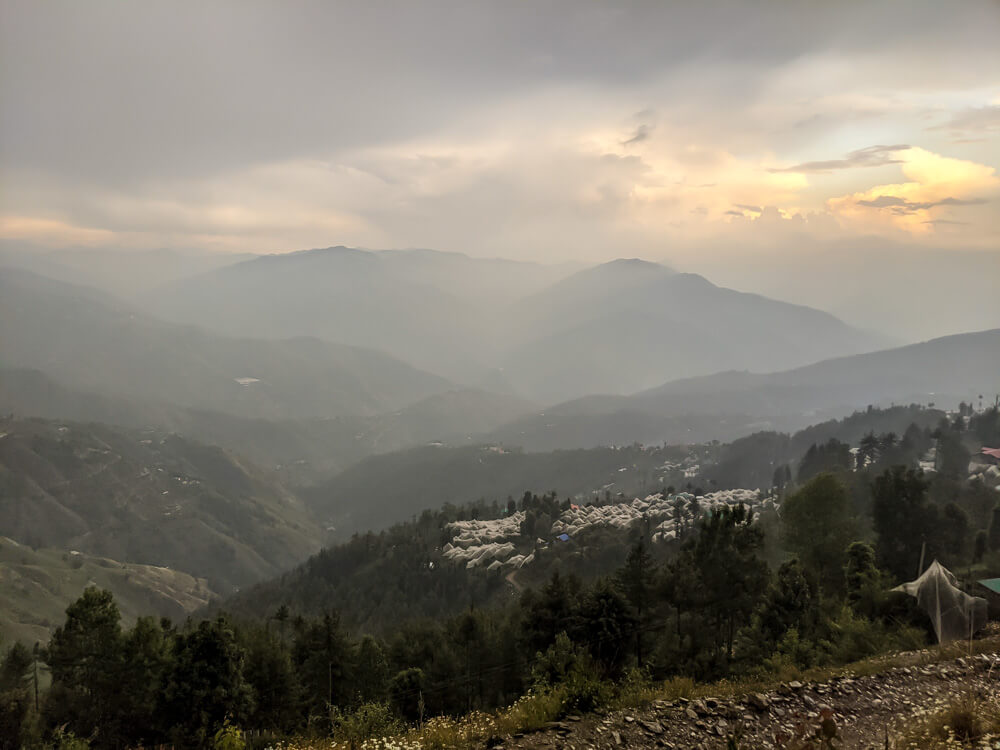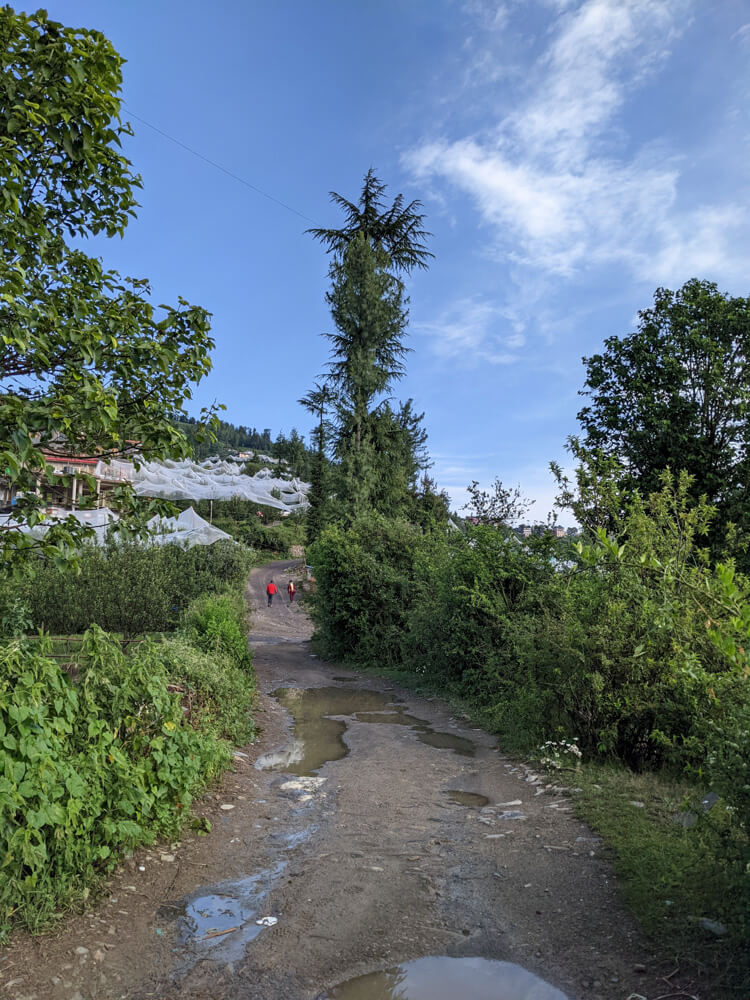 We drove for about ten minutes with the last stretch of the road being kaccha. Several roads joined this main road from left and right. Later during our one-week stay in Fagu village we would end up exploring all those pathways. Further on we crossed a place with a board written Talai over it put outside. Talai means lake in the local language but we couldn't see any water. A fertilizer and seed shop stood there.
Just right next to the Talai sign a board of Aastha homestay shone big and bright. On our right side, homes surrounded by farms and orchards appeared now and then. Most of those cottages run homestays. Our hosts told us the homestays were all run by brothers. Even later when we enquired another one or two places, they all seemed to be related or connected. One does happen to know everyone in a small place.
Right now we were enjoying the views of the misty valley. Some stories say the name Fagu had come from the English word Fog because the village was always covered in mist. So the British named it so.
Sometimes one could see the valley only through the windows of tall and naked deodar trees. But who minds the blockage when the sight is this charming? In the evening the sun will put a show above those hill ranges. And on a clear day, we could see the snowy Kinnaur peaks from our abode.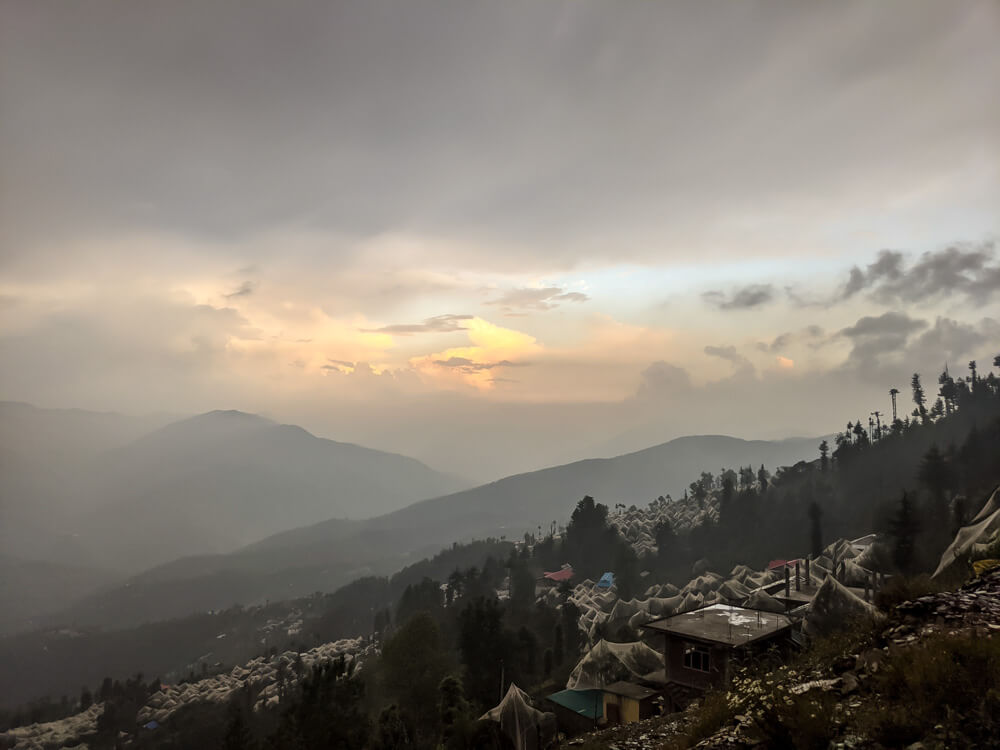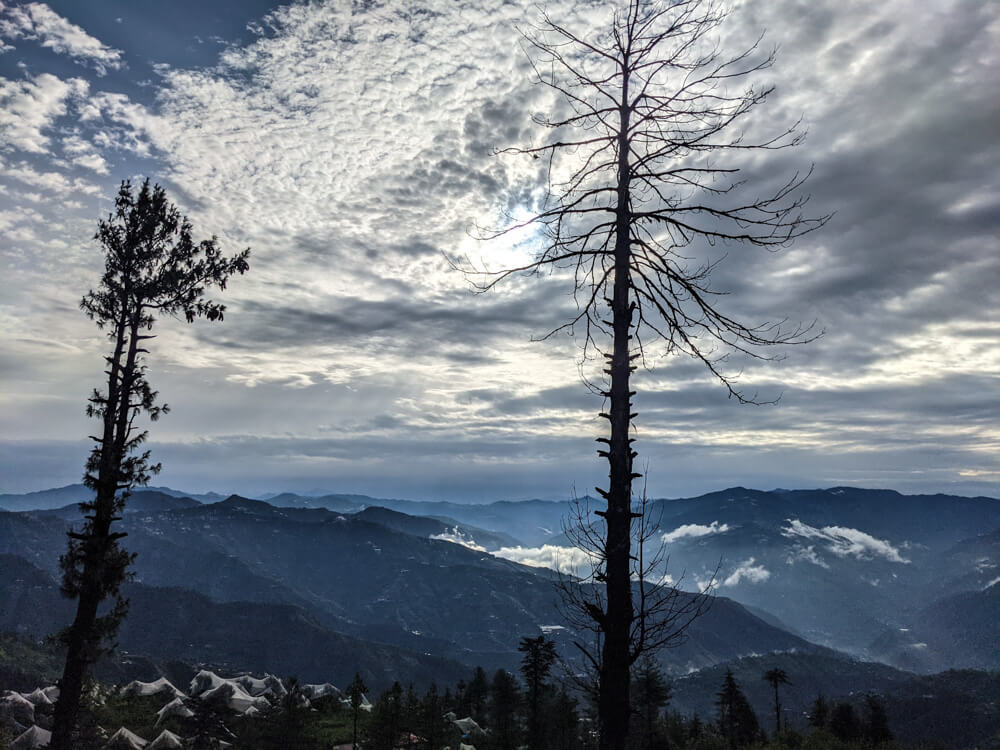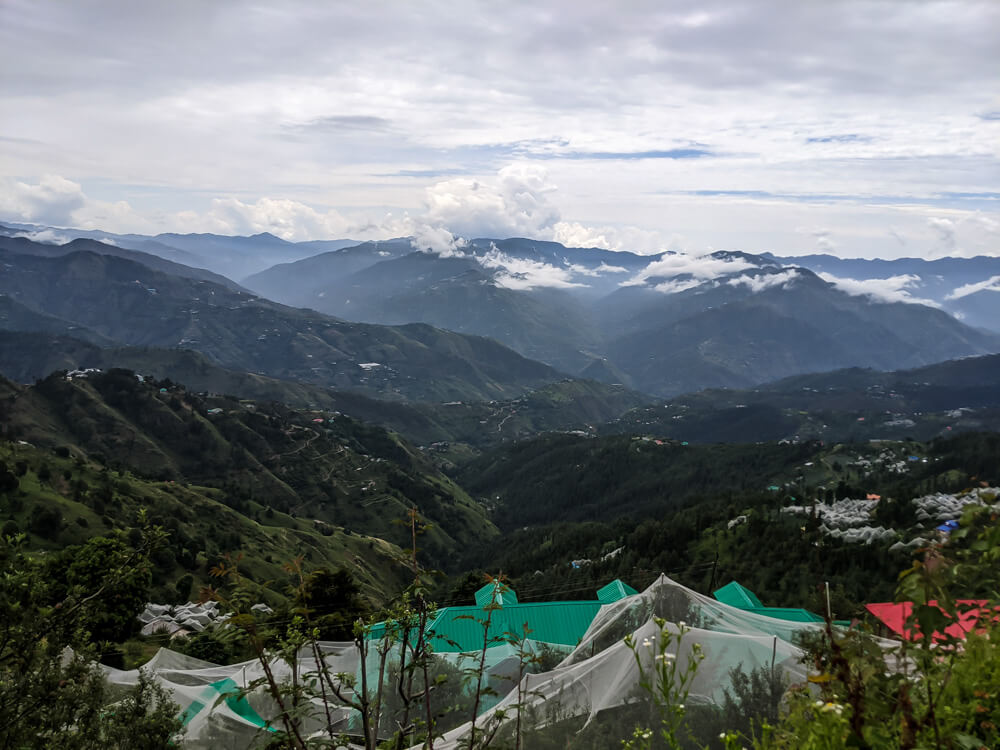 Our cottage was a four-room brick house with an unmaintained garden. We had spoken about getting one of the rooms for a week at 1000 rupees per day. The kitchen could be used, and the tariff included water and electricity costs. Like every guesthouse should.
We disembarked and were greeted by the host lady. We all chatted for a bit. Within a few minutes, our hosts had reminded us how their rooms don't go for less than 1500 or 1800 INR per day. But we were given a cheaper price as the season was low (due to COVID) and because we were staying for seven days. Ignoring the discomfort one gets with re-discussing the already finalized commercials, we checked our rooms. Ours was a simple room with a bed, a chair, a table, and two side stools. The other wood-paneled rooms cost more. From the shabby garden, we could see the various homestays and their orchards on our left.
Warning us to not use too much electricity and water, the hosts left after a while. Thankful for the two cauliflowers they had got from their fields, we prepared dinner.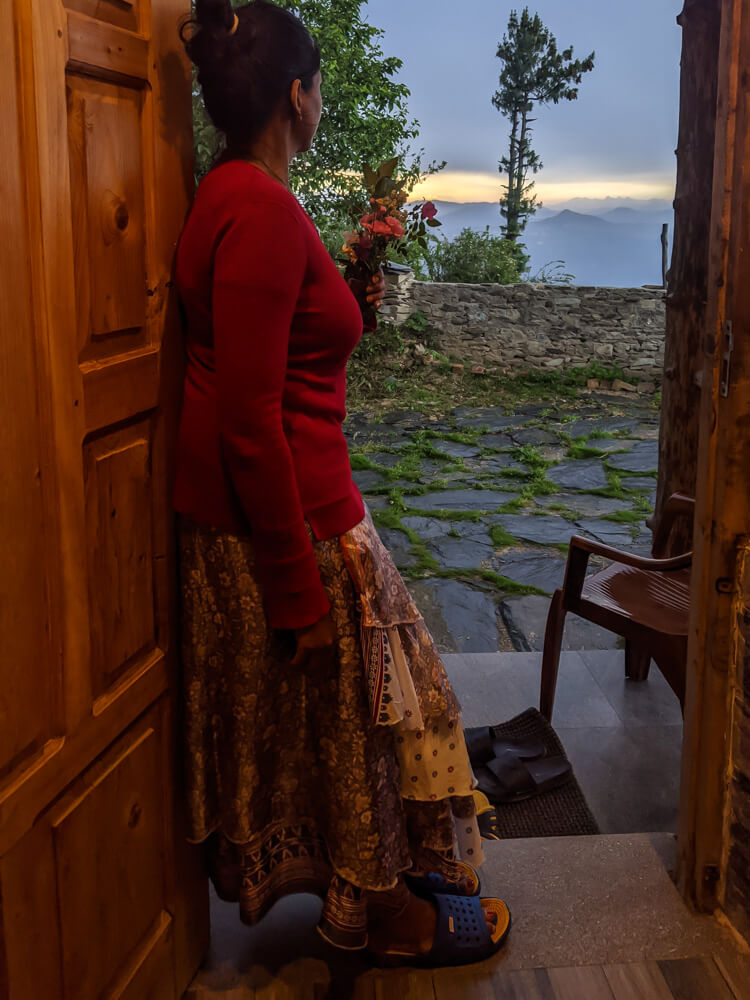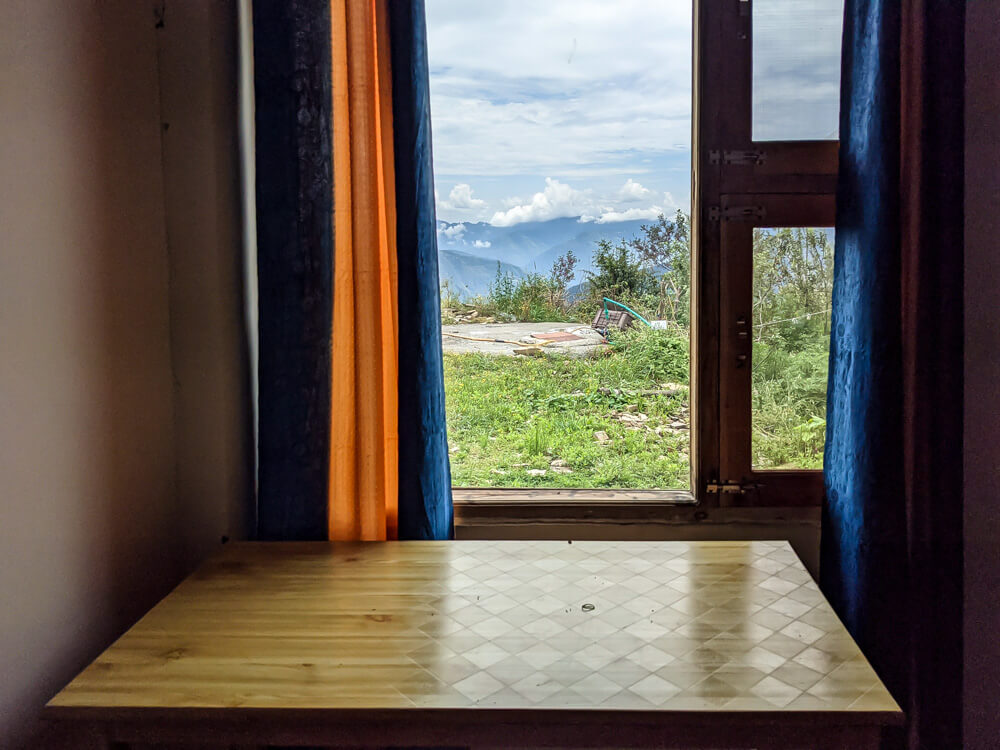 A tiny kitchen stood at the back of the house. I was at the counter cooking, and my partner sat at the kitchen steps cutting mangoes. The wooden door of the kitchen opened into the neighbor's apple orchards behind. And I broke some of the bathua plants hoping to make parathas the next day. We also got homemade butter, curd, and milk from a home nearby. The meal was sumptuous.
As we ate, the sky started drizzling. Grey clouds had thickened to almost form a dark sheet above our heads. Our estimation predicated rainfall all night.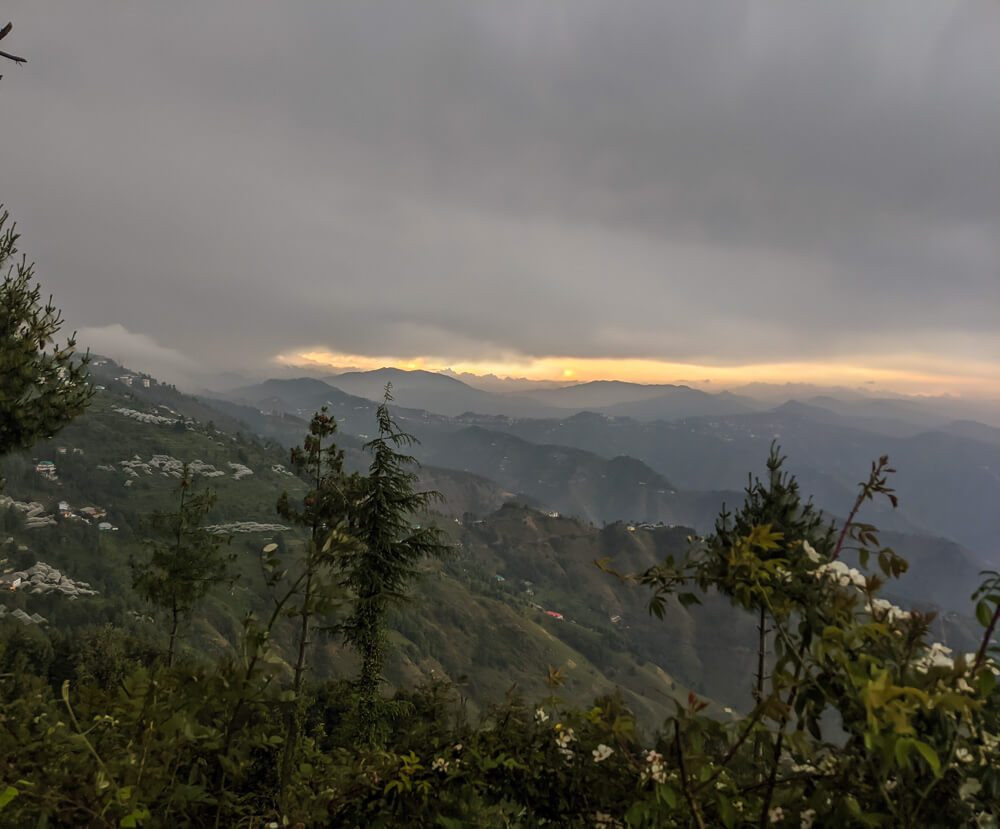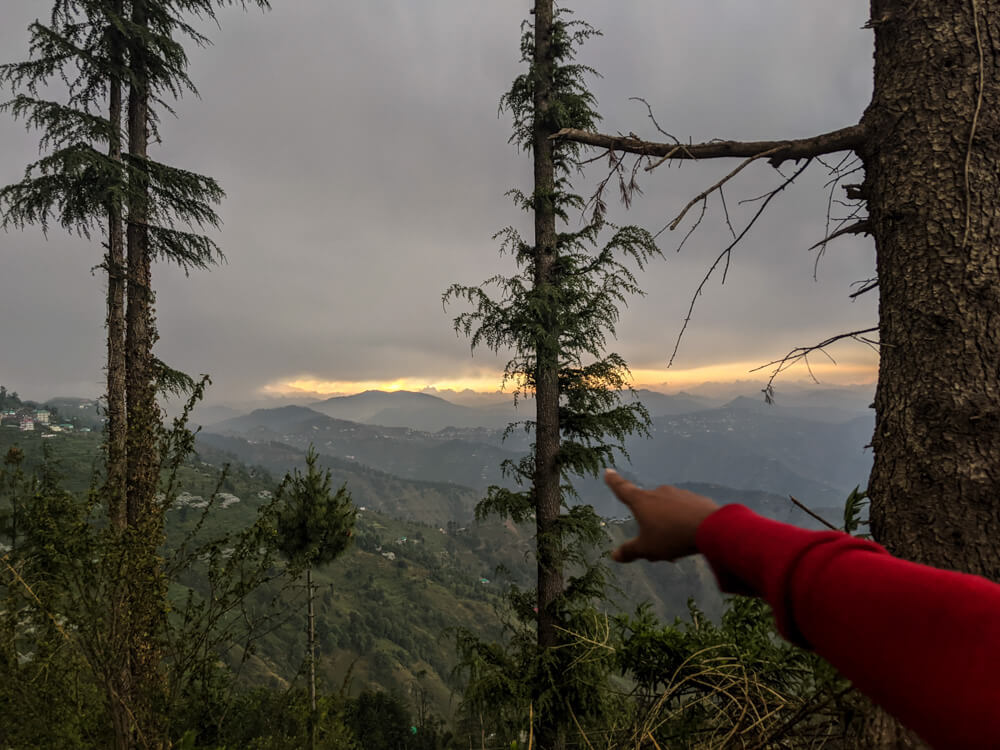 A long travel day demands a good night's sleep. The rooms didn't have cupboards so we kept our bags on the floor. And we got into bed.
I woke up with a squeaky sound many times at night. Drowsy, I only figured after a while the screechy noise was made by the duvet. The bed's wooden work wasn't finished and the duvet kept getting stuck in the wood. But I always love listening to the rain patter on the roof so I enjoyed the night.
The next morning we went for a long walk in the neighborhood. And those long hikes were the best part of Fagu.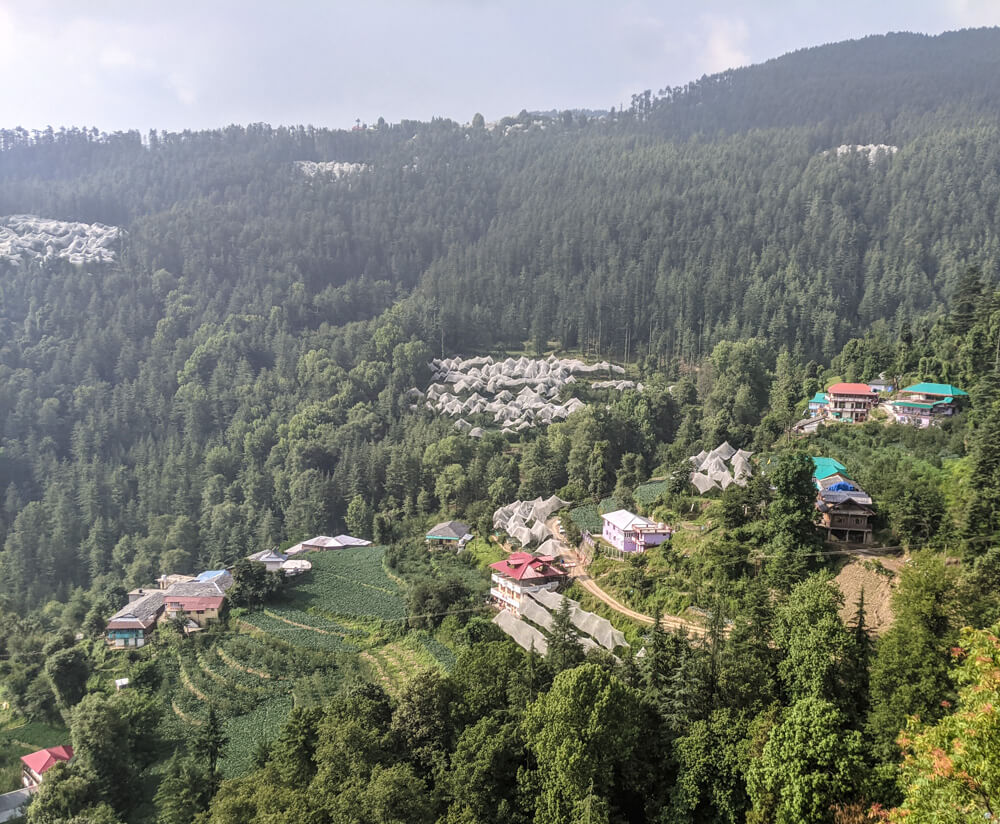 From our house, we walked downwards. The road to Fagu further goes into Cheog, a village below Fagu. That road isn't drivable after a point. We often descended into the Cheog market trotting and tumbling on this mud path held in places with loose stones.
Through the small Cheog market which comprises many dhabas, small sweetmeat shops, and other regular stuff, one can further go to the Banga Paani temple. The temple has a surrounding pasture which is beautiful to sit in the day.
On one of our walks, we had planned to return to Fagu homestay from Cheog using a different route. But we didn't realize we had taken the wrong road and kept walking on. After a while, we could see the board of Banga Paani. The walk was through a road fringed with jungles on both sides. A rare car sped by us now and then. As the temple was still a while, we turned around. Only after a few minutes we asked for a lift and hitchhiked to our place in a jeep. That was damn fun.
While going upwards from the cottage to the main road, we could either go up or go down towards our host's ancient home. A couple of days later we visited their house for breakfast. It was a good 5-6 km long drive. And then the nullah or the brook that flows in the Himalayan valleys seemed further down a walk of at least one or two hours. Fagu is indeed at a height.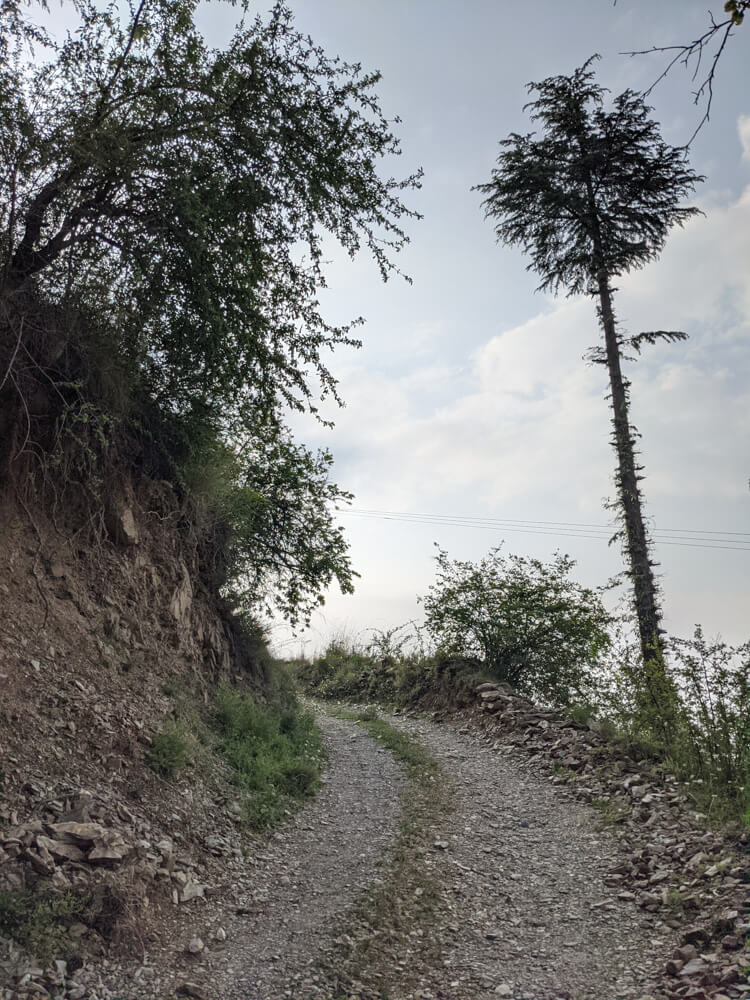 One evening we decided to walk in the direction of their house. The sun set as we strolled on the hill. Villagers receded to their homes after the day's work. Suddenly we saw something fly towards the pine trees in one of the farms. The beings came gliding from behind us and landed in the middle of the two pines ahead.
Not everything was clear, but we saw the gliders climbing the tree trunks as squirrels do. Then we could hear them cut through some fruit or the bark with their teeth. I understood we were looking at none other than the rare flying squirrels of Himachal Pradesh. When they shrieked in their typical loud manner I was sure we were seeing flying squirrels feed on pine trees.
That exhilarating moment left me stupefied and I stood there watching the duo. They flew from one pine to another and constantly nibbled on the bark or the pine cones. My partner urged me to leave. It was already dark. But my eyes searched for more flying squirrels instead of focusing on the path. I wish I had my camera at that time.
On another walk, we went in a completely unknown direction. After a good long winding path, we sat down at the edge of the jungle looking straight into it. A few rocks at the side of the road formed our seats. Those rocks held the side of a muddy mountain.
Within a few minutes, I saw a tiny rat-like animal watching me curiously. It came out of a hole in the mud mountain, stood at its hind legs, and stared at me. Then it scuttled inside. After repeating this charade multiple times, it looked at me for one last time. Now instead of disappearing inside the hole, it scampered away into the jungle. We both laughed and assumed it was the being's breakfast time. Soon we got up and walked to our homestay as well.
A quick Google search told me the curious bugger was a Himalayan weasel.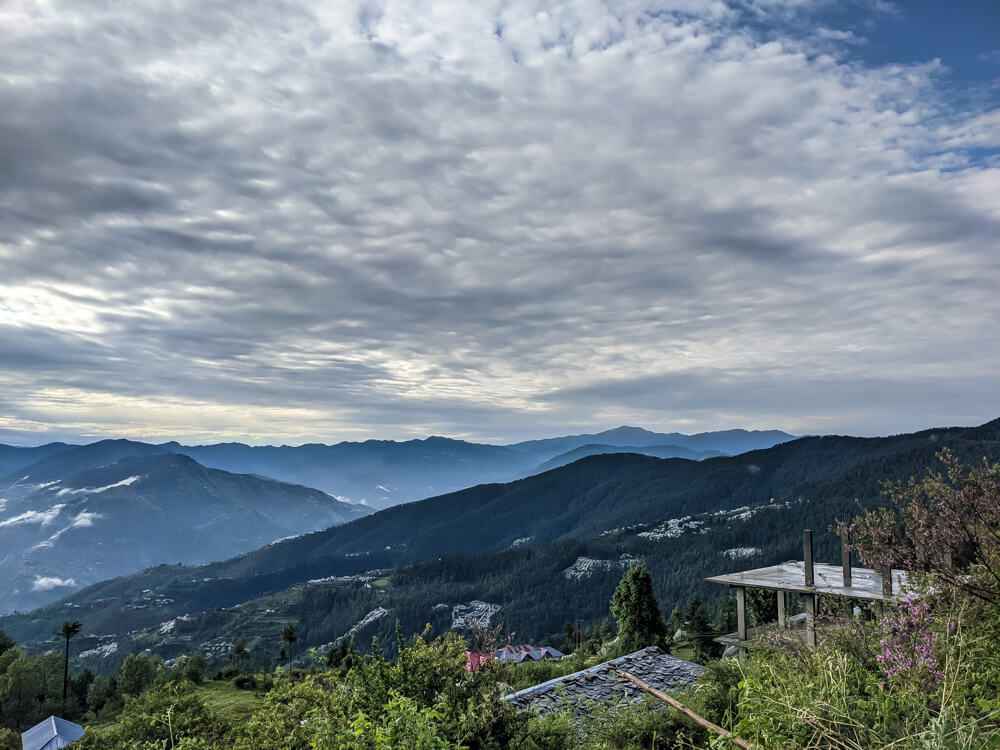 The hikes around the village of Fagu were a lot of fun. Only on two days out of our seven-day stay did we take out our car. One drive was to Tanni Jubbar lake and another to Kanag Devi temple.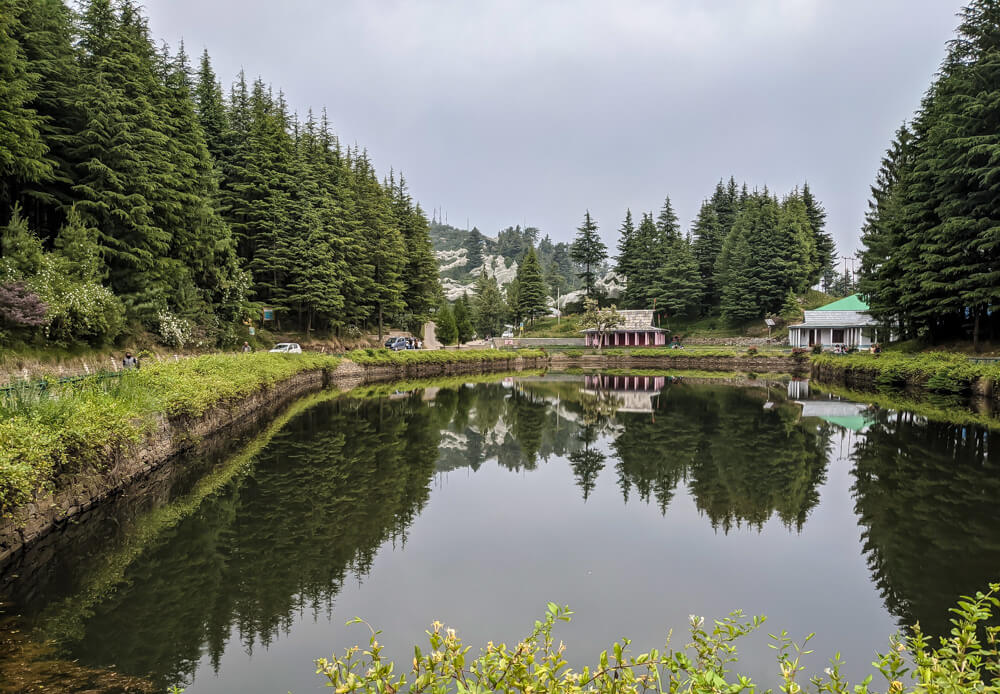 I have written all about the sunny picnic at the Kanag Devi temple and hill in the linked memoir, and I'm also about to write on the lake. But for now, I can say by missing Tanni Jubbar you won't be leaving anything important.
Tanni Jubbar is a small lake by the road with cedar jungles circumscribing it in all directions. A small temple sits at the edge of the lake. And the adjoining park was good to sit in. The park had benches. But under the trees is where we sprawl all the time. So after taking one walk around the lake we hiked into the park and sat there eating cherries. We had carried parathas and cauliflower preparation from our homestay. But the curry was so oily we threw most of it in the jungle along with the parathas.
Oh, we had bought cherries from a nice lady who was selling her farm cherries on the side of the road from her truck. We stumbled into her truck while on our way from Fagu to Tanni Jubbar lake. She sold a box for 150 rupees.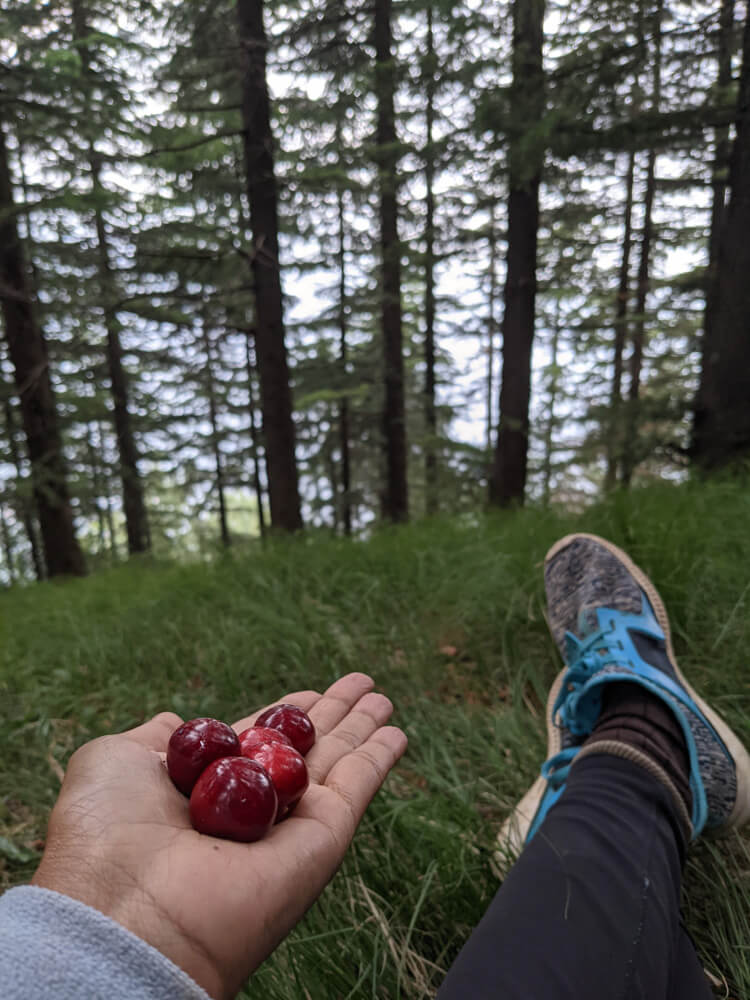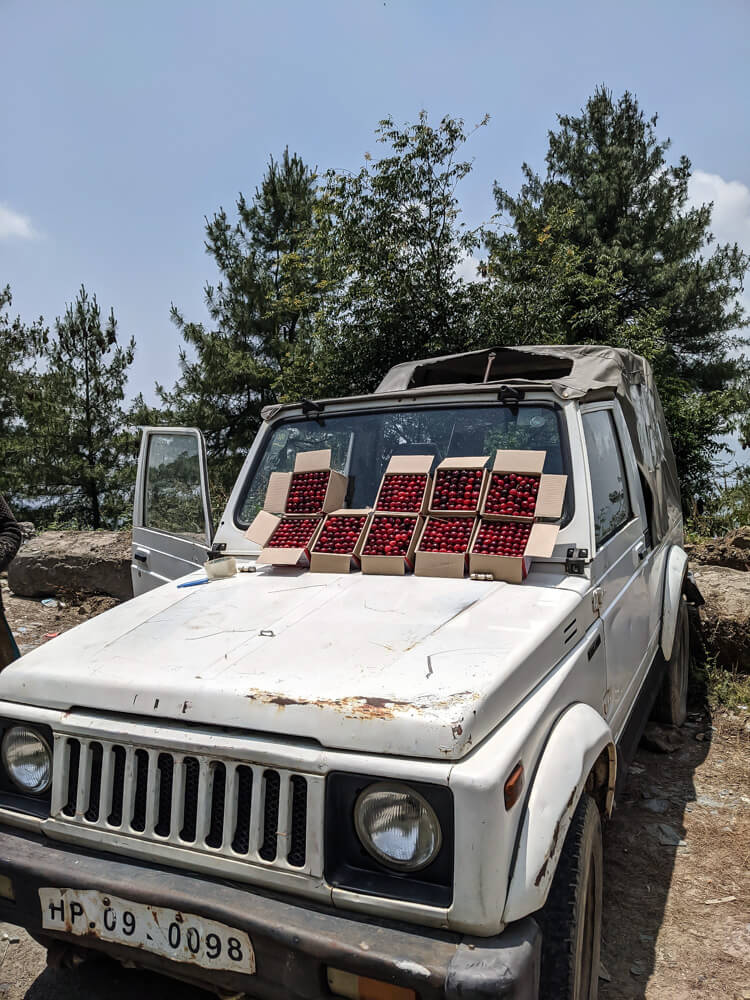 A contest of who can stuff their mouth with the most number of cherries was fought between my partner and me in the forest of Tanni Jubbar. And when we returned we stopped to buy more cherries from her as our box was almost close to finishing.
The lady's hill and home stood right behind where she had parked. She invited us to tea. In the rain, we climbed her house's mud path. Soon many German shepherds came running at us. Their family keeps eight, she said.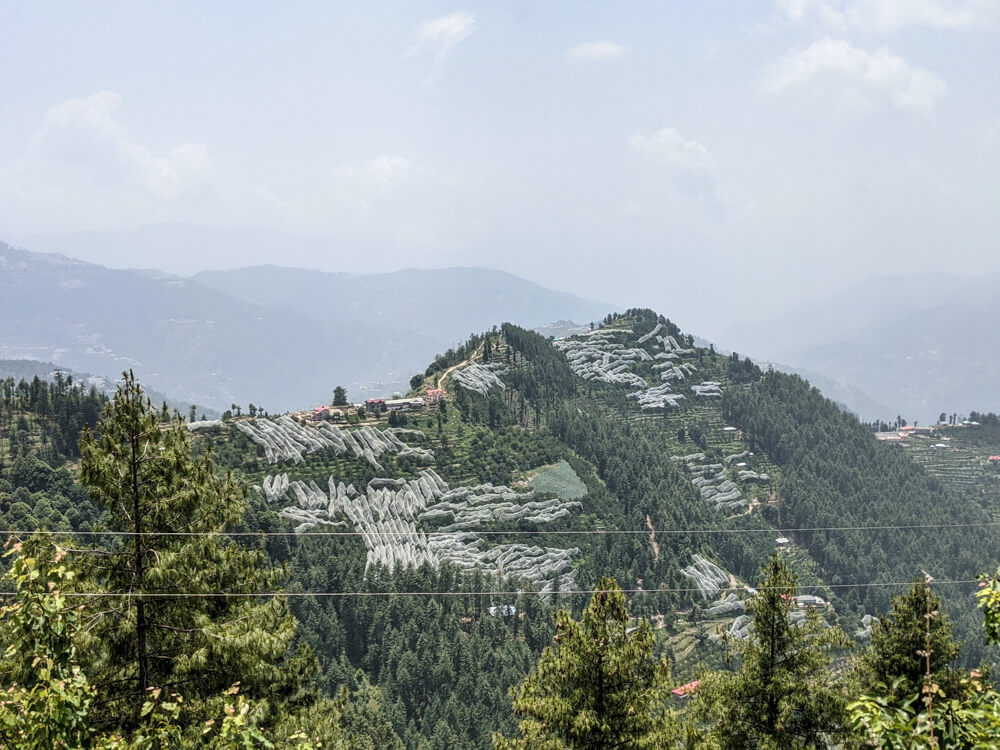 Over tea, she told us how cherry doesn't need insecticide spray but only a calcium spray is done. Their apple farms though need regular spraying. We didn't want to leave but saying our goodbyes we drove on.
The most beautiful part of visiting the Tani Jubbar lake was the drive. A day later we went to Kanag Devi temple. That journey and the pasture-filled day were beautiful as well. You can read about it in this travel guide.
After the week, we were more than happy to pack our bags and leave Fagu to go to Gagal, a village near Mashobra.
Wait until I tell you all about Gagal and our tiny place there (travelogues coming up soon).
What Didn't Work Out At Fagu for me?
Fagu wasn't the kind of place my slow traveler soul could ever get used to. (Read how travel can change our lives.)
The constant bicker about the prices of electricity and water and switch off this light even if you need it or turn off the water was still bearable. We understand the scarcity of these resources and are careful about not wasting them and constantly turn off unused lights. It does become a bit too much though when the hosts continue the warnings throughout the day.
Now I go to homestays to live near a family and understand their culture. But the fact that homestays used to be budget-friendly as compared to hotels is also why long-term travelers prefer them. And the guests understand if the tea can't be served for another hour because the family is praying, and the host gets that the tourist has a bad stomach so lunch is khichdi (lose pulse rice mix). Read my tips on finding budgeted good guesthouses in India.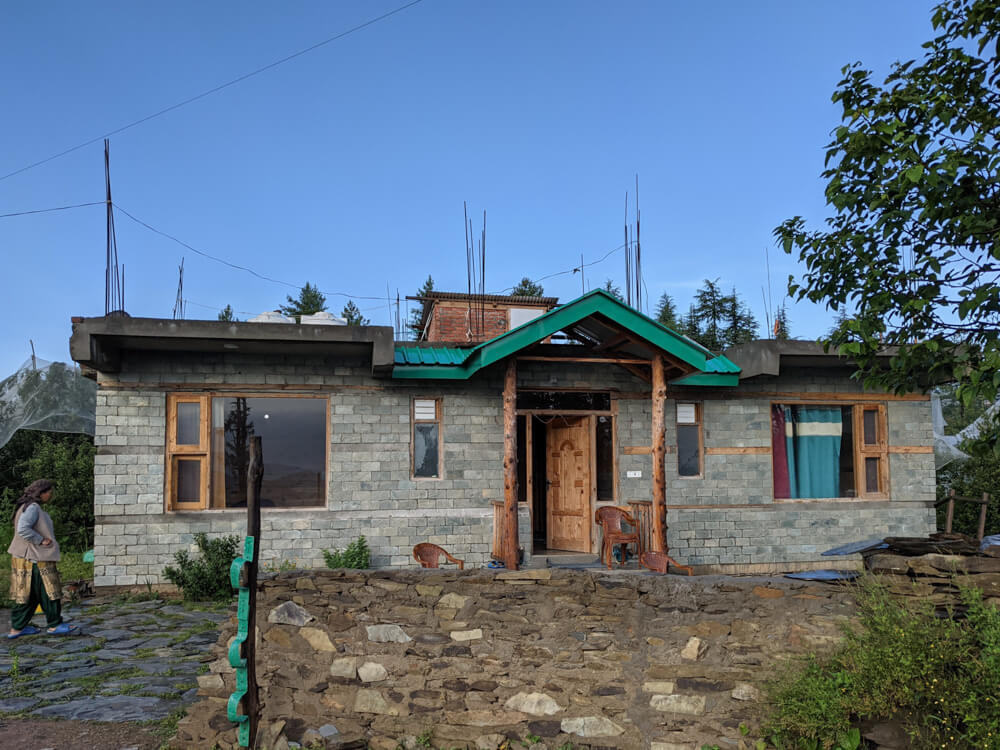 But in Fagu, the line between homestays, hotels, and rented rooms was vague. Our homestay aunty would often tell us which homestay charged how much. We didn't have the hotel-guest privacy and independence but the homestay prices in Fagu overshot hotels.
We had got the one room with kitchen on the host's promise they won't keep other guests during the time. And the homestay lady had once mentioned if they gave the room they would take only two people and not more. We should make a note here the second wave of the pandemic had just been raging in the lower parts of India, especially Delhi. Isolation was important.
(My extensive guide on traveling isolated in the pandemic tells how we drive independently and only put up at segregated cottages in isolated hills.)
But a day after our stay began, the host showed up at the house in the afternoon. We were working. He said they had gotten a call from their frequent visitors from Delhi. The family wanted to come the next day to their guesthouse.
"Didn't you tell us you won't take more guests during this week?" We asked. We had especially confirmed this as we were only staying in secluded places throughout our Himachal journey. And because we work while traveling, we only book peaceful guesthouses.
"Yeah, but they want to come now and we can't say no to them." Was the host's response. "We would try asking them to shift their dates a bit." he added.
Well, the family of four came the next day. All three rooms were now occupied. And in the fourth room, the host family shifted to serve their guests.
Now not only the house became noisy, the kitchen almost went off-limits. Whenever I would go to make lunch or coffee, the host would be preparing food for her other guests, and their friends. So either I had to wait or sometimes I had to drop the idea of having coffee (a writer's essential). If I would go inside, she would even say, oh the kitchen has become so hotchpotch.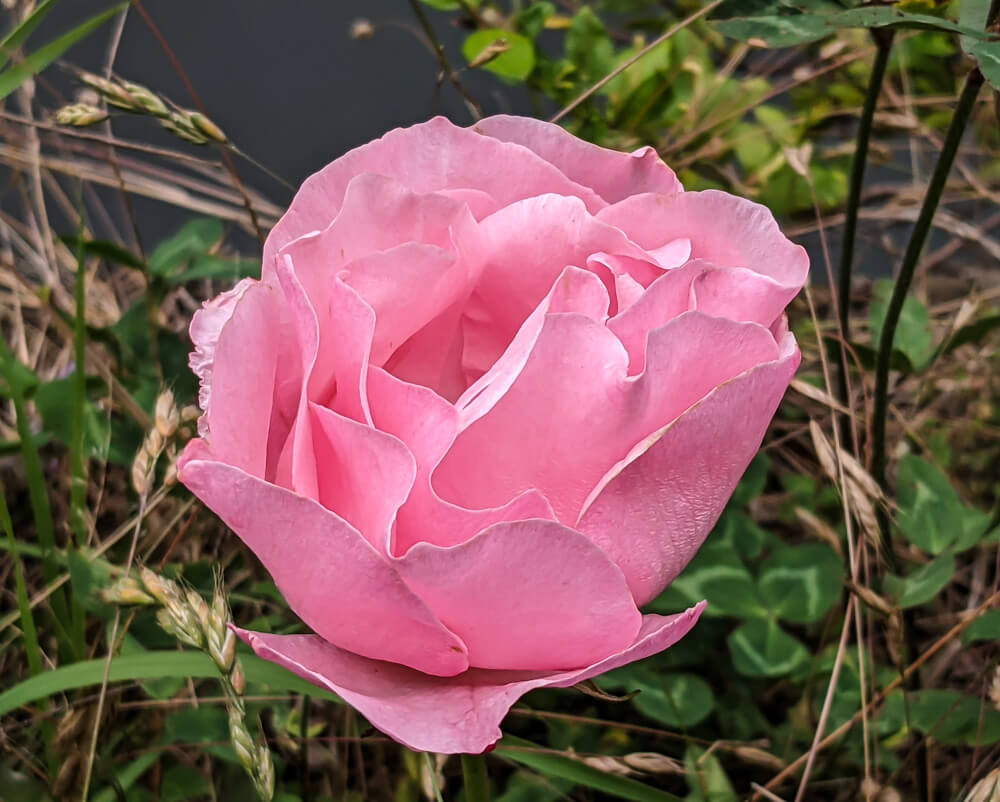 And unlike promised, the guests weren't quiet at all. One of them would put music on full volume at 7 am and sing along. The hosts were initially sorry for letting other guests in, but after a day, they didn't care much. Instead of telling their guests to be less loud, all of them started at full blast since morning 5 am.
Sometimes I have seen bazaars more peaceful.
The hosts often said they were running a business and one shouldn't expect better. All the homestays of Fagu — most of which are interconnected — run on similar mentality and culture. Guests would pay more than 1500 per simple room, food would be provided by the hosts at additional costs, the tourists would leave every day to roam around, and the whole affair would last for a couple of days. We were told many times we should go out to roam because we had been closed in the house for long.
Even when our homestay wasn't painted or even plastered, rooms didn't have almirah, and the side stools and beds were all unfinished, they didn't want to lower the charges. In season, the prices go as high as 4000 or 5000 rupees per night.
To give you a perspective of pricing in Himachal,
We stayed at a one BHK in Mehli village for 800 rupees per night (3-week stay). Here is the Booking link.
We got a Mashobra attic room with a sitting and outside terrace and a shared kitchen for 1150 rupees per night (two-week stay).
Paid 11000 per week (about 1500 per day) for a two-room, living, kitchen, and outside seating in Gagal village with the entire hill to roam around and fruits from the garden (3-week stay).
Found a beautiful room in Akol village in Mandi for 700 per night.
The expensive tariffs and food prices and the rush to see it all make Fagu a weekender village, not a long-term traveler destination.
Given the commerciality of Fagu, I would suggest travelers stay away from the village. And my advice for short-term travelers would be that Fagu is scenic but Himachal has a lot of better and more affordable villages. And most of these villages have homestays where the hosts want to show a bit of their culture and aren't running the place just for money. Though money is essential to run businesses and lives, the sentiment of travel was completely missing from Fagu.
Consider the PWD guest house of Fagu over its homestays. Call at the number from here.
And a note here to Fagu homestays — Please be considerate of the guests' money and plans to travel. Because some of the short-term tourists can pay the high tariffs, the pricing doesn't have to constantly go up. Every room can have a maximum tariff depending on the worth of the place and not be driven by how much the guests can pay out of their pockets.
I hope these suggestions work well for both locals and visitors. Hopefully, in the future, Fagu wouldn't be this price-minting hotel business.
May I suggest these beautiful and travel spirited villages for summer.
Consider Kalga village in Parvati Valley, Bhagsu village in Dharamshala, Old Manali, and Gagal village in Shimla (below Mashobra).
Also, consider Hatu peak instead of Tanni Jubbar.
And if you have to stay in Fagu, here are some Fagu hotels and guesthouses.
Aastha homestay (just 5-minute drive from NH5 on to the link road to Fagu), Zazroo Mud cottages (towards Cheog side), LivingStone Hillswood Villa (towards Cheog side), Mystic Homestay (towards Kufri side), Snow King Retreat (towards Kufri side), and Zostel Cheog are some of the homestays and hotels in Fagu.
Apple Blossom Fagu — The hotel is run by Himachal tourism. I've heard the rooms are too packed. But could be tried for day.
A good place to eat near Fagu Himachal Pradesh.
On a misty morning, we decided to get out of the homestay chaos and drove towards the main road (NH 5) to get some tea and food in our stomachs. The dhaba we had wanted to go to was shut. So we stopped at another place called Sharma Vaishno Bhojnalaya on the main road near the Apple Control Room Fagu.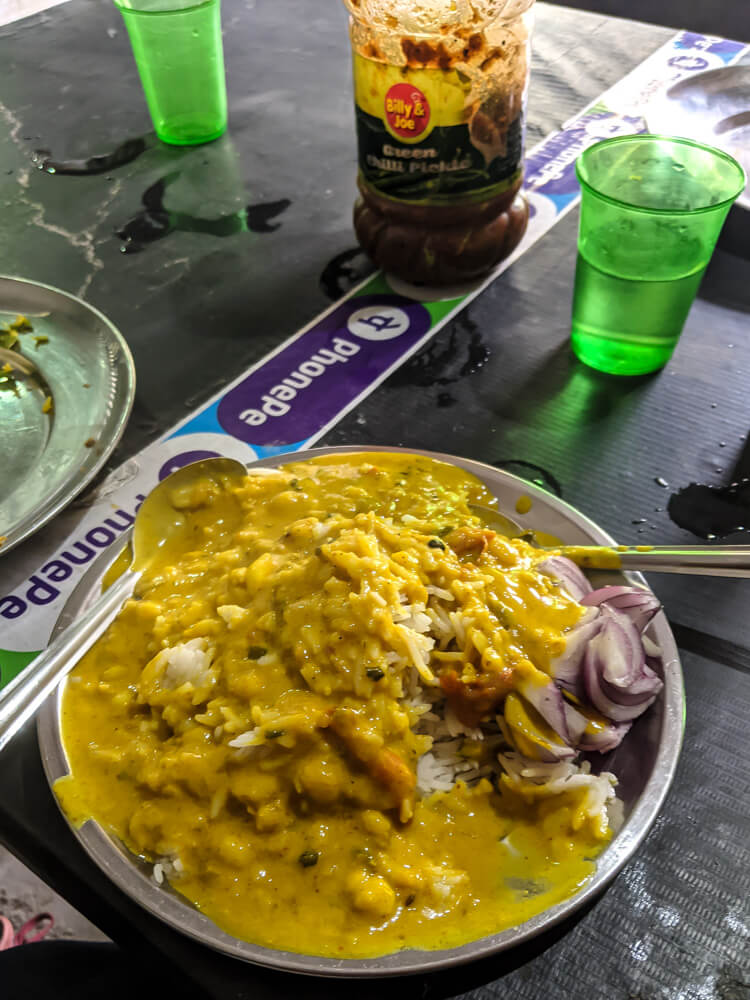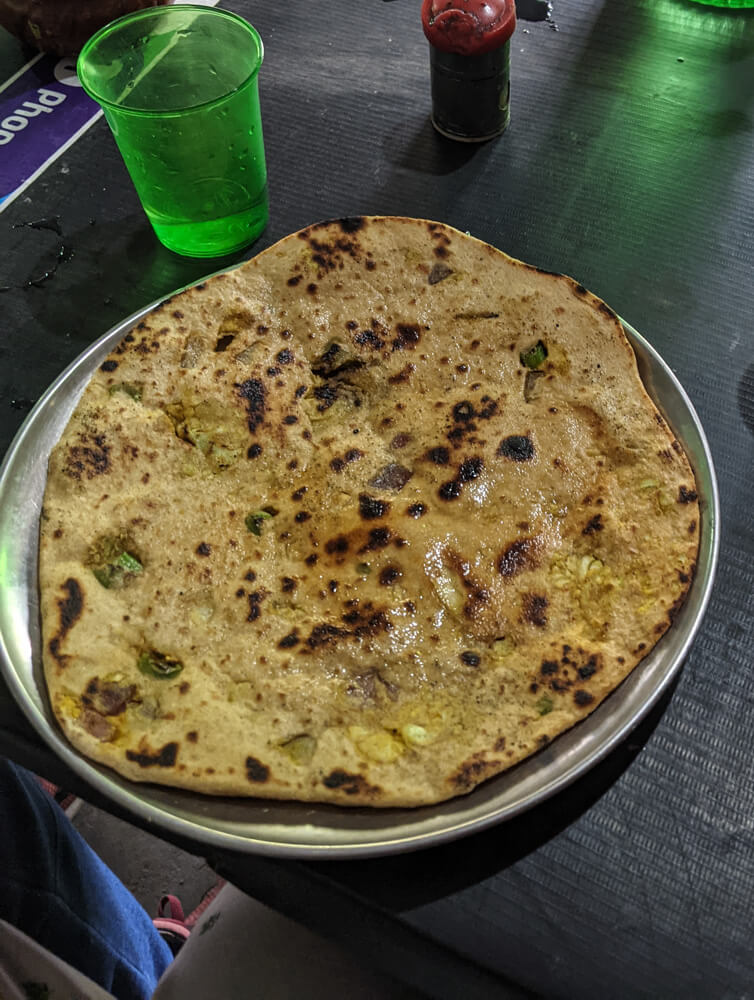 The cauliflower paratha the dhaba owner made was crispy and was stuffed generously. And we also got one plate of kadhi rice (kadhi is a curry made with chickpea flour and buttermilk). If you have had Kadhi in Uttar Pradesh or Delhi you wouldn't like Himachal kadhi. And that's one of the rare foods one doesn't like in Himachal. Here kadhi is less cooked has a thinner consistency. I can say I won't miss Himachal kadhi if I never eat it again. But the kadhi at Sharma Bhojnalaya was cooked for long and had a perfectly thick and sour consistency.
Do try Sharma Vaishno Bhojnalaya if you are in the area.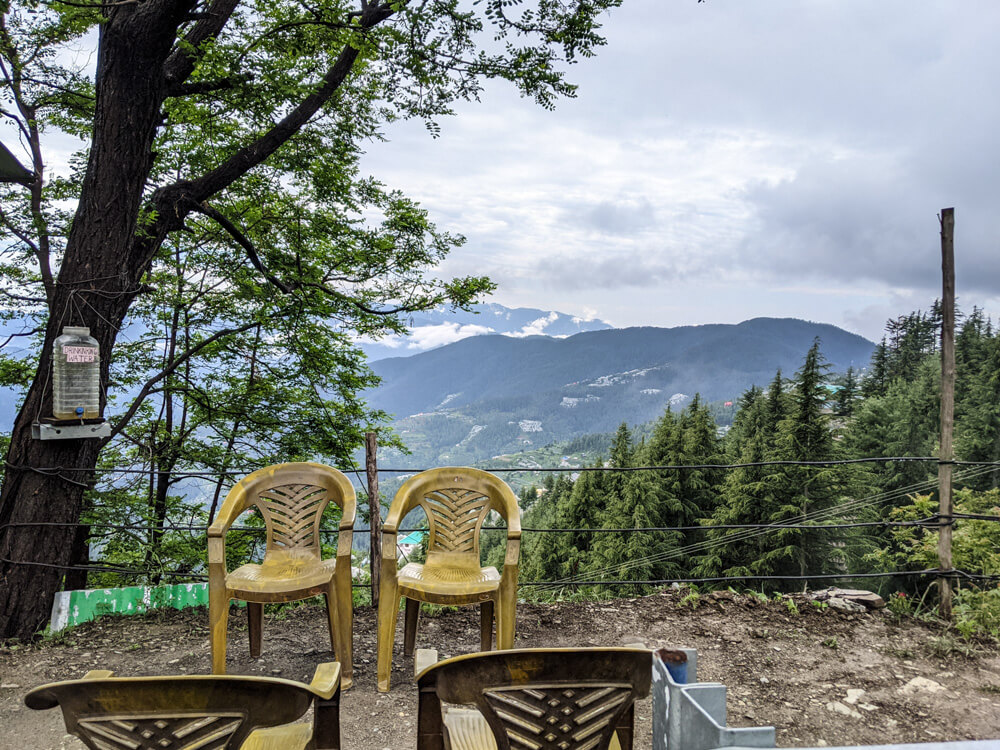 How much is the Shimla to Fagu distance?
From the Mall Road in Shimla to Fagu Apple Control Room the distance is 20 km. The drive is about an hour long. And the homestays in Fagu are accessible by a link road that goes down into the village.
But why would you be in Mall Road when you have so many amazing Himachal destinations to visit.
Read all about Pangna village in Mandi. (coming up soon)
My travel guide to Chindi village, Mandi district. (coming up soon)
A workation in Nalagali village, Karsog, Mandi. (coming up soon)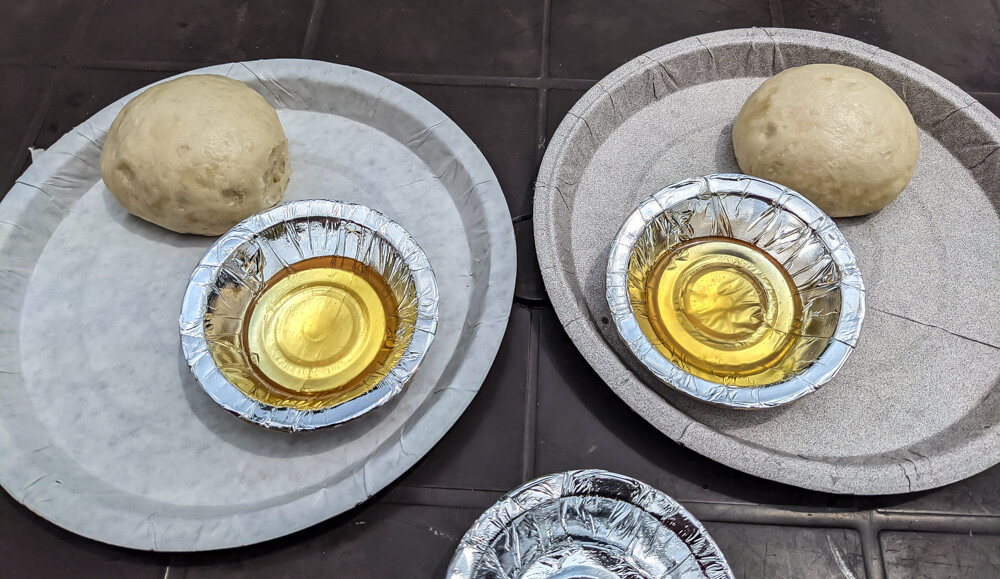 How is Fagu Weather?
Doing justice to its name, Fagu is covered in mist for most of the year. The village receives heavy snowfall in January and February. The weather in Fagu is pleasant to visit all year round with some extremely sunny days in May and June. The monsoon in Fagu comes in July. But due to its high altitude, Fagu receives unexpected rains throughout the year.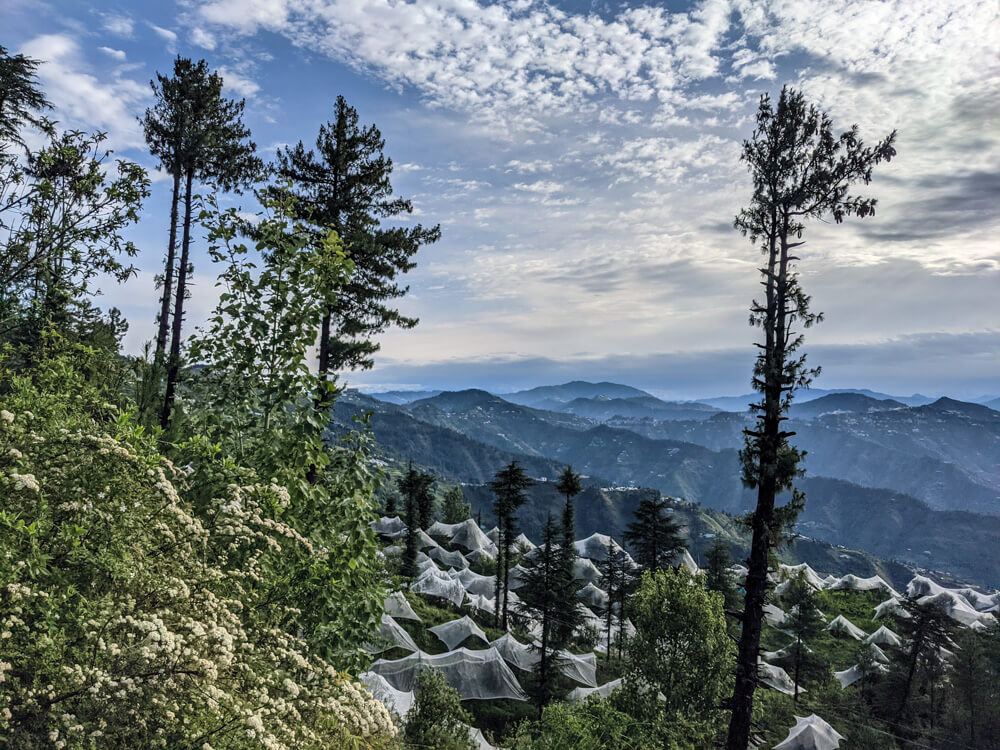 What do you think of Fagu village through my description? Let me know in the comments. 
*****
Want similar inspiration and ideas in your inbox? Subscribe to my free weekly newsletter "Looking Inwards"!