Memoirs of a Three-Week Stay in Mehli, Shimla
Himachal feels like home. 
Here I run with little children in their parents' green fields. I almost join the lithe girls in their hop-scotch game. I explore every obscure path that can be (or cannot be) stepped on. Every tiny dhaba seems like a food stop. I never shake off the red-black curious beetles that embezzle my white-green Kashmiri kurta. Whistling thrush is my new loud neighbor (I won't say friend for she hardly seems to care). I click and research the birds I see from the balcony of my one-bedroom guesthouse.
We are in the village of Mehli Shimla. (Later when we would tell the locals where all we had stayed in Himachal, they didn't understand Mehli but recognized Shakrala, a village of rural Shimla under which Mehli falls, I guess). Mehli is our first stop on this indefinite Himachal Pradesh trip. 
How did we come upon this tiny village which even locals don't recall? We looked for homestays and hotels on Booking, Airbnb, and Google Maps. We wanted a small, isolated village place with a kitchen. Our budget was 1000 rupees per day. A few guest houses made it to our shortlist. But we were in April and the second wave of the pandemic had hit India badly. So many of our shortlisted guesthouses weren't functional and the rest were occupied or out of budget. 
Amidst all, there was this one separate bedroom-hall in Peace homestay that had caught our attention. We couldn't find its phone number and didn't know if the place was open and furnished as listed. Our travel experiences have taught us that Airbnb and Booking listings can vary on websites and in reality. You can read my homestays in India and Indian accommodations piece to know more about my learning through traveling in India. We booked the Peace homestay as we knew Booking sends the contact details of the host as soon as you have made a reservation.
The host told us their homestay was indeed open and exactly as mentioned on Booking. Within two days we drove from my parents' home in Uttar Pradesh to arrive in Mehli at about 7 pm on a dark rainy evening. Now I have been here for two weeks.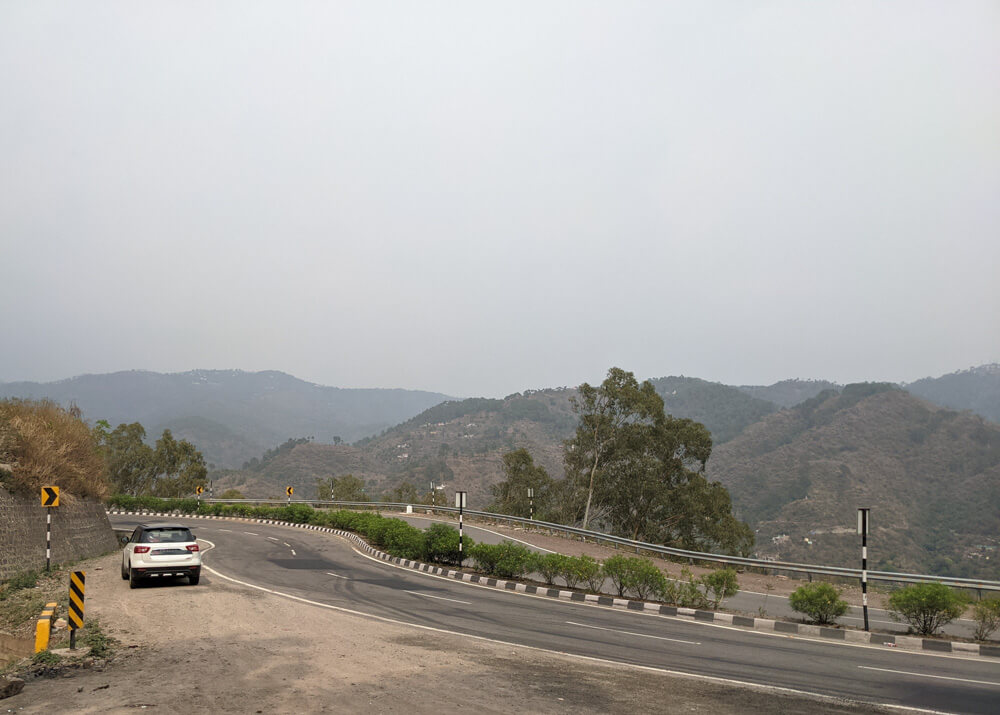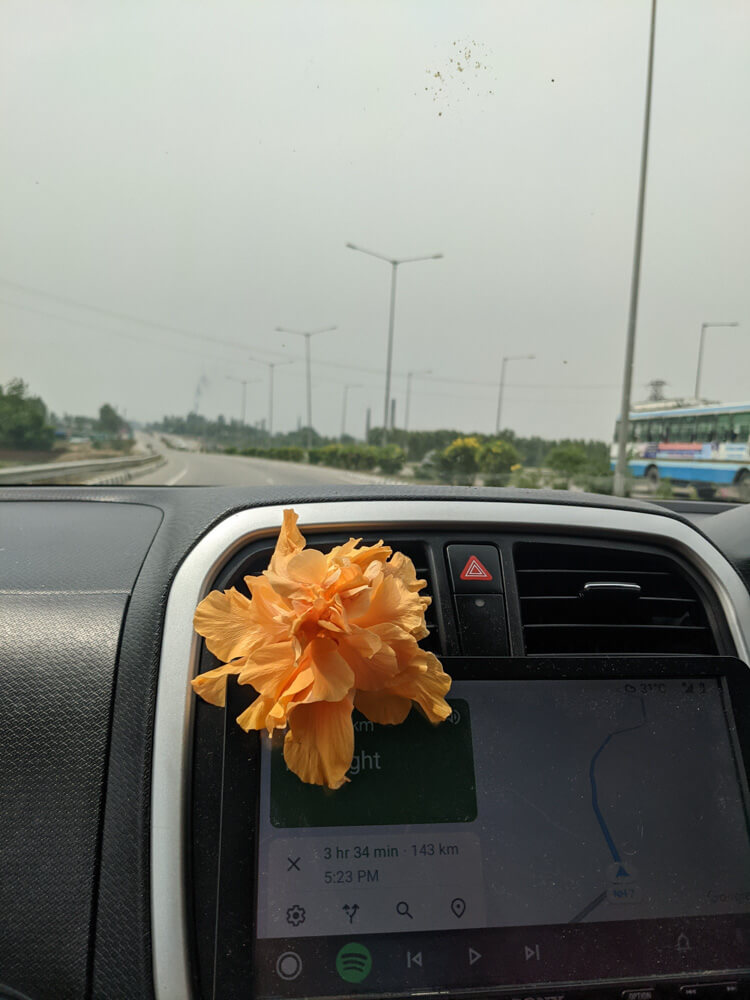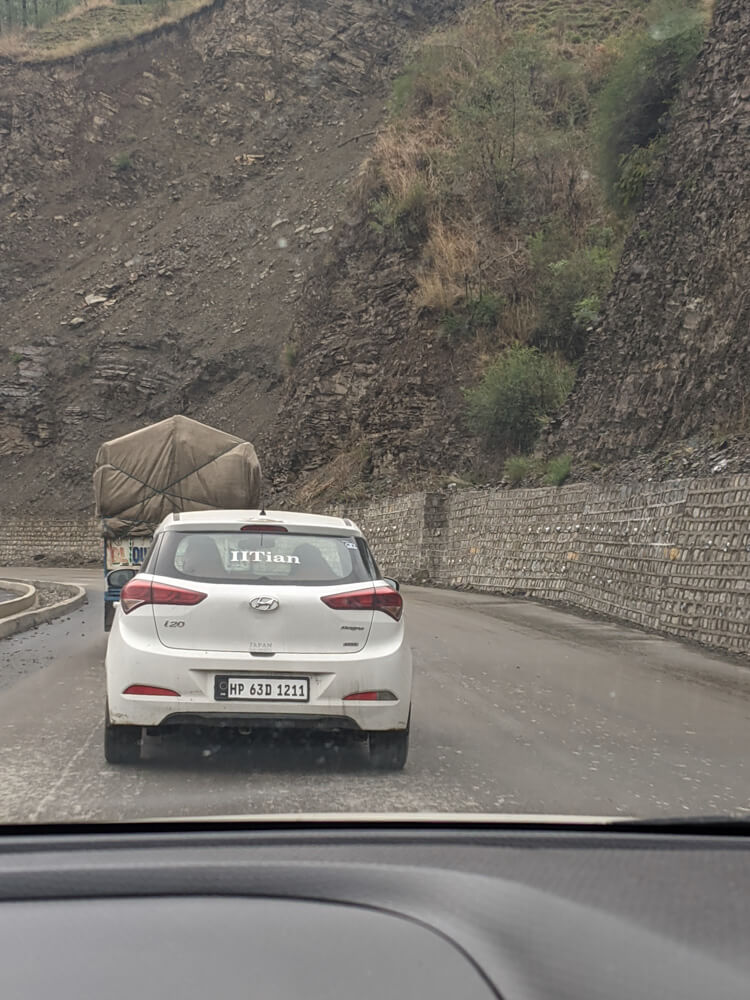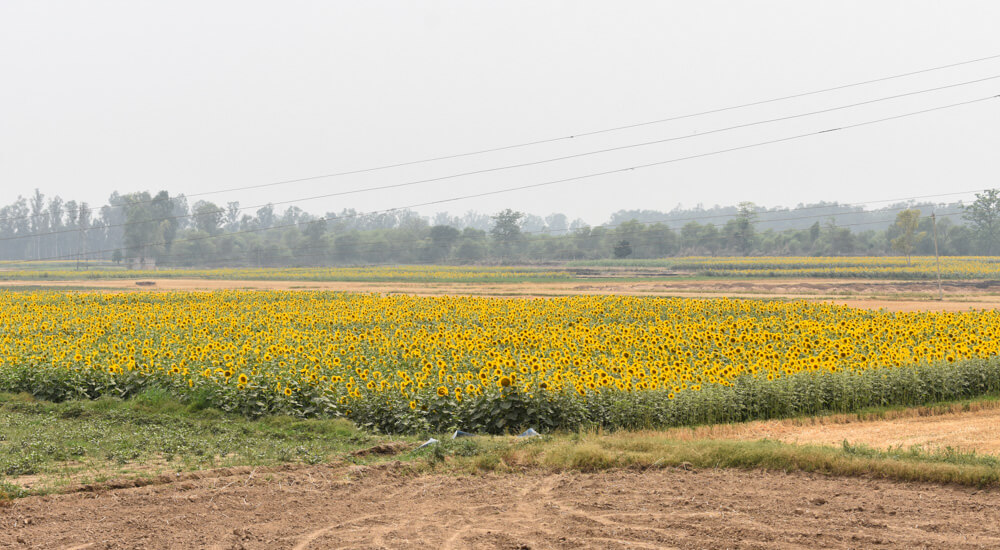 Though I wrote most of this travelogue in Mehli, I edited it a couple of weeks after having checked out of the homestay. So I have taken the liberty to add pictures from my entire stay to give you a good view of nomadic life in this small village of Shimla, the capital of one of the most beautiful states of India.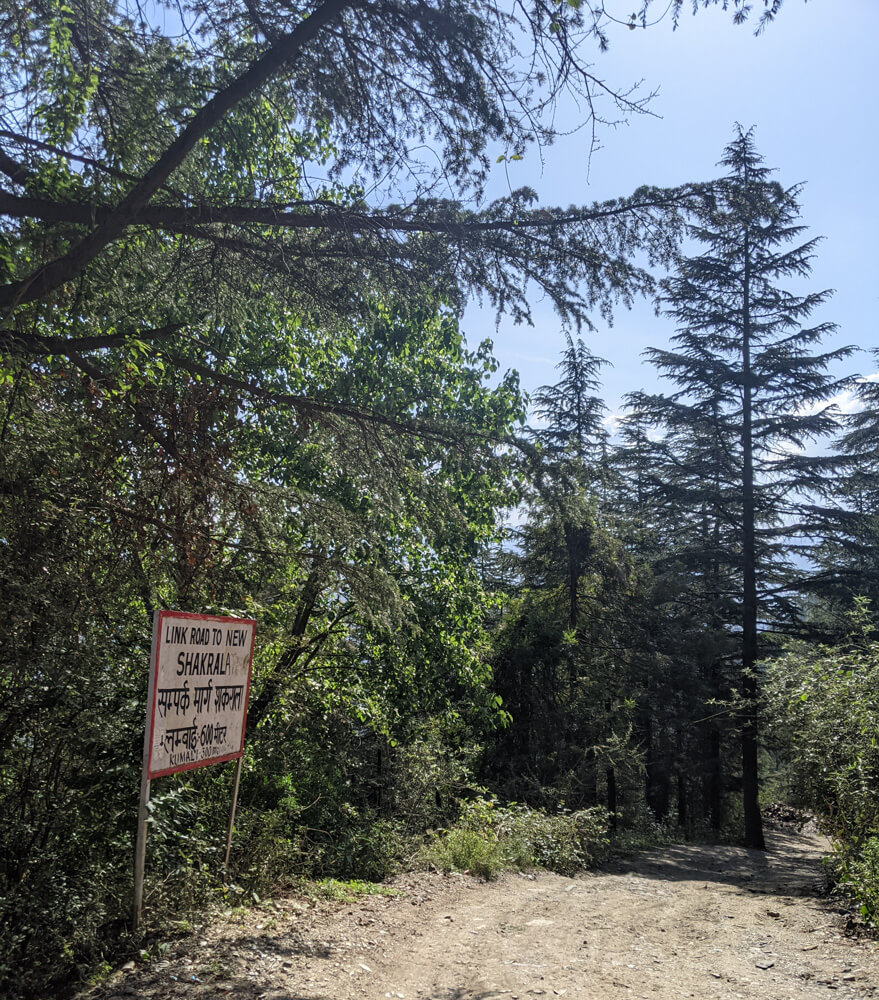 Mehli is located near the Shoghi bypass (that was primarily constructed for army). Most Himachal villages start from the main road or highway and cover a large radius around while flowing to the bottom of the valley. Locals call the tiny streams that curl through the base nallah or khad. You can read my narrative of walking to the leopard-infested nallah of Mehli to know more about the hiking opportunities in the area.  
From the Shoghi highway, we took a link road towards the village. Like many other Himachali link roads, this one too was narrow and broken at many places. It is an unstable construction — not smooth gravel or tar road — but laid with mud and rocks. Parts of the road get further washed away in rainfall. There are wider sections of the road where two cars can pass by, but otherwise, only one big automobile (such as our Brezza) or two small Maruti 800s or Altos would fit.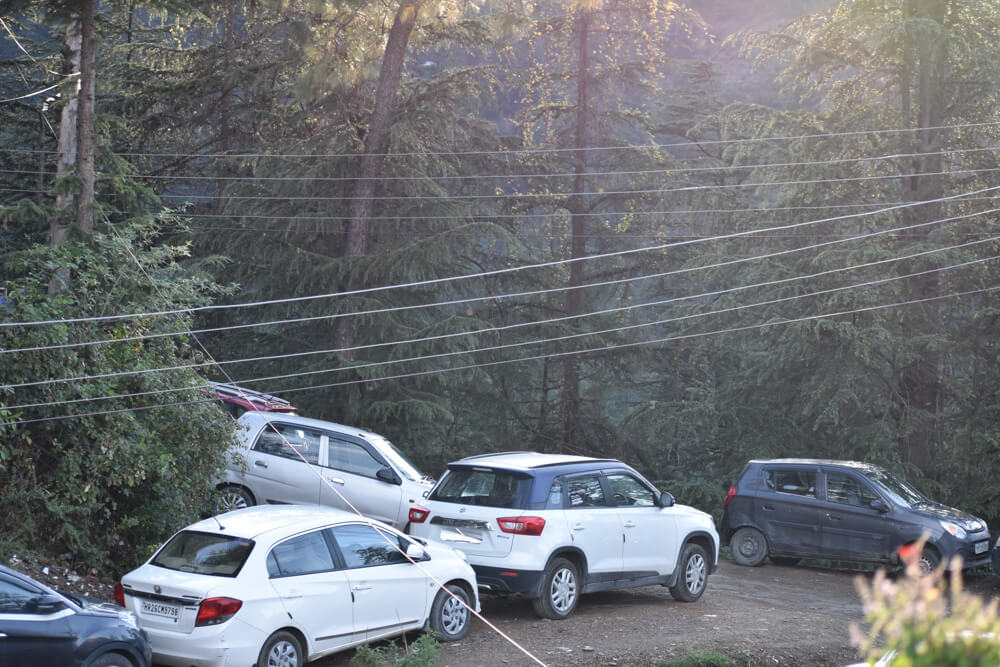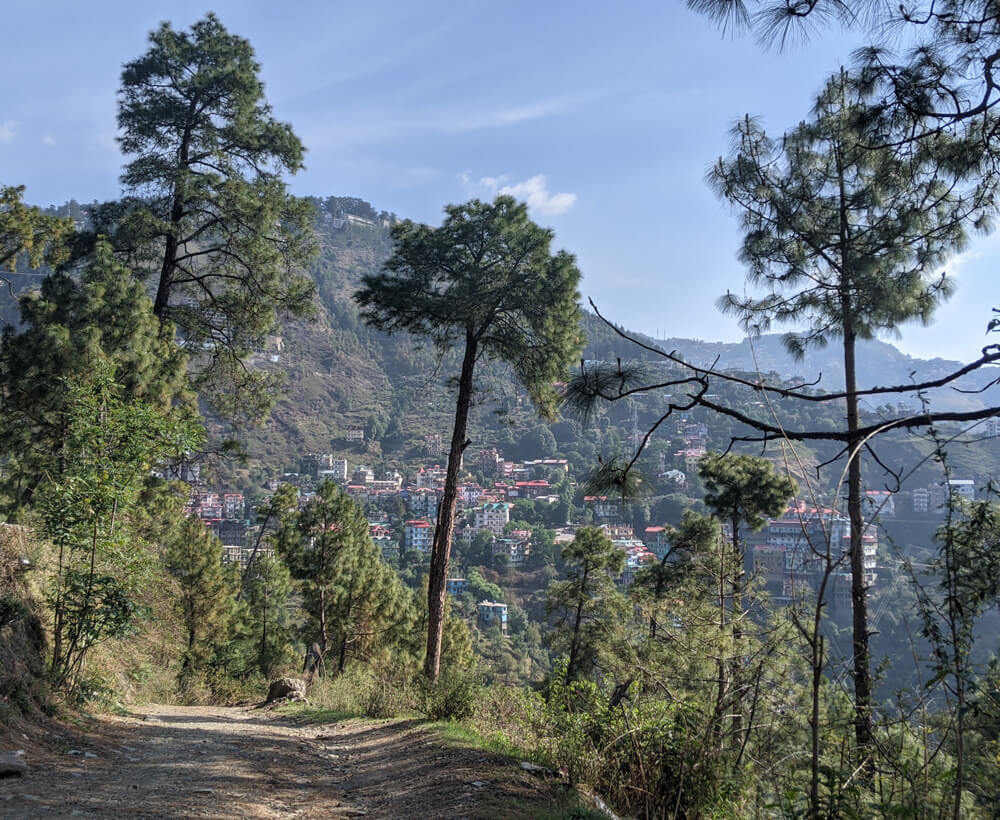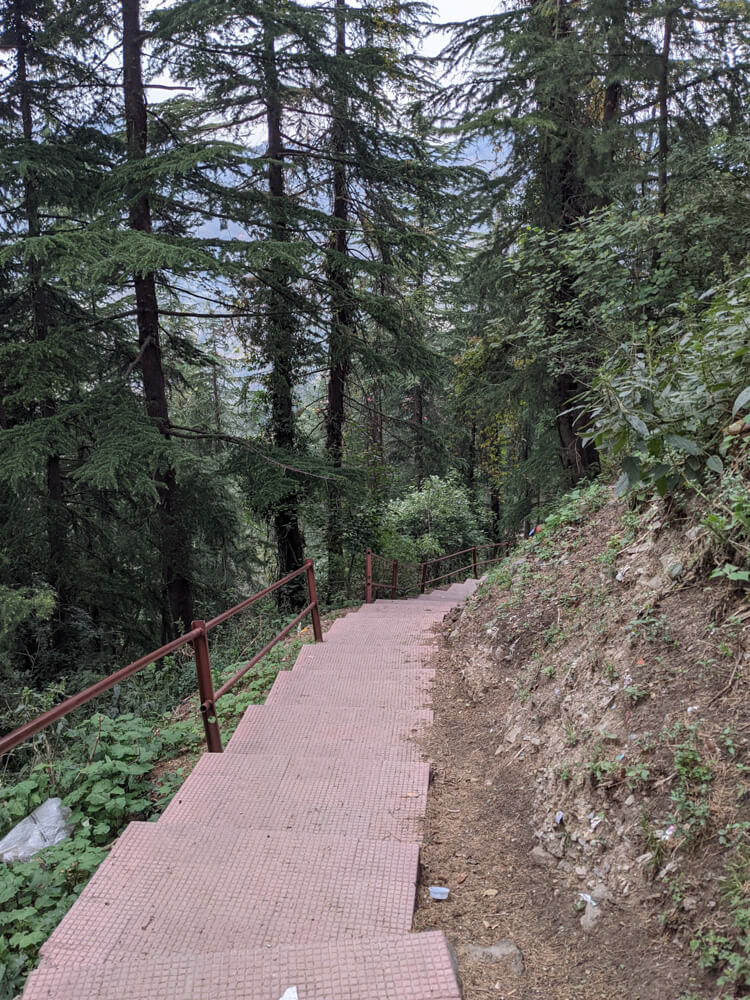 Besides a road, a steep staircase also goes to the top.
Contrary to what I thought, families who live here do not climb up and down. Instead, they drive in their cars without a second thought about the poor condition of the road (they are so used to the nerve-wracking journey). In our three weeks in Peace, we only took out our car once when we left Mehli to drive to Mashobra. Both the young host and I ran ahead and behind the car to stop other oncoming vehicles so that my partner could climb without stopping at such a steep incline. The four-wheeler grunted and wheezed while trudging up. (Once our car's wheel did get stuck in the loose mud and kept rotating therein.)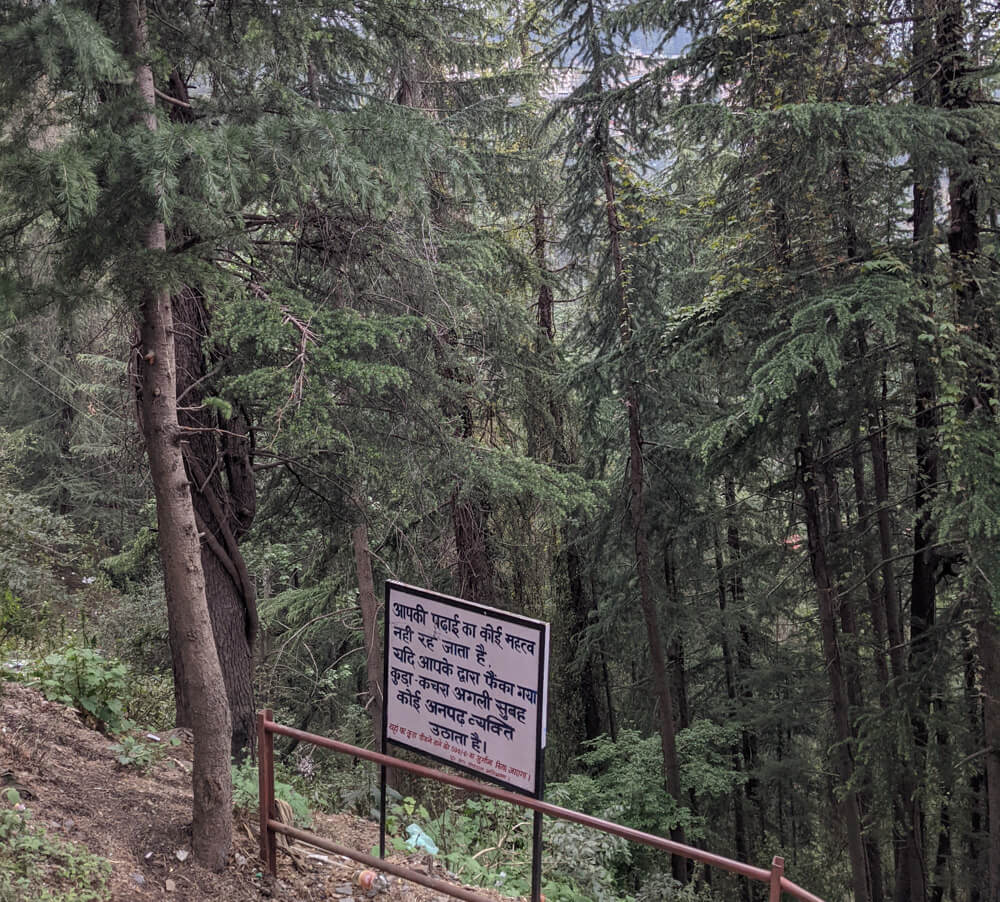 So voluntarily or involuntarily, we alternated between climbing up the stairs or plodding up the broken roadway fringed with pine and deodars. The crisscross tiny trails that lead to scattered homes on the mountain are strewn with garbage, plastic bags, lays packets, beer bottles, plastic water bottles, and other crap.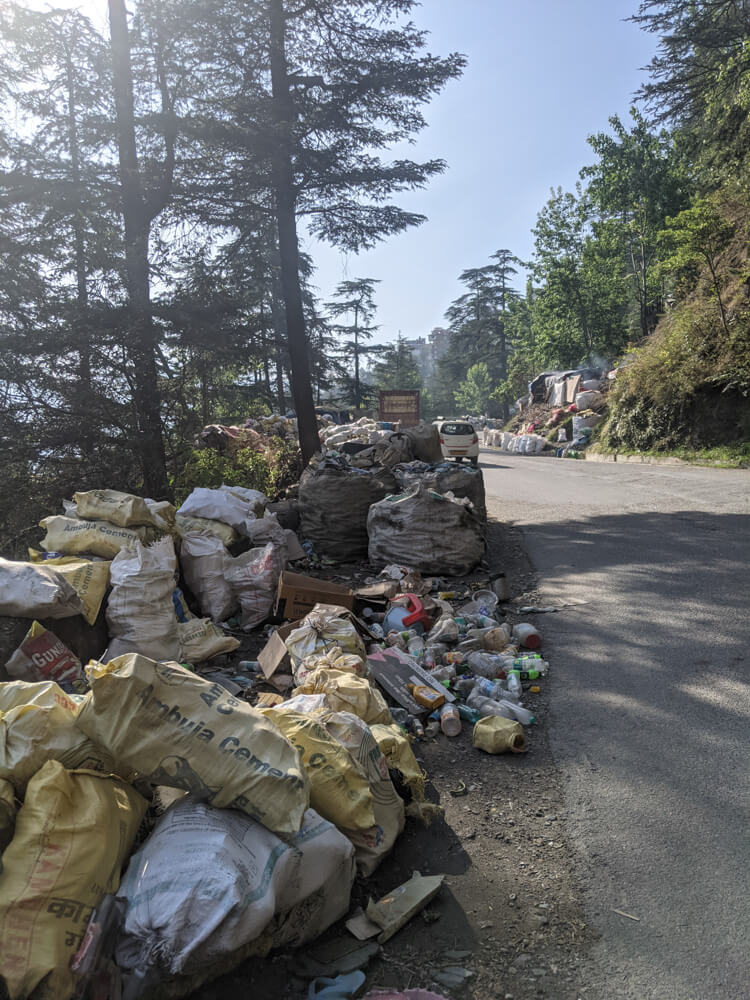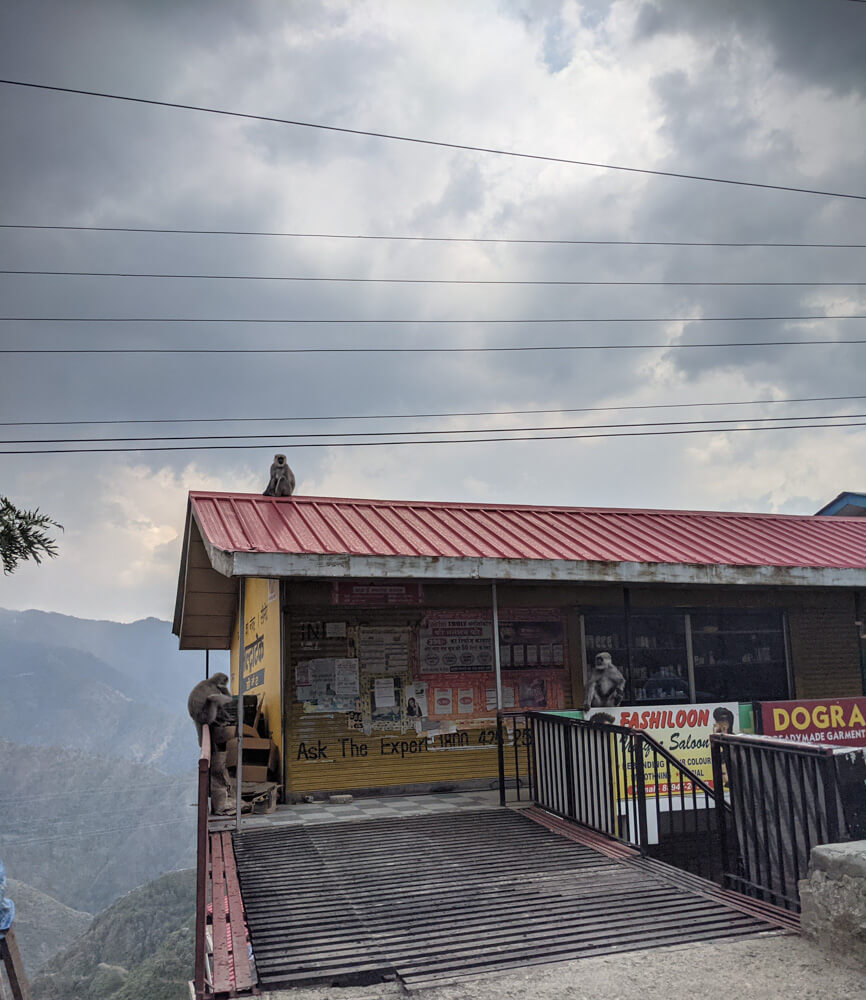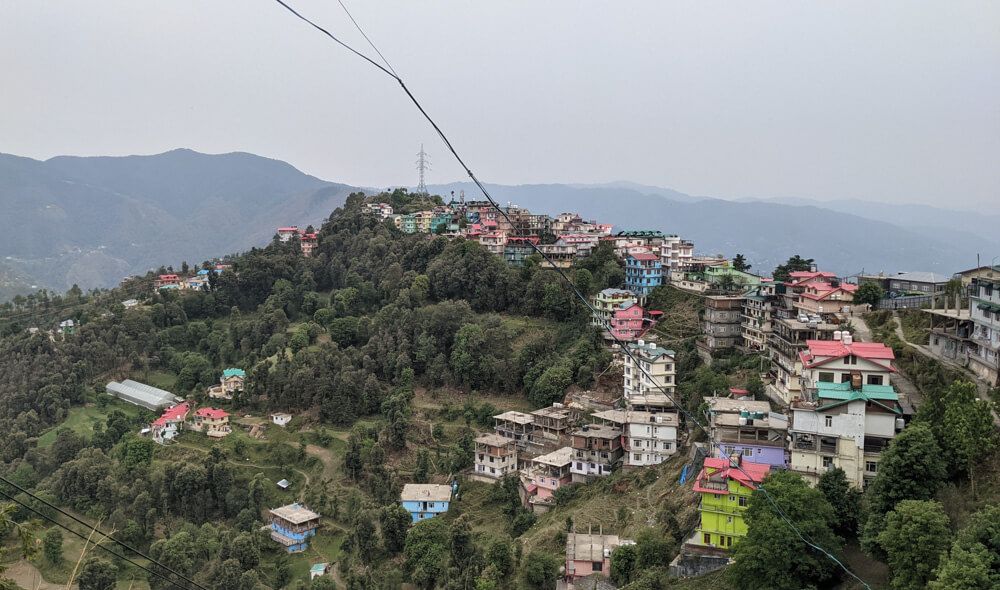 Mehli is a small village with many clusters of homes scattered in the area.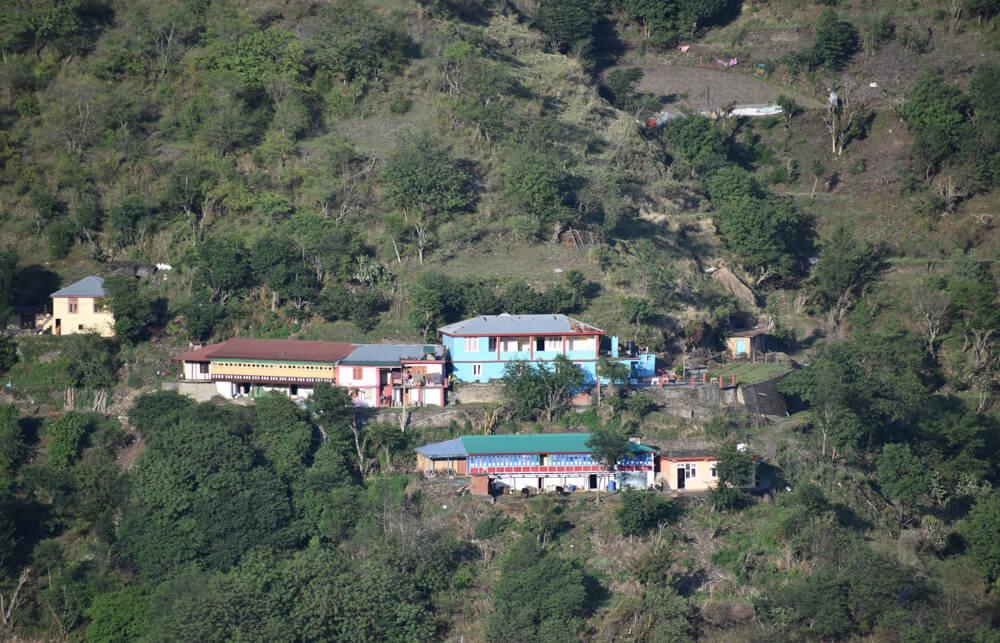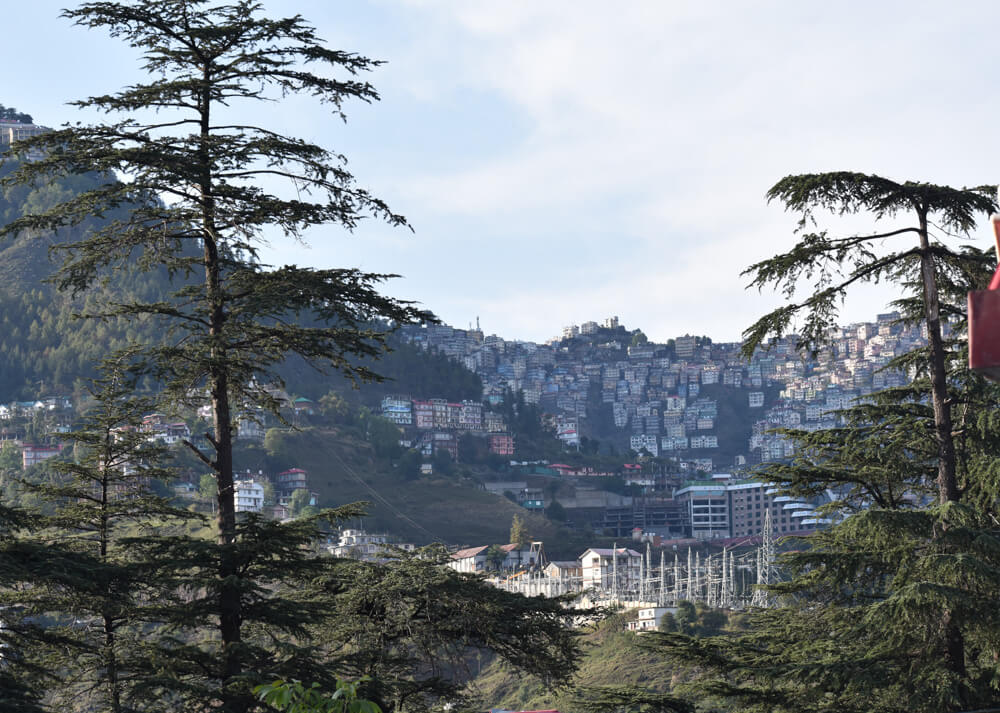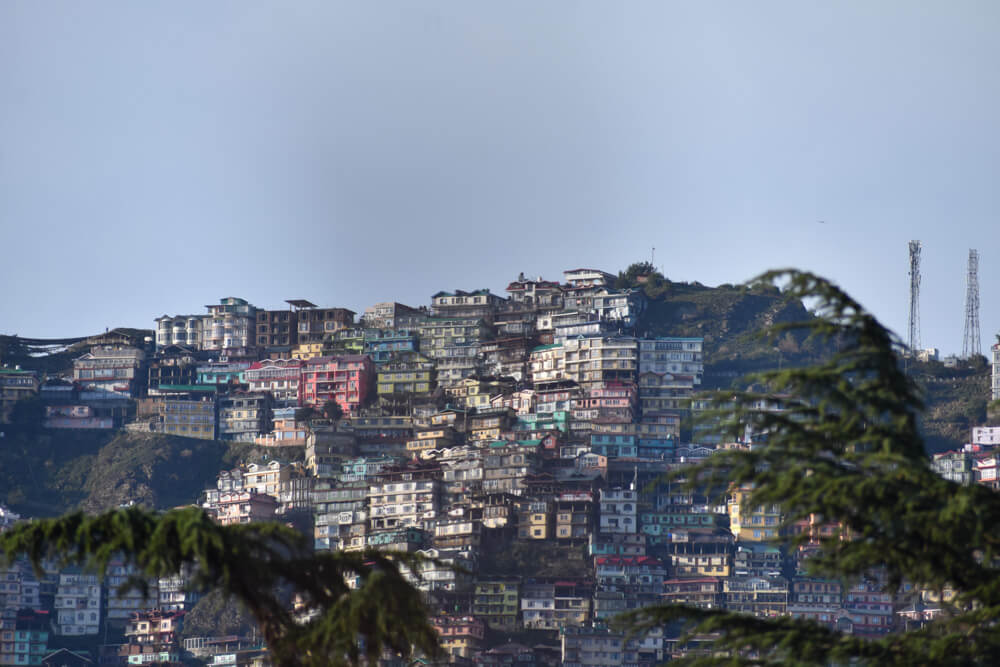 Our homestay building was located in a group of homes. But it was the last one in line, for beyond it lay the agricultural fields and the vast mountains. In front of us, there was the forest. And even though there were homes on our left and right, they were a bit back from our homestay and we never found ourselves in the middle of people.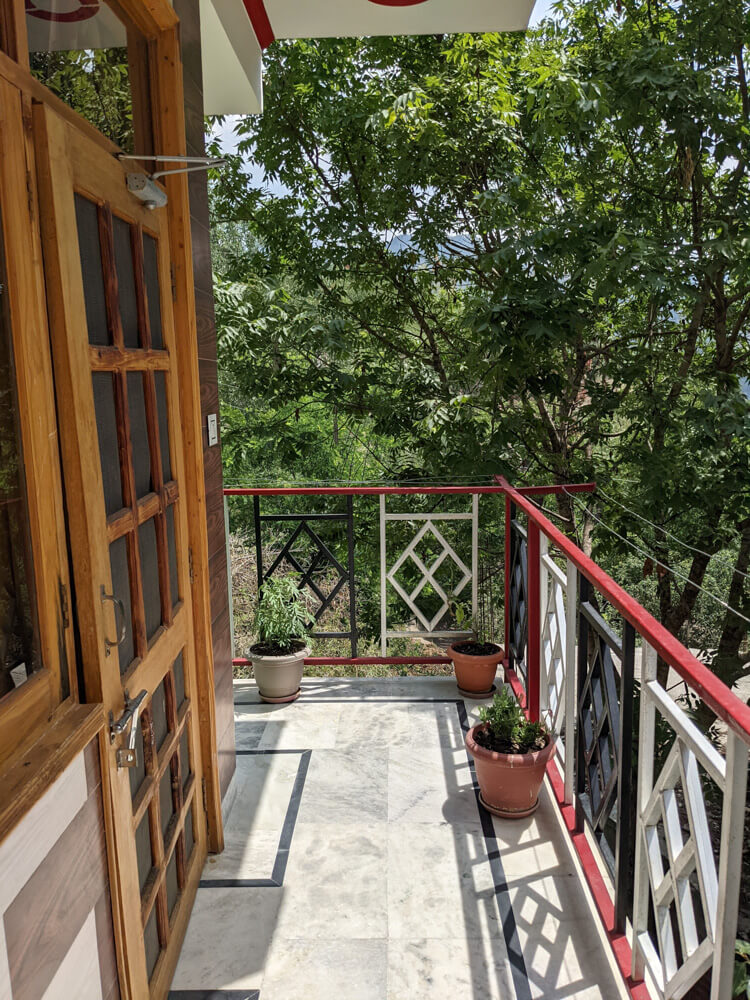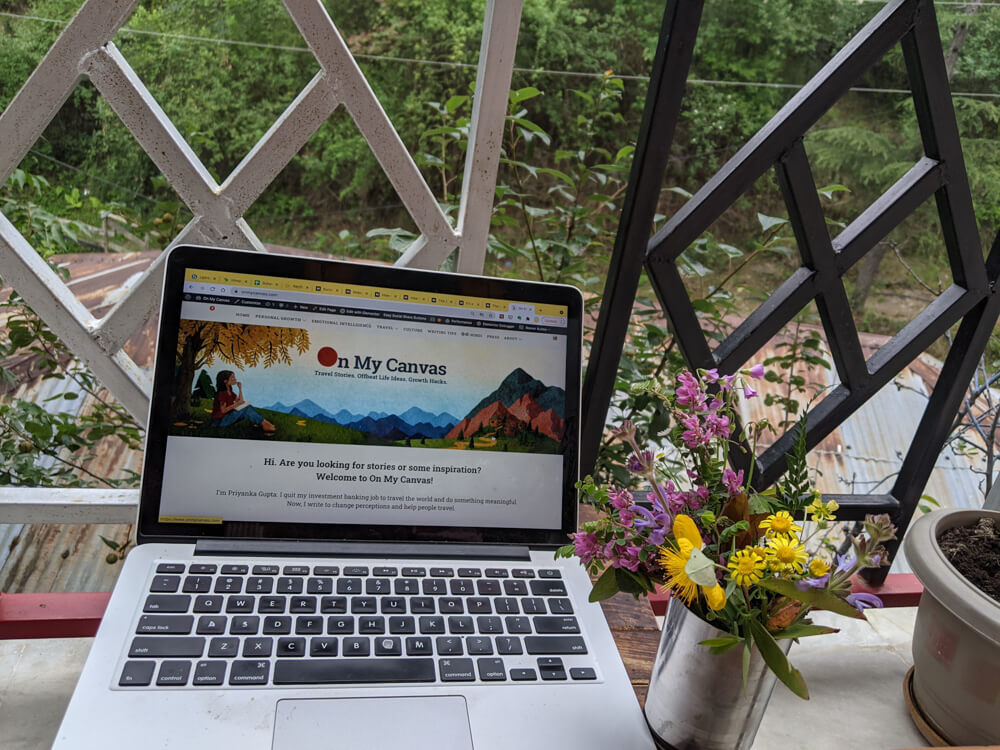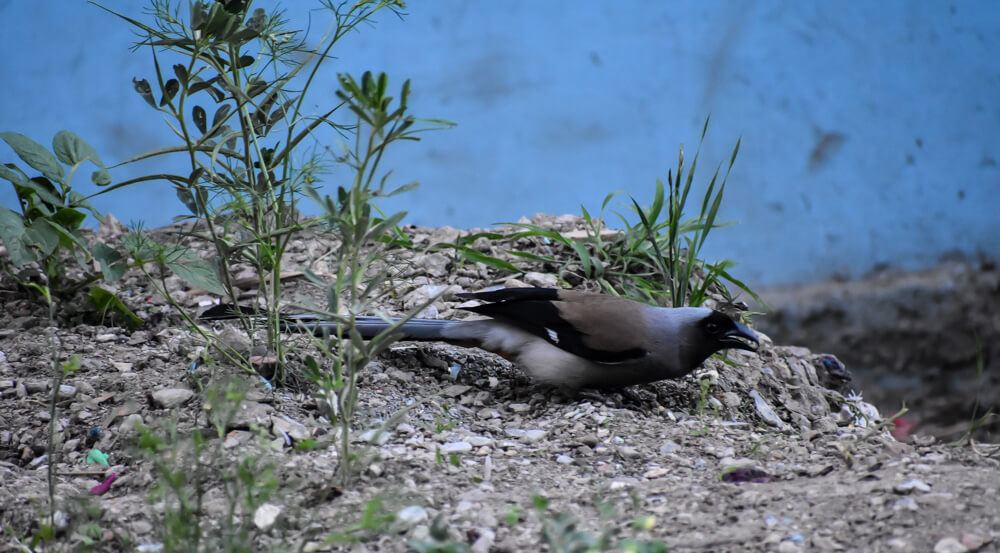 Our ground floor balcony was the perfect place to stalk birds. I must have seen some 15-20 different kinds of birds from there. This one is the grey Himalayan treepie which makes a lot of noise when comes to it.
That tiny Mehli village of Shimla buzzed with life even when entire India was under a strict lockdown. Tailor birds tweeted, and cicadas sizzled on their pine trees. The families constantly chattered in the nearby house. Children never stopped crying. I could hear the muffled voices of people climbing up the hill.  The garbled voice of my partner attending his calls didn't fail to reach me. Dogs barked intermittently. Families working in their fields rustled through the dry leaves and green grass of the mountain path. Drill machines and loud Hindi songs shrieked to us. And when everything was silent, our homestay cows mooed.
You can imagine how distracted I must be to notice every little sound. Sitting outside with a view has its own perks and cons. My partner says he won't be able to work outdoors so he sits on the desk and chair inside. I take the temporary setups wherever we go. I've made my desk in narrow balconies, been seated in sunny gardens, settled on uninspiring staircases, buried myself in velvety sofas while my legs were propped up on the table, worked in uncomfortable hotel beds, and tried writing in a room where my parents constantly peaked in to ask whether I would like cucumber or watermelon better.
But for me, the perks outweigh the cons.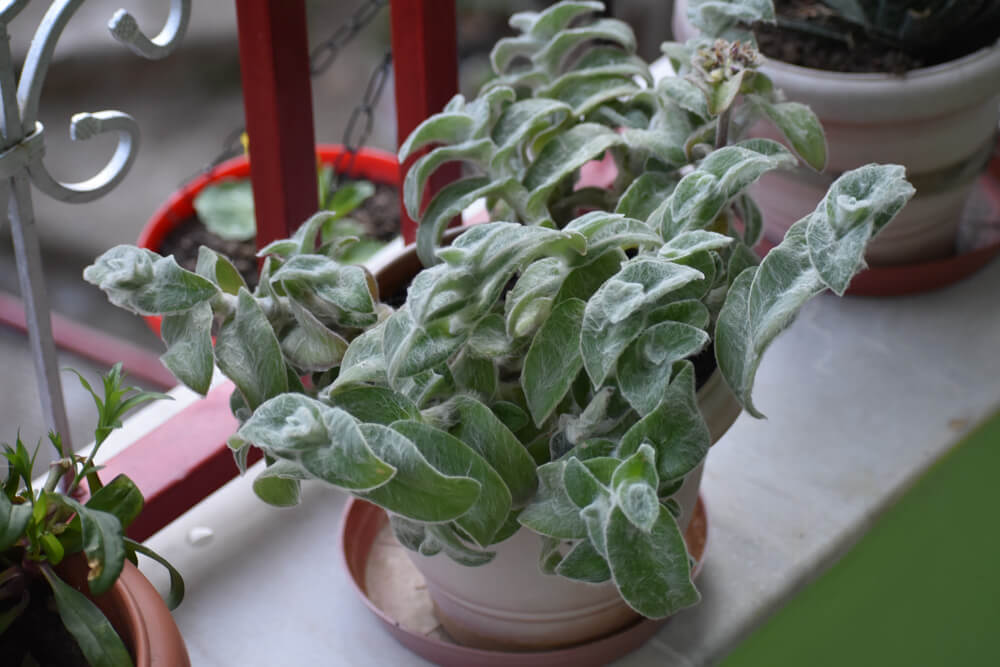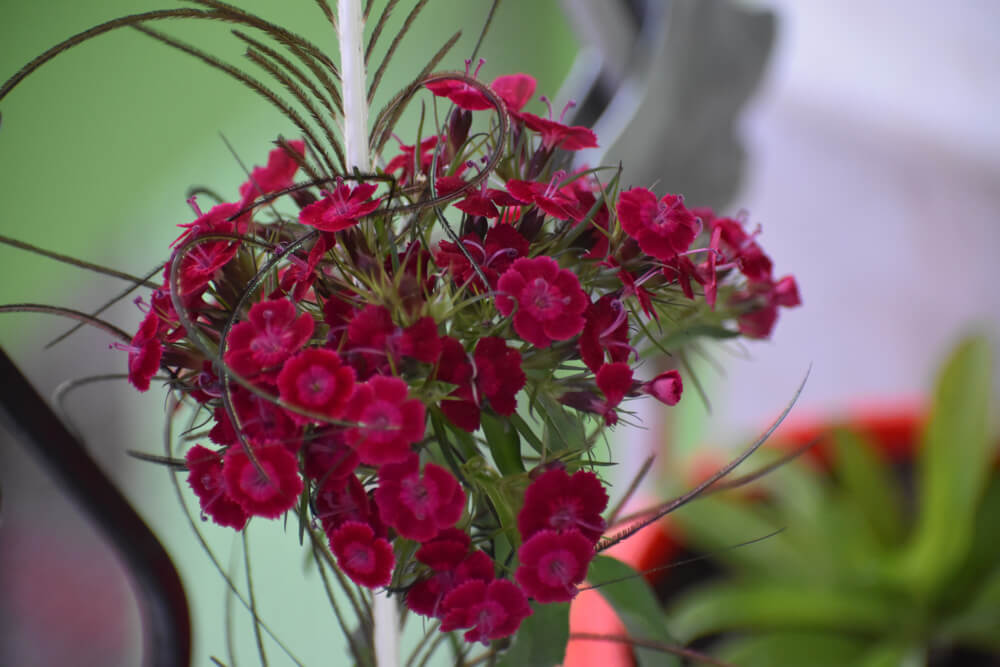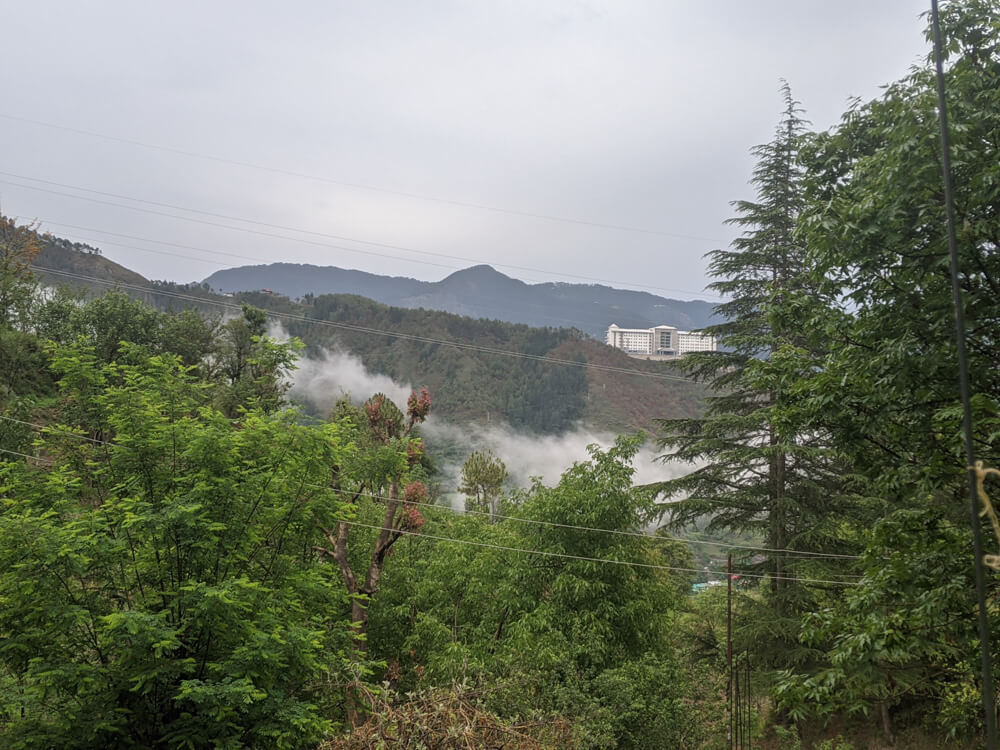 And when the cloud descends they just hang out with us until they rain away or just fly by.
After a couple of hours of morning work, we would shift our attention to the requirements of daily living. In the lockdown, grocery stores were only functional between 10-1. So on many days, we climbed up after 10 to buy essentials. Sometimes store owners told us their stock was stuck in Chandigarh or elsewhere due to the lockdown and they weren't themselves going to the busy Shimla bazaar. Thus they didn't have fresh vegetables and fruits. In those times we would buy wrinkly eggplants and measly cauliflowers. But on some fortunate days our cauliflowers smiled like big lotuses.
I made the cauliflower and eggplants dhaba-style always. So fry the onion and potatoes on low gas in ghee, add the chopped vegetables, and let the mixture cook in the wok for as long as it takes. The result turns out to be quite crispy and fragrant.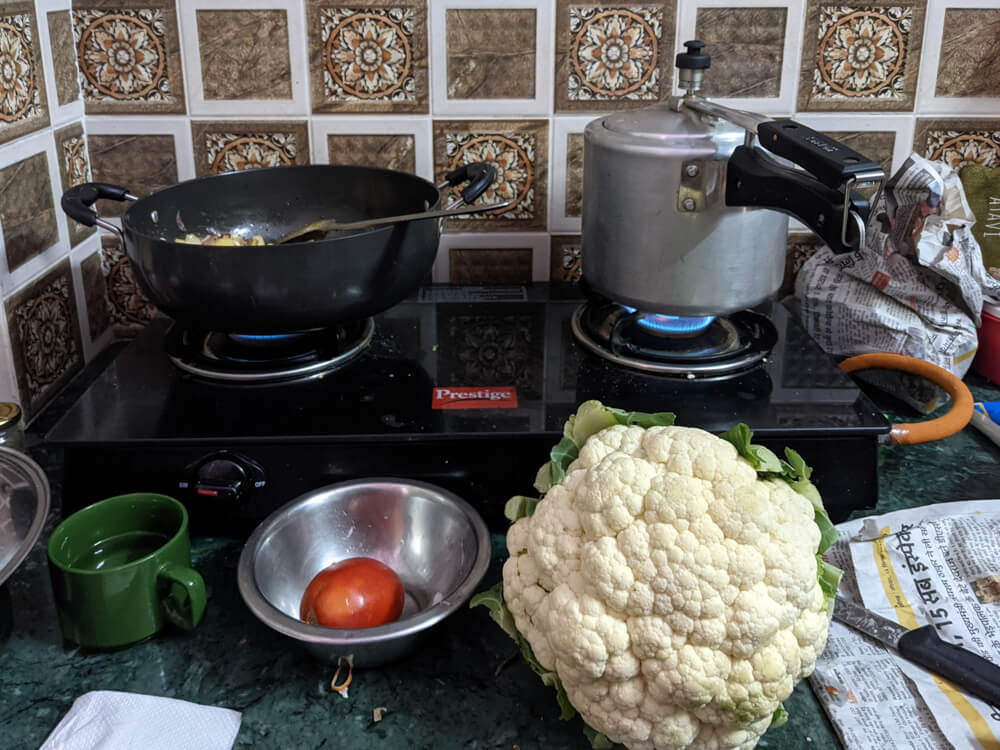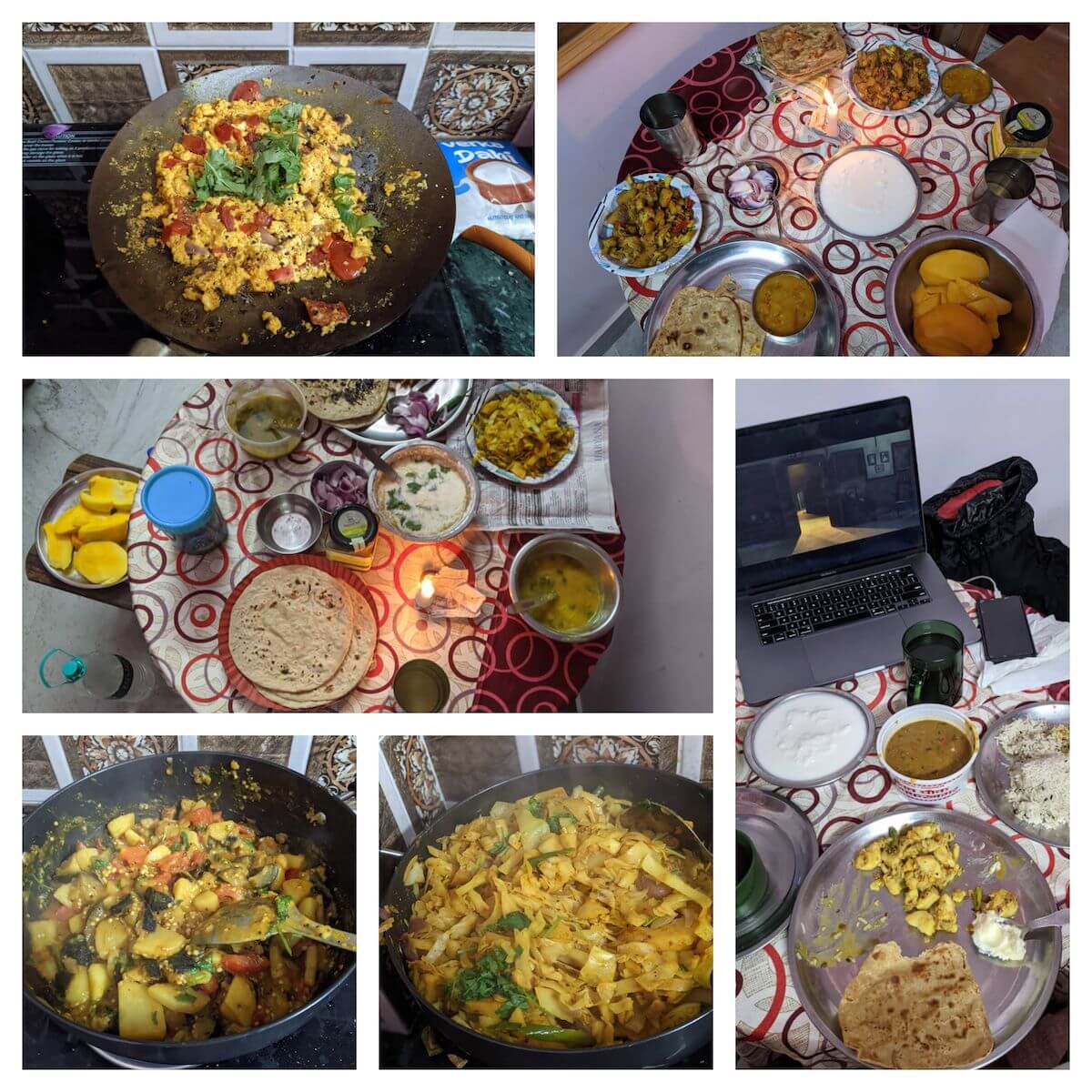 Instead of preparing roti ourselves, we bought them from the home eatery next door. Aunty sent her little daughter to hand the food from her backyard into which our kitchen window opened.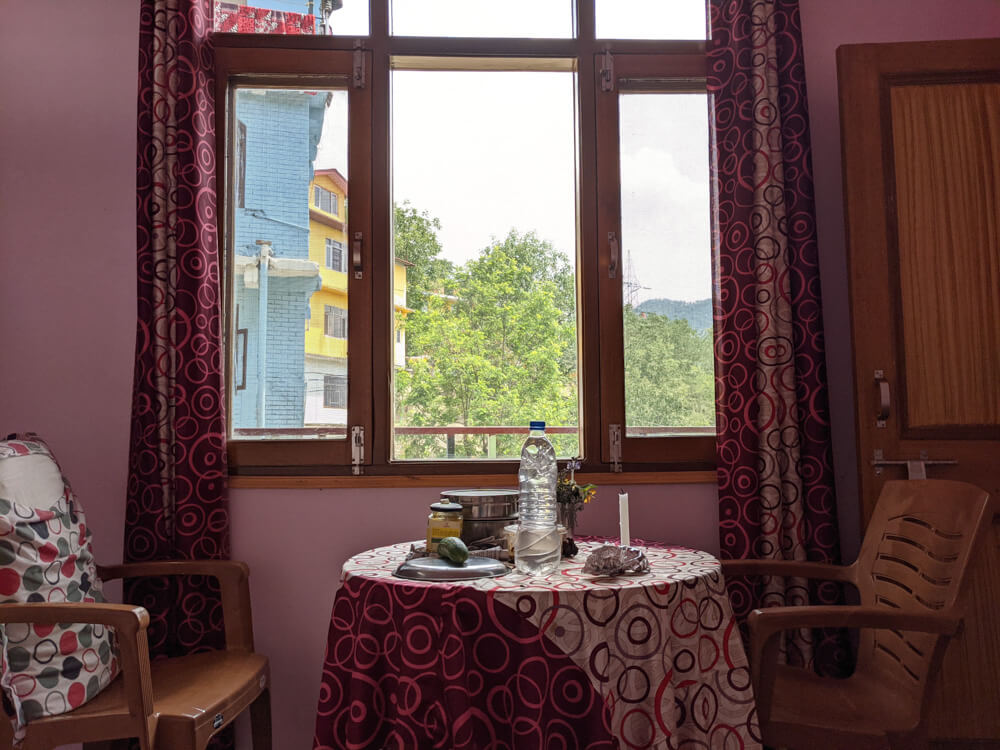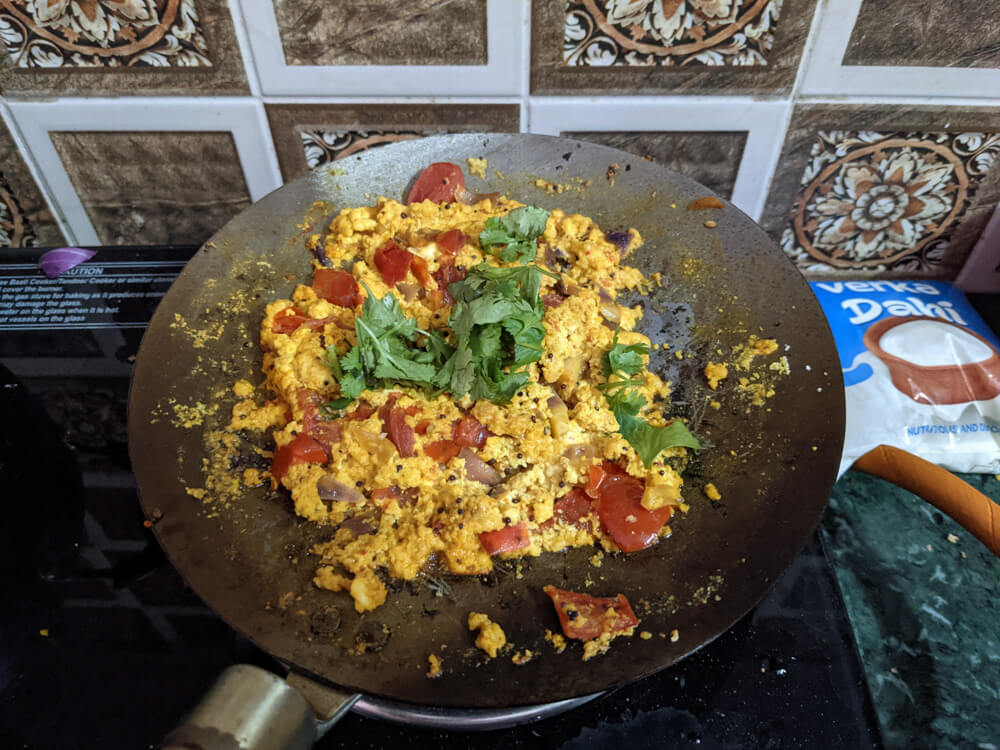 Dunzo (Bangalore folks would know) or Swiggy didn't work in Mehli but the homestay host often called from his parents' departmental store to ask if we need anything. But after getting almost rotten and spoiled vegetables, we stopped taking any perishables from them except milk and curd. We could also buy milk, yogurt, chips, and whole wheat flour from the home-cum-restaurant next doors.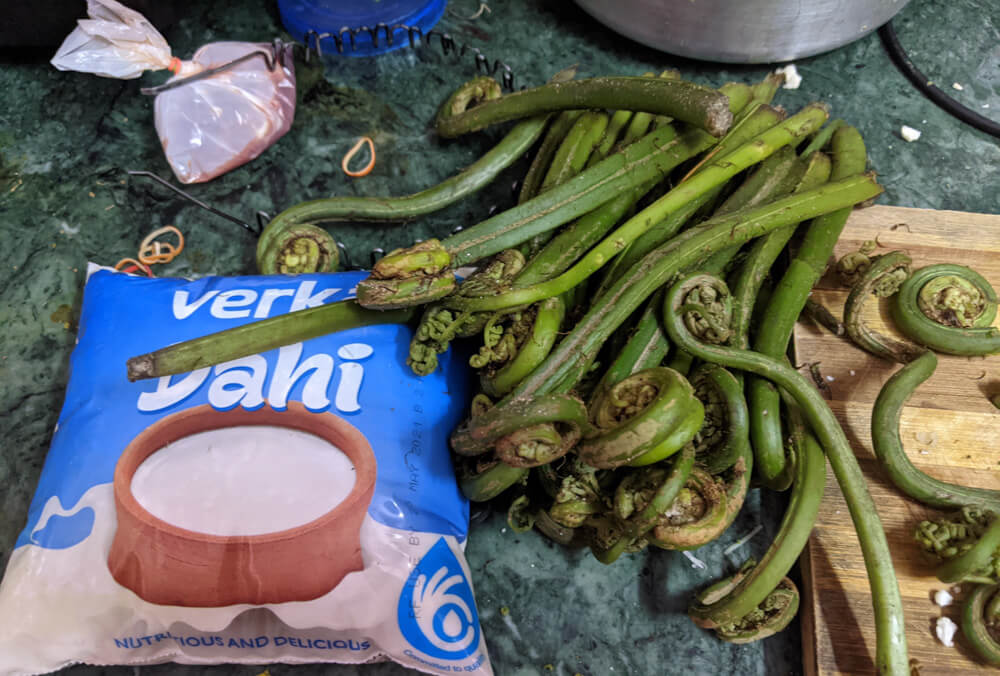 Lingudi grows in khad – the water streams at the bottom of the valley and is considered really healthy. It tasted a bit tangy and was very crunchy. You can pickle it too.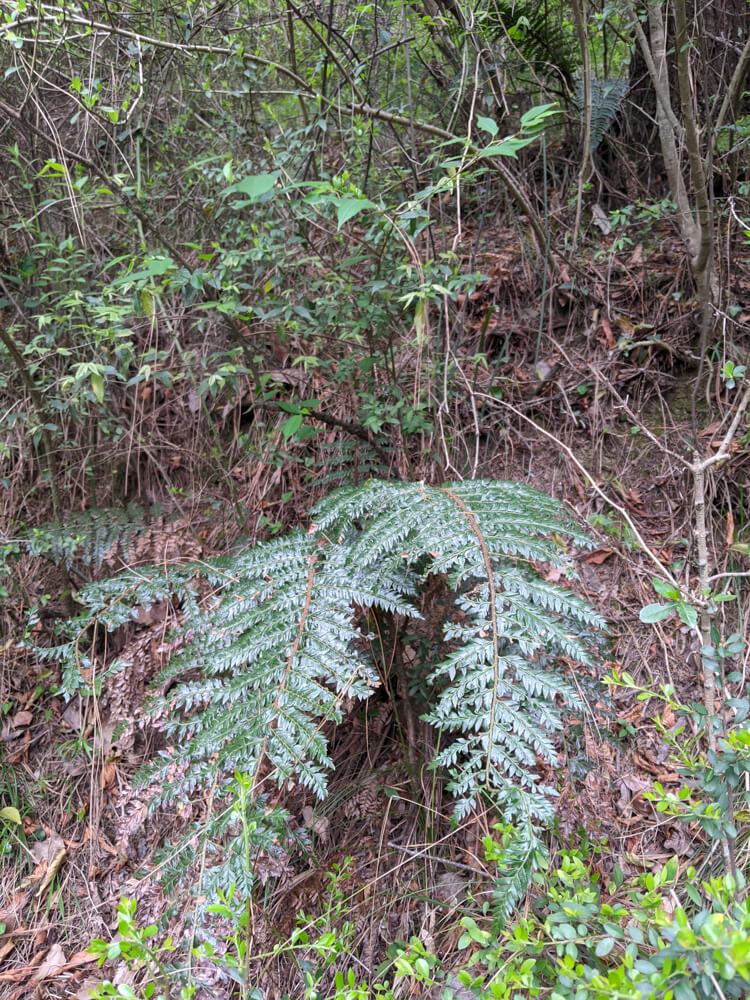 Our days began with walks and essential purchases, if the weather allowed getting out, and led into writing and work. And it is on these walks we discovered the beauty that the forest and the mountains held in their arms.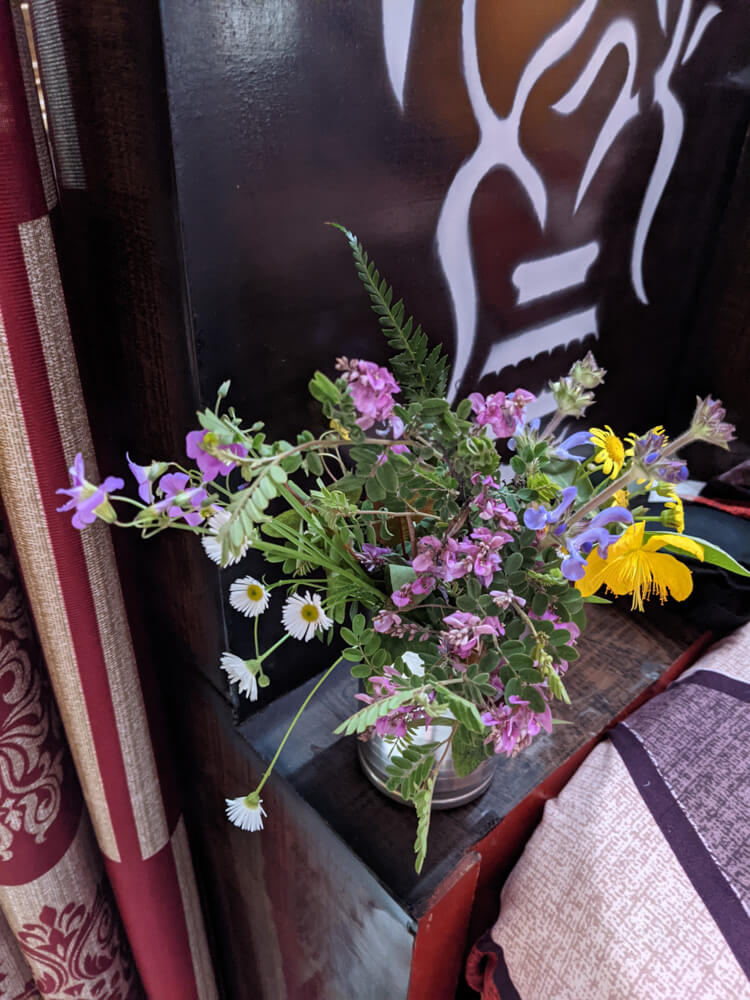 One day we hugged the milk packets we had bought from the eatery to our chests in an almost disintegrated newspaper packet, crossed their house, and walked on a tiny mountain trail to see what lay beyond. We didn't know we were walking by the barren fields of our hosts. After walking a little further ahead and assuming we had arrived at the end of the trail, we turned back. Our host's uncle was just coming to tell us that those were their fields. He said we could walk by the edge of their agricultural land but we had to avoid all the other fields because they belonged to their neighbors. We made a mental note of the area and told him we were always careful while walking near agricultural plots.
While acknowledging that it was our responsibility to ask where we could walk and where not, we couldn't ignore his stern and cold manner with us.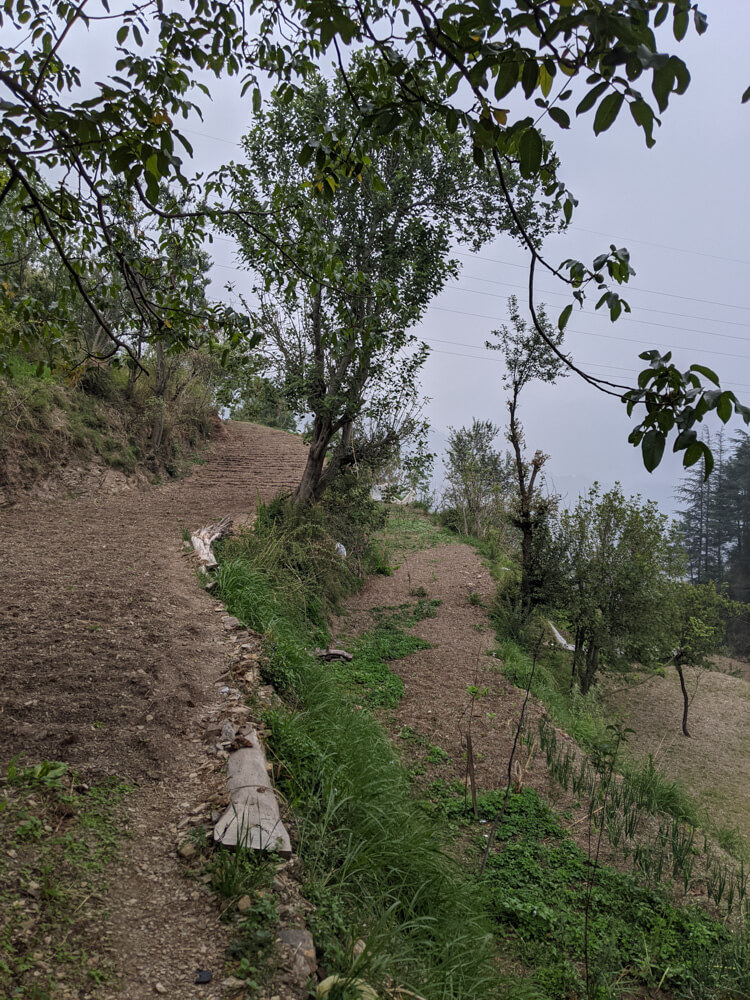 If you step into someone else's fields, it will be your host who will get reproached by his neighbor (not you). So make sure you follow your guesthouses' administrations' instructions on where to walk and which places to avoid.
When we asked where could we go, he told us the mountain ended at the end of their land. But we could use a common path in front of our house to go a bit downwards where there is a small hill. That downwards path was stony but was a short one.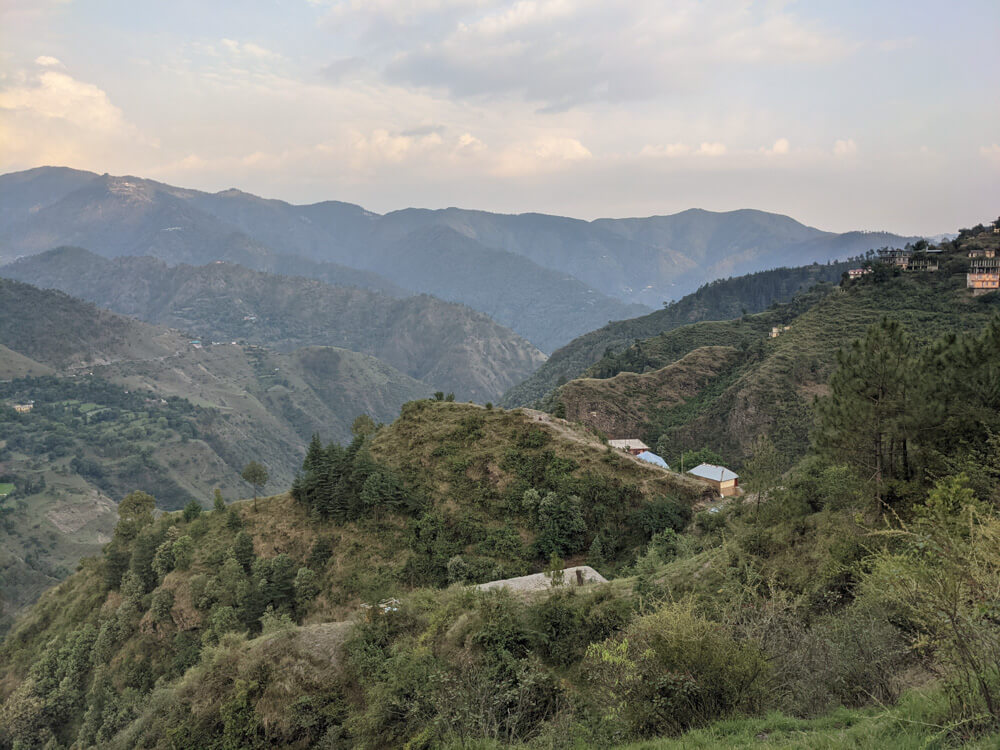 The first time we arrived at the tilla we didn't know from where to climb it. Some men standing nearby the homes told us we had come to the end of the road. So we turned around. But then we went to the place again and climbed up an under-construction roof to get to the top of the hillock. From there the view of the valley was amazing. As we made acquaintance with one of the sisters, she told us to visit again. And later we found ourselves at the mound many times.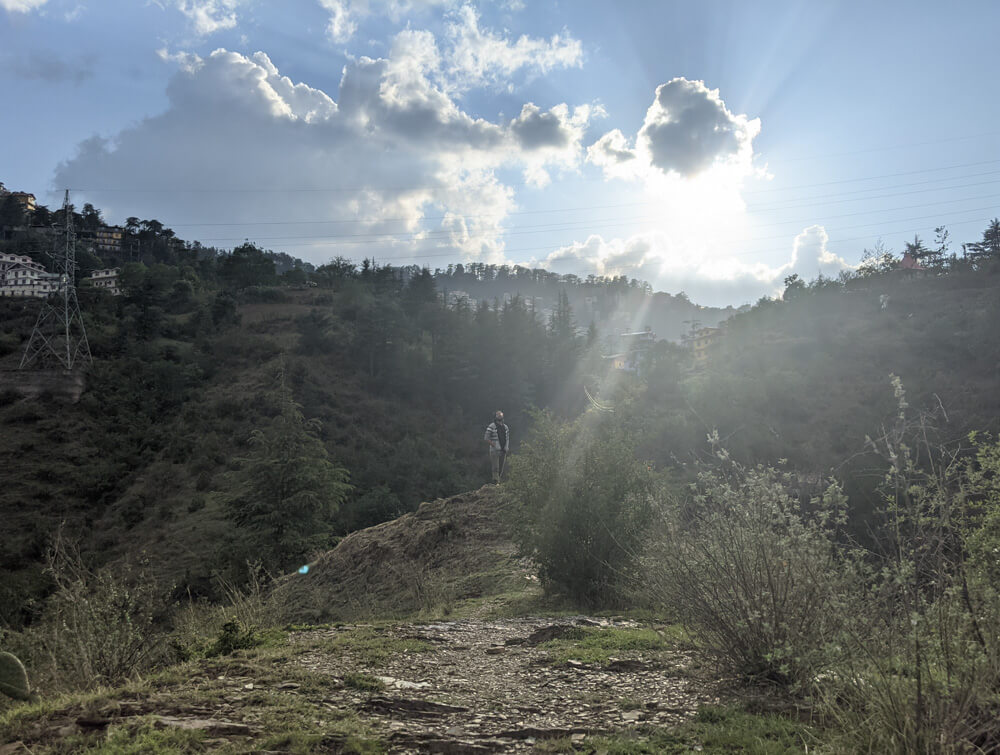 When we didn't descend to the tilla, we tiptoed on the edge of the fields, crossed the barricades put up by the hosts, and found ourselves in the vast forest land that belonged to no one. This part of the valley became our oasis in the middle of a labyrinth of private lands. We only needed ten minutes to be in the wilderness and there we could stare at the ravine, the opposite mountains, and the homes that stuck to the slopes as if they had been there since time eternity.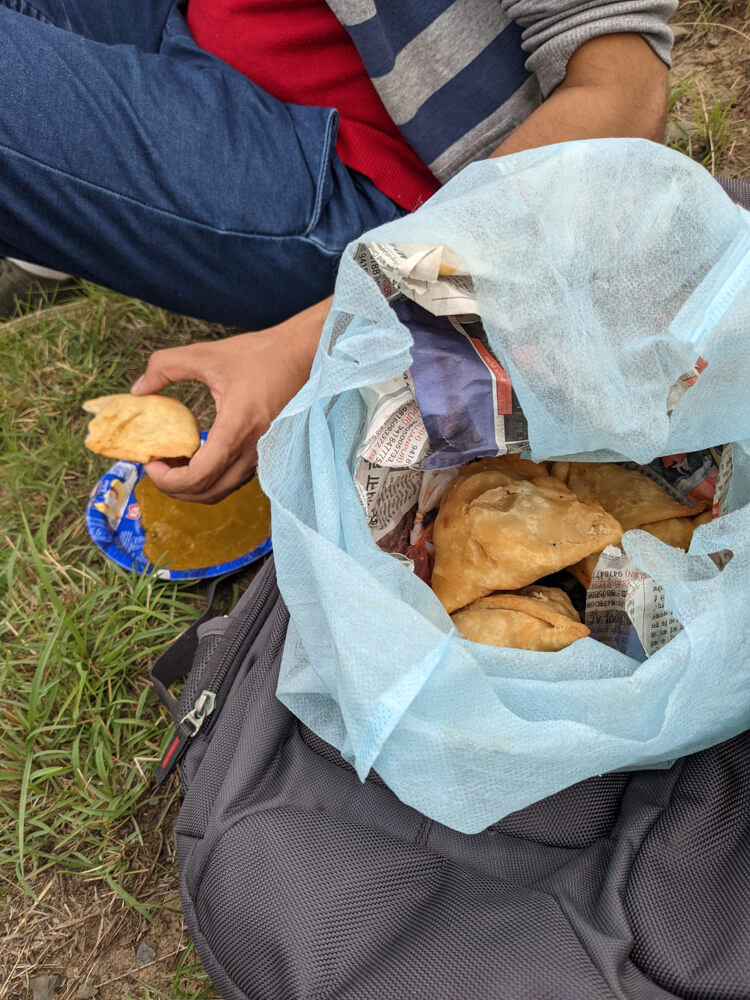 I don't think I should describe the calmness I experienced in those open lands. Because such things are better left unsaid. But here are photos that, sadly, don't do justice to the scenery and the feeling which one gets by physically visiting a place.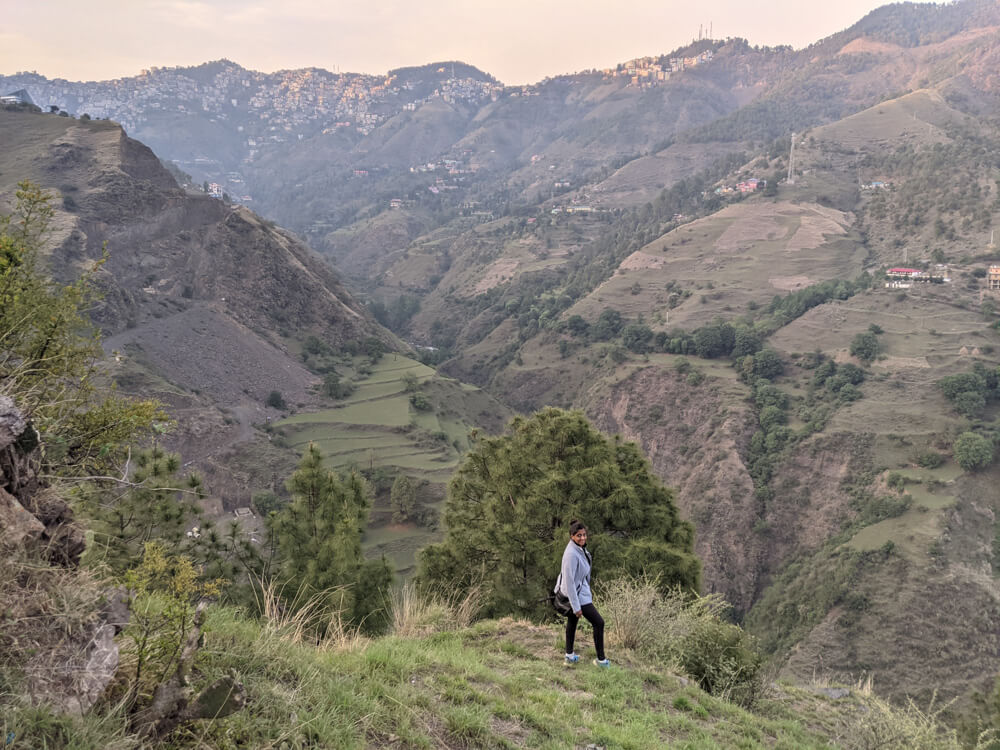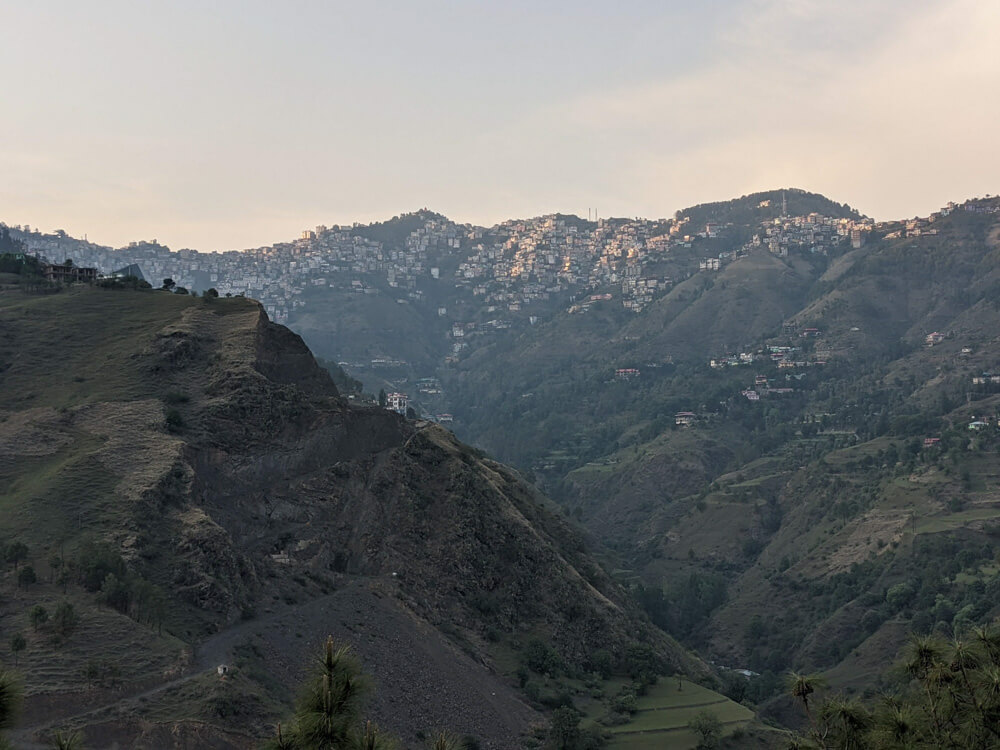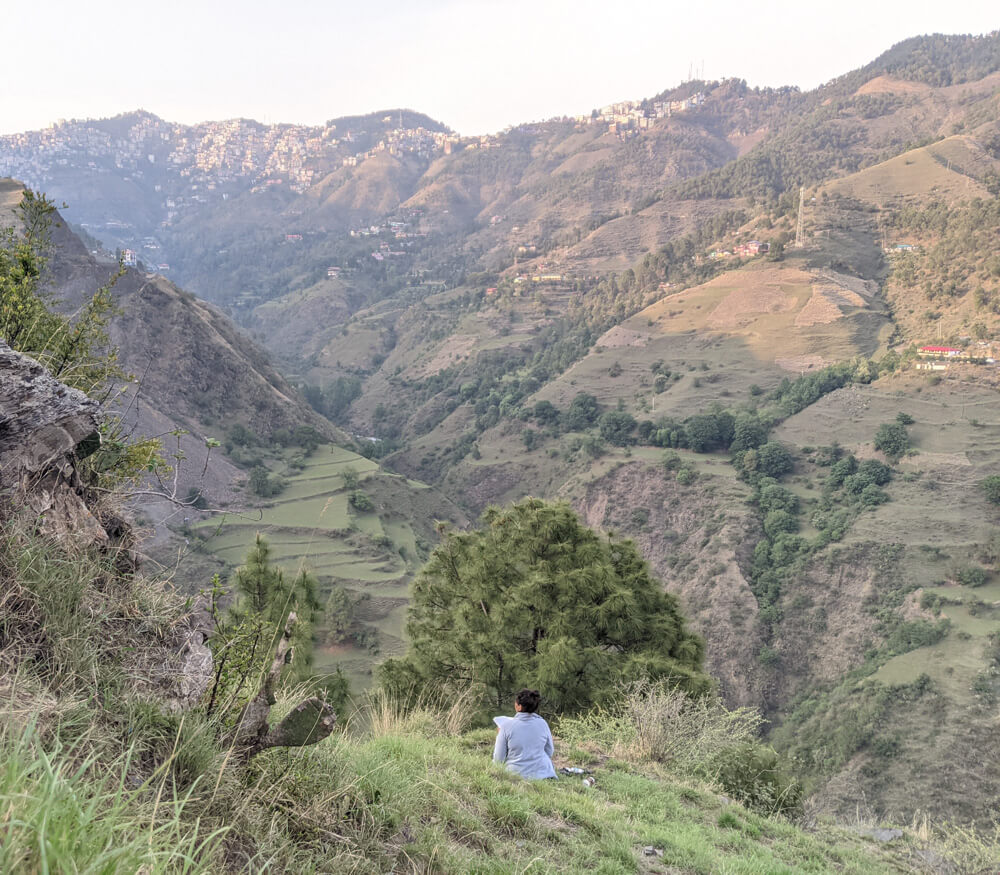 When I couldn't decide if I wanted to stay or go walking, I would work a little bit and then carry my things outside. By venturing out during the middle of the day, we held many work-from-jungles sessions under the sun.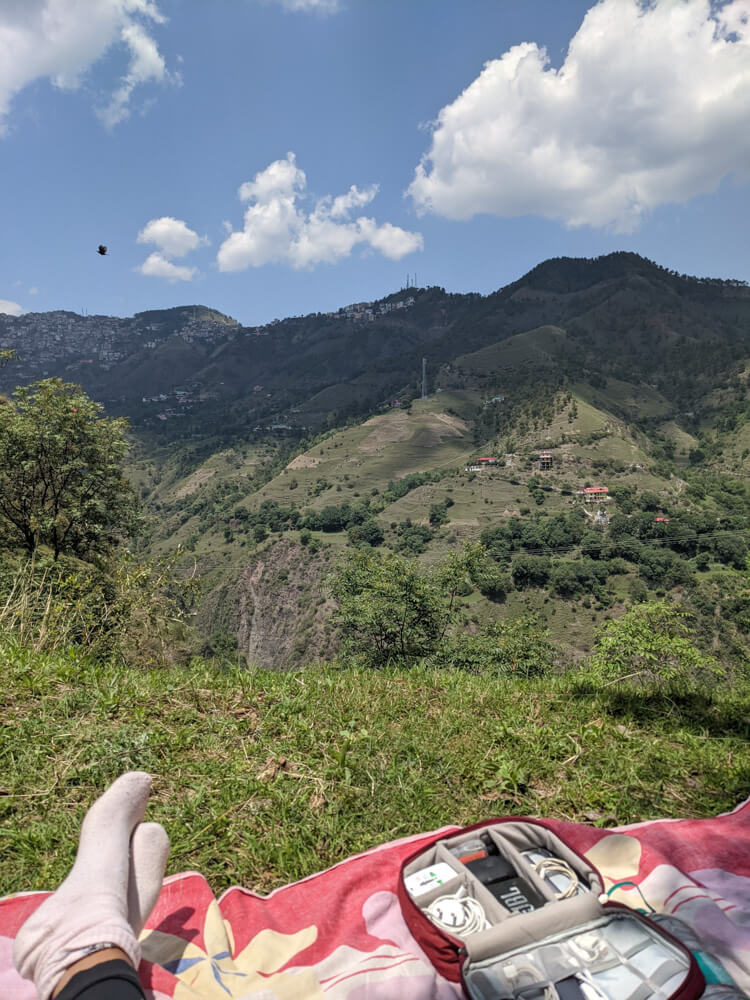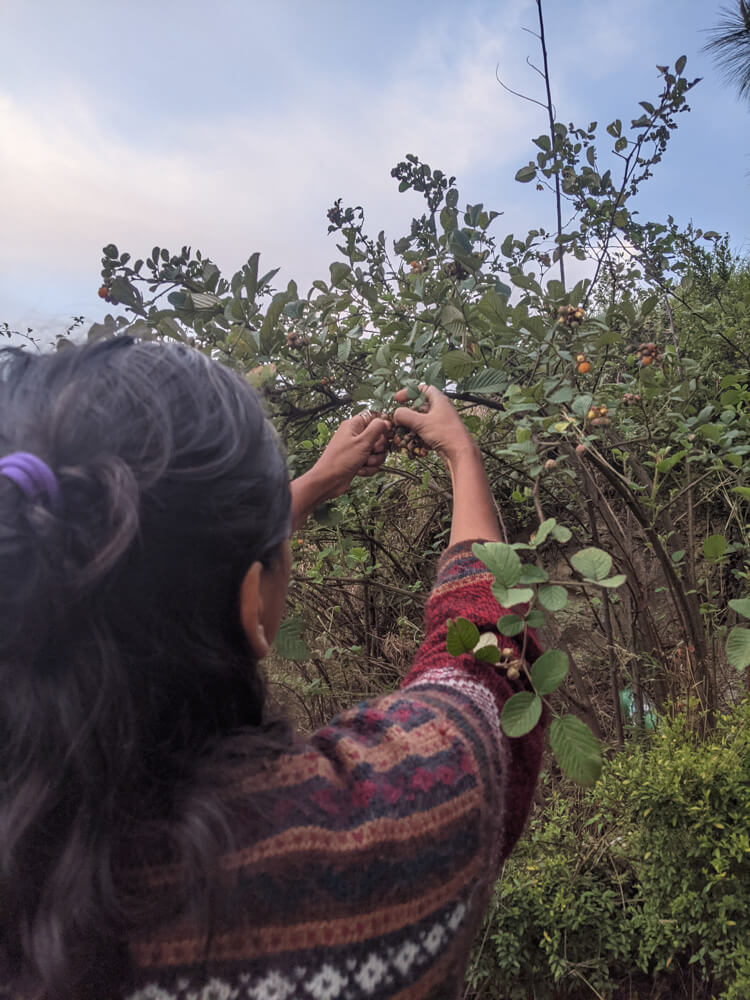 And then there were days we devoted to hiking in the hills. Many people had told us stories of how the mountain leopard had picked up dogs from the streets at night. They said whenever the dogs bark at night assume there is a wild cat roaming around. When we asked the benevolent lady living near the mounds if she had seen the cats, she said she had seen them multiple times at random places. I asked her if they only came out at night and she replied in negative. She said they come out whenever they like. And she added that they live in the caves in the gorge below.
But then she also pointed to a downward mud path leading from the mound and said that it would take us maybe 20 minutes or so to arrive at the gorge. "Would it be safe?" We questioned. "Yes. The leopards don't harm humans here. The occasional mother can get violent though."
Our host's uncle also told us that we could visit the stream curling through the ravine below. Then whenever he saw us returning from a walk he wanted to know until where we had walked.
Slowly, we made our way down. One day we would stop after clambering down for a while. The next time we would descend further down. The trails weren't clear to us yet. And they weren't always clean and stable enough. Sometimes the track would disappear and we would only have to keep one foot after another on the grassy mud patches that fill the slopes.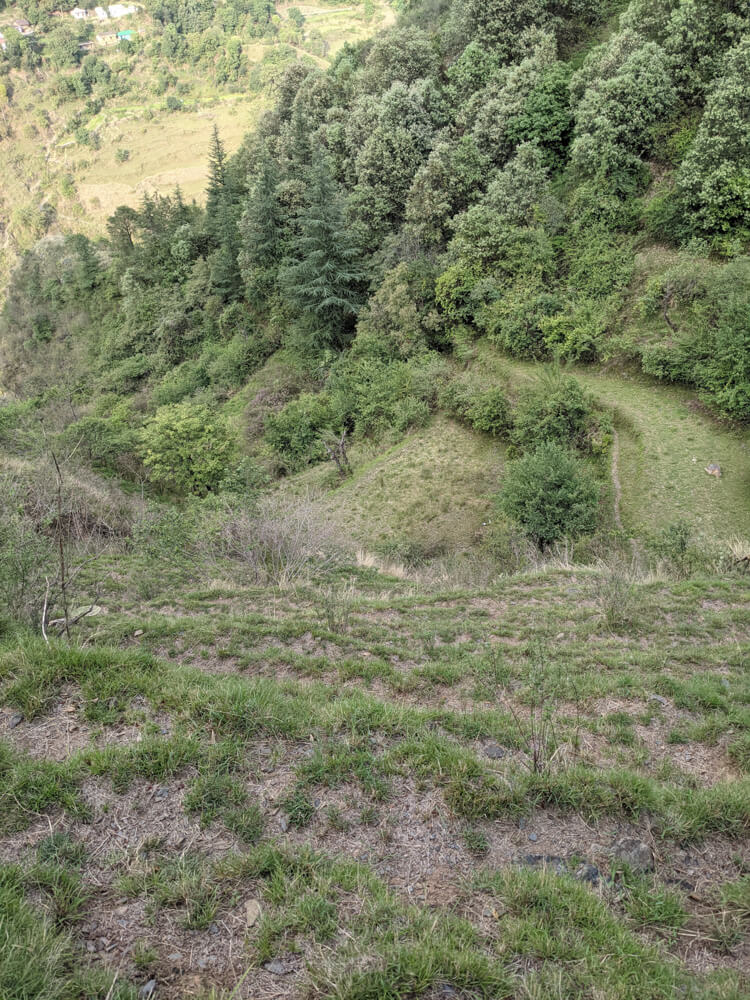 One day we returned midway because we heard a quick rustle in the jungle ahead of us. We were walking slowly, speaking loudly, and bending under the thorny bushes. But as soon as I heard the rustle as if some animal was making its way out, I turned around immediately and we made our way up.
Finally one day before we were checking out of the homestay, we decided to hike until the bottom of the hill. After packing our bag with water, bananas, and some food, we walked towards the tilla. Then we took the path the lady had showed us. Slowly and steadily, but not silently, we trudged down. Balancing one foot when the other one was struggling to find a grip, we held hands when nothing else seemed to work. We held onto the branches of trees jutting on to the path from both sides. Then there were the thorny shrubs to save ourselves from.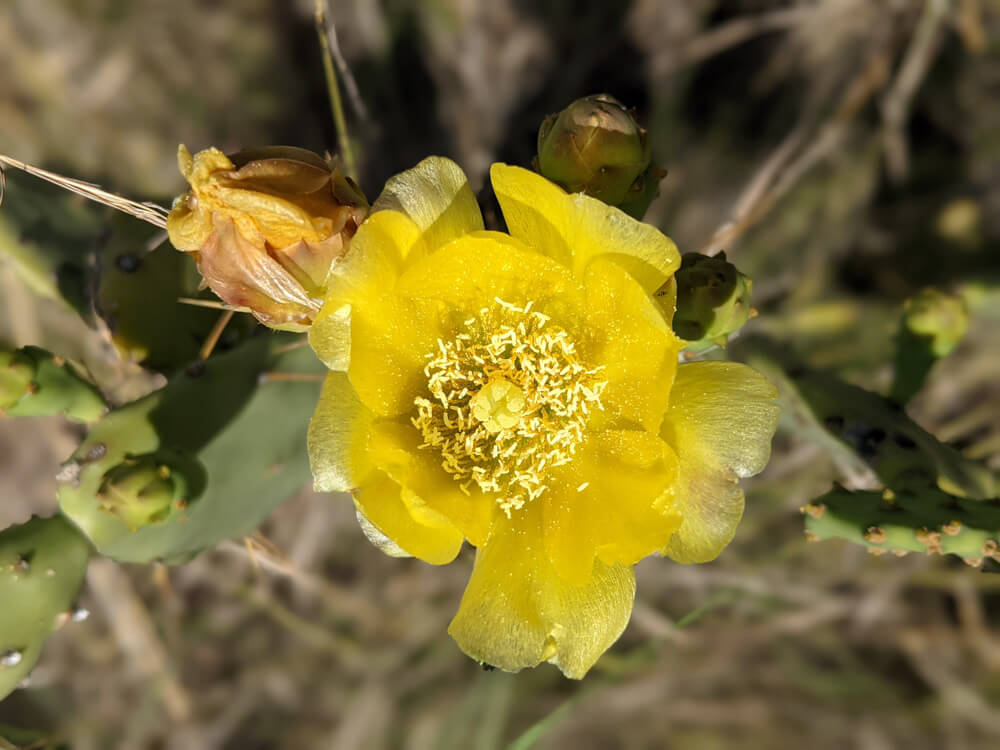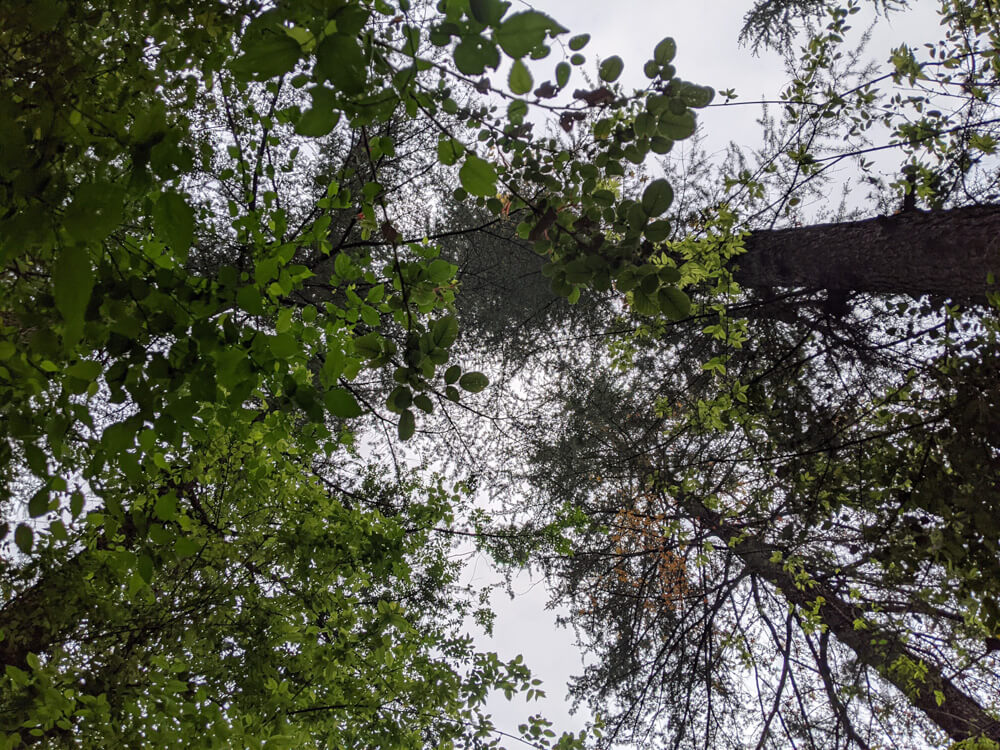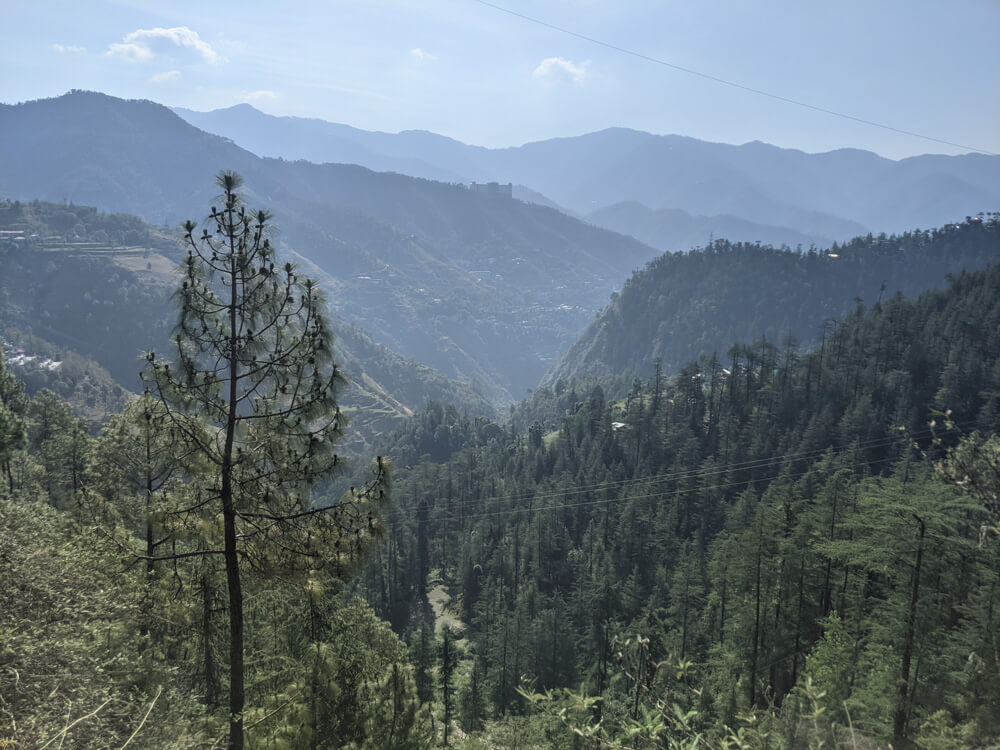 And after a long dwindling walk, we arrived at the bottom. It may have taken us a walking time of 45 minutes to reach the depths. The hills rose from the base beautifully there and a narrow water stream flowed by.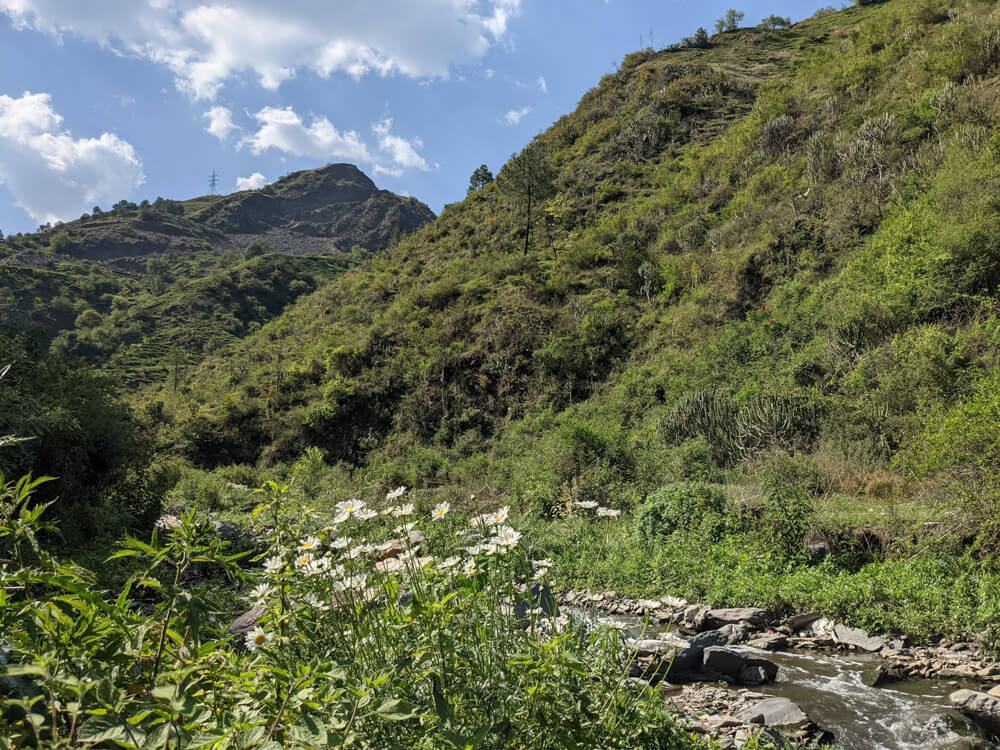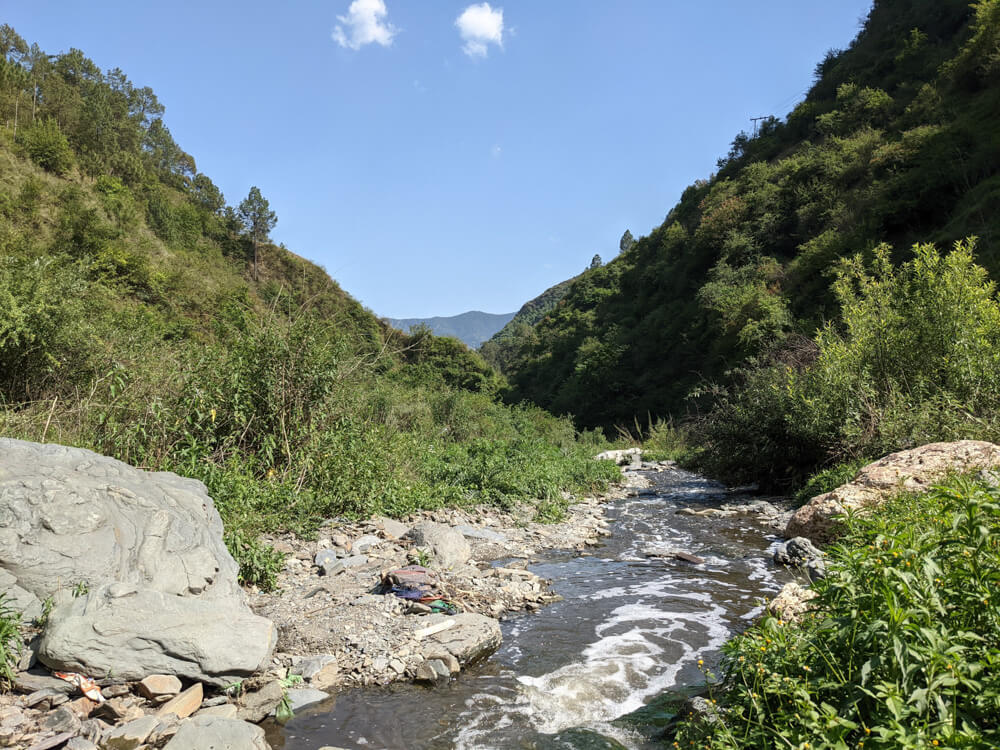 We roamed around for a while. I saw a bunch of Himalayan treepies chattering on a tree which seemed to host their homes. The stream yondered beyond on both sides. The jungle around the river was dense, bushy, and thorny. We jumped around on stones and even got our shoes wet in order to cross it at places.
While exploring the valley, we lost the spot we had arrived at. While we were trying to find our track, some men from the opposite end of the mountain signalled us to leave the gorge and climb up. It was only 4:30 in the evening. But when we realized we had lost our way, we got tensed. Soon we retraced our path and found the trail we had come from. We clambered up without even stopping for water. The men watched us from their mountain and left, we guess, when they felt we were safe.
In the process of finding the trail we got pricked so many times I can't even count. And those thorns weren't the ones which prick you onc. The pinch kept hurting us, and our fingers swelled up. On my thighs, I got many swollen cysts at the spot of the piercings.
When we reached the top we thanked our luck that we didn't get lost and that we didn't have to call our hosts to come help us. All is well that ends well.
You can read my whole account of the walk to the Mehli nallah here.
Mehli was a nice village but if I had to choose again, I would skip it. You can stay there if you like being indoors but it wasn't the best village for people who like to hike and walk in the mountains every day. Either most of the land was private or the forest land was accessible through private property. To explore around we had to walk on treacherous paths for there were neither clear trails through forest land nor the information to what was private and what was public. Locals watched us skeptically even when we extended a gentle hand of friendship. And in the surrounding jungle of Mehli, many leopards roam around freely. So I would advise the adventure lovers to choose another village that's a bit safer, friendlier, and government-owned.
I had a lot of fun during those three weeks in Mehli though, and I am thankful for those.
Water is cold,
the wind is chilly,
deodars are silent,
dogs are giddy,
milk sits chilled,
cauliflower awaits desperately,
the whistling thrush has rushed home,
and it is time for me to act silly.
Until the next time then.
Where to Stay in Mehli, Shimla?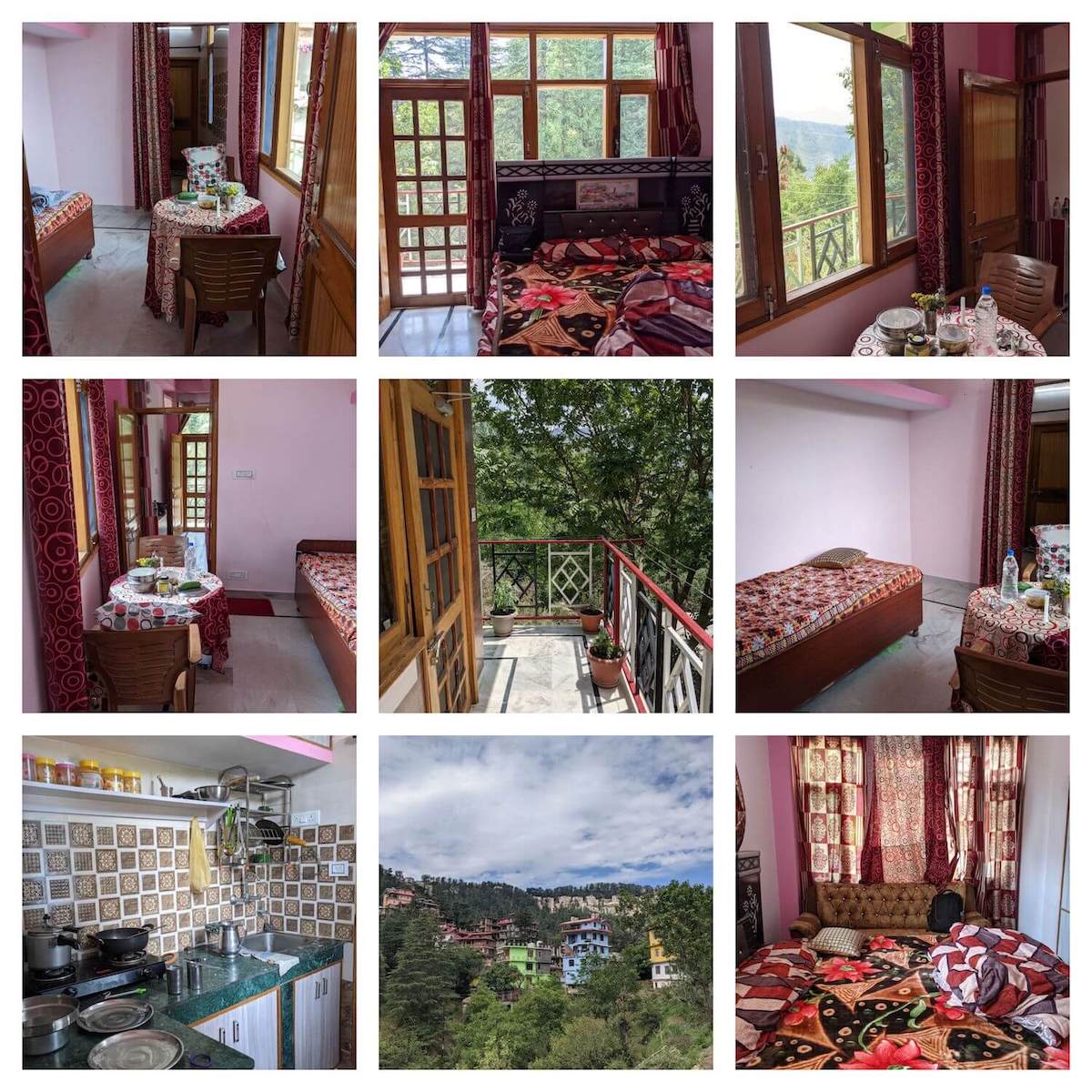 As I have already spoken about the surroundings of the Peace homestay, I would dive right into the functional details. Our one-bhk was separated from other rooms making the stay a secluded one. There were two more tiny apartments on our floor, but by keeping our windows facing those homes closed, we had isolated ourselves. Other buildings were at a distance from us.
The family of the hosts lived in a house nearby and on the top floor of our building. Mehli is a village of Shimla, and I felt that the people there have been hardened like any other big city crowd. We city tourists are also to be blamed for the slow culture shift that one can witness in Himachal. This suspicion of the locals on the travelers could keep one on her toes. So bear this in mind if you are looking to vacation in the Shimla area.
The house had one small living area which came with a single bed. We asked the host for a table and two chairs which we set up next to the window in the living room. From the front door of the house one enters into the bedroom, from the bedroom into the living, from the living into the kitchen, and from the kitchen into the bathroom. You can say it was almost a train-like setup, like Sant Nagar in Delhi. The house had ample windows and sunlight barged in freely. There were wires to hang clothes outside the balcony. But almost every day either dust swept off from the balcony fence or water from the top floor flowed freely onto our drying clothes.
Kitchen was tiny but functional. It had a stove, basic spices, minimal utensils, and a garbage separation system. The geyser worked for ten minutes straight after which one has to wait for more hot water. The place was quiet enough. We drank water straight from the taps and never fell sick. Himachal water mostly comes from natural sources so rest assured about its purity. The hot water from the geyser comes in the kitchen sink too. We drank luke warm water throughout our stay. Pro Tip — Mountain water is a bit stony and heavy. So if you drink the water hot, it will be a bit lighter on the stomach.
If I talk about the hosts honestly, I can say Peace was a nice place to stay for one week. But longer than that and you would feel unwelcomed. The homestay is managed by two brothers – one who stays there and another one whose phone number is on Booking. But the rest of the family also interacts with the guests. So in the same day several people might tell you the same thing differently.
More than a homestay the accommodation felt like a rental property where the owners lived and kept the property under a strict eye. So you would be repeatedly told to keep the shoes inside and not in the balcony, to make sure the chair doesn't touch the wall paint, and depending on how clean you keep the house, a cleaning help may or may not be sent to you. One also feels the coldness of the family which, I think, has seen too many tourists and has now become really wary of them.
It was not a bad place for one week.
Click here to see the pictures of Peace homestay or go here to browse more places around Shimla.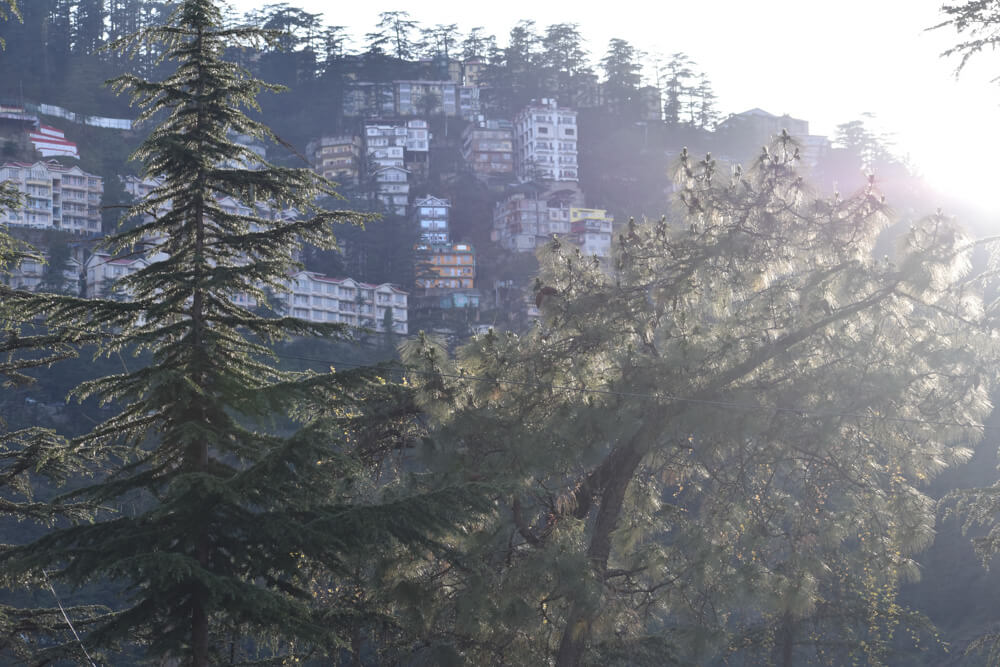 Did you like my photo memoir from the Mehli village of Shimla? Do tell me in the comments.
*****
Donate to keep me going!
For five years, I've read and wrote day and night to keep On My Canvas - my sustenance and life's focal point - going. Everything here and my weekly newsletter "Looking Inwards" is free. No ads. No sponsorships. If you've had some good moments reading my posts or felt hopeful on a lonely day, please consider making a one-time or a consistent donation. I'll really appreciate it (You can cancel anytime).
*****
Want similar inspiration and ideas in your inbox? Subscribe to my free weekly newsletter "Looking Inwards"!