(Phone-Based and) Online Organic Stores in Bangalore That Deliver Fresh, Natural, Preservative-Free, and Personalized Food Items to Your Doorstep
Grocery stores in Bangalore line every street. But we can never tell the origin of the fruits and vegetables there. Is the grocery we buy pesticide-free, or are we eating vegetables swathed in medicine? 
I love to cook. And, I love to shop for groceries. I will not survive a cloth retail store, but I will be so lost in a vegetable market you won't find me for hours.
Something about the fragrant vegetables and their vibrant colors pulls me towards them. My attraction to the farmer's markets and organic stores in Bangalore could be attributed to my foodie nature. Food is a blessing in my simple life. I've been cooking since I'm a little girl. And I've been overeating ever since I opened my eyes.
For the past 4-5 years, I've been focusing on eating healthy food and living a conscious life. I'm being mindful of the source and content of my food. My diet has shifted heavily towards vegetables, fruits, whole grains, juices, nuts, yogurt, and other light food products. I try not to purchase items with liquid glucose, edible color, all-purpose flour, palm or vegetable oil, flavor enhancers, and other such redundant and unhealthy items. You would be surprised to know how little you can purchase if you vehemently avoid these ingredients.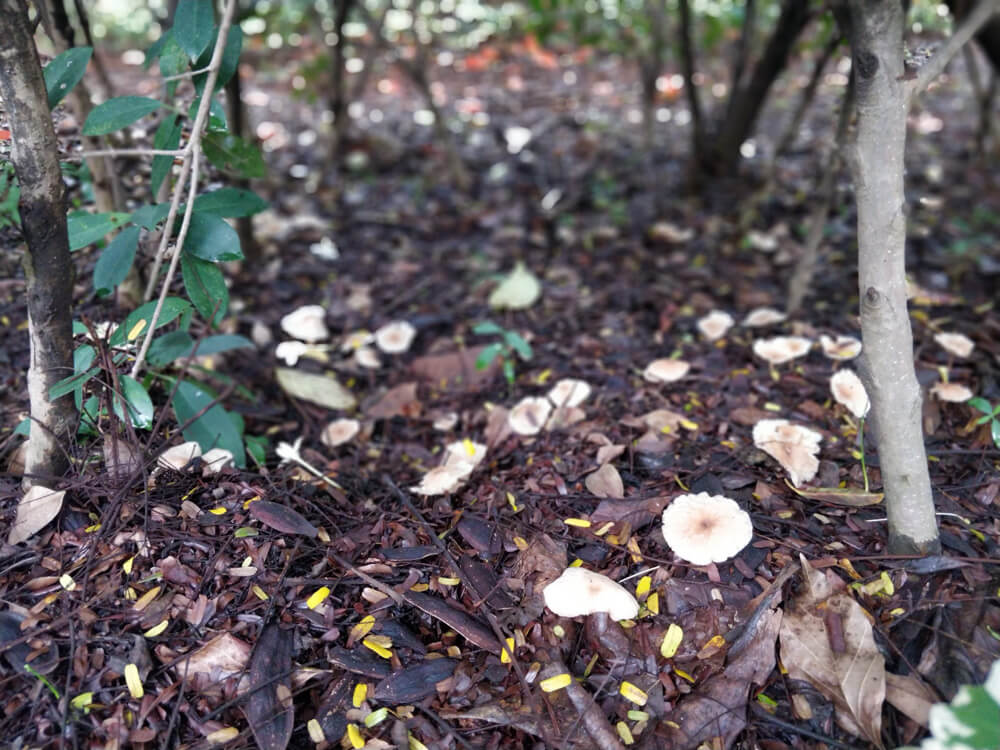 My shopping basket is loaded with green vegetables, as much fruit as an army can eat, fresh cottage cheese, and buttermilk. Now I eat bowls full of oil-free curries, dry vegetables, dal, and maybe only two chapatis throughout the day. I fill the time in between meals with fruits, yogurt, and chamomile tea.
When I eat kilos of vegetables and fruits every day, I need to find good-quality fresh produce. 
The pandemic helped me stay put in Bangalore for longer than I like. And during the restricted time, my urge to eat organic and sustainable food products grew fierce. I've been doing (offline and) online shopping for grocery in Bangalore for years now. But this time I purchased organic vegetables in Bangalore, bought natural fruits directly from farms, and stocked homemade personalized consumables.
Pro Tip: Do you know hundreds of people are doing organic farming in Bangalore on their rooftops? Read on Better India. 
I was surprised to find so many initiatives for organic grocery delivery in Bangalore — which are also environmentally friendly — that I decided to pen down an article on them. This article is about the online organic shops in Bangalore from which I ordered recently-harvested and additive-free groceries and homemade food products from the comfort of my rooftop abode. I purchased from the same place many times to ensure the quality was consistent.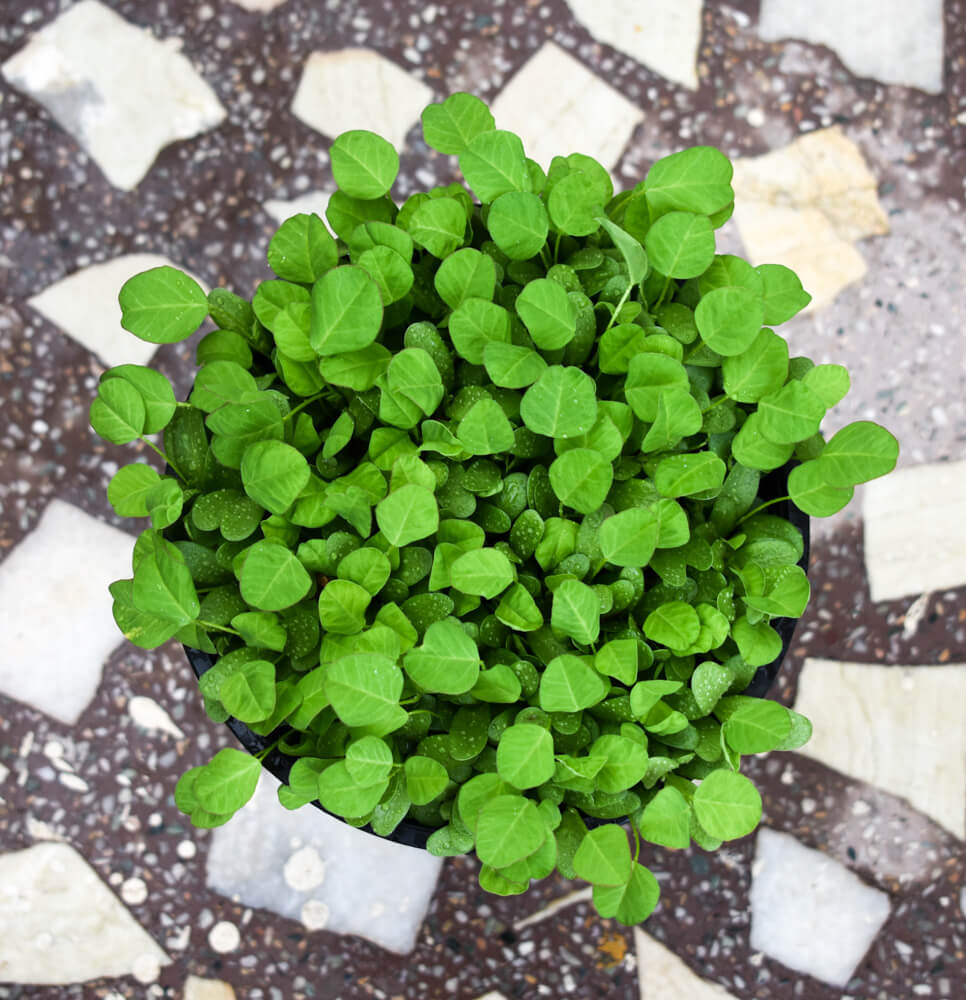 Please note: None of these online grocery stores in Bangalore have paid me or asked me to write about them. They don't even know I'm reviewing them. I ordered all the items on my own and paid in full. 
I hope you enjoy the article.
Gourmet Garden — An Inspiring Initiative For Organic Farming in Bangalore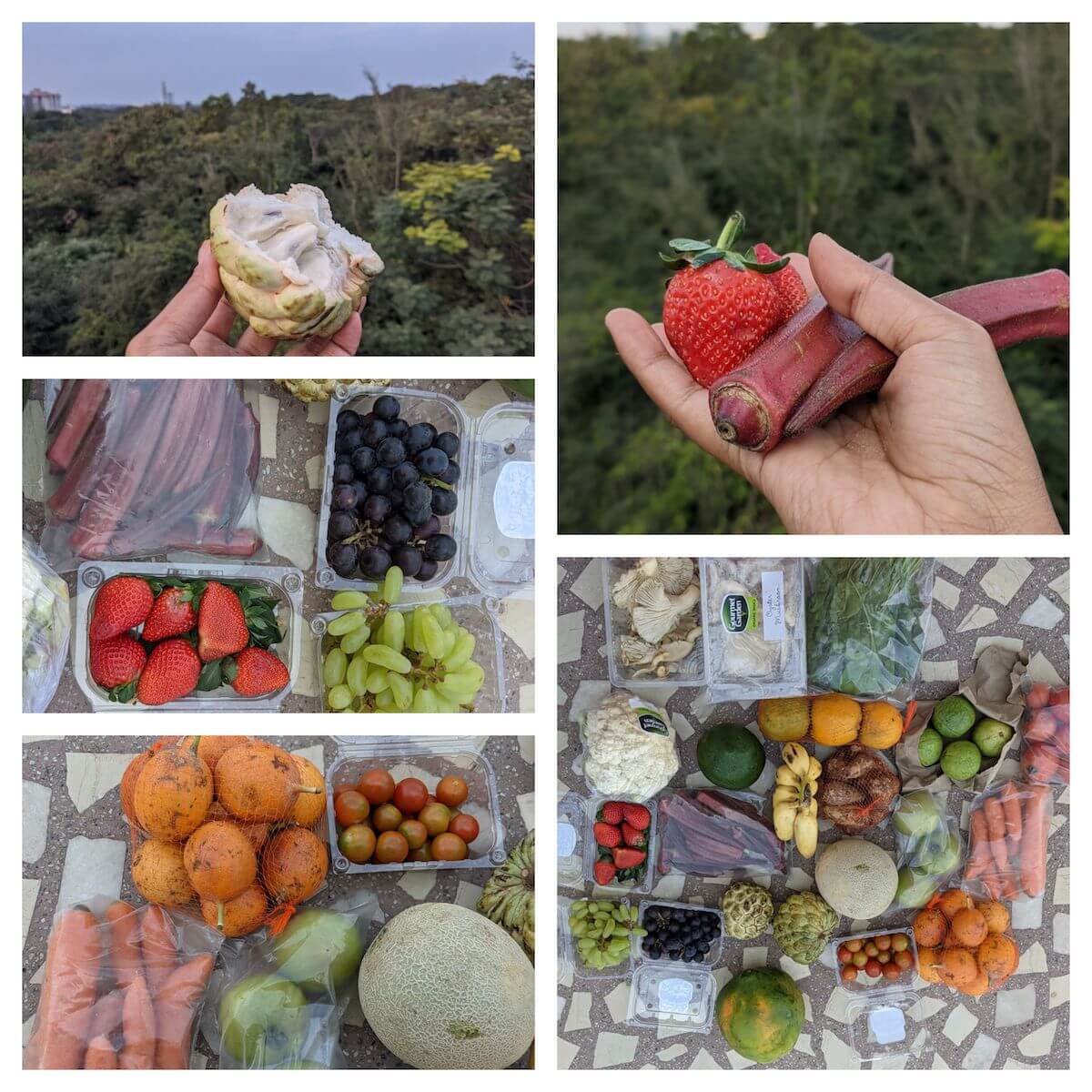 Gourmet Garden is functional in Bangalore and Chennai for now. While searching for organic fruits and vegetables in Bangalore, I came across Gourmet Garden quickly. The pictures of their luscious strawberries and crisp eggplants got my attention.
Gourmet Garden's motto is to produce and supply completely uncontaminated, pesticide-free, and raw vegetables and fruits. Apart from conventional organic methods, they use the naturoponic system to grow vegetables. In the naturaponic process, vegetables are grown in soil-less mediums (such as RO water-based mediums) to ensure complete safety from any contamination. No soil, no pests, it is as simple as that.
Gourmet Garden delivers every order the next day or a day later depending on the hour the order is placed. They harvest once they get the order and deliver in 100 percent biodegradable plastics and appropriate packaging for all products. 
My first order itself was huge. When the rainbow of vegetables and fruits arrived, the floor of my house looked so colorful I thought I would die with happiness. All the items were plump, juicy, and fresh. Passion fruits, grapes, and musk melons were naturally sweet. Carrots, purple okra, and cauliflower were crunchy. Everything tasted and smelled delicious after preparation. 
And if not for Gourmet Garden's custard apple, I would have never known how sweet and juicy these weird-looking fruits can be. Oyster Mushrooms were succulent and aromatic just the right amount. 
I felt I had harvested everything myself.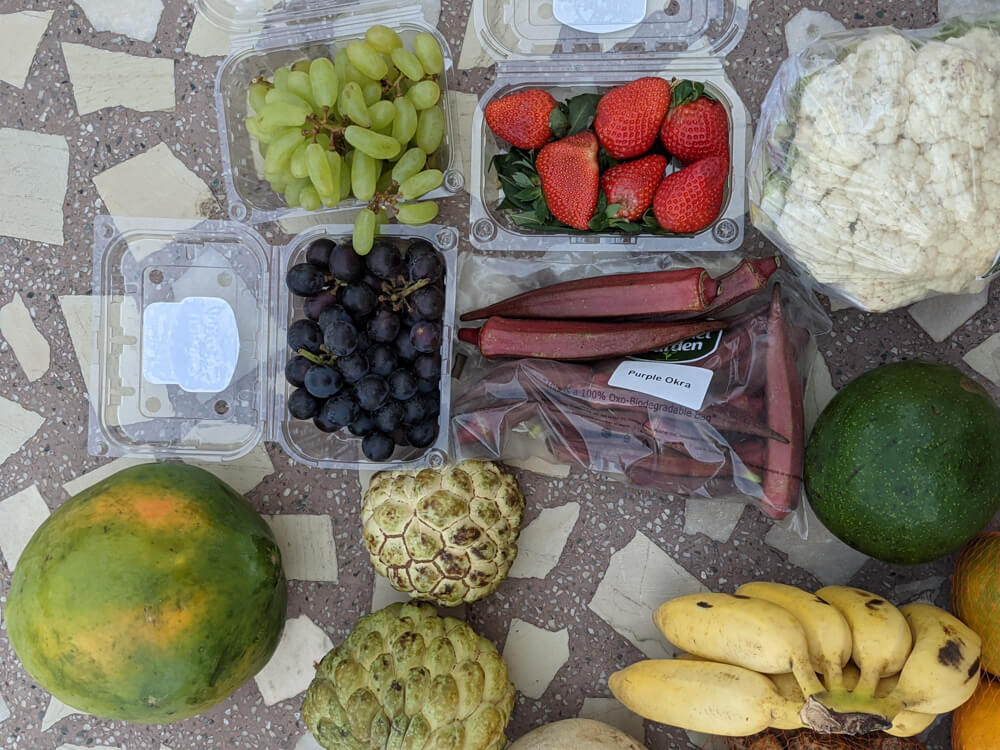 Please do yourself a favor and try Gourmet Garden's organic products in Bangalore. You will not go back to your regular grocery stores. The prices are higher as compared to a street vegetable and fruit shop. But if you can afford to pay a little extra for good quality food, the price is worth paying. And you don't have to order the most expensive stuff there. Just get what's in your budget and enjoy. 
Order from here.
Community Farm — A Platform for Organic Grocery Shopping Online in Bangalore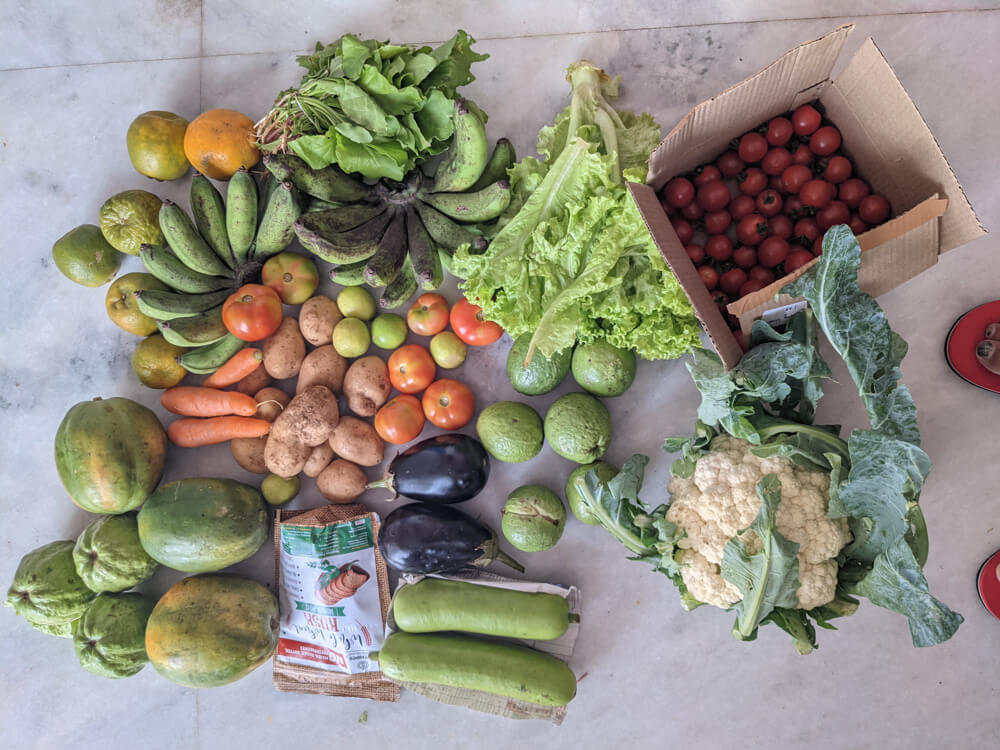 Community Farm is another platform for buying organic food in Bangalore. Community Farm doesn't cultivate but they connect organic farmers with the consumers directly. They ensure fresh product delivery while enabling organic greens and fruits farmers with ready-to-purchase consumers.
In addition to organic vegetables and fruits, Community Farm also sells pickles, homemade spices, natural soaps and detergents, nuts, grains, pulses, oils, baked items, dairy products, honey, flowers, and even homemade jams and marmalades.
They deliver on Wednesdays and Saturdays. I, again, went all-in on my order on Community Farm. And then came a surprise in the morning before 7:30 am when the delivery boy called us to ask for directions. 
The colorful assortment of vegetables and fruits delievered was a bundle of joy.
I hadn't seen such cute and plump red cherry tomatoes ever. The natural bananas were spotted with blackish dots, and one could tell they hadn't been beautified with any medicine. Guavas were raw and crispy like I used to pluck from the guava tree in my parent's house. Okra and eggplant hadn't tasted so authentic in years. I also got a whole wheat, preservative-free, baked rusk which was light and crisp.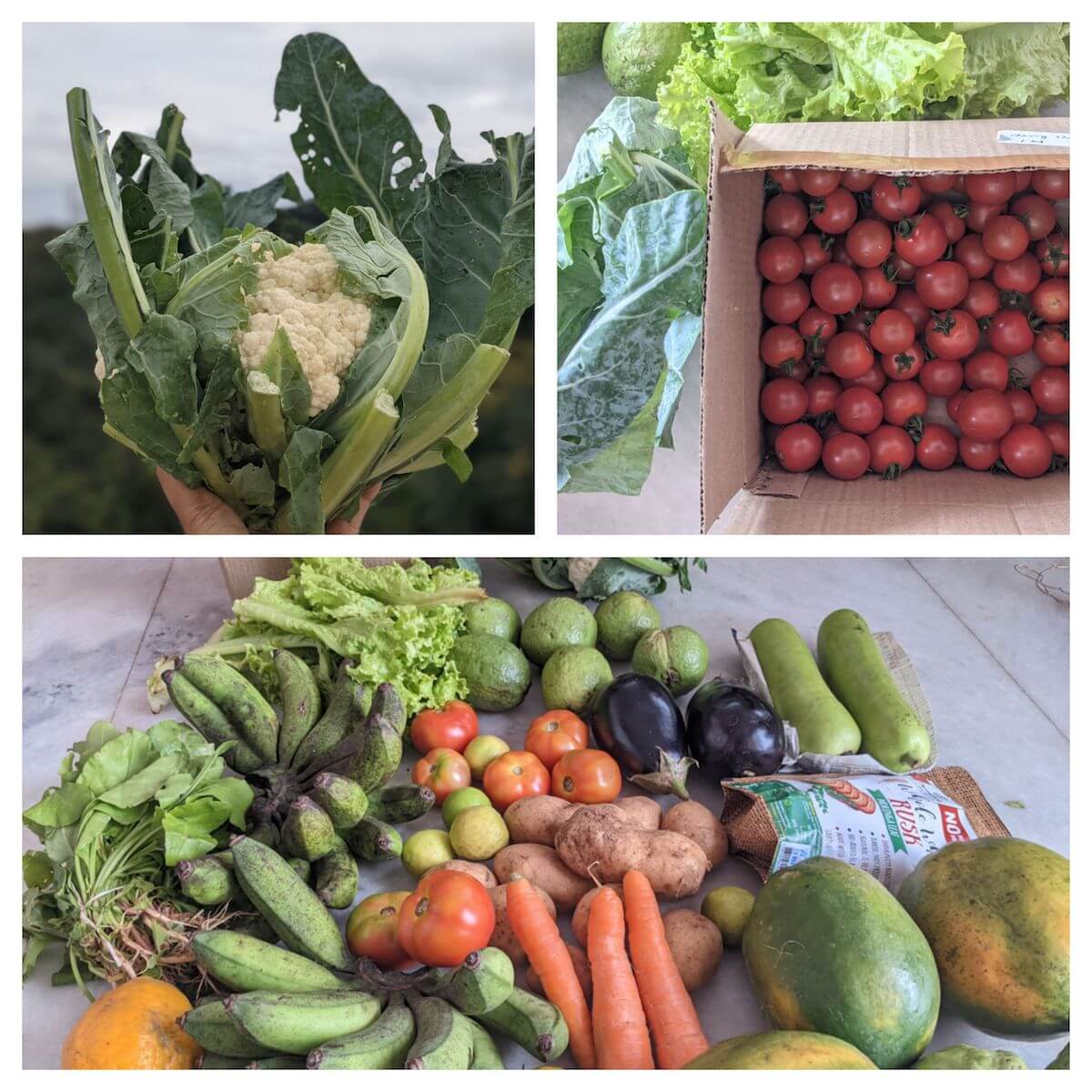 Community Farm delivered fresh, clean, fragrant, and delicious groceries. I ordered a few more times from them. Every time I could feel that the produce was much better than the regular Bangalore vegetables. A raw vegetarian and fruity diet filled me with vitality.  
I also ordered raw honey, fresh cottage cheese, kombucha, jackfruit papad, and eggless cakes from Community Farm. The cottage cheese was fresh, soft, and of really good quality. Jackfruit papad was homemade and delicious. 
The cakes on Community Farm are supplied by the Liliyum Patisserie. And though the tea cake was soft and just perfect, I wasn't sure of it as the cake's ingredients weren't printed on the box. I wasn't happy with the packaging but I still ordered those tea cakes again as they were exquisite. Do try. Maybe call the Liliyum patisserie and ask about their ingredients. They take deliveries through their website and via Zomato or Swiggy, too. 
The prices of Community Farm are higher than the regular grocery stores but the products are worth paying the little extra. It's a great place for organic grocery shopping (online) in Bangalore.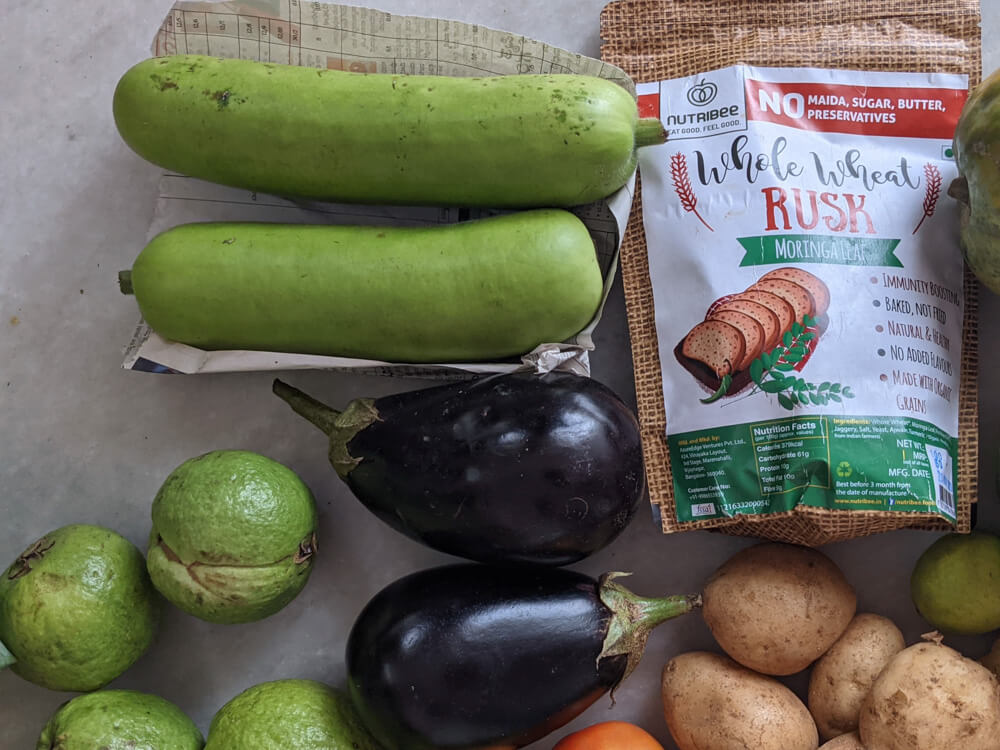 Green Apron

— A Home-Based Farm of Mushrooms and Organic Vegetables in Bangalore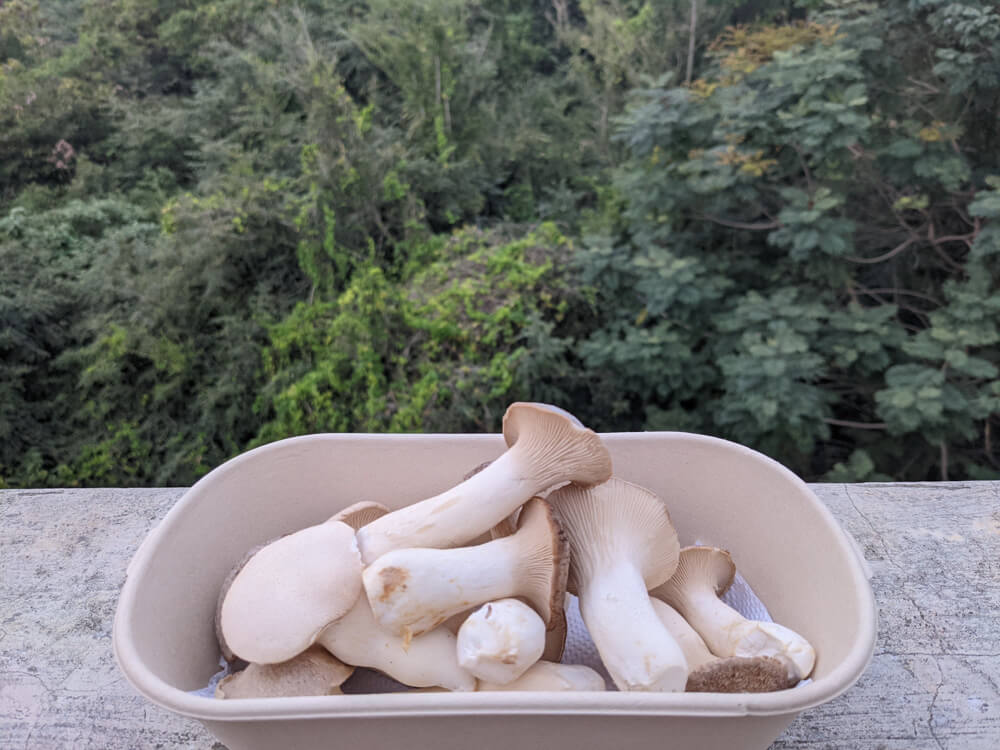 Green Apron is a woman's initiative to grow organic mushrooms and vegetables in Bangalore and feed people healthy produce. Namrata, the founder of the Green Apron and a former lawyer, talks happily and modestly about growing veggies and mushrooms on her own and friends' rooftops and bringing people closer to nature. 
To satiate my love for mushrooms, I searched for organic mushrooms in Bangalore. Green Apron was one of the first few results. I ordered king mushrooms and a baked and natural puffed rice mix. The products were delivered fresh and crispy the next day. 
Namrata broadcasts a Whatsapp group with the produce of the day every day. And then orders are taken through Whatsapp. She normally has bell peppers, lettuce, greens, and other vegetables along with many kinds of mushrooms. As she grows everything in low quantity, but of high-quality, the prices are higher than usual.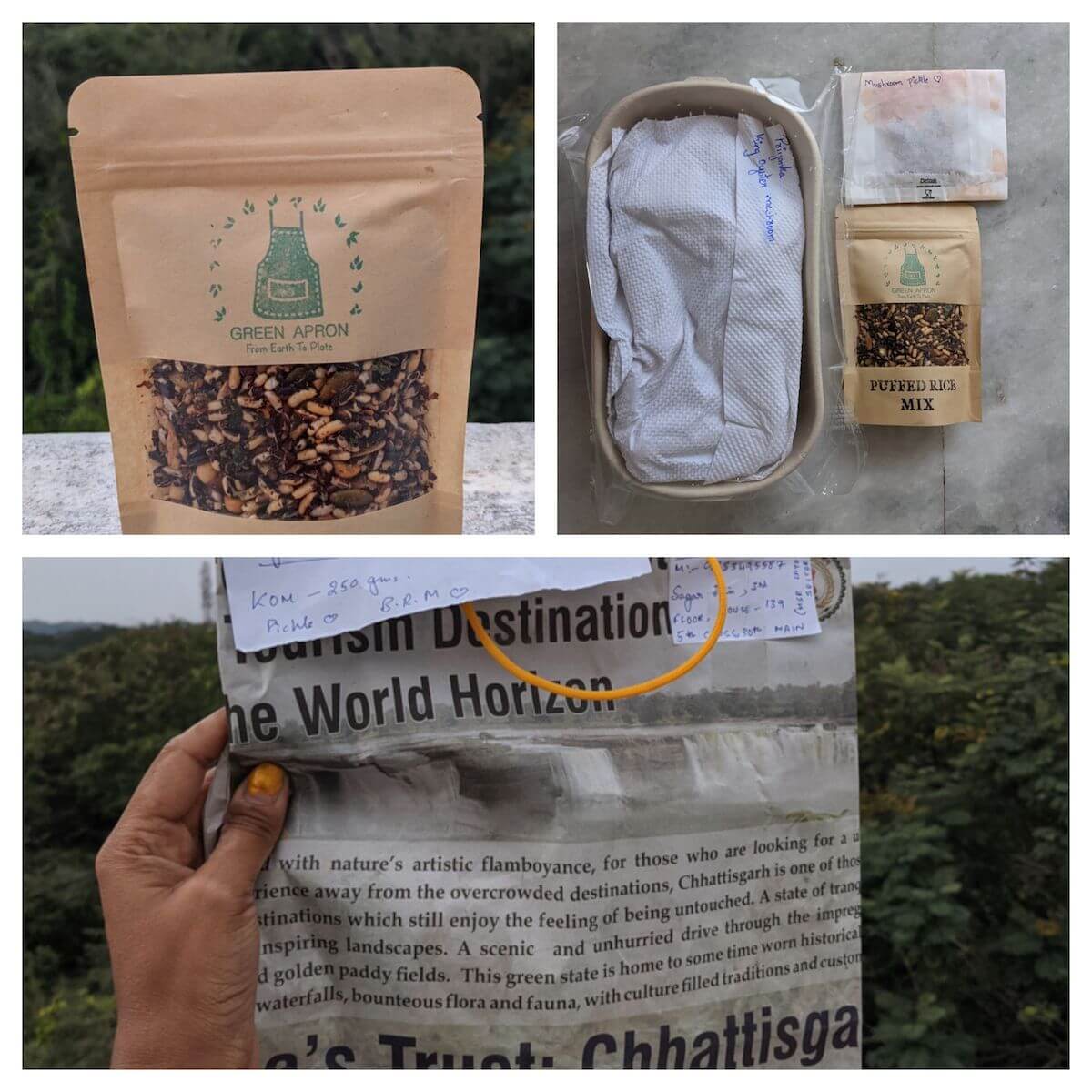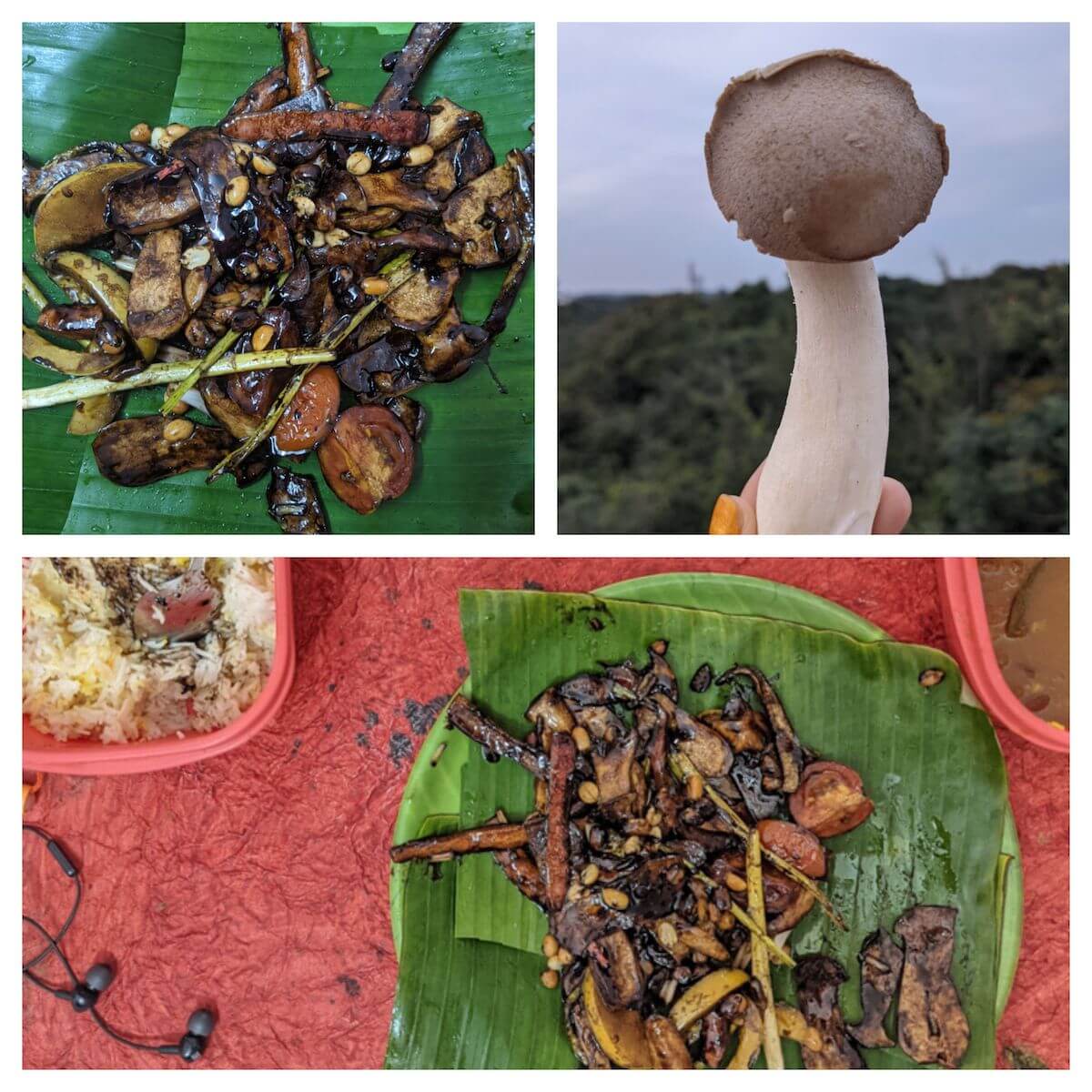 The beautiful little king mushrooms took my heart away. I charred them in soy sauce along with tomatoes. They made a healthy and tangy meal with some soft rice. Do try Green Apron. Oh, their packaging is all paper-based and personalized. Love it.
Homemade, Preservative-Free Bread from Honoré Boulangerie — Buy Baked Organic Products in Bangalore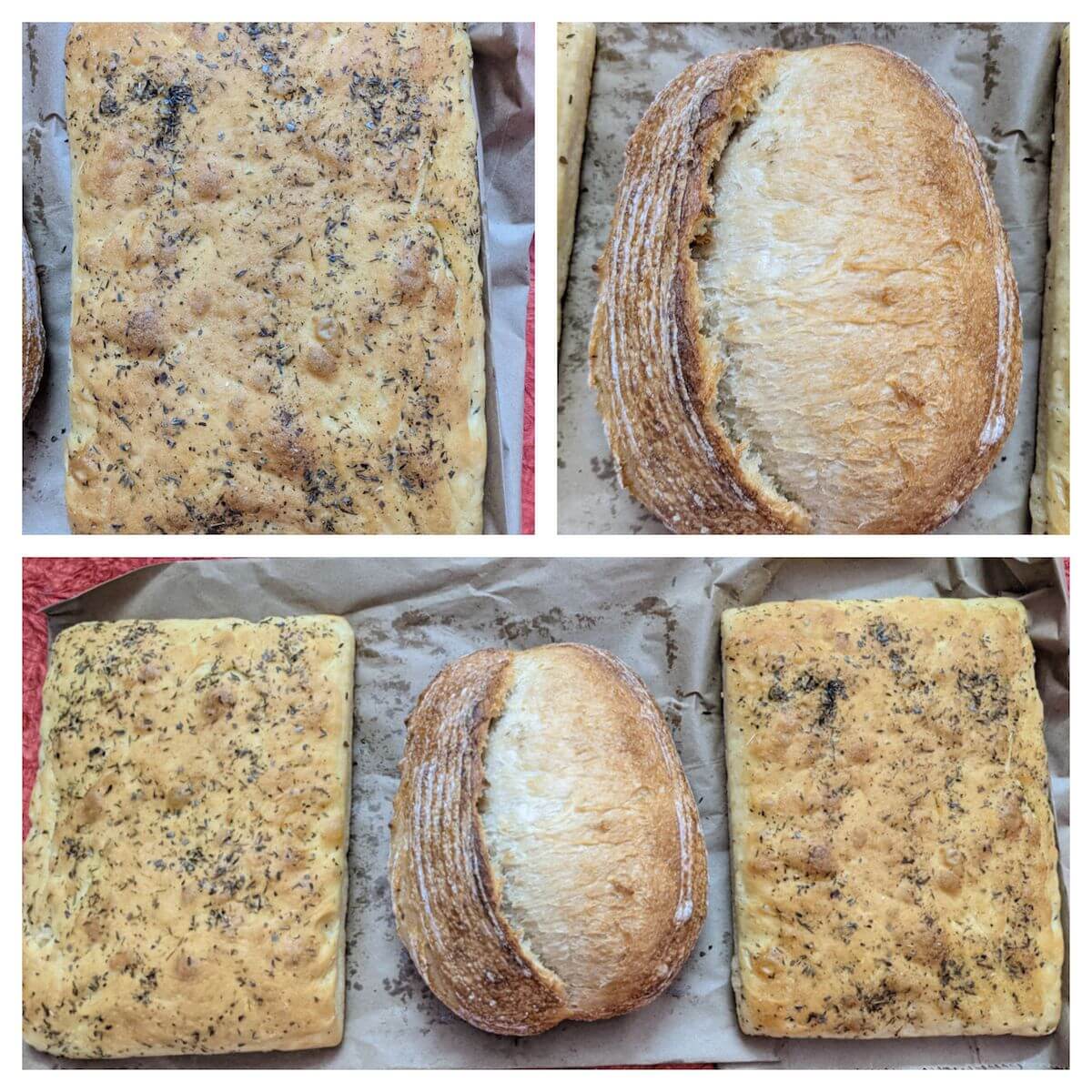 Do you know all the bread we buy at supermarkets uses vegetable oils, emulsifiers, softening agents, all-purpose flour, and other low-quality and harmful ingredients? I wanted whole grain bread baked solely with yeast. 
Honoré boulangerie, also known as Oven Spring bakery, is an oasis for bread lovers in Bangalore. I discovered Honoré while looking for homemade, healthy bread in Bangalore. 
When I stumbled upon Honoré I didn't take much time to place an order on Whatsapp. You see the menu, observe the ingredients, and order. The deliveries are always done the next day and payment can be made online before or after you receive the products. Most of their loaves of bread have some all-purpose flour so check out the ingredients carefully when you order.
I've tried Honore's normal and seeded ciabattas, focaccia, croissants, and other bread too. Their loaves of bread are made on the day of delivery with high-quality ingredients. The focaccia was soft as it should be, and the ciabatta was a harder, perfectly-baked crust. Toasted slices of ciabatta loaded with pieces of cherry tomatoes, cheese, a few drops of lemon, salt and pepper, and coriander were delicious.
If you love wholesome bread as I do, give Honoré a chance. It is a professional bakery and any hiccups in delivery or order from their side would be taken care of by them. The bread can be stored, too.
Here is Honoré on Instagram.
Vallombrosa Cheese Shop — Italian, Additive-Free Cheese in Bangalore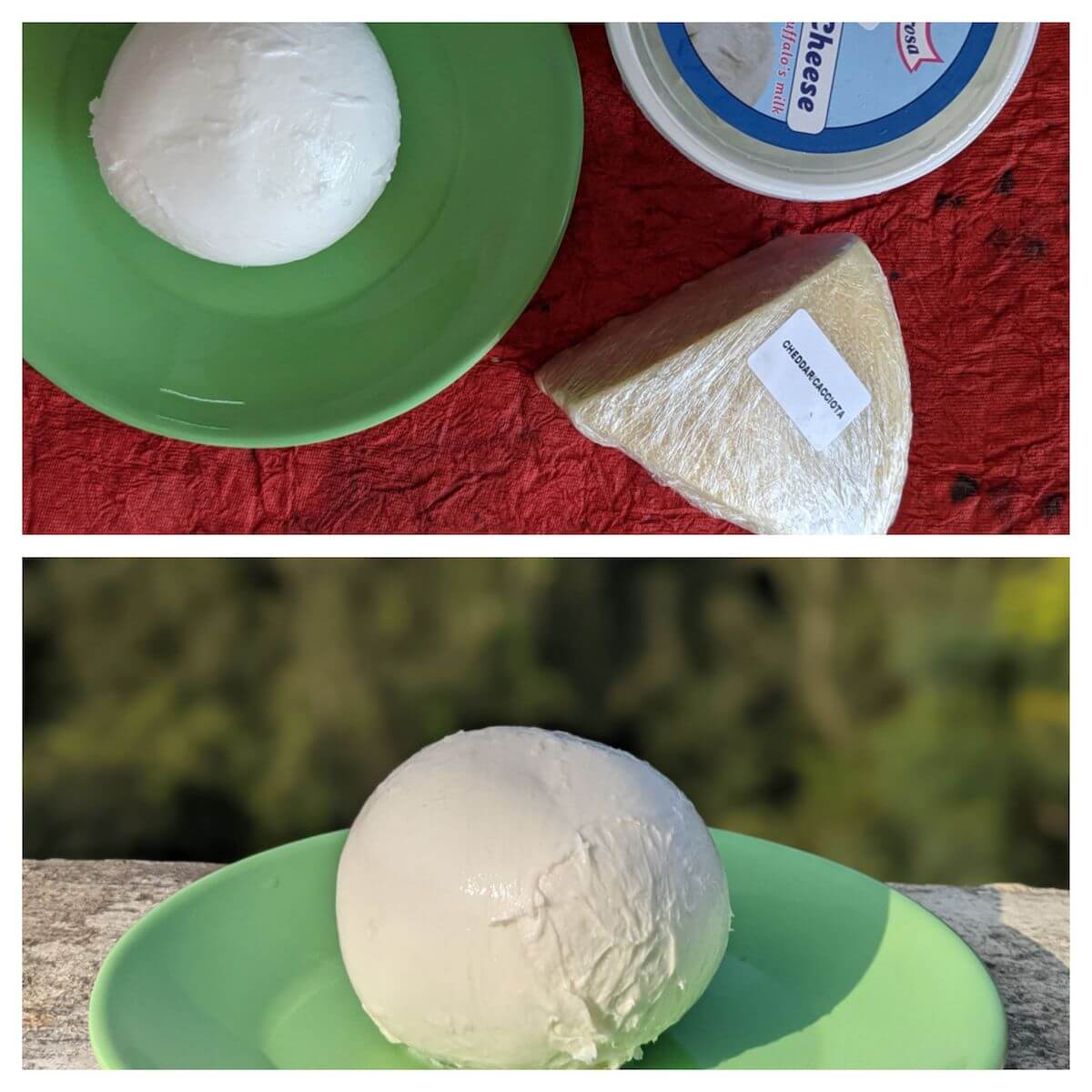 Vallombrosa Cheese Shop has been run by the monks of the Vallombrosa Benedictine Congregation since 2004. Father Michael — who is known as the monk who makes cheese — was sent to Italy to learn the art of Vallombrosian cheese in the early 2000s. Eponym of the order's founding monastery in Italy's central Tuscany region, the cheese factory was set up in 2004 by Father Michael.
Vallombrosa monks source milk from various buffalo farms in Bannerghatta to make their cheeses. Now the small team of monks at the congregation make at least 500 kilos of cheese every day. Either a small home order can be picked up or cheese can be ordered in bulk for commercial use.
When I sent a Whatsapp message to the cheese shop, they sent me a menu consisting of 100% natural, preservative-free, and organic cheeses. They make buffalo mozzarella, bocconcini, burrata, ricotta, parmesan, caciotta cheese, and mascarpone. 
I had to coordinate the delivery via Swiggy (or you can pick the order yourself, too). Just call the Vallombrosa cheese shop at 9964958572, order, and arrange the pickup. 
I ordered mozzarella buffalo and cacciato. The soft, creamy, and bouncy mozzarella buffalo won our hearts. We ate it with salads, meals, and even enjoyed it with cherry tomatoes sprinkled with salt and pepper. Caciotta was a flavored hard cheese, and I grated it on toasted bread from Honoré and other food items. Cacciota's grilled sandwiches were also pretty good.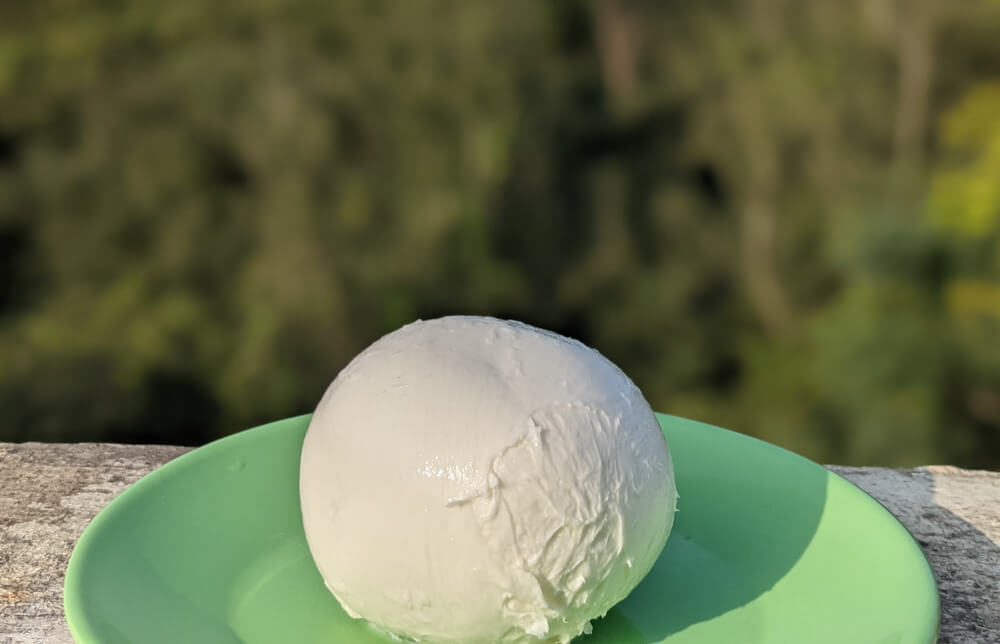 Pro Tip: If you want home-cooked North Indian or South Indian food in Bangalore, try ordering from Maa Ka Dulaar (literally mother's love). They send meals cooked by homemakers right to your doorstep. Every day the vegetables and gravies change. Maa Ka Dulaar packs a tiny surprise in the food, too. I also tried Oota Box (food box in Kannada) but wasn't happy with the food quality. 
Online Organic Shops in Bangalore I didn't Try 
I also checked out Spudnik Farms but didn't order from them. They connect consumers with small-scale organic farmers and have a subscription-based model. 
With Spudnik, you can subscribe for a weekly delivery of seasonal vegetables and fruits along with the basics such as potatoes, onion, tomatoes, and herbs. Pricing is fixed for four weekly deliveries and then more can be scheduled. 
Another organic initiative is EasyTaaza which delivers the previous's day evening harvest the next morning before 7:30 am. I didn't order from there because I wasn't sure if I would be able to coordinate with the delivery boy so early. Either I'm still getting up at 7 am or I'm freshening up or about to go for my run. 
Download the Easytaaza app to place the order. Vegetables are a hundred percent organic, and I'm sure they are doing a good job at delivering what they promise. 
Pro Tip: If you are interested in growing your veggies and herbs, browse through My Dream Garden. The platform sells and delivers all kinds of seeds, compost, potting soil, plant meal, gardening nutrients, growing bags, garden stands, and other gardening products. Most of their items are available only in Bangalore.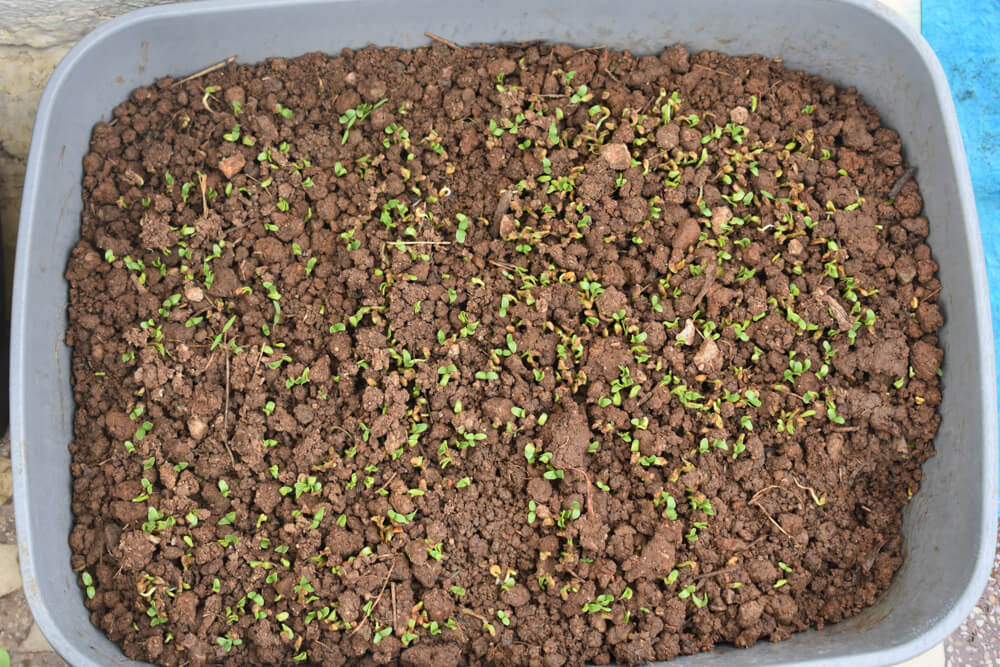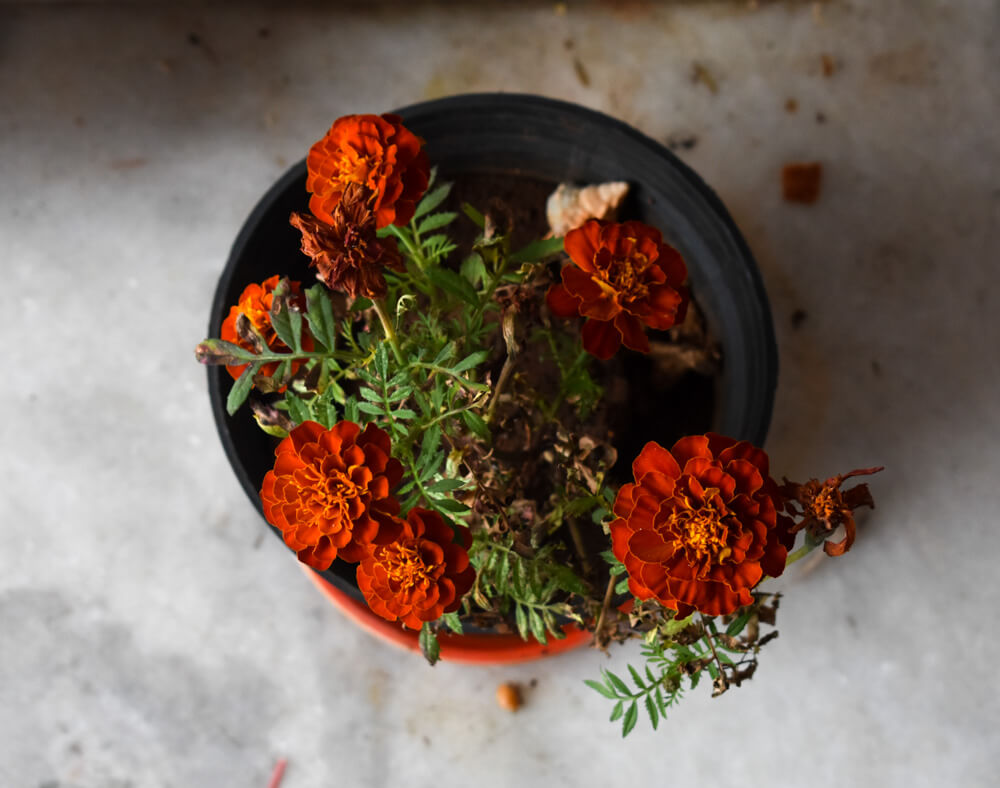 Are you looking for organic grocery delivery in Bangalore? Tell me which of the organic food stores in Bangalore is your favorite?
*****
Donate to keep me going!
For five years, I've read and wrote day and night to keep On My Canvas - my sustenance and life's focal point - going. Everything here and my weekly newsletter "Looking Inwards" is free. No ads. No sponsorships. If you've had some good moments reading my posts or felt hopeful on a lonely day, please consider making a one-time or a consistent donation. I'll really appreciate it (You can cancel anytime).
*****
Want similar inspiration and ideas in your inbox? Subscribe to my free weekly newsletter "Looking Inwards"!