On Indian Roads Amidst the Second Wave of the Pandemic, Collective Feeling of Helplessness, Fundraisers, And Hope
Here in Himachal Pradesh.
I've finally ended up in the Himalayan mountains of Himachal Pradesh, and I would live here for the next few months. This mountain excursion was always the plan for the summer and now as my fingers freeze, I wonder why I chose Himachal. Because I love the mountains or because I'm familiar with the Himalayas from my last four-month trip to Dharamshala in 2019?
In the Shimla area of the mountains where I'm at, summer is not well-known. Locals talk about hailstorms and snowfall even during the months of May to July when the plains of India scorch. During the summers, rains in the lower part of India are scarce but right now heavy rain falls outside my one-bedroom-and-hall house. I have kept the netted house door open by sticking a thick foot mat between the door and its frame. The temperature is no more than 11 degrees outside but when all the doors and windows are closed I stifle, a claustrophobia I picked up, perhaps, by growing up in a very open garden-facing independent house of my parents.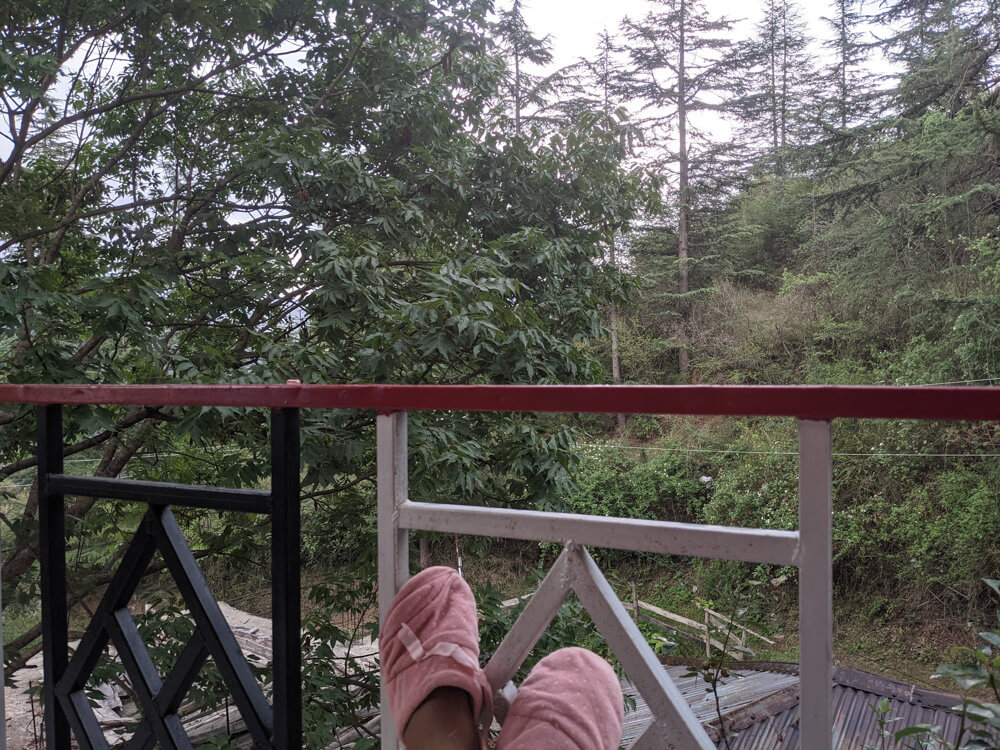 A heavy thunderstorm has been predicted in Himachal Pradesh. The chilly wind is ravaging my room, and I feel as if the temperature falls every second. Himalayan birds chirp on the tall deodars in front of our building. We are on the ground floor. The blue whistling thrush that usually pecks the ground around our house is hiding in an abandoned building below. [back to TOC]
Chaos and Worry
Even with the abundance of nature around, my mind is cluttered with as many thoughts as there are cloves in a pungent garlic pod. Even basking in the sunny balcony in the morning and closing my eyes to meditate didn't help.
You don't need to go anywhere to attain peace of mind.
I wonder why I didn't think India would get rampaged by the pandemic so badly. I miss my parents with whom I just spent two weeks. The face of my mother crying after hearing about her sister's death is pasted in front of my eyes. Are my parents able to get fresh milk every day? I worry.
I write but I feel I have lost my usual flow. I find it hard to get into flow when I'm distracted by not only the cornucopia of bird calls outside or the winding mountain trails but also by the oppressive coronavirus news, articles on how the government has allowed and abetted a deadly virus to unleash a genocide in India, the safety of my family and friends, the Whatsapp groups running fundraiser campaigns for rural India, and life around and away from me in general. [back to TOC]
What Happened to India?
Every Indian (and many people outside) are brooding for a reason.
Many expert journalists and visionaries across the world are saying Modi could have saved India from a second wave but instead, he was busy boasting how we beat the virus, how self-independent India is in terms of vaccine, printing his face over vaccine certificates, holding rallies, conducting elections, and building Central Vista, the mega project estimated to cost 20,000 crores which will also house the prime minister's new residence.
In a CNN piece, Pradeep Taneja, an expert on Asian politics at the University of Melbourne and a fellow of the Australia India Institute, said, "No single person can be blamed for the catastrophe that India finds itself in. But if you are the Prime Minister, clearly the primary responsibility falls on you."
Mr. Taneja added, "there was "criminal negligence on the part of the government" to not prepare for another wave despite knowing other countries with better health care systems had experienced multiple waves."
Arundhati Roy says in her essay We Are Witnessing a Crime Against Humanity on Guardian, "Try not to pay attention to the fact that the possibility of a dire shortage of oxygen had been flagged as far back as April 2020, and then again in November by a committee set up by the government itself. Try not to wonder why even Delhi's biggest hospitals don't have their own oxygen-generating plants. Try not to wonder why the PM Cares Fund — the opaque organization that has recently replaced the more public Prime Minister's National Relief Fund, and which uses public money and government infrastructure but functions like a private trust with zero public accountability — has suddenly moved in to address the oxygen crisis. Will Modi own shares in our air-supply now?" [back to TOC]
The Pretence of Regular Life in the Himalayas
Despite millions of Indians dying in one of the biggest underreported tragedies we might ever witness in our lives, I still have to do all the essential homely and professional tasks to continue the pretense of regular life.
Making a cup of morning ginger tea is the first thing in my routine these days. Getting groceries between 10 to 1 —  the hours to buy essentials in the Shimla district during the Himachal lockdown —is indispensable. I also have to take a hot bucket bath before I start my day. We do the laundry in the morning (by hand as there's no machine) else the clothes will never dry. The wet clothes can't be left during the night on the iron wires outside as the mist will make them soggy.
Usually we skip cooked lunch and eat bananas, grapes, and papaya. But in this cold weather, we also order soup for lunch or make lentils ourselves. For dinner, I cook dry cauliflower, cabbage, or brinjal and warm up the leftover dal. A small eatery run by a family next door sells us chapatis or momos or piping hot samosas with mint chutney. Between 6–8 pm, both of us gobble sabji, dal, roti, curd, salad, pickle, mango, and conversations in candlelight.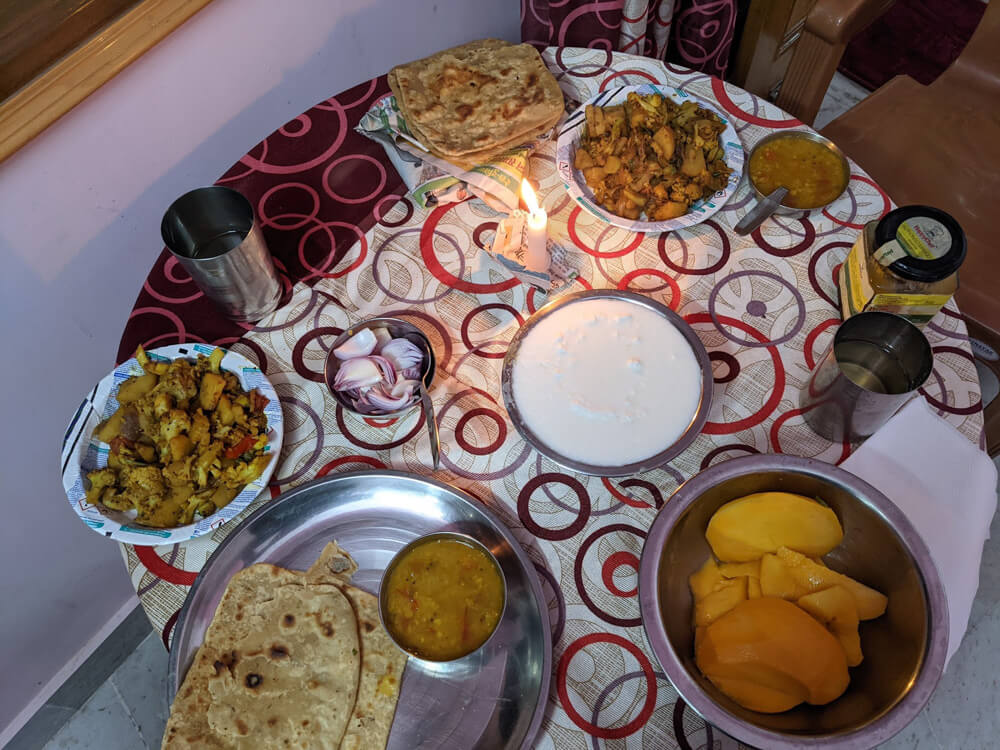 Even though we haven't cleaned the place even once since we arrived I feel tasks are waiting upon us all the time. And I like these chores especially in this countryside where we throw the used tea leaves directly in the farmland behind and where cabbage and cauliflowers are so fresh I want to chew them raw. Our vegetable peels and food waste are given directly to the cows of the house and we pluck mint straight from the ground. The place doesn't have a refrigerator so we boil the leftover milk every day. Once when the milk was spoilt, I curdled it with the hand-squeezed juice from homegrown lemons my mother had given me from her stock. [back to TOC]
On Domestic Chores
I don't bother about spending time on domestic chores. Small daily activities of purchasing mangoes, cutting tomatoes, cooking cumin rice, drying clothes keep me grounded and allow me to be a simple human being who is living a temporary life.
In his book The School of Life: An Emotional Education, the visionary Alain De Botton criticizes romanticism for undermining domesticity and emphasizes the importance of domestic living, "Romantic culture takes no interest in the myriad challenges that fall within the realm of the 'domestic', a term that captures all the practicalities of living together, extending across a range of small but vital issues, including who one should visit at the weekend, when to empty the bins, who should clean the oven and how often to have friends over for dinner. From the Romantic point of view, these things cannot be serious or worth the attention of intelligent people."
A lot of us condemn house tasks as trivial, uninspiring, and a waste of time. They think only homemakers should fix the bedsheet and dust the house.
Botton adds, "It's problems that feel trivial or silly but nevertheless take up large sections of our lives that drive us to heightened states of agitation. Such agitation is precisely what the Romantic neglect of domestic life has unwittingly encouraged: its legacy is overhasty conversations about the temperature of the bedroom and curt remarks about which news program to watch, matters which can — over many years –contribute to a critical erosion of our capacities to love."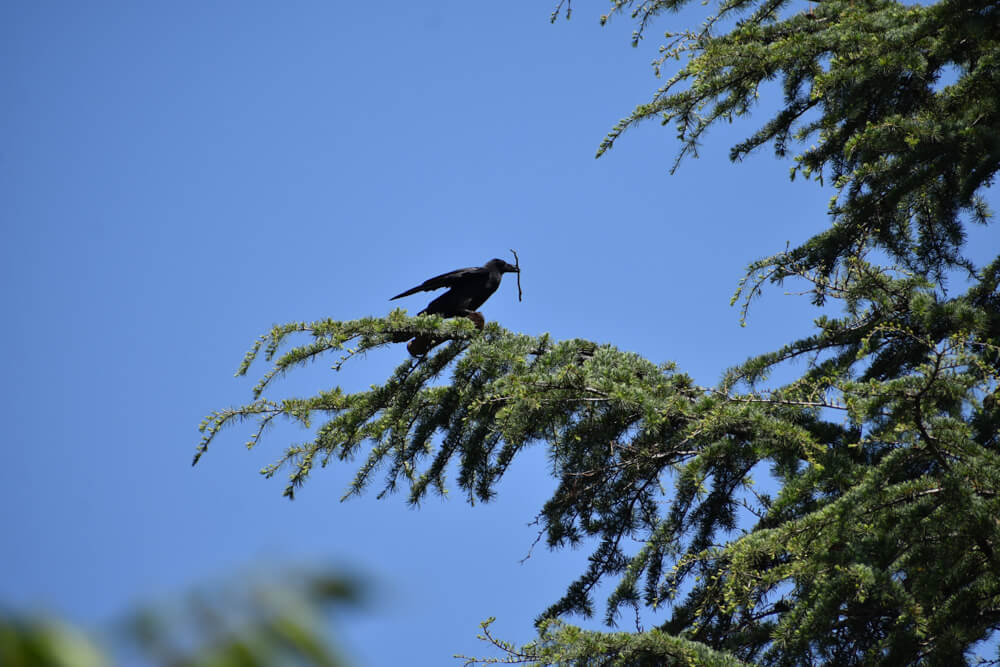 Domestic work isn't anything to be ashamed of. Neither is it unimportant nor unromantic. Domestic chores can be easily shared together and in the process, we will realize how life is essentially made up of the smallest of things. Often we avoid tightening the screw of the curtain rods or don't shake off our outdoor shoes in hurry or ignore picking the clothes from the stand even when the sky bubbles up with clouds. Then we end up getting hit on the head by an iron rod, risk stepping into a shoe where a Himalayan slink might be napping, and lose our clothes to rain, if not to the barking deer which climbs up to graze on farms.
Even the biggest of tasks weighing down our shoulders can look easy if we can learn to see them in smaller fragments. Completing a big job is nothing but just finishing those little pieces in the right order. Writing an article about traveling in Himachal starts from the nascent thought of going to the place and scribbling those first few words in our childhood diary (a close friend's gift) before blowing into a full-fledged idea of us becoming an itinerant writer.
Everything is unachievable unless we break down the process into steps.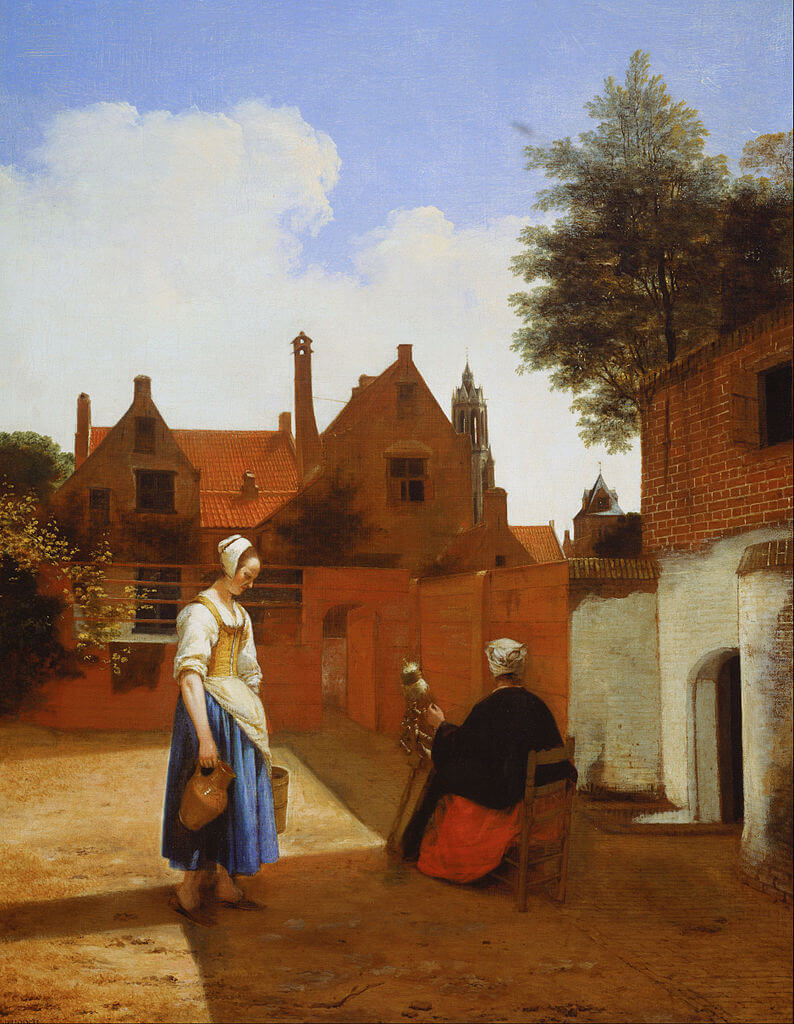 At certain points in history artists have attempted to correct the distribution of prestige. In the seventeenth century, the Dutch painter Pieter de Hooch specialized in portraying high-status, interesting-looking people engaged in domestic chores. He wanted to show the relevance of such activities to having a good life and to convey that these were not in any way degrading or unworthy tasks. Organizing a linen cupboard was, de Hooch was proposing, no less a task than checking the accounts of a major corporation or making sure that a load-bearing wall was sufficiently strong to support the weight of an attic storey – Alain De Botton. [back to TOC]
Failing at Just Being
Clasped by all the regular work, social campaigns, house tasks, hiking, bird watching, and staying in touch with people, I'm a bit overwhelmed by the thoughts of publishing more, reading more, and doing more. Meanwhile (and ironically) I also battle the newly-acquired overpowering urge to just flow naturally without lining up the things of consequence all the time. My idea to just flow could be a child of the Daoist concept of Wu Wei.
As per Daoism (a philosophy I've only started discovering), "Wu Wei means striving to make our behavior as spontaneous and inevitable as certain natural processes, and to ensure that we are swimming with rather than against currents. We are to be like the bamboo that bends in the wind or the plant that adjusts itself to the shape of a tree. Wu Wei involves letting go of ideals that we may otherwise try to force too violently onto things; it invites us instead to respond to the true demands of situations, which tend only to be noticed when we put our own ego-driven plans aside. What can follow is a loss of self-consciousness, a new unity between the self and its environment, which releases an energy that is normally held back by an overly aggressive, wilful style of thinking."
I'm a novice at trying to flow naturally in my day while keeping an eye on the tasks to be accomplished.
After my morning tea, I plod in a chair on the balcony and watch the many colorful birds flutter by. But I also wish to write. By settling on the balcony, I do both. I write, stalk the birds, and photograph them jumping around me on different trees intermittently. [back to TOC]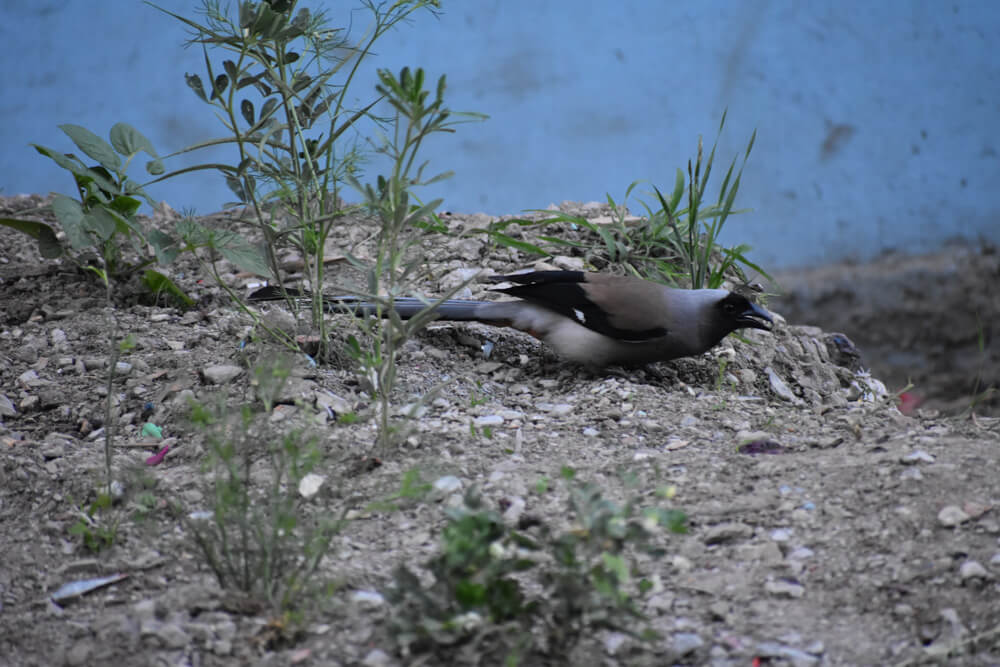 Hiking Around
When the morning of compromise and exultation has passed, I choose between a walk on the mountains or finishing the administrative tasks of my blog. Initially, we were skeptical of the mountain paths around us. The trails are unknown. Himalayan valleys are also full of wild cats and bears. The risk of slipping on unmarked steep paths which only locals know the best never leaves you alone.
So I started by observing. First I saw where our farmer host was walking. I watched a family next door getting down into their fields. I noticed that the same lady walks every day on the mud path in front of our house. I made mental notes of tracks I could explore.
Then I convinced my partner to get up and take a short walk with me. See, that aunty is going there, we can go, too. We went for fifteen minutes and when we returned I longed to go back again. Soon we started hiking for longer. We first walk through the fields behind our building. Further ahead we descended the backside of the hill slope. Stepping left and right and down we navigated the rocky mountains by carefully stepping from one step of grass-held mud onto another. We moved the thorny bushes aside. Holding onto each other's hand, every day we went a little further. Then one day my husband brought his laptop and I took my writing notebook. We settled on the hill, worked, and wrote. Another day we took hot samosas to eat in the valley, and the next evening we carried our tea thermos to drink our end-of-the-day chai in the forest.
The view from the edge of the mountains and the feeling when one is there are both ethereal. [back to TOC]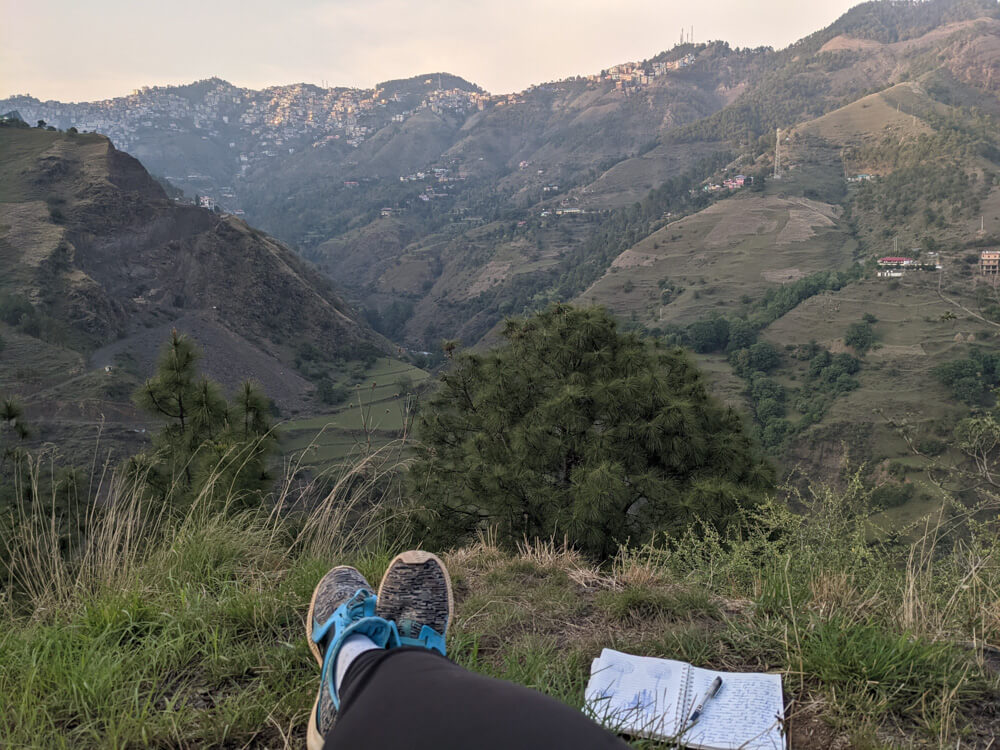 Non-Duality
Beyond and below us we see a green valley into which runs the velvety and rocky mountain slopes. Cottages and multi-storied homes balance themselves precariously at various inclines of these hills. Not every house is connected to the road. Homes are surrounded by fields. Pine forests cover a lot of the open land. Far above at the top, we see the matchbox cluster of too-bright homes stuck too close together. Rarely do we see a human out in the fields. Himalayan eagle roars above us in the sky searching for something to eat.
In the evening, groups of grey-headed parrots fly by us very low, as in a rehearsed chorus, and I wonder if they have come on the request of the green parakeets from Bangalore who gave us a show every dusk by zipping past by our roof in numbers as high as thirty.
I'm sure the moments or hours I spend watching the vista in front would later seem like a dream. No, it cannot be real. When so many are out of breath, I can't be breathing fresh mountain oxygen while watching one of the most beautiful scenes I will ever see. They say we don't have to go anywhere to be calm, but at this place, I'm one with the flowing space around me. If there is non-duality, if the universe and I are one, then it is in this moment — when I'm perched at the mossy edge next to a barking deer's poop peering over the pine trees wondering when the wild mountain cat might appear — this is the moment when I am one with the rest. I will do anything to be here forever. I will write day and night to figure out what is it I really want to say when I talk about being here.
Because the sky stops seeming like the sky and more like an abyss — and because blue mesmerizes me as if I'm seeing it for the first time — and white clouds do look like cottony duvet spread above — and green hills really appear as stretching out of the core of the earth — I try going on a hike every day.
But some days walking wins, and on other days I can only get out at 6 just for a quick glimpse of the day before the darkness sets in. Worse, I don't leave ever.
Many times even the mission of picking one thing from two seems ridiculous. And no matter how little or much I do I'm never satisfied.
While trying to do it all, we forget to be. When we just are, all the tasks, goals, and ambitions hold us by our collars in our dreams questioning us if we have forgotten about them.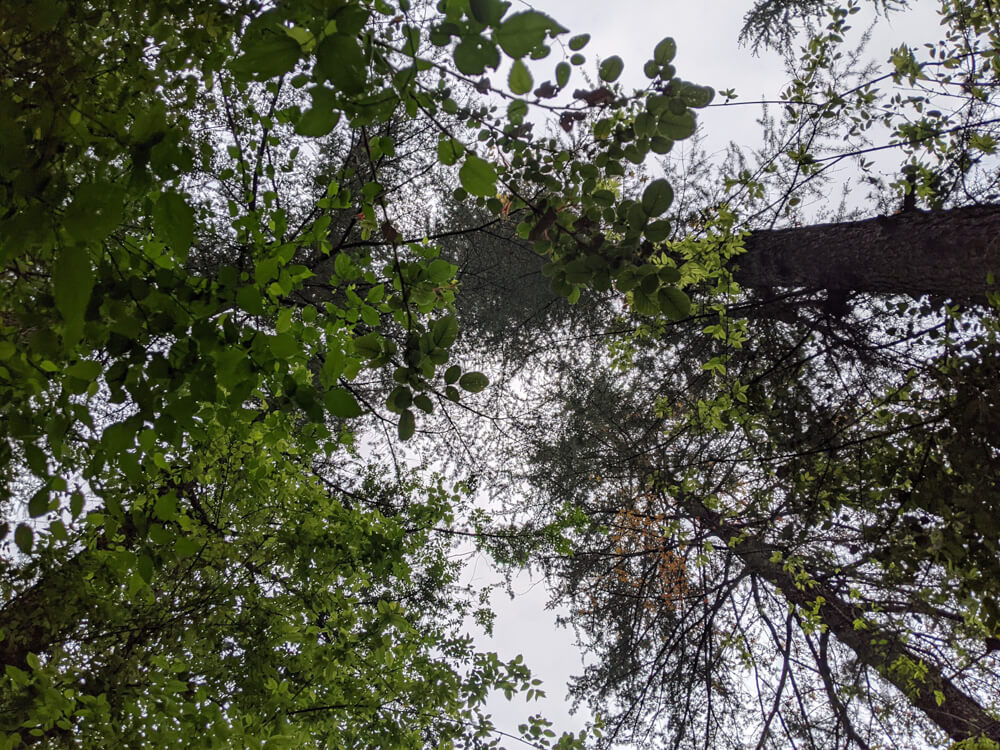 Covid News and Uncertainty
After trudging up and down rocks and sharp mud clearings, I return home excited. But then I face all the covid news I'm not prepared for. I sit to write but instead I forward messages from one group to another. Someone wants an oxygen bed. Another one needs a ventilator. There is a requirement for plasma transfer. How can we get remdesivir? another Whatsapp message echoes.
Chats are filled with messages saying the person who needed a ventilator yesterday couldn't survive. On the other group someone writes that most of the ventilators provided by the PM Care fund last year are faulty. Another news says some celebrities donated to PM Care Fund. Everyone has funds. But where is oxygen?
This uncertainty and fear have taken a toll on all of us. I'm still confused and worried about so many things.
Even if we find ourselves safe, I don't know how all my friends and family are. I can't really see how isolated they are and how they are coping with the pandemic. One day we are in lockdown another day everyone is out shopping. [back to TOC]
Lockdown in Himachal Pradesh
When we came Himachal was open but now the state is under an indefinite curfew. Essential shops are open from 10–1. While we were bringing back milk, tomatoes, and banana, a police jeep slowed down next to us.
My mask was on my chin for a second at that time. My husband's mask was on. Clutching the bag of our groceries close to his chest, my husband was holding my hand tightly. He always does. One of the constables called us closer to the jeep. Then he started speaking from a distance.
Why is your mask down?
I said I'm sorry. Just brought it down to speak for one second.
I truly was sorry. I find it hard to explain to a police guy that in the open air, in a space empty of people, we can remove the mask for a second. But I know they run by the rules because in public places we do have to keep masks on. Because else people will not wear the mask even when they should, when the area is crowded.
Why are you walking together? Why are you not social distancing?
I didn't understand. I said we are together.
He said, so what? You have to follow distancing.
I said, okay, we will do, sir.
And then we climbed down onto the broken gravel road fringed by deodars and pine trees that takes us to our home. [back to TOC]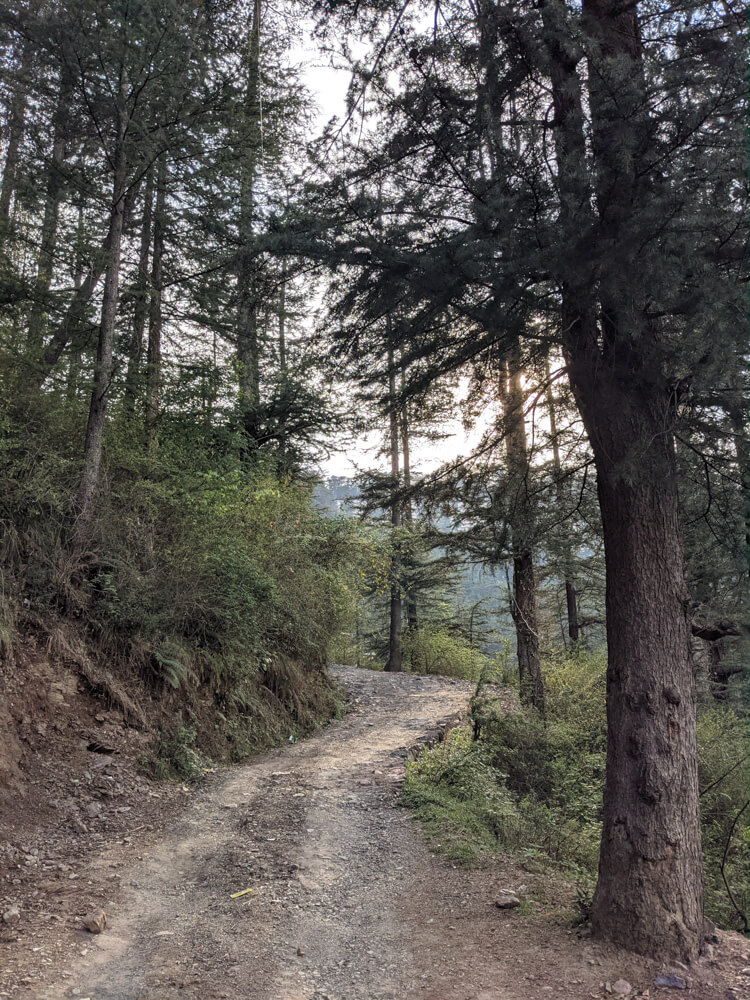 Languishing or Grieving?
Maybe my confusion and despondency (despite discovering the infinite beauty of this universe) can be attributed to the general misery and hopelessness surrounding us at the moment. In this New York Times article on the Blah We Are Feeling, Adam Grant talks about languishing, "It wasn't burnout — we still had energy. It wasn't depression — we didn't feel hopeless. We just felt somewhat joyless and aimless. It turns out there's a name for that: languishing."
He says, "Languishing is a sense of stagnation and emptiness. It feels as if you're muddling through your days, looking at your life through a foggy windshield. And it might be the dominant emotion of 2021."
I do feel as if I'm muddling through my days while not achieving much. I start drafts but I can't finish the pieces. I read multiple books together but I've not been able to read them through the end. I've been working on cornerstone articles for my blog at a pace that would put the decades-long Bangalore Metro construction work at shame. Even this essay took me days to write.
But why do we feel languished? The prolonged unsureness, undefined restrictions, and personal and collective misery and suffering have pushed us into constant languish.
Grant says, "Languishing is the neglected middle child of mental health. It's the void between depression and flourishing — the absence of well-being. You don't have symptoms of mental illness, but you're not the picture of mental health either. You're not functioning at full capacity. Languishing dulls your motivation, disrupts your ability to focus, and triples the odds that you'll cut back on work."
I can't focus, and I do feel I've cut back on work even though I've sometimes stayed up to 2 am to either finish a social campaign or read Premchand's Godaan and Proust's Swann's Way or send a 2500-word newsletter on a Sunday night when I was feeling more restless than usual.
Maybe I'm not feeling as much emptiness, stagnation, and unproductivity as much as grief. In this Harvard Business Review article, the senior editor Scott talks to David Kessler, an expert on grief and the writer of the books On Grief and Grieving: Finding the Meaning of Grief through the Five Stages of Loss and Finding Meaning: The Sixth Stage of Grief.
Kessler tells us, "We're feeling a number of different griefs right now. We feel the world has changed, and it has. We know this is temporary, but it doesn't feel that way, and we realize things will be different. Things will change and this is the point at which they changed. The loss of normalcy; the fear of economic toll; the loss of connection. This is hitting us and we're grieving. Collectively. We are not used to this kind of collective grief in the air."
He talks about uncertainty, "we're also feeling anticipatory grief. Anticipatory grief is that feeling we get about what the future holds when we're uncertain. Usually it centers on death. We feel it when someone gets a dire diagnosis or when we have the normal thought that we'll lose a parent someday. Anticipatory grief is also more broadly imagined futures. There is a storm coming. There's something bad out there. With a virus, this kind of grief is so confusing for people. Our primitive mind knows something bad is happening, but you can't see it. This breaks our sense of safety. We're feeling that loss of safety. I don't think we've collectively lost our sense of general safety like this. Individually or as smaller groups, people have felt this. But all together, this is new. We are grieving on a micro and a macro level."
We may be mourning the loss in our family and the uncertainty of our and our loved ones' lives. Or we might be grieving for the collective loss countries have suffered. I may be languishing and perhaps I'm distraught because life has been so unpredictable for so long.
We all notice the change but we haven't had a moment to really absorb it together with the totality of consequences. Not only family members have disappeared without warning, but people are stuck in closed spaces with nowhere to go, no security of jobs or work, and no respite from the daily scene for more than a year. We can't step out outside a fixed time interval, we have to wear our masks all the time, and despite us doing everything, any phone call could bring bad news. And at this point, the crisis doesn't seem to end soon, especially in India.
How many more deaths do we need to read about? Who knows. And those of us who were sure all our families are safe and secure are the worst hit because coronavirus didn't leave any home safe.
Keller suggests people handle grief by coming to the present, mixing their bad thoughts with good ones, letting go of what they can't control, and stocking up on compassion.
He also talks about something I think of often. "One unfortunate byproduct of the self-help movement is we're the first generation to have feelings about our feelings. We tell ourselves things like, I feel sad, but I shouldn't feel that; other people have it worse. We can — we should — stop at the first feeling. I feel sad. Let me go for five minutes to feel sad. Your work is to feel your sadness and fear and anger whether or not someone else is feeling something."
Keller's warnings against feelings about feelings remind me of the neuroscientist and leading brain researcher Lisa Feldman Barrett who tells us emotions are our mind telling us we need to act. According to her, we should allow our feelings, observe them, question them, act as per the requirement of the situation, and then let go.
But all of this objective behavior doesn't come easy, especially when a deadly pandemic blasts in the face.
As Alain De Botton writes, "The standard habit of the mind is to take careful note of what's not right in our lives and obsess about all that is missing."
Maybe we are all stagnated and unmotivated or maybe we are grieving or thinking about what we don't have. I think I'm doing all of these together. [back to TOC]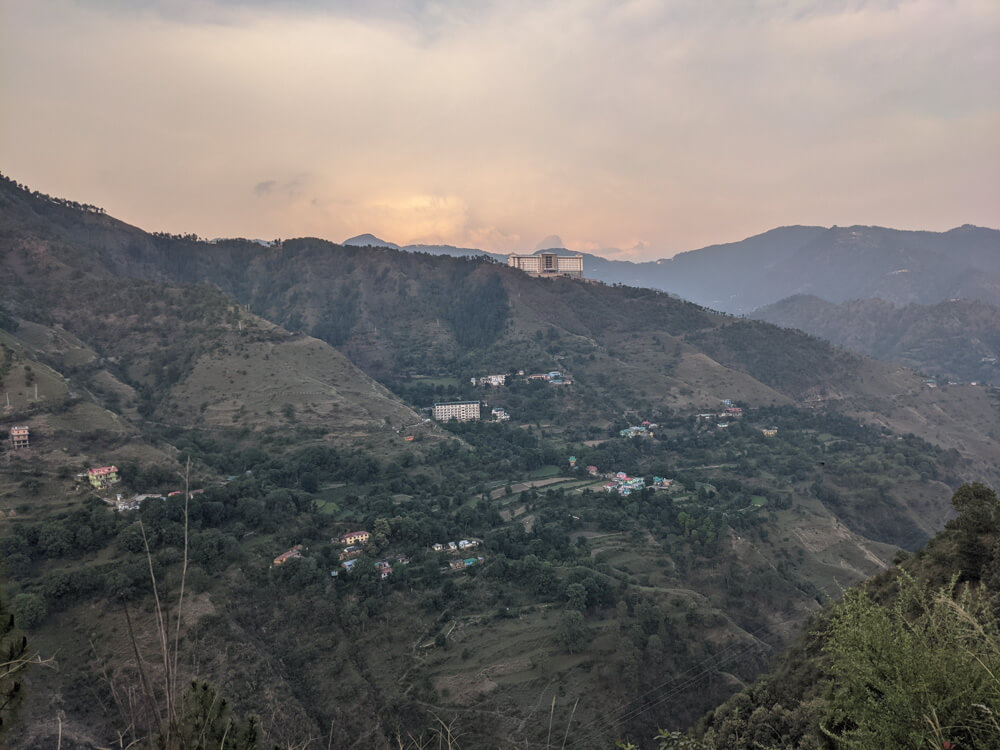 The Year That Was 2020
At the beginning of the last year, coronavirus had restricted us to our homes and rooms and desks. There was less uncertainty. We had to be at one place, we couldn't go to the gym or the yoga class, offices were shut, hotels were closed, the transport was stopped, and our movement was watched.
I knew all I could do was run around my house or stroll on my rooftop, write at my home, freelance incessantly, buy groceries and make dinner, read, talk to friends over the phone or Zoom calls, and be with my partner. As months passed, the lockdown opened but all of us were now restless in the wake of the changes that had happened. (I have spoken about the beginning of the pandemic and the acceptance phase in these linked articles if you would like to read.)
We even spent one month in the countryside of Karnataka reading, hiking in coffee estates, running, eating rawa-fried fish, drinking homemade gooseberry wine, watching the molten sunset over the Western Ghats, making a bonfire, and drinking the quintessential coffee of Southern India. (I even wrote about driving isolated and traveling to empty mountains if one can.) Soon it looked like the worst was over. We moved quickly to materialize our broader plans. [back to TOC]
Nomadic Journey
For the past few years, my life has been divided between the road and my partner's home. Now my husband (and partner) has also joined my nomadic lifestyle by taking up a remote job. As the first wave of the pandemic passed, it looked like the infection had retreated from India. We gave the one-month notice of our rooftop abode, mobilized our plans to buy a car, and both of us listed down our preferred places to find one common destination we would explore for the next few months.
Himachal Or Goa was on our minds.
By the time we bought our compact SUV and could be on the road, it was already March. The second wave of the pandemic had started swallowing India like a tsunami devours an entire island.
Our first road trip in our new car loaded with all our important things, laptops, clothes, utensils, and books was to Maharashtra to see my husband's covid-positive father. Scared of the barricaded roads and rude policemen we had driven from Bangalore to Mumbai with negative RT PCR tests (even though it wasn't a requirement, yet).
Living in isolated rooms and apartments in and around Lonavala and Mumbai, we watched the chaotic dance of the disease closely. Maharashtra had a strict lockdown. Dining was first allowed up to 8 pm but after a few days, only parcels could be done, and that too until 6. We ordered fish thalis by calling the restaurant directly or picked up jawar roti and brinjal curry from obscure places which were still functioning. The heat was immense, vada pavs were spicy, and everyone was scared but we made it for two weeks. The mango fudge helped, too.
Covid cases were increasing daily. We could see the situation wasn't going to improve any soon but in the absence of a home, we had to keep moving.
From Maharashtra, we made our way to my parents' house in Uttar Pradesh through Gujarat, Rajasthan, and Haryana. The journey took us about twelve days including the time we stayed put to work.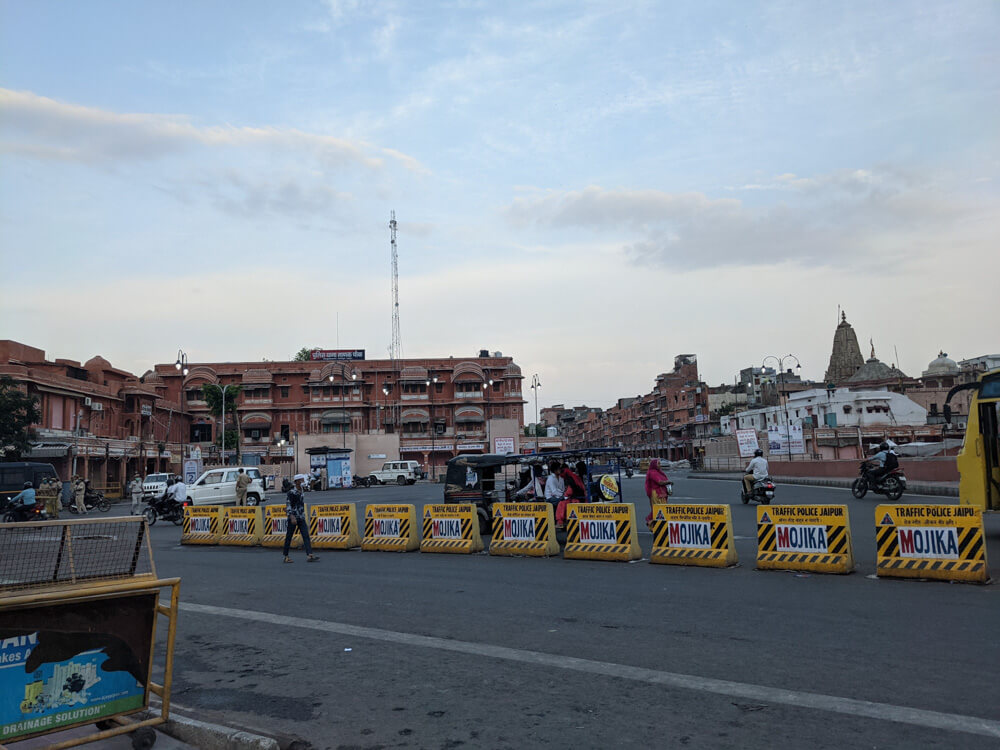 Crossing state borders during lockdowns with the kind of autonomous police we have wasn't easy. Some border police only checked our test results and e-passes but a few policemen stopped us randomly at places to make money. A group of police in Mumbai harassed us even when we showed them the positive covid report of my father-in-law and negative reports of both of us. We couldn't leave without paying 2000 rupees and were really stressed out due to the incident.
The politicians can conduct rallies without masks at the peak of a pandemic caused by a contagious deadly virus. But we can't watch over our parents even from a distance just in case they may need us.
It felt like a crime to be out on the road. But didn't the government tell us we had defeated the deadly infection? Looks like the disease returned with new teeth and horns.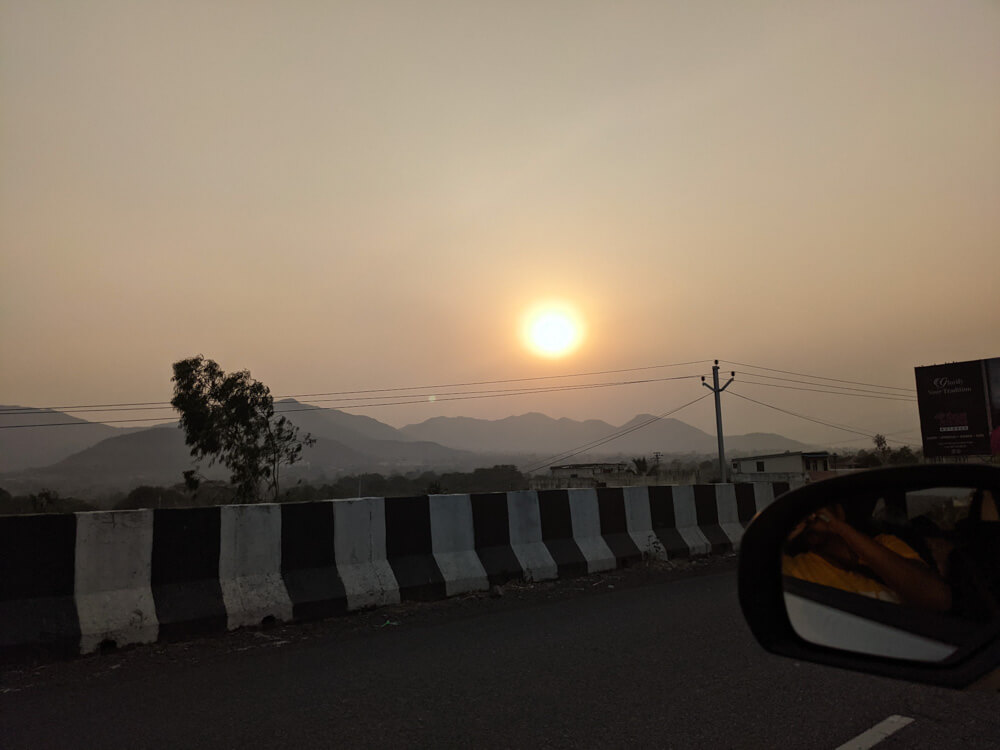 On our way to Rajasthan, we stayed for one night in a highway hotel near Ahmedabad. Then we arrived at Udaipur on a Sunday and decided to stay there for a week as we couldn't take a weekday off to drive.
Udaipur was under a lockdown, too. We stayed in a haveli that was no more than an eerie ghost of a hotel. Rooms were empty and dusty. The garden was desolate. Fountains had been switched off, and most lights of the haveli were permanently turned off, too. Many hotels have shut down without tourists and the rest are barely dragging along.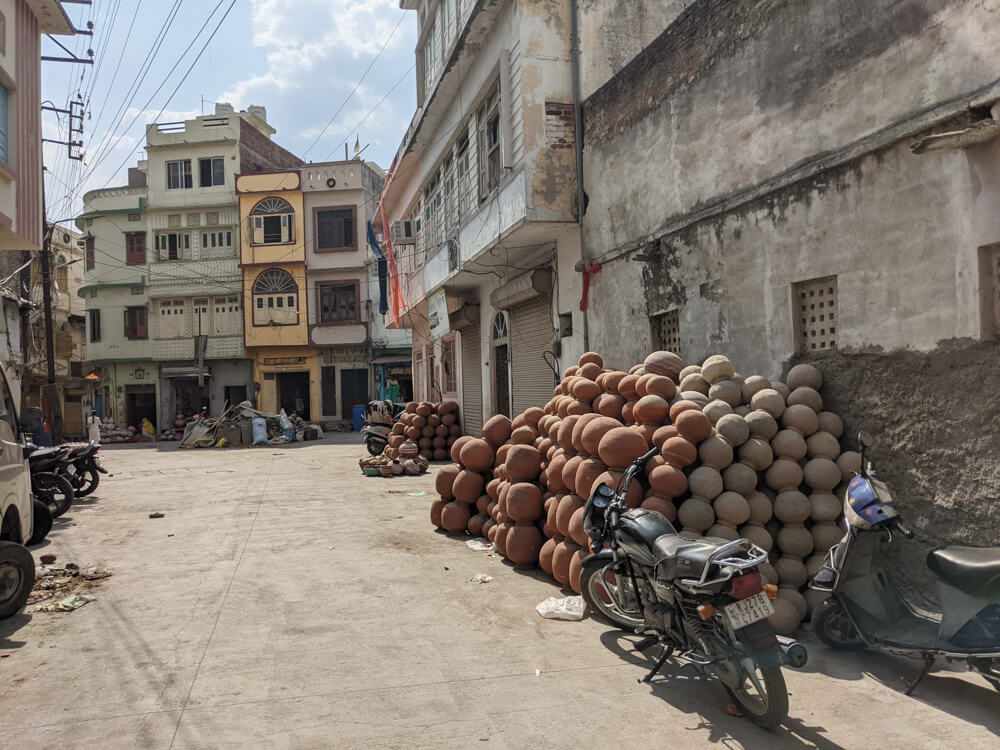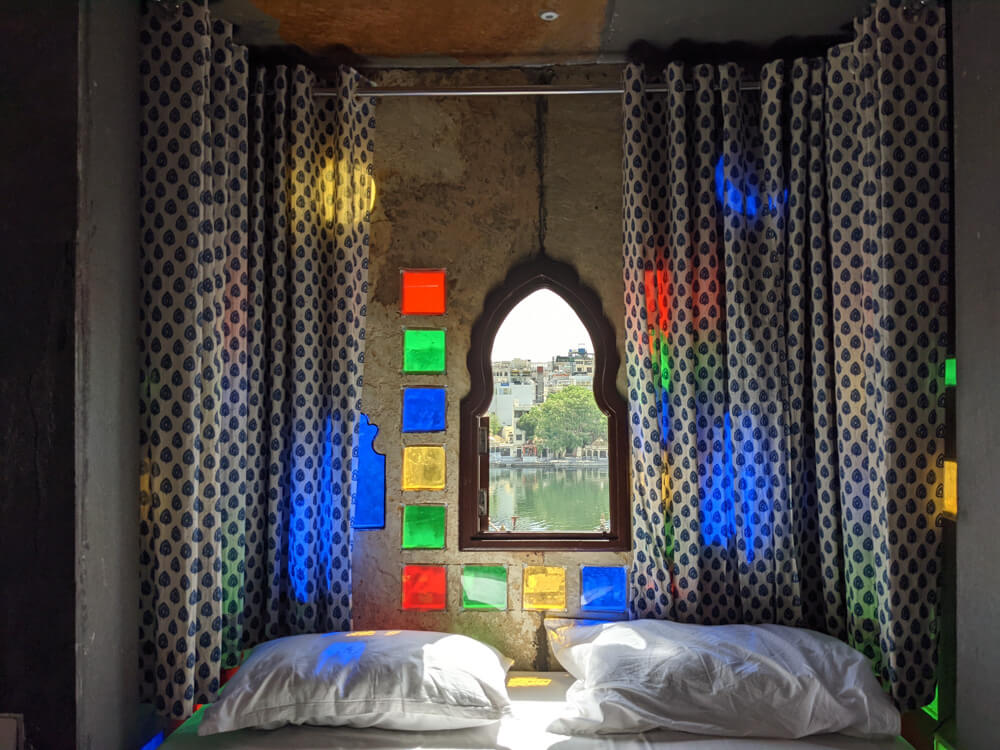 My husband worked from the lake-view room. I would go into the streets to walk or bring poha and tea or hike up to a temple perched on the top of a hill (and return without ever visiting the temple premises). It felt weird to be out but some of the shops, hotels, and restaurants were precariously balanced on the hope that the rare tourist might come their way. Some homely eateries were still functional. We would call and ask them to cook. If we gave a missed call, they knew we were outside their homes to pick the food.
In the absence of travelers in a city that is generally swarmed by them, the locals didn't know where to look. On the streets, everyone's eyes were on me. While making our way through zigzag mud lanes of Udaipur, someone would shout from behind they were still open and we could order whatever we liked. Cafes were officially open for only in-house guests, and if you arrived at one you could have lemonade (sorry no coffee) while watching over The Taj's boats carrying travelers from one corner of the Lake Pichola to another.
After a week full of writing, eating Rajasthani food, pacing the streets, and staring out of the window onto Pichola Lake, we thought to explore Udaipur on a Saturday. While we drove to the Fateh Sagar lake, empty roads stared at us. There were no people around except some in cars or on scattered roadside vegetable stores. It was apocalypse-like.
When I asked a lake cleaning staff where had all the people gone, he was shocked we didn't know about the complete weekend lockdown that was announced the previous evening. We thanked him in a jiff and drove back quickly. Police were given orders to let outside cars go so we weren't stopped.
A weekend lockdown was necessary to keep the disease in control. We decided to leave Udaipur the next day and thought to get our RT PCR tests done again to be able to enter other states. [back to TOC]
Getting RT PCR Tests in Udaipur, Rajasthan
But we didn't know getting the test done would be such a huge deal. Most of the Udaipur test centers only opened in the morning for 1 to 3 hours and tested a fixed number of people on a first-come-first-serve system. So by 11 am you wouldn't be able to get a test done anywhere. The one place that was still open had a queue as long as three coaches of a train.
Eventually we went to a hospital almost outside the city. The situation was horrible there. To get one test done, you have to go to five-six different desks, each one multiple time. Just to get a doctor's signature on a test form you stand in line inside a hospital ward where covid patients were breathing through oxygen cylinders. Some on beds and some on stretchers outside a room.
We were scared. Now I feel stupid to have asked one of the nurses to keep a bar of soap on the washbasin. I know how impossible it must have been to stay quiet at my stupid suggestion.
The staff must have already been overworked for over a year. Who knows how many colleagues or friends or family members they had lost. How frightened they themselves must have been. And here I was suggesting them to keep soap as if they hadn't thought of it themselves. Surely they couldn't arrange it.
But maybe they didn't think about the importance of a simple essential as soap? What's wrong with reiterating something everyone knows? When we needed the reports we had to again go through many desks to just get the directions to the room from where the reports were to be collected. If only the hospital could have put up direction signs to the report collection point they could have avoided hundreds of queries every day (and in this time personal interaction is best avoided). [back to TOC]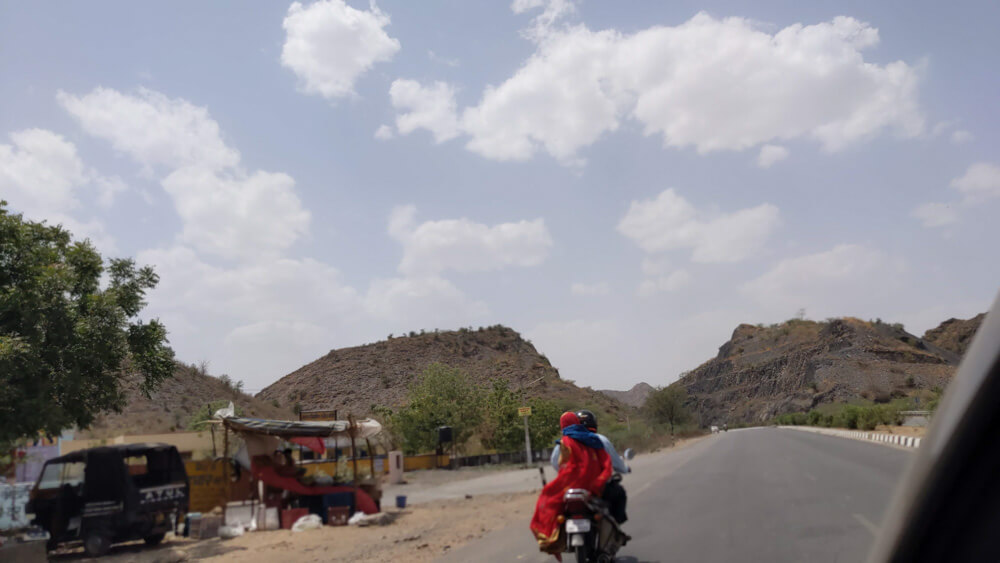 Importance of Systems and How They Are Failing Now
Systems are essential but only so many of us think about them especially when there is panic. And in panic, we could benefit the most with systems. But who will build a system? Hospitals, clinics, and health centers all are overworked and under-resourced. When the hospitals lack doctors to treat serious covid patients, from where will an administrative official appear to put soap on the basin or paste printouts of direction arrows on parched walls?
In February 2021, the finance commission had suggested the Union health budget for FY 2022 should 0.68% of India's GDP — even after a pandemic had scorched India, though not as much as other countries, yet. [back to TOC]
What Happened to UP and other Indian States?
In the Jaunpur district of UP, the population is 4.4 million. The entire district has 598 hospital beds and 28 ventilator-equipped beds. The number of beds for one person has so many zeroes after the decimal I don't even want to write it here. And how many cases does Jaunpur witnesses every day? Hear it from the doctors, "Each and every person we are attending is Covid positive. These are coming from villages."
Each and every person we are attending is Covid positive. How did so many people get infected? People who didn't even leave their villages? Because migrants returned from cities and other workplaces to the Jaunpur district for different reasons and on distinct occasions: first they arrived for Holi, then harvesting, and later, of course, the panchayat polls. The elections and the Kumbh have been super spreaders.
In UP and Assam, even testing was stopped during the elections. The government says they don't have any shortage of oxygen. Covid deaths are being reported as non-covid deaths. The number of cases registered every day is highly under-reported.
I'm sure all this news must have reached you guys. The purpose of reiterating all this is to not criticize anyone (though if not now then when?) or to discuss how people are saying India is facing a crime against humanity.
But perhaps I'm repeating all this information for myself. So when I, again, start avoiding political and national news just because people are assigned to handle the system I can remind myself that we are on our own. And maybe we would have been better if we were really left to our own. [back to TOC]
Leaving Rajasthan to Drive Home to Uttar Pradesh
My partner and I — feeling like cubs left in the jungle without a mother — drove to the hospital again. We picked up our report on Sunday and drove to Jaipur. The Pink City was under even a stricter lockdown. We worked for two days from another dusty room of another ghostly haveli.
On the public holiday of the Ram Navami festival, we drove to my parent's house. Why did we visit our old parents when a transferrable virus is raging through the streets? Because we hadn't seen my parents for 1.5 years due to the pandemic. Because my mother had been crying over the phone wondering when would she be able to meet me. Because we couldn't see an end to this.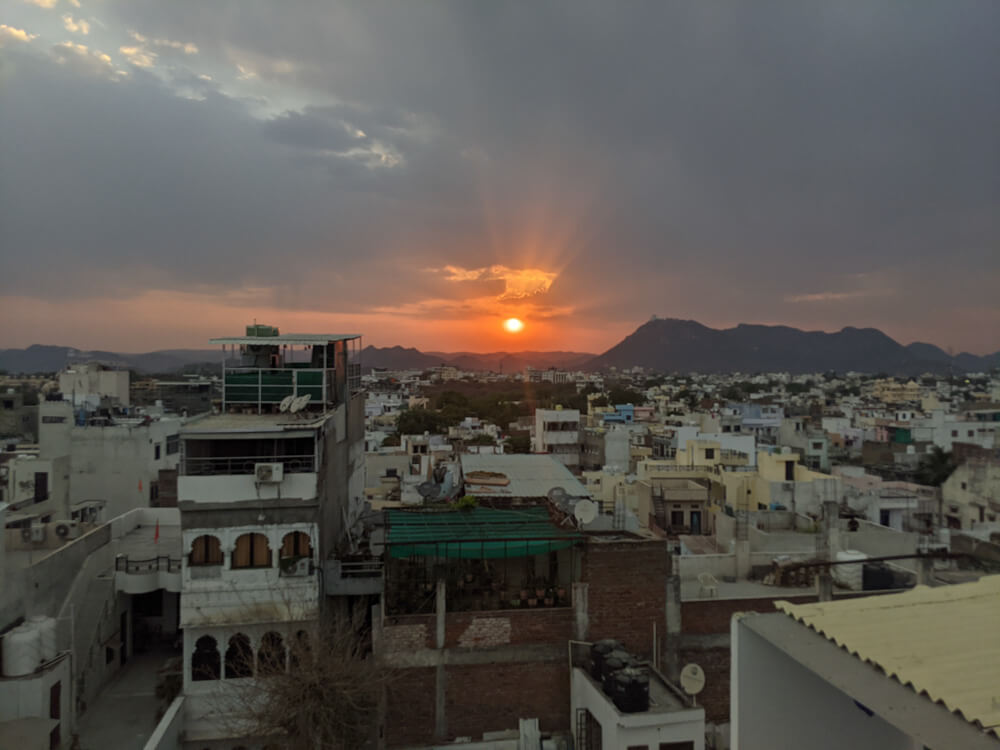 We were also powered a little bit by our ability to drive in our own car while staying isolated from everyone. And we were already on our way to Himachal. On our journey, we had supported, at least, a few homes, hotels, grocery stores, and fruit sellers, and if our help and business wasn't a big deal, it was not nothing. [back to TOC]
At Home After 1.5 Years, Isolated
When we arrived at my parents' house, my mother stood on the balcony and just watched us from a distance. There were no hugs, everyone was wearing masks, and we didn't let them touch our bags. We ate meals and drank our tea separately. My husband closed himself in one room and I shut myself in another and we worked. We moved around my parents sometimes in double masks. Even in the open air of the balcony, we didn't hang around each other.
My mother cried. She said we must be living really horrible times that she couldn't even hug her daughter. But we had been on the road (isolated in our car) and didn't want to risk their lives. Although we had no symptoms and both my parents are vaccinated (vaccination doesn't kick in quickly) we stayed skeptical given the dodgy nature of coronavirus, especially of the new variants.
I hugged my mother the day her sister died. My aunt had typhoid and she didn't get proper care at the hospitals. The doctors didn't advise the right medications and treatment early on. Her oxygen cylinder finished (her family couldn't procure another one) and my aunt finished at the same moment. Her daughters told us she could hardly breathe even when she was connected to the oxygen supply.
My parents are both older than 65. They are suffering even in isolation. During the entire two weeks at my parent's home, bad news of family members and known people dying didn't leave us alone. Two days after my aunt passed away, one of my uncles couldn't survive the infection and died after a 9-day-long struggle in the hospital. Others were in the hospital struggling.
At home, the pandemic felt even stronger. My parents watched covid news on television which was still filled with Yogi and Modi hailing Ayodhya mandir, promising oxygen was in abundance, and that the "system" had broken.
UP is so bad that we didn't leave our parents' home even for a ten-minute walk except for the two times when we had strode to our car parked fifteen minutes away to get our luggage. The roads were empty as a lockdown had been recently declared.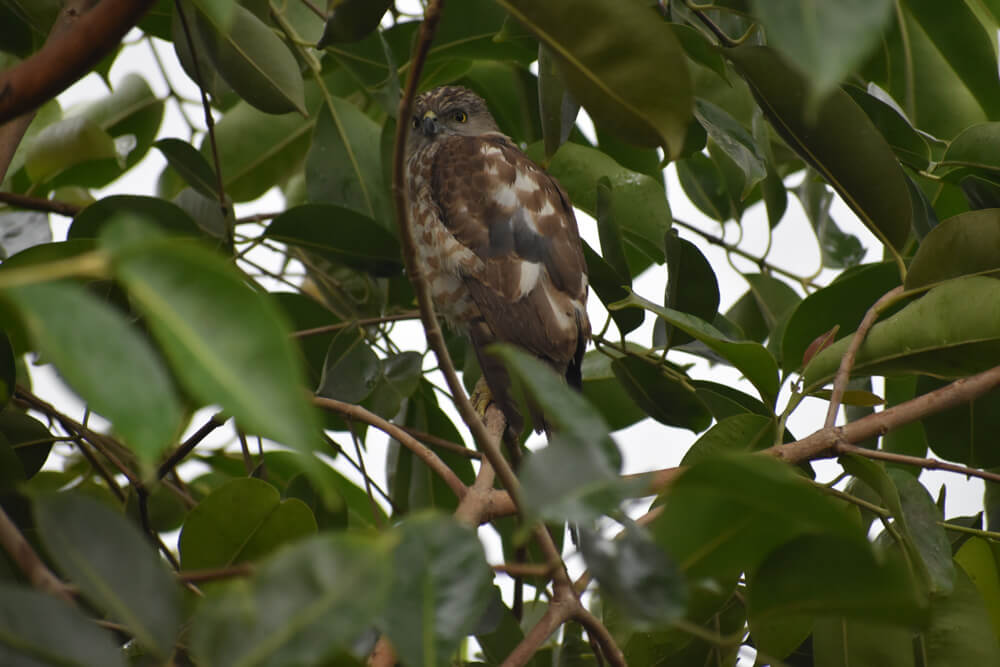 My parents were scared. All-day long their phone rings. They are strictly instructed not to leave home by all of us three children. Every day they receive Amazon and Flipkart and grocery packages. They ask the delivery boy to leave them on the ground floor. My father goes to walk at 6 am when the streets are empty. The temperature was almost forty degrees but we didn't call an air-conditioned service guy because we didn't want to take any risks. [back to TOC]
Journey to Himachal Pradesh
After staying at home for 12 days, we drove to Himachal (isolated in our car with a negative RT-PCR test report for both of us and an e-pass to enter Himachal). We left because we were scared that if we go out of my parents' home even for five minutes we would be frightened to go back.
Here in Himachal, we are staying isolated and only go out in the open mountains or to shop for onions, vegetables, and milk. Since the time we have arrived here (last Tuesday), struck with the reality of covid in UP, Delhi, MP, Rajasthan, Maharashtra, and Gujarat, I decided to help. I jumped into the groups created by my friends and alumni from the Indian Institute of Technology to help people fight COVID-19. [back to TOC]
Fundraiser Campaigns
Slowly I started getting integrated into these campaigns my friends and alumni have been running. You must have heard of all the organizations and NGOs and foreign governments helping India fight COVID. But most of the big operations' and governments' aid is only reaching big cities and hospitals.
My friends and alumni were raising funds for rural districts of India which are fighting the pandemic alone. They were able to raise INR 5 million for the Mandsaur district of Madhya Pradesh. Their orders for fifty oxygen concentrators are on the way and when they are deployed, the residents of Mandsaur will have a little more hope than they do now.
We decided to create another campaign for another district Umaria of Madhya Pradesh. You must have heard of Bandhavgarh National Park. Some say it has got the highest density of tigers in India. I'm not sure if that's true but the district is home to two tribes (one of which is an endangered primitive tribe).
Amongst a population of 100,000 people, Umaria is registering 250–300 new cases every day. At any given time the district has thousand active cases at least. But only 30 oxygen beds and ten ICU beds are available. So you can imagine the situation.
How do I know all this? Because we have the support of the Additional Collector of the Umaria district. He is also an IIT alumnus. So while fiddling between the drafts of How Himachal feels Home and The Loneliness of a Digital Nomad's Life and reading and forwarding COVID messages and hiking and longing for who knows what, I wrote the fundraiser campaign for Umaria. We put it out and are sharing it as much as we can.
Find it here on Milaap.
With the money collected, we will buy fifty oxygen concentrators that will be placed in the hospitals of the district. The region is so isolated and tribal that they need all the help they can get right now. In fact, we have already placed orders for fifteen concentrators with the money collected so far.
I would be grateful if you can either donate to this campaign or even just spread the word. We need all the help. And we need it NOW.
Update May 24: The campaign is closed for donations now.
Thank you so much for having been a part of this campaign.

We are content and thankful when we tell you we have decided to close this initiative. We ordered twenty-five concentrators from the money raised so far. These oxygen concentrators are on their way to Umaria. The state government also supplied us with twenty-five oxygen concentrators which we have already deployed in our hospitals and health centers.

The situation in Umaria has improved. We are registering lesser daily cases now. Our plan is to deploy the expected concentrators as soon as we receive them. When we get the delivery and install the machines you will hear from us again with pictures and all.

A heartfelt thanks to you again. Your help has been really appreciated by not only us coordinators but by the people of Umaria, too. Please take care of yourself in these tough times and stay safe.

"Somewhere someone may be alive because you helped."
Here are some pictures of Umaria for a visual connection with the place. [back to TOC]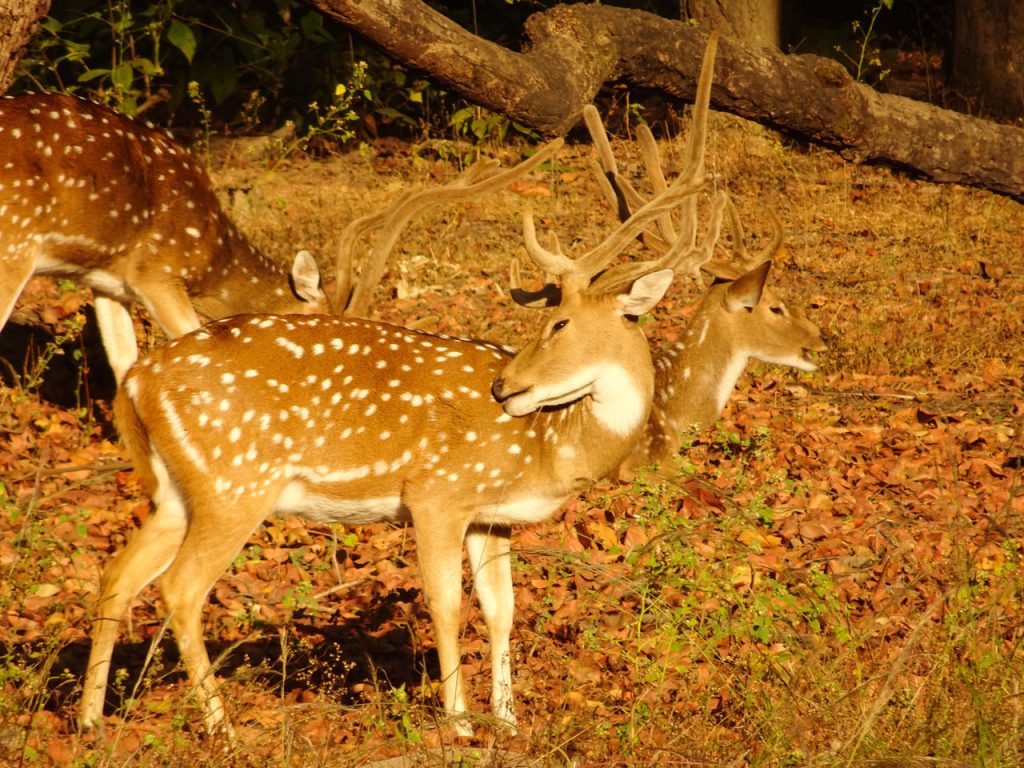 A Writer's Job and Collective Helplessness
I know a writer's job is to soak in everything and give meaning to her experiences, feelings, and thoughts through words. You don't have to cry, you have to write how you are crying, I've always told myself.
But the past two weeks have been especially tough (story of your lives, too?). I need energy, positivity, and love from you all. Seeing people dying at such large numbers without any accountability makes me hopeless.
I know the human lot is defective. I understand the world is a dark place. But sometimes the reality strikes you so far down you find it hard to get up.
People are out of breath. We don't have oxygen, oxygen beds, ventilator beds, injections, and whatever else the young and the old need to survive today.
Why?
Because instead of planning for a national disaster we were busy contesting elections and taking the best steps for ourselves. Now all that is fine. But the country's leaders have a responsibility. More than 1000 teachers died in UP. They were allocated different duties during the panchayat elections. If someone said, "I'm scared please don't send me to the election booth or in the vote-counting booth, the government said we will file an FIR against you." The story became viral when an eight-month pregnant woman died.
(I'm ranting again. I also know I should be attaching many more credible links within this letter but I won't. You have to be able to search for unbiased news. Please. And sorry if I sound arrogant).
When we have 28 ventilator beds for a crowd of 4.4 million, how will we ever fight this?
Government is responsible but somewhere people who could have stayed back are at fault, too. Why did people attend Kumbh? Why didn't entire communities decide we won't go out to vote? Why are people still out on the streets saying coronavirus is a hoax and simple flu?
Come on.
Out of the 1000 miserable and horrendous stories of irresponsibility, selfishness, and politics, I have only shared maybe two with you.
Every day I come across newsletters, articles, and Twitter threads talk about how even those of us who are comfortable and safe are feeling anhedonia. How volunteers should relax and why is it okay to not feel productive or positive and who wrote what on helplessness.
I see them all. But since the time I have dug myself out of my own occupancies, I've heard the news of so many deaths (family members included) I feel I can see the blood on the streets.
Funeral grounds are overflowing. Burial lands are full. Even the crematoriums that were closed for years have been reopened.
One day I couldn't stop crying because suddenly I realized how little I had done for my aunt (she had been gone for more than a week then). Why didn't I step up and ask her daughters what treatment was she getting? Why hadn't she eaten for more than a few weeks? Why was her typhoid test not done when she had all the symptoms? Why was she not put in the hospital when her test came positive and she was weak?
I'm disappointed that I didn't help my aunt. All my education and learning and trying to give to people through writing is useless if I couldn't help my own family member (or any other living being).
Even though everyone has been telling us that even little help counts, I feel I haven't done anything. The situation is so out of hand I don't know what's the solution. What do you do when you have one oxygen bed for 100,000 people? What do you do when patients are receiving ventilators when they don't need them anymore? How do you respond when the government shuts down test centers and doesn't report the deaths, new cases, and test results until the polling results are out? What do you do when people can't even burn their dead ones in the funeral ground? How do you feel when families fight for oxygen? What is the right response to, she couldn't make it? How do you console a son who couldn't speak to his father when he was about to leave him forever? How do you say no to a daughter who says please come and help me burn my mother?
How can we help the people struggling to breathe and dying with covid in the innermost part of the countries without any doctors, nurses, medical centers, oxygen, injections, and ventilators?
In this second wave of the pandemic (and many times before) we have all felt helpless. Surviving and existing and eating and weighing down earth and, most important of all, breathing the precious oxygen of others.
Everyone I know has had some death in their family or knows someone who has had a death amongst their loved ones. The coronavirus has brought down India on its knees.
I don't think anyone can do enough at this point. This is not a normal time. We aren't trained to know the right response at this moment. Even in our regular lives we know so little that the current time is capable to drive us all crazy.
A lot of people are doing what they can. But those who haven't been able to find any method to help out either financially or mobility-wise or technologically are feeling helpless and small. They see burning photos of overflowing crematoriums, watch videos of unidentified dead bodies washed over the bank of Ganga, struggle with finding beds for WhatsApp forwards (if they can operate Whatsapp), and then see the news that oxygen concentrators have been found to be hoarded in many parts of the country to be sold on inflated prices. Then comes the pictures of sadhus bathing in Ganga and rallies being conducted and elections being held and all hell breaks loose.
But what can people do? Most of them have no income of their own, and those who have don't know where to help. People who are more privileged are donating to whatever organization they can. Others are talking amongst themselves and showing despair and praying in silence all alone.
The feeling of helplessness is huge amongst a group I have been part of. We all happen to be IIT alumni, a group that has all the sources and connections in the world but is scrambling in the situation.
Most of my friends and volunteers are saying they feel nothing is enough. Whatever we do will never be enough. Working with the ground authorities exposes us to the reality hidden by the sold media. We have seen how many are really dying and how many more are going to. Sometimes raising money for oxygen concentrators seems like a step in the far future. People are dying today, but concentrators cannot come before two weeks? What are we doing? We privileged people are using our contacts to raise funds. Amazing!
But real help has arrived. One consignment my friends ordered arrived within two weeks. Those machines have been deployed and helping real people. We all hail each other and celebrate. But I can't really call this a success. What is success in the face of death?
My husband says we are in a war economy. He criticizes an NGO that didn't help us because we are buying concentrators at an inflated price. This is not a normal situation, he shouted. We can't think of a good buy or negotiating powers. In war, you do what you can do.
I proudly put up an example to establish our concurred point quickly.
"The city is flooded. Someone is drowning in front of your home. But you are busy negotiating for a raft further down the lane for rupees 200 cheaper or you grab the one you can reach?"
But I can't laugh for long. I tell my husband, "I'm sorry, jaan, but we are not in a war. We were never in a war. War happens when both parties at least have weapons, even if in disparity. But here people were defenseless against the virus. They didn't know it was coming. There were no doctors, no medical supplies, no oxygen ready to help them out. The virus hunted them down. It mutated to kill. We stood defenseless and now we have lost the war. We are just trying to help those we can."
My husband listens and just sighs.
Can anyone feel helpful in the face of the pandemic? No one can. Because each one of us can only operate on a small scale. Neither one of us — none of the bigs and none of the smalls — can save all the lives. Only the government could have tried to save us all.
Unnoticed people like us can still create a small campaign in the blink of an eye and get online to help. But what about the popular people who cannot even take the risk of coming into the eyes of the government? They can't even outrightly help because each one of their messages is monitored and scrutinized not just by millions of people but the government too.
They can only donate to the PM Care fund. I'm sure many of the humanitarians must be helping from behind the scenes without letting their name ever come out. I am thankful to all those people.
"Everyone is bound to feel helpless. The helplessness is obvious." My partner and I discussed while returning from one of our ethereal hikes. [back to TOC]
Hope
But then we stopped to talk to our host who was still tilling his fields to sow new seeds. While speaking with him about his different jobs and why did he return to the mountains, we didn't realize that it had gotten completely dark. Suddenly I turned around to see zillions of stars lighting up the hills ahead.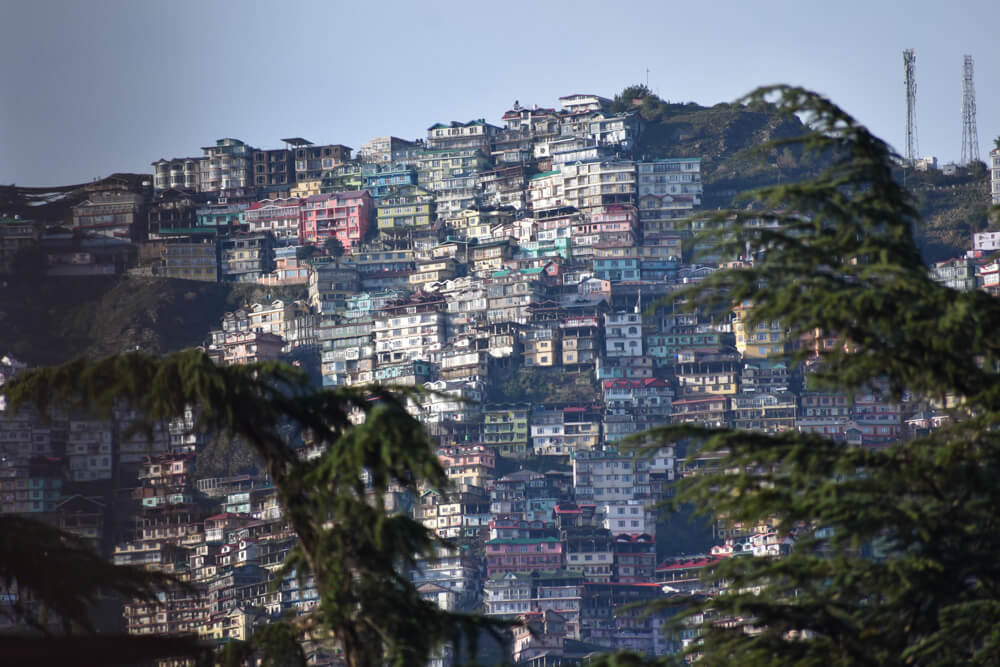 What's that? I asked.
That's the village of Sajauli. Parents from here go up to their apple fields in the season. But then they return to the town to send their children to school. Up there, villages don't have schools. He said matter of factly.
I looked at the starry Sajauli shining brightly on the hill in front of me. Too-bright homes stuck to each other like honeybees in a swarm. Each house shined only as much as the light burning inside it. Every single one of them looked like a star. Together they all dazzled and cut through the darkness.
We don't even know but millions of others — others like us — who are trying to help. Individually we all feel helpless. But if we look at the numbers and the combined effort we are able to help out many people together.
Our efforts are not wasted.
When millions of tiny starry dots shine together, they can put up a blinding galaxy. That's what we are — we the people together are a blinding galaxy trying to pervade through the darkness, chaos, and destruction caused by this second wave of the pandemic in India.
This is a crazy time. But we have to try to stay sane for others. We have to stay sane for others. [back to TOC]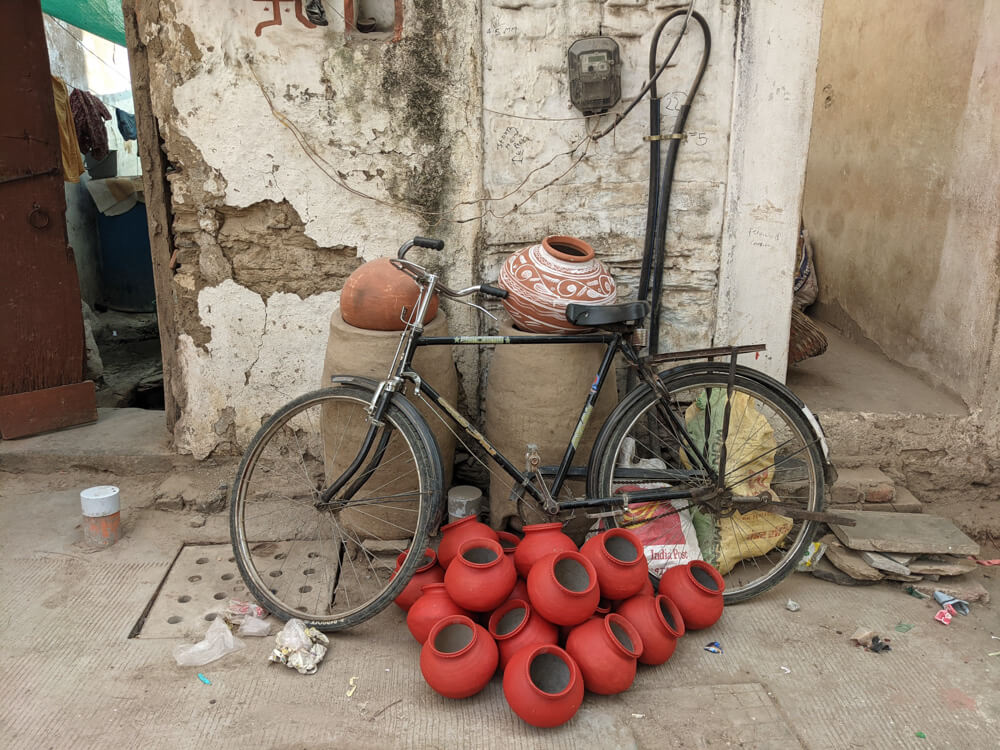 Recommended Read: Life Lessons Learned So Far
Do watch this video which shows how with a very simple act we can give hope to the hopeless. Do watch and share.
Many thanks to you all for making it so far in this long long essay. I'm forever grateful.
Until the next time then.
How have you been? Have you also felt helpless in the pandemic? I will be happy to hear your thoughts so please leave a comment.
*****
Donate to keep me going!
For five years, I've read and wrote day and night to keep On My Canvas - my sustenance and life's focal point - going. Everything here and my weekly newsletter "Looking Inwards" is free. No ads. No sponsorships. If you've had some good moments reading my posts or felt hopeful on a lonely day, please consider making a one-time or a consistent donation. I'll really appreciate it (You can cancel anytime).
*****
Want similar inspiration and ideas in your inbox? Subscribe to my free weekly newsletter "Looking Inwards"!