Finding Cozy, Green, and Affordable Indian Homestays With Amicable Hosts For Short and Long Stays
I wrote in detail on homestays in India in this recent piece on accommodations in India. I won't repeat all I said there about Indian homestays, but I would share my experience of traveling in India and staying in different places.
I've been living in India for more than thirty years(I'm an Indian), but I've also been traveling in India for about 18 years. My journey started with living in paying guest houses across Rajasthan when I was 15. Then I spent four years in a girls hostel in Delhi, followed by a short stay in a shared Mumbai apartment. Finally I shifted to living full-time in Bangalore, Pune, and Delhi homes.
Those were my engineering and corporate years. In between, I traveled within India and experimented with various kinds of stays(both with friends and alone). Now I travel full-time. After putting up at hotels, resorts, hostels, paying guests, serviced apartments, I often choose Indian home stays over other guesthouses.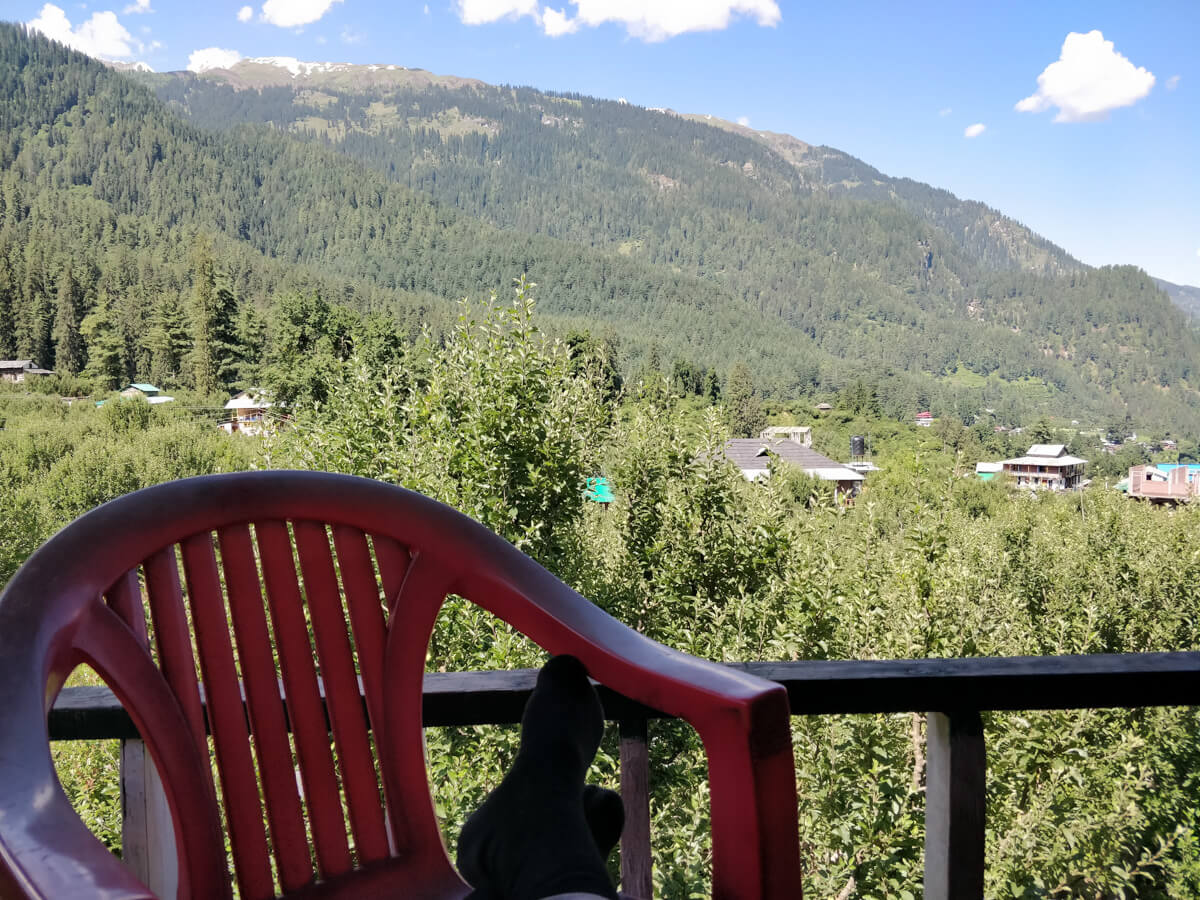 How Homestays Work
As per the 2018 guidelines of the Indian Tourism Ministry, guesthouses where owners reside are homestays and where agents or operators stay are bed and breakfasts.
Homestays are family-run accommodations which are now popular worldwide. I spent about six months in a homestay in Chile and could go back any time(they can be that good).
Families who have extra space and a financial need or a desire to host travelers often set up a part of their house(or a cowshed) to be a homestay. The family (mostly)provides meals, local recommendations, and a chance to immerse yourself in its culture(from which you may want to run away).
As a curious traveler who always wants to know how locals live(and eat), I prefer homestays over hotels and hostels. See, any guest house would provide food, amenities, and suggestions for activities(if you are lucky). But unlike homestays, these commercial accommodations won't take any personal interest in you. You check-in, pay, stay, and leave — which is good if you are looking for an independent, quiet, and functional stay. You know a week of work or a heart-crunching breakup. Whatever suits you.
In a homestay though, as you are in someone's house, sharing their private space and listening to each others' farts, you engage deeper with the people you stay with. You interact with them a lot more.
The family not only sees what time you arrive home but also wakes you up at 5 if you had mentioned a desire for an early walk. Or the host father might call you at 6 am to make sure you have written a Google review(yes it happened.)
Food is shared. Living spaces and kitchens (and sometimes hairy soap bars) might be common. Everyone bathes under the glorious sun in the garden together. Rooms are separate(if you are lucky). In a homestay in Spiti Valley, the girl child of the family stayed with me for the night on my bed. I couldn't sleep all night because of some sort of stranger anxiety(I guess), but these things happen.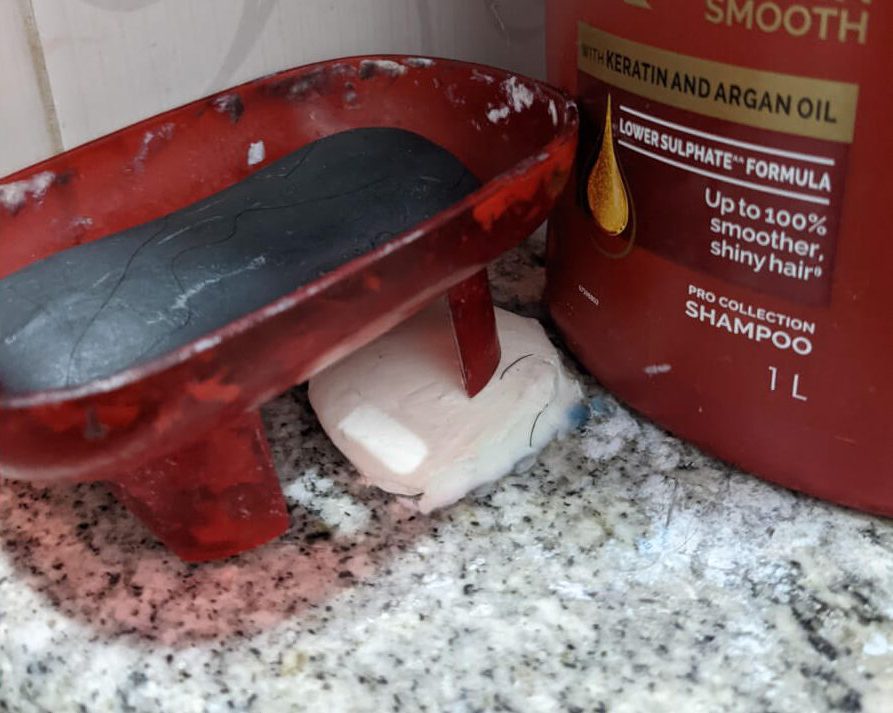 Things are slowly changing though. You would be surprised to find how many homestays of India now solely run for commercial benefits. They feel as impersonal as hotels. The host family doesn't have the time or desire to give you the personalized experienced you chose the stay for.
In a homestay in Bhagsu, a Dharamshala village where I stayed for a month, the host mother had so many guests every year she had no interest in interacting with travelers anymore. We paid and stayed. She charged 10 rupees for a bottle of filter water from her purifier — on top of the 500 rupees we paid for the room every day. But the people who ran the restaurant on the property were kind and cared for us much more than the family did.
Also, Indian homestays in big and small cities and remote locations all differ from each other.
While I felt cared for in one grandma's homestay in Kaza Spiti, I was alienated in another in a smaller village Kibber. The family talked in Spitian. I was sitting right there in the kitchen, cooking rotis with the daughter(the father had suggested I do so), and asking things in Hindi laughing along. But the family would answer me and switch to Spitian immediately. I gave up trying after a while.
In a Bangalore homestay, the grandma reproached us for calling her grandson — the Airbnb host of the stay. We had complained about the dysfunctional shower and geyser over the phone. She was furious we had disturbed him because he has a job(of course, money, food, and coffee shower from the trees for us.) And all the while she had been ignoring our request to fix those things. On the other hand, a Coorg host sent onion pakoras for us while we were working.
Experiences can be vastly apart in the homestays in India.
All experiences so vastly apart.
Use this search box to find home stays in India. Remember to select "homestay" in the property type on the left column of the search results.
Common Issues in India Homestays
Some common issues I've found in the India homestays despite the tariffs are:
rooms may not be clean. I'm talking about the bathrooms, the linen, and the walls more than the floor of the place. Even in some good homestays, the walls are full of cobwebs. Bathrooms are mossy and smelly. The linen is mostly questionable. I detail some of these things in the below points.
heavy water seepage in the walls and rooms would smell(mostly in the countryside). But online photos of the homestay would be perfect. In some houses the seepage and the moulds on the walls was so much we got allergic reactions. You end up getting in contact with all of it via your clothes or just by being in the area. And my partner and I both have strong Indian immune system.
This is how we got one place. And I've not attached the worst photos.
the linen and blankets, especially the blankets, may not have been changed after the last guest or the guests before those. Imagine dust, dog hairs, cobwebs. Go crazy. (This happened in a 7000 rupees per day tariff Elephant Country Homestay in Bangalore, and many more times.)
toilets might be dirty(often). La la la la la la la.
showers usually don't work – bucket bath rocks but nothing can match that hot water goodness flowing from the top. It takes every wrinkle away. On long stays, a shower is even more important.
used and hairy bars of soap might be offered – you can color match the member of the family with the hair on the soap bar.
food might be made as per the spice taste of the owner(mostly the patriarch) and not the guest. Our mouth burned at every breakfast in a two-week-long

Madikeri stay

. We asked aunty if she could please reduce the chilly, and she told us uncle liked spicy. If that's not funny, I don't know what is.
rarely, but possibly, a family member might be fit into the same room as yours
different instructions from various people of the family – Aunty says, don't drink, uncle says, come have whiskey. Then aunty will later scold you in a hushed tone. Now if that's not an experience I don't know what is.
the house rules mentioned online would be changed in person— for example, you may not drink on the balcony or use the kitchen during these hours or please step away from the bathtub.
facilities mentioned online may not be provided. What is this toilet you are talking about? The host of these

Meditative Meadows

in

Dharamshala

asked us to share our private bathroom with another guest: giving him full access to our room at night.
Most people don't do this on purpose(I hope). The host family might have a different cleaning standard from yours and hence the quality mismanagement. And many times these problems happen because the previous guests and their children broke the shower or the geyser or the hot water kettle. Then the hosts decided to not have any of those fancy things else they would be broken again. Travelers should also not hope for a hot shower or freshly washed blankets in rural homestays in India in difficult geographical locations(such as the high Himalayas or remote islands). Then we should be glad to have a roof above our head and food in our bellies.
What I don't like though is why do the hosts mention or check the seven-step quality cleaning and other fancy terms on the property description page if they don't do it. False expectations create a problem later. Some hosts check the toilet paper on Booking. When you ask them for it in person, they are so surprised as if you have asked for a kidney. Or they would have mentioned a stove, but there would be none. No one cooks is the response.
In the middle of all this host-guest tug of war, we polite and decent travelers who have never broken any geyser or shower, get sandwiched. (Stick a fork in me because I'm done.)
Cultural, circumstantial, and experiential differences could be handled by the Indians hosts better by looking thoroughly at their booking page and carefully selecting only the things they can offer. And guests are responsible for creating reasonable demands and taking care of the homestay as their own home.
Despite the obvious patriarchy, invasion of privacy, blurred boundaries, mismanaged expectations, and yellow toilets with drippy taps, travelers who love to understand a place culturally should choose homestays in India over impersonal hotels. You also feel much at home in a homestay(than you would in any other accommodation) — because it is someone's home and the environment is a bit more casual than a usual hotel there.
Also Read: My Essential Travel Resources, Tips, and Packing Guide
A full immersion in food, culture, and local traditions happen in homestays.

Best Things About the Homestays of India
A lot of magical good happens within the walls of homestays.
You will sometimes find yourself in the middle of overpowering love and kindness. Unasked pakora plates and tomato soups might come your way. People will open the gates for you. Someone might offer to carry your backpack. Pickup and drop would be arranged without even asking. Cooking lessons might come free. Aunties would wrap you in their ancestral silk saris. Avocados would be given as a parting away gift.
While my Chilean homestay host mother didn't ask where I had gone if I returned the next morning, Indian host mothers would call up the entire town if I didn't show up by 10-11 pm. A deep culture immersion happens when you stay in Indian homestays. And I like it that way given the communication is decent and nice.
If I see love on the other side, I make sure to pour it back(please you do it, too). I have cooked with host mothers, sympathized with them over a cup of ginger tea when they told me their husbands don't do anything, brought back groceries and food for them from the market, helped them fix things, carried plates back and forth from their house, and instead of complaining about what didn't work, tried figuring out a solution together.
But..
Sometimes despite my efforts, the hosts have been rude or unkindly, or preposterous. People of all kinds live all over the world. The best is to keep your expectations low, see how everything goes, and then reciprocate.
In the Airbnb-cum-homestay I talked about earlier, I was affectionate with the grandma since the beginning. They didn't know we were arriving(miss communication on their end), so we checked-in in an unprepared room.
I told the grandparents they didn't need to worry about anything and we will manage. I was even happy that they spoke Punjabi and told the grandma who then said I could practice with her. When we went out, I asked if she needed anything and bought back tomatoes at her request.
We didn't complain about anything but helped them set up the place. We informed her about the dirty toilet, the broken bathroom light, the moth in the fridge, and the hairy soap she had given us to clean utensils(the soap and scrub had been used to clean the toilet at some point).
But after that initial hour or two of camaraderie, things started to change. She asked me to clean the toilet and the fridge myself. She told me to stop talking about the light and forgot about it. For the hairy soap, she just replaced it. She groaned when we couldn't lock her main gate. She later threw our clothes out of the washing machine on a dirty slab because she wanted to cover the washing machine. It hadn't even been half an hour since the machine stopped.
And this isn't all.
My response? When I realized I can't do anything about the situation, I retracted. I stopped talking to her and didn't ask for anything. I was being friendly and kind so far. But now with the newly introduced distance, she thought before speaking with me. She also created a little distance.
The personal boundaries in Indian homestays are hazy, even invisible at times. On a lot of occasions my (over)friendliness and offer to help has left the impression on the hosts that they could say whatever they liked and could relax on the facilities or the cleaning standards they had promised.
Most homestays don't do or say confusing things to foreign travelers. Because you guys are already confused(it's a joke, guys.) And I wish the domestic travelers good luck(it's a joke for god sake).
Do take some time before you immerse with the family. Open up slowly depending on how they respond to your questions and gestures. You don't have to put yourself completely out there without knowing what would come back in your direction. These are lessons learned from my over-friendliness(and they work in general life, too). You can also read how I have screwed up as a novice backpacker and read some of my backpacking tips.
Of course, some families are loving and run beautiful and comfortable homestays. I'm only saying please don't imagine all homestays of India to be palaces and home owners to be gods who would treat you like god as well(atithi devo bhava). Give and take is common in our homestays.
Homestays shouldn't be looked at as accommodations but as experiences to be had. You would have to be open to sharing a space with the family, of pushing your personal boundaries a bit, and eating what the family eats. But you would also get a chance to feel like a part of an Indian family, a family that would be completely different from your own.
I've figured if the hosts are nice, you would love everything and would want more.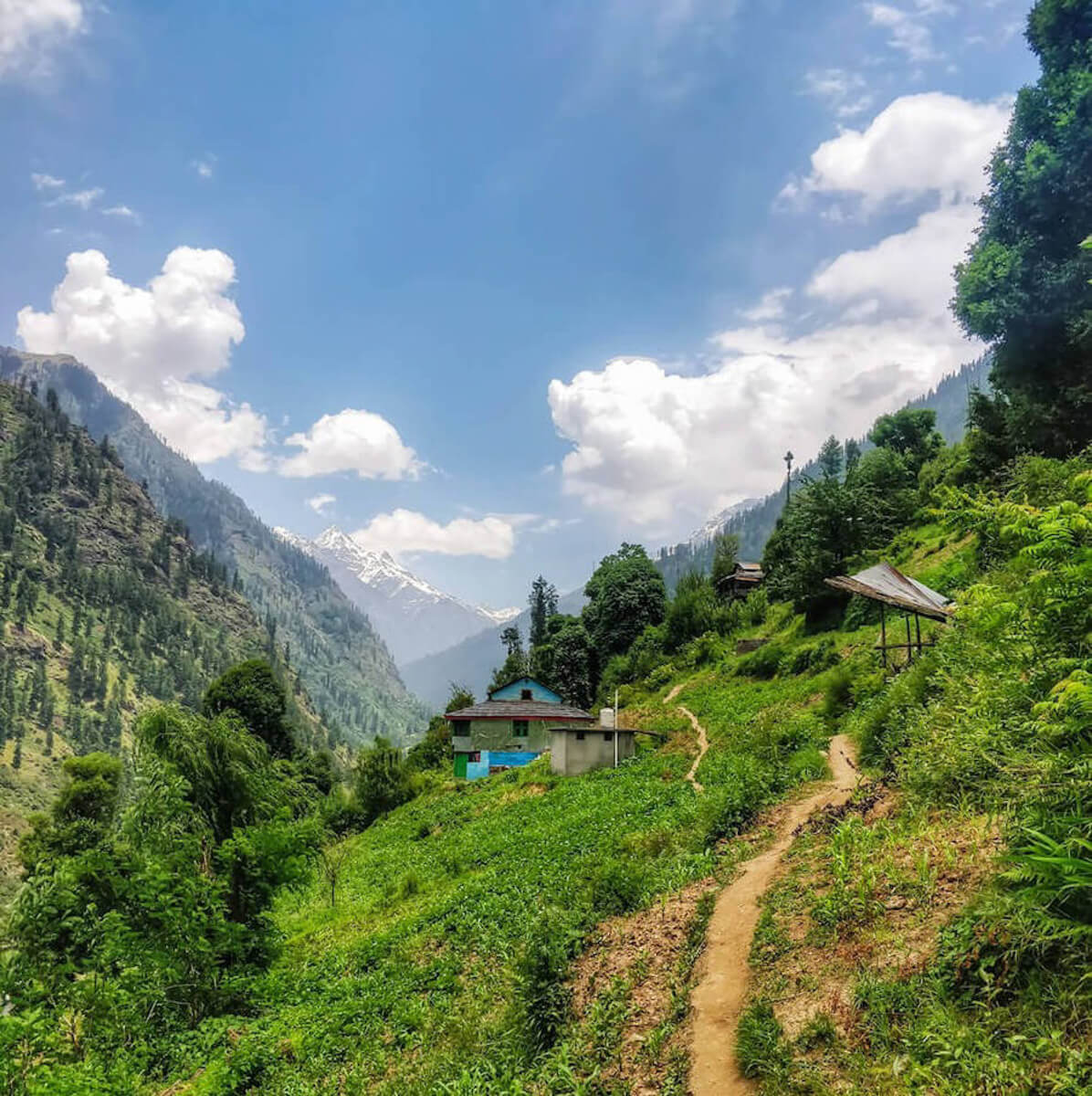 Use this map to search homestays anywhere in India. Don't forget to select property type homestay in the search result. You will see this filter amongst the other filters on the left column.

What about the pricing of homestays in India?
Don't expect budget pricing in Indian homestays, anymore.
If you want a homestay in a city — such as Bangalore, Pune, Sikkim, or Coimbatore — 1500 or 2000 rupees per day($21-28) for a solo traveler or a couple would be considered a good price. Big city homestays aren't budget-friendly.
Rural and village homestays in India charge even higher sometimes. A homestay in a Himachal Pradesh village for 30 days cost me 550 rupees($8) per night per person. That's 16500 INR($228) for a month for a room without any kitchen, cleaning, wifi, toilet paper, laundry, and not even filter water.
Insider Traveler Tip: I used a Lifestraw bottle(comes with an inbuilt filter, awesome for travelers) and filled it with mountain water. I cleaned my room myself. The hotspot worked well. Buying toilet paper in bulk always costs less than buying one or two pieces. Also, never purchase toilet paper from medical stores. Look for a shop that seems to sell all kinds of tissues for a fair price.
Sometimes rural and offbeat homestays in India can be really affordable though. A homestay in another village Kalga in Himachal cost 300 rupees per night per person(approx $4) — toilet and shower on the ground floor and no breakfast. In Madikeri village in Karnataka, one day's tariff for a two-room ground floor house with breakfast was 800 rupees($11) for two guests.
On the other hand, a Chikmagalur homestay(another Western Ghat hill station town like Coorg/Madikeri) charged us 1600 INR($22) for a day for two guests with breakfast. This was the final price even when we stayed for 30 days.
Most homestays were happy with the tariffs they were giving us, except the Madikeri family. The host uncle said homestays charge 2000 rupees per night per person so you should pay me at least 1000 INR per night— this was after we had finalized 8000 INR for 10 days(800 for a day)[So $110 for ten days]. And he had suggested the tariff in the first place. We hadn't even negotiated.
Their house was dirty when we arrived, and the whole time it smelled of seepage. Foot mats and linen had not been cleaned for a long time. There was no hand wash or toilet paper. The house didn't have internet. It was swept once in our fifteen days stay, and the cleaning lady asked us money for that, not so politely either.
As per the cleanliness and maintenance, the house wasn't worth more than 800 rupees. But if the hosts invest a bit in cleaning and maintenance they can charge more. Their place was big, and the host aunty prepared a great breakfast.
Insider tip: We checked in the Madikeri house at night and didn't like the place. It felt dingy, dirty, and everything smelled. The place hadn't been freshly cleaned, and the linen wasn't changed. we almost decided to leave the next morning. But in the morning we saw the greenery around, smiled at the red roses outside our room, and we liked the simplicity of everything. So we decided to keep it clean ourselves and stayed on.
Always judge a place in the morning. At night, nothing seems as is.
Here are the thumb rules for the pricing of homestays.
If you are visiting a well-known tourist location but still rural — be it Coorg or Chikmagalur or Dharamshala — prices would be high. As a lot of tourists travel there, hosts and properties charge as much as they like. They know they will always get guests. If you look on Google Maps, you will find most homestays for 2000 rupees($28) per night. There are places for 800 or 1000($11-14), but then as I've mentioned in this India lodging guide, the compromises are a lot more. And not all 2000 tariff places justify the price.
You have more chances of getting rooms for a few hundred rupees in Himachal more than in any other place. Talk to a few homestays and find the best combination.
In a big touristy or non-touristy city — Bangalore, Delhi, Goa, Hyderabad, Kolkata — prices would be even higher. 2000 rupees per day for a basic room is nothing here. You might still not get a clean and good stay though.
Only in the remote and lesser-known areas, you can expect lower pricing. So Kalga and the villages of Madikeri were budget-friendly. And I'm sure less busy places like some remote destinations in the Northeast and the South would be budget-friendly, too. Or the rural places of Bengal and Gujarat could also come in a limited budget. But I would only be able to tell once I travel extensively in these areas.
1500-2000 Indian rupees ($21-28) per day doesn't feel like a dent in the pocket for one day. But this pricing is not sustainable if the stay is long. My partner and I, or just me alone, live at a place for weeks or months. Then we talk to the host and most people reduce the prices for a long stay.
We book the place for a day or two. Then if we are sure we like the homestay, we extend. Thus the host also knows how cordial(or un-cordial) you are and if they would like to host you.
Booking and HomestaysofIndia(dot com) are two good platforms to find homestays of India. On Booking some homestays are named as homestays but some come as guest houses or bed and breakfasts. You would have to read through the descriptions. Try clearing two bookings in two years or five bookings in two years to become a Genius Level 1 or Level 2. Geniuses get extra discounts, free breakfast, and free room upgrades at properties that sign up for Genius discounts.
HomestayofIndia looks promising. I will use this platform on my upcoming trips to Uttarakhand and Himachal and update this article with my experience.
Use Google maps. It has listings that aren't there on any booking platforms. Zoom in to the area you are interested in and decide as per the rating. Call the place. Make sure to ask the specifics you care about and negotiate if you are staying for the long-term.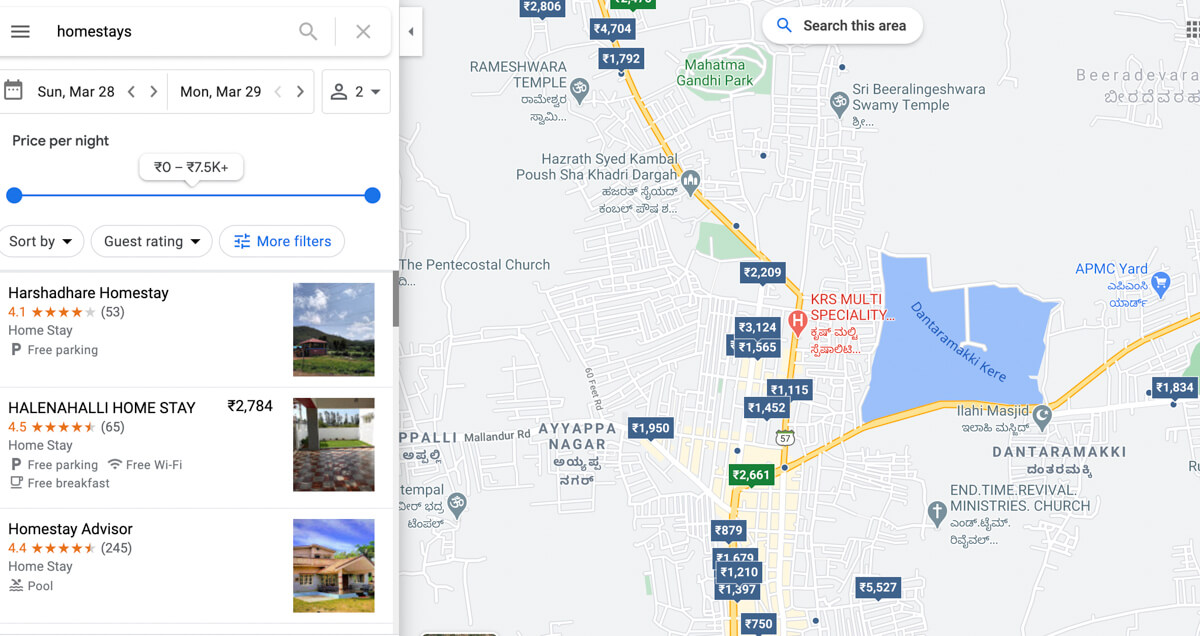 My 12 Best Homestays in India (On Budget) – Responsible and Green Accommodations With Lovely Hosts and Abundant Home Food
I've stayed in homestays from Spiti Valley in the North to Varkala down South. As you can tell, I've both loved and hated homestays in India and outside. Let me take you to some nice homes I enjoyed staying at in India.
1. Gowri Homestay in Hampi (Karnataka, India)
I stayed at the Gowri resort for a week right after the monsoon. The eco-friendly bamboo cottages fringe the lush neon paddy fields. The mountains behind the paddy are good to be looked at and climbed any day. The place had an attached bathroom, a restaurant at the site, and mango trees all around.
I liked my stay at Gowri a lot. A couple of years before the mother of the family used to prepare a homely breakfast. But now as she is not so well, the stay doesn't provide breakfast. The family still lives on the property itself, and they are there to help you out. The staff runs the restaurant and does the cleaning and maintenance.
Gowri homestay isn't located in Hampi, but it is in the outskirts of Hampi in a village called Virupapura Gaddi. I chose it specifically for its village location, bamboo huts, and the fields all around it.
You can go here to see the availability at Gowri and book the place. Or read my detailed reviews on Gowri in my Hampi guide.
Cons: Gowri resort didn't have any internet(if you are thinking long-term stay). And the food in the restaurant wasn't great. But I loved the nearby village eateries where we binged on crispy dosa while looking at the river.
2. Ammaji's homestay in Kaza, Spiti Valley
Ammaji's homestay in Kaza was my favorite of all homestays in Spiti. Ammaji was a sweet, old Spitian woman who knew how to make her guests feel at home. We often sat in her dining hall eating, drinking tea, and talking about our lives. She fed me methi parathas and tea one morning. Over conversations, I got to know how tough her life had been since her husband passed away. But you could see her moving around as if nothing had happened. If I go back to Kaza, I would return to her homestay without any thought. Sadly I don't have any pictures of her place(or maybe I do but just can't find them.) Photos didn't matter because I was really at home in her house.
The tariff was 500 rupees per day($7) without breakfast for one person. I had found the place by walking around in Kaza the evening when I arrived. I've forgotten the name of the homestay but it was right next to the bus stand in a tiny lane opposite the taxi driver's union. You can just ask for Ammaji's homestay or go in the lane opposite the Taxi union and there it is.
It was a simple home with two-three guest rooms. The room was quiet with a double bed and mirror. Toilets (fitted with hot water) are outside.
Cons: You don't really get an amazing view from her rooms nor will you see a vibrant Spitian family life in her house. She is an old woman who lives with her son. But these are not really reasons to not visit her house.
I stayed in other homestays in Spiti, too. I loved another home in Chicham village, but in a house in Demul, I felt pretty alienated. You can read more about my Spiti experience in the linked guide.
Spiti homestays are out of this world. They are mud and brick constructions with outdoor composting squat toilets — Kaza homestays are different and have regular toilets because the water in bathroom pipes doesn't freeze there. The common sitting rooms of all these houses are quite interesting with the floors furnished with colorful rugs and a fire stove in the center of the room to keep it warm.
Homestays in Spiti are managed and run by village unions. Families take turns to host guests. You can look at more homestays in Kaza here. When you travel to other villages from Kaza, you don't need to find a homestay in advance as villages have homestays allocated for the day for travelers.
Browse Kaza homestays on Booking to get an idea.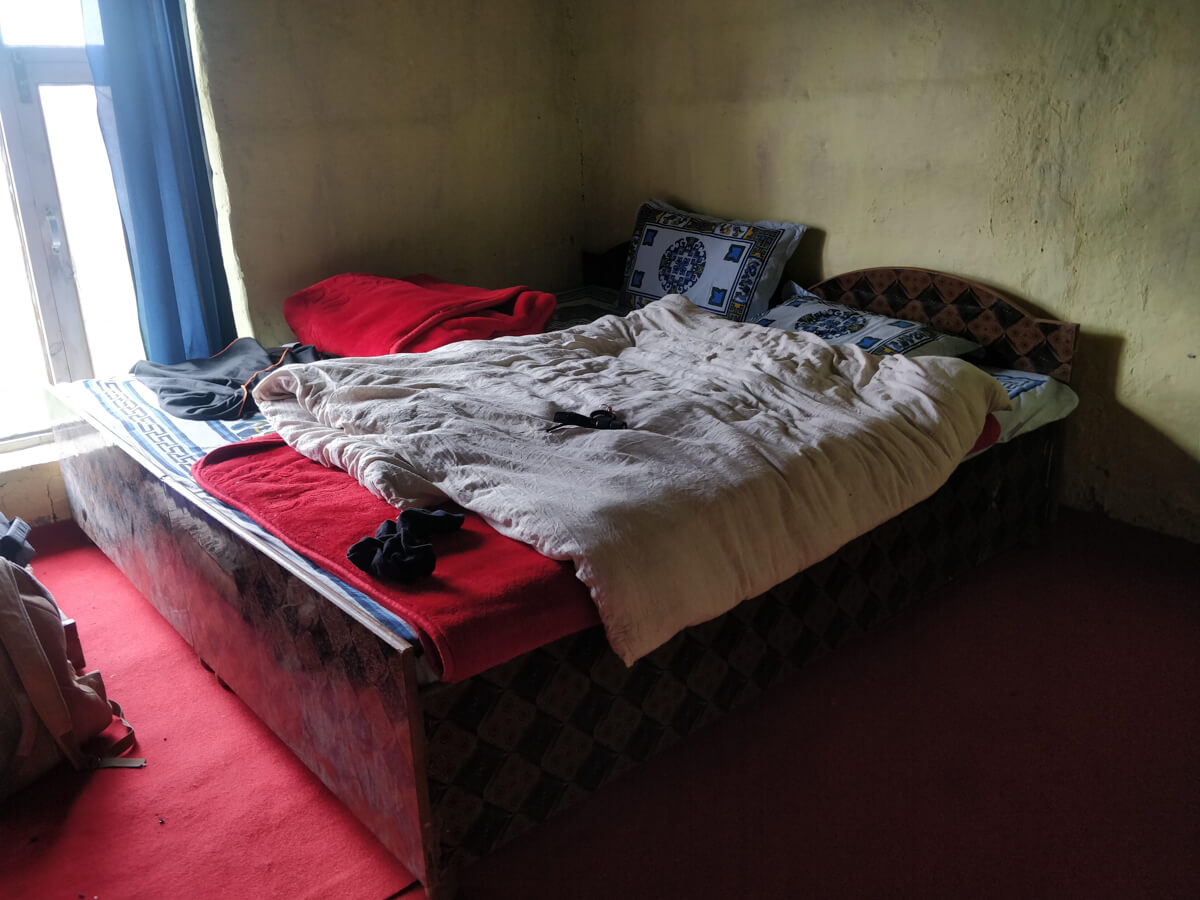 3. Blue Bell Homestay, Chikmagalur, Karnataka
My partner and I stayed at Blue Bell homestay for a month in late 2020. When lockdowns had opened up, we decided to stay in the Karnataka countryside in an isolated manner. (Read my extensive guide on traveling in the pandemic safely, travel restrictions, and why driving is the best way to reach places now.)
Blue Bell homestay is segregated because it is 15-minute drive from Chikmagalur town. It is located in the middle of other coffee plantations. Some of those plantation owners ran homestays too. But the places are far apart from each other. The guests who came to stay in the homestay on weekends stayed on another floor. We had an entire floor to ourselves. Everyone was safely separated.
We found Blue Bell after doing considerable research on Google and Booking. Most places were 2500 INR($34) or so per day. Some homes weren't that nice or clean. Some were in the city et cetera.
Blue Bell was 1600 INR($22) per day with breakfast for us two people. We had toiletries, internet, water, a large garden, an estate to walk around, and a bonfire on request. Rakshit, the young owner, was nice and helpful. His mother was kind. The place was mostly quiet, and you can see the Mullayanagiri peak from the sit-out area.
Oh, the breakfast was awesome and more than enough for a meal. We could ask for hot water when we needed.
What I didn't like and might bother you as well:
Even though we had a long booking (and paid a considerable amount), when Rakshit got a group of guests he would ask us to shift to the ground floor. He told us we would need to shift to the ground floor every weekend. The shifting definitely sounded like a hassle as we live with our stuff spread out when we stay long-term(makes you feel at home).
The upper floor —where we stayed — had two rooms — one was locked and the other one we occupied. He would give the other guests the two rooms. That was okay. But when it was time for us to shift back, he didn't inform us and we kept waiting almost the whole day. There was also miss communication between Rakshit and his mother. I wish he had been more clear about timings.
He didn't shift us to the ground floor later but didn't inform us that we didn't need to shift anymore. He had accommodated the people on the ground floor itself. We planned as if we had to shift and were apprehensive about it. I'm really thankful to him but surely he can be better at communication.
The shower doesn't work at Blue Bell. The internet doesn't work well on the first floor. It was hard to get work done. Even 4G hotspot didn't function well there. We had to sit on the ground floor if there was an important call or anything.
Oh, and Aunty loves to know where you are going and from where you are coming.
Overall — I would be happy to return to Blue Bell anytime with a dongle and more clarity on where we would stay for the entire time. I would recommend Blue Bell to anyone who is visiting Chikmagalur. Oh, you can also get food delivered by Swiggy and Zomato there. Try Fish Land and thank me later.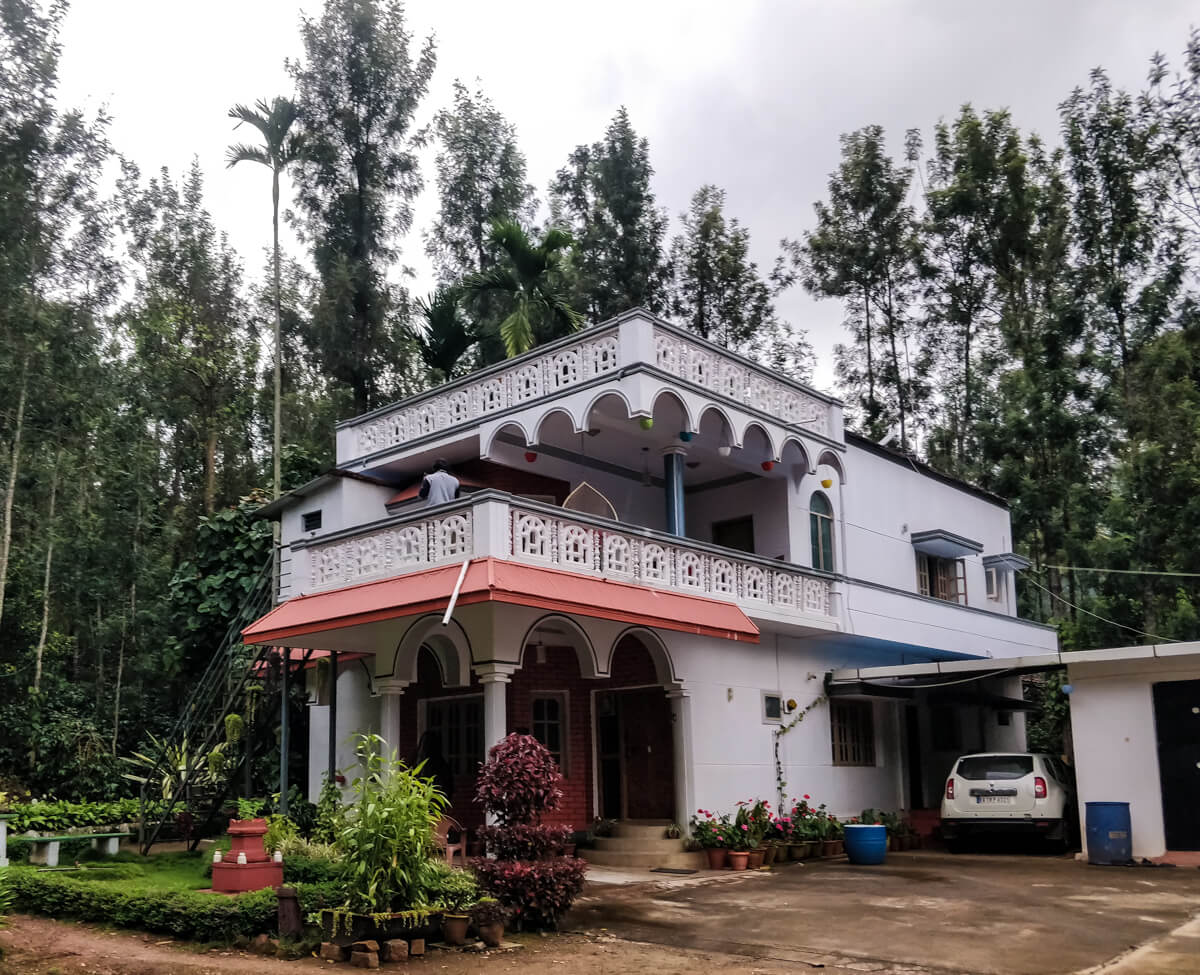 You can look at the availability of Blue Bell here. Or browse other homestays in Chikmagalur on Booking.
Use this Map to find home stays in Chikmagalur, Karnataka. Remember to select "homestay" in the property type on the left column of the search results.
Some of the useful Booking links for homestays in the respective destinations: Pondicherry, Mysore(Karnataka), and Coorg, Karnataka.
4. Forget Me Not Resort, Agonda Beach, Goa
Forget Me Not is marketed as a resort on both Airbnb and Booking, but clearly, it is a homestay. I talk enough about the manager Manveer in my article on Butterfly Beach. He lives on the property with his family, and all of them are extremely cordial. I have stayed at his place twice, once with my partner and once alone. Both times I loved my stay and would go back again any time.
Rooms are of various kinds. I've always taken a simple non-ac, fan room with an attached bathroom. The homestay-cum-resort-beach house is expensive as it's on Agonda beach. But you will get good service, kind staff, and a vibrant atmosphere. Manveer also makes the best seafood and vegetarian curries on the beach. His wife is sweet and always ready to help. And wait until you play with their cats and dogs. Their dog Whiskey accompanied us on every walk to the beach.
Forget Me Not is right on the beach.
See the pictures and book it on Booking here. Or browse more homestays in Goa, South Goa, North Goa, or Maharashtra.
Cons: The main drawback for me here is that Forget Me Not expensive for a long or short stay. The food and drinks and accommodation all come together to be not so budget-friendly. But it is still one of my favorite homestays in Goa.
PS: I don't have pictures, but the ones on Booking are thorough and good enough.
Frankly, I stayed in a hotel in Old Manali. One of the main reasons to do so was that every homestay was full of really loud Israeli travelers. No, I won't sugar coat this. Every old cottage or home I found already had music blasting out of it or big groups being louder than they needed to be.
So I adjusted and picked a quiet hotel room. But I would go back any day now and take one of those wooden cottages with gardens, cows, a cute family around, and the Himalayas in the view.
The prices of these old stays shouldn't be much. Do walk around and find a homestay you like in the lanes of Old Manali.
Go here to browse homestays in Old Manali on Booking. I've selected the homestay filter on the left. But you should also check other properties with your preferable filters because sometimes homestays aren't listed as homestays.

6. The Green House in Bhagsu, Dharamshala
I wasn't a fan of the homestay owner, but the Nepali family who runs the restaurant is sweet, kind, and helpful.
Just a basic room with a toilet and balcony — no internet, no water, no cleaning, rare change of linen, no breakfast — cost 500 rupees per night. The view from the balcony is beautiful. The restaurant at the property serves good food. And the house is at a great location — far from the crowd of Dharamkot, but near the Bhagsu falls and right on the top of the staircase to lower Bhagsu. (My Dharamshala hiking guide should help you out, and I've written in detail on my living experience there in this memoir.)
You can look for other Dharamshala homestays here. Do select the homestay option. Also, make sure you choose a place in the location you want as Dharamshala would show all accommodations in Bhagsu, Dharamkot, and other villages. Use the map feature.
How to find this Green homestay: Look for Evergreen cafe near Roja Cafe and Brahma yoga on Google Maps. Don't get confused as there are two Evergreen cafes.

7. Homestays in Kalga and Manikaran, Parvati Valley
I don't have a particular homestay to praise in this area. But I stayed at a couple in Kalga and visited Manikaran's homestays from outside. The simples home stays of these villages and their natural beauty have attracted me towards them.
Wooden cottages, large gardens, apple orchards, high Himalayan mountain peaks, natural hot water, vibrant flowers and birds, and simple people — this is Kalga and Manikaran village for you. Sorry for combining the two villages but both are close to each other and one shouldn't miss either of the two.
Toilets aren't the best in Kalga, power goes off, the internet is not included in the hotel, and breakfast is separate but still, the homestays of Kalga are some of the best I've ever stayed in. The simplicity of life there and the nature you would be able to lose yourself in makes up for everything. Manikaran is great to stay in because natural hot water flows in every house. And I guarantee this town will slow you down a hundred times at least.
The best way to find homestays in these Parvati Valley villages is by walking around. But do check out some places for your first few days on Booking. Or visit Google Maps and apply the tricks I told you earlier.
Search in the map below for homestays in Kalga and Manikaran.

8. Madawa Row Rooms, Palaniappa Tea Estate, Ooty
I found this tea estate many years ago while looking for homestays near Coonoor(the Nilgiris mountains). Palanaippa tea estate is located right on the edge of three states — Karnataka, Kerala, and Tamil Nadu.
You can only imagine how the estate sprawls along the Nilgiris. There is plenty of wildlife in the estate itself. One fine morning I could see an elephant and her baby just having their breakfast less than 50 meters away from me. Driving a car at night meant running into tonnes of rabbits out for late-night dinner. You would surely run into bison and deer. We could hear elephants trumpeting at night. One night I dreamt an elephant was trying to get in our house, and I woke up. There were some animals on our rooftop. We thought they would try to get in so we literally blocked the door of our room and waited anxiously. In the morning we couldn't stop laughing at ourselves.
I wouldn't mind going back to this estate again(I've already stayed there twice.)
The rooms come with breakfast and other meals, too. You pay for it together. Just go here and book the place. There are plenty of bungalows available for booking, too.
I have met the owners of the estate twice. I'm not sure if they stay on the estate, but they are accessible. The staff, however, takes care of all the billing, food, and cleaning. Oh, I'm ignoring the owner's comment that I should marry my Dutch boyfriend as soon as possible else he might get out of my hands. Well, you know how people think.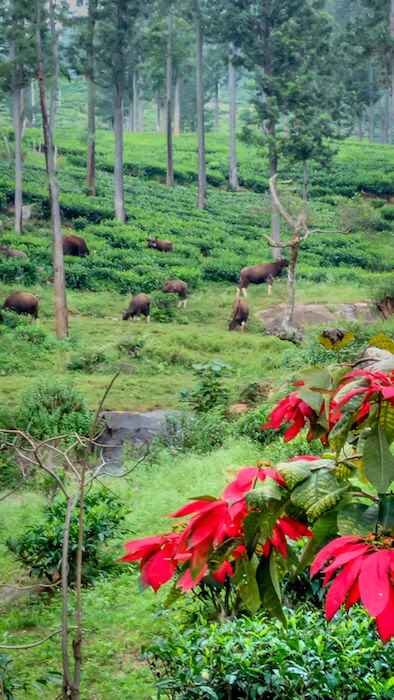 If you don't like this one, then look for homestays in the links: Ooty(Tamil Nadu), Munnar, Kerala Wayanad, Kerala, and general Kerala homes.

9. Sri Ranga homestay in Sharavathi Valley
I also liked this Sri Ranga homestay in Sharavathi Valley near Jog Falls, but it is not accepting bookings anymore. This was the place that had dusty rooms and old, unwashed blankets. But the breakfast was good, the location is amazing, and the people were nice. The terrace of the house is peaceful and has great views.
I would be happy to go back to Sri Ranga with my own set of bedding and a nose that's not allergic to dust(and every flying particle). Just saying.


10. Hospedaria Abrigo De Botelho, Panaji, Goa
Years ago, I stayed at this beautiful boutique homestay with a kind host and a wonderful local breakfast. I cycled around Goa, visited old forts, went to restaurants on my own, returned from bars late at night on scooter taxis, and just had a fabulous stay there. I could only do a lot of things on my own because the host had great recommendations. One night I fell sick and vomited ferociously. In the morning, when I told the host, he was concerned and made it clear that in such a situation I was to call him. Nice guy!
I recommend this homestay with a pleasant nostalgia for being cared for. This place also demonstrated what I was saying about pricing, cleanliness, and service. Here double rooms are a bit more than 2500 INR($35) but you can expect good service, hygiene, and all the promised amenities.
If you try to take such a good room for a lower price in Goa, you would definitely be promised an immaculate place but in reality, it would be far from perfect. And if you go with this price to Mumbai, you will only get an average accommodation.
Check the photos and book Hospedaria Abrigo De Botelho if it fits in your budget. Or search more homestays in Goa, South Goa, and North Goa in the links.
PS: It was so long ago I don't have any photos from there.
Casa Cottage is a heritage property: it is an old British bungalow now turned into a bed and breakfast. Casa Cottage would be in the middle of being a homestay and a guesthouse because the owners and the host don't live on the property. They are nearby though and one of them visits the accommodation every day(the son of the owers, Manik). You can also reach out to Manik over the phone at any time. He is a sweet guy and will try to help you the best he can.
We had a great stay at Casa Cottage. It is near Brigade Road and the best part about the location is that we had access to Cubbon park every day. We made full use of it and spent a lot of time in the park.
The rooms are boutique and well-done. Most of the interiors are wooden, and cleaning is done every day. You would have a lot of greenery around you as Casa cottage has a well-maintained garden. They serve breakfast. Generally, you expect such places to provide great fresh breakfast but I think the pandemic disturbed their schedule. They had bread, butter, freshly made tea and coffee, and idli or plain dosas for breakfast. We got bored of the same breakfast pretty soon(we stayed there for three weeks). Also, the juices weren't fresh but Slice and Maza were being served. I expected better. Maybe by the next time they have a more inspiring breakfast.
The internet mostly works well, and you will get all toiletries. If you are in Bangalore, do consider this place as your stay would be hassle-free.
Go here to book Casa Cottage or browse more homestays in Bangalore.

You can find homestays in some of these popular homestay destinations in India in the links:
New Delhi (a city every domestic traveler has to cross and where most foreign travelers land),
Jaipur (the Pink City of Rajasthan),
Rajasthan (Oh, the beautiful desert of Rajasthan),
Calcutta or Kolkata (I plan to stay in this cultural city for a month at least),
Hyderabad (a chaotic city hard to maneuver but still rich in heritage and culture),
Varanasi (one of the oldest cities in the world),
Andaman Islands (homestays for those who want to save money in these expensive islands),
Sikkim (an entry point to the beautiful Northeast),
and one that interests me a lot, Jharkhand( an Indian state I haven't explored at all, yet).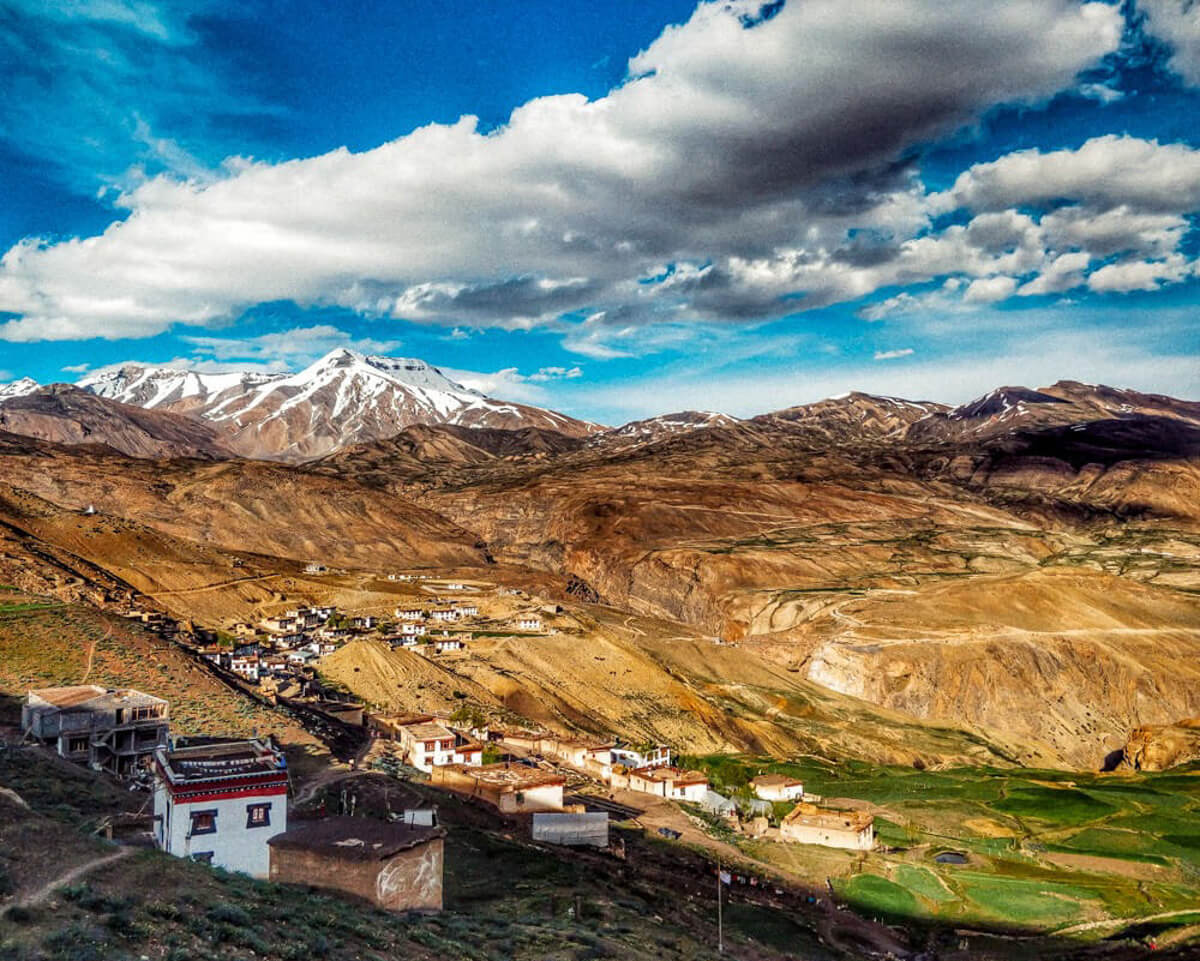 Jokes aside, if not for the homestays and the kind families, we would never be able to see the beautiful places in the world. Of course, hotels can give us a roof above our heads. But can you imagine if the world's remotest and most fragile locations were full of commercial, careless, environmentally detrimental hotels? Well, we would be bound to doom. Aren't we already? I'm thankful to homestays who take care of not only their homes, but of the earth around them and of us wanderlusters. Thankful!
Did you like my guide on homestays of India? Please let me know in the comments your favorite Indian home stay.
*****
Donate to keep me going!
For five years, I've read and wrote day and night to keep On My Canvas - my sustenance and life's focal point - going. Everything here and my weekly newsletter "Looking Inwards" is free. No ads. No sponsorships. If you've had some good moments reading my posts or felt hopeful on a lonely day, please consider making a one-time or a consistent donation. I'll really appreciate it (You can cancel anytime).
*****
Want similar inspiration and ideas in your inbox? Subscribe to my free weekly newsletter "Looking Inwards"!