Update 2022: While updating this guide on March 16, Hyderabad (like all Telangana) had no travel restrictions. In public places wearing masks is still mandatory. More information can be found at Telangana website.
Hyderabad Travel Memoir and Places to visit in Hyderabad in 3 Days
In 2018, I had to travel to Hyderabad twice to get my US visa. Back then I decided against writing a Hyderabad blog.
I didn't want to write down places to visit in Hyderabad in 3 days because Hyderabad city seemed orthodox to my free spirit. Men ogled women freely while their wives roamed around the city fully clad. Hoards of men crowded the corner shops and streets while the women were nowhere to be seen. I even saw an old Muslim man pointing to me and later telling his son my clothes (a pink short-sleeved top and three-fourth jeans) weren't decent. Though every corner of this Nawabi town was fragrant with delicacies, we had a hard time finding vegetarian food in Hyderabad.
Then I decided against my intuition of not writing about Hyderabad places.
As I returned from my Hyderabad, I realized Hyderabad is so much more than the conservative society rallying its heritage streets. Hyderabad is rich with archaic domes, stone-carved mosques, vast lawns, ancient tombs, pigeons, flaky pastries, and robust fort walls. Ginger tea and ageless historic buildings can be found at every corner of Hyderabad. No doubt it is a beautiful town.
Also, men stalked me even in the artistic lanes of Paris, Pushkar, and Delhi. And I wouldn't even get started on how crowded London tubes get.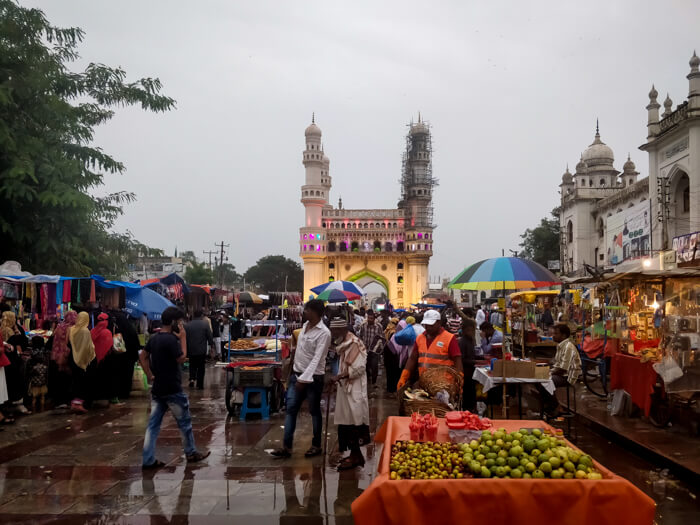 Hyderabad was established by Muhammad Quli Qutb Shah in 1591 at the banks of the Musi River to overcome the water shortage at Golconda fort. Later Hyderabad became the major trade center for pearls and diamonds as the mines of Golconda were rich with both. The lineage of the ten Qutb Shahi rulers then shifted their capital to Hyderabad. The city was won by the Mughals to be eventually lost to the British.
The present-day Hyderabad can be divided into the historic city on the southern side of the Musi River and the New City on the northern banks. Though most of the historical places in Hyderabad are in the old city, this division is hardly visible.
Now Hyderabad bustles like a fortress from the past equipped with modern cars and glass skyscrapers. While on one side the Charminar reminds us of Hyderabad's Nizami heritage, on the other side cabs full of white-collared millennials rush to the Hitech city. Laad Bazaar is as popular as Mega Shopping Mall. While Golconda fort is a weekend's delight for many, the GVK Inox isn't forgotten. KFC might have a long queue, but Shah Ghouse Cafe is even busier.
Hyderabad is an interesting blend of modern and traditional. You can explore this city if you are ready to elbow your way through crowded streets or stand in the queue for as long as it takes. These are just battles you have to win in Hyderabad.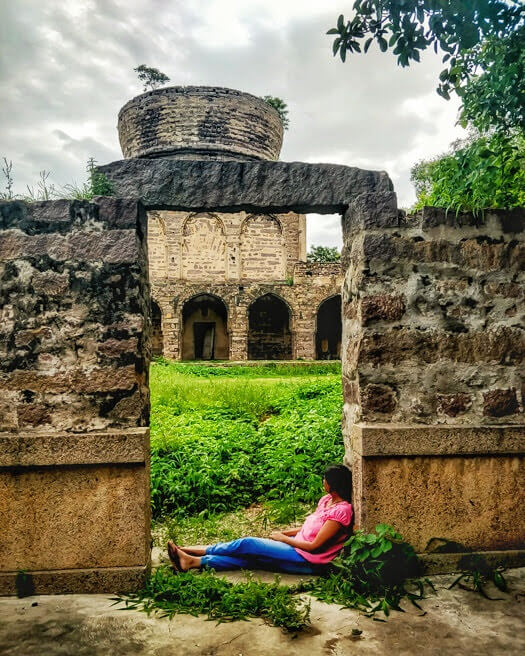 Let's get started on these places to be visited in Hyderabad.
Also read: Things to do in Hampi – Another South-Indian archaeological wonder.
What does this Hyderabad travel guide contain?
My Hyderabad itinerary for 3 days
My Hyderabad itinerary for 3 days
Day 1 – Start your first day in Hyderabad by visiting Purani Haveli and Chowmallah Palace. Go to Charminar, Laad Bazaar, and Mecca Masjid in the evening. These are some of the most beautiful Hyderabad sites.
Day 2 – On your second day in Hyderabad, visit the Qutb Shahi tombs, the Taramati Baradari near the tombs, Golconda Fort, and Falaknuma Palace. These places would take almost all day.
Day 3 – On day three in Hyderabad, go to the Shilparamam handicraft center. (You can also go to Birla Mandir.) Then I suggest walking around the Charminar again and wandering in the labyrinth of Hyderabadi streets. Who knows what you might find!
For food options for your 3-day Hyderabad visit, look at my food guide towards the end of the article.
Related read: Coorg — a beautiful mountain town to visit near Bangalore
Day 1 in Hyderabad
Admire the grandeur of Chowmallah Palace
Visiting Chowmallah palace could be a clichéd thing to do in Hyderabad. But we had to see the grandeur of the ruling Nizams, who lived in the Chowmallah palace from the 1700s until the partition. The Nizam kings hosted their royal guests in the palace too. Now the mansion is a public museum inaugurated by the eighth Nizam in 2005.
Chowmallah means four palaces in Urdu. The four palaces were for dance and entertainment, living, and for the best views of Hyderabad. Large fountains and lawns surround the mahals from all sides. Pigeons freely splashed around in the fountains and cats drooled over the birds.
The exotic cars of the Nizams are displayed in the palace. The museum also has glass chandeliers, weapons, porcelain, jewelry, and many more royal artifacts.
Related Read: Angkor Wat Temple – A Hindu temple in Cambodia whose grandeur beckons visitors from around the world
Timings: 10 am to 5 pm. Closed on Friday.
Purani Haveli
Purani Haveli (literally old mansion) was the third Nizam Sikandar Jah's residence until he moved to Chowmallah palace. After his move, the mansion started being called old/previous (purani) then.
Purani Haveli is a mix of both Indian and Baroque designs. The haveli has large rooms full of antique furniture, mosaic floors, and it also hosts the Nizam's museum.
A couple of hours are needed to fully experience this beautiful palace.
Timings: 10 am to 5 pm. Friday Closed.
Charminar and the Lad Bazaar— Best places to visit in Hyderabad in evening
We got a chance to see the Charminar on Indian Independence Day. The minar was lit with freedom lights and stood glorious in the crowd of the Lad Bazaar.
As per Wikipedia and the "Days of the Beloved" book, Qutb Shah constructed the Charminar on the very spot where he saw his future queen the first time. While laying the foundation of Charminar in 1589, Qutub Shah, an early poet of Urdu, recited this prayer in Dakhini Urdu,
میرا شہر لوگوں سے مامور کر
راكهيو جوتو دريا میں مچھلی جيسے
Which reads like this in English,
O Lord, fill this city of mine with people,
as you filled the river with fishes.
Charminar — literally four towers — stands on four ornate towers. Climb up one of these minarets to see the Lad bazaar and the web of streets constituting the old city of Hyderabad.
Lad Bazaar gets its name from the lacquer (literally lad) bangles sold in the market. In Lad Bazaar, you would be surrounded by embroidered clothes, colorful zari dupattas, gold, silver, and artificial jewelry, pearls, hand-stitched footwear, paintings, and colorful umbrellas. Stalls of Nizami food, sugarcane juice, fruits, chaats, and shawarmas are strewn around the market as well.
At night, thousands of lights are lit in the market. Hundreds of people head to the market to eat, buy a pair of dazzling earrings, drink sweet and fresh sugar cane juice, or cool down with some kulfi. To each its own.
While at the Charminar, get a cup of Irani chai from the cafe behind the Charminar. Sip it while watching the old and new Hyderabad tuning into a rhythm together.
Timings: All day long.
Tips for visiting: The bazaar is always crowded. I liked the bazaar in the evenings when the air was cooler, people were more peaceful, and lights made the place special.
A tour with a local guide – If you don't want to visit by yourself, here is a GetYourGuide tour that will take you through Golconda fort, Qutb tombs, Char Minar, Salar Jung Museum, and Chowmallah palace with a local guide.
Makkah Masjid or Mecca Masjid 
Lala Deen Dayal [Public domain], via Wikimedia Commons
I saw this grand mosque from the outside as only Muslim males are allowed inside.
Built by the fifth Qutb ruler Muhammad Quli Qutb Shah, the mosque is fitted with bricks made from Mecca soil. The soil was brought from the city of Mecca on Qutb's order.
The arched facades carved from granite and the tall minarets make this masjid beautiful.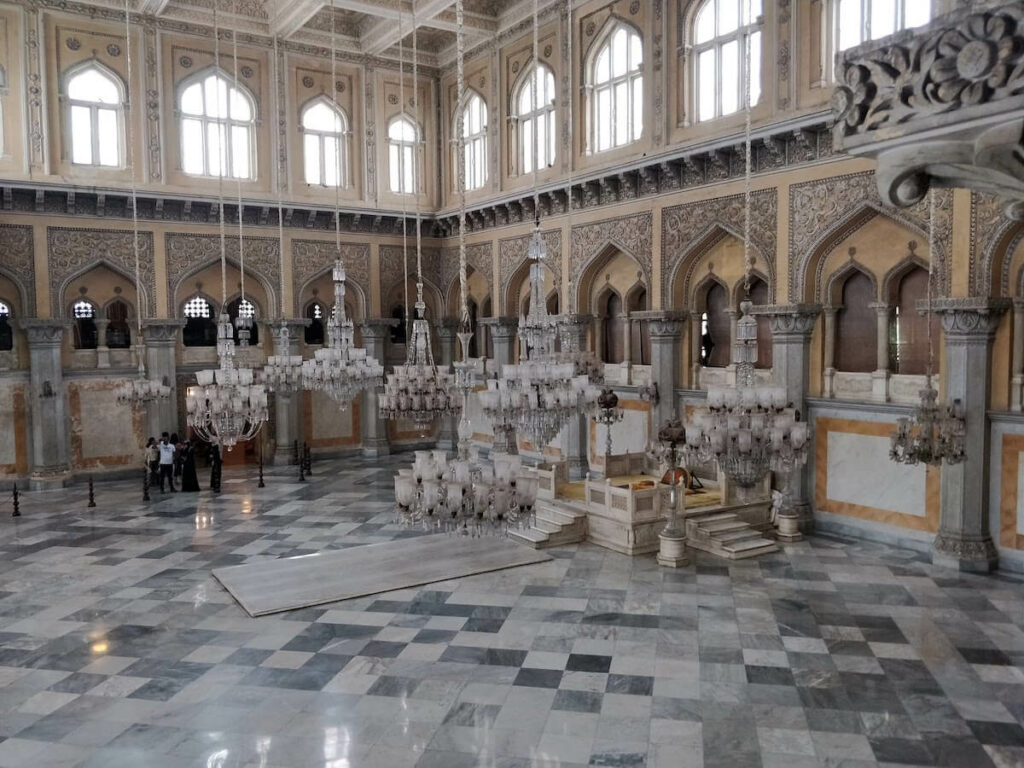 Places in Hyderabad for Your Day 2
Get a bird's eye view of Hyderabad from the Golconda Fort
The fascinating part of the Golconda Fort is the three layers of walls each 17-35 feet thick. Even Aurangzeb wasn't able to penetrate these walls. Thus Golconda is also known as the impregnable fort.
Not many people know that the famous diamond Kohinoor was mined from the Golconda region. Golconda diamonds proved lucky for the Qutub Shahis, who ruled Hyderabad up to 1687, and the Nizams, who ruled the city until the independence. Post-independence, the princely state of Hyderabad was integrated with India.
We went to the fort at 9 am to avoid the heat, but the Nawabi sun glowed us on so hard we were sweating in no time. Though the fort promises to be plastic-free, vendors freely sold small plastic bags of water.
One of the fort's buildings was closed for renovation. We climbed up a temple and then to the canons kept at the top of the fort. One can see the shining city, Qutub tombs, the Charminar, and the sinewy walls of the forts from the top.
Fort timings: 9 am to 5.30 pm daily. A one-hour music and lights show is held at Golconda every day at 6.30 pm. The show is held in English, Hindi, and Telugu with a voice-over by Amitabh Bachchan.
Tips: The fort would be crowded on holidays, so try going on a weekday. Make sure you take water and perhaps fruits which you can enjoy in a shaded corner later. Walk at your pace and don't miss the intricate Persian carvings that were specially made to keep the fort ventilated at all times.
Relax in the Qutub Shahi Tombs — One of the best historical monuments in Hyderabad
This might sound strange. But the Shahi Qutub tombs finally offered us a peaceful and cool shelter we were desperately searching for.
The seven tombs of the Qutb Shahi dynasty stand in the middle of a landscaped garden known as Ibrahim Bagh. The intricately carved domes shined in the golden sunlight, while pigeons flew about the domes to make the entire scene quite medieval.
The large gardens were perfect to spend a scorching Hyderabad afternoon. When we got tired of sitting in the courtyard, we walked around the dense garden. We caught butterflies, listened to the chatty parrots, and stalked the cuckoo as she sang and flitted between trees. We also found some muddy paths in between the dense foliage; if we were a bit more silent, we could have seen the family of animals that scurried away as soon as we stumbled on their path.
We spend around three to four hours in these ornamented tombs. Eating guavas and watching the sky turn orange behind the serene domes made the day even more special.
Timings: 9.30 am to 4.30 pm every day
Tips: Bring water and a picnic mat.
You can either walk from the Golconda fort to the tombs or the other way around if you want to see the music show in the fort later.
Taramati Baradari
Chiranjeevi Ranga [CC0], via Wikimedia Commons
About 4 km from Golconda Fort and 13 km from Charminar, Taramati Baradari was constructed as a Sarai or a resting house for travelers in Ibrahim Bagh, our favorite tombs garden.
While many legends are connected to this arched sarai, my favorite is the one in which Abdullah Qutb Shah used to listen to Taramati, a court singer. She sang in the resthouse while the shah listened from the Golconda fort.
Go here while visiting the Qutb Shahi tombs. Taramati Baradari's cross ventilation is known to be one of the best.
Timings: 11 am to 6 pm
Falaknuma Palace
Originally the residence of the Nizam, this palace is now turned into a grand hotel by the Taj groups. The hotel isn't open to the public.
You can book Falaknama Palace tours at the official Telangana tourism website.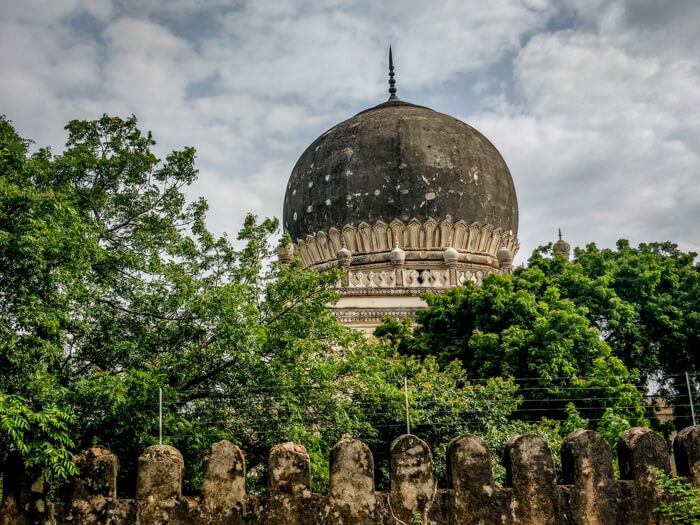 Day 3 in Hyderabad
Shilparamam — One of the best things to do in Hyderabad if you love handicrafts and local art
Located near the Hitec city of Hyderabad, Shilparamam village is about 9 km from Golconda fort. Similar to Dilli Haat, Shilparamam also flaunts handmade and traditional items by artisans from all over India.
When you have had enough of history and architecture, do consider taking a taxi to this village. Once at Shilparamam, eat at the local stalls and browse through handmade artifacts.
These were my best places in Hyderabad.
I also went to Hussain Sagar, for I stayed nearby the lake, but the enormous amounts of plastic thrown around the lake disappointed me.
Timings: 10:30 am to 8:30 pm
Another possible place to see in Hyderabad,
Birla Mandir
The grand Birla Mandir of Hyderabad stands on the top of a hill known as Kala pahaad. Like other Birla temples, Hyderabad Birla temple is also made of white marble.
Stories say that about 2000 tonnes of white marble were brought to build this temple. If you have seen other Birla temples and are short on time in Hyderabad, you can skip this one.
Timings: 7 am – 12 pm and from 3 – 9 pm.
Places to be visited in Hyderabad in 1 day
If you only have one day in Hyderabad, visit Golconda Fort, Qutub Shahi Tombs, stop by Taramati Baradari in the gardens there, and Chowmallah palace. Towards the end of the day, go see the Charminar and the Lad Bazaar. While walking around the Charminar you can see the Mecca masjid from outside in the evening light.
Places to visit in Hyderabad in 2 days or if you are spending a weekend in Hyderabad.
For visiting Hyderabad for two days, just follow the first two days itinerary from above.
Day 1 – Go to Purani Haveli and Chowmallah Palace during the day. See the Charminar, Laad Bazaar, and Mecca Masjid in the evening.
Day 2 – On your last day in Hyderabad, visit the Qutb Shahi tombs, the Taramati Baradari near the tombs, and Golconda Fort.
Hyderabad Food Guide for your 3 days in Hyderabad
Though Hyderabad is famous for the rich Mughlai and Nizami food, I could only taste so much as I had recently quit eating meat. Hyderabadi biryani joints and Mughlai places don't offer much for a vegetarian.
Every time we were hungry, we had to walk for a long time. Still, we could only find chicken and mutton biryani joints or keema naan and seekh kebab kiosks. Swarms of men drank Irani chai outside shabby restaurants. Of course, we sat in some of those places, if not to eat, but to drink chai under dusty fans.
And many times we had to open the Zomato app to find a vegetarian place.
Putting here a list of vegetarian eateries in Hyderabad and my honest experience there.
Lamakaans, near GKV Inox in Banjara Hills. (budget-friendly and good)
Lamakaans was a rustic community place that encouraged arts, theatre, social work, and entrepreneurship. Big Gulmohar trees overshadowed the cafe's huge mud complex in which many stacks of chairs were kept; Entrepreneurs, artists, and college friends, solo or in big groups, spread the chairs and drank tea and ate samosas.
We gorged on the tasty khatti dal, aloo bonda, rice, samosa, chilly bhajji along with some nimbu pani, and tea under a tree. Prices are affordable. Food is delicious.
The Jewels of Nizam (in Golconda hotel) (Lavish and okay)
Here we enjoyed naan, khameeri roti, buttermilk, and two Mughlai sabjis while two maestros played classical tabla and sitar.
Though the prices didn't match the service or the food, we had a comfortable time there.
Santhosh's family Dhaba's (Below Average)
This restaurant's name popped up in Zomato when we looked for a vegetarian restaurant, but the place was anything but a dhaba. The methi Chaman and mushroom curries swam in golden oil. As I tilted the plate to serve the gravy to my friend, the oil dripped on my hand and the tablecloth. The toilets were broken and dirty.
GKV Inox Foodcourt (affordable and good)
On my second trip to Hyderabad, we watched two movies back-to-back and ate at the GKV Inox food court. In Hyderabad ticket prices have an upper limit. So we could finally watch some movies at an affordable price.
We ate a vegetarian uruvachari biryani, noodles, and gobhi Manchurian at the Andhra stall. The biryani was delicious, like all other Andhra food.
Chutneys, a popular South Indian joint (Affordable and good)
We ordered breakfast from there. The dosas and chutneys were delicious.
Cafes and bakeries were in abundance in Hyderabad city, but we couldn't eat at most non-vegetarian places. Like the favorite Shah Ghouse cafe which we skipped after seeing the menu. We did eat local delicacies such as veg puff, mushroom patty, cream rolls, and potato patty at small corner bakeries.
We had our last dinner at a South Indian street food joint in Lad bazaar and drank sugarcane juice. Oh! the sweet sugarcane! Do try when in Hyderabad.
Also Read: If you are a foodie, go to Penang. Read my Penang Food Guide to know what to eat in Penang.

What are the best places to stay in Hyderabad?
Also See: My Best Bangalore hotels, tips to get a good homestay in India, finding good accommodations in India, and isolated guesthouses in Coorg, Karnataka
If you try to find accommodation near the must-see places in Hyderabad, you will never find a hotel. Because the places to see are scattered and so are the good hotels. I'm listing some good guest houses below.
Shobha serviced apartments – You should consider staying at Shobha apartments if you are going to Hyderabad for a US visa.
Shobha serviced apartments are right opposite the US consulate office. You can walk to the consulate via the back gate of the apartments. I stayed here twice. The breakfast was okay, but the manager and the staff were really helpful and kind. The place appears to be closed now.
Lavish properties in Hyderabad
Hotel Hyatt Hyderabad Gachibowli – Hyatt is for those who love lavish hotels. Hyderabad Hyatt isn't as expensive as other Hyatts. The hotel has a spa and swimming pool. Also, do check out the views from the rooms. Go here to see the pictures and decide.
CITADEL Hotel By Vinnca – Citadel is a good option near the Hyderabad airport. It has a skyline view room that might allure you. Please see the reviews and availability of Citadel here.
Lemon Tree Hotel, Banjara Hills, Hyderabad – Lemon Tree has been reviewed highly for its customer service. The hotel has a large gym and a beautifully lit restaurant. Check out the prices of Lemon Tree on this page.
Budget-friendly accommodations in Hyderabad
Elysium Inn Backpacker – Elysium is an affordable hostel for backpackers, friends, and couples. The hostel has dorms and private rooms. The reviews suggest the staff is friendly and helpful. Go here to see the prices and book Elysium.
Beehive Commune Hyderabad – Beehive only offers dorms. The reviews are great. The guesthouse has a shared kitchen and wifi. Beehive has high ratings on cleanliness. You can see the hostel's pictures and pricing here.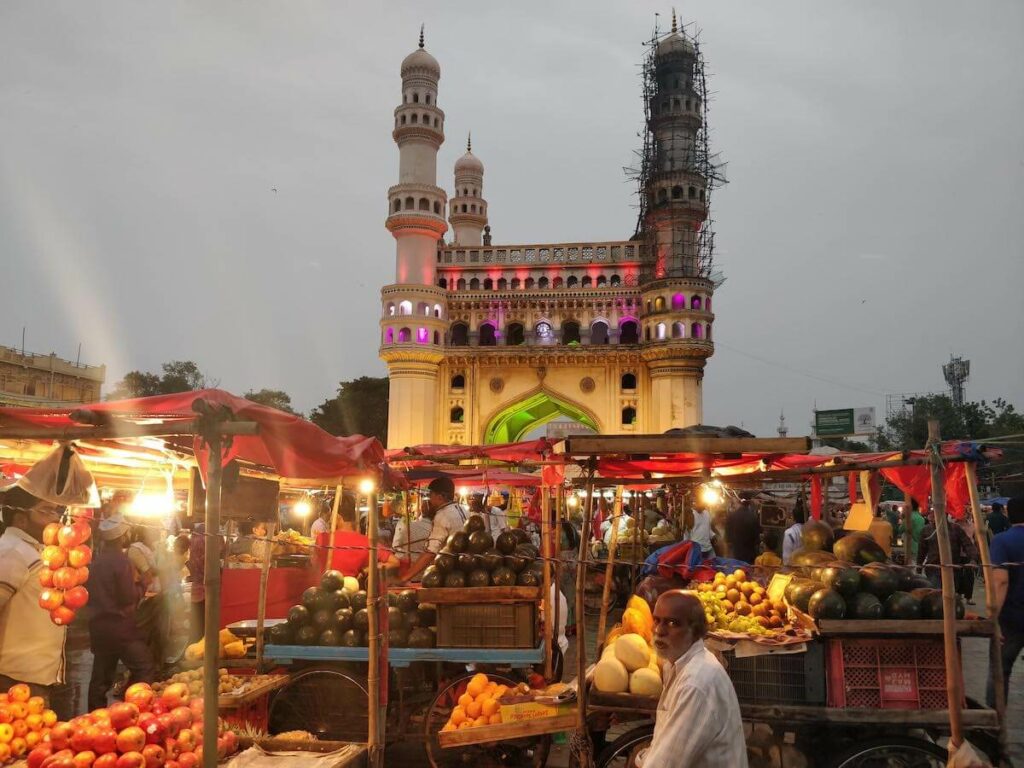 What is the best time to travel in Hyderabad?
Hyderabad would be scorching in the summer season from April to September. Plan your Hyderabad visit outside these months.
Also Read: US Tourist Visa Application process for Indians
Insider tips for your Hyderabad trip
Internet was a little slow in Hyderabad.
We had trouble finding toilet paper. So please take yours.
Tap water in Hyderabad isn't drinkable. I use the Lifestraw bottle that filters water on the go. Just fill from anywhere and let the filter work.
If you are near Charminar and can't find a toilet, go to the quaint CCD in the Lad bazaar.
Books to Read on Hyderabad,
The Deodis of Hyderabad a Lost Heritage by Rani Sharma – In the nineteenth and the early twentieth centuries, the nobles of the princely state of Hyderabad lived in palatial residences known as deodis, some 1200 of which once existed in the Old City of Hyderabad. Almost all of these traditional homes have been demolished in recent years, leaving little trace of a now vanished lifestyle. The Deodis of Hyderabad takes you on an evocative journey into the past as the author describes some of the prominent deodis and the lives of the grand nobles who lived in them. (I haven't read this one solely because of lack of time. But this book is on my list.)
Golconda Bagnagar Hyderabad: Rise and Fall of a Global Metropolis in Medieval India – In the 1970s when archaeologists began digging around the Golconda Fort near Hyderabad in southern India, they discovered a treasure. Buried beneath a layer of ash and debris were a distillery, Syrian wine jars, bangles, ivory chess pieces and fragments of jewellery. The archaeologists dated it to the time of the first ruler of the Golconda Kingdom Sultan Quli Qutb-ul-Mulk. The archaeological treasure dated the ash and debris to the last siege of Golconda Fort by the Mughal emperor Aurangzeb Alamgir in 1687. ( Though the reviews of this book are mixed, it tells a lot of history of Hyderabad. Consider this one as more of an academic or research read.)
Heritage of Hyderabad by Madhu Vottrey – I'm currently reading this book and having a lot of fun with it. Madhu tells stories of Hyderabad in a narrative suited for children, which is why it works with most adults, too. The book comes along with activities to do in Hyderabad and also a lot of illustrations done by school children. What fun!
Hyderabad A Memory of Taste by Mala Gole and Elizabeth Adams – This one is for food lovers. The book celebrates the heritage cuisine of Hyderabad through detailed recipes and original illustrations.
Did you like my guide to visiting places in Hyderabad? Please let me know in the comments.
Like my post? Please pin it!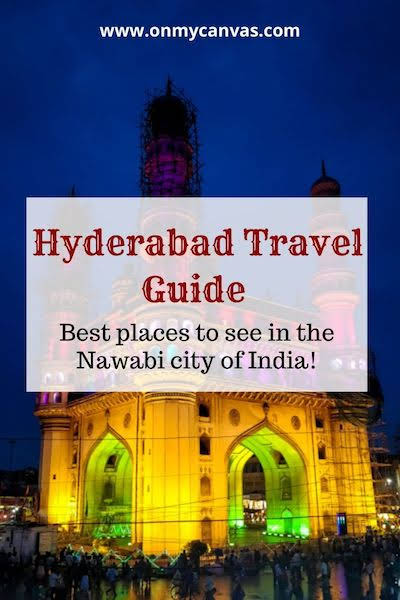 *****
Donate to keep me going!
For five years, I've read and wrote day and night to keep On My Canvas - my sustenance and life's focal point - going. Everything here and my weekly newsletter "Looking Inwards" is free. No ads. No sponsorships. If you've had some good moments reading my posts or felt hopeful on a lonely day, please consider making a one-time or a consistent donation. I'll really appreciate it (You can cancel anytime).
*****
Want similar inspiration and ideas in your inbox? Subscribe to my free weekly newsletter "Looking Inwards"!