Some of the Best Bangalore Hotels — From Personal Experience
As my partner and I left our rooftop terrace in Bangalore to start our indefinite road trip, we started searching for budget hotels in Bangalore. Our car was still not delivered (more on the chaos in a separate piece), and we had to stick around the city a bit longer.
The most challenging thing about finding a good guest house in Bangalore is that in big cities hotels are expensive, even if poorly maintained. I have run into a lot of guesthouse owners who overestimate their property's worth and charge exorbitantly. They calculate their property's per day rent in terms of how much the building values but not on the services they provide and the current state of the hotel or homestay.
I stayed at a homestay in Bangalore where we almost went crazy fixing the place and handling the hosts. You can read more about this Bangalore Airbnb experience in my family-run guesthouses of India guide. At times, some of the stays at Bangalore were so dirty we checked out from the place the same day.
This Indian accommodations guide has extensive write-ups on my hotel experience in India.
And I understand the hosts' apprehensions about Indian guests. A lot of us are notorious for making the place dirty, breaking others' stuff, being rude and noisy, and not caring at all. But if we look beyond, the Bangalore hotel industry is run by staff most of whom aren't trained in the hospitality industry. Well, that's a problem in all of India I guess.
In a big city like Bangalore, I have realized it makes more sense to stay at a known or reputed hotel. Smaller and cheaper hotels in Bangalore offer poor services (maybe because their costs are high but can't be recovered in budget pricing? or they just don't know any better). And star-rated hotels in Bengaluru have to function well because they cater to a wide audience. Homestays in Bangalore are a gamble.
In the above two guides, you will read me discussing more on such Indian hospitality problems. Today I want to write about these three guesthouses-cum-best-hotels in Bangalore I loved staying at. I booked them on different occasions and here sharing my honest reviews.
Please note: This is not a sponsored post by any of these accommodations in Bangalore. They don't even know I'm writing about them.
1. Koramangala 4 Season Suites, Bangalore — One of My Best Hotels in Bangalore
PricingGiven the services and facilities provided by 4 Season, I would say the property is a budget stay in Bangalore. The price is worth it if you are more than two as all the room types in the hotel are spacious and can be shared comfortably.
I found Koramangala 4 Season Suites while looking for an affordable short stay in Bangalore where we could host an event.
We went around Bangalore checking out Airbnbs, empty apartments, a set of rooms, serviced apartments, and big hotels. Most places to stay in Bangalore and the city's serviced apartments didn't allow parties. Airbnb hosts were charging for the place per person. So even if we rent the whole accommodation the owners wanted to know the number of people attending the event. We were still not sure who all will show up and didn't want to have the Airbnb staff come and count our guests at night.
Other stays in Bangalore had caretakers living inside so the space wasn't private. Many places were poorly lit or had dirty vicinities like an empty plot full of the garbage next to the building. But none of these limitations reflected on the pricing. Some of the event hotels charged about 50,000 rupees at least for a night.
While browsing through the best Bangalore hotels on Booking, I came across 4 Season Suites. I didn't like the name at all. But when we went to check out this hotel stay in Bangalore Koramangala — one of the prime localities of Bangalore — we instantly liked the location, apartments, and the hotel staff.
4 Season Suites Koramangala has king rooms, terrace rooms, simple rooms, studios, penthouses, spa rooms, two-bedroom, and three-bedroom apartments. When we went to see, the two-bedroom apartment we ended up booking had the previous guests inside. The family had reserved the place for a wedding. Their guests were staying there, and they held events too. The guests told us they didn't have any problem at the hotel, and the staff was extremely helpful.
After checking out many more regular and (even 5 star) hotels in Bengaluru, we booked the two-bedroom apartment in 4 Season Suites. In that 1200 square feet apartment, ten adults could sleep at a time. That was more than the number of beds we needed.
The apartment had two large rooms, a big common hall enough to accommodate at least twenty-five people, attached bathrooms in both the rooms, television (which we didn't need), refrigerator, table, desk setups, and sofa sets. Lifts worked well.
The stay was perfect. The staff always brought our stuff from our car. They were ready to help with anything. The apartment was clean, and the linen was fresh. Bathrooms had well-functioning equipment and had been cleaned thoroughly. We could order tea any time. They had put filter water in the apartment. The beds were super comfortable and clean.
I don't remember seeing the induction stove or the microwave mentioned in the hotel's description, but I'm sure if the guests call the staff will provide the details.
The apartment was well-oriented and had enough light. The furniture was placed intelligently, so even if a lot of people sat in the living, one wouldn't feel crowded.
The 4 Season Suites Hotel in Bengaluru is located on the main 60 Feet Road. Guests will need to walk only a few minutes to have access to everything. Swiggy and Zomato online food delivery services delivered to the place. At the time of our stay, 60 Feet Road in front was all dug up. And we had to drive around to park in the hotel's parking. But now (I think) the hotel wouldn't have this problem.
4 Season Suites is one of the best places to stay in Bangalore, and I recommend it blindly. It is not an aesthetic accommodation, but the hotel is clean, comfortable, courteous, and accessible, some basic things most lodges in Bangalore lack. I felt as if I was at a homestay.
Apart from apartments, the property has various rooms. And though I didn't stay in any of the rooms, I'm sure they will be good too.
Go here to book Koramangala 4 Seasons Suites for your event or gathering or staycation or just for a transition through Bangalore.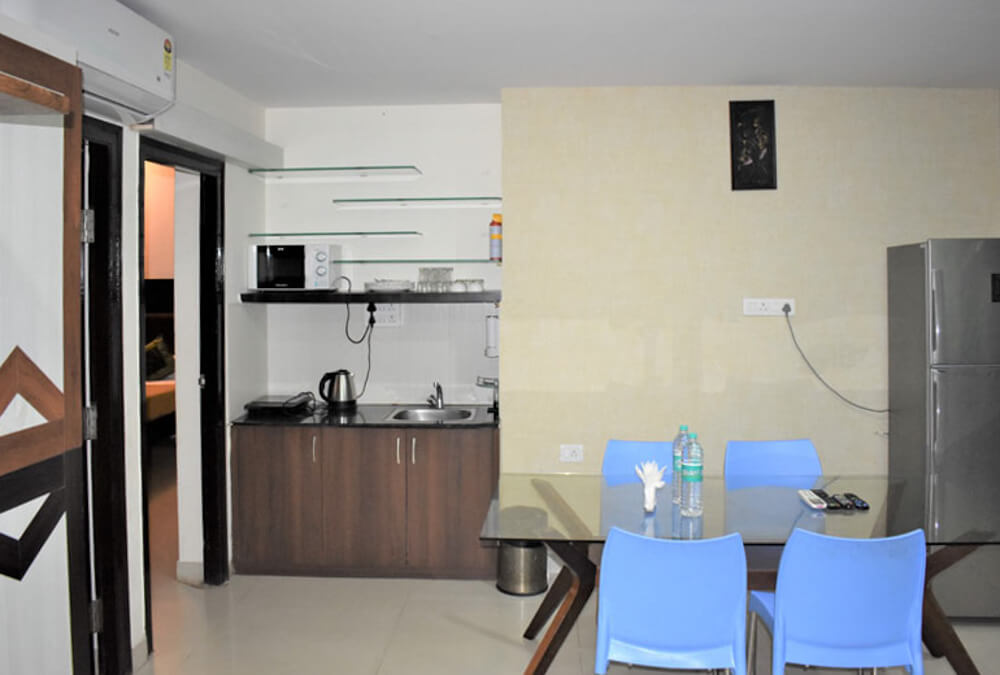 Please note: These are not my pictures as I was busy in the event. But the photos match the place.
2.

Casa Cottage, Richmond Town — One of the Nicest Places in Bangalore for Couples, Families, and Solo Travelers
Pricing: Casa Cottage costs slightly higher than the average per day tariff a long-term traveler would expect. But the service and the accommodation are both great. The hotel is worth a weekend stay in Bangalore to experience a peaceful boutique property in such a chaotic city.
Casa Cottage is one of the best heritage hotels in Bangalore near MG Road: This bed and breakfast is an old British bungalow (build in perhaps 1915) renewed in the early 2000s and turned into a BnB. Casa Cottage would be in the middle of being a homestay and a guesthouse because the owners don't live on the property. They are nearby though, and one of the hosts Manik visits the accommodation every day. You can also reach out to Manik over the phone at any time. He is a sweet guy and will help you the best he can.
We had a great stay at Casa Cottage. It is near MG Road, Brigade Road and the best part about the location is that we had access to Cubbon park. We made full use of it and spent a lot of time in the park. (Do read my guide to the best restaurants in and around MG Road Bangalore.)
The rooms are boutique and well-done. Most of the interiors are wooden. Wooden cabinets, desks, and chairs enhance the timelessness. A kettle and tea bags come with all rooms. The shades of the walls and the curtains go along with the soft mood of the BnB. The guests get internet (mostly works well), toiletries, and filtered water.
A small refrigerator was also kept in our room. We couldn't mostly use it as it made a noise which was too loud at night. I asked the caretaker to fix it but he didn't do anything about it. So we used the refrigerator kept in the kitchen downstairs. Yes, that incident was a little disappointing.
The cleaning staff shows up at the rooms daily. On our longer stays throughout India, we realize how important cleaning the room every day or every alternate day is. But so far we haven't found any accommodation with a professional cleaning schedule. The hosts promise, but the staff never shows up or asks for money or doesn't clean well or doesn't do the bathroom, and so on.
Casa cottage has a well-maintained garden. So all day long you would be in a green place, with winds shuffling through the leaves, and avocados trees towering above the hotel's building.
Casa Cottage serves breakfast. Generally, you expect such places to provide great fresh breakfast, but I think the pandemic disturbed their schedule. They had bread, butter, freshly made tea, and coffee, homemade jam, and store-bought idli or plain dosas for breakfast. Guests could also ask for eggs.
We got bored of the same breakfast pretty soon (we stayed there for three weeks). Also, the juices weren't fresh but Slice and Maza were being served. Maybe by the next time, they have a more inspiring breakfast. We could get fresh tea and unlimited coffee though.
You are a dosa fan? My South Indian dosas piece will inspire you to overeat.
Casa Cottage had parking for only one car so we parked on the street (except for one night).
If you are looking for the best places in Bangalore to stay, do consider Casa Cottage for a hassle-free experience. The owners and most of the staff were kind and nice. Manik runs the place with youthful energy and is ready to help all the time. Most hospitality places in India won't get that you could be bothered by the sound of constantly dripping water in the bathrooms. But when one of our bathrooms had a dripping noise, I told the host and he listened and tried fixing it.
Go here to book Casa Cottage and browse through more pictures. Our room was large and so a bit expensive but the property has different kinds of rooms. Check to find the one in your budget.
Beautiful Basavanagudi in Bangalore is only 7-km from Casa Cottage. My friend and tour guide Julia will be happy to take you.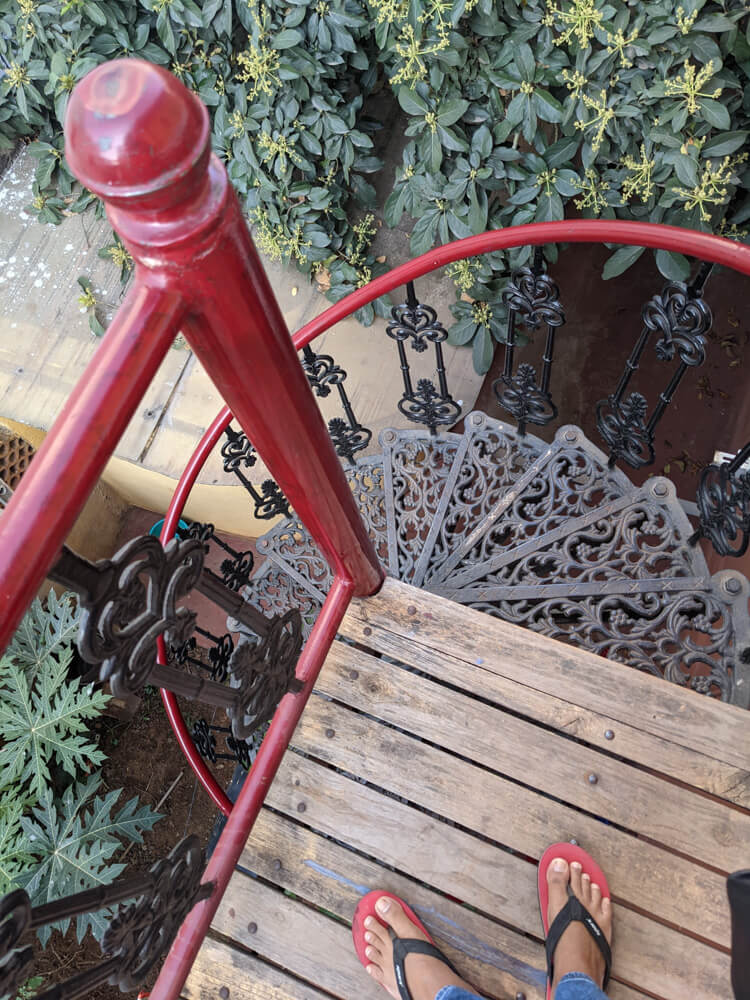 Is it your first time in Karnataka? Go through the Amazing places to see in Karnataka and inspire yourself by looking at these pictures from one-day outings in Bangalore.
3. Misty Meridian Serviced Apartments, Bannerghatta Road — One of My Favorite Serviced Apartments in Bangalore For Rent
Pricing: As the apartments are spacious and well-equipped the pricing can be considered budget. But long-term travelers or digital nomads like us will feel a lot lighter in their pockets after a couple of weeks. Choose Misty Meridian for a short stay in Bangalore to relax, do laundry, cook your own food, make your jams, and chat with a nice host. Then you can go on charged to more affordable guesthouses of Bangalore.
We booked Misty Meridian because after staying for weeks without a private kitchen (in Casa Cottage and Madikeri) we were desperate for a cooking space. You may have a little idea about my cooking mania through this organic stores of Bangalore piece.
Misty Meridian has serviced apartments— as the name says. This hotel in Bangalore is located 2-minute away from Bannerghatta Road. We booked the place initially for a week but eventually ended up staying there for three weeks.
Misty Meridian Serviced Apartments were spacious, well-lit, and windy. Ours was a two-bedroom but the property has three-bedroom apartments too. All the rooms have attached bathrooms. Toiletries (including toilet paper — not so common in India) are provided. The beds were comfortable and had fresh linen.
The internet worked well at Misty Meridian. The kitchen wasn't as shown in the pictures when we arrived. It didn't have some basic utensils, the mixer grinder, and other essential things I fail to remember now. But the manager of the hotel Chetan was always one phone call away. He sent the stuff we needed. The kitchen had a refrigerator, microwave, and filtered water cans too.
We had booked Misty Meridian through Booking where the hotel mentions providing breakfast with the stay. But Chetan, our host, said he couldn't afford the breakfast at the pricing we had got (I have a Genius account so I get more discount.) But when we insisted we wanted to have what we were promised, he got us breakfast from a nearby hotel. We could order dosa or idly or something similar in the price range.
The staff didn't have a proper cleaning schedule at these apartments. When asked, the owner would send the cleaning staff. But whenever we got the cleaning done in our apartment, we faced issues. The staff would either leave the backseats of the toilet unattached from the seat (to clean) or they left the bathrooms wet and once they even opened our cupboards to keep our stuff inside. We ended up spending a lot of time finding our things.
But we provided this feedback to Chetan and his response was kind. He knew he needed to train his staff better. I highly recommend Misty service apartments in Bangalore for rent (short-term and long-term) for a home-like stay in the big city. Chetan runs the property in collaboration with many other owners, but he is the one who attends to the guests. He is a sweet guy and is capable of being polite even at 1 in the night.
The location was mostly quiet except a few times when families took the adjacent apartments. But if you ask people to shush down they will and even Chetan will help you out. He likes the place peaceful. Bannerghatta road was two-minute away and the location is perfect if one needs to access the main road frequently or for just getting out.
The washing machine of the apartments was in the basement which can be reached with a fully functional lift (or a fun walk). The rooftop of Misty Meridian was large, and we could go on the top during the day. From the terrace, we saw a great panoramic view of the area.
Click here to see more photos of Misty Meridian Serviced Apartment and book the hotel.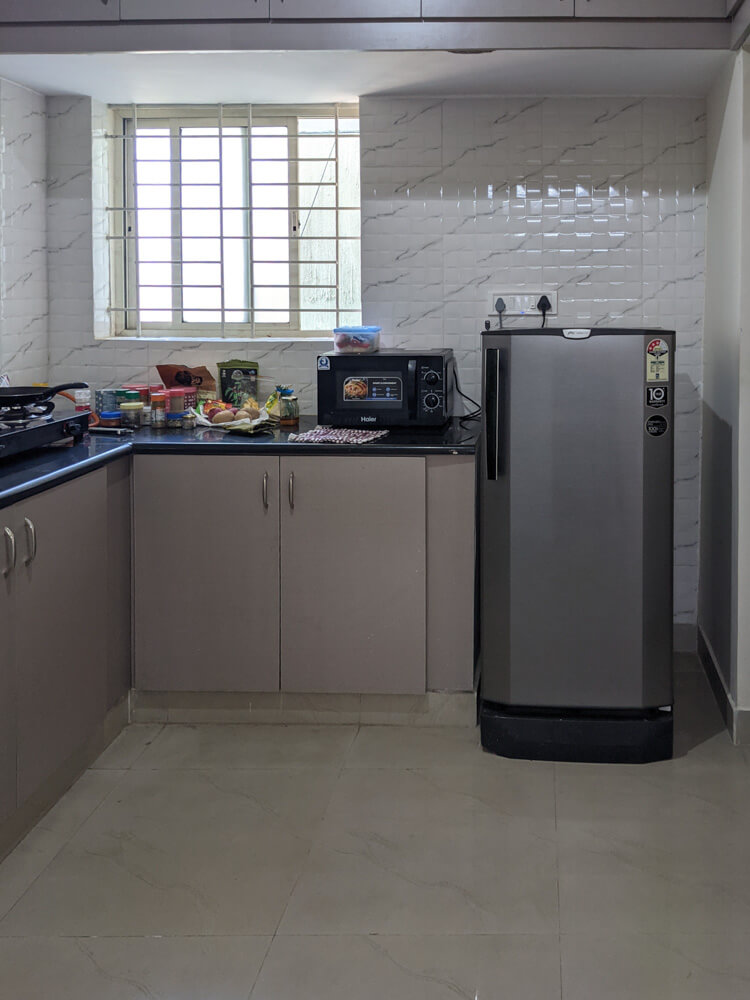 Another note: This is an under construction list. I will add more of Bangalore's best hotels as I stay at more accommodations. But I won't add any hotel here that I have not stayed at. Bookmark the piece to return to it whenever you are heading to Bangalore. You can browse through many more best hotels to stay in Bangalore here on Booking.
I understand most of the above hotels to stay in Bangalore could be a bit pricey for the usual budget, solo traveler. You could of course share the accommodations with your travel friends. Thus you will all have a nice stay at a budget price.
Hostels in Bangalore: I haven't tried any hostels in Bangalore so can't advise. But if you want to try one, go for Zostels (a recognized hostel chain in India), Woke HSR (I booked with them but couldn't stay), and please ignore Moustache (I had a horrible stay there in Kasol.)
Some of the places I don't recommend are listed in my homestay and accommodation guides for India. Do read through to see what you should stay away from.
Hope this list of accommodations in Bangalore helps you have a great trip there.
Which place from my list of Bangalore best hotels did you like? Drop your personal recommendations in the comments below.
Follow Up Read: Isolated places to stay in Madikeri Coorg and My Other Travel Resources (A Comprehensive list)
*****
Donate to keep me going!
For five years, I've read and wrote day and night to keep On My Canvas - my sustenance and life's focal point - going. Everything here and my weekly newsletter "Looking Inwards" is free. No ads. No sponsorships. If you've had some good moments reading my posts or felt hopeful on a lonely day, please consider making a one-time or a consistent donation. I'll really appreciate it (You can cancel anytime).
*****
Want similar inspiration and ideas in your inbox? Subscribe to my free weekly newsletter "Looking Inwards"!