A Colorful Introduction to South Indian Dosas
I love South Indian dosas, and I enjoy talking about these crispy crepes even more. You have to bear with me as this article on dosas in India will be long. Like my piece on some of the best visiting places in Karnataka.
What's a Dosa?
Dosa is a thin crispy or soft savory crepe, sometimes it is even thick and soft like a pancake. Dosa could be rolled and stuffed or it might be plain and open — with all other variations not out of the scene. It is served with sambhar (a curry), chutneys, garlic-chilli powder (podi, also known as gunpowder among the uninitiated), and other paraphernalia. Though now dosas are eaten throughout India, and the world, they are still a staple only in South India.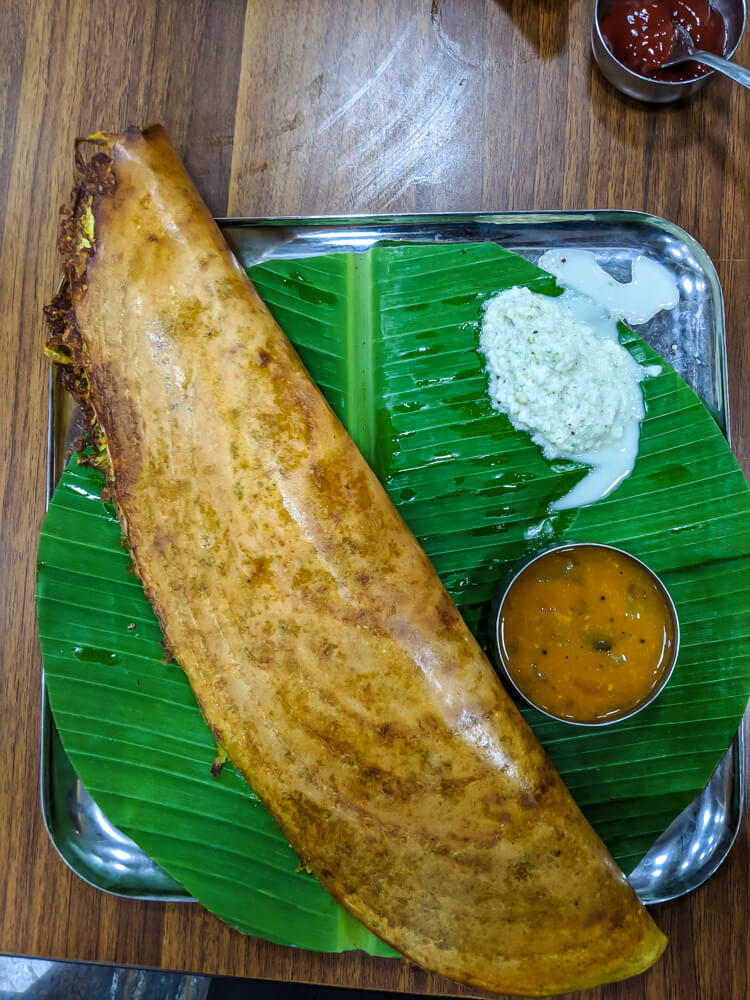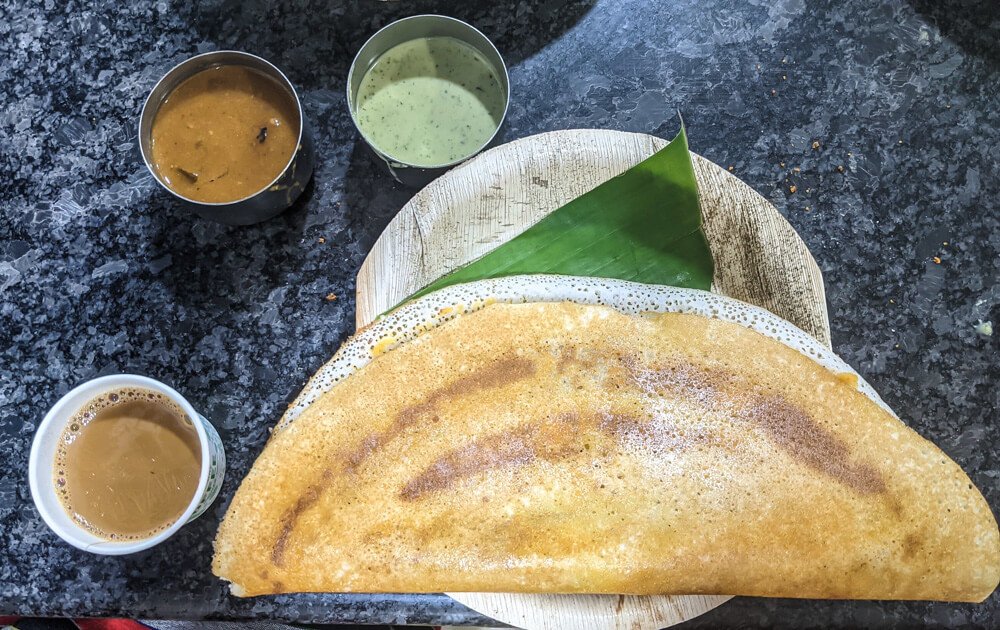 Where Did Dosa Originate?
No one knows where the dosa — known as dosai in Tamil Nadu, dose (dough-sey) in Karnataka, and dosha in Kerala — originated. But the ancient Sangam literature of the Tamil area mentions dosa as early as the 1st century AD. As per Wikipedia, a dosa recipe is said to be found in Manasollasa, a 12th-century Sanskrit encyclopedia compiled by the Chalukya king Someshvara III of Karnataka. Originally the South Indian dosa is said to be of a softer and thicker form. But later in Karnataka, dose took a much crispier and thinner avatar.
Dosa is the anglicized name of this comfort dish of many. Dosa fans are divided amongst soft dosa lovers and ones who munch on the crunchy ones.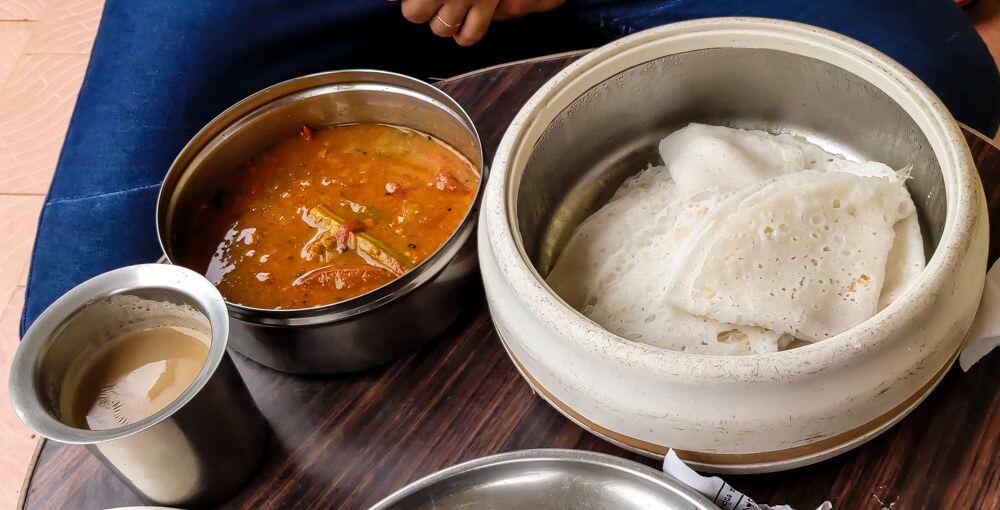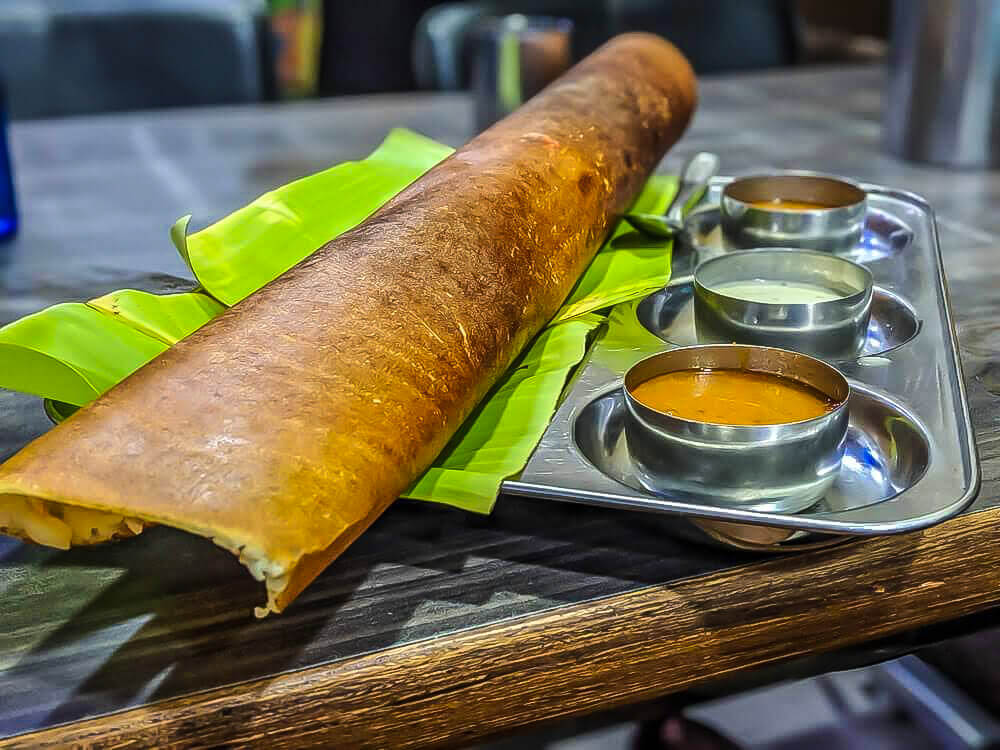 My Journey with Dosa
I ate my first dosa in my hometown Muzaffarnagar, a crowded district of Uttar Pradesh. There I had the North Indian dosa at Sangam restaurant in Gol Market. My sister and I, and occasionally my mother and I, used to visit that popular eatery whenever we went to the bazaar to shop. We were never serious buyers, and we didn't go out to the market to eat. Thus our outings to Sangam were not as few as our visits to the cinema but not as many as to reduce the dosa to a commonplace food.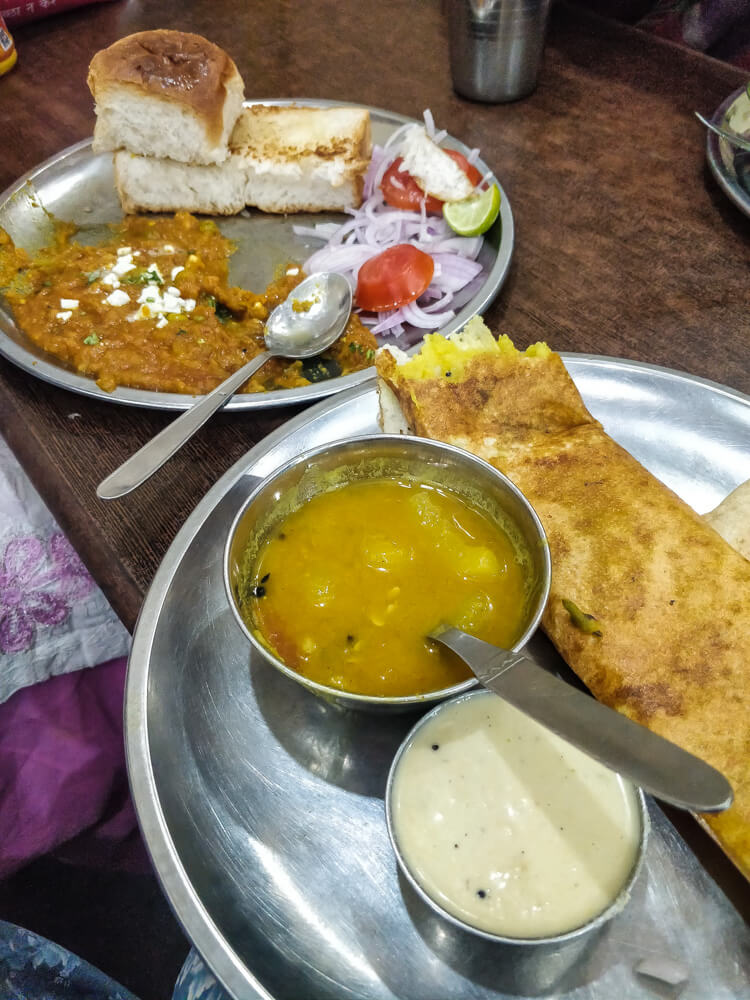 That Sangam dosa was medium in size, crunchy, and tightly wrapped over the stuffing (more than the airy dosas of the South). And the sambhar was tamarind-based pumpkin and gourd curry. My heart, now even years later, can ditch every other sambhar in the world for that tangy sambhar curry. Sangam's coconut chutney was thin and not that coconuty but I hadn't had any better so I always dipped the corner of the dosa piece in it. The dosa was stuffed with a mash of boiled potato sautéed with onion, coriander, green chilly, and bits of paneer.
We could never have enough of the crunch of the fresh dosa dipped in the tangy sambar. But we had to eat it as soon as the dosa arrived else it would go soggy. Somehow we never ordered more than one for each. This limiting ourselves to one dosa was soon going to change when I land in Bangalore on my first corporate job. I was also about to discover how crunchier and tastier dosas can get.
A small-town girl in the big cosmopolitan city where samosa and jalebi shops were replaced with idli-dosa stalls found herself devouring dosas of many kinds. South Indian dosas — I mostly had Karnataka dosas — were nothing like the North Indian dosas. A typical Karnataka masala dosa came with coconut chutney, one red chutney (made of Bengal gram, chili, garlic, and other stuff), and sambhar. Their sambar was neither sour nor had pumpkin and gourd. It was a bit more oily and tasted more like dal than a sabji curry.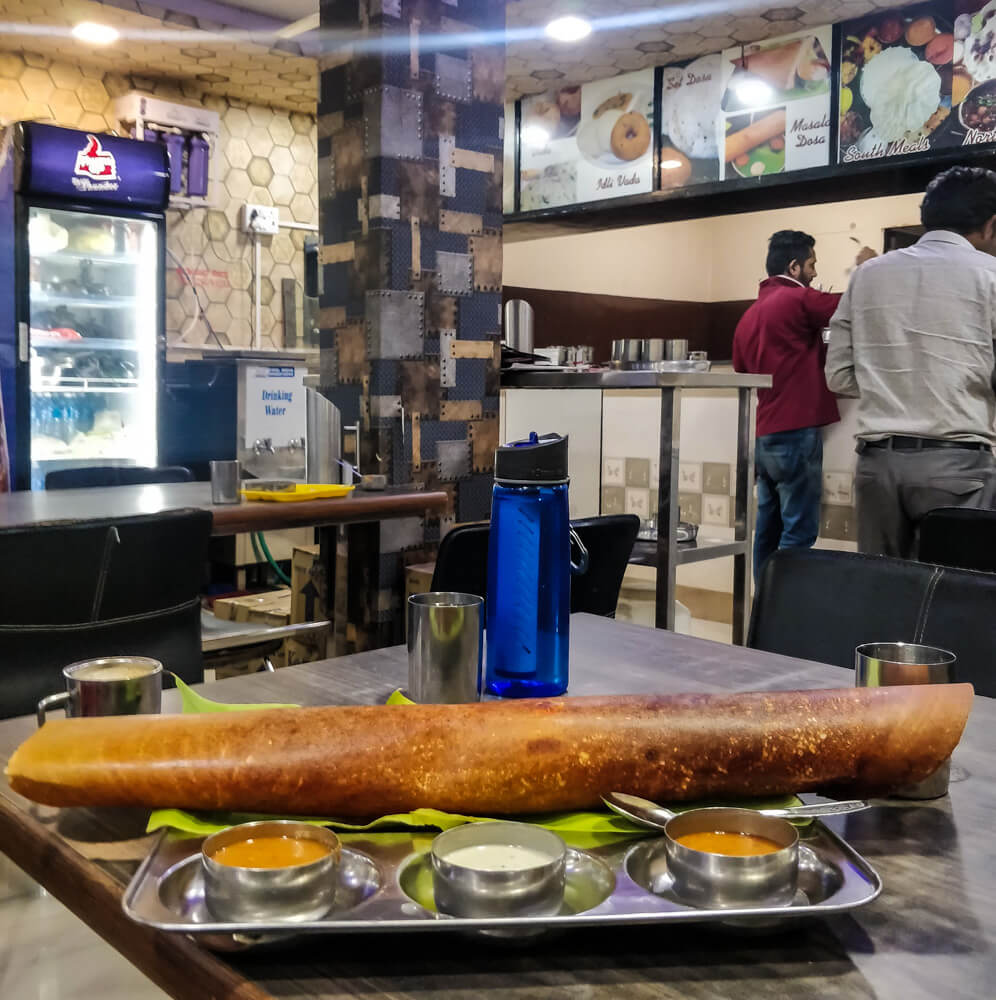 The dosa was much crunchier now. The edges of the long Karnataka dosa crackle like a crisp wafer while the middle part wrapped over the potato, or any other stuffing, is softer. Sometimes the wrapping of the dosa is turned around higher than the filling needs leaving an air gap between the mash and the outer pulse-rice layer. This keeps the entire dosa crunchy. Whosoever has gorged on dosas in Karnataka must have looked at their meal companion from one end of the dosa to find her staring at you from the other.
The masala dosa of Karnataka isn't that thick but is not thin either. But then dosas vary in thickness, softness, and size at every shop, village, home, city, and station.
The soft potato mesh, the chunky and mild coconut chutney, and the crispy dosa morsel soaked in sambar made a good breakfast and brought many of my days to a comfortable end.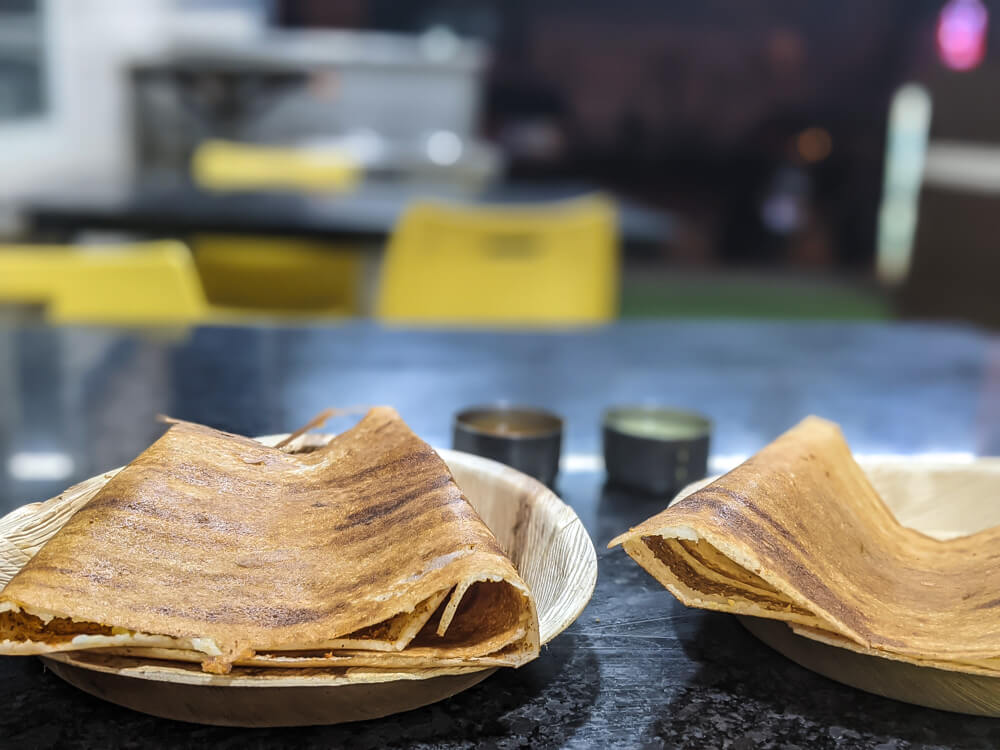 To eat dosa, we would stop at any of the Shiv Sagar or Udupi restaurants that are ubiquitous in the city.
The affordable Shiv Sagar serves both South and North Indian food but their specialty is Southern cuisine
.
Named after the Udupi cuisine of the Udupi town in Karnataka, Udupi restaurants are the trusted joints for dosa
. People say dosa first came about in Udupi.
Or we would trot to the nearest 99 variety dosa stall on the roadside to
satisfy
the curiosity for a new filling. These kiosks serve— you got this — 99 varieties of dosa.
Boxes of mushrooms, boiled spinach, corn, potato, onion, cottage cheese, baby corn, tomato, cauliflower, noodles wait for their customers on these stalls
. You can mix and match any to create your own dosa.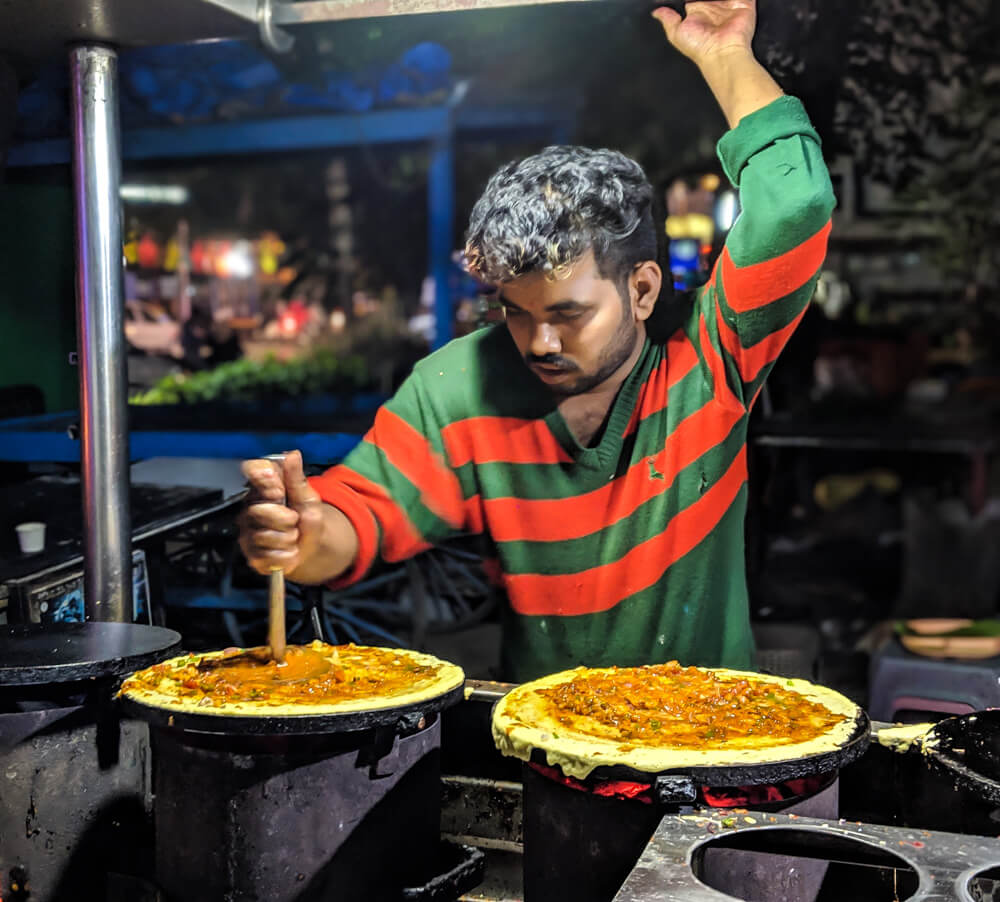 Then there are MTR (
Mavalli Tiffin Rooms
— a South Indian food joint established in 1924 and is one of the oldest and most popular Karnataka food restaurants in Bangalore), office cafeterias, and home cooks — you get dosas everywhere
.
I enjoyed dosas a lot from 2010 to 2012 — for then I left Bangalore to return to it in 2014. The year 2014 must mark the beginning of my craze for dosas for I ate them almost every day. I was working in a bank then and didn't have breakfast at home. Almost every day, I would eat a masala dosa at a nearby Udupi while walking to the office. Or if I had rushed to work, I would get a masala dosa in the rooftop office canteen.
"One masala dosa, oil kammi." was my usual order. I was taught by a Chennai guy that the phrase means please put less oil on my dosa.
The office dosa always came to be flatter and less crispy than the ones at Udupi(s) and Shiv Sagar(s). But what can one say as dosas exist in many forms.
Then I moved out of Bangalore again in 2016 to travel to Chiloé island of Chile. There I craved the South India masala dosa the most.
No wonder when I landed in Mumbai in 2017, after wandering for nine months through South America, the first thing I ate was a crispy masala dosa
. So much for being born and brought up in northern and western India on roti, rice, and parathas.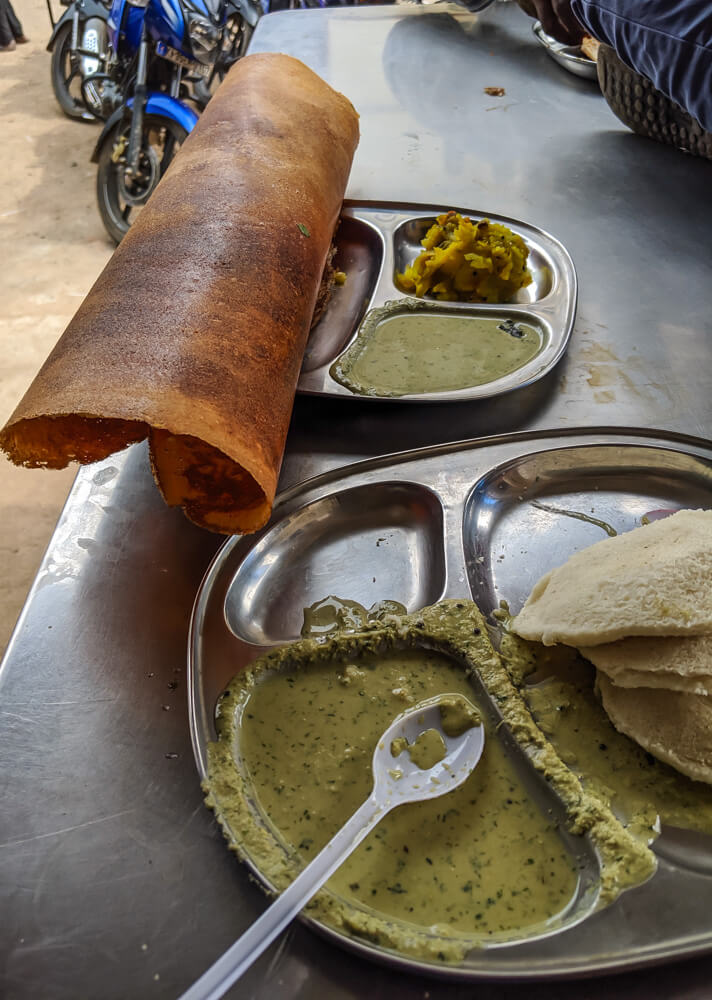 Now I have an insatiable curiosity for dosas. From a country home in Madikeri to posh restaurants in Bangalore to street stalls of Chikmagalur to small canteens to South Indian highway restaurants to villages of Hampi — I have eaten dosa everywhere (and so should you). And one can always find one thing about the dosa plate that's different from the previous one.
What are the Kinds of South Indian Dosa?
Dosa could be thin and crisp or fluffy and soft. They can be thin and soft, too. One can make instant dosas or whip up some batter to leave it to ferment overnight. Dosa can be had with chutney, butter, pickle, sambar, fish curry or any other dry/curry vegetable, or meat preparation. You can even have the dosa with jaggery and ghee to please your sweet tooth.
Many varieties of dosas are first smeared with a red garlic chutney while some may have a sprinkling of garlic-chili powder (known as podi) on them. The dosa could be stuffed or it could be plain. One may eat dosa in breakfast but it could serve as a late-night snack perfectly well. Dosas can be made with any grain. Or mix some of the grains, choose your favorite stuffing, and prepare your own dosa.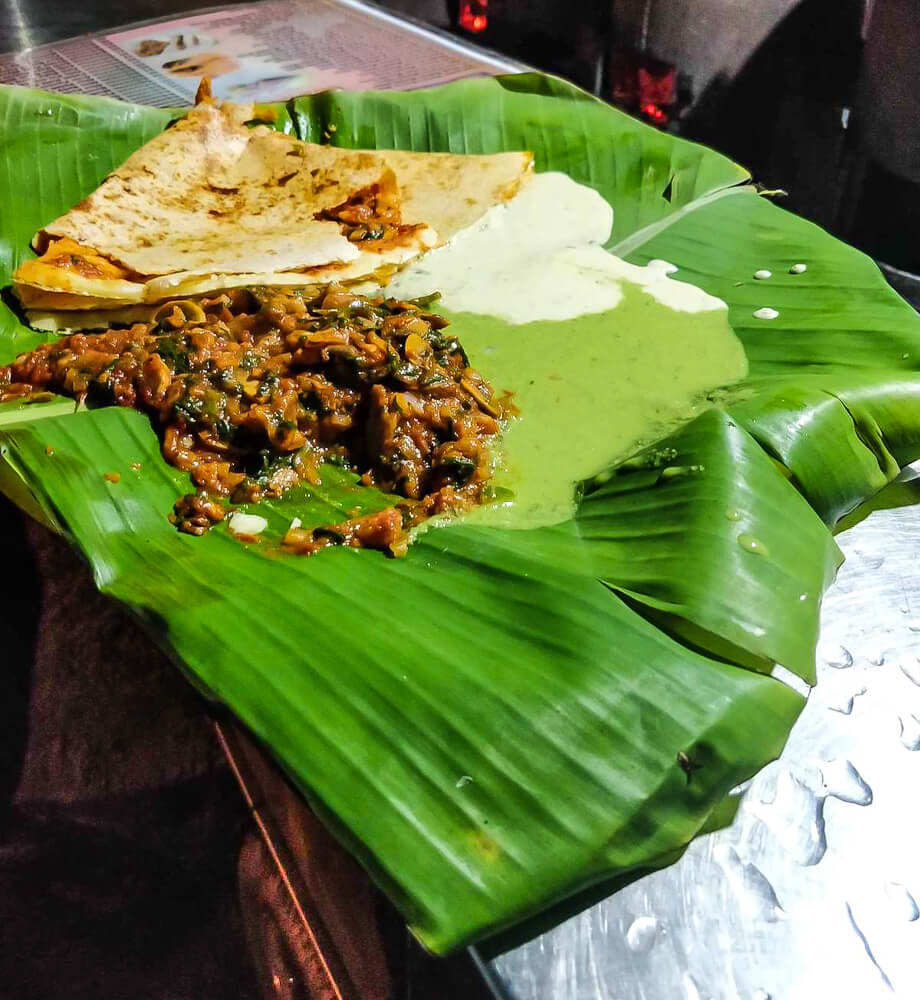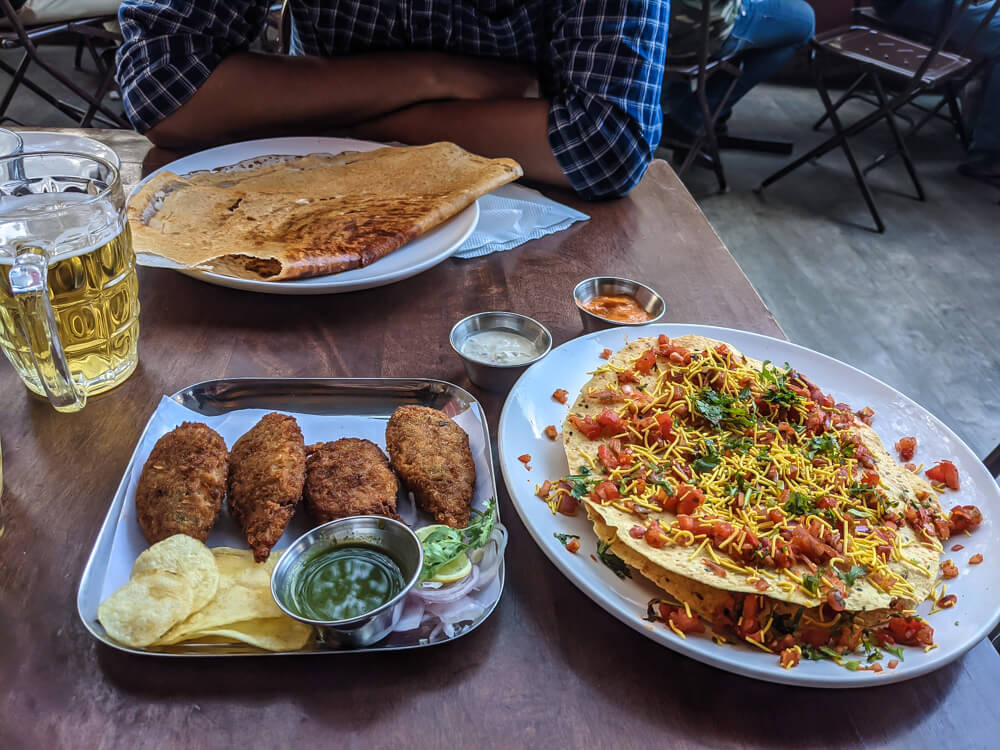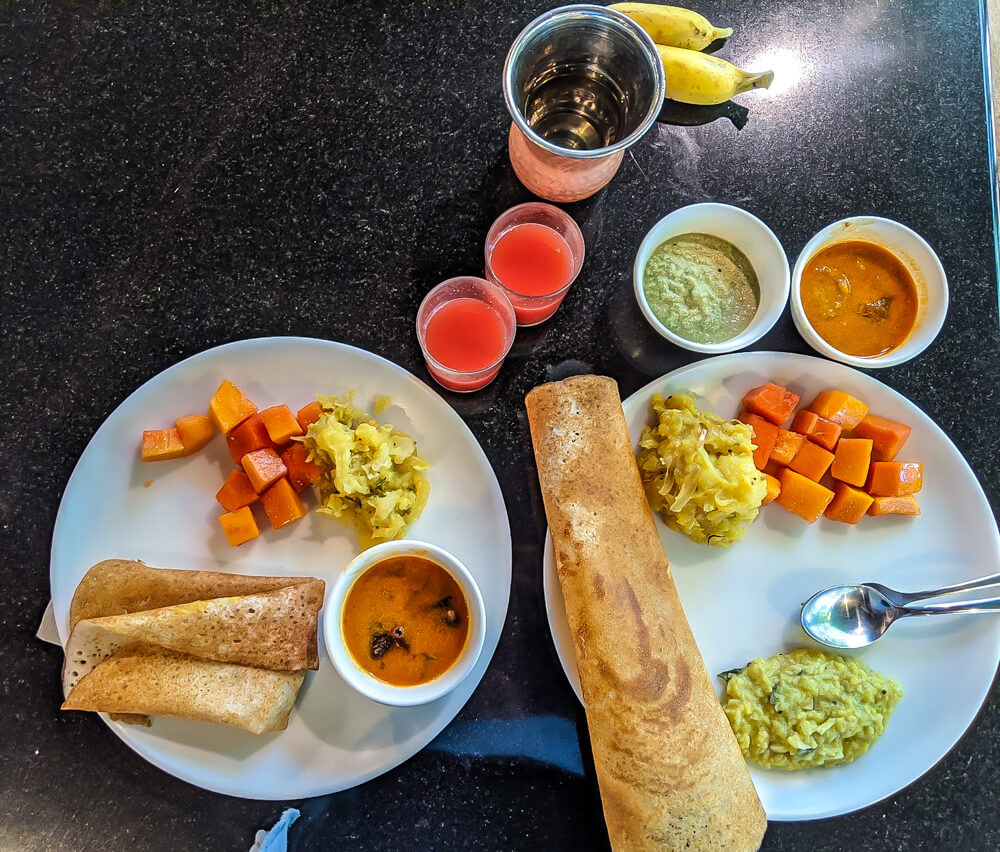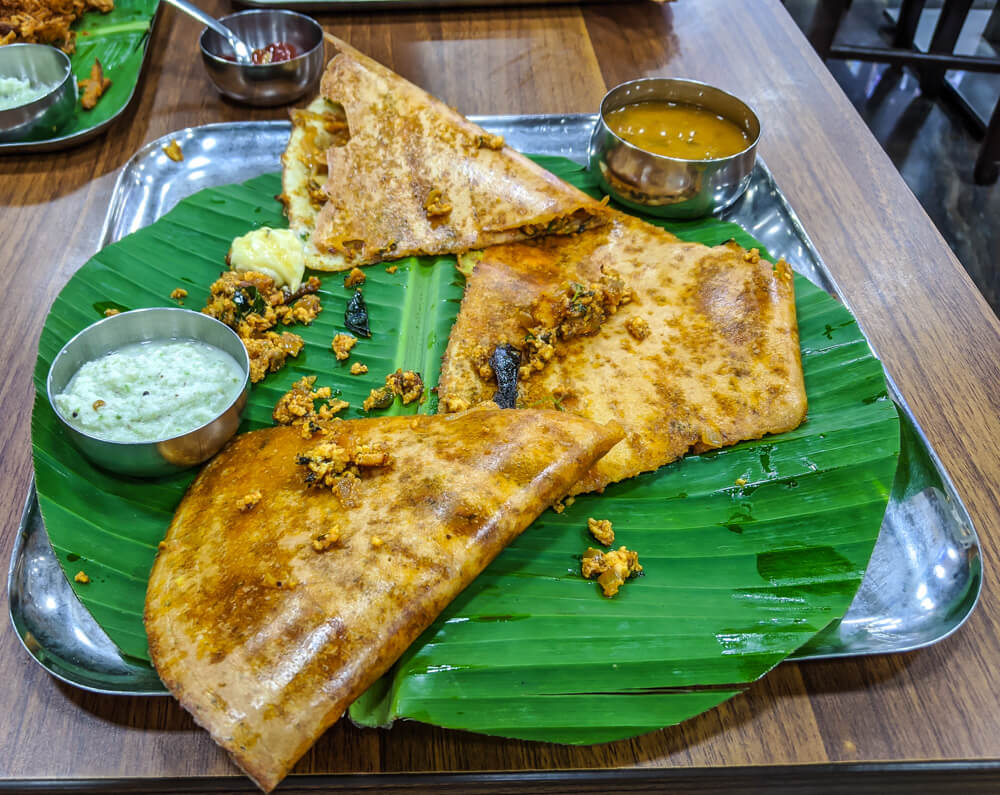 Why are there so many dosa variations?
Because it is one of those rare dishes that allows modifications in its ingredients and preparation steps without messing up the taste
. In fact, the changes make the dosa perfect for its suitor.
Maybe
it is the adaptability of the dosa which makes it such a popular food item. Most of the South Indians swear by their love for dosas. And I'm not far behind. My mother is also a dosa lover and always picks the paneer masala dosa at the Sangam restaurant.
Apart from the dosa, its accompaniments also change from place to place. The red chutney (Bengal gram chutney) could be runny at one shop and thicker at another. Sambhar in Andhra is spicier and tangier than in Karnataka and Kerala. The potato stuffing could be taken on the side instead of being put inside the dosa. Then some serve the dosa with ghee too.
Even though dosa can
be made
out of any grain, the most-consumed masala dosas
are prepared
with a mixture of husked black gram pulse (known as urad dal in Hindi) and rice
.
Dosas are also made out of multi-grains, semolina (known as sooji or rava in Hindi), ragi, wheat, gram flour, rice flour, millets, or any combination of these
.
All-purpose flour is not used in most dosas, and the lack of it makes this staple food of South India a healthy and sustainable preparation
.
While most snacks of the North
are whipped
out of all-purpose flour (maida), in the South people use more rice, pulses, and locally-grown grains such as millets and ragi
.
The Rava (Semolina) dosas popular for their crunch are made with soaked semolina and rice flour. Onions, coriander, and green chilies along with spices are mixed in the batter of the dosa. Stuffing is added before the dosa is rolled. The porous crunch of semolina with bits of golden onion dipped in the soft coconut chutney taste of wholesomeness. I'm a joyous girl whenever I eat a rava dosa.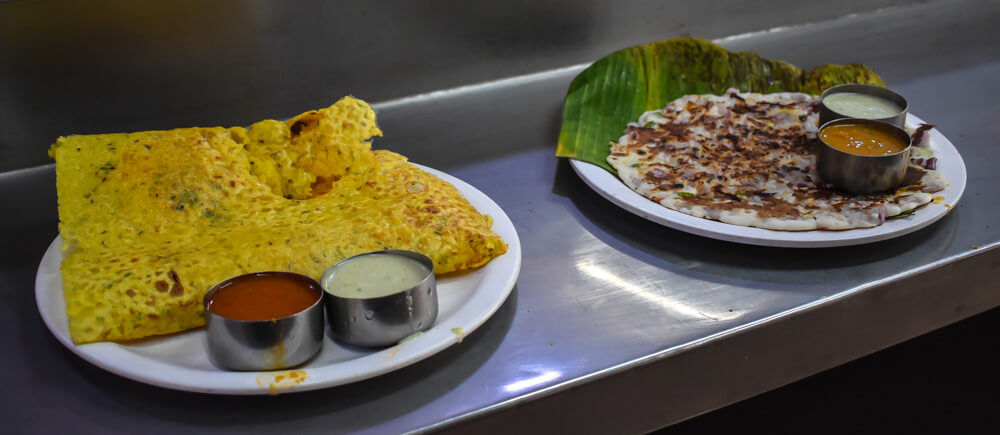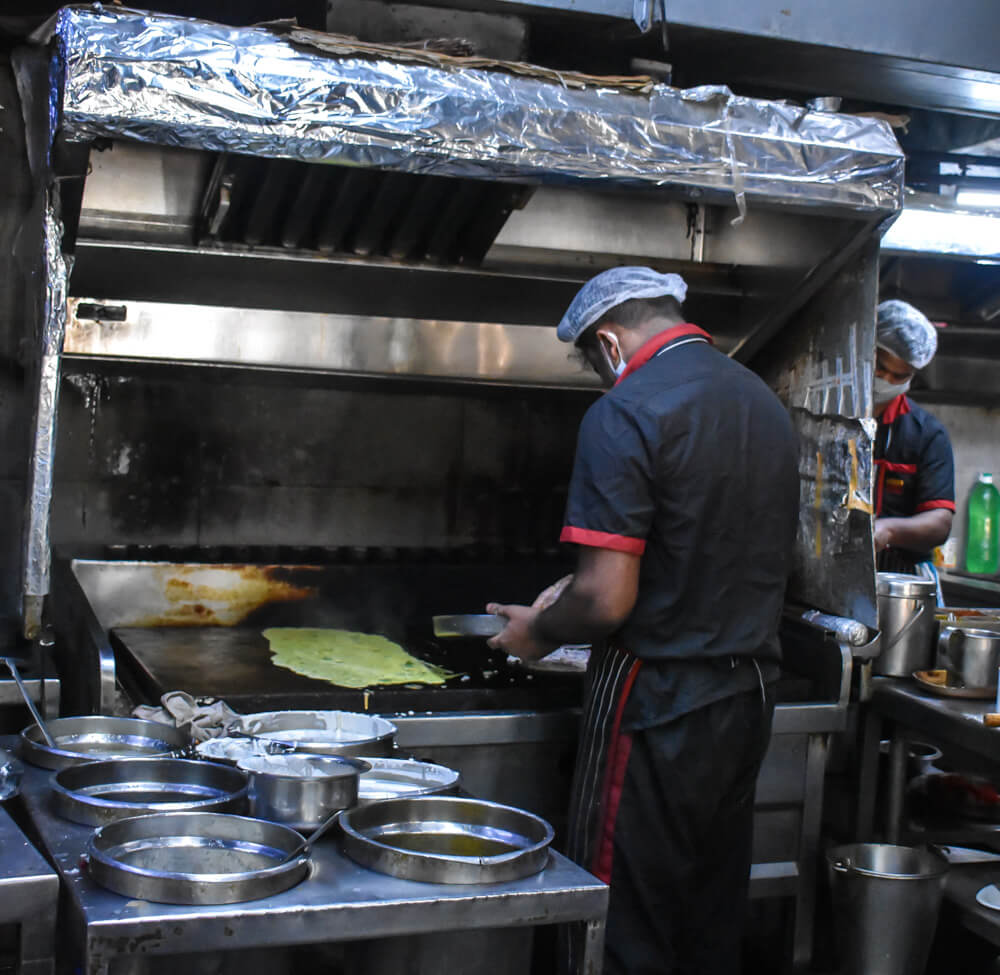 While masala dosas can
be stuffed
with anything — semolina or sooji dosas allow limited fillings
. I have
mostly
seen plain rava, rava onion, rava masala, and rava onion masala. You can't put a lot of things in the batter as it will split while cooking.
Any shop that has masala dosa mostly has rava dosa on its menu. A stuffed rava dosa is pretty heavy so keep some space when you eat one.
Apart from the two favored masala dosa and rava dosa, we have Mysore masala dosa, neer dosa, set dosa, benne dosa, open dosa,  ghee roast dosa, spinach dosa, and the list goes on
.
Though we can't go into detail in all these, I'm introducing them one by one for the benefit of those who want to enjoy dosa in South India (also feel free to question the waiter or the chef)
.
Mysore masala dosa is first basted with a red chili garlic chutney and then fillings are put inside. It's eaten with sambar, coconut, and chana dal (red) dippings. It is as crunchy as the regular masala dosa but definitely spicier. Mysore dosas also come in many stuffings.
Karnataka neer dosas are thin and plain dosas made with ground rice batter. They are soft and aren't fluffy at all. Neer dosas' batter doesn't need fermentation but one still has to soak the rice for a few hours to make soft dosas.
The soaked rice
is grounded
and thinned with a lot of water — hence the name neer which means water in Tulu language, from the Udupi-Mangalore side of Karnataka (as per a local on
India Study Channel forum
)
.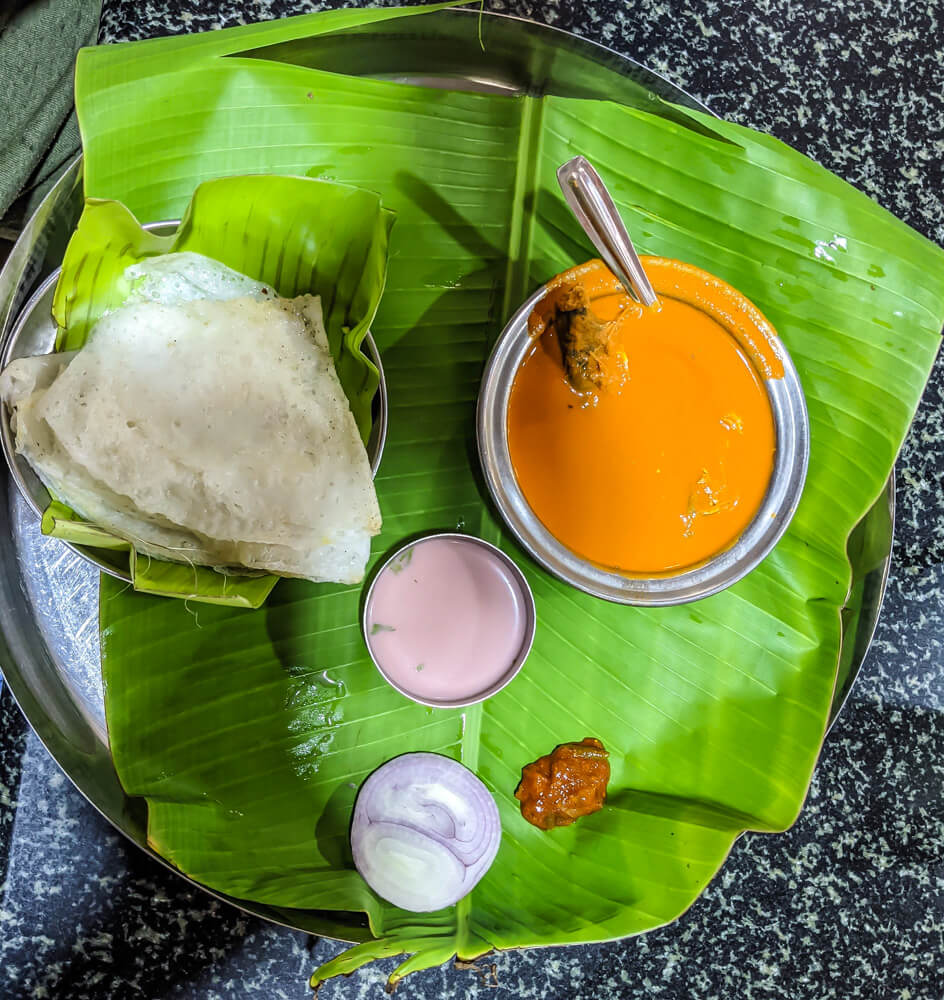 Neer dosas are most sought out to
be eaten
with seafood curries. The soft rice blend of the dosa accompanies the tangy fish preparations well. I was never a big fan of neer dosas until my husband started ordering them every time we went out to eat. We have
mostly
had neer dosas with fish curries, but they are yummy with chana curry, and most other curries, too.
Another variety of dosa I always crave is the paper dosa. It is a long and crispy dosa — its enormous length has given it the name table dosa or family dosa. Table dosa is an eye-catcher.
The first time I ordered a paper plain dosa, I almost jumped when the server brought out a long dosa jutting out of both sides of the steel plate
. We laughed. But other patrons of the eatery
surely
eyed my dosa.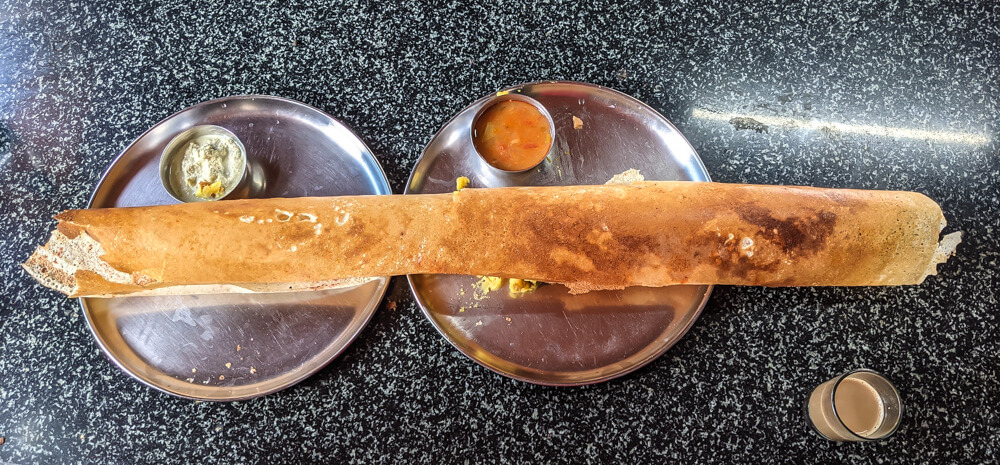 Paper dosas are the crunchier of the lot. And you can get them with or without masala.
From the crunchiest we come to the softest set dosas.
Set dosas are open, plain, circular dosas that neither have any stuffing nor any smearing or filling
. They come three together, no less, and that's why the name set dosa.
The set dosa
is accompanied by
saagu — potato curry (the same one
is served
with pooris in South India) and coconut chutney
. These are soft and fluffy. A bite of set dosa with starchy potato curry is bound to melt in your mouth.
A piece on dosas cannot be complete without talking about open dosas, which are, — as you may guess — open from the top. So the chef makes the dosa like any other dosa but doesn't fold the dosa flaps onto it towards the end. Various stuffings can be put on the top of open dosa and many ingredients can be added to the paste too. Gunpowder, aka podi, aka garlic-chili powder is commonly found sprinkled on open dosas.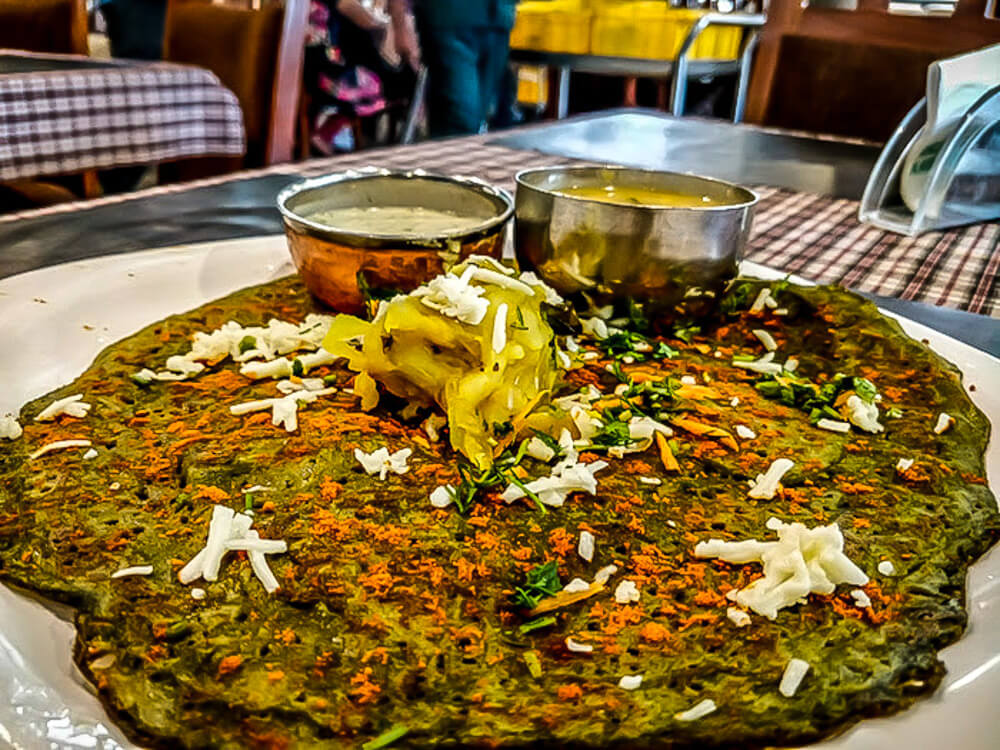 Another beautiful, marvelous, lip-smacking dosa — when I eat it
I feel
I have come home — is benne dosa. Benne means butter in Kannada and this dosa
is cooked
with plentiful benne.
I had had many kinds of Davanagere benne dosa in Bangalore. It was the one dosa that came crispy even in a parcel so you could rest assure that your craving for crunch would be satisfied. But when I had Davanagere benne dosa in the eponymous town of Davanagere itself, I realized I hadn't been eating benne dosa hitherto.
We halted for a night in the Davanagere village on our brave road trip from Karnataka to Himachal Pradesh (via Maharashtra, Gujarat, Rajasthan, Uttar Pradesh)
. In the morning we checked out of our grimy highway hotel in town. By that time, we had decided we will not leave town without eating the special dosa from there.
After all, we had been gorging on Davanagere dosa in Bangalore and wanted to know how it
was made
in the place of its birth
.
While searching for the dosa before the clock had even struck 7, we had to turn around our car many times in the labyrinth of the
dimly
lit streets
. But whenever I enquired about benne dosa at the sleepy little roadside shops, I
was sent
to another place.
After looking for more than an hour, we landed at a small, shabby, and smoky roadside eatery that was being cleaned by its owner at the time. He said he could get the dosa ready in some time. The Kannada language is not our forte and we could converse little. But when we understood he was going to give us butter dosa, we parked our car on the road under a huge tree.
We waited.
We paced up and down the street while the guy swept the floor, brought firewood inside, and did some other hundred errands that must have been essential to cook benne dosa but for our hungry stomachs and even hungrier minds, those chores were a waste of time
.
Now another guy had joined our young Samaritan and he started turning around the ladles in big steel containers
.
When we sipped tea we had gotten from a neighboring place (because we didn't want to distract these two with any other task in the world) we saw the second guy was still peeling potatoes
.
Simmering the chutney, firing the oven, laying down the batter. What was taking them so long? I wasn't in the best state of mind. How will our dosas ever be ready when he is still peeling potatoes? Damn those potatoes.
That half-hour wait was the longest of my life. Then the final steps to getting our benne dosas into our mouth started materializing. We saw one of the two men smear the hot iron surface with oil. He spread the dosa batter over the skillet in circles. Then he put butter chunks on the dosa. Next, he increased the intensity of the fire by pushing in the wooden logs further in the mouth of the blazing heat. To my dismay, they served the first two doses to the many gods framed in the old dingy shop.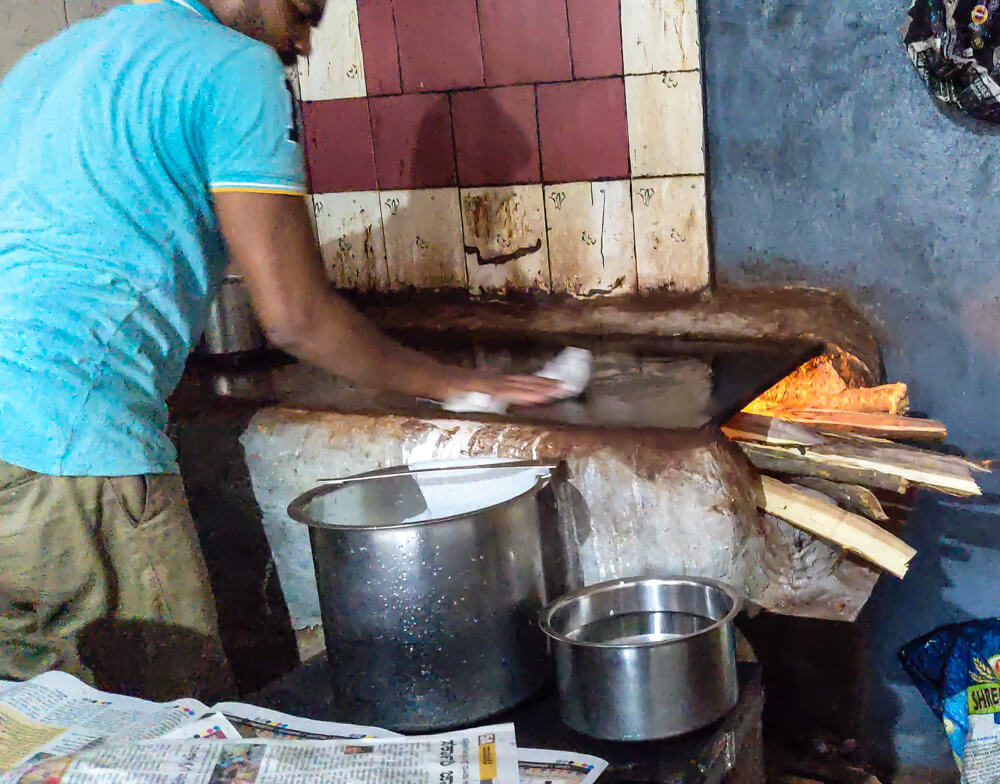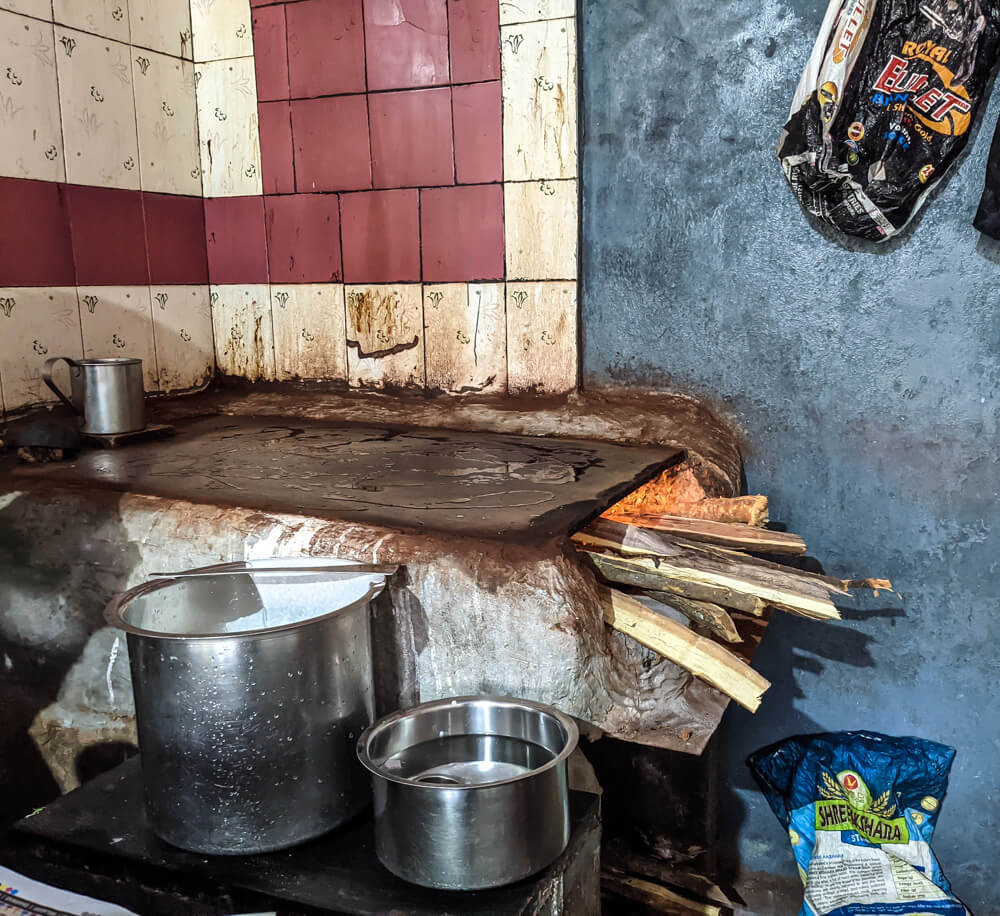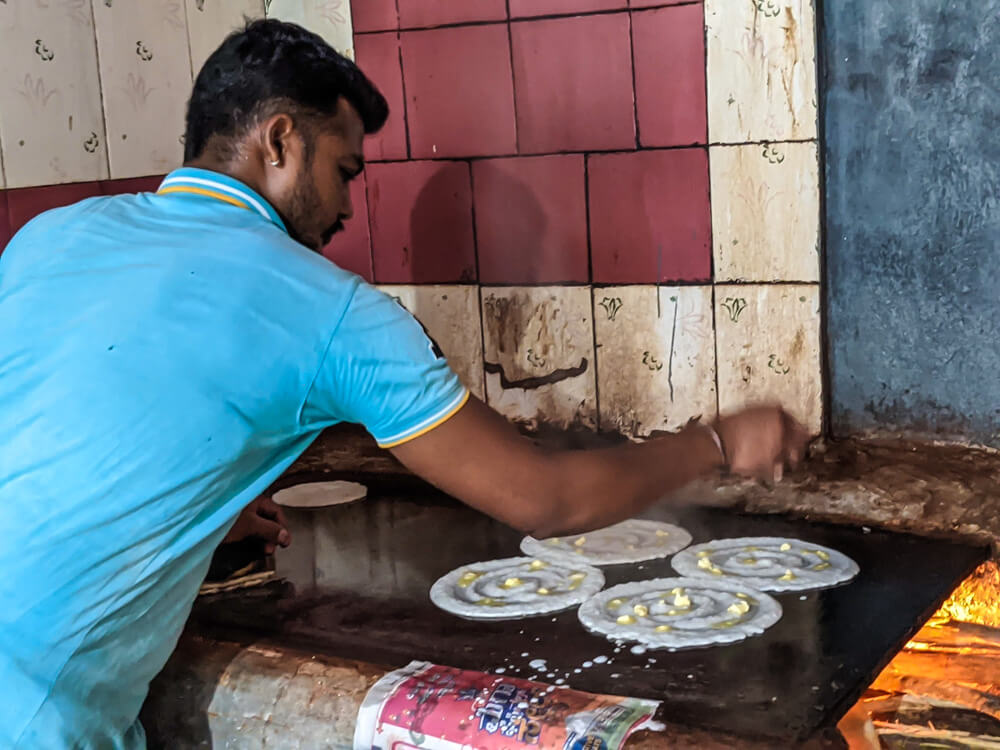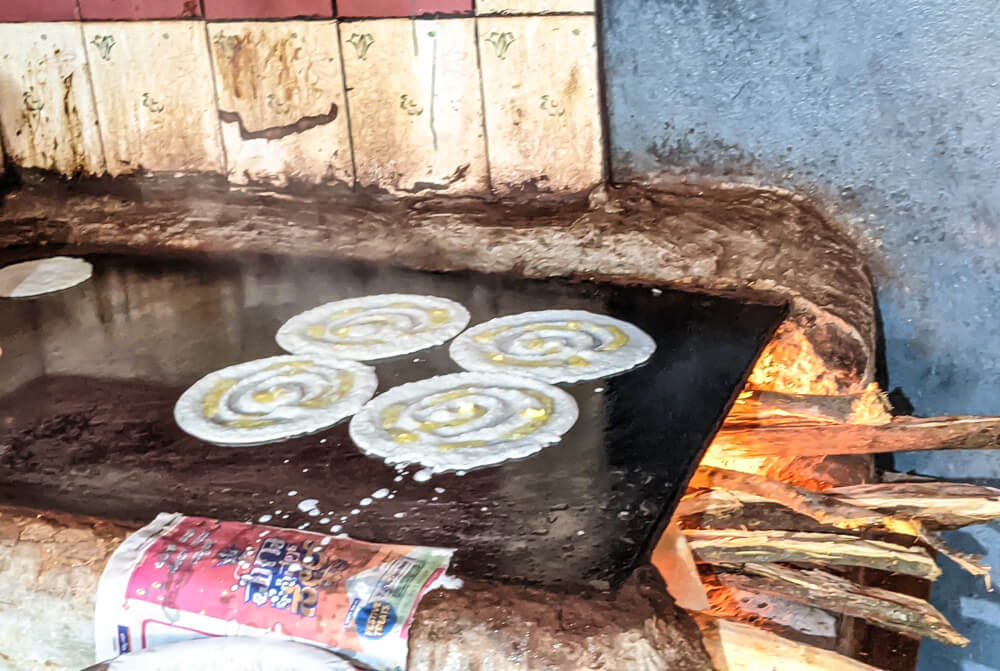 A few minutes later, two dosas were served to each of us with coconut chutney and a buttery potato mash over banana leaves. It smelled good. Oh real good. When I touched the tortilla-like crispy dosa, my fingers glistened with benne. I broke a piece. Then I inhaled it. Umm. tasty. Heavy. Impregnated with the goodness of the butter. I dipped the morsel in the chutney, stuffed it with a little potato mash, and then it went into my mouth. My mouth melted. All my taste buds screamed aloud. I may have moaned. I don't remember. Then came another bite and then another and soon those two benne dosas were resting inside my stomach. Yum yum.
I considered eating more. But the dosas felt heavy. So overwhelmed by the human imagination — and butter — I wished the two boys all the happiness in the world and stopped.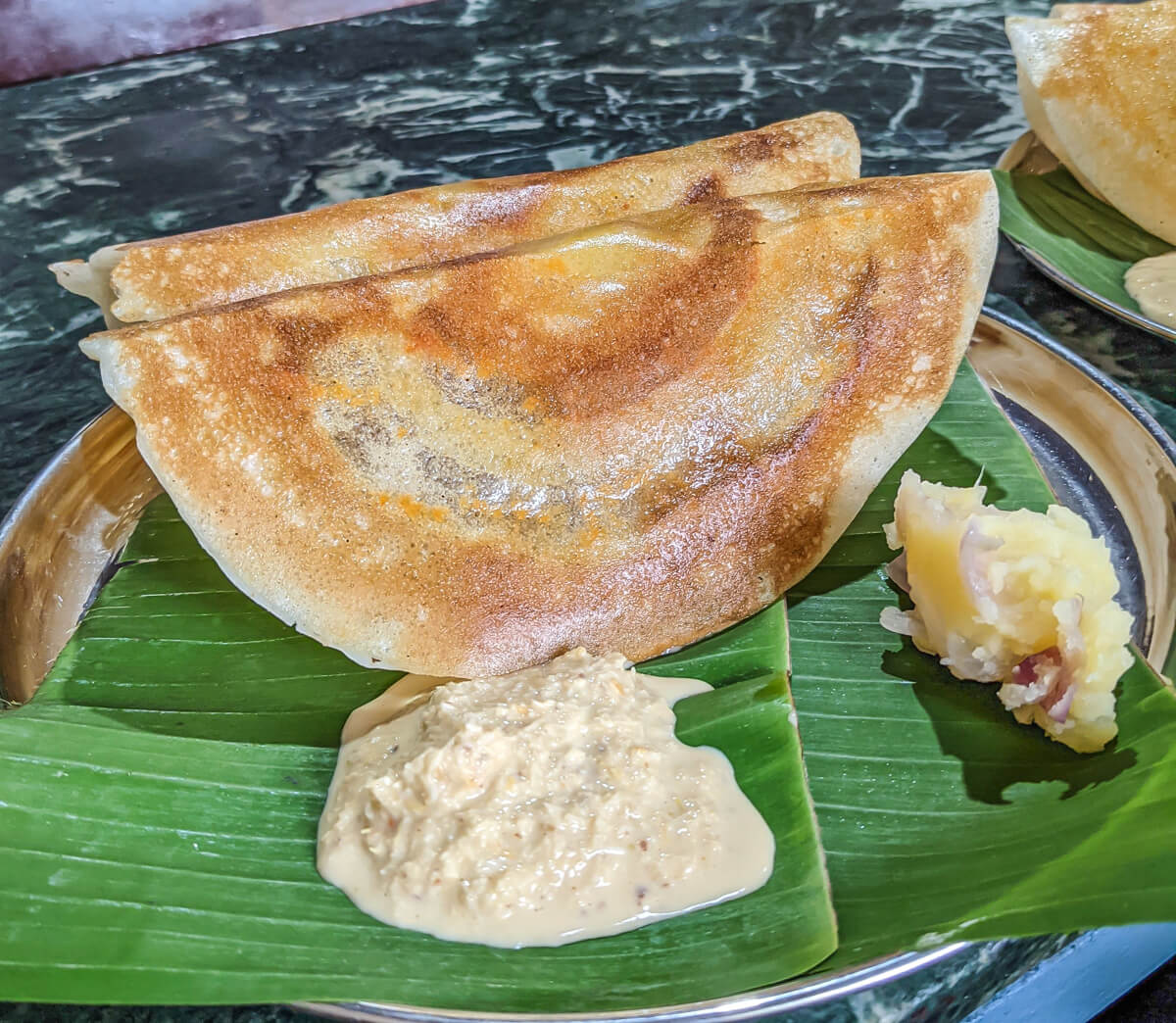 We ordered another tea. And now for the first time, I saw an elderly's framed photo hung on the wall with a garland over it. Probably the shop was opened by the father of one of those. We told the guys how much we appreciated the crunchy dosas and left them smiling.
From the heavenly Davanagere benne dosa, we come to Utthapam — a  thick, open dosa. Uttapam is soft and fluffy on the inside but its surface can be crunchy. This dosa doesn't come with stuffing. If you ask for onion uttapam, a handsome amount of onion and coriander will be spread over it. Onion and tomato uttapam would, naturally, come with a sprinkling of onion and tomato. One can also put capsicum, carrots, spinach, etc on top. Some makers also smear their Utthapams with podi powder.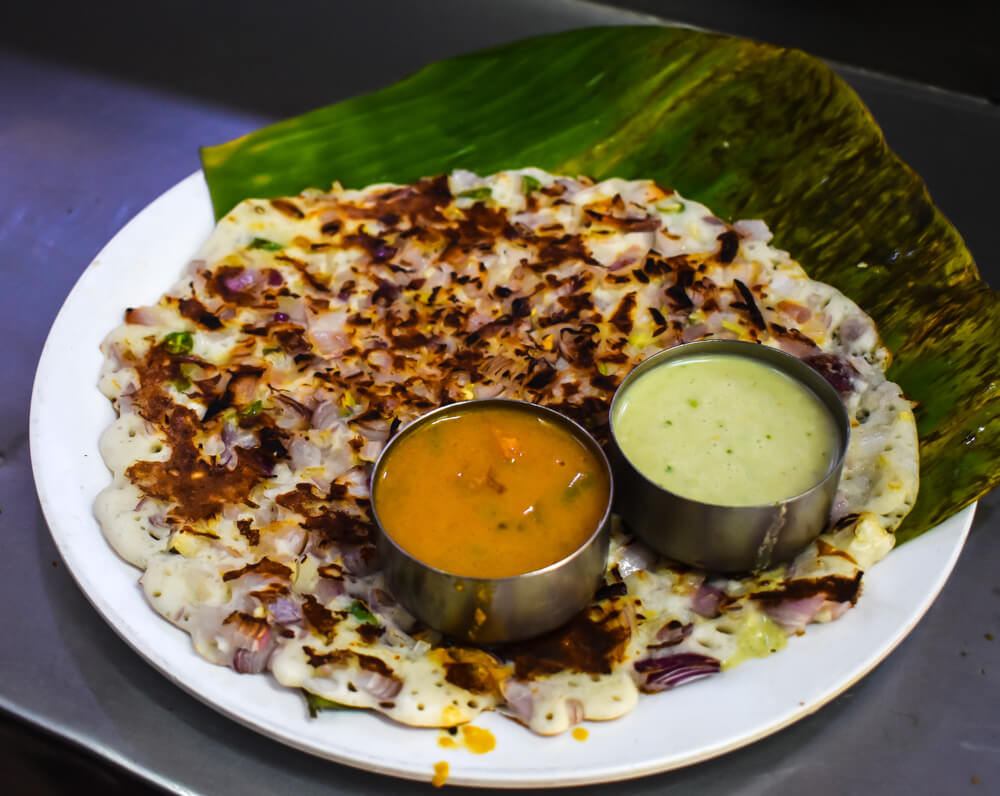 Uttapam is heavy, too, and whenever I see someone eating Uttapam I always wonder why don't they just eat a masala dosa. Clearly, I'm biased for this dosa is liked by many for its thickness and unique taste.
From the soft we come to the crackling ghee roast dosa which, as its name suggests, is roasted in ghee. This is a golden crispy dosa, of which when you take a bite, the break is heard miles away. Mothers say to their children, ssshhh, listen carefully, someone is having a ghee roast.
Ragi dosa, millet dosas, plain or sada dosas — no filling, spinach dosas, and many more kinds fill the menus. We can't go through all dosas in South India. But let us look at a few dosa variations in the different states of South India.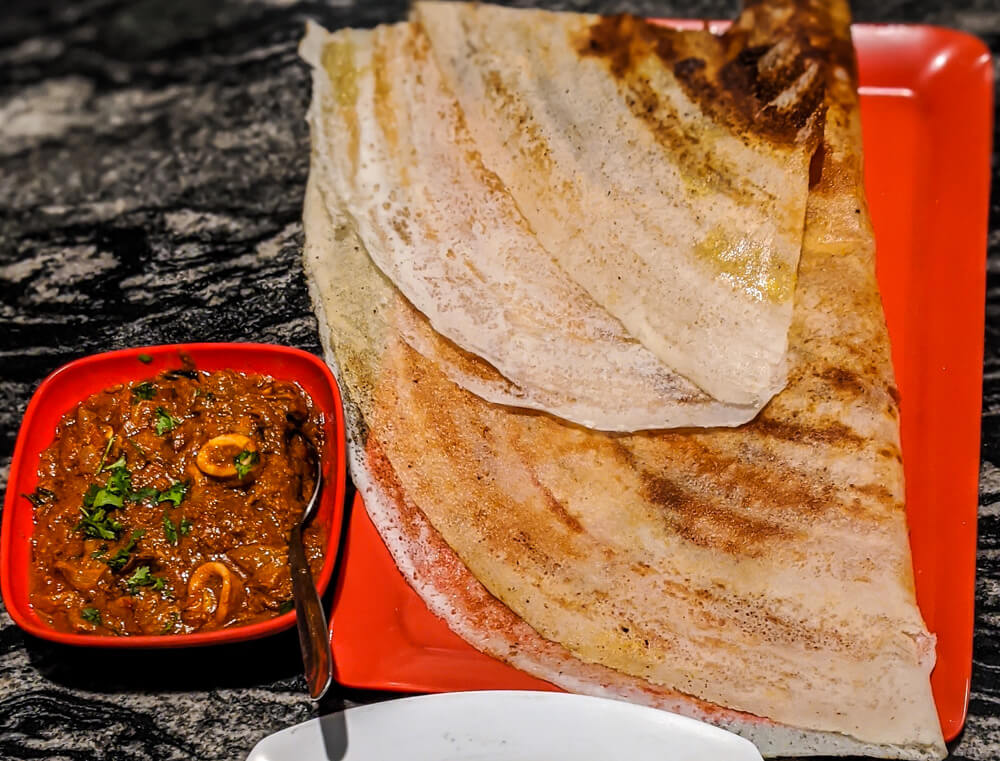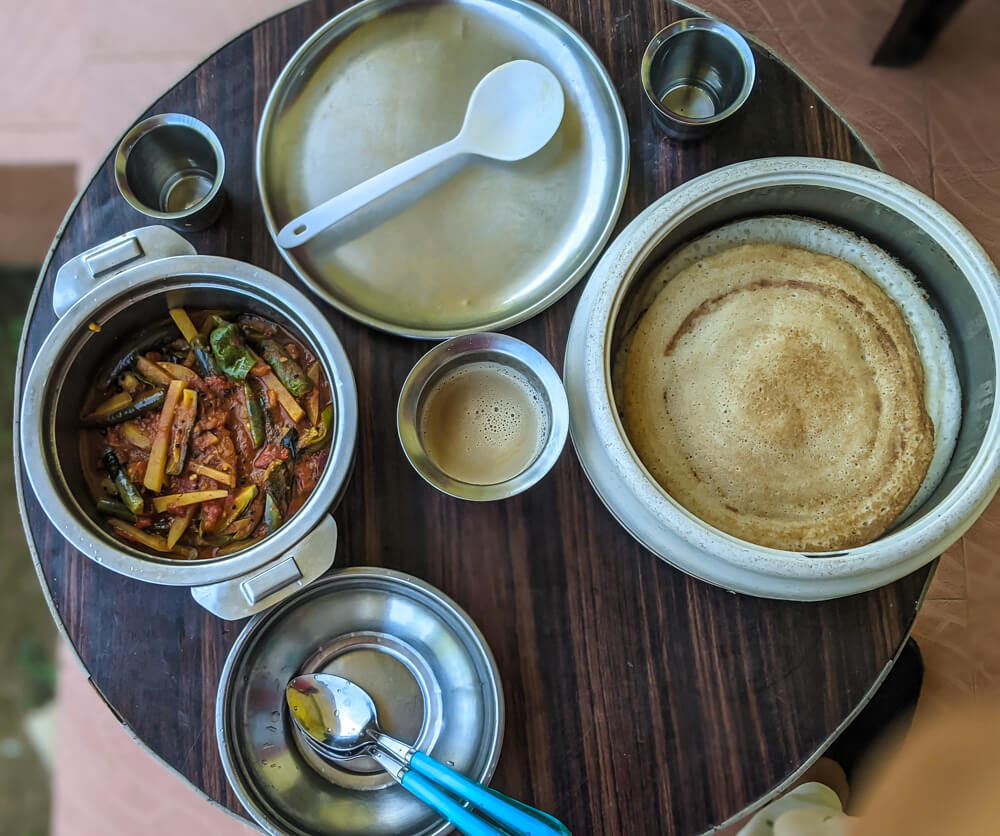 While Karnataka dosas are crunchy, thin, and brittle, Kerala and Tamil Nadu dosas are softer.
Dosas in Kerala are thick, small, and spongy, not crisp. It
is known
as Thattu dosa. Andhra's special dosa
is called
Pesarattu. It is also a soft dosa, much like the neer dosa, and
is prepared
with moong dal. Though I haven't eaten much of Pesarattu in Andhra, I've had moong dal chillas at home since I've been growing up. But this soft dosa doesn't work for me as I like crispy ones.
In every state the sides also differ. Andhra makes the sambhar tangier than the rest. And I found Tamil Nadu's sambar curry oilier and sweeter than others.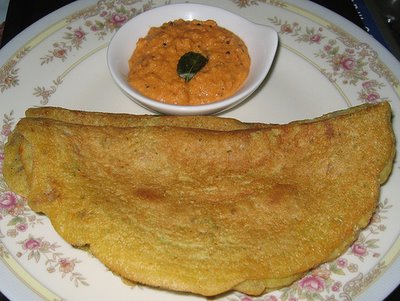 Lucky for me I like crunch. So my order comprises rava dosa, benne dosa, masala dosa, paper masala, and, rarely, ghee roast. I only order the soft ones when I want to eat them with fish, prawn, or squid curry. I also haven't eaten many dosas in Kerala, Andhra, Telangana, or other states of the South of India. But I plan to add the new arrivals to this post as and when I eat a new variant.
Some other close-to-heart dosas I especially want to mention come from Hampi. I don't know what was so special about Hampi dosas but they were crispier, thicker, and larger than all Karnataka dosas I've had. Hampi masala dosas were always smeared with the podi powder, and maybe that's why I liked them. Paper masala and paper plain dosas were our favorites at the quaint riverside shops of the villages around the historical ruins. (Here is a
photo guide to Hampi
for your merriment.)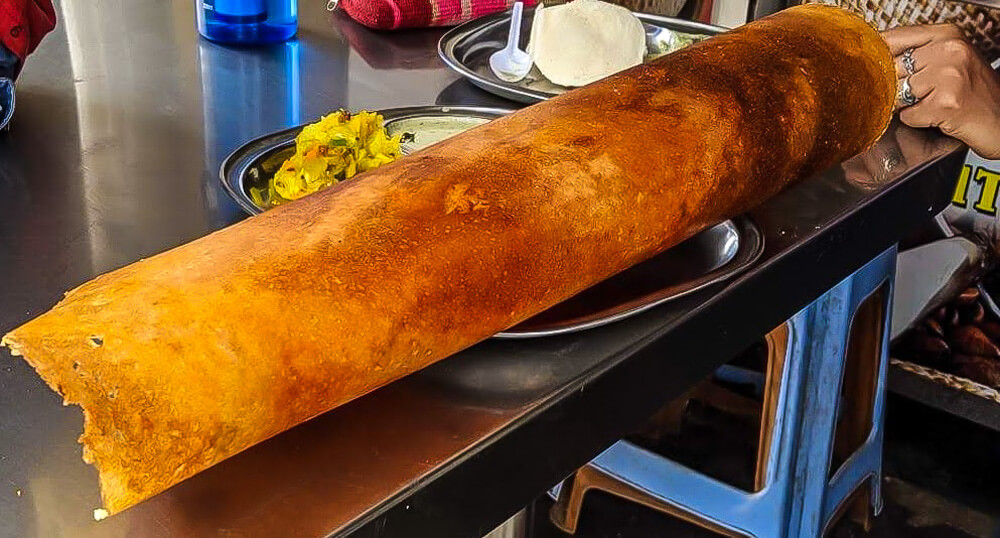 These are all the kinds of dosas I had to talk about.
Is There a Specific South Indian Dosa Recipe to Follow?
Now I don't intend to write down any South Indian dosa recipe here for experts are already busy doing that. I love this rava dosa recipe and  this benne dosa one. And at the moment, urad dal and rice are soaking in a container in the kitchen of our temporary Himachal home. The mix is for masala dosas for which I'm following this recipe.
Beyond traditional recipes, I will share a few ways to make good crispy dosa at home without much effort. I've been making dosa these ways for a while now and they always have turned out well.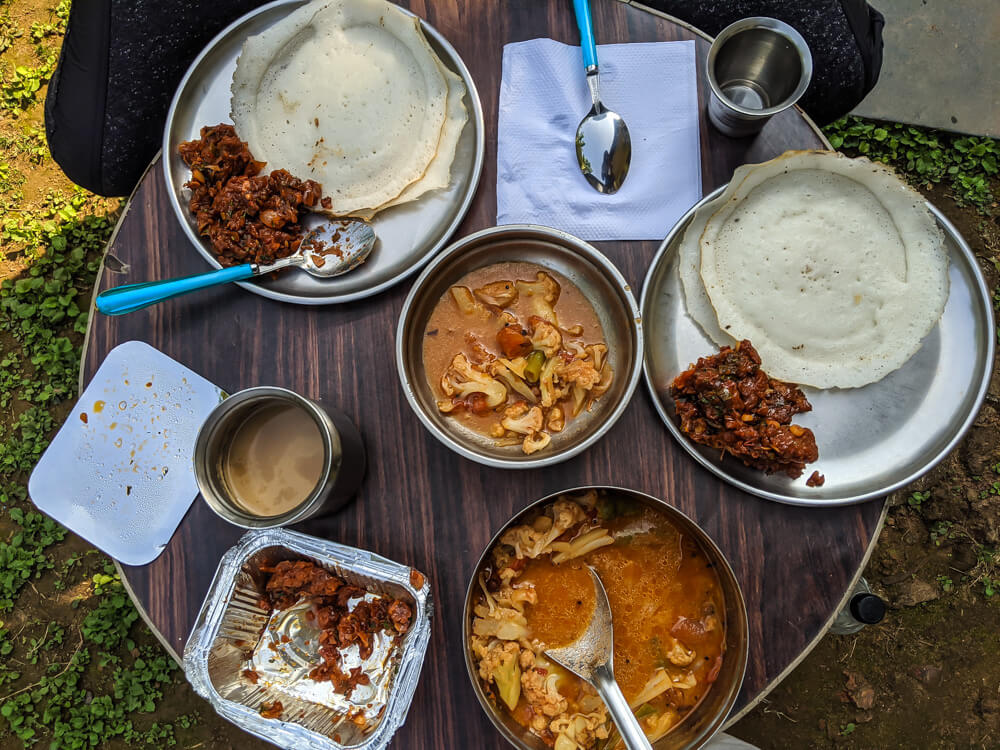 My Own Crispy Dosa Recipe
I've never made dosa batter on my own to date – this is going to change as I will grind the soaked urad dal and rice tonight. In South India, I buy the iD Fresho
idli
dosa batter. It contains rice, urad dal, water, fenugreek seeds, and salt. I vouch for the mix as I have bought it enough number of times. With one-kilo iD batter, two people can eat dosas twice.
The dosa batter can
be bought
online.
But while the liquid batter is available in most parts of India, I've not seen prepared batter sold online outside India
. Some good dosa batter mixes are present in powder form though. I have tried this
MTR instant dosa mix
and it is pretty good. In this instant powder, one has to mix water and/or yogurt and then leave the paste to rest for a while.
Now for the rest of this process, let us assume we have the batter.
How to make the dosa crispy and oil-free?
Dosa is one of those limited food items that can
be cooked
without oil. Pick up an iron skillet or the traditional Indian tava or any flat pan. Wipe it clean and heat it on slow gas. The first dosa can never
be made
oil-free. But in the later ones, if the tava is piping hot, you splash water on the surface and wipe it off with a cloth. Now pour a ladle-full of batter and spread it
evenly
. Wait till the dosa gets golden crispy from one side. If the surface was hot enough the dosa will leave it as it crunches or will come off with
just
a nudge of a flat spatula. But if the surface wasn't scorching enough, the dosa will stick to it. In this unfortunate circumstance, you will have to drop some oil on the sides to unstuck the dosa.
Now if you are making plain dosa, also known as sada dosa, fold it when it is golden on one side. Serve with chutneys or sambhar. To make masala dosa, place the filling on the top and fold the dosa, or leave it open if you like.
Another trick to have crispy, oil-free dosas is to smear an onion — together with its peel — but with the top slightly chopped off onto the iron surface. Smudge smudge smudge. You will have a fine crispy dosa curling onto the skillet on its own — without a drop of oil ( a trick an old Tamil aunty benevolently shared with me).
I serve my dosas with paneer bhurji (cottage cheese mash), chana curry, a simple onion and tomato chutney, sambar of my fancy, palak paneer, curried mushrooms, and so on
. I don't even know how to make coconut chutney.
Apart from these plain dosas, I have also made onion dosas and mushroom dosas.
Hope my methods help you prepare dosa. Now here are some common ingredients for delicious dosas,
Irrespective of how thin or thick and crunchy or soft the dosa is and with what people eat it, the feeling of coming home by eating dosa isn't an uncommon one
.
I rarely make dosas when I travel.
But while writing so much about the crunchy and buttery dosas, my stomach has been aching and my mouth has been salivating as if I am a dog sitting under a hanging but unreachable bone
. So today would be the first time on my nomadic journeys when I whip up some dosas. Please excuse me.
And you have some delicious dosas yourself.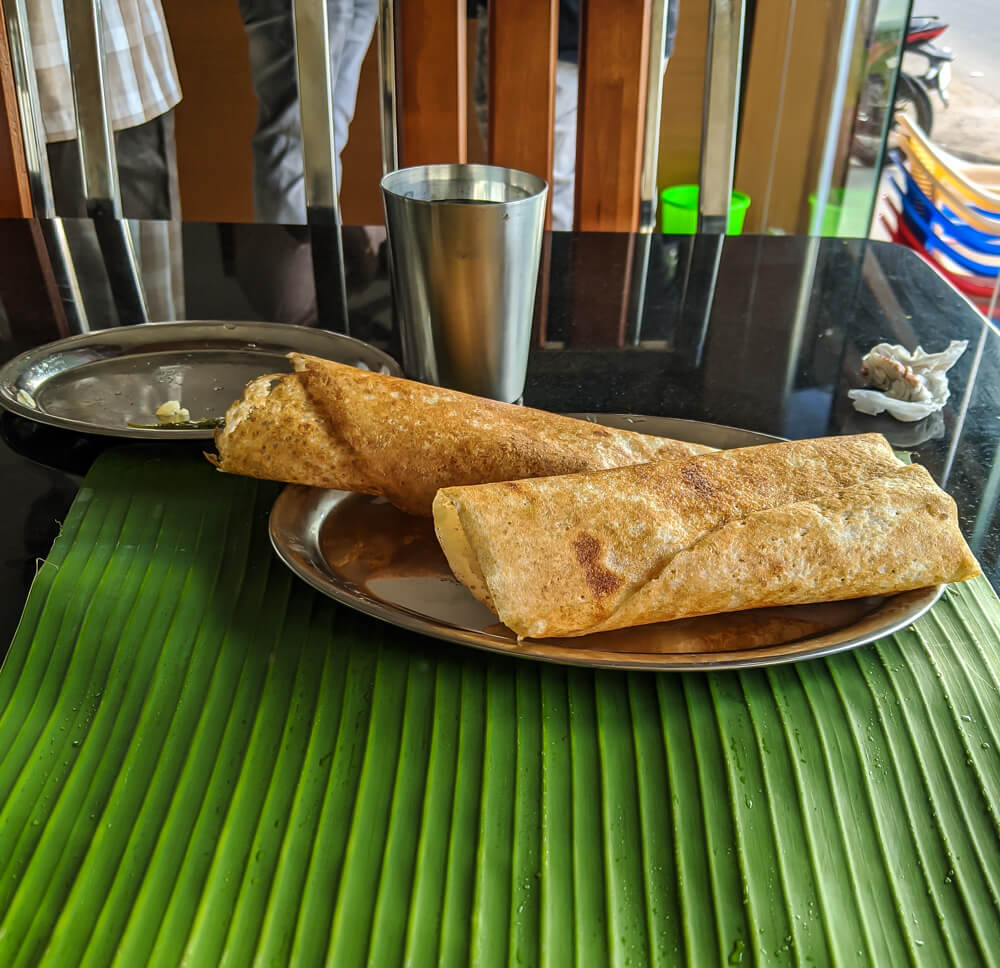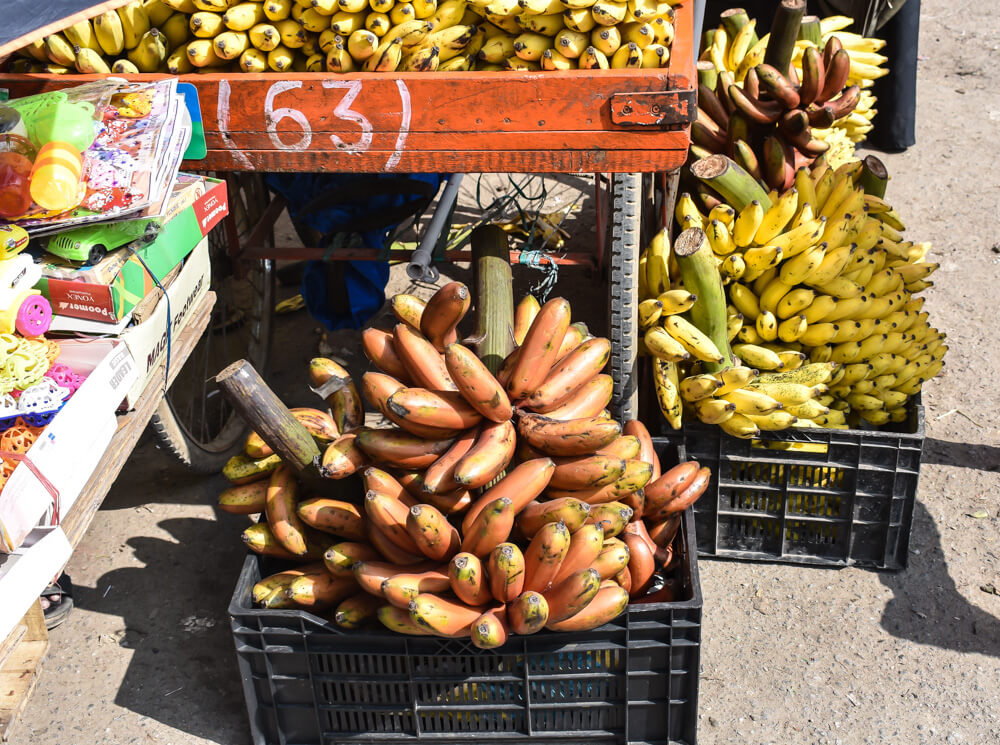 Did you like my recollections and details on the South Indian food dosa? Let me know your favorite dosa in the comments.
*****
Donate to keep me going!
For five years, I've read and wrote day and night to keep On My Canvas - my sustenance and life's focal point - going. Everything here and my weekly newsletter "Looking Inwards" is free. No ads. No sponsorships. If you've had some good moments reading my posts or felt hopeful on a lonely day, please consider making a one-time or a consistent donation. I'll really appreciate it (You can cancel anytime).
*****
Want similar inspiration and ideas in your inbox? Subscribe to my free weekly newsletter "Looking Inwards"!