Lost in the lost kingdom of Hampi. 
Everyone travels to Hampi, one of the best places to travel in Karnataka and a UNESCO World Heritage site, to see the ruins of the ancient Vijayanagar empire. They say Vijayanagar was once the richest empire in the world. But I didn't visit Hampi just to see the ruins. My favorite part about Hampi was the nature that cradles Hampi in her lap as if sympathizing with her for the tragedies the empire suffered.
Also, this was not my first time in Hampi, and I was better informed about the place.
My first trip to Hampi from Bangalore was about a few years ago. Back then I had made a list of places to see in Hampi that included the main Hampi attractions such as the Virupaksha temple, the Vitthala temple, and the other ruins that form the groups of monuments at Hampi. That was a three-day Hampi trip from Bangalore that only left me wanting to see more of this archaeological wonder of the South.
When I traveled to Hampi the second time recently, I didn't make a Hampi itinerary. Why?
When you Google search about Hampi, you are bound to get overwhelmed by the number of things to do in Hampi. Hampi images filled with historical buildings and unbelievable boulder arrangements amidst a lush spread of fat palm and tall coconuts would not only leave you amazed but bewildered.
I hear you.
Must Read: Finding Sloth Bears in Daroji Bear Sanctuary, Hampi
Please do not think that Hampi is the playground of Indiana Jones and that you won't be ever able to see all the best places in Hampi.
The trick to enjoy Hampi is that don't be meticulous about a "things to see" list and instead let yourself go with the flow. And mind you, you would never be able to see all of Hampi in a few days.
After reading the history of Hampi and a couple of the places to see around Hampi, I realized that the best way to explore Hampi is to get lost in Hampi.
I booked a beautiful cottage in the Sanapur area of Hampi (treated myself a little bit on my birthday), which is far off from the mainstream Hampi, and soon we set off on a Bangalore to Hampi road trip.
Also read: If you love nature, you should consider going to Parvati Valley in Himachal Pradesh, India
Statutory Warning: Such dosa pictures are going to pop up frequently in this Hampi guide so better get used to them. Or close this tab but where will you go then? 😉
What can you expect in this places to visit in Hampi travel guide?
But not staying limited to the most recommended things to do in Hampi, I would take you on offbeat Hampi trails, too.
We would wander together in Hampi villages watching wild langur families drink water from tiny streams, admiring the sparrows that frolic around in lush paddy, taking a moment to appreciate the cows resting with their calves outside homes, petting the cat and kittens and dogs and puppies that are never prepared for a car in the village streets, gorging on yummy dosas that the local food shops will never let you have enough of, and gazing down on the lost kingdom of Hampi from the top of tall Hampi hills.
Oh, did I mention that Hampi is also a great place to chill by the Tungabhadra river or see sloth bears eat jaggery off boulders?
I don't know what is not there in Hampi.
Are you ready?
You can jump to the history of Hampi and Hampi itinerary directly. 
About the trip from Bangalore to Hampi by car.
Even though my nomadic lifestyle helps me travel slow and use public transport, I often return to Bangalore to be with my partner and meet my friends. And we often rent a car to go on a road trip from Bangalore as the amazing places to see near Bangalore are the best part of being in the city.
Karnataka (where Hampi and Bangalore both are) is a good state to drive for the roads are well-made, and palm and coconut trees fringe them on both sides.
On your way from Bangalore to Hampi by road, you will also get to see the infinite windmills dotted on the horizon making the drive pretty surreal after a while.
Bangalore to Hampi distance is about 340 km via NH50 and NH48. Thanks to the good roads, we did the drive in 6 hours (excluding the time we stopped to eat and relax).
On the way, we stopped at local Udupi and Shiv Sagar restaurants to stuff ourselves with crunchy dosas and soft idlis.
I mean how can you not. Have you looked at one of these crispy goodnesses?
Suggested Read: Road trip from Bangalore to Coorg – Another cultural and natural heaven of Karnataka
Something you need to know about the road trip from Bangalore to Hampi — You will have to pay at many tolls so keep that cash ready. 
How was the road trip back from Hampi to Bangalore? 
Gorgeous. If you are not in a rush, stop at one of the many dhabas in Tumkur and eat some dal rice and onion pakora. I bet you won't regret the half an hour stop. 
Where is Hampi and Hampi history.
Hampi is located on the banks of the river Tungabhadra in east Karnataka. Once the capital of the rich Vijayanagar empire in South India, Hampi is now known for the more than 1600 ruins, sculptures, and relics that have been discovered over centuries on either above the land or excavated from under the earth.
But how did these artifacts and historical monuments came to Hampi in the first place?
Many versions of the history of Hampi fill the internet. Also, Hampi has been mentioned innumerable times in Hindu mythology.
According to the Hindu Puranas, the goddess Parvati (also known as Pampa) meditated on the Hemakuta hills in Hampi to persuade Lord Shiva to marry her. The Hampi river which we call Tungabhadra came to be known as the Pampa river. The Sanskrit word Pampa together with the Kannada word Hampa became Hampi. ( I don't know what Hampa means, do you?)
In the Kishkindha Kaannd of Ramayana (one of the many chapters of Ramayana), Hampi is suggested to be the place where Ram met the monkey king Sugreev and asked his help to free his wife Sita from Ravana's captivity. The Matunga hill, where I will later send you to see a stunning sunset, is known to be the place where Ram crowned Sugriv as the king.
Relics and sculptures excavated at Hampi support these stories.
An insider tip — while you explore the ruins of Hampi, see the engravings, sculptures, and paintings on the walls of these remains closely. Most of them have Ram and Sita or Parvati and Shiva's beautiful figurines carved out of stone. 
Relics dating as old as 3rd century BCE, some of them from the Ashoka empire, have been excavated in Hampi making us wonder since when has this place been inhabited by people from around the world.
But this is the story of an ancient Hampi. Post the mythological era, Hampi was the capital of at least four dynasties one of them being the Vijayanagar empire that made Hampi their capital in the 14th century. 
Insider Information: Anegundi, a tiny village that not many people even visit now, was the earlier capital.
The rulers of the Vijayanagar empire who were passionate about art, architecture, and literature built many engraved and remarkable temples and other structures around Hampi.
The history and excavations say that Hampi city was one of the world's grandest cities filled with riverside markets, rich trade centers, stunning temples, and agricultural farms. Persian and Portuguese traders visited Hampi frequently to get a chunk of the trade hub of the world. 
But for how long could such a prosperous city protect herself? In the 15th century, Muslim looters and plunderers invaded the Vijayanagar empire, filled their caravans with all the gold and diamond they could get, and left Hampi in ruins.
Women committed Jauhar to save themselves from the invaders, and we were only left with history. 
Though Vijayanagara kingdom wasn't the only one who added to the Hampi heritage and many other dynasties contributed to the relics, now all those creations are scattered around the 16 square miles of the Hampi ruins area – these ruins form the Hampi Unesco site or the group of monuments at Hampi that attracts more than half a million tourists every year. 
Only in the 19th century did the lost kingdom of Hampi was found again by Alexander Greenlaw, a British East-India company soldier who photographed the ruins and Hampi found its way on a historian's and a traveler's map when the prints became popular later on. (I have heard that those prints can be found in the office of the Deccan Heritage Foundation.)
With so much to see, Hampi is nothing but stories written in stones.
Another place to visit in India if you love history and old monuments – Nawabi places to see in Hyderabad in 3 days
A question — Did you know that excessive mining of iron-ore and manganese has started to endanger the ancient sculptures at Hampi?
What are the places to see in Hampi?
This question is subjective as the things you see or do in Hampi depends on the time you have there. Traveling to Hampi for a month? That's great, and the upcoming Hampi activities and places that I will talk about can keep you busy even for a month.
Going to Hampi for a day or a few days? I would say that one day in Hampi is not enough. I was in Hampi for about five days out of which I was doing honest Hampi sightseeing (if that's a thing) for about four days.
But you don't have to see it all for rather than worrying that you can't see it all you have to have a great time exploring this marvelous gem of South India. I am going to talk about the things that I enjoyed doing and the places that I loved in Hampi below. You can choose one or many out of them as you like.
And if you ask me for the best places to visit in Hampi in one day, I would say that visit the Virupaksha and other temples nearby that I will describe on my day 3. See temples for half a day, relax by the riverside for some time, and then climb up the Matunga hill for a perfect sunset.
What about the places to visit in Hampi in two days? To spend two days in Hampi, you can take up any of my two days from the itinerary below. As per your priorities and places you like, mix up a few things to see in Hampi.
Suggested Read: Road trip from Bangalore to Panchapalli Dam and Bettamugilalam Village
Before moving onto possible itineraries let's understand the ruins structure.
What are the different ruins in Hampi?
Hampi has three main ruins — the sacred ruins that are the main temples (Virupaksha, Vitthala, Achutharaya, and more) spread around the river, the urban ruins that are mostly from the Vijayanagar empire and cover a big complex — the lotus mahal, elephant stable, and the queen's bath all are part of it, and the third is the riverside Hampi ruins that are scattered around the river in small sculptures, on boulders, and in hidden carvings.
When I visited Hampi, the riverside ruins were submerged underwater so I can only talk about the sacred and the urban ruins. 
What is the best way to trace these ruins?
In my day to day Hampi itinerary in the next section, I am listing down a few trails that I followed because they felt natural to walk.
Please note – I am not providing a trail map here as you can find one easily at your hotel or at the various Hampi tourist attractions. You can also click a picture of the Hampi monuments map at one of the ruins. I walked and kept finding the way to the next ruins and didn't follow any map. Do what feels natural and easier for you. 
Choose a trail or a ruins area and off you go. Carry water, sunscreen, wear comfortable clothes, and simple footwear. 
Day 1 in Hampi 
Exploring the area around my cottage near the Sanapur lake, driving around in the villages of Hampi, lunch at Gangavathi, and climbing up Durga temple. 
I started my Hampi trip by exploring the paddy fields and climbing up boulder hills around my stay in Hampi. I was staying near the Sanapur lake for I liked that area. More details on my choice of place and cottage are in the best place to stay in Hampi section below.
The Sanapur lake is popular for cliff jumping, but as I am still a novice swimmer, I walked around the lake and watched the idyllic boatmen chill next to their coracles. If you go cliff jumping, don't get scared by the crocodile warning side on the lake for that is just to scare drunk men who have been known to jump in the lake for fun.
What about these giant boulders that you see scattered in Hampi?
Those are local granite boulders that have formed due to the erosion happening for millions of years that has transformed rocks into spherical boulders. Even a sister place of Hampi known as Ramanagra has similar granite boulders off which Amitabh Bachchan and Dharmendra jump around freely in the movie Sholay. 
By looking at the Hampi boulder scene, you would also agree with my idea that Physics students should be brought to Hampi to do some real-life friction understanding. 
Before heading off to any ruins, we took our car for a spin in the Hampi villages and drove by lush paddy fields that were the playgrounds of gorgeous langurs and sparrows. 
When we got really hungry we made our way to Gangavathi, a small town near Hampi, for some heavy lunch, and then climbed onto the top of the Durga temple to digest the peppery mushrooms and spicy dal. 
After climbing some stairs and avoiding the guide who wanted to force his guidance upon us, we walked further up and watched the sunset from the top of the Durga temple. (I have nothing against guides but if they push too much, I never hire them.)
From up there you can see Pampa Sarovar, other temples, river Tungabhadra, and green paddy spread in chess-like squares all over Hampi. We watched the sunset from the top and then called it a day.
Summarizing what you can do on your day one in Hampi — Take it slow. Try to absorb the place for it's quite random, to be frank. A lovely random though. 
Depending on where you are staying, drive or walk around green fields, watch nature do its thing, climb on the top of a hill, any hill, to watch the sunset and see Hampi from a bird's eye view. This top view of Hampi will give you a good idea of how the ruins are spread or rather how the city is spread, and then when you explore it the next day, you won't feel so overwhelmed. 
Another unusual landscape of India that you might like – Spiti Valley, Indian Himalayas
Day 2 in Hampi – Things to do in Hampi on your second day
Immersing in local food and admiring the Indian sloth bears in the Daroji Bear Sanctuary.
First things first. A few crispy dosas filled with spicy potatoes fried in curry leaves and a couple of plates of idli at a local food shop in Virupapur Gaddi helped us start our day. 
Soon we headed off to the Daroji Bear Sanctuary that was an hour away from Virupapur Gaddi and half an hour away from Kamalapur (if you are staying there). 
If you have less time and want to see the ruins first, just skip to what I did on the third day in Hampi for that is a ruin-filled day. 
Did you know that most of the caves within the intriguing Hampi boulders housed many leopards and bears when Hampi was reduced to a jungle and not many people visited or lived there? Now the animals have been restricted to national parks such as Daroji bear sanctuary. 
The ruins of Hampi and the surrounding mischievous area that could have been straight out of an Ashoka war movie was once dense with Indian sloth bears, leopards, and wild boars. Over time, Hampi became popular, visitors started coming in, tourism helped people to settle down in the villages, and the animals became a threat to humans and vice-versa.
The wild animals were moved and restricted to the Daroji bear sanctuary that lies about forty-minutes away from Hampi and is one of the most-recommended yet offbeat places to visit near Hampi.
If you love wildlife, you should go to Daroji but not at 2 pm as many of the articles recommend. Though the sanctuary is open since 2 pm, you won't see sloth bears that early for they only come out to eat around the evening when the weather is cooler. 
The staff of the sanctuary puts liquid jaggery and honey on many rocks in the park. Around 5 in the evening, you would see sloth bears venture out and lick the sweets off the rocks. 
Recommended Read: Daroji Sloth Bear Sanctuary, Hampi – Home of Indian Sloth Bear
Dinner was at a local place called Manju cafe which comes up as Mango Cafe in Google. Nice place run by a local lady but it is only for people who are in the Sanapur/Anegundi side. Here is the Google maps location for Manju cafe. 
There is a small Muslim shrine in front of the shop so you can also have a look at the religious rituals. I was in Hampi at the Muharram time and could see a regular rush of the devotees at the shrine.
Summarizing what you can do on your day two in Hampi — Eat and watch adorable sloth bears eat, too. 
Day 3 of Hampi itinerary
Ruin-Filled day.
This is when I finally went to the main ruins near the Tungabhadra river. 
As I was staying in Sanapur, going to Hampi sacred ruins or the main temples along the river bank meant always crossing over the Tungabhadra river and also the many villages of Hampi. Tungabhadra was at a high level in September when I visited for the monsoon had just finished its job, and ferries and coracles weren't allowed to cross the river. 
So we drove straight off to the other side of the river and parked at Virupaksha temple. 
Virupaksha, a temple dedicated to Shiva as Virupaksha is another name of Shiva, is one of the most popular and revered temples in Hampi that has been there since the 7th century.
I won't go into the many geometrical alignments of the temple but I can tell you that the grandeur of this temple blew away my mind (and I have seen a lot of temples). I am not a temple fan but when I witness a temple like Virupaksha, I know that I have seen one of the many manmade unique creations that would never be made again for the first time. 
The tower you see in the picture is only the first Gopuram(tower) and you will see another tall Gopuram one when you go inside. But first, you will pass through a courtyard, a three-headed Nandi bull, intricately carved stone pillars, langurs eating off bananas, and a plethora of people who come to Virupaksha to pray.  
There is also an inverted shadow of the gopuram inside the temple whose creation nobody has been able to figure out. 
As you walk further ahead and arrive at the backside of the temple, you can find the banana fields of Virupaksha that support the temple expenses. I loved that backyard with more wild monkeys, huge trees, stone-pillared columns, and an amazing view over the Tungabhadra. How it would have been to live there in the 14th century with all that prosperity?
Virupaksha also has an elephant that I didn't see and, maybe for the good, as I don't support the idea of keeping animals in captivity. Hate me as much as you can, but I can never justify keeping an animal restricted. 
From the back of Virupaksha, you can walk up to the Hemakuta hills which is where they say Parvati prayed to Shiva. And soon the views change and you see the two gopurams of Virupaksha in a row like dazzling pillars of gold standing tall above everyone. Indian classical music echoes in the area so you might want to sit down for a bit and soak in all the energy. 
I had left my slippers in front of the Virupaksha so while I ran around admiring the views my feet sizzled.
Insider tip – If you want to climb up Hemakuta hills, first get out of the Virupaksha mandir and then go there.
Also, as you get out of Virupaksha and walk straight ahead, you see the directions towards Hampi bazaar which was empty when I visited. I walked along another one of stone-arcaded galleries to find myself at signboards that marked Vitthala and Achyutharaya temple. 
I could have gone straight to the staircase that seemed tempting or towards the Matunga hill that stood on the right, but I turned towards the Vitthala temple trail. The 1.5-2 km walk alongside the river would have been pretty beautiful but water from the Tungabhadra had flown into the pavement, and I had to turn around again.
This time I took a mud trail on the right side of the path that brought me out at the monolith Nandi. From there I took the stairs up to arrive at the Achyutaraya temple.
As you can see in this picture every sight was getting prettier so I sat down for a while, read about Hampi, and then continued walking. Strolling under the shades of the stone-corridors supported by some 80 columns, I was in the complex of Vitthala temple.
Vitthala temple is popular for its musical pillars and stone chariot, and I didn't spend enough time exploring and understanding the two. Until the next time then. 
From the Vitthala temple, I continued walking to many more temples and, finally, I was at the rowdy riverfront again that restricted us from walking on. 
When the river wouldn't be flooded, you can go back to the Virupaksha the same way but I had to retrace the entire way. 
Insider tip: Have lunch at one of the local stalls in the Virupaksha parking space, The ladies there make fresh food and serve it with a smile. And outside Virupaksha temple, you can fill your water bottles from the filter machine. Two rupees for two liters. 
In the evening, we drove to the Urban set of ruins that encloses Queen's bath, the Mahanavami platform, stepped tanks, and many other scattered ruins nearby.
While roaming around in the ruins, you will see a number of stepped tanks that were made to bathe in the royal era. 
The boundary walls that you can see in the image hold water ducts that are coming away from far off, and one can imagine if Tungabhadra was directly brought into the bathing stone pools. 
Don't miss driving by or walking randomly to the top of a hill to watch the sunset. Matunga hill could be your choice for this day as you are in the area. We were pretty tired and a bit away from the Matunga hill so we just watched the sunset along some paddy fields. 
Summarizing the places to visit around Hampi on your third day — Though this was a long day, I loved every bit of the Hampi World Heritage site. But make sure you slow down near the sunset as Hampi sunsets are better than you have seen them at a lot of places.
READ NEXT: If you are road tripping in karnataka, do consider traveling to the Kali Adventure Camp on the Kali river in the Dandeli wildlife sanctuary. Ain't not many places like these.
Day 4 of the Hampi trip – Things to see in Hampi when you have had an idea of Hampi.
Ruins and local food, but a slower day. 
We started off this day slowly and first enjoyed a late breakfast in Kamalapur only to go to Virupaksha temple side again (the previous day we had left Hemakuta hills early as our feet was burning).
Hiking up the Hemakuta hills for the second time was worth it for the panoramic views of Hampi from up there. (the featured image is clicked from the top of the Hemakuta hills.)
While coming down, you would come to another large complex of the Urban ruins and encompasses the two popular Ganesh – that is the Kadalekalu Ganesh and the Sasivekalu Ganesh.  
Insider tip – As you get down from the hill of Kadalekalu Ganesh, you will see a map of the ruins of that area. Remember to click a picture of that map and keep it with you. 
Now you can either choose to explore the ruins in the surrounding area or go to some other ruins. We drove to the Queen's bath ruins area for we wanted to explore that more. 
After walking around in that area, hiking random hills to find scattered ruins, climbing up some temples on the way, we went to Lotus Mahal, the elephant stables, and the other temples that share the large complex of the stables. 
You will also find a big Hanuman idol in one of these complexes. 
Though we saw a lot of popular Hampi sites that day, my favorite was the scattered and unpopular sculptures and engravings that we discovered just by taking random turns on the hills.
Summarizing what to do in Hampi on your fourth day — Choose an area and explore more ruins. The space around Queen's bath is a good place to start. 
I hope I have given you enough places to choose from on your Hampi trip so that you can make your own itinerary.
But remember that Hampi cannot be seen or even understood in one trip. When I researched the places around Hampi while writing this Hampi travel blog, I found so many ruins that I hadn't seen, wall paintings or sculptures that I had missed, or hilltops that I hadn't climbed for I was already exhausted from the day's explorations.
Well, there is always a second time.
While driving back to Bangalore, we stopped in Hospet at a place called Sai idli (in front of the Shan Bagh hotel) that our cottage owner had told us about. The place makes the softest idlis I have had to date.
What is the best time to visit Hampi?
I would be a bit biased while telling you about the best time to see Hampi for I went to Hampi in September when the rain gods had left Hampi lush and Tungabhadra overflown. The velvety greenery of the place after the rich monsoon, the cool weather with the hints of receding rains, and the occasional light showers added a romantic hue to Hampi. 
But because Tungabhadra was gushing in full flurry, you couldn't go from one side of the river to the other just by a coracle; riverside ruins were submerged, and many places were closed down. 
Having said that, local places were functional and serving food, prices were down, Hampi wasn't crowded, and overall the weather was just a cherry on the top. 
If you don't want to visit Hampi just post-monsoon, you can choose to go there anytime from October to February/March post which Hampi would be too hot. 
How to reach Hampi, Karnataka?
Hampi by air — Hubli is the nearest airport to Hampi. At a distance of 164 km, you would take about 4.5 hours to reach Hampi by taxi or self-drive car.
You can also take a bus from Hubli to Hampi. Hop on to Redbus to book a bus from Hubli to Hampi or Hospet and Kamalapur — nearby towns and villages to Hampi. Even though Redbus shows Hampi as the bus dropping point, I am not sure if the bus takes you to the main Hampi area. Do check with the bus operator when you board the bus. 
Hampi by road — Either you can take a car and drive to Hampi from where you are. We drove to Hampi from Bangalore in about 6 hours.
Hampi by bus — Or you can also take a bus to Hampi or the nearby towns Hospet and Kamalapur. Check for the tickets on Redbus.
Hampi by train — Nearest railway station to Hampi is the Hospet station that is about 11 km from Hampi. Go to Irctc to book a ticket for Hospet. Hospet to Hampi is about half an hour's journey.
How to reach Hampi from Bangalore? How to go to Hampi from Bangalore? How far is Hampi from Bangalore? What is Hampi to Bangalore distance?
Please see the Bangalore to Hampi road trip section to find answers to most of these questions.
Apart from driving to Hampi, you can also take a direct bus from Bangalore to Hampi. Or get into a train and get down at the Hospet railway station and then make your way to Hampi with a taxi or an auto-rickshaw (I have heard tuk-tuks connect these two places). 
What clothes can you wear in Hampi, India?
Irrespective of common thinking, you are not expected to wear traditional clothes in Hampi. If you like Indian clothes, then feel free to wear them, but you don't have to feel obliged to dress in Indian attire.
But as Hampi is a religious center and some people might find a very-short clothing offensive, I suggest a normal t-shirt/top and skirt or cotton pants/jeans would do no harm.
Which area to choose for staying in Hampi? From where would you be closest to the best places to visit in Hampi?
Along with the main ruins area, Hampi has many connecting villages and, so, naturally many places to stay. 
Some people choose to stay near the Hampi ruins and the main temples that we saw above. But I stayed on the other side of the Tungabhadra river, away from the Hampi main group of monuments.
Why? I love staying in areas away from the tourist action especially if I have a commute such as a beautiful car. 
Amongst the many places to stay near Hampi such as Kamalapur, Anegundi, and Hanumanhalli, I chose the Sanapur area for that is lush green. 
Sanapur was close to the villages of Anegundi, Virupapur Gaddi, Pampa Sarovar, Hanuman temple, Durga temple, and the Anjaneya Hill which I never climbed for I felt it was too crowded (rows of cars parked outside). I have heard that the views from the top of the Anjaneya hill are amazing, so now I am happy that I have a reason to go to Hampi again. 
Oh, they say that Virupapur Gaddi is the Hippie island of Hampi. But I didn't choose Sanapur for its proximity to the Hippie island as I wasn't planning to go there. 
My experience with hippie places is that you seldom get local and cheap food there. People live in their own world within the destination and go out to experience the place only to return to that world. But I wanted to be part of the real and local Hampi. 
Nature helped for in September, the time I went to Hampi, rains had overfilled Tungabhadra to the extent that she had overflown out of her basin to submerge most of the Hippie island. The road from Virupapur Gaddi to hippie island was also submerged; If the great man who sits in his restaurant just opposite the submerged road hadn't warned us, we would have landed in the water instead of cutting a birthday cake later (hippie island has more bars and restaurants where we wanted to be for a small celebration on my birthday).
Hippie island might never open again for it violates the rules of UNESCO preserved places – you cannot have any construction within a particular radius of a UNESCO site.
A note to the authorities — Pease put a signboard on dangerous roads warning the people not to go any further. 
Sanapur was a great area to stay if your priorities are similar to mine. When you go towards Sanapur, you will see rolling paddy fields on both sides, palm trees will sway in a distance, dogs, and cats won't buzz from the streets, kittens and puppies would play on the road, wild langurs will walk by casually, and steamy idly will make you so idyllic that world would seem like a good place again. 
Oh, if by chance you visit Hampi in the monsoon, the rain will wash away your leftover worries, in case there was any left.
What are the best places to stay in Hampi?
I stayed at the gorgeous Hotel Gowri in Hampi that is one of the most peaceful and nature-ridden places that I have ever stayed in. 
Please note: This is not a sponsored post, and Hotel Gowri hasn't paid me anything to write this review. 
How did I choose Gowri for my Hampi stay?
I was looking for a place to stay away from the main Hampi bazaar and the sacred ruins of the Virupaksha temple as that area gets pretty crowded. 
I looked for Hampi hotels on Booking, as I always do, and stumbled upon Gowri. 
I saw this picture in one of the reviews that I got instantly attracted to. At Gowri, I could see myself waking up in paddy fields, drinking coffee while the birds chatted around, and eating local Karnataka food from the nearby villages. 
Which is what happened. 
Gowri's comfortable bamboo cottages, eco-friendly environment, a great view, and the friendly staff that runs the place made Gowri a comfortable stay. Also, the in-house restaurant has delicious food. 
Hotel Gowri was also sort of a homestay in Hampi once for the mother of Harsha(the owner of Gowri resort) used to make idlis and other food. But now due to ill health, she doesn't prepare food for guests.
Though I stayed in a private cottage with a paddy field view, Gowri has many cottages some of which come with a garden view, some are atop rocks, and sometimes Harsha also places tents. Prices of these places vary as per their amenities.
Gowri is in Sanapur and very close to the Sanapur lake. You can walk around the fields and the boulder hills near Gowri. Or just climb one of these hills to watch the sun go down the horizon in pride here.
The hammocks were the best part at the end of the day to watch fireflies dance on the top of the paddy. Only birds will disturb you here of which I saw and clicked many. 
What makes Gowri so special is not just the 30 mango trees that the garden has or the timeless bamboo cottages but how Harsha cares about this place. Since Hampi has become a hippie place to smoke and drink, he is one of those who are trying to raise awareness about the historical importance of Hampi. 
Instead of getting sad or judging guests who come to his property and don't even know how paddy looks like, Harsha wants to educate city people about the wonders of nature, arrange walks through hidden Hampi ruins that he has been discovering since childhood, and show people how beautiful Hampi is.
If you want to stay on the offbeat side of Hampi, Hotel Gowri is a great place to stay. 
Browse the prices of Hotel Gowri and book it for your upcoming Hampi trip here.
If you don't want to stay in Sanapur or Gowri, then here are some of the other places to stay in Hampi. 
Places to stay that are away from the main Hampi. 
Hostel Wayfarers Hampi — Wayfarers seem a clean, hassle-free hostel with mix bunk and female dorm rooms, double room with a balcony, and tents next to the riverside. Located close to Anegundi so away from the main Hampi, this hostel has a restaurant and bar at the property though don't expect any local food here. 
See the prices and book Wayfarers here. Do opt for an airport shuttle while checking out if you are coming to Hampi by air. 
Places to stay near the Hampi ruins area. 
Gopi Guest House – Gopi is a place for people looking for simple and clean rooms near the Virupaksha temple and in the main Hampi ruins area. 
Gopi guest house comes with a rooftop with views of the river and a restaurant. 
See the prices and book Gopi guest house here.
Archana Guest House river view — Located near the main temple ruins, Archana Guest House has double rooms with beautiful views over the river from the restaurant and room balconies. 
See the room prices and book Archana Guest House here.
Shankar Homestay — If you are new to the Hampi area or India altogether, I would recommend staying at Shankar homestay for they have got amazing host reviews. 
Even though rooms do not have panoramic views of the river and the temples, set amidst a farmhouse Shankar homestay could be the nature break you are looking for. Only 2-3 km away from the main temples, Shankar homestay has double rooms and some of them come with a terrace. 
See the prices and book Shankar homestay Hampi here on Booking.
Stay options in Hampi for the Luxury lovers. 
Clarks Inn Hampi – Clarks Inn is a hotel located in the Kamalapur town of Hampi. Clarks Inn comes with a range of amenities to make you feel comfortable such as toiletries, hairdryers, wifi, hot shower, kettle in the room, et cetera. 
Check the prices of Clarks Inn and book it here.  
Hyatt, Hampi – Located at a distance of about one hour from the main Hampi area, Hyatt is located in the Bellary district. Hyatt is always a recommended option for people who love to stay in comfort and choose a luxurious stay for their families. 
Hyatt comes with an outdoor swimming pool, a fitness center, and an all-day dining room. Go here to see the prices and book your stay in Hyatt. 
Books to read if you want to understand Hampi further.
H. Longhurst's 1920s publication 

Hampi Ruins Described and Illustrated

 

Hampi: A Story in Stone

by John Fritz and George Michell

Where Kings and Gods Meet: The Royal Centre at Vijayanagara, India

by John M. Fritz

, 

George Michell

,

 

M. S. Nagaraja Rao

 

New Light on Hampi: Recent Research at Vijayanagara

by John Fritz and George Michell

Hampi Research pdf published by Shodhganga gives a good historical summary of Hampi
Looking for historical places in Karnataka?
Go through these
Karnataka destinations
collected from my (scattered) ten years in the state.
Would you love to get lost in Hampi? Still confused about what to see in Hampi? Let me know in the comments.
Like my guide? Please pin it!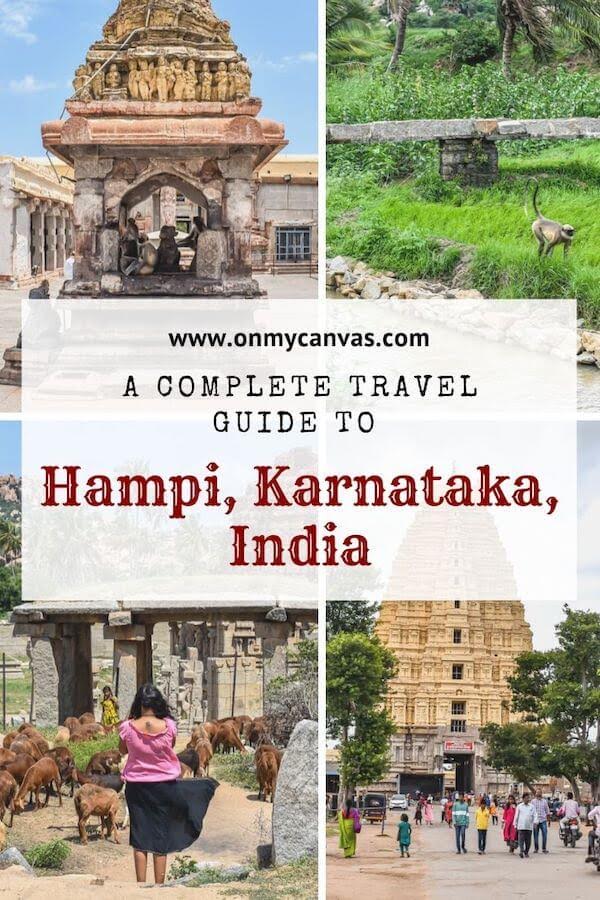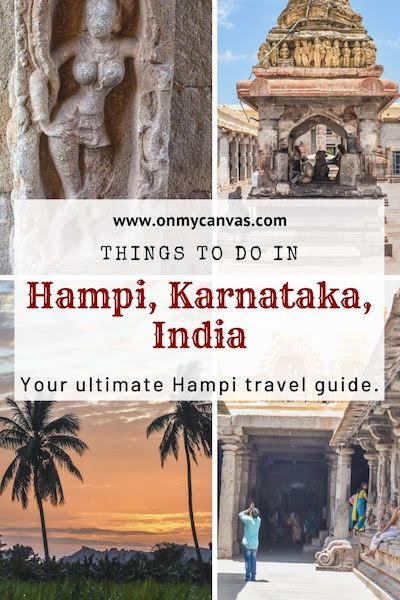 *****
Donate to keep me going!
For five years, I've read and wrote day and night to keep On My Canvas - my sustenance and life's focal point - going. Everything here and my weekly newsletter "Looking Inwards" is free. No ads. No sponsorships. If you've had some good moments reading my posts or felt hopeful on a lonely day, please consider making a one-time or a consistent donation. I'll really appreciate it (You can cancel anytime).
*****
Want similar inspiration and ideas in your inbox? Subscribe to my free weekly newsletter "Looking Inwards"!