I won't tell you that Coorg is the Scotland of India, as every other Bangalore to Coorg travel guide must have already told you this. I don't know anything about Scotland's landscape for I have not been there. But I can say that Coorg, also known as Kodagu, is straight out of that movie where you see fat cows grazing on a soft grassy carpet while spinach-green hills pose in the background.
I am not sure if I can call Coorg a quaint town for everybody traveling in Karnataka, in general, go on a road trip from Bangalore to Coorg, at least one-time. I've been to Coorg so many times I now have a list of 15 Stunning and Secluded coffee estates, homestays, and hotels in Coorg.
But what brings these travelers to Coorg, a district nestled in the western ghats of South Karnataka?
Rolling emerald hills, an opportunity to see elephants, leopards, gaurs, giant Malabar squirrels, and other wildlife, the peppy birds of Karnataka, aromatic coffee and tea estates, huge avocados, rich Kodava cuisine, silky waterfalls melting into the revered Kaveri, old temples, and ancient monasteries could be some of the reasons.
Millennials who work a 9-5 or rather a 9-9 like to run away from the maddening rush of Bangalore city to a natural setting in the wild Karnataka. Sometimes their parents visit which give the youngsters even a bigger reason to drive to the many green and historical places to visit near Bangalore, or should I say Bengaluru. Old Bangalorean families head out of the cosmopolitan state to find something more authentic.
And what could be more authentic than Coorg, a place which had been home to the Kodavas, the ethnic warriors, for a long time? Just a five-six hours drive away from Bangalore, Coorg offers the much needed natural respite, too.
Another interesting place to visit near Bangalore: Travel to Hampi from Bangalore – My Hampi Travel Guide
I can testify the relief part for during my corporate days I also rushed to Coorg on one soul-finding weekend. A kind homestay, rich Coorgi food, monsoon pouring over the balcony, perfumed coconut trees standing like a wallpaper, Rabindra Nath's Gora in hand, and a cup of steaming Coorgi coffee rejuvenated me beyond my memories can dig into.
Now years later, when I returned to Bangalore from a long South-America trip, nostalgia took over. I imagined myself sitting in the same balcony while clouds dripped and coffee and a book became my best friends again.
In those weak moments, I thought of revisiting the disconnected green hamlet of Coorg.
Don't worry when I say disconnected, for Coorg still receives phone signals and internet. But in Coorg nature is closer to you than anything else.
When I went on a second trip to Coorg from Bangalore, much hadn't changed.
I stayed with a family of Kodavas who ran a homestay within a giant coffee estate. But unlike the previous family, this one felt more kshatriya (a Hindu class for warriors).
One night I observed that while walking down the stairs after serving us fresh Coorgi curries and basmati rice, the man of the family latched us from the outside. The homestay was on the first floor, and the family lived on the ground floor.
When the next morning I asked the homestay owner about locking us, he said just because of safety. I don't know why but I recalled his story about the villagers getting together to hunt a wild pig.
Would the pigs climb up to our room? I wished not for I always slept with the windows and doors open to soak in the last silver light of the moon and the first golden rays of the sun.
I would have definitely ended up in the audacious pig's stomach.
The tall, mustached guy walked away without providing me any satisfactory answer. But I saw the raw side of the man who belonged to the generations of an ancient war-like native tribe of Kodavas, meaning indigenous people, who now do agriculture.
Less than two lacks in number, Kodavas, who have inhabited Coorg for a long time, have stories of being Alexander the Great's descendants. Another story says that the Coorg district got inhabited by a broad-headed race in the Mohanjodaro period.
Warriors or not, Kodavas live differently than the rest of the Karnataka communities. Due to their unique lifestyle and culture, the Kodava community has been exempted from even getting a license to purchase firearms. Though this exemption is under review now, I wonder if the need for a license will stop the Coorgi people from killing wild animals.
I don't want to be the judge of an ethical situation here. But who is right? The stout pig who walks into people's estate by mistake or the locals who have been thinking of the pig as food since medieval times?
Due to an unsure origin and the ancient traditions of Kodavas, they are popular. But still, not many people research or read about them when they visit the coffee land. At least, I didn't.
READ NEXT: If you want to visit another culturally intriguing and natural place, visit Dandeli jungle camp, Karnataka – a stay in the dense Dandeli Wildlife Sanctuary. 

Bangalore to Coorg by Road.
Though I mostly travel alone, I do have some occasional adventures with my friends, some of who love road trips. So we decided to go from Bangalore to Coorg by car. We booked a Drivezy Swift for our Coorg trip.
The night before the Coorg trip, I booked that homestay on Booking for when I saw the homestay pictures with tall coconuts, fat palm trees, and dense betel nuts, I couldn't resist.
On the Bangalore to Coorg route the next day, we stopped at the Namdroling monastery in the Bylakuppe village which is said to have the biggest Tibetan settlement in South India. We freely walked in the monastery which houses about 3000 monks and has a gorgeous Golden temple.
A Hindu religious procession was going outside the monastery, but inside Namdroling, life was peaceful. Though the gompa is huge and we got lost a few times, the kind monks showed us the way. Two monks, huddled under an umbrella, even warned us to walk carefully for the floor was slippery due to the unabashed rains which had been soaking us since we left Bangalore. After all, we were in the month of June when the rain gods are the most merciful in Karnataka.
A Buddhist tried to pray in the temple, while loud tourists posed and clicked countless selfies in the temple. But their chatter didn't discourage me from deciding that I would go back to the monastery and stay there for a night. (You can stay in the monastery by making a booking beforehand.)
Suggested read: A collection of travel stories from India.  
After getting back onto the highway, soon we were driving on a dark and silent road. We had started the Coorg trip from Bangalore around lunch and had made many stops.
Cars passed by infrequently. The roads were fringed on both sides by tall white-skinned Eucalyptus. Gulmohar trees and their creepers stared at us. Tiny thatched huts decorated the agricultural fields that spread from the road to the villages.
On that quiet forest road, I could only hear the stir of the crickets.
We thought we were lost. The dying phone signals in the rain-soaked Coorgi forest further churned our stomachs with anxiety. We somehow connected to our homestay and requested them to guide us. When the owner arrived in his SUV, one of my friends asked him to follow us. Everyone laughed.
The jungle was now pitch dark, and the road narrowed further as we drove behind the SUV.
After an adventurous drive, we were finally on the guest house's rooftop digging into some mango curry with soft rice and sour rasam. Our drive from Bangalore to Madikeri took us about seven hours, including a stop for lunch and Namdroling monastery.
Another interesting weekend (or longer) drive from Bangalore: Road trip from Bangalore to Panchapalli Dam
Sleeping with windows wide open, we fell asleep listening to the rain rattling against the thatched roof. Only in a few hours, just slightly before dawn, we were woken up by chattering parrots.
The flying foxes shrieked. Insects buzzed as if they were preparing for a dance. Cicadas bustled like wheels of the train rattle against railway tracks. A loud stream gushing somewhere close in the estate led the chorus.
The sky was like a game of chess with black and white clouds making their moves. The silhouette of the monsoon foliage hung like a painting. Betel nuts stood tall between that silhouette and us. Plants glistened green with dew.
Flocks of green-blue Malabar parrots flew from one treetop to another. Another bird whistled like a train. A hungry orange squirrel ran around.
The house dog had already been fed. As the grandmother of the house came outside, he first squealed, barked, and then made a patronizing sound.
Recommended Read: If you love animals, do travel to the Daroji Bear Sanctuary near Hampi, Karnataka
Waking up in a home surrounded by forest was an experience in itself.
We hadn't seen the coffee estate yet as we had arrived late last night when the place had already sunk into darkness. But when the sky didn't clear, we walked into the estate.
The walk was full of surprises.
Coconuts, betel nuts, and palm were supplemented by papaya, guava, mango, and banana plants. Yellow, pink, and red roses, dahlia, germaniums, and jasmine smiled brightly. Passion fruits hung like perfect balls. Red and ripe coffee beans adorned coffee plants. The green peppercorns hung loosely on the pepper creepers, like a bunch of grapes.
It was like a rendezvous of nature.
While walking, we got lost. Though we didn't realize we had gone into some other farm whose owner melted after seeing our innocent faces and showed us the tree which has been on the farm for thirty years. The tree with sinuous branches was not less than a celebrity, and I could feel it in the air.
Leaving the grand tree alone, we went for lunch to a Coorgi home-run restaurant in Madikeri. I was a non-vegetarian then, and we devoured our pork and chicken curries with our fingers.
If you go to this restaurant, do try their leechi custard. It could be your rainbow on a dark day.
After the heavy meal, we had the frothy Coorgi coffee. I think it was the coffee that accelerated us for after drinking it we went to Raja's seat — a popular place to visit in Coorg. But the top of that hill was just an excuse to go further into the jungle that lay beyond the popular tourist spot.
After our jungle adventure, we drove to Abbey falls. The traffic, the honking, unaware people standing in the middle of the road like zen cows, Indian men who stared — the scenery changed. I shrieked when a lady honked hard and that was the most exciting part of the waterfall trip.
Abbey falls is beautiful but make sure you go on a weekday or early in the day to avoid the crowd.
Insider Tip: If you love waterfalls, hike to the Belligundi waterfall in Sharavathi valley, Karnataka – I bet that you can't find a more remote waterfall than this one.
Eating Maggie and drinking chai with the velvety mountains in view did make up for some of the heart-wrenching rush. And the remnants of that left-over anxiety that I get from visiting a crowded place flew away with the clouds that floated above the mountains.
We sped up on the silent road back to our Coorg homestay. This time we knew the way.
The next morning we left Coorg to drive back to Bangalore. But I knew that I would do another road trip to Coorg from Bangalore to see the rest of the mysterious district.
Until next time.
If you are a wildlife fan, you should see this article:  A Travel Guide to Kinabatangan river, Borneo, Malaysia
What is the best time to visit Coorg?
October to March is the best time to travel to Coorg from Bangalore. From June to September Coorg receives heavy rainfall making it difficult to walk or hike around Coorg.
Though I visited Coorg both times during the monsoon, I don't regret traveling from Bangalore to Coorg in the rains. Coorg is gorgeous during rainfall. But I couldn't hike to many places near Coorg due to the rain.
How much time do you need for a Bangalore to Coorg trip?
Depends on you. You can spend a weekend or a month in Coorg.
To give you an idea, a one day trip to Coorg from Bangalore by car or otherwise would be too hectic. Even a 2 days trip to Coorg from Bangalore sounds rushed.
On a Coorg trip from Bangalore by car, you need at least half a day to drive from Bangalore to Coorg and then the way back, too. So on a three day trip to Coorg, you can spend about two days visiting some of the nice places in Coorg.
But if you have time, go for a longer trip, as then you can relax and see many of the best places to visit in Coorg while understanding the cultural and natural mix of Kodagu.
If you love watching birds: A one-day trip to Ranganathittu Bird Sanctuary
What is the difference between Coorg and Madikeri?
Madikeri is a town within the district of Coorg. Coorg is also known as Kodagu.
How far is Coorg from Bangalore?
Coorg to Bangalore distance is 250 km via the NH275 or Mysore Road. Distance between Bangalore to Coorg via the NH75 is 275 km.
We took the NH75 while going to Coorg and enjoyed the journey.
How to reach Coorg from Bangalore?
The best way to travel from Bangalore to Coorg is by road — either by self-driving, by getting a taxi, or by a bus.
The road from Bangalore to Coorg is well-maintained, and most of the time you are on a good speed. The average Travel time from Bangalore to Coorg by car is about five-six hours, but the time also depends on how fast or relaxed you go.
Distance between Bangalore and Coorg doesn't feel much for you stop at the Namdroling monastery on your way to Coorg and then at Dubare camp on your way back (and maybe other places if you like).
Start your drive early. The route from Bangalore to Coorg is fringed by forest on both sides. So carry an aux cable, as sometimes the car Bluetooth doesn't work, and tune into some good music.
You can also take a private or a Karnataka State Road Transport Corporation (KSRTC) bus from Bangalore to Kodagu. It takes around six hours to reach Coorg from Bangalore by a bus. You can check the buses from Bangalore to Coorg here on Redbus.
You can also find taxis from Bangalore to Coorg. When I had just arrived in Bangalore we used to book taxis with private car operators. But now Ola and Uber have changed the game, and you can even book an Outstation Ola or Uber to travel from Bangalore to Coorg.
For people who love to drive, the best way to reach Coorg by far is by driving on the smooth Karnataka roads.
Where to stay in Madikeri, Coorg?
Choose one of the stay options on Booking, my favorite platform for last-minute trip preparations. I have also searched through many Booking.com properties and have prepared a list of homestays and hotels in Coorg that are secluded and nestled in nature. They all have good hosts and really good reviews. Go through the list and see if you like something. There are some beautiful coffee estates on the list.
I suggest you stay in a homestay to get the best experience of the native Kodava life. The natives would also help you explore Coorg the local way.
Tip to commute within Coorg: If you are going to Coorg by car, you can easily drive around to visit other places in Coorg. But if you are going by bus, then first confirm with your accommodation people about the commute options within Coorg. Maybe you can rent a car there or they can arrange one for you.
You can also bike around or get dropped at a place and hike in the area.
What are some of the best things to do in Coorg?
Buy Roburta or Arabica coffee from your homestay owner as Coorg is one of the highest producers of coffee in India. Now as we have got the coffee covered, let us move onto other activities.
Here are some of the best places to visit in Coorg.
Brahmagiri peak — For hiking.
Tadiandamol — The highest peak in Coorg. You can climb up. The trek is long, so please prepare accordingly. You can also camp on the top of the peak.
Barapole River — For river rafting.
Abbey Falls — Gorgeous falls with a huge crowd.
Harangi Dam — This dam is about 36 km away from Madikeri. You might want to visit this dam, the first one to be ever built on Cauvery.
Nagarhole National Park — Best chances to see wildlife in Coorg.
Talakaveri wildlife sanctuary near Coorg — Talakaveri means the origin of the Cauvery river. Beautiful sanctuary for seeing wildlife and to walk around in nature.
Dubare Reserve Forest & Elephant Camp —You can stop over Dubare while coming back from Coorg to Bangalore. When I went there, the camp was closed because of the high flow of the river in which the elephants usually bath. Hope you have better luck.
Cauvery Nisargadhama — An island on the river Kaveri. You can walk to this island by crossing a hanging rope bridge.
Chettalli — A small village near Madikeri. This is where the popular Cherala Bhagavathy Temple is located.
Madikeri Fort — Built in the 17th century. Along exists a Tipu Sultan museum if you are into historical stuff.
Omkareshwara Temple — In Madikeri. Ask the locals for the story of this temple.
Padi Igguthappa temple — A revered temple that is close to the Tadiandamol peak.
If you are looking for nature, consider traveling to Dharamshala, Himachal Pradesh or to another gem of Himachal that is Parvati valley for some peaceful time in the Himalayan mountains.
Another culturally intriguing place of India is Spiti Valley near Manali. If you are a culturally curious traveler, you might consider visiting Spiti.
How is the food in Coorg?
Kodava or Coorgi cuisine is made with a lot of local spices, coconuts, curry leaves, and kokum. Most of the Coorgi people make their food with local ingredients and organic farm-grown products.
Kodavas eat a lot of meat, mainly pork and chicken. But as I am a vegetarian, I am not writing about those dishes. Some of the famous vegetarian Coorg dishes are Baimbale fry or stir fry bamboo shoots, Kaad Mange— a sweet and tangy mango curry, Thaliya Puttu — a steamed rice coconut cake, Koovale Puttu – steamed jackfruit cake, Atti Payasa — a sweet made with coconut.
I was so confused by the various rice preparations that Coorgi cuisine offers that I thought to help you out.
Here you go.
Kadambuttu or kadubu are rice dumplings made with broken rice. Nooputtu is a smooth lump of compact rice noodles. Paaputtu is rice, coconut milk, and grated coconut steamed together to make rice cakes. Akki rotti is flat rice bread.
The best way to enjoy Kodagu cuisine is to try it at your homestay.
One of the amazing restaurant to try Coorg cuisine is Tiger tiger restaurant in the Madikeri town.
Are you planning your Bangalore to Coorg road trip?
If you have any questions on how to go from Bangalore to Coorg or if you want to know anything else about Coorg, please drop me a comment. I always reply.
Please pin the travel guide to share with the world!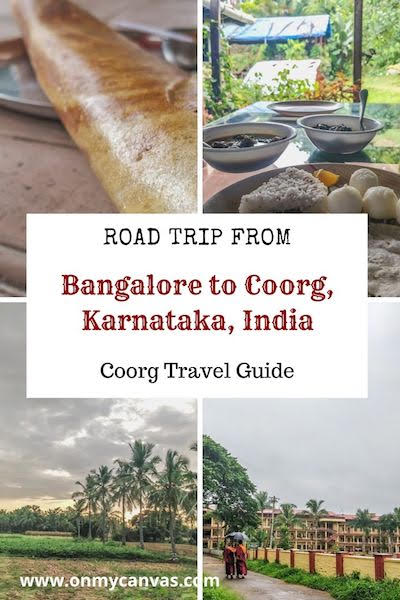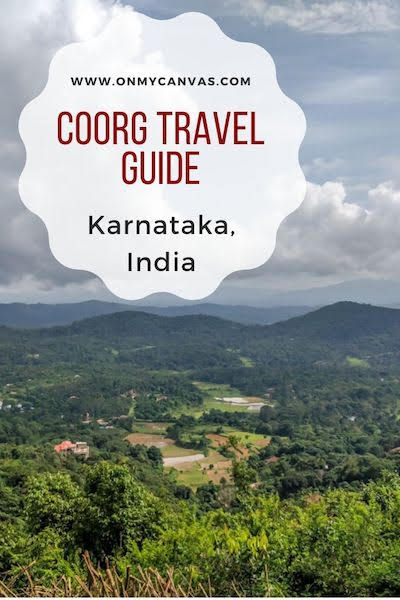 *****
Want similar inspiration and ideas in your inbox? Subscribe to my free weekly newsletter "Looking Inwards"!