We all have been stuck inside homes for about six months now. Though usually, I am planning a birthday trip around this time of the year, as September approached I got anxious that I might want to go somewhere. But would I be able to step out of Bengaluru or even my house?
Then I remembered the article I had written on traveling in the Pandemic. For those who have read the guide know that I only suggested traveling by car to an isolated homestay or a guesthouse near the woods. Thus you can change your view, hike around, be in nature, and even work with the lush forest swaying in front of you.
Remembering my idea, I decided to travel in Karnataka and started searching for isolated hotels in the state. But as I pored over hundreds of hotels and guesthouses over various websites, I decided to dedicate an entire guide to isolated hotels in Madikeri, Coorg as most of the properties I liked were from this area. 
Please note: Though I wrote this guide in September 2020, these are still some of my most preferred home stays and hotels in Coorg. Updated 2023.
By isolated I mean that these stays and hotels at Coorg are either in some tea or coffee estate or they are nestled in the Western Ghats in the middle of nowhere or they are spread around Coorg and Chikmagalur forests. Either you get a private cottage or a big room or an entire house. Some stays in Coorg are big but flavorful and lie kilometers away from the main town. You would mostly find yourself either relaxing on the estate, walking on tea trails, hiking in the woods with or without a guide, or just watching the Ghats from your backyard.
Sounds refreshing, doesn't it?
I'm not saying we should all get out of our homes and travel, but I'm saying there is no harm, in fact, it is good, to change the air for a few days, to climb up and down the mountain roads, and to breathe in the fresh air coming directly from the pines of Southern India.
You can travel pretty isolated in a car or a hired taxi that is sanitized after every trip— I see a Zoom car on rent being sanitized after a client has brought it back almost every day in front of my place. You can stay isolated in a big room or a cottage with just your friends or family. 
What about the housekeeping and the food? Most of the hotels at Coorg Madikeri I have suggested strictly follow all the new sanitary protocols of the pandemic. Housekeeping goes through regular temperature checks and is instructed to maintain distance. You can leave the room when someone comes to clean.
If you worry about ordering food from a restaurant, then wouldn't you worry about ordering food from restaurants within your city through Swiggy as well? And if you tell me you haven't ordered through any of the food applications yet, then I will say that I have been there.
After working 12-14 hours a day, writing, haggling with clients, plotting a new short story, I was cooking each and every meal (linked is my pandemic diary). Cleaning utensils, doing laundry, and well we have heard this list enough number of times in the last 6 months so I won't repeat.
One day I decided to trust Swiggy. And oh boy! I didn't regret it. We should give credit to the service industry that's been extremely cautious in maintaining hygiene. Swiggy and Zomato alone have saved many jobs, restaurants, businesses, and so many couples from splitting for life.
So as long as there is a restaurant on the accommodation or you can order through Swiggy —which works in Madikeri — you should be fine. Let us ignore the exceptional one or two times when the Pizza delivery guy was found sick and trust in the online food delivery system that delivers thousands of meals within Karnataka every day.
All of these 15 hotels in Coorg Madikeri below are ideal for a leisurely vacation or a staycation. These are hotels in Coorg that I wouldn't mind going myself in the current situation. In fact, the list of hotels that I unravel below is my own list of favorites for staycations on Booking.
Here is my guide to Coorg from Bangalore of which I can only recommend the nature and food part (only delivery part). For it is not ideal to go sightseeing right now. (Update 2023: Now travel has resumed and exploring places in Coorg shouldn't be a bad idea.)
I hope this guide helps you find some serene and secluded places to stay in Coorg for either a weekend or for even for long as everyone is working from home. As we have been stuck inside homes and rooms for so long and haven't really spent on traveling, I have gone a bit overboard and I am even suggesting expensive, but clean and reliable places, that I wouldn't have otherwise for a regular vacation or a long rookie stay.
You will find a mix of resorts, homestays, guesthouses, tea estates, and big hotels. If the stay doesn't have wifi, I have mentioned that.
My most trusted option for booking is booking.com and thus all the accommodations in Coorg chosen are from Booking. With Booking, I haven't had a cancellation issue or a discount problem or haven't ever been abandoned by any property as I have been on Airbnb. (I talk about all the Airbnb scams here on my travel resources page.)
It goes without saying that please follow all the safety measures. This best practices section of my travel guide for the pandemic I mentioned before will help. But always check the news before you leave and make sure you book something cancellable for who knows what is happening these days.
Now all to you.
And if you visit any of the hotels in Coorg I suggest and like it, drop me a comment and let me know how it went for you.
Important to note— Please travel responsibly while you are in Coorg. Kodagu, Coorg, and Madikeri have suffered from some of the most challenging problems created by mass tourism — water shortage, garbage collection near forests, deforestation, wastewater management issues, and severe traffic congestion problems due to the high inflow of cars and buses. Please don't cook in the open, choose an eco-friendly property over an irresponsible one, don't throw single usage plastic(better not to use any), and try to reduce your footprint as much as you can. Thank you.
Some of the Best Hotels in Coorg for an Isolated Stay
Located in Madikeri, within 1 km of Raja Seat, the huge Kollanoor homestay comes with a garden, free WiFi, and free private parking. This homestay in Coorg has family rooms, room service, a balcony in every room, a private bathroom, an open terrace, and a continental breakfast.
Travelers can go hiking from here. Kind hosts and amazing mountain views are the highlights of this property. There is no restaurant at the guesthouse, but Swiggy works in Madikeri 🙂
PS: Though in Madikeri, the house seems enough secluded. Have a look at the pictures and then decide.
[If you want to take a flight to Madikeri, then fly to the Kannur International Airport — 92 km from the property — and then take a taxi.]
The price range is low. Book Kollanoor or see the properties' pictures here.
2. Ama Plantation Trails Coorg – Private Coorg Villas in the Middle of a Lush Coffee Estate
Located in the Gonikoppal area of Western Ghats, Ama Plantation Trails Coorg is a high-end 3-star hotel in the middle of a tea and coffee plantation. Ama plantation is almost in the midst of the Ghats forest and the first picture on Booking would be enough to convince you to go here.
The hotel's suites and rooms all have private bathrooms, a garden(or a forest?) view, and an outdoor seating area. Breakfast is included.
This place looks really good for hiking and cycling around the plantation (and hiking further into the forest) while enjoying quite a secluded stay in this luxury resort in Coorg.
The price range is high. Book Ama Plantation or see the pictures here.
3. The Tamara Coorg – One of the most expensive but gorgeous 5-star hotel in Coorg
Located in the Western Ghats, The Tamara Coorg is a really high-end and luxurious property.
Huge, spacious rooms all of which come with private terraces where guests can enjoy the fresh mountain air and watch birds. It is about 40 km away from the main Madikeri town and is quite secluded.
There is a restaurant at the Tamara and a bar, too. There are meeting rooms as well for those who are working and need a silent and secluded area.
The staff is known to be highly courteous.
The price range is high. Book The Tamara or see the pictures here.
4. Three Hills Coorg – Private Villas in a Large Estate
Located 9 kilometers away from the main road, Three Hills Coorg is almost inside the Coorgy forest. This cottage at Coorg comes with a large outdoor game area such as pool, table tennis, etc.
The pictures of the property show a water stream, a tea plantation around, and huge areas to hike or just sit down in the grass. Don't worry about the crowd, as Three Hills is far away from Madikeri.
The Dubare Elephant camp where you can bathe elephants is just 40 km away but I am not sure if it would be a good idea to visit the camp now. Outdoor hiking is also available with a guide.
The price is mid-range. Book Three Hills or see the pictures here.
5. Woodstock Villas, Madikeri, Coorg – An open and comfortable hotel in Coorg Madikeri
Superbly open and high-end Woodstock Villas are located in Madikeri, on the eastern slopes of the Western Ghats at 915 m above the sea-level.
You can get an isolated, cozy villa here with open mountain views. Private bathrooms, laundry for your extended stay, car available on rent, and free parking are available.
There is a swimming pool, too, but do check the sanitation schedule of the pool before getting in. Though water isn't known to be a virus-spreader, I don't think I would be comfortable stepping in a public pool right now. Instead, play the board games the property offers.
This Coorg resort does not seem to offer any hiking experience but the Western Ghats are all around and that means there would be lots of nature to explore. Madikeri town is about 5 km away and other sightseeing attractions are a bit far away. But that does not matter for we are looking for an isolated stay. It is off the main highway but not too far.
The price is mid-range. Book Woodstock Villas or see the pictures here.
Though this 8.8-rated Coorg hotel mentions that they are in Mangalore, Google Maps shows that it is nearer to Sakleshpur and Madikeri. There is a lot of green area around RNS ONE.
RNS is near the Kumaradhara river and rooms of various kinds face the Kumara Parvata peak. You can go cycling or hire a car or go hiking. And if there is a river nearby, as the map shows there is, then you can do so much more — walk around the river, sit with a fishing line, go hiking, and whatnot.
The price is low. Book RNS ONE or see the pictures here.
7. Royal Woods Coorg – A coffee estate home stay in Coorg
Royal Woods is located within a 5.5-acre coffee estate in Coorg. This Coorg homestay is about 15-20 minutes away from the city and is tucked away in a coffee plantation surrounded by woods. The snow-white mist covering the mountain valleys during morning and evenings adds to the irresistible beauty of the place — so says the owner.
With private bathrooms, rooms come with breakfast and dinner.
Royal Woods seems like the best place for nature lovers. Do try.
The price is low to mid-range. Book Royal Woods or see the pictures here.
8. Creekside Cabin, Madikeri – One of the best home stay in Coorg for the views and the location
As goes by the name, this creekside cabin offers creek views, riverside picnics, and an abundant green walking area. You can spread a mat and sit in the open and work or sleep.
Breakfast, WiFi, and private parking are all included in the charges. As the homestay is sort of in the middle of nowhere, you should make sure that you would have connectivity there, only if you need it. Not sure how the wifi would work.
Food has been praised over all the reviews but please check for prices of the bonfire and other extra things.
The price is mid-range. Book Creekside Cabin or see the pictures here.
9. Chirpy Haven, Madikeri – Homestay in Madikeri with Unhindered Mountain Views 
Chirpy Haven (CH) seems like a really good homestay for unrestricted mountain views. I wanted to stay at Chirpy Haven because of the open views from the home. But I chose another homestay (Eshwari Cottage) as for a long stay CH was coming out to be expensive for me. 
Unlike other hotels in Coorg Madikeri that I have recommended, this homestay is in a quiet residential area in Madikeri and not in the wilderness. But as it is only a four-bedroom homestay with open and big balconies, I have included it as one of the secluded stays. Home-cooked food is available here. The owner Shamala told me her house offers private rooms with a bathroom and balcony on the first floor and a penthouse. The penthouse features a balcony on its private floor at the very top with 360-degree views from where you can enjoy the beautiful view of the misty hills.
The house is near Stuart Hill where I stayed for two weeks. Raja's seat and Madikeri town are close by. I'm sure the place is in a quiet location with greenery all around. 
Free parking, inclusive breakfast, but no wifi.
The price is low. Book Chirpy Haven or see the pictures here.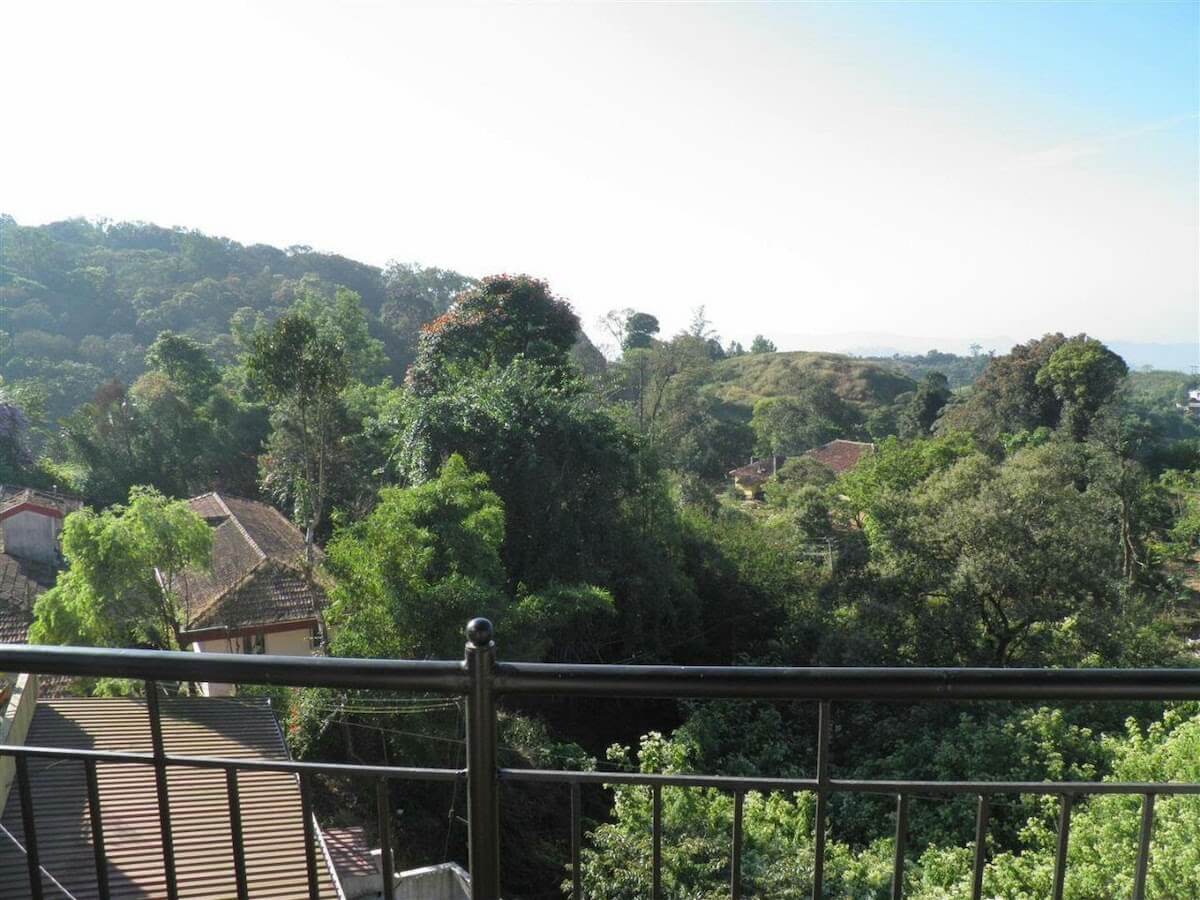 Set amidst a coffee plantation, Paloor homestay is known for its kind hosts, inclusive breakfast, and amazing views from the terrace. It is a short 10-minute walk to the Kaveri river makes this one of the best homestays in Coorg and my favorite, too.
The host would be able to tell about places where you can hike or cycle around as the area is entirely green.
Coorgy food goes well with the open valley views. Paloor doesn't have wifi.
The price is low. Book Paloor Heritage or see the pictures here.
11. Forestdale, Coorg – A luxurious coffee estate homestay in Coorg.
About 35 km from Madikeri town, Forestdale Coorg is really isolated. The homestay is set in its own coffee estate, so you can expect complete peace and greenery.
This homestay has great Google reviews. Guests love the stunning mountain and estate views from the big suites, a big breakfast and wifi is included, the owner is known to be kind, and you can even fish or golf there(just ask).
The price is high. See Forestdale's availability and prices here.
While looking for places to stay in Coorg, I talked to many guesthouse owners. Listing down some of the homestays I liked and will consider for my next trip.
Silent De Coorg has great views and rooms with private bathrooms and a balcony. The homestay doesn't have internet. It is 2-3 km from Madikeri town.
If you are looking for a long-term stay, you can negotiate. Click here to see availability and book.
I might just stay there the next time as everything looked good to me. 
Some tips to make your stay comfortable, safe, and fun in the isolated pandemic times:
Don't go sightseeing to place where you might get exposed to any crowd.

Carry cards and board games to have some indoor fun.

Carry your own badminton rackets and other outdoor stuff so that you can play somewhere in the open.

Carry a few masks so that you can wash and have alternates, too.

Bring some extra eatables for breakfast as you wouldn't be driving around for breakfast to different places. I bring fruits, nuts, cereals, et cetera.

Don't forget power banks and laptop chargers.

Think about bringing portable wifi. If the property's wifi doesn't work and your hotspot is playing games, you will have a backup for those important office calls if you are on a staycation.

Pack enough clothes — especially if going for a long trip or a staycation — so that you do not have to wash again and again.

If you have a kitchen at your place, bring some raw materials. Or just eat from the restaurant on site.
Additionally, follow the precautions from my article on traveling domestically in the pandemic times. Support the tourism community in the safest manner. Stay safe, stay in peace.
And about those offbeat hidden places in the remote corners of Karnataka that I always suggest – I'm sure there are a lot of other hidden accommodations in green spaces such as Sharavathi Valley but I couldn't find those properties on Booking. Some of them weren't following any safety precautionary methods. Most of those places aren't registered online. And at this time I cannot recommend you go without a booking and hope to find a place once you are at your destination. But you can always have a two-day booking at some of the places I mention above and then go around to see if you like any other remote place better. Stay safe.
Want more of Karnataka? I've added most of the places I visited during my scattered ten years in Karnataka here. Read the exhaustive travel piece to have a great trip in the state.
Disclaimer: I haven't been asked by any of these properties to recommend them. In fact, the above Coorg hotels and resorts and home stays don't even know that I have featured them. I would earn a slight affiliate income if you use my above links without any extra cost to you. Please read my complete privacy policy here.
Would you go out to one of these isolated hotels in Madikeri Coorg and change your view for good?
*****
Donate to keep me going!
For five years, I've read and wrote day and night to keep On My Canvas - my sustenance and life's focal point - going. Everything here and my weekly newsletter "Looking Inwards" is free. No ads. No sponsorships. If you've had some good moments reading my posts or felt hopeful on a lonely day, please consider making a one-time or a consistent donation. I'll really appreciate it (You can cancel anytime).
*****
Want similar inspiration and ideas in your inbox? Subscribe to my free weekly newsletter "Looking Inwards"!