We Wanted to Visit Sharavathi Valley Wildlife Sanctuary, But Didn't Know We Were In It; We Looked For a Big Adventure, But We Were On It Already
That day had started late. We arrived at a homestay near Jog Falls in Sharavathi Valley two days ago. The occasion was of the New Year.
Like always, I had zoomed in and out of Google Maps and found a vast green blotch dotted with blue pools that I hadn't explored yet. It was Sharavathi Valley. And once again, I overruled my partner who wanted to visit an easy place, such as Gokarna or Hampi. Easy not because of the distance from Bangalore. But he preferred those well-known destinations because the internet didn't have much information about Sharavathi Valley.
Not that we ever knew more about a place we wanted to visit than how far away it was and where we would put up for the first night. Sometimes, we even booked that first night while on the way or checked out a couple of hotels or home stays upon arrival. But having to navigate a large forested valley without knowing the local language, any information, and the possibility of losing phone signals could intimidate anyone. Though, to me, the journey sounded adventurous, and so my partner gave in, too.
We rented a Tata Nano – India's most affordable compacted rear-engined hatchback, drove the 390 km to the famous Jog Falls, and from there followed the host to his house which had the most beautiful staircase ever. By the time we reached Jog Falls, it was already seven pm and the valley was dark. In his confusion, the host said, "Go along. I will follow you," and we all laughed.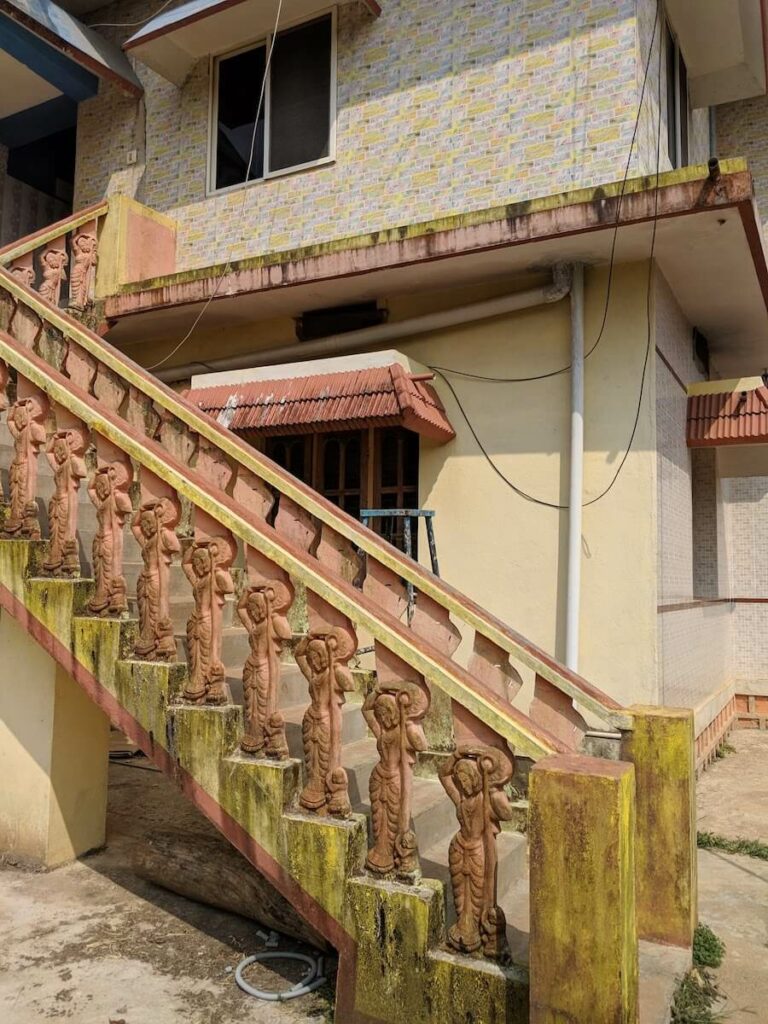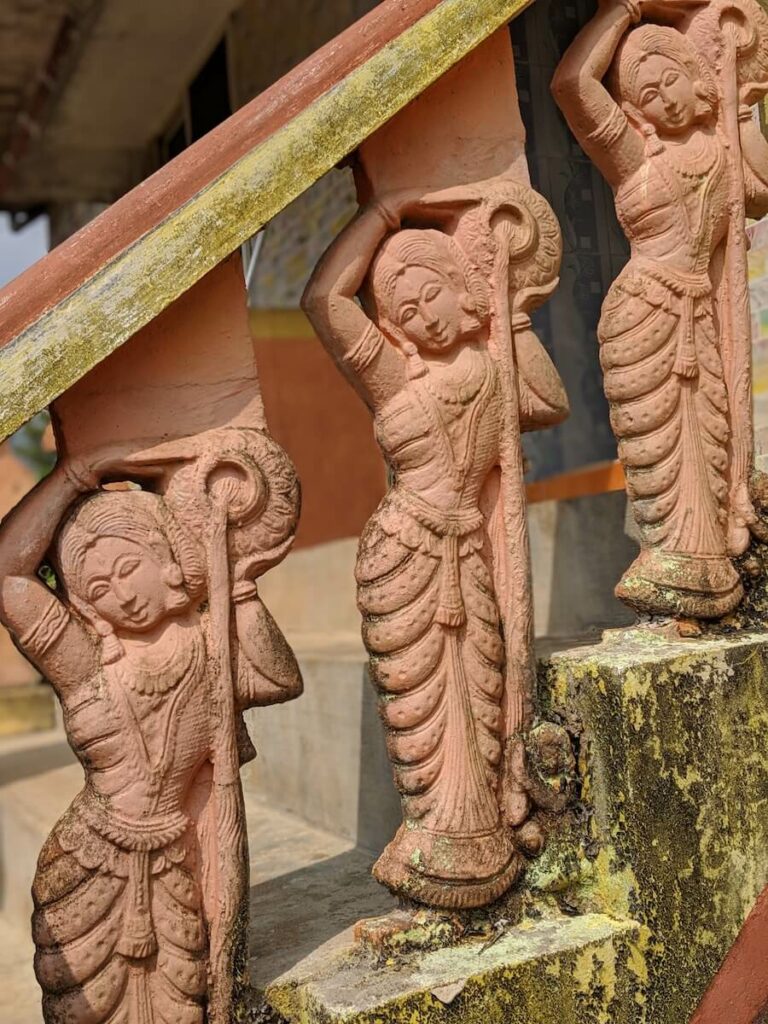 Amongst the many rooms, we took one on the upper floor with an attached bath. Meals were included and, then, we ate all three (unlike now when we have one or two meals per day).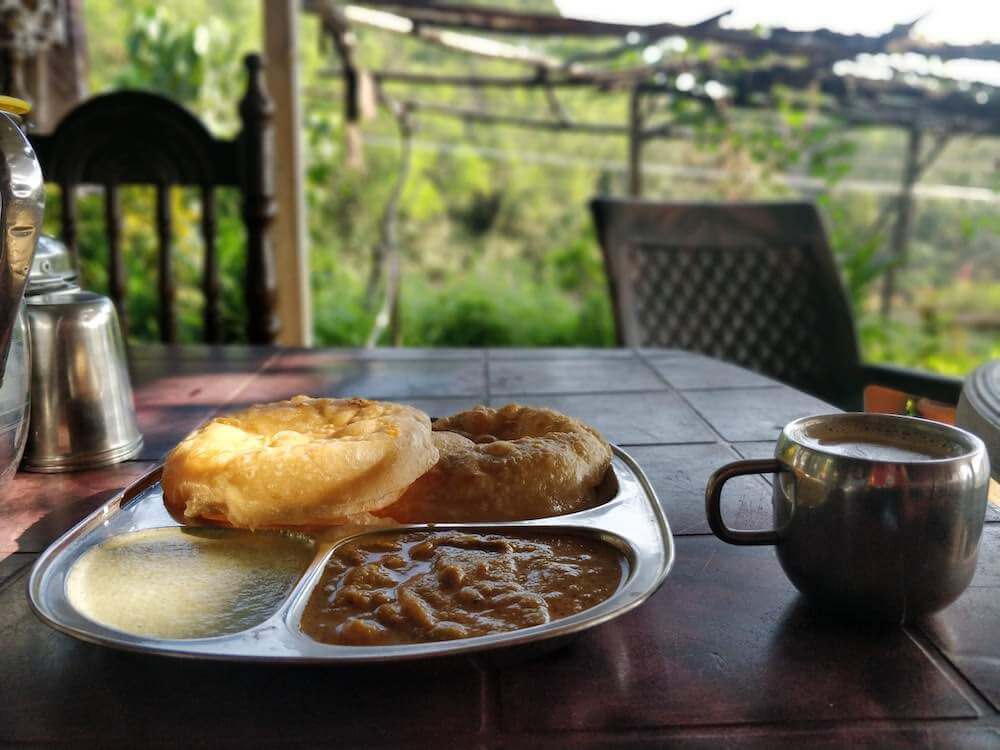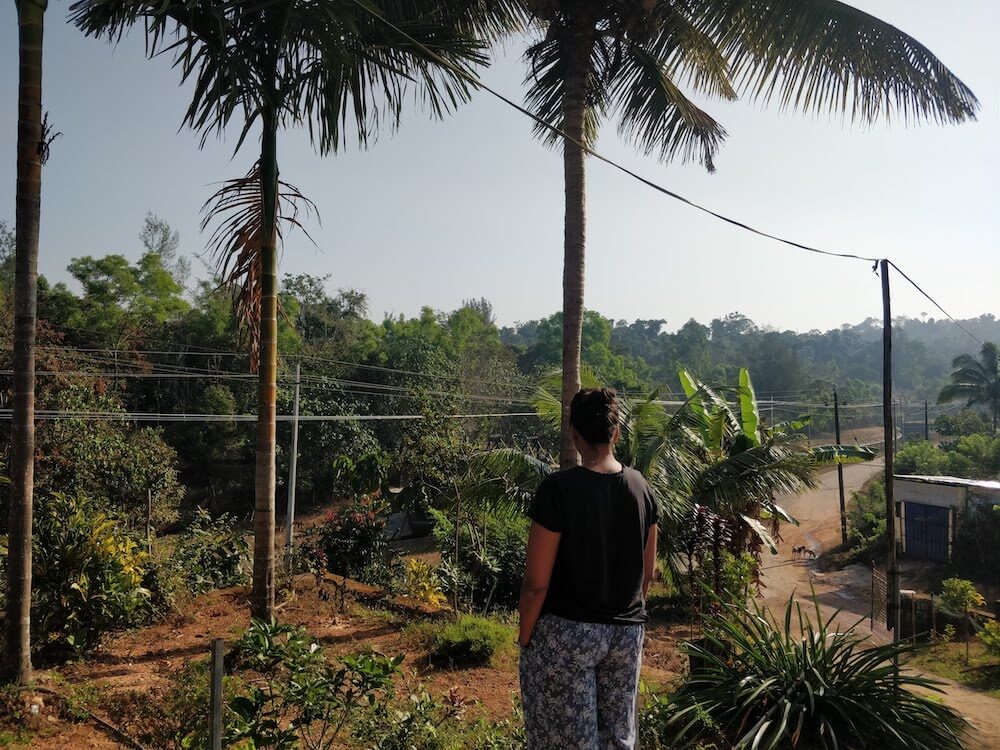 The next morning first saw us gulping down a heavy breakfast of fried pooris, chickpeas, coconut chutney, and tea. While waiting for breakfast downstairs, we had taken our photos against the green wall of date palms, coconuts, and other jungle trees that fill the lush valley. Then there was nothing else for us to do but head to the Sharavathi Valley Wildlife Sanctuary which seemed to encompass most of the valley and had brought us to that lesser-known region of Karnataka state.
Though most visitors return from Jog Falls, Sharavathi's unmarked lakes, waterfalls, and deep forests had pulled us to them. But we didn't know that we wouldn't be able to see most of those places.
What we did know was that as all our meals were included we could ask for our host to pack us lunch since we wouldn't be at home to eat it. And she did pack it up in a huge steel tiffin with four compartments. It came in its own bag with a water bottle.
My partner and I didn't say to each other but we were more excited about the lunch tiffin rattling in our backseat than anything else. As our little Nano left the house, a few neighborhood women laughed. But we were proud of her. Because soon we were on undulating forest roads and our little car did her best.
After following the Google maps to Sharavathi Valley Wildlife Sanctuary for sixty km, we lost the phone signal and with it the maps too. Using a concoction of Kannada, English, and Hindi, we understood from the locals that we were already in the middle of the Sharavathi wildlife sanctuary. For sure, the whole road fringed on both sides by deep green forests was Sharavathi. But where could we take a jungle safari or do a hike? At a location, which the rediscovered Google marker had shown us as Sharavathi Valley Sanctuary, a forest ranger said we should go back thirty kilometers and find a mud road that would take us to the reserve.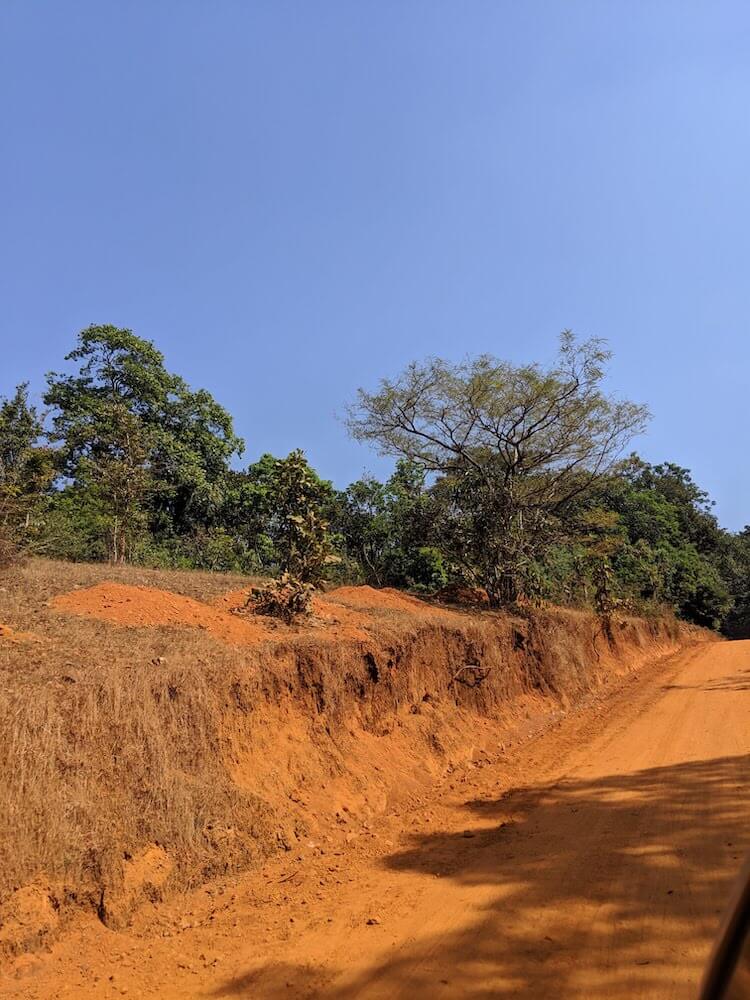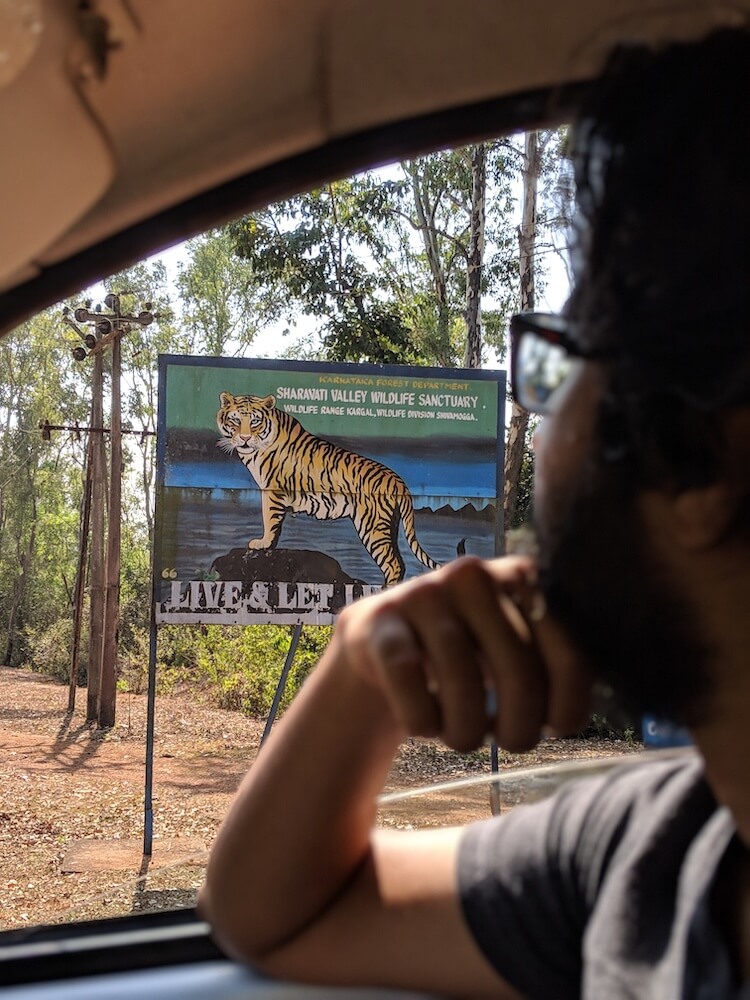 On the red-ochre mud road, the Nano groaned and moaned. Were we on the right way? We kept questioning ourselves because there was no one else to ask. When we were about to give up, we arrived at a signboard on which along with a sharp picture of a tiger was written the name of the sanctuary. The rest of the information on it was in Kannada. Further along, came upon a tall arch marked as Muppane Nature Camp. We seemed to be inside the sanctuary, and the mud road continued to snake through the forest. When we saw a few forest department vehicles parked, we parked near them, too.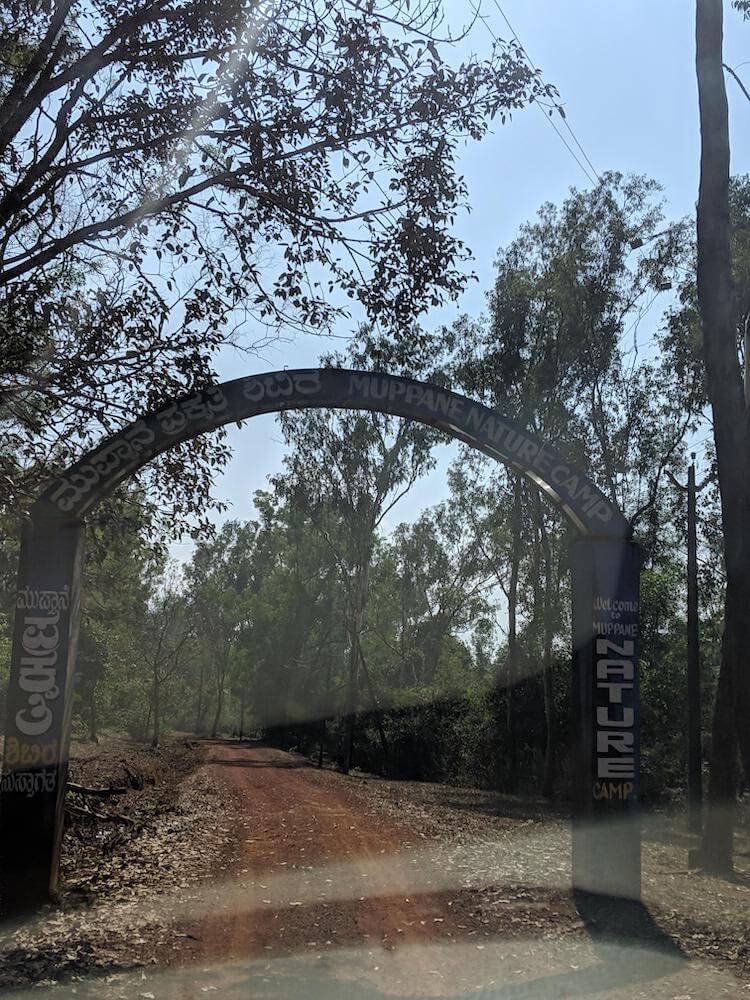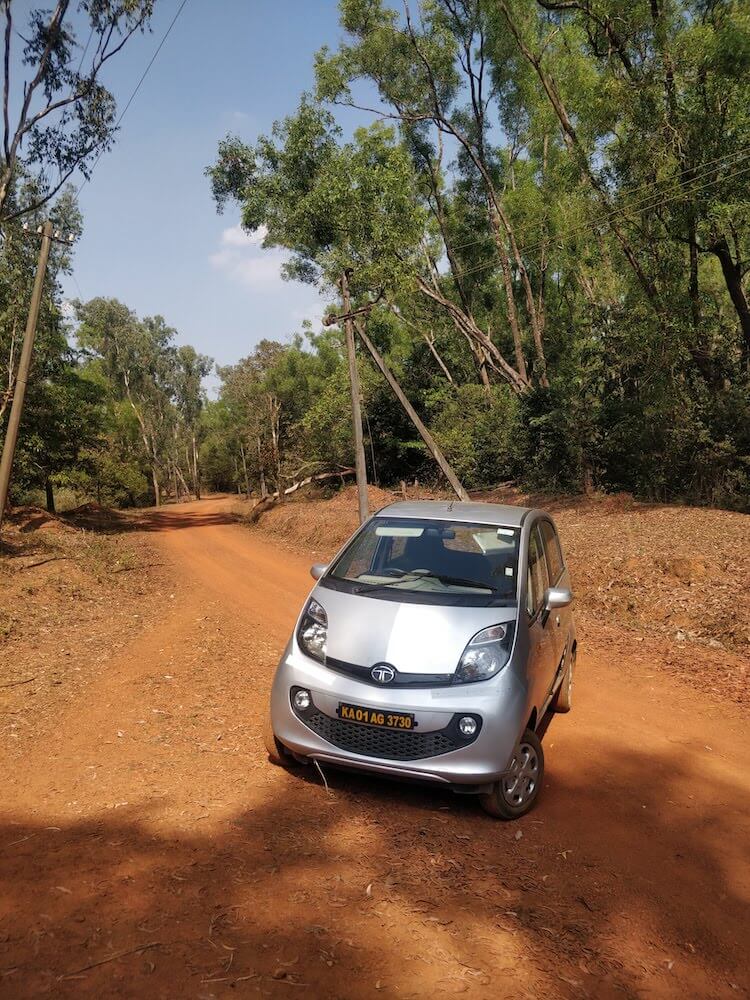 We had already given up on the possibility of trekking or a forest safari. All we wanted was a shaded place to eat our huge tiffin. It had been four and a half hours since breakfast and we were justified to be famished.
Within a few minute of walking out of the car, we found ourselves on a shadowed passageway guarded by the forest from both sides. In the shadow of the trees, we were cool, hidden, and secret friends of the jungle whom no one else could see. The fallen winter leaves crunched under our feet and mystified the place even more.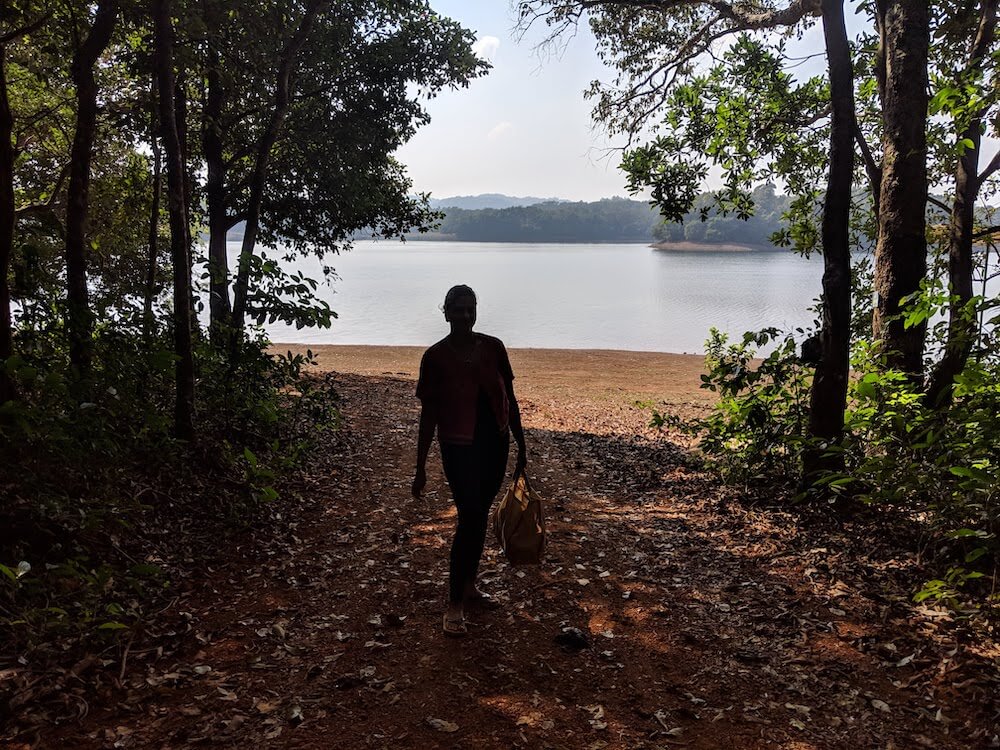 And then we were out in the clearing and in front of us rippled and glimmered a big blue lake. We were so happy we could have jumped. But on our left, we spotted not only a car but also a cottage or rooms and a forest officer speaking with a couple of people. The forest officer asked what did we want. We seemed to have entered where we weren't supposed to be. "We were looking for the sanctuary," I said. "But do you have the permit to visit?" He asked.
"Permit?"
"You need a permit to visit the sanctuary and most places in Sharavathi. You can get it from Shimoga town."
Shimoga is the district in which the Sharavathi Valley lies and where the forest office is. We were about three hundred kilometres from it. There was no chance we could go get the permits and return to see it all.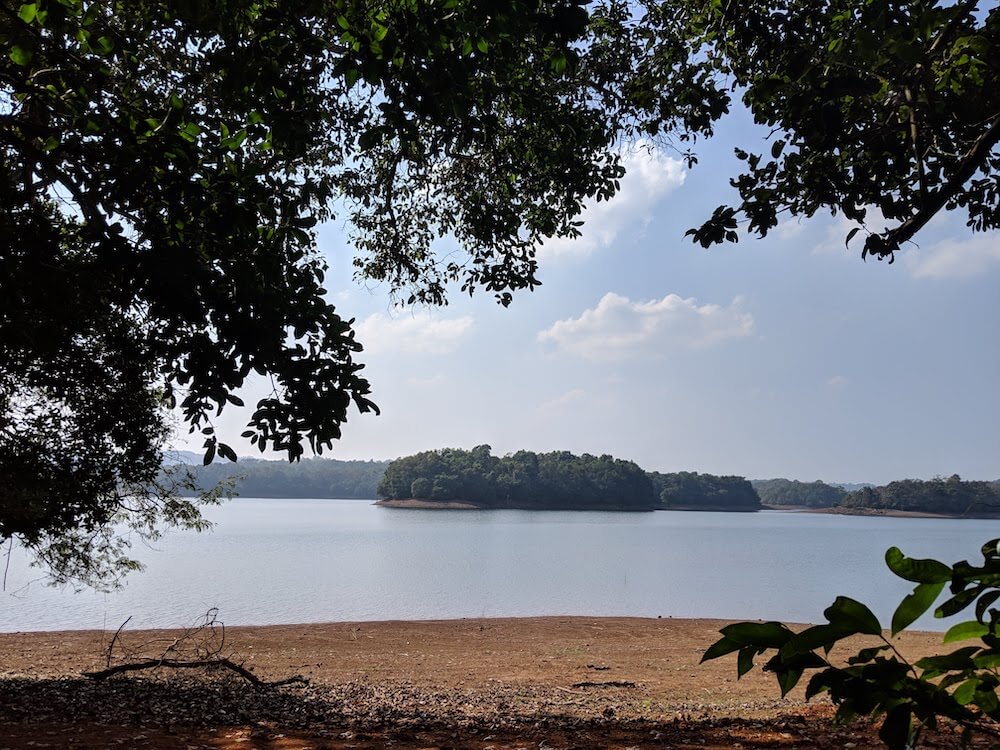 When the forest officer saw our lunch box and we requested him that could we eat it by the lakeside, he allowed us twenty minutes. Then under a tamarind tree, we spread our bed cover on top of the yellow-brown fallen leaves and gobbled our tiffin that poured out chapati, rice, sambar curry, and cabbage poriyal (a dry preparation). The dog who had sat next to us in hope of some food was also satisfied with the meal.
Though I didn't know then, in front of us was the Linganamakki reservoir constructed by the government in 1964. The dam is built over the Sharavathi river, and the water is not only used for irrigation and electricity, but also for drinking.
We also had no idea that some locals were running a business scheme with forest officers in the Muppane camp. After someone made a private booking with the locals, the officials opened the dirty dorms for the tourists, cooked for them, and let them play around in the reservoir and kayak. At many points, officials had asked us money and said they would let us in here and there if we paid. It is probable that day the officer who told us to leave was attending to a private unauthorized booking, or to an officer's family itself. Secluded in the forest, the camp wasn't easily discoverable or reachable and anyone could run any activity in it. Now those tour agents seemed to have shut down after online exposure and complaints.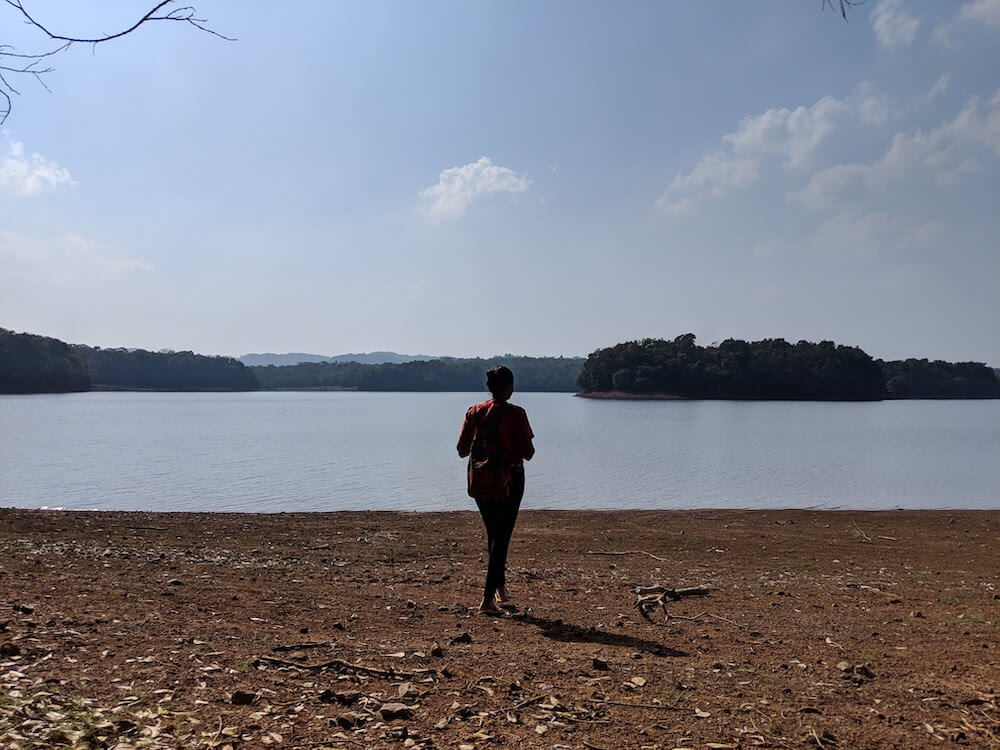 The reservoir had a lush green island on it. On the other side was a deep forest that sprawled in all directions and looked impenetrable. The sky was light blue, almost the color of the lake, with a couple of white clouds scattered around. We knew we had to leave but we didn't before clicking pictures of our picnic and of us at the shore.
The evening was spent at the rooftop of our homestay watching the shingled houses, seeing the setting sun blaze up the forest, and drinking the last two cups of tea. And for then that had been enough. Good food, a little scenery, and the surety of a roof above our heads made us happy then and these things make us happy now, too. I still think of that day to remind myself of how little we need to be happy. And if one has the company of an affable partner, then everything is all the more pleasuring.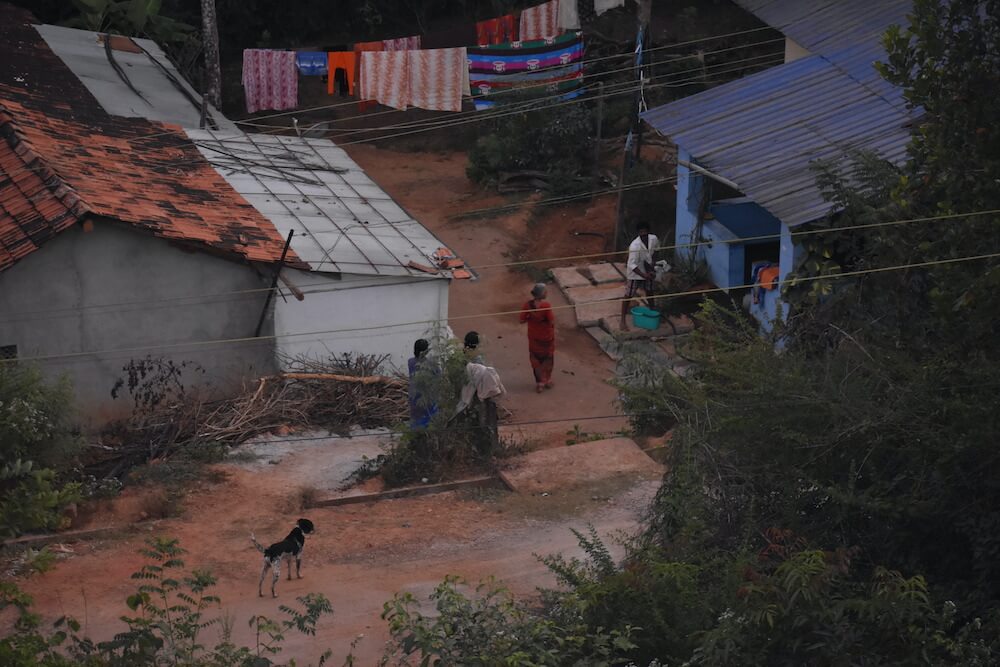 I have gone back to Sharavathi once since then. That trip was part of a group who arranged a trek through the wildest parts of the valley to a tall silver waterfall. You can read all about the dead cobra, the precipitous rocks we clambered up, or the leaches that threatened us at every step we took to reach Belligundi waterfalls in the link. But I have to return to Sharavathi Valley, and this time I would go with the right permits and probably with a little less food. But we will see about that.
Where to Stay in Sharavathi Valley?
We put up at the Sri Ranga homestay near Jog Falls. The rooms were average but the hosts were nice, no-nonsense, and friendly. You can check out Sri Ranga or find other places to stay in the valley here.
If you loved this, you would also like: Sunlit Living in Coorg's Stuart Hill, Crunchy South Indian Dosas, and Adventures in Kali National Reserve in Karnataka. And perhaps you want to start your Karnataka trip by looking at these Bangalore hotels and apartments where I personally stayed and recommend.
What do you think? Should I have visited Hampi as my partner had suggested or was going to Sharavathi Valley a good idea?
*****
Donate to keep me going!
For five years, I've read and wrote day and night to keep On My Canvas - my sustenance and life's focal point - going. Everything here and my weekly newsletter "Looking Inwards" is free. No ads. No sponsorships. If you've had some good moments reading my posts or felt hopeful on a lonely day, please consider making a one-time or a consistent donation. I'll really appreciate it (You can cancel anytime).
*****
Want similar inspiration and ideas in your inbox? Subscribe to my free weekly newsletter "Looking Inwards"!