What is Pondicherry and What is it not
I fell in love with the energy of Pondicherry — the heartbeat of it — even before I could notice what this coastal city offered.
The union territory of Pondicherry (renamed to Puducherry) might be popular for the leftovers from French colonialism: ubiquitous bakeries, wine bars and restaurants, narrow lanes studded with monochrome baroque buildings, and the French-speaking Tamils. Or for being the crucial port it became as early on as in the 3rd century of the iron age people. The ancient ceramic burial urns, wine jars, fish garum amphoras, and the Palaeolithic axe discovered around Pondicherry (Tamil Nadu) and now kept in the city's museum do impress upon one the history of the town that seemed to have existed since time is known.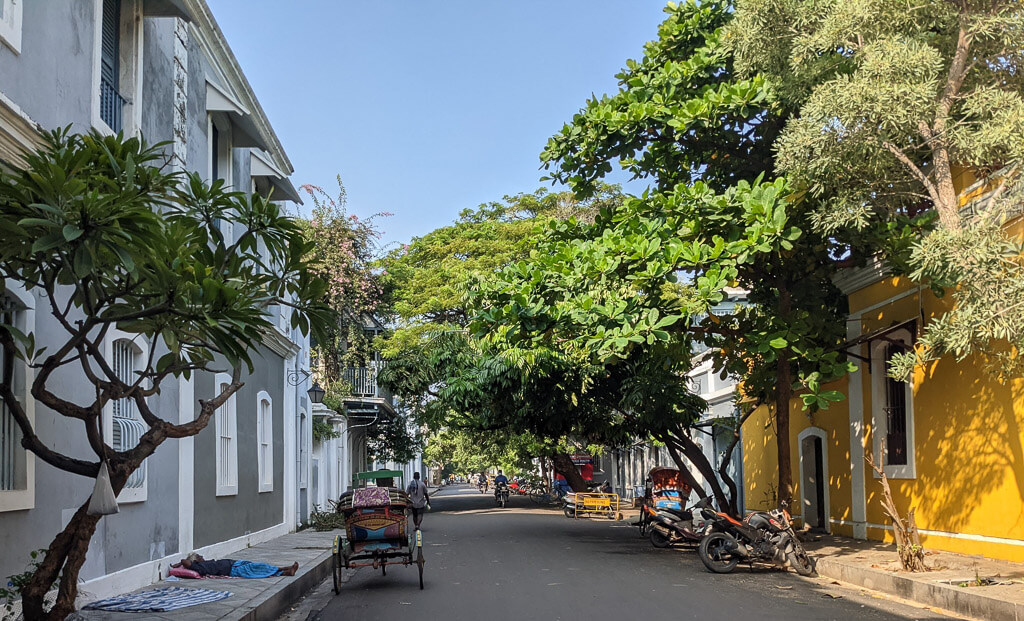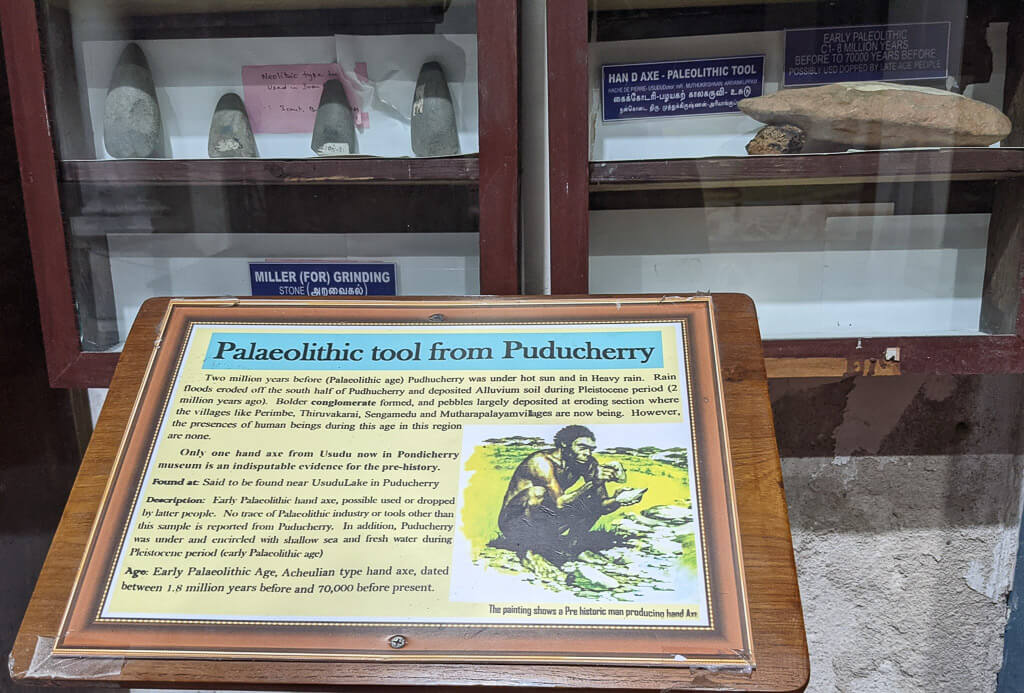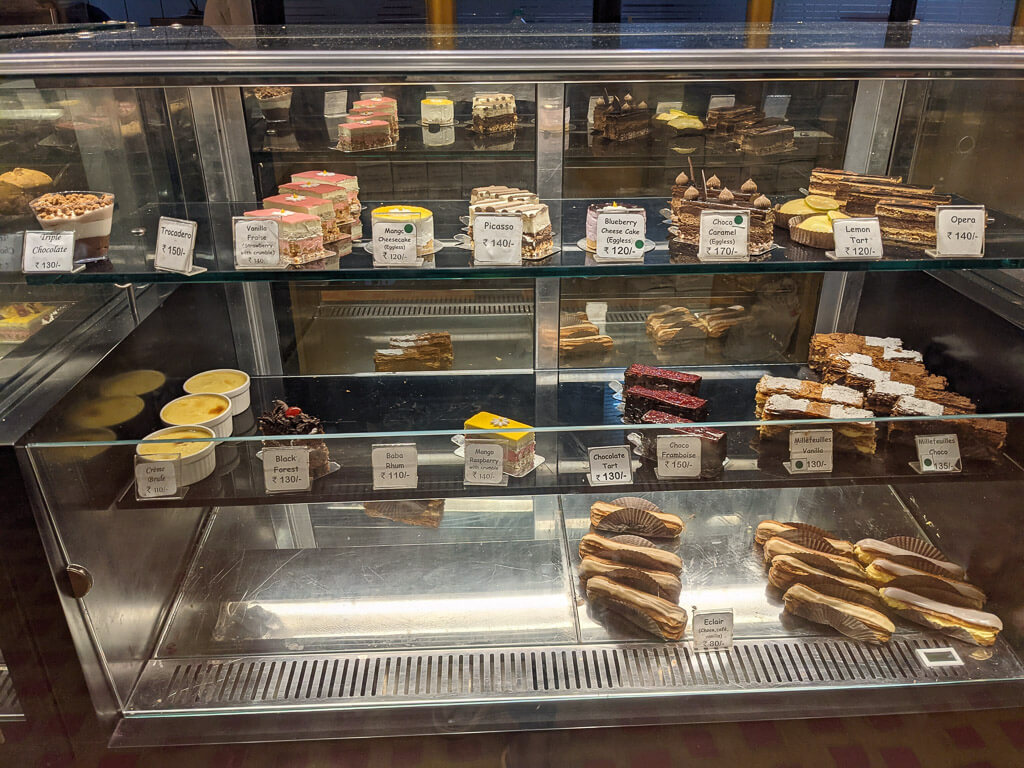 Then the natural history is to be cherished, too. The lesser-known but significant Pichavaram mangrove forests just eighty km from Pondicherry are spread over 1470 hectares. In the narrow waterways between the mangroves, rippling with the boat rowed by the old man in the deep blue shirt, I heard the branches of the forest whispering above me. Those are the voices of the beings that have known how to survive the change of time.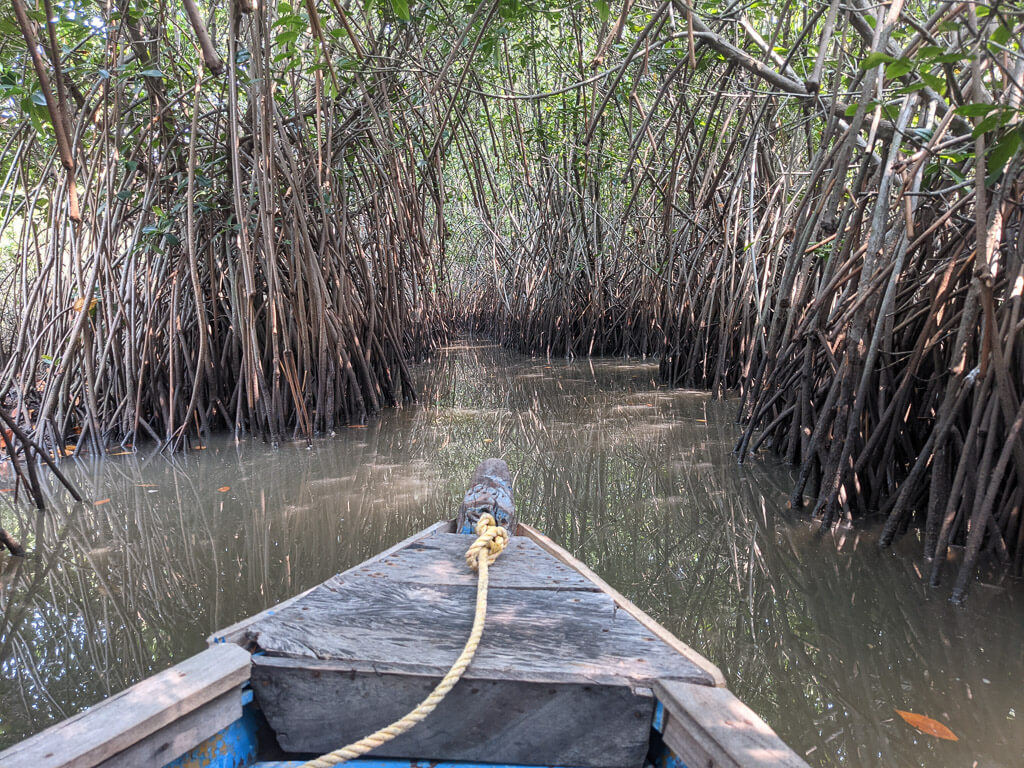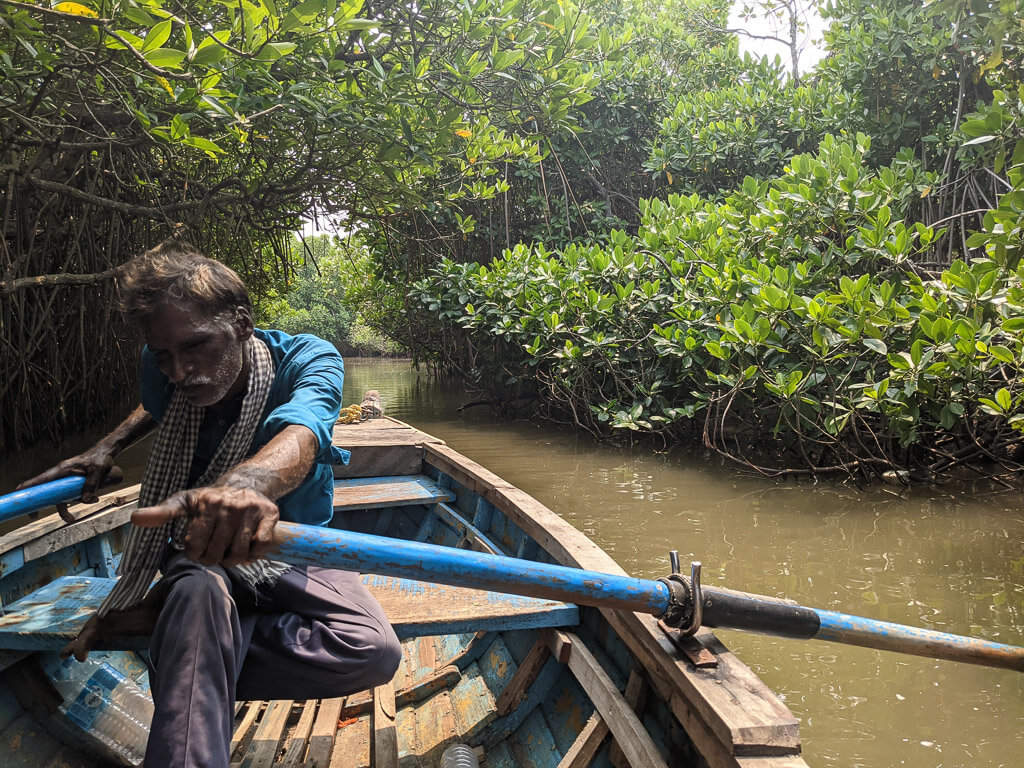 The change of time in which in this beach town on the East Coast of India the philosopher Sri Aurobindo set up his Ashram and his follower the Mother set up the international Auroville community on the city's outskirts. Much is to be said about Auroville — a place where all men and women would be equals above all creeds, politics, and nationalities. But for now, I would summarise that never anywhere else have I met such an interesting collection of people who resent all others for having their methods to life. But what I would rather take away with me are the forests of Auroville, the fish-and-turtle-rich ponds, and the birds that flit between trees fear-free.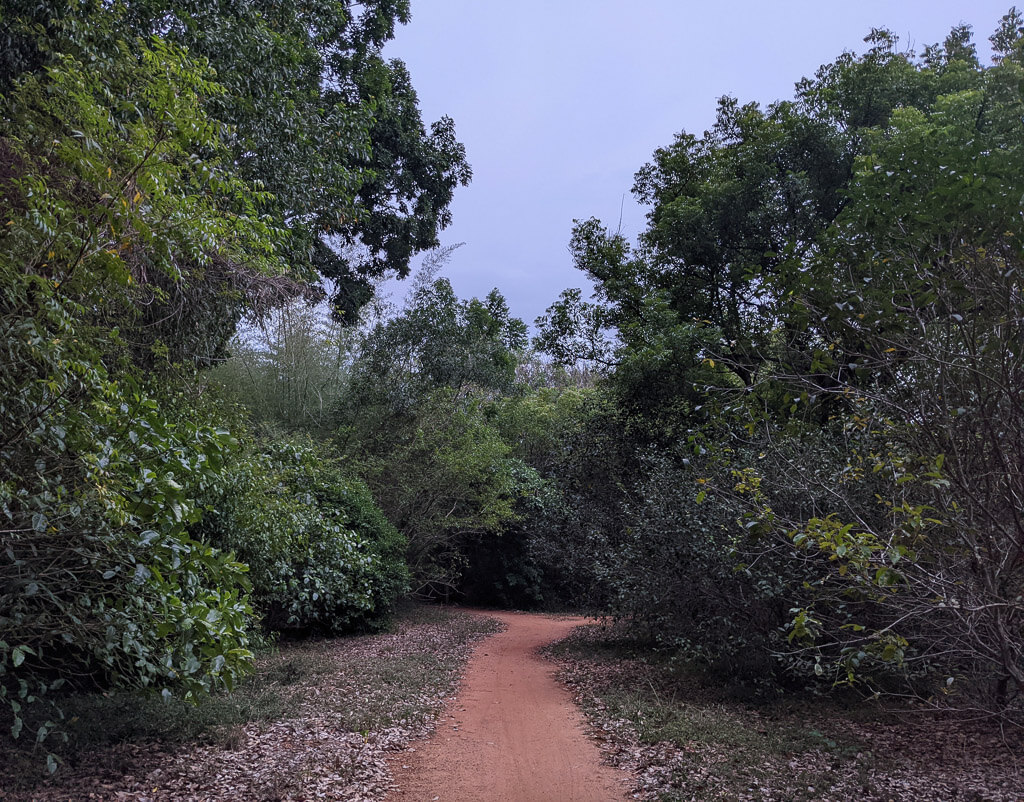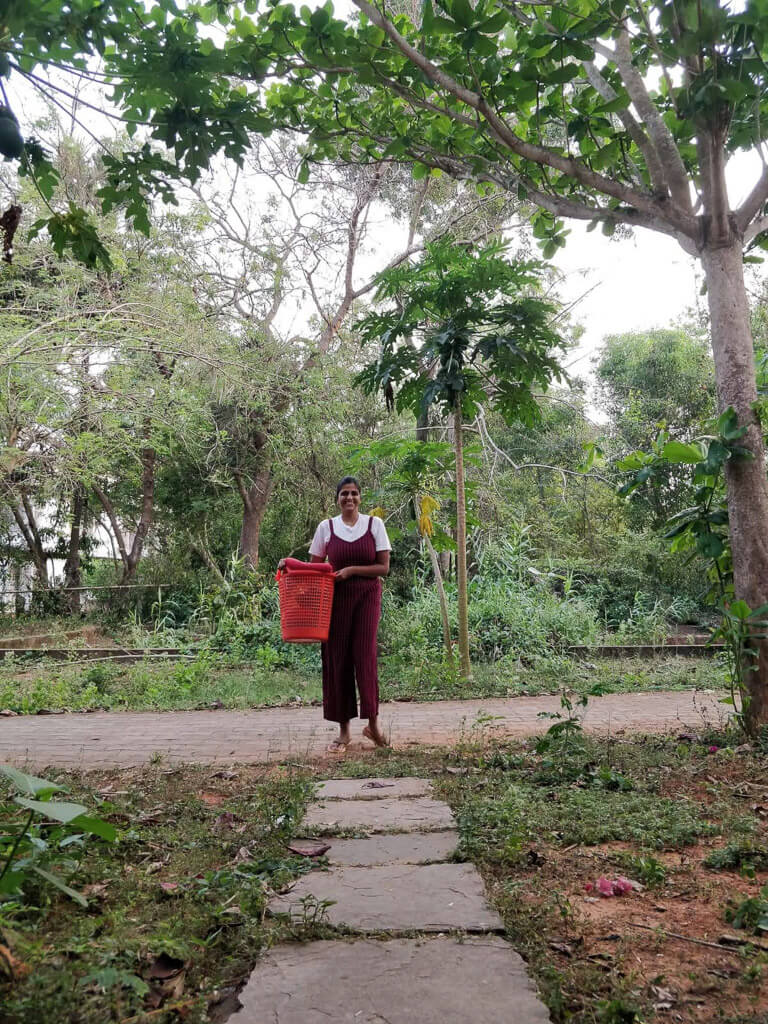 Fearlessly seem to live the mix of the people in Pondicherry too. For every which way stand out colorful Hindu temples, old churches, and quaint mosques. I also saw women throwing burning coconuts on the street so that they split open and then they returned to their homes as they had come mumbling under their breaths. Holy men danced in a trance and hit people on their heads with brooms. Old men and women went about their business on bicycles as early morning as five and late into the night. With flowers in their hair and flower-print saris on their body, they never seemed to stop.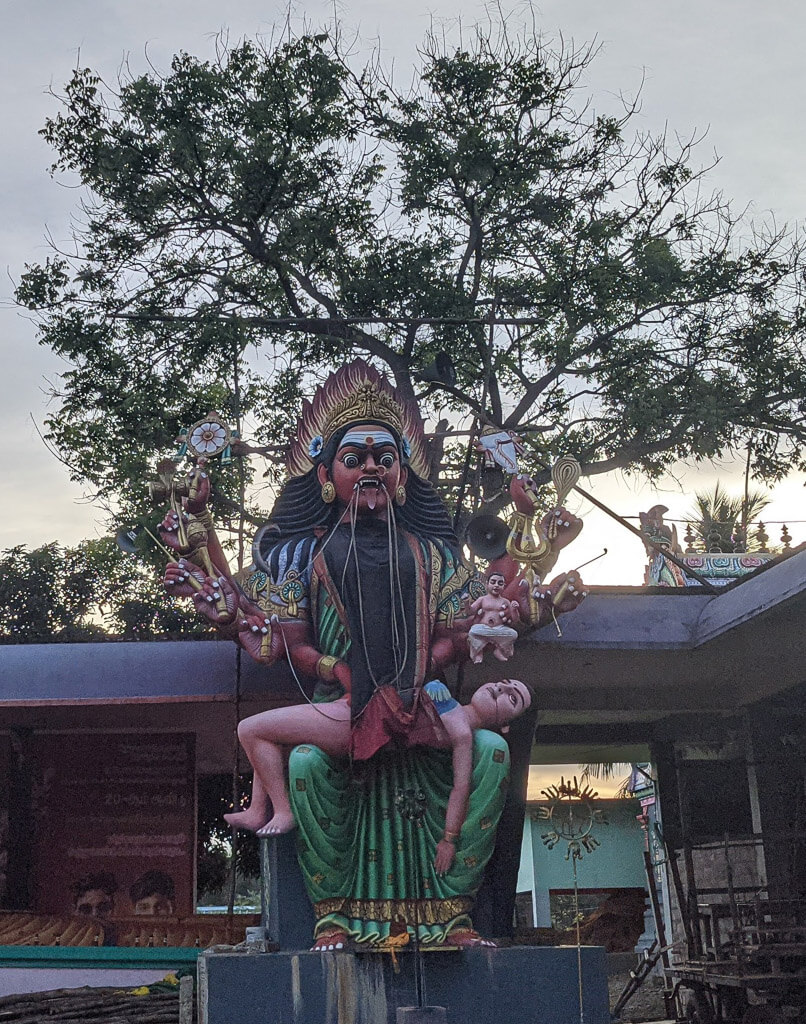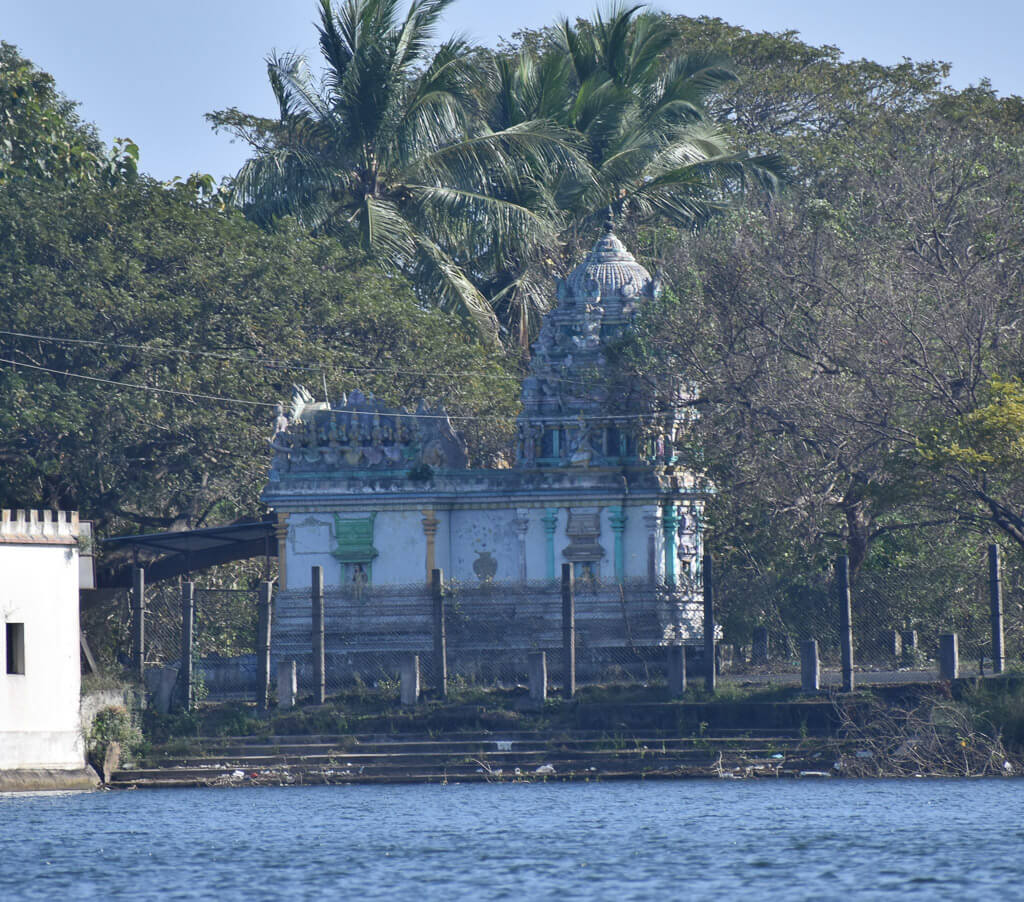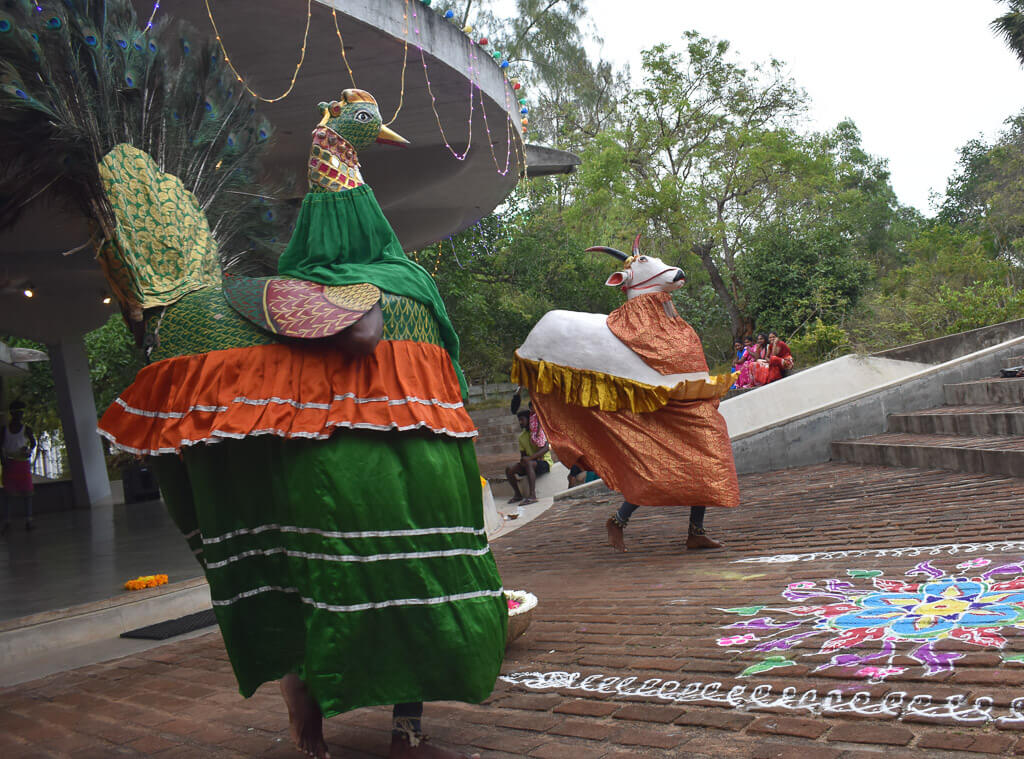 Much is to be said about the heavy gold jewelry and beautiful silk and georgette saris sold everywhere. But my eyes sought the overflowing fish baskets on the streets, the old Goubert market bustling with vegetables, fruits, and spices as early as six am, and the bundles of curry leaves, coriander, and mint sold for ten-twenty rupees. If you don't want to enter the hustle of Goubert, you can find forgotten local greens, home-grown avocados, and backyard bananas sold by old women with large silver nose pins and flowers in their hair on the street. They make Pondicherry an exotic place.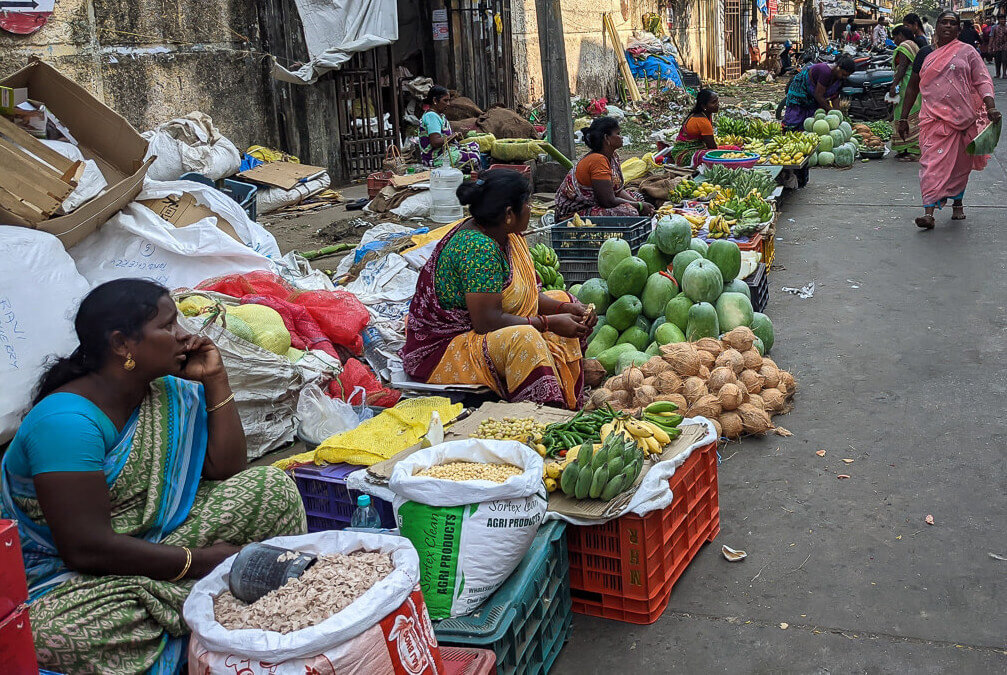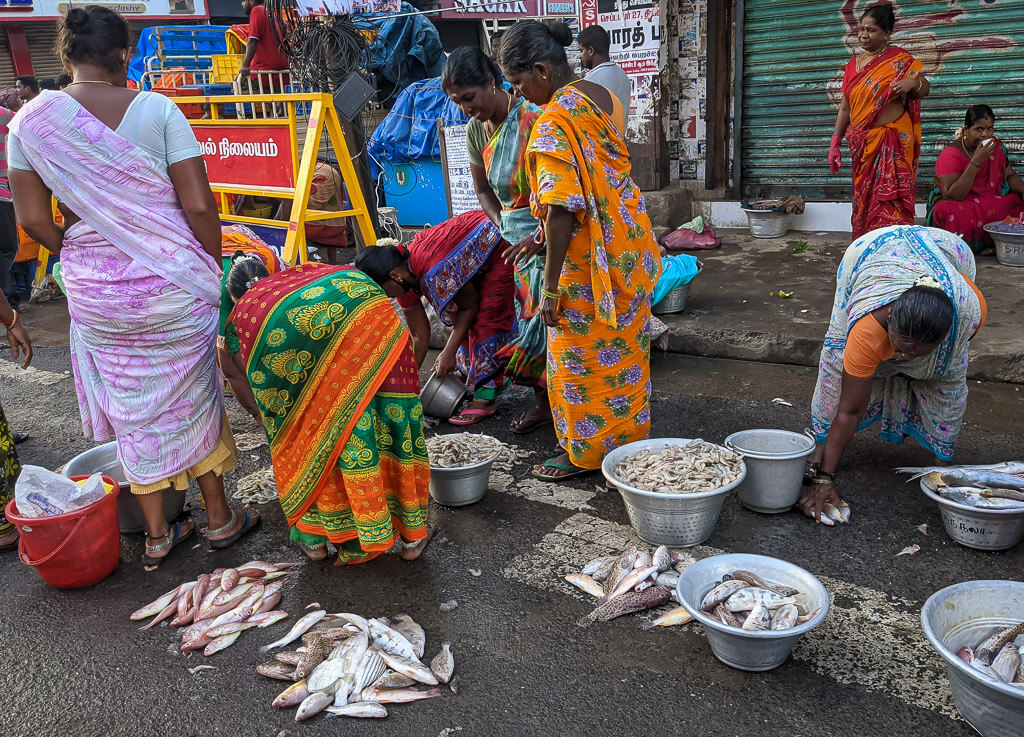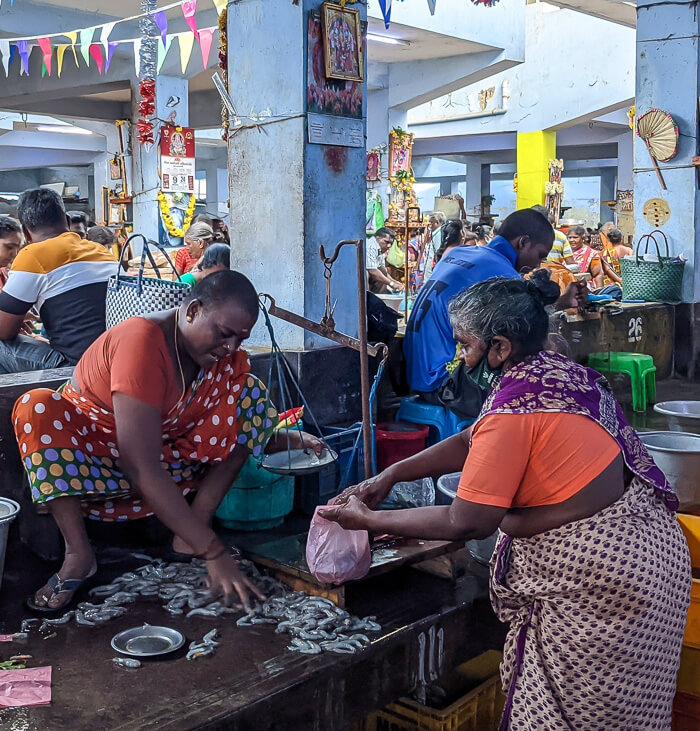 If it was not already exotic for its fruity port wine, fresh tapioca chips, and sizzling seafood. Though Puducherry's lanes are dotted with more biryani centers than one would like, coffee houses, fish restaurants, and vegetarian meal places straight out of a bygone era still stand shining. Just get ready to gulp down food a bit spicier than you have ever known it to be (much like our adventures in Pondicherry). But then the banana leaves on which everything is served make do for every lacking.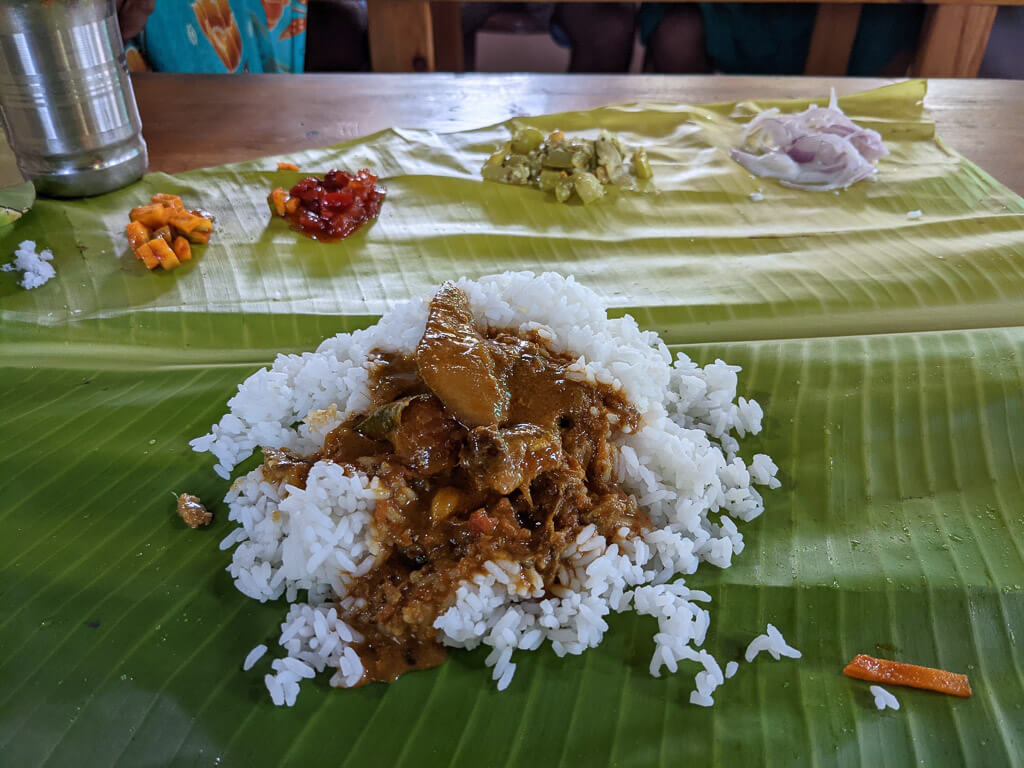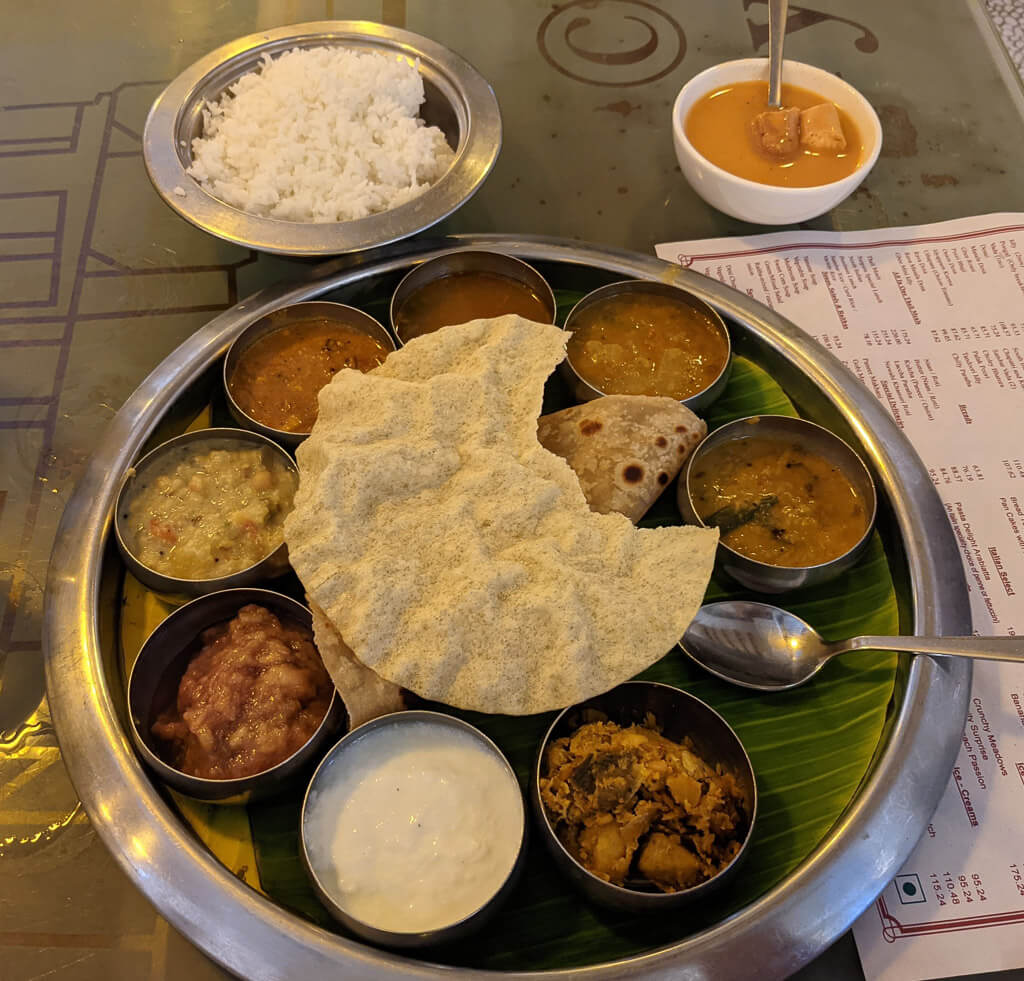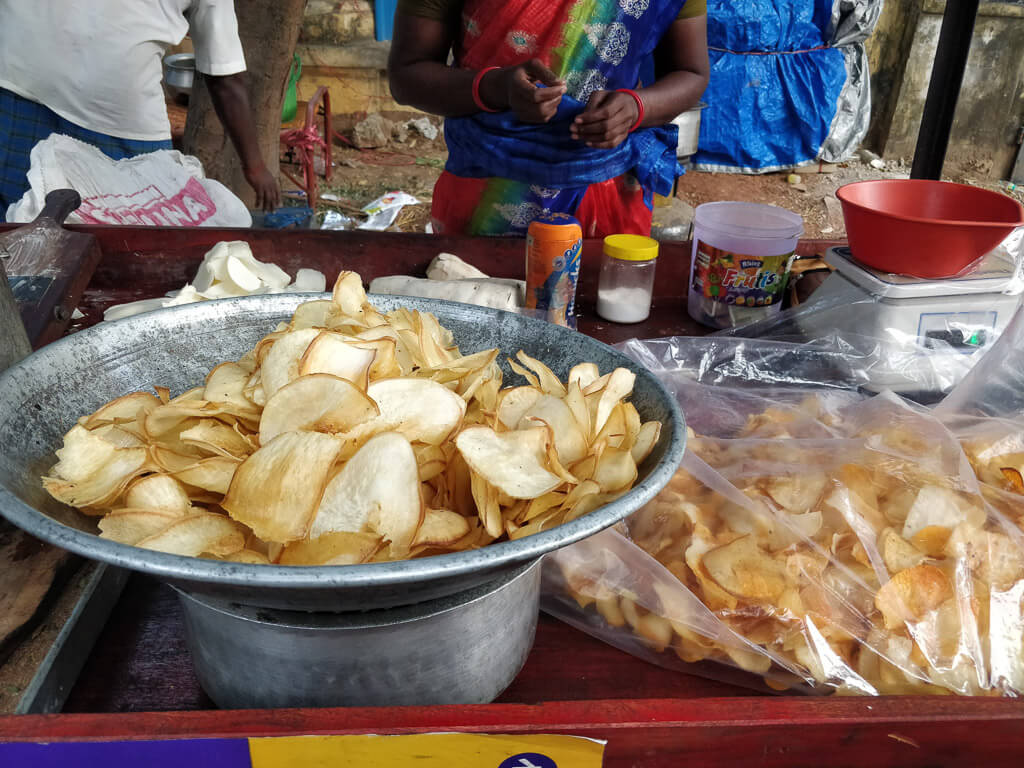 Green and yellow and big and small bananas and banana leaves fill one street. Many of us might know the Vietnamese city Hanoi's Old Quarter lanes each popular for one commodity. But until I saw myself, I didn't know that many Pondicherry city streets still sell one item each. So pottery, flowers, toys, fruits, and coconuts all overflow from their dedicated gulleys into the baskets of the interested shopper.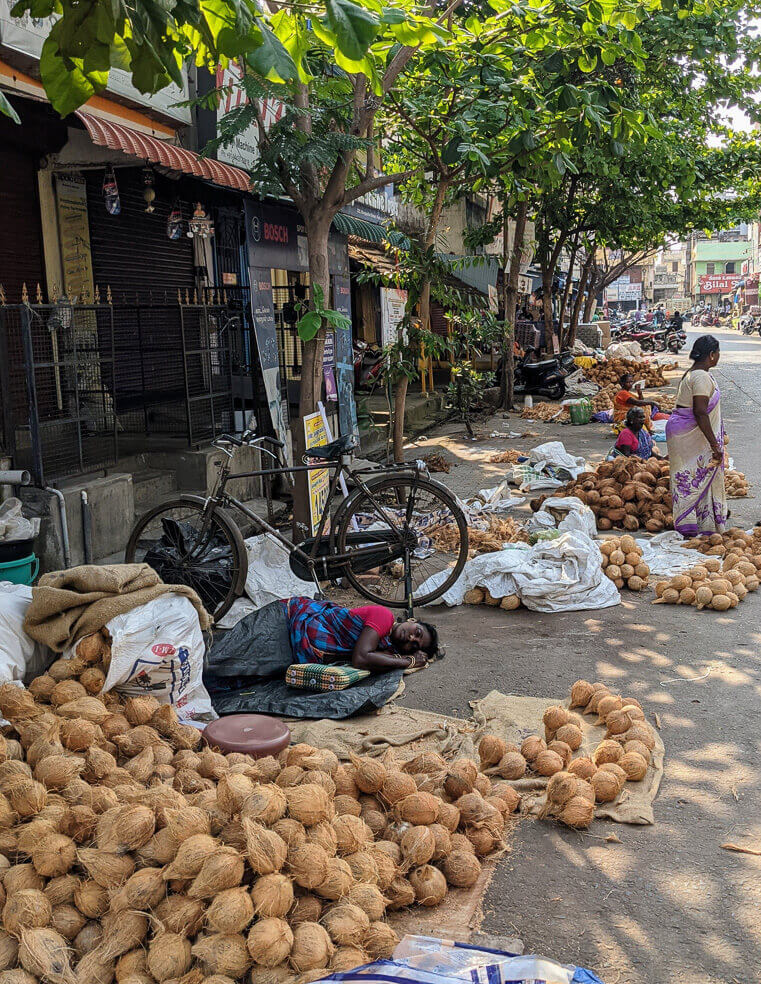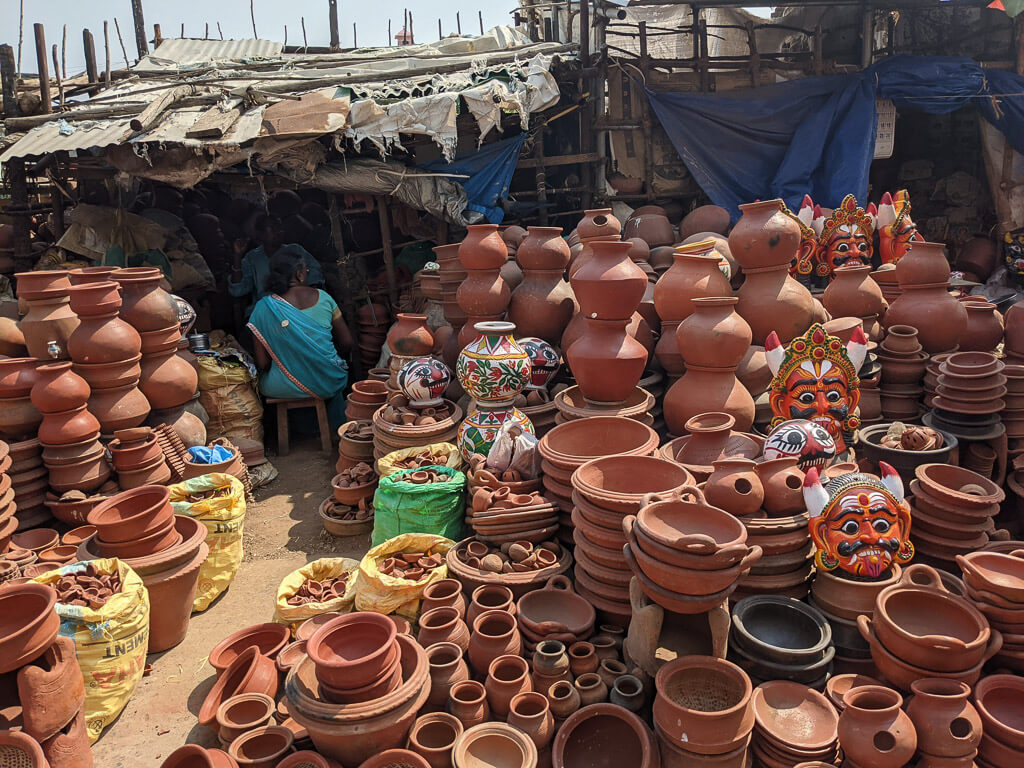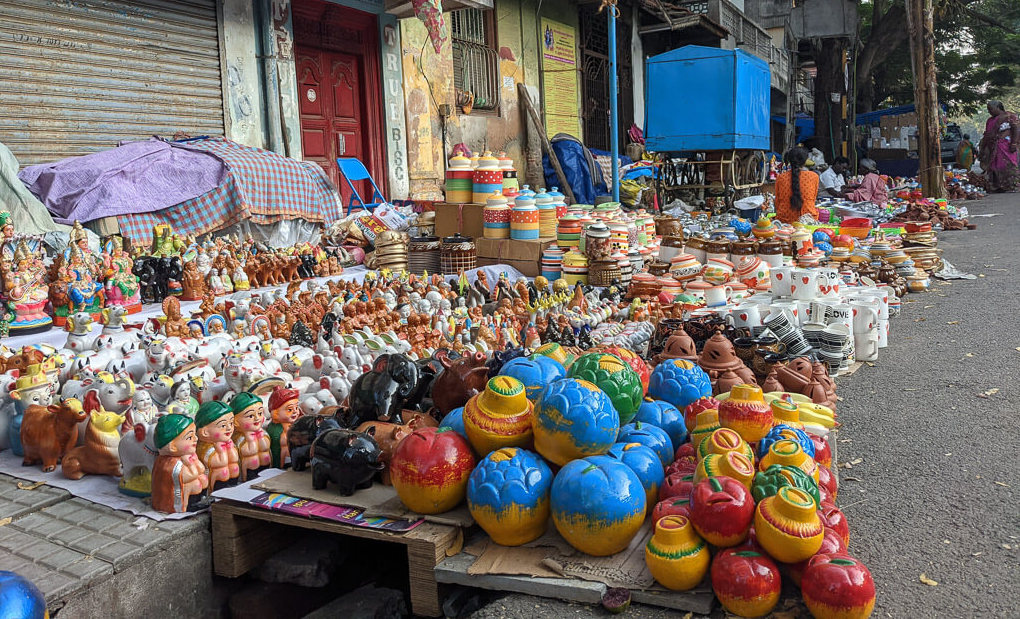 Much is discovered in a city when we step out in it on foot with time free on our hands. If we are up and out early, we would find steaming vada, idly, and dosa being popped out of woks, cookers, and girdles that are cleaned with stick brooms. Curries, chutneys, and dips would be ladled out or are free to be loaded on banana leaves from the pots kept by the roadside. At an eatery across from the temple, the devotees decked in sari and flowers and crisp white dhotis bustling in and out of it after praying to awake gods could be seen the best.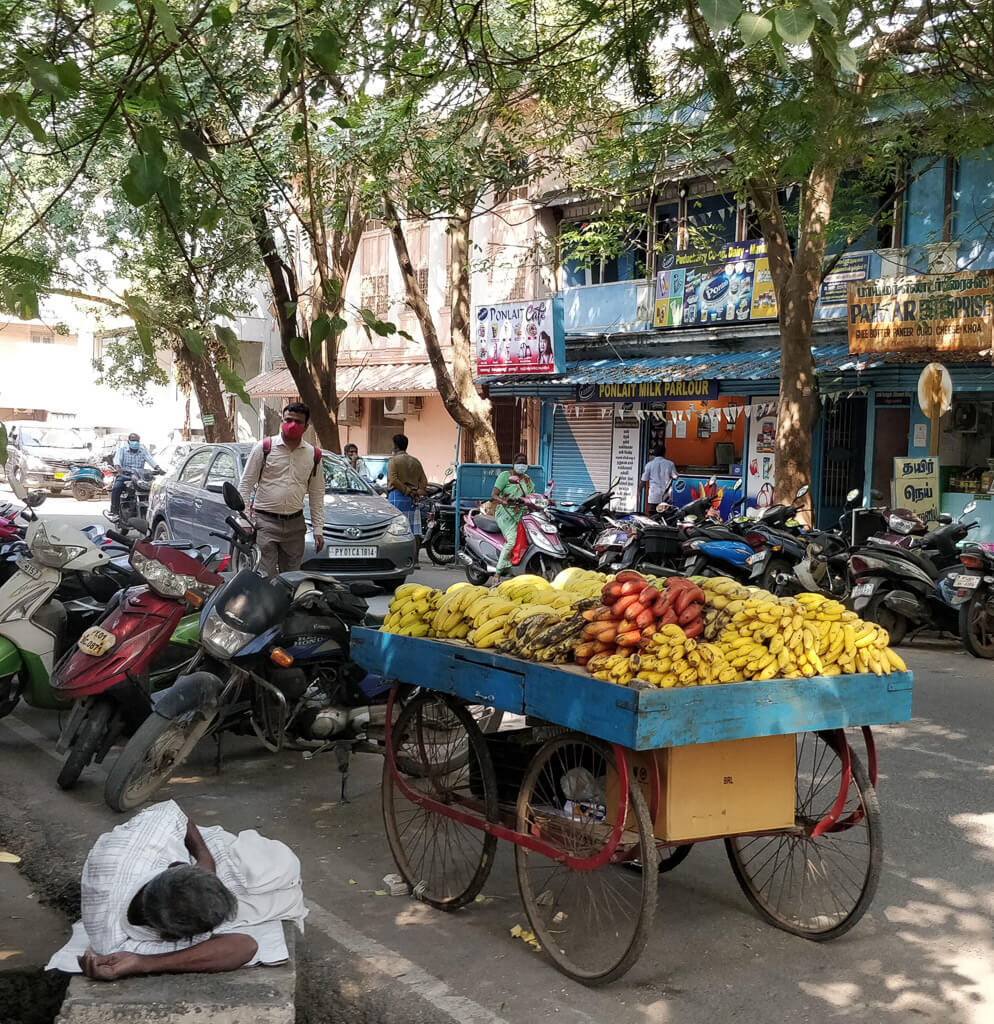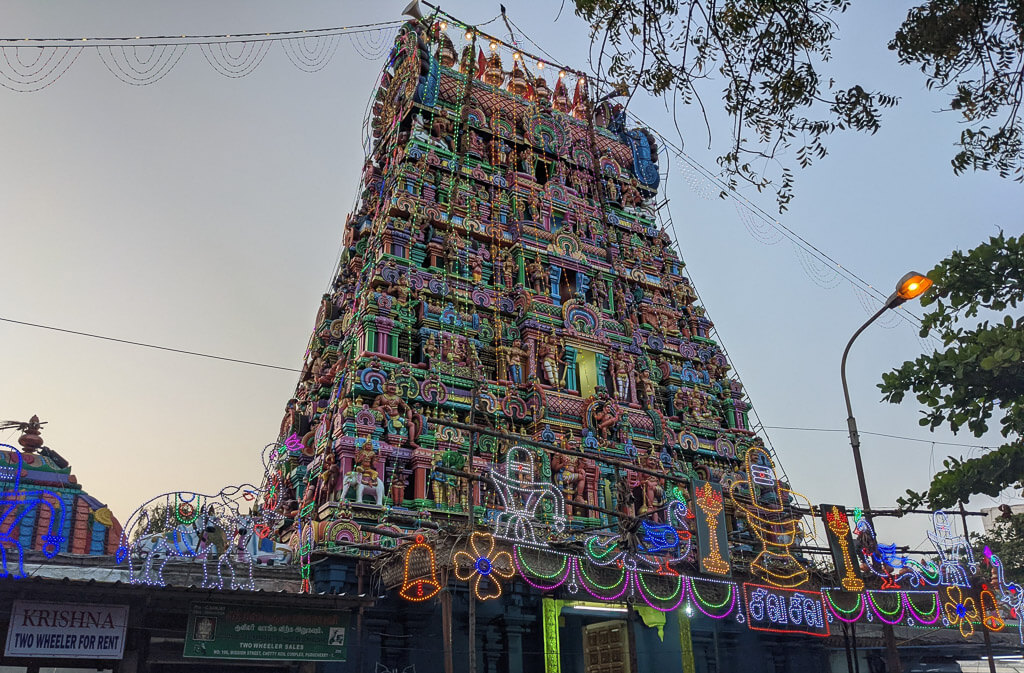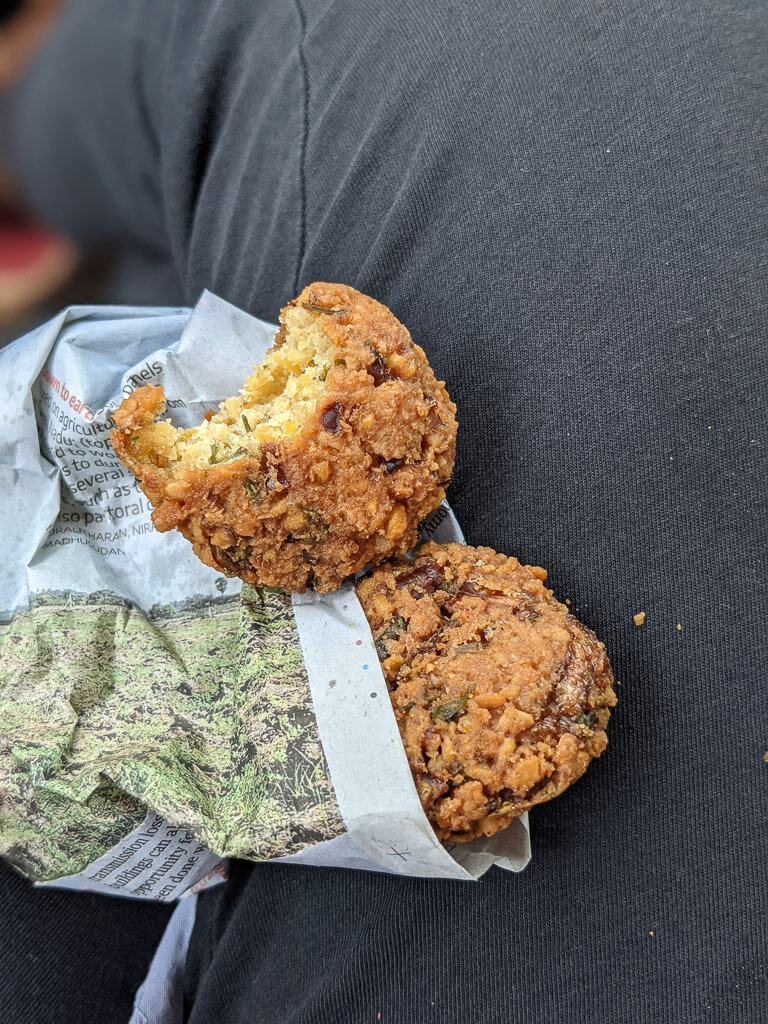 At six, coffee and tea would be poured out of tumblers as if the morning had bloomed to the fullest and nothing else was left to open up. Giving into the temptation to pick up crispy triangular samosas from the coffee stalls would not be a bad idea. But leaving space in the stomach for the rest of the day is important.
In Pondicherry, traditional fish curries were still being cooked in clay pots over a wood fire. There was vanilla mille feuille in French bakeries, gimbap in Korean places, and idiyappam in Tamil joints. Fish dried on mats in streets as if they had all jumped up there out of the ocean and lakes to sunbathe.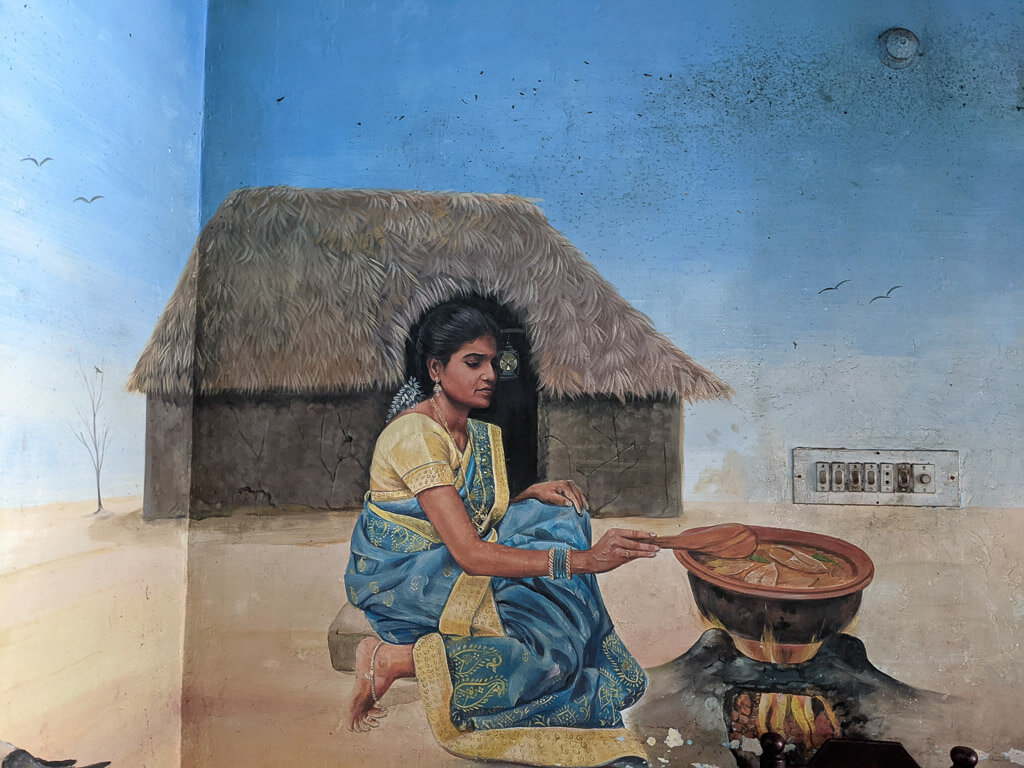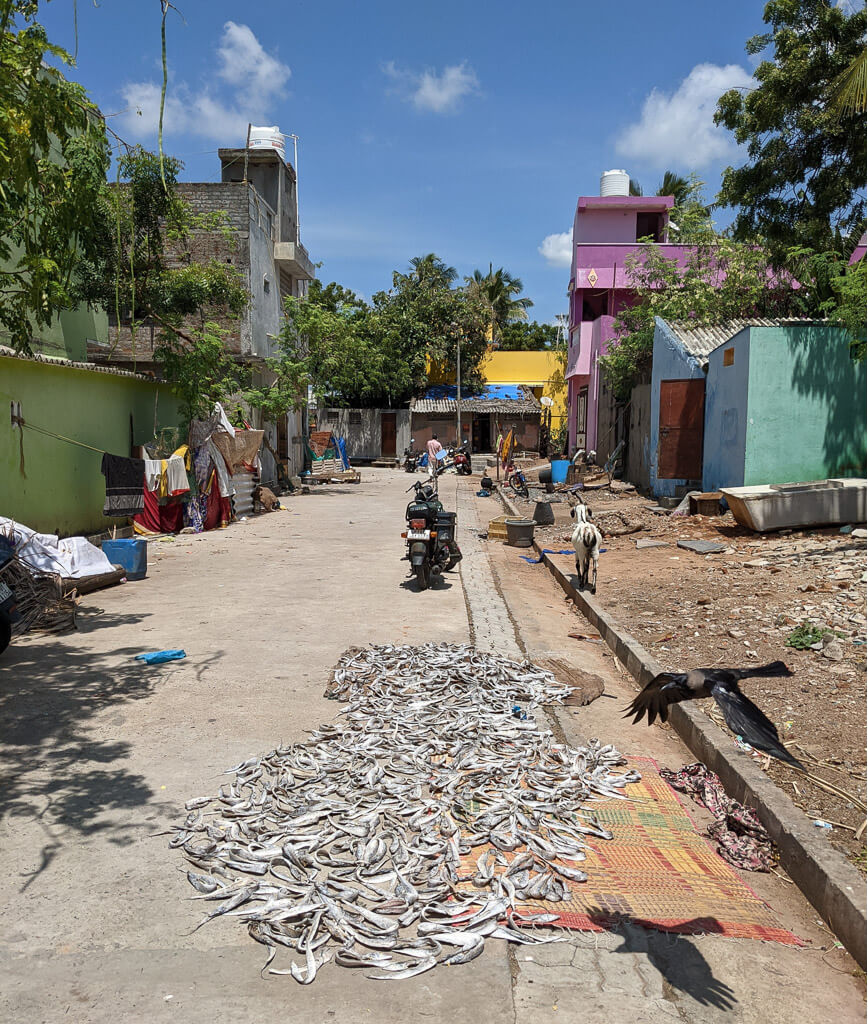 On serene islets on the Ousteri lake, drongos, egrets, and herons lived peacefully. But on the roads, too, magpies croaked, random jackfruit trees bent under the fruit's weight, and old shepherd men and women walked around with their fleet of goats and cows. On the same roadsides, Kabaddi matches unleashed in the evening. It all was truly Pondicherry.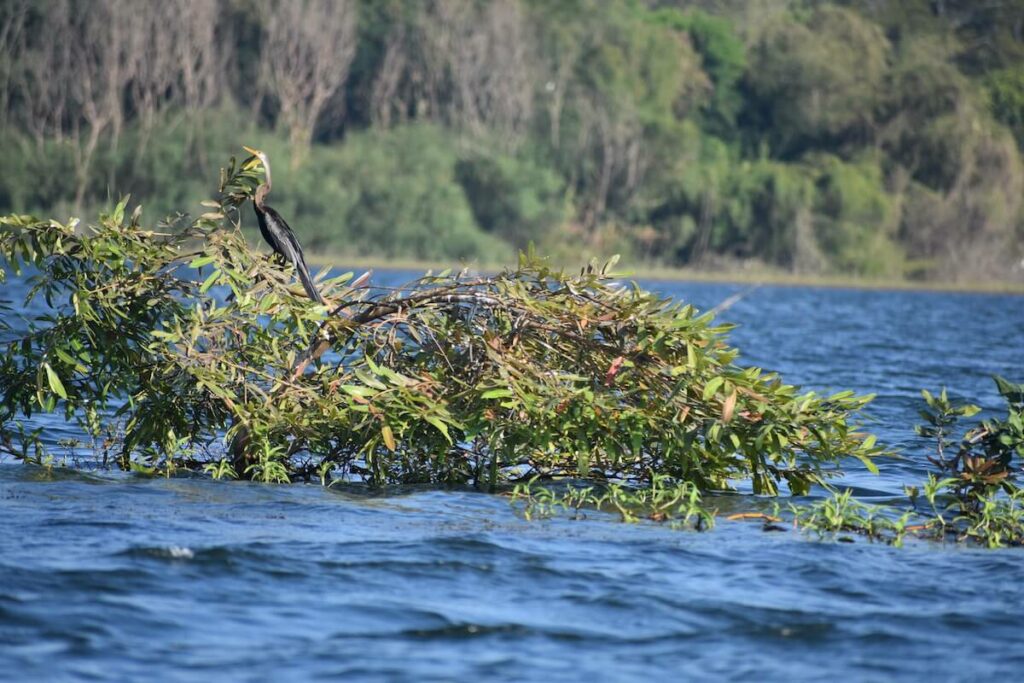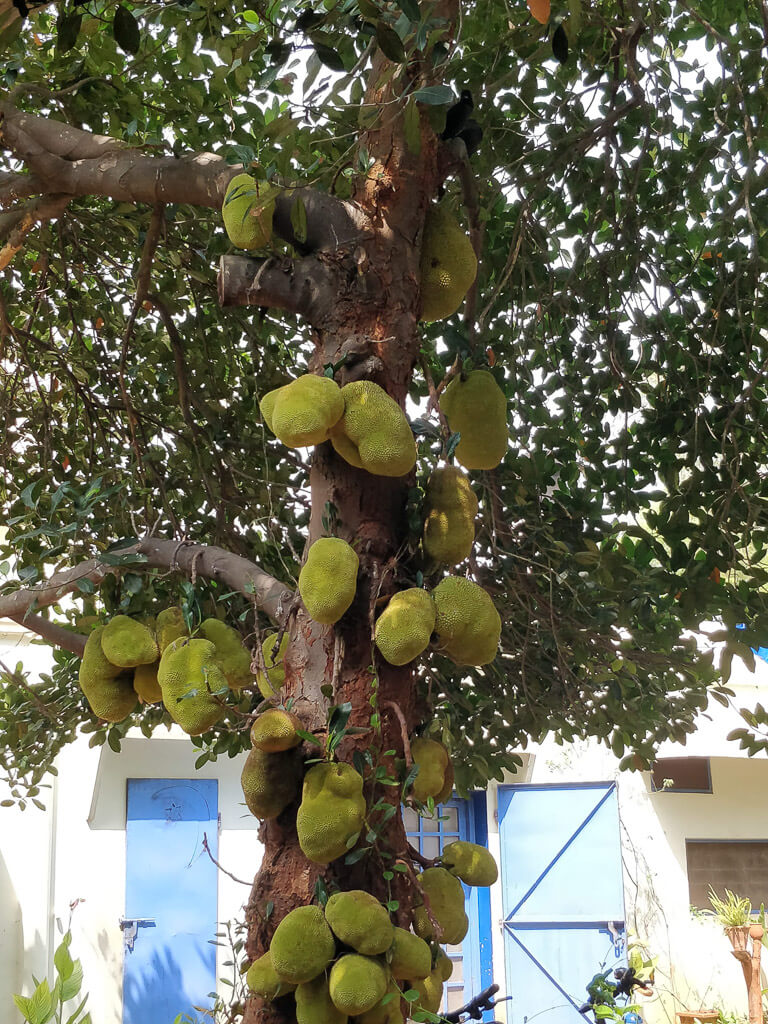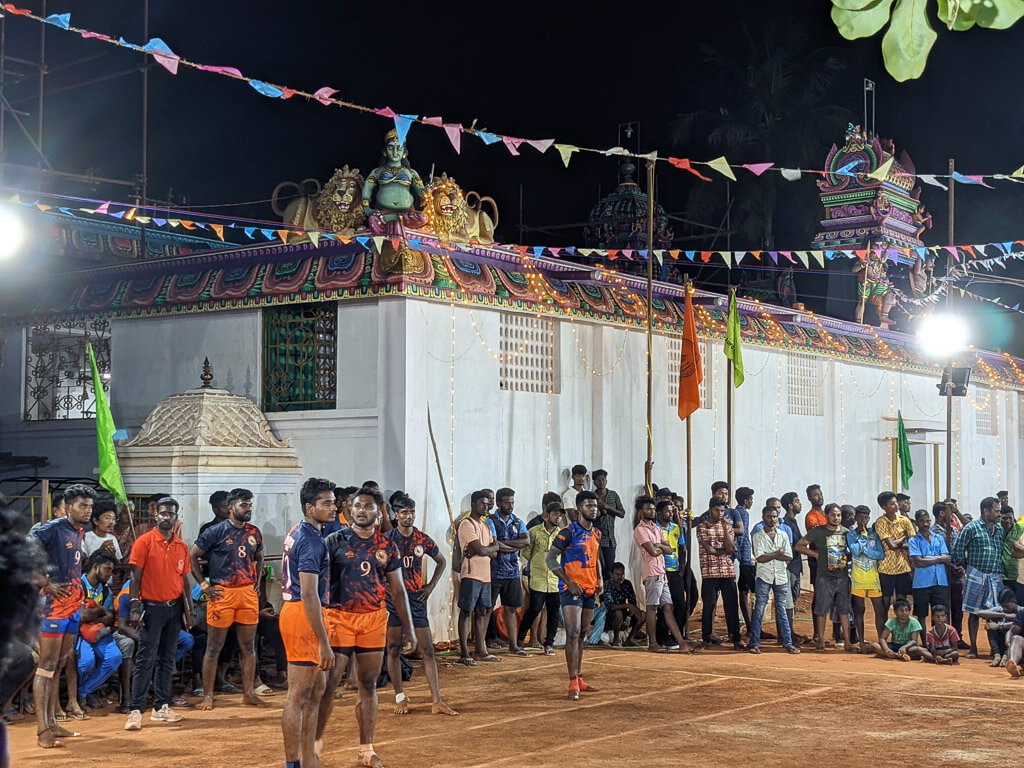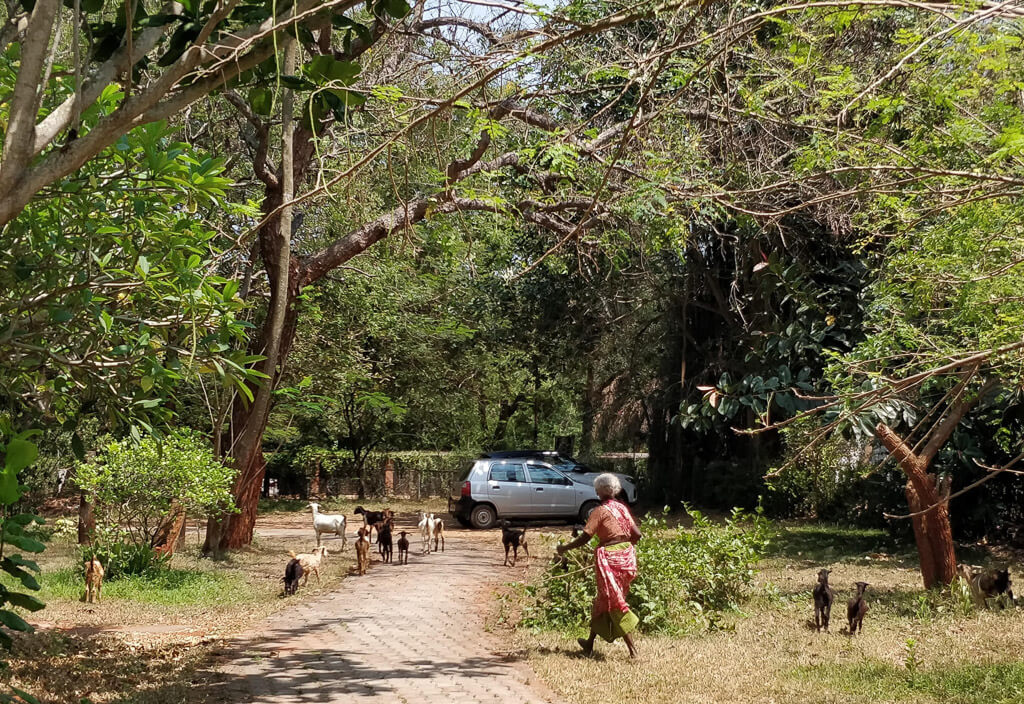 The fishing boats with eyes around the beaches, that we could take a bottle of old monk and sit on the shore and play cards, or that we climb up to the rocks with ice cream and looked at the waves — these made Pondicherry special.
Above all this, the people make the place what it is. We came across some quarrelsome and greedy hosts, people who road-raged because we wouldn't fly our car above traffic, and many rude souls from the Auroville community. But most of those were not locals, a lawyer said. In the locals, we sensed kindness, tranquility, and friendliness.
We were given homemade sweets on Diwali by Tamil families, many locals smiled while moving their bikes aside in the narrow gullies to let us go, and the coconut seller welcomed us at his stall with a shy grin. A street vendor who sold us a packet of homemade papad walked to us a minute later and took the packet out of our hands only to put another one into it without saying a word — I assume she wanted to give us a better one. And how can I forget the coffee bar owner who soon took us as one of his patrons and the boatman who told me to hide the mangrove leaf inside my shirt when I pilfered it out of the premises?
One sweet host told us he was our Anna  ( big brother in Tamil ) and that we could call him not only if we ever faced a problem at his house but also if we had any trouble in Pondicherry city. And that old street seller who smiled like a new bride when I clicked her after buying sundakkai (turkey berries) from her was something of a kind. That couple who sold idlis, vadas, and drumsticks on the cart made coffee especially for us even though they didn't sell it regularly.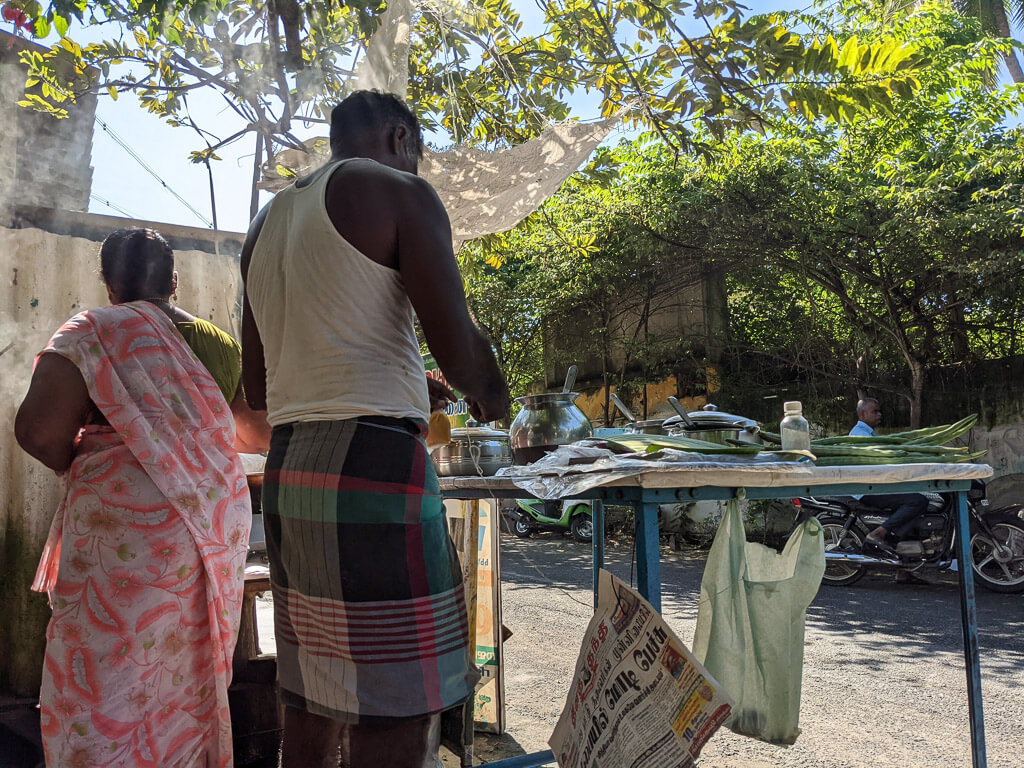 Pondicherry had all kinds of people, like any other place. There I could be anyone, too. I could stay in an earthen house, dry my clothes on trees, and pick drumsticks from the garden moringa. Or I could scale fish for lunch curry with the host on her rooftop, pluck papaya for curry, or stalk the peacocks dancing near the house. Dinner could be local cheese and fresh sourdough.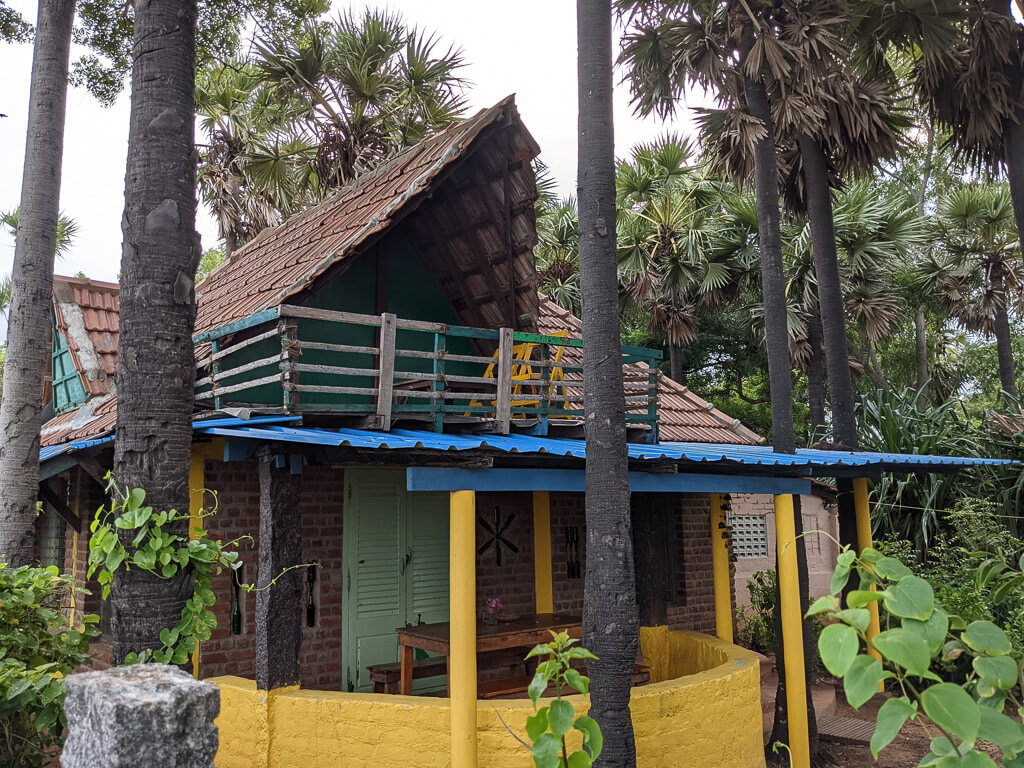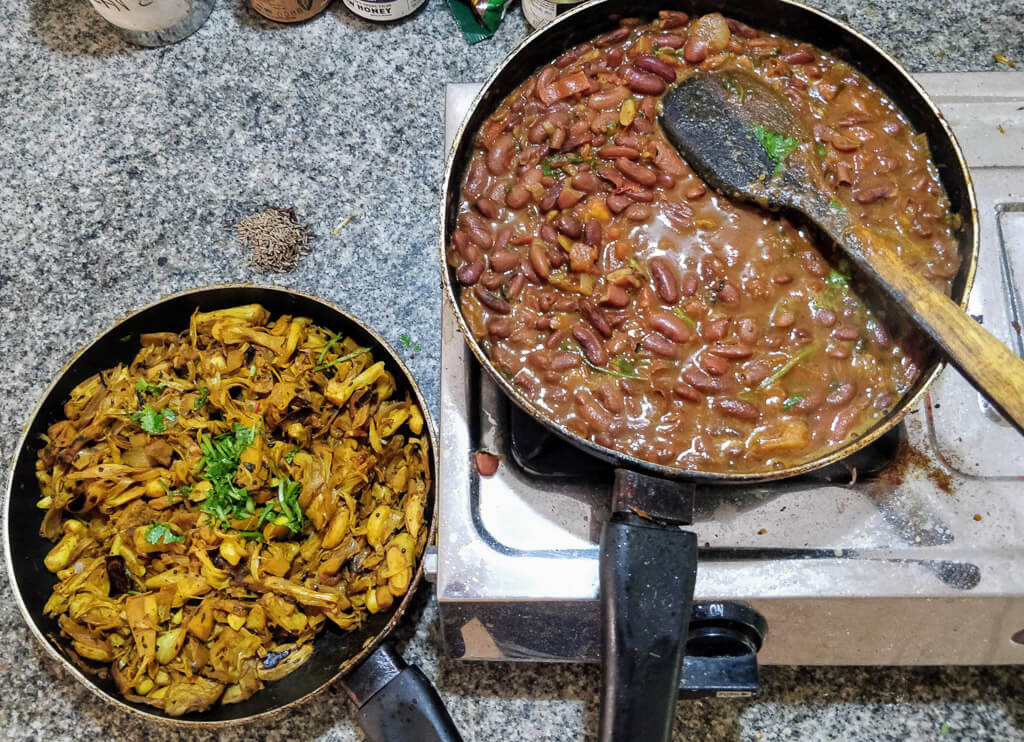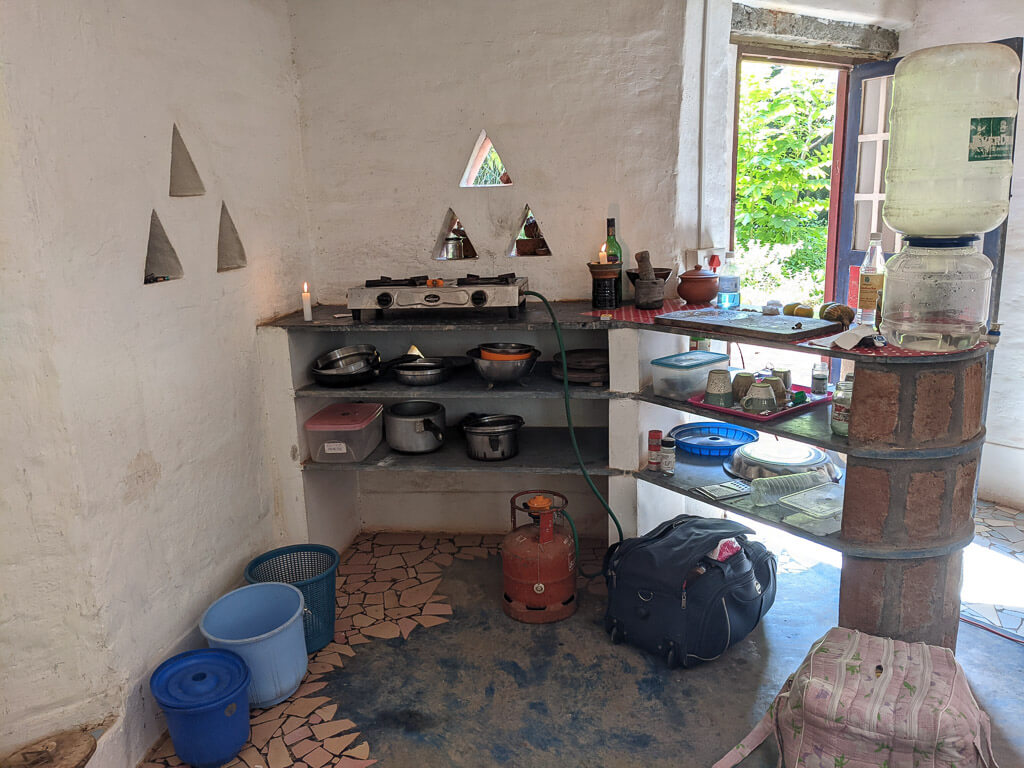 Different parts of Pondicherry felt like different states or various villages of India. From the busy fishermen colony in the crowded lane behind the beach, we moved right into their homes on the seashore. Though the interior was more friendly and a beautiful family gave us a meal of sambar, rice, cauliflower poriyal, and banana fry, the beach was a direct window into fishermen and their families' lives. From as early as three-four, they would be calling each other under our bedroom window to get the nets and the boats and get into the sea. Through the same window, I saw their boats roaring in the dark ocean under a dark sky. But it would be their wives and daughters cooking those fish in the tiny narrow kitchens filled with smoke while the fishermen would play cards on the beach. But this is the story of later in the day.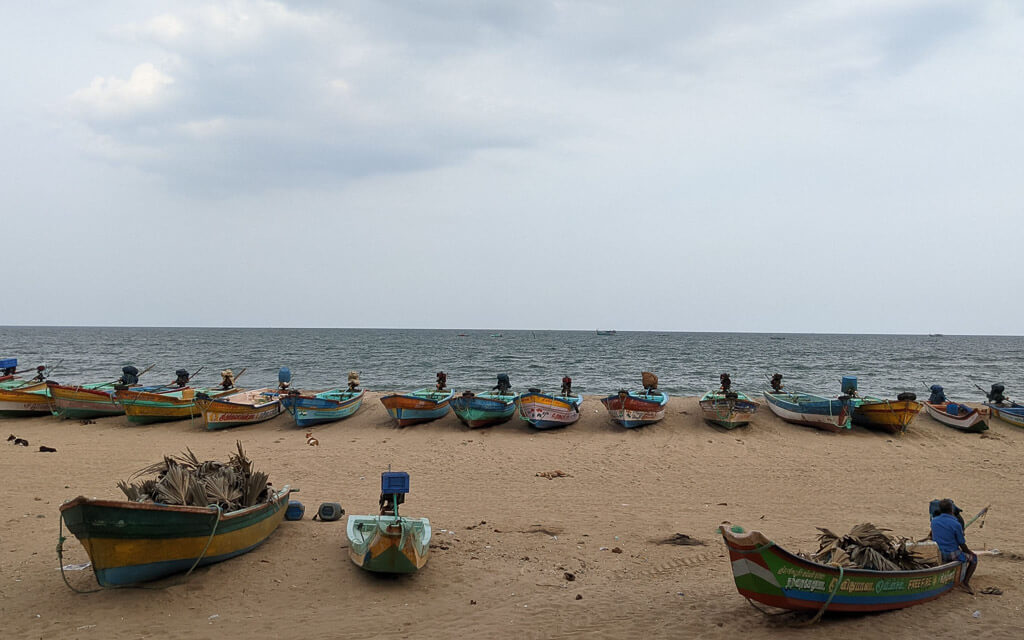 We are still at dawn. Early morning, the Bay of Bengal would be grey, the sun still not up, the sky matching the hues of the water, and those boats would be wallowing in the waves. Some going further into the sea and a few returning and a fisherman on the beach ready to pull the boat in, throwing the rope out to it.
I also set to work in my makeshift bamboo hut on the terrace. On its slant roof lived a family of crows. They screeched, sat, and flew about watching me fill the flower pots in the terrace garden. It was from the garden wooden bench that I watched the sun and the moon rise above the sea.
Mornings were golden, warm, and dry, and evenings were silver, chilly, and wet. I could see the Bay of Bengal as I went to bed and could see it again even before I woke up. All night long, I heard the ocean rise and turn.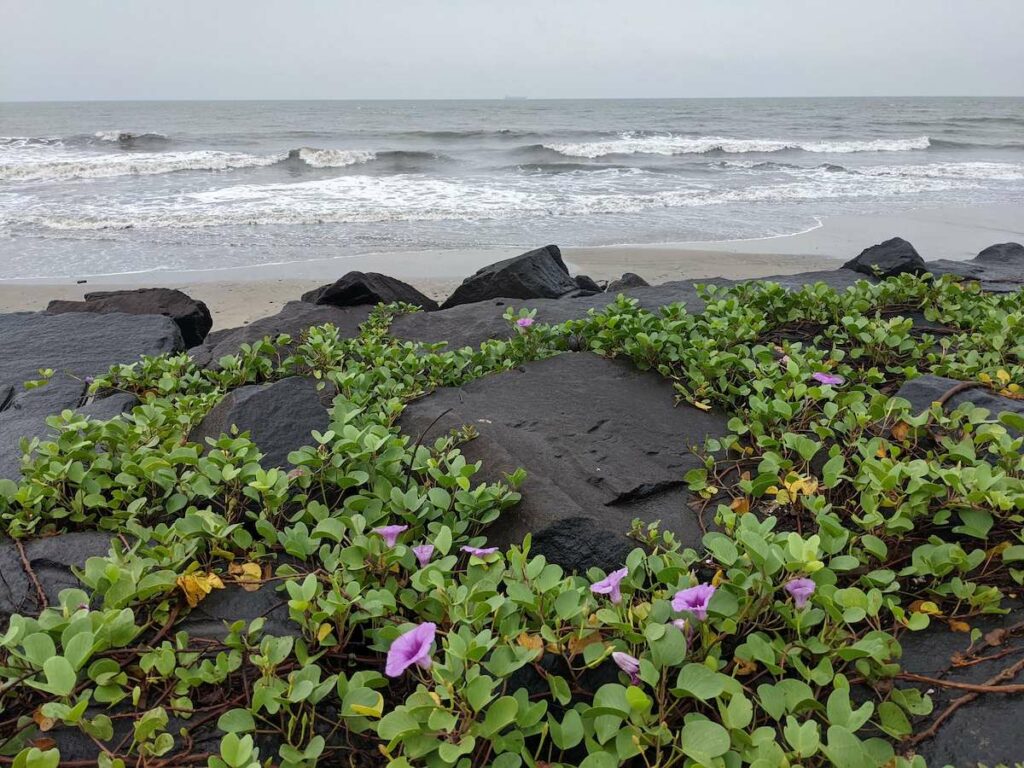 Initially, we walked to the beach every day. We took our slippers off, and I took him further and deeper into the ocean. Waves rolled until our knees, and his shorts and my skirt both got drenched. I laughed and jumped, and he jumped, too, even though he was sandy and didn't like it. But I could see in his eyes that he saw I was happy.
I picked up rare shells from the shore and brought them to keep in the terrace pots. But at times, we spread a bamboo mat on the sand and ate prawn sandwiches. Or we sat with a steamy cup of coffee or a cone of ice cream and watched the kites glide above. As the sun set, lights of ships started twinkling on the horizon as the stars above in the sky. On nights of full moon, the waves wore a silver anklet before beginning to dance at its pull and release, and we considered ourselves lucky to see the duo.
From the ocean shore, we went to live in Auroville. First, we were in a deep forest, a few kilometers away from the beach. Above our forest cottage, we could see stars as early as six in the evening. The cool mornings echoed the calls of the peacocks. Then we lived near the center of activities. We couldn't hear pigs oinking anymore, but we could listen to classical sitar or watch Bharatnatyam dance and be in bed by nine still.
Each of these Pondicherry areas had its own culture and norms and fishing times and fish drying styles and games to pass time and hut shapes and drumstick curves. Marmalades, thyme, and persimmon were as ubiquitous as prawn pickles, curry leaves, and watermelons. And police wore long red caps.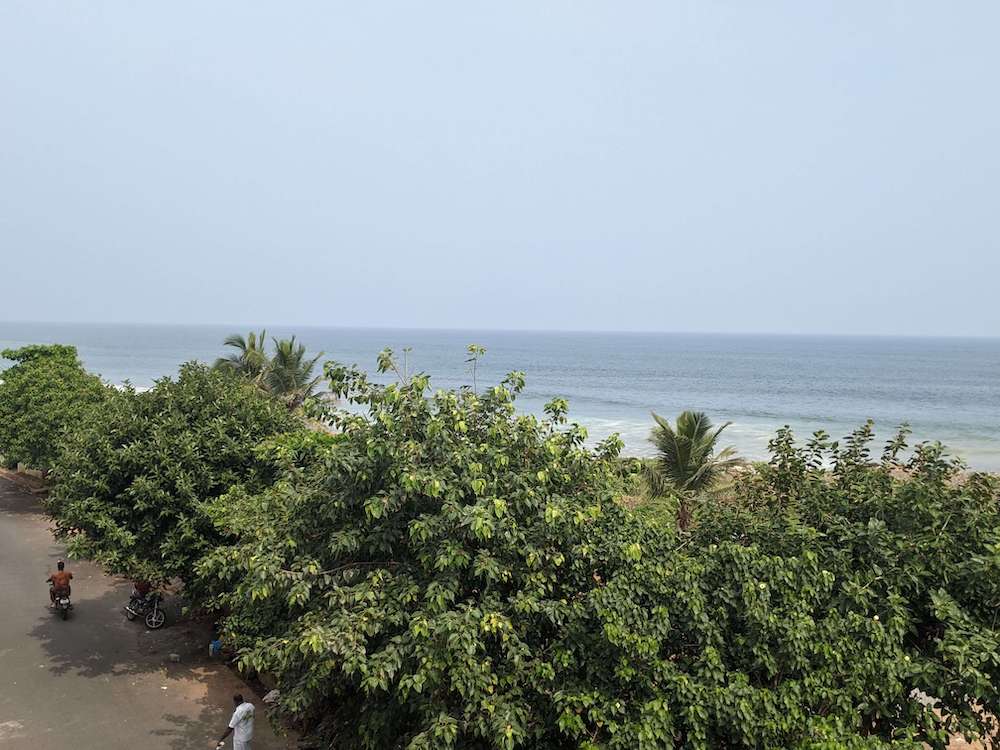 What is Pondicherry and what is it not? There is no "three-day to see Pondicherry Tamil Nadu" or "best things to do on a Pondicherry trip" kind of thing possible. As might be evident from these Pondicherry pictures, what you might do is see a few places on those three days. Visit the house of a writer. Go to the beach. Brave a local market. Get scolded in the museum for clicking a photograph. In Pondicherry, two can eat for anywhere between fifty rupees to anything beyond. So fill your bellies with sambar and biryanis and fish grilled.
And the rest of the time, walk around, sit at the lake shore, talk to someone, rest in the park, buy ceramic mugs or earthen lamps, and get some crispy snacks for back home. All of these things would introduce you to Pondicherry. Communicating could be a problem in many places — especially in the fish market or at a street-side eatery — but then gesticulate, for what else can we do.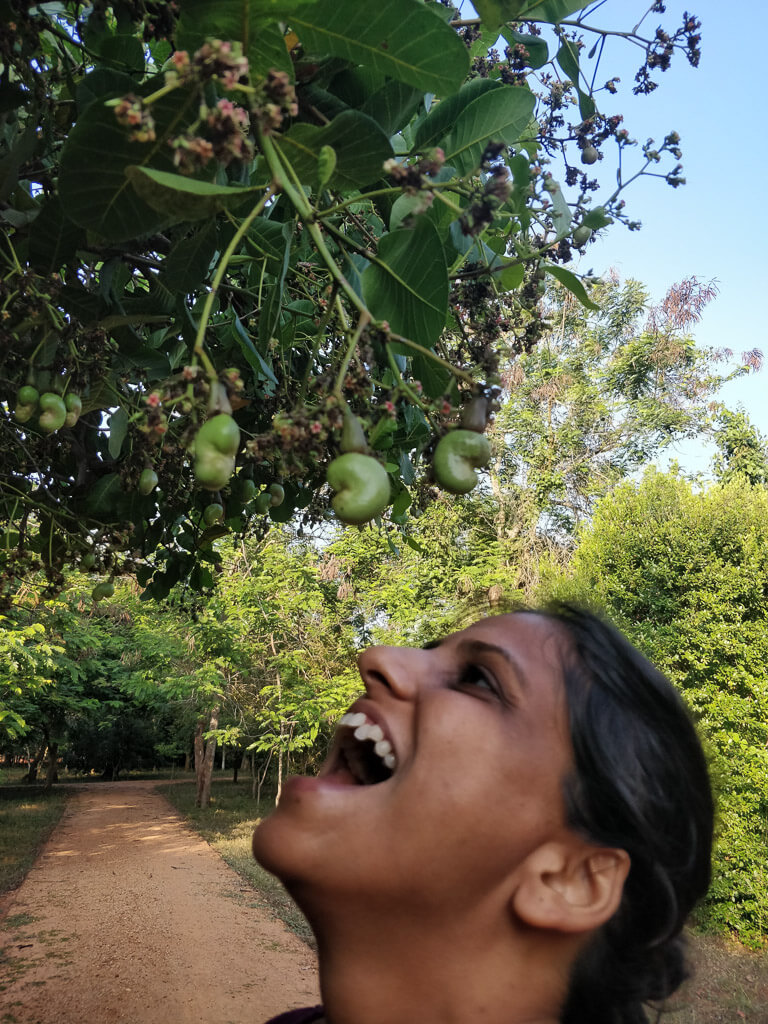 Where to Stay on Your Pondicherry Trip?
Beware of Airbnb in Pondicherry — stick to Booking or other websites. The only Pondicherry Airbnb I can vouch for is this one — a loving and peaceful family that will go out of their way to accommodate you. I also stand by the homestay Ezilla (book in advance as the property is not always prepared). But the owner is a loving guy. Les Comptoirs Residency is good but a little expensive. You can browse all Pondicherry hotels here. And in Auroville, first try out some common guesthouses — Central Guesthouse, Arka — before staying with a host at her home.
In Auroville, nothing can be understood in a day or two, so better not to go for such a short time. Auroville is a trip on its own for reasons I will write about in another post.
---
For now, I will tell you that when I held his hand and treaded softly on the beach, the waves rushed to our feet. I chirped, "I want to write an article titled why I already love Pondicherry."
We had been in town for a few days. He smiled and said, "Yes, that sounds nice."
And so here I am.
What did you love most about Pondicherry, India?
*****
Donate to keep me going!
For five years, I've read and wrote day and night to keep On My Canvas - my sustenance and life's focal point - going. Everything here and my weekly newsletter "Looking Inwards" is free. No ads. No sponsorships. If you've had some good moments reading my posts or felt hopeful on a lonely day, please consider making a one-time or a consistent donation. I'll really appreciate it (You can cancel anytime).
*****
Want similar inspiration and ideas in your inbox? Subscribe to my free weekly newsletter "Looking Inwards"!