A narrative photo essay on street food in Malaysia
Eating Street Food of Malaysia in Kuala Lumpur
My experience with the street food of Malaysia began in Kuala Lumpur(KL). I arrived late at night in KL. I had chosen a hostel close to Chinatown to eat there as often as I can. I checked in the Travel Hub guesthouse and took a bed in a female dorm. 
A long transit from Bali to Malaysia had left me famished. Overeating has been my die-hard habit. Now I try to eat less for a healthy and sustained living. But then, I gorged on traditional Malaysian food without a thought. I don't like to overthink calories when I travel. Who would?
From being baffled by the cornucopia of Malaysian cuisines, restaurants, and dishes to knowing where and what exactly I wanted to eat, I had a long rendezvous with the Malaysian food. This food memoir is my attempt to recreate my month-long food journey in Malaysia.
You will find a lot of Malaysian street food photos here. I go deep into the narratives of how and where I found my meals, the conversations with the locals, and what happened in the process. There are food and travel tips all along. 
As I don't eat meat, this local Malaysian food journal includes vegetarian and pescatarian options only. Also, I will not explain the origins of various Malaysian cuisines here. If you want more background on Malaysian culture and food, read my reasons to travel to Malaysia piece. The linked guide is a window into Malaysia.
In short I can say that the traditional food of Malaysia is a combination of the local Malay, the migrant Chinese and migrant Indian population cuisines. The three have mixed into each other to create the best food in Malaysia. Sambhar rice comes with okra fry and fried fish, Chinese soups are enhanced by Malaysian spices, and Malaysian breads are influenced by Indian naan and Chinese dumplings. You can go crazy trying it all.
I also have a colorful guide to pescatarian food in Penang which will give you a lot of information on Malaysian food. Btw, you should travel to Penang. Even if just to eat. Penang street art is also good. Go. Please.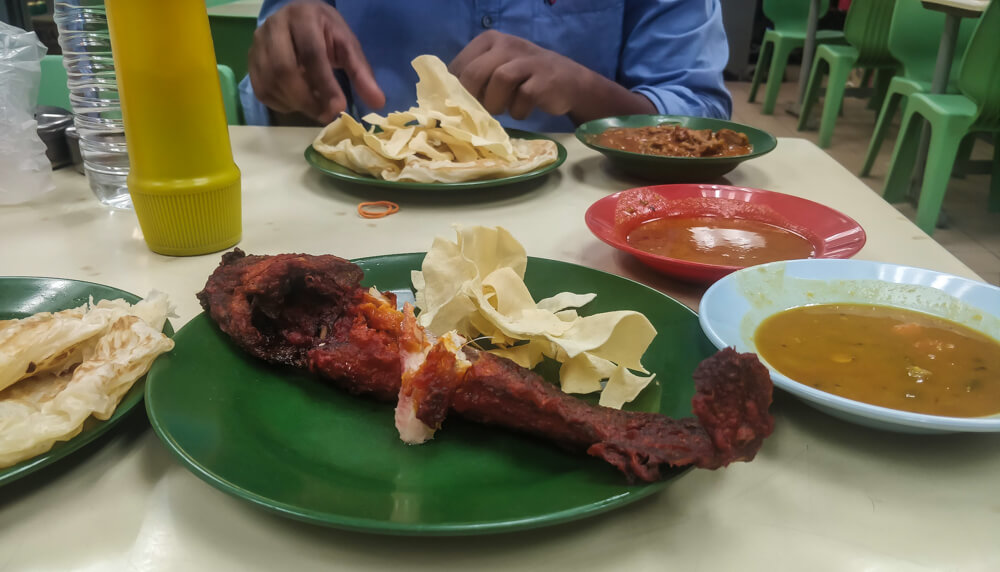 The picture above shows my first meal in Malaysia. One of the Indian-Pakistani hostel mates insisted we go to a hawker center nearby. I followed him politely. We arrived at an Indian Malaysian food stall. I didn't know back then, but it must have been a Nasi Kandar eatery. 
Once, Nasi Kandar was a breakfast meal. Indian immigrants in Malaysia sold fragrant rice, fish curry, and vegetables in Shravan-inspired bamboo baskets balanced on hunched shoulders. This quick meal of rice and curry and fish is popularized as Nasi Kandhar (kandha means shoulder).
The restaurant served various vegetarian, seafood, and meat curries, sambhar, dal, an assortment of grilled and stir-fried vegetables such as okra, brinjal, and fried and other fish in different sauces.
After a lot of confusion, I chose a fish fry, parotta, dal, and sambhar. Papadum came with the meal of the hostel mate. Though the origin of that food was Indian, it didn't taste exactly like back home. It was one of my first of the many Nasi Kandar meals to follow.
I was satisfied and walked back to the hostel a happy girl.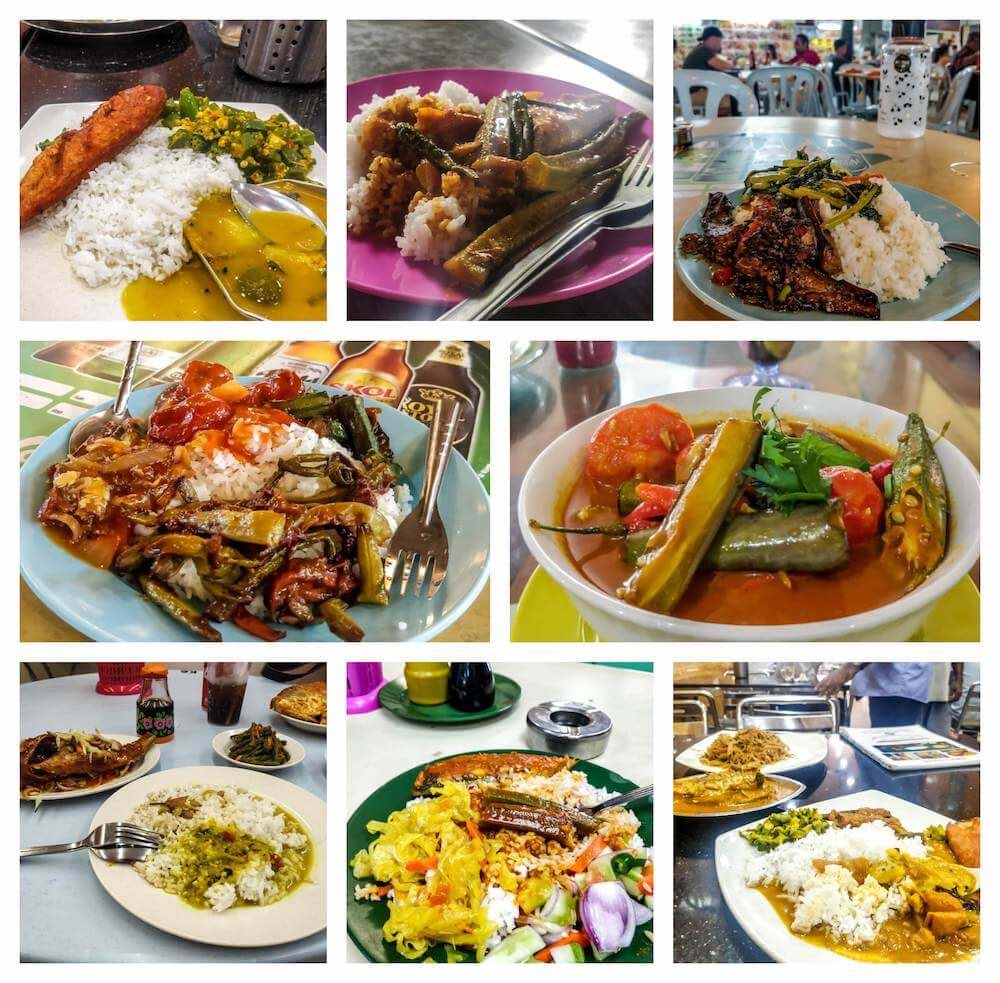 The Travel Hub hostel was full of Pakistanis and Indians. And their presence colored my first few days in Malaysia.
Where to stay in Kuala Lumpur: Insider Tip: Travel Hub Guesthouse is a good hostel. I loved it for its location near the bus station, local MRT, Chinatown, and other important places. I stayed both in a private room and in a female dorm in the hostel. The rooms were clean, we had big lockers to keep our stuff, water was available in the kitchen, breakfast was nice and had lots of fresh fruits, and wifi worked well.
Late check-in and check-outs are available. There is a nice bar at the top of the hostel from where you get amazing panoramic views of the city. I also got 360 views from my top bed in the dorm room. I definitely recommend Travel Hub Guesthouse to those who are new to the busy Kuala Lumpur. As an Indian traveler, I felt that the Indian and Pakistani staff was a bit too over-friendly. The guys flirted all the time. But I ignored all of that and stayed at the hostel twice. Perfect location to access local food.
Click here to see the photos and the prices of Travel Hub.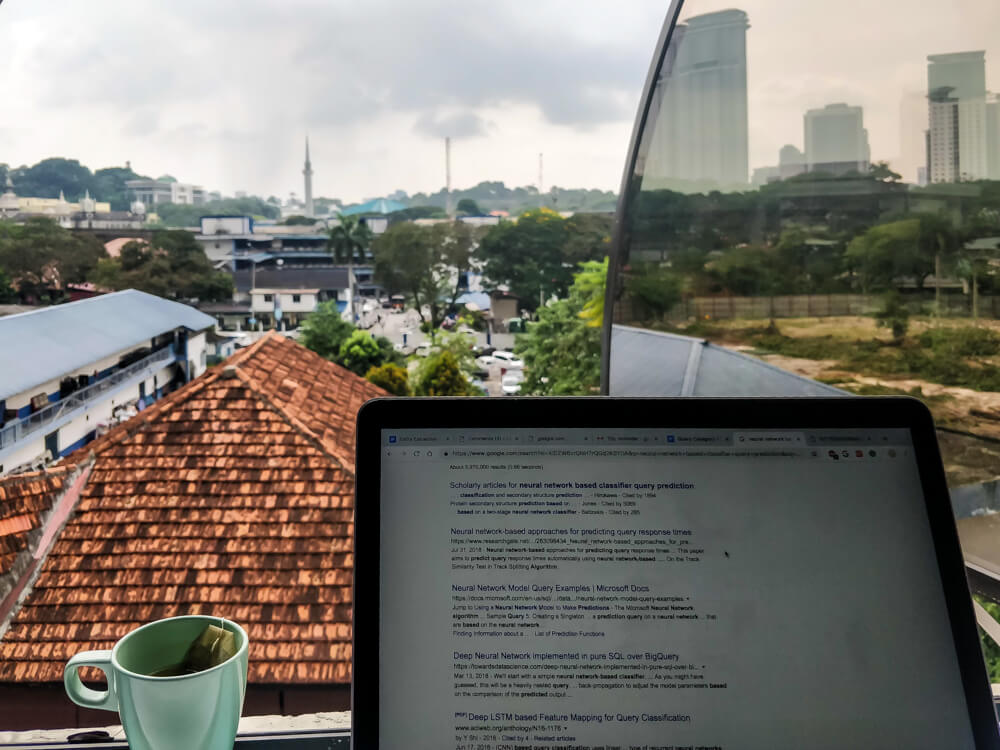 Working with a view from my dorm bed in Kuala Lumpur.
The next day I went to the KL bird park with another Indian traveler from the hostel.
The Malaysian government claims the KL bird park to be a free flight bird aviary. Irrespective of how the government markets the place (and charges 63 ringgits for one ticket), KL bird park is a bird zoo. Aviary word itself means a large cage or an enclosure to keep birds in.
Various bird species are on display there. Either they were in segregated sections covered by nets on top or in cages. Most of the parrots were trained to speak and get photos clicked with tourists. None of the birdies could freely fly anywhere. They all had limited space.
I wasn't happy that I had paid a bird zoo to cage the birds. But by writing about it here I'm doing my part. You can do yours by not visiting the KL bird park.
For dinner, my travel companion insisted to go to an Indian place to eat. He didn't want to visit any Malaysian or Chinese food joint.
I ate this flavorful Indian Malaysian meal for dinner.

The Indian restaurant-cum-stall had a large spread of dal, curries, dry veg preparations, fish fries, pakodas, okra in all forms, and a lot of other non-vegetarian preparations which I didn't pay any attention to. (you will see a picture of nasi kandar spread in the Penang section below.)
My plate was again loaded with Nasi Kandar while my friend only ate some seviyan. I picked up four vegetables(okra, cabbage, beans, sambhar), rice, and fish curry. It was all good but the bill came out to be 10 ringgits.
I was still some overpriced meals away to understand how the nasi kandar meal worked.
KL was filled with Malaysian street foods. I kept drooling like a dog.
For dinner, I ended up at the Tang City Food Court near my hostel. It was a Chinese hawker center full of Malaysian Indian, Malaysian Chinese, and Malay food stalls. I ended up taking another plate of Nasi Kandhar: a meal of rice, fish curry, squid fry, okra, and other vegetables.
I realized then that I was being charged for every single thing I picked. So all four vegetables cost me independently. Every curry cost separate. Mama, I was so screwed.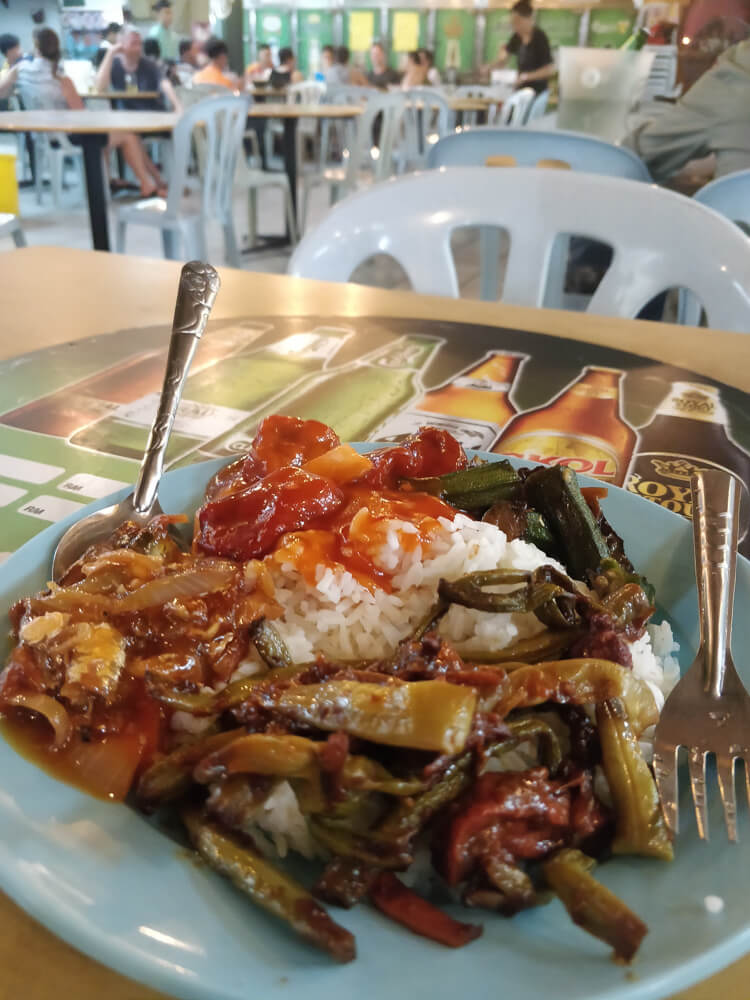 The next day I walked a few minutes to arrive at the Chinatown market. I had chosen the area because I wanted to be near Malaysian traditional foods. And what place would be better than China Town for street food?
Whenever I visit a crowded market, I walk towards its backside. Most front streets are tourist hotspots. But it is in the back lanes you find the real deal. That's where you will see locals eating.
Chinatown back trails overflowed with small food stalls (mostly) run by Chinese Malaysians. I had a hard time understanding what the food was but finally managed to secure my place at a quiet stall. I chose a black bean dumpling and ice tea.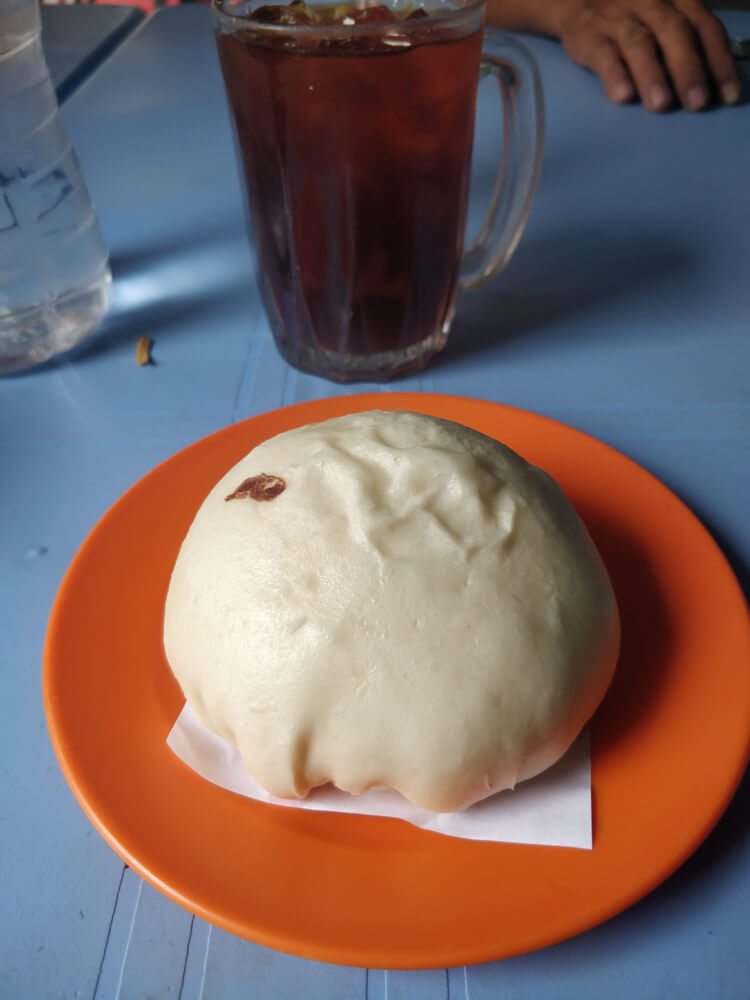 The market smelled of meat and rotten vegetables and flavors I couldn't decipher. The ice tea was a relief in the heat, but I didn't enjoy the sweet dumpling(photo above).
I walked to another Chinese restaurant where the menu baffled me more than humans do. I took a clear soup and sautéed beans there. Just for the experience, you know. To sit down, see the people, observe locals' eating styles, and all.
Families ordered big soups and meats of all kinds. And the restaurant seemed to run busy all day long.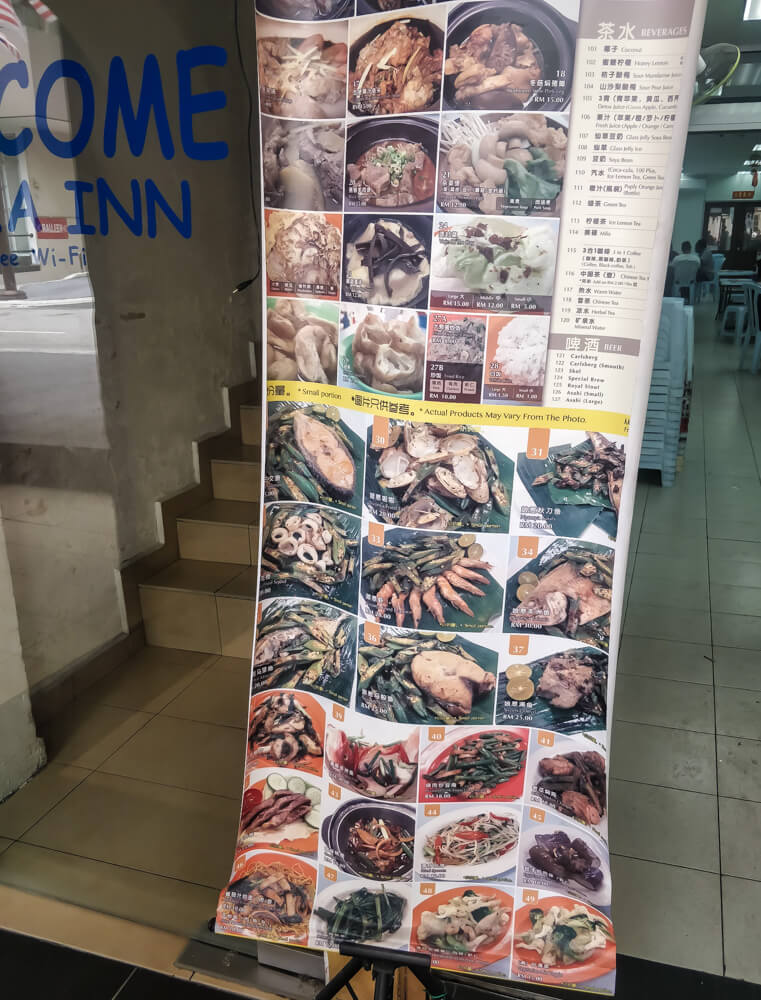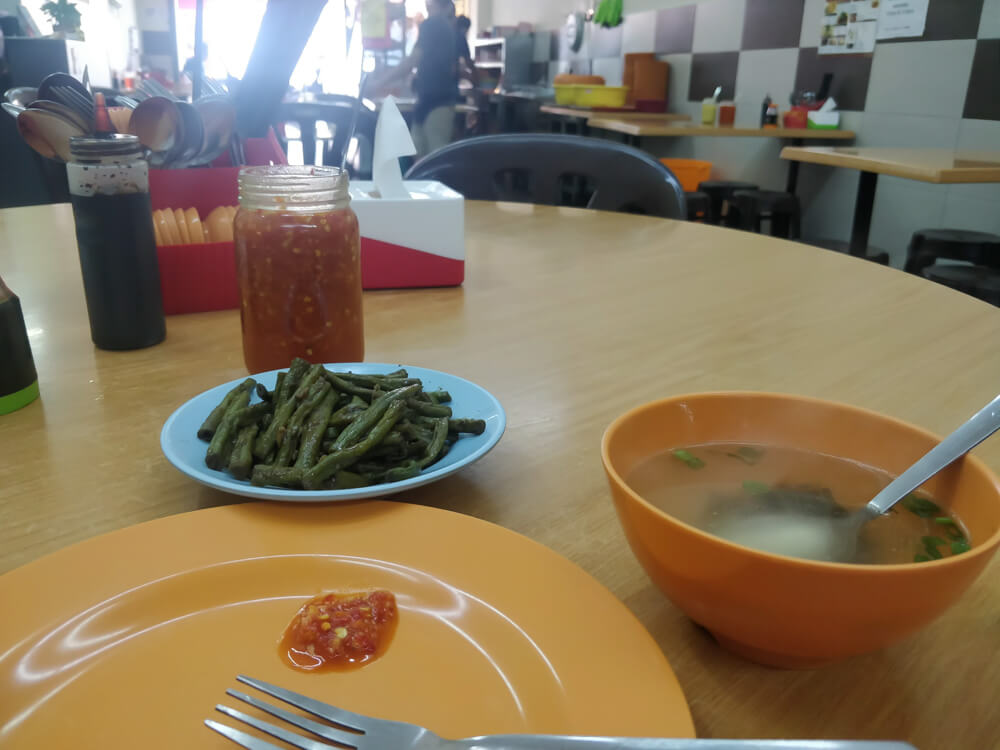 Dinner was with a kind host who had invited me to her house after looking at my Instagram pictures. She is of Tamil-Indian origin but was born in Malaysia. My host had prepared a grand spread of sambhar, dal, meat(for her other friends), and fish fry for me. I enjoyed the meal with wine.
The food was South Indian but had traditional Malaysian flavors. For me, it was a mix of Indian and local Malaysian food.
Talking about migration, my friend told me India doesn't feel like home to her now. Their parents, who had migrated from India, used to fondly talk of India as home. But now the family's heart is settled in Malaysia.
To their dismay, the Malaysian government prefers the original Malaysians over the migrants, even if they have been living in Malaysia for generations. Order of preference: Muslims, Buddhists, Christians, and Hindus. Well-connected Malaysians get better deals than poor ones(of course).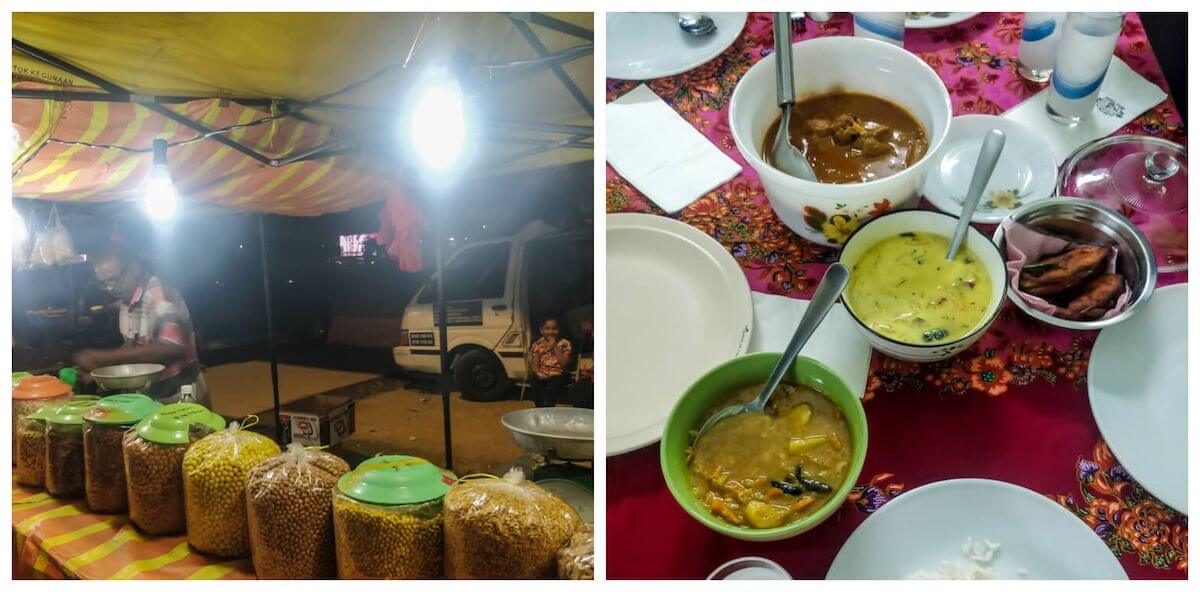 We went to a local market near my friend's house, and a friend bought me some really nice peanuts to snack on. The varieties were many(as you can see in the image above.). On the right, you see homemade Malay-Indian food.
Maggie, I've not shared your pictures here because I don't want to intrude on your privacy. Thank you so much for inviting me to your precious home.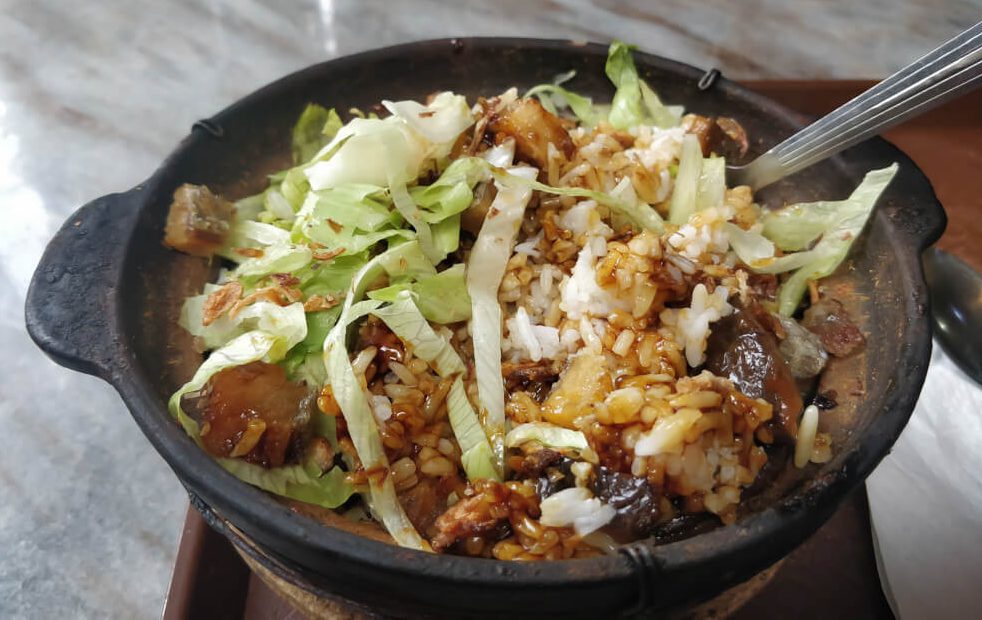 Of course, I can't mention all Malaysian dishes I had but skipping this Chinese clay pot fish rice would be a sin. I had my eyes on this clay pot since the day I saw it roasted directly over fire in Chinatown.
The clay pot fish rice was soft and buttery and smokey. Exactly how I like it. I had it with a hostel mate in the food court at the top of a shopping center.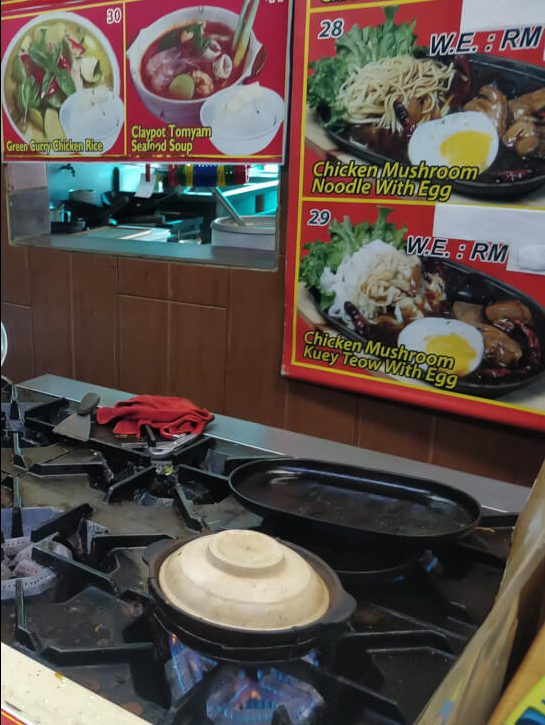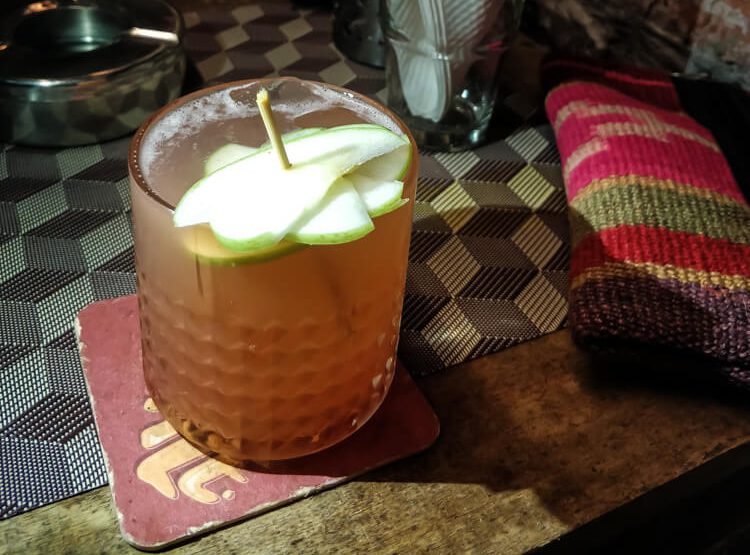 I didn't plan to stay in Kuala Lumpur for multiple days. But I was writing for a freelance client at the time. To finish the heavy technical articles, I stayed in every Malaysian destination for a couple of days more than I would need to see it. I wrote, explored, and then moved on.
I love having something to do on my travels, and I easily alternate between working and travel days. While an evening of a workday awaits me with a sumptuous platter of food with strangers, my travel days could end with a client call. I earn on the go. So neither do I worry about returning from vacation to work nor I rush through any place.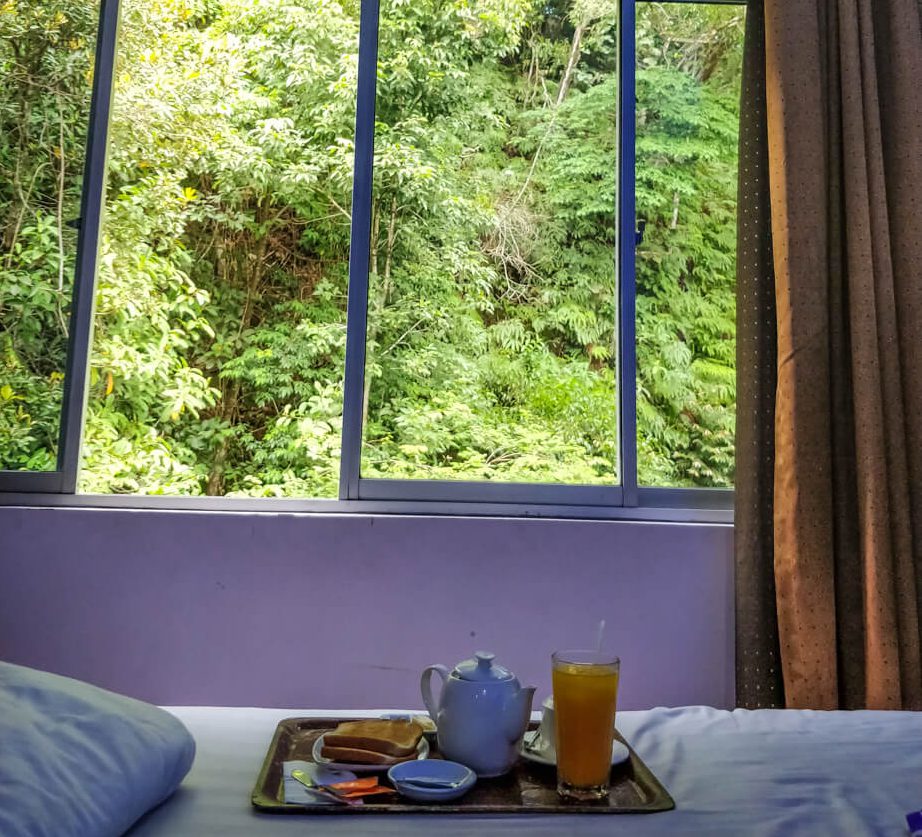 The next day I found myself in the back alleys of the Chinatown market eating noodles and drinking ice tea, again.
My friend and I had almost walked away from this stall run by an old Chinese couple. But we got so tempted by the sight of their customers slurping down plates full of noodles that we had to stop.
Of course, I wanted to eat those noodles. They looked so tasty. The couple was selling pork noodles. And I requested them to give me noodles without the pork. The old man said, yes, can. And when I said with vegetables, he exclaimed, oh vegetarian, and pointed me to the bok choy and nodded.
I was elated.
I asked for the Chinese tea, with ice. He poured it out from a kettle, and it was some good tea. When he brought my noodles, he also gave a bowl of soup to my friend. I asked for the soup as well, and he said, no, it has chicken.
My friend tried to tell him to give the soup to me without the meatballs, but he said, no, it's chicken, she can't have. Haha.
I happily drank the tea, and those noodles were gone in a few mins.
.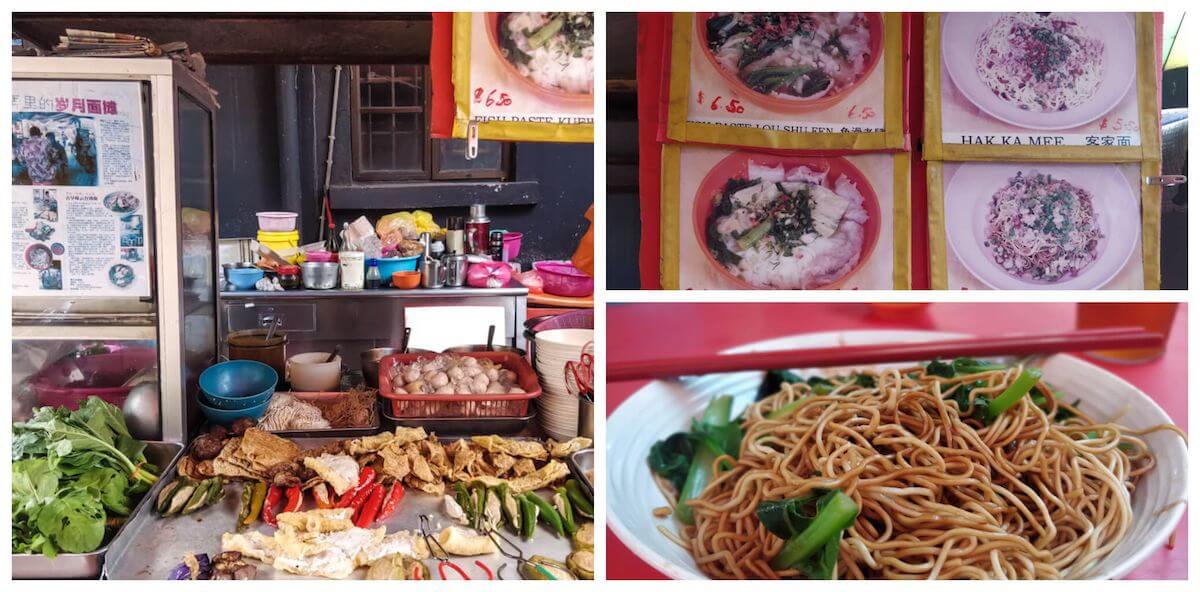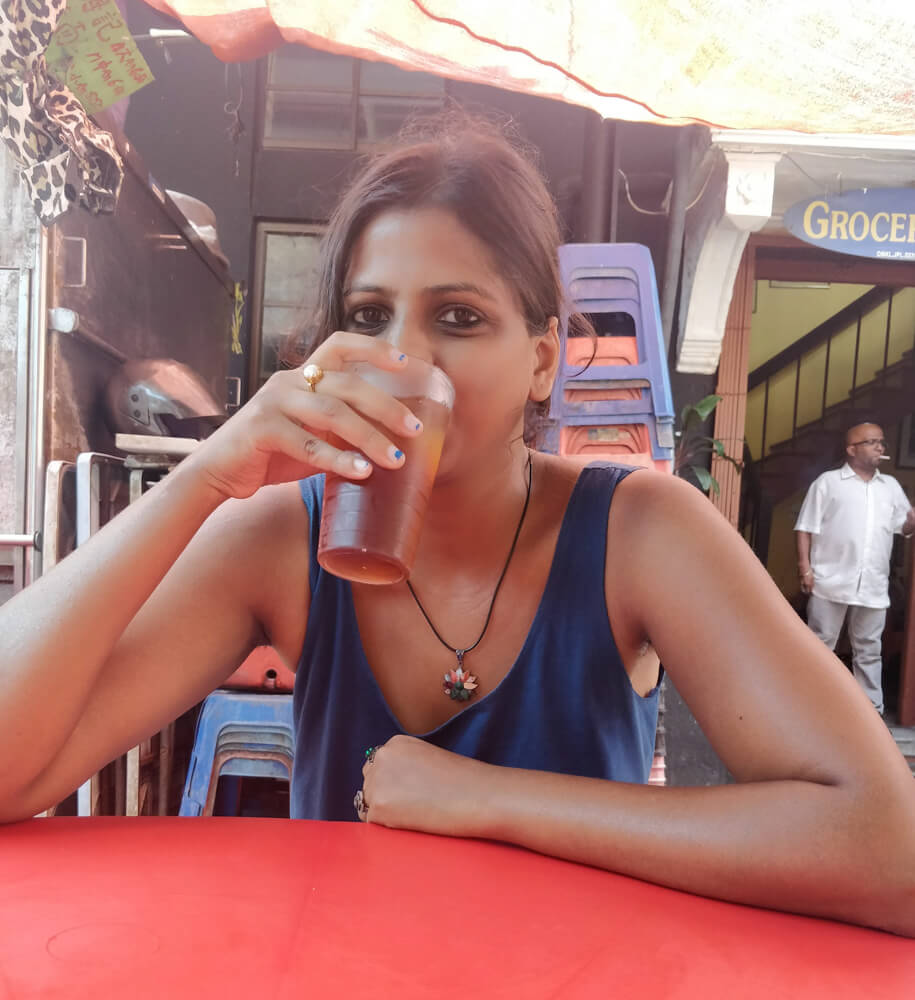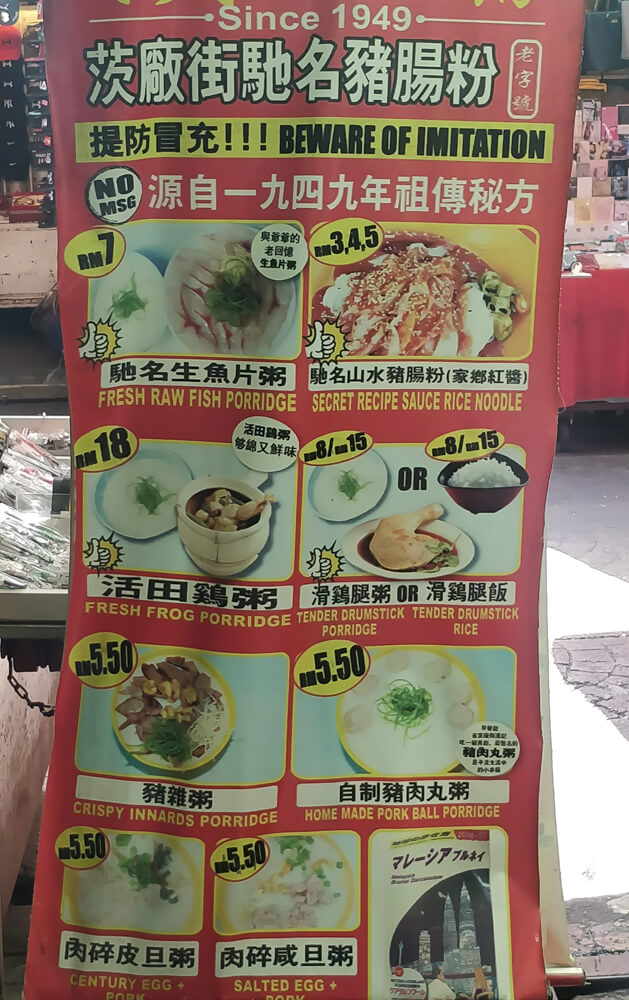 A great way to understand a city is to visit its malls and the food courts there. I spent the next afternoon exploring the main city area and the Petronas Towers. I stumbled into a gigantic Japan store and decided to go inside.
The store's food court was a cornucopia of delicious local and Japanese food. I had a traditional Japanese ice cream there and was blown away by the strange creamy flavors. I can have that ice cream any day(or night).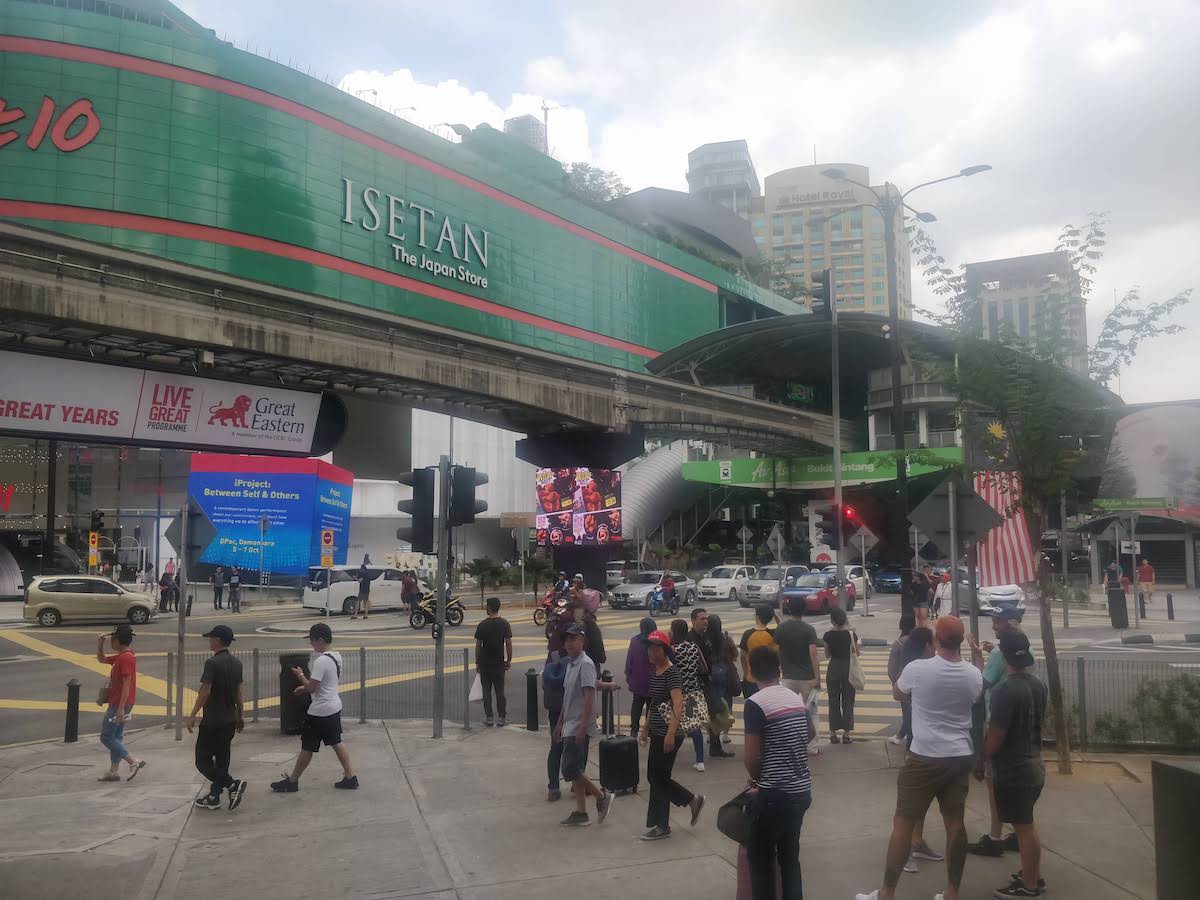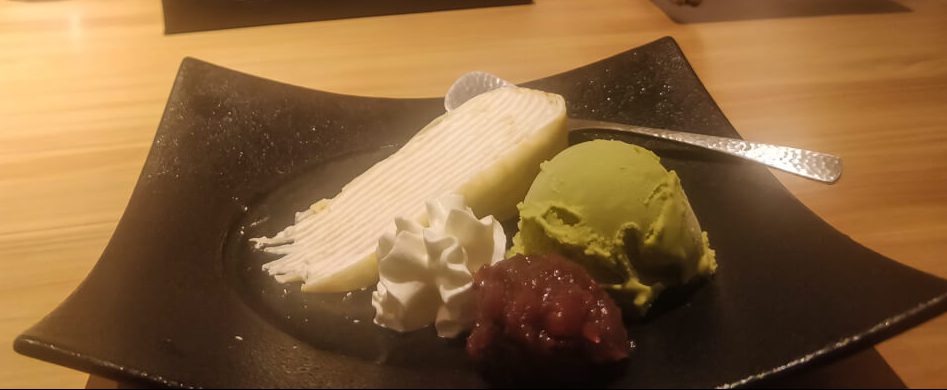 With all the amazing adventures with the street food in Malaysia, of course, I had a few hits and miss. The local people speak Malay, Tamil, Mandarin, and other Southeast Asian languages. Most of the restaurants, especially the small stalls and Chinese eateries, didn't speak English.
I always asked for meals without meat or egg. But as happened a few times, like in the restaurant I show below, I still got food with egg.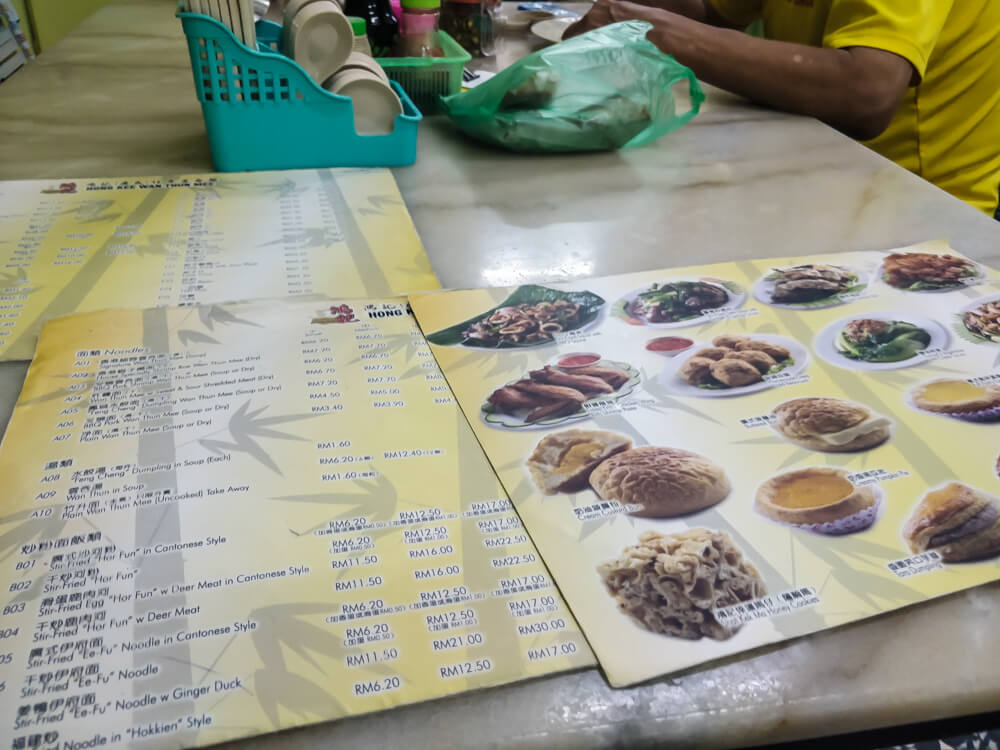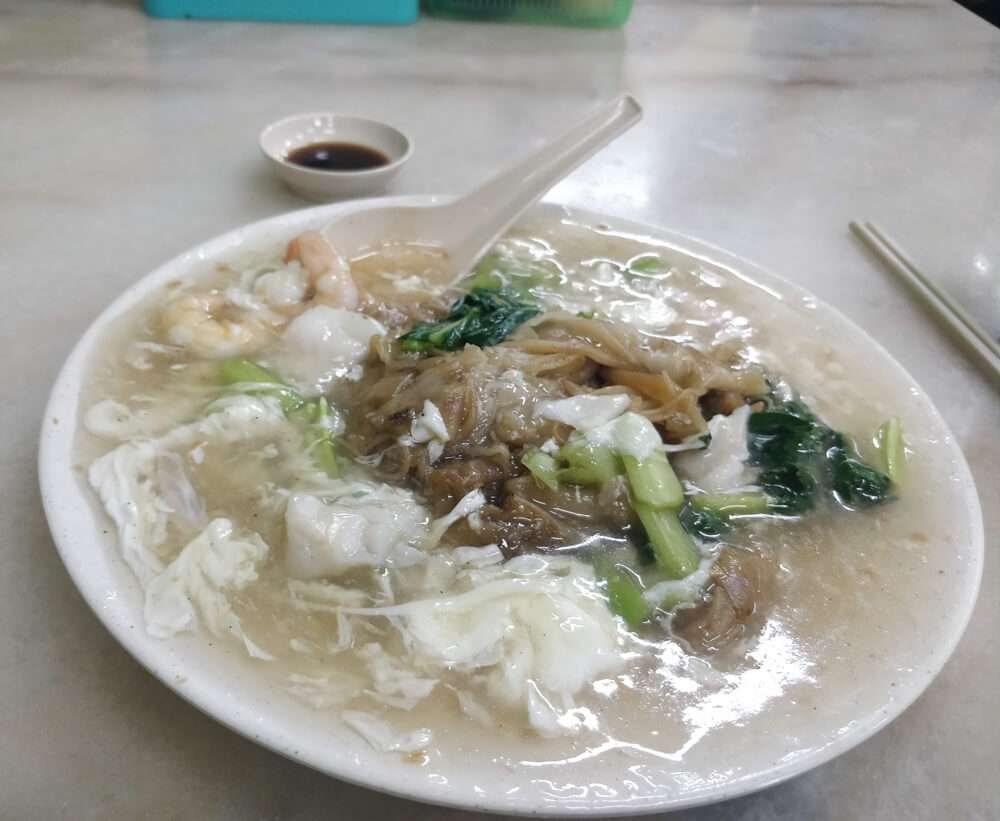 Acquainting myself with traditional Malaysian food in Taman Negara forest
My Kuala Lumpur adventure ended (for the time being), and I headed to the Taman Negara rainforest. The Kuala Tahan town is located on the edge of the forest, and I ate all my meals there.
In the town, I found a restaurant that served the best fish and prawn curry ever. The chef was a Muslim Malay. Her secret was she didn't reduce the spice level as most Asian countries do when catering to foreigners. She made the seafood curries tangy with mango or tamarind. I gulped down bowls full of her prawn, crab, and fish curry loaded with cauliflower and other vegetables.
I stayed in a remote forest area where the phone signals were weak. So after hiking in the forest in the day, I headed back to her place, ate there, had iced coffee, took client calls, and jumped into the jeep back to my camping site.
I would go back to her restaurant in a second.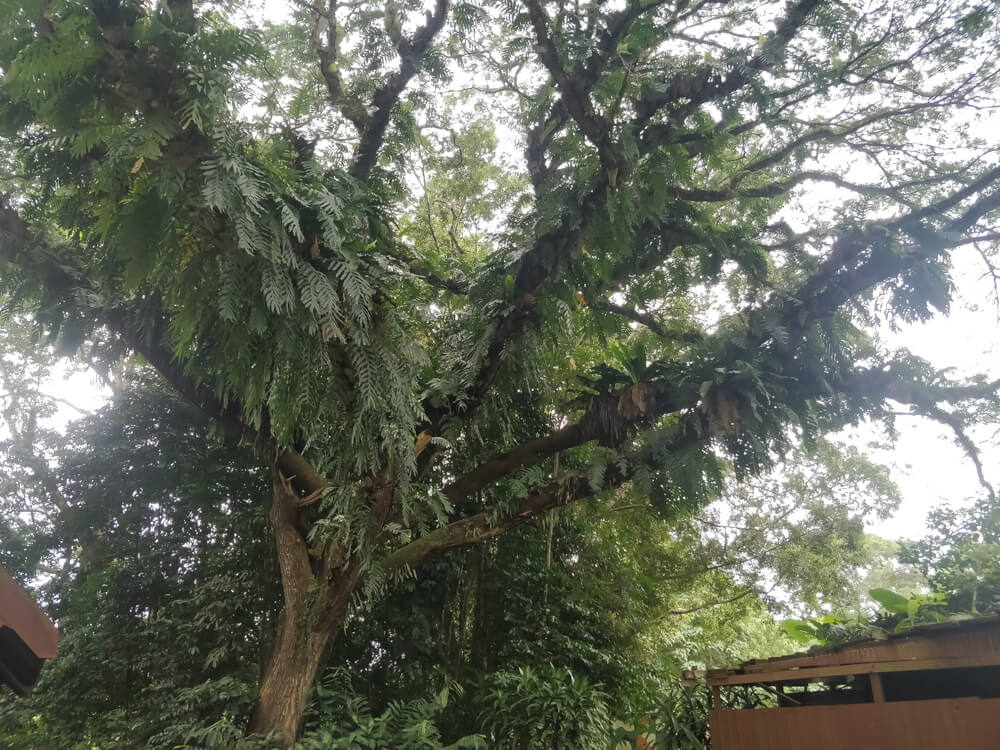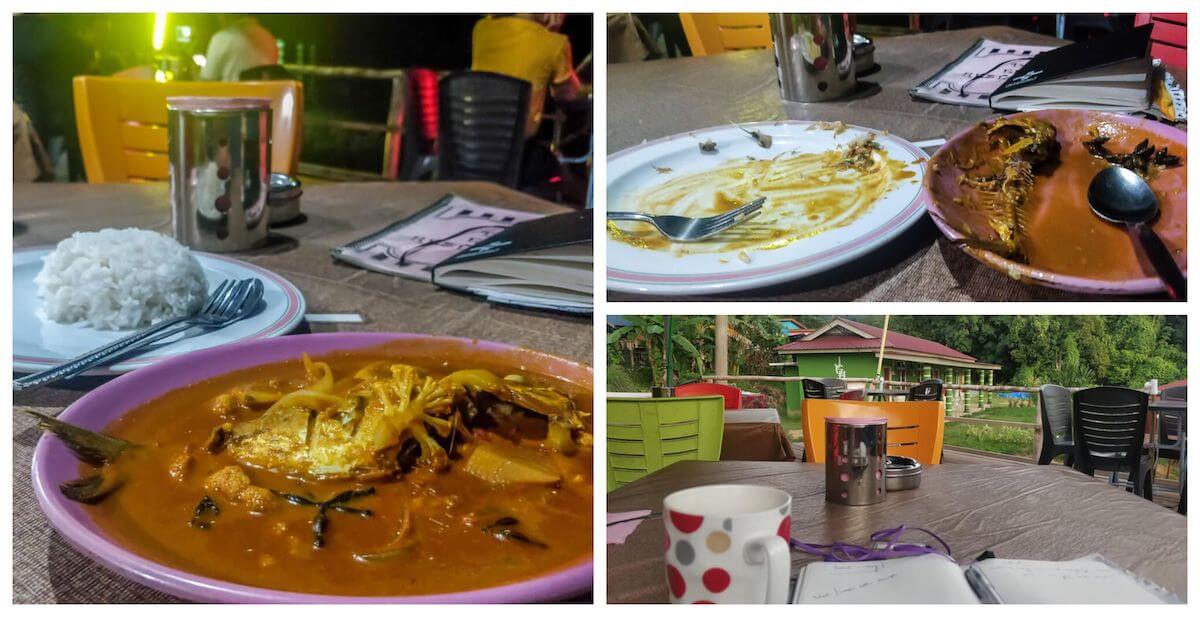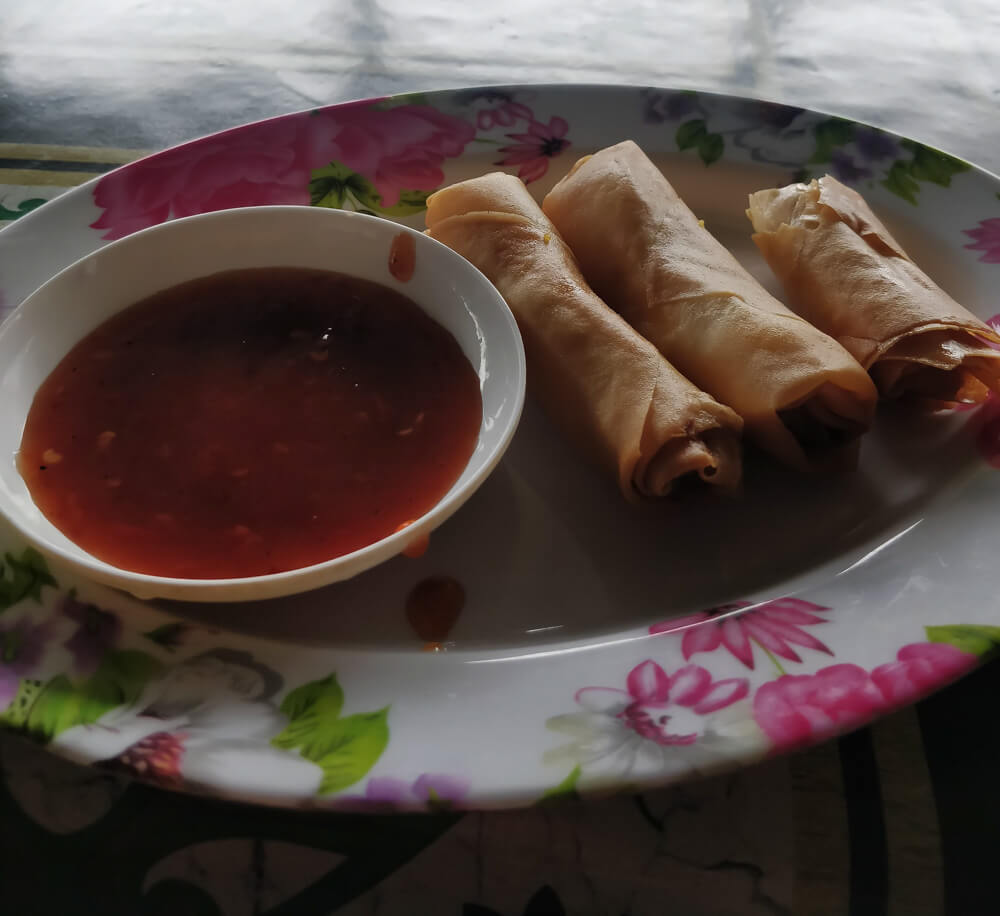 Where to stay in Taman Negara: Insider Tip: Don't search for accommodations in Taman Negara on Booking. You will get all random suggestions. Search for Kuala Tahan, the town which is the gateway to the forest. You can just go here to see all guest houses in Kuala Tahan.
I stayed at two places: Taman Nagara Rainbow Guest House and Danz Eco Resort. The latter is not available for booking anymore but I can still recommend you the Rainbow Guest house. The homestay is located in the main Kuala Tahan town. The ferries to cross to the other side of the Tembeling river to get to the national rainforest are a short walk from this guesthouse. The property is right on the river, and it offers private rooms with attached bathrooms. There is a common sitting area, too. The rooms come with or without balcony so make sure you choose one with the balcony or ask for one if that's your preference. Perfect location to access local food.
The hotel was clean and comfortable. I found it perfect for a short stay. But I definitely liked the camps in wilderness of the Danz Eco Resort more. That property isn't running anymore I guess.
Go here to see prices and availability at the Rainbow Guest house.
Overeating Malaysian traditional food in Penang
After spending three days in Taman Negara, I took a bus to Penang. My friend booked a place for me in Penang while I was on the journey. It was an Airbnb in the Tanjung Bungah locality of Penang – a locality that's far from every interesting place in Penang. I stayed there for two nights.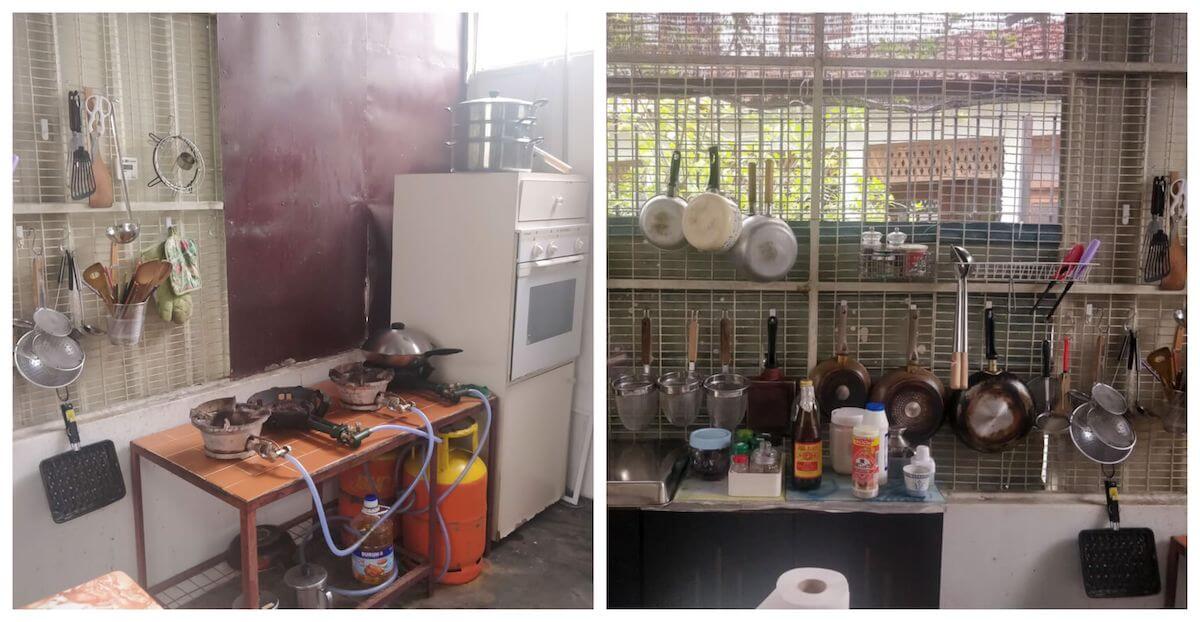 I shouldn't go into the details of Penang food I as I've written a long guide on the best food of Penang.
Penang is a food lover's paradise. Below are some photos of my best experiences with Malaysia street food there.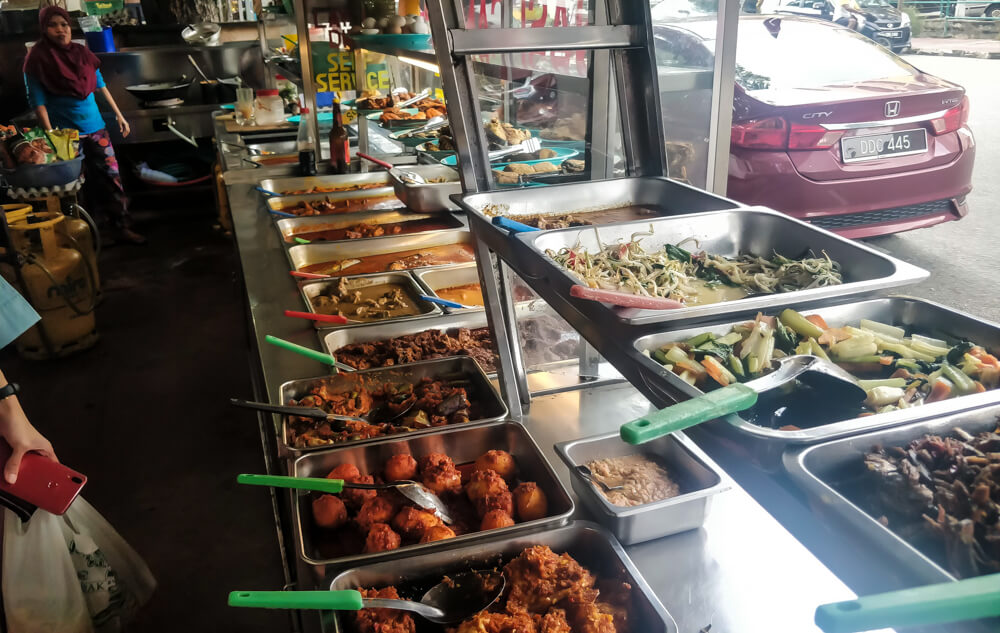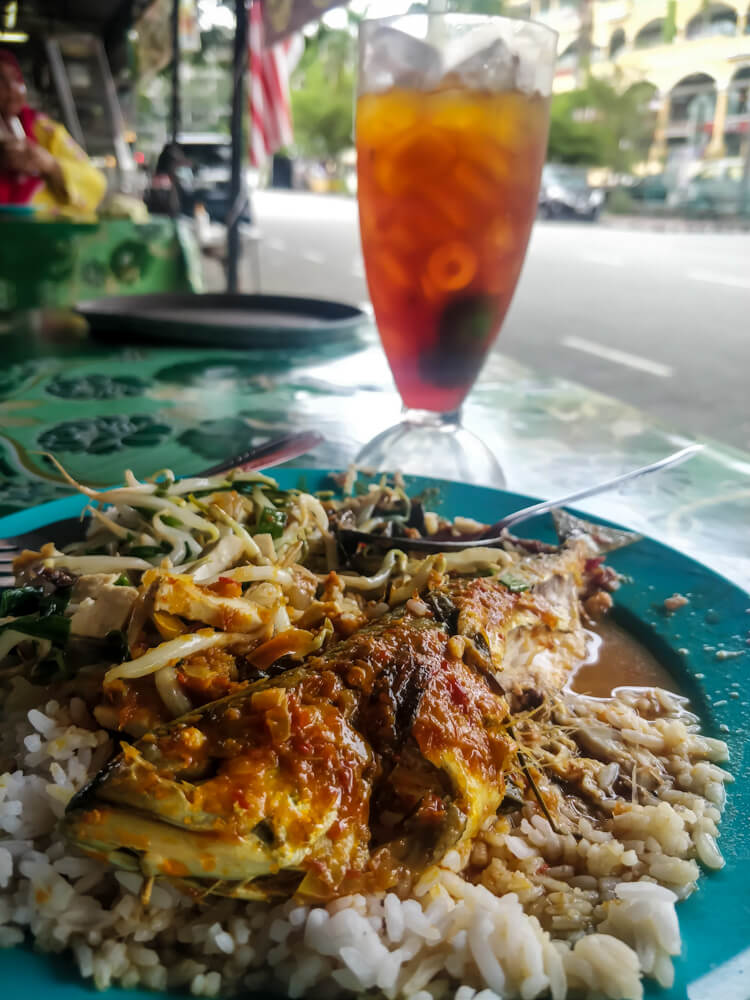 At the end of the day, I went to a food court near Batu Ferringhi beach. The evening had set in, but I was determined to eat at a local market.
After walking for a bit, I found a Malaysian traditional food market with seafood stalls circumscribing the covered plastic tables. Most restaurants served huge grilled or fried fishes that were to be eaten by at least two people. I could only get some sautéed tiger prawns with rice.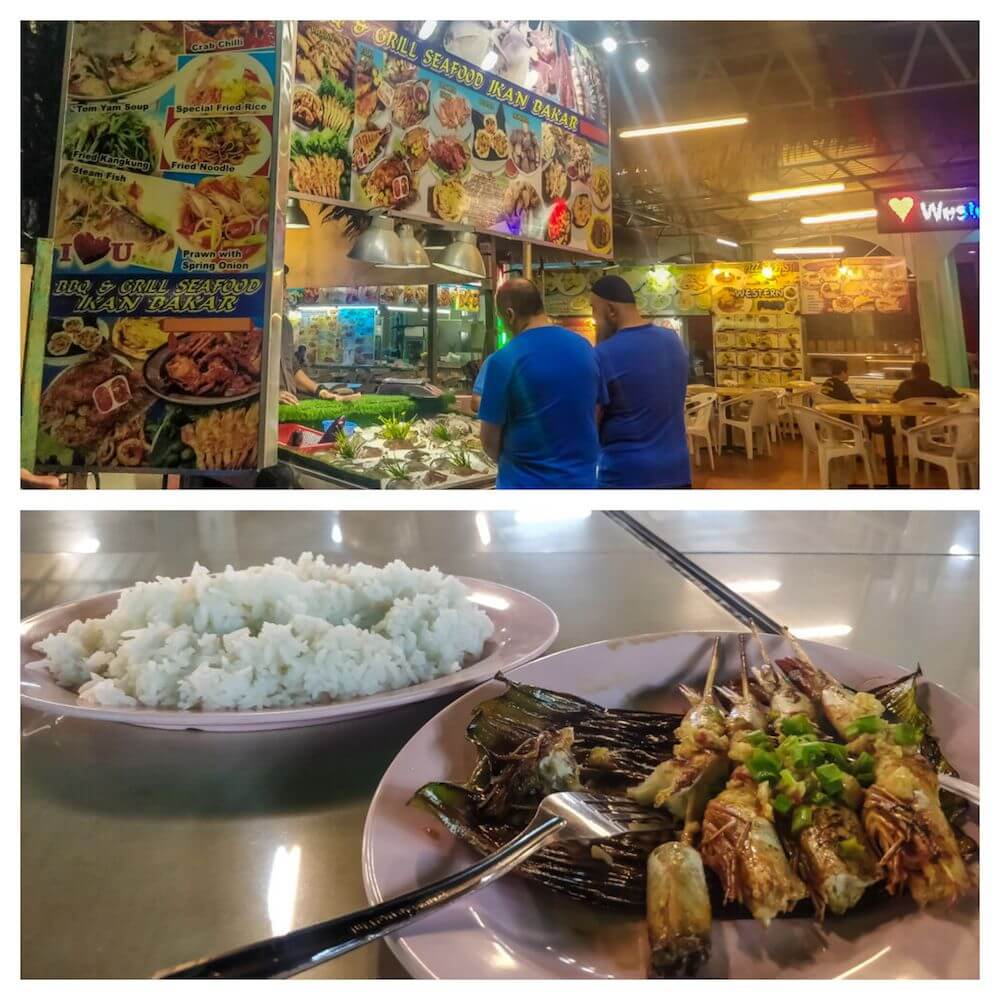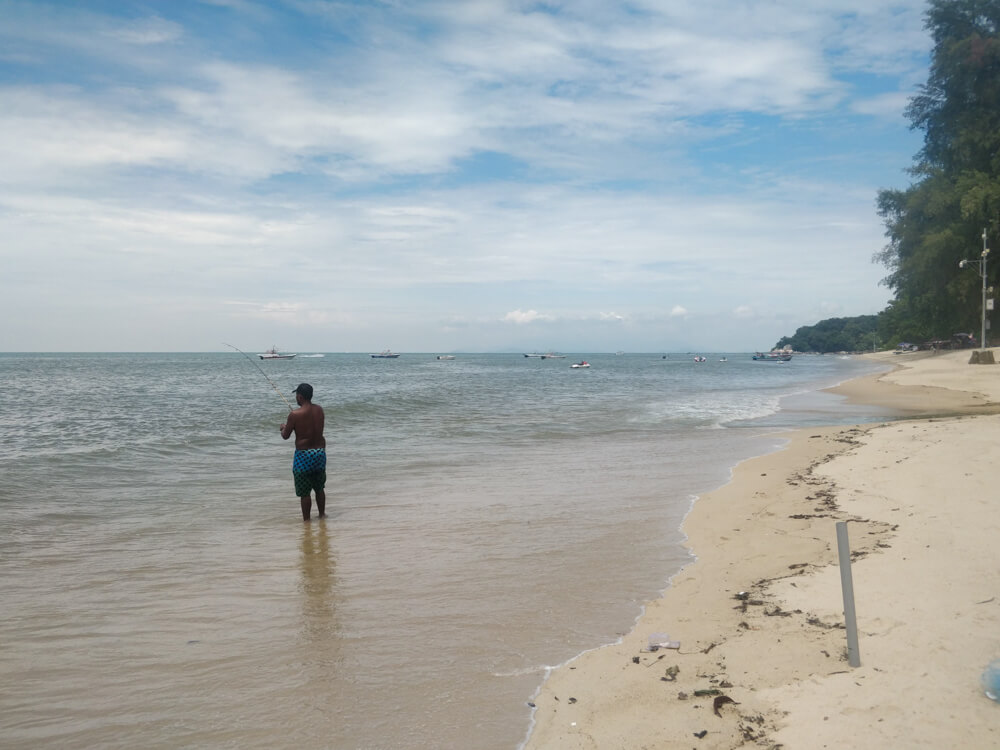 After Batu Ferringhi, I shifted my stay from Tanjung Bungah to Georgetown. And then I went on a street food treasure hunt.
The below image shows two of the most famous traditional food in Malaysia: Cendol and Assam Laksa. Assam Laksa is a tangy fish coup and cendol is an intriguing dessert. Both are delicious.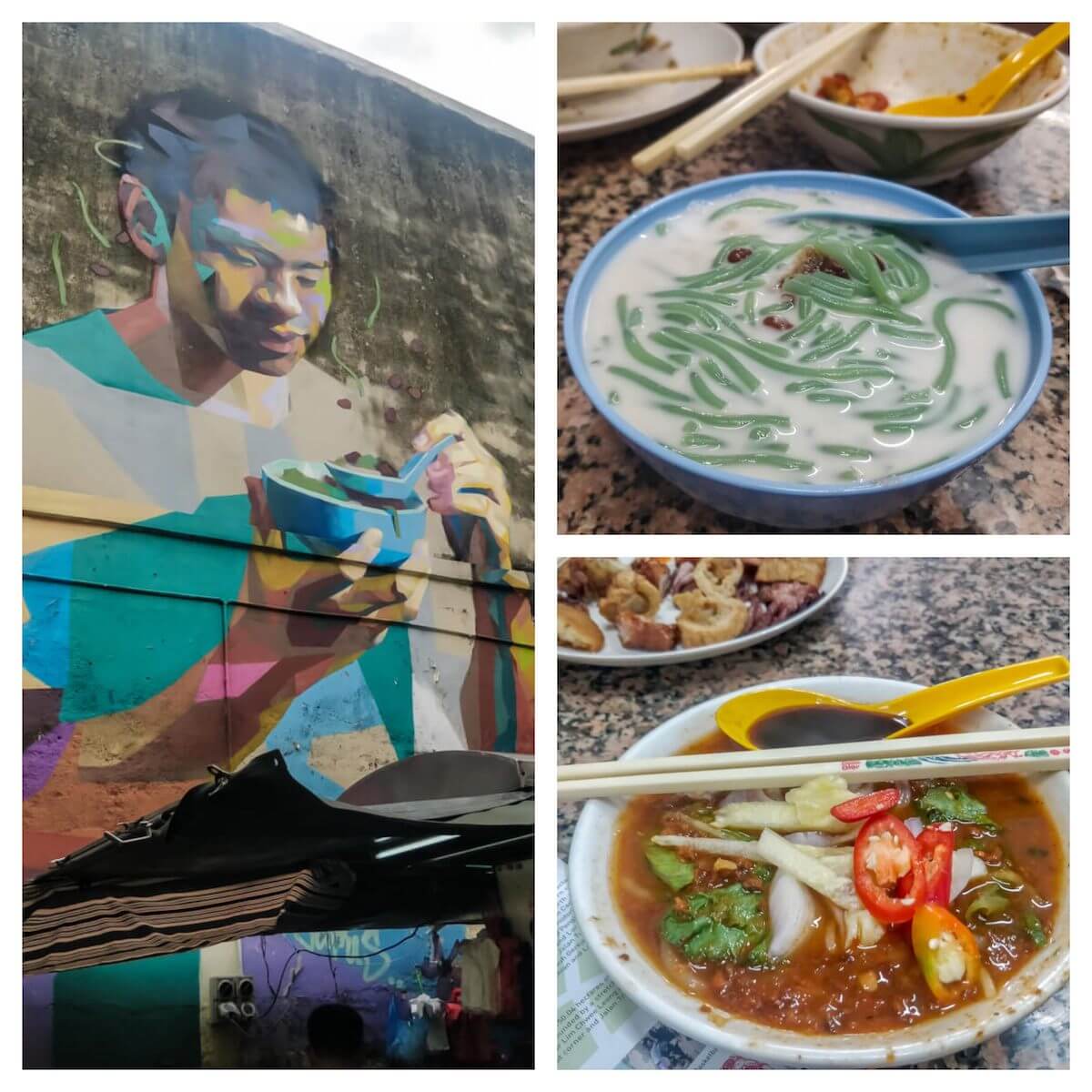 Where to eat these two: Ayer Itam, Jalan Pasar (corner of Jalan Pasar and Jalan Paya Terubong, besides Air Itam Market), 10:30 am-7 pm daily
A Malaysian food essay can't be complete without the famous ais kacang. This shaved ice dessert is a favorite of all locals and tourists. Its bizarre colors and forms intrigued me a lot but I still couldn't get my head around what all it contains.
So here is from Wikipedia's description of ais kacang: In Malaysia, almost all variants now contain a large serving of attap chee (palm seed), red beans, sweet corn, grass jelly, roasted peanuts, and cubes of agar agar(another jelly) as common ingredients.
Below you also see colored glass noodles of various kinds, icecream, and little fruit. Some syrups and coconut or normal milk can be drizzled over the sweet mountain.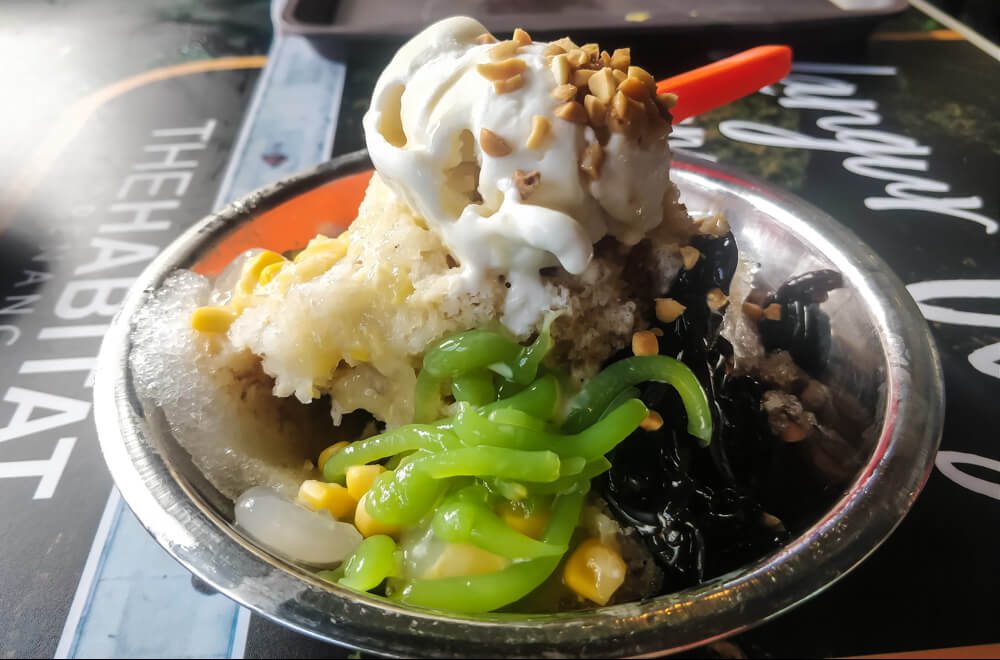 I ate this whole plate after climbing up the Penang hill. I cannot say I didn't enjoy the overload.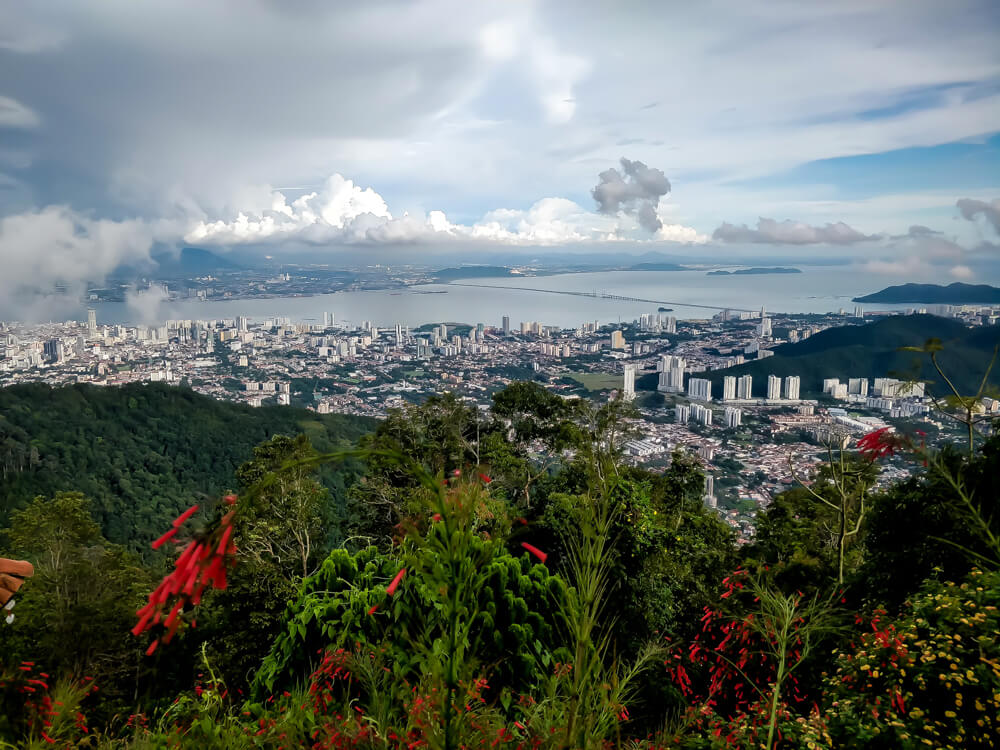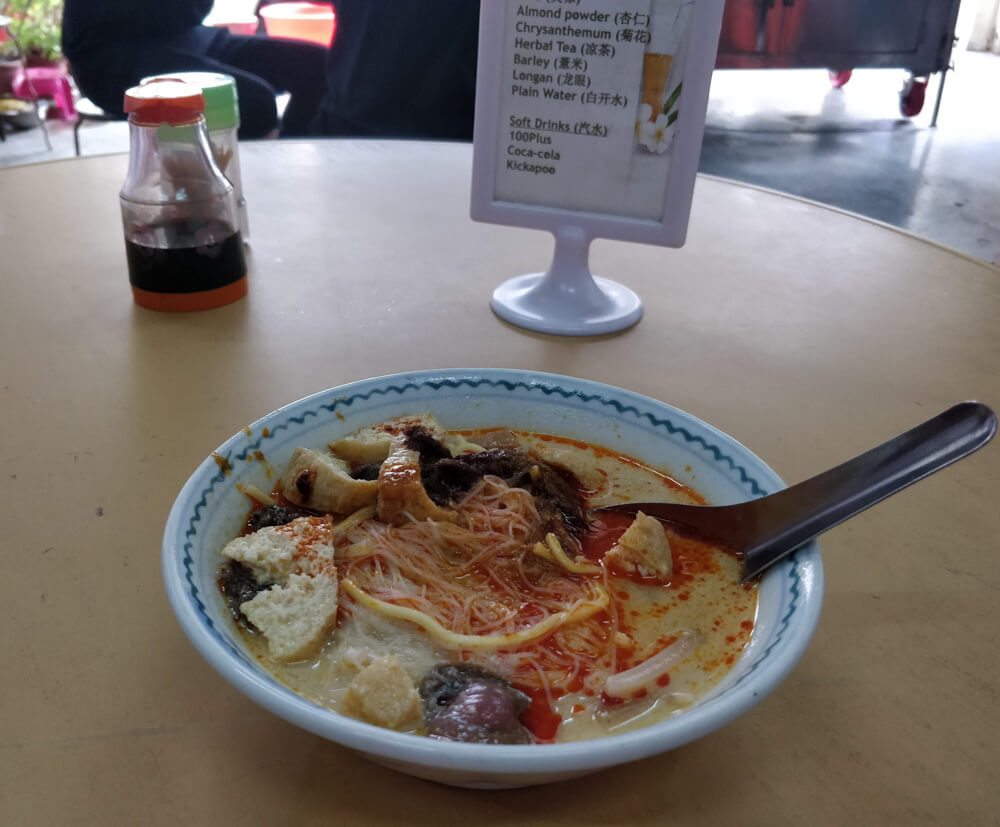 Where to eat: Curry mee breakfast stalls are abundant on the roadside throughout Penang. I didn't notice this soup elsewhere in Malaysia.
Insider Tip for eating local food in Malaysia: Ask for ingredients in each specific item. If you want a vegetarian soup, confirm if the noodles or any other components would have egg or fish or other meat.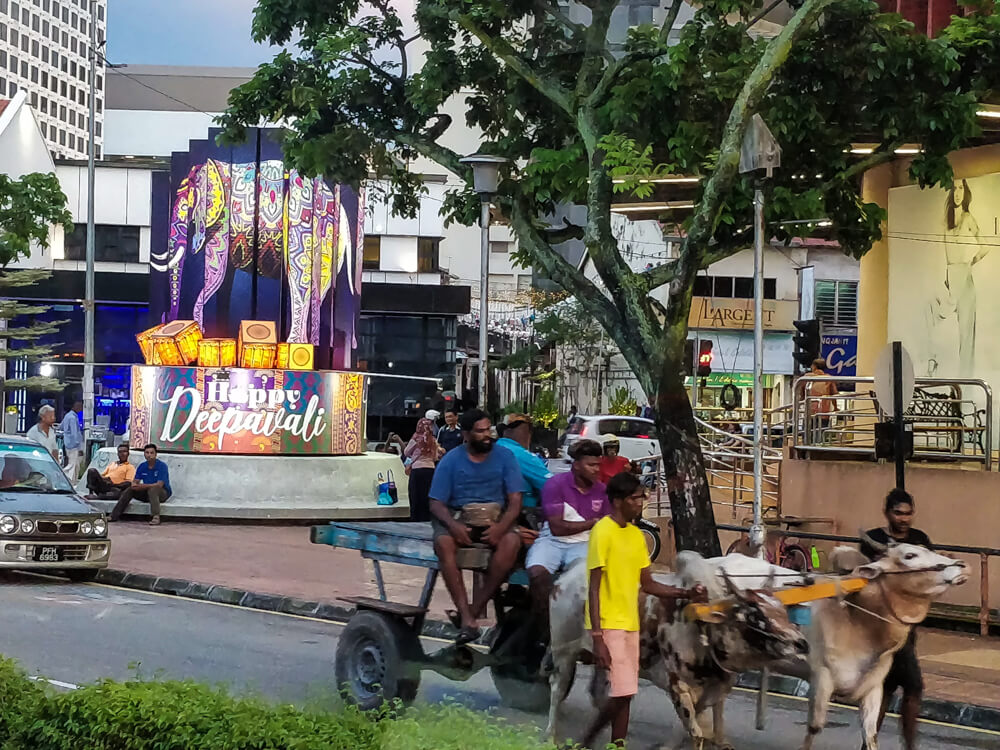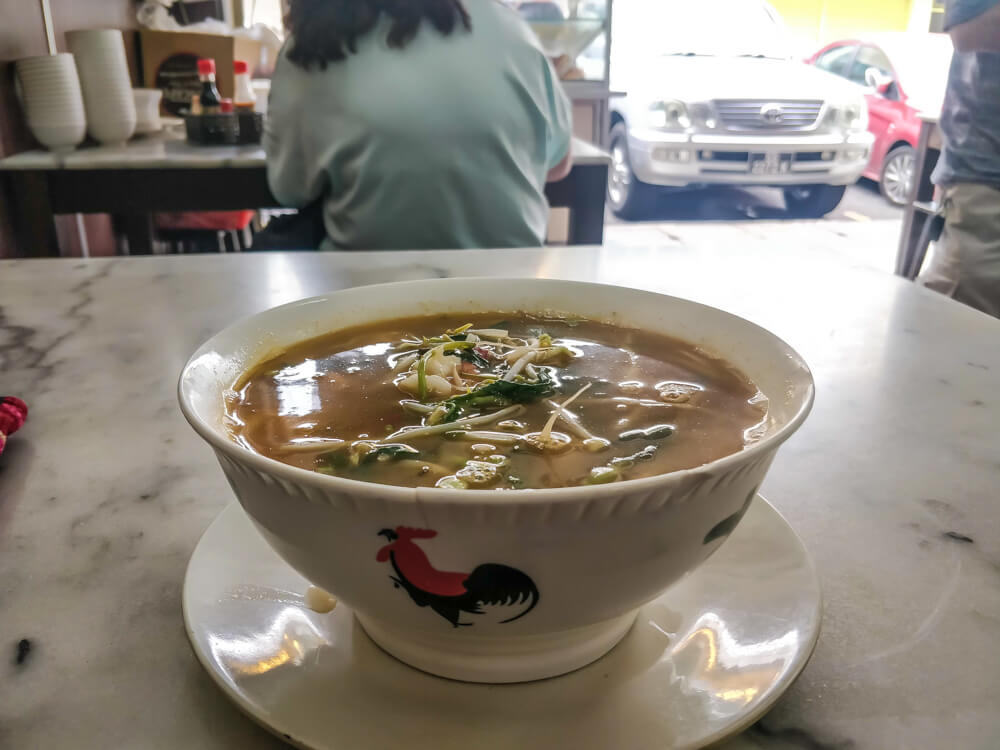 Where to stay in Penang: Insider Tip: I've written about where to stay in Penang in detail in this Penang travel blog. There you can find recommendations on all the areas in Penang and how to find a budget-suited accommodation along with the good hotels in each area.
I stayed at the Just Inn Georgetown(in the main heritage area) and at Sea Lion by the beach in Tanjung Bungah(an area where there is no reason for you to go). Both the places are nice, comfortable, and friendly. Do give them a try if you want the specific location. (You should stay in Georgetown as that's the most cultural and happening part of the island. It is the perfect location to access local food.)
Getting Close to Local Malaysian Food on Borneo Island
After Penang, I took a flight to Borneo island. I wanted to visit the Kinabatangan river and the wildlife on its banks. As Sandakan town is the entry to the Kinabatangan river, I first stayed there for three nights before my Kinabatangan host sent her brother to fetch me.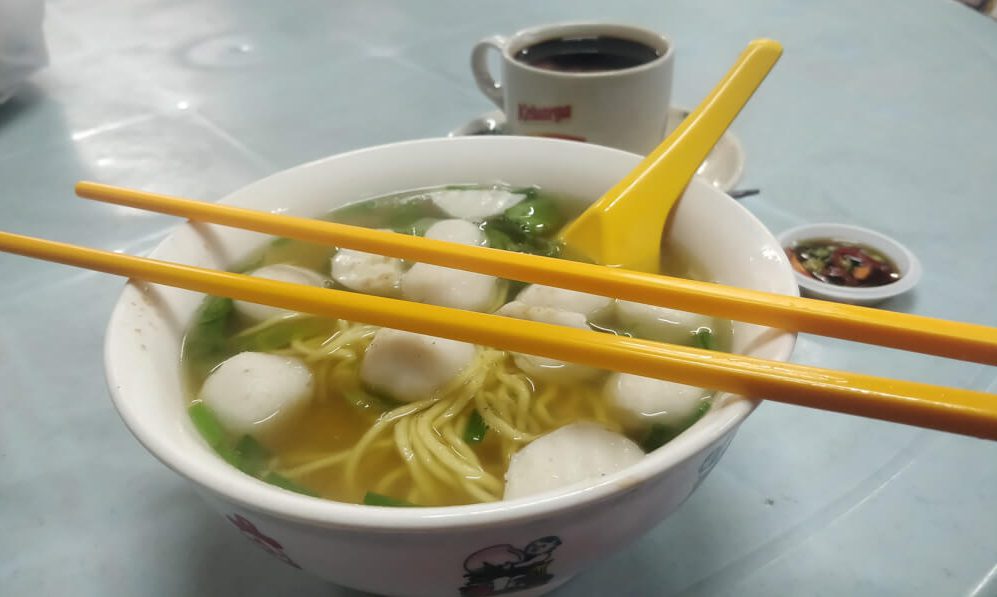 Sandakan wasn't the most happening place on earth. I stayed at a hotel that was a bit far from the main town. The area was desolate and dirty. My hotel receptionists told me to be careful in the evening. I felt secluded there and wished I had made a better choice. But the remoteness allowed me to work distraction free for two days.
Where to stay in Sandakan: Insider Tip: Sandakan is a broken and weird town spread out in no particular symmetry at all. Your experience in the town will depend on which area you choose. I suggest you stay in the main town. You can find all Sandakan guesthouses here.
I stayed in the Hotel Hsiang Garden for two days(it is closed now) and Prima B&B Hostel for another two days. Prima B&B was nice, had breakfast, water, and the staff was kind. But the location was a bit of a nowhere. In Sandakan, safety was an issue in certain areas. Also, getting transport isn't always easy either. You can use cabs or hop onto one of the shared taxis that connect the city(it may take a while to understand the system).
I would recommend you choose a guest house near the centre. Use the distance from the center and pick a place closeby. Hotel Sandakan, Hotel City Star, and Sanbay hotel are some good options.
You won't get anything brilliant in Sandakan. Make peace, please.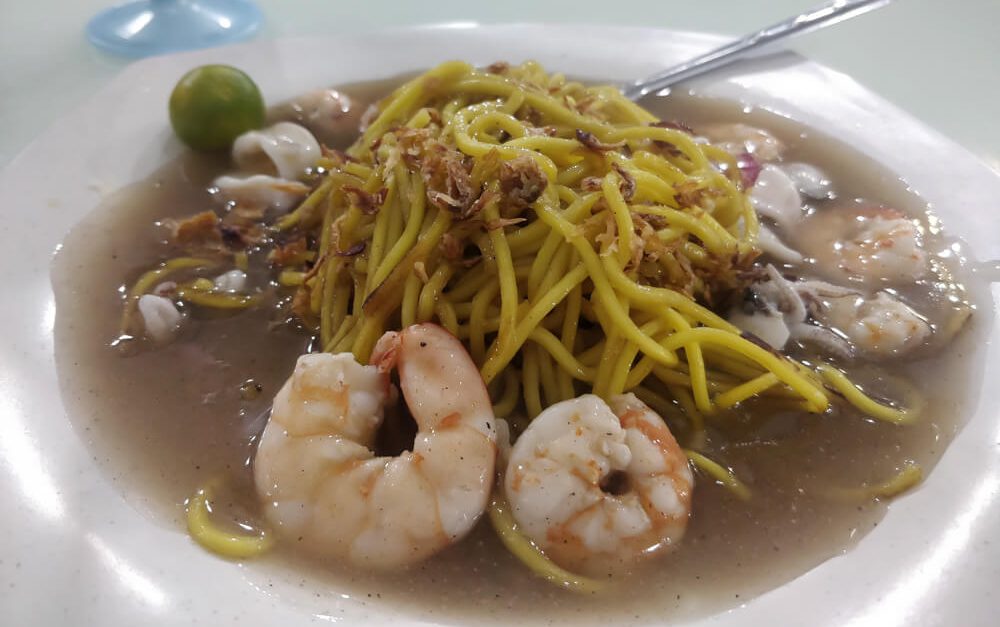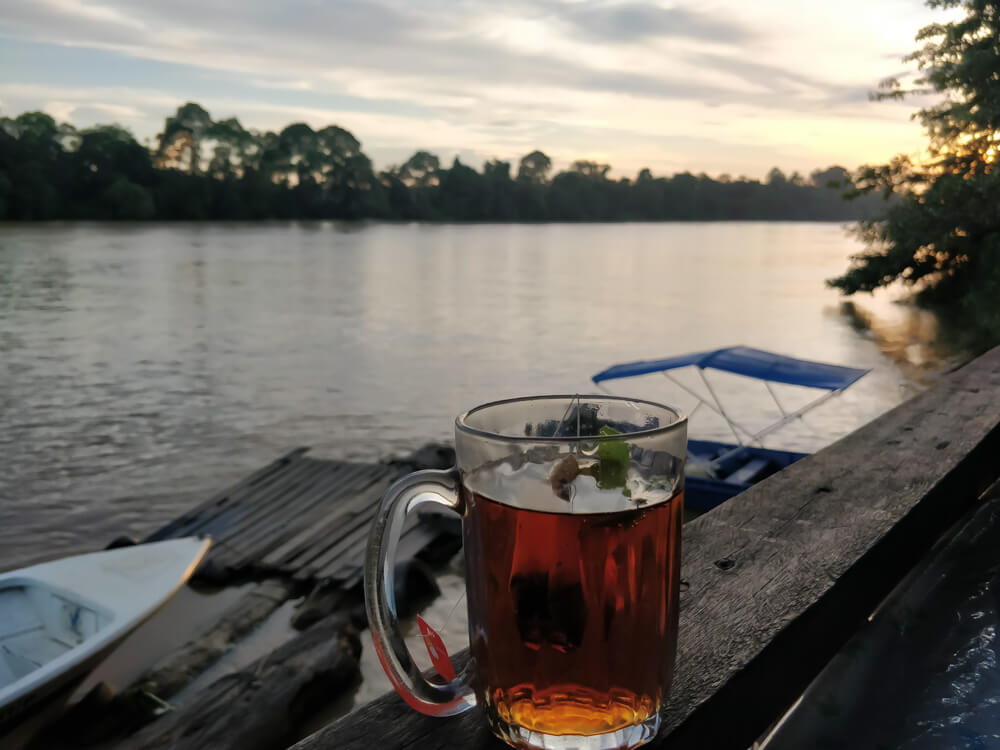 In the left image you see the homemade food my host Maria prepared. On the right, she is serving us breakfast on the boat while we sail on Kinabatangan spotting elephants and orangutans.
Where to stay in Kinabatangan: Insider Tip: Maria's Sukau river homestay on the muddy river was my favorite place in Malaysia. She isn't registered on Booking or Airbnb. Maria takes guests who contact her directly on Whatsapp or email. Maria's Contact is: +60 13-870 0908.
Read the TripAdvisor reviews about Maria and the river safaris she offers here.
Or find another stay in the Sukau village of Kinabatangan. Here is a list of some other homestays and hostels in Sukau on Booking.
If you have a booking with Maria or with some other Sukau guesthouse, your guesthouse will pick you up from Sandakan. No public transport goes until Sukau, Kinabatangan.
Experiencing the Malaysian food culture in Kota Kinabalu
After staying in Sukau for two days, I took a bus to the Kota Kinabalu national park. I had booked a hotel outside the park gate and I stayed there for three nights. I couldn't climb the mountain Kota Kinabalu(Southeast Asia's highest peak) because the climbs to the peak are booked months in advance. But I had gone there to hike in the national park and that is what I did.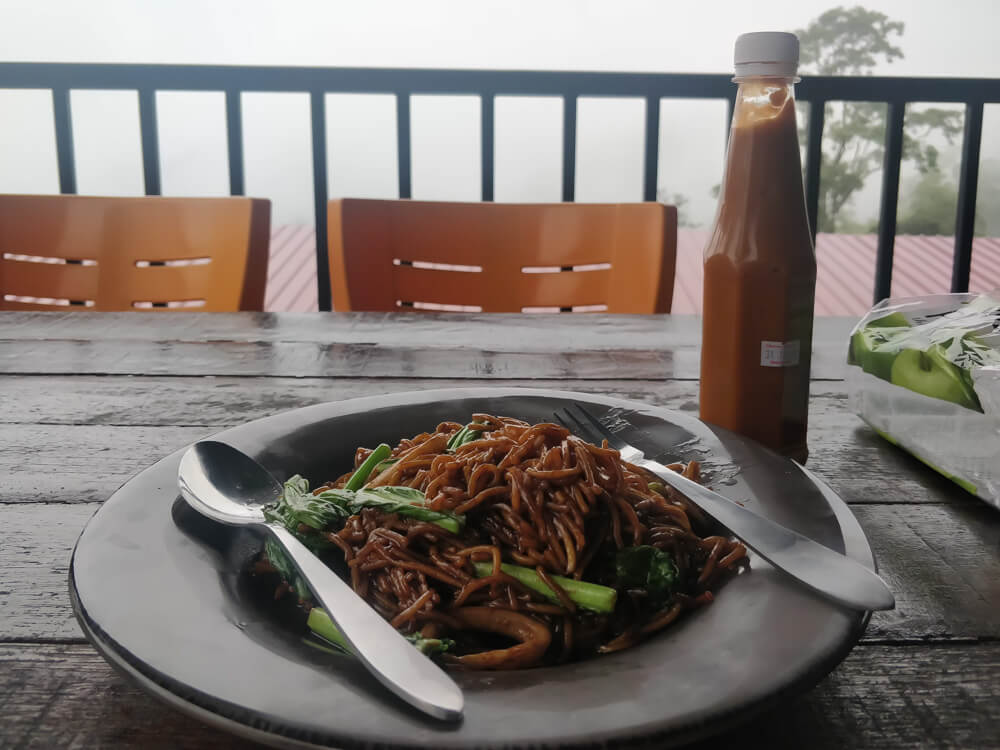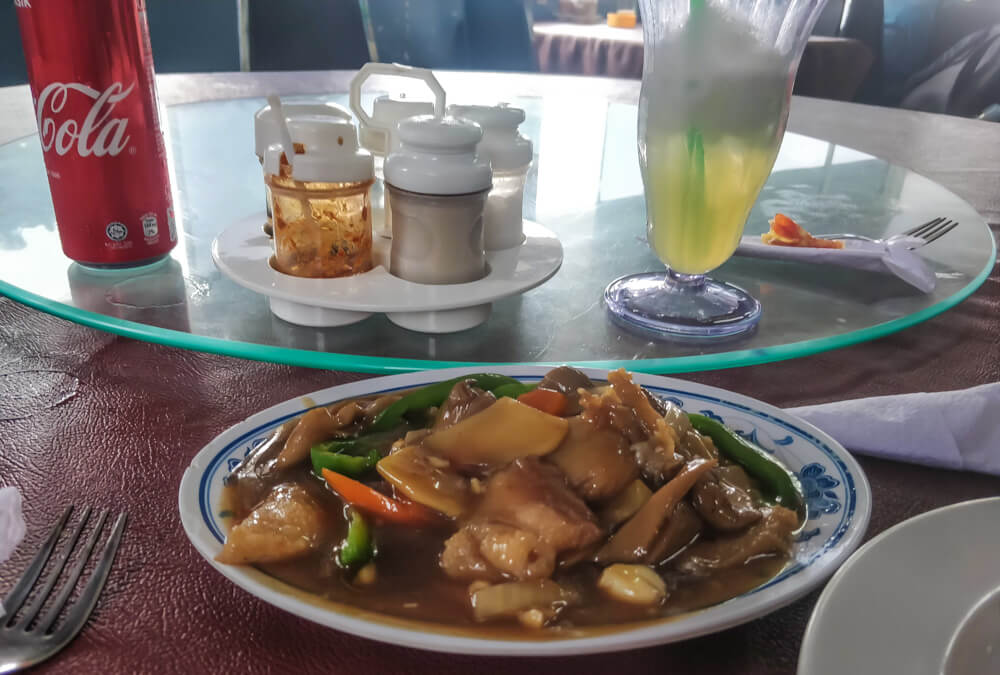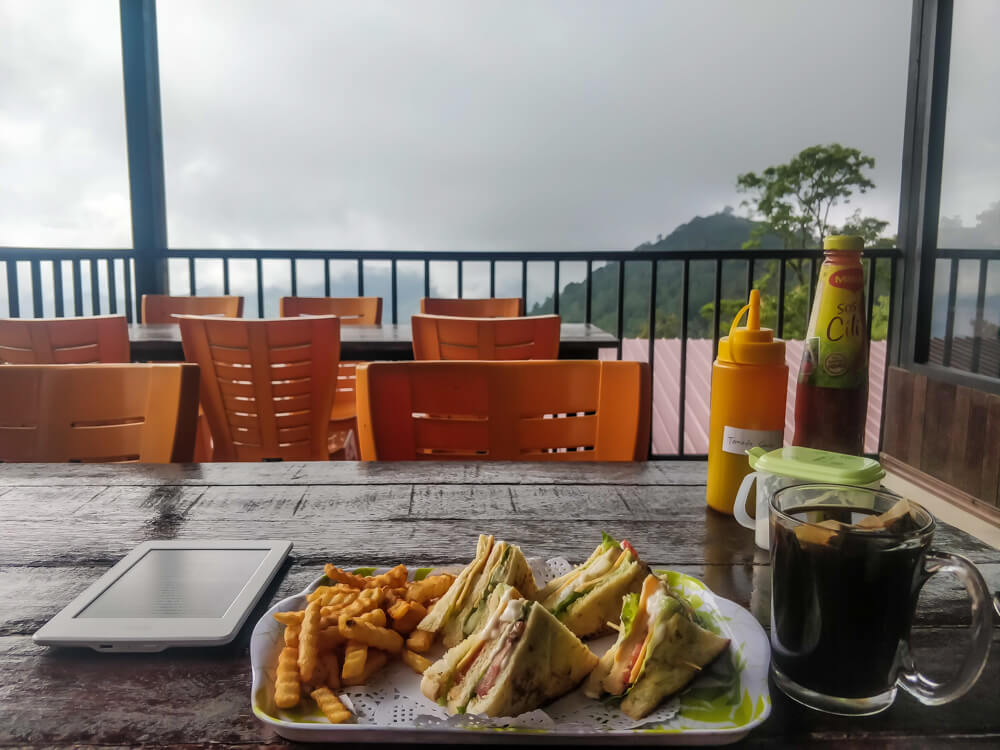 After many days of hiking and a night of wine, french fries and missed freelance work with my travel friends, I boarded the flight from Borneo to Kuala Lumpur.
Where to stay in Kota Kinabalu National Park: Insider Tip: I stayed at the Happy Garden Resort located five minute walk away from the main gate of the national park. It was a comfortable place with a restaurant on site. The host also arranged a taxi for me to the airport. I stayed in a dorm room but the guesthouse has multiple villas and larger stays. Do check here.
The location of Happy Garden is good for visiting the park. There were restaurants around. And in the vicinity many other guest houses and homestays function. Overall a very good area.
Back to the best Malaysian food in Kuala Lumpur.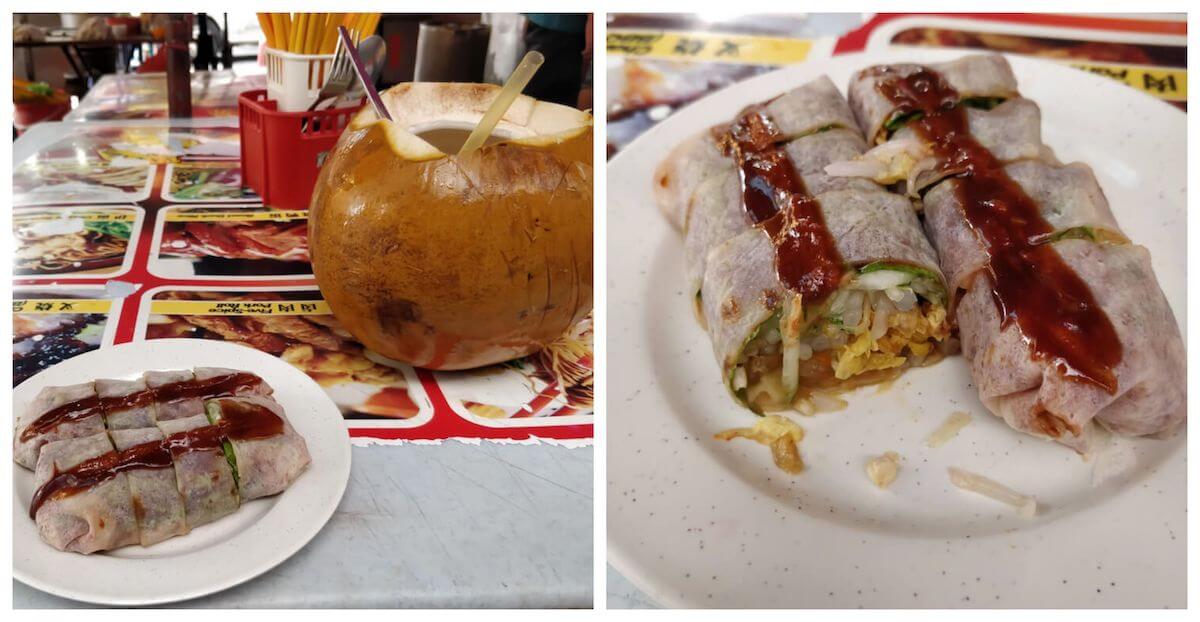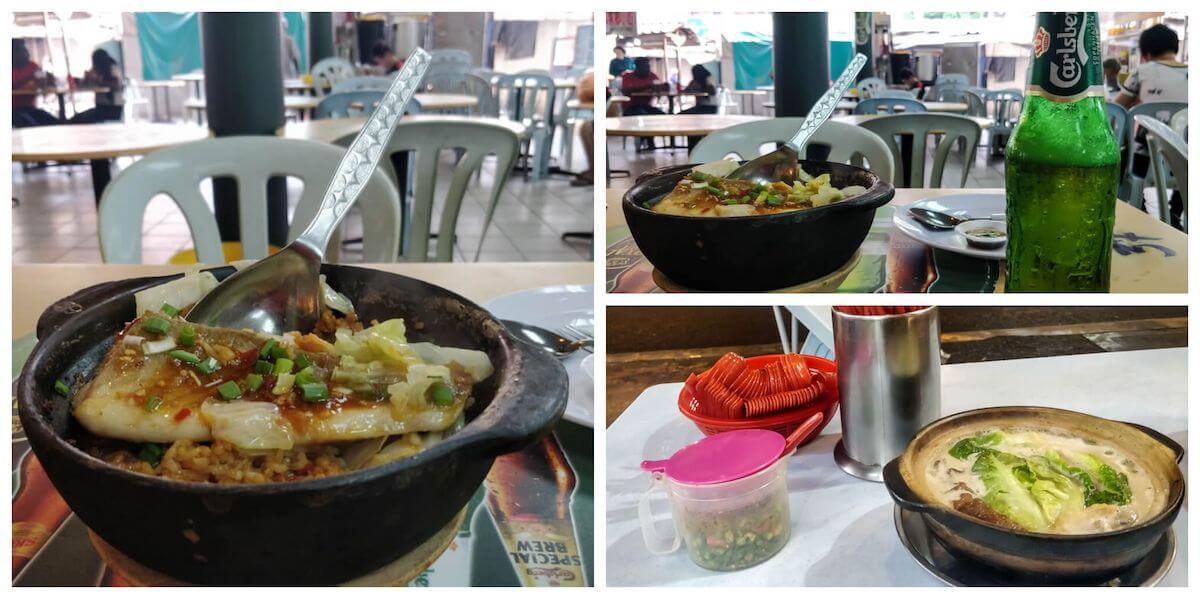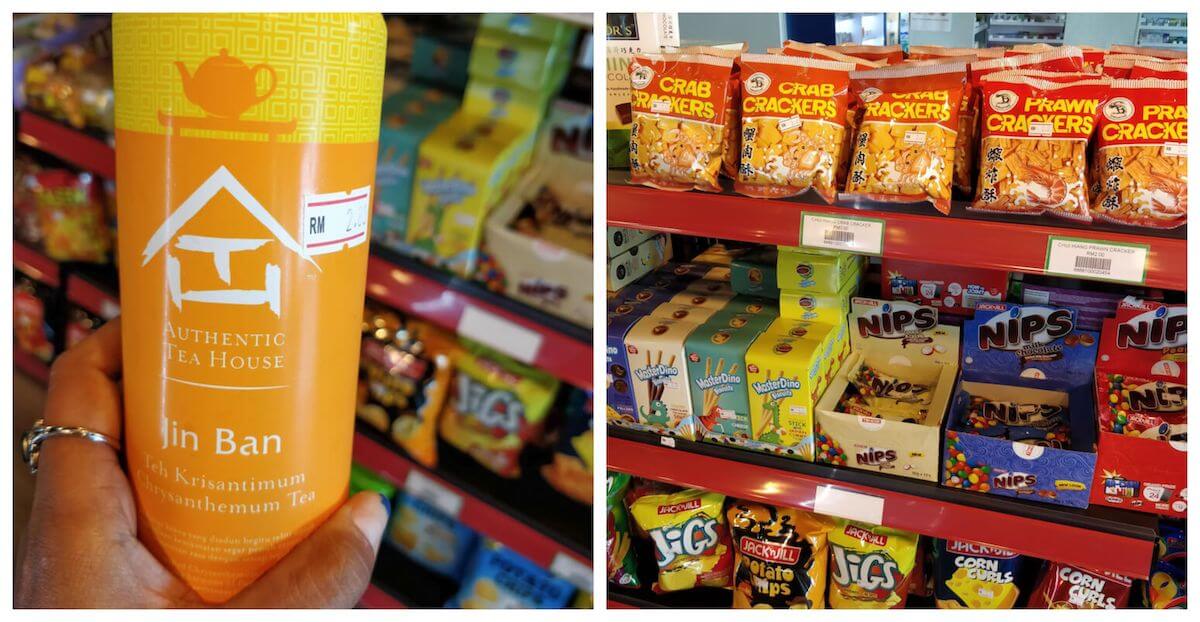 Within a few days, it was time for me to take a flight back to India. I had almost spent a month in Malaysia by then.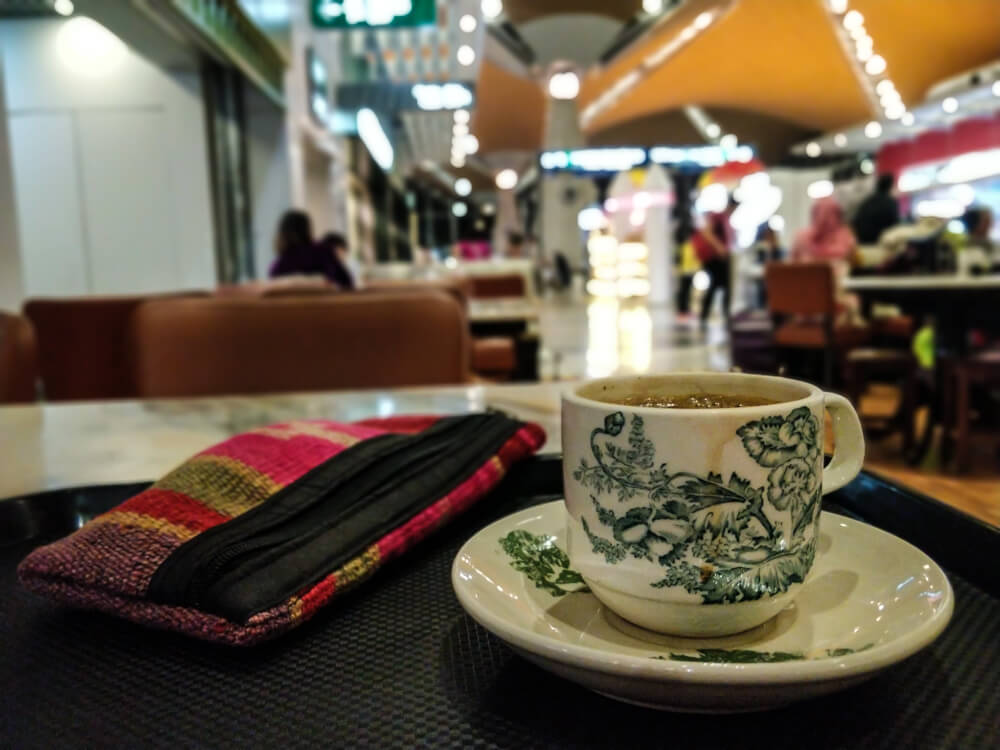 The photos aren't great. But that doesn't matter. I gained weight with each meal, but that was not important either.
I renamed this piece from sinful street food of Malaysia to my journey with the street food of Malaysia because this article is about my food experience. When I ate, what I ate, how the Malaysian food shaped my travel in the country, and how the meals made me feel about the individual destination. I also notice that the more I liked the local Malaysian food the longer I wanted to stay in the destination.
I've reasons to not list all the Malaysian street food dishes but focus on my individual food experience. First, I'm a pescatarian, and I don't eat any meat apart from fish. I don't eat eggs even in desserts, so all the pancakes and other popular Malaysian sweets are out of my scope.
Also, the idea behind my writing is to share more of my experience and not give you a list that will have every item you need to check off. Hence this narrative on some of my favorite Malaysian foods isn't an exhaustive list of the street dishes of Malaysia.
I hope you liked this photo and narrative Malaysian street food guide.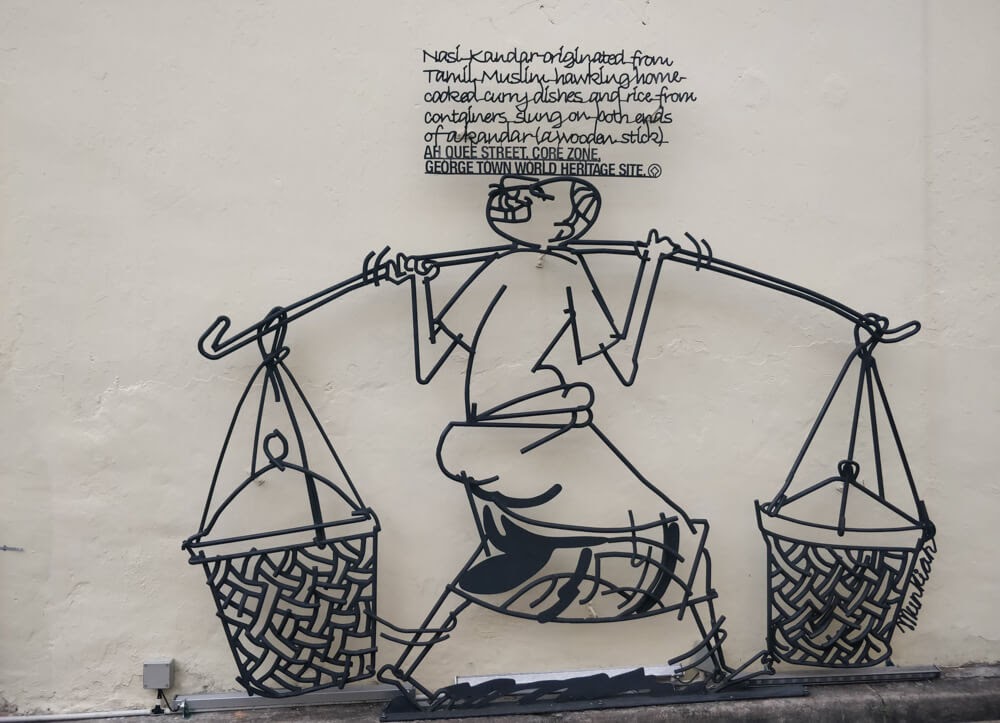 Do you have any questions about Malaysian local food? Please let me know in the comments.
*****
Donate to keep me going!
For five years, I've read and wrote day and night to keep On My Canvas - my sustenance and life's focal point - going. Everything here and my weekly newsletter "Looking Inwards" is free. No ads. No sponsorships. If you've had some good moments reading my posts or felt hopeful on a lonely day, please consider making a one-time or a consistent donation. I'll really appreciate it (You can cancel anytime).
*****
Want similar inspiration and ideas in your inbox? Subscribe to my free weekly newsletter "Looking Inwards"!