Curry rich, Asian-influenced, salad-based, unhygienic — these are only some of the phrases that seem to describe Myanmar traditional food all over the internet. 
When I visited Myanmar last year, I had high hopes from the Burmese food: a concoction of not only the culinary taste of the hundreds of ethnic groups within Myanmar but also steeped in flavors, ingredients, and recipes from the colorful neighbor China, Thailand, and India. 
While you can find fish noodle soups and tea leaf salads at every corner of Myanmar, you can also overeat potato samosas, suck into juicy dumplings, and cry out on spicy curries or run away from fried insects— all the later delicacies can be attributed to Myanmar's neighbors whose people and flavors both have been generously accepted by Burma.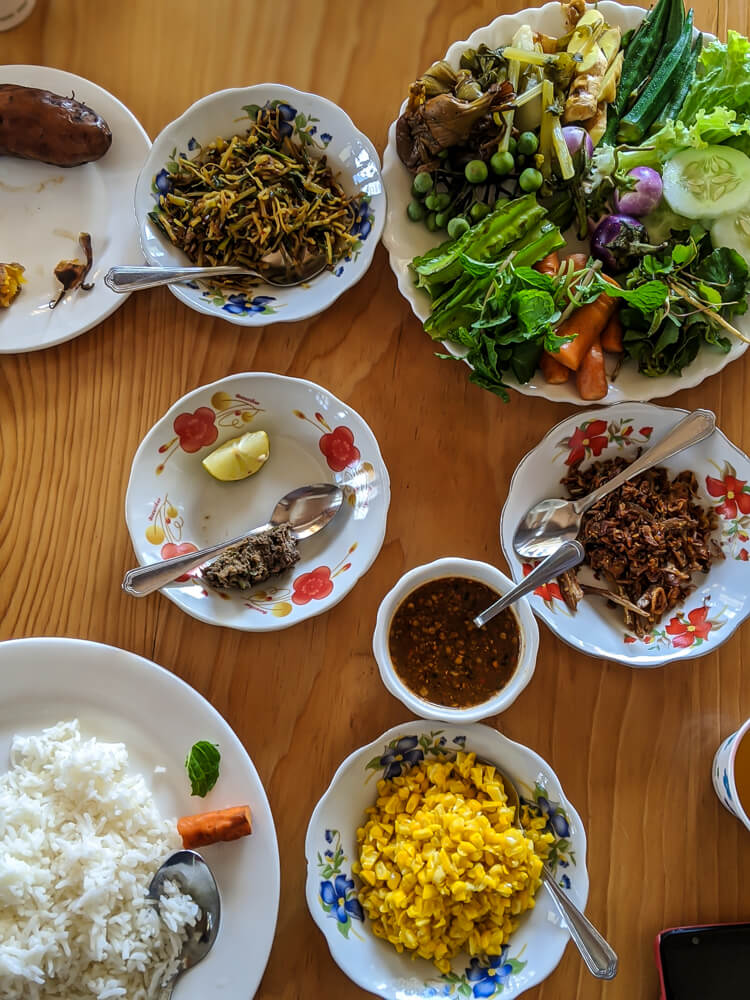 When I landed in Yangon after a long connecting Bengaluru-Kolkata flight, I was severely famished. I threw my bags on the bed in the hotel room, scrubbed my face, and darted down the seven floors of my downtown Yangon hotel. On my way from the airport, I had had a glimpse of the Burmese roadside restaurants that mainly comprised of a covered kitchen and miniature plastic stools on the road. Of course, I was in Southeast Asia. You sit on tiny plastic stools to eat. A lot of soup is consumed. Salads keep getting refilled. Meats hang guilt-free. Beer is mandatory.
I would tell my story about arriving at the Bandoola park for my first dinner in Myanmar in a subsequent Yangon food guide, but for now, I will say that within fifteen minutes I found myself at the night market of the famous Maha Bandula park of Rangoon.  
While pacing up and down the street market like a hungry dog, I peeked deep into the sizzling woks and fiery pans to see which of the enticing Yangon street food I could eat. Most of the stalls sold barbecued red meat on skewers which only worsens my appetite now. I requested the Burmese hawkers to enlighten me about their aromatic preparations but to my dismay, neither the locals spoke English nor they understood even the common dietary English words such as egg, chicken, meat, fish. I even spoke in Hindi once and realized I wasn't in India anymore (these one-way Hindi conversations mark the beginning of every international trip for me).
It was going to be fun. Pasting my typical ear to ear smile on my tired face and asking every stall for fish, I landed at one lady's place who understood fish and said no, no chicken. Yes, fish. But just to lay my paranoia to peace, I confirmed the ingredients with her by showing her the pictures of eggs and chicken on my phone. Purchasing that Burmese sim card at the airport was worth much more than just calling my partner back home.
Soon she brought out a plethora of dishes on my table and thus began my Myanmar food journey with a traditional Myanmar meal. Though at the time when I was stuffing myself with the heap of rice, the oily-but-tasty fish and prawn curries, and some hundred par-boiled vegetables that would continue to astound me even towards the end of my Burma trip, I didn't know that the ensemble was called a Myanmar meal. Oh, there was soup, too.
Ignoring the quality of the food for it was pretty cheap for a plate of prawns and fish along with all the accompaniments, I did justice to that ethereal table full of food I loved.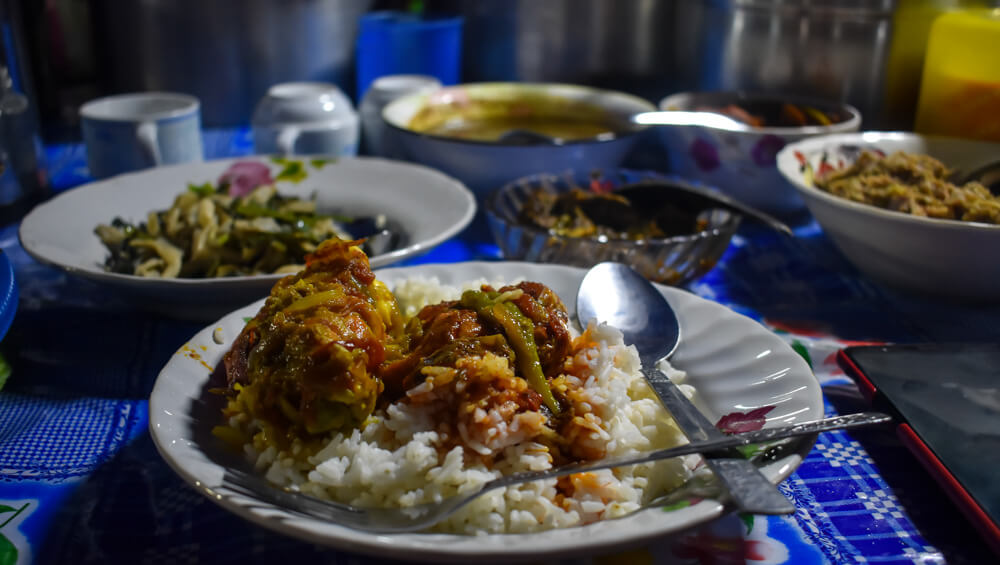 Rice and curry worked well for this Indian girl, and only when I had wiped the dishes clean, did I ask a lady on the next table about the name of the preparation. Both ladies laughed and fumbled with words. I giggled, too. They chatted amongst themselves.
Then one of them mentioned Myanmar meal. And I was sure that the jolly lady just said that because we were in Myanmar — how genius — but later that assortment did turn out to be a Myanmar meal.
The curries were spicy for my taste, like most of the Myanmar street food I ate later. So after grabbing a glass of sugar cane juice, I went to sit in the Bandula park. It was now lighted and filled with people and children who played around and soaked in the last light of the day.
All food blogs talk about a plethora of traditional Burmese food. But in this Myanmar food guide, I would only list the dishes I ate and that are the most ubiquitous in Myanmar.
Talking about omnipresence, let me also tell you that fish and other seafood — fresh or dry or in a paste or fermented — would always be available to you in Burmese food menus. And as I am a pescatarian, I would only share information on vegetarian and seafood dishes. No, eggs don't count.
So shall we?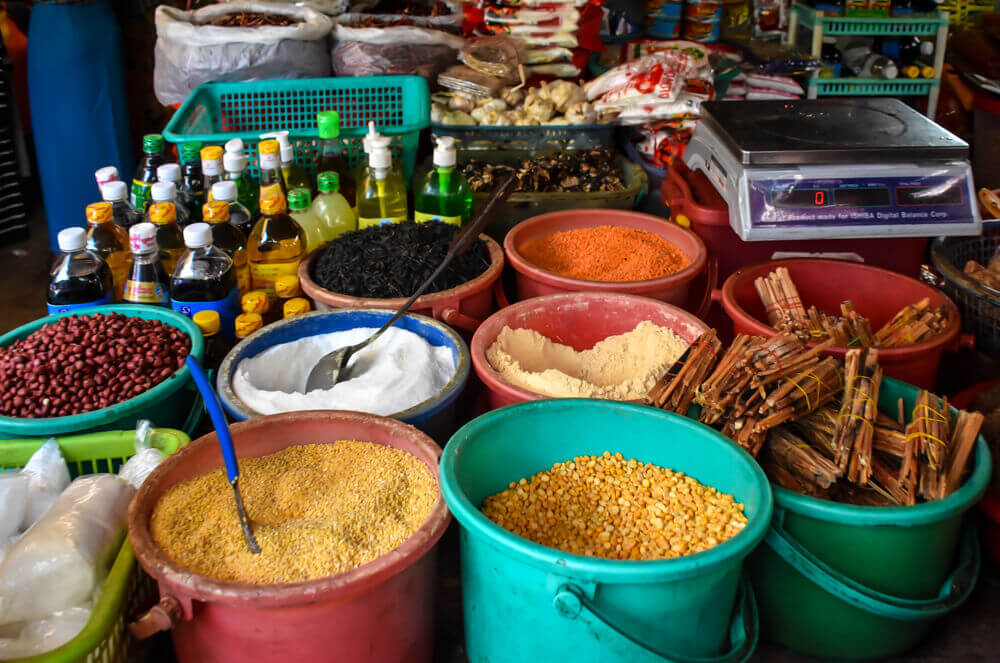 The Best of Myanmar Food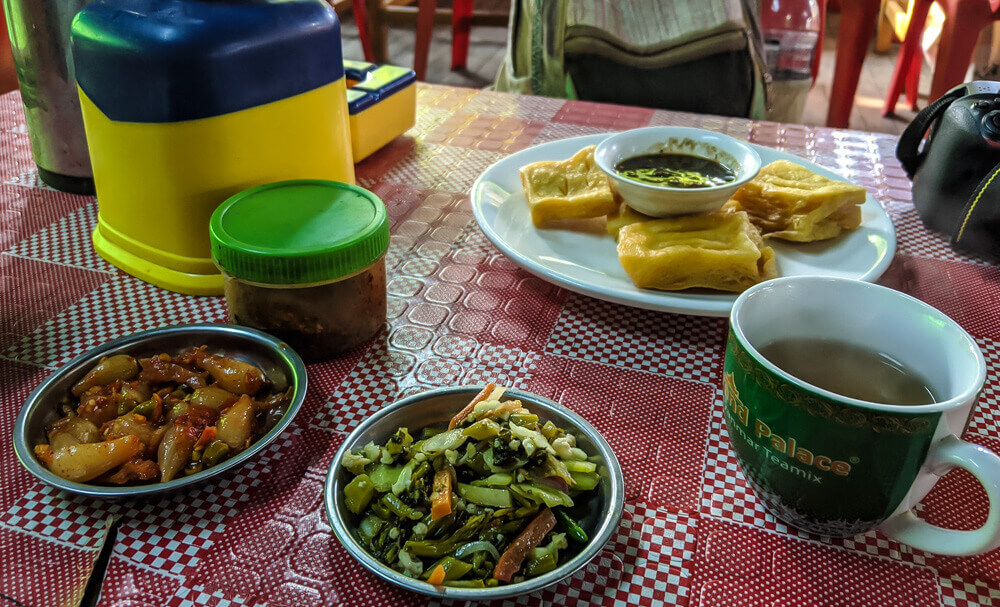 The Ubiquitous Light Green Tea of Myanmar
Burmese were always drinking tea. I assumed they ordered it every time. But then I noticed people opening a thermos kept on the table and pouring a light green warm liquid into the small cups. I looked at my table, and there it was, my thermos of green tea. 
Pour a cup. Sip. Feel refreshed. Pour some more. Order. Eat. Keep drinking tea. This is how I spent most of my time in Myanmar.
In Burma, all restaurants keep a flask of free hot tea at every table. You can even ask for it if it's not there.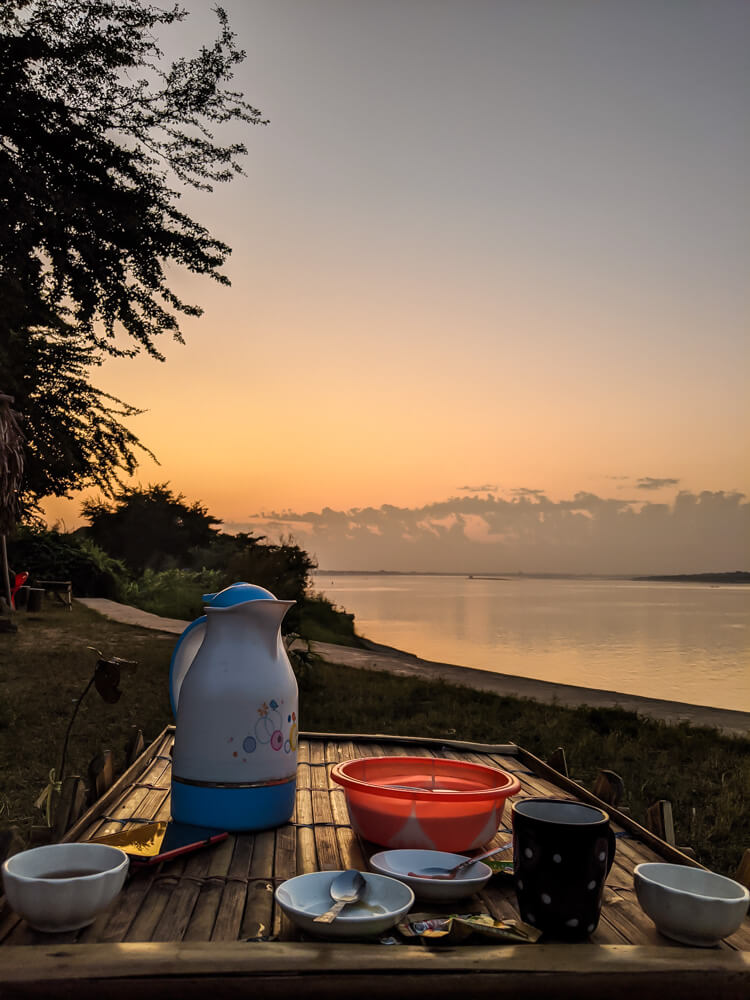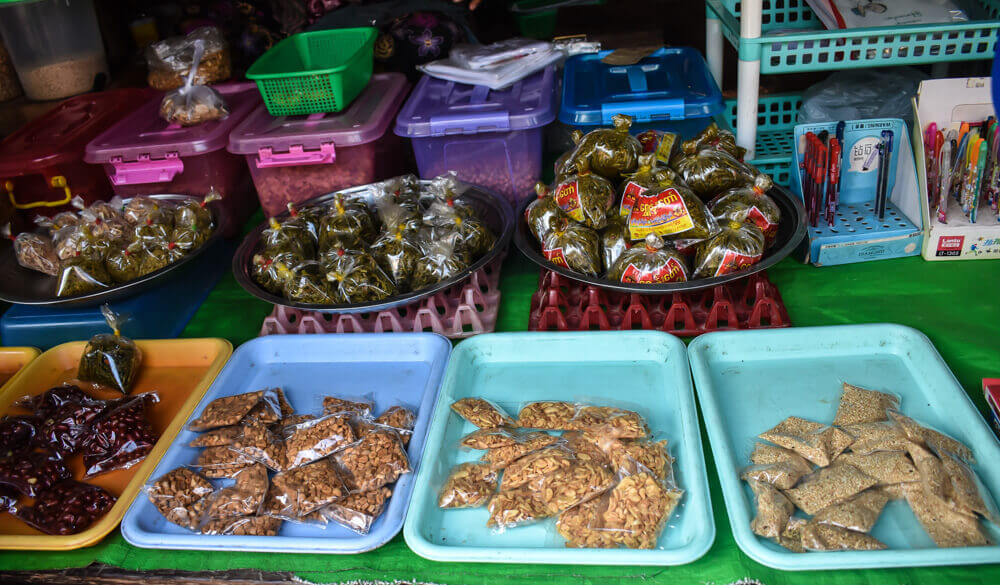 Tea Leaf Salad or

 

as they say in Burmese,

 Lephet

 

Thoke — 

The Pride of the Food of Myanmar
In Myanmar, salads are known as thoke, and Burmese are known for making salads out of everything. Though all Asian countries are popular for preparing grand leafy affairs soaked in lime and coriander, Burma raises the bar. 
Burma is one of those rare countries where even tea leaves are eaten. Pickle or ferment the tea leaves, throw in some shredded cabbage, sliced tomatoes, peanuts and sesame or other nuts, peas, crunchy deep-fried beans, chopped chilies, sliced ginger, and some garlic or peanut oil. The sour and bitter sweet tea leaves mix with all these ingredients to become an independent snack, a side, an appetizer, or even a dessert. Of course, you can eat the salad with rice. Some fancy versions of this salad might also have fried shrimps and crabs. 
Where to eat: At any street-side kiosk or restaurant. You can buy the salad in a local food market, too. Don't buy a branded tea leaf salad for there is news of some brands using an inedible dye in the Lahpet (another name of Lephet). Tea leaf salad would also accompany most of your Myanmar meals about which I will talk later. 
Fun Fact: Lephet or Lahpet in Burma is like chai in India. We serve tea to our guests, and Burmese serve tea leaf salad to theirs. 
Another Fun Fact: Do try the mango salads, too.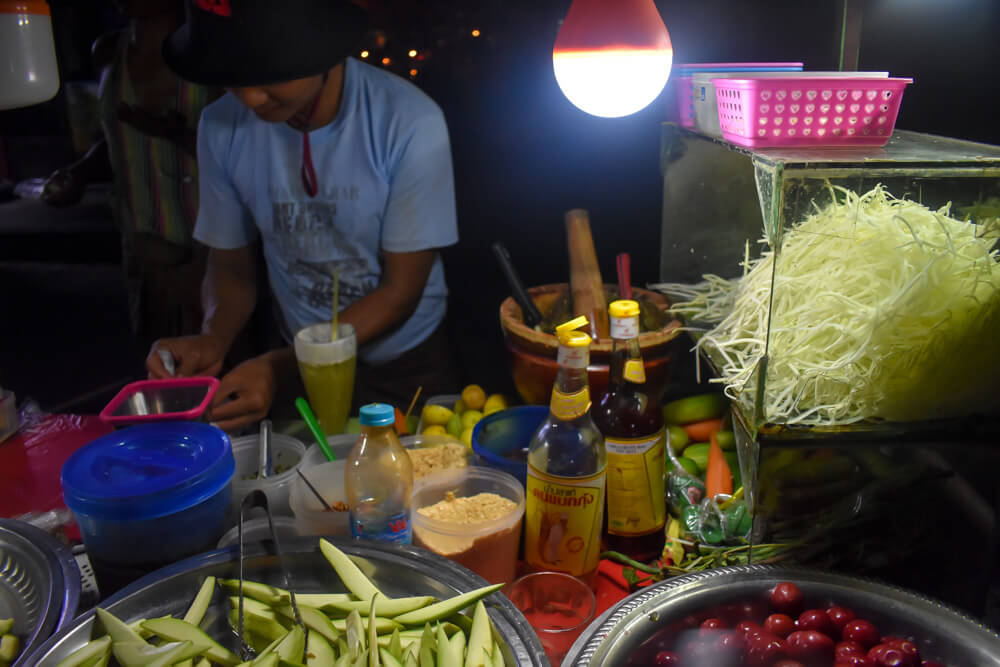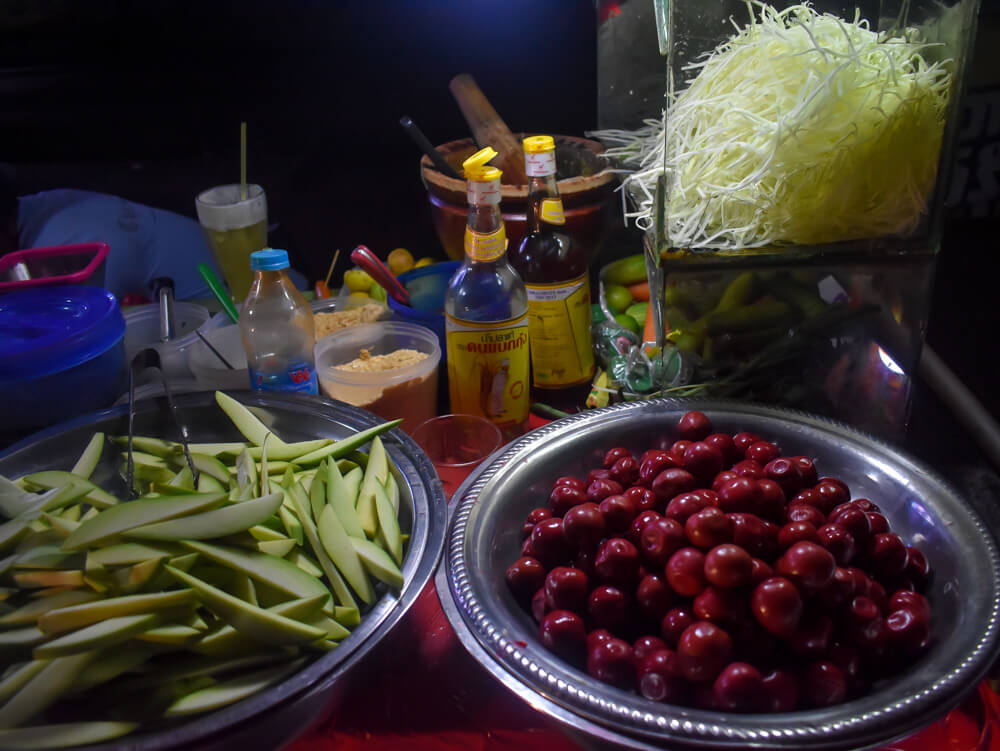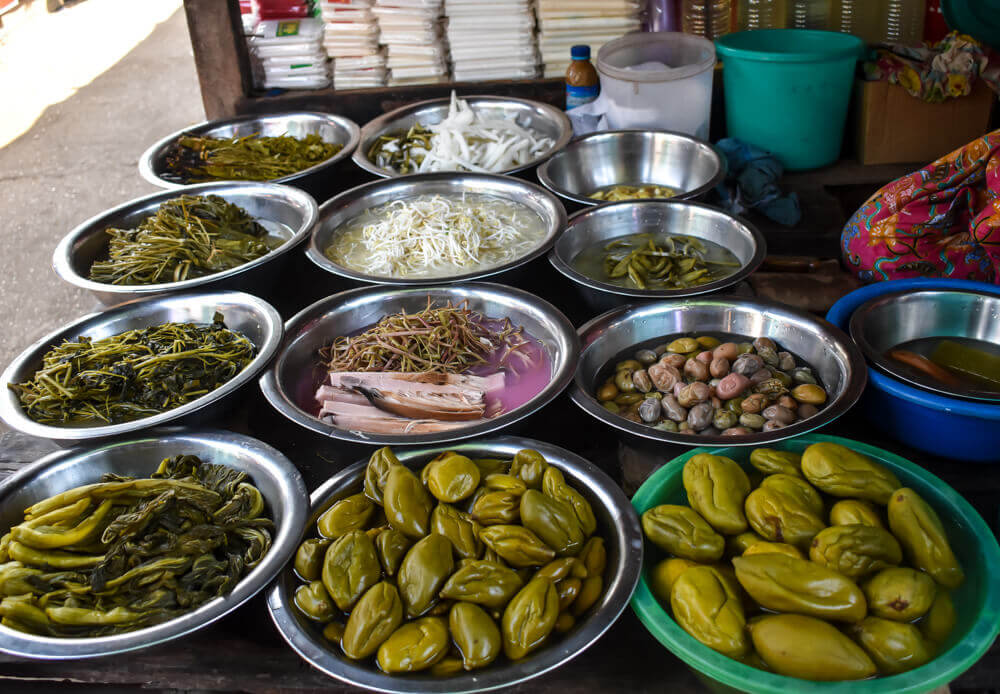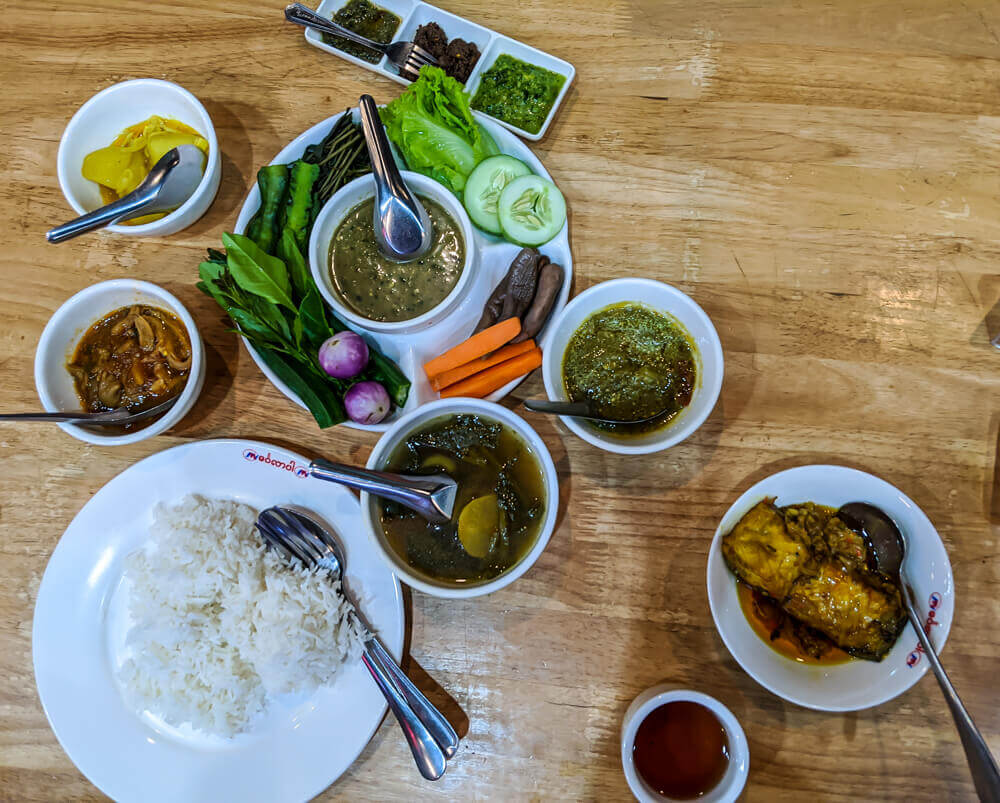 Myanmar Curry Meal — My Favorite from the Burmese Food Menu
Nothing is surprising about an Indian girl rejoicing at the idea of eating curry with rice accompanied by several chutneys or dips. But Myanmar meal takes the meal and rice experience to another level by throwing in an unlimited supply of dips, par-boiled vegetables, pickled vegetables, chili oil, and soup. 
Myanmar meal was the first food I had in Burma. Later I would eat the Burmese meal in restaurants, roadside kiosks, at bus resting points, and well, mostly wherever I could. 
Though the rice is plain, the meal comes with various options for curry: pork, fish, shrimp, beef, or mutton. I always chose either the prawns or the fish or both. Remember — if you take two curries you pay for both and an infinite assortment of side dishes follow. My suggestion is to take one curry at a time and not go overboard like your greedy miss fish-and-prawns.
The curry is oily, rich, and mostly sour and spicy. Fish curry was made with fresh fish or salted dried fish or spicy pickled fish. You will have to ask if the soup is vegetarian or chicken. Hopefully, you will get tea leaf salad with the meal. The meal might also include a fish paste, a spicy mixture of chilies, garlic, and dried shrimp fried in oil, nuts, and a watery fish sauce. 
The best part of the meal was the plate of par-boiled indigo brinjals, shiny okra, soft spinach, crunchy gourds, sweet carrots, crispy beans, bitter turnips — known as tozaya — that accompanied the meal.
Life is said to be lived well if you have eaten a Myanmar meal. There, I said it. 
Fun Fact: Myanmar meals aren't good at every stall. Avoid stalls with stale-looking food. And if you see flies over your brinjals and fish sauce, run away. If you are a vegetarian, don't get demotivated by the meaty options. Sometimes the stalls have vegetarian curries, too.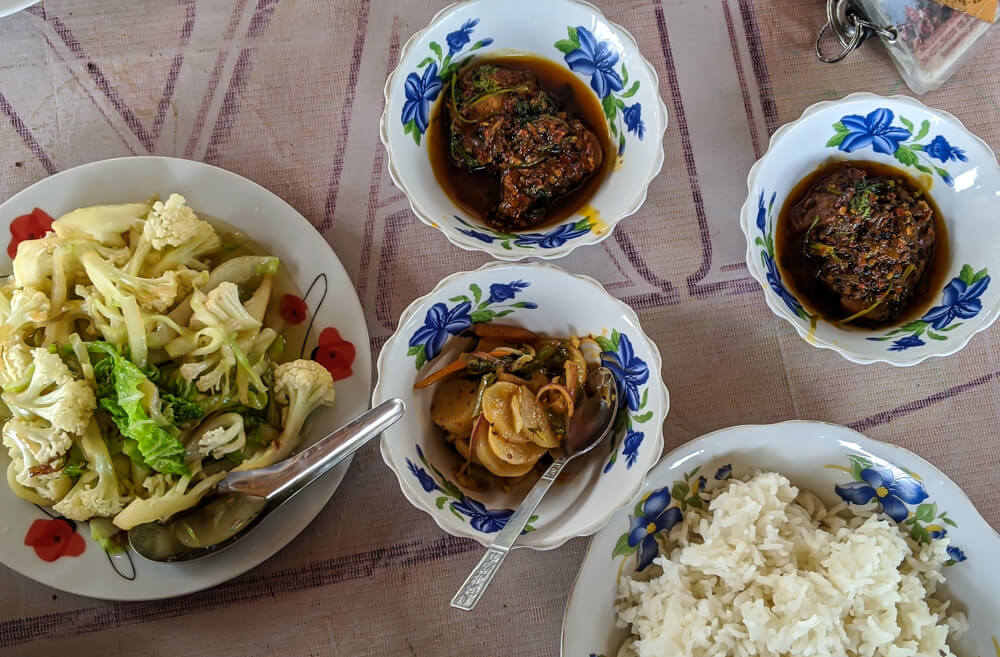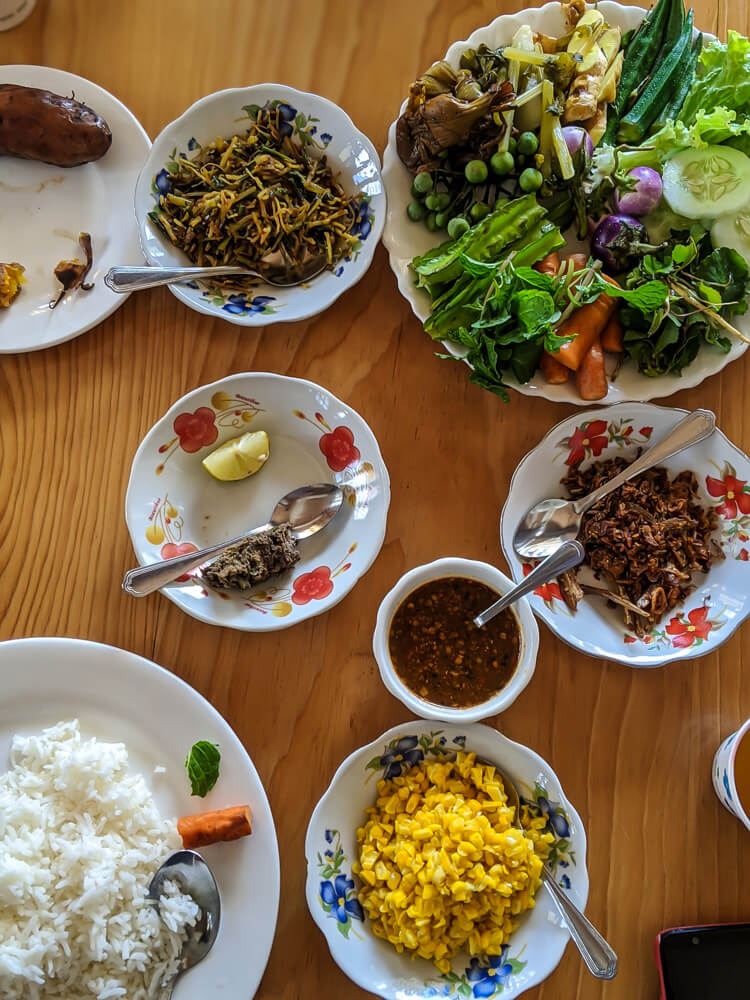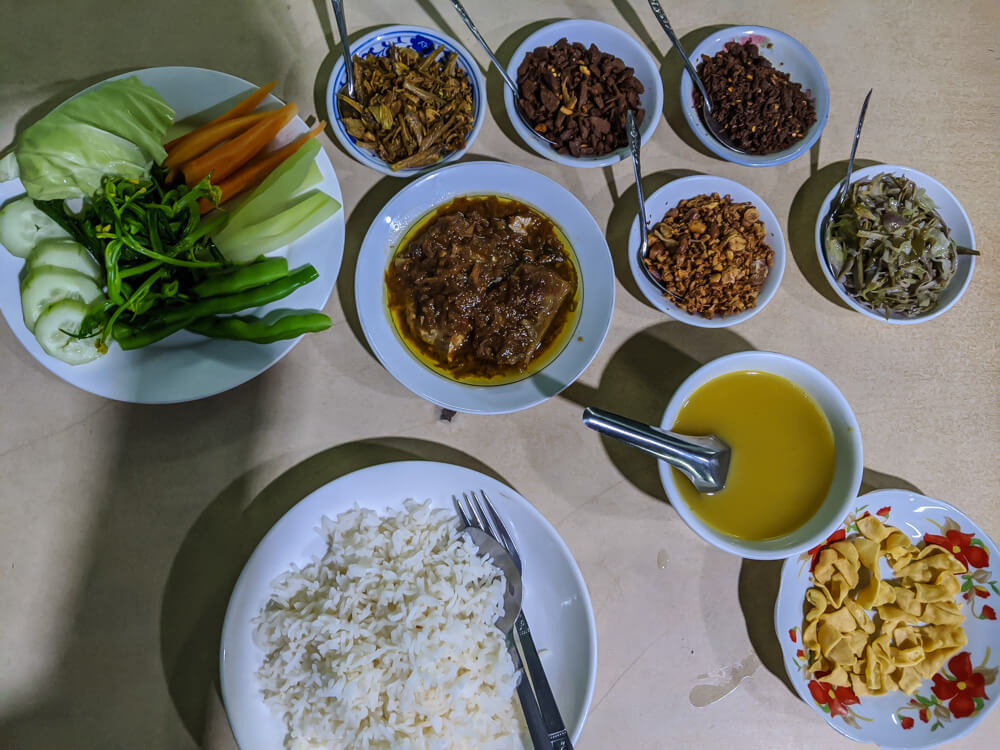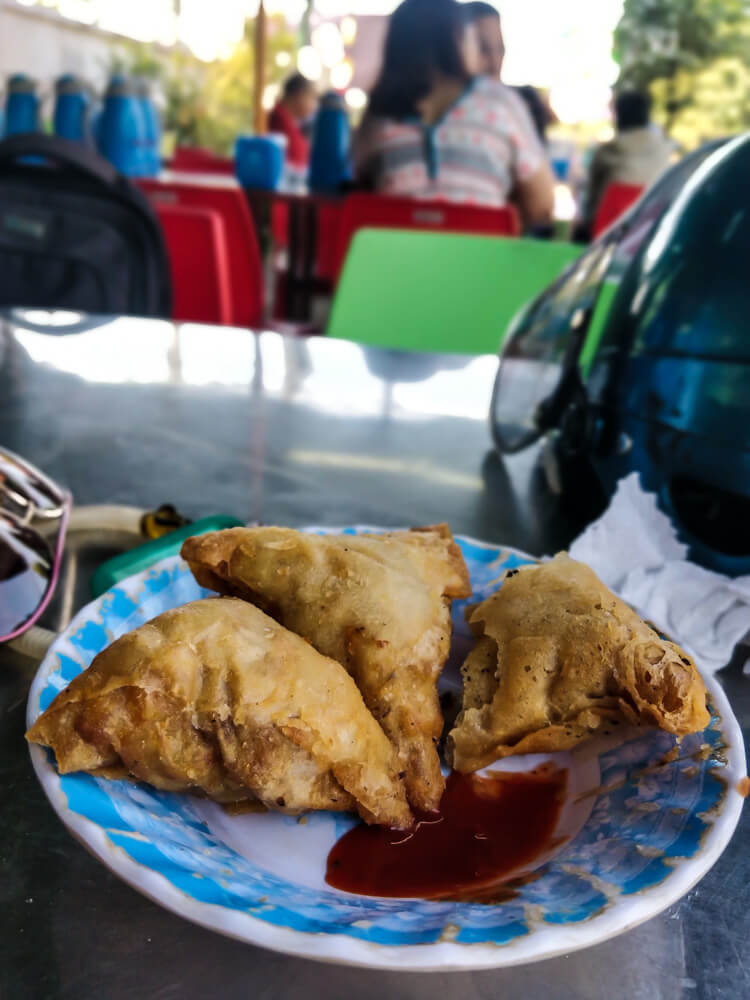 Deep-Fried Roadside Snacks — the Best of the Myanmar Street Food
Though the Indian influence on the food of Myanmar justifies the samosa display on Burma streets, I found so many common snacks amongst the two countries that sometimes I felt as if I was walking in the rickety streets of my hometown. 
I found my old friend samosa, steamed sweet potatoes and tapioca, corn roasted over the fire, fried bread, fried sweets, prawn fritters, banana fritters, kebabs, and things that I don't even remember now. But then some items like deep-fried gourds, spring rolls are other popular Burmese street foods that I don't find so easily in India. 
Fried gourd? What? You crazy? Between an Indian street food vendor and me. 
All of these items are sold by the piece and you can always taste one and then get more. A lot of Burmese tea shops would also keep these snacks and expect to find different varieties depending on the ethnicity of the shopkeeper. On my way to catch the circular train of Yangon, I found Indian chai in a tea shop. It was only after some chai, a few fried breads, and some chit-chat later that I could go to the train station.
Fun Fact: Samosas, pakodas, and other fried snacks are fried on tiny woks balanced on small coal stoves all day long. Ask for hot snacks and the vendor just fries them right in front of you.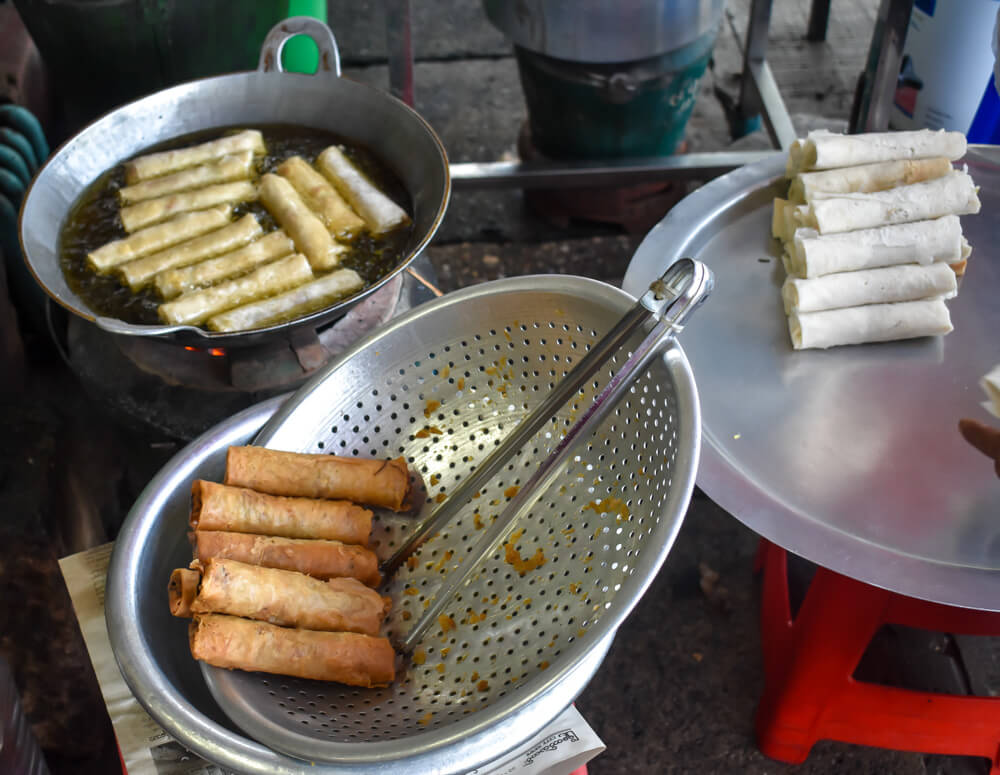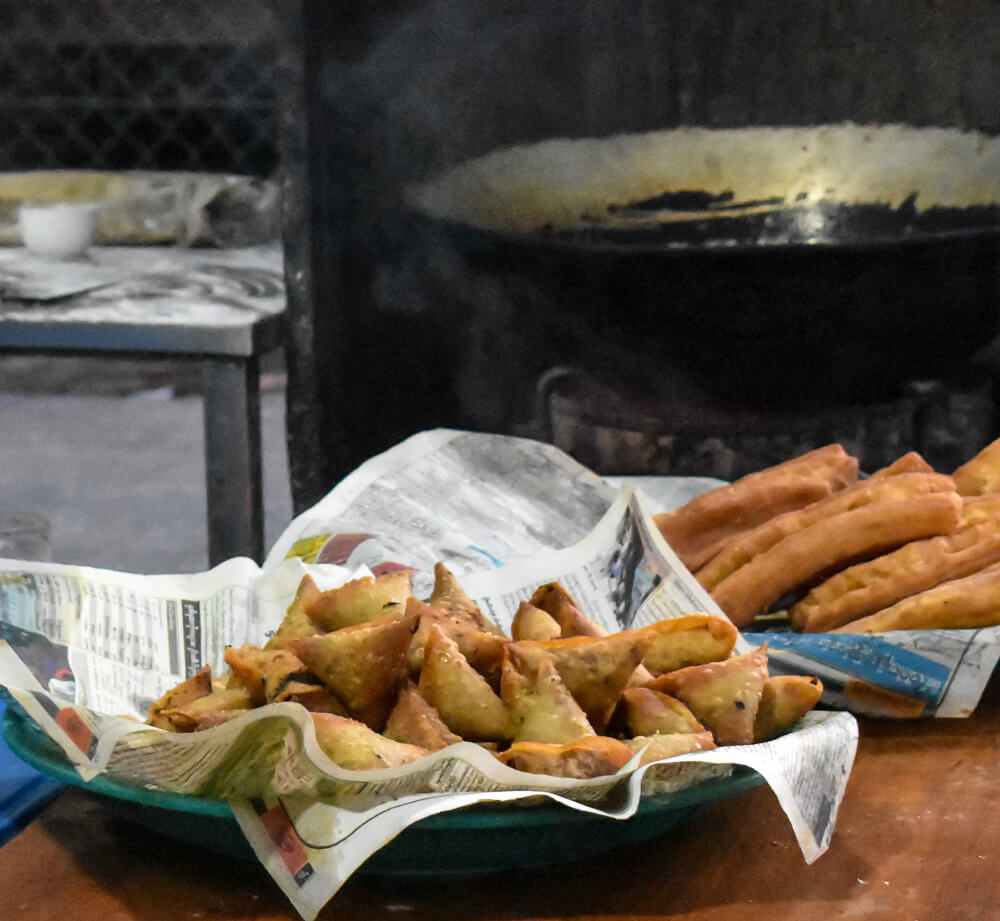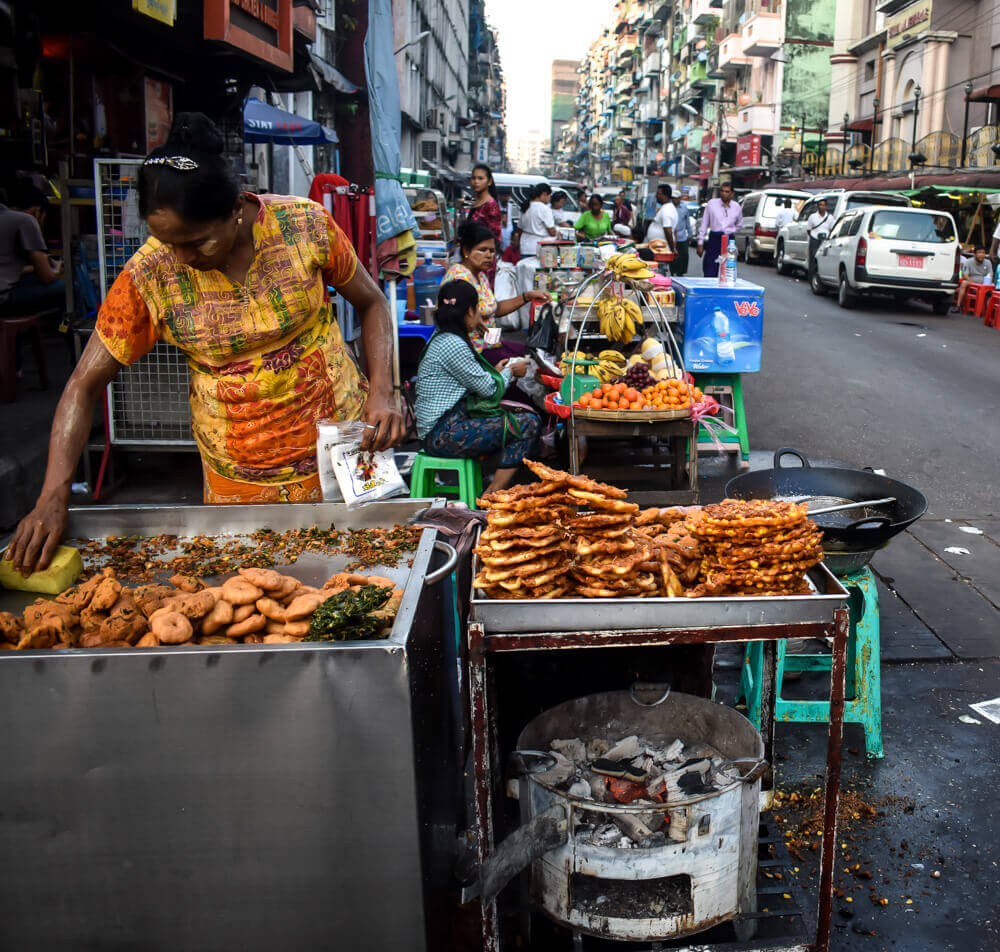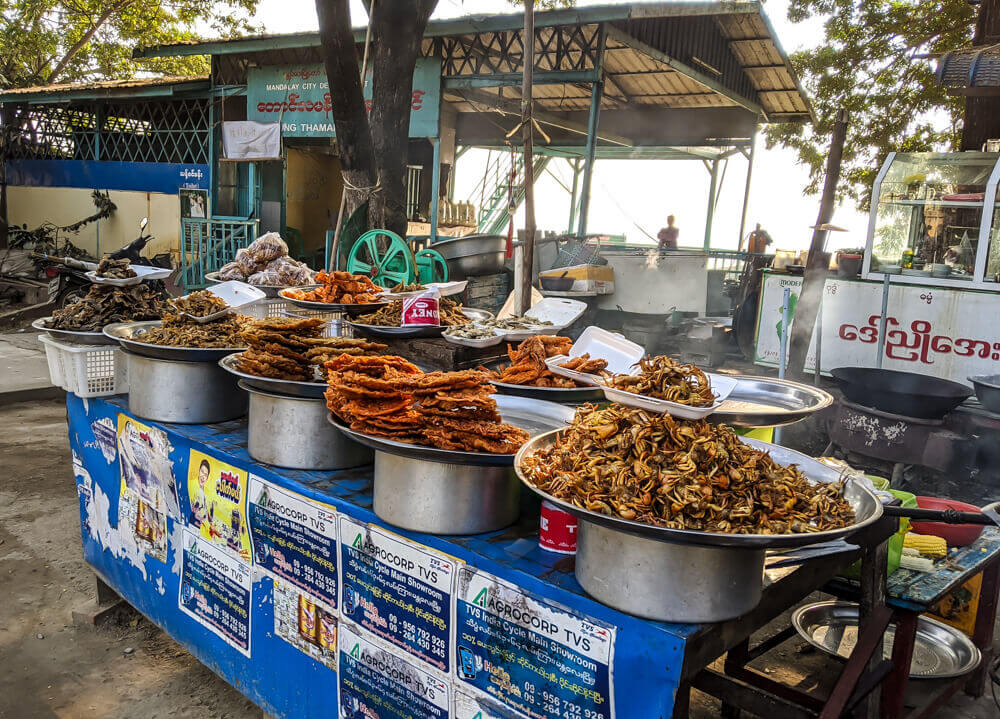 Myanmar's Tea Shops — An Essential Part of the Myanmar Food Culture
Like Indians, Burmese love their tea shops, too. Tea shops hold an essential part in the Myanmar food culture. They are centers of empathy, and locals can be seen chatting in the shops all day long. 
You will also find some deep-fried snacks in these tea shops. Find a shop now and then and stop often.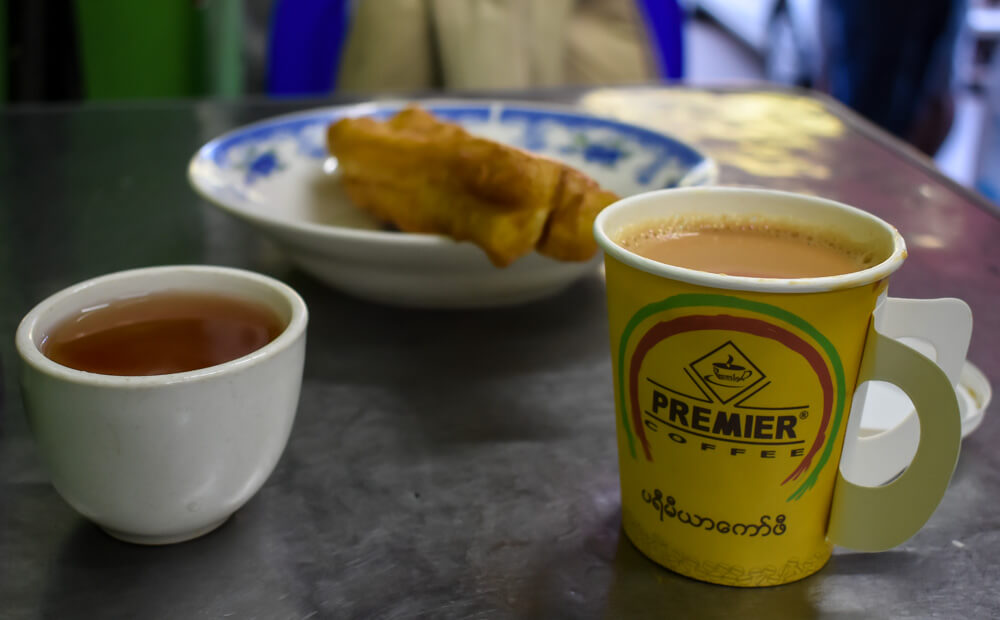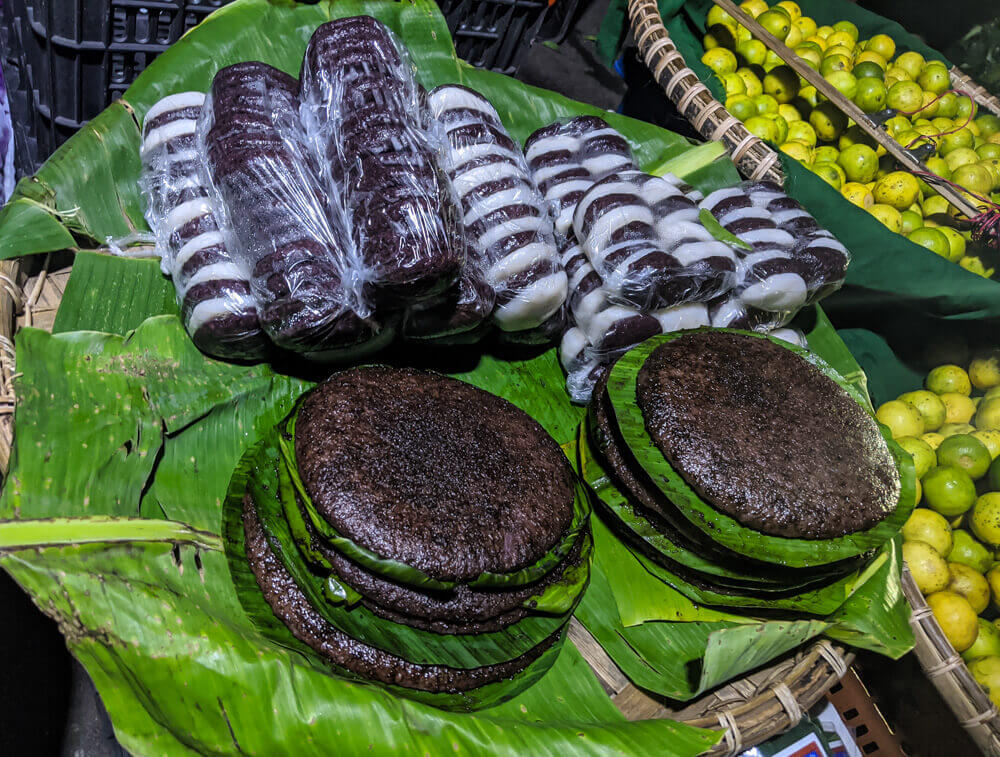 Burmese Desserts — The least popular of Myanmar famous food.
Burmese sweets, collectively known as noun, are mostly made with grated coconuts, coconut milk, sweetened milk, rice flour, tapioca, other fruits, sesame, raisins, and other nuts.
I was not a big fan of Burmese sweets so I don't have much to add here. Oh, Burmese people don't eat desserts with dinner or main course but mostly as snacks in the morning or evening with tea. Maybe the popularity of desserts as snacks makes them a common item in tea shops, local markets, or on roadside kiosks.
Try a few Myanmar desserts and let me know which ones you like?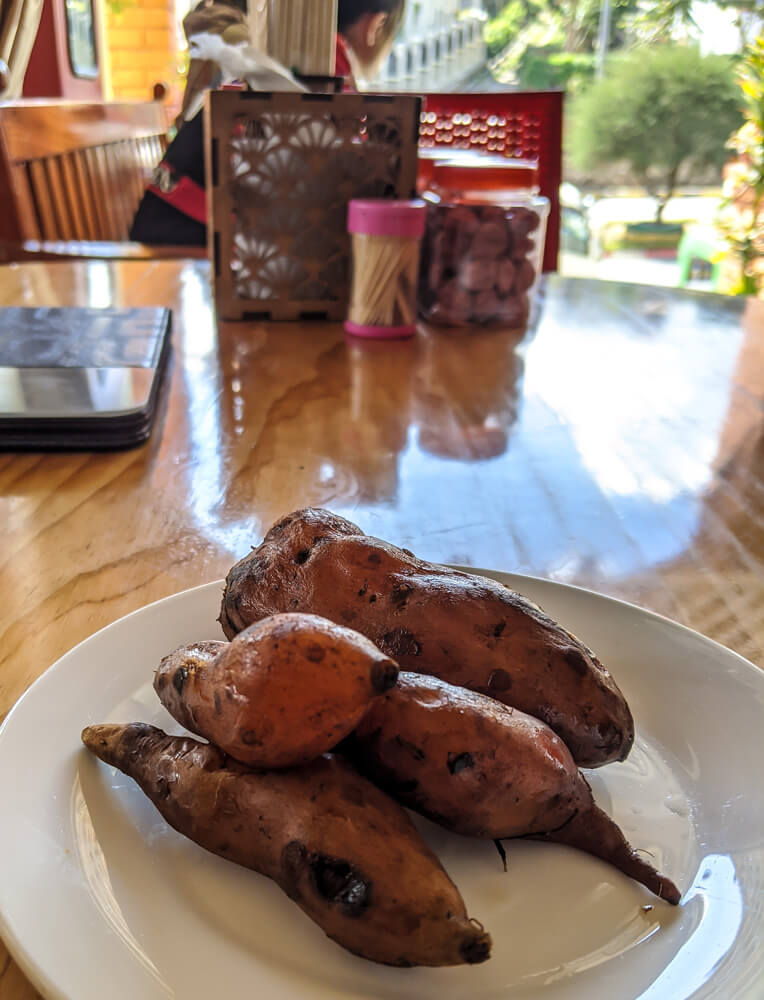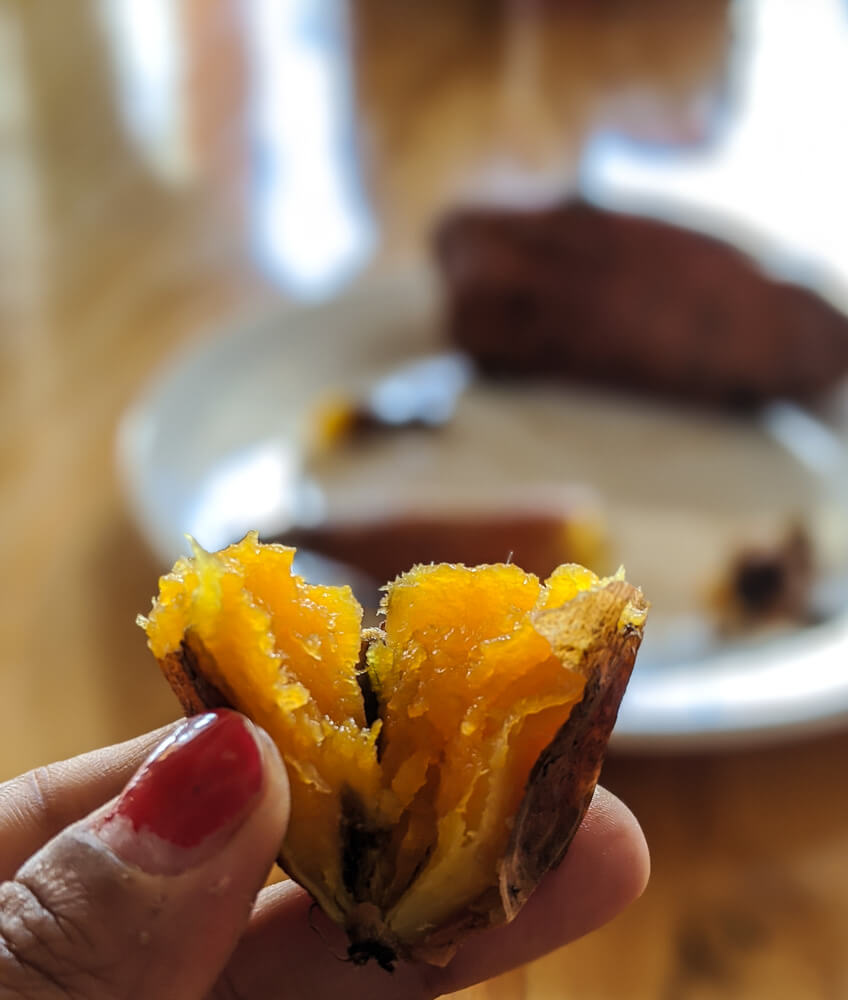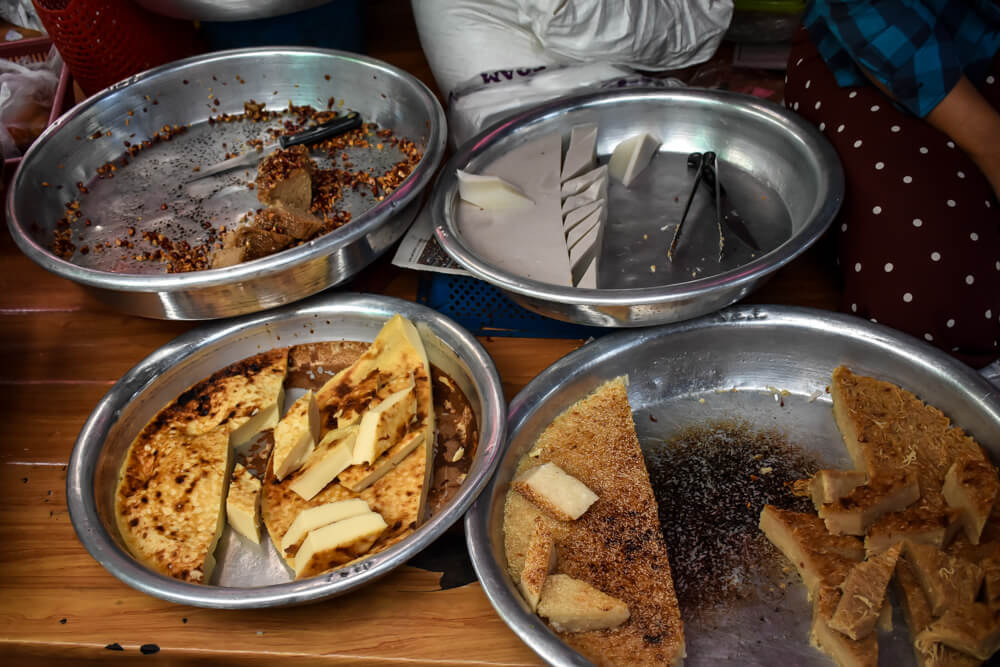 The Fishy Mohinga — A Myanmar National Food That is High on My Favorite Food List
Once you have Mohinga you cannot go back.
Once I had eaten bowls of Mohinga soup in Dala village near Yangon, my eyes searched for Mohinga like a bear pursues honey. And then I gulped down the soup at streetside kiosks, at my hotel buffets', and wherever else I could get it. 
Mohinga is a hearty fish soup made with rice vermicelli, herbs, shallots, garlic, ginger, and lemongrass. The rich soup is then garnished with deep-fried vegetables, lentil fritters, lemon, coriander, peanuts, red chili flakes, and sometimes hard-boiled eggs. 
Another thing to remember is that even the Mohinga broth sometimes have eggs. So if you don't eat egg, ask the chef specifically. And even if the vendor confirms that they won't put eggs, try peeking into the soup container without looking like a complete manic. A few Burmese hawkers served me Mohinga by pushing the big egg floating in the soup to the side even when they had confirmed the soup didn't have any eggs. I just blamed the language barrier and ate the soup but didn't feel so good about it.
Though Burmese started eating Mohinga in breakfast, now you can find Mohinga stalls throughout Myanmar all-day long. But you should still try to have a glimpse of the morning Mohinga clientele on the street corners. Around 5 am would be a good time. You would be in time to see the many Mohinga sellers bringing the fish soup to life before the city heads to the streets to eat breakfast. And then there is chaos.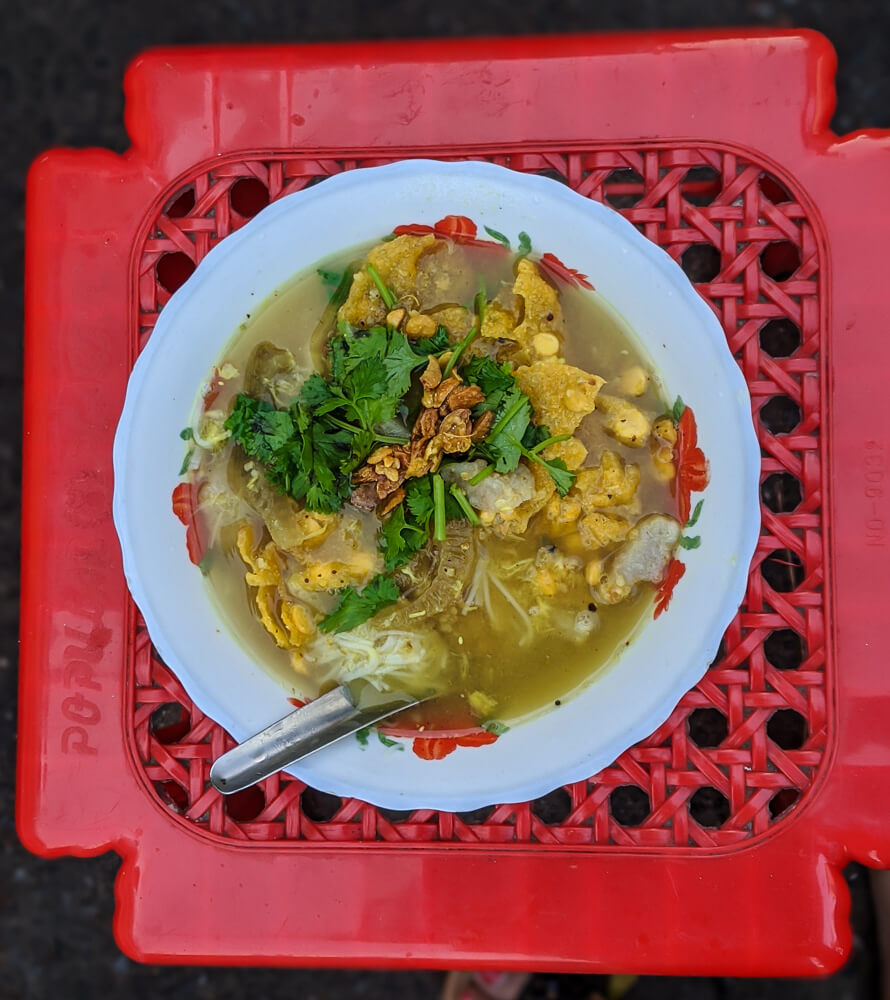 Places to eat: Early morning streets, roadside stalls, restaurants, hotel buffets. 
Fun Fact: Mohinga isn't that hard to prepare yourself at home for most of the ingredients are easily available anywhere. I bought the rice vermicelli from the San Bogyoke market in Yangon and made a few batches of earthy Mohinga that filled my soul at home. I followed this recipe.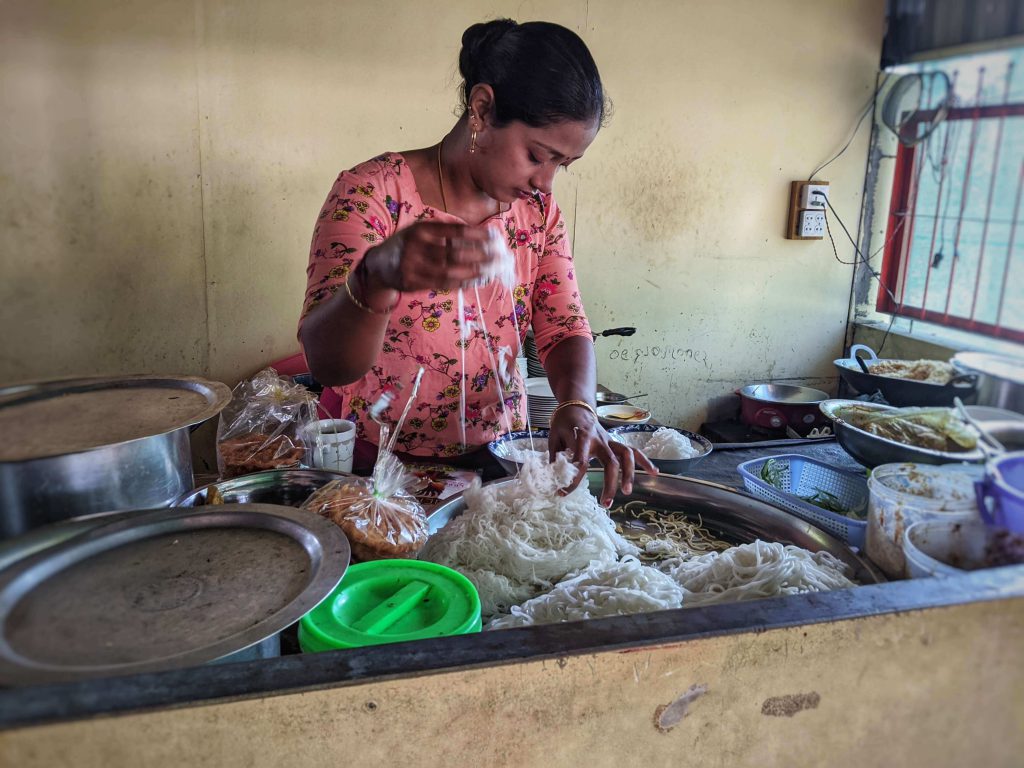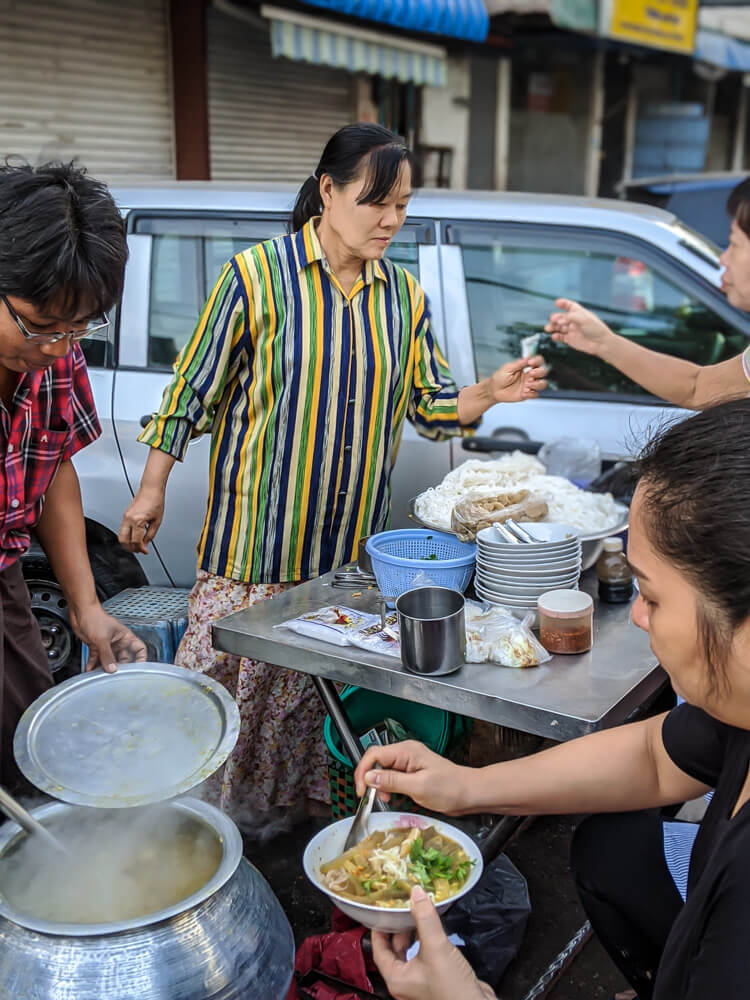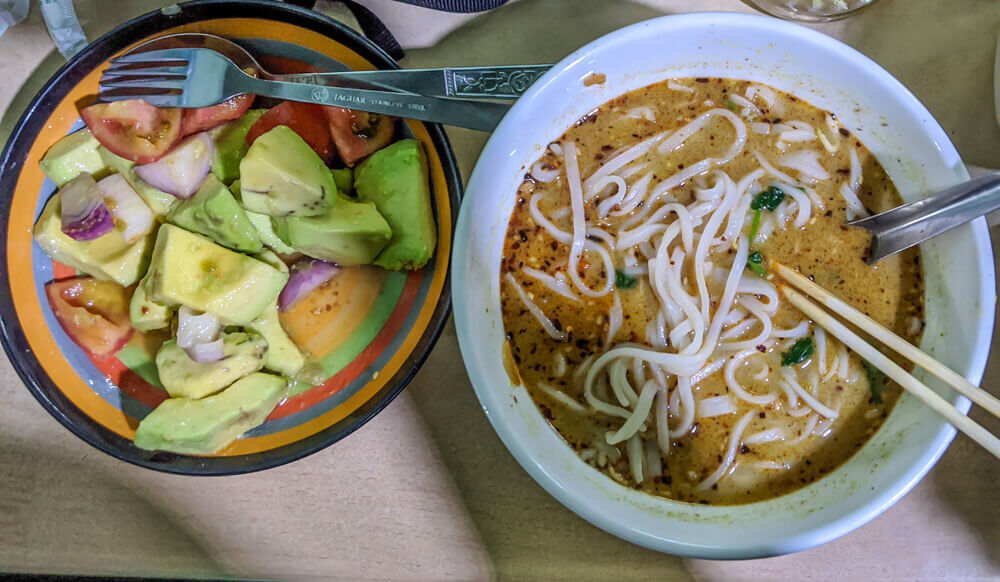 Shan-Style Noodles and other Shan Traditional Food

— The Best of Any Myanmar Food Menu
Shan food belongs to the Shan state of Burma. I found it fresher, juicier, and more sour than every other food of Myanmar I had. (I have written about the Shan food in the detailed Inle lake guide, too.)
A proper Shan meal looks like this – think an assortment of at least a few vegetarian and fish preparations along with rice, noodles, tea leaves salad, avocado salad, fried tofu, peanuts, chili oil, et cetera. (The cover image of this article is a typical Shan meal.)
If you do not want the assortment, then you can just dig into the simple Shan noodles that come both in soup and dry forms.
Dry Shan noodles are round noodles fried and garnished with a tomato sauce, fried garlic. They are accompanied by pickled vegetables and chilly garlic oil. The noodles are almost bland unless you mix some of the chilly and twirl them in tomato sauce. I found the Shan noodle meal very comforting.
The noodle soup comes in many vegetarian and non-vegetarian forms and makes for a wholesome meal (especially if it is raining).
I'm a fan.
Where to eat: Find the Sin Yaw restaurant and the Lin Htet Myanmar traditional food restaurant in Inle Lake. Try the traditional Shan meal at Sin Yaw. Get the Myanmar meal and Shan noodles with avocado salad at the Link Htet place. Thank me later.
Most likely, you won't be disappointed by the Shan noodles preparations irrespective of where you eat them for every small restaurant and hawkers center seem to make them well. We had Shan noodles at a popular Shan noodle hawker in Mandalay's Chinatown, and those were the best noodles I have ever had. The market near the U Bein bridge in Mandalay is also a great place to eat Shan noodle soup.
Fun Fact: You can buy raw Shan noodles in the San Bogyoke market in Yangon. Follow a Burmese food recipe blog and have fun. Good luck.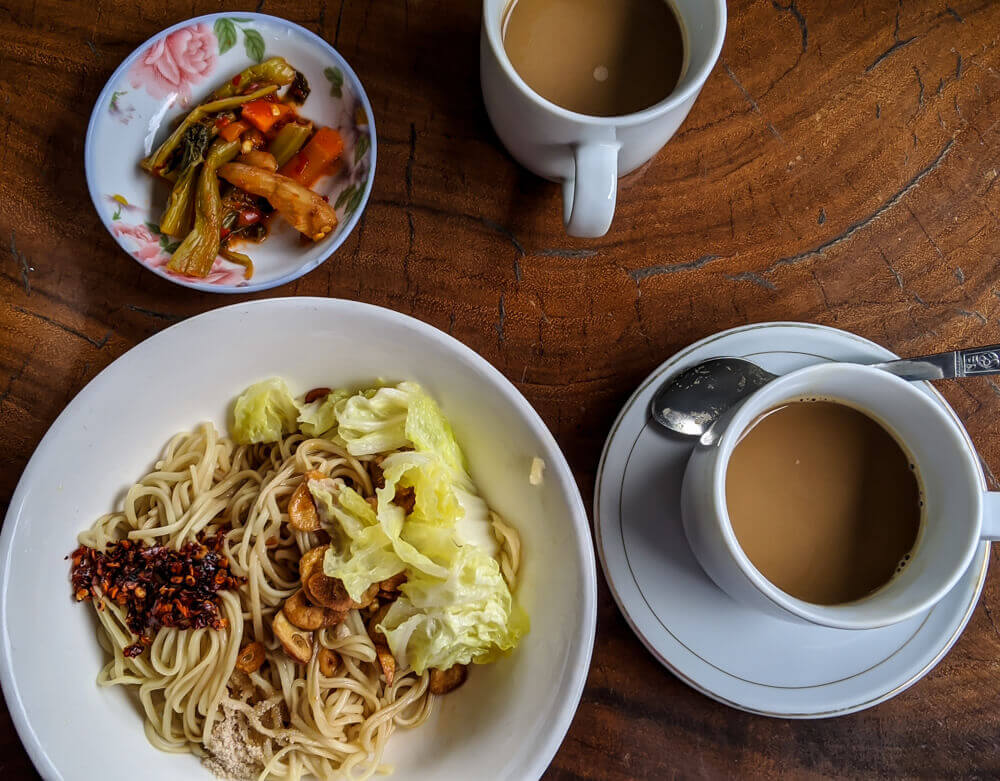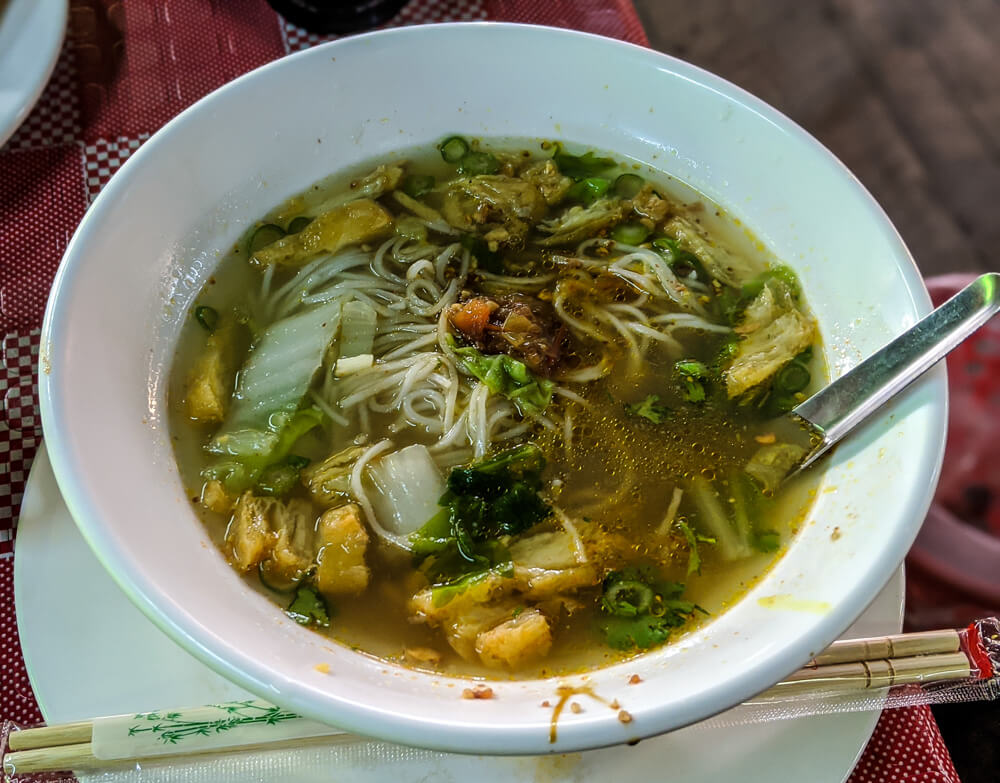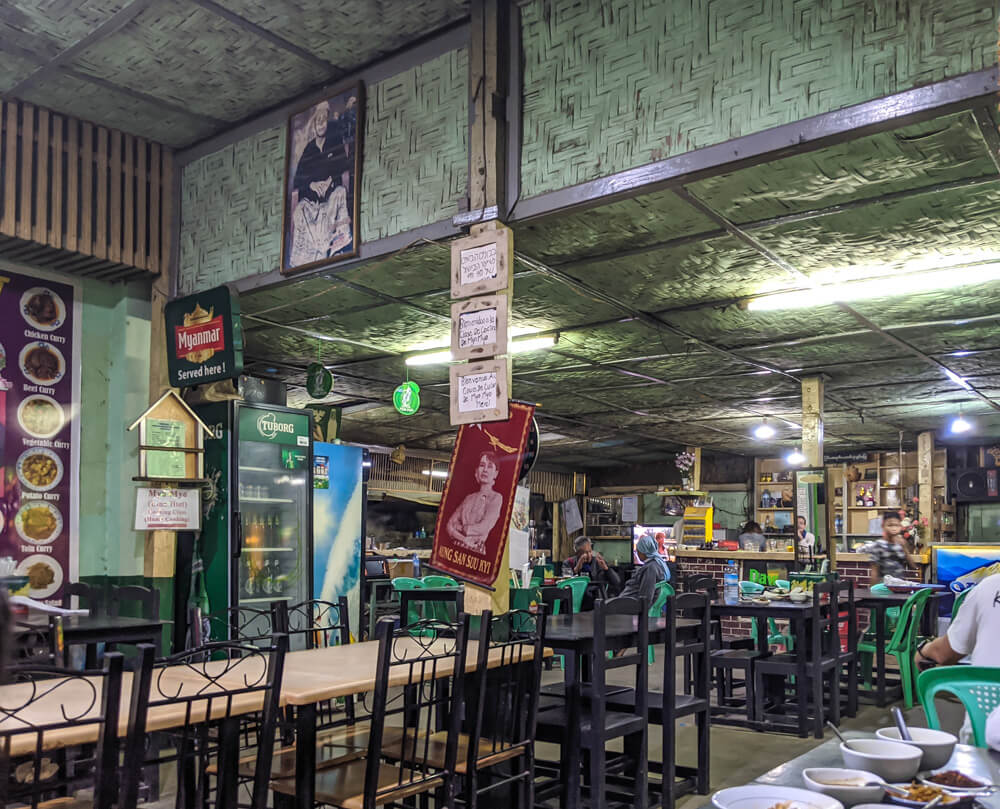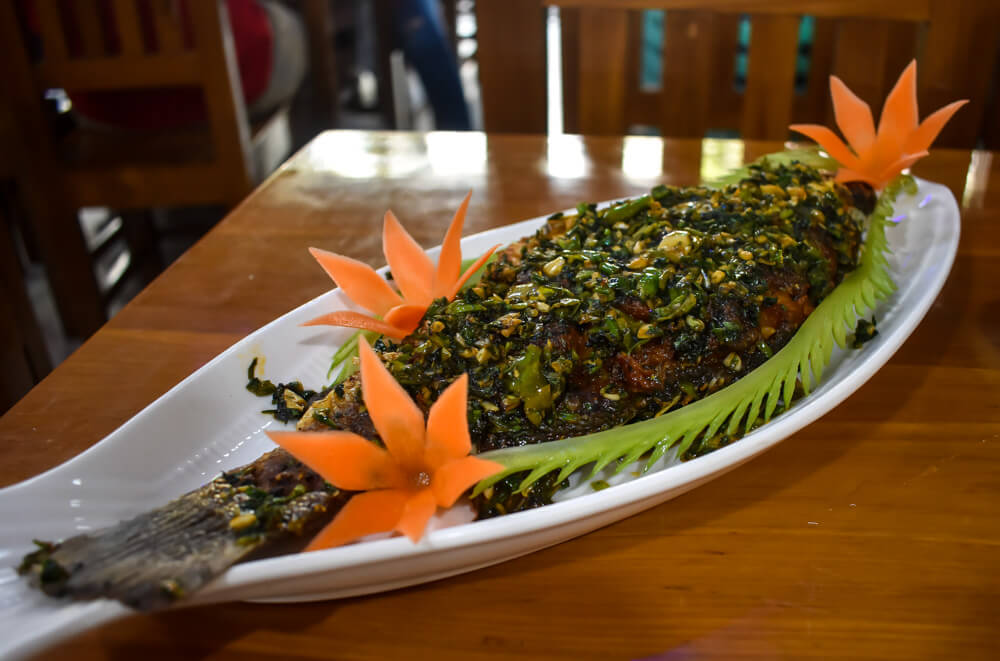 Some general Fish preparations to watch out for.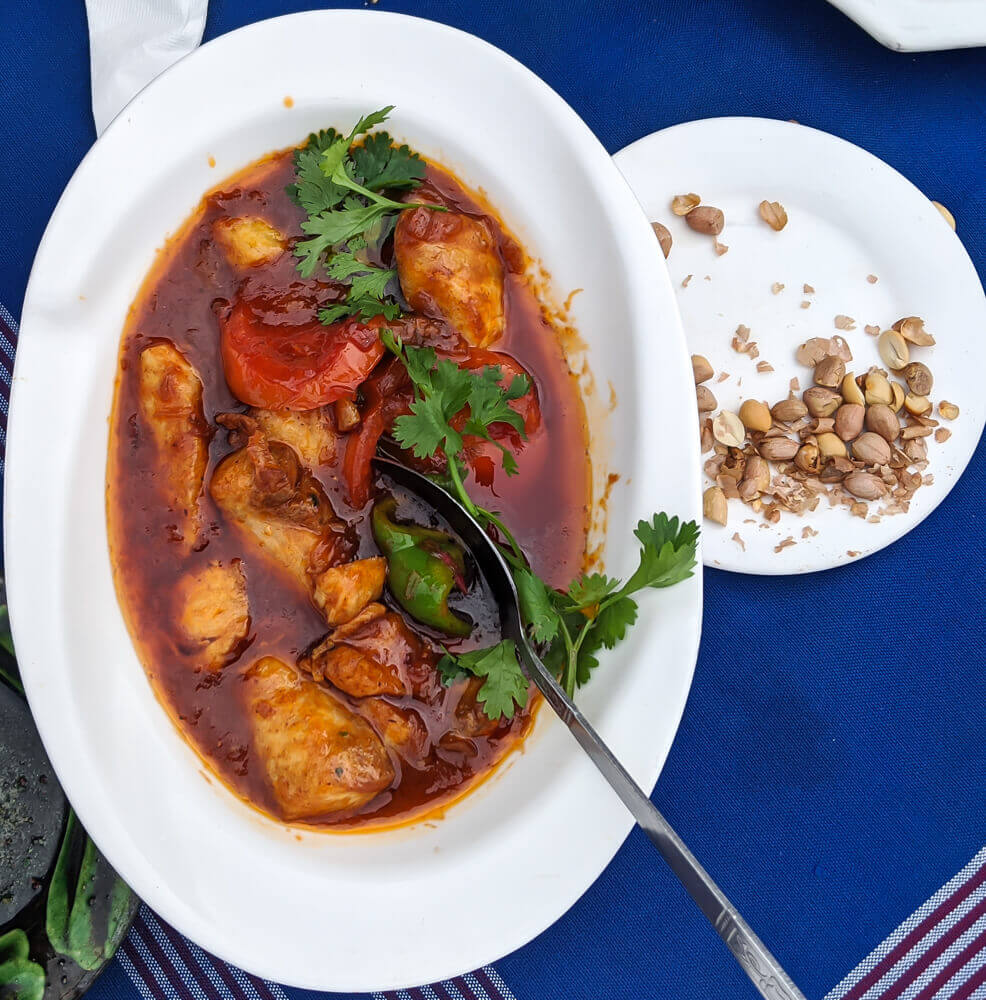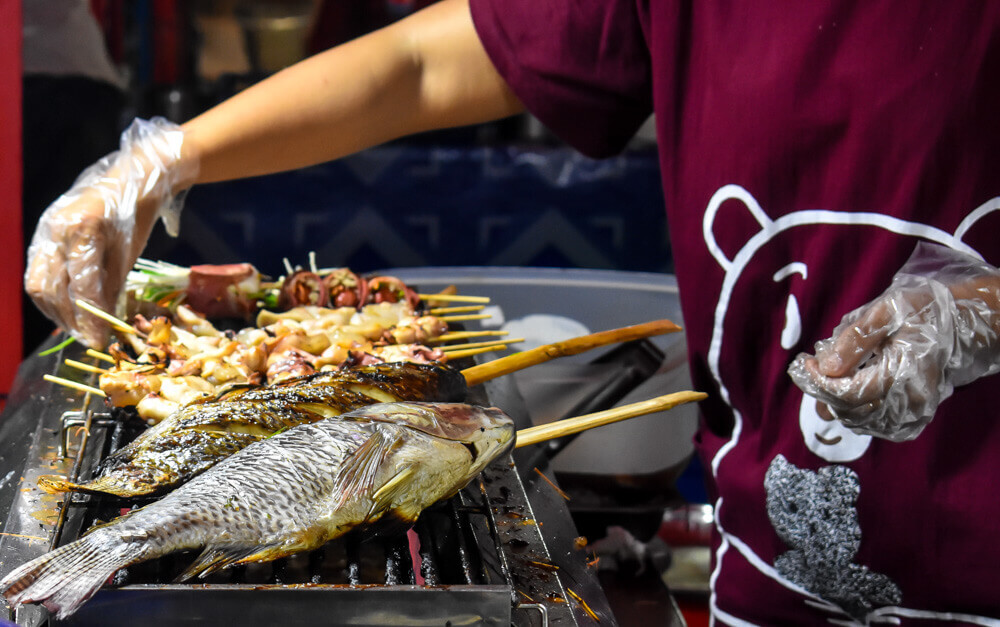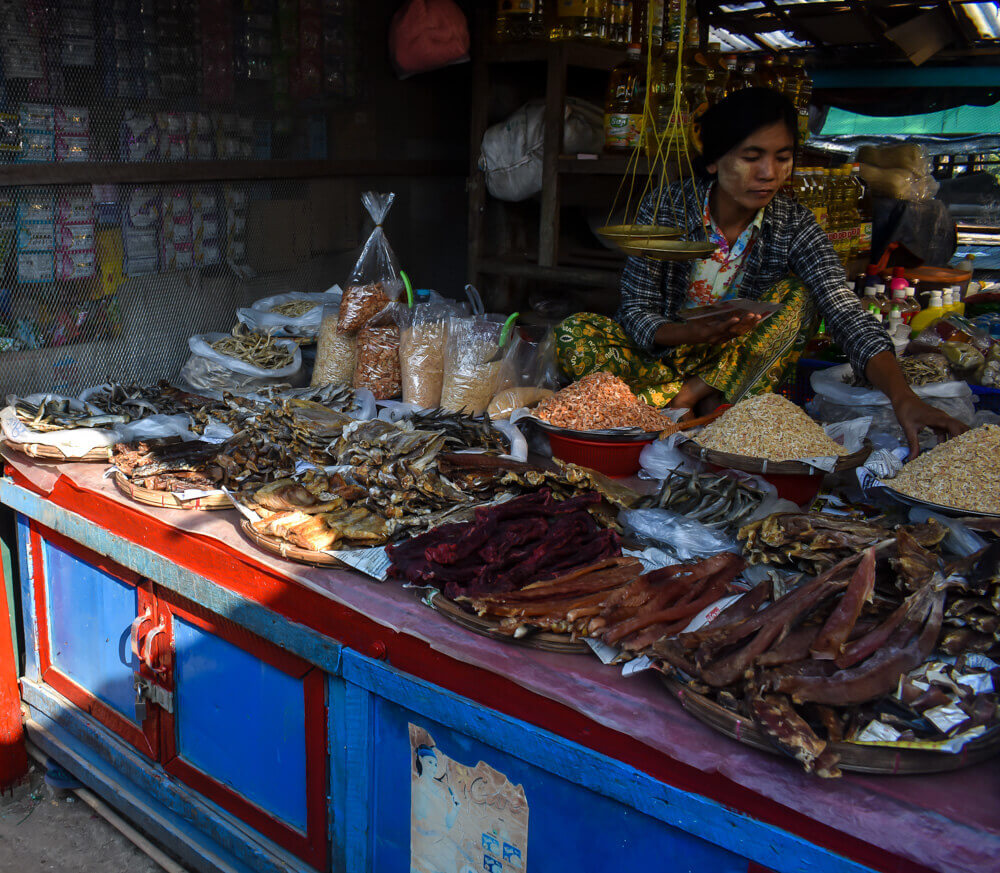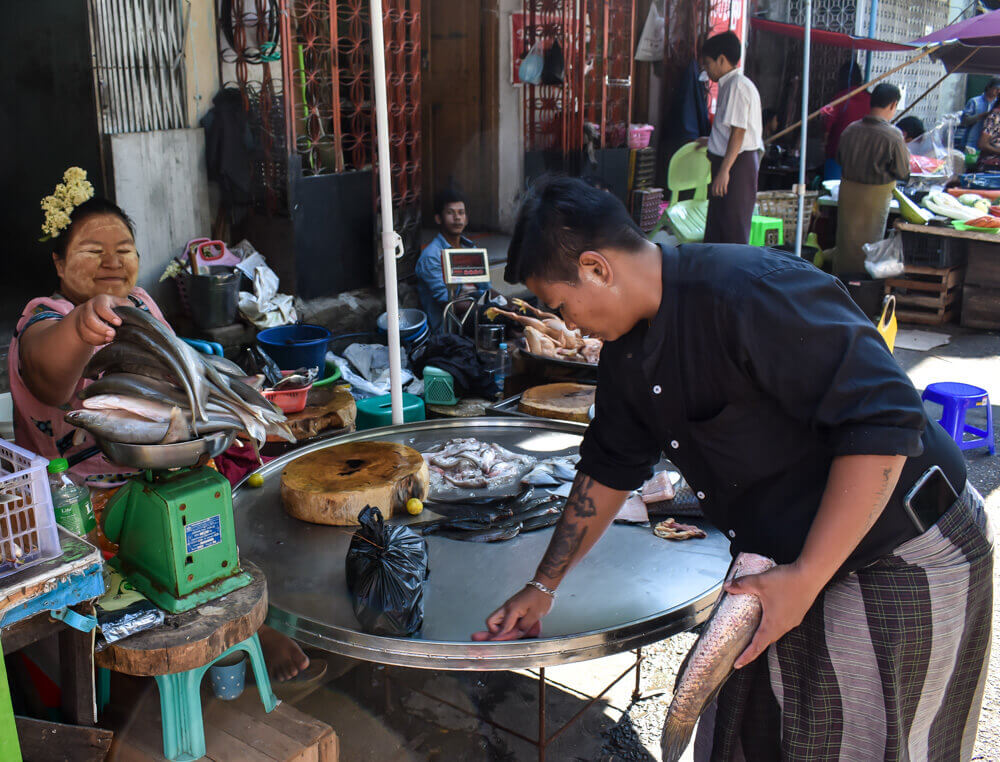 Fruits Of Burma
Burmese eat a lot of fruits and vegetables, and you will agree with me on this when you see Myanmar roads fringed on both sides by fruit vendors selling kiwi, mandarins, grapes, oranges, grapefruits, strawberries, dragon fruits, and other fruits. Sometimes the vendors were stationed right in the middle of the street. Take me back to Myanmar, please.
As fruits are sold in whole and pieces, you have no option but to buy them. But don't be like me and try to finish an entire grapefruit in one sitting just because the fruit was already peeled and easy to eat. And if you overeat fruits, you are the only one responsible for the innumerous runs to the toilets.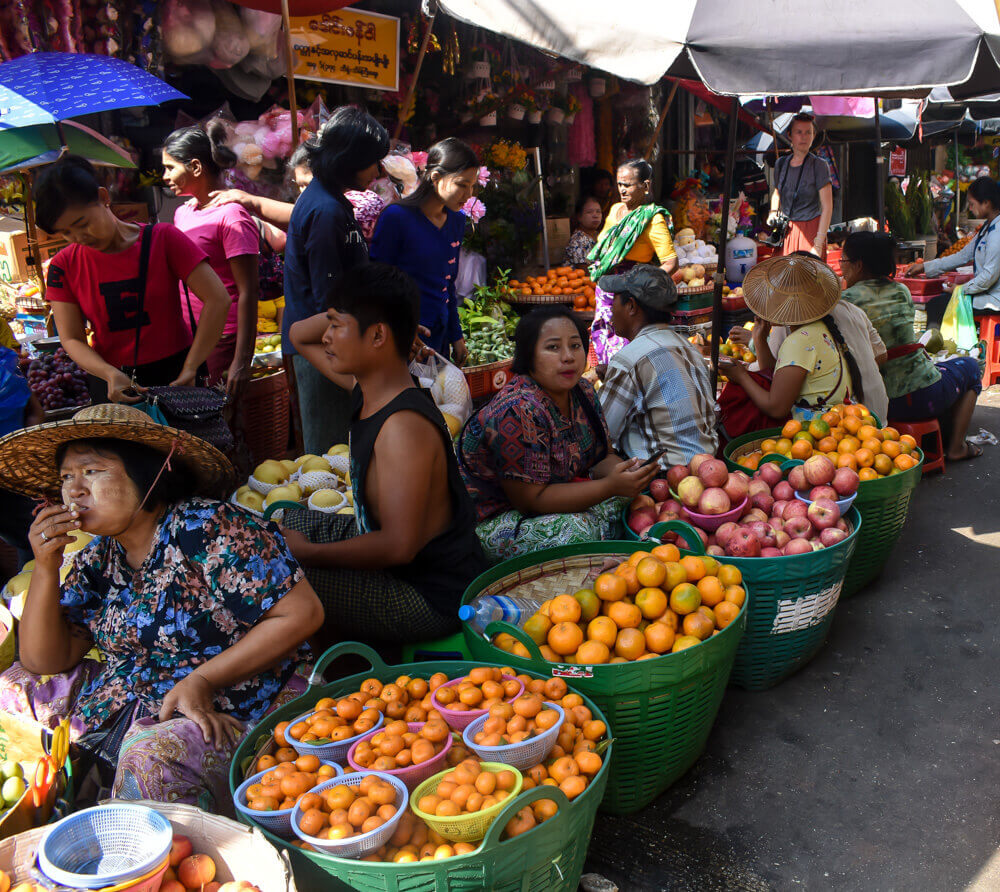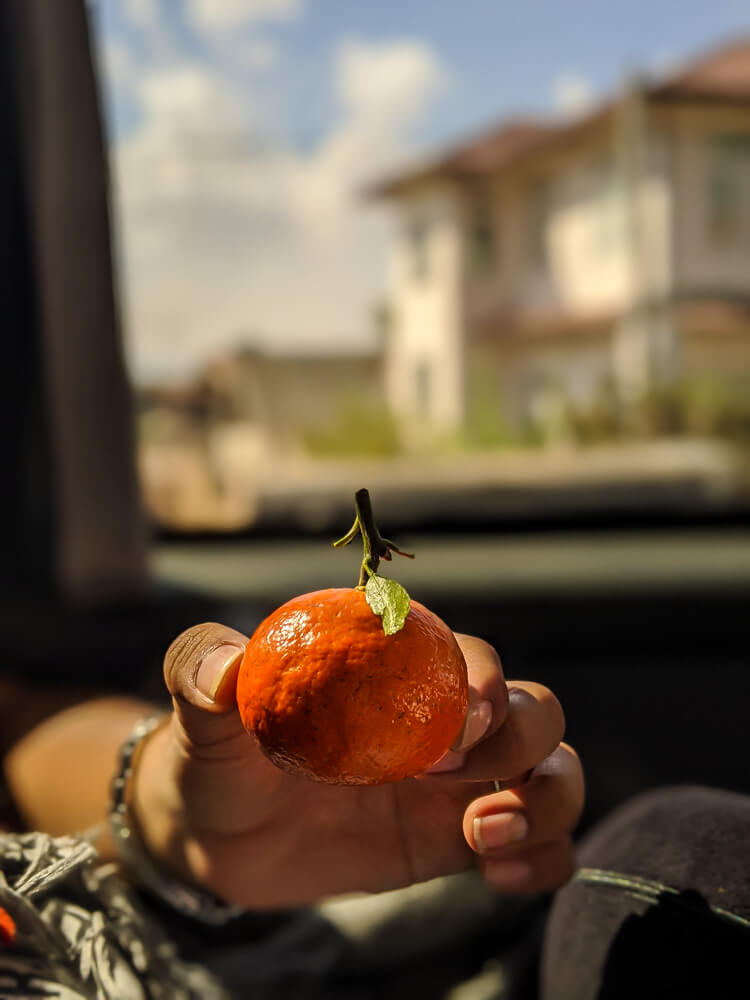 Now some of my best food experiences in Myanmar.
Barbecue Street in Yangon — For the Best Grilled Fish in Yangon
I ate two of my most memorable dinners here in the barbeque street of Yangon's Chinatown. My first time, I devoured a lot of grilled vegetables and seafood along with a big fish ball soup. And on my second dinner with a friend, we ordered more grilled seafood and mushroom delicacies along with a fried seagrass and kale salad and a bottle of beer and later on packed all the food with a kulfi. 
Go here early as this street gets pretty busy after 7:30 pm. Choose what you want to eat, order a salad, grab a beer, pull a chair, and share stories. 
Fun Fact: If you go to the Barbecue street in the Chinatown of Yangon, you should have some grilled fish for it looked amazing. We didn't order fish for we didn't want to have a huge fish that day and were happy with a mix up of vegetables and prawns, et cetera.  
Location: 19th Street in Rangoon's Chinatown between Mahabandoola and Anawrahta Streets.
999 Shan Noodle Shop — A Good Restaurant in Yangon
One of your best bets for a nice and affordable noodle meal in Downtown Yangon is the 999 Shan noodle shop. Check for opening times and other information here.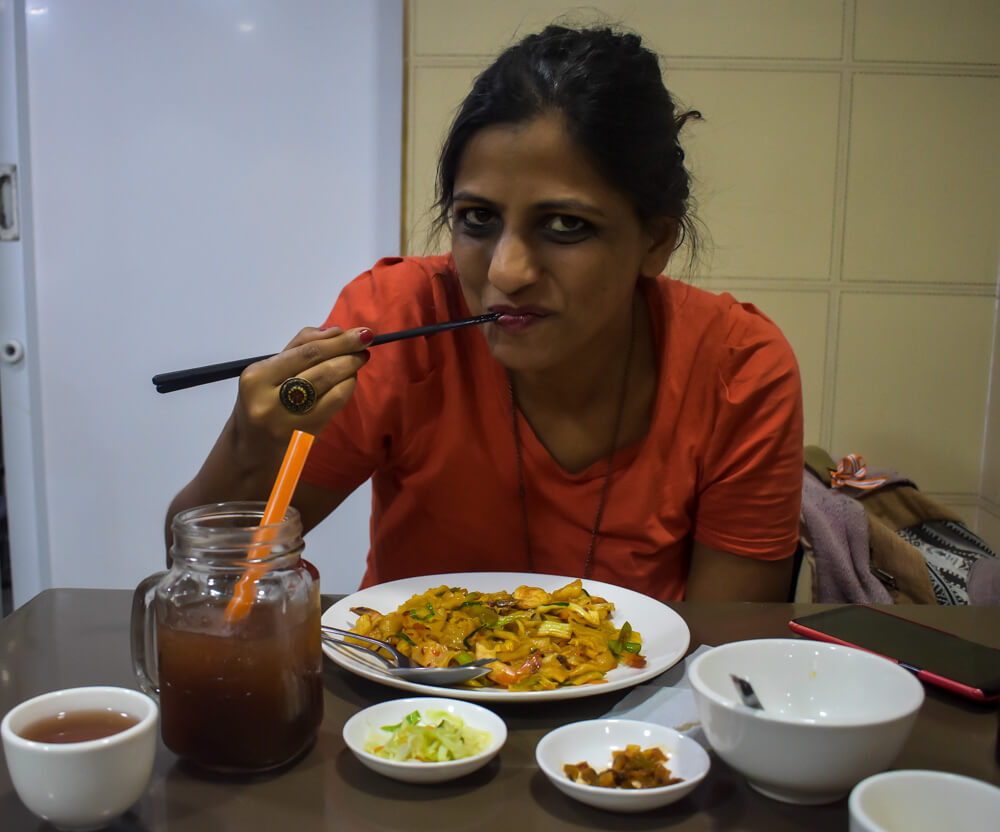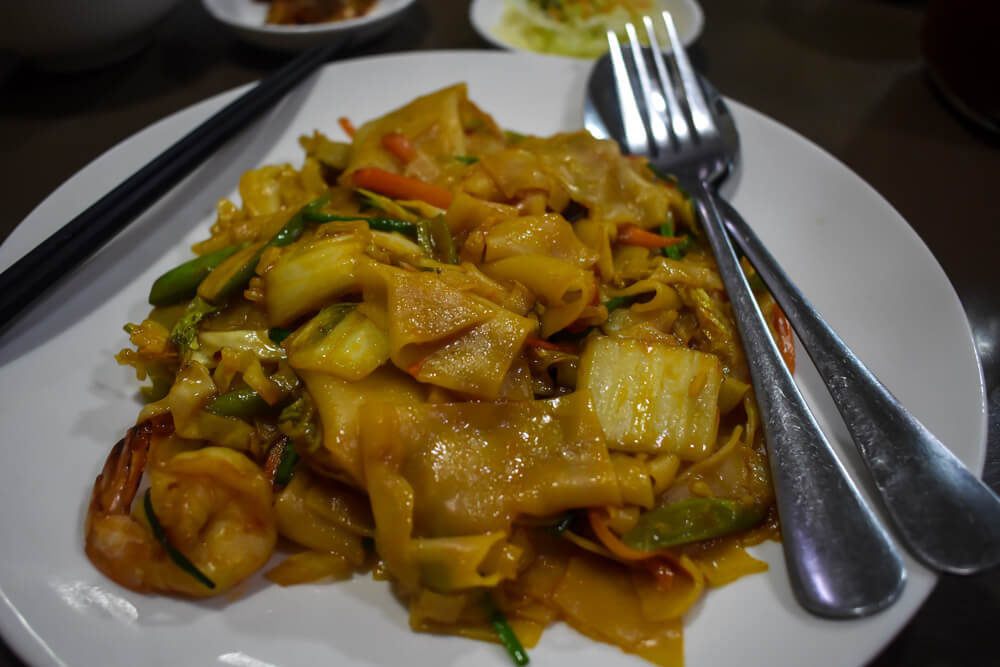 Chinatown in Mandalay — Don't Miss It
We chose a fancy stall, ordered a grand fish, some Shan noodles, and voila. The evening was set.
Expect the prices to be a bit higher than usual.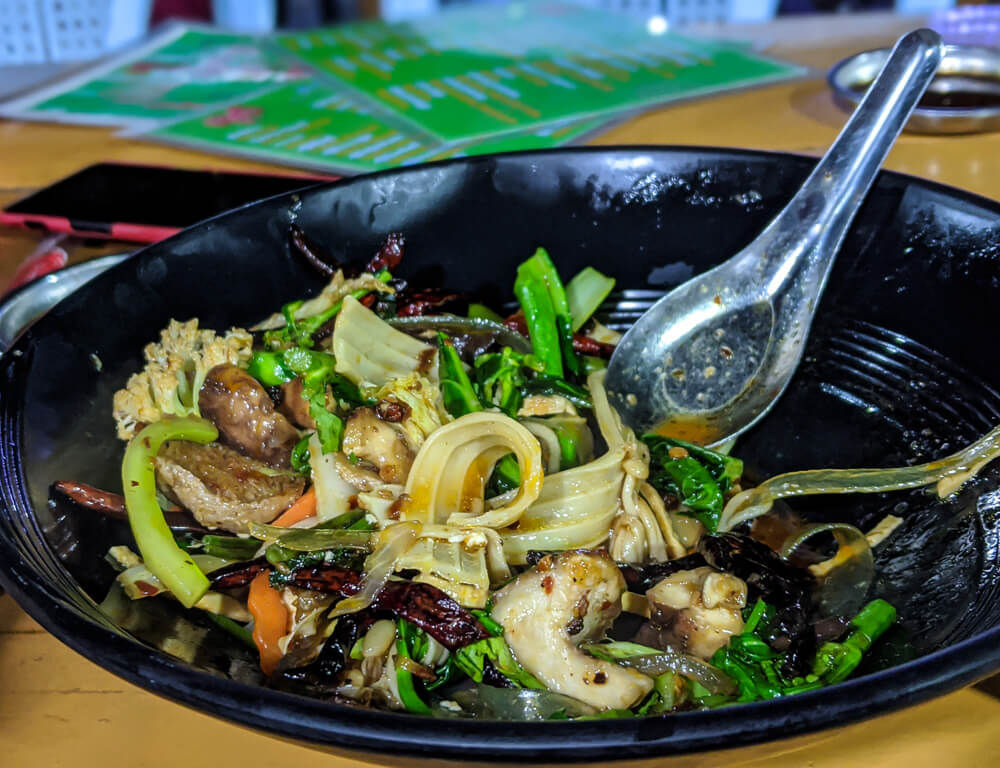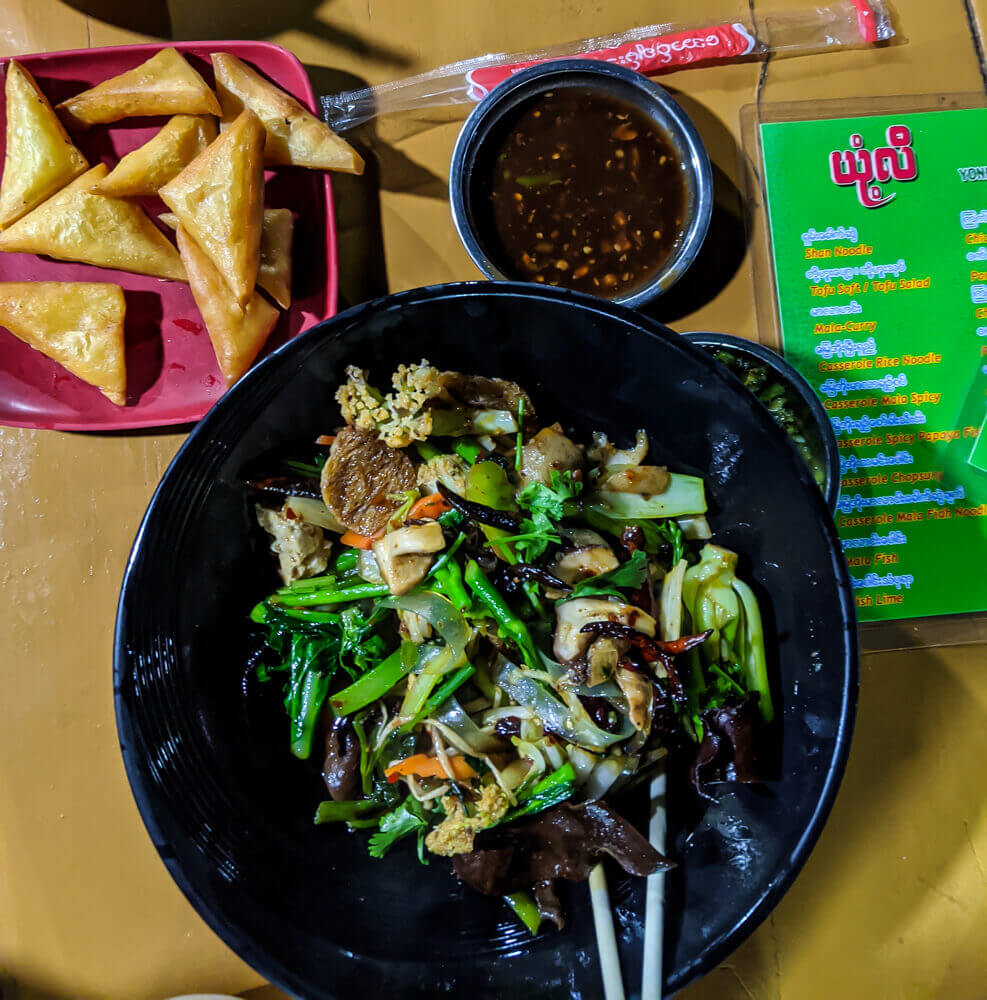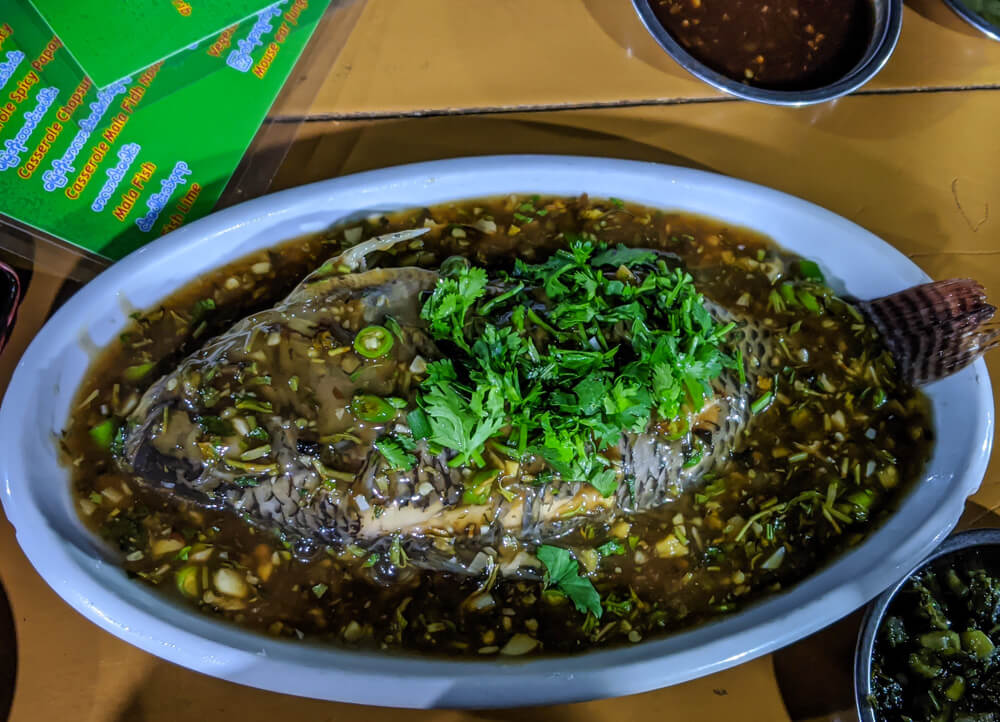 Food Safety in Myanmar
I followed a general rule: Food should look fresh and should be covered. I only went to stalls on neat streets.
Myanmar has a lot of lakes and rivers so they've plenty of places to catch fresh fish. I ate fish and other seafood throughout Myanmar and didn't get a bad stomach even once. But if you still doubt the quality, avoid eating at street stalls and opt for restaurants.
Freshly fried stuff was mostly okay.
Some more pictures of the delicious Burmese food.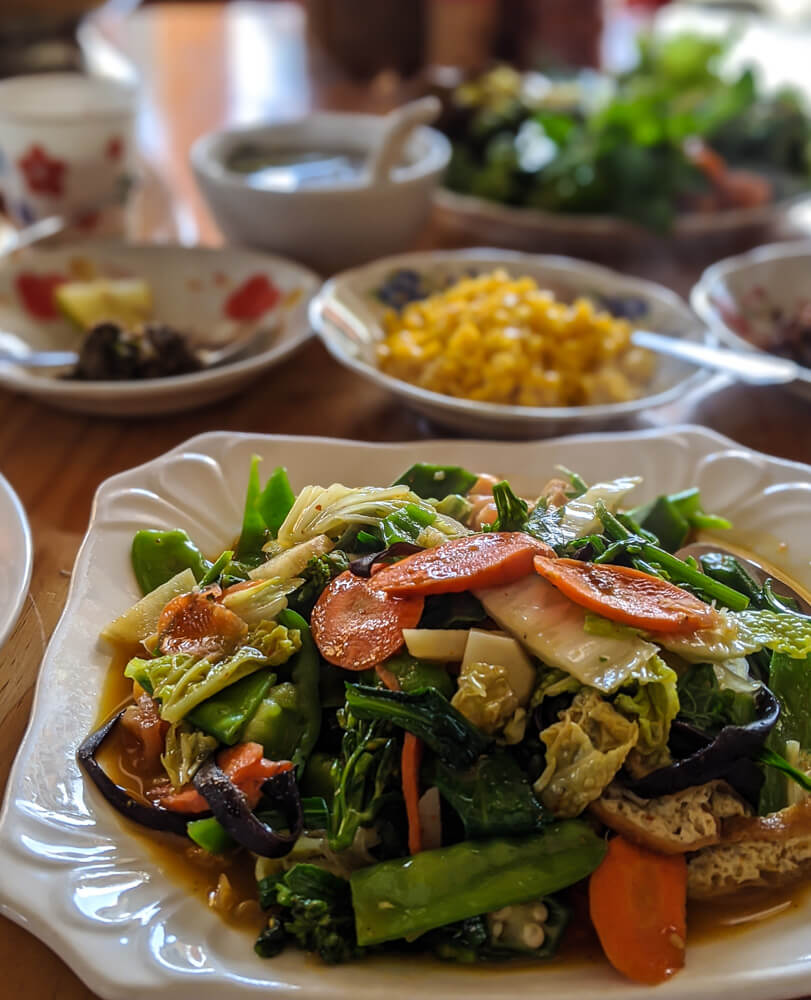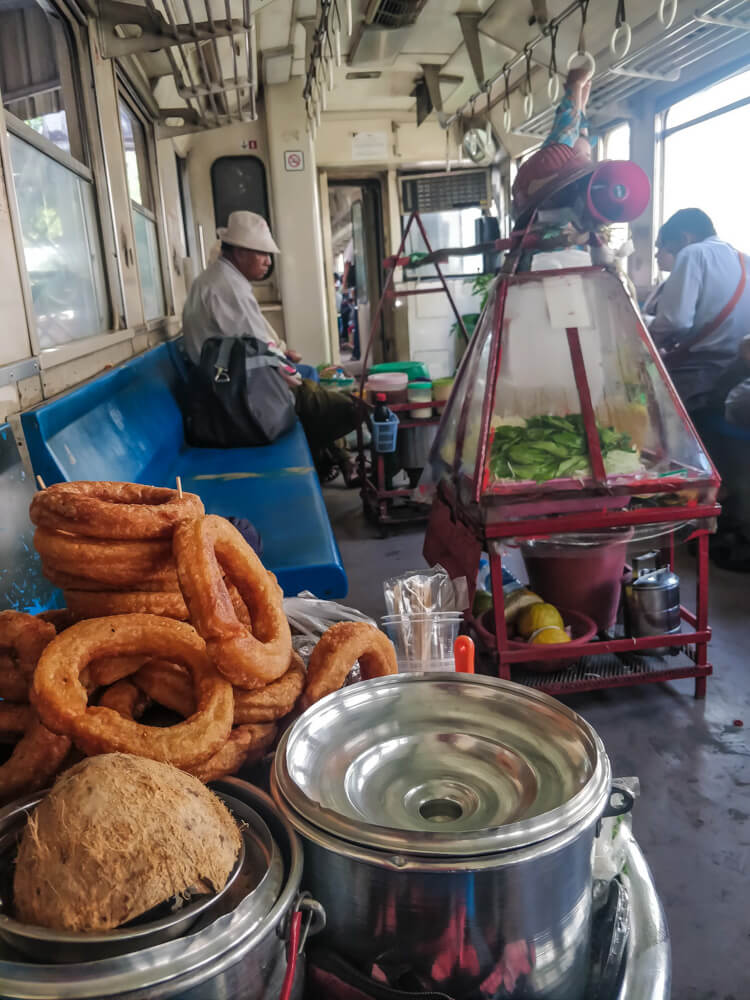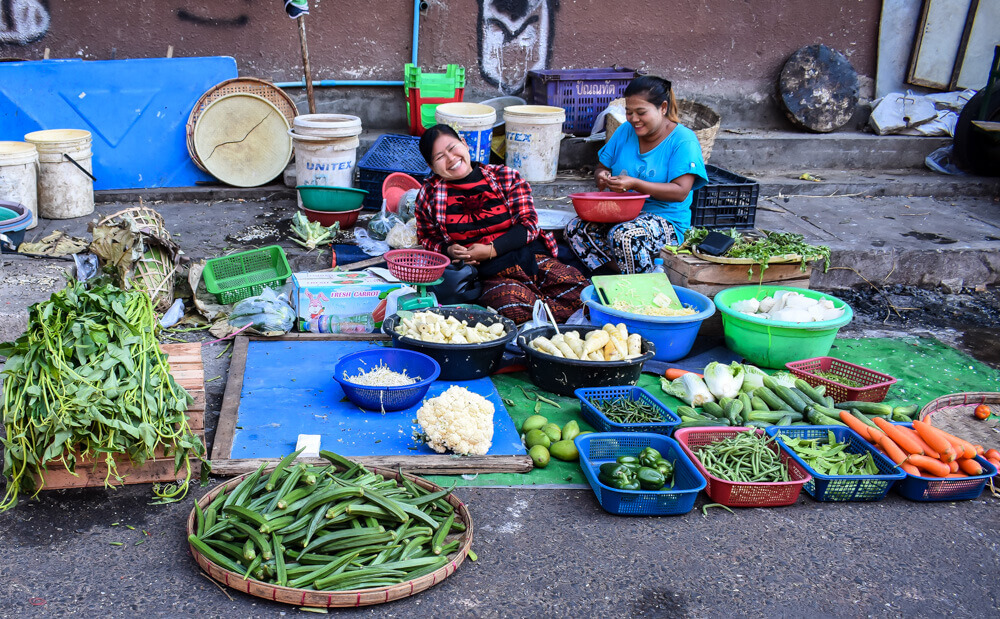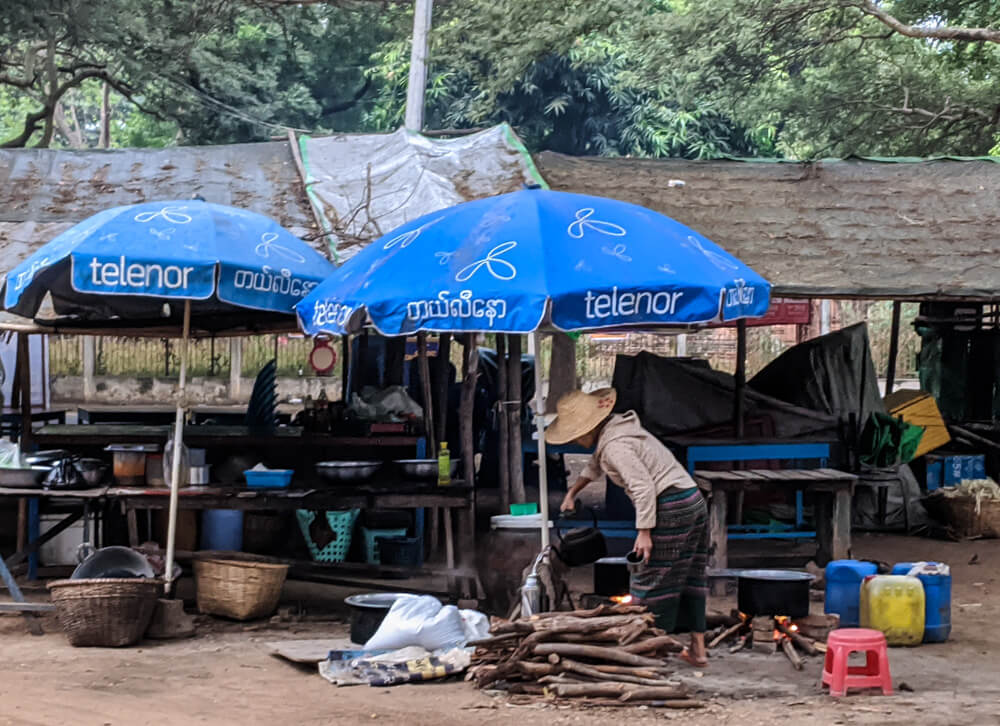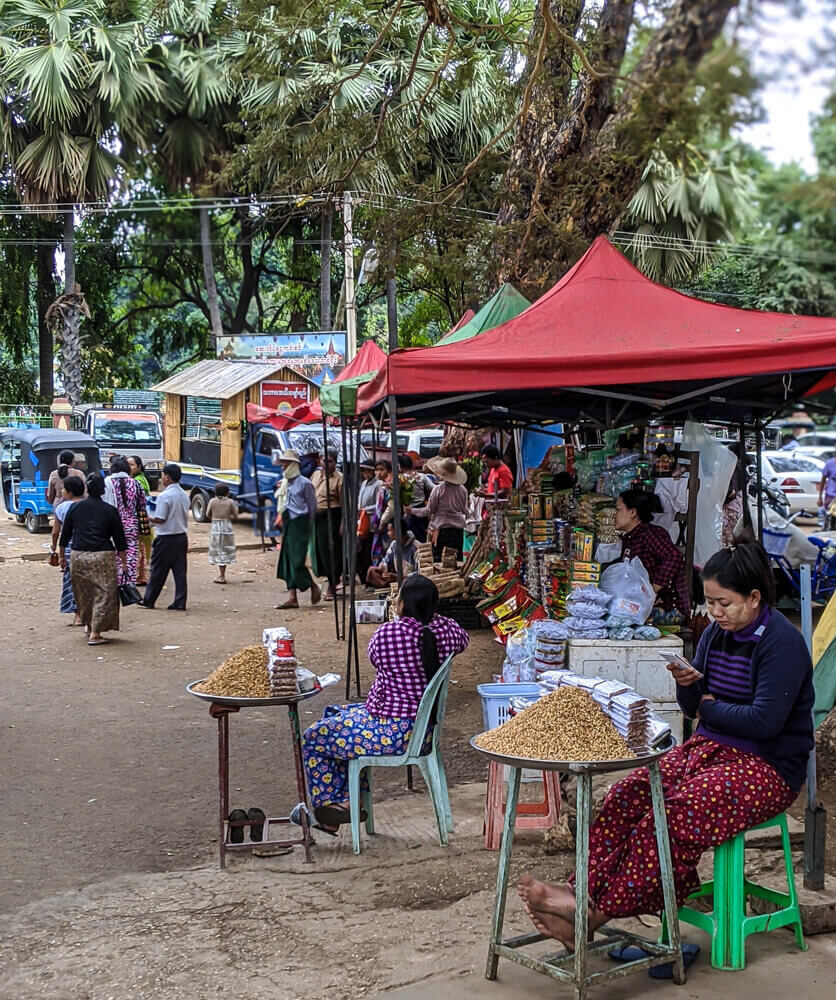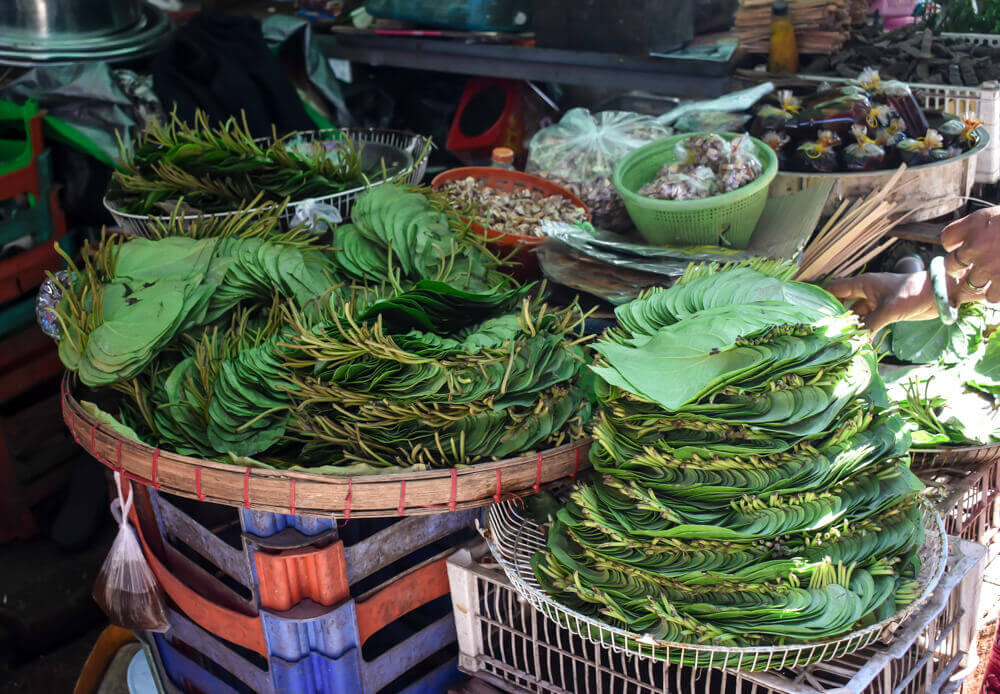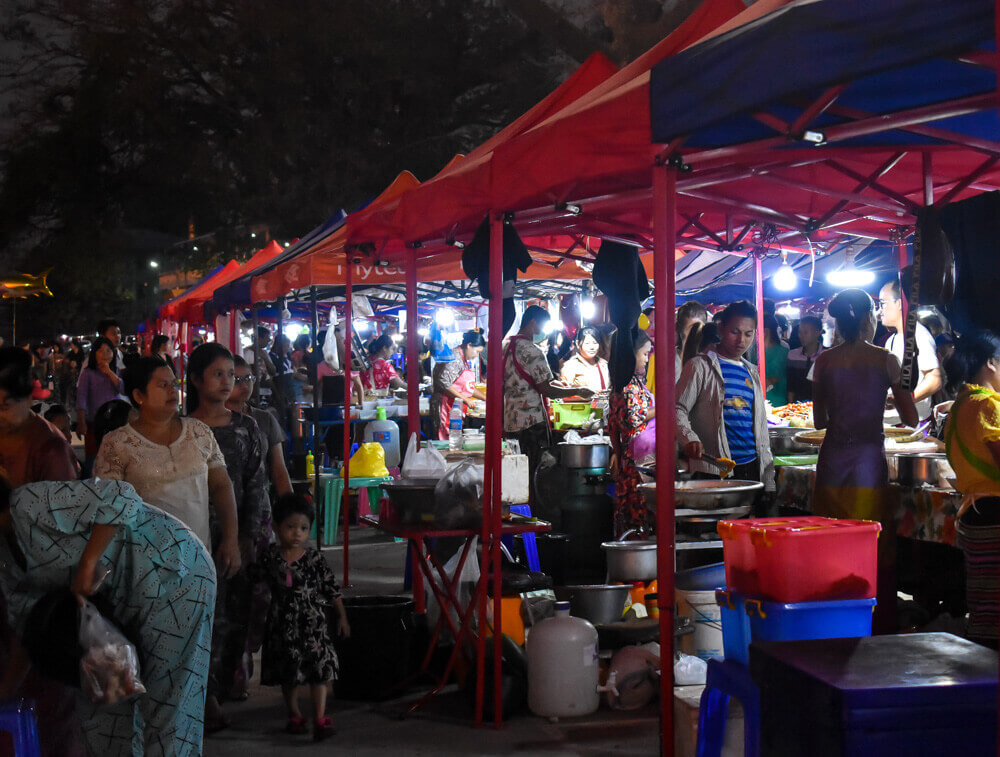 Myanmar has it all.
Some Myanmar Local Food Tours to consider:
From Yangon: Authentic Burmese Cooking Class with Lunch: This GetYourGuide tour entails picking up fresh ingredients from the local market, cooking Myanmar food, and enjoying the preparations in lunch in Dala township near Yangon.
Delicacies of Yangon Tour: As part of this tour, participants enjoy five different courses of Myanmar famous food at five authentic Burmese places with local guides and experts who talk about food, culture, and history.
4-Hours Yangon Food Tour: This is a walking tour taking travelers through the Yangon streets while they taste the best Burmese food, Indian specialties in Burma, and Chinese delicacies. The nights end at the famous 19th street of Chinatown also known as barbecue street (the one I talked about above).
Now enjoy!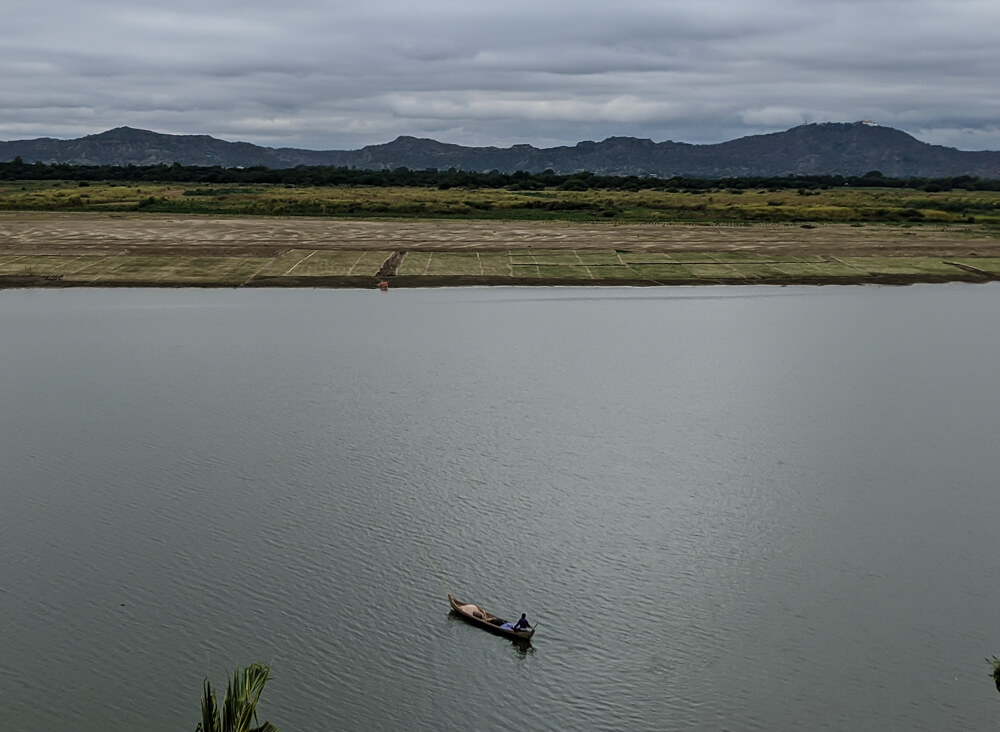 Which one of these Myanmar traditional foods do you want to try the most? I would love to hear from you.
*****
Donate to keep me going!
For five years, I've read and wrote day and night to keep On My Canvas - my sustenance and life's focal point - going. Everything here and my weekly newsletter "Looking Inwards" is free. No ads. No sponsorships. If you've had some good moments reading my posts or felt hopeful on a lonely day, please consider making a one-time or a consistent donation. I'll really appreciate it (You can cancel anytime).
*****
Want similar inspiration and ideas in your inbox? Subscribe to my free weekly newsletter "Looking Inwards"!