Riding the Yangon Circular train – One of my best day trips from Yangon, Myanmar
When you search for things to do in Yangon, riding the Yangon circular train comes as one of the top activities. Pictures of travelers surrounded by sleepy Burmese people carrying overloaded bamboo baskets in the Yangon train would fill the internet feed. 
Those Yangon train pictures promised to offer an insider's look into the local life of the city. So after exploring Yangon for a day, I decided to get my piece of the train.
The little girl inside me who grew up in India riding trains suddenly sprang to life. Before heading out of my hotel, I packed a small bag with my wallet, camera, water bottle, and strode towards the Yangon Central Railway station. 
Finding the train station wasn't the easiest task. When I arrived at the Google map location for Yangon Central station, I couldn't find the place. 
A few locals gestured me to climb the bridge at the location. When I did, I could only see the railway tracks from up the bridge, but I couldn't locate any ticket booth or platform.
After a few backs and forth and re-routing by the locals, another lost French travel girl and I climbed the bridge again, walked straight, and then took the stairs down to arrive on the other side of the Yangon Central. 
Yangon central station is close to Sule pagoda, so if you are staying around Sule, the whole train trip is quite easy once you find the station. But when I went for my second ride on the circular train in Yangon (yes I took the train twice), I boarded it from a random train station where we couldn't even figure out if we were on the right platform.
A Burmese lady, who could speak Hindi for she had been cooking in an Indian home, helped me find the right train. In a short time-filler conversation, she also informed me that most of the Indians had left as Aung San Suu Kyi had asked them to. Locals needed jobs.
"Earlier I had a lot of cooking work at Indian homes. Now nothing." She said.
I would suggest you board the train from the Yangon central station for an easy boarding experience.
The guard at the entrance of the central railway station told us that we would get the ticket at the platform itself. 
Which platform? I asked. 
Number 7.
On platform 7, a tiny ticket counter was open with only one or two Burmese buying the ticket. 
One circular, please.
No circular. 
No circular?
No. One way. 
Ok. One ticket, please. 
200 kyats.
We took our tickets in confusion. A few other Western travelers with tickets told us that due to some renovation on the train tracks the circular train wasn't functional. 
We would have to go in one direction, buy another ticket from there, and return. 
It seemed simple enough. 
Then a few Myanmar people gestured us that the train we had to board will not come on the number 7 platform.
Where then?
I enquired.
A young boy pointed his finger at another platform that was about two tracks away. 
With my face taut with confusion, I stared in the direction he had pointed out.
We were the stupid foreigners who couldn't even figure out the way to a platform. To cut the awkwardness, the boy started walking and gestured us to follow him.
As long as I get to ride the train, all is well. I told myself.
We were almost at noon. The platform was almost empty. Only a few locals waited for the train alongside us.
The circle train connects the Yangon metropolitan area with the suburbs and costs 200 kyats only. Taking the Yangon circular railway is the only affordable transportation in Yangon for most of the Yangonites who live in the suburbs and need to commute within the city. 
Also, the train provides ample space to carry anything one might like. 
On the Yangon circle rail, I saw Burmese carrying live chickens, baskets of fruits, fried snacks, carrying pole from whose ends hung different foods to be sold in the market, cute children, groceries, clothes, and you can let your imagination run wild. 

About 100,000 to 150,000 passengers travel daily on the Yangon train that was built by the British (no surprises) in 1954 when they made Rangoon city (now Yangon) their capital and laid down the infrastructure of the Myanmar railway.
Over the years, this circular train has evolved as a daily commute for the people of Yangon to travel around the city for business and family. Running over a total of 45.9 km (28.5 miles) track while stopping at thirty-nine (39) stations, the train seems to cover entire Yangon.
The train rumbled on the tracks in about 15 minutes. And a mela of longyi-clas Myanmar people and a few travelers hopped onto the train. 
Yangon life from all age groups surrounded us now.
On that circular train in Yangon, you can easily grasp the rhythm of the city. 
While we travelers were there for merrymaking, the locals had tasks to do. Groceries to buy and sell. Food to prepare. Children to take to the doctor. Snacks to carry to the street markets in Yangon. Betel nut pasted with lime soda to be sold to the pan eaters. Offices to attend. Families to meet. Sleep to catch up on.
While the Burmese spread over the benches with their baskets on the floor, we travelers sat on the benches in our most polite manners, at least initially.
Middle-aged women to teenage boys darted in and out of the coaches selling mandarins, grapes, and watermelon from baskets that they carried on their heads. Each kilo sold meant more money and less weight to bear. 
Men and women selling boiled eggs, fried snacks, tea leaves salads, etc frequently rounded the train. 
When the fruit sellers sold all their fruits, they would get down at any random station. But don't be surprised if you see them on your return journey as well.
The long ride and the colorful food might tempt you into buying something so carry change. Carry your water though remember that the train doesn't have a toilet.
After avoiding the temptation to buy mandarins for a while, I eventually bought a few for 500 kyats to eat on the train. Mandarins and trains go along well anyways.
Every train stop meant new passengers hopping on while the old ones disembarked. New passengers meant new faces, new fruits to be sold, and a new exchange of glances followed by wide smiles.
The train carried as many dozers as hustlers.
Beautiful Burmese women with their faces painted with thanaka sat around us. Some of them stared at us for a minute, only to smile as soon as we did. They lied down on the benches if they were empty. Or they laid against the face-to-face long narrow bench and dozed off in no time. 
Children ran around to kill time in a well-known journey that they must have done an infinite number of times, or so it must have felt.
Men also slept, and some even snored. Others talked on the phone. Some just stared into nothingness as if contemplating their life journey.
I wondered if all the twenty to twenty-one (20-21) vehicles of Yangon's circular train system would be bustling like ours.
Most of these coaches were imported from Hungary in the 1960s. But some used trains were donated by Japan in 2007. (If you are from Japan, you can ride the train for free.)
The life on the train kept me so enchanted that I forgot to look outside for the first half an hour of the ride. But when I turned my eyes to the lush countryside that flew by me, I was soon drawn into the village life thriving by the railway tracks. 
I kneeled on the bench to get a clear view from the top of the dirty windows blocking my vista. As a cool breeze caressed my face, I folded my arms on the window and found myself getting into the rhythm of Rangoon. 
The outside scene wasn't any less active. Tiny shops sold everyday stuff. Bamboo shops bustled with men queueing up to buy fresh betel leaves stuffed with tobacco and lime soda. Children played around. Women hung clothes on makeshift wires under the dry summer heat. People chatted in groups. 
Everything seemed to peek at us from the green foliage that enveloped the country life. 
Every few minutes I would see one or two women carrying an umbrella to shade themselves from the sun. Anyone can tell that skincare is not a joke in Myanmar. Thanaka and umbrella go hand in hand. But I saw only women and children applying thanaka, and mostly they were also the umbrellas bearers.
As soon as the children and adults near the tracks noticed us peeping out of the train windows into their lives, they waved and shouted mingalaba. 
We were welcome.
We had enough time to return their greetings as the train runs at a maximum speed of 13kph/9.5mph on these rusted circular train tracks.
After about an hour and a half of the train journey, we arrived at the Mingaladon station, which was the last station. 
As I got down from the train, I could feel that I was in an unexplored part of Burma. But instead of taking a return train immediately, my friend and I decided to explore the Mingaladon suburb.
Walking on the tiny streets fringed by small bamboo and tin shops and cottages on either side, we soon arrived at the end of the suburb. A group of little girls playing outside in the sun stopped their games and looked at us as they saw us walking towards them. Then they looked around as if they were reading each other's minds on the right strategy to deal with the newcomers. 
The younger girls hid behind the older ones. And the elder ones smiled and looked away while trying to appear busy with their trishaw and cycle.
Elders stared at us suspiciously. Some dispersed while one or two ladies came closer. 
The suspicion soon turned into smiles and then laughter.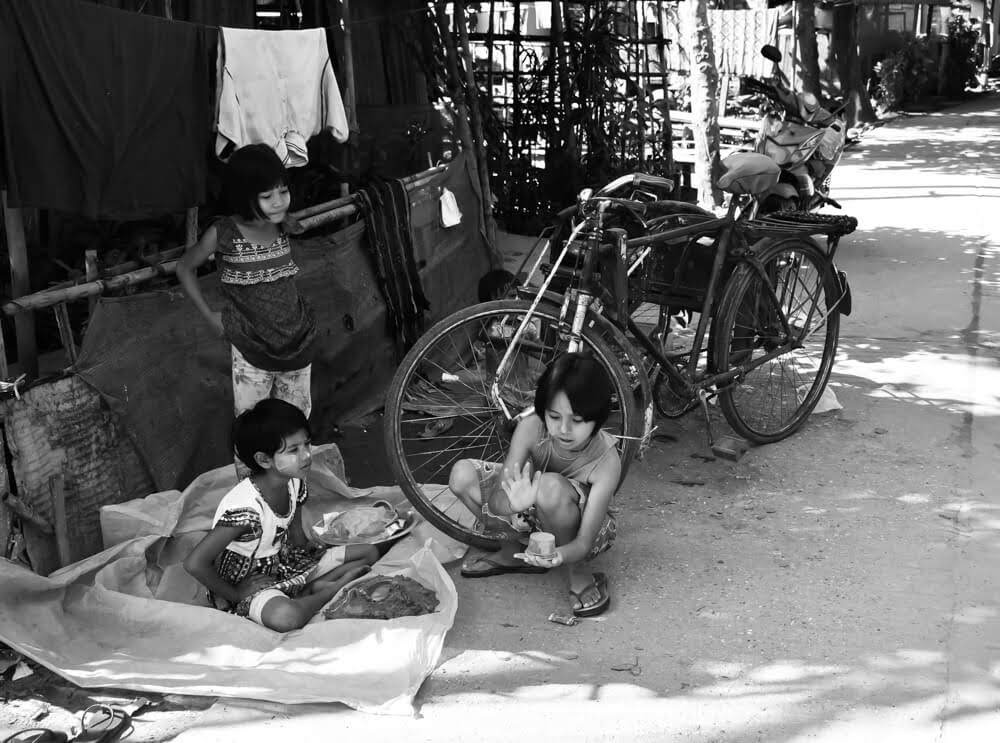 I clicked selfies with a cheerful woman who was the only one to approach us with pure curiosity and excitement. As soon as she saw her face on the camera screen, she chirped like a little girl. As she smiled wide, the dry thanaka stretched on her cheeks. Then she touched my friend's arm to see if her white color was real.
I couldn't get enough of her confident nonchalance and clicked her photographs with her house. 
Maybe we were the first foreigners that those children and the woman had come in close contact with as those suburbs never receive foreigners.
All the other travelers who rode the train with us had taken the immediate train back to Yangon. Who talks about going to Mingaladon after all?
But the simplicity in that tiny area lined with makeshift huts, where plants and trees shot out from every inch of ground, where people lived with their animals, where fun games filled the sunny afternoons of children, where women finished household work quickly to get together to talk, sent me back to the villages of India. 
 After spending some time in Mingaladon, we walked back to the station to get the return train to Yangon. While you are in Mingaladon, don't miss the airplanes taking off and landing in a distance as you are very near the Yangon international airport.
We bought another ticket and waited for the train that showed up in about half an hour. We were back at the Yangon Central train station in an hour and a half. 
I had loved the train journey, but in the end, I was hungry, thirsty, and desperate for the bathroom. 
While I was glad that my circular ride had completed, a group of locals waited for the next train to complete a fresh circle.
Not many locals leave Burma to live a better life somewhere else. I don't even know if the concept of a better life is even a thing for the Myanmar people. 
Locals seem happy and mindful in their present. They would smile at you before your smile has left your lips. And you would be left wondering if the long political and military history bothers them anymore. Are they looking for a better future?
I did see a lot of begging and poor or minimal living conditions in some places. But to contrast that, I also saw a lot of Burmese working hard to educate their children and change their conditions. They get up and make a living for the day and repeat.
Burma might be far from a wealthy status, but that doesn't seem to upset the people. 
As it was about five in the evening and already my dinner time, my travel partner for the day and I decided to eat together at 999 restaurant that is famous for their Shan noodles. I ordered a vegetarian shan noodle and finished my meal quickly.
Food is affordable but make sure to ask for a vegetarian soup that accompanies the noodles for the staff might otherwise serve you a chicken soup they give to everyone. 999 opens at 6 am and closes at 7.
I was so tired that I crashed as soon as I hit the bed. My dreams were filled with the smiling thanaka-pasted faces of the women I had met on the train and the laughter of the children.  
Yangon Circular Train Routes
The circular train begins and ends the circle at Yangon Central Railway station. The train runs in two directions: left and right. 
Either the train goes counter-clockwise which means it will go through the Pazunduang station and complete the circle to be back at Yangon central. The anti-clockwise direction is the eastbound train and is always referred to as the "R" direction.
The train would go clockwise via the Pyay road station to return to the Yangon railway station at the end. This is the "L" direction.
At the time I took the train ride, the circular train wasn't functional, and I took two one-way trains (both towards Mingaladon). So I didn't see the Pyay road station and the further ones (Insein being a major one) from up there. 
At which station should you board Yangon Circular Railway?
As I said in the article, boarding the train at the Yangon central station was a better experience than getting onto the train at any other smaller station.
Timings of the Circular Train Yangon, Burma: Yangon circular train timetable is not something you would want to trust. 
When I was in Yangon, the circular train wasn't functional. The other one-way trains that I took both times didn't seem to have a fixed schedule. Even if they did, the trains were always late, but also frequent.
I suggest you get to the station as per your convenient time and get a ticket as per the availability. If the Yangon circular rail is working again when you are there, then you can follow the below circular train time table. 
But I would say don't expect timely departures and arrivals. An 8:20 train could show up at 8:45 or on time, too. Also, the train stops didn't seem to be well-timed, and I felt that more often than not, the train was not at the station when it was supposed to.
Circle line departures from Yangon Central for the right direction or the East bound train — 6:10am, 8:20am, 9:30am, 10:10am, 11:30am, 11:50am, 1:05pm, 2:25pm, 3:30pm, 5:10pm.
Circle line trains departing from Yangon Train Station via the left or the West bound direction — 6:10am, 8:35am, 10:45am, 12:25pm, 1:40pm, 4:40pm.
The first departure is at 06:10 and the last departure at 5:10 pm.
Insider Tip: A lot of people on the internet talks about riding the Yangon circular line as a morning activity. But realistically, consider traveling on the circular train as one of the day trips from Yangon.

Some things to see along the way of circle line train, Yangon
Market fare near Danyingon Station. San Bogyoke market near Yangon central. Insein Prison near Insein station. 
You can find more places by searching for things to do near each station. Then get down at the station you want to explore. You know the rest of the drill now.
Insider tip: If you are planning a Yangon travel trip, go for a circular train ride as you might not find this train the next time you are in Yangon. The Ministry of Rail Transportation intends to privatize the Yangon Circular Railway for the government is in a loss as the tickets of the train are highly subsidized. 
Where to stay in Yangon city?
I stayed at the Check In @ Downtown Yangon hostel for two nights. 
Located between Anawrahta Road & Mahabandoola Road in downtown Yangon, Check In Yangon is both a hostel cum hotel. 
While I opted for a double room, you can get a good bunk bed for affordable prices at this personalized hotel. The colorful painting above my bed not only brightened the room but my mornings as well.
Check In had minimally designed rooms with a clean attached bathroom. I never ran out of hot water there, a luxury that every traveler can appreciate.
The 24-hour desk at Check-In had all the information a tourist might need. A stack of relevant pamphlets about spa and massage places, biking and hiking tours, and shopping, etc were available near the reception. They even had thanaka for the tourists to try. How fun!
Check In was the only place where I found the hotel walls adorned with information on the various Myanmar tribes and their pictures. 
The breakfast was a buffet with regional and continental options. But the staff didn't inform us that the mohinga soup was only available later, and I was a bit disappointed for I loved this traditional Myanmar fish soup.
Otherwise, the toast, jams, peanut butter, fruits, and freshly-brewed coffee was enough to keep me happy. 
People at the desk were very helpful. Oh, you can get laundry done there, too.
Do try Check In @Downtown Yangon hostel if you are in Yangon. You can click here to read more reviews of the hotel and book it. 
Do you love local experiences, too? Are you planning to do a Yangon circular train tour? Tell me.
Recommended read: If you would love to know more about Myanmar railway, I recommend you read Golden Earth: Travels in Burma by Norman Lewis who gives an account of traveling in Burma trains in the late 1960s. 
Please note: Check in @ Downtown Yangon hosted me for my two-night stay in Yangon. All the opinions here are my own, as you can tell.
Like this post? Please pin it so that others can find it on Pinterest. Thank you.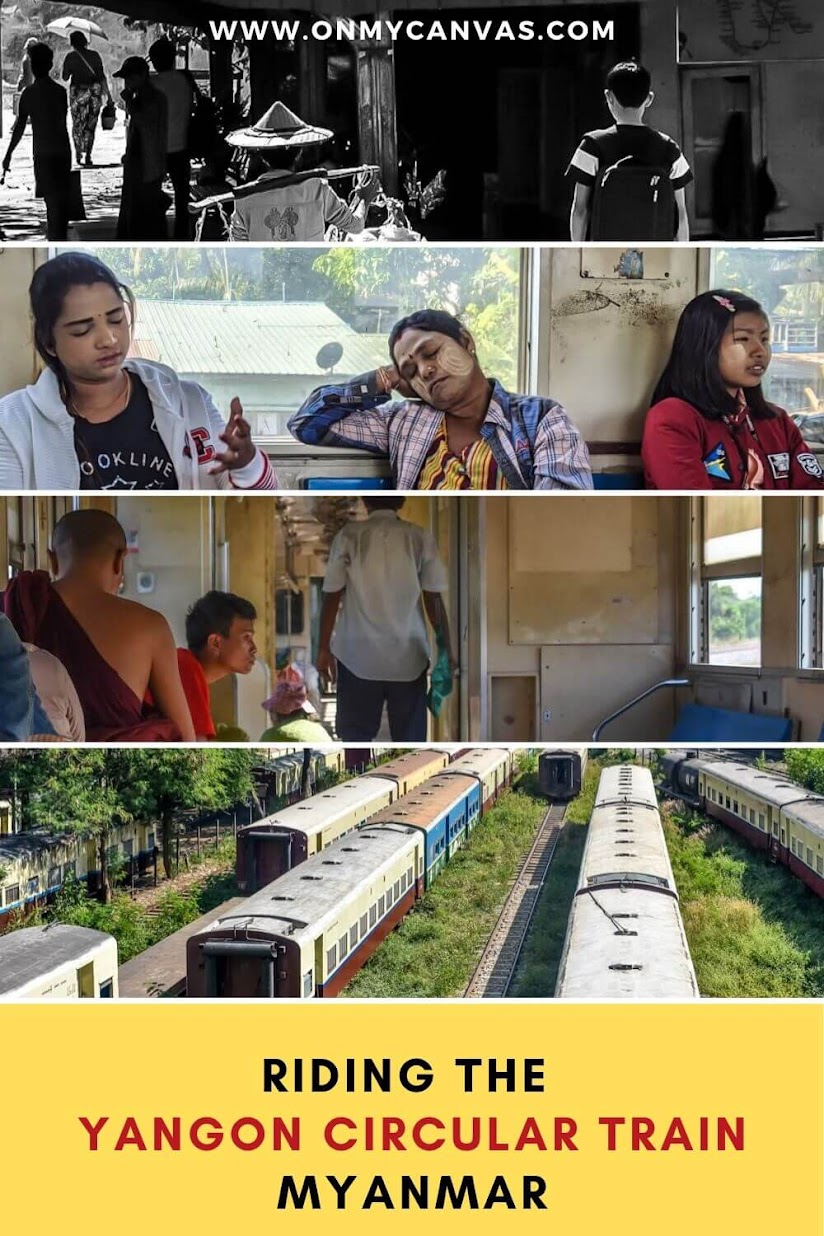 *****
Donate to keep me going!
For five years, I've read and wrote day and night to keep On My Canvas - my sustenance and life's focal point - going. Everything here and my weekly newsletter "Looking Inwards" is free. No ads. No sponsorships. If you've had some good moments reading my posts or felt hopeful on a lonely day, please consider making a one-time or a consistent donation. I'll really appreciate it (You can cancel anytime).
*****
Want similar inspiration and ideas in your inbox? Subscribe to my free weekly newsletter "Looking Inwards"!