Update 2022: Malaysia has reopened its international borders from 1 April 2022. Get Malaysian government's complete rules for travelers planning to visit Malaysia on the official Ministry of Foreign Affairs Tourism website. I've also listed down the guidelines and compliances in this article on Kinabatangan river sanctuary. My guide to Malaysia e-visa for Indian citizens is recommended, too.
What does this "What to eat in Penang" Guide Contain?
My crazy journey with food and how I can't stop eating fish but now I eat more responsibly. (Though this is a good story along with some dependable resources to eating fish sustainably, if you are short on time, you can click on the below sections directly to jump to the food in Penang.)
My crazy journey with food and how I can't stop eating fish but now I eat more responsibly.
I have had an insane journey with food. From working part-time at a restaurant to almost going to Italy for a culinary course to running a food blog, I did it all.
But things happened; I changed paths and traveled to Chile.
As my blogging bug still thrived inside me, I launched another blog called MasalaOmelette (an English version would mean something like Spice Omelette).
The name is perfect though the problem is that this one was not a food blog.
Taking a moment of silence there, all I can say is that the blog name MasalaOmelette seemed like a good mashup of personality development, travel stories, and food.
Don't you think?
Ssshh. I know your response. I realized that Masala Omelette wasn't the classiest of names, and also, I quit eating meat and eggs later.
Fast forward a few years, now I proudly run On My Canvas. As I obsess about food, I don't write food guides else I wouldn't be able to write anything else. But my Penang Food tour was too special to miss.
I also hesitated to write this Penang food guide, even though I have already written its sister guides to find the street art in Penang and Penang Travel guide, for I am still deciding if I want to continue eating sea animals.
Until a few years ago when I devoured chicken and mutton fondly, I didn't even know what pescetarianism meant and had no idea that I would be joining the tribe.
But I read a lot (think Sapiens) and saw much and stopped eating all kinds of meat apart from marine life.
Why I still eat sea animals when I claim to be such an animal lover? I find them delicious, and I hide behind the ongoing debate about how fish might not feel pain and that they might not have a psychological system.
But eating sea animals and promoting to eat them on my website means two different things. Telling people that Penang makes delicious street food would encourage more travelers to visit Penang to eat.
Choices a blogger has to make!
Finally, I decided to publish this guide for I am always open about my life choices here on my blog.
A few good things happened during the writing process of this Penang food blog. I discovered some amazing resources and studies that will help me eat fish and other sea life more responsibly.
Pescatarianism on Reddit — Group of Pescatarians on Reddit. Members discuss that they found it hard to stay healthy with a vegan life and find the time to make vegan dishes with a busy schedule. All the fish-eaters support each other to eat fish sustainably.
Resources that will help you choose the right fish for the season so that you can avoid the fishes that are in the reproduction cycle —
For India — InSeasonFish, KnowYourFish.
The InSeasonFish is an initiative of a marine scientist Divya Karnad who is doing some impressive work to save our seas and lakes.
For the US — Sustainable Seafood By Spruceeats.
Another good resource to understand sustainable seafood — Seafood101 by Sustainable Fisheries
While this confusion between Pescatarianism and vegetarianism goes on, I continue to eat fish.
Let me know your thoughts in the comments below. Don't shy away from commenting if you think this ethical speech was unnecessary for all you came was for a Penang Street food guide.
Now let's come to my Penang seafood lover's guide.
Why food hunting in Penang can be overwhelming for first-time travelers to Penang?
Searching delicious food in Penang can get overwhelming.
When I stepped onto the narrow streets of Penang that were fringed with more stalls and restaurants than they could handle, I found a hawker center or a food court at every turn. I couldn't decide where to go. Then I thought I would take it one dish and one restaurant at a time.
During those six days in Penang, I tried everything that I could while sticking to vegetarian options and seafood. From eating Nasi Kandhar way too many times to walking an hour to find the right Rojak to feeling dumb in a local Chinese restaurant where the menu seemed more foreign than spaceships, I did it all.
Penang has more things to eat than one blog or website or a battalion can ever count. Food hunting in Penang island can seem like a real problem unless you are an adventurer who tries everything. But for the ones who want to make the best of their time in Penang, cheers to this Penang food guide that will help you in the first desperate days of your Penang food hunt.
A helpful read to plan your trip to Penang: My Guide to Malaysia eVisa for Indians
Brief Introduction to the Crazy food culture in Penang
Malay food in Penang is a melting pot of Malay, Indian, Chinese, and other Asian flavors. I have written about the mix of races in Penang in my Penang street art guide in detail, but to reiterate I will say that over the years food in Penang has evolved with the people of Penang.
The original Tamil Indians who were taken to Penang by the British East India Company are now Malaysian Indians for whom Malaysia is home. These Tamil Indians contributed the South Indian food to the Asian palate of Penang along with absorbing the soy sauces in their curries and the sweet chilies over their fried Kingfishes.
The Chinese immigrants who rushed to Penang in the 18th century brought along the crazy glass noddle desserts and fish clay pots, but not without getting influenced by the Malay and Thai flavors to form the present Nyonya or Peranakan cuisine.
Muslim Malay food couldn't help but get inspired by the spicy biryanis and kebabs that sizzled out of the kitchens of the Indian Muslims.
In Penang, you can find anything from a red bean sweet dumpling at a hidden Chinese stall to a live lobster counter at the square. From a fine cup of tea at a baroque cafe to fresh fruits covered in peanut sauce at a hawker center at night, everything is possible in Penang.
In this Penang food blog, I have listed some of the best Penang dishes that I liked, places to eat the best street food in Penang, the famous food courts and hawker centers in Penang, best seafood and Nyonya restaurants, and what else to expect when it comes to Penang street food. At the end of the guide, I also have the places to stay in Penang for foodies and how to get to your food.
Let's go.
Related Read: If you are still not convinced about visiting Malaysia, read my 6 unique reasons to visit Malaysia.
Best Street Food in Penang for seafood lovers.
Asia has the best street food. But Penang street food is the boss of all street foods.
Here is my collection of Penang best street food some of which can also be enjoyed in restaurants and food courts.
Nasi Kandar or Nasi Kandhar — A Penang must eat. 
Once, Nasi Khandar was a breakfast meal. Indian immigrants in Malaysia started selling fragrant rice, fish curry, and vegetables in Shravan-inspired bamboo baskets balanced on hunched shoulders for quick eats. This dish popularized as Nasi Kandhar (kandha means shoulder).
What to expect: If you ask for Nasi Kandar, expect a plate full of rice and an assortment of grilled and stir-fried vegetables such as Okra, brinjal, and fried fish along with spicy red and green vegetarian and seafood curries in different sauces to choose from.
Where to eat:
I ate Nasi Kandhar all-around Penang, as you can see in the below picture. You can find the best Nasi Kandhar sometimes even in the dingiest of streets but it is hard to direct anyone else to such nameless places.
You can find many stalls of Nasi Kandhar around Little India. Look for Lebuh Queen and lebuh Chulia.
A 24/7 open Nasi Kandar shop — Nasi Kandar Line Clear. 177 Jalan Penang, Lebuh Campbell | 10000, George Town, Penang Island, +60 4-261 4440
Also, try the food courts and the hawker centers that I have listed below.
Oh! That green fish curry over soft basmati rice and the crispy okra by the side. Nasi Kandar might have changed how I look at food.
Penang Assam Laksa — The most recommended food in Penang that lives up to your expectations.  
What to expect: When I tried the Asam Laksa, I didn't know that it would be the richest and the tangiest of soups that I will ever taste. You will get a bowl of spicy and tangy tamarind and fish-based rice noodle soup which would contain lemongrass, chili paste, prawn paste, mackerel, and galangal. Before serving you, the soup would be garnished with crunchy pineapple, onions, red chilly, and coriander.
Where to eat: I ate Assam Laksa at Penang Road Famous Teochew Chendol, which is a small roadside restaurant, at Lebuh Keng Kwee, George Town. They have the world-famous chendol along with the best Assam Laksa. This place is on Google maps by the name of Penang Road Famous Teochew Chendol.
Another great place — Air Itam Asam Laksa, a shop at the foothills of Kek Lok Si Temple.
Address: Ayer Itam, Jalan Pasar (corner of Jalan Pasar and Jalan Paya Terubong, besides Air Itam Market), 10:30 am-7 pm daily
One bowl is not enough.
Penang Teochew Chendul/Chendol — Always on one of the top 10 food in Penang list. 
What to expect: We all can thank the Teochow ethnic group of China who brought this sweet soup with them when they migrated to Malaysia in the 1800s. You will be served a bowl of fresh coconut milk-based dessert filled with shaved ice, green rice flour jelly (chendol), red beans, and palm sugar syrup.
Where to eat: Penang Road Famous Teochew Chendol at Lebuh Keng Kwee, George Town. Both the cendol stalls on this street have been selling chendol for a long time. I don't have a favorite.
This sweet-coconuty soup is more than what you can imagine by the description. Please try.
Rojak — Don't forget on your Penang food trail.
What to expect: Cuttlefish, fried dough fritters, prawn fritters, bean sprouts, cucumber, and fresh fruits buried under a thick and dark peanut sauce. And I thought only Indians are obsessed with gravies.
Where to eat: Gurney Drive Food court.
You wouldn't know that fruits and sauces can mix so well unless you eat this one.
Ice Kachang or Ais Kacang (peanuts)— One of the must try food in Penang for you won't get it elsewhere.
What to expect: A sinful pyramid of shaved ice, red beans, black and green grass jelly, sweet corn, fresh fruits, loaded with coconut or other ice creams and drizzled with rose syrup, condensed milk, and peanuts.
Where to eat: Cliff Cafe, top of Penang Hill.
Also good at Ais Kacang Restoren Kek Seng on Jalan Penang, George Town and at Jalil Special Ais Kacang near the Esplanade (next to the City Hall).
Let the textures dance!
Curry Mee — One of the most sought-after food to eat in Penang that goes back decades.
What to expect — A thin oily soup with thick yellow noodles and rice noodles, dried tofu, beansprouts, onion, and seafood sometimes. Penangites add Pig's blood curd to it, but the hawker stall that I ate at didn't add the blood curd. You can add soy sauce of which you see dollops in my soup.
Where to eat — Though I ate the curry mee at many places in Lebuh Carnarvon and Georgetown, I was told that the best Curry Mee is sold by Sister Curry Mee.
Sister Curry Mee, Jalan Air Hitam, Pekan Ayer Itam. 7:30 AM-1 PM daily. This is the same market where you also get good cendol. These two sisters have been selling Curry Mee for about fifty years.
Note for vegetarians and fish-eaters: You can ask the stall person if he made the curry mee with egg noodles(Mi Telur) and added the pig blood curd(babi darah) or not. Curry Mee comes in many versions so expect all the different permutations and combinations.
Mee Goreng or Me Goreng or Mie Goreng— Best hawker food in Penang and other Asian countries.
What to expect — Mee Goreng is an old Indian Muslim dish, and Muslims who sold these fried noodles on carts used to be called as Mamaks. You will get a plate of stir-fried noodles with cuttlefish, beansprouts, prawns, tossed in chili and soy sauce.
Where to eat — I ate Mee Goreng in many places. My best bet is to try them on roadside Penang stalls.
Seafood Popiah — One of the lightest things to eat in Penang. 
What to expect — A fresh spring roll made with a thin crepe and filled with julienne cut fresh vegetables, bamboo shoots, bean sprouts, crushed peanuts, and prawns and drizzled with thick soy-peanut sauce.
Where to eat — I ate Seafood Popiah at many hawker centers in Penang. I don't have any favorite place to try these little bundles of crunch.
Note for vegetarians and fish-eaters: You can ask before buying if the popiah has shredded omelet or any other meat. Generally, it is just made with prawns.
Your best bet for vegetarian food in Penang is the higher-end cafes and restaurants where you can understand the ingredients' names. Also, you can always choose the vegetarian options from the assortment that Nasi Khandar brings along.
Fish Claypot Rice — One of the most ancient and delicious Chinese preparation but also the most under-rated food in Penang.
What to expect — Soft rice, fish fillet, and vegetables boiled with soy sauce in a clay pot and sprinkled with spring onions.
Where to eat —Chinese stalls and restaurants in Georgetown. I don't have a specific place but here is a list of clay pot places in Penang by PenangFoodie.
Before food hunting in Penang, I had had clay pot rice in Kuala Lumpur, too. The amalgamation of the smokey flavors with the soft fish and rice always kept me going back for more.
Fish head Curry — One of the healthiest food in Penang. 
What to expect — A big fish head cooked in different spicy sauces.
Where to eat — You can get this at most of the Nasi Kandar places.
Char Koay Teow — One of the most popular street food in Penang, but not one of my favorites. 
What to expect — A plate of noodles fried with bean sprouts, prawns, and soy sauce. Simple. Mostly, I couldn't tell the difference between Char Koay Teow and Mee Goreng. Maybe the difference is that Char Koay Teow is traditionally fried in pork fat and contain egg. I always had to ask to confirm if the noodle had eggs and pork fat or not. The answer to the noodle being fried in pork fat is subjective as per the mood of the hawker.
Where to eat —  Lorong Selamat's Char Koay Teow, 179, Carnarvon Street, George Town.
Apom — Best street food in Georgetown Penang for those late-night sweet cravings.
What to expect — A coconut pancake that is thin and crisp on the edges but gooey and thick in the middle.
Where to eat — An old lady stall at Lebuh Chulia Street Night Market.
Sorry, I don't have a photo for they were over before I could even think about clicking.
Also don't forget to try the various coffees, hot Teh Tarik (pulled tea), and Ice Teh Tarik at various shops, restaurants, and stalls around Penang.  
These are some preparations that can be included in your Penang food trip itinerary. As these are my favorite food items from Penang, please wander on your own and experiment with Penang food for who knows what you might find.
A note to the vegetarians and pescetarians reading this Penang food guide
Many food items that were given to me as vegetarian preparations contained egg noodles or shrimp paste or pork fat or fish cakes or fish sauce. So you will have to ask the vendor patiently if he or she had put any of the above ingredients in the dish. Also, many versions of the same food exists, so you might get the best vegetarian preparation of any of the above delicacies.
Be a little cautious in high-end restaurants, too. Once I ordered a vegetarian soup at a restaurant but along came big pieces of pork. Kindly request to return.
Translations of some important food items from English to Malay to help you navigate Penang food on your Penang Trip.
Egg — Telur
Pork — Babi
Pig Blood — Babi Darah
Chicken — Ayam
Fish — Ikan
Duck — Itik
Rice — Beras or Nasi
Noodles — Mee or Me or Mie
Rice noodles — Telur Mi
Cuttlefish – Sotong
Soy Bean — Kacang soya
Bean curd puffs are fried tofu puffs.
Sour – Asam/Assam
Coffee – Kopi
Tea – Teh
Milk – Susu
Where to eat in Penang?
Best food courts in Penang.
Internet is filled with a list of Penang famous food courts. But from what I saw in Penang, all the food courts had something special. Some had grilled fish that was crunchier than the rest, some had a juicier Rojak, and a few had a spicier Mee Goreng.
But amongst the many I tried and from my research on the internet, these are my favorite food courts from Penang.
Goodall Food Court – Address: Jalan Gottlieb, Taman Selamat, Pulau Pinang. Tuesday Closed. 8.30 am to 12.30 am.
Penang Esplanade Park Food Court — Sunday closed, 8-8.
New lane hawker center — Lorong Baru, George Town, Pulau Pinang. Wednesday closed. 4 pm to 11 pm.
CF Food court in Chew Jetty — 10-12 every day.
New World Park food court — An option outside Georgetown. 10-9 every day.
Sri weld food court — Lebuh Pantai, George Town. Sunday closed, 9-3.
Insider tips: Try curry puffs in Cecil street food court.
Where can you find the best hawker food in Penang?
For the best Penang Street food, you need to find the best hawkers.
I loved the hawkers around Batu Feringghi beach and the Chulia street hawker center and night market. I also found good stalls and hawkers on Lebuh Carnarvon.
The hawker stalls at Lorong Selamat are popular but I never visited them.
Penang hawker food was fresh, fast, cheap, and gave a good insight into how the food was being prepared.
Insider Tip: Wander off into the back lanes of the Jetty Clans and find some delicious Penang local food that is not on the must eat food in Penang list. People make fresh seafood items there, and then the snacks are sold to retail shops or hawkers.
Another Insider Tip: Popular hawkers run out of food much before the closing time. So get there early if you know the closing time.
Where should you go if you want to eat the best Indian food in Penang?
All the Nasi Kandar places I mentioned above. Though Nasi Kandar is a fusion of Malaysian and Indian food, some of the Nasi Kandar places served dosa or other Indian food items, too.
For regular Indian food — Sri Ananda Bahwan Restaurant in Little India. 55 Lebuh Penang, Geroge Town. Every day from 7 AM.
Woodlands Vegetarian is also known to be a good place though I didn't try it.
What is the best restaurant for Nyonya or Peranakan Cuisine?
For the best Nyonya food in Penang —
Tek Sen Restaurant — An old Chinese restaurant in Georgetown Penang. The place is extremely popular but I was served the wrong dish there. 18, Lebuh Carnarvon, George Town.  +60 12-981 5117.
Auntie Gaik Lean Old School Eatery, 1 Bishop Street, 012 449 2121.
Nyonya Breeze, 50 Lorong Abu Siti, 04 227 9646
Cintra Food Corner, 40 Lebuh Cintra.
Hope this list has cleared your Penang where to eat question.
Which are some of the best restaurants in Penang?
I didn't go to many restaurants except Tek Sen where I didn't have the best experience.
Some of the best modern Penang restaurants have been summed up by the GranTurismo here.
You can also find western food in Georgetown Penang in the cafes and high-end international restaurants that are coming up. But, I mean, what's the point?
Insider Tip: Check for Nazlina spice station for some local Malaysian cooking classes.
Where should you go if you want to eat the best seafood in Penang?
My cab driver on my first day in Penang told me that one can find the best seafood in Penang on the Batu Feringghi beach.
I ate seafood at Batu Feringghi at the seafood hawker centers on the road in some obscure part of the area, cafes and restaurants that line the Batu Feringghi beach, and the Batu Feringghi night market which served huge fishes and I couldn't order most of them for just myself.
Though food in Batu Feringghi was good, especially the hawker centers, I liked the seafood as much in Georgetown, too.
Which is the best seafood restaurant in Penang?
My go-to place for seafood was hawker centers and food courts or the tiny shops fringing Penang streets. But if you want to have a comfortable sit down meal, try one of the below seafood restaurants. I didn't go to any of these restaurants but they seem good as per the reviews of a lot of other people.
Hai Boey Seafood, 29, MK 9, Pasir Belanda, Teluk Kumbar, 11920 Bayan Lepas, Pulau Pinang, Malaysia.
Ocean Green Restaurant, Jalan Sultan Ahmad Shah, Georgetown.
Here is a very tempting list of places for the best seafood in Penang by Penang Foodie.
Insider tip: Try Northam beach cafe for Ikan baker or grilled fish.
How to travel in Penang to eat the best food in Penang?
You can find the best street food in Penang by walking.
Taxis and Car Sharing – A good way to get around Penang. Uber's Malaysian cousin is Grab.
Buses – Rapid Penang buses.
If you don't want to get out of your hotel because you have eaten too much but still want that bowl of Ice Kacang, you might want to install Bungkusit application that is much like the Dunzo of India and get your work done within 60 minutes.
I also liked these two food tours from GetYourguide that can take you around Penang while giving you a good overview of the history of food in Penang and the food options there.
Penang food tour — A 3-hour tour with a guide, covering the historical points of Penang along with eating the local food and knowing the stories behind.
Penang famous street food tour — A 4-hour street food tour with a local Penang guide including the food and drinks.
Where to stay in Penang for food?
Places to eat in Penang are spread across the entire city. Even the Penang food bloggers and local guides never claim a stall to be the most perfect for any dish.
Food in Georgetown Penang doesn't cover even half of the food scenario in Penang.
Having said that, you can find most of the best food preparations of Penang in Georgetown. Food in Georgetown is affordable, too, unlike many other places such as restaurants in Gurney Drive or Tanjung Bungah's contemporary cafes.
So Georgetown is a pretty good area to stay to experience the culture and food of Penang.
Gurney Drive's food court is also really nice. But then you can just visit Gurney Drive for a day instead of staying in the expensive accommodation options there. Also, Gurney Drive cannot be compared to Georgetown when it comes to Penang culture.
Tanjung Bungah felt pretty dead when it came to nice food courts or night markets.
Batu Feringghi is a great seaside area in Penang where you will stumble into far more seafood stalls and hawker centers than you would have seen in your entire life. The restaurants that line the beach serve beer and good seafood.
The Batu Feringghi night market is quite a long phenomenon that attracts many tourists in Penang. But if you are by yourself, you will have a hard time finding food for just one person in this night market as most of the stalls there sell grilled fish or other seafood animals as big as my arm. Of course, I could just have the curries, but I have had too many Nasi Kandar's already, as you can tell.
As I have said above, I didn't find the seafood in Batu Feringghi any more special than in Georgetown. But Batu Feringghi is a nice area to stay if you find some beach time in Penang with great seafood options.
My best option to stay in Penang for food would be Georgetown. Book a boutique homestay for yourself, and enjoy the delicacies of Penang.
READ NEXT: What to do in Penang in 3 days– This Penang travel article has a lot of accommodation options in Penang that I have handpicked from different locations of Penang.
Great Instagram accounts for finding the best food and restaurants in Penang.
Penang famous food blogs and Instagram accounts —
Good food in Penang is always a few minutes away. But remember that food in Penang is like a fever that never leaves you alone once you catch it.
I hope you get the bug.
Did you like my Penang food blog?
READ NEXT: See Penang's culture through its Street Art –
My guide to the most impressionable street art of Penang that takes you to the nooks and corners of Penang while letting you get lost in colorful Penang streets.
Like this post? Please pin it so that others can find it on Pinterest. Thank you.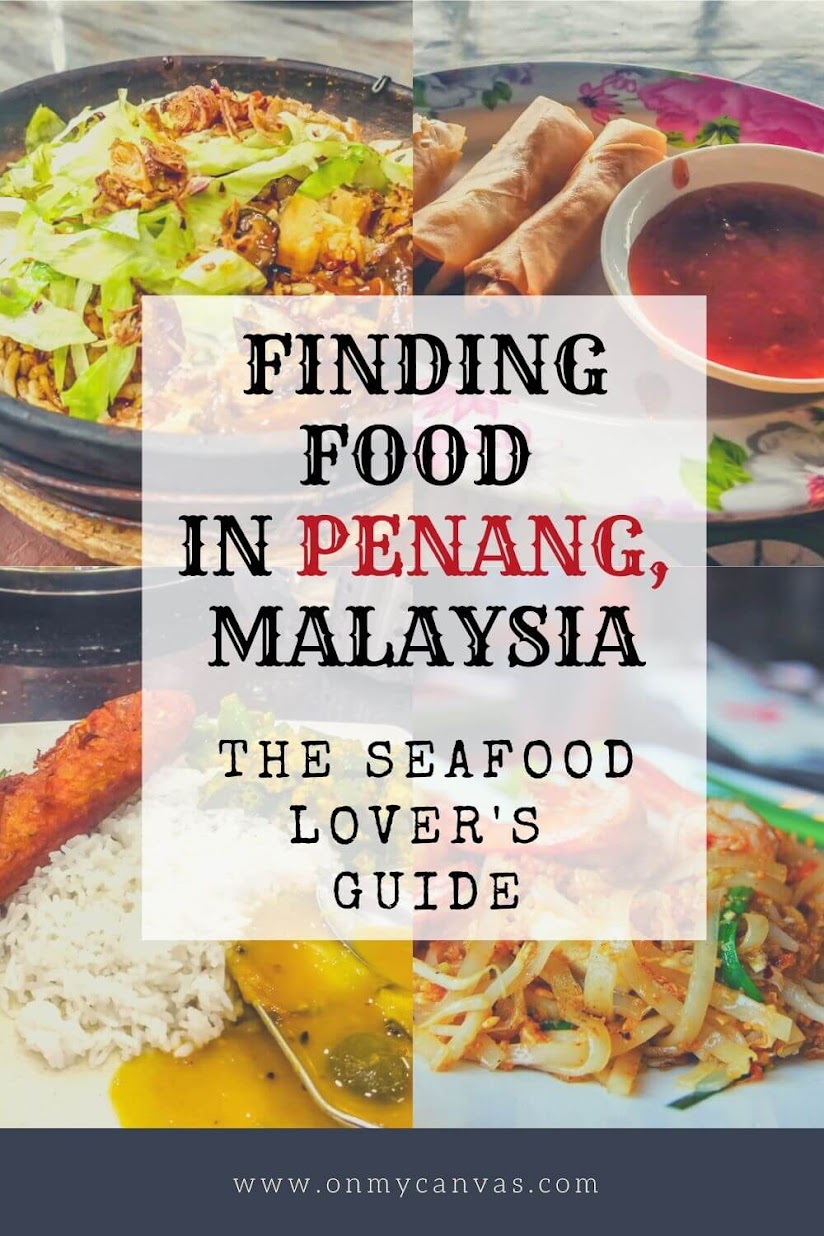 Disclaimer: This article includes affiliate links to products I love. If you choose to click through and make a purchase, I will earn a little bit at no extra cost to you. Thank you.
*****
Donate to keep me going!
For five years, I've read and wrote day and night to keep On My Canvas - my sustenance and life's focal point - going. Everything here and my weekly newsletter "Looking Inwards" is free. No ads. No sponsorships. If you've had some good moments reading my posts or felt hopeful on a lonely day, please consider making a one-time or a consistent donation. I'll really appreciate it (You can cancel anytime).
*****
Want similar inspiration and ideas in your inbox? Subscribe to my free weekly newsletter "Looking Inwards"!