Why I Travel
Since I started traveling relentlessly for the past few years, my friends, family, and everyone else started asking me that why do people travel so much, what did I do for six months in Chile traveling alone, what did I see, how did I feel in a country where I couldn't even speak the language, how did I manage to travel for so long, and how did my family react?
They say I'm lucky I get to travel so much.
I smile. I lecture everybody that they can travel, too. I ask them why don't they take a sabbatical and go? I elaborate on why traveling is important even though no one might be listening.
People laugh. They shake their heads as if I had asked them to do the impossible. They say it is not easy. What would their parents say? Their boss won't allow. They are settled with their partners. Traveling would be too expensive.
They think these are unique problems. And they don't get that why do people travel so much.
As I travel a lot myself, I understand why people leave their homes and travel around the world. In this poetic essay, I will tell you why do I travel and why traveling is important.
Recommended Read: Backpacking through South America – Epic memories from a trip of 9 Months and 3 Countries.
When we live in our own world, our problems are at the center of our universe and we think about them all the time.
We are confined in our own cell.
Limited air, light, and food enter — from the same ecosystem. We ponder over the same things the same people around us are thinking. We follow the same traditions and rules that prevail in society for decades.
Travel is the key to that cell.
Imagine you are trekking up a mountain. Your view is limited, but when you reach the top, you get a three-sixty degree panoramic view.
The sea-blue, gray, amoeba-like shape changing, floating clouds.
The fiery sun setting far away in a land lighting the sky on fire.
The train steaming through the pastures in front of a rainbow cloud mountain.
People and animals appear as ants.
Your Canadian friend asks what are you thinking about.
You tell her about the big fiasco back home when you told your parents that you were going to South America for four months.
They shouted as if you had murdered someone. They grieved as if some tragedy had happened in the family.
You recall the long discussions about spoiling your career and that the right age to get married was slipping by. Instead of a home, a car, and diamond jewelry, you focused on visas.
Your mother cried incessantly.
You told her everything was alright. You were happy and going for an amazing cause, to an amazing place.
But no convincing works on mothers. She was intimidated by society, of the unknowns, and for her daughter's safety.
The night before you had to leave, she held your hand as she sobbed on the bed.
You had pulled your hand — you told yourself you had to — and hit the bed.
You cried. Only, no one knows.
You break hearts, even yours, to go to that mountaintop. To breathe in the landscapes you drew in the nursery with crayons. To find beautiful human beings.
Our routines, worries, and goals are tiny in front of the universe — like the people who appear as ants from that mountain summit.
When someone asks me why do people travel and why traveling is important – I tell them that each one of us is just a tiny speck in this gigantic universe. And we need to see how trivial our problems are by stepping out of our homes and watching the world. Personal growth is not far when one decided to travel.
List of things that we overthink about: We care too much
I did not think much when I decided to travel to South America or to anywhere else.
I yearn the nature and being on the road suddenly. Or I want to get out of the routine. Or I want to taste local food — that is when I leave.
I leave when I can't not leave.
Would you not want to go out of your city, state, and country to crunch into fresh, homemade medu vadas popping out of the sizzling oil in the wok, served by the local lady. Isn't the fragrance of fried white lentil with asafetida pulling you towards the stall?
How would you know that Thai food makes even Indians cry?
That the cheese in the calzone in Rome oozes out as if a volcano has erupted.
That the pastries in Paris are work of art.
That Pho soup in the streets of Hanoi at 6 AM could bring back Jon Snow to life.
That the wines of Chile turn your nose and cheeks red.
Related Read: Secrets of Chilean culture
That sushi could be made with cream cheese and avocado and change how you think about Sushi forever.
That avocado blended with sugar in that Coorg homestay is worth overeating and the sugar rush.
You miss the spines of that cactus fruit from the Atacama.
Okay, everything else apart from Chilean wines is true. But they are damn good.
But is life all about nursery landscapes and crying mother and food?
It is also about experiences and going to places and meeting new people.
Also Read: The Gorgeous Atacama Desert – In poetry and pictures.
The big barrels of beer and the giant glasses in the Munich beer fest had made you and your friend look small.
That walk in a park in Munich where you finally found that stream and let the water rush against your feet — heavenly.
The barbecue chicken thighs bought from the train station as you searched the Airbnb in Munich for hours without internet or German — life savior.
You freaked when the smoke alarm went off as you burnt the leftover pizza in a village house near Frankfurt. But the host said at least he got to know someone was downstairs.
The red, green, yellow lights reflecting in the water in Hanoi and Hội An, seafood hot pots and streetside, sweet condensed milk Vietnamese coffees with the giggly British girl discussing her mother and her new boyfriend — still call out.
The majestic Hindu temple you explored in Cambodia narrating Indian mythology to a Chilean girl and an Australian guy.
Wine and cheese along the River Seine with your best friend would never repeat.
Do you still need some travel inspiration?
The men who followed in the European and South American streets.
Exploring antique shops in London Camden town market, eating African chicken curry and rice, buying goat face necklaces, listening to local bands and singers, you had not noticed the fading light.
The pitcher of margaritas that you gulped down with your brother before entering the theatre still gets you drunk.
Touring Amazons for four days when you just missed the Leopard and her baby who walked past by your hut at night.
Helpful Read: My backpacking guide to Chile
The little girl named Indira from Argentina and her hypnotizing eyes.
The old lady whose soft, warm, and experienced hands you held in a restaurant in Cusco. She had walked with you to the bus stand asking the conductor to drop you safely. She was unlike anybody.
The old Chilean lady who kept you at her home offering food, the best wine, and her love.
The old Dutch man, with his soft white hair, beautiful blue eyes, and wrinkly skin, filled you with compassion.
In these moments the whole universe channelized all its positive energy — zooming into that one scene — in those places, people, and food. An almost unconscious state of mind. Was it real or were you hallucinating?
Would you still ask why do people travel?
Must Read: Life is lived best by letting it free – Ideas inspired by the poet Rainer Maria Rilke.
How could strangers go out of their way to help you? How could they hold your hand and tell you that you are beautiful with such plain confidence?
These moments make life what it is.
Then there are days which gloom over like gray, non-monsoon clouds.
You can't stand the museum in Vietnam that displays the effect of Agent Orange. But can you blame the US?
Because then comes the dictator of Cambodia and the atrocities he furbished on his own people.
You walk past by the tree that the children were thrashed upon, breaking their heads and soft limbs.
You do not know then that one day you would stay with the victims of the dictatorship in Chile.
You think of the burned trains — full of raped, looted, and dead people — steaming into India and Pakistan after partition. Who was the culprit and who paid?
Inside the Colosseum, you think of the dead slaves — who fought and died for someone's entertainment.
The ugliness of the world hovers over your mind.
You flow with the ups and downs of the past of these geographies you travel to. Only, you are too late.
Travel puts things in perspective.
But when you fly so freely the wind is bound to get rough sometimes.
You feel lonely some days.
A couple refuses to click your picture in the cold streets of London.
People pity you in a national park in Kerala as they assume you were stood up by your new husband in that honeymoon town.
Men follow you in dark alleys.
People ignore you, insult you, and judge you as you are an Indian.
Were that layoff, the broken hearts, and the best friend's missed wedding worth it?
Do the reducing bank balance and postponed marriage make any sense now?
You decide.
Must Read: How I learned what is wrong with me on my first solo trip.
A backpack, a bruised passport, few visas, names of a few places, a couple of t-shirts, skirts and shorts, a phone with a few contacts, some money, hiking shoes, a diary, and a pen is all you got.
Yes.
All untasted chicharrones, untrodden cobbled German village streets, unclimbed Western Ghats peaks, unexplored Gir and Serengeti National Parks, Varkala beaches whose soft sand your feet didn't touch, Dudhsagar waterfall that you didn't splash into, old ladies you didn't hold soft hands off.
You bring back their essence. While you leave yours behind.
That is all there is.
Because there is nowhere you belong. There is nowhere you belong.
Recommended Read: I am going nomadic.
Now you tell me why do you travel?
If you like my story please pin it and share it with the world. Thank you.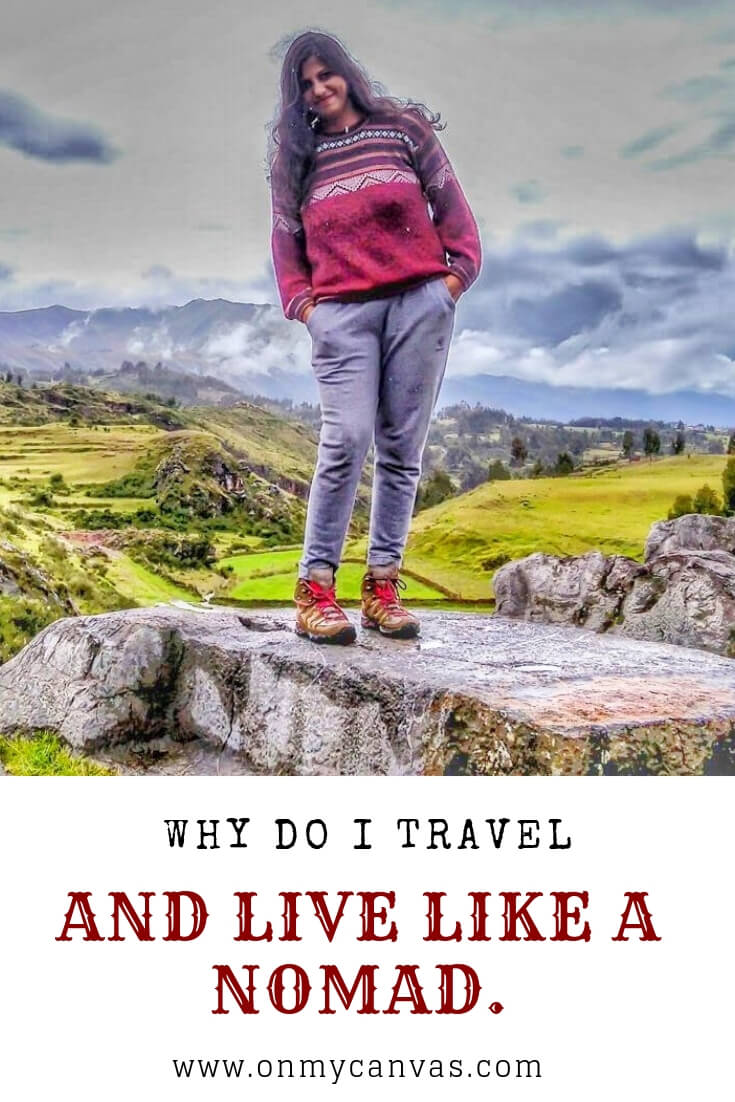 *****
Donate to keep me going!
For five years, I've read and wrote day and night to keep On My Canvas - my sustenance and life's focal point - going. Everything here and my weekly newsletter "Looking Inwards" is free. No ads. No sponsorships. If you've had some good moments reading my posts or felt hopeful on a lonely day, please consider making a one-time or a consistent donation. I'll really appreciate it (You can cancel anytime).
*****
Want similar inspiration and ideas in your inbox? Subscribe to my free weekly newsletter "Looking Inwards"!