As promised in this photo diary of the street life and rich food of Vietnam, I am back with a Vietnam photo album which showcases the country's painting-like greenery and its rich temples.
Certain days at work, when I sit in a room and work from my desk for hours at a stretch, these photos make me feel that I am out in the green, running with the water stream, or bathing in the sunshine, or singing with the rain, or listening to the tall waterfall falling over the stones, or fine-tuning with the birds that flew above my head under the vast blue sky of those foreign lands.
Do you also long for a place that you visited in the past when you look at your travel photos? Do you still feel connected to that place?
Every inch of Vietnamese land was patted with soft grass and tiny plants and leaves and twigs as it was the rainy season. Vietnam was green, such green that it would refresh you in the blink of an eye. Paddy fields ran all over the country. Birds chirped all around the place. Buddha and Hindu-Buddha fusion temples settled in various places in the city and in the outskirts. Hinduism had an early influence on South-East Asia's religion and that shows in the temples adorned with Hindu goddesses, swastika signs, and Hindu gods in Buddha-bead hairstyle.
I was able to spend only ten days in Vietnam. I have to go back to see the rest of it and understand the innocence and the beauty of the country better.
Until then, enjoy these pictures. Hope this Vietnam photo album takes you for a beautiful ride through the gorgeous country.
Also Read: Why I Travel full-time and live like a nomad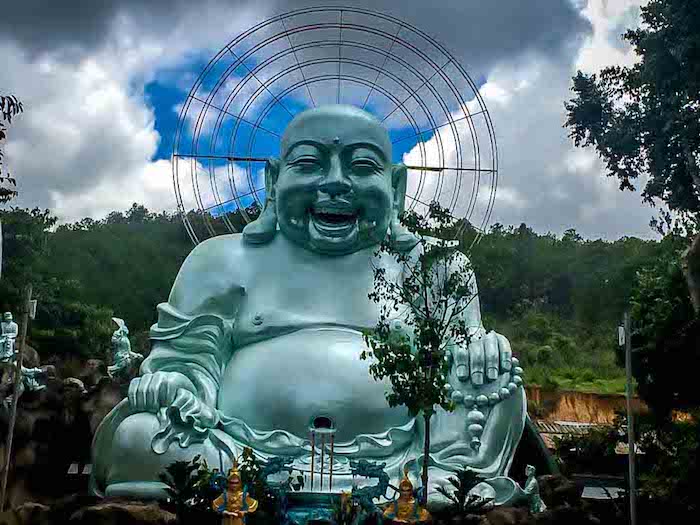 Does this photo album make you want to visit Vietnam? Tell me.
If you like this Vietnam photo album, you would also enjoy this photo essay of Thailand.
*****
Donate to keep me going!
For five years, I've read and wrote day and night to keep On My Canvas - my sustenance and life's focal point - going. Everything here and my weekly newsletter "Looking Inwards" is free. No ads. No sponsorships. If you've had some good moments reading my posts or felt hopeful on a lonely day, please consider making a one-time or a consistent donation. I'll really appreciate it (You can cancel anytime).
*****
Want similar inspiration and ideas in your inbox? Subscribe to my free weekly newsletter "Looking Inwards"!