Update 2022: Malaysia has reopened its international borders from 1 April 2022. Get Malaysian government's complete rules for travelers planning to visit Malaysia on the official Ministry of Foreign Affairs Tourism website. I've also listed down the guidelines and compliances in this article on Kinabatangan river. My guide to Malaysia e-visa for Indians is recommended, too.
When I was thinking about visiting Malaysia after my Bali trip, everyone told me to not go to the country that only has Penang and Kuala Lumpur. They said maybe you can see a few orangutans while traveling in Malaysia, but what else?
In the one-month I stayed in Malaysia, I not only traveled to Penang and Kuala Lumpur but I fell in love with the country.
I wanted to write these reasons to visit Malaysia since the day I came back to tell those friends they were wrong and to urge the rest to explore Malaysia. Of course, I did have wild encounters with orangutans around Kinabatangan river in Sabah, but there are many more things to do and interesting places to visit in Malaysia.
I flew to Malaysia from Bali and landed in Kuala Lumpur(KL). After exploring Bali's rice and fish villages for a month, Kuala Lumpur's bustle almost threw me off the ground.
Why were there so many people suddenly? Why was everyone so busy?
I felt almost insecure. But I was just transitioning from rice fields to metropolitans.
I stayed in the KL Chinatown as a blogger's article about the best places to stay in KL suggested that the foodies should stay near China town. I obliged.
Why wouldn't I? Chinatown in all the Southeast Asian countries leaves me speechless, mostly. Those few days of sinful indulgence in the KL Chinatown food left me wanting for more, and thus began my month-long, hungry, endeavor in Malaysia, a country where culture, food, and nature thrives at every corner.
After spending a few days in KL trying to choose one amongst the many unique places in Malaysia, I booked a bus to Taman Negara – a 130 million years old tropical rainforest. From cruising river Tembeling to hiking alone in the Malaysian jungle to hugging centuries-old Kapok trees to spotting poisonous frogs at night, I did it all.
But October wasn't the best time to travel to Malaysia, and the rain gods loudly told me why. When clouds enveloped Taman Negara from all sides, I decided to travel to Penang. I had planned to stop at Cameron Highlands in between, but while coming into the city, I observed that the ultra-popular city was dense with strawberry fields, tea gardens, and spice farms. A few other travelers confirmed that Cameron Highlands was all about guided tours to tea farms and other plantations.
Why would I go to all of these when there are maybe 100 more interesting places in Malaysia full of culture and tradition?
If you didn't know yet let me tell you that I am an Indian and we have enough spice gardens and tea estates that we don't need to see more of them until another lifetime.
After spending a few minutes at the bus station, I got bored with the idea of being in Cameron Highlands, so I purchased a ticket to Penang, Malaysia's culture and food capital.
Penang meant finding a lot of delicious food and eating it guilt-free. But the intricate mixture of Malaysian, Chinese, and Indian culture that is stuffed in every inch of Penang often took me out of my food trance and put me into the middle of cultural chaos that I haven't witnessed since I lived in a Chilean home with a North-American, British, and a French.
The street art in Penang was captivating, but the walking chorus of the white, brown, and black Penangites put up to the competition. (Please don't take offense as I am a brown girl as well.)
Even though Penang is a modern city with fancy flyovers and hi-tech highways, you can find hills to hike and natural gardens full of orange and black squirrels. Flavorful food, rowdy rodents, and wobbly walks — why would I leave?
Just when I thought my trip to Malaysia had been pretty sober, I saw the blood-soaked Chinese new year's celebration in Penang, and I knew I had seen it all.
Overwhelmed with the Malaysian culture and customs, I made my way to Borneo. How could I not head to one of the only two places in the world where you can find orangutang?
And, mind you, Borneo is the first-born if we talk about Malaysian cultural heritage.
After spending two days in the anemic concrete cells of Sandakan, a district in Borneo's Sabah state, I went to the Kinabatangan wildlife sanctuary. Kinabatangan is a long, inhabited river along which lives the big 5 – pigmy elephant, proboscis monkey, orangutang, crocodile, and hornbill.
Now let us stop at this thought for a moment.
Once upon a time, there was a long river muddy. Along the bank of the river lived the mama elephant Lily. On the top of a Jamun tree lived a monkey very funky with a very long nosey. A shrewd crocodile waited beneath the tree to see the monkey fall loosey.
A talkative hornbill nested in the tree. While her friend the orange orangutang visited her often for tea. The village children played on the riverbank every day, while their mothers shouted to call them home, come, come, otherwise the monkey will take you away.
I almost got carried away there. But that's what the river did to me. If you hadn't guessed, this is a story inspired by real characters.
Sukau village in Kinabatangan, which is a village 80 km upriver from the coast, was one of my favorite places in Malaysia. I went there when someone told me I should go to Kinabatangan wildlife sanctuary to see Malaysian wildlife without even venturing too far into the jungle.
After being pushed out of Kinabatangan by a wild orangutang who thought I was a threat to his high territory, I made my way to the Kinabalu National park. My Malaysia trip was coming to an end, and I wanted to see the highest mountain of Southeast Asia from up close.
But the weather monster didn't let me see the Mount Kinabalu clearly even once.
If only I had checked the weather in Malaysia before traveling to the country. But people like me who live in a pre-internet era cannot afford this digital luxury.
I shouldn't complain as in Kinabalu National Park I stumbled into two friends from my Sukau's homestay. Who could stop us then?
We hiked in the ancient Kinabalu park. Hitchhiked in SUVs on the windy roads of Sabah. Drank milo before dinner but red wine later, stuffed ourselves on heavy meals of mushrooms and fish, and played card games until we were too tired to keep our eyes open.
The wine got all over, and soon it was time for me to head back to Kuala Lumpur to take that flight back to India. As I returned to the capital, I rushed to drown myself in fish curry, stocked up on Malaysian coffee and prawn chips, soaked in the rain, and packed my bags.
When I saw a jellyfish-sized island floating in turquoise water from my window-seat while flying above Malaysia, I realized that I had forgotten about the islands.
Oh, of which there are some 900 in Malaysia by the way.
Are you still wondering why to visit Malaysia? Let me make the decision even easier for you.
What makes Malaysia unique?
1. Malaysia gives a visa-free entry. 
Malaysia gives free entry to most of the countries, but not to India. My western friends you can now skip to the second point.
Indians need not worry as well. Malaysia gives a 30-days eVisa to Indians which can be obtained within twenty-four hours without ever visiting the Malaysian embassy.
Read my guide on Malaysia eVisa for Indians and live those Jungle Book dreams.
2. Malaysian Culture and Traditions are like none other.
Malaysia is a mix of many cultures and ethnicities, some we have never even heard of or can go close to.
The 31 million Malaysians are a hotpot of Indian Malaysians, Chinese Malaysians, original Malays, and indigenous people and tribes living on Borneo (Bidayuh and Iban being some of them). This rich ethnicity makes Malaysia a unique mix of culture and traditions.
How do all these people talk to each other? Bahasa Malaysia is the official language of Malaysia, which all Malaysians — Indian and Chinese Malays (I can't say for the aboriginals they have their own 112 indigenous languages) speak fluently. English is also commonly spoken and is one of the compulsory languages in school along with Malay.
I could make my way around Malaysia with English, mostly. Though when it came to describing food, sometimes Malaysians fell short of English words.
Most Malays follow Islam, whereas people who migrated to Malaysia generations ago, such as Indians and Chinese, still follow their own religions, Buddhism, Christianity, and Hinduism to name a few. All the Muslims(60%), Buddhists(20%), Christians (9%), and Hindus (6%), from what I saw, lived peacefully.
While Indians prepared for Deepavali, Chinese did a religious parade on the Chinese new year, Malays waited for the Chinese food shops to open after the parade, Ibans still lived on their longhouses, and the tribes were oblivious of all this and busy in their lives (I guess).
Visit the cultural cities of Penang, Malacca, and even Kuala Lumpur to see the cultural mix.


3. Malaysia has the world's oldest forests.
As I said above, Taman Negara, one of the forests of Malaysia, is (almost) the world's oldest rainforest. Now a forest as old as Taman Negara comes with its own animals, birds, and trees — to say the least.
Accessible after crossing the river Tempeling on a boat, or foot as a crazy local guide told me, just go inside the forest gates and choose the hike you want to do. You can even trek on your own in this jungle so don't get intimidated by the age of this intriguing one.
Taman Negara is on mainland Malaysia. Now if you happen to visit Borneo, the island Malaysia, you have a jungle treasure waiting for you.
I won't describe the Kinabatangan area more as I know I have sold it to you already. But Sabah has more than just this river, and then there is the Sarawak rainforests and national parks, too.
Malaysia also houses Southeast Asia's tallest mountain Mount Kinabalu in Sabah on the island of Borneo. This mountain is so popular among hikers that you can never climb it impromptu. So book and go.
If you can't climb Kinabalu, you can still hike in the Kinabalu national park. Maybe you stumble on the bad-smelling flower Rafflesia arnoldii or more commonly known as corpse flower? If you don't notice the smell due to a cold, the flower will make itself visible for its the largest flower in the world sometimes going as high as 3 feet and as heavy as 11 kilos.
Ouch!
Even if you can't travel to the exotic places I just mentioned, take a bus ride from any city and enjoy the views. Malaysia's greenery would surely surprise you.
4. Malaysia has 878 islands for you to choose from.
On this Malaysia trip, I couldn't even go to an island to enjoy sandy beaches or turquoise waters as it was the monsoon time. I wanted to visit the Selingan turtle island off the coast of Sandakan, but the heavy rains made the journey dangerous, and all the routes were closed at the time. I only enjoyed a sunny day on the Batu Ferringhi beach in Penang for the weather was benevolent that day.
Some of the most beautiful Malaysian islands that come to mind are the Tioman islands (absolutely gorgeous as I visited them a few years ago), Langkawi, Redang, Perhentian, Sipadan, and more.
Choose your season and go for some cheap diving into the aquatic life near Malaysia. Or just chill by the beach with a book and grilled prawns.
Be careful while visiting the Malaysian islands. There is one island that was notorious for kidnappings.
5. Malaysia has orangutangs, and more.
Malaysia is the only country that comes to my mind when I think of wild animals and humans occupying the same natural habitat peacefully. Hint: Kinabatangan.
Though I shouldn't say peacefully for the orangutangs are severely endangered now, especially due to the palm oil deforestation on the island of Borneo which is one of the two natural habitats of orangutang (Indonesia is another).
Apart from orangutangs, you can find Malaysian tiger, pigmy elephants, many varieties of monkeys, birds especially hornbills, and more.
To see these animals, head over to Borneo. Stay in Sukau village and take river cruises over Kinabatangan to see these wild animals from the safety of your boat. Or hike into the jungle with guides and hope that you don't run into a male orangutang's territory as I did. Or visit the orangutangs' rehabilitation centers spread across Borneo to see these beautiful creatures up close.
You can go to the national parks in Sarawak and Sabah to see the rest of the Malaysian wildlife.
6. Let's come to my favorite thing about Malaysia — the food.
You might have always heard of Penang delicacies when people talk about Malaysian food. Though I agree that Penang is the food capital of Malaysia, I devoured food all over Malaysia.
All the different ethnicities such as Indians, Chinese and the British, Portuguese, Japanese, and Arabs brought their own food and ingredients along. The country's access to the ocean gives Malaysia more seafood and coconuts than she can ever consume. Then there is homegrown tea and coffee. Noodles and roti and rice make everything more interesting. Tropical weather brings fresh fruit and vegetables and spices.
I can go on and on.
I don't like to call myself a pescatarian, but I am one, until I leave the seafood, alone. But I quit eating chicken, eggs, and other animals a while ago now — for reasons humanitarian.
Given I don't eat chicken, pork, beef, or eggs, I had an easier time choosing amongst the versatile menu options in Malaysia. But if you eat all of these, then good luck; Malaysia runs around food and the country has as many food options as the royal families to choose a king from.
Oops.
The local Nonya cuisine, which is a fusion of Chinese and Malaysian, would leave you confused but satisfied. But then there are Indian shops selling naan, chicken curries and rotis, and fish in dry and curry forms in green and red colors.
You can also find samosa, and other Indian street food. Though I found the Malaysian Indian food very different from the typical food here in India, I enjoyed a plateful of sambhar, dry beetroot, fish curry, fried fish, papad, rice, and salad more than a countable number of times.
There is Indian and Chinese, and then there is local street food on sticks and in steaks.
Coconut, peanuts, mushrooms, and okra are popular ingredients in the coastal country. I also loved the fish preparations with okra (try in Indian restaurants).
Most of the dishes are eaten with noodles(mee) and rice(nasi) and the Indian preparations come along with many forms of roti or naan.
Noodle soups are delicacies in Malaysia. Laksa is a spicy, sour fish soup that comes with rice noodles and is popular in Penang. Maybe because you can get the best one there. Find a popular Laksa shop in Georgetown Penang, anyone would tell you, and eat two bowls of Laksa (in less you won't be satisfied), followed by a cold sweet bowl of Cendol.
If you are a sweet-toothed person, find Ice Kacang and Rojak and thank me later.
Finding chai and tea or coffee is another adventure. Countless shops and stalls and restaurants sell all forms of hot and cold coffee. Do make sure that you learn the difference between a drink with milk and without milk(btw milk is susu in Bahasa). Then have your drink at the shop or get it parcelled when you will get a plastic bag to string to your hand. (Hint: Find teh tarik).
I don't agree with this plastic consumption but Malaysia didn't seem to bother about the number of plastic bags they throw in the dustbin, and maybe later in the ocean, just because people like to drink coffee and tea or water on the go or take it home to have it later. Maybe find recyclable bags to use and ban the plastic?
I cannot go through the various options of Malaysian food without getting hungry. So I end this list here now and hope that in this endless list of sinful food you have found your reason to go to Malaysia.
If not, think again.
Here is some more miscellaneous, but interesting, information about Malaysia that I cannot put under a single point.
11 interesting facts about Malaysia
Caning is still a punishment as per the Malaysian law.
Malaysia defeated the communists, the only country to do so.
It rains for about 200 days in Kuala Lumpur. I wasn't just unlucky.
If you were thinking of Malaysia as an under-developed country, think again, for Malaysian highways, a total of 65,877 km, outrun Earth's circumference, 40,075 km. Bicycle all the way on highways and say I have done a round-the-world trip?
Have you ever heard of bird's nest soup that is said to be one of the most strengthening dishes, especially by the Chinese? Swiftlets, poor birds whose nest is made into a soup, nest in the Gomantong Caves in Sabah. So you can actually buy these nests in Malaysia for as high as $4000 per kilo. I sympathize with the birds but a Malaysian Chinese told me that they only pick the nests when the bird leaves it.
I don't want this list of interesting facts of Malaysia to become a political lesson, but Malaysia has a constitutional monarchy where the King is elected every five years from one of the nine royal families of Malaysia. The King is the Supreme Head of the State.
Each of the 13 states in Malaysia has its own Governor or Sultan who acts as the Head of State. This Sultan can only be a male Muslim Malay. Talk about patriarchy.
Palm oil is one of the major exports of Malaysia. But not without destroying orangutans who depend on the palm trees for food.
Malaysia shares Borneo, the third-largest island in the world, with two other countries, Indonesia and Brunei. So you cross international borders even while traveling on the same island.
Don't forget to bring your passport to Borneo, even if you are a Malay, for Sabah and Sarawak, two states of Malaysia on the island have their own immigration rules. As international tourists, you can just show your passport and go.
The official motto of Malaysia is Unity is Strength. Would you guess why?
These unusual facts about Malaysia aren't to impress you to travel to Malaysia. But I wanted them to put them out there so that you know that Malaysia is unique.
Now if someone asks you what is Malaysia known for, please don't say islands and Penang food for there is so much more.
Follow up Read: River cruise on Kinabatangan river, Borneo – If you are a wildlife fan like me, you should visit Kinabatangan river
Is Malaysia worth visiting? You tell me.
If you liked the post, please pin it.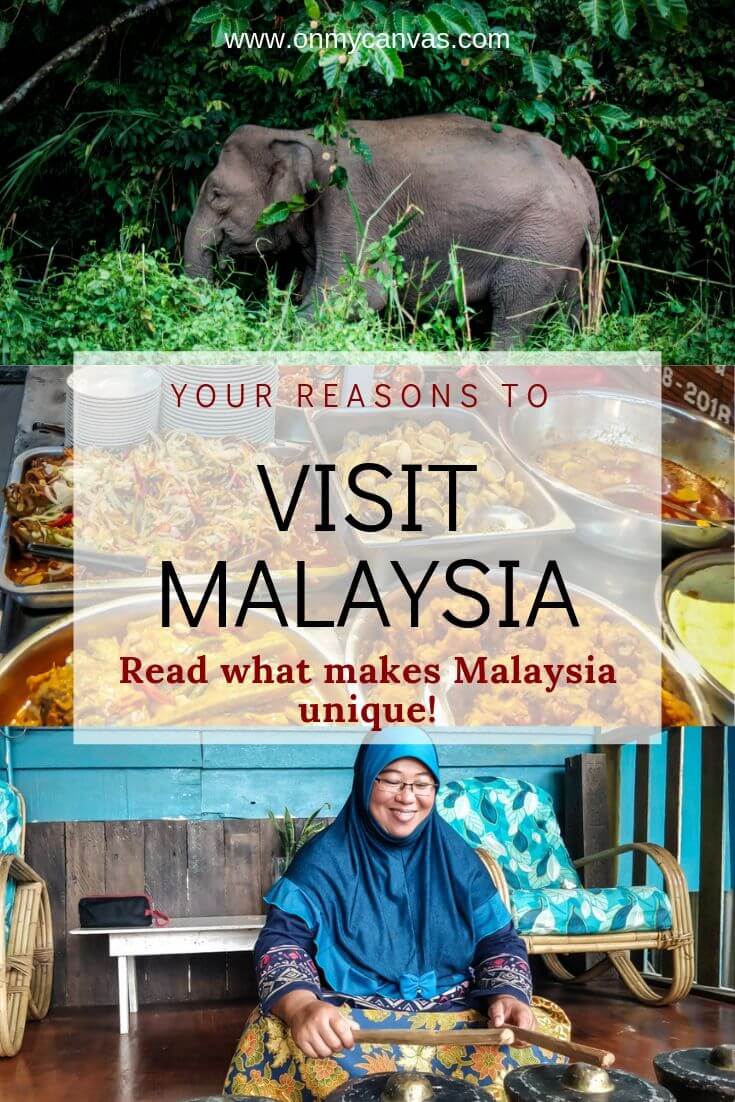 *****
Donate to keep me going!
For five years, I've read and wrote day and night to keep On My Canvas - my sustenance and life's focal point - going. Everything here and my weekly newsletter "Looking Inwards" is free. No ads. No sponsorships. If you've had some good moments reading my posts or felt hopeful on a lonely day, please consider making a one-time or a consistent donation. I'll really appreciate it (You can cancel anytime).
*****
Want similar inspiration and ideas in your inbox? Subscribe to my free weekly newsletter "Looking Inwards"!