Covid Update July 2022: Indonesia is now open for all travelers. But the official declaration by the Indonesian government for travelers during covid-19 pandemic suggest travelers need certificates of both the vaccine doses. Please visit the link to read all the details carefully.
I write this piece while sitting on the balcony of a beautiful Balinese home, with a lush green garden, with the blooming frangipani canopying over the sunlit courtyard and its tiny temple, and with towering palm and coconut trees swaying in the distance. And as I listen to the water falling over an artistic fountain while drinking tea, I know that there is nowhere else I would want to be in this moment.
Having been in Bali for ten days, my wanderlust soul and ever-wandering eyes have experienced and seen a lot. (I also have a complete travel guide for Bali and a guide on Bali Visa on Arrival – For Indians and Others.)
Here are my first impressions and some travel tips for this island which is filled with tourists but has protected its culture from the outsiders.
The people are warm-hearted and kind
As an old Balinese man drove behind us on a scooter, his eyes caught my bandaged knee and my protective hand that shadowed it to catch the attention of reckless drivers. He smiled ear to ear, as if he understood my pain. And then he softly drove by from our right side.
Not everyone smiles that genuinely, but almost all Balinese people smile and greet. On a lazy afternoon when they are done with their work, you would find them sitting, chatting, eating watermelon, drinking coffee, playing with puppies, and living life. I haven't seen even one person getting angry or shouting at someone, yet.
I met many fellow travelers who came to visit Bali for a month or a few months and then prolonged their stay; some even settled down here. They said they liked the place, it is cheap, but the biggest inclination was that the people here are beautiful.
So if you plan to visit Bali, remember that it might entice you to shift your base here. And that would be easy, as many houses and villas are on sale, as per the display signs.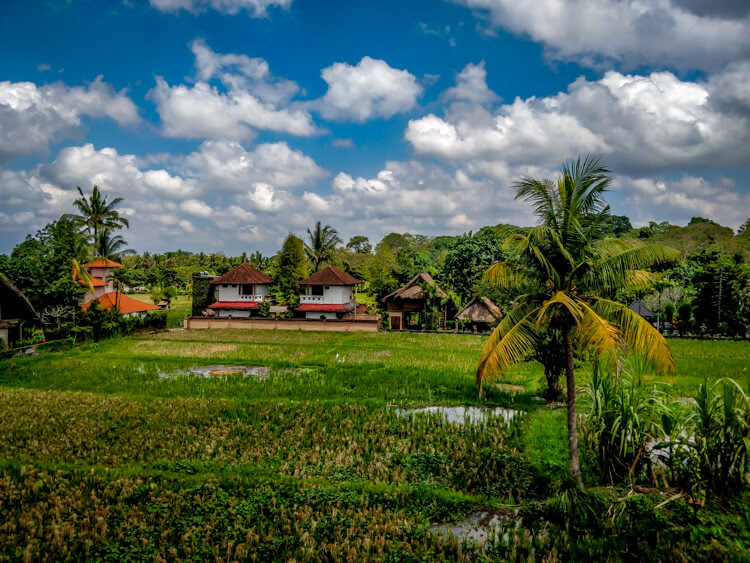 Also Read: Why Relationships are Important and How to Build Them
Bali is a land of thousand temples or Puras 
I always thought that Bali got its name from the Bali-Sugreev brother combo from the Ramayana, but the more I read, the more I understand that the two are not connected.
Hinduism have been on the island since 1st AD, when Shivaism, worship of Lord Shiva, was one of the leading religious sects. Around 80% of Balinese people follow Hinduism, and quite religiously. Most of the roads are fringed with Puras, but each house also has one or two temples and a few shrines in the large courtyard of the house. Religious processions are common.
The lady manager of our hotel made an offering every morning and evening with Canang Sari, a palm leaf basket which holds a sweet, coins, marigolds and other flowers, and then she dispersed the smoke from the essence into the whole hotel from her puja-thali( plate of pray), much like aarti in Indian Hinduism. Then she beamed and asked if I was a Hindu as well.
I couldn't go inside most of the temples as I was forced to wear shorts and skirts in this sultry weather, and Balinese don't allow you inside with bare legs or in your periods. Something to remember if you want to visit these temples.
But these Shiva, Durga, Brahma, Hanuman temples are marvelous to look at, and while walking through the bustling streets and admiring the richly-adorned pagodas hidden behind the pink bougainvilleas, I forgot where I was, in India or Indonesia.
Food is delicious and cheap 
To my disappointment, our cab driver from the airport to the hotel told us that he loves to eat suckling pig, which is cheap and easy to get. But as I explored the food around the island, I realized that there is much more than suckling pig, though that remains a favorite dish among the locals.
Boiled or fried noodles (mie) and rice (nasi) are the main staples along with various preparations of chicken, egg, fish, shrimp, eggplants, beans, bokchoi, carrots, mushrooms, cabbage; I can go on and on. Soups are hearty, and vegetarian noodle soup with dumplings cure my day's exertion with just a few spoonfuls.
Warungs, or the small restaurants and eateries that people have opened in their homes, are my go-to places. The friendly owners would point you to a glass cabinet that beholds shredded, fried, or minced chicken, boiled eggs, fried fish, sauteed beans, fried eggplants, and you can choose as much as you want. While enjoying your miscellaneous selection with rice or noodles, you can also add a pinch of chilly sauce if you are brave-hearted; I say this as an Indian who has grown up on spicy food. And when it comes to requesting for vegetarian dishes, I smile and ask for no chicken or egg and only vegetables, and they agree, mostly.
Though vegetarian food could still be a problem at some restaurants or homestays; at my current homestay, I only get pancakes or omelet with bread in the breakfast. As the batter of the pancake is already prepared, and the chef doesn't have to break any more eggs, I chose the pancakes today. With the advent of Yoga, spirituality, and meditation in Bali, many vegan cafes and restaurants have also sprung up in central Ubud and other touristy areas.
But this is Bali, and you can stumble into a cheap warung just around the corner or find a fancy restaurant with large dining and live music. To give you a contrast — my first meal cost me about IDR 90,000/USD 6/INR 440, and today's lunch was for IDR 12,000/USD .8/INR 58. I was happier with the latter option, as I could talk to the local lady cum chef cum grocery store manager cum aunt of my homestay people and made videos of interesting street activities.
Also See: Bustling Street Life and Delicious Food of Vietnam – In a Photo Diary
This welcoming island promises to keep you busy
For it has an overwhelming amount of things to do for the adventure lovers, spiritualists, artists, and for people of all ages, strengths, and weaknesses alike.
You can cycle, walk, drive a scooter, take a jeep, or hop onto a ferry to go to another island. You can bungee jump, dive, snorkel, parasail, get tattoed, enjoy a massage, go rafting, take a Balinese dancing class, a weaving class, or make silver jewelry. You can also find an artistic cafe or a quaint temple or a deserted beach (like the turquoise Nyang Nyang beach) and sit with a book for hours and sip Balinese coffee, which I didn't like that much though.
You name it, and Bali has it.
Racism is an unknown concept 
One evening, after having walked the whole day, my friend and I sat down at a roadside table at a nice Indonesian restaurant to treat ourselves to a candlelight dinner. When we went to the toilet, an elderly couple occupied our table. But the waitress asked them to move as we were the first comers. This wouldn't have happened in some other Southeast Asian countries, for example, in Thailand, where I suffered the Thai prejudices against Indians.
Also Read: Traveling Through Thailand – And Realizing What Was Wrong With Me.
But Indonesia has only given me love and cheerful smiles and curious questions.
The most popular queries I have gotten about India are around Ganga, Shahrukh and Salman Khan, and if I am a Hindu. And then the Balinese move on to smiling and caring about their own lives.
Bali is a city sprawling in an enormous paddy village 
You can walk, drive, or cycle out of the main streets or the tourist-preferred Ubud area, and you would soon find your eyes chasing a sunset behind a green paddy field fringed with coconut, banana, and papaya trees on all sides.
Though a plethora of hotels, hostels, Airbnb's, massage centers, jewelry shops, tattoo centers, scooter rental services, art shops have sprung up, they are all interspersed amongst natural reserves, forests, parks, paddy fields, and open pastures.
The old Bali (my cab driver told me that five years ago there was no tourism) is all about greenery and farming and is still visible in large patches. Bali's lush nature makes it one of the best places to visit in Southeast Asia.
Also Read: Peru – In the Golden Foliage of Poetry and Pictures.
Prices suit cheap pockets 
Bali isn't that expensive. Well, it could be, if you want to spend money.
I have gone from paying IDR 250,000/USD 17/INR 1,220 for a night at a nice paddy-field-view, air-conditioned stay in central Ubud to IDR 130,000/USD 8.5/INR 630 for a quaint double room with fan and a beautiful garden view within a welcoming home two streets away from the center(breakfast included at both places). Again, I prefer the latter peaceful yet bustling place, and its balcony would be my writing studio for at least a week.
Scooters could be rented at IDR 50,000/USD 3.5/INR 250, and petrol is dirt cheap. Paying for museums, activities, diving, art classes, yoga et cetera could cost you a bit, but it depends if you chose a fancy option or a cheaper one. And I promise that everything here has a competitive choice. You just need to ask around local people or at your guest house.
Bali is an incredibly welcoming and gorgeous island. I have only spent ten days here, and I am already thinking of coming again, booking a homestay for a month or a villa for a few months, exploring, writing, reading, meditating, cooking, visiting floating temples, finding quaint beaches, climbing hills. Living free, you know?
Also Read: I Am Going Nomadic.
Have you visited Bali? Let me know if you have any other travel tips for Bali.
*****
Donate to keep me going!
For five years, I've read and wrote day and night to keep On My Canvas - my sustenance and life's focal point - going. Everything here and my weekly newsletter "Looking Inwards" is free. No ads. No sponsorships. If you've had some good moments reading my posts or felt hopeful on a lonely day, please consider making a one-time or a consistent donation. I'll really appreciate it (You can cancel anytime).
*****
Want similar inspiration and ideas in your inbox? Subscribe to my free weekly newsletter "Looking Inwards"!