Update 2022: Malaysia has reopened its international borders from 1 April 2022. Get Malaysian government's complete rules for travelers planning to visit Malaysia on the official Ministry of Foreign Affairs Tourism website. I've also listed down the guidelines and compliances in this article on Kinabatangan River Tour.
When I traveled to Southeast Asia this year, I knew that I would visit Indonesia, but I didn't know where I would go from there. I zoomed out of the Asia map and turned the globe around to understand which countries were green and gave a visa on arrival or an e-visa.
The closest country to Indonesia was Malaysia, and its green footprint on the map captured my attention. Also, I am always excited to visit the less-popular places, and Malaysia is one of them. If you are planning to visit Malaysia now, you are lucky as you will see it before the country is flooded with tourists. I went to Malaysia in October, and sometimes I was the only one in a room in the entire hotel or the only one camping amongst hundred empty tents.
When I first traveled to Malaysia in 2012 for two days, my friends and I drove in and out of the Malaysia-Singapore border five times due to some immigration problems. Back then I had applied for a Malaysia visa via an agent; in those days I was not so rigid about I-will-plan-all-my-travel-myself.
This year when I googled about Malaysia visa, I found out that Malaysia now gives an eVisa to Indians which is valid for three months, and you can travel within Malaysia for thirty days on that eVisa.
Happy as a girl who had just discovered ice cream, I applied for the eVisa for Malaysia within a few hours. The next day my visa was approved.
Related read: My guide to visa on arrival for Indonesia – All you need to know
Who can apply for eVisa for Malaysia?
The official eVisa for Malaysia website says that the nationals of China, India, Sri Lanka, Nepal, Myanmar, Bangladesh, Pakistan, Bhutan, Serbia, and Montenegro are eligible to apply for the eVisa. Though for the scope of this article, I would restrict the eVisa application process only for Indians.
You can also look at FAQ document of the official Malaysia website if you have some questions.
The process of Malaysia eVisa for Indians in detail-
You will have to make a new user account on the official eVisa for Malaysia website: https://www.windowmalaysia.my/evisa/evisa.jsp.
Creating an account is simple. Also, before applying and throughout the visa application process on the official eVisa website, you can talk to a virtual assistant who tries its best to answer all your questions.
eVisa for Malaysia – The first step of the application form –
Unlike other visa applications, you have to upload the documents first while applying for a Malaysia eVisa.
Attach a passport size photo, images of your first and last page of the passport, return flight tickets, accommodation proof,  and entry and exit stamps of the last visited country.
 Upload photo as per the website's specification (in jpeg format) – I went to a studio and asked the photographer to click my passport-size photo as per the Malaysia eVisa specification. And given how obsessed I am with details, I carried the specifications with me and showed it to him.
Upload images of your first and last page of the passport (in jpeg format) – This is an important step of the eVisa for Malaysia application. The application form displays the way you should scan your passport. If you don't scan the passport properly, they will request you to re-upload the images, and this back and forth might delay your eVisa application. I scanned my passport using Camscanner application, and then created a jpeg out of the image and uploaded it.
Upload Return flight tickets (in pdf format) – I put the return tickets from Bangalore to Kuala Lumpur on hold on Yatra and uploaded the flight itinerary on the website. As the Yatra tickets stay on hold for 3-4 days and the visa process was supposed to take one working day, this method worked for me.
Also, I had asked the virtual assistant on the eVisa for Malaysia website about showing the travel tickets from Indonesia or applying for the visa from there, the country from where I was planning to visit Malaysia. The assistant told me that if I apply from Indonesia, then my return should be from Indonesia, and if my return was from Indonesia, then I should apply from there. And then after a few questions, the assistant told me to visit the Malaysian embassy in India, which I avoided, of course.
When I visited Malaysia, immigration didn't care about where I came from. They only wanted to see that I had a valid eVisa for Malaysia and other required documents, of which I will talk about in the end.
Upload accommodation Proof (in pdf format) – I always submit cancellable Booking.com reservations. When I get the visa, I cancel the accommodation if it doesn't match the travel dates or if I don't like the place anymore.
Upload entry and exit stamps of the last visited country (in pdf format) – I uploaded the stamps from my last visit to Chile and other countries in South America. Just scan the stamps and attach.
The application form also asks you to upload "other documents." I don't remember what I uploaded there, but you can attach a travel itinerary or anything else that you find relevant.
After uploading these documents, you have to fill in your personal details along with a Malaysian address. I wrote down my hotel address in Malaysia.
I scanned all the documents with the Camscanner application and didn't have any issue while attaching the documents or with the orientations of any of the pdf.
Also Read: My Guide to Chile travel visa
eVisa for Malaysia – The second step of the application form –
After filling in the personal details and uploading the required documents, you will come to the payment page.  The payment for the Malaysia eVisa was a two-step process.
The first payment was for the visa processing fee which was USD 25. The second payment of INR 1,150 was the visa fees. I made both the payments with my Citi bank debit card and when I checked my bank statement, I saw that the transaction was with the VFS Global services, the global visa service company.
After making both the payments, I received a message that the Malaysian embassy / Malaysian Consulate / Malaysian High Commission in India was now processing my application, and the application status changed to Submitted.
As the Malaysia eVisa website promises to deliver the visa within 24 hours, I got my visa approval email the next day, along with the directions on how to use the eVisa.
Must Read: My complete guide to visas for Indian passport holders
How to use the eVisa for Malaysia –
The Malaysian embassy sent straightforward instructions to use the eVisa-
1. Print your approved eVisa.
2. Carry a printout of your eVisa along with sufficient expenses or bank statements, credit cards or ATM cards, your returned flight tickets, and your accommodation proof. You might be asked to show these documents at the Malaysian entry and exit immigration points.
I carried a print out of an out ticket from Kuala Lumpur, my bank statements, hotel bookings, and the eVisa for Malaysia. The immigration officer at the entry point only looked at my eVisa and asked me how much time I was planning to spend in Malaysia. When I said I wanted to stay for a month, he enquired why did I want to travel for so long. I told him I love to travel and write. Then he let me go in.
Also Read: 100 days on the road – A nomad's honest accounts.
How long is the eVisa for Malaysia valid for?
Three(3) months.
I got a single entry eVisa which was valid for three months. Within those three months, I could stay in Malaysia for 30 days after which I had to exit Malaysia. After leaving the country, I couldn't re-enter on the same visa as it was a single entry visa.
Must Read: If you get a chance, do a Kinabatangan river cruise on the island of Borneo and see Malaysian wildlife from a boat.
When to apply for an eVisa for Malaysia?
The Malaysian websites say that you should apply two weeks before your travel plans. I applied a month before I wanted to go to Malaysia as I was leaving India at that time. Even though I uploaded a travel itinerary from October 1st to October 18th, my eVisa for Malaysia was valid from the beginning of September to the beginning of December.
I would suggest keeping enough gap between the travel date and the application but apply closer to when you travel, especially if you plan to go to some other country before Malaysia. Else you would start exhausting the validity dates of the visa.
Also Read: First impressions of Bali – Practical travel tips to see the island
Special Note: Borneo island has its own immigration. When I flew to Borneo from Kuala Lumpur and saw the immigration counters at the Sandakan airport, I panicked for a moment and thought that maybe I needed a separate visa for the island. But I realized that everyone was going through the immigration and that the immigration officers were only checking the passport.
I asked the officer that why was there immigration check if we were flying within the country. He replied that earlier Borneo was a separate country and they like to keep their system independent and self-sufficient. He just flicked through the passport and handed it back. So if you see immigration counters at Borneo airport, don't panic.
Enjoy Malaysia. For it is a gorgeous country with kind-hearted people, beautiful islands such as Langkawi, and free wildlife.
Is the process for Malaysia eVisa for Indians clear to you? Excited to visit Malaysia now? Let me know in the comments.
If the guide has helped you, please take a moment to pin it!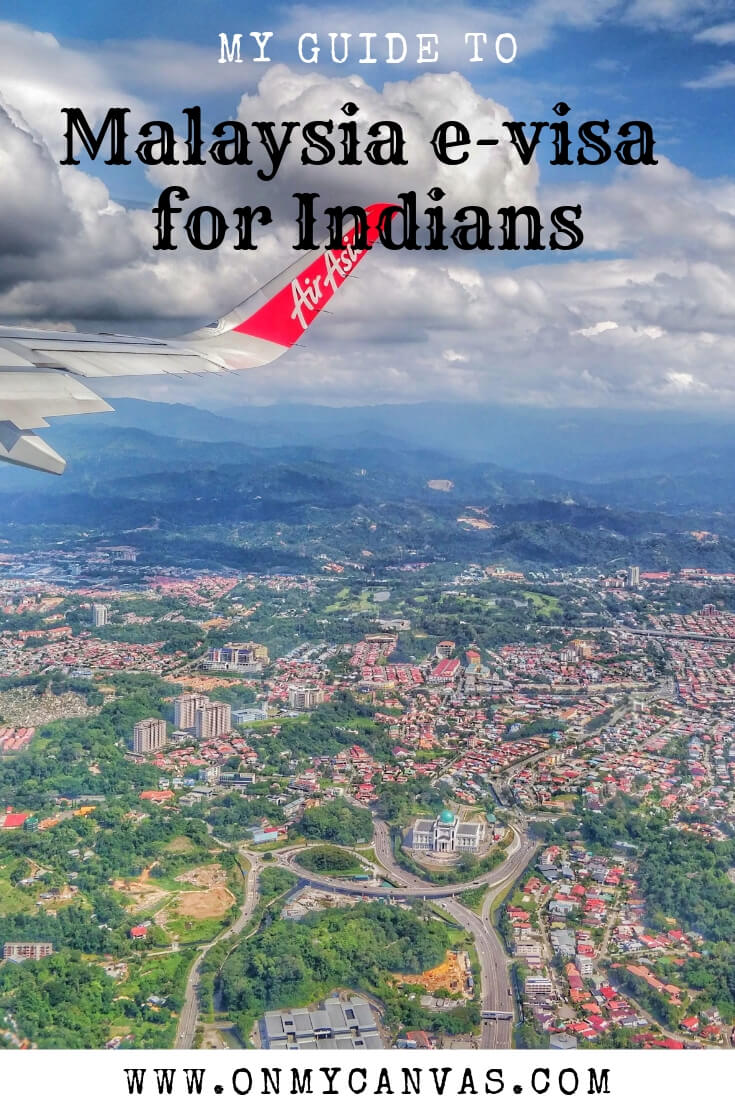 *Note: This post contains affiliate links; if you choose to click through and make a booking, I will earn a little bit at no extra cost to you. It is entirely up to you if you book.
*****
Donate to keep me going!
For five years, I've read and wrote day and night to keep On My Canvas - my sustenance and life's focal point - going. Everything here and my weekly newsletter "Looking Inwards" is free. No ads. No sponsorships. If you've had some good moments reading my posts or felt hopeful on a lonely day, please consider making a one-time or a consistent donation. I'll really appreciate it (You can cancel anytime).
*****
Want similar inspiration and ideas in your inbox? Subscribe to my free weekly newsletter "Looking Inwards"!