My Favorite Restaurants Near MG Road — Places to Overeat
I first created a draft for the restaurants near MG Road Bangalore when I was staying at the boutique hotel Casa Cottage behind Richmond Town. Sitting under the avocado trees, I would read books on Bangalore. Sometimes midday, I would pack my Kindle, pen, and notebook and head out. A few days, I stopped by Koshy's and Indian Coffee House, and other days, I walked on. Towards the evening, my partner would join me for dinner, and we would explore different restaurants around MG Road (It's close to Richmond Town). And many of those adventures of my belly found their way into this article.
I lived in Bangalore for quite a while and ate at many restaurants, kiosks, food stalls, and cycle vendors. But I never wrote about those eateries. I was scared of indulging in my food obsession. In Richmond Town, I was eating out at a new place daily because we were soon leaving Bangalore(for the nth time). Our Karnataka adventures were coming to an end. And so, I decided to record my food experiences in this MG road restaurants' guide.
Here they are all. Enjoy.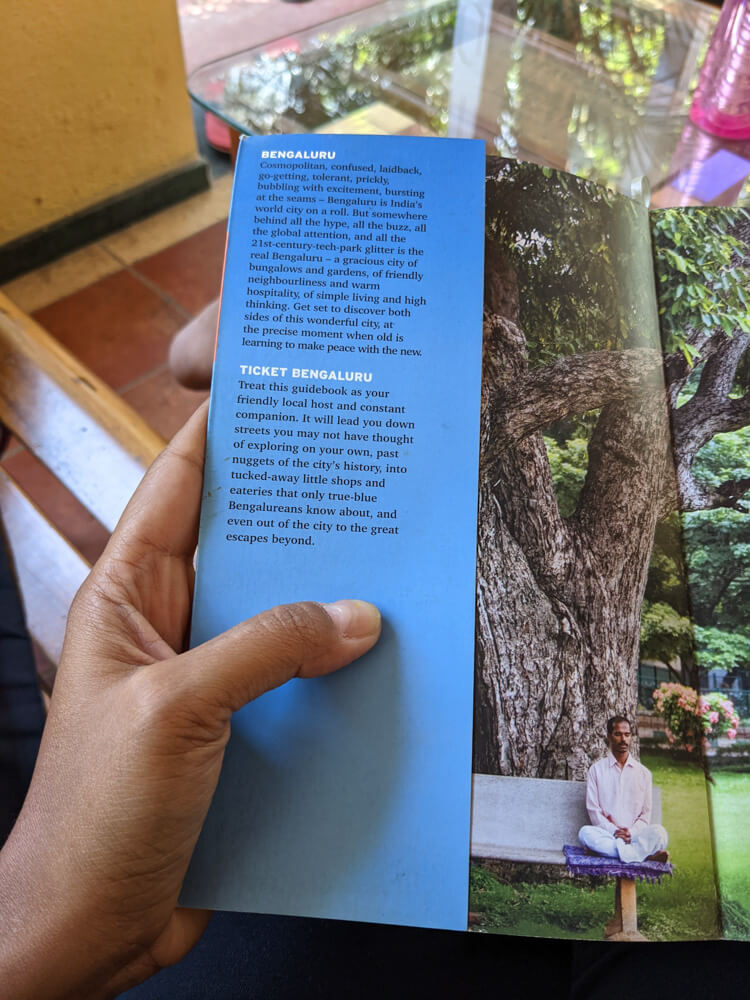 Azuki Japan Travel Bistro and Sake, Richmond Town 
I found Azuki while looking at the neighborhood map near Casa Cottage, our abode for almost three weeks in the Bengaluru Cox Town. The area didn't have many Japanese places, as you can imagine. Once a blogger had mentioned an authentic Japanese restaurant near MG Road. Assuming that she must be talking about Azuki, we went there for dinner. 
This Japanese restaurant was a ten-minute walk from Casa Cottage. Now Azuki was not of our usual shabby, casual eating spot where food would be good, but the rest takes care on its own. Azuki Bistro is a fine-dining and is attached to a hotel.
When we arrived, at least ten Japanese ex-pats still dressed in formals were having dinner there. Some held glasses of wine in their hands, and some sipped from colorful ceramic cups. 
We took a table for two in the dimly lit courtyard of the diner. A blackboard laden with the specials of the day stood behind us. Light piano music played softly filled the air. The lighting was soft and romantic. 
Waiters clad in Japanese-style apron, pants, and hats darted between table and kitchen. Their soft fair faces hid behind tightly secured masks. And I couldn't tell whether the staff was also from Japan. Is it possible?
The menu was big, and we took time. My husband ordered an Udan noodle fish soup that was to come with prawn fritters. Inspired by the show Midnight Diner, we ordered sake. The waitress asked if we would like it hot or cold, and we said, almost in unison, hot. After I had learned the entire menu, I ordered a miso fish soup and avocado mushroom sushi to go with it. 
The server brought the sake in a ceramic flask that looked straight out of a Japanese movie. She got us a wooden tray filled with small ceramic cups. 
"You can pick which one you want for your sake."
I smiled. I love customization and choice.
My partner took a small hexagonal blue cup, and I chose a cylindrical white one imprinted with jugged yellow ceramic dots.
The first few sips of the warm sake tasted bitter, too strong, too raw. But I got used to its taste and downed my first cup. Then came my soup and the sushi. 
The fishy miso soup made with seaweed and mushroom was delicious. After living in on a Southern Chilean island for five months, I know how to like my fish and seaweed. I felt I had gone back to my host mother's house in Chile eating seaweed casuella. The soup was mild but flavorful. The sushi was good too. Avocado with mushrooms worked well, and we dipped it enough times in soy sauce and crunched on the pickled ginger happily. I ignored the wasabi. 
My partner's udon noodle soup was thick. He had a side of crushed radish and ginger to add as per his taste. Oh, and three big and crispy tiger prawn fritters. 
 We mixed and matched and ate as we liked. Finishing the last bites with sake, we were two happy elephants.
The bill was big. The walk home was a small one, full of sake on our tongue and a warm vigor in our stomach.
I would go back to Azuki, but one has to be heavy on the pocket.
Also Read: If you love seafood, read this Penang seafood guide. The article also tells how to eat fish sustainably and responsibly and why I'm a pescetarian.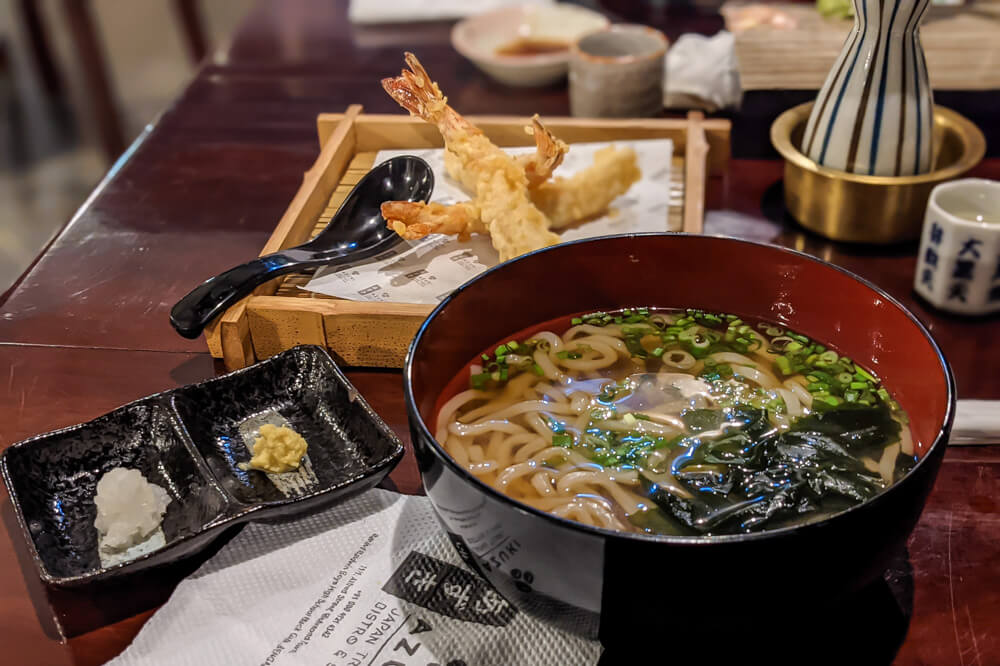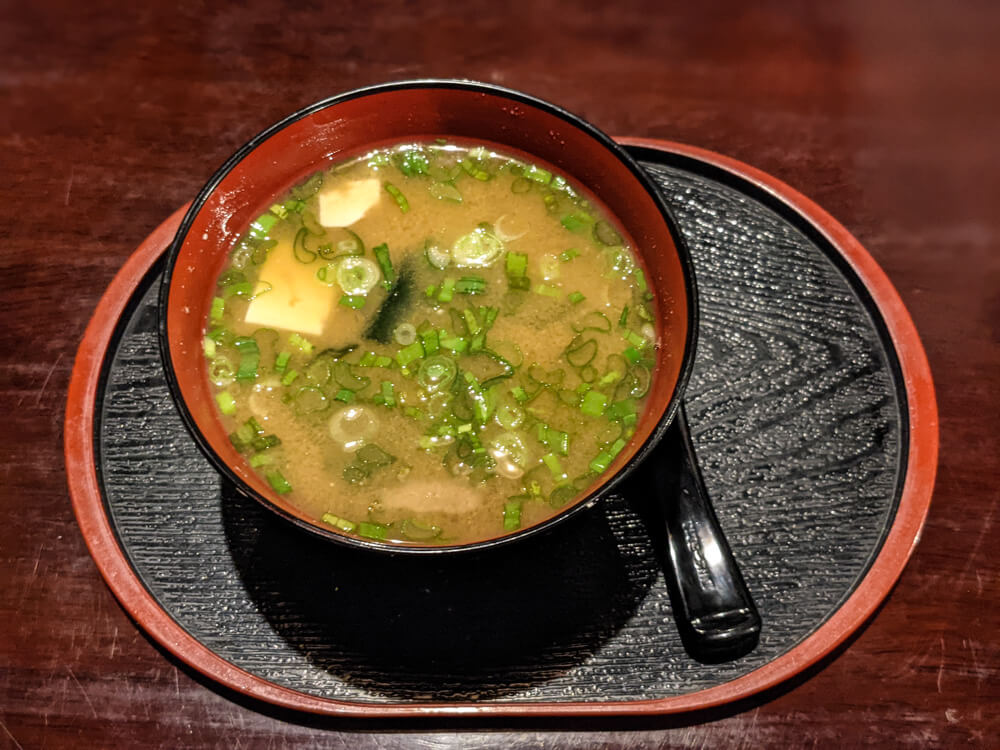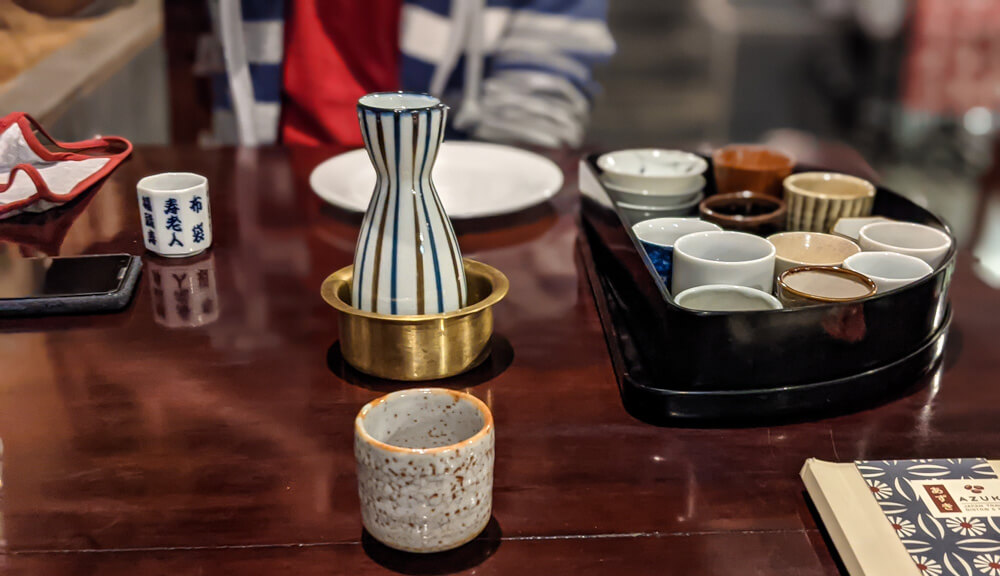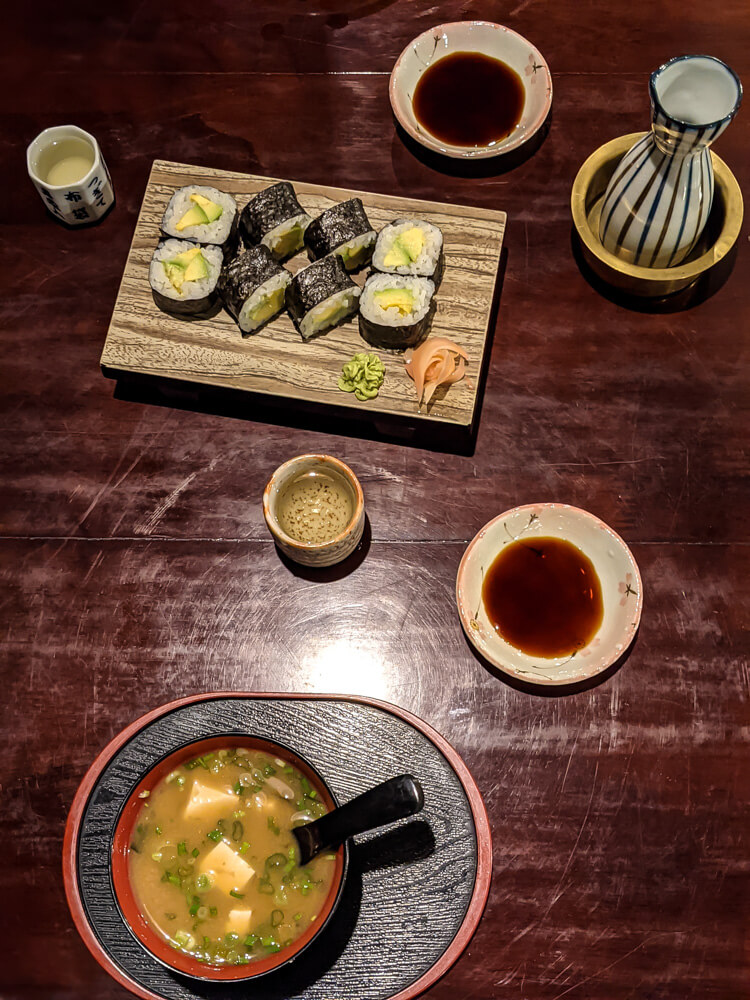 Fishland, Gandhinagar
Since we went to Chikmagalur and gorged on fried and rawa-fried (semolina-fried) fish and prawns in the local Fishland there, we have become fans of the Fishland. 
You ask if Fishland is a chain of restaurants or something like that? No. 
Fishland is just this heaven where you can order any preparation of fish, prawn, crab, and other sea animals. Rice or dosa accompany the goodness (You do not want to miss my Karnataka dosa guide.). Most Fishlands also serve thalis. A fish thali would have fish curry, fish fry, rice, rasam, papad, sambhar, dried prawns or fish, and chapati. 
The Chikmagalur Fishland server recognized our Swiggy order and would always provide extra tissues and lots of crunchy onions. Many times we even upset our stomachs because we just overate.
Soaked in Fishland-love, one day we dropped by the Forest office in Chikmagalur to enquire about some hikes. The forest office neither could offer us any treks (because all the trails were closed) nor could he tell us about a good Malnad (Chikmagalur cuisine) food place. But when we mentioned our love for the Fishland, he urged us to visit Gandhinagar's Fishland in Bangalore. 
"What was so special about it?" We asked.
"You will see," he said. "But go to Gandhinagar only. The restaurant doesn't have any branches."
Now that Gandhinagar Fishland stood about 14 km from our HSR home. But then we had given up our rooftop abode and lived in Casa Cottage. From our BnB, the food joint was only some 5-6 km away. Fishland restaurant is on Google Maps so you can follow the directions right away.
The entry to Gandhinagar Fishland place was simple. A gloomy staircase led up to a big restaurant laid with flat wooden tables and wooden chairs. Typical to all South Indian places, the restaurant had some glass cabins for families. You know to be away from the eyes of the glaring Indian men. 
Now, what to order?
The menu was big, meals were available, and the timing was right. We ordered one fish biryani and one fish curry with neer dosa.
"Would that be enough or shall I order some fish fry too?" I asked.
"See when the food comes and then you can order more." He said. I was sure he was controlling his laughter. And other servers standing near the counter must have laughed too. Because later we saw them all watching us eat. 
But as soon as the plate full of fish biryani and a bowl full of fish curry arrived, we ordered the fish fry. Everyone knew we weren't ordering because we were concerned about the quantity. We just wanted to eat it all. 
The Fishland biryani was not like the Malabar biryani that I love, but it was full of whole spice flavor. The rice was soft, and two small yellow fish steaks peeked from inside. Biryani came with curd raita (with onion and pickle), a sour pinkish curry (I forget the name), and a fish curry that also formed the base of the fish curry of my partner. I mixed it all and ate with my hand. 
Meanwhile, the ladyfish rava fry arrived, and we took one each. Ladyfish has too many bones, so it was just about okay. 
"Can you get me one full plate of rice?" My partner asked.
"Sir you can try half plate and then if not enough get more." The old polite waiter suggested.
We got more curry. And as we dipped our fingers in the puddle of rice, the entire staff watched us. They didn't seem to get many outsider young couples going crazy at their food. 
The buttermilk and lemon water helped pack the food well. 
Recommended Read: Go through this Malaysia street food piece to see how Malaysians enjoy food.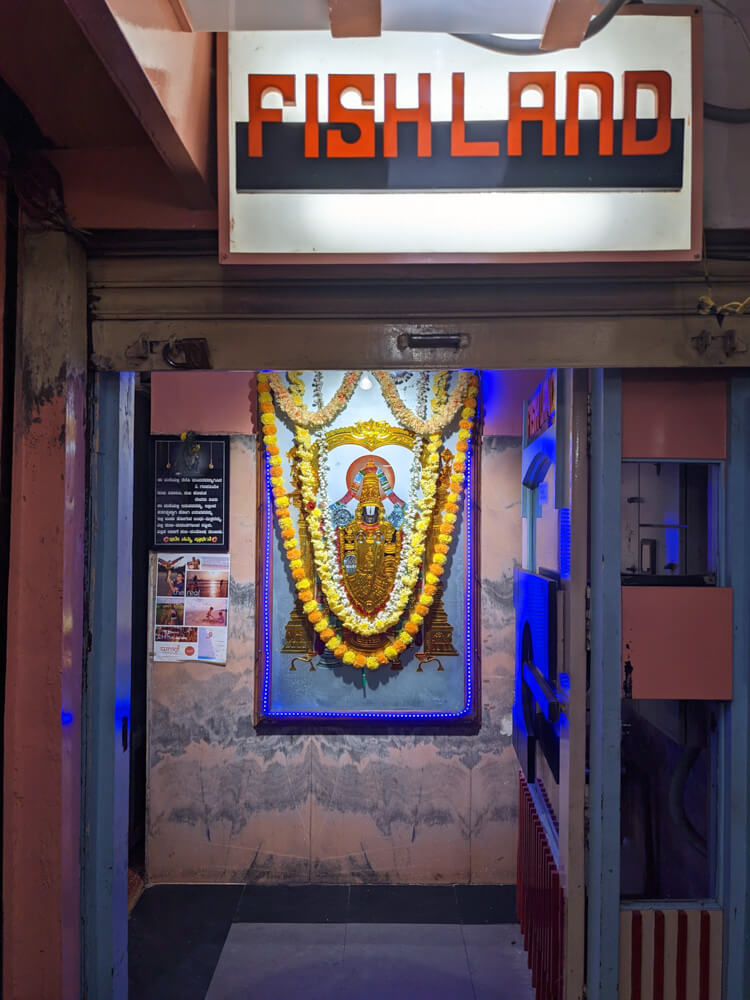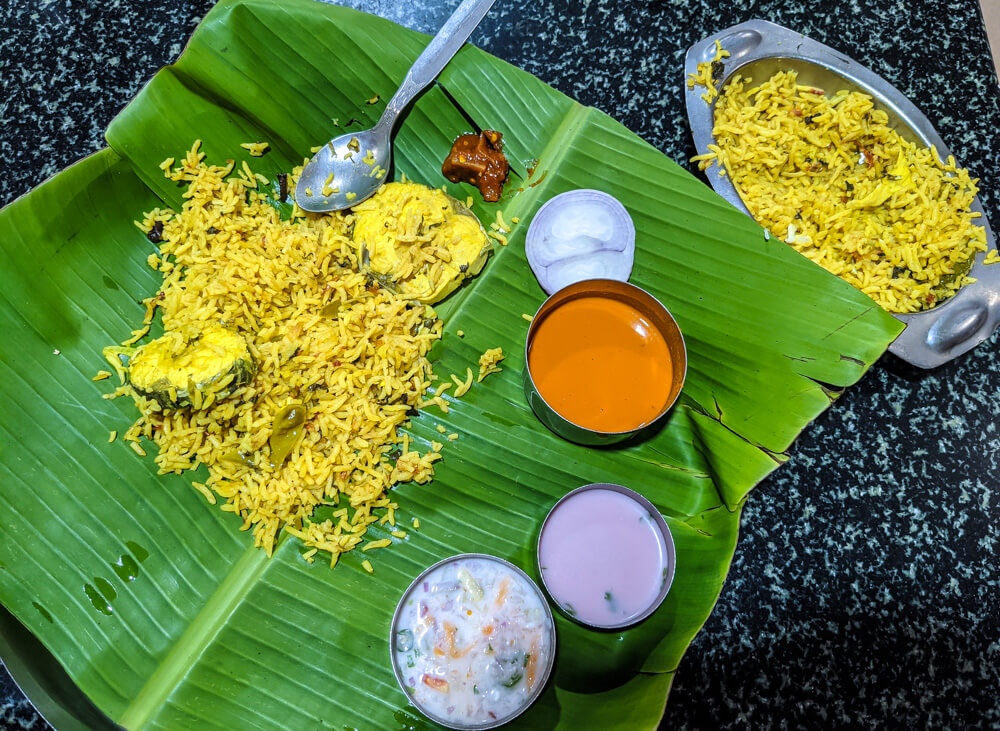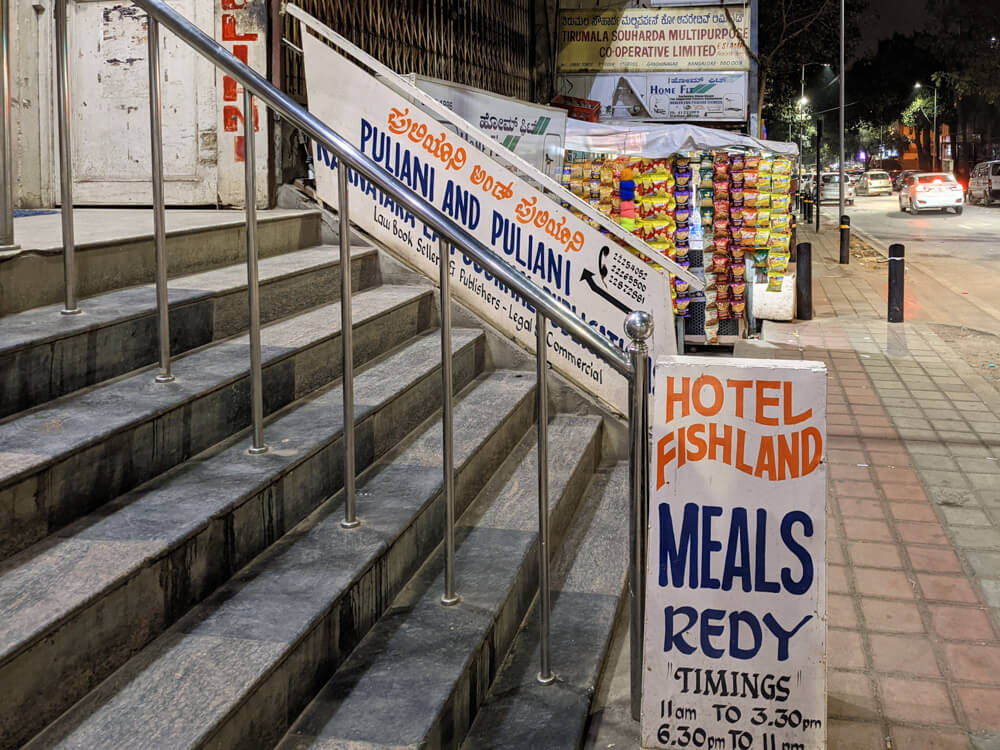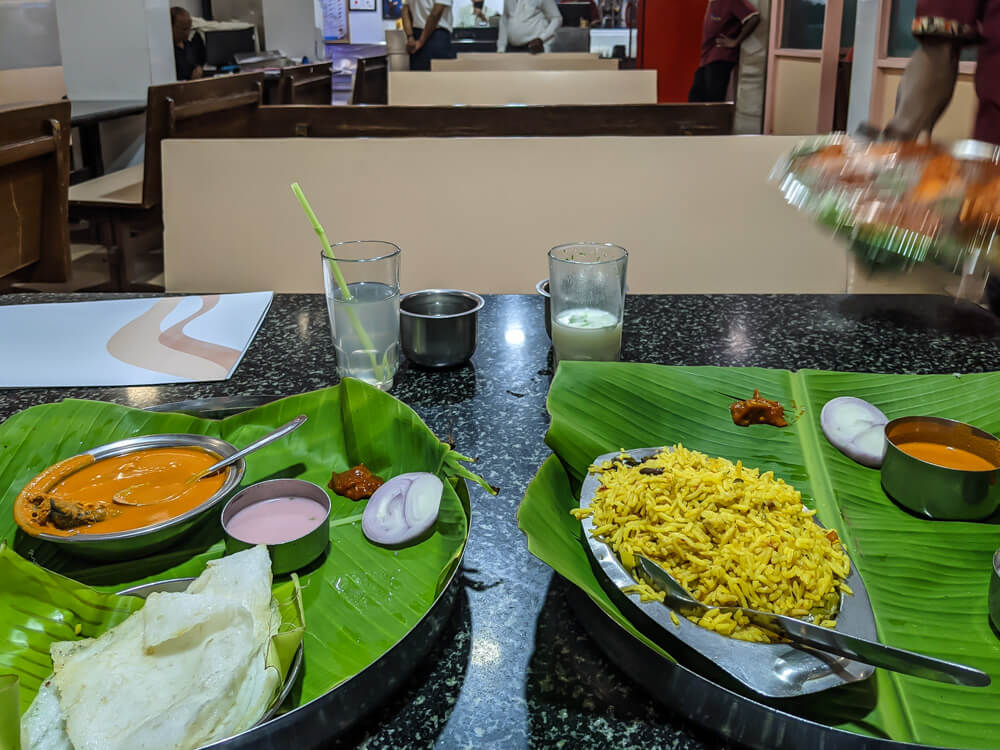 Koshy's Parade Cafe, MG Road — One of the Best Restaurants-Cum-Cafes in MG Road Bangalore
Koshy's Parade Cafe has been there since before the independence and much has been written about Koshy's heritage. Now the place is run by the two brothers, one more jolly than the other as patrons tell me.
Taking up a big corner of the road right in front of the MG Road metro, Koshy's is visited by old and young alike. The place is a landmark for Bangaloreans and outsiders. Even I have been to Koshy's countless times.  
Because why not? The place has its culture and stories. The menu and the decoration have stayed the same for a while. Koshy's has got open wooden tables and chairs like the Fishland in Gandhinagar. The sugar does come in silver pots.
Glasses are the same for juice, coffee, and water. Tissues are always served under a fork so they don't fly. The fans whirl constantly at a height where airplanes fly because that's how tall the buildings used to be before. Tube lights also hang from the top. It was the only restaurant in MG Road Bangalore during the British time that served alcohol to Indians. And the staff though a bit autocratic is sweet. While two guys sit behind the glasses typing away (accounts I guess?), the waiters clad in white shuttle between the kitchen and the tables. 
Koshy's is always busy, always full, yet it always has space. Either people come for a tea or coffee over a conversation or to finish work. Or they drop by for a couple of beers and fish curry. Old and the young mix and match here, and one minds her own business. I have seen groups discussing marketing proposals, old men writing letters, women and men typing away on their computers, their heavy headphones blocking the constant chatter away, someone drinking a beer with chips, a guy in his mid-thirties reading a book on Kindle and drinking beer, getting up only to smoke now and then. You shouldn't be surprised if you find a writer or a celebrity or two there. 
At Koshy's, I always sit down in the non-ac section at a table near the back wall, from where I can see the whole place. The air-conditioned restaurant part of the cafe only opens after 7 pm, and I have never been inside it. The cafe is open until 11 at night.
While my neighbor ordered a brandy with dried mutton or chicken, I got an orange juice and cold coffee and opened up my notes. Soon my hand gestures were going in full fervor debating whether my character Jyoti would be able to eat the double-decker paneer burger after a plate of pooris.
The creamy cold coffee was simple and perfect. The restaurant keeps the cold coffee mix in the fridge, so they can't adjust the amount of sugar. But the coffee they gave had exactly the amount of sugar I would have put in. Do they know magic?
The cold coffee was one of the best cold coffees I have ever had, and I would go to Koshy's in a blink. I want to have one now. The juice was perfectly yummy and had a good balance of sour and sweet.
I also ordered a fish cutlet because – let's say – I was hungry. The one-hour twenty-minute rendezvous in Cubbon Park in the morning must have left me starving. The cutlet wasn't as crunchy as I remember it used to be. I wouldn't miss it.
We ordered fish masala, tandoori roti, and my partner got saag chicken for himself. This we gulped down with a bottle of Kingfisher.  
My fish masala was very spicy and oily. But the pieces of fish were many, and they were huge, not fried, and cooked in the curry directly, or perhaps added after being cooked in a tandoor. I like the fish pieces. 
The bill came up to 1500 rupees. Koshy's has desserts too if you want to try them. But good we didn't because the next day my stomach was very upset with Koshy's. I wonder why.
I would go to Koshy's – one of the most popular and discussed restaurants in Bangalore MG Road – to sit, have cold coffee, juices, and maybe a sandwich or two.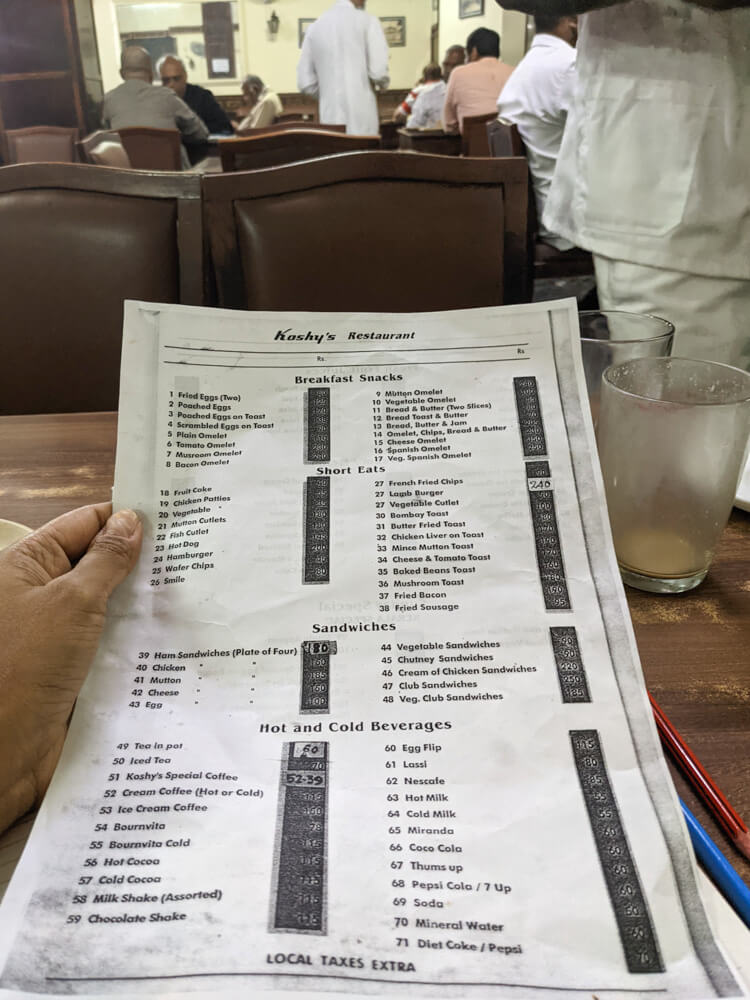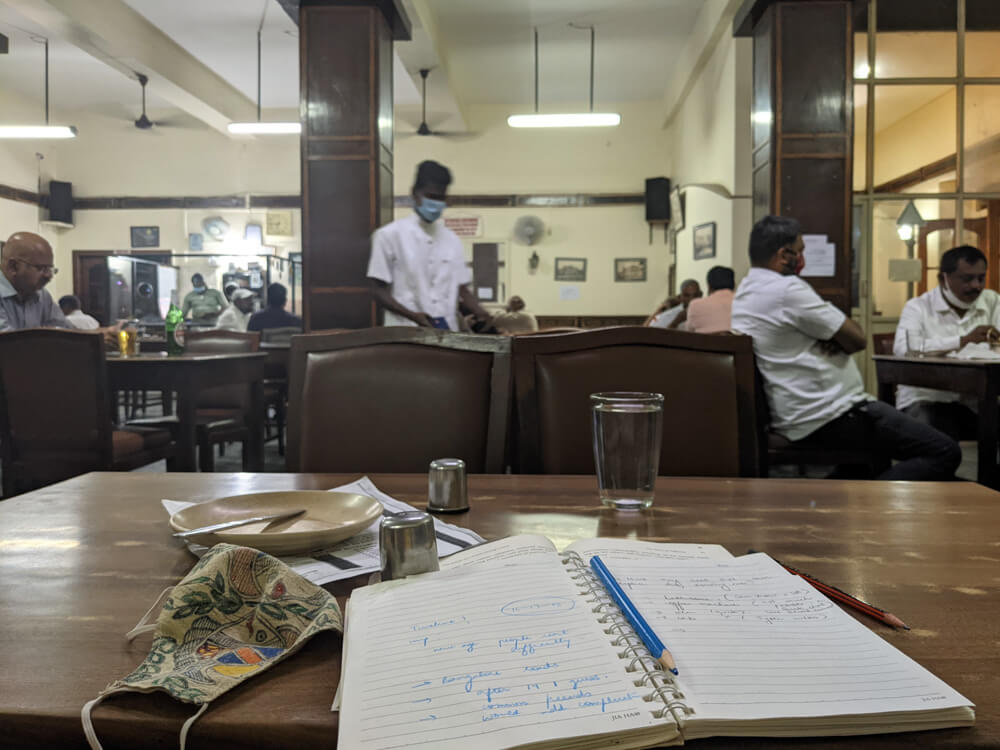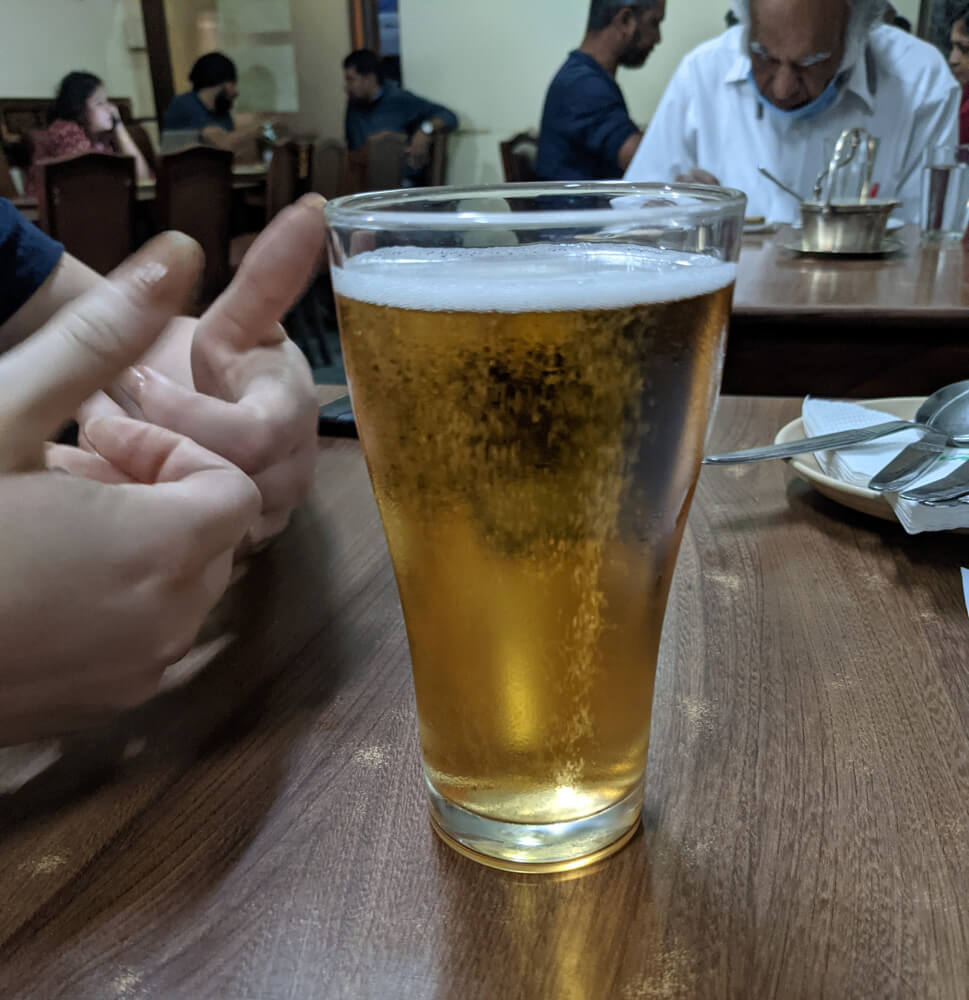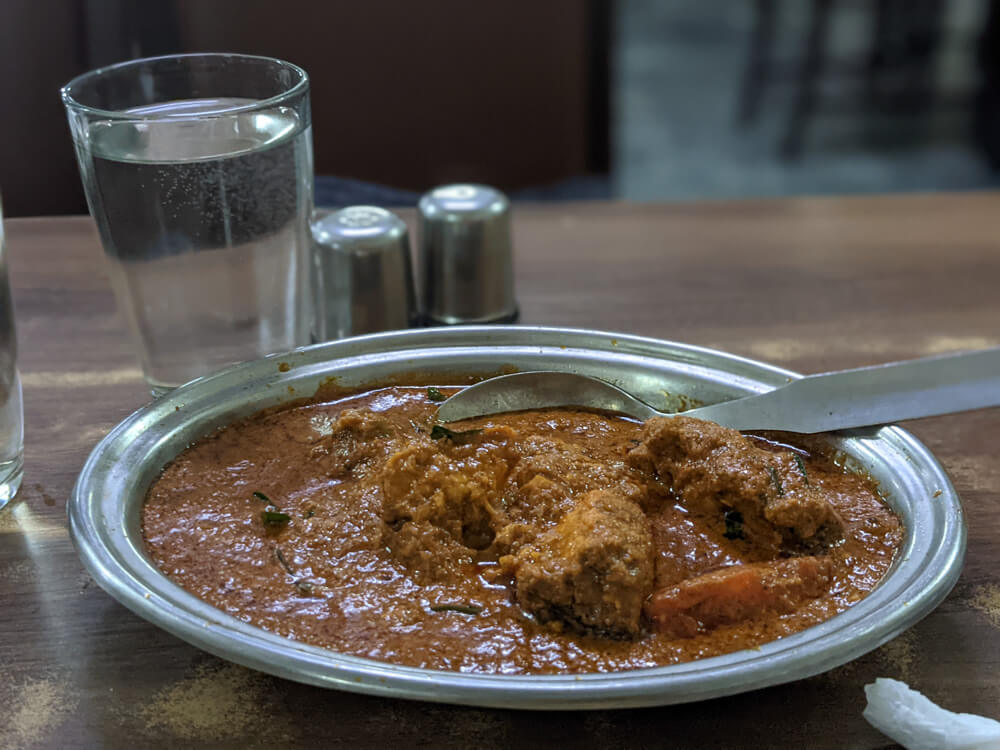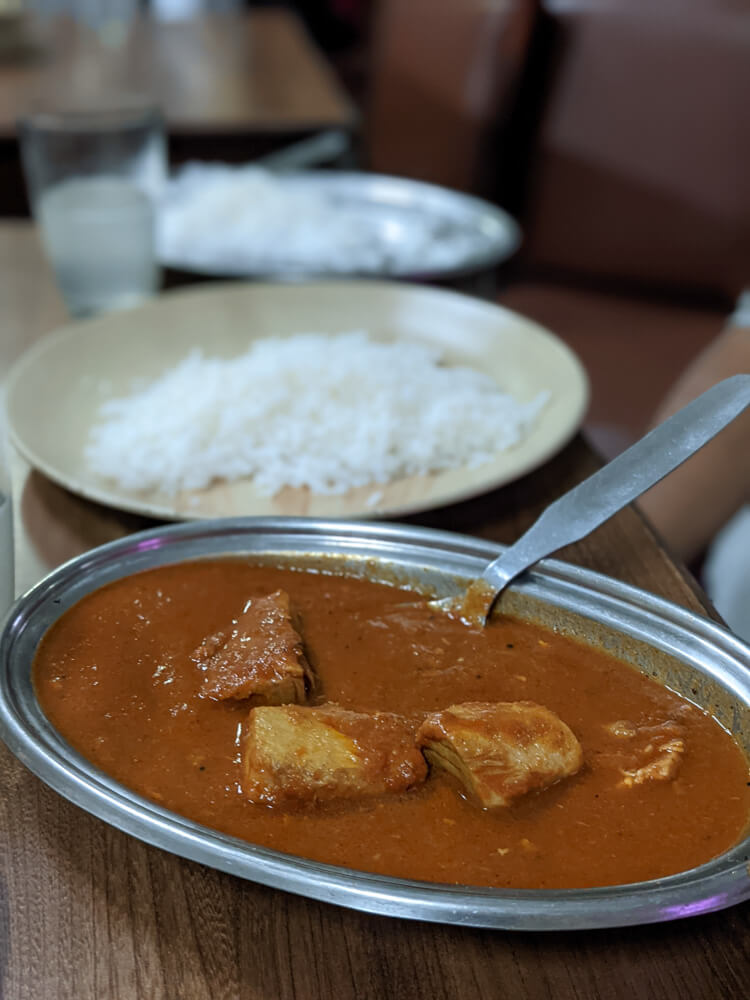 Koshy's Bakery — Or as I like to call it, Small Koshy, Cox Town
This roadside eatery was very close to Casa Cottage, and we wondered if Koshy's had opened up their tiny branch there. But Google told me they were independent of the big Koshy. 
On a quiet residential street, Koshy's Bakery place serves coffee, tea, cutlets, puffs, samosas, and other snacks. My veg puff was great and so was my husband's chicken cutlet.
Do try. Payment only in cash. Also, you don't have to go there just for the place. This bakery is a good stop if you are in the area already. The bakery is about 1.5 km from Mg Road metro station.
Tom's Restaurant, Brigade Road – One of My Most Favorite Restaurants in MG Road Bangalore
We had been to the Tom's near the Lido MG mall before and had loved the mussels there. So when I saw Tom's food menu at Casa Cottage and realized they were only a 15-minute walk away, I knew we were going there. 
We ordered seer fish curry, neer dosa, appam, chicken ghee roast, squids, and some rice. Everything was as splendid as it always is at Tom's. They do tend to serve the food a bit spicy so make sure you go slow on that green chili in the salad. Remember to request medium spicy food in advance (if your ears also smoke up when you eat chili). I'm not sure how much they can help though for they serve Mangalore-style cuisine which is inherently chili.
Enjoy.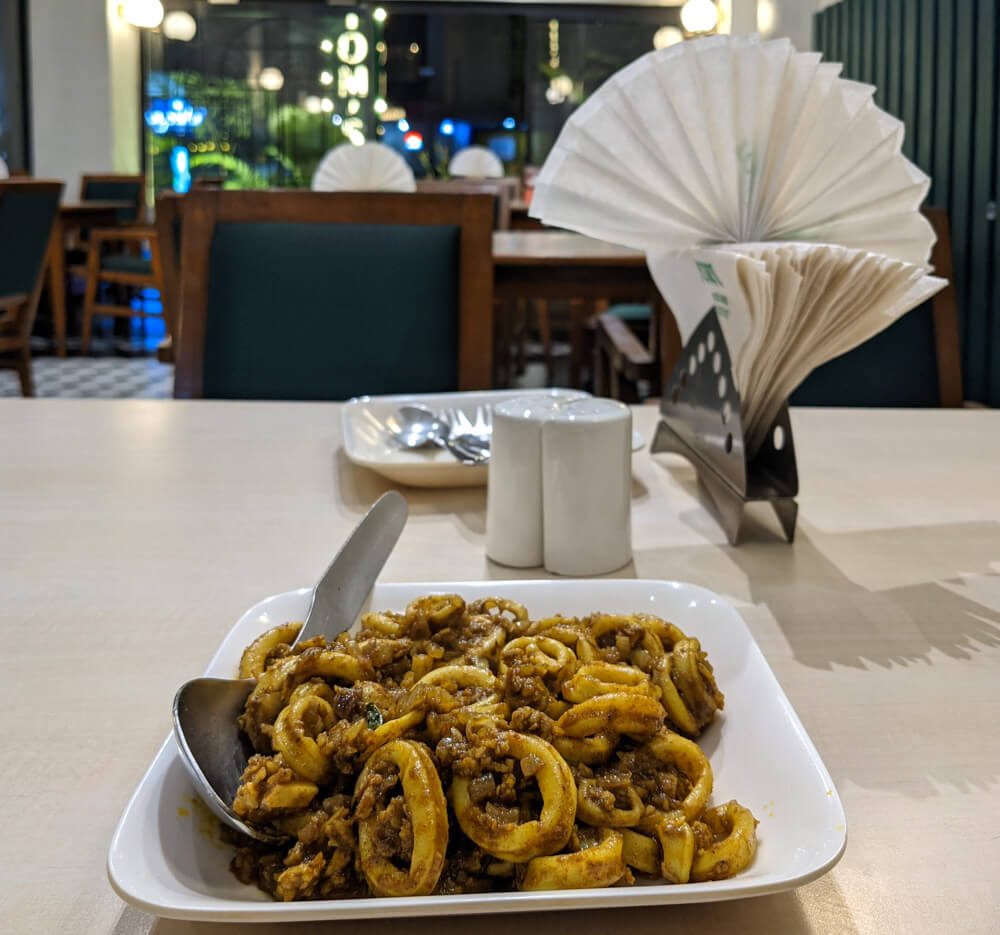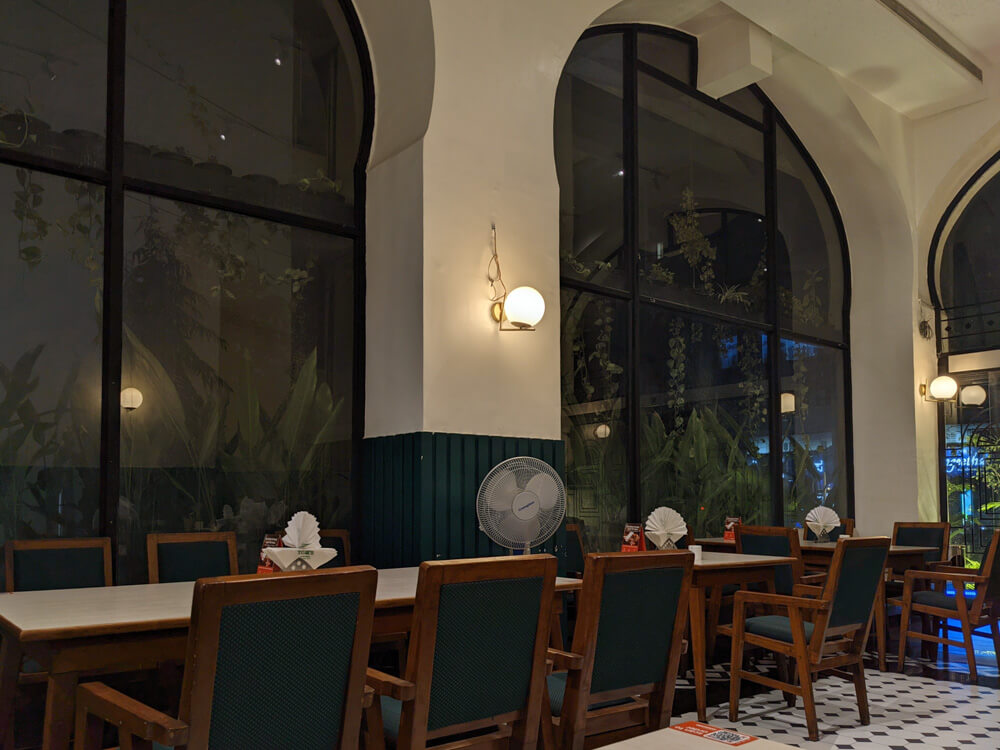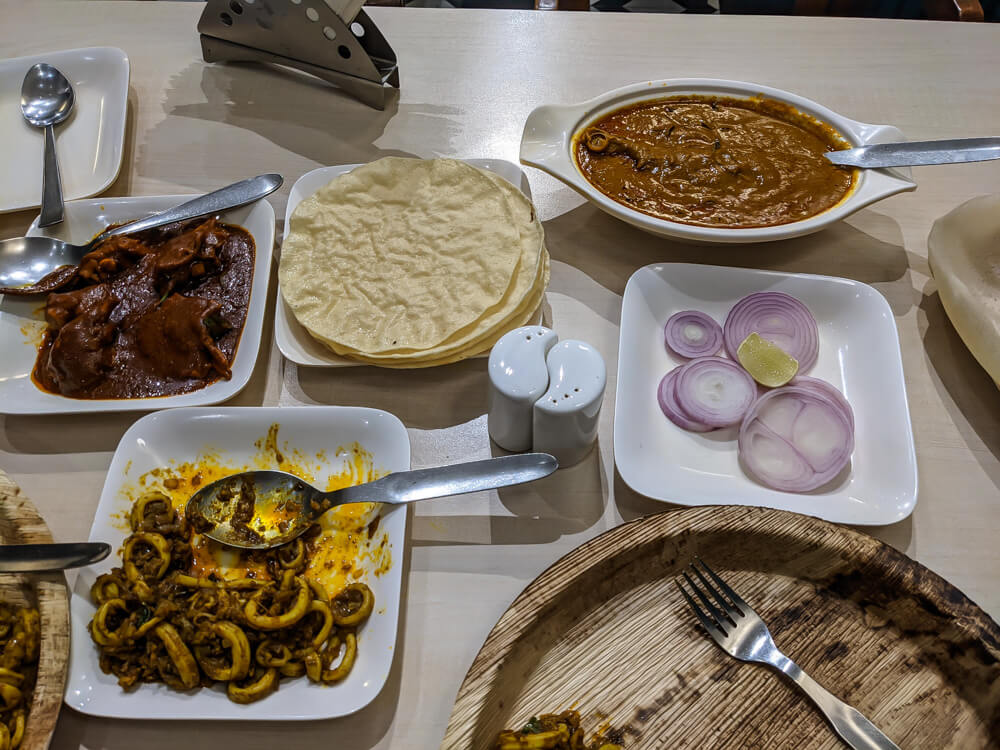 Rotti Walla, Indiranagar
Rotti Walla is 5 km away from Mg Road. Instead of visiting the restaurant, we ordered food from here via Zomato. Our order came in about 40 minutes to Richmond Town's Casa Cottage.
We got dal palak, a butter chicken rice bowl, and butter chicken curry. My partner always finds the curry quantity in a rice bowl insufficient for the rice. Due to some ongoing offers, the bill was under 500.
The packaging was plastic. But the food was delicious, simple, and oil-free. 
My partner told me the butter chicken was tasty and not oily at all. Both the dishes had mild flavors. Even my dal didn't have any oil. I had ordered full dal, and a tall container full of dal with lots of spinach in it was provided. Even the butter chicken bowl had enough curry that the extra curry had to be kept for the next day.
I would rate Rotti Walla five on five. I did have to add some salt and other masalas to the dal as it was too mild. At least it wasn't spicy. You would be surprised to find how spicy the food gets in Bangalore sometimes.
The food was healthy and well-prepared. I wouldn't think once before ordering from them. If you are looking for a North Indian food place around MG Road, do visit them or order online.
Chinita Real Mexican Food – A No-Go
This Mexican (if we may call it that) restaurant is about 5 km away from MG Road metro station. One could consider it too far but if you get the Metro or drive at the right time, it is close enough.
I can't suggest you visit this place as I didn't like it. The food was average, the menu is so limited when it comes to Mexican food, and the prices are still high. 
A no-go for me.
Now I realize I haven't written about some 100 odd good restaurants in MG road Bangalore vicinity. But please do not be disheartened as I will add those in due time. Stay tuned.
Click here to book Casa Cottage for your next stay. I also love the Misty Meridian Serviced Apartments in Bangalore which is managed by a friendly host. The apartments aren't very close to MG Road but make for a good stay in the chaotic city.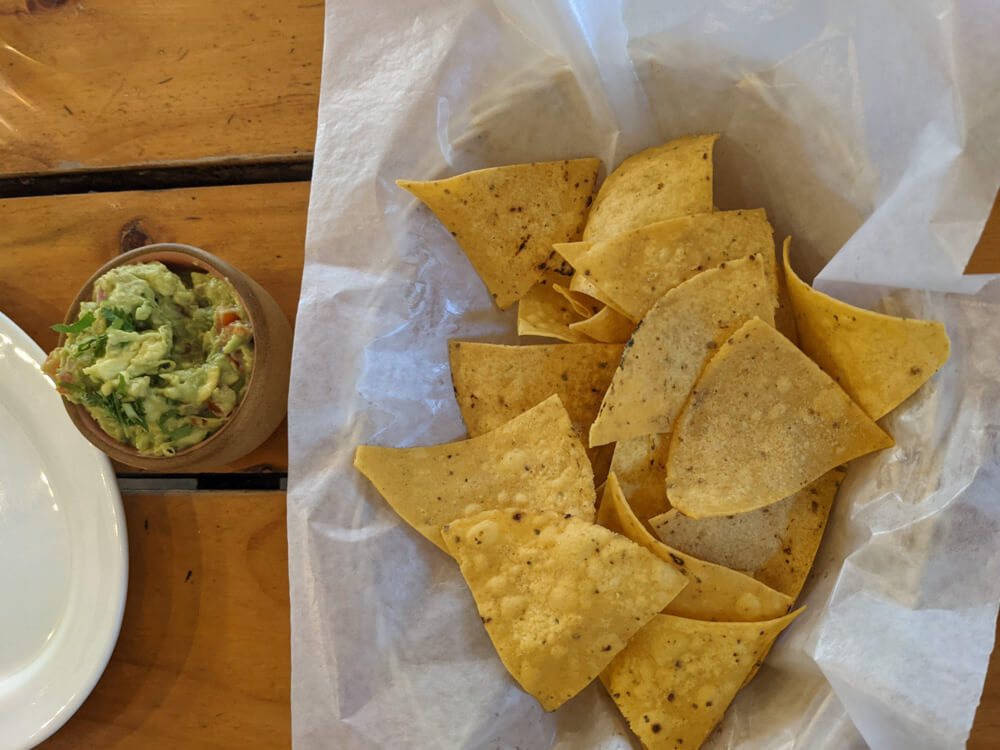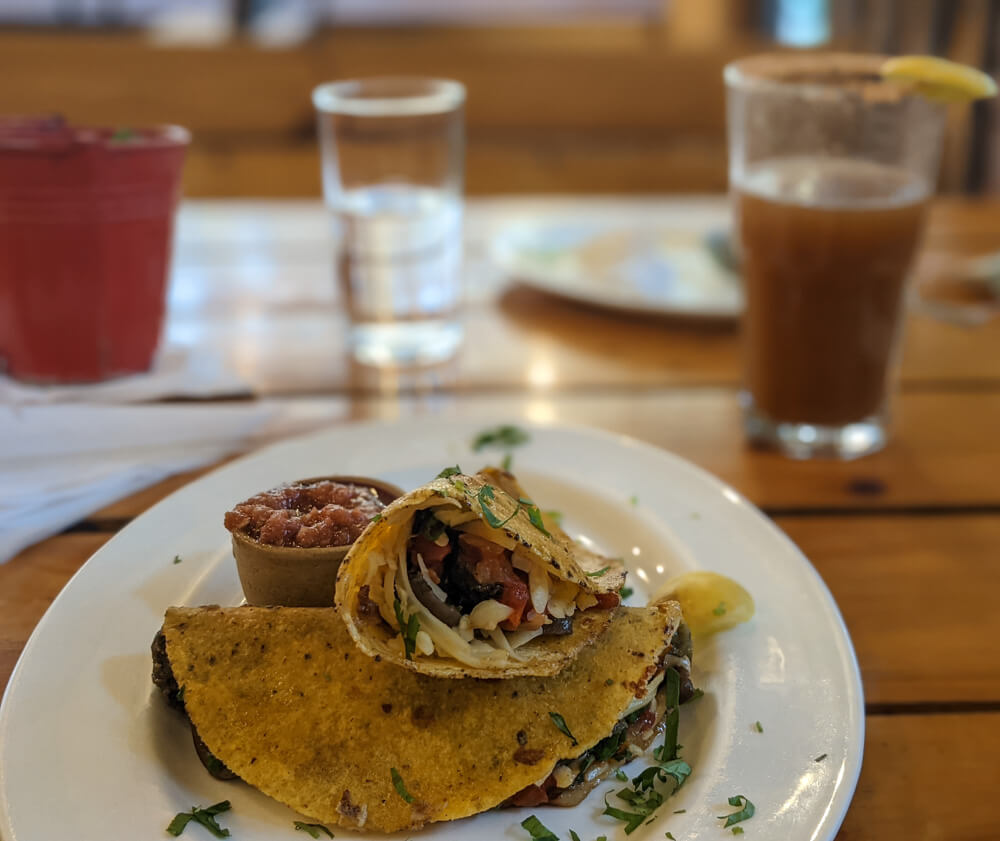 Did you like my list of restaurants at MG Road? Tell me in the comments.
*****
Donate to keep me going!
For five years, I've read and wrote day and night to keep On My Canvas - my sustenance and life's focal point - going. Everything here and my weekly newsletter "Looking Inwards" is free. No ads. No sponsorships. If you've had some good moments reading my posts or felt hopeful on a lonely day, please consider making a one-time or a consistent donation. I'll really appreciate it (You can cancel anytime).
*****
Want similar inspiration and ideas in your inbox? Subscribe to my free weekly newsletter "Looking Inwards"!