Getting stuck on borders multiple times and having paid a lot of extra money for the last moment flights because I could not cross into the neighboring country without a visa, I realized that an Indian passport is not the strongest one. Though there are ways to make it stronger. A valid US tourist visa (or a US business visa) not only allows you to visit the US, but with a valid US visa you can also travel to many more countries which let you in with a "visa on arrival" or an e-visa (if a US visa is stamped on your passport). For example Peru, Colombia, Guatemala, Costa Rica, Georgia, Mexico, Philippines, Turkey, and more.
To make my dream of traveling to the US and these countries come true, I just applied for a 10-year B2 US tourist visa, and, it was approved. 
Please read through the detailed process of getting a tourist visa for the USA from India. I also pledge to clear all the myths that envelope the US tourist visa process.
Must Read for an Indian traveler: My ultimate guide to world visas for Indian citizens/passport holders
How to apply for US tourist visa?
Step 1:

Start your application and fill the DS-160 application form.
Access the US visa form here –  Official US Consular Electronic Application Website.
The application form is simple and asks basic questions. While completing the form, make sure that you enter correct details.
I opted for the B1/B2 category(Business/Tourism) and then it's subcategory B2, which is for tourism/medical treatment. I did not choose B1 as it was for business and tourism and I had no official work in the US.
What are the questions in the US tourist visa form?
The form asks if you have planned your travel, what is the duration of your travel, and how would you finance your trip. If you have not planned your vacation or you don't intend to plan soon, provide an estimated duration and a future travel date. I chose my departure date of a month later, the expected period of travel was three weeks, and my trip was self-financed.
Though the US consulate doesn't mandate you to show booked flight tickets or hotel bookings, you have to provide a US address where you would stay and a point of contact. If you have no friend or relative in the US, then you can give the address of a decent hotel. Or book a fully-refundable hotel on booking.com for the first week, and cancel it later if you change your mind. Else, you can provide the address of a relative or a friend and put them down as a point of contact. I provided the address of a friend and mentioned him as my US contact.
The form also asks your full name in the native language, and I wrote mine in Hindi. Various online forums discussed this requirement of a native name (which is a little confusing), but you can just provide your name in your native language (it is optional). No harm, no questions asked.
Submit the application after proofreading it a few times.
As per my experience, the form seemed like the primary document the consulate looks at while considering your visa application. So fill the form precisely and correctly.
While completing the US tourist visa application, make sure that you note down the application number as you would need it to retrieve the application each time. I lost a half-filled application once due to this silly reason.
Step 2: Pay the US tourist visa fee
How much is the US tourist visa fee?
The fee for the visa was INR 11,200 or $160.
You can read about the visa fees here.
I did a NEFT to the bank account as mentioned by the website. Remember to save the bank account number as it is unique for each application, and you need the account number to book an appointment. 
The payment process was quick and smooth.
Step 3: Book an appointment, actually, two.
How many appointments does a US tourist visa require?
You would have to go for two in-person appointments.
I booked my appointments in Hyderabad, as I hadn't been to the city of nawabs and wanted to explore it. 
You can book the visa appointment from the applicant home.
What are the appointment waiting times for a US tourist visa?
The first appointment, which is to collect your biometric information, was available a few days later from when I was booking the appointment. But the second appointment wasn't available for the next two weeks. So book them as soon as possible and then prepare the documents, which aren't many.
Step 4: Appear for the First US tourist visa Appointment.
For the first appointment, carry your passport, the DS-160 confirmation page, and the appointment confirmation page. Please also refer to the appointment confirmation page which lists the required documents. 
This biometric appointment is to register your fingerprints and take your photo. The queue wasn't long at the center in Secunderabad, a sister city of Hyderabad.
Step 5: Go for the Second US tourist visa Appointment.
At the second appointment, a consulate officer interviews you. You cannot take a phone or any other electronics or food inside. So remember to either put these things in a locker outside the consulate or don't take them along.
What are the questions asked in the US tourist visa interview (in India)?
The questions that the young officer asked me are—
What do I do? Do I work and have a job?

Which countries have I visited in the past? — After listening to my long list, he asked me why have I not gone to the US yet? The officer was friendly, and we had a casual conversation. 

Was I traveling or working during those travels?

Where do I stay now?

Do I own a home?

What would I do in the US?
We chatted about general things such as the traffic in Hyderabad and Bangalore and that Bangalore needs a consulate office. 
In the end, he told me that my US tourist visa was approved. Though long, the process was smooth.
What documents are needed for a US tourist visa?
The list of required documents is listed here – https://cgifederal.secure.force.com/AppointmentConfirmation
As per the above website, you need the following documents for your second visa interview-
• Appointment confirmation letter
• Your current passport and most recently expired passport
• Print out of the DS-160 confirmation page
• Supporting documents for your application, as applicable
• Documents and photographs for any children under age 14
Along with these, I also carried a cover letter — which stated that I work as a freelancer and a writer, that I plan to travel to the US for three weeks and would visit NYC and NJ, and that I would stay at my friend's place. I also carried my bank statements for the past six months and my resume.
I had also asked my friend(whose address I had provided) to give me an invitation letter, a copy of his passport and visa, and his driving license's copy, all of which I took along.
If you give a friend's address, it might help to take an invitation letter from him/her. Though when I asked the interviewer if he wanted to see the invitation letter, he refused.
The interviewer only asked for my passport and was not interested in any other document. 
I thought that the interview would be conducted in a room, but it was held at glass-paned windows, which resembled modern ticket counters. Of the thirty minutes that I waited in the queue, I did not see the interviewers asking anybody for any other documents apart from their passports.
I complained to the interviewer that we had been waiting since 11:30 (it was already 1'0 clock) and pointed out that people had thick bundles of documents under their arms. He said that the internet has a lot of incorrect information and that might be causing the delay in the process.
When would you get to know the result of your US tourist visa application?
The interviewer will tell you the result of your visa application in the interview itself.
My interviewer approved my US tourist visa, and I gleefully left the counter, while scolding myself that I had panicked over the unclear printouts for no good reason.
But then my friend came outside, and when I asked how her interview went, she shook his head in negative. We were confused and couldn't understand what might have gone wrong. She said that the interviewer asked her a few questions, such as if she went to another country, if she worked somewhere, and what was the duration of her stay in the US. When she had answered these questions,  the interviewer told her that her US visa was not approved. 
My friend asked what was wrong, but the officer only said that she was not eligible. Then she gave him a green document that listed that her visa application was rejected due to section 214 b. But if you Google, the internet says that a general form is given to everyone whose visa is rejected, though the reasons for rejection might vary. 
We are not sure if the approval depends on the visa interviewer, as the one who interviewed my friend rejected many people.
Then I studied my friend's form to see if she had made a mistake. Two things were inconsistent between her form and her interview answers. My friend had written her duration of travel as one-month, but when the interviewer asked she said 2-3 weeks. The consulate officer asked if she had been to another country, and she said she had been to Hong Kong. Now she had been to Hong Kong eight years ago, but she mentioned in her application form that she had been to Hong Kong in the past five years.
Maybe the interviewer saw incoherency in this information and rejected the visa? Or in the time duration? Well, we could not be sure. But even that officer did not want to see her documents or any other proofs or bank statements or invitation letters.
I suggest you fill your form correctly and answer the questions in the interview confidently and honestly while keeping the information coherent with the application. That is all.  
How long does it take to get the passport back after the US tourist visa interview?
Passport Collection – I chose a premium delivery service which cost me Rs 500, but the passport came to my provided address. You can also go to the US VFS center and collect the passport.
My passport was dispatched within two days of the interview, and I got it delivered to my address in three days after the interview.
Other Logistics. 
Traveling from Bangalore to Hyderabad –  
We traveled from Bangalore to Hyderabad twice, and both times we were on night buses. We enjoyed our experience with the GoTour bus. Long beds, two-three stops to pee at night, water bottles (which we didn't take as we don't want to burden the world with more plastic), TV(which we didn't use), and on-time pickup and drop were provided by the bus. Even the drivers were friendly and cooperative which is hard to find on long-route buses. But a secret about these night buses – I am thinking about wearing an adult diaper sometimes or carrying a big bottle to pee. Let me know if you have tried any of these.
Stay in Hyderabad –
We stayed at Shobha serviced apartments. The comfortable Shobha apartments are right opposite the consulate's office. They even open the back gate which lets you out directly opposite the US consulate. The breakfast was okay, but the people and the service were appreciable.
About Hyderabad. 
To my dismay, Hyderabad wasn't the city that I expected it to be. Men stared, women were rarely found in restaurants and public places, the pollution and the traffic were at the highest.
We visited Qutub Tombs, the Golconda Fort, Charminar, Laad Bazaar, and the Chowwallah palace, and my favorite is the quiet and deserted tombs. 
We had trouble finding toilet paper in Hyderabad. So take from home. 
Internet was a little slow in Hyderabad, and amongst the two of us, I won most of the who-comes-first-at-booking-a-cab competitions.
If you wish to spend your evening at the Laad Bazaar (close to the Charminar) before leaving Hyderabad and are wondering where you would find a decent bathroom, a quaint CCD in the bazaar will come to your rescue as there aren't many other clean bathrooms or decent restaurants close by.
Also Read: My list of things to do in Hyderabad in 3 days
How was my experience at the appointment center?
The appointment center has water, toilets, tea, and snacks.
A notice inside the application center said that if you are sick, you could inform the administration and go back to rest and return without paying any extra fee or booking another appointment.
Don't depend on printing anything outside the center. We wanted to print many documents at the last moment, but we only stressed and fought amongst each other as the internet was slow and the printers were printing blurred printouts.
I hope you are now clear on how to apply for US tourist visa from India. Get your US tourist visa and travel to places you have dreamt of.
I have imagined myself sitting under the maples trees of NYC city in the fall and walking through the breezy streets of California and hiking the myriad of mountains that the US can boast about. It looks like those days aren't far away now.
Also Read: Peru visa for Indian citizens – Process from India and South America
Disclaimer: This information is based on my personal experience. But I do not guarantee that this information would guarantee your US tourist visa. Any change in the process or the documents is up to the US Consulate, and I am merely trying to help the best I can.
I was lucky enough to catch the multi-colored Charminar as it was lit to celebrate Indian Independence Day.
Have any other tips or questions on how to apply for a US tourist visa from India? Drop a comment, please.
If the guide has helped you, please take a moment to pin it! Thanks!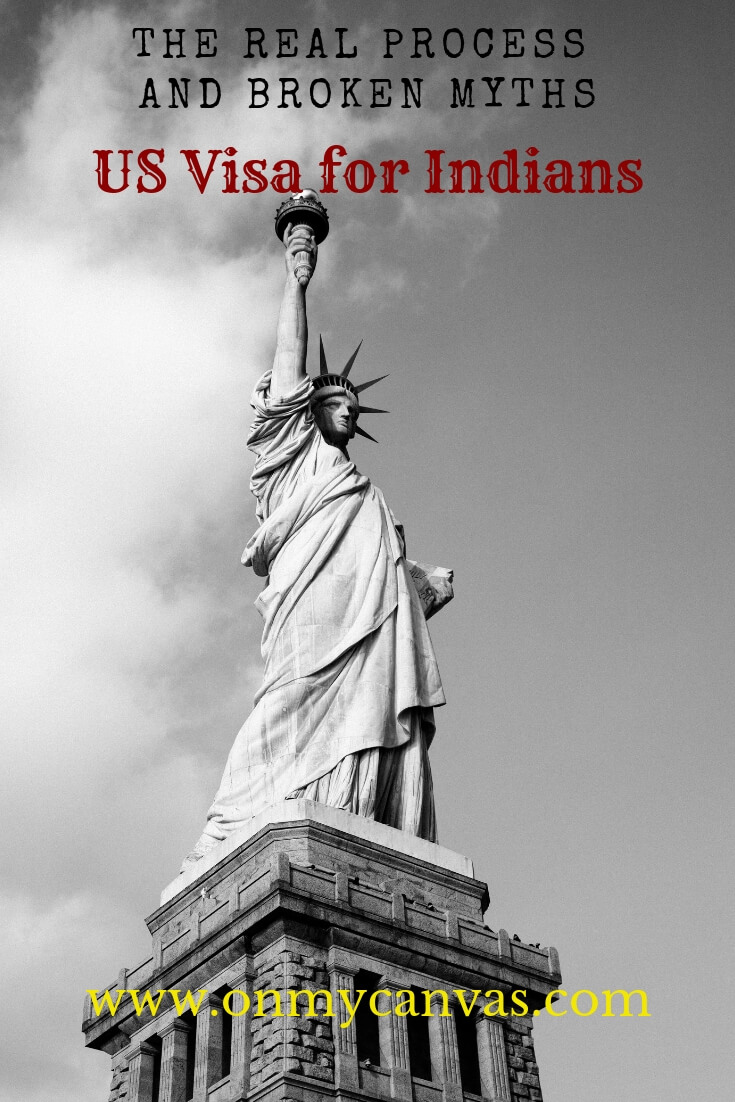 *Note: This post contains an affiliate link; if you choose to click through and make a booking, I will earn a little bit at no extra cost to you. It is entirely up to you if you decide to make the booking.
Feature Image Source – Pixabay
*****
Donate to keep me going!
For five years, I've read and wrote day and night to keep On My Canvas - my sustenance and life's focal point - going. Everything here and my weekly newsletter "Looking Inwards" is free. No ads. No sponsorships. If you've had some good moments reading my posts or felt hopeful on a lonely day, please consider making a one-time or a consistent donation. I'll really appreciate it (You can cancel anytime).
*****
Want similar inspiration and ideas in your inbox? Subscribe to my free weekly newsletter "Looking Inwards"!