In Search of the Hidden Butterfly Beach, Goa
The sunrise at the Butterfly beach is beautiful, said Manveer, our Airbnb host. Then he gulped down his entire glass of orange juice.
But where is this Butterfly beach? Didn't you say it was hard to find? I exclaimed.
I will show you the directions on the phone. 
Manveer walked to our table. He swiped right on his son's photo wallpaper on the phone, tapped on the Google map application, and zoomed in.
I was staying at Manveer's place, which is on the Agonda beach in Goa, for the second time. The first visit was two years earlier when I had gone to Goa to get some alone time. 
Remembering that fun trip when I had read Hemingway while basking in the sun on the beach and watched India England one-day series with an English traveler, I showed up at Manveer's Airbnb again, this time with a friend. As soon as Manveer recognized me, our friendly banter began in no time.
Though I wasn't sure if Manveer was avenging me for my raillery by sending me to this secret Butterfly beach in Goa, the idea of watching a romantic sunrise on an isolated beach thrilled me. 
We decided to go to the Butterfly beach the next morning to watch the sunrise and have a picnic by the seaside.
After devouring a dinner of grilled Kingfish, with charred eggplant, juicy cherry tomatoes, proud broccoli, and crisp zucchini along with a big bottle of Budweiser on a beachside grilled-seafood restaurant run by a Goan chef, we went to bed at ten that night. But not before packing our swimwear, water bottles, a few aloo parathas that we had asked Manveer's cook to prepare for us, and a towel to spread on the beach.
As my room didn't have air conditioning and April's hot air scorched even at night, I sprinkled water on the curtains and the bed and then left the windows wide open. This sprinkler trick from my IIT Delhi days when summer used to be cruel and students weren't allowed to keep air conditions or water coolers have come handy many times.
Soon I was sound asleep. Our alarms woke us up before dawn.
We put our backpack in the dickie of the rented Activa, and I drove while my friend sat behind. 
If you are from India or have traveled enough in India, you wouldn't be surprised when I tell you that there were no streetlights. My friend switched on the flashlights of both our smartphones. 
The early morning cold breeze ruffled through our hair and woke us up. We were finally going to see Goa's Butterfly beach which Manveer had been praising non-stop since the day we had arrived.
Adhering to Manveer's advice, we followed the Google maps directions to the Leopard Valley gate, ahead of which lay a secret mud path that was to lead us to the Butterfly beach. When I drove by the gate slowly, we both searched for a clearing in the dense forest that fringed the roads on both sides. But we couldn't see any path. I turned around and drove even closer to the forest to spot a trail while my friend flashed the torches on the sleepy black foliage. 
After a few minutes, we saw a narrow clearing on our left that seemed promising. But a mud trail ran through the dense forest on the right side of the road, too.
Though we couldn't hear the Indian ocean and we had gone too far from the beach to direct ourselves using the sea's orientation, I assumed that the ocean was on our right side. A faint recollection that Manveer had somewhere mentioned a right nudged us towards the right track, too. 
My friend spent a few minutes understanding which direction was right and which was left, a conundrum he hasn't solved in the twenty-seven years he has been on this planet.
When I saw that the mud track was laden with broken stones and bricks, I transferred the driving rights to my friend. While I was a novice scooter driver, he had been driving for eight years. 
My friend clutched onto the left handle of the scooter, over my hand, and I slipped out from the right side. Then he handed me both the phones with their flashlights on, and I leaped onto the scooter seat behind him for when you are in a dark jungle without phone signals or any kind of help until far far away, you cannot be your usual sloth-like. 
We drove on the rocky pathway which soon started twisting and curling like an angry snake. The tree branches and bushes that overgrew on the path from both sides suggested that not many people drove on that road(cut) way. If your attention is gone for even a second, you would either skid on a rock or an imposing branch would hit you in the face. 
The beach was most probably deserted. Manveer wasn't the bad guy after all.
Though a bit disoriented, my friend is a good driver, but I still got down of the scooter whenever the path felt too rocky to not fall flat onto a stone. The blue arrow of the GPS crawled, but the landscape, which would have been clear if we had loaded the map offline, was now blank. When we didn't spot any landmarks that Manveer had mentioned, we knew we were lost.
Soon, cicadas, crickets, and half-asleep birds started breaking the silence of the South Goan jungle. Indian flying fox bats flitted between trees.  
Every few minutes, our white Activa would screech and grunt as if begging us to take her back to a less hostile path. We could get stuck in the mud or skid on the stones at any time now. We couldn't see much. We didn't know the route. Our phones had lost networks a while ago. And the dense jungle seemed to be getting deeper with every meter. 
Even though we knew we were neither approaching the Indian ocean nor the Pacific, we kept driving. In a few minutes, the darkness started slipping away slowly. Sun must have been shining close to the horizon as the tall trees that towered above us seemed to be rooted in the twilight. Birds chirped dissolving away the melancholy of the night. Every pixel was suffused with a light whose source we still could not see.
Hunger pangs rising from our stomachs now erupted into our throats. We were now driving on a steep trail covered with tiny sharp stones. I kept insisting that we could still find the beach but my friend concluded that to go further was not only a stupid idea but most probable a dangerous one.
My emergency driver declared that he wouldn't drive any further. And I finally obliged.
We turned around and tried retracing our way through the dense forests. While driving back we stopped a few times to wander into mangroves and plucked yellow and green cashew nut fruits. We also went inside a farm and picked the fallen mangoes. But suddenly a swarm of honey bees surrounded us, and one of the many red ants bit my friend's arm. And we thought that the farm owners hadn't employed any guard.
Instead of going to the Agonda beach, we went to Palolem to have breakfast.
Palolem beach was lively. 

Fishermen rushed around the beach in their half-folded lungis, some pushing their boats into the ocean, and some pulling their fish-loaded boats out of the sea. Fisherwomen paced up and down the beach in their half-folded saris and red round bindis adorning their forehead. 


Silvery wafer-thin fishes gazed with their open eyes while throbbing against the red plastic net hoping to get some water. Crows and kites took turns to pick these tiny ones out of their nets. 


Travelers and locals watched the ocean and the beach waking up to the day's hustle.

After having a heavy breakfast of some more aloo parathas, juice, and tea at a restaurant, we drove home. Our search for Goa's Butterfly beach had failed us. 
We handed over the mangoes to Manveer's kitchen staff. When Manveer saw us handling fruit with so much passion, he asked us if we could climb a papaya tree in his backyard to pluck the ripe papayas. 
Stop teasing us. You don't know where the beach is. Do you?
Where did you go?
We drove to the Leopard valley gate, then didn't take the path next to it, as you had told us, and then went further searching for a mud trail. Then we went towards the right side on a rocky path.
Why did you avoid the trail that runs next to the Leopard Valley board? That is where you had to go.
I was finally losing my patience. 
You had told us not to go inside the Leopard Valley ten times. So we avoided that trail and went on another mud path. It was a deadly trail.
You had to take the path going from the Leopard Valley board. That is not the Leopard Valley gate. That is just the marketing banner for the nightclub. I had warned you from going inside the actual Leopard Valley club.
Why would you not tell us to take the path next to the marketing banner? And why would you ask us not to go inside the Leopard Valley if it was not even on our way? 
He smiled. I could have punched him but we hadn't established fighting rules. 
So we had to take the path that ran adjacent to the obscure wall on which "Leopard Valley" was painted. It was not the gate to the nightclub but just awareness propaganda.
We had no chances of finding the butterfly beach for we had taken the wrong path since the beginning. And we had ignored the correct trail because Manveer had given us puzzling instructions. Or we were just two confused souls in general.
Then Manveer showed us the entire Butterfly beach directions on his phone and my friend put markers on his Google map. Then we downloaded the offline Google maps for the entire South Goa. 
The next morning felt like a Deja Vu. We were driving in the dark again, had flashlights on, there were new aloo paranthas in the bag, but this time we took the Leopard Valley path. This one-hour drive was much simpler and when we reached the end of the motorable trail, we found two bikes parked. 
After a little walk through the forest dense with koronda berry, we were at the beach.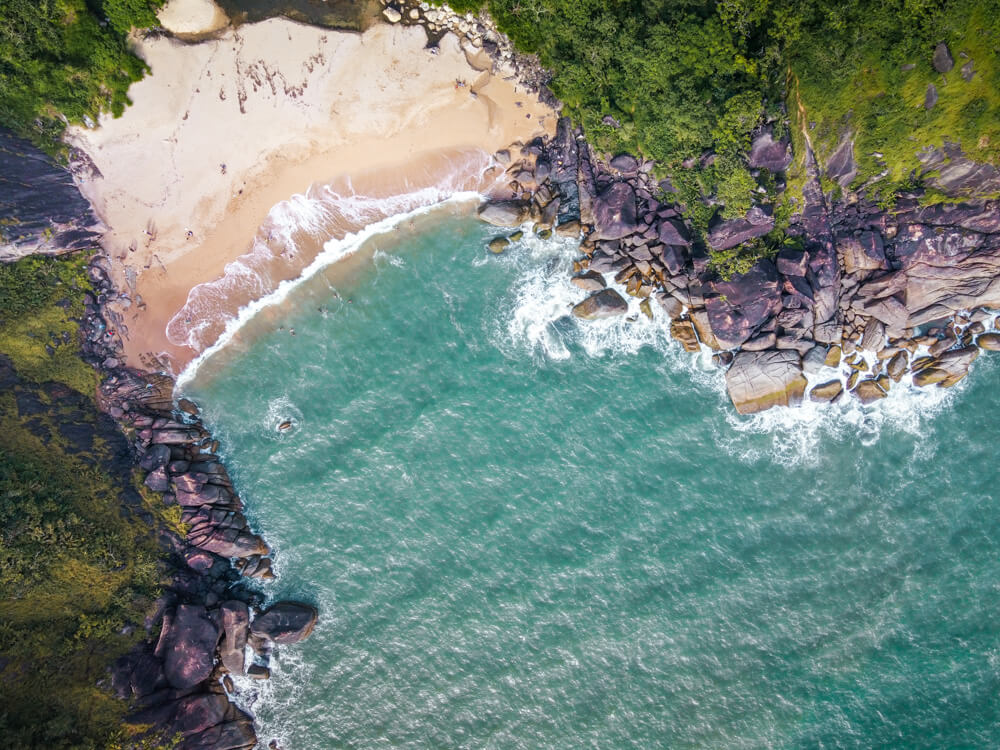 Once we were at the butterfly beach, we realized that we cannot see the sunrise from there as the ocean was on our West. Something Manveer had never mentioned when he said that you should go there for the sunrise.
The sea was calm but the sky was cloudy. As expected, the beach was almost empty. Apart from us, there was only a small group of men who had climbed higher onto one of the rocky cliffs that circumscribe the beach. 

We took off our shoes, climbed up a cliff, and ate our paranthas. The fatigue from waking up so early for two days straight got hold of us and soon I found myself fast asleep on the rocks. 
My friend shook me up. We went into the water a little bit but it was cold in those early hours. 
Well, at least we had found the beach. It would have been nicer if instead of early morning, we had gone there for a sunset or during the afternoon to just sit and relax and swim and play. Taking a boat up there is also a good idea. 
The beach was empty, the trees rustled, and I could hear the ocean cracking against the rocky cliffs. That was more than one can ask for from a morning. 
And more than the view on the Butterfly beach or its emptiness, I had loved the journey to the beach. After all, it had taken us two days to find it.

How to reach Butterfly beach Goa, India?
You can also go to the butterfly beach from Agonda beach or Palolem beach in a boat. Maybe I would do that the next time.
And if you want to drive to the beach, then follow the route that I am sharing in this screenshot.
I was torn between the idea of sharing the directions to butterfly beach versus keeping it a secret. But I had to give in as a travel writer who wants to share the beautiful places in the world.
Please be respectful. Leave the beach clean. While walking to the butterfly beach Goa I found so much plastic and wrappers at one spot that I was ashamed. It is always a good idea to bring back some garbage from pristine natural places and do our part.
I am only able to share the route to this secluded beach on my blog assuming that we all will help it clean and will respect other travelers there. No loud music, nothing of the sort that could make others uncomfortable.
If we all keep the beach clean, I would assume that I did the right thing by sending you there.
Now it is up to you.
Where to stay in South Goa? Is there a good place to stay near Goa Butterfly Beach?
Stay at the Forget Me Not Resort on Agonda beach.
Forget Me Not is marketed as a resort on both Airbnb and Booking, but clearly, it is a homestay. The manager Manveer lives on the property with his family, and all of them are extremely cordial. I have stayed at his place twice, once with my partner and once alone. Both times I loved my stay and would go back again any time.
Rooms are of various kinds. I've always taken a simple non-ac, fan room with an attached bathroom. The homestay-cum-resort-beach house is expensive as it's on Agonda beach. But you will get good service, kind staff, and a vibrant atmosphere. Manveer also makes the best seafood and vegetarian curries on the beach. His wife is sweet and always ready to help. And wait until you play with their cats and dogs. Their dog Whiskey accompanied us on every walk to the beach.
Forget Me Not is right on the beach.
See the pictures and book it on Booking here. Or browse more homestays in Goa, South Goa, North Goa, or Maharashtra.
Cons: The main drawback for me here is that Forget Me Not expensive for a long or short stay. The food and drinks and accommodation all come together to be not so budget-friendly. But it is still one of my favorite homestays in Goa.
Going to Panjim Goa?
Years ago, I stayed at the beautiful boutique homestay Hospedaria Abrigo De Botelho. This Old Portuguese home is run by a kind host. You get a wonderful local breakfast and free wifi. I cycled around Goa, visited old forts, went to restaurants on my own, returned from bars late at night on scooter taxis, and just had a fabulous stay there. I could only do a lot of things on my own because the host had great recommendations. One night I fell sick and vomited ferociously. In the morning, when I told the host, he was concerned and made it clear that in such a situation I was to call him. Nice guy!
I recommend this homestay with a pleasant nostalgia for being cared for. Here you can expect good service, hygiene, and all the promised amenities.
Check the photos and book Hospedaria Abrigo De Botelho if it fits in your budget.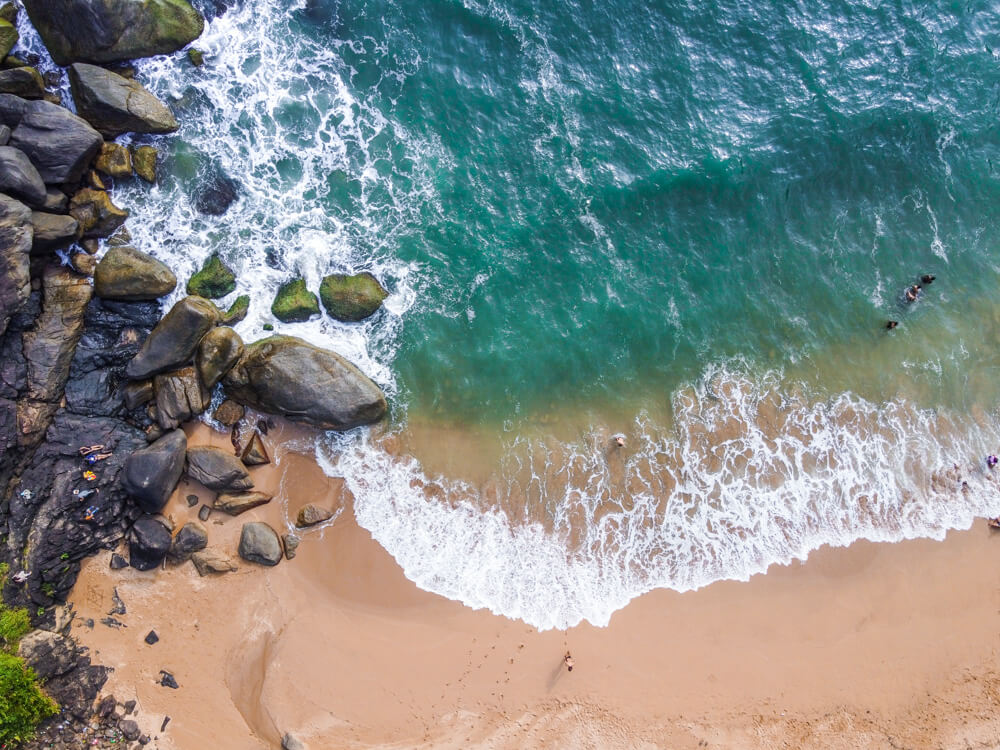 You would see amazing photos of Goa's Butterfly beach on the internet. Most of them are taken by drones and the photos I share are the best I could manage with a phone(I was camera-free then). 
Update December 2020: My most generous friends and fun travel bloggers Shishira and Navneeth shared a few pictures of the butterfly beach with me. I have happily updated the article with their gorgeous drone images. Please do visit and read their travel blog Backpacksters to read and get inspired by their adventures to some really offbeat destinations.
Will you go to the Butterfly beach in Goa? Tell me in the comments.
*****
Donate to keep me going!
For five years, I've read and wrote day and night to keep On My Canvas - my sustenance and life's focal point - going. Everything here and my weekly newsletter "Looking Inwards" is free. No ads. No sponsorships. If you've had some good moments reading my posts or felt hopeful on a lonely day, please consider making a one-time or a consistent donation. I'll really appreciate it (You can cancel anytime).
*****
Want similar inspiration and ideas in your inbox? Subscribe to my free weekly newsletter "Looking Inwards"!