A timeless journey through Manikaran.
While sauntering around in Manikaran's narrow lanes on my recent trip to Parvati Valley, I reminisced about my childhood journeys to Shukkartal and Haridwar with my family.
Like in those religious towns, time didn't seem to have passed in Manikaran Sahib either.
Young girls dressed up in traditional bright Kullu dresses and Himachali topis waited to be clicked. Streets were lined with kitschy souvenir shops that flaunted neon plastic toys, rudraksha malas, and brass bracelets.
Devoted Sikhs with their Kirpans hanging around their waist walked swiftly towards the Manikaran Sahib Gurudwara. Hindu families strode to the Shiva and Ram temple to bathe their young ones who trailed behind eyeing the hot jalebis and crispy samosas that were on display at the local sweet's shop.
If only their mother could buy them a hundred grams of jalebis the children might walk faster. But the mothers were already thinking about quickly getting their little ones undressed and bathing them in the Manikaran hot water springs. They also had to pay their respects to Guru Nanak Ji or the Ram and Sita adorned in the Sikh and Hindu temples.
After all, the history of Manikaran dictates that the town was touched by both the Hindu gods and Guru Nanak Sahib though at different times.
Related read: Kalga, a true hamlet of Parvati
Legends say that when Parvati lost her earring in Manikaran while taking a stroll with Shiva, Shesh Nag disappeared into the earth with the earring. Parvati asked Shiva to retrieve it, and then he did the Tandava dance to get it back from the thief.
The serpent then threw up the jewel through the water. This earring or Mani(jewel) – karn(ear) gives the town its name.
While Guru Nanak's legend narrates that when he arrived at Manikaran with Mardana, they collected flour from people to make chapatis. But as there was no fire, Guru Nanak made a hot water spring shoot out of the earth.
Those Manikaran hot springs are still there and make Manikaran a popular place to visit.
Related Read: Travel to Hampi, Karnataka – the timeless ruins of Southern India
You can just spend hours on the Manikaran bridge watching the hustle and bustle of the town. But only if you would be able to take away your eyes away from the picturesque Manikaran gurudwara that sits on the banks of the river Parvati. The milky gurudwara complements the white froth of the unstoppable Parvati bellowing by its side.
But while the Parvati is cold, the natural springs that flow under the gurudwara are sizzling.
The natural water was so piping hot that after a long princely bath in the hot springs of the Ram temple, I had to cool myself by drinking fresh water from the cooler of the Ram mandir. Then I found myself walking around the ageless Manikaran again.
Wooden and concrete homes were jammed against each other. People mingled around temples. While the electricity cables hung over the entire village, nobody seemed to complain.
Hot ginger tea and biscuits were sold in almost every tiny shop for the pilgrims and travelers alike. The town had a mix of local and international tourists for many came to pray while the rest came to see and live and meditate in Manikaran if only for a few days.
Also read: Doing yoga in Dharamshala, Himachal Pradesh
Why wouldn't they? You can go to the gurudwara Manikaran Sahib to eat the free langar. You can walk through the town and drink as many chai and eat as many samosas without lightening your pocket much. If you get tired of Manikaran, you can trudge up the hill behind Manikaran to arrive at the village of Gargi in about an hour and a half.
And if you don't feel like doing anything, you can just sit in your guesthouse or homestay in the natural Manikaran hot water. Yes, in Manikaran's homes people have drawn water from the hot springs to make their own tiny private baths. I was astonished to see that even the water streams that ran along the lanes fumed steam.
Imagine if you have the medicinal and mineral-rich hot water right from the Himalayas in your home to dip into whenever you wanted.
Also Read: Some basic funs of life, lessons inspired by The Little Prince
I have been to many religious towns and temples while traveling or with my parents even though I don't follow any religion. But when I was in Manikaran even though the streets were as chaotic as Indian streets can get, I never felt restless.
Manikaran had a peaceful energy that vibrated through the entire place.
Maybe because Manikaran has many mythological stories to comfort you. Or because the tiny town has the most popular gurdwaras and temples and rarely would you see people fighting. Or maybe because you can cleanse yourself every day with herbal hot springs.
Or maybe because you can walk into any little shop and order a tea while watching the world go by as the chai-wallah and you exchange stories of the Hindu gods and the meaning of life.
Or maybe because when you are in Manikaran you would even forget that you are in the Himalayas. The rain would fall like a curtain on the rickety street while you would try to find rainbows and sip tea. Oh, time does stop in Manikaran.
Follow up Read: A Photographic Affair With Pushkar — another religious hub of India
Where is Manikaran Sahib? 
Manikaran is a small town in the Kullu district of Parvati Valley in Himachal Pradesh. Manikaran-Manali distance is about 80 km, and you can do the journey in about 3 hours by road.
How to reach Manikaran Sahib, Himachal Pradesh? 
If you are coming by flight, the closest airport is the Bhuntar airport in Kullu that is about 36 km from Manikaran.
If you are traveling to Manikaran by road, you can drive from Manali to Manikaran in about 3 hours. By bus, you would take longer but Manikaran-Manali is a frequent bus route. If you don't get a direct bus to Manikaran from Manali, take a Manali to Kullu bus and then change in Kullu. Kullu to Manikaran distance is about 45 km and getting around is easy.
From Kasol in Parvati valley, you can take a local HRTC bus to Manikaran or Barshaini. The travel time would be about half an hour to one hour.
While coming from Dharamshala, you can take a bus to Bhuntar and then hop onto a local HRCT bus to either Kasol or Manikaran or Barshaini. If you get down in Kasol, take another local Kasol to Manikaran bus. Bhuntar to Manikaran journey takes about one-two hours.
There is no direct Delhi to Manikaran bus and you would have to get down at Bhuntar.
The closest railway station to Manikaran is the Joginder Nagar railway station which is about 148 km from Manikaran.
Where to stay in Manikaran, Kullu district?
Manikaran images flaunt the white Gurudwara Manikaran Sahib around which you have many homestays and hotels to stay. You can either walk around the town when you arrive or find a place on Booking.
Hotels in Manikaran aren't many, and homestays are more popular. A good room would cost rupees 300 upwards.
What to eat in Manikaran, Parvati Valley? 
Manikaran Gurudwara gives free langar food that you must have at least once. Otherwise, you can walk around and eat at the many small shops that fringe the Manikaran streets. Food is mostly Indian and made with locally-grown products. Eat paranthas, momos, soups, and Himachal dal with chapati.
What is the best time to visit Manikaran, Manali?
From April until June or July the weather in Manikaran is the most pleasant. Expect the temperature to be around 10/12-28/30 degrees.
Manikaran temperature drops to about 4-5 degrees in December and January. So plan your Manikaran trip around summers. But while the weather is comfortable in June and July, it also rains. Oops.
But as Manikaran is in Himachal Pradesh, expect the Manikaran weather to be unpredictable.
Where to take a bath in the hot water springs in Manikaran?
Throughout Manikaran you will get separate baths for men and women. You can bathe at one of the many Manikaran temples, such as Shiva temple or the Ram temple and Vishnu Kund, or in the Manikaran Sahib Gurudwara. Your guesthouse might also have a private bath so do ask.
I also saw open hot spring pools alongside the river Parvati, but the hot water baths in the Ram mandir and the gurudwara were enclosed.
Carry your change of clothes, towel, and toiletries. Take a shower before entering the hot pools. Wearing many clothes in the baths isn't allowed, and most people bathe without their bare essentials sometimes.
What are the best places to see around Manikaran?
Manikaran to Manali is only a three-hour drive so you can always go to Manali and chill there. As the journey from Manikaran to Kasol is only about half an hour, many travelers do day visits to Manikaran from Kasol. Though I personally don't like Kasol and you can read my Kasol trip guide to know why, there are many more nice villages around Kasol to visit.
Manikaran to Kheerganga is also a popular route. You can find everything about the Kheerganga trek on my Kalga to Kheerganga via Bunbuni pass hiking guide.
If you like hiking, from Manikaran, trek to the Gargi village and stay there for a day or two.
Of course, you are in Parvati Valley which means you have unlimited access to the Himalayas.
Here are my other Parvati Valley and Himachal travel guides.
My Travel Guide to Kalga Village – One of the most offbeat and quiet villages of Parvati
Shila, a hidden village of Parvati – Though Shilha is a gorgeous village, my travelogue will tell you why I ran away from there in just a day.
My guide to finding the best places in Parvati will be helpful to give you an overall view of Parvati.
My Travelogue of Spiti – Spiti is nothing like you would imagine. Head from Kasol to Manali and then Spiti is one day's drive away.
Living in Bhagsu Nag – Slow Traveling in Dharamshala
My best places to see and things to do in Dharamshala guide – Helpful for a short or long visit to Dharamshala
My Dharamshala trekking travel article – For hiking lovers
Manali Travel blog – Traveling offbeat Manali
Traveling from Manali to Naggar – Another peaceful wonder of Himachal
Do you want to visit Manikaran Sahib, an ageless town in this fast-moving world? Did you like my Manikaran travel guide? Let me know in the comments.
Pin the guide and share it with the world!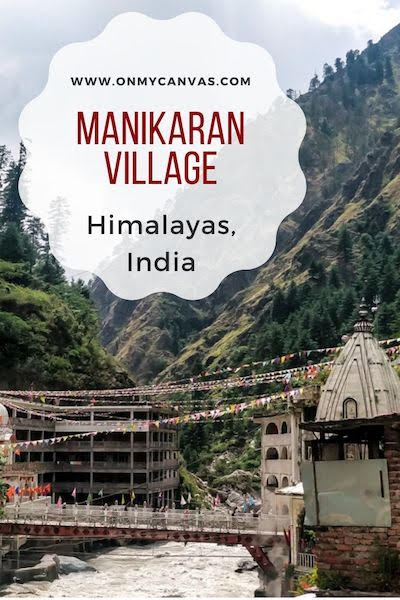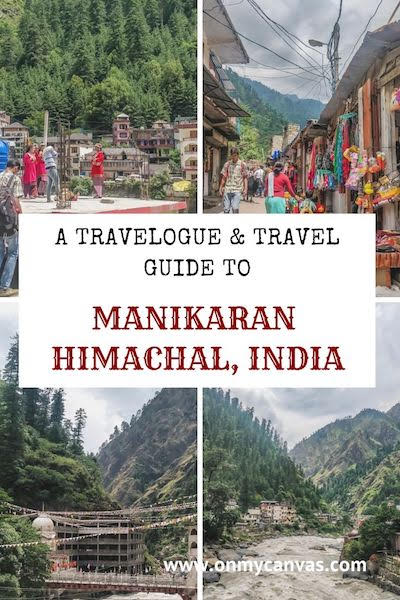 Note: This post contains affiliate links; if you choose to click through and make a booking or purchase a product, I will earn a little bit at no extra cost to you. It is entirely up to you if you decide to book or buy. Thank you.
*****
Donate to keep me going!
For five years, I've read and wrote day and night to keep On My Canvas - my sustenance and life's focal point - going. Everything here and my weekly newsletter "Looking Inwards" is free. No ads. No sponsorships. If you've had some good moments reading my posts or felt hopeful on a lonely day, please consider making a one-time or a consistent donation. I'll really appreciate it (You can cancel anytime).
*****
Want similar inspiration and ideas in your inbox? Subscribe to my free weekly newsletter "Looking Inwards"!