Plucking Apples in Himachal Pradesh With My Host Family
Our four-month Himachal road trip was more than halfway through. We were in the middle of July 2021. After living in small Shimla villages (such as Mehli, Fagu, and Mashobra), we had driven to Mandi district. There we explored Chindi village and surrounding hills, visited the historic Pangna, and hiked the daunting Shikari Devi and Kamru Nag mountains.
I had seen so much in those two and a half months that I wanted to slow down a bit more and write (the start to our indefinite travel hadn't been easy either). After the big hikes, we checked in to the government guest house (PWD) of Karsog village (in Mandi). Every morning in that PWD guest house was more about finding water to go to the toilet than staying sane. The dusty roads and poor guesthouses of Karsog didn't tempt us to stay in that village longer (though we did buy shoes in Karsog).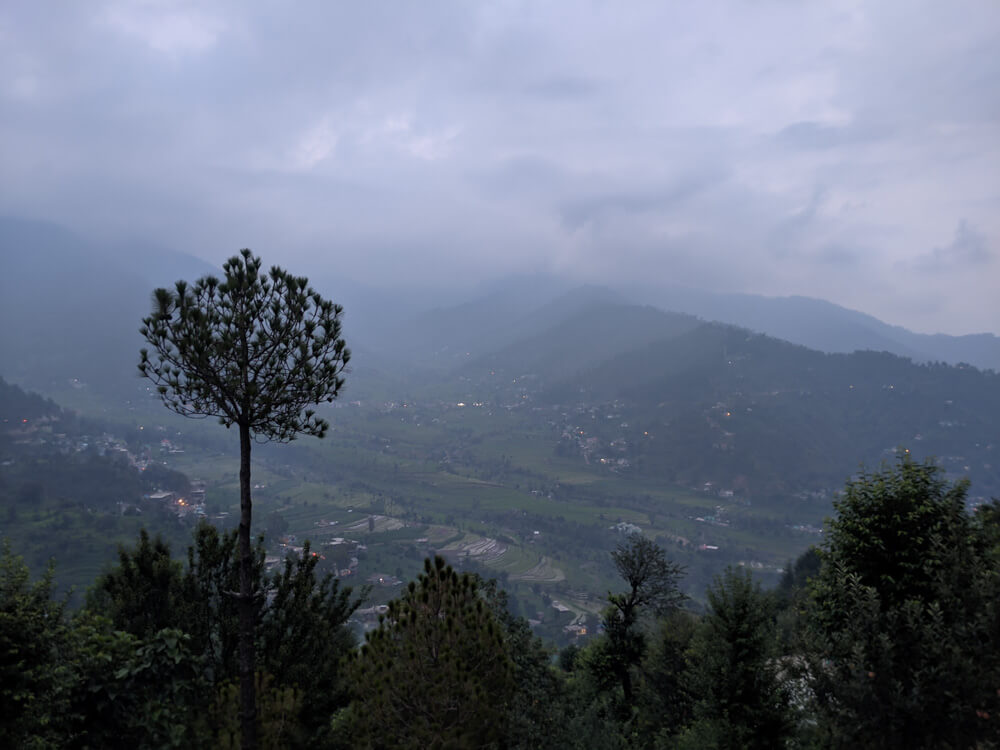 We checked out of the Karsog PWD. It was a sunny morning, and we didn't have another accommodation to check into that day. My partner and I were literally working and writing in our car on the highway.
Our idea was to work a bit, eat lunch, and drive around to find a homestay or a hotel that was good enough for a couple of days. Then we would have looked for a better guesthouse for at least two weeks (more tips on Indian home guesthouses and general accommodations in India in linked guides).
As Chindi and Karsog villages are located on hills climbing up to that highway, we had been driving to and fro on it for weeks. One roadside house had put up a large billboard the previous day. The board had announced the inauguration of a hotel. But we couldn't tell if the guesthouse was new or they had reopened or if it was any good.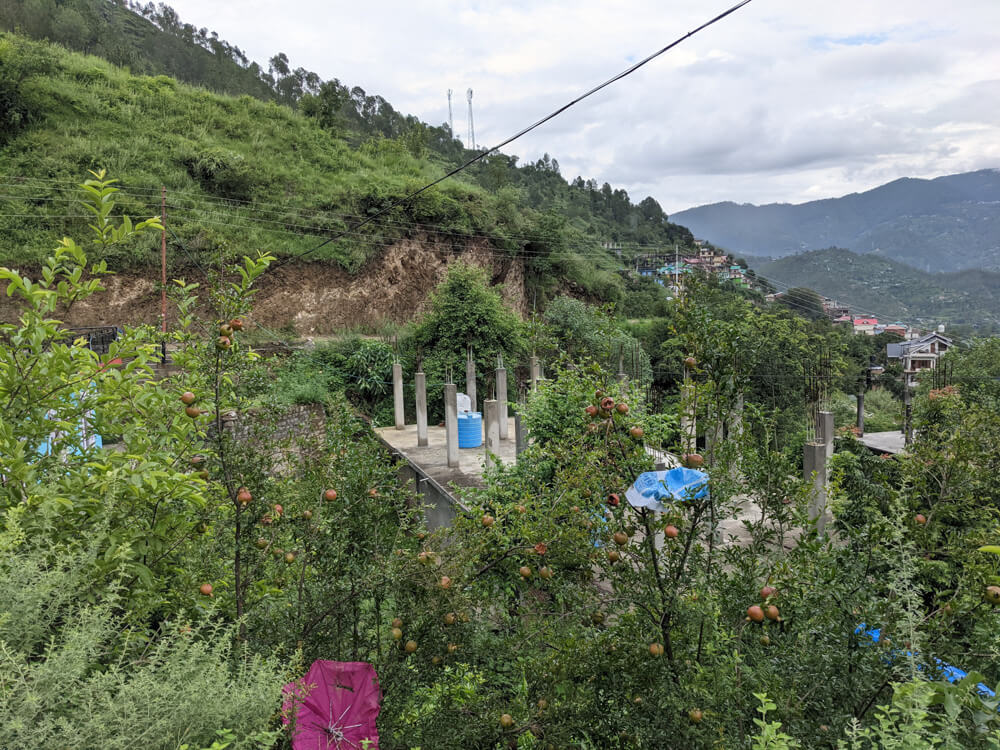 We parked our car and enquired. It was a simple family-run homestay. Rooms were five hundred rupees per night. The first floor had two rooms, and the ground floor also had a couple of rooms. The building had a local liquor shop, one shop for selling junk, and another for daily use stuff.
We took a room on the upper floor. Behind the guesthouse building, stood the main house of the hosts. The grandfather had purchased the land decades ago and now three generations lived there. Our host who managed the homestay was the grandson. He told us we were in Nalagali village.
Every night the fleeting lodgers in the adjacent room played loud music and drank. You know, local men relaxing and drinking in hotel rooms while their wives took care of their families at home. But everyone was decent enough, except that one night two weeks later when a group of men ordered the family to cook food at midnight. The host's mother threw those guests out, but not before rebuking the adult men for drinking at night while decent people such as my partner and I were toiling away on our computers until 2-3 am (I was publishing thousands of words every day).
After sleeping with earplugs for a few nights, my partner suggested we take the entire floor. That would bring us the other room, its bathroom, and the entire dining area which had a sofa and a dining table.
We could close the door to the hall and be completely private. The wooden chairs of the dining were straight-backed and good to sit on to write (more writing tips here and travel writing methods here). I liked his suggestion, and we took the floor for thousand rupees per night.
Even though our host was the kind and sweet grandson, his mother was the one who really made our stay comfortable and homely. She made delicious meals at home which she brought to us in the guesthouse. Our lunch was mostly her thalis priced at eighty rupees each.
Good luck getting seasonal vegetables though because Himachal families mostly cook what they grow. If they are out of vegetables in the fields, you are out of greens on your plate. Often we purchased fresh okra or cauliflower from the Karsog market and brought it to our hosts to cook.
But the garden-fresh vegetables, the home-cooked rich colocasia leaves, or aunty's beautiful smile and adjusting demeanor weren't the only good things about that homestay.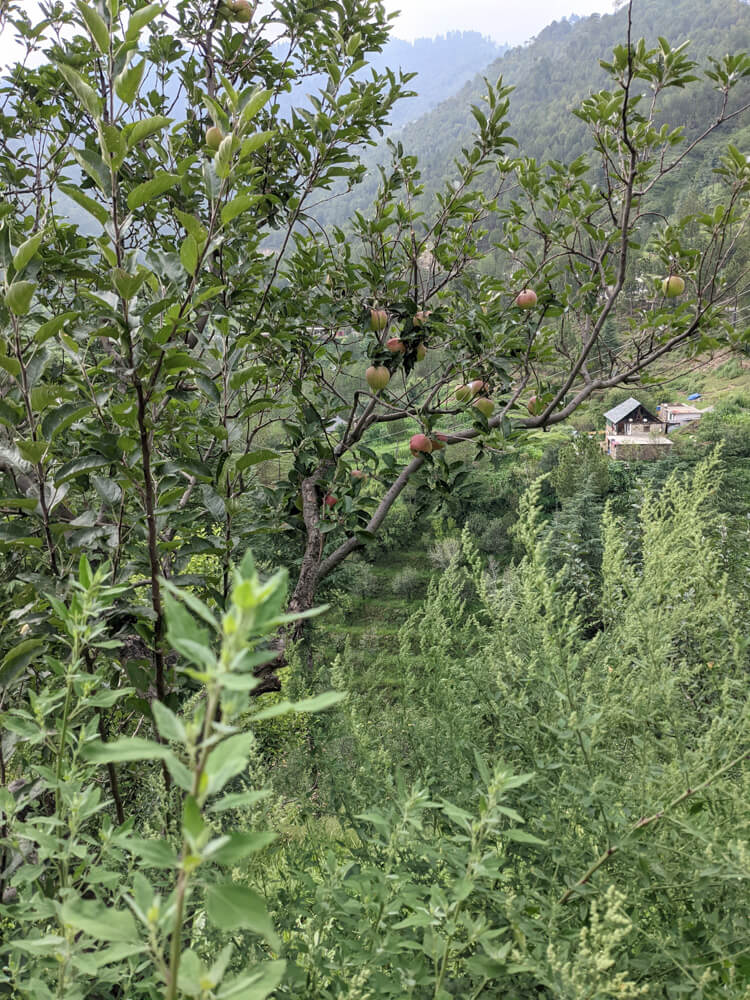 A large part of the hill on which the house was built belonged to the family. We were in the month of August. Apple harvesting season was upon us. Bright red and green apples embellished bushy apple trees on steep mountains.
I wanted to pluck apples with the family whenever they harvested. But I was shy to say.
One Saturday morning my partner and I were about to go out to explore the peaks around us. But I saw the homestay aunty walking to the fruits orchards balanced precariously on hill slopes around the house. Another lady with a big basket on her back strode behind aunty. After some time they returned with the basket full of apples. And soon enough they went back.
I was intrigued and asked the grandson. He said it was the time of harvesting apples in Himachal Pradesh and I could go into the orchards anytime I like. So I slipped my feet into my slippers — I was afraid by the time I wore shoes the women would have finished plucking from the sprawling apple orchard without me — and ran towards the gardens.
You know one good thing travel teaches you is to put yourself out, ask for favors, and accept them with gratitude. Asking someone for something doesn't make you a small person.
But soon my run turned into a trudge as the mud paths of that precipitous hill weren't really clear trails. Bushes from both sides shot into the track and tall grass stood everywhere. Apple, pomegranate, and pear trees were strewn around. Carefully I descended and crossed ahead to be with the two women who had been directing me how to reach them.
When I walked through the tall grass I did think of the snakes that must have been hiding in the grass. But I knew I had to go on. No one was going to come to pick me up from there.
Also Read: When we descended into the waterstream in Mehli, home to the local leopards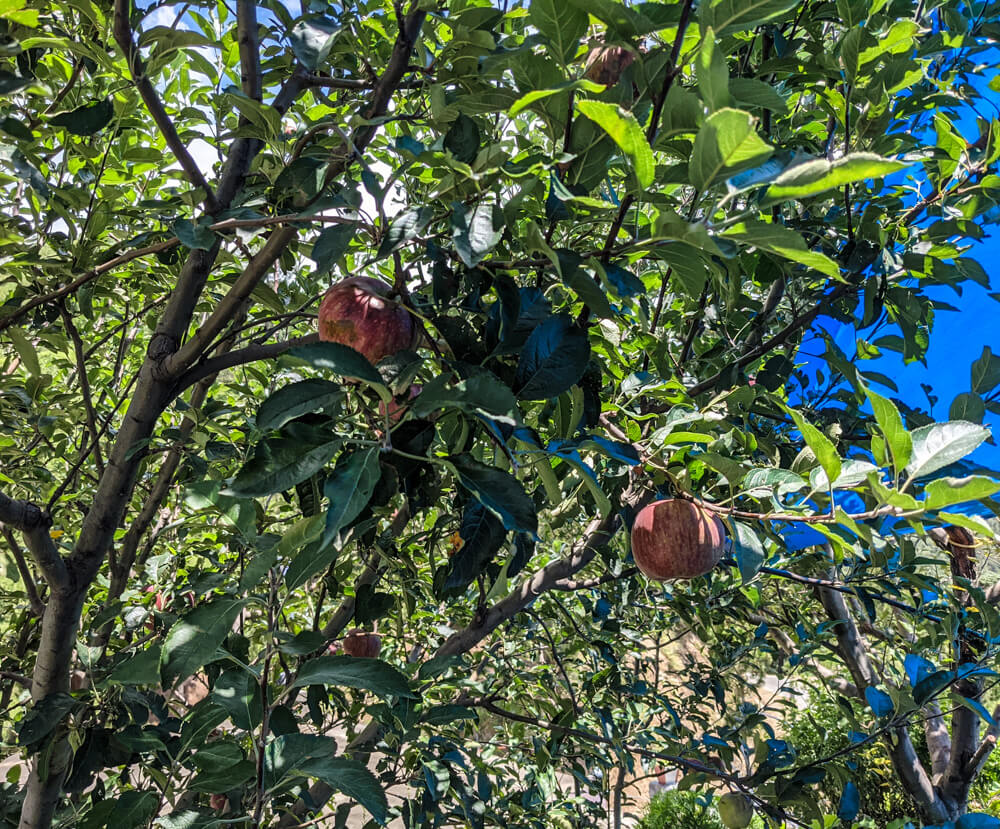 When I arrived at the tree, aunty had already climbed it. She plucked apples and tossed them to the village woman standing under the tree. The village woman had been specially hired for picking apples. Childhood memories of climbing the guava trees at my parents' home made my feet itchy. I had to climb that apple tree. So one foot on the trunk and another on the upper branch and then left and right and in seconds I was high up.
We plucked juicy red apples for hours. Aunty and I threw the apples to the lady who caught them and put them in the long basket. They told me the basket is known as kilta. The woman carried the full basket — weighing sometimes as much as fifty kilos — on their backs to the house.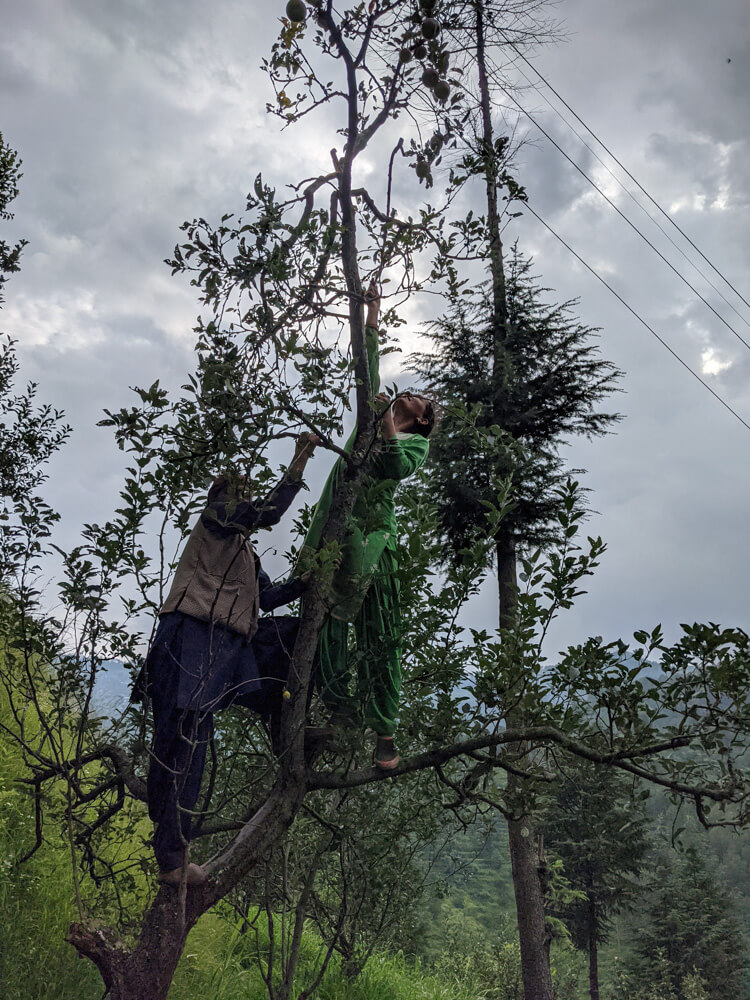 Aunty told me once they had such a large family comprising of sisters and daughters they never needed to hire anyone from outside. plucking apples used to be a merry family occasion. But as the sisters and daughters had been married, the group had dwindled down.
"Why don't the men help?" I asked. She told me Himachal women work like laborers in the house, in the garden and fields, take care of the livestock and dogs, and even buy groceries but men don't do much. Why don't you say anything? I was perplexed. But both the women said they don't complain. I felt as if they hadn't even thought of saying anything to the men ever. When they asked me what I do for a living, I told them I write and I also travel a lot.
"We can't even leave the house," the kind women sighed together. I needed hours to tell them that our lives would have been very similar if I had not stood up for what I wanted (didn't marry until late, quit my job to write, and got my heart broken more times than I could take). But I didn't say anything because I know how hard fighting the system can get. Not everyone wants to stand against their entire world.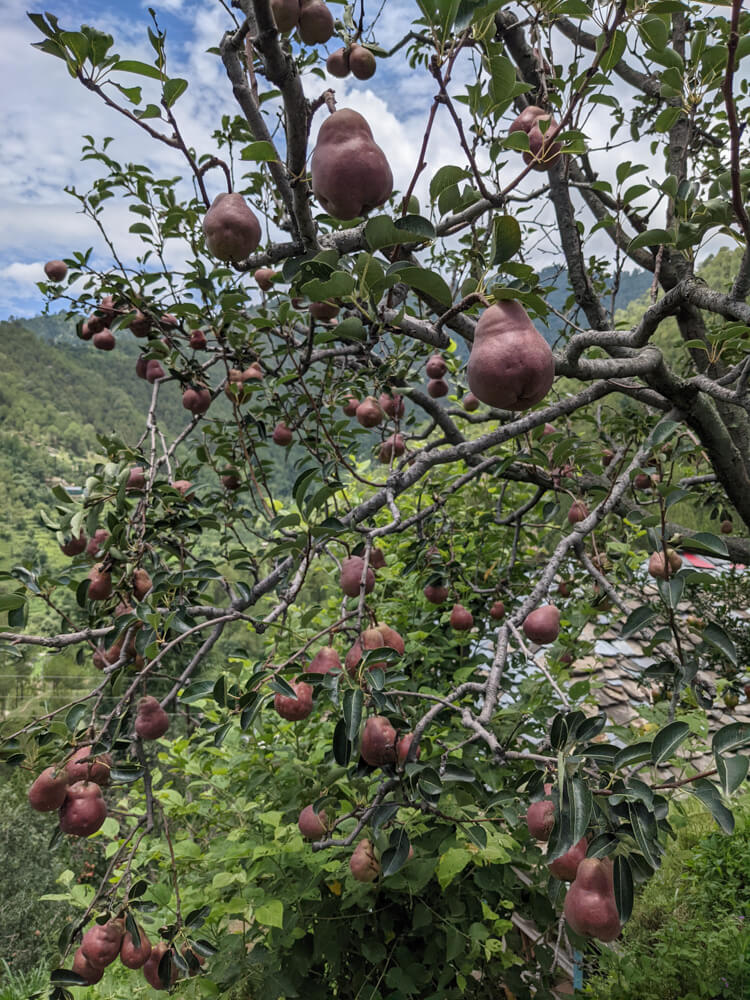 My partner and I went out to eat lunch at Thakur Dhaba nearby (a nice place for vegetarian thalis). When we returned, I ran to the orchard.
Aunty told me as they hadn't sprayed the apples for color, the fruits from their orchard weren't bright red and would fetch less money. Before this Himachal trip, I didn't know apples were color-sprayed a couple of weeks before the harvest. Of course, pesticides are continuously sprayed on all Himachal apple trees else the fruit would be lost. The state's horticulture research centers are still researching organic ways to grow apples and other fruits. Only a few farms are practicing organic farming. (organic stores and farms to buy from in Bangalore.)
The women carried the fifty-kg kiltas on their back expertly. I picked up a half-full kilta myself. You need a lot of strength in your legs to stand up with that heavy basket weighing on your back. But I guess what has to be done has to be done.
Locals told us all the apples from Himachal villages go to local contract shops. Contract shops further sell the apples to wholesalers, online retailers, big enterprises, food production companies, and so on. Eventually, all the apples get put into places.
While leaving Himachal, we bought about thirty-five kilos of apples which my family ate happily for months. The eighty-ninety rupees per kilo apple we buy from shops around India cost us about forty rupees per kilo. I also bought yams, pomegranates, mountain potatoes, garlic, honey, wine, and some other local Himachal vegetables and produce.
(This Pahadi Dukaan Himachal online store promises organic fruits delivered straight to your home. I haven't tried them though.)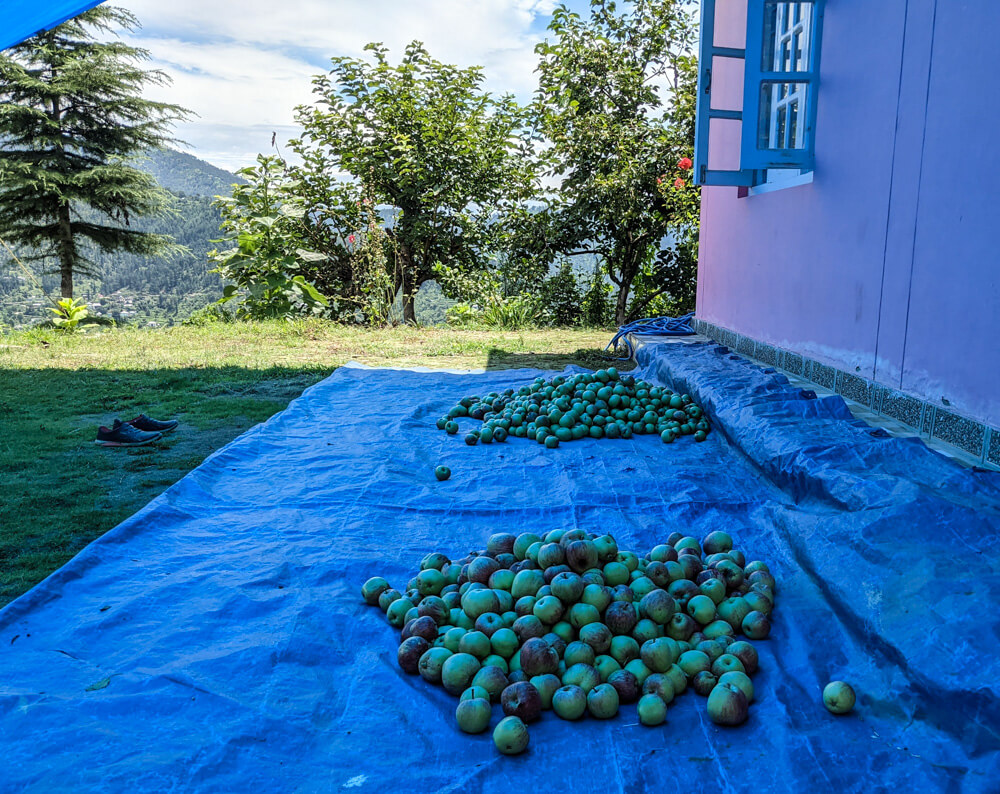 I had been enjoying orchard apples for weeks by then. And I was surprised the apples fresh from the trees tasted so much juicier and sweeter than the ones we buy from city and village markets. The apples lose their juice and sweetness once they are put into cold storage. Fresh Himachal apples are delicious, but their flavor is sucked out by the cold of the storage units.
We ate kilos of apples and pears from the homestay orchards. And aunty gave us some apples and pomegranates to take with us too. The lot lasted us quite a few weeks and then another homestay would give us some more. Happy and thankful life, isn't it?
What do you buy from the mountains? Have you ever climbed an apple tree in Himachal Pradesh? Or any tree?
*****
Donate to keep me going!
For five years, I've read and wrote day and night to keep On My Canvas - my sustenance and life's focal point - going. Everything here and my weekly newsletter "Looking Inwards" is free. No ads. No sponsorships. If you've had some good moments reading my posts or felt hopeful on a lonely day, please consider making a one-time or a consistent donation. I'll really appreciate it (You can cancel anytime).
*****
Want similar inspiration and ideas in your inbox? Subscribe to my free weekly newsletter "Looking Inwards"!