The Story of The Lost Shoe and a Failed Attempt at Buying a New Hiking Pair in Karsog Mandi
Anyone who knows my love for hiking would understand how important shoes are for me. In a tragic incident in 2020, I lost one of my Merrell shoes. I had purchased hiking boots in Chile in 2017 and since then my shoes were my loving companion on every trip and sometimes within cities too. (This Chile travel tips will prepare you well for your trip.)
When we returned from Chikmagalur after our one-month 2020 birthday trip (articles coming up soon), I started cleaning our rooftop shed. My partner promised he would bring up all the stuff from the car. I told him please bring the bags a couple at a time. But he loaded all the stuff onto him and finished unloading the car in one trip. I think he did go back to the car to see if he had left anything behind and came back satisfied. 
A couple of days later when he was putting the shoes into the washing machine, he shouted he couldn't find one of my Merrell shoes. We looked around. Under the bed, in other bags, and in every corner. My heart sank. Oh, it sank! I still skip a few beats when I realize I will never find my shoes again (the linked shoes are similar to mine but just purchasing a new twin pair won't do it). They kept my feet warm even on ravines and wouldn't let me slip if I tied them tight. In dry and wet we walked together.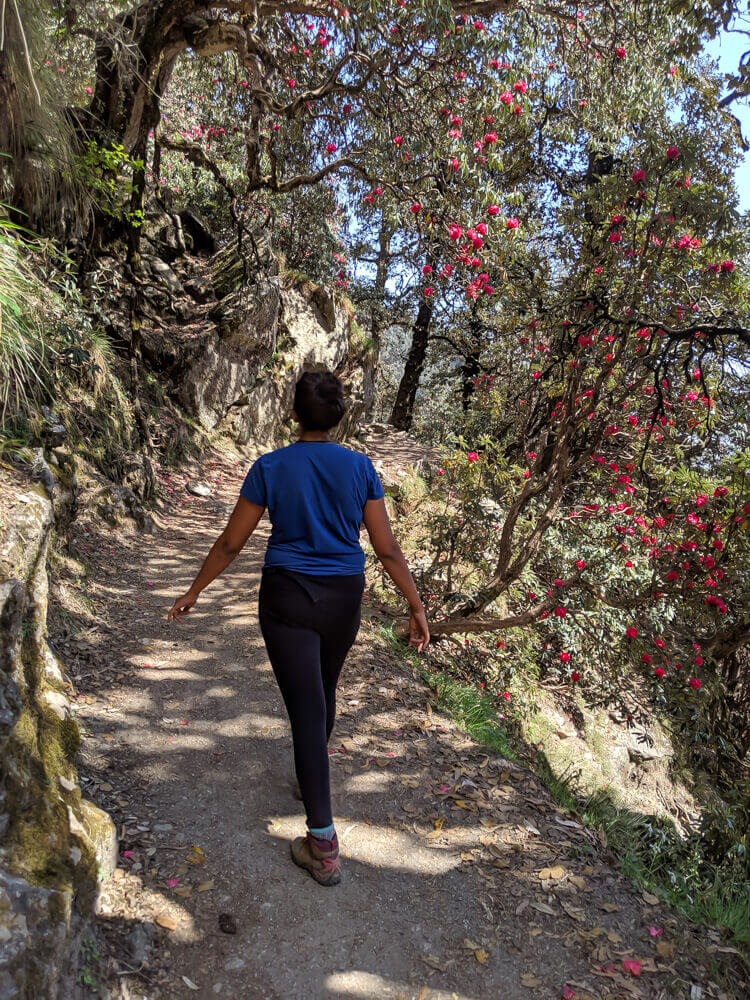 Our car in Bangalore was a rental one. We had taken a Zap subscription from Zoom Cars. So we paid a monthly rental and put out the car on the Zoom platform when we didn't need it. Travelers who book short-term rental cars would get ours and we would receive part of the rent earned. The vehicle came out to be almost free. (an article on Zoom car subscription coming up soon.)
As we had just returned from Chikmagalur, we had put the car on Zoom. Someone had taken it the next day itself. It returned and went on another booking. That day the car was with us and was parked near our building.
Leaving the food burning on the stove, we ran down. We searched the entire car but couldn't find the shoe. My shoe! I even looked around in the garbage spread on an empty plot near our house thinking the people who had booked the car might have thrown it away. But my shoe was nowhere. 
Tears simmered in my eyes. I trudged up the three floors to our rooftop and erupted on my partner. It was his fault I had lost my shoe. Why couldn't he lose something of his own due to his mistakes? I screamed. That evening was an ugly one. Even our car cleaner had seen the one shoe inside but hadn't informed us. What a bright mind!
Swearing never to trust my partner with my stuff, I succumbed to sleep. My partner never tried to retrieve the lost shoe from the Zoom car guys and I don't think I will be able to forgive him for his carelessness. 
I lost my Merrell about a year ago but I haven't forgotten them. Maybe I still hope I will find the shoes someday. I don't know how. I left the other shoe on the rooftop when we left Bangalore to start our road trip through India. I didn't know what else to do.
I thought writing about losing the shoe will help me accept the reality. But I find the acceptance hard. The comfort I get when I know my feet are safe in a sturdy shoe and I can walk on ice and rocks and not fall on slippery slopes is missing. 
Well, I'm alone now. Since the day I lost my shoe I've been using my partner's Adidas shoes. They aren't the sturdiest or the thickest waterproof shoes but I've managed with them well.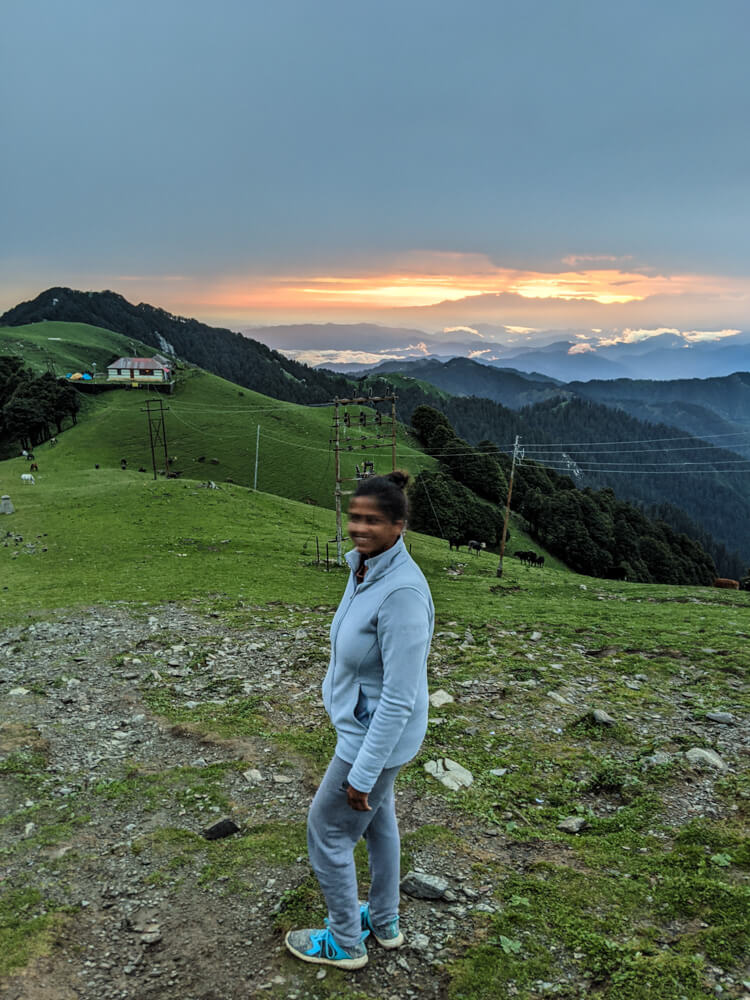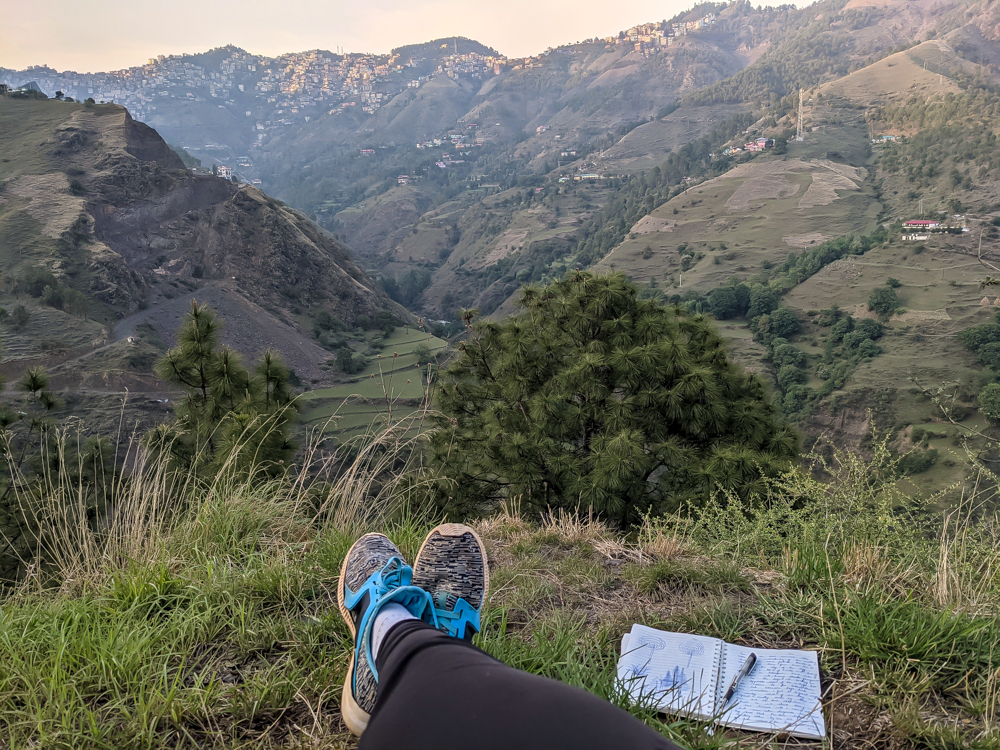 After wearing the Adidas shoes for 11 months straight — out of which three months I have been hiking and running in them on Himachal terrains — now their cloth is tearing apart. They let water inside and my feet get cold.
But I didn't buy a new pair of shoes before starting my trip to Himachal as I wanted to settle my mind on a trail running shoe. Trail runners are shoes that can be worn to run on tough mountain trails. If you can run on hills, you can run on roads and pathways. So I decided to buy a trail runner for both running and hiking. 
Before I could understand the finer details of trail runners, I had to leave big cities. We were already in Rajasthan, Uttar Pradesh, and soon entered Himachal Pradesh. The lockdowns were also in place.
I decided to work around with the Adidas one. 
After the big hikes of Shikari Devi and Kamru Nag in Mandi, my blue shoes almost gave up. They are more torn than ever. When it rained in the dense deodar jungles of Shikari hills, my feet got completely soaked. Wet feet aren't fun.
My partner also slipped on mossy wet rocks towards the end of our Shikari Devi hike. I was never satisfied with his choice of hiking shoes. He was using a more casual shoe with some traction.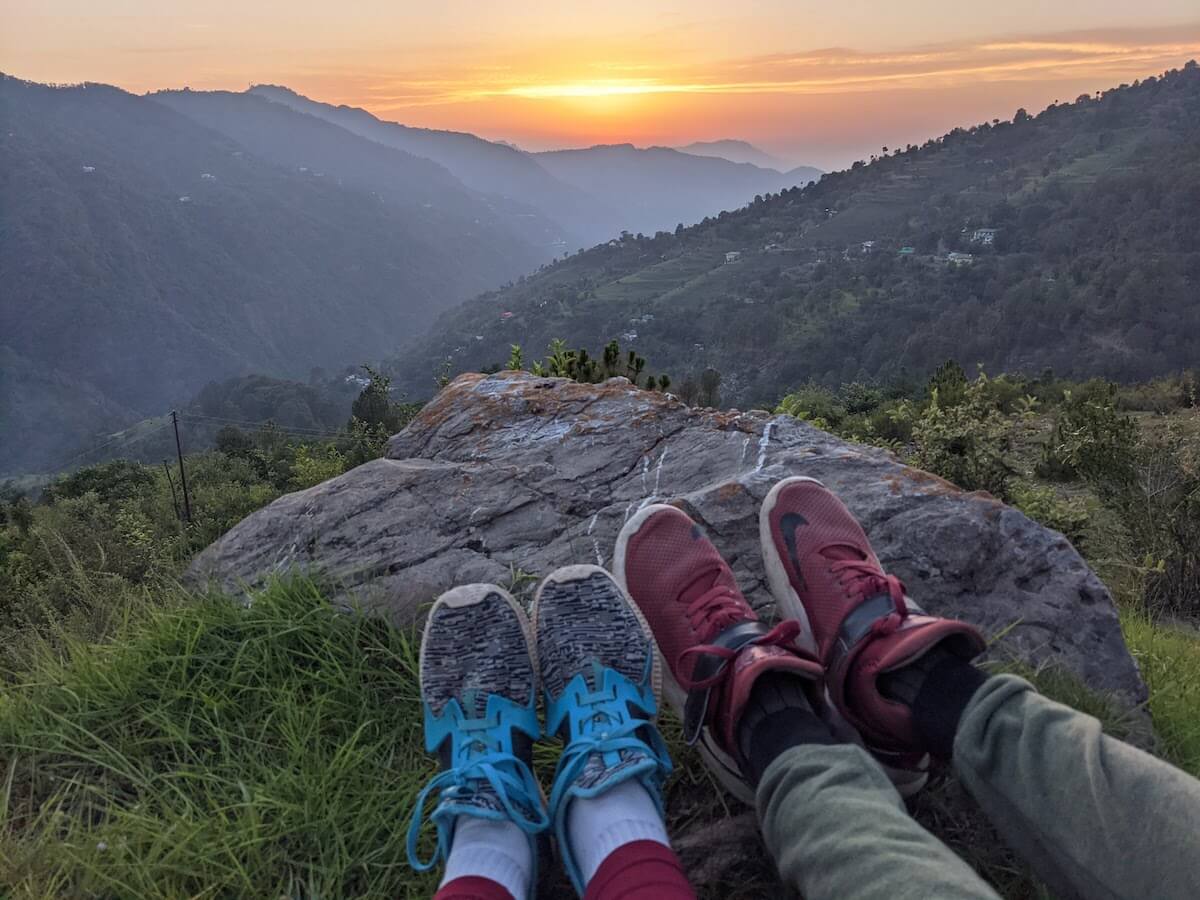 After Shikari we were still at Hotel Mamleshwar in Chindi. The manager there told us we could find good shoes in Karsog, the village having the biggest market in Mandi district after the Mandi town. 
We had just returned from the Shikari trek the previous night. Now with the windows of our Queen room at Mamleshwar wide open, we got a good view of the mountains and the orchards beyond. The backside of the room opened into the deodar trees and the apple gardens nearby and beyond them lay the deeper cedar and pine woods. 
After having tea on our bed laying in cozy duvets, we discussed where to go and what to do. Some ideas around going to Chowki village and hiking to Kamru Nag were thrown around. While dilly-dallying the decision we ordered breakfast and went down to eat it in the sun on the lawn. Poori bhaji and parathas were on the menu. Some more tea followed. We extended our stay at Mamleshwar by one day because we wanted to be slow that day. 
After spending a couple of hours eating, resting, talking at home, doing laundry with hand, and all, we got ready and drove towards Karsog. Oh but not before the caretaker at Mamleshwar hotel fixed the wiring of our dysfunctional geyser.
 Today would be the shoe shopping day we echoed. The view of Karsog Valley from the Shimla Tattapani Mandi road is beautiful. You see green hills and velvety paddy fields rolling into the horizon. But as we entered the Karsog market our dreams drowned in the brook we had seen from the top. 
The dusty Karsog bazaar seemed full of the automobile, cement, welding, and other rough shops. The roads around Karsog were dug up. Many JCBs and other road rollers were busy doing road work here and there. Trucks were parked randomly. 
We thought to get coffee at a shop that displayed it sold the hot beverage. One needs to pee too. The owner said they hadn't ordered coffee yet as the weather was still hot. Who drinks coffee in the summers? Have something cold. 
To escape the madness, we said we will have tea. That was all right by her. I asked for the toilet and only when did she make sure I had to pee and didn't need to do number two she said I could unlock the door below and go. Water is scarce, she confided. 
With tea, we figured out places to see in Karsog. Apart from the Mamleshwar and Kamaksha temple we would need more time to do any of the longer hikes from Karsog. 
Beyond the shop lay the dusty and sunny Karsog market. So we chucked any ideas about going around and headed to the market to buy shoes.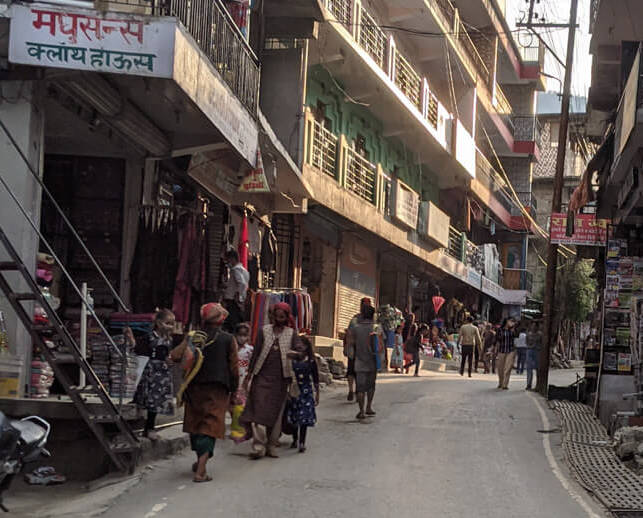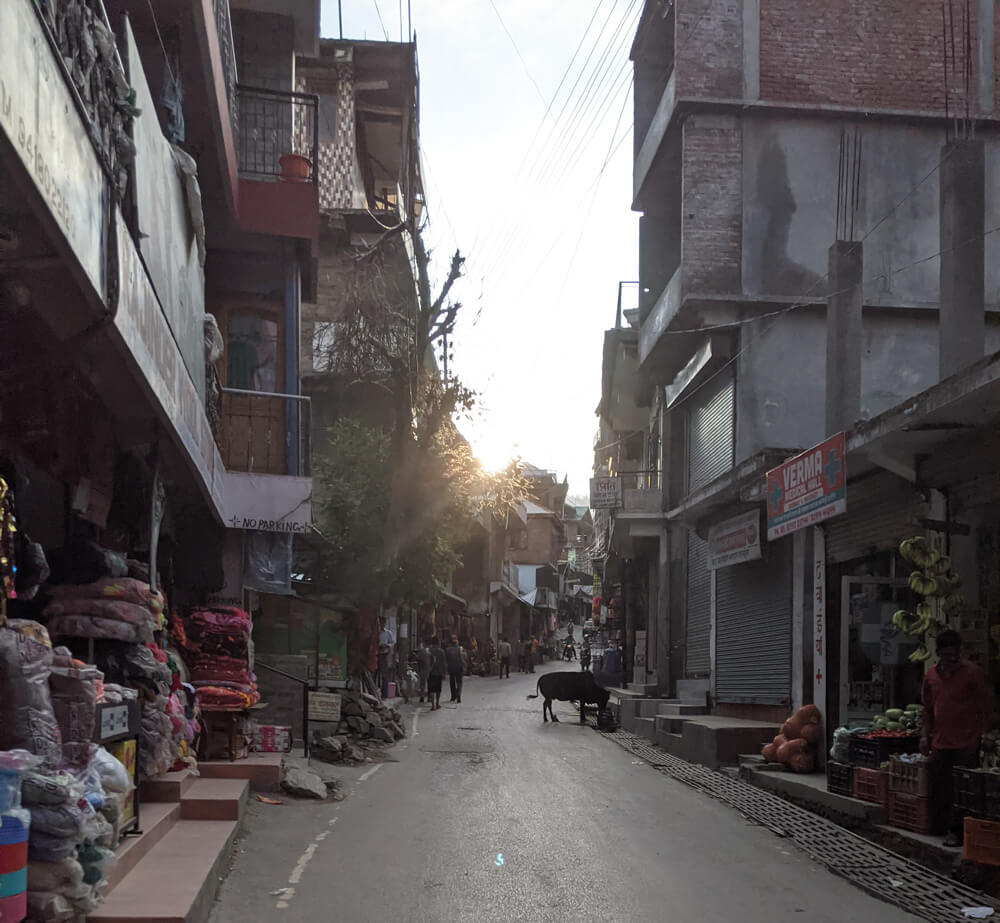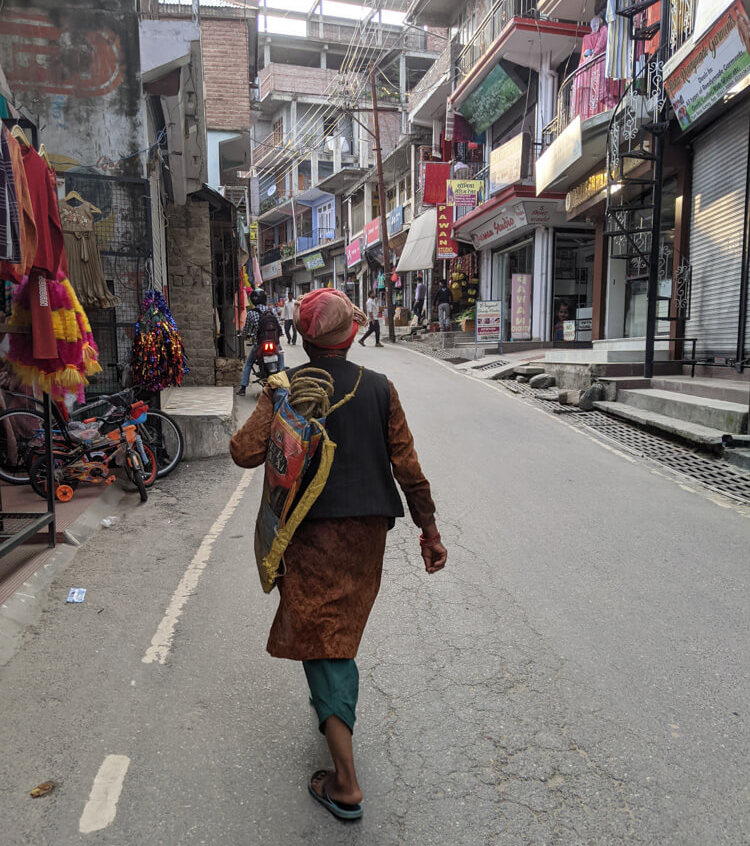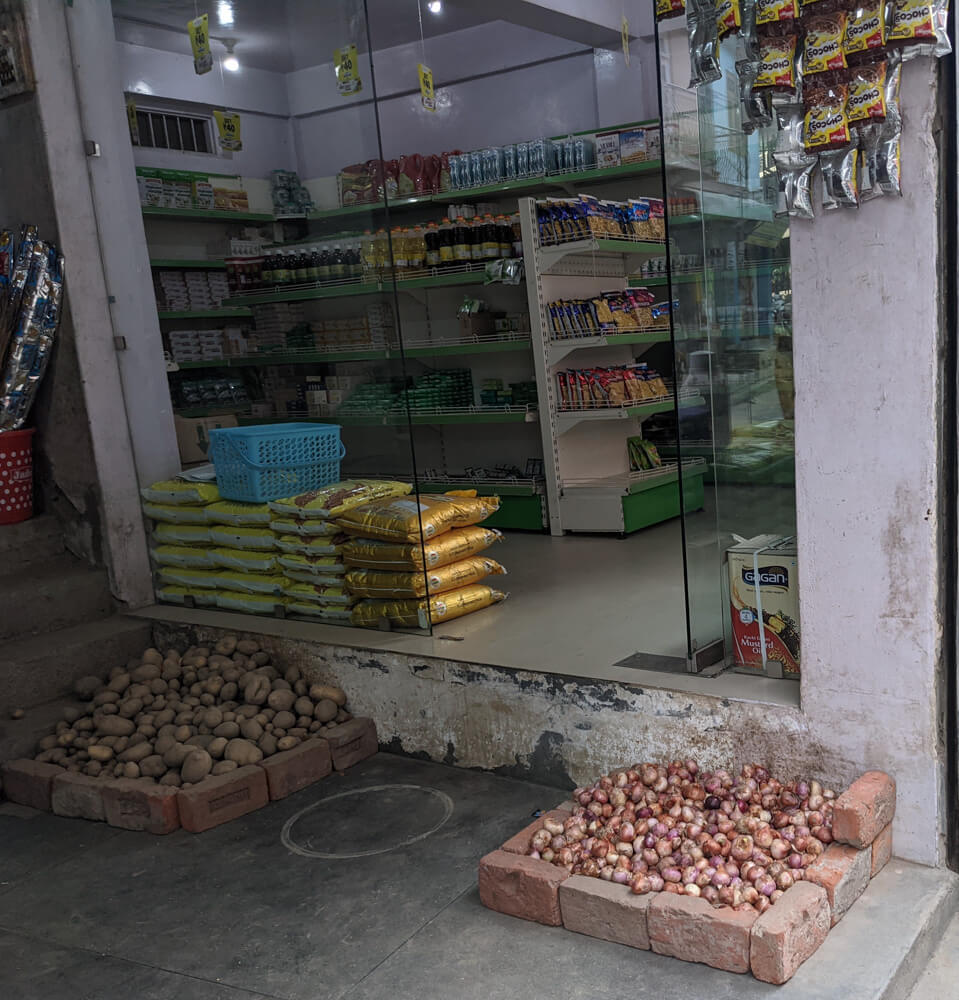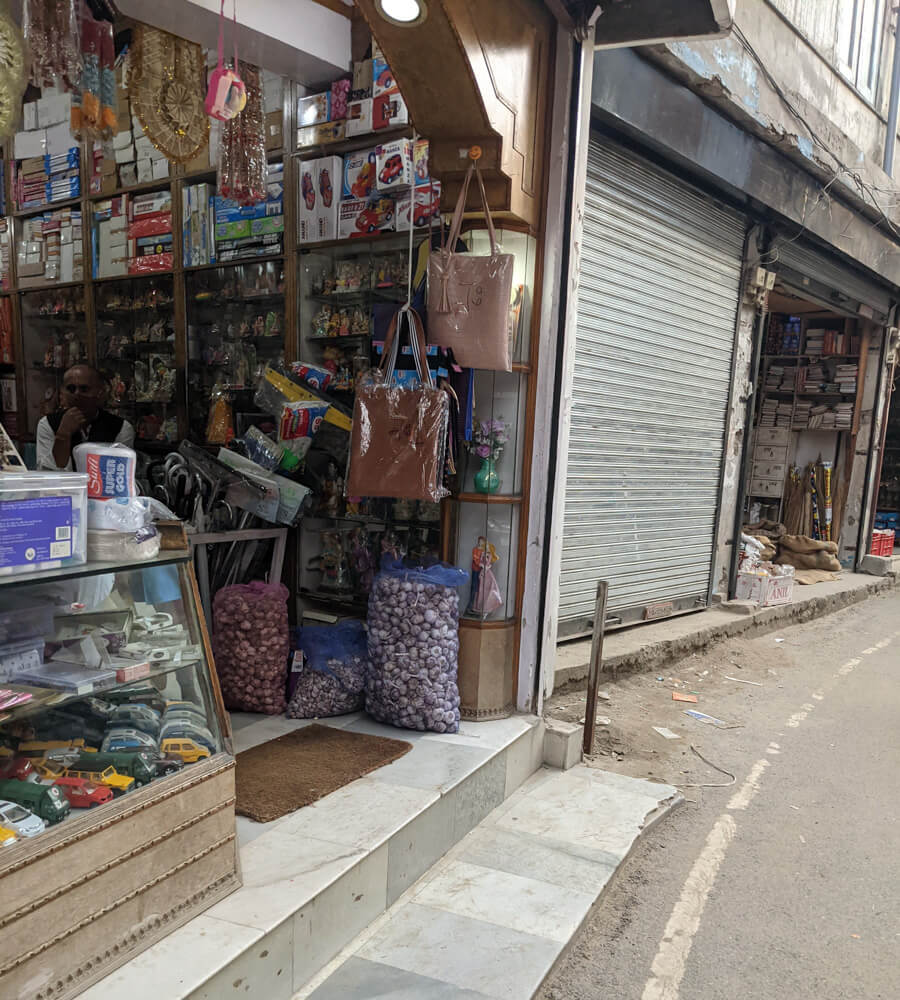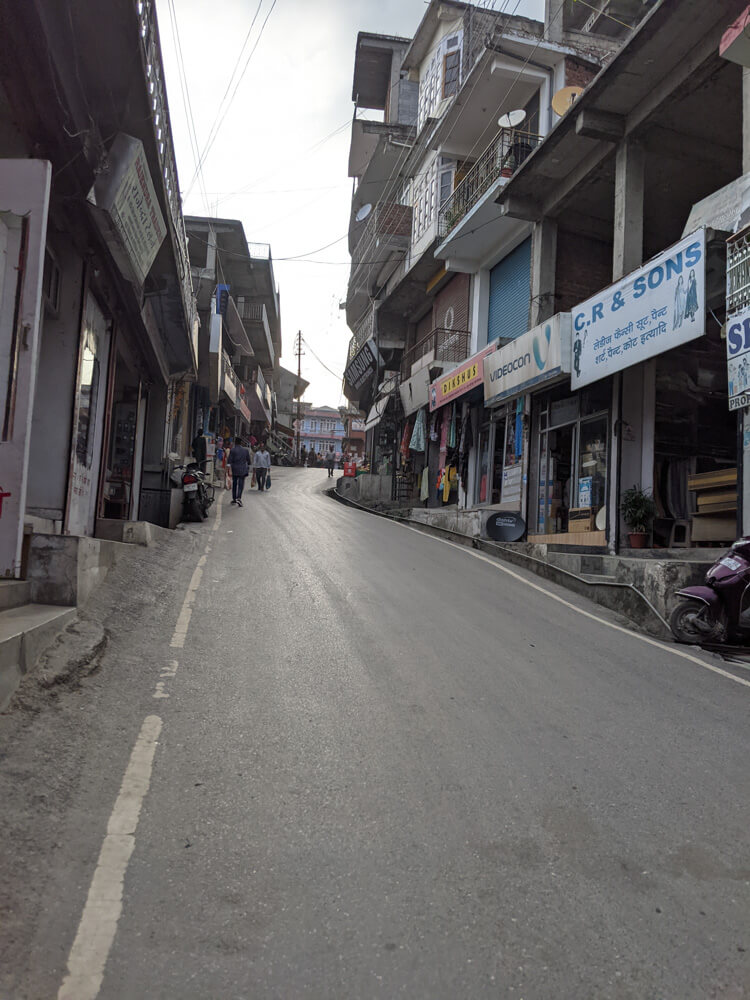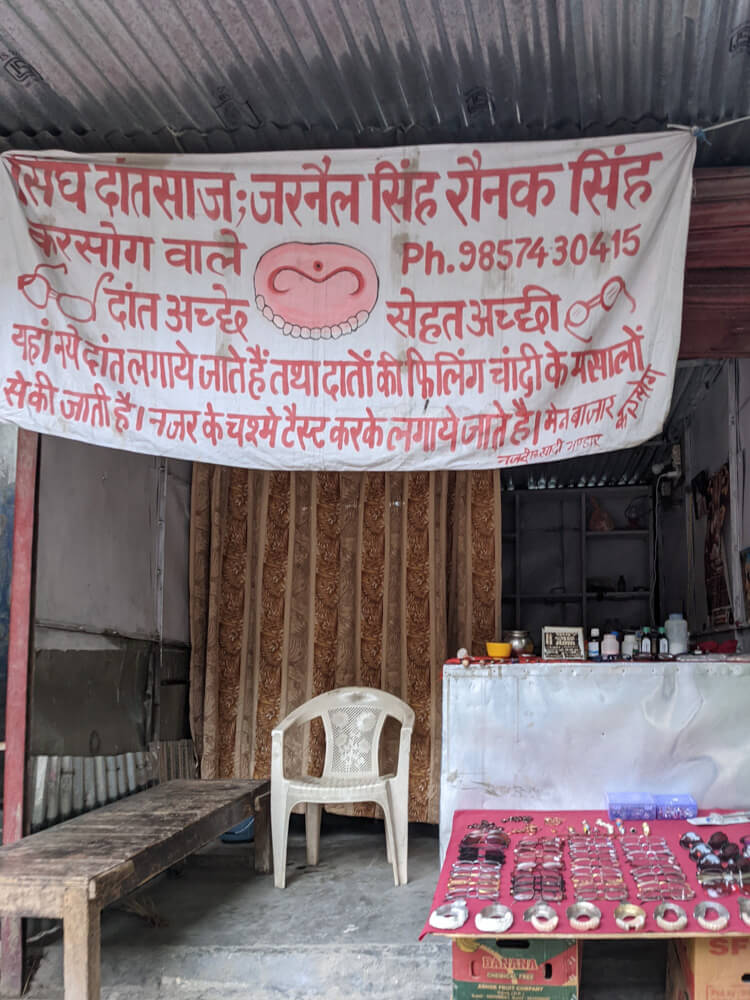 Some scenes from the Karsog market.
The first few shops showed us some shoes that couldn't be called hiking shoes. A few shops had good shoes for men but nothing for women. When I asked for shoes for myself, they brandished sandals, soft cloth shoes, and other ridiculous inventory in front of me. Nothing would serve the purpose. What patriarchy!
I gave up. Even my partner didn't want to invest more time in trying shoes he was sure she wouldn't like. 
But I put my foot down. "As your hiking guide I say you need strong shoes. Or else if you fall again I ain't going to pick you up." I declared.
At one shop, he chose the Woodland hiking shoes between an Adidas option and Woodland. I wouldn't be able to find trekking shoes for women in Karsog, shopkeepers said.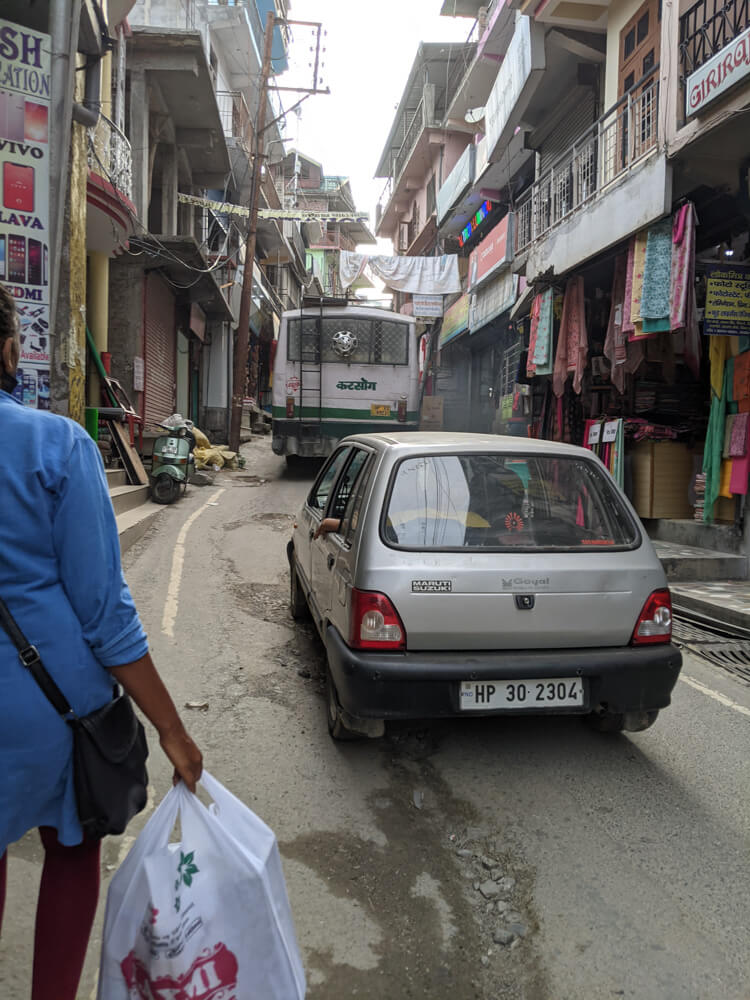 Monsoons had been pouring down on us since we had come to Mandi. Ditching our old rookie umbrella, we bought a new one. And at the same shop, I discussed the length and width of a Whisper pad with a middle-aged shopkeeper who was giving me the big packet of green pads when I wanted the small one. After discussing wing size and night strength, we moved on.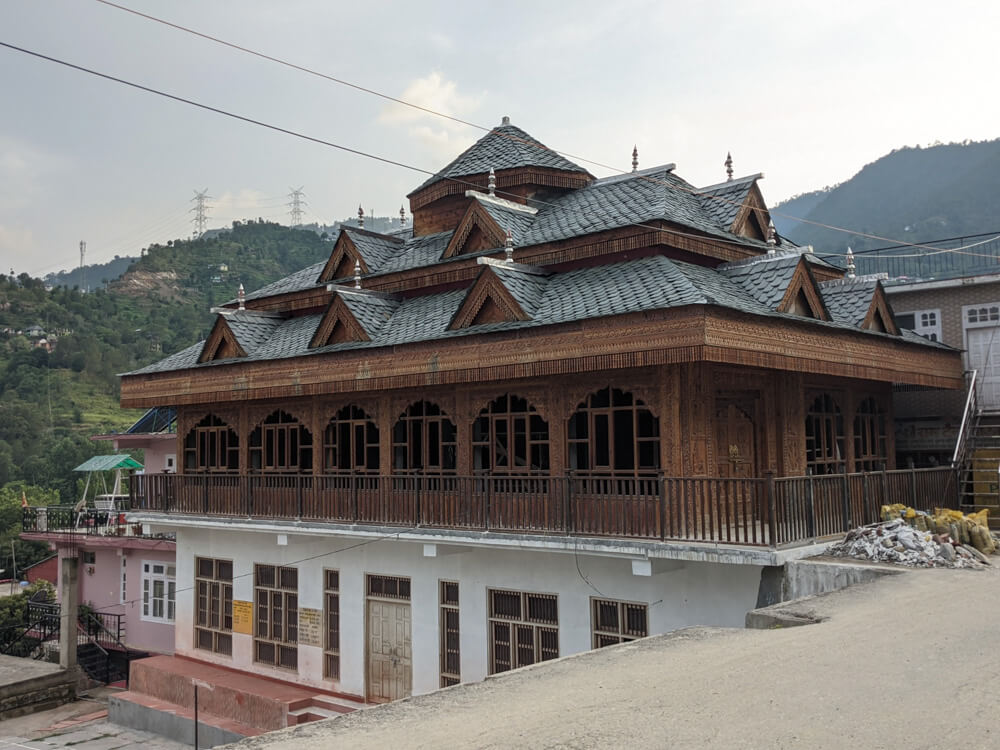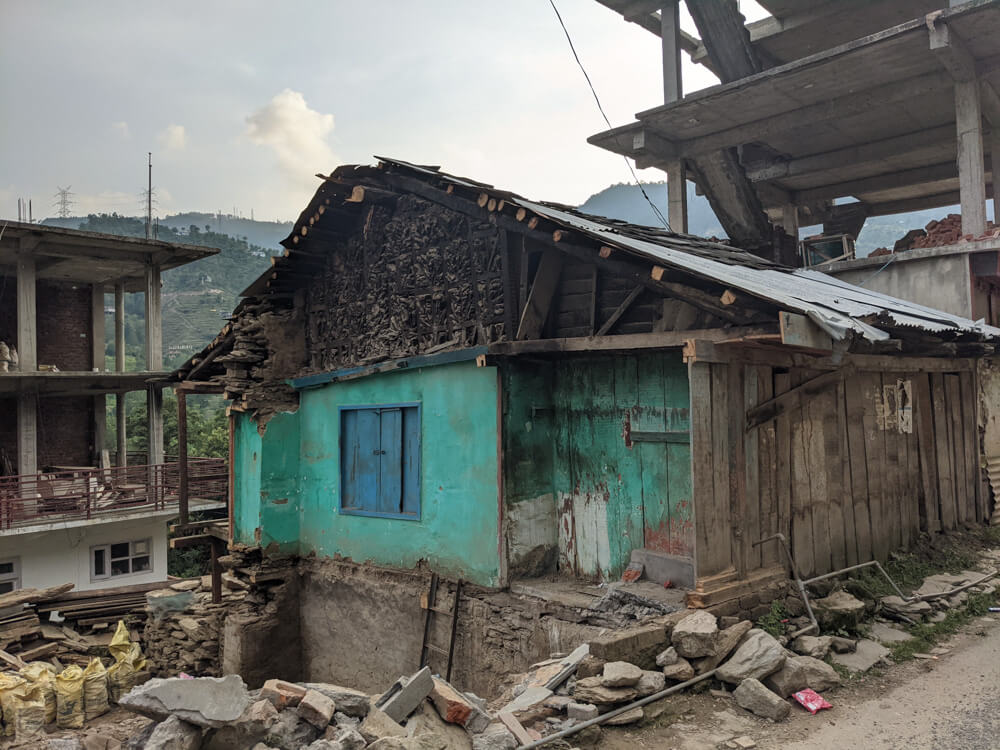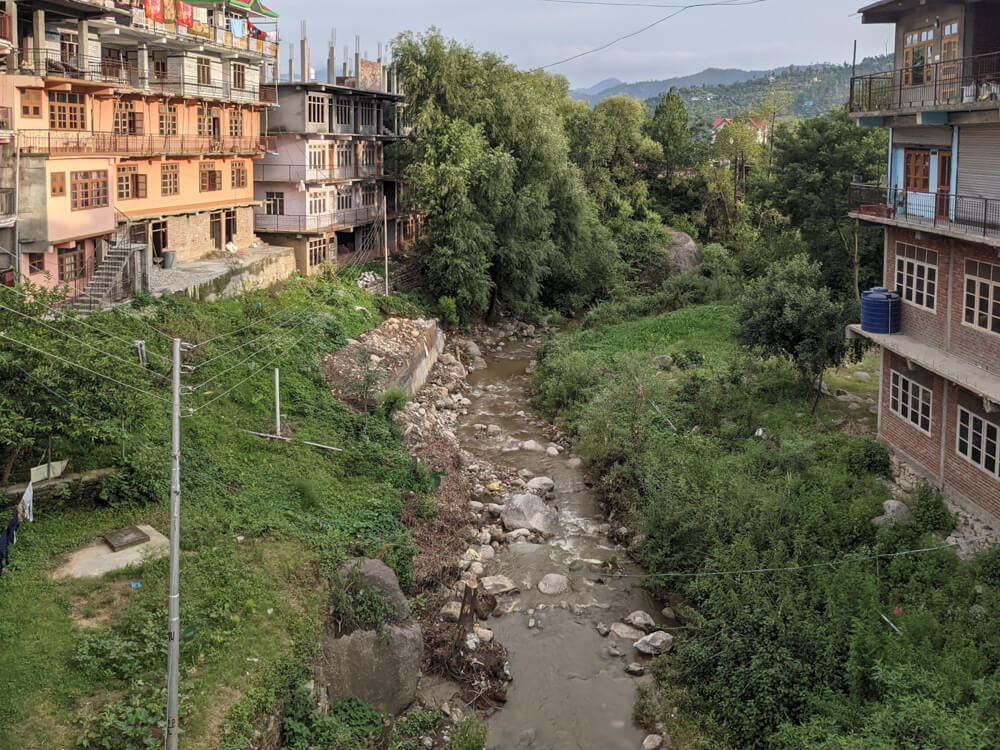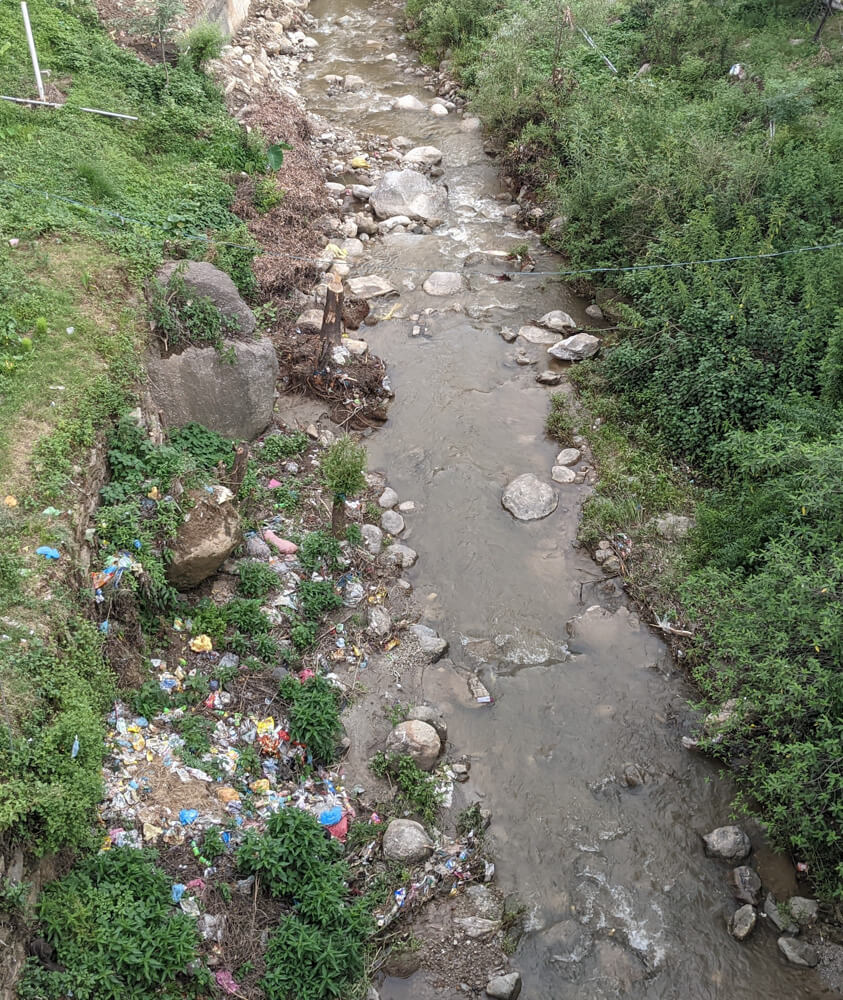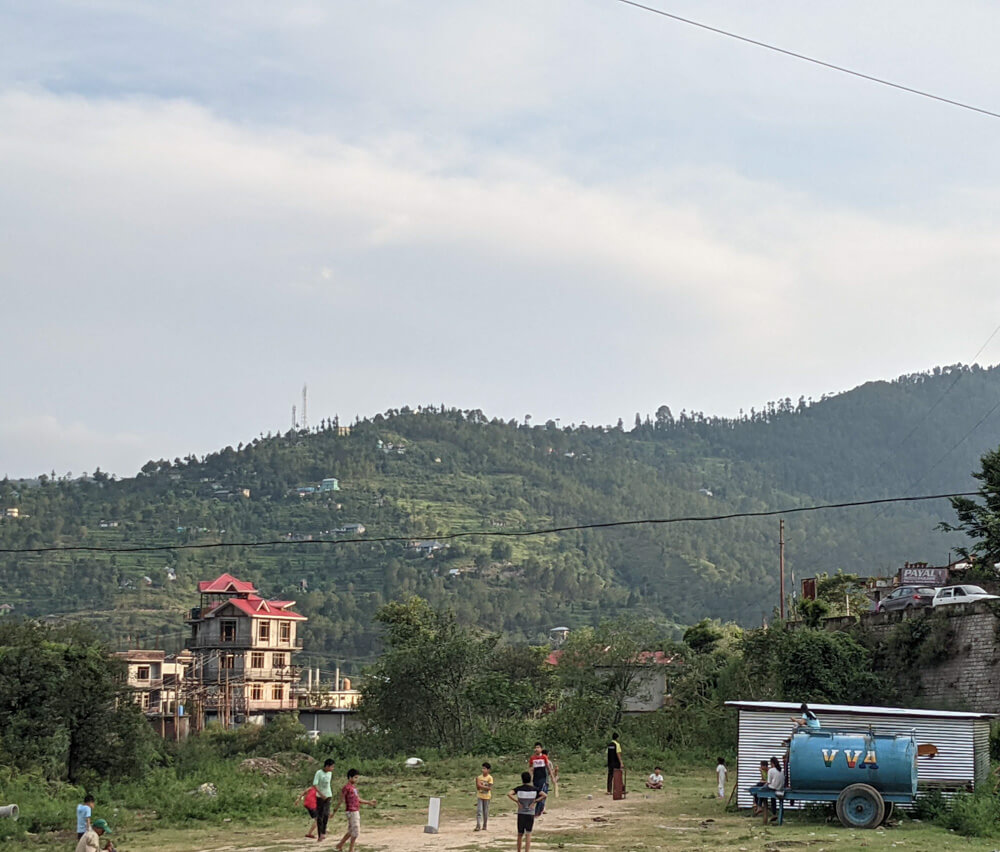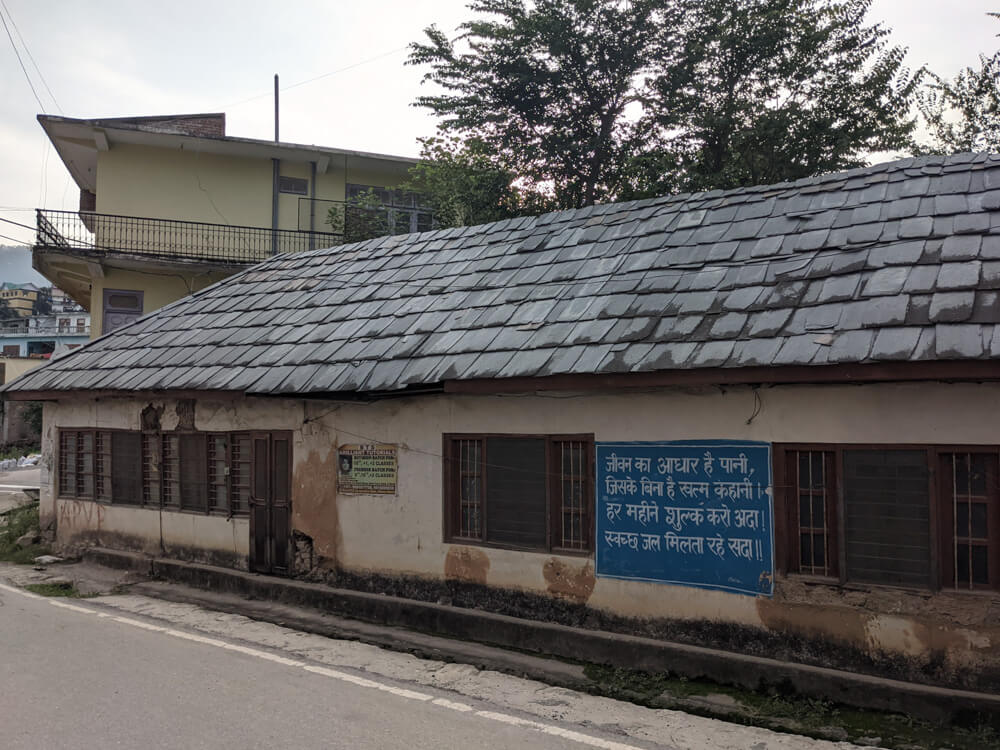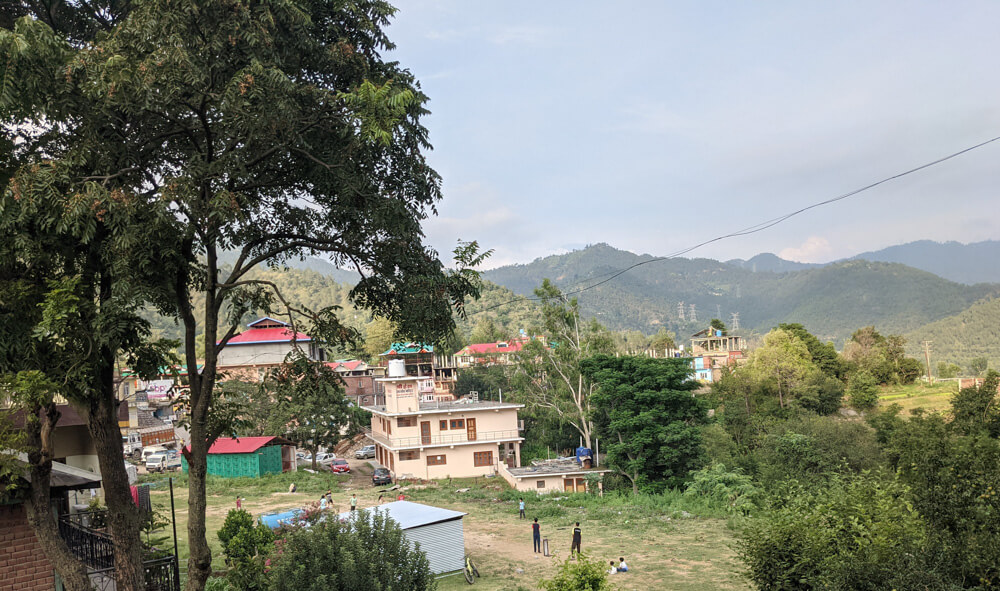 Some more pictures from around Karsog.
We must be already running into the evening and it was time for our dinner. The streets were crowded and locals stared at us as if we were jokers or aliens. Every head turned as we moved. 
Many dhabas displayed Mandyali dham on top of their shops. The menu displayed roti, rice, a dry vegetable, dal, curd, etc. But by evening most of the food was over. We found one dhaba making tandoori roti. And when the guy said he had eggplants and rajma, my eyes went wide. He had me at brinjal. He lit up the tandoor and served us rice and vegetables and we sat and gulped the food at godspeed. I'm not sure how many chapatis we ate but at least 3-4 went down. The dhaba chefs kept bringing the curries.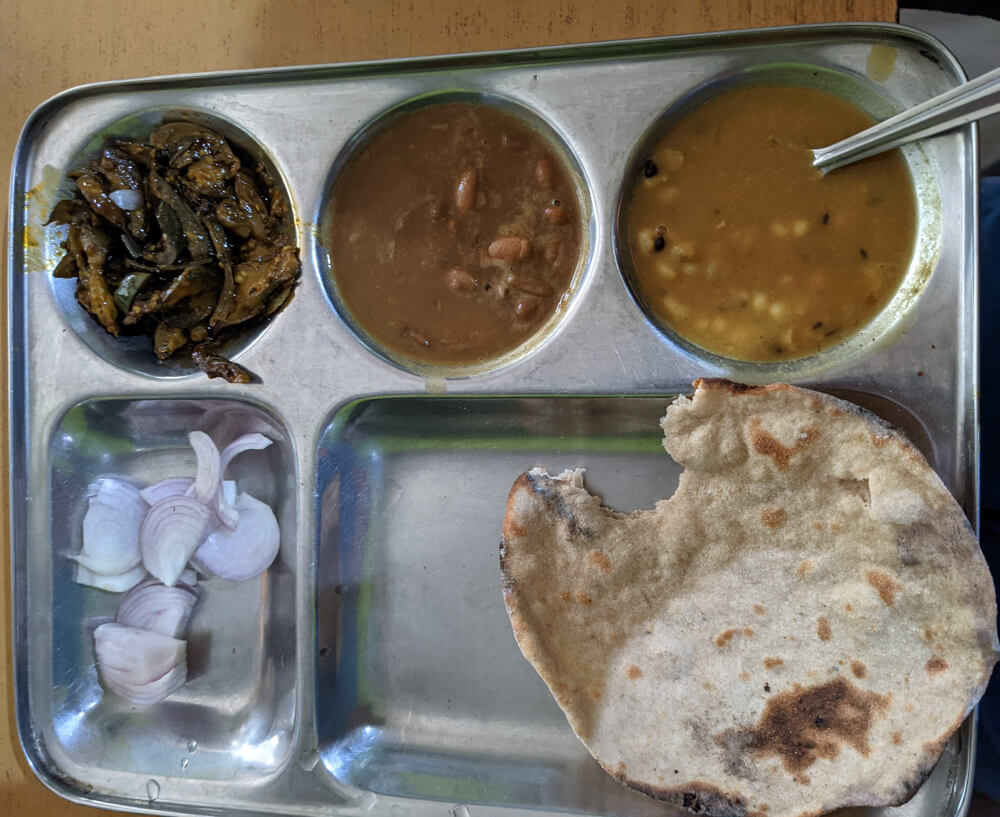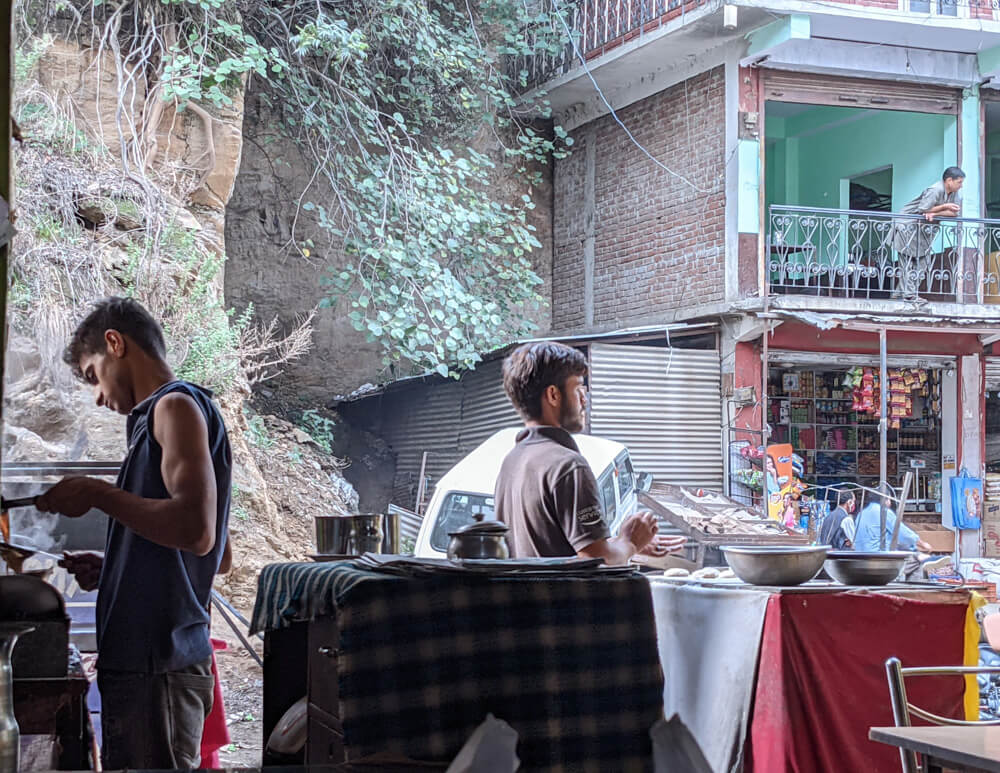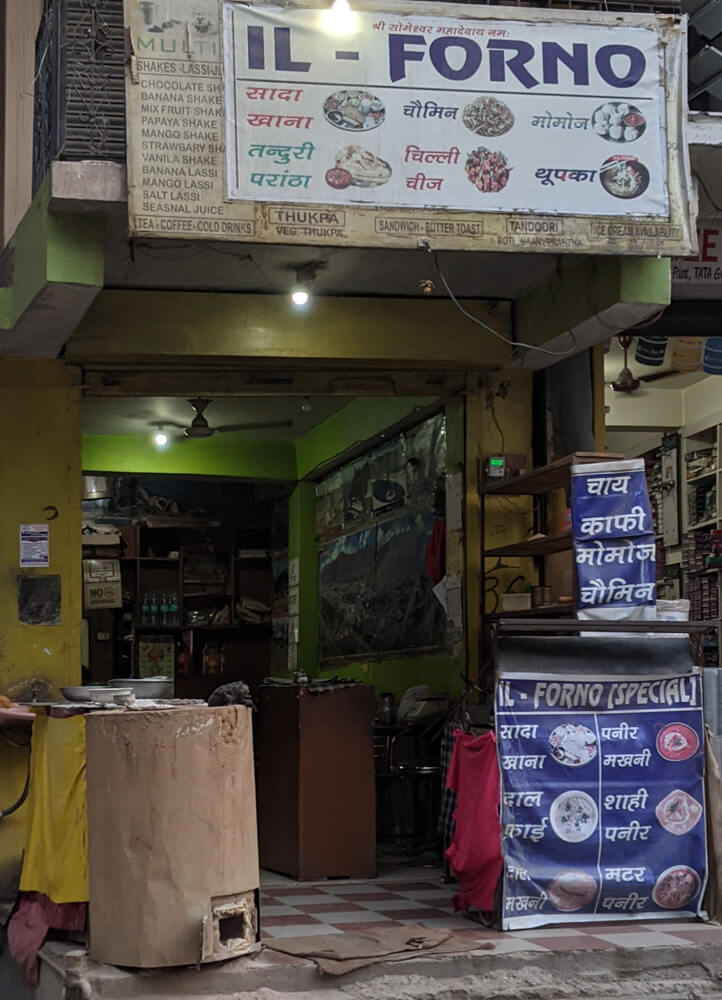 After stuffing ourselves we left. A wine shop caught my attention. But as the owner was missing we drove on. It is not uncommon here in Himachal to see a shop owner leave his shop open to attend to his chores or to chill with his friends at their house. If a customer comes, the neighbor will call the owner. Then the owner will speak with the customer to see if his return to the shop would be worth the purchase. If not, the customer can decide to move on with his life. Simple! 
Without getting meddled in the phone calls, we drove on towards Mamleshwar Chindi. Now we found another wine shop selling the local wine brand Hawk Eye (earlier Gold Eye). A bottle of pear, a bottle of plum, and a small bottle of cherry joined our company. 
Nice music filled our car and the jungle silence felt needed. Once home, we turned our laundry around and went to sleep. 
But soon I heard the sharp sound of an animal nibbling away at something sharp. With the help of a flashlight, I could see the eyes. The being sat on the deodar behind our window erect and gnawed at something. First I thought it must have been the flying fox bat. But after spending months in Himachal I know the nocturnal being could be nothing else but a flying squirrel. 
Deciding to buy my shoe some other day and admiring my partner's new Woodland shoes, we both drifted into a deep sleep. Goodnight squirrel.
Please note: This is not a guide to Karsog. I will soon publish pieces on the village and the gorgeous Karsog Valley.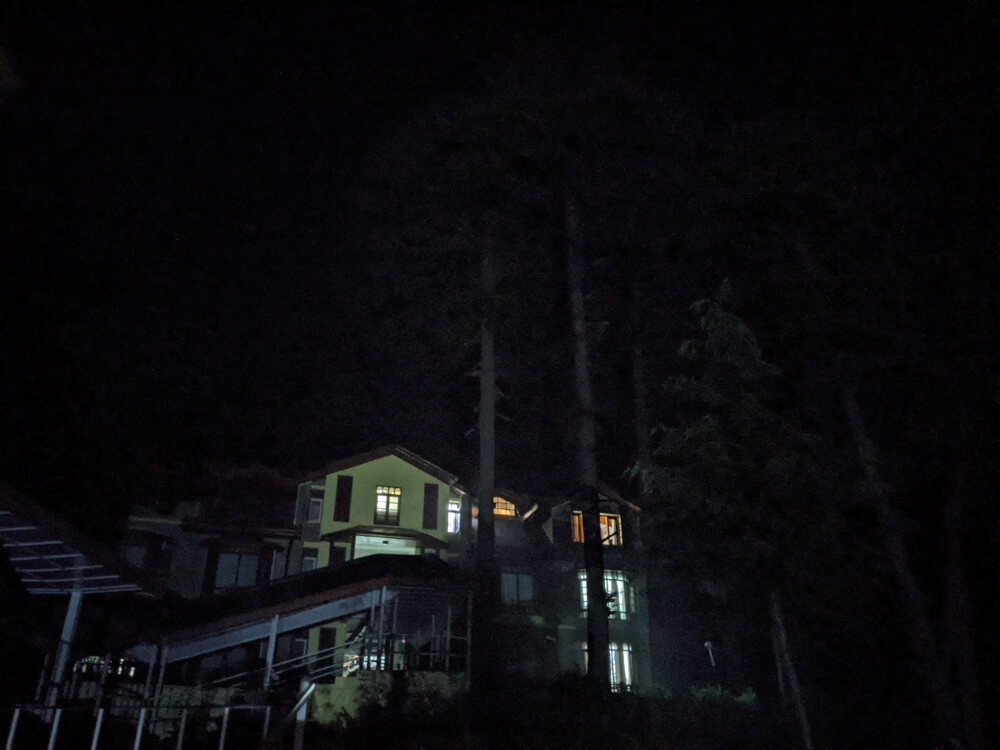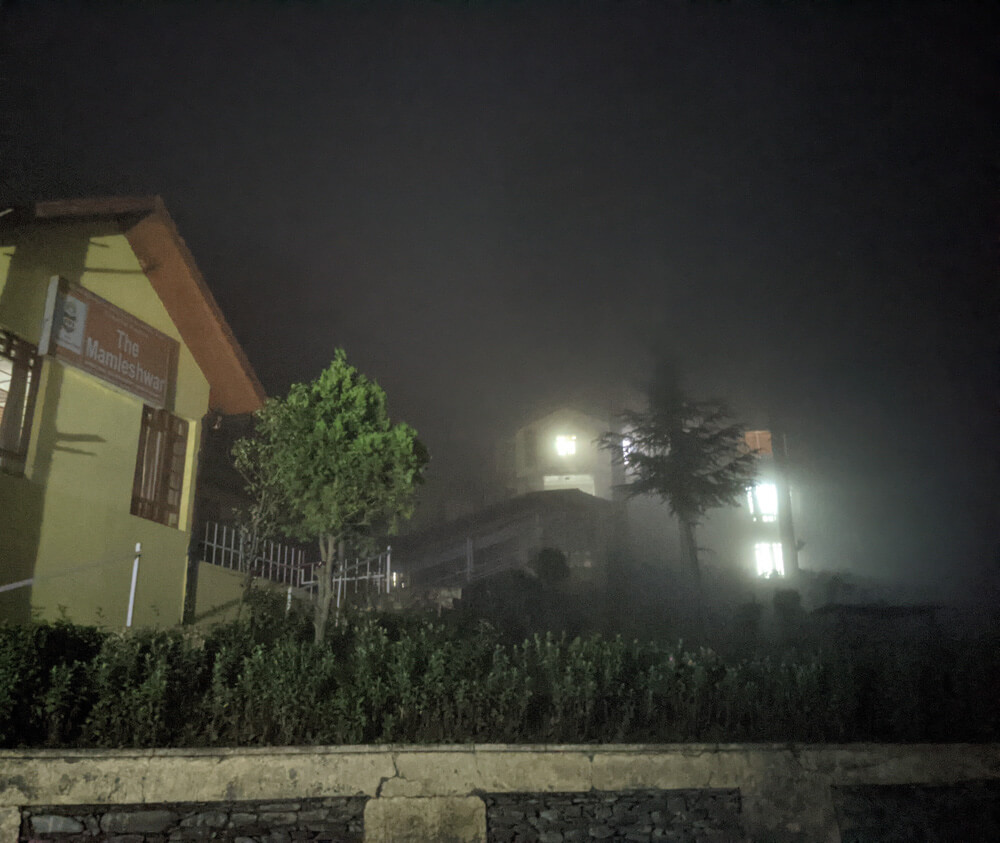 Have you lost a shoe ever? Tell me some of your funny shopping stories.
*****
Donate to keep me going!
For five years, I've read and wrote day and night to keep On My Canvas - my sustenance and life's focal point - going. Everything here and my weekly newsletter "Looking Inwards" is free. No ads. No sponsorships. If you've had some good moments reading my posts or felt hopeful on a lonely day, please consider making a one-time or a consistent donation. I'll really appreciate it (You can cancel anytime).
*****
Want similar inspiration and ideas in your inbox? Subscribe to my free weekly newsletter "Looking Inwards"!