Village Life of India : An Old Himalayan Woman's Life at a Glance. Notes From Gagal Village, Mashobra, Shimla
I woke up at 5. The host's kitchen hut was filled with yellow light from the bulb. Smoke rose out of the hut's chimney. Our homestay's mother, whom we called aunty, was already up.
Aunty must've folded the mat on which she slept on the kitchen floor, had lit firewood in the chulha, and must've been preparing milky tea then (a common scene in village life of India). Though I never entered the kitchen —when I had asked  aunty if I could make chapatis on her chulha, she had said women couldn't enter there — from outside I had seen her fluff chapatis on the woodfire and paste the floor with yet another fresh layer of mud and cow dung. Aunty was somewhere between 60 and 70.
(I don't have any pictures of aunty neither would I want to post them online. So please bear with me while I add photos of everything else around her home.)
I crossed the lawn in front of our guesthouse and sat down on the roofed patio. It was July. The sun came out before 5:30. The sky was a clear blue. Half a moon dazzled in it.
In the crevices of the domed sit-out roof, sparrows stretched. They preened their feathers and tweeted infrequently. Sparrow chicks cried for food. When the parents couldn't take their chatter anymore, they flew. Within minutes they returned to thrust food in the beaks of their young ones. That feeding cycle never stopped until it got dark.
The chilly air had carried the cold of the night into the morning. Sometimes I meditated only to be shaken up by the chirping of plum-headed parrots in one of the walnut trees hugging the house.
The hill slopes enveloping the home belonged to our host family. So each village home had its own hill full of green grass (true for many Himalayan villages). In those slopes stood apricot, peach, plum, pear, fig, walnut, and hill lemon trees. Many fields were interspersed between the big trees.
Laid with the night dew, grass sparkled. Our hill descended so gradually we couldn't see much far ahead or below. On our left side there was no home until we could see but only the family's trees on the rippling hill. And to our right, there was a tiny hut we couldn't see from the courtyard.
I gazed at the tree-studded precipitous mountain in front. Only a few houses were perched upon its precarious slope. The brow of the precipice however was lined by tall buildings — I was told those were apartments bought by Delhites, Mumbaites, and Gujaratis. The rest of the clusters were far from each other.
The mountains were silent and homes were quiet. Though Himachal families — who had inhabited those lands for generations — were already awake, huts in those rolling hills of Mashobra villages were scattered so far apart one couldn't hear voices from another home. (so different from the attic house in the main Mashobra where the neighbor Delhi travelers' quarrels reached us unhindered.)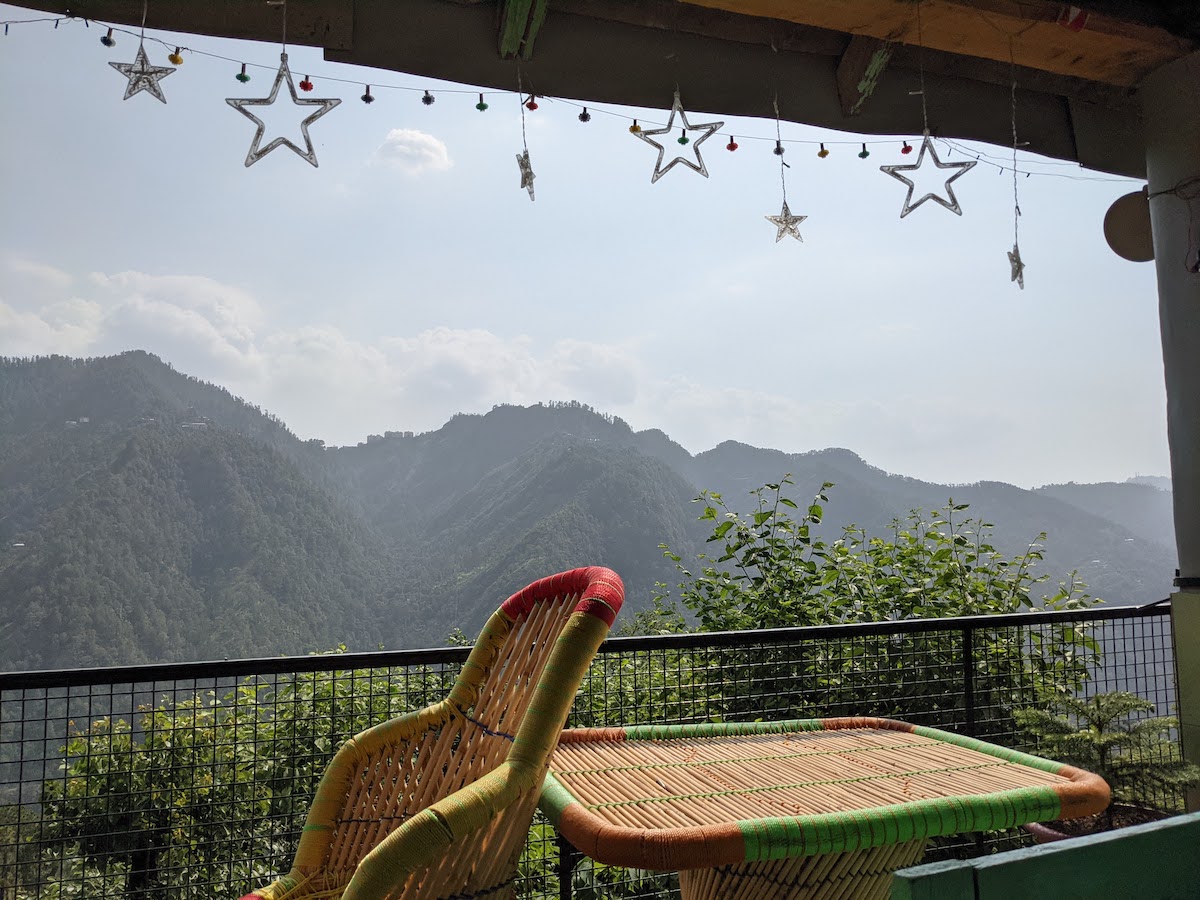 Until many years ago, aunty used to climb down our green pasture hill. Then she crossed the brook and clambered up the other side. On her way she cut grass and carried it in bundles on her head. Sometimes she shepherded her cattle along too. She would reach the summit to be at her in-laws' house which was next to those tall buildings constructed recently.
"Weren't you scared of leopards and bears?" I had asked one day.
"Sometimes we had our brothers with us. Otherwise we did what we had to." She had said. And then had added, "No one walks there now. Everyone uses their car."
"Is the trail still there?" I had imagined myself in aunty's footsteps on a morning walk. (We had hiked to the leopard-dense brook in Mehli village before.)
"Of course it does." Then she had asked me to follow her finger tracing the trail through the thick cedar and pine forest in the distance. I hadn't seen see anything but had nodded along.
I heard aunty open her hut's door. Aunty's kitchen and other huts were up a few steps from the guesthouse fronting the open lawn. Our three rooms and bathroom stood next to each other like train compartments. Thereafter she made no noise but I knew she was walking through the lawn behind the patio to the animal shed. She would have a brass pot in her hand.
That early morning aunty and I never spoke to each other. I would hear her unlatch the low iron door of the fence separating the cowshed and the lawn. She said if the door was left open we wouldn't know if someone entered the house at night. Mountain homes can never be fully closed or locked.
Aunty went inside the shed and half-closed the door behind her. I heard the cows mooing expecting the oncoming milking.
The barn was adjacent to the guest house. Aunty must've known my partner was still asleep so she spoke to her cows softly. But during the day, she roared at each one of her calves, cows, cats, dogs, and kittens. I won't be surprised if she had a secret language for the sparrows nesting in the eaves of our verandah roof too.
The first day we had arrived our host Prakash had broken our misconception of getting fresh cow's milk. He had opened up the barn. Their three mountain cows hadn't looked bigger than three hefty donkeys. Surely they didn't give much milk, and we never asked.
Prakash had told us they had broken down their ancestral mud home with tiny windows and thick walls. His elder brother constructed the guest house and the covered porch. The brothers themselves and some Nepali laborers had carried the cement and stones on their backs from the car below to the house uphill.
Do you know what was the patio earlier used for? To dump heaps of cow dung. But then it was the highlight of the guesthouse photos.
I didn't ask why did they tear down their home. Himalayan villages are reconstructing their hereditary huts because they don't need the simple mud and stone structures with windows as small as exhaust openings. Prakash and many others told us it doesn't snow that much anymore and even the rainfall has reduced. Climate change has made houses that can withstand long cold winters and heavy snow redundant.
Most Indians consider old mud homes a symbol of poverty. So now our homestay had a tiled guesthouse and aunty had new huts to sleep in.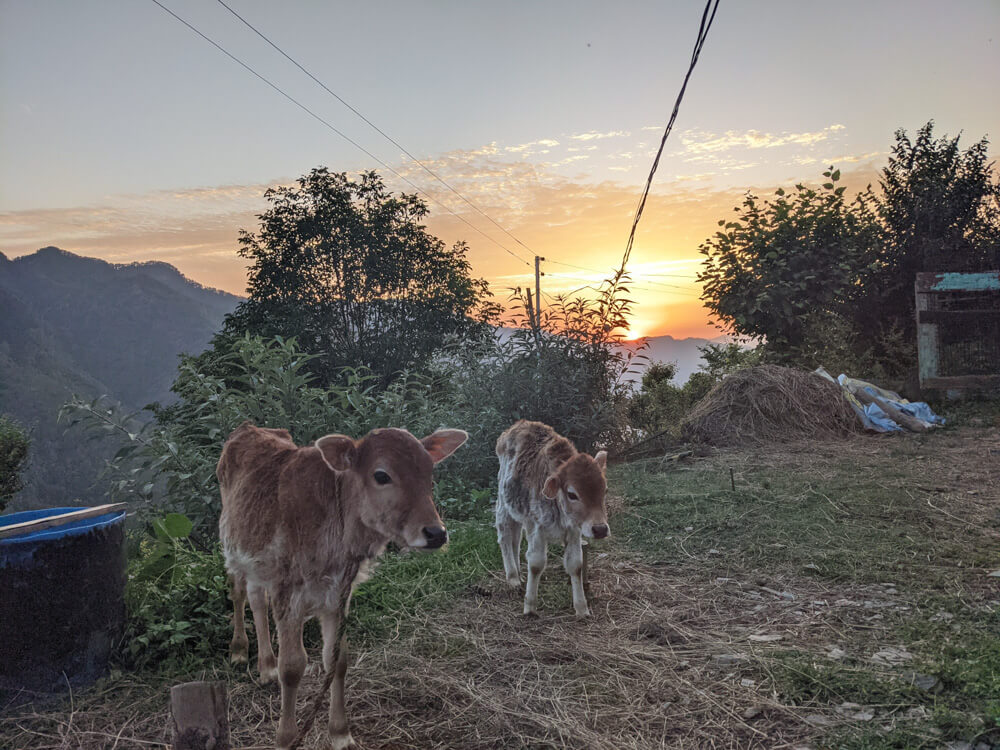 After milking cows, aunty walked out with the two fury calves. As a daily ritual, I walked to the babies. The younger one licked my hand and didn't let go. When I told aunty the calf licked me, she said she was getting used to me.
Standing in her blue salwar kameez, aunty had a story for everything. She said the calf was born just at seven months. She fed her milk with a spoon. Aunty said bringing her up wasn't different from nurturing a human baby. Everyone was surprised it had survived.
And then she wrapped her arms around the tiny calf and kissed her cheek. As soon as she untethered her, the little one galloped around. She pulled her rope and dragged the calf into the barn. The baby ran to her mother and started chugging at her udders.
Afterward aunty disappeared into her kitchen hut. I knew she would make chapatis for all meals for herself, her sons, and any laborer they may hire. But first, she hollered out to her elder son who was fast asleep in one of the adjacent huts.
Aunty's younger son Prakash, who managed bookings, lived with his family in Mashobra, an hour's drive away. He would come around 9 carrying groceries and other stuff for his family and guests. Prakash brought along workers to work in the farms, pick fruits, or build the link road leading to the home. And then they worked all day in the sun.
The sun was shining bright by then. The cold wind had shaken me out of my slumber and I was tempted to leave my shed. Every morning I explored a different part of the hill or went into the pine forest nearby. Some days I ran up and down the mountain road. I tied on my shoes and walked downwards to meet the trail to the house. Then I took a left and clambered up through wild pomegranate and other shrubs.
From that brow of the hill, I could see the house through the foliage of walnut trees. Aunty's hut and our cottage shined blue. My eyes wandered beyond the cottage to the hills that stood until the horizon like a cascade of curtains. There was no end to those mountains.
I remember the first day at the homestay. We had parked our car up the hill. It would have taken us half an hour to bring it to the house. But the hike from the house to the parking spot just took ten minutes. By the time we parked and came down the sun had started to set. We followed the trail until we could see and then came to a point where there was no path.
A few steps ahead, aunty was sitting on the hill. Her cows grazed around.
"Aunty from where should we go to the house?" We had asked.
"You had to take that path from up there." She had said pointing to a trail we had left behind. "But you can just walk down here too." She had pointed to the hill patch in front of her.
We had descended slowly steadying our foot into the mud steps spilling grass. Hiking those hills wasn't hard because the slopes were gentle (mostly) and the hills were muddy, not rocky. From one mud step to another, we had been strolling around her mountains freely since that day.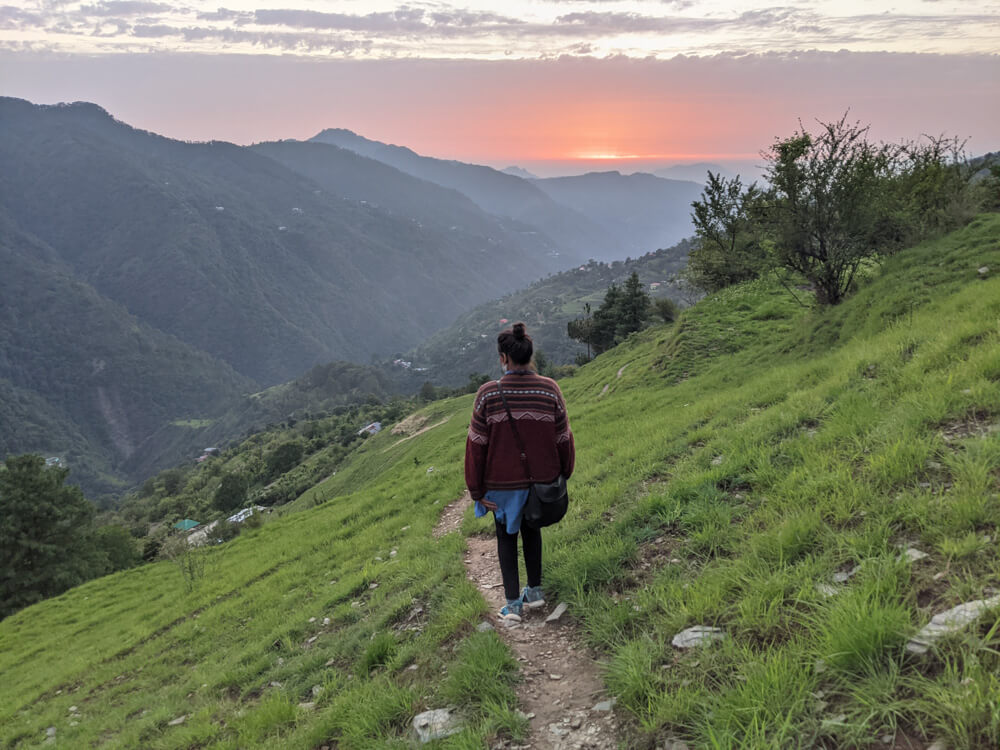 The air felt clean and cool on my skin. Tall pine and deodar trees fenced the boundary of the house naturally. I saw smoke blowing out of many chimneys far away. Though the atmosphere remained clean and crisp throughout the day I loved the hills wrapped in the morning silence.
That day I followed the concrete irrigation ducts constructed throughout the hills and the fields. After crossing the pastures, I entered the forest. The jungle was so silent in the morning that I was only five feet from the stoat on the path when she saw me. She sprinted. From up the hill, she stared at me. It was a fury brown-black stoat, a kind we had already seen near Mashobra once. A second later another stoat dashed in front of me. I crossed the hole they had been digging and realized I had caused them to look for a new spot for their burrow.
Once home, I ran to aunty to tell her what I had seen. She said I had seen dikanni, a local name for stoat. She clasped her hands and bent down and giggled. "Those are the only kind of treasures you could find in our village hills." She had said in between snorts.
But of course she had more stories. She said many years ago she had gone to a neighbor's house. When she returned she found her cat hiding behind the bushes and all her three blue-eyed kittens gone. Those stoats had taken them.
Stoats weren't the only culprits. Once hearing a lot of howling and bawling at 9 in the night, aunty had run out of her hut. Her black dog Tiger stood shivering in a corner on the hill. Tiger didn't come down even when she called and called. She was sure a leopard had tried picking up Tiger for dinner. The wild cat must have run away when aunty went out.
"Don't you hear them leopards hollering during the day?" She asked me.
"No. Not yet."
"I will tell when I hear." She said matter of factly.
I could listen to aunty's village life stories all day but I had to write. I showered and went downstairs from the patio into the kitchen underneath it. By the time I made tea and sat to write, aunty must have had her morning chapatis and tea. Though she bathed daily I couldn't tell because she wore the same clothes from the previous day. Every few days she washed her clothes with hands.
"Try taking the smell of dung and cattle out with a washing machine." She had said to me. She didn't keep washing machine, refrigerator, or television in her house.
Soon after she walked to the barn and we knew what was to come next. She tied the calves in sun outside the barn. Then she untied all her three cows.
The fun began. The cows came out all animated. They were a funny lot because they moved as per their wish. And aunty tried to order them with her stick and her voice. Aunty was sinewy and wrinkled but you should have seen her run behind the cows or thrash them out of the neighbor's field.
Aunty always went downwards from the home towards her farms. Then she walked further along the hill. From the patio we could hear her voice doing klklklkl or hurrr hurrr.
One day I had gone with aunty behind the cows. Just at the spur of a moment she said all her cattle will die when she is gone.
"Your sons are good. They will take care." I said.
"You know when I was sick they couldn't even milk them. The cow kicked when either of them sat under her." She laughed hard.
I watched aunty for as long as I could see her. For then she disappeared into the pastures and onto the hill slopes of her neighbors and through the jungles and all. She returned only by 11.
When I asked her if she didn't bathe her cows she told me once she had fourteen pashu (Sanskrit for an animal, specifically cattle): four bulls, and the rest were mountain cows and Jersey cows. Mountain cow didn't bathe. But she had to wash the Jersey cows many times in the summer.
"Why did you give them up?"
"I have this headache almost every evening. I can't do so much. Years ago doctor said some nerve had exploded. They can't do anything." That was around the same time aunty's husband had passed away.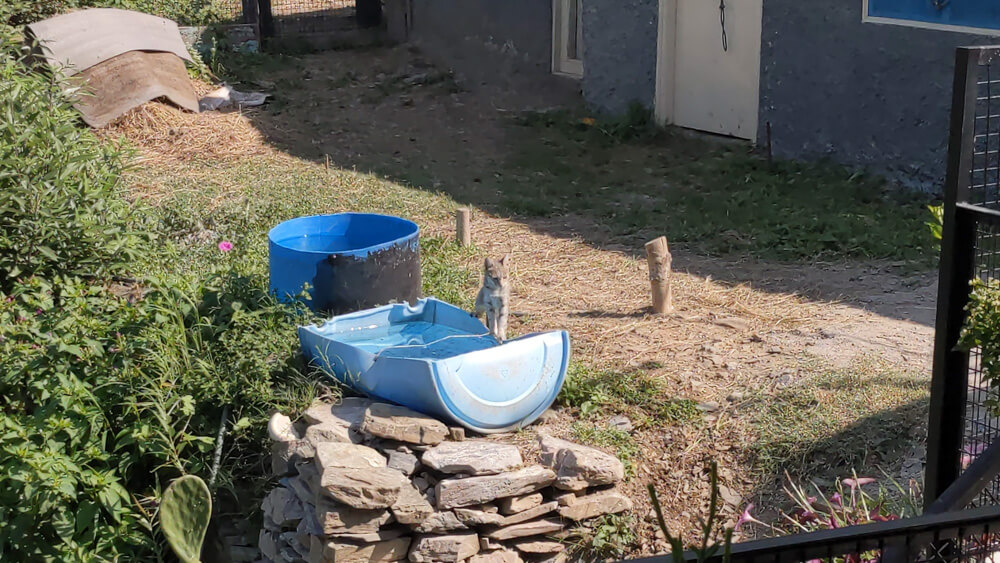 By the time aunty returned, the sun was full yellow-orange and the kittens were out playing in the sun. Their mother lurked nearby. Aunty picked up the grey one with blue eyes and the golden one turn by turn. She clutched them tight and kissed them wherever she could.
The cat meowed around but aunty kicked her to the side. Later I saw her grab the cat and kiss her as well. If you tell her cats don't like that much proximity, aunty will melt you with her stare (while meaning well all the while).
After the public love display, aunty went back inside her hut. If her son Prakash had to come he would be there by then. In Mashobra, Prakash managed someone else's guesthouse. There he had a home to take care of, children to send to school, and do whatever people do to stay alive.
Then he drove an hour to reach us. Sometimes the roads were under construction and he got stuck. He carried up the stuff he had brought either from the parking below or downhill from the hilltop.
You couldn't see Prakash sitting even for a minute even if it rained or it was fifty degrees. He cooked, cleaned the guesthouse once in a while, watered plants, and incessantly sprayed on flies. He worked in the fields or laid down their link road to the house with stones and gravel. And when the peaches were ready he plucked them, cleaned them, packed them, and then carried some twenty-five boxes down to his car. He also fixed water pipes which kept breaking.
And they say Indian village life is idyllic.
Most mornings I hoped he wouldn't arrive (yeah sue me). Without him and his parade of workers, the house was quieter. There weren't any visitors except a sole guy breaking down stones with a hammer.
Irrespective of who was there or not, aunty came out to water the garden and lawn. Or trimmed the plants around the porch. Once a monitor lizard had sneaked into the lawn through the foliage circumscribing the house. I saw it while I was walking to the patio with my cup of tea. I hollered but admired the lizard with my eyes wide open. (I had seen many animals such as flying squirrels, weasels, golden eagles, in the Fagu village of Shimla too.)
No one had noticed the lizard until she was right there on the lawn. It was decided plants shouldn't be that thick so close to the house.
Prakash had said he will trim the plants. A couple of days later it rained all day long. He didn't come. Whenever it stopped drizzling aunty went out with a sickle and ran back in when it rained again. This went on the whole day and by the end, the foliage was more restricted.
I watched her from the room because the patio was too wet and cold to sit. She cried out, "It's hard to sit all the time, ain't it?" That's what she said when my partner and I both got our first dose of vaccine and fell sick.
"If you move around you'll feel better. All the time feeling sick on the bed makes us worse." She said to me while I lay on the wooden bed on the patio burning with fever. "That's why I don't want any of this vaccine. What it will do to my old bones," she said.
My temperature didn't go all that night and day. In the evening aunty hiked to the ration shop downhill and carried back flour on her back. She brought me a packet of vermicelli so we had something easy to cook. The second morning I didn't have fever so I decided to follow her advice. I ate the vermicelli and went for a long hike. Of course I felt better.
When I returned I ran to the golden peach and plum trees behind the house.
"The previous guests used to pluck apricots and plums every day. Why don't you? I won't say anything." She had said and I had made sure to raid her trees every day then. We didn't buy fruits there and I still had kilos to eat.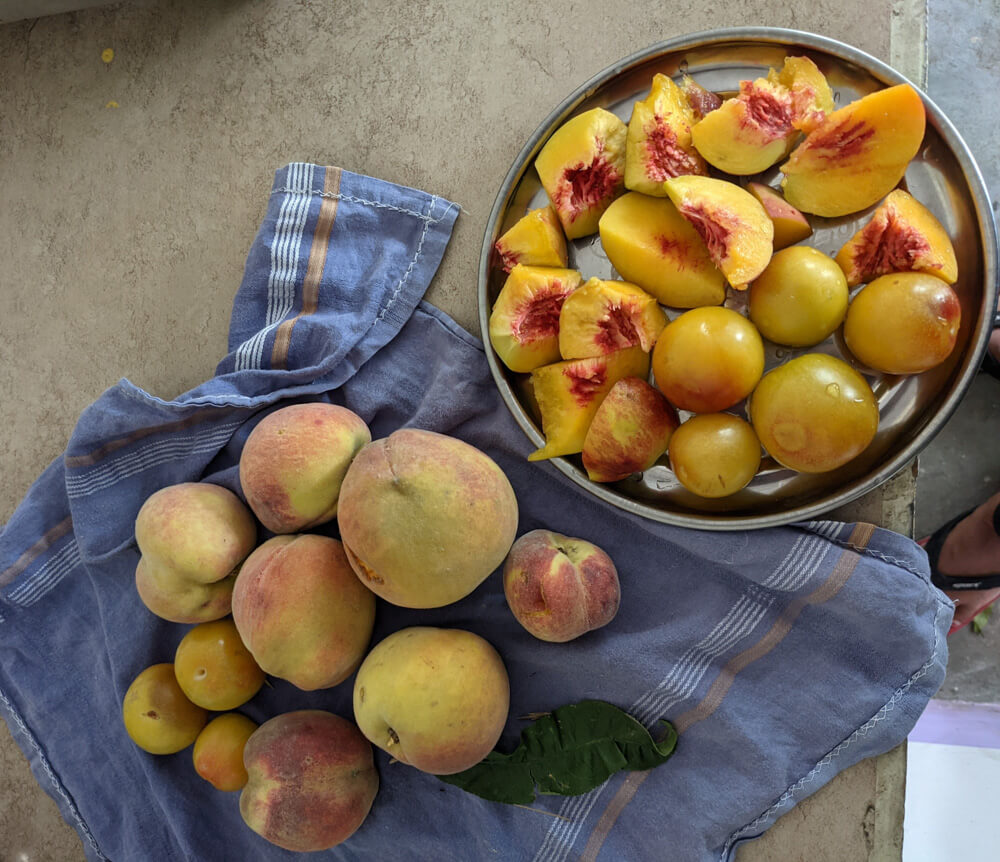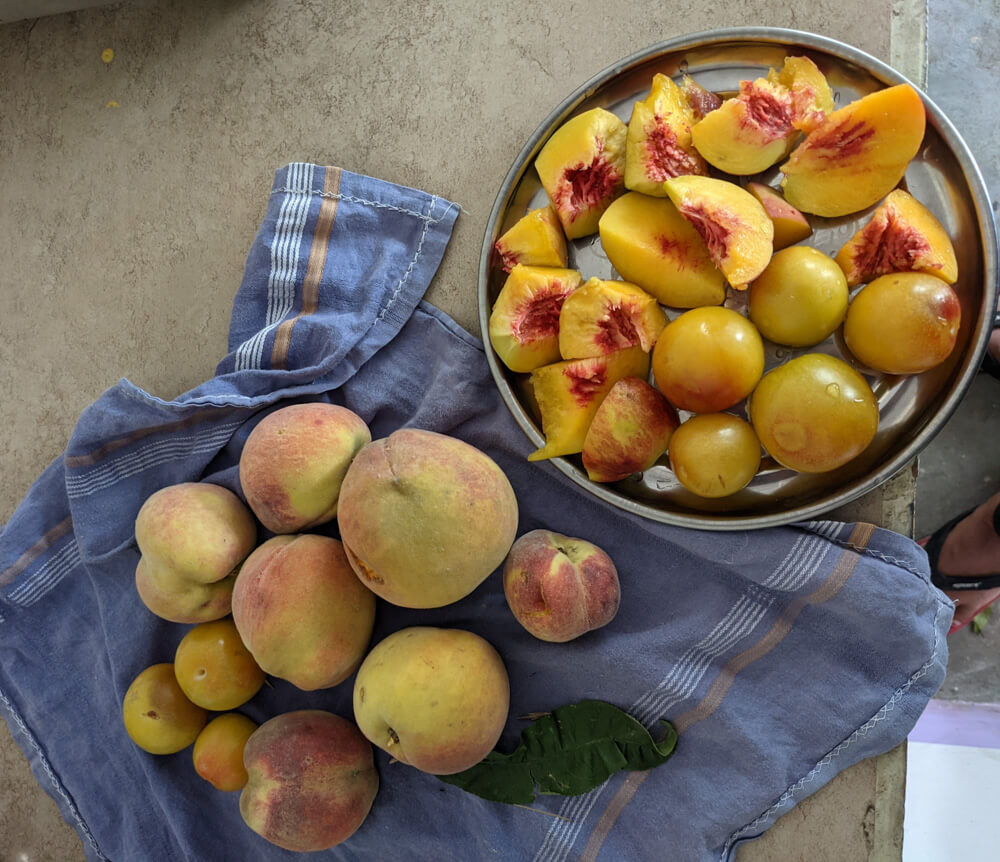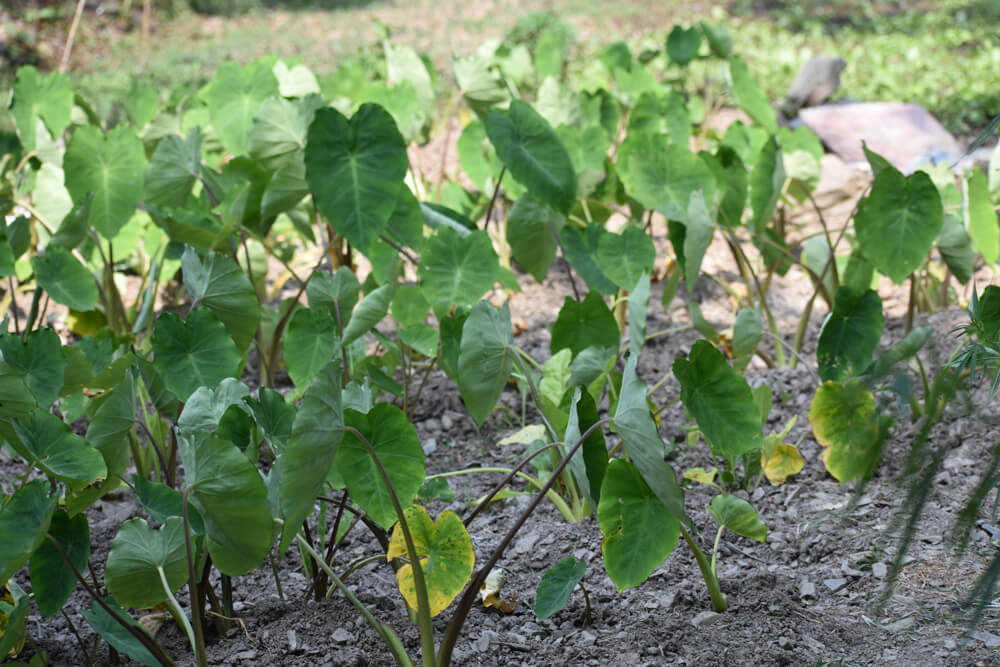 We could survive on fruits but our homestay family worked in the fields. So aunty made lunch every day. Home-grown dal or rajma. If there was no vegetable, aunty plucked colocasia leaves from her land and made them into a paste.
Until her sons returned from the fields aunty didn't eat. Earlier she used to plant all the fields herself with her husband. But now she only went on some days to cut the grass from there. When everyone returned for lunch, all of them with the laborers ate together in and around the hut.
Aunty knew we didn't eat breakfast or lunch but had fruits. She would say, "What do fruits do? You feel hungry right after." (She didn't know only one meal a day and a lot of fruits was part of our healthy living plan.)
But even when we were sick aunty didn't bring us any chapati or dal. Maybe they had forgotten we had told them we love chulha rotis. The elder son had even suggested we could make a little mud stove outside in the garden but no one ever talked about it again. I wonder if it was because they already had too much on their hands (village life in India, especially in the mountains, isn't a free life) or because they knew we weren't the typical guests who needed pleasing.
When we don't have a vegetable we wonder what we will make. But after living in the Himalayas for a few months, you would start plucking your money-plants and cooking them.
When post-lunch hours bring a nap to the minds of many, for aunty it meant climbing up the guesthouse roof and picking out stones and rubbish from the home-grown kidney beans and pulses drying in the sun. She would be scooched down on the pile of pulses and squinted to find the littlest of the stones or gravel. If I went to sit next to her she told me it was too hot. I shouldn't sit there. But neither did she put up an umbrella nor kept water next to her to sip.
One day I was chatting with aunty while she picked up stones from red kidney beans. She started telling me about a woman guest who threw her sanitary pads in the bathroom dustbin. Aunty said, "Men pick up the garbage here. That woman was so bad. We consider all this really bad. We are hosts not cleaners."
I wasn't sure if she was pointing to me as I had also dumped my sanitary pads properly wrapped in paper and waste plastic in the dustbin. I didn't know if she knew I had dumped them. Maybe it was her way of telling me I had done something shameful. Or the other woman perhaps had not wrapped the pads properly and that conversation didn't concern me.
Moments with aunty weren't always easy. But she had lived a traditional, solitary Indian village life and you couldn't expect her to change. Aunty didn't know patriarchy or feminism is a thing. For her all that mattered was living from day to day.
Many days my partner and I went to the forest after lunch. If we didn't, we saw her head up the hill with a sickle. Listening to the music on her phone, moving rhythmically, squatting, she cut the long golden grass. She carried bundles after bundles on her head to the house.
Many days I ran up to her. I sat down in the grass.
"There are snakes in the grass. Be careful. Never walk through it." Aunty said with furrowed eyes.
"But you are putting your hand in the grass?"
"Yeah but first I buzz it with my sickle. Some women wear a big glove on their hand. I don't. A year ago we lost a little girl here on the hill to a snake."
"What happened?"
"She was on her own. Her mother was further away. The girl sat down or what happened we don't know. But her hand fell on it and it bit her. Nothing worked."
When aunty returned home in the evening, we talked. We would be getting up from our work and she was also slowing down into the day. The sunset on those hills was molten yellow and looked surreal behind the pine and deodar trees. So we were mostly watching it from a higher patch of the hill above our house. And aunty was finishing things indoors. It must also be time for one of her several trips to the barn. Without talking to her cows aunty couldn't make it even an hour.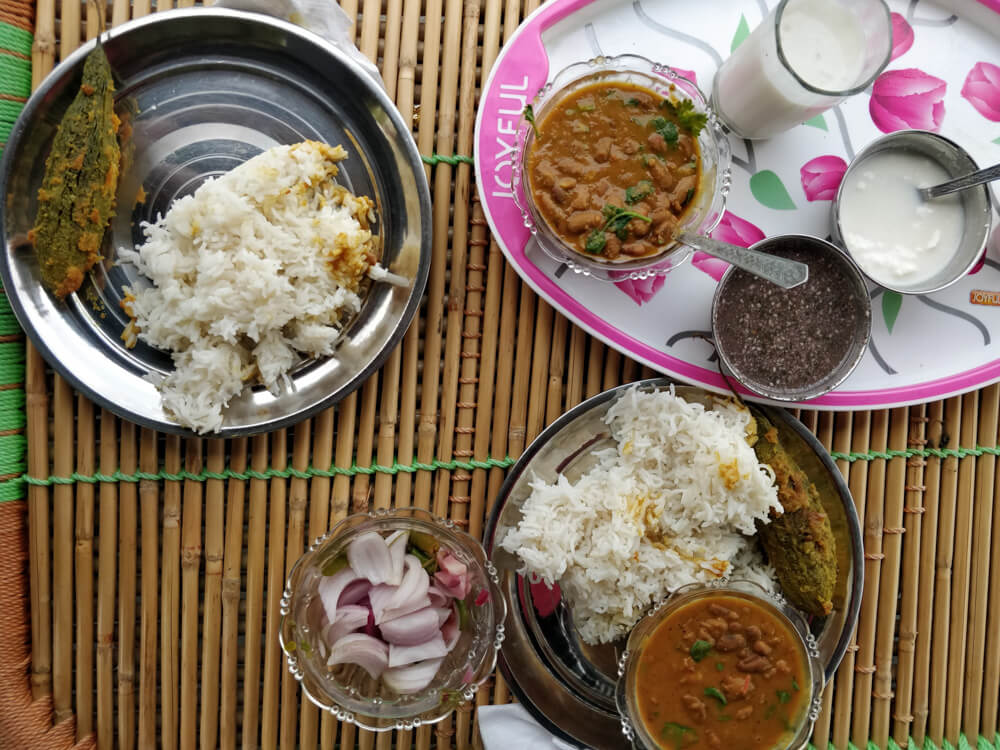 Aunty always asked me if I had made dinner. When I asked her she told me they had pulses and chapatis from lunch. They would make some rice to finish off the meal. I would bring a bowl of kadhi or chickpeas to her. And she would get us her hand-grounded mint, pomegranate seeds, and lemon chutney we loved so much.
My partner and I sat down on the patio with our spread of food. Our candle flickered and music filled the air. And aunty would walk silently behind us to the barn to milk the cows again. Sometimes we spoke to each other else she went off quietly. We would still be eating our dinner in peace and she would cross us once again.
After dinner, I wrote and read outside under the stars. Sometimes then aunty spoke a few words with me. We admired the night. And she said she would have slept on the patio but for the snakes.
"You think snakes will come here at night?"
"Who knows? I won't risk it."
Then she was just a dark figure heading back into her hut. And the way she plodded with hunched shoulders I knew she needed rest. But then dinner would be done. And she would do the dishes once more and clean the chulha. When all was done she would spread a mat on the kitchen floor and lie down.
My partner and I often brew chamomile or jasmine tea at the end of the day. And when we knew she had a headache we brought a cup to her.
"This tea is delicious. But you didn't have to do it." She would say.
I described the chamomile flower to her. Once coming back from a wedding party she brought a white-petaled flower with a yellow center and said while giving it to us, "Here's your tea flower."
We don't have chamomile flowers in India. So it wasn't chamomile but imagining her looking for it amongst the wild made me laugh.
The next day I sat with her on the hill while she cut grass. The sun was about to set.
"Had you had tea?" She asked.
"Not yet."
"Go then. He will say you haven't even given him tea."
Aunty suggested it was my responsibility to feed my husband. It would be foolish to mind what she said. Neither was I going to live with her forever nor can you expect people to change at such ripe age. And how would she change? She had never left her hills. I told her my partner and I shared chores between us and she had just nodded and said, "That's good."
Three weeks flew by. The day to leave arrived. We packed our stuff in our car. All that was left to do was to leave. But aunty wasn't home. She was herding her cows somewhere. I went uphill but couldn't find her. All my calls went unanswered.
We walked down the path towards our car and there at a distance she squatted on the grass with her stick in her hand. She looked extremely melancholic. Tiger snoozed next to her. Her cows grazed in a field in front.
We sat down cross-legged beside aunty.
"Don't you get tired of entertaining new guests all the time?" I asked her.
"We had a flour mill once. Many villagers used to come to us. We don't get tired." She said.
We promised to see her again. She said another family from Delhi (whom she remembered all the time) called her on the phone. Then she laughed. We laughed along. We will call, we said.
"Come next year. Even if just for eight days. If we have to meet, only you can come to me. I can't come to you." She said.
Then her cows started climbing the hill munching on whatever came their way. She gathered herself up and walked in their direction.
We promised we will see her again. She didn't say anything.
We did call her from the Pangna village in Mandi the next day and she said she was wondering if we were okay. She was concerned if we had eaten and where we were. The house was quite empty, she said.
"Your new guests are coming tomorrow. They might be nice." I said.
"Who knows how these new guests will be. Worldliness is such a thing, you never know." Then we said our goodbyes and hung up.
Though I felt like a stranger, an outsider in Himachal many times, with her I was comfortable. As if she understood us and didn't judge us but protected us from others.
Once my partner and I were sitting in a pasture and an old man had come and asked us what were we doing there. Even though he could clearly see we were both working on our laptops. He said he would call the panchayat and we should only sit in our homes.
When we told aunty she got furious. She said, "He is an old wiry man. Let him say whatever. You guys sit wherever you want to. You should have asked him what were you going to do to the grass. It's grass. Were you going to eat it?" And we had laughed and laughed.
With aunty I felt I could belong to Himachal. Only with her.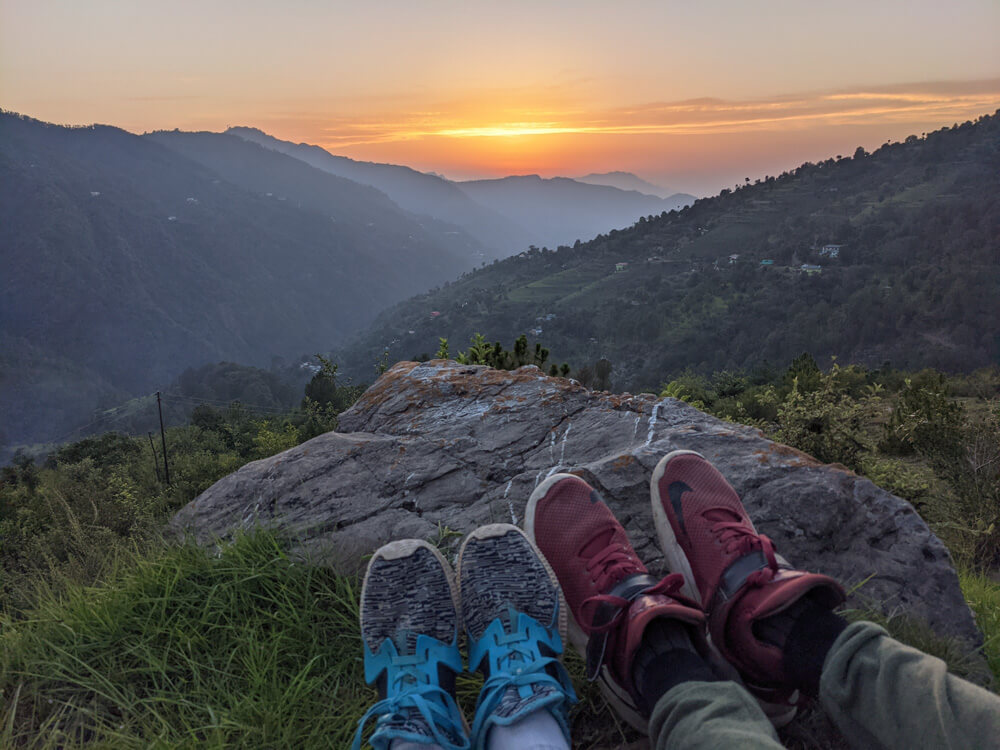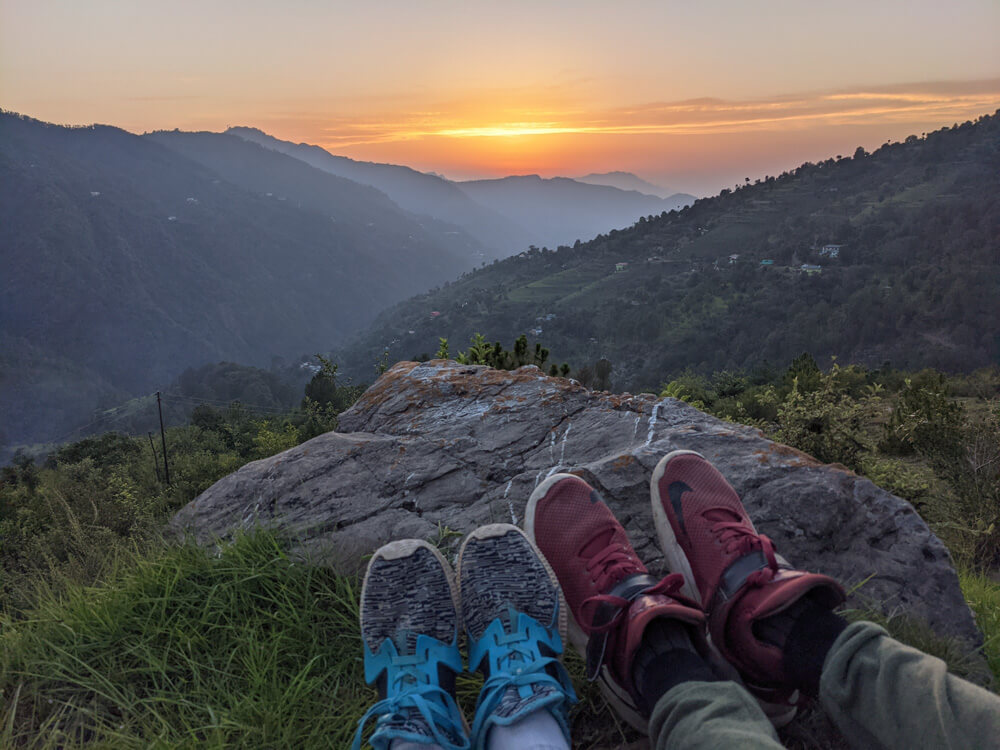 What Himalayan Village Life in India Teaches Us About Resilience and Repetition
I write alone all the time. I don't watch television. Netflix isn't my flaw. I cook, clean, and do laundry. We don't order online but buy most things from the market. We walk rather than getting cabs or driving our car everywhere.
When I'm going through the routine, sometimes aunty comes to my mind. She has devoted all her life to sustenance. She never cared about getting anything beyond the essentials. Neither has her son. Most Himachal villagers I met throughout my eight-nine-month travels there (two trips of four-month each) didn't either.
How many of us can imagine living without a television, washing machine, refrigerator, and grinder? We don't run behind cattle and in fields all day with the craziest outing we take is to the neighbor's hut or to a one-off wedding for a few hours. In our comfortable lodgings we aren't afraid of wild animals. Rains and snow don't worry us about the yearly ration.
When water pipes break or in water shortage, we call someone and do not run up and down the hill finding which duck got choked or who blocked the waterway to route water to their fields. We can get rice or soap two minutes away from our home and don't have to walk down an entire hill despite how much pain our head splits from.
Most of these general things we do or don't are dependent on our geography and financial stability. Where we are born and where we live make us who we are. But with how much grace, patience, and satisfaction we carry our lives matters.
Despite not having what would seem like a regular life to outsiders, aunty giggled and had the right jokes and walked unafraid. All the surrounding hills were her village and you couldn't tear her down there.
Aunty's daily meditation was her cows. Even if no one was around, she had things to do and she found pride in them. Guests could be friendly or odd but aunty just turned around and minded her own things. If something out of her control happened, she figured out ways to live with it.
For her it was not a good or bad living, it was just living. She didn't feel this big gap in her life if the cable was gone or felt sorry for herself for not taking that annual trip to the Maldives.
And I wonder if we can say the same?
Mountain (and village) people get up every day to do the same thing again and again. In repetition lies their life. When it snows heavily or the wind blows off the electricity cable, they carry rations on their backs all the way up their hill and light candles. And if you will call them from the other end of the mountain, they would still carry a flashlight and get you out.
So now whenever I feel life is tough, I tell myself resilience and repetition with grace, that's what gets us out. Not luck, nor likes, nor the Left (although).
Please note: I've changed names to maintain anonymity.
Read Next: 71 Beautiful photos of Himalayan villages – Favorite Moments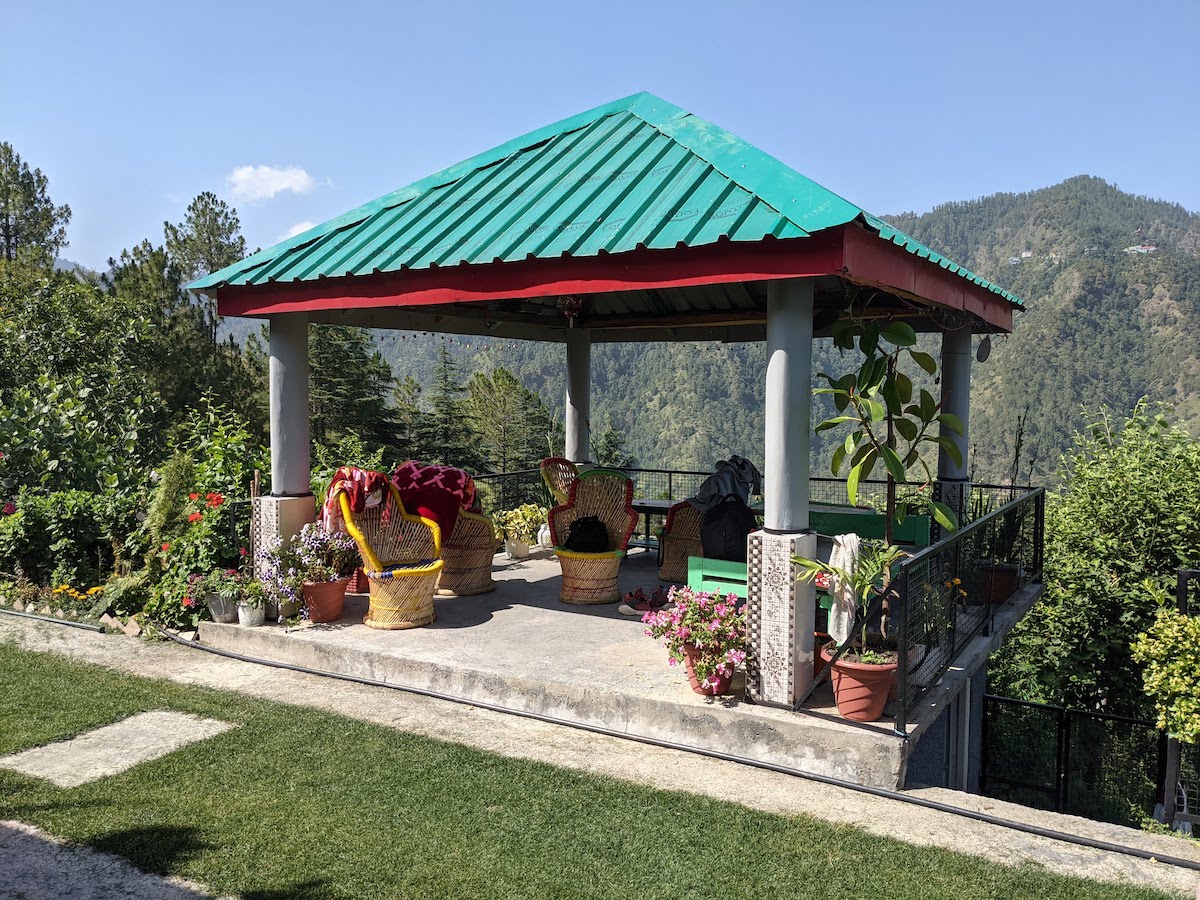 Do you think you can sustain an Indian village life? What's the hardest you find about living in Himalayan villages? Let me know in the comments.
Other articles to read from Shimla and Mandi districts of Himachal:
Shoe shopping in Karsog Mandi: Sustaining as an itinerant writer
Hiking to the wild Shikari Devi hill in Mandi: Without guides
Exploring the Shivpur temples in Mashobra Shimla
Hiking to the Kanag Devi hill near Fagu : A picnic in Himachal
Living in the Shakrala village in Shimla: In lockdown
Starting a road trip in India in the pandemic: Crossing inter-state borders, visiting parents, and arriving in Himachal
What happened to Tattapani hot waters, Mandi
Keep browsing the blog for I've many more Himachal articles.
*****
Donate to keep me going!
For five years, I've read and wrote day and night to keep On My Canvas - my sustenance and life's focal point - going. Everything here and my weekly newsletter "Looking Inwards" is free. No ads. No sponsorships. If you've had some good moments reading my posts or felt hopeful on a lonely day, please consider making a one-time or a consistent donation. I'll really appreciate it (You can cancel anytime).
*****
Want similar inspiration and ideas in your inbox? Subscribe to my free weekly newsletter "Looking Inwards"!